in paid partnership with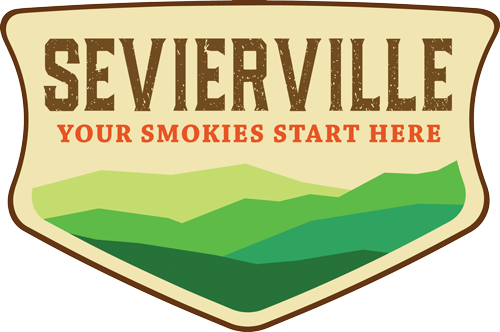 "Vaccine, vaccine, vaccine, vaccine, I'm begging of you please don't hesitate."
So sings the legendary Dolly Parton to the tune of her title hit "Jolene" in a recent COVID-19 PSA. Undeniably the most revered hometowner of Sevierville, Tennessee, Parton was a major financial contributor to the development of the Moderna vaccine, which has helped get us all up and traveling again. What better way to celebrate Saint Dolly than to visit her motherland?
On your trip, hang your hat at one of these unique Sevierville spots by night. By day, with all the ways to eat, drink, and be merry, you'll find that "When Life Is Good Again" happens to be right now, right here, at the doorstep of the Great Smoky Mountains in Sevierville.
1. The Central Hotel
Since the turn of the last century, The Central Hotel has served the town well, with notable guests occasionally "Two Doors Down." Franklin D. Roosevelt even paid a visit (though he didn't stay the night) when he was in the area to dedicate Great Smoky Mountains National Park. Much has changed since then, but the hotel's two- and three-bedroom suites still feature an array of amenities worthy of presidents — think double French balconies, oversized windows, and cozy fireplaces.
On your way out the door, grab a selfie with the Dolly Parton statue that stands in front of the Sevierville Courthouse, mere steps from the Central. She's gazing into that famous mountain range with a guitar on her knee.
While you're here: Just around the block on equally historic Bruce Street, grab a bite at The Appalachian. Hailing from a host of successful restaurants — including the acclaimed chateaux-style Blackberry Farm in nearby Walland — Chef David Rule takes a modern approach to traditional Appalachian ingredients, a wood-burning hearth at the root of the bistro's smoky palate.
2. The Ridge Outdoor Resort
Not that Dolly would rough it anymore, but if she wanted to, she'd probably head to The Ridge. From glamping tents and HGTV-worthy tiny-house cabins to five-star RVing amenities, you'll feel like the "Backwoods Barbie" you were meant to be, finally realizing your inner "country girl's idea of glam."
The Ridge's glamping tents fit up to six and feature bathrooms and kitchens, believe it or not; the cabins are modern, romantic getaways for two. Either setup gets you access to their mountain of amenities, from pickleball courts to walking trails to the zero-entry pool.
While you're here: Be sure to check out two murals in town: Wings of Wander presents a pair of monarch butterfly wings evoking all the feels from "Love Is Like a Butterfly." Red's Cafe depicts a young girl from a bygone era enjoying a burger at a '50s-style counter. (Dolly had her very first burger at Red's.)
3. Oak Haven Resort and Spa
After a long day of exploring Great Smoky Mountains National Park, you'll want a great mountain retreat of your own. Enter Oak Haven Resort & Spa. Luxury cabins — set deep in the hardwoods, with amazing views from your hot tub — accommodate groups of all sizes, and the onsite, award-winning spa hits the spot no matter the season or weather.
Other top amenities include hiking trails, a fishing lake, swimming pool, and fire pits. Consider it a Smoky Mountain oasis for the whole fam.
While you're here: Distillation traditions runs deep in the Smokies. Thankfully, "Daddy's Moonshine Still" no longer makes "lives a livin' hell." You'll learn of distilling's past, present, and future at Sevier Distilling Company — a family-run operation with roots entwined in Appalachia — and witness the entire distilling process firsthand, from fermentation to wax-top bottle.
4. Hidden Mountain Resort
At Hidden Mountain Resort, you just may find yourself humming the tune of "My Tennessee Mountain Home." The Christian, family-owned and operated resort — with cabins, cottages, and villas that can accommodate up to 40! — welcomes its guests at two locations within Sevier County: Hidden Mountain East and Hidden Mountain West. At both, you'll find landscaped gardens, peaceful walking paths, ponds and swimming pools, 360-degree views into the mountains, and plenty of that unmistakable Southern hospitality.
While you're here: At Sevierville's newest fast-casual hot spot, Graze Burgers, all the burger fixins imaginable grace the menu, so dive in hungry. A block or so away, make "Coat of Many Colors" your playlist pick while perusing Treasures from the Heart Thrift Store, whose proceeds benefit the Smoky Mountain Area Rescue Mission. Bonus: The building housing the thrift store was once the Pines Theatre, site of Dolly's first paying gig (at age 10!).
5. Wilderness at the Smokies
The kids will thank you for a little mountain downtime — "mountain downtime" meaning "waterpark days," of course. Home to the Wild WaterDome, Tennessee's largest indoor waterpark, Wilderness at the Smokies might as well be a national park for kids.
Beyond the one-of-a-kind waterslides, there's a three-story ropes course, the 25,000-square-foot Adventure Forest, multi-level laser tag, blacklight mini-golf, and a mega arcade. You can stay here — choosing to post up in a suite or villa, dining at the numerous onsite restaurants — or opt for a day pass to play at this larger-than-life destination.
While you're here: In this neck of the woods, the water fun never stops: Soaky Mountain Waterpark, a new 50-acre splash zone, sits across the street from Wilderness at the Smokies. Waterslides, thrill rides, and even options for the little ones abound. Reserve a cabana for that extra "Islands in the Stream" VIP attention you deserve, and note that Wilderness guests are admitted at discounted rates. Before you know it, it'll be time to go back to working "9 to 5," but Sevierville will keep a song in your heart for the ages.