in paid partnership with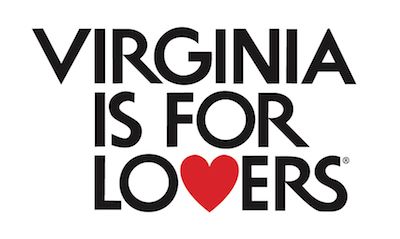 This year, we've all been forced to think about travel a bit differently, to ponder "new" styles of vacationing. And that includes our list of potential destinations — where can we go for a dose of fresh air, away from the crowds? Where can we road trip sustainably? Where can we explore but leave no trace?
Answer: Virginia. At 63% forest and with 3.7 million acres of public land, Virginia has the lock on East Coast great outdoors. So load up the family, put a call out to the quarantine pod, and get the Airstream ready — here's where you didn't know you could get away.
1. George Washington and Jefferson National Forests
When people think of America's public lands, they tend to picture the red rocks and mountains out West. Let them — that leaves more of Virginia's 1.6+ million acres of the George Washington and Jefferson National Forests for the rest of us. Here, running up the spine of the Appalachians along Virginia's western border, mountain maple, yellow birch, white pine, and ash trees blanket the color-changing hillsides, framing fields of wildflowers, waterfalls, and birdsong for those lucky enough to wander the trails. All 2,200 miles of them.
The rest of the forests' numbers are equally impressive: There are 2,300 miles of streams, 1,700 miles of open road (including three scenic byways), 23 different designated wildernesses, and elevations from 5,729 feet at Mount Rogers — Virginia's highest peak — to 515 feet along the Shenandoah River. There are one million classified-remote acres, epic views at every turn, and not a single cramped shuttle or overcrowded viewpoint where you have to watch your elbows.
Note: No matter which zones of these national forests you visit, always pack out what you pack in and leave the land like you found it: spectacular.
2. Chincoteague National Wildlife Refuge
Miles of soft sand, ghost crabs peeking from their hiding spots, scores of wading birds, and wild ponies dancing along the shore — Chincoteague National Wildlife Refuge is honestly pretty magical. The 14,000-acre preserve, primarily on the Virginia side of Assateague Island, packs in beaches, dunes, marshes, and maritime forest, forming a naturally biodiverse ecosystem suitable for creatures of all kinds (and responsible travelers).
This is one of the National Audubon Society's favorite birding spots, with more than 320 species of our flying friends calling the area home. As for the wild "Chincoteague" ponies, no one's quite sure how they got there — perhaps from a stranded Spanish ship, maybe a failed agricultural venture — but either way, check out Island Queen Charters to get an up-close look at the regal creatures.
3. Cumberland Gap National Historical Park
At 1,304 feet, Cumberland Gap was — is — the best pass through the Appalachian Mountains for 100 miles in either direction. Herds of bison realized this first; then the Cherokee and Shawnee; and then Daniel Boone, who carved the Athiamiowee (a Shawnee game trail) into the "Wilderness Trail," America's first gateway to the West. It was no simple feat: In the words of author James Allen, "The utter silence and repose of primeval nature was around us; by and by we lost sight of the heavens altogether so dense and interlaced the forest."
Today, Cumberland Gap National Historical Park sits at the very southwestern tip of Virginia and encompasses 70 miles of trails, celebrating both this millennia-spanning history and the area's intense beauty. Drive up the four-mile Skyland Road to Pinnacle Overlook to take it all in, and then dip quite literally below the surface into Gap Cave, an 18.5-mile cavern riddled with glistening stalagmites and flowstone cascades.
4. New River Water Trail
If your sixth-grade teacher told you rivers don't flow north, they were wrong. The New River does, meandering from Virginia's southern border near Independence, and finally cutting through the Appalachians around Christiansburg. It takes on many forms during this journey, from just a few inches in depth to over 100 feet at the base of Palisade Cliffs, from a calm flow to class III rapids, from wide-open expanses to the Narrows, a water-carved, 1,500-foot-tall gap between the mountains. Oddly enough, the New River is also one of the oldest rivers, geologically speaking, in the world!
You can paddle the 37-mile New River Water Trail with Tangent Outfitters, going on half-day, full-day, or overnight trips. Kayak, canoe, raft, or float along with a stand-up paddleboard — you can toss in some mountain biking, too, in the nearby hills.
Tip: Pitch your tent right on the water's banks at the New River Campground outside of Independence.
5. False Cape State Park & Back Bay National Wildlife Refuge
False Cape State Park and Back Bay National Wildlife Refuge, south of Virginia Beach, are a serious two-fer — the only thing that separates these wonders is the freshwater Sand Bay.
Back Bay is the more accessible of the two — it's nearly 10,000 acres right off the popular Sandbridge Beach — and here you'll find miles of sand, rolling dunes, scenic boardwalks and trails, woodlands and forests, marshes and swamps, even snow geese and tundra swans.
The Blue Goose Tram runs through Back Bay, and it's also the only motorized public access to False Cape State Park (not including boats). Tram, boat, bike, or foot, make sure you leave some time and energy to get to False Cape — it's the only spot in Virginia where you can actually camp on the beach, sharing sandy space with otters, white-tailed deer, red fox, and loggerhead turtles.
Note: Just like when you're camping in the woods, respect the beach and leave no trace of your campsite.
6. Tank Hollow and Little Stony Falls
The Cleveland Barrens Natural Area Preserve doesn't sound like its name, so don't be fooled: It's actually one of the country's more biodiverse spots, named for the dolomite barrens that pop out of its verdant slopes. Also plentiful here? Waterfalls. The walk to Tank Hollow Falls is just 0.5 mile and super family-friendly. If you're up for more challenging exploration after checking out the 60-foot falls, continue onto the 2.5-mile Big Barren Loop Trail.
A bit farther west, another easy-access waterfall is Little Stony Falls. The 2.8-mile trail follows a rocky 400-foot gorge — and passes a couple of smaller waterfalls — until you emerge on top of Little Stony's 24-foot drop. Get misted on the bridge, or go for a swim at the watering hole collecting at the base.
Note: These are just two — Virginia has so many waterfalls, you'll lose track trying to count.
7. Great Dismal Swamp National Wildlife Refuge
Once an important refuge for escaped slaves — islands hid resistance communities in the million-acre labyrinth of dark water, snakes, and bobcats — the Great Dismal Swamp and its legends are as fierce and intriguing as its name. You could trudge through thigh-high waters, fighting back cypress roots and branches swallowing your ankles, but you'd be better off sticking to the trails or kayaking the waterways. At 170 square miles of forested wetlands, you have an absolute maze of nature and history to hike, bike, explore, and fathom.
Lake Drummond, one of two natural lakes in Virginia and the central recreational hub of the swamp, adds to the mystery: It has no known water source, and a ghostly maiden is occasionally seen paddling the lake. Even if you don't spot her, you may glimpse black bears, bobcats, minks, rare butterflies, and even flying squirrels. Welcome to Virginia's wild side.