in paid partnership with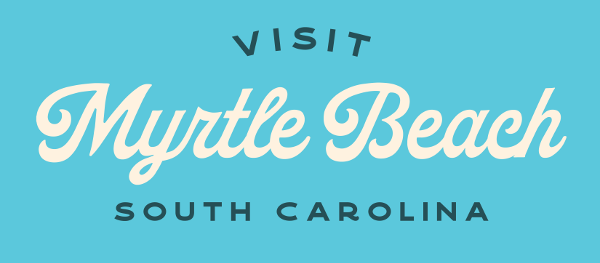 Myrtle Beach, South Carolina, is the East Coast's ultimate beach destination. It's right there in the name, you know? But before you pack the flip-flops and little else, do a little digging — this multi-faceted coastal region will surprise you with all there is to see and do beyond the sand. You'll quickly find that so much is possible in just this one place — as more than 20 million annual visitors can attest.
Summer is practically here, so make plans to get yourself to the beach. But when you visit, save time to discover all the other surprises Myrtle Beach has in store.
1. It truly is the Grand Strand.
Stretching for over 60 miles and covering the better part of two counties, the Grand Strand — Myrtle Beach's famed coastline — leads to the East Coast's best stretches of sand, charming Southern towns, and some of the freshest seafood around. You heard right: 60 miles. That's 14 times longer than the Vegas Strip!
Running from the Little River to Georgetown and anchored by the city of Myrtle Beach, this expansive shoreline provides more than enough of the three S's: sun, surf, and sand. Distinctive communities — 14, if you're counting — help vary what kind of beach vacation you can have, from quiet getaways to late-night oceanfront entertainment, from Ferris wheel rides to deep-sea excursions, from parasailing to boutiquing. You don't have to pick and choose, though, as the Grand Strand connects them all.
2. Here, music is king.
Myrtle Beach may not be your typical Southern town, but it's still Southern by culture — country, blues, and rock n' roll fill the streets nearly every night come summer. For live entertainment, check out these standouts:
3. This is the undisputed seafood capital of South Carolina.
Murrells Inlet, located just south of Myrtle Beach, is the seafood capital of South Carolina, no contest. And since 1948, one family has been showcasing why. Lee's Inlet Kitchen is the only restaurant here that's still owned and operated by the same family that founded it 73 years ago. Routinely voted best in the area, they're practically synonymous with fresh seafood, Lowcountry-Murrells Inlet style.
But we'd be remiss to not also mention Graham's Landing, where Lowcountry recipes have been mastered and passed down over several generations. Their laid-back atmosphere combined with the serene inlet views — and the lump crab cakes, of course — makes for a pretty unbeatable dining experience.
Fun fact: The pirate Blackbeard hung out in Murrells Inlet. These days, you can fish, crab, or scuba dive off the coast near a few historic shipwrecks, and then hit dinner on or off the MarshWalk.
4. Nature abounds in every direction.
With the temperate climate along the Grand Strand, the relatively warm ocean waters thanks to the Gulf Stream, and quiet groves of saltmarshes and maritime forests inland, birders will have a blast sighting egrets, pelicans, terns, gulls, and sandpipers.
But our feathered friends are only the beginning — alligators, dolphins, mink, and sea turtles are just a few of the other animals that can be spotted here. Hit the trails at Myrtle Beach State Park or Huntington Beach State Park to scout out the local wildlife, or pack the binoculars on an intracoastal kayak or paddleboard excursion.
Tip: Rise with the sun to scour the beach for the best shells — and for a chance to find the occasional shark's tooth left behind by the retreating tides.
5. You'll go back to the future.
Myrtle Beach has been a hub of activity for a lot longer than you might realize. Historic homes, sites, and towns (and pirate hangouts!) dot the Grand Strand, some dating back to the 1700s and many still standing today.
But there's one spot that truly spans the eras. The largest outdoor sculpture garden in North America — Brookgreen Gardens — sits just south of Murrells Inlet, a totally modern attraction with a long, long history. The 9,000+ acres that make up the garden oasis were once 19th-century rice plantations, and the expansive property still features a plantation cemetery, rice-mill chimney, Civil War earthen fort, and an avenue of live oaks more than 200 years old.
6. Summer is just the beginning.
The majority of the Grand Strand's visitors are attracted to the summer season for its sun and surf, but spring and fall offer those same amenities while sporting smaller crowds, cooler temperatures, and more affordable accommodations.
Get this: In late fall, it's not uncommon to see hotel rooms — oceanfront hotel rooms — advertised for $50 a pop. If you're looking for a budget-friendly beach vacay for the whole family, you've found your happy place.
7. Here, some of the best things in life are free.
Here's the main thing to remember about Myrtle Beach: There are 60 miles of free beaches to enjoy. Who couldn't use an extra dose of Vitamins D and Sea, all for the price of a bottle of sunscreen?
Budget-conscious travelers should also scope out the Broadway at the Beach complex, live bands at the Pier at Garden City, local museums, the Vereen Historical Memorial Gardens, and the Murrells Inlet MarshWalk. And every Monday-Saturday night from June 12 to September 4, 2021, the 1.2-mile Oceanfront Boardwalk is transformed into a family-friendly attraction with activities and live music at no cost.
At this price point, how many weekend getaways do you think you can swing?