in paid partnership with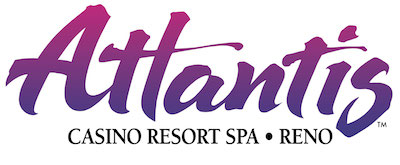 WE ALL HAVE OUR FAVORITE GO-TO DISHES. For some it's a tangy California roll or oysters on the half shell; for others it's classic comfort food like chicken and waffles or wood-fired pizza. For others still it's haute cuisine — Japanese pumpkin ravioli or the best Kobe beef money can buy paired with a perfectly matched glass of red.
With eight restaurants to their name, Atlantis Casino Resort Spa has all these cravings covered. And when you're about ready to burst, don't even worry about traveling across town — just grab a room and sleep off your food coma. Here are just a few of the amazing food and drink experiences you can have here under one roof.
1. Three words: Bloody. Mary. Bar.
Bloody Marys were invented at Harry's New York Bar in Paris in the Roaring Twenties, but they've been perfected — even reinvented — at Purple Parrot's Bloody Mary bar.
Take your pick: Keep it classic with a simple Bloody Mary, blended with the bar's signature Mary mix and topped with a barrage of lemons, olives, and carrots. Opt for the citrus hit of a Lemon Dill Mary, or mix things up completely with the Bloody Molly, which swaps vodka for Irish whiskey. If it's heat you're looking for, go for the Tequila Maria — it combines the sweet taste of southern tequila with lime and pepperoncini.
2. Eat ALL the homemade gelato
After a day hanging out by Lake Tahoe or exploring Reno's art galleries and colorful street art, you might want to head to one of the best Italian joints in the city — Café Alfresco — for gelato, not least because the chefs are pure Willie Wonka, creating around a dozen different flavors every day and serving your order in a house-made, chocolate-almond brittle basket. Throw an espresso on the side or combine the two for a much-deserved gelato float.
3. Order cheesecake and matzo ball soup 2,700 miles from NYC
Little beats a proper New York deli sandwich, and the Atlantis' Manhattan Deli does them exactly as they should, with endless ribbons of marbled corned beef piled high on fresh-baked rye. There's also traditional matzo ball soup with the most flavorful dumplings, lox bagels, latke potato pancakes, hoppy Brooklyn pilsners, thick slices of New York cheesecake… No doubt about it, this spot is legit.
The Deli also has you covered if you're in a hurry, with heaps of freshly prepared sandwiches to-go and sliced-to-order deli meats and cheeses to take home (or to devour on the plane ride home).
4. Get crostinis to go with your handcrafted cocktails
There's toast, and then there's crisp, Italian crostinis topped with garlic butter prawns and smothered in honey bourbon barbecue sauce. Every night from 6pm on at the award-winning Bistro Napa (#2 on TripAdvisor, second only to Atlantis Steakhouse), five craft cocktails are paired with a delicious crostini for $15 each. Brandy-infused Colonial Manhattan cocktails are served with sautéed wild mushroom crostinis, and ratatouille toppings get matched with Rosemary Gin Fizz — it really is all kinds of awesome.
5. Snack on Belgian waffles at 2AM, 3AM, 4AM…
Scrolling through Instagram, we've definitely got the message that breakfast is the most important meal of the day. And the Atlantis totally understands that breakfast can, and should, be enjoyed whenever, wherever. That's why you can order from Purple Parrot's 24-hour breakfast menu day and night. Southern chicken and waffles, bacon cheddar jalapeño waffles, quinoa pancakes, Texas toast fried in batter, eggs benny…it's all any foodie could ask for. Plus, the restaurant's marble tabletops are the ideal backdrop for the perfect Insta shot.
6. Taste the best steak around
Voted the best steakhouse in Reno-Tahoe by OpenTable diners and rated #1 on TripAdvisor, this is where you go for award-winning Allen Brothers of Chicago meats: American Kobe strip loin and sirloin steak, Cowboy bone-in ribeye and filet mignon — it's all cooked exactly the way you want it and served up with a choice of classic cocktails, martinis, and over 336 selections of wine. That's how Atlantis Steakhouse has earned the Wine Spectators Choice award, too.
It's true that beef is the star of the show here, but the sides are equally unreal — think buttery, sautéed asparagus spears and properly indulgent, creamy, gooey white truffle mac and cheese. But stay a bit hungry if you can — for dessert, you won't want to miss the 321° Below ice cream. It's made table-side with liquid nitrogen, resulting in the creamiest, freshest ice cream you've probably ever tasted.
7. Order sushi to go with those mountain views
Next to the Oyster Bar on Atlantis' Sky Terrace, head to the Sushi Bar, where the views look beyond the city to the Sierra Nevada mountains, and treat yourself to the all-you-can eat lunch and dinner buffets. Happiness actually is wasabi, pickles, and over fifty kinds of nigiri and maki sushi — hello unagi, spicy scallop hand rolls, and salmon roe nigiri. Plus, if you've never tried traditional Japanese plum wine, here's your chance!
8. Match your food with gin, whiskey, champagne, wine, and tequila
Take part in the Atlantis' Spirited Dining Series and expect up to six incredible courses, all featuring seasonal dishes like flame-broiled lamb lollipops with Japanese pumpkin ravioli followed by light and fluffy apricot abelskivers.
Every month a team of gastronomic experts chooses a particular wine, beer, liquor, or spirit. And after the drink of choice has been set, the team whips up a carefully curated menu that matches, say, the subtle differences between Scottish and American whiskeys, the best Napa Valley Sauvignon Blancs and Cabernet Sauvignons, or tequilas that are miles away from any past memories of sticky dive bars and soggy lime slices.
9. Go where the locals go for Sunday Champagne Brunch
You could spend your Sunday morning endlessly Googling the best brunch options in Reno from bed, or you could sleep in and head straight to Toucan Charlie's Buffet & Grille, voted Reno's Best Buffet and Best Champagne Brunch by locals year after year.
Think fresh fruit, all the hash browns, eggs every way, and made-to-order omelets. Most of all — think endless rounds of Champagne. We told you this was the best brunch in the city, and it runs till 3pm every Sunday.
Word of warning: Once beautiful macarons, flaky French pastries, and housemade gelato are part of your brunch repetoire, cereal and toast just won't look the same. See you by the pancake bar!