in paid partnership with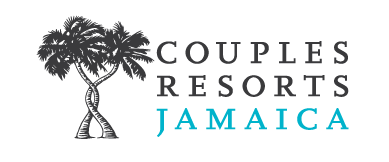 SOMEWHERE IN THE distance, you can hear the faint cadence of steel drums. The sweet, spicy flavor of rum lingers on the tip of your tongue, and the salty sea has nearly turned your hair into dreadlocks. There's only one place in the world to achieve such a holy trifecta of summer vacation sensations, and that place is Jamaica.
Summertime is ideal for hitting the island — its waters, its waves, its waterfalls. And Couples Resorts, with multiple properties on the island, is the ideal home base while you're there. That's because their all-inclusive packages give you complimentary access to all the activities below, and then some. Here's a sneak peek of what's in store.
1. Scuba diving the tropical Jamaican waters
You can't go to the Caribbean without getting up close and personal with the local wildlife, and that includes the kind that lives deep under the ocean's surface. The only way to get there? Scuba diving.
Water conditions are prime: Temperatures hover around 80 degrees and visibility can be as high as 100 feet, sometimes more. For dive sites around Negril and Ocho Rios (where you'll find all four Couples properties), expect to see turtles, nurse sharks, rays, barracuda, and an impressive variety of corals, sponges, and reef fish. You'll likely spot lobsters, crabs, eels, and puffer fish, too. A handful of shipwrecks and underwater caverns lie hidden away for those willing and able to go deeper.
Dives around Jamaica vary in skill level from beginner to advanced, and certification (or lack thereof) is no problem. Couples Resorts runs the full range of PADI certification courses. For the uninitiated, there's no better way to go. If you are already certified, then dive away — this is one of many awesome unlimited inclusions.
2. Cruising on a catamaran
Three of the four Couples resorts (the exception is Couples Sans Souci) offer a catamaran cruise — and again, it's totally complimentary. As is the rum punch on board, though before you imbibe too heavily, make sure to get the most out of your ride by plunging in the Caribbean via the catamaran's slide. Depending on which resort you choose, exploring nearby caves, snorkeling with fish, swimming to Rick's Cafe, and cliff jumping may also be part of the deal. The adrenaline rush will only be brought back down by the sunset.
There are as many as four catamaran cruises setting sail each week, so regardless of when you stay, you'll be able to count on this experience being part of the package.
3. Hiking Dunn's River Falls
Hanging around a pristine lagoon next to a 600-foot waterfall is never a bad day. Couples Tower Isle and Couples Sans Souci are both right down the coast from Dunn's River Falls — widely considered to be one of the most beautiful spots on the island — and complimentary excursions run there regularly.
The Dunn River is one of the few Jamaican rivers that empty directly into the Caribbean, at one of those white sand beaches you're likely picturing in your head. You can appreciate it from below, sure, but even cooler is the climb to the top, up and over the stair-stepping cascades and pools. Bring your water shoes, and get ready for this only-in-Jamaica experience.
4. Perfecting your sailing skills
In a place known for its epic sailing conditions, you'd be missing out if you didn't stretch your sea legs by cruising the Caribbean's turquoise waters via wind power. The sport is known as Hobie cat sailing, and if that means nothing to you, your world is about to be catapulted to a new level. Imagine two kayaks connected by a flat platform and a sail in the middle, the craft big enough for two to lounge casually. That's a Hobie cat, and they're pretty easy to maneuver.
Sailing excursions are easy out of any Couples location, as the surrounding waters are known for being calm and serene. However, Negril is home to Seven Mile Beach, which is the definition of #beachgoals (seriously, just Google it and say goodbye to your afternoon). Couples Negril and Couples Swept Away put you right there. Whichever spot you choose, you'll be in good company if this is your first time — the Couples watersports staff will join you for all the lessons you need until you feel comfortable going out on your own.
5. Ocean kayaking along miles of white sand
If there's a place to see and be seen in Jamaica, it's the aforementioned Seven Mile Beach in Negril. The cliffy coastline stretches as far as you can see, some sections filled with resorts and restaurants, others completely cut off from humanity save for the existence of you and your partner. In other words, your trip can be whatever you're looking for, whenever you're looking for it.
Jamaica enjoys mellow tides year round, and the calm waters of Negril Bay make the leap from sand to sea nearly seamless, opening doors to those of all skills levels. Go for the afternoon if you're craving adventure, or book a morning tour before the tradewinds start blowing to make your trip even more intimate and relaxing.
6. "Wasting away" in Margaritaville
Jimmy Buffet music is synonymous with island partying for a reason. Take one look at Margaritaville, a boozy playground for adults with locations in Ocho Rios and Negril, and you too will be drawn in like a moth to the flame. Yes, it's a real place, and yes, your stay at Couples Resorts gets you in.
In Ocho Rios, a swim-up bar means you have the luxury of not having to choose between a refill and staying cool in the pool when your margarita glass is approaching empty (the biggest problem you'll encounter on this vacation). Take a trip down their waterslide between sips, or lay out on the nearby beach. Meals featuring Jamaican jerk chicken and braised pork are served onsite for when you need a bite.
7. Surfing the breeze
Checking kayaking, paddleboarding, and snorkeling off your summer vacation list is something to be proud of, but windsurfing is certainly worthy of an add to your résumé. The sport combines the best of sailing and surfing and gets you on the water in a way kayaks and paddleboards simply can't.
Beginners, don't worry — with help from the pros at Couples Resorts, there's a way to quickly learn the necessary skills of wind theory, controlling your kite, and balance. Once you get those down, it won't be long until you learn how to body drift. Once it clicks, you'll feel like Master of the Water, and any other board will be your play thing.
Guides are trained to teach you the basics and stay nearby if you need them, but they give you enough space to start cruising Jamaica's waters on your very own. They'll likely advise you to go in the afternoon when the winds pick up, but late morning is a good time to learn in smoother, calmer conditions.
8. Chilling on a paddleboard
Stand-up paddleboarding, or SUP for short, is a relaxing way to cruise the water. If you're unfamiliar with the sport, it isn't something you should be intimidated by, even in the open ocean around Jamaica. At the same time, don't be deceived into thinking it's as easy as it looks. After a good session, you'll walk away with a great core body workout, which is a very good thing after all that in-room dining you've been taking advantage of.
9. Taking a glass-bottom boat tour
Non-divers might have a hard time seeing the island life that thrives underwater. But if you climb aboard a glass-bottom boat tour — complimentary from all four Couples resorts — you'll be able to experience what lies beneath without even getting wet.
Several windows on the boat's bottom offer a glimpse into life in the Caribbean. The floor will come alive with gardens of coral and tropical favorites like parrot fish, lion fish, rays, and sharks. From Couples Sans Souci, you'll even get a rare glimpse of a shipwreck. And because the windows magnify everything you're looking at, the scenes are that much more impressive. Some boat tours allow you to feed the fish, but all of them offer an unparalleled look into Jamaica's pristine underwater world.