12 Top-Rated Airbnbs in Tucson for a Charming Southwest Adventure
Dive into the soul of the Sonoran Desert and the mixture of rich cultures in Tucson, Arizona. Tucson is surrounded by many diverse natural wonders, is the home of the University of Arizona, and a city with historical ties to Mexican, Native American, and Spanish heritage. Whether you are checking out the city's top eateries, history, or just going to unplug, Tucson has it all. These are the most gorgeous and top-rated Airbnb Tucson properties for your desert getaway.
We hope you love the Airbnb Tucson stays we recommend! Just so you know, Matador may collect a small commission from the links on this page if you decide to book a stay. Listed prices are accurate as of the time of publication.
Private historic home in the heart of Armory Park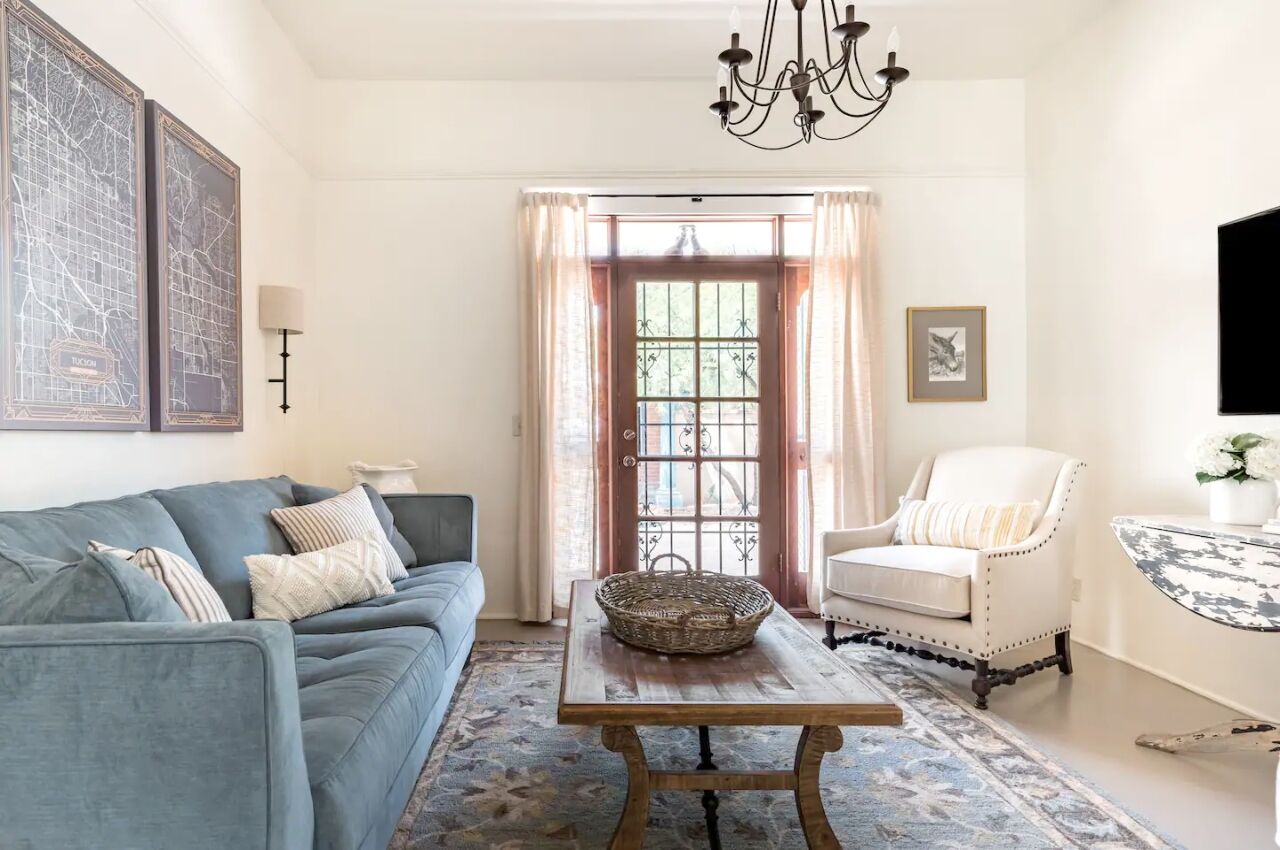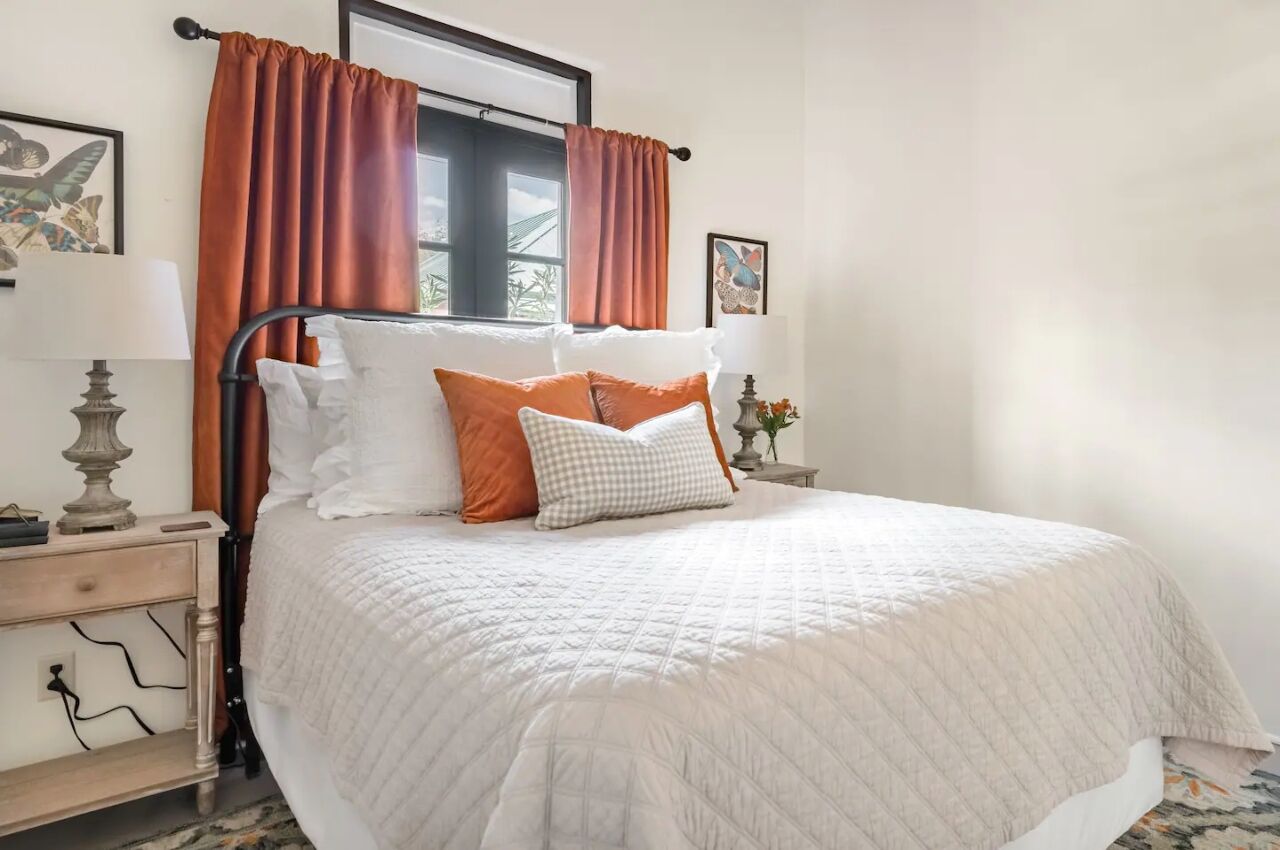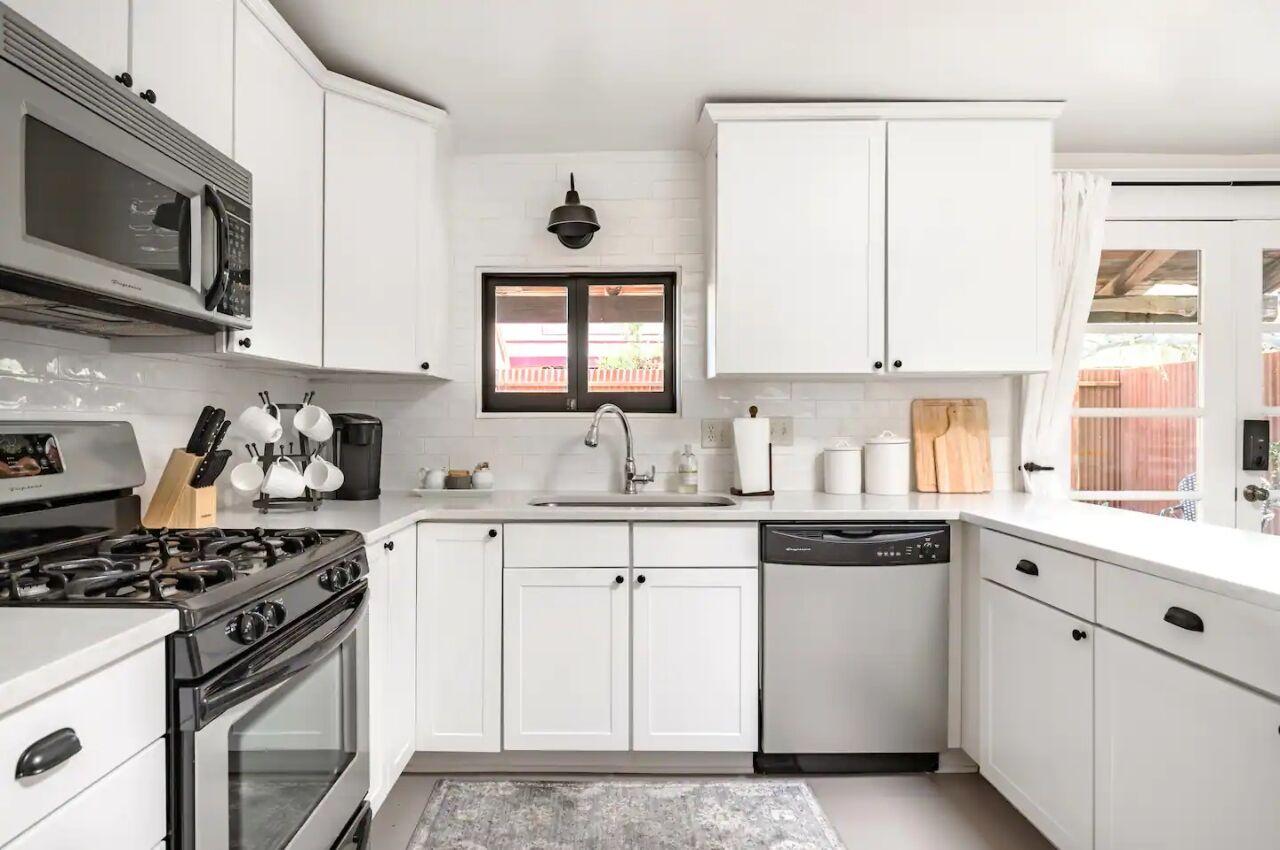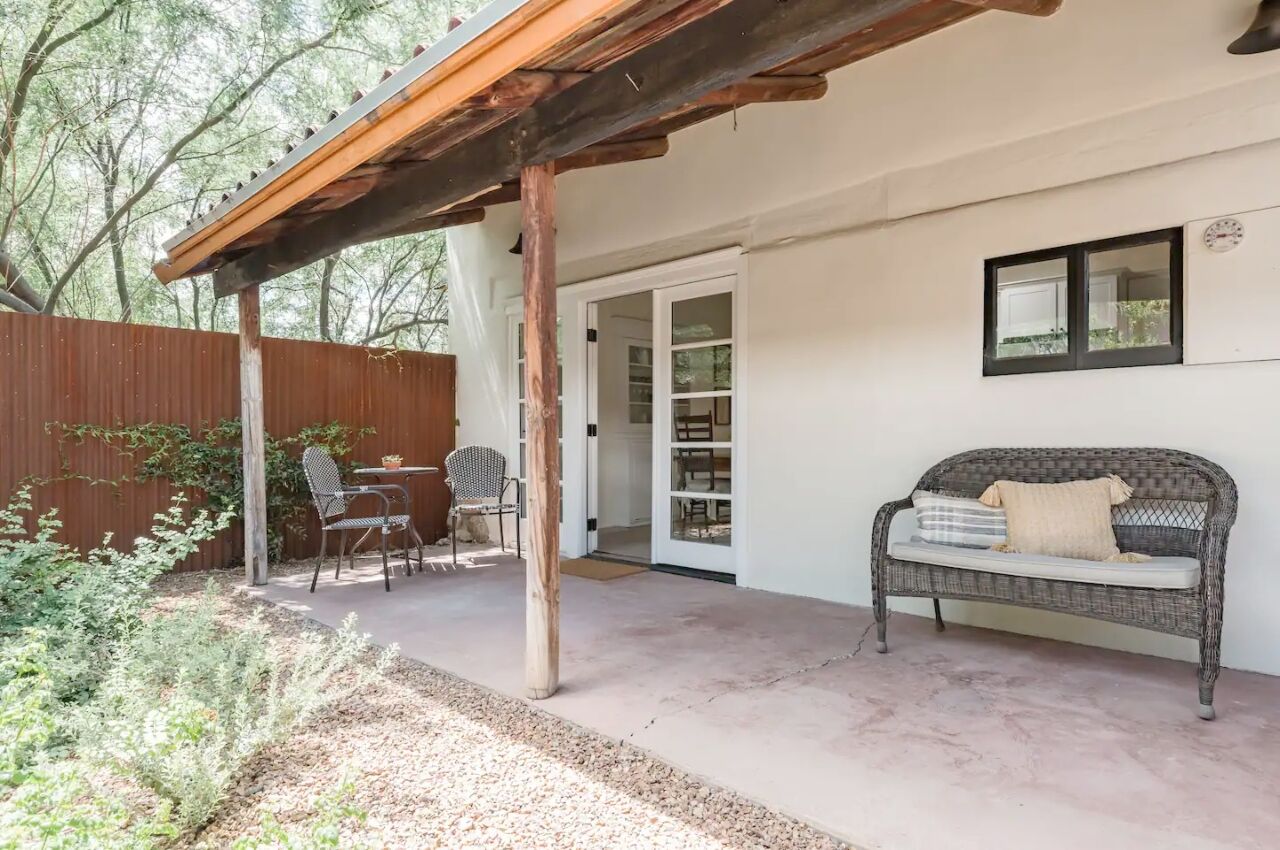 This historic home is the perfect private romantic getaway. The pad features a stunning, all-white kitchen with stainless steel appliances. The living room is spacious, with a monochrome bistro table perfect for coffee. The house is located in the heart of Armory Park and within walking distance of downtown Tucson.
Five guests, two bedrooms
Price: $199 per night
Newly renovated condo 15 minutes from downtown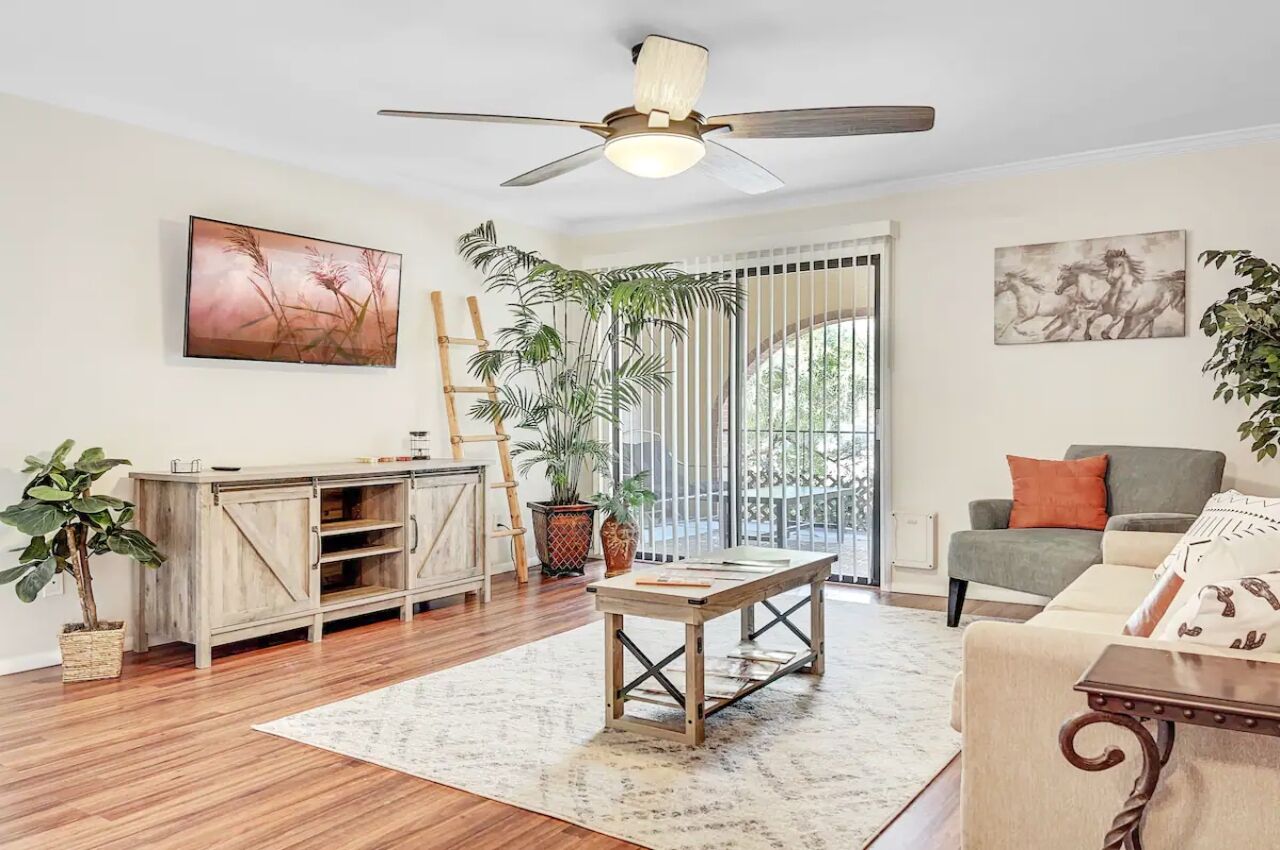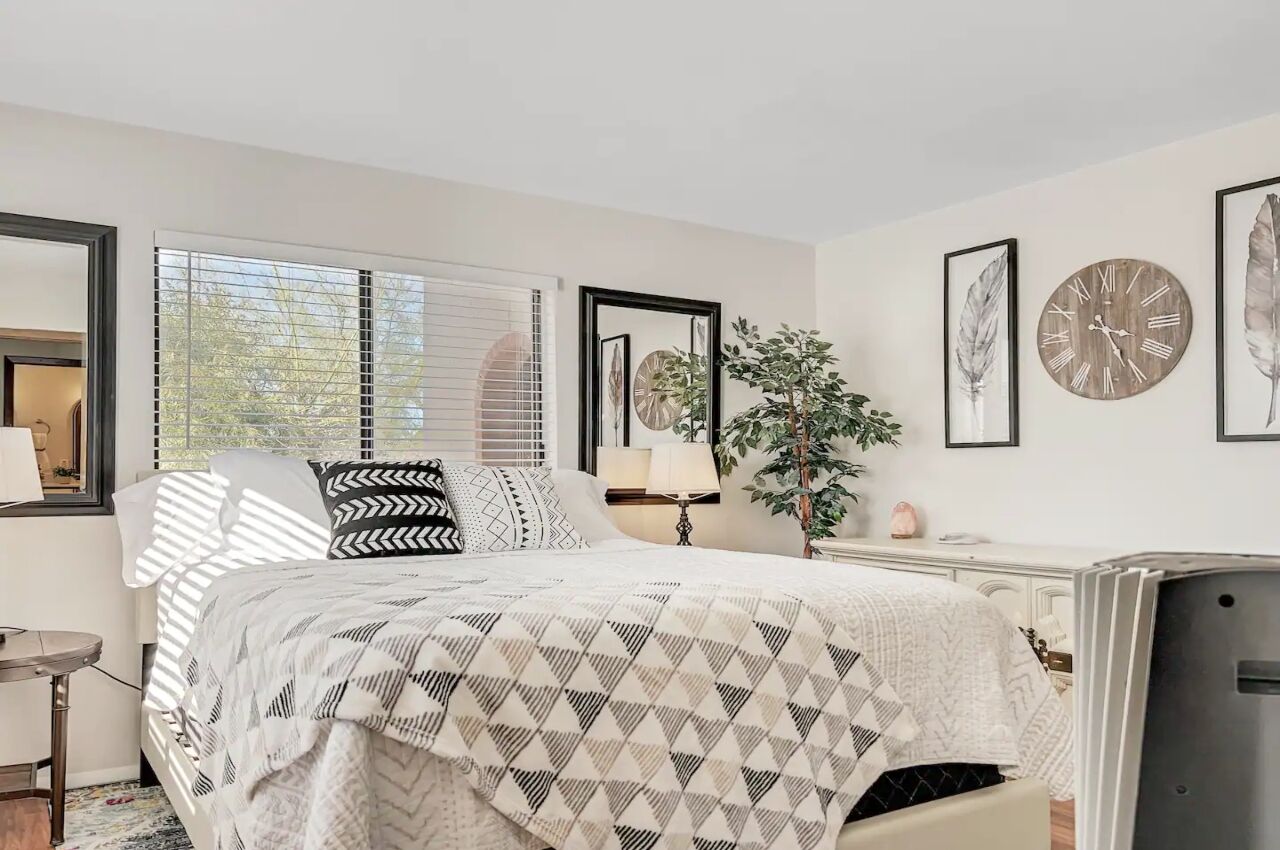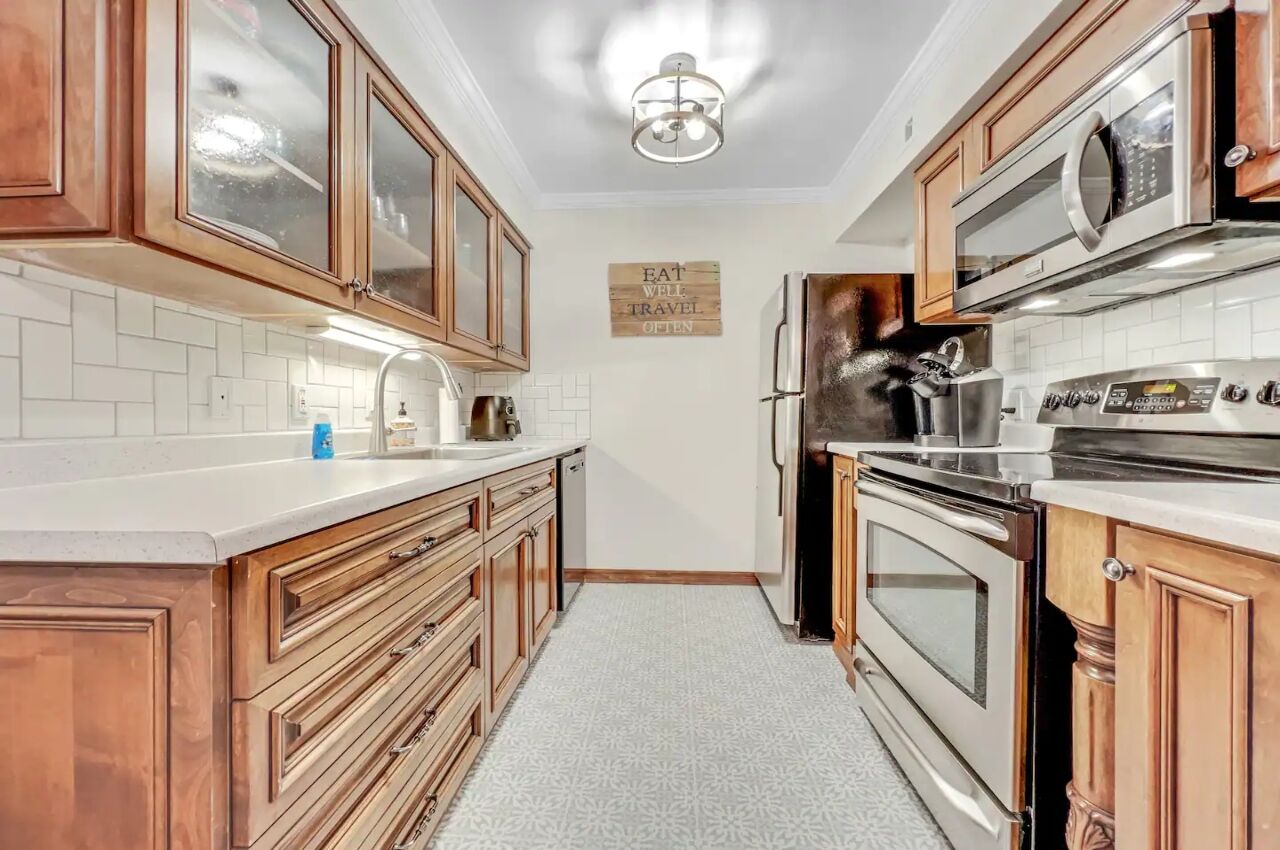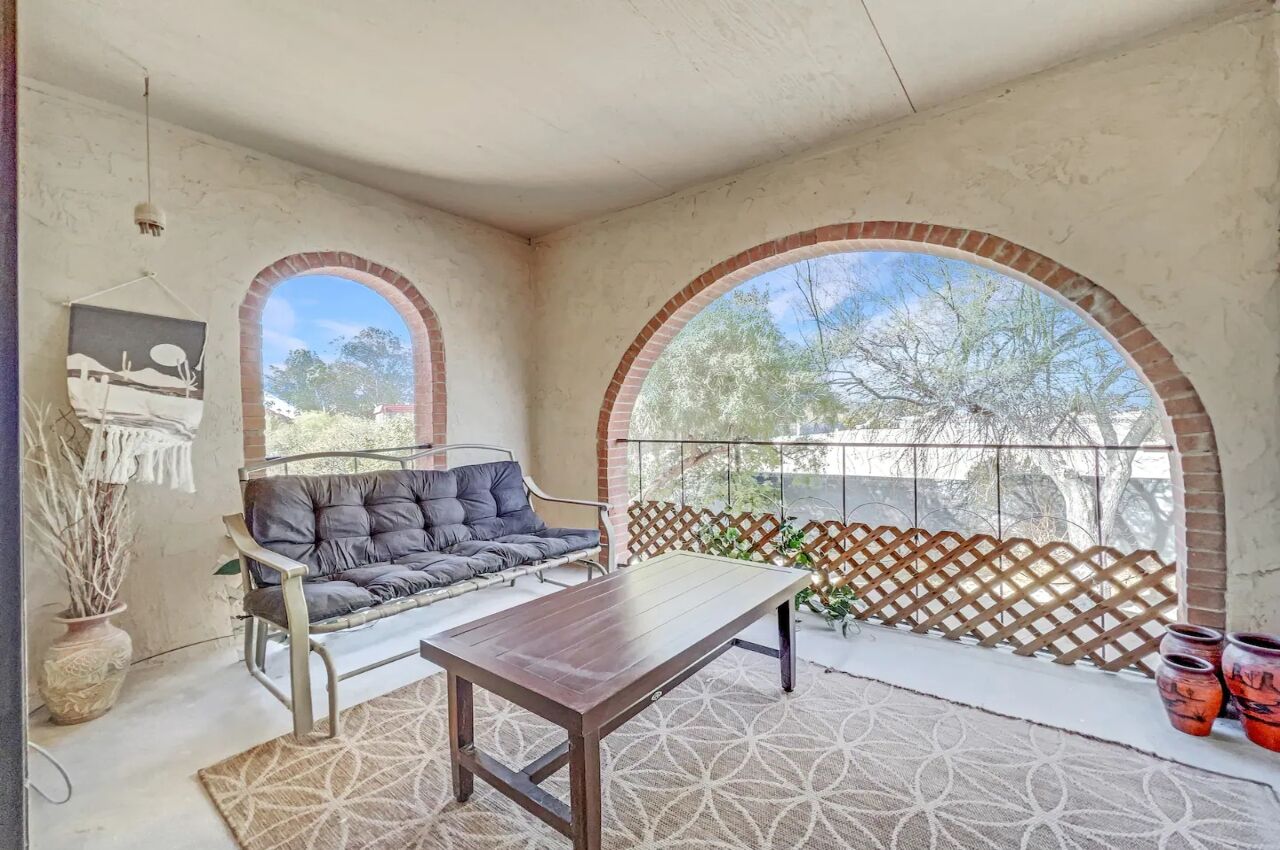 Check out the blend of Southwest charm with modern touches at this newly renovated condo. Step inside this quaint but top-rated Tucson Airbnb with a spacious living room equipped with a ceiling fan and on-trend hardwood flooring, and a brand new 50" 4K Fire TV. The open floor plan layout goes into the fully equipped kitchen and dining areas. There is access to the community pool if you want to spend a day by the pool and soak up some sun. The condo is just 15 minutes away from all shopping, dining, and other entertainment.
Four guests, one bedroom
Price: $102 per night
Country Southwestern retreat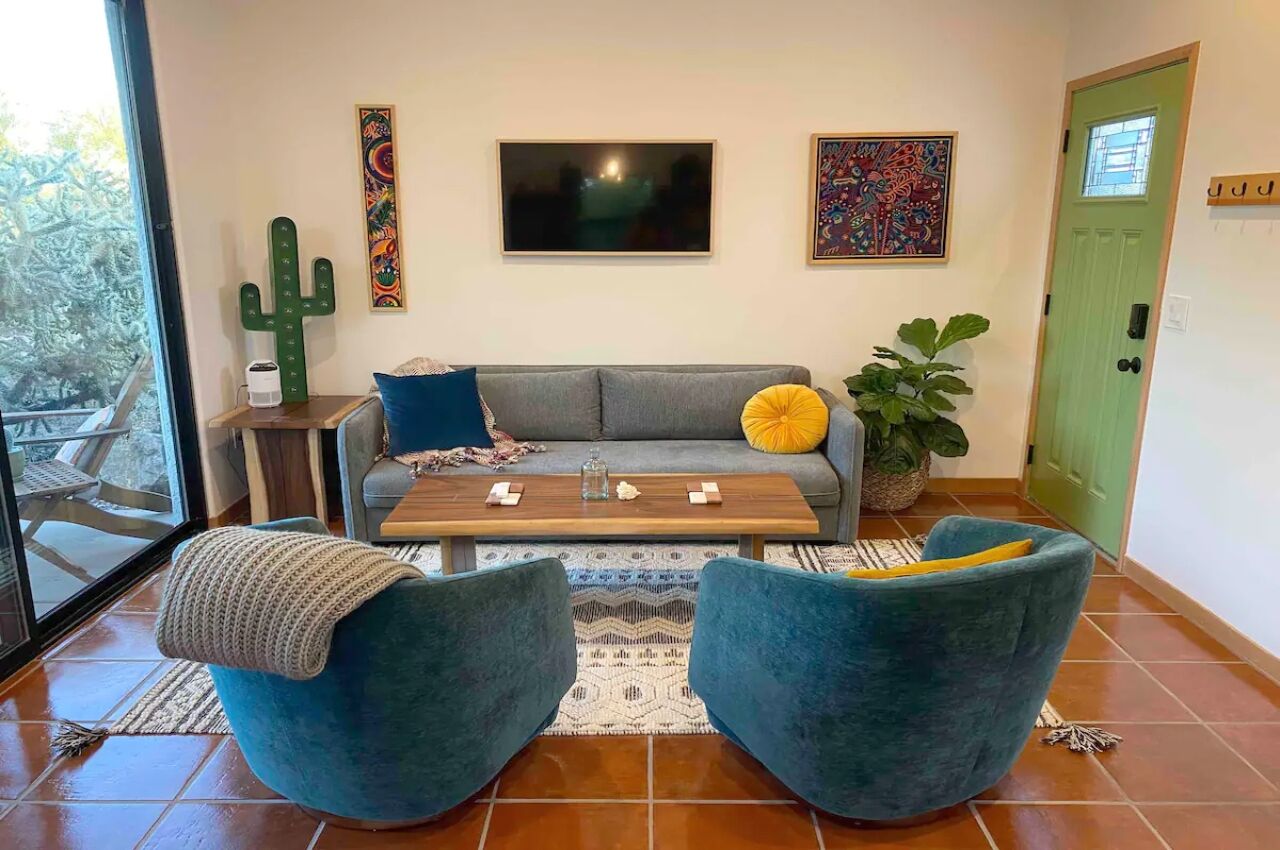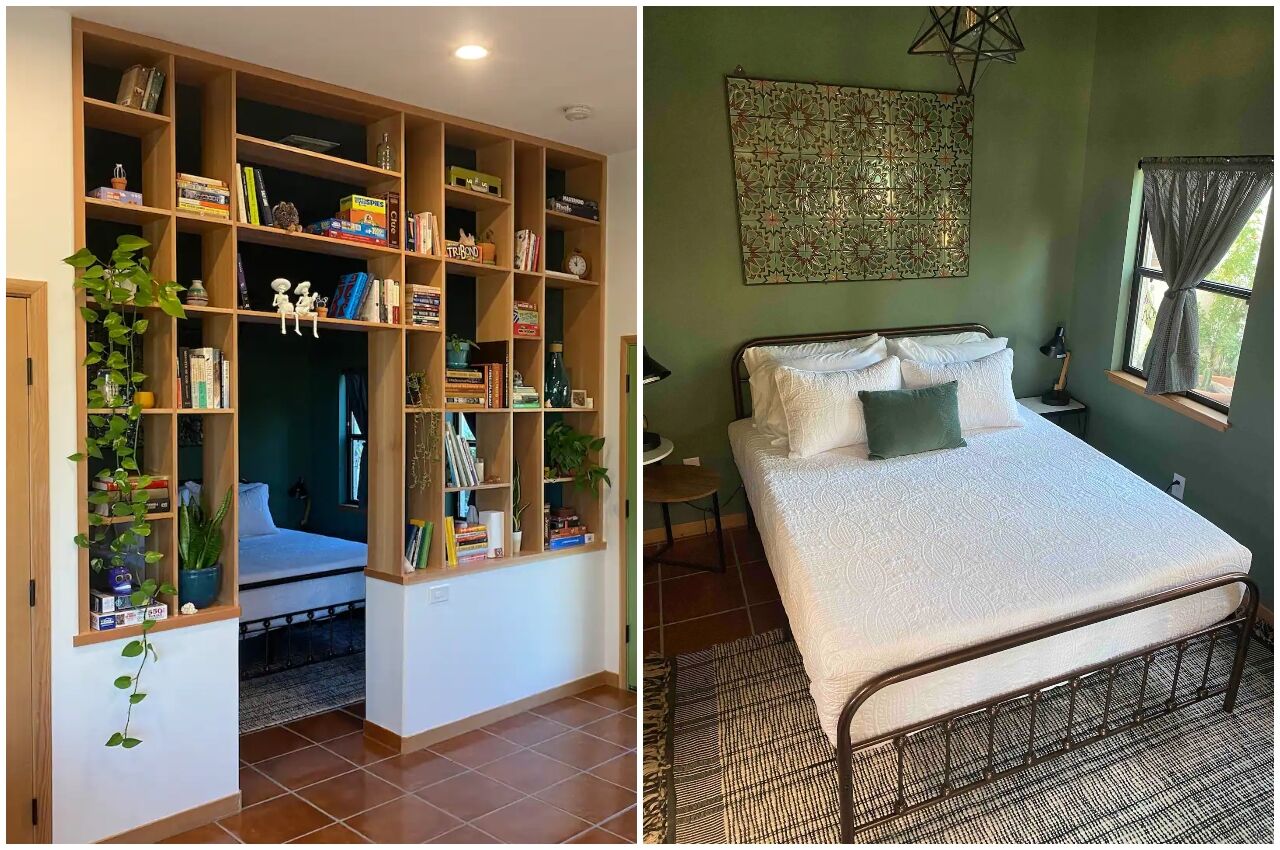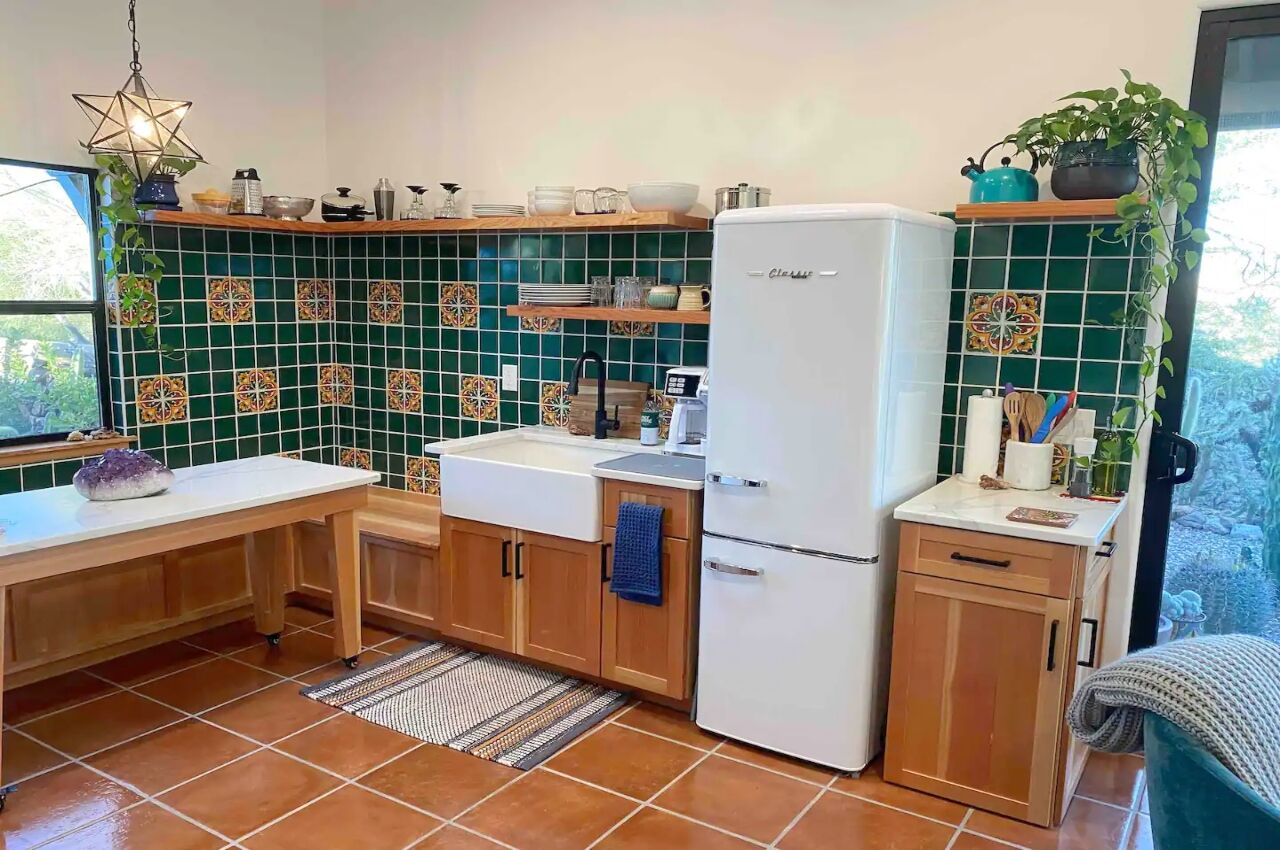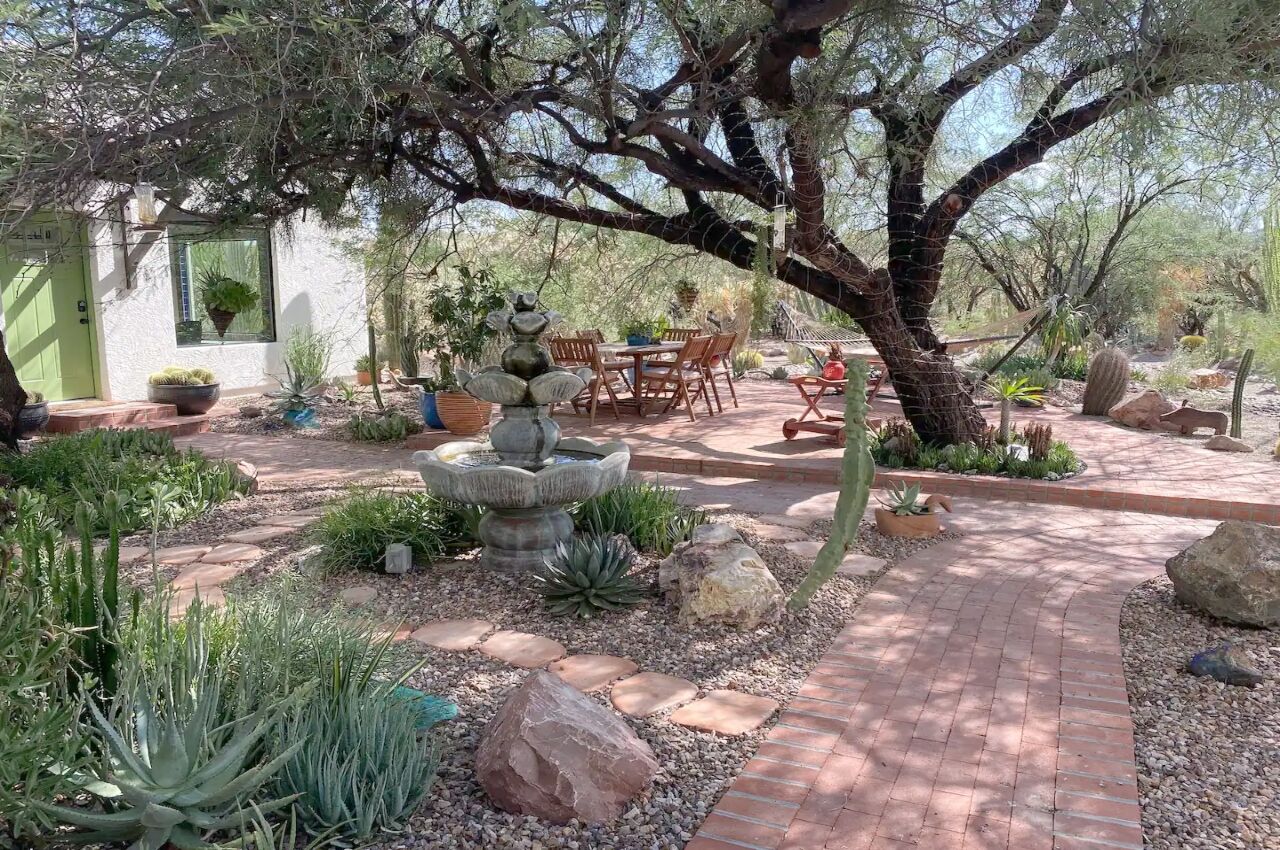 If you love being secluded in nature, then this Airbnb Tucson property is perfect for you. This open floor plan guesthouse has ceilings and a southwestern theme to the house. The kitchen features a breakfast nook and can be used for extra counter space. The home also features a private porch and large communal patios with outdoor dining and a fire pit.
Two guests, one bedroom
Price: $89 per night
The Barn Airbnb in Tucson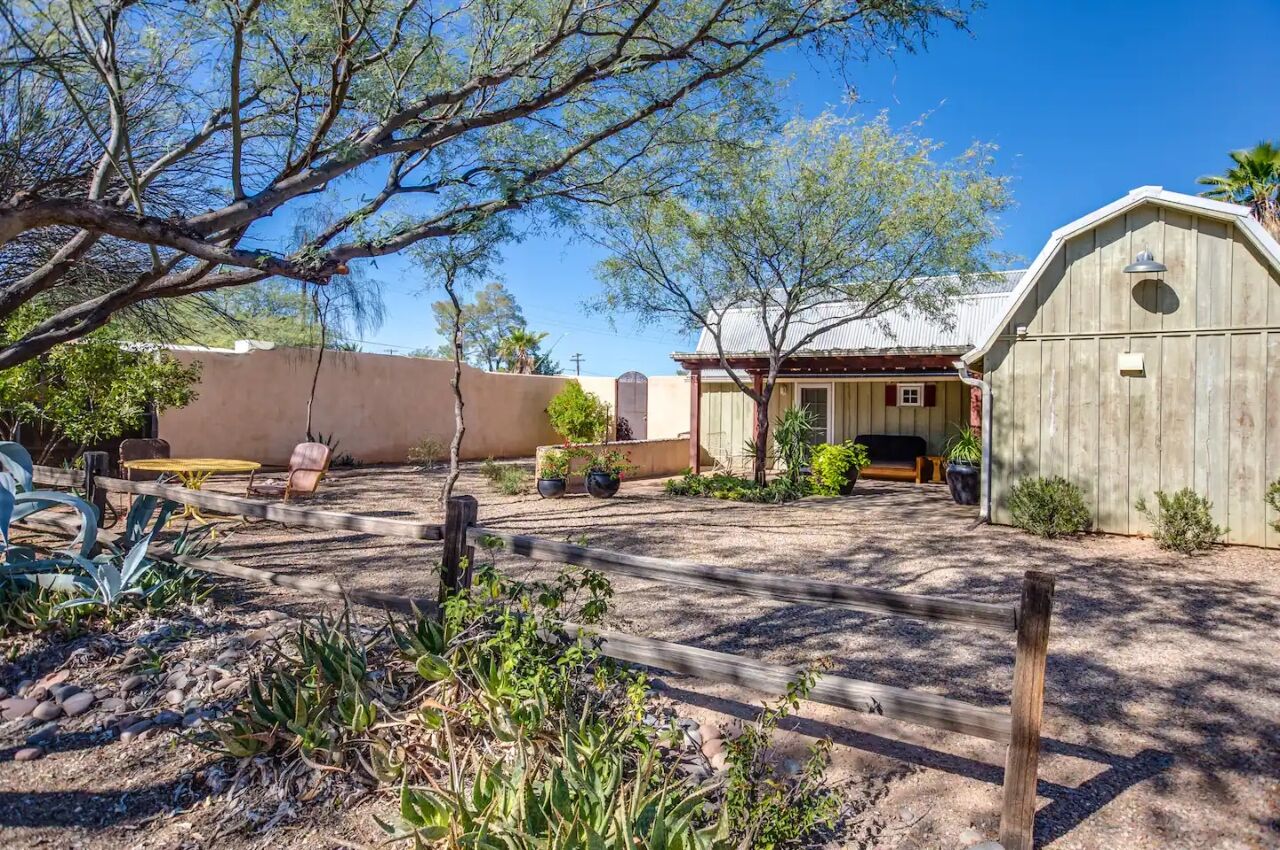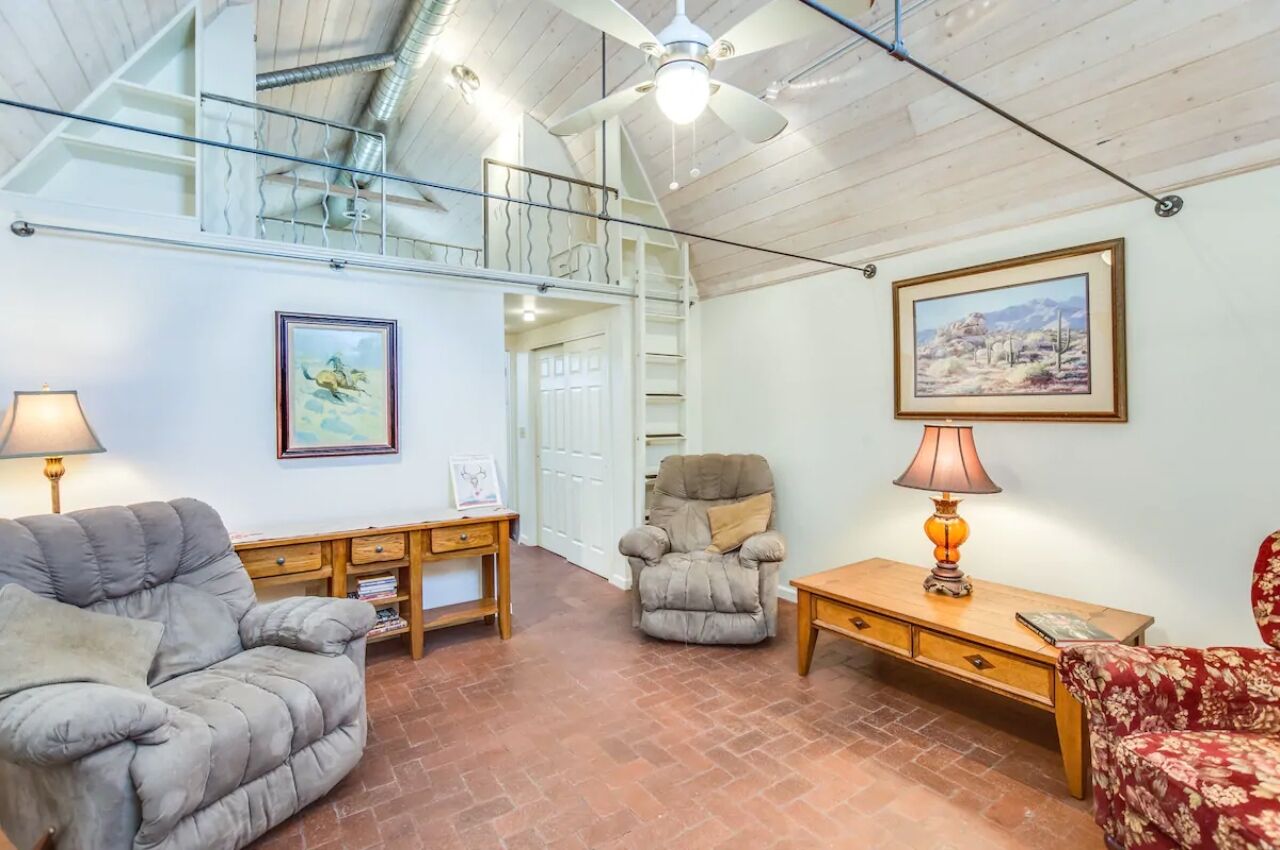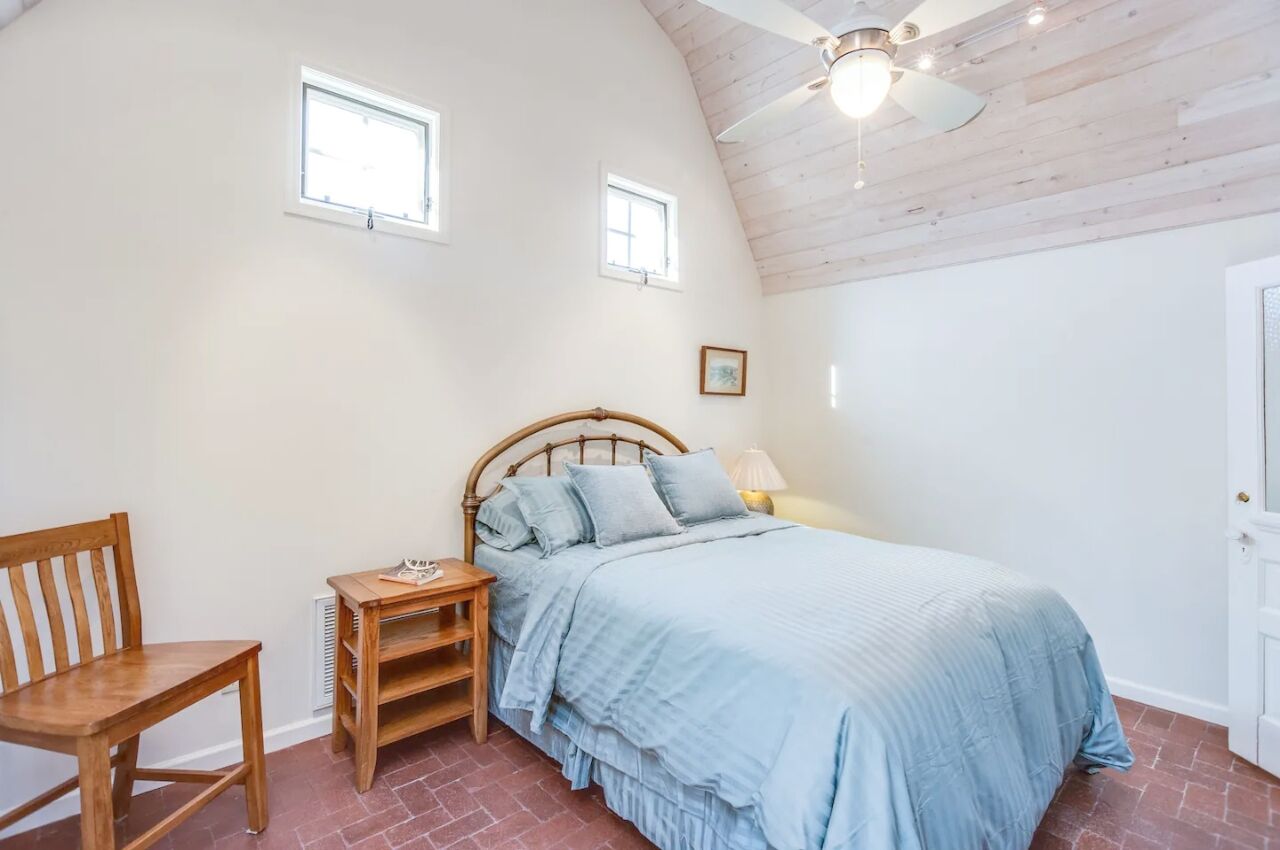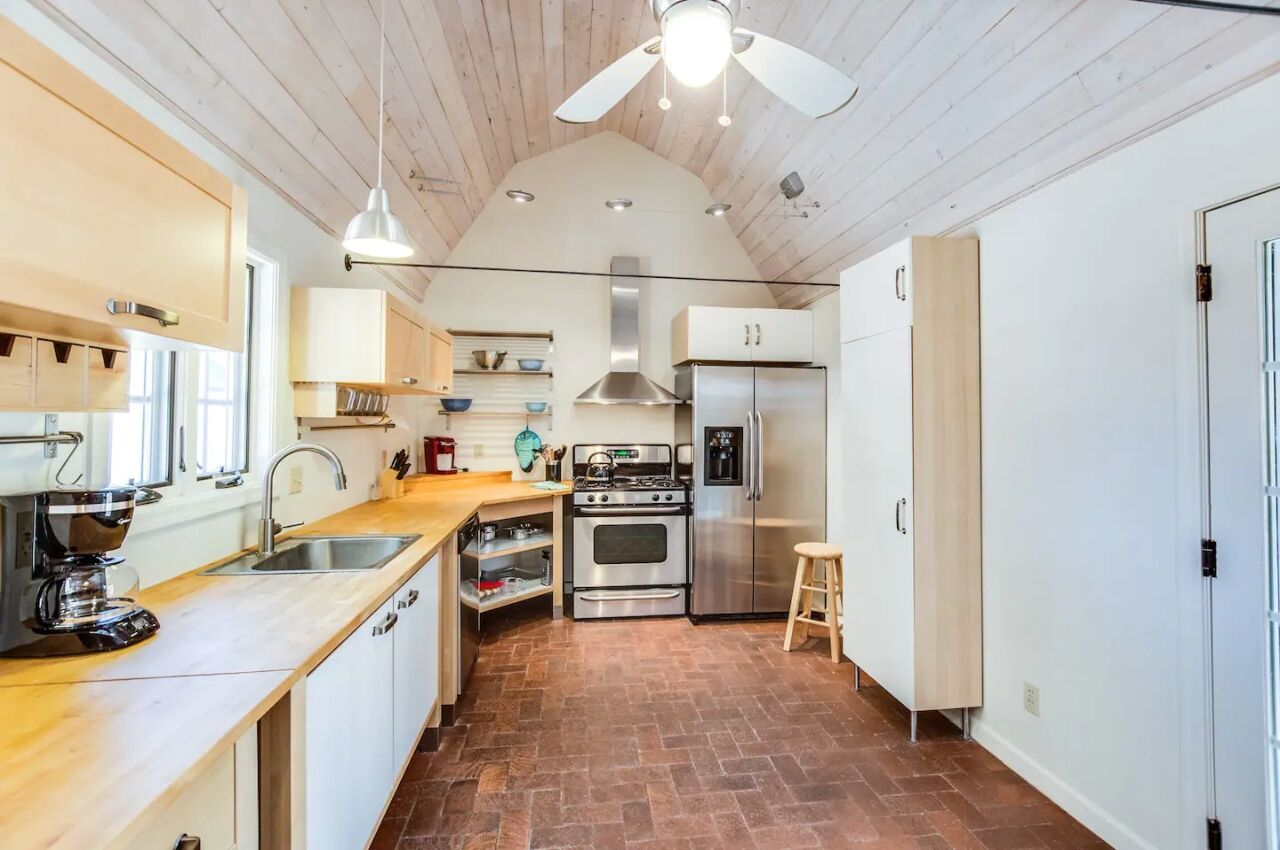 Check out this top-rated Airbnb in Tucson, The Barn guesthouse. This spot is the ideal place to stay for singles or couples. This barn guesthouse is a renovated barn from the 1920s and part of the "Old Dowd" homestead. This peaceful country retreat has a spacious living room with smart appliances and a stunning oak wood dining set leading to the open kitchen equipped with all devices. The barn also has a veranda and a mesquite grove garden area to sit and relax.
Two guests, one bedroom
Price: $88 per night
The Hummingbird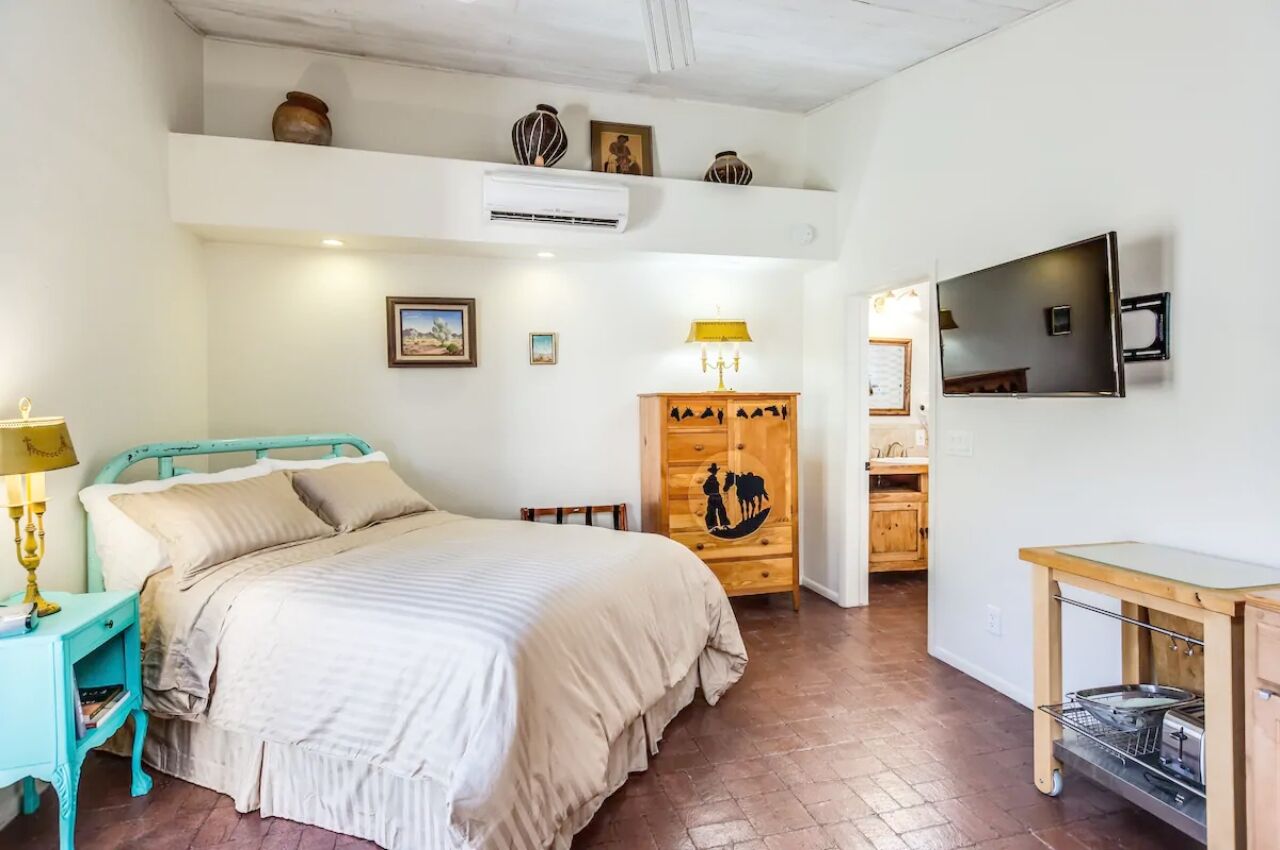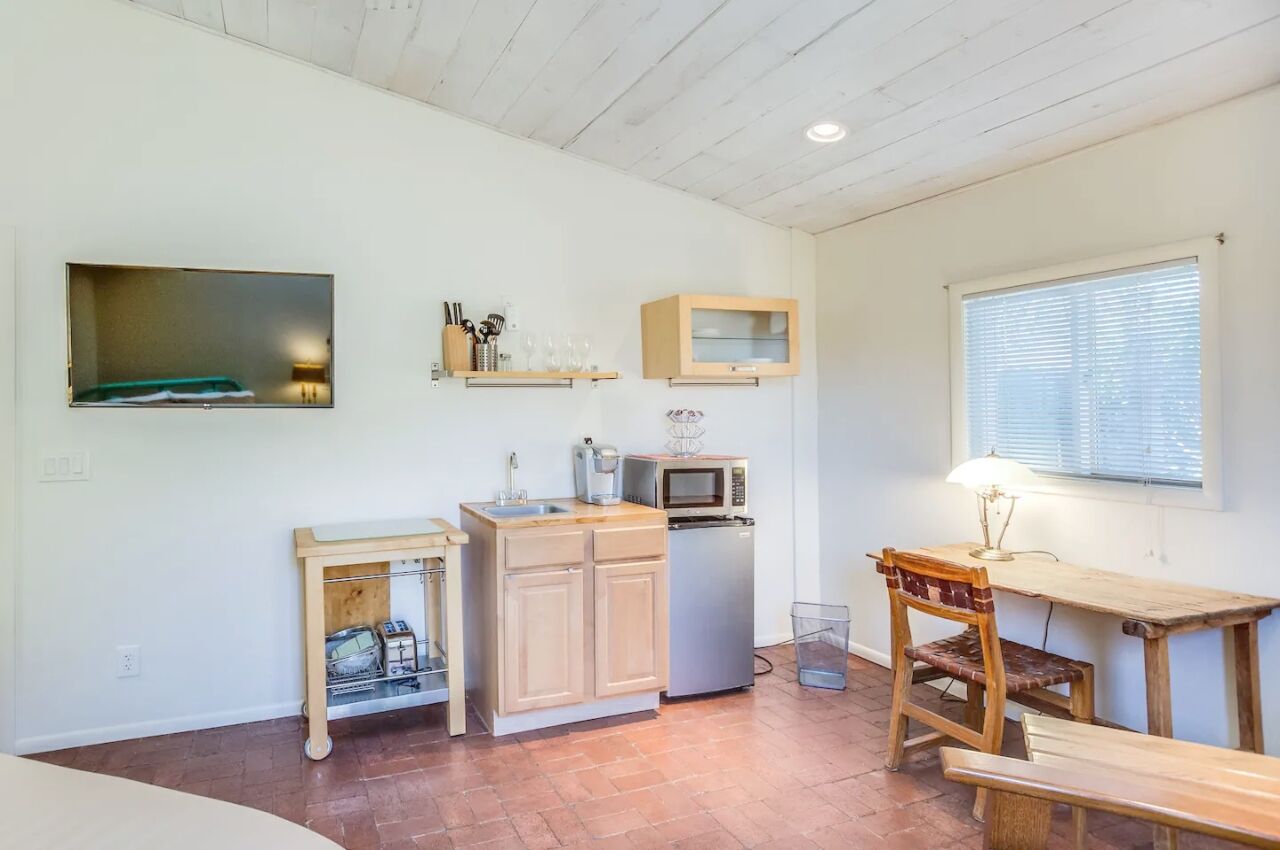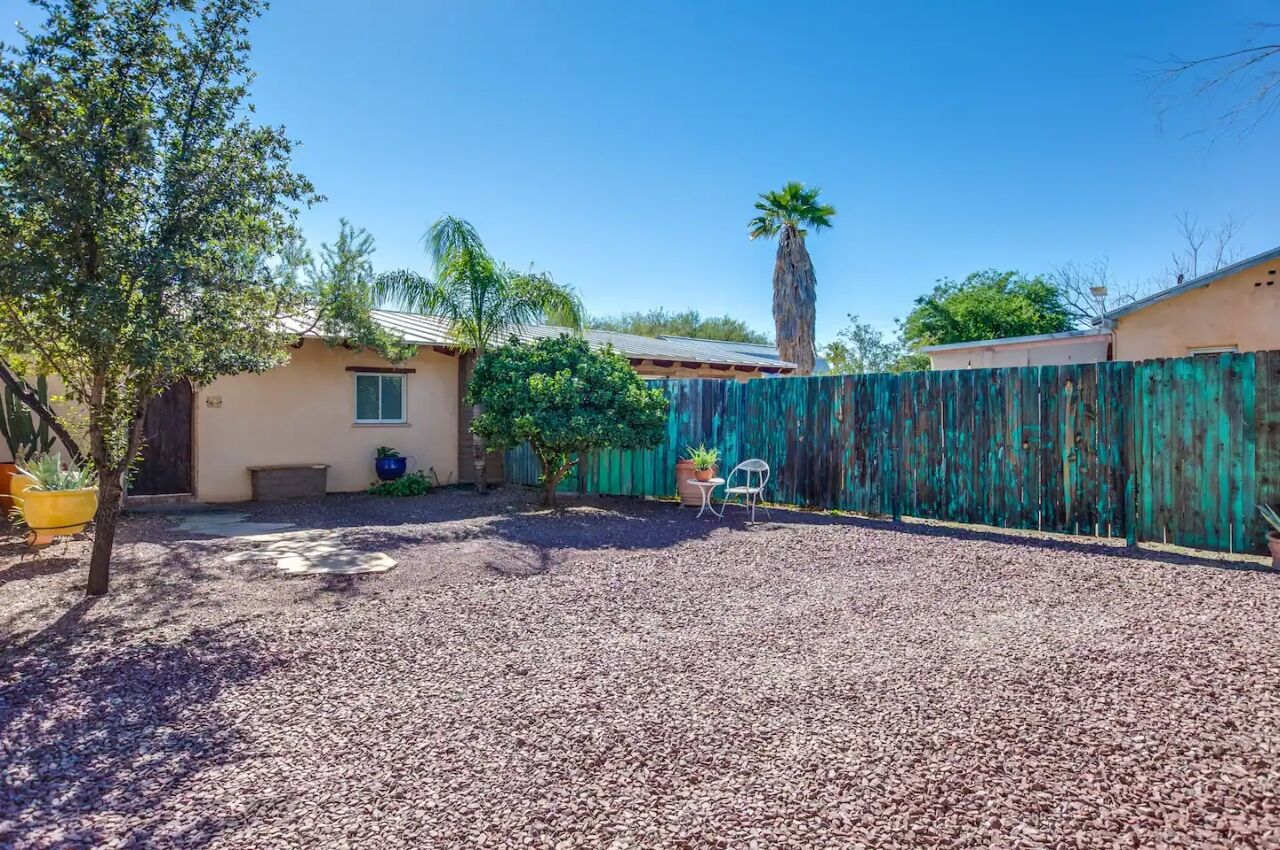 This top-rated Airbnb in Tucson is affectionately called The Hummingbird, a relaxing property located in Central Tucson. The Hummingbird is a full-sized studio with a full bath and kitchenette with kitchen essentials included. The studio is located 10 minutes from the University of Arizona and just minutes away from Botanical Gardens, St. Phillip's Plaza, Palomino Plaza, and more shopping and restaurants.
Two guests, one bedroom
Price: $71 per night
The Bougainvillea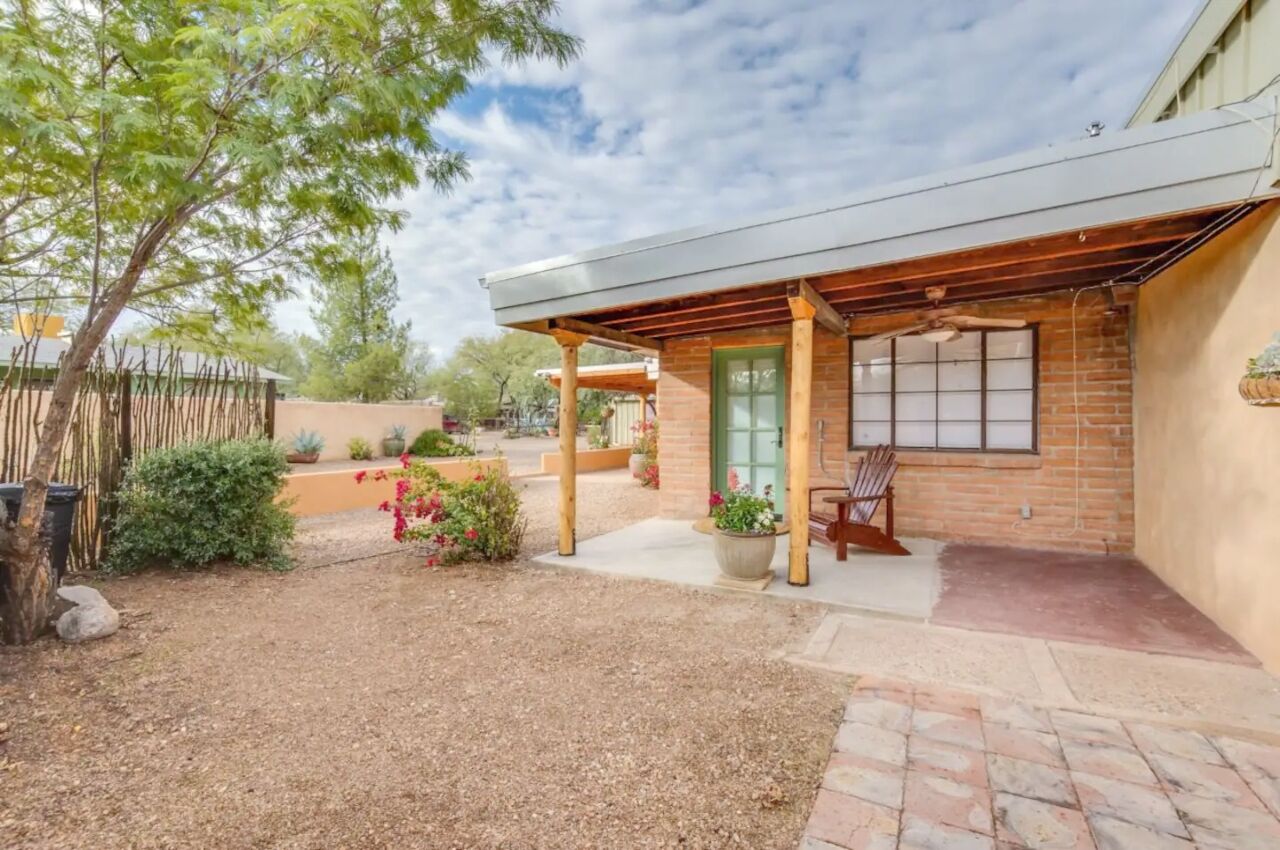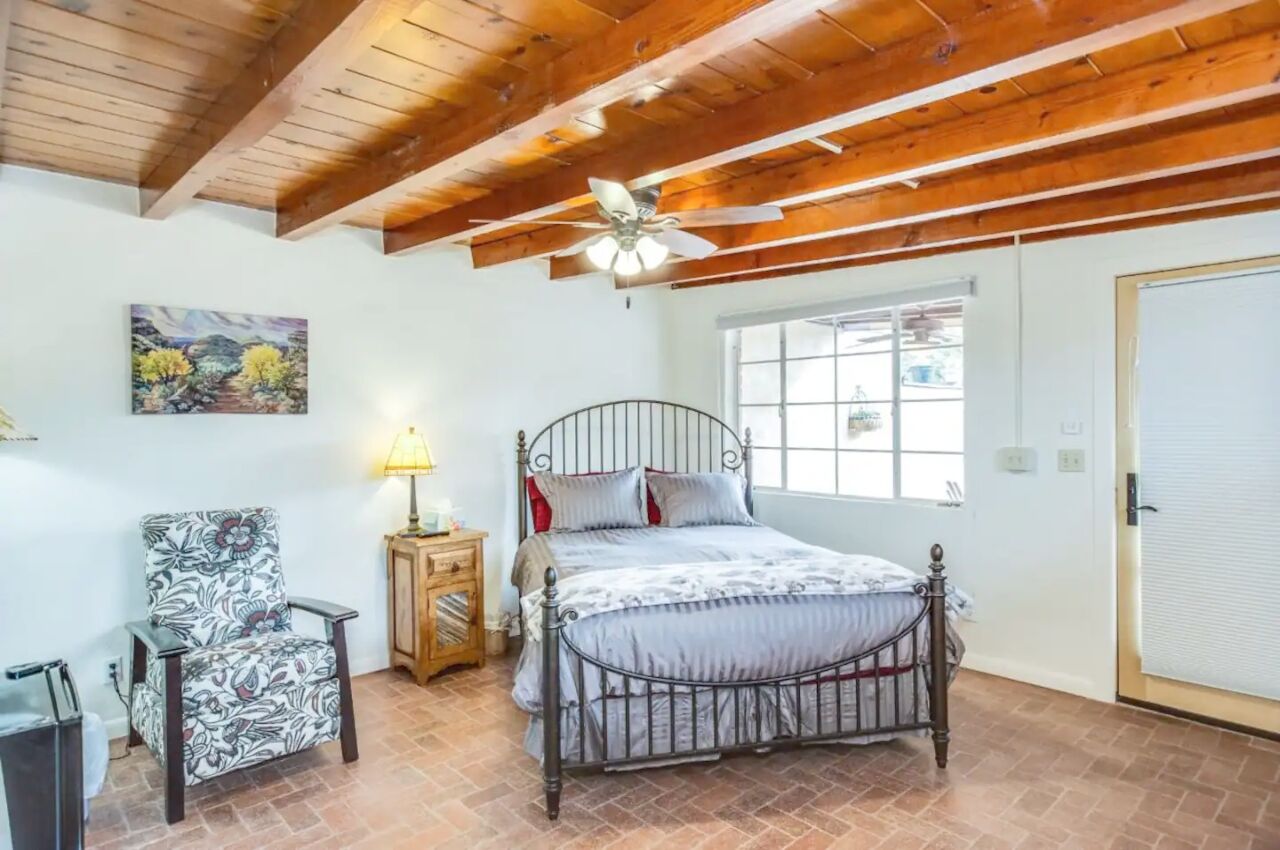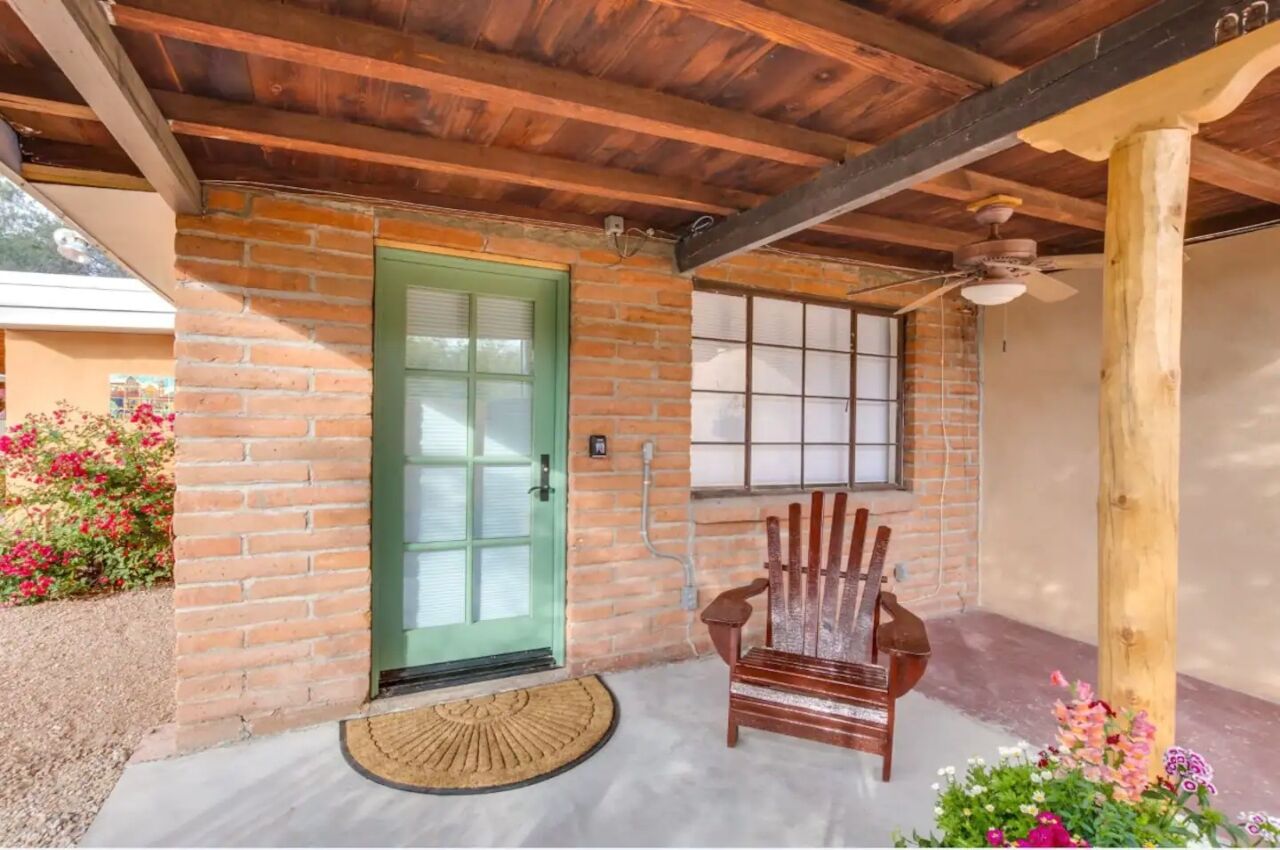 Here is another top-rated Airbnb Tucson property called The Bougainvillea. The Bougainvillea is a cozy villa located 200 feet back from Presidio Road and can be accessed from a private gated entrance. The property is a tranquil space with its open floor plan layout, a bed, a small kitchen, and a private bathroom area. There is also a stunning view of the Catalinas to the north and a small porch where guests can sit out and view the scenery of the mountains.
Two guests, one bedroom
Price: $71 per night
Spacious and centrally located Catalina Foothills getaway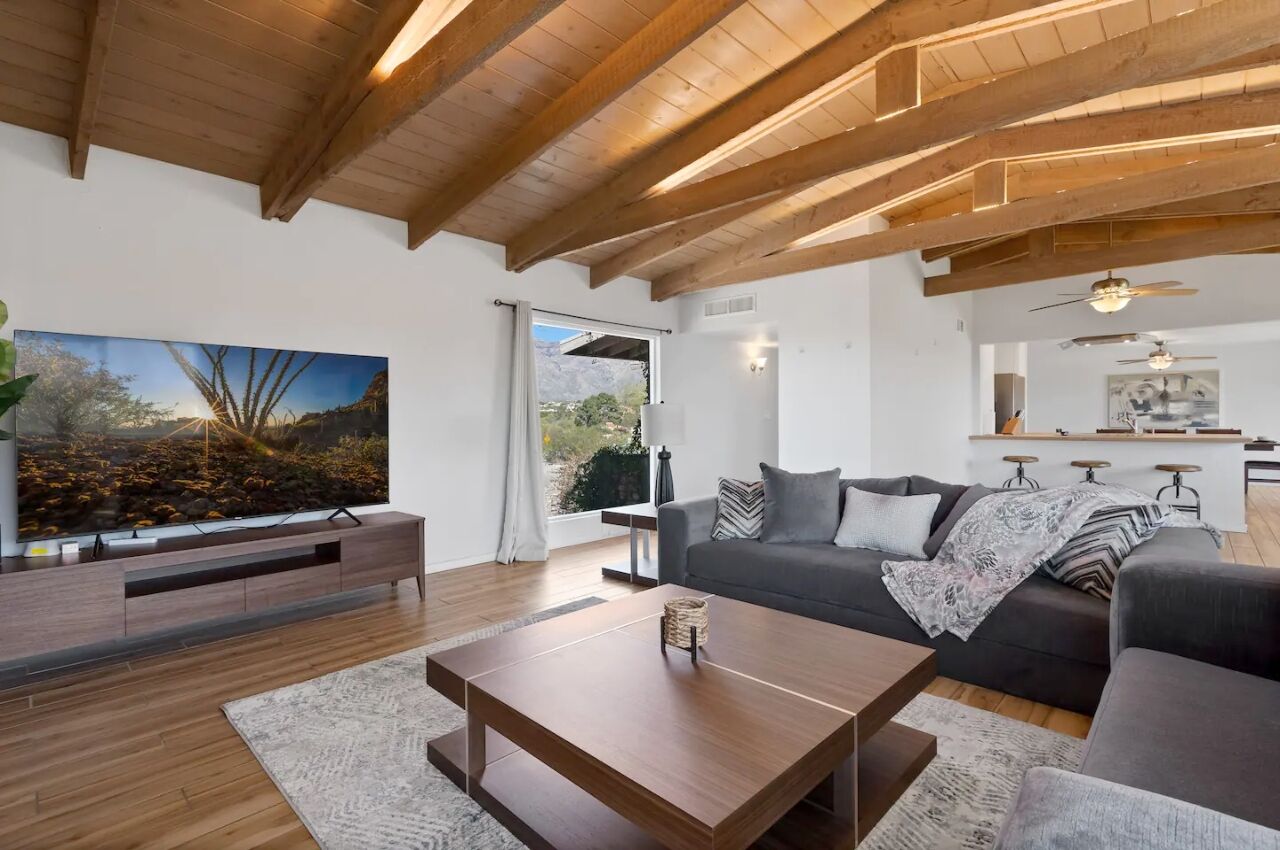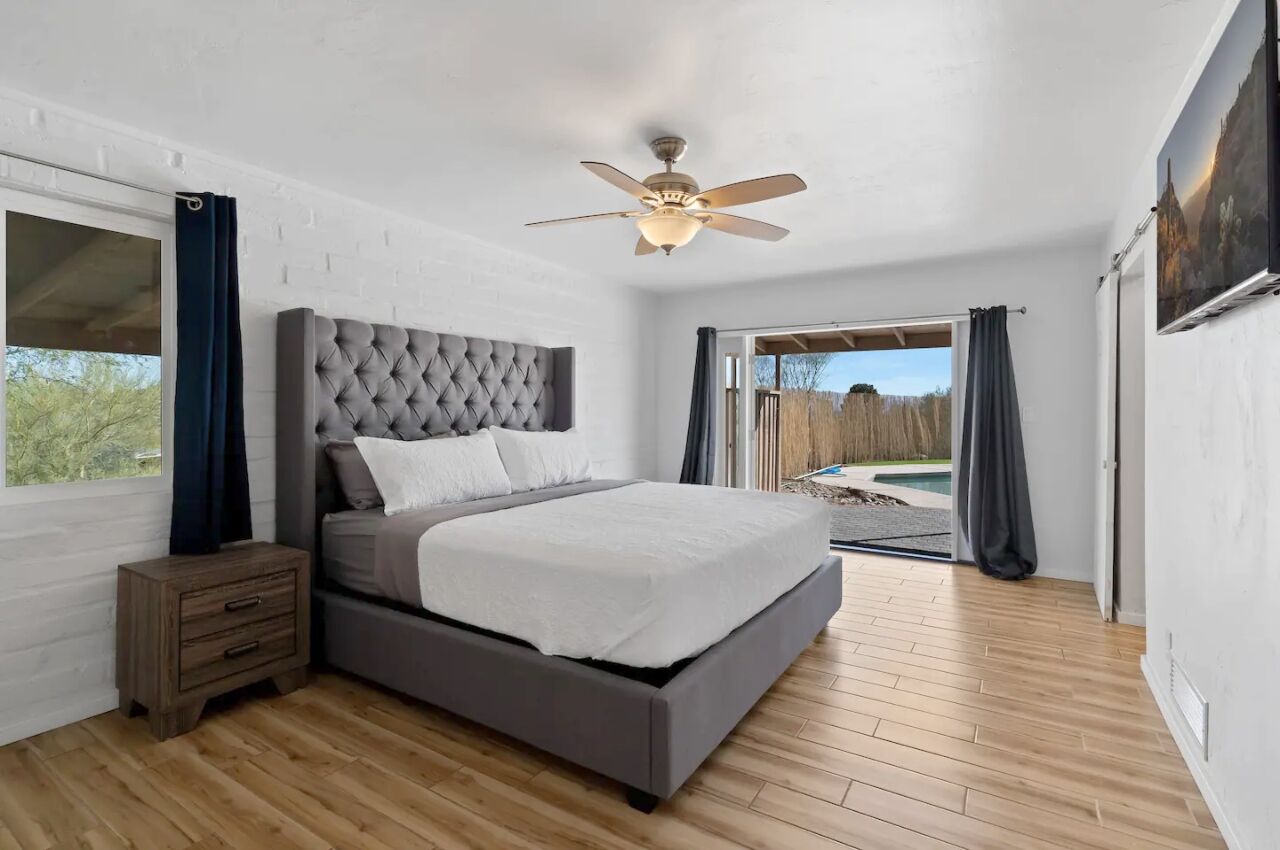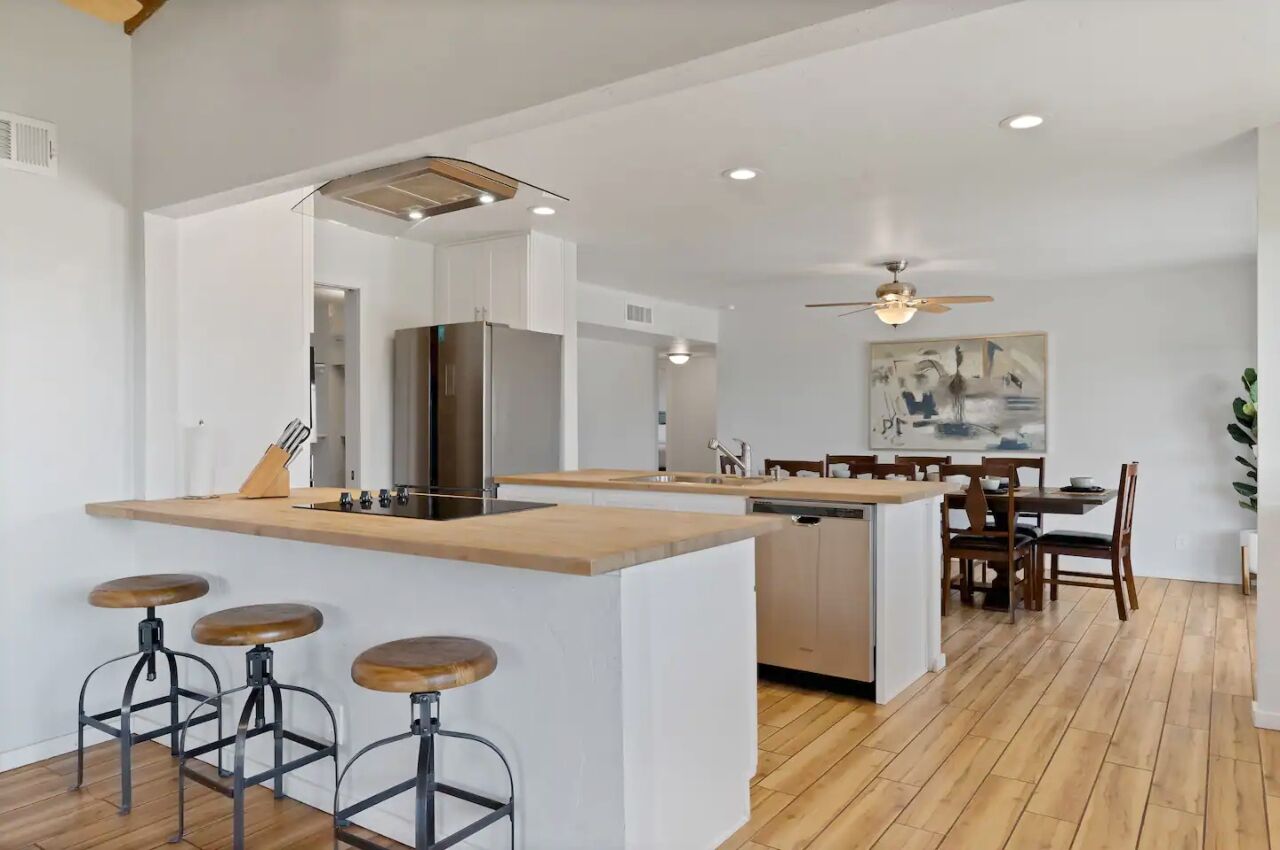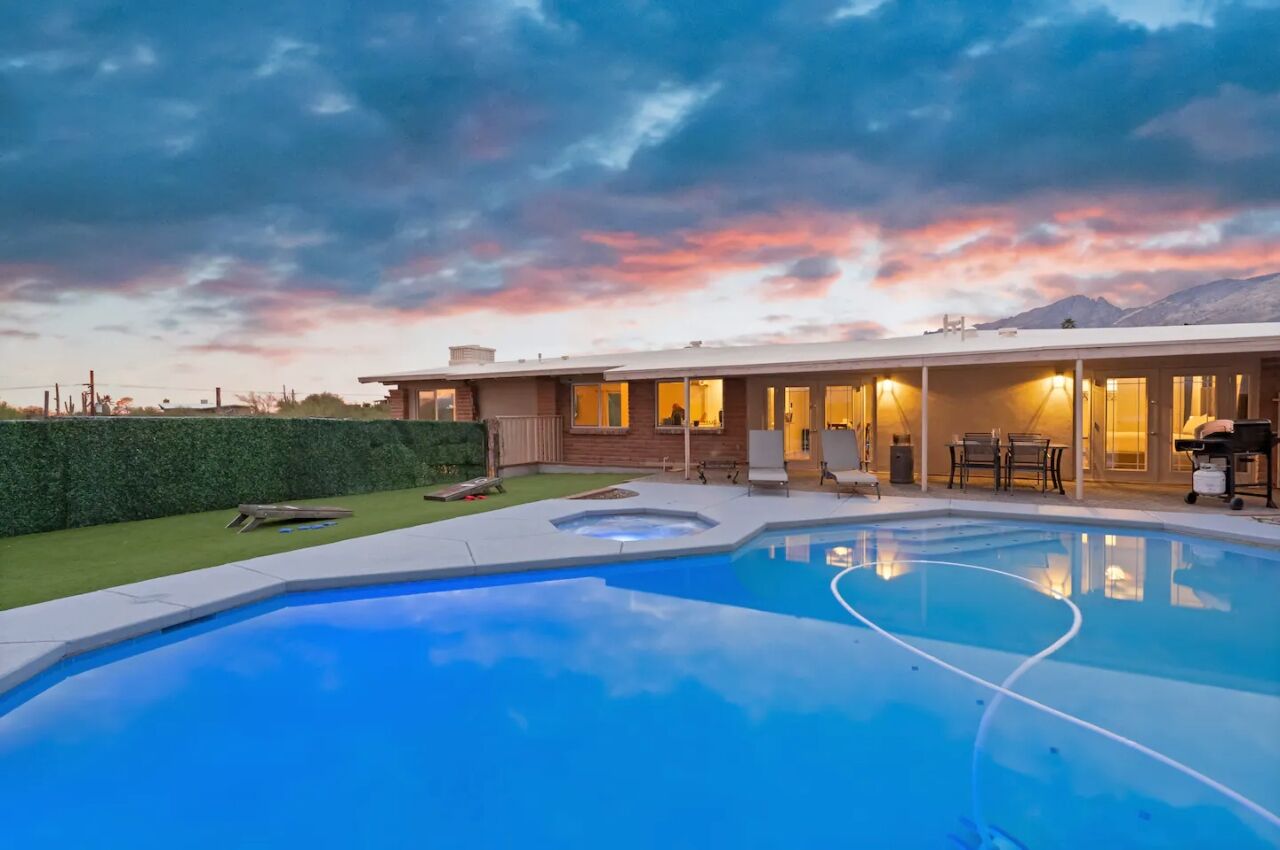 Situated in the heart of the Foothills is this spacious home base. This home has its private entrance and features a large central living area with five smart TVs and other smart appliances. Along with the vast living room is the open and big, fully equipped kitchen area with all the necessary utensils needed for cooking. There is a pool and spa in the backyard that both can be headed, and there is plenty of space for the kids to run around and enjoy, and the home offers all the privacy you need.
Eight guests, four bedrooms
Price: $263 per night
Charismatic Airbnb Tucson casita with large garden-like courtyard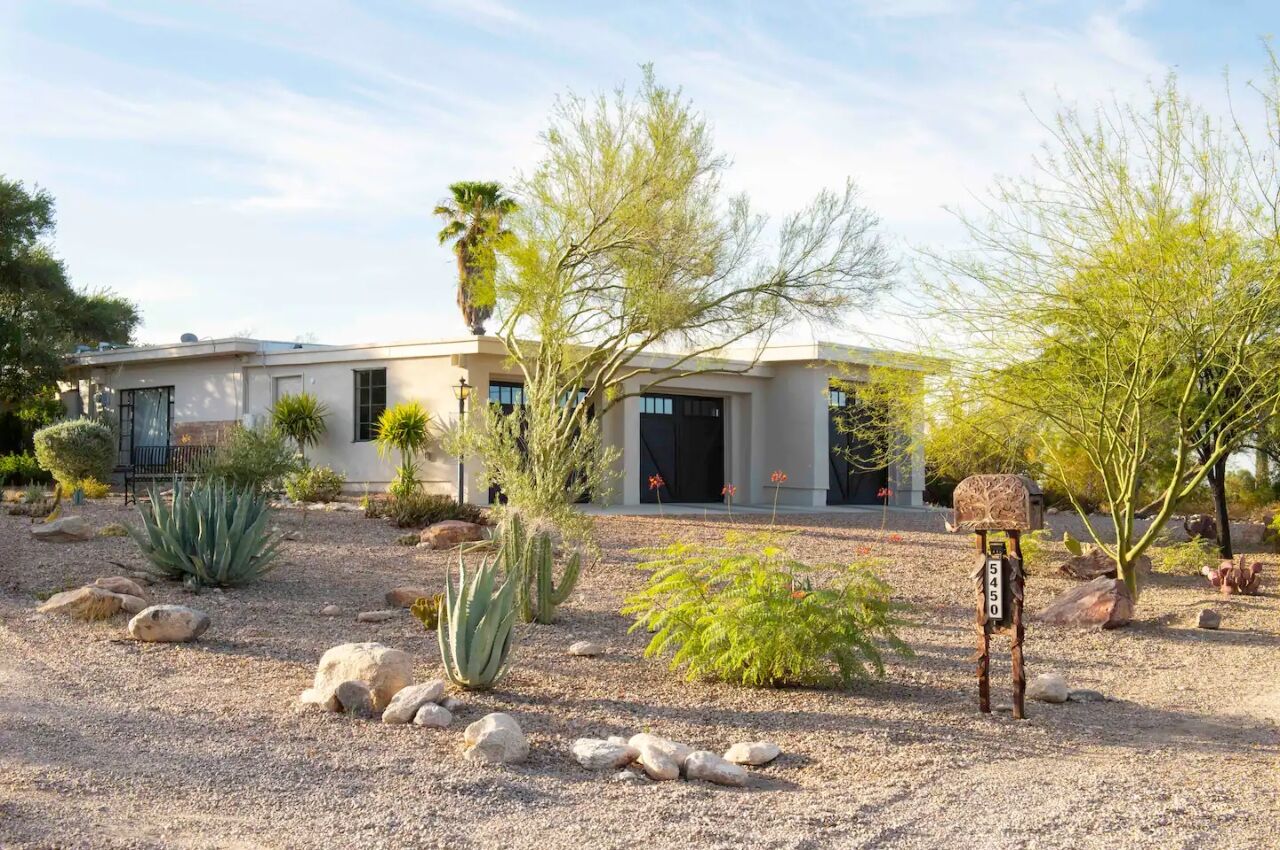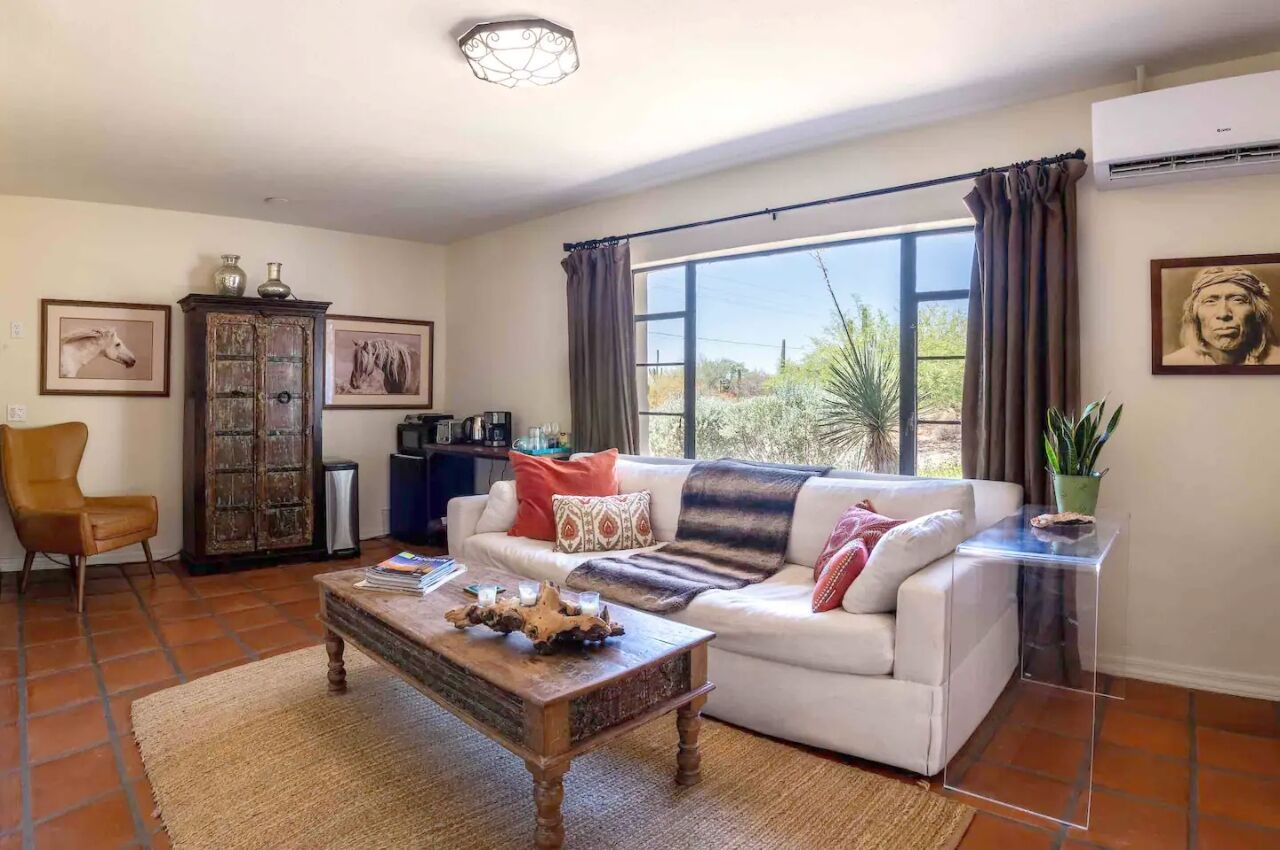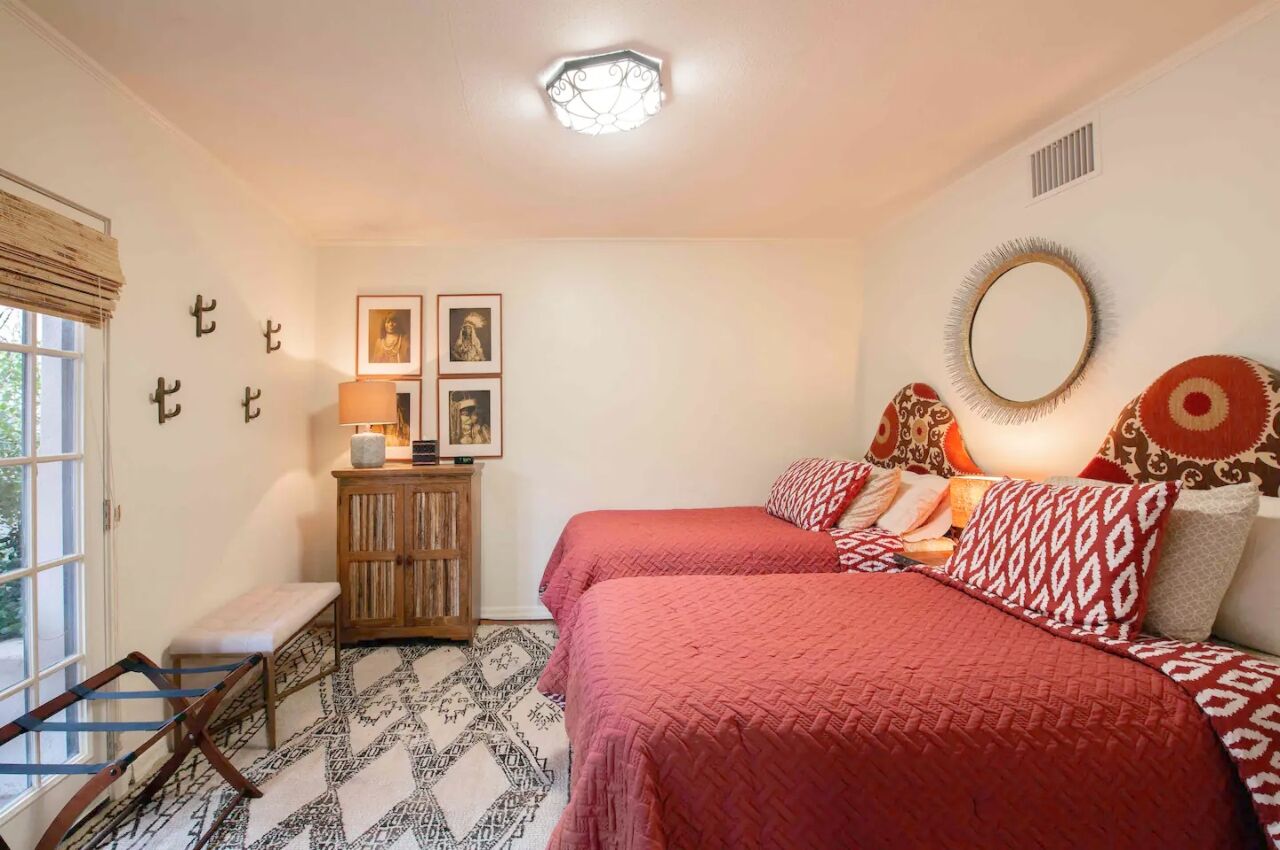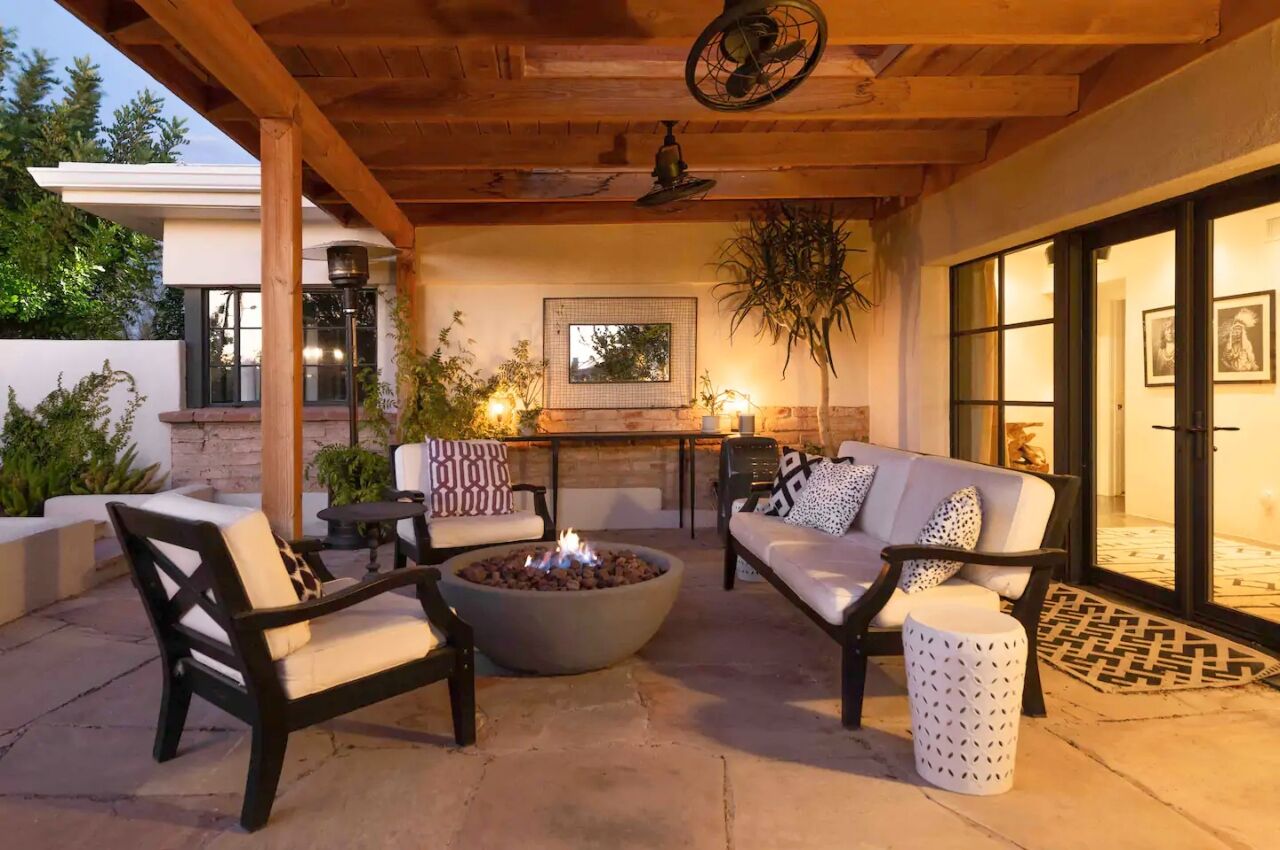 Immerse yourself in this charming casita located in the Catalina Foothills. This stunning garden-like home is the perfect vacation spot in Arizona. The home features a bright and airy living room and kitchenette. A private entrance leads to a large courtyard with outdoor seating, a dining table, a fire pit, and a fountain. The home is near hiking trails, restaurants, and La Encantada.
Three guests, one bedroom
Price: $82 per night
Newly built chic home near the Arizona Inn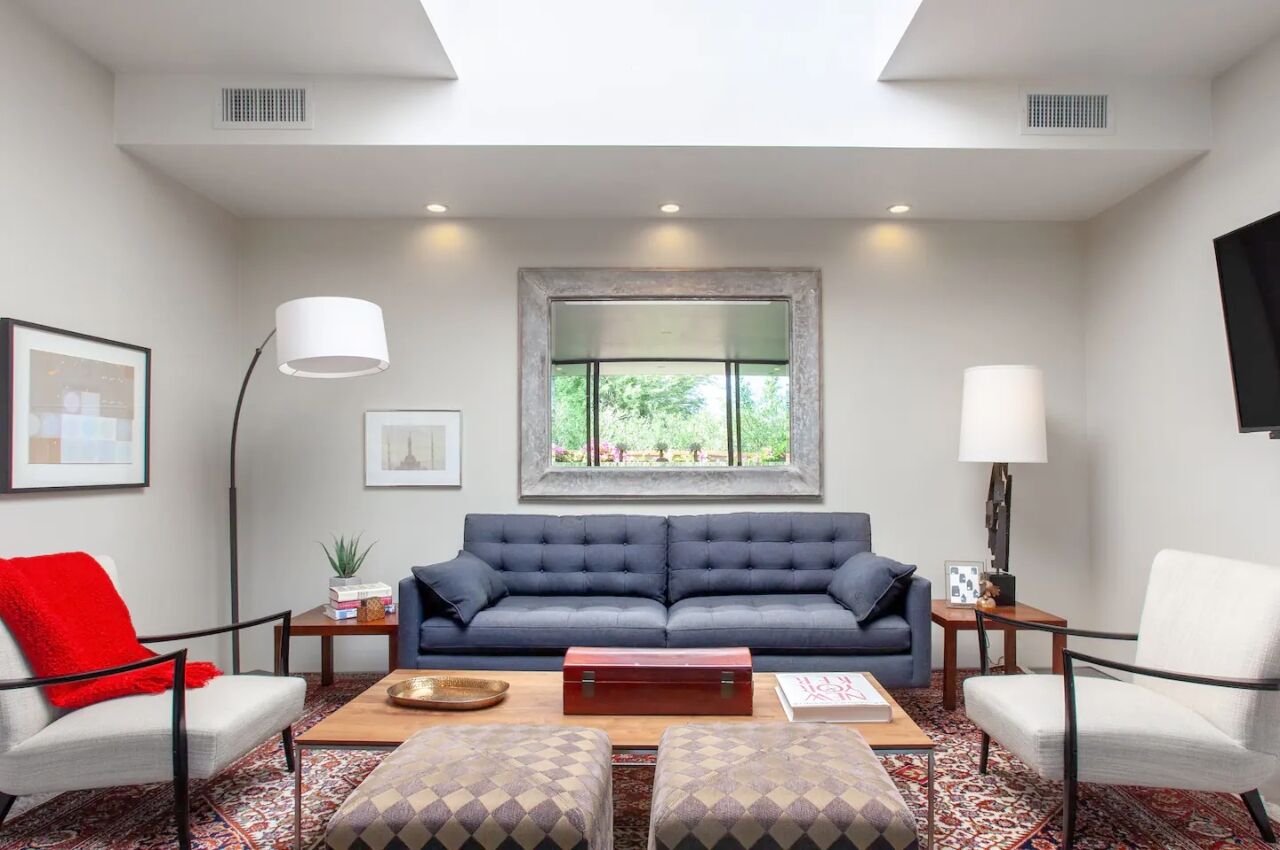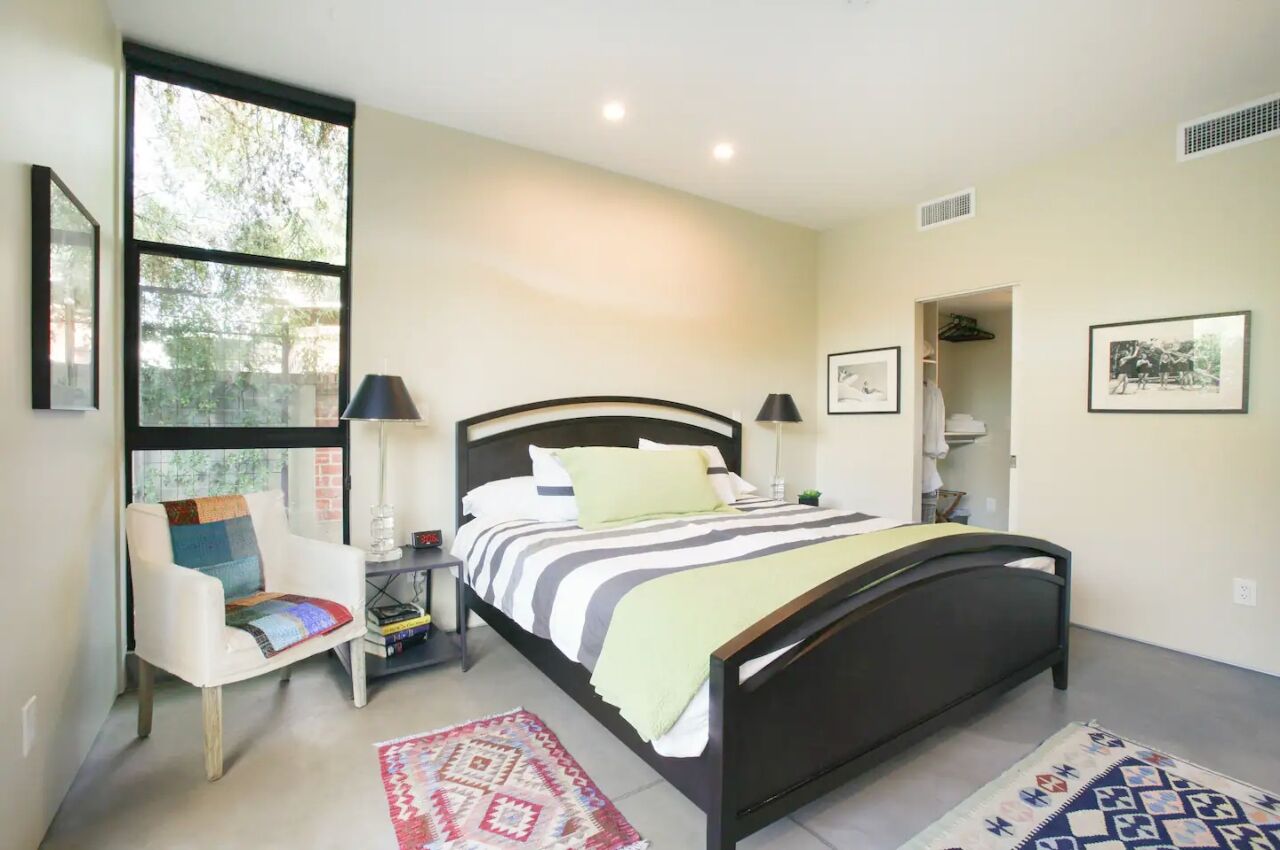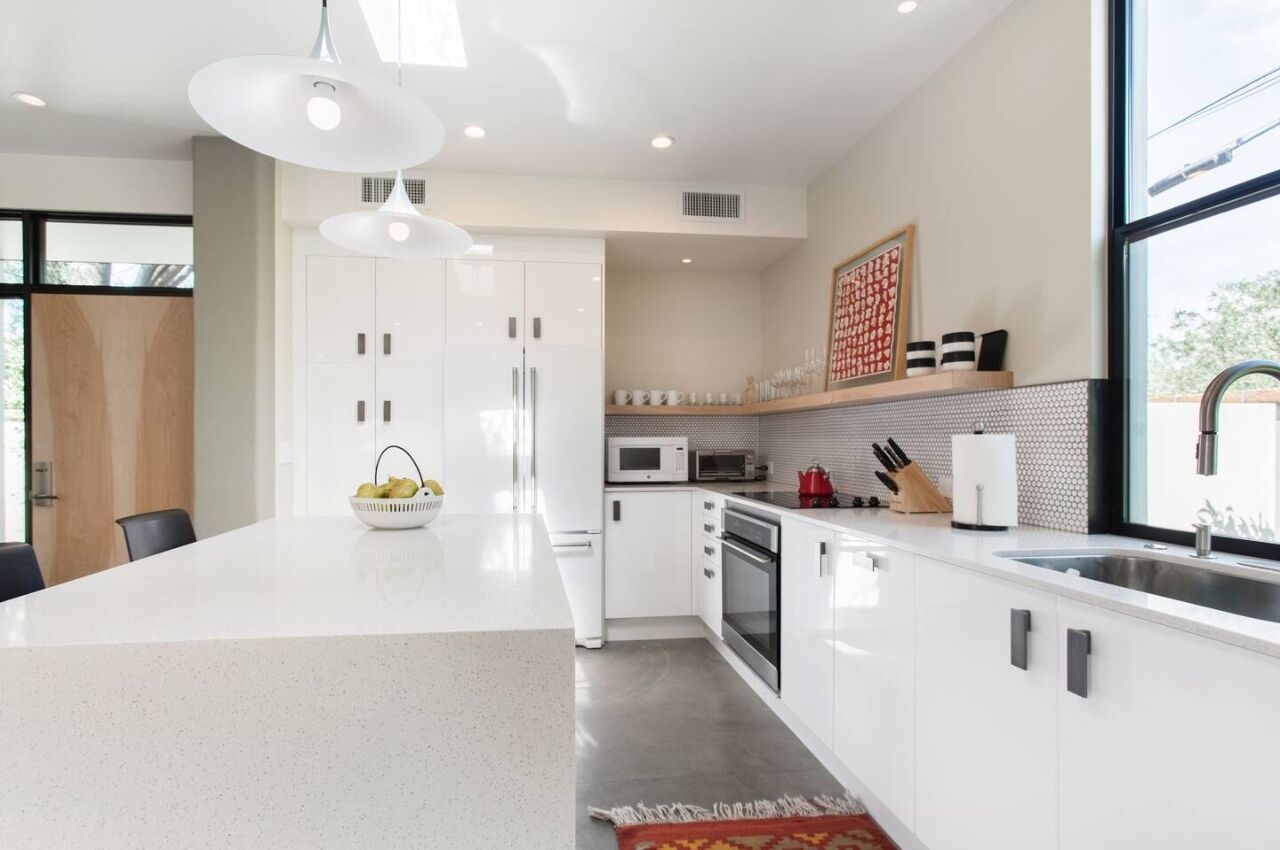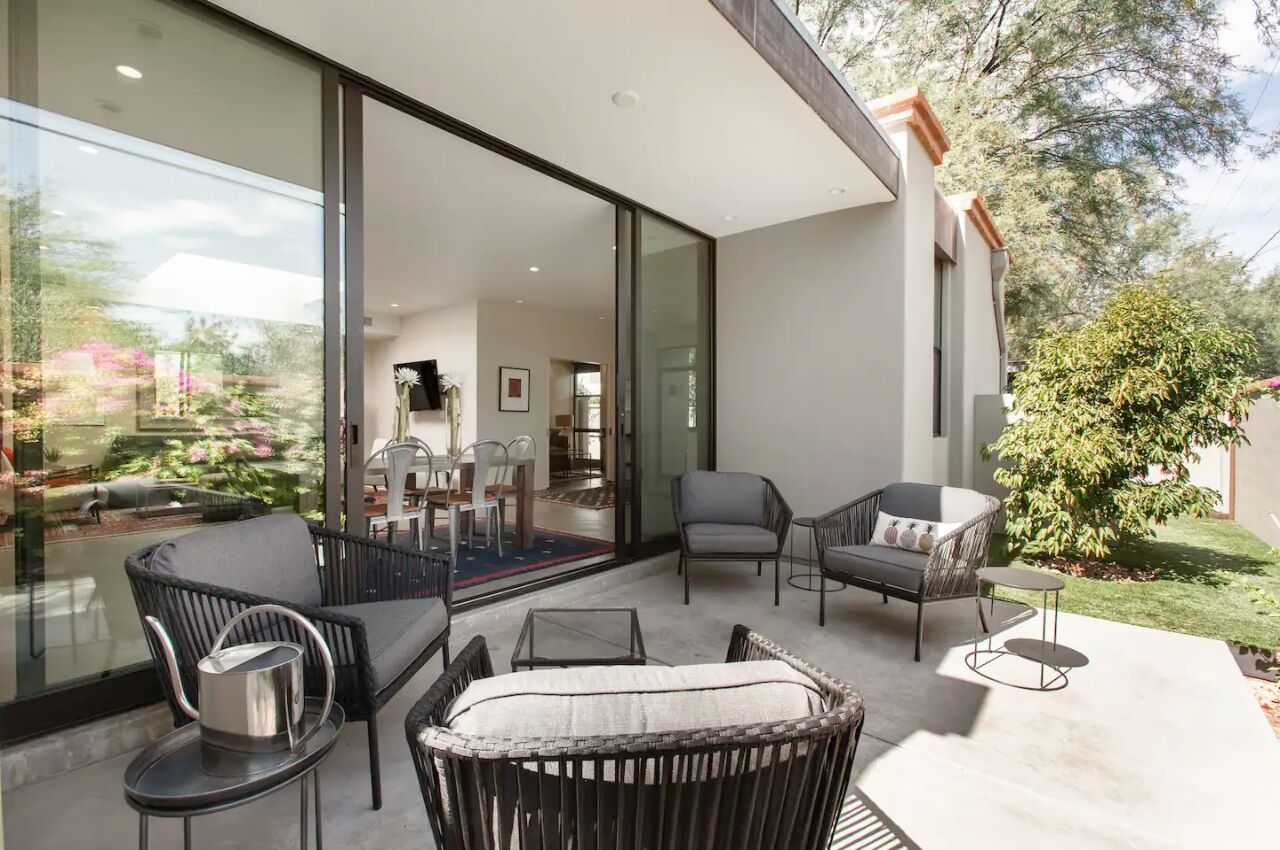 Sit back and relax at this newly built elegant home near the Arizona Inn. This Airbnb Tucson residential home has a sleek design throughout the house. It features a spacious and neat living room area and an entire kitchen area and dining area where you can eat by floor to ceiling glass overlooking a walled garden and flowering plants. The outdoor patio space is shaded, where you can sit out and enjoy the Arizona weather.
Four guests, two bedrooms
Price: $216 per night
Fun and modern home near the University of Arizona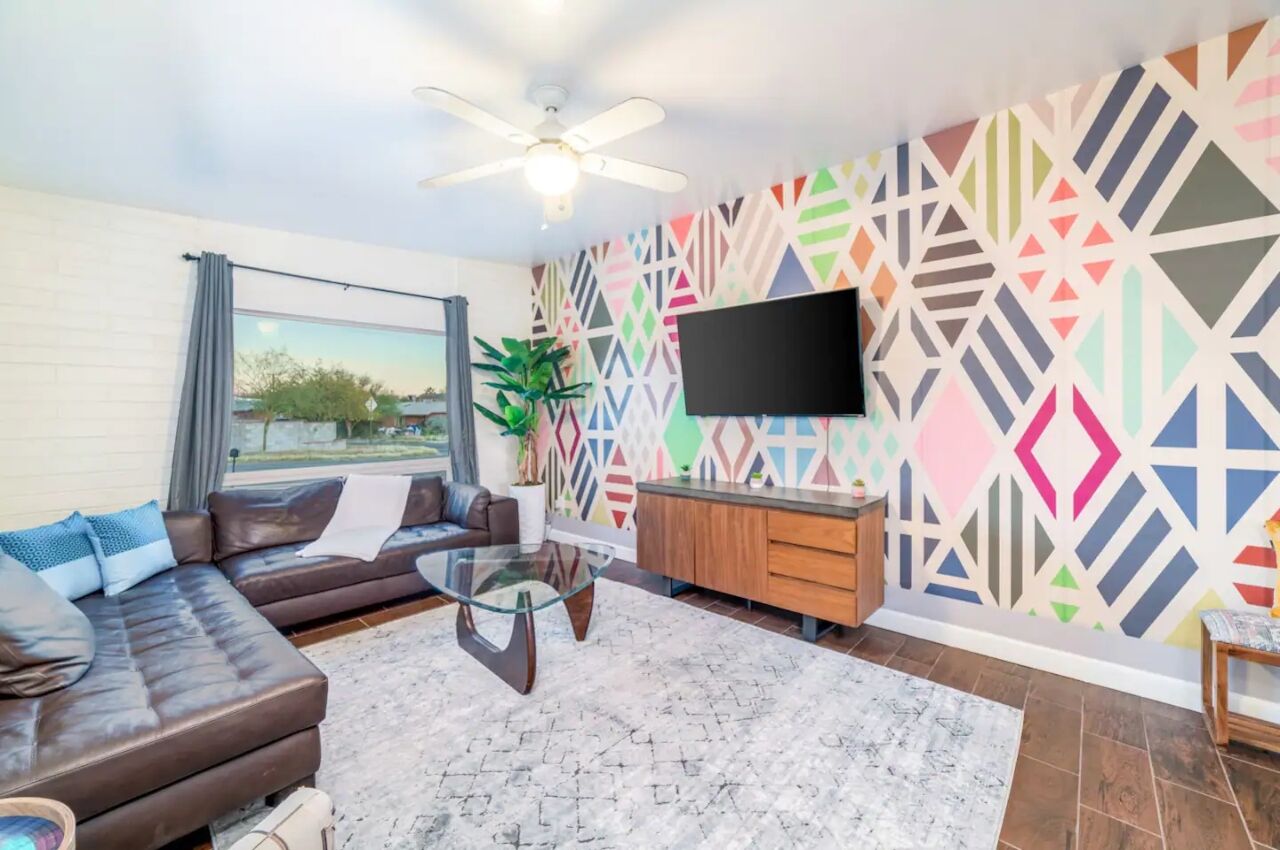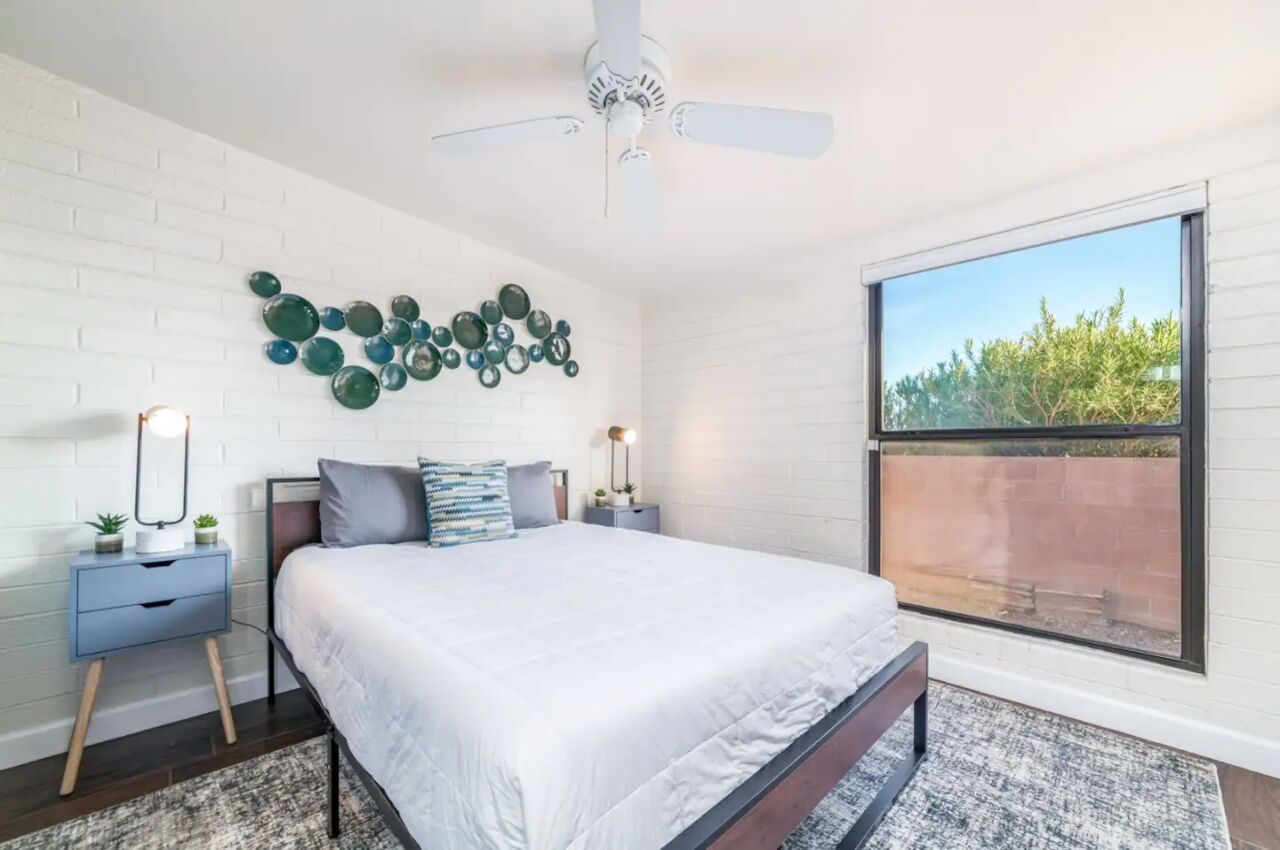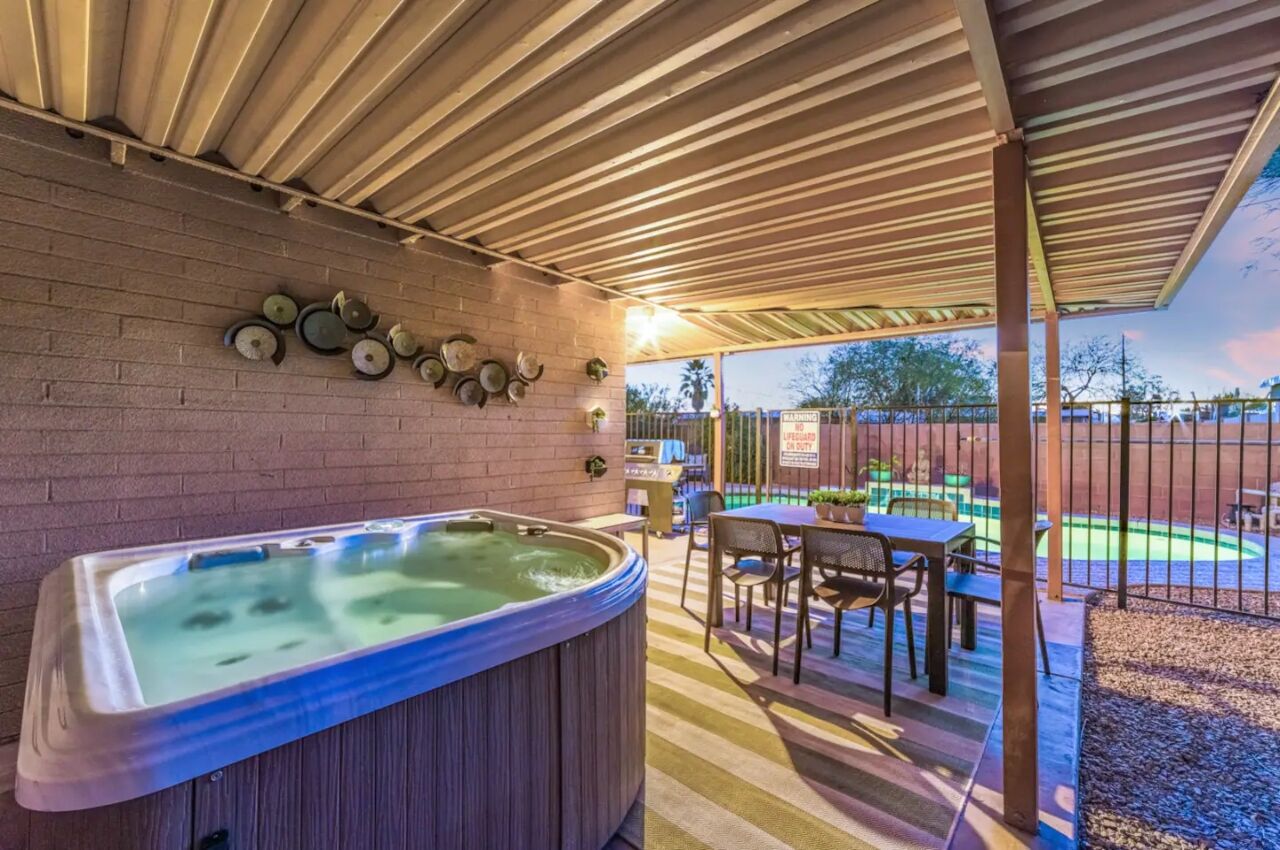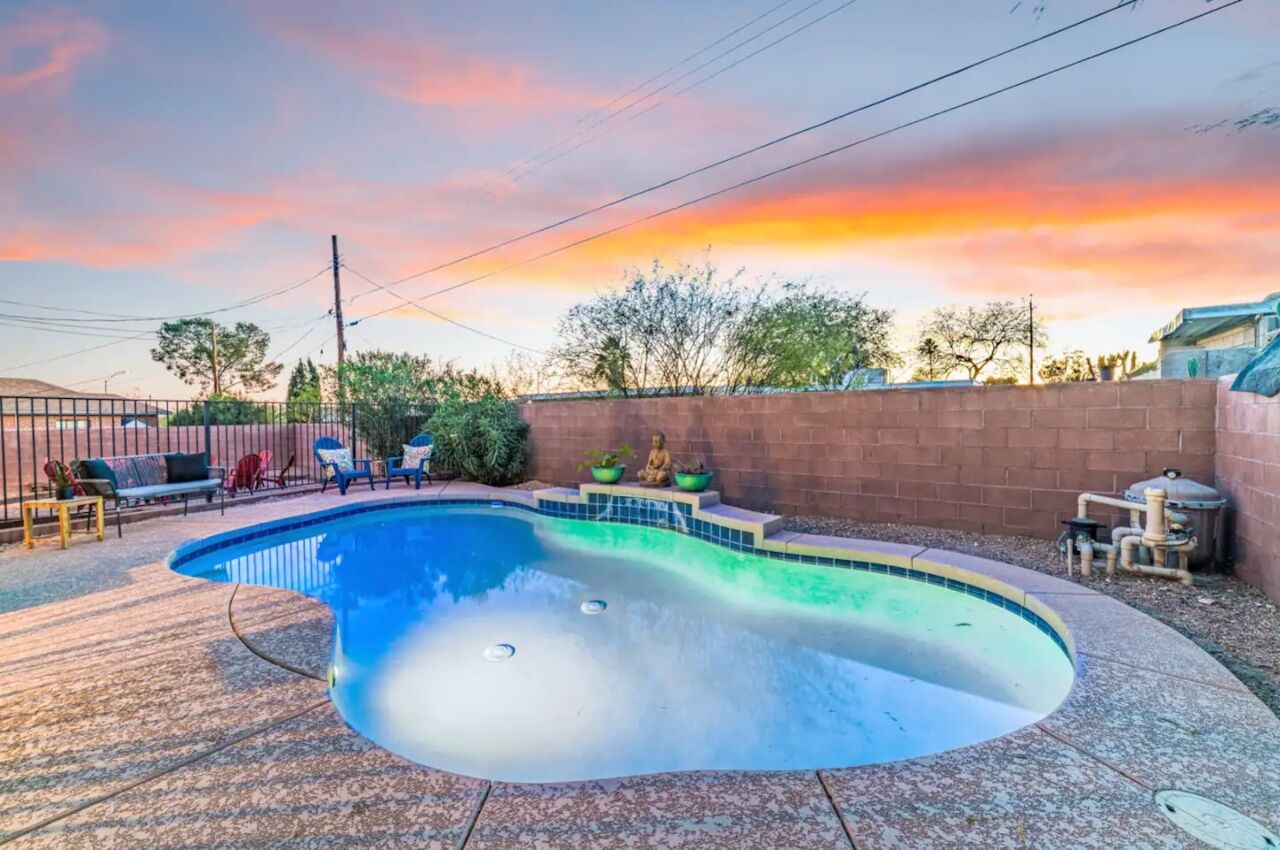 If you're looking for some fun in the sun, this stylish home is the perfect home base for group vacations. This fun and spacious home has four bedrooms and two baths with an open and bright living room and kitchen area. The backyard has a gated swimming pool, a jacuzzi, and a fire pit lounge area. The home is minutes away from UA and downtown.
Eight guests, four bedrooms
Price: $193 per night
Private desert oasis with covered patio and pool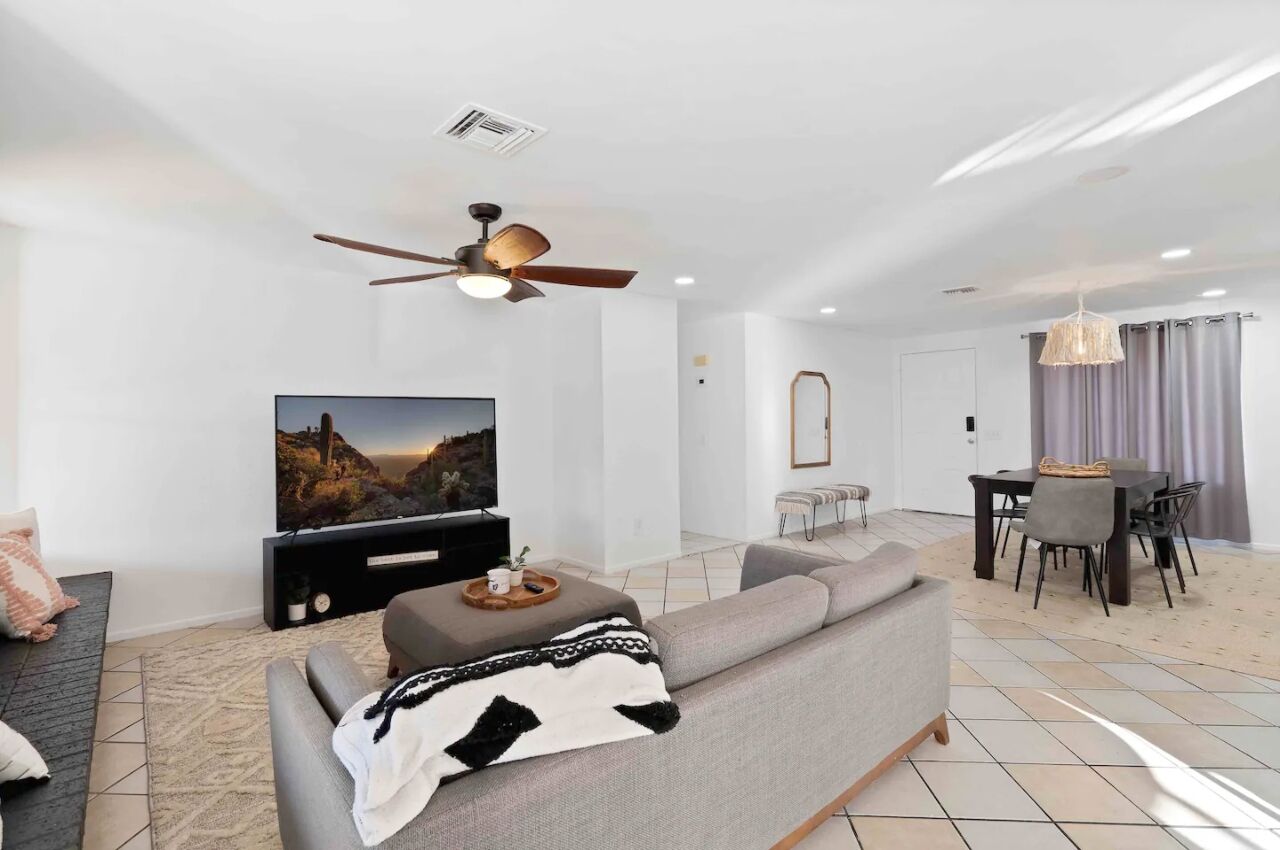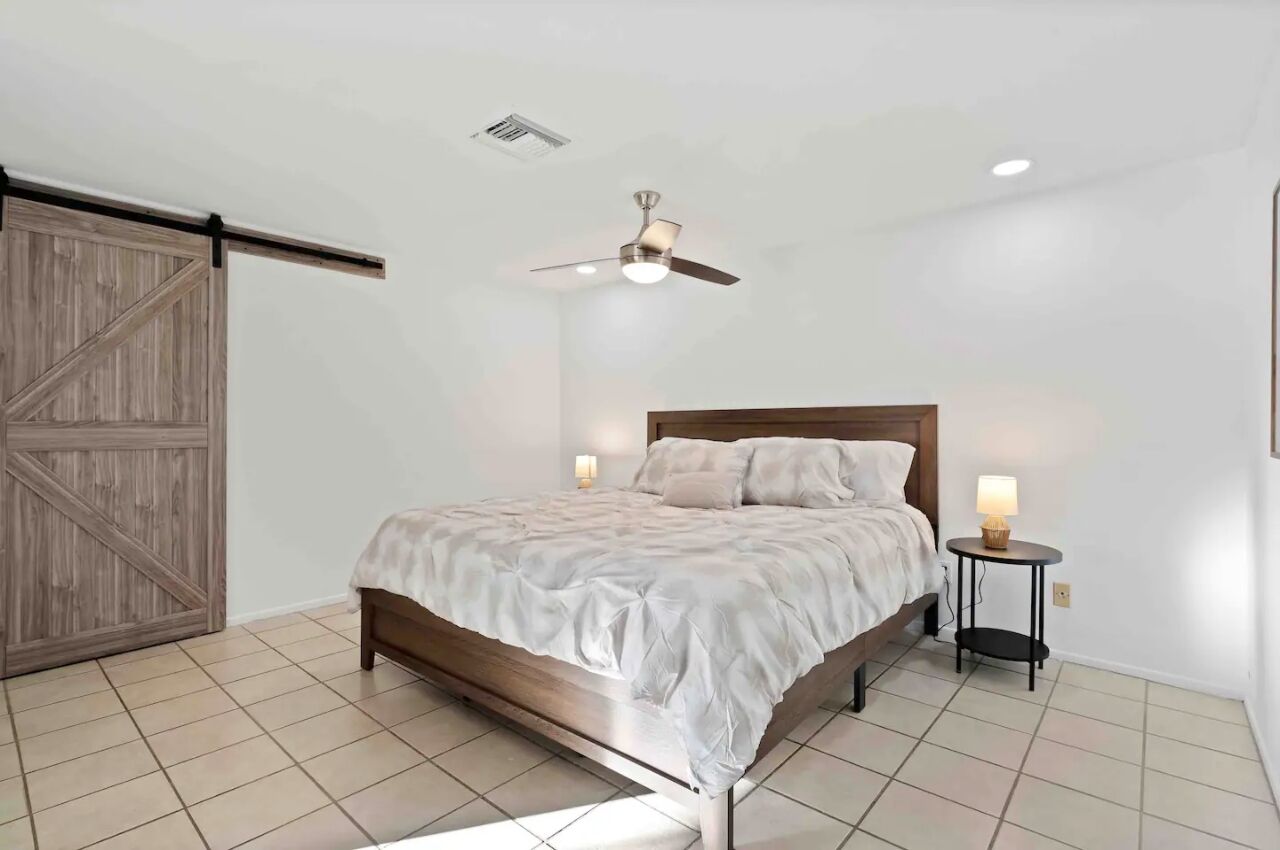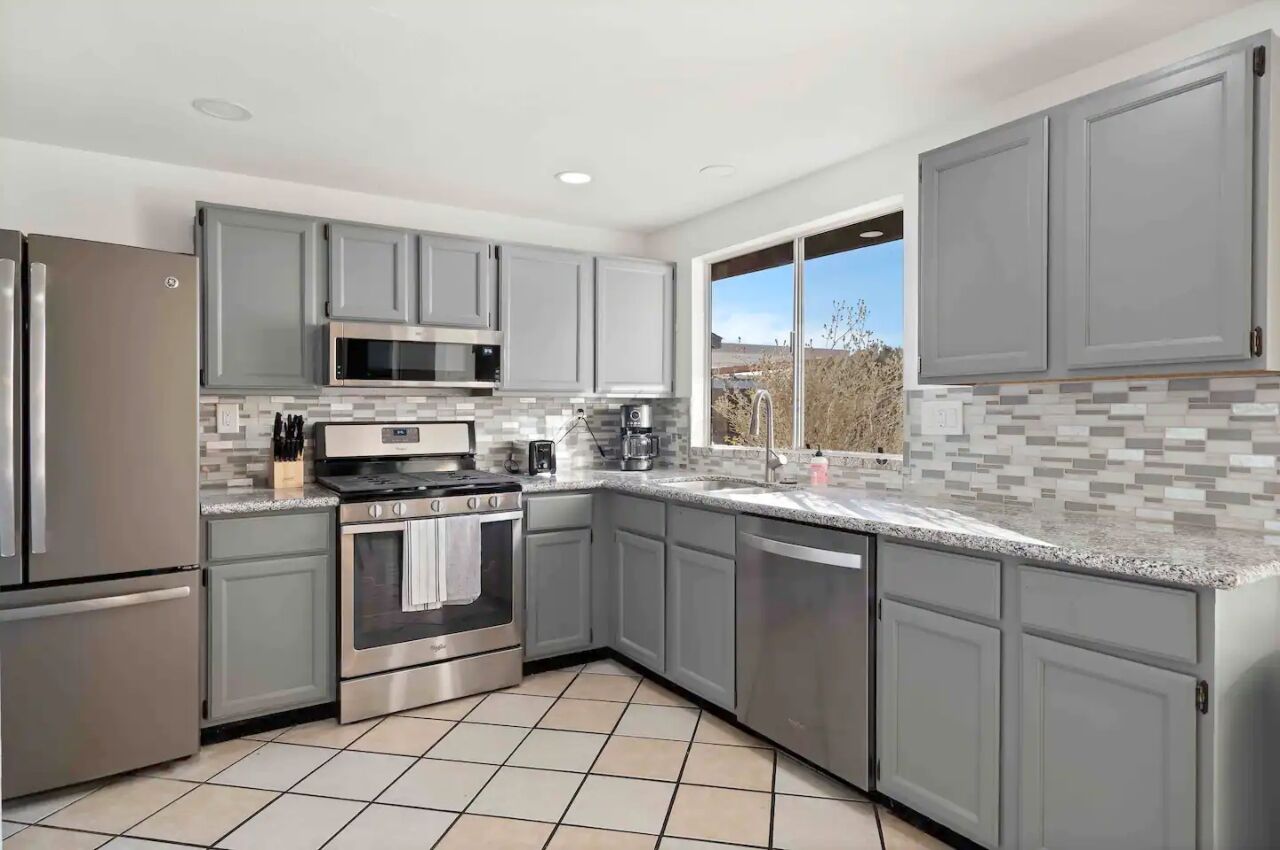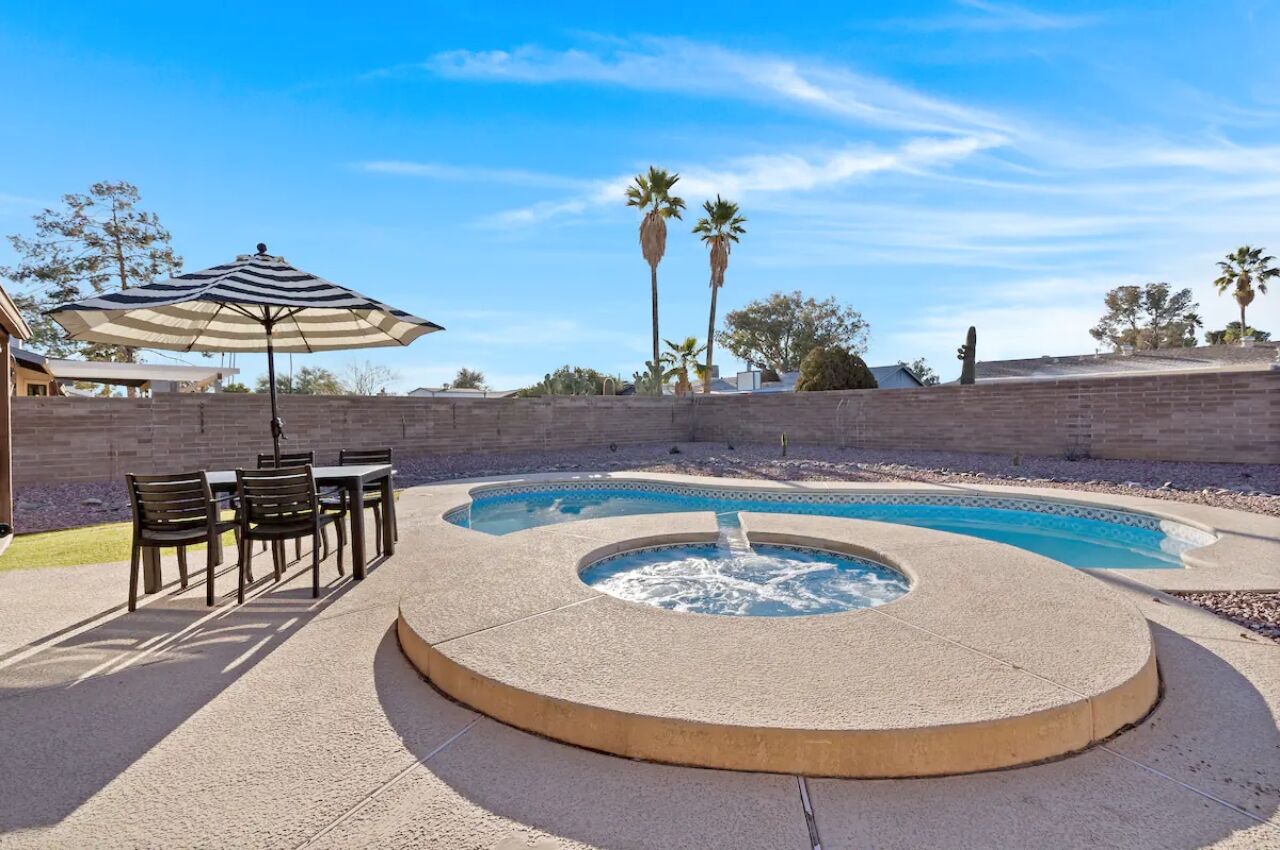 This private 1,500 square foot home is the ideal home base for families and large groups. The home has a full kitchen, spacious living room, and a backyard with everything you need for a summertime vacation. The backyard has a massive pool with a jacuzzi, a covered patio with outdoor furniture, and it's even fenced in for your kids and your pets to run around and have a great time. The home is located right off the freeway, near Tucson's main activities and entertainment.
Eight guests, four bedrooms
Price: $250 per night
Tranquil Quail's Nest home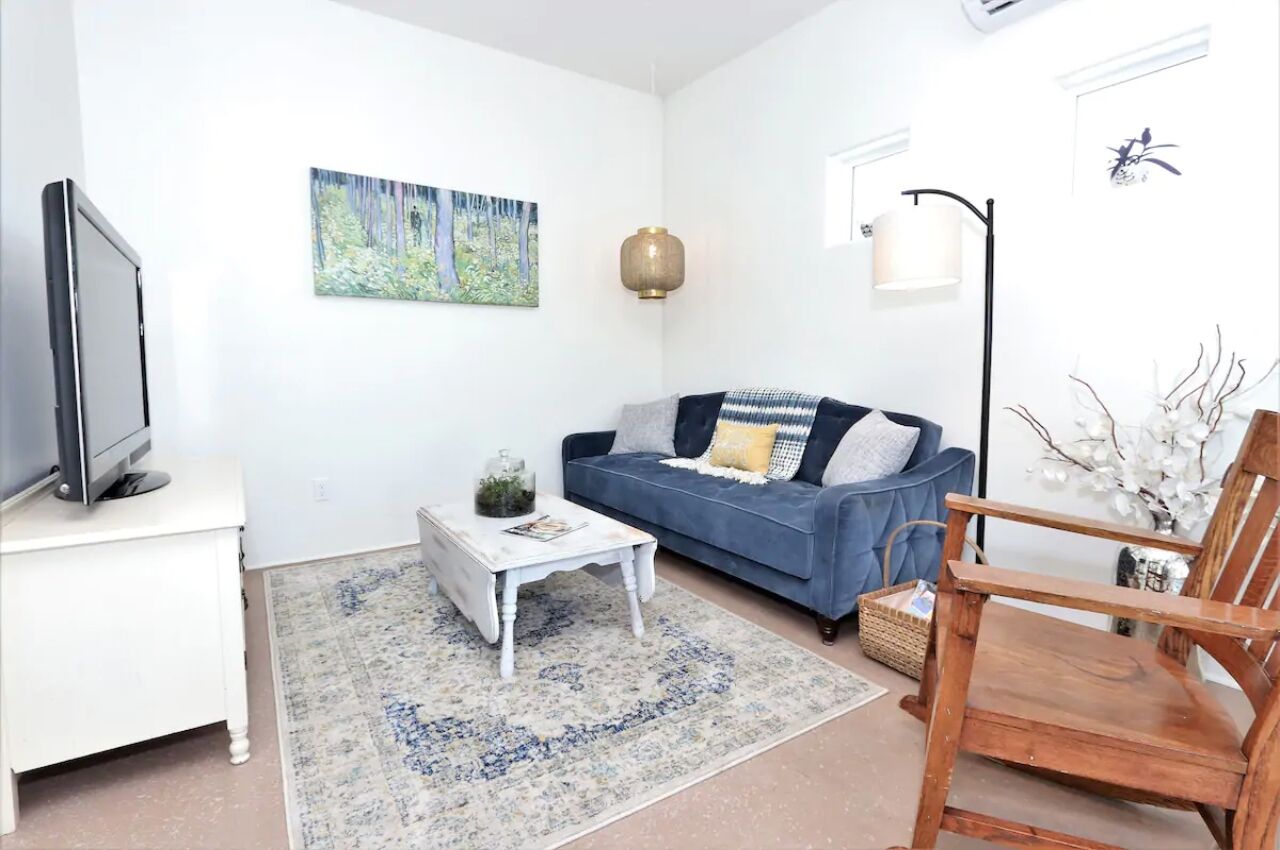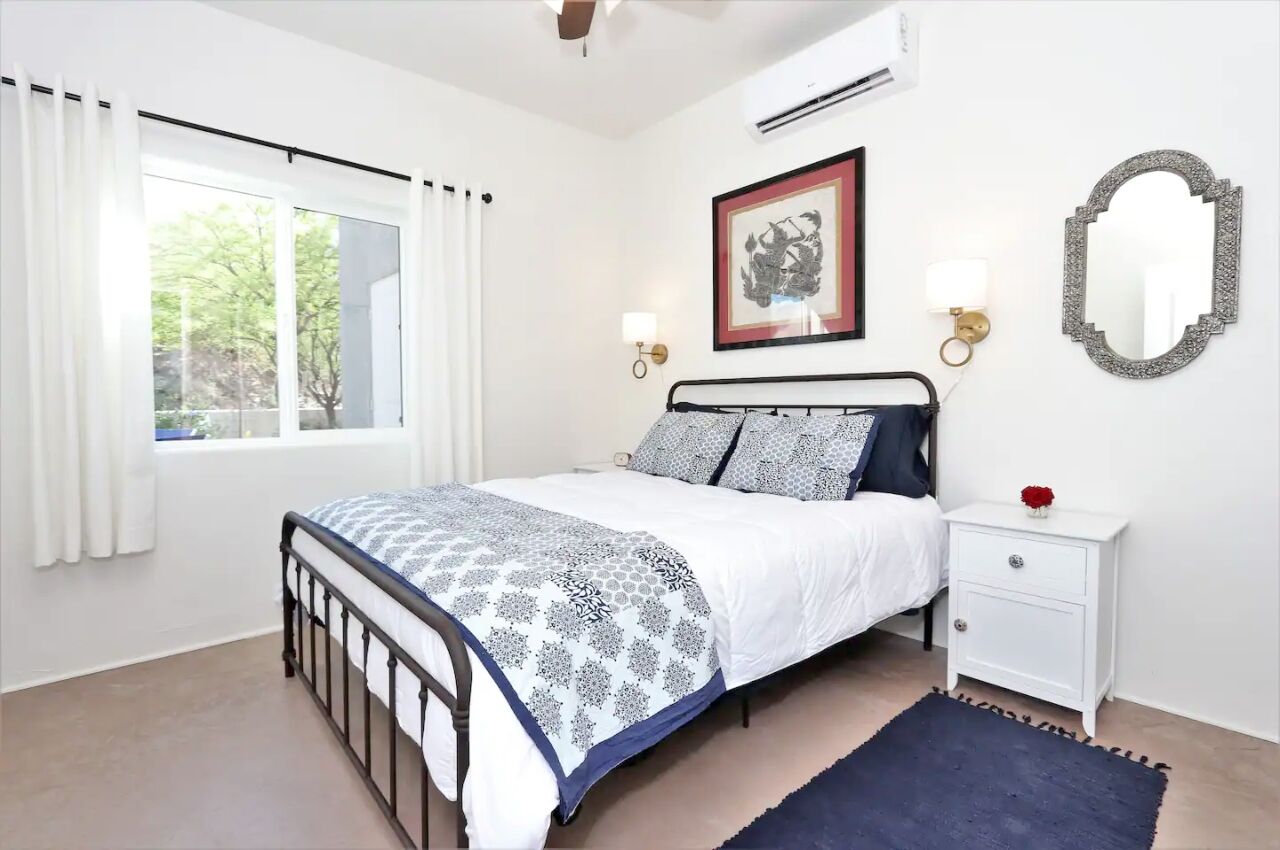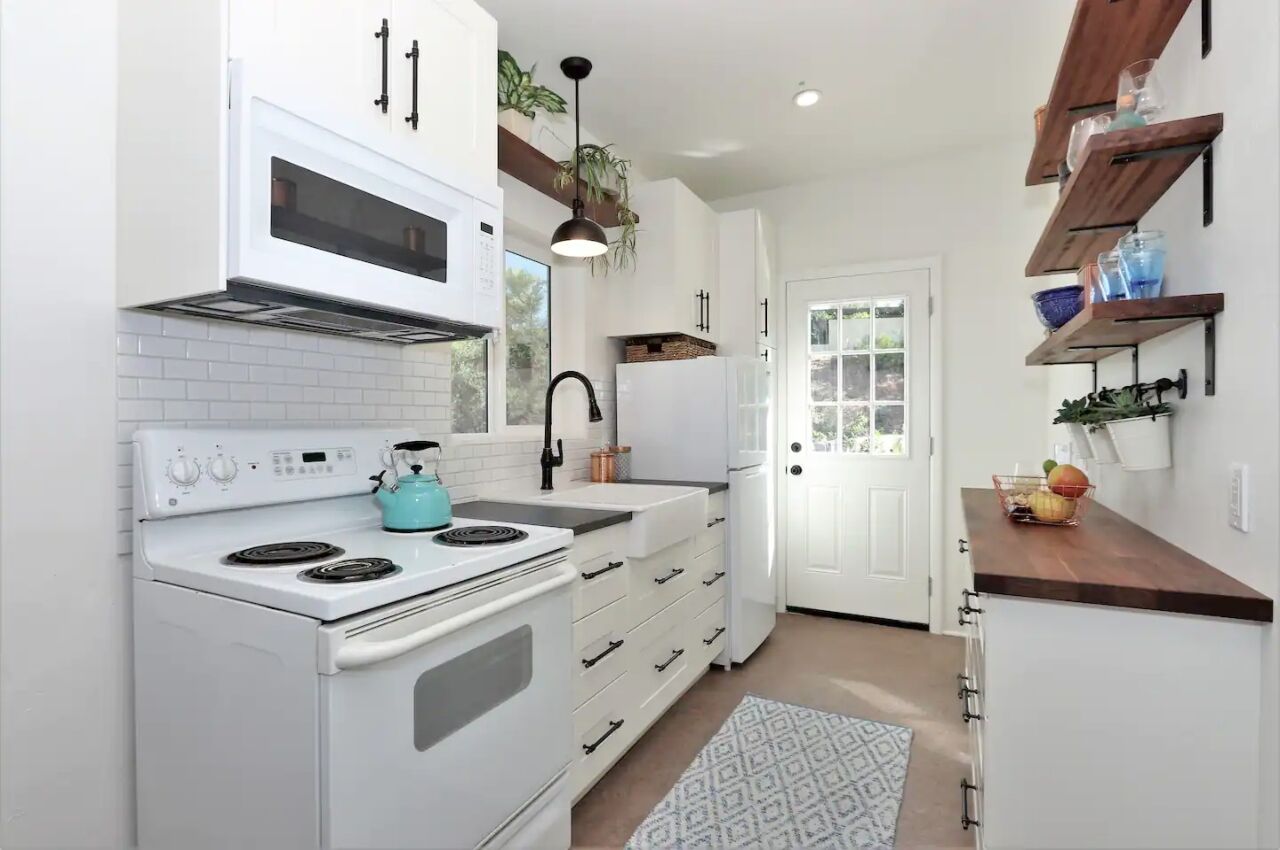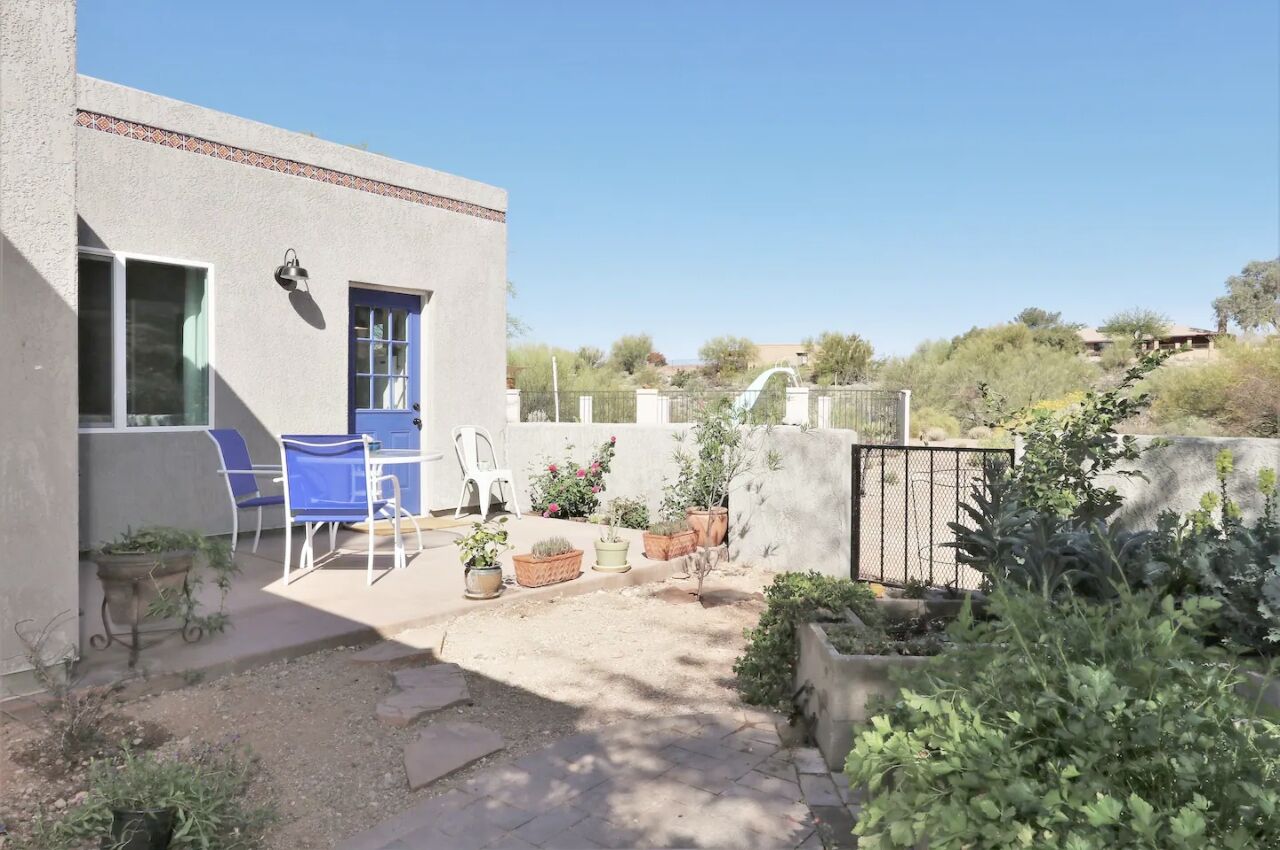 Looking for a place to get away from your busy life? This peaceful guesthouse nest is serene and spacious with a fully equipped kitchen, a large dining area for eating, and a comfortable, cozy living room with large smart tv with all streaming services. The home has a pool, an outdoor patio with a lounge area, and a gorgeous view of the mountains and the flowers.
Three guests, one bedroom
Price: $103 per night
What did you think of this story?