Live Your Best Lake Life at These Top-Rated Wisconsin Airbnbs
The upper Midwestern state of Wisconsin knows how to get your heart racing with its outdoor pursuits and enchanting lakeside lodges. A wealth of biking, skiing, hiking, and watersports to suit all abilities makes Wisconsin a solid choice for families and larger groups. Check into one of our carefully chosen rustic Airbnb Wisconsin chalets, lodges, or farmsteads for an epic stay.
We hope you love the Airbnb Wisconsin properties we recommend! Just so you know, Matador may collect a small commission from the links on this page if you decide to book a stay. Listed prices are accurate as of the time of publication.
Top Pick of Wisconsin Airbnbs
The Secluded Valley Cabin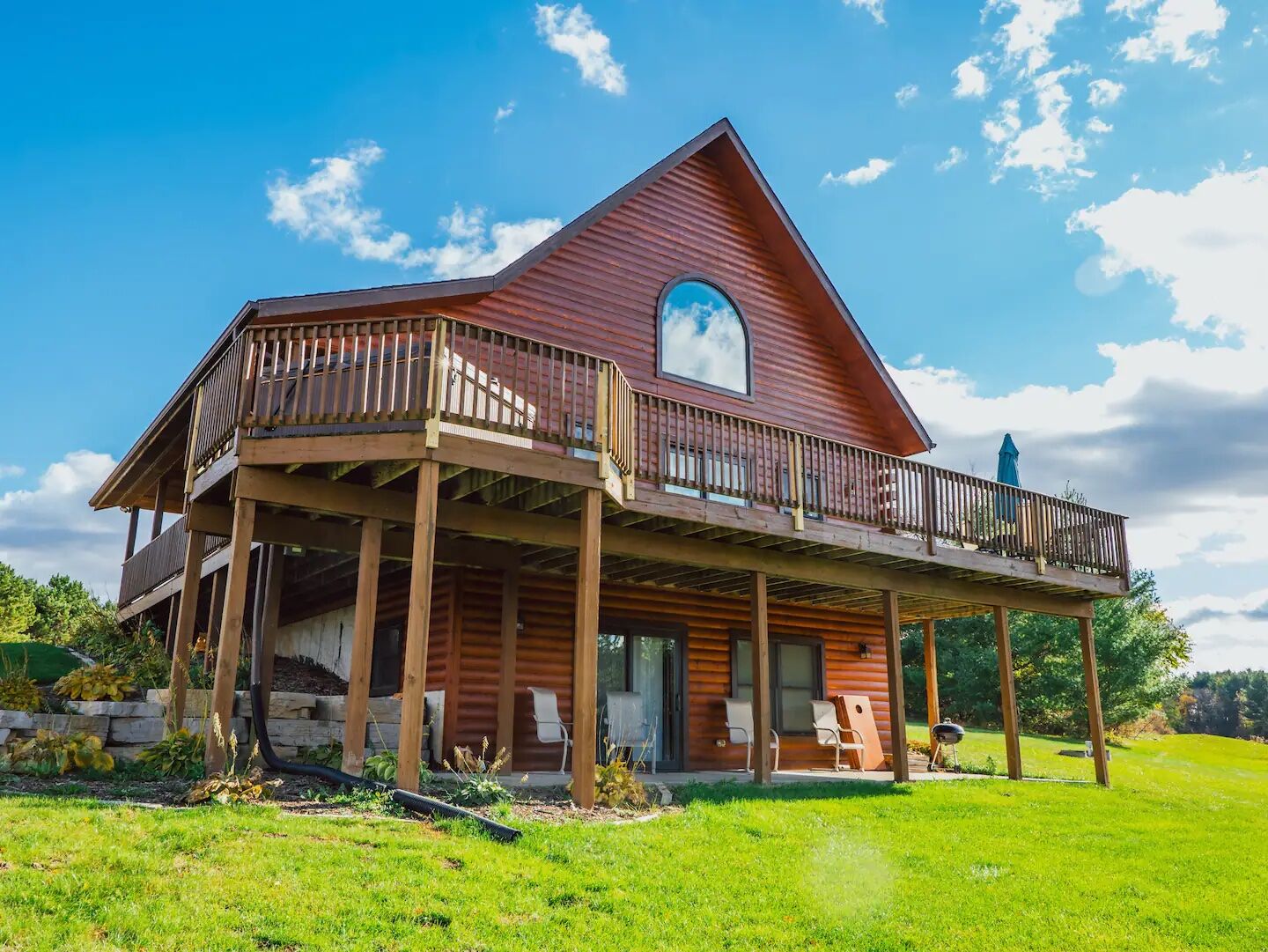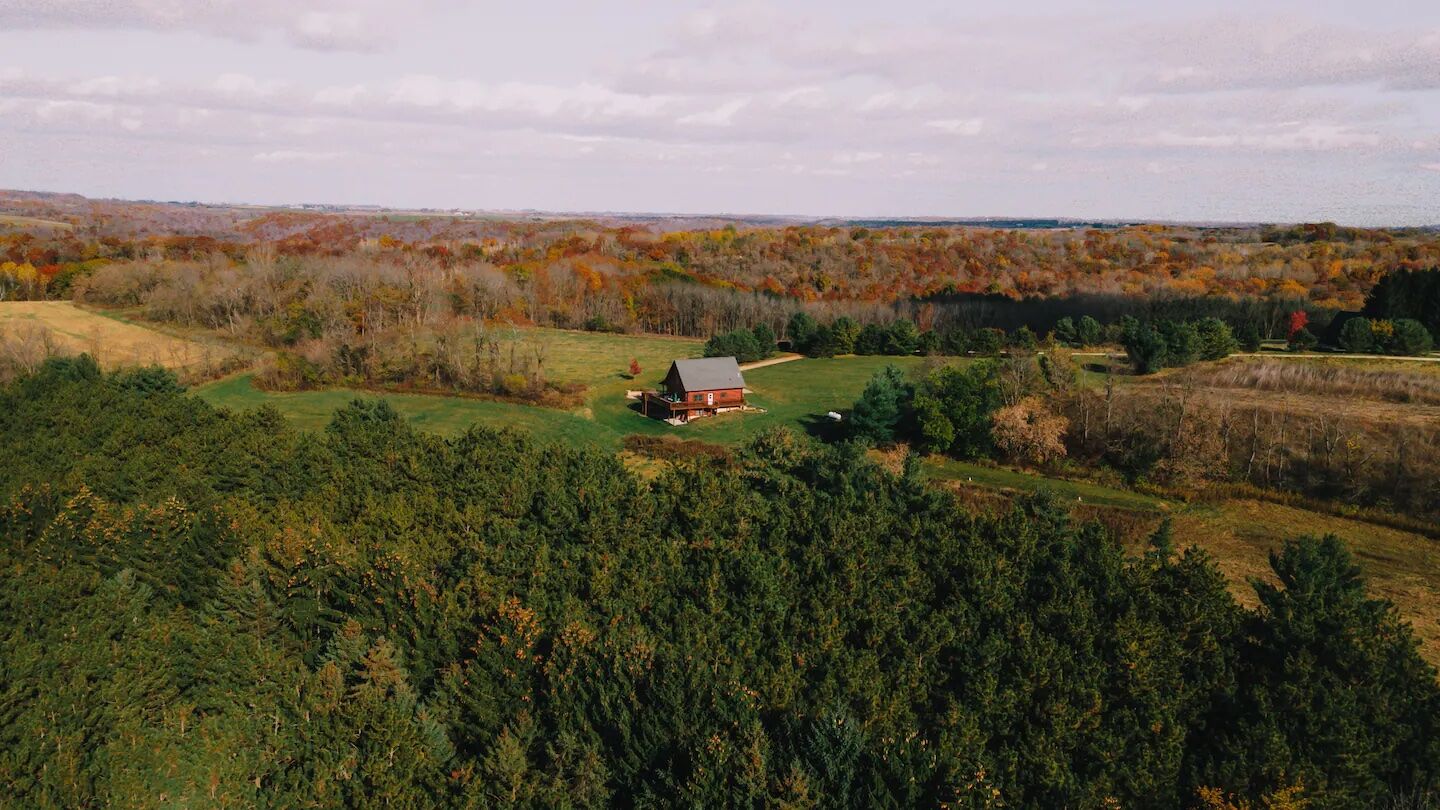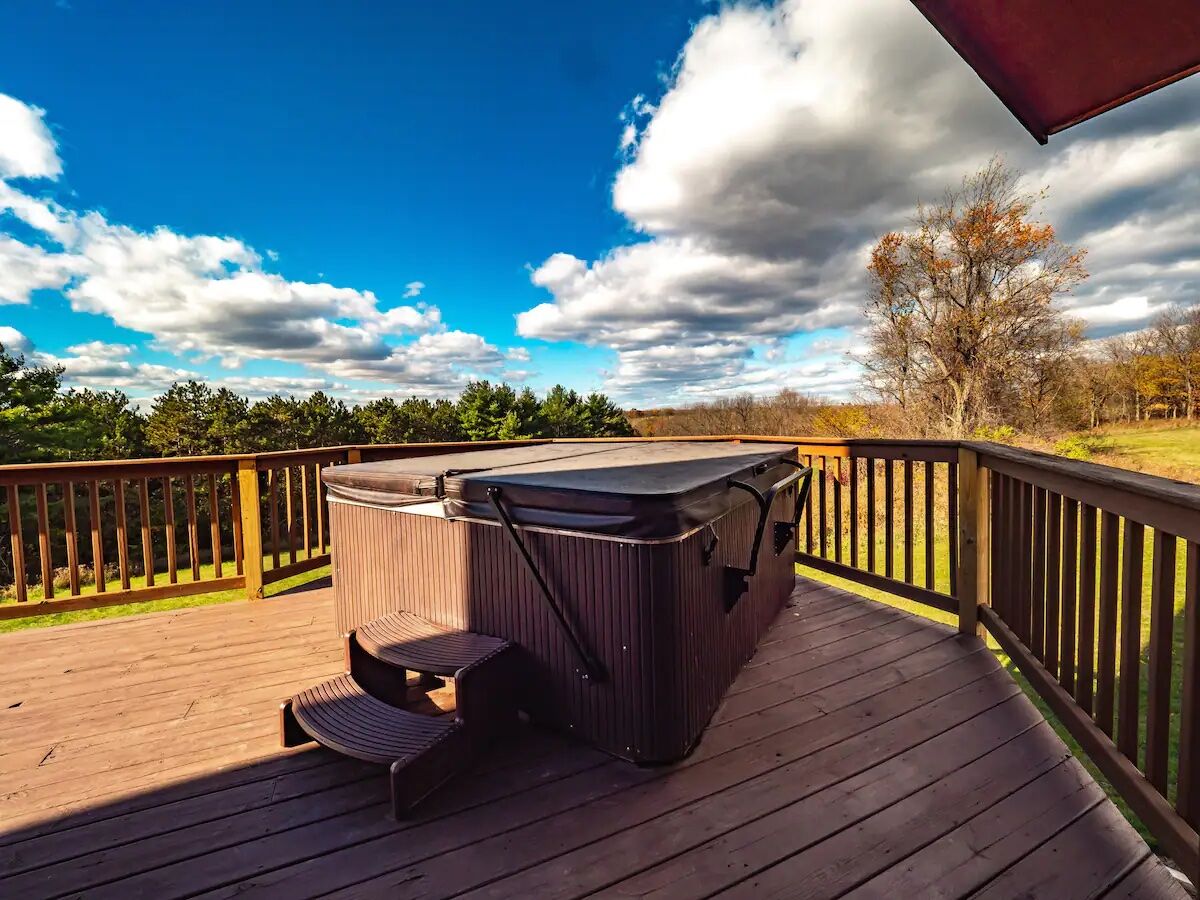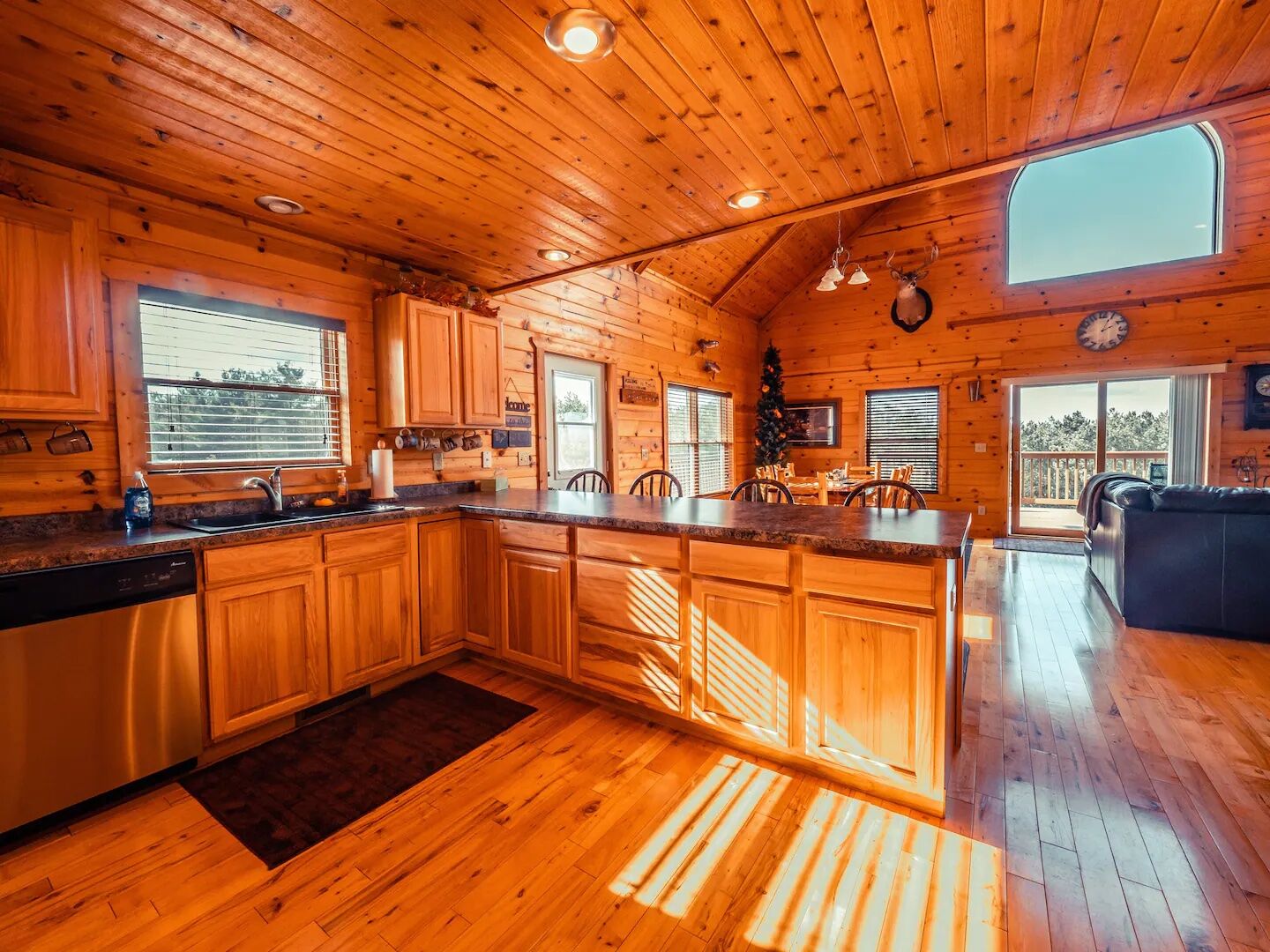 This ultra-private secluded Wisconsin Airbnb with hot tub near Ferryville is perfect for unplugging and recharging with your nearest and dearest. Woody interiors give the cabin a homely vibe while three roomy doubles easily accommodate a trio of couples or a smaller group. The elevated deck is equipped with a Jacuzzi bath where you can unwind to a backdrop of wide-open space and a field of pine trees where roaming wildlife is a daily occurrence.
Six guests, three bedrooms
Price: $223 per night
Lakeside Airbnbs Wisconsin
Idyllic, peaceful and adventure-filled property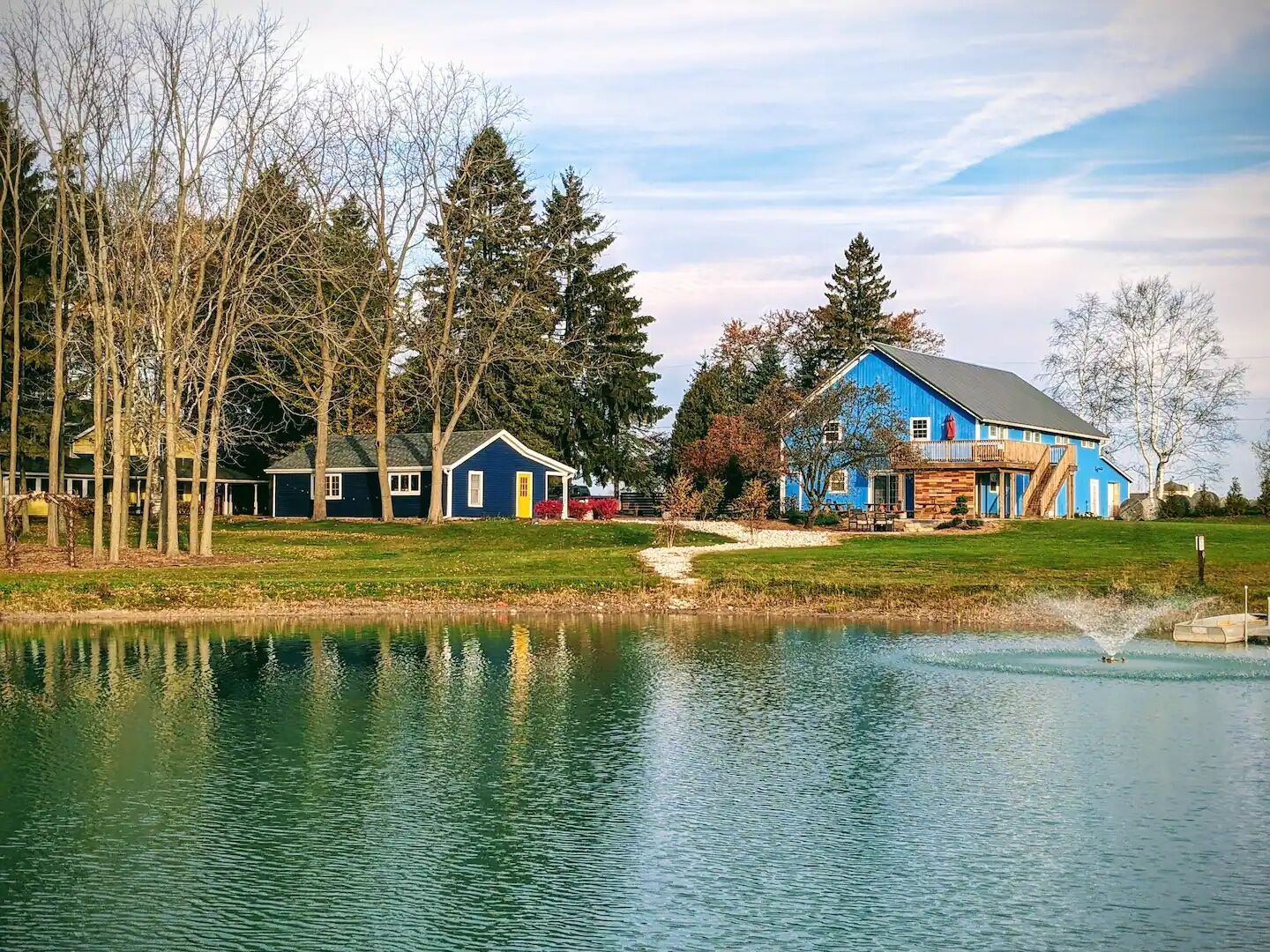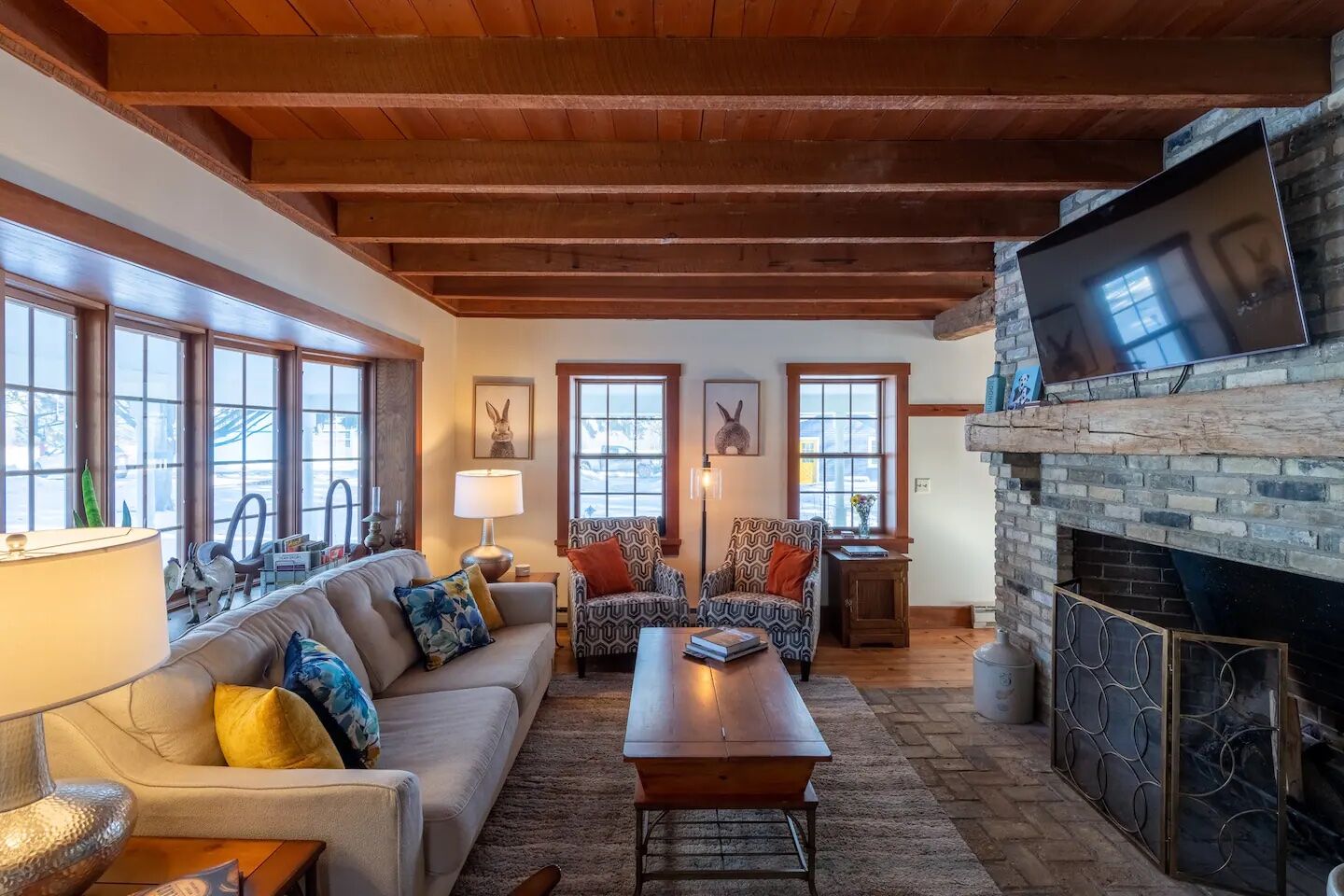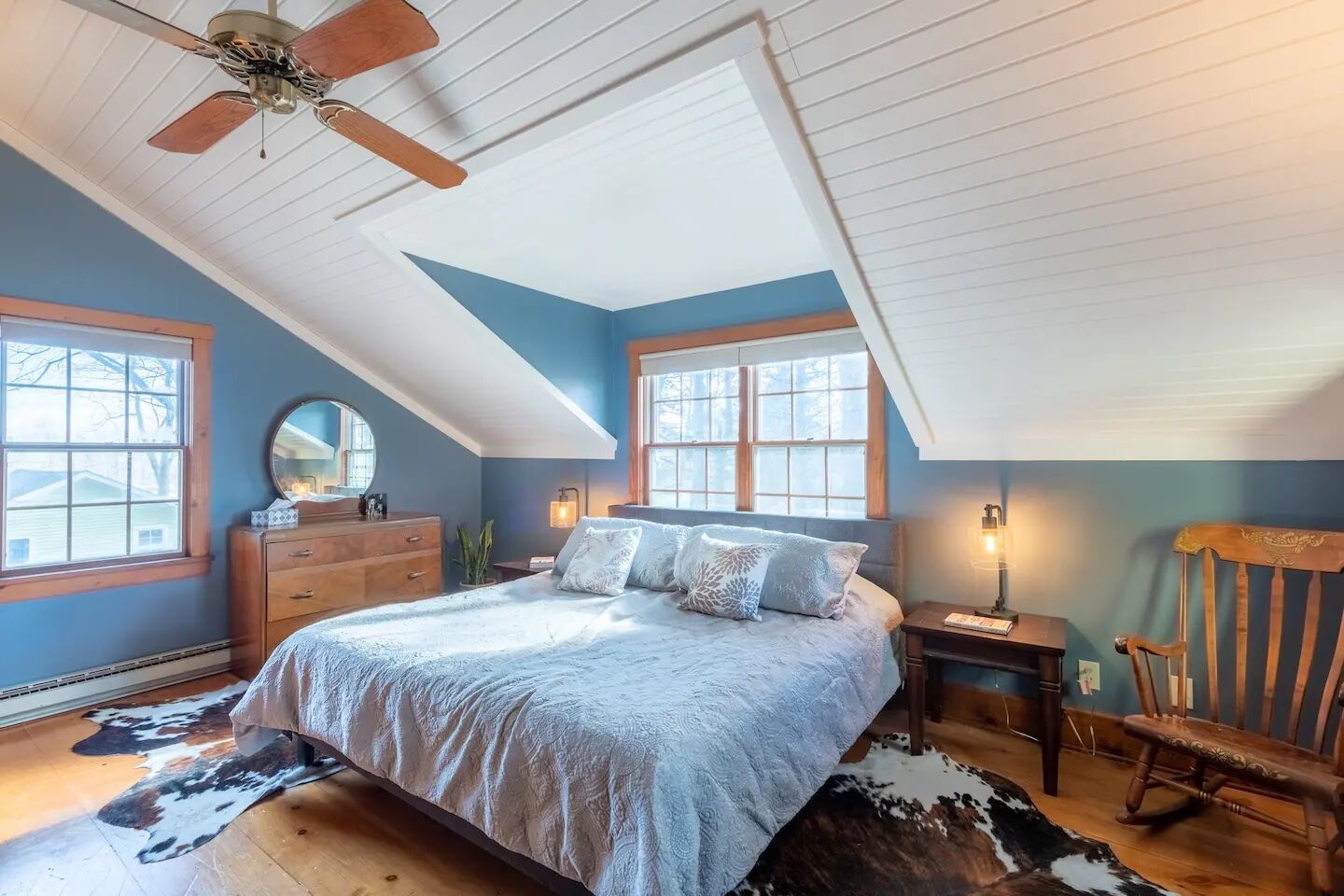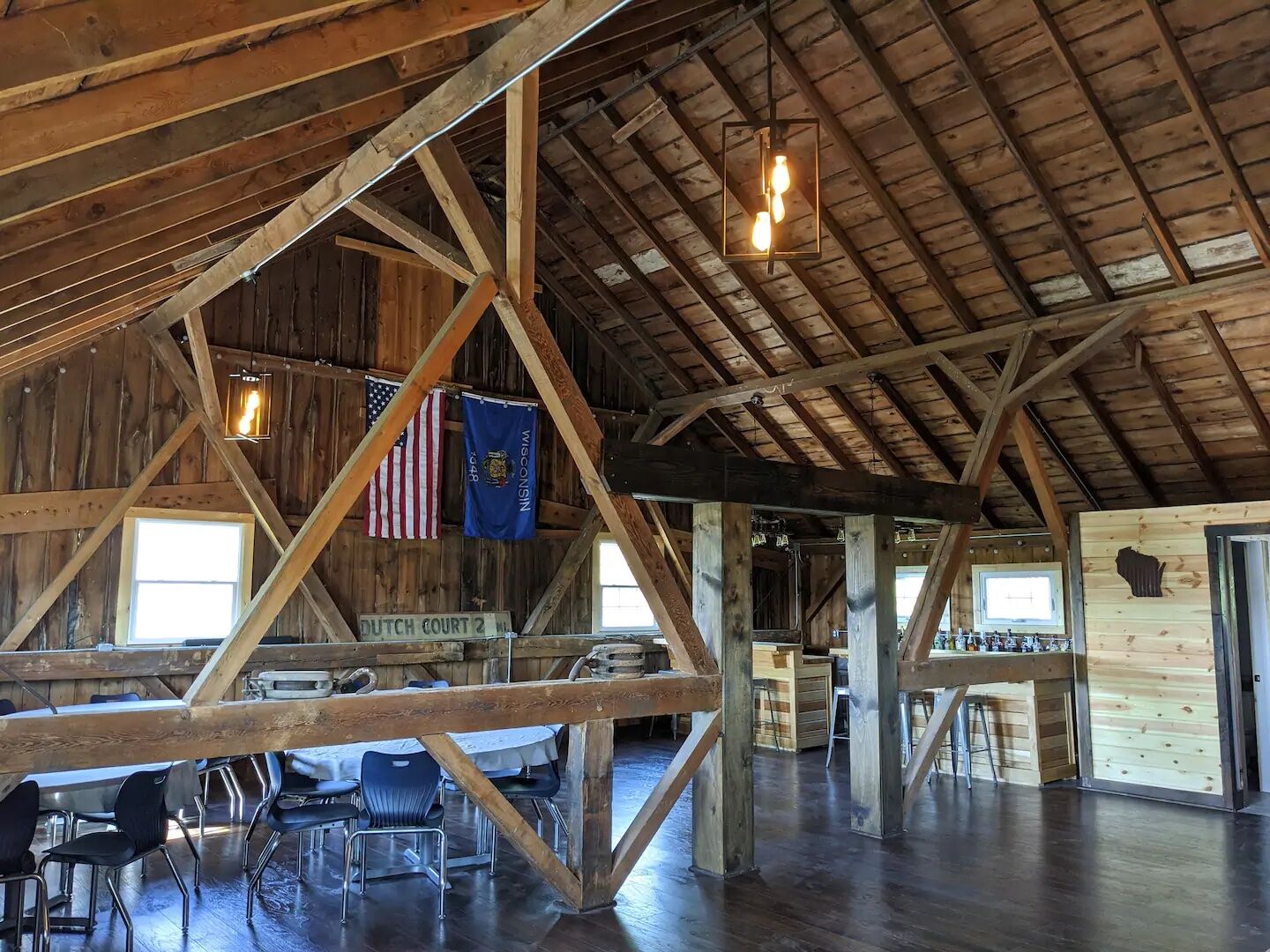 Located north of Milwaukee on the banks of ​​Lake Michigan, this pet-friendly farmhouse Airbnb Wisconsin retreat overlooks a serene pond where swimming is highly encouraged. In addition, the host provides rowing boats, kayaks, and paddleboards. If that's not enough to get your heart pumping, the converted barn is attached to both a basketball and sand volleyball court. The loft space is designed for groups seeking long evenings of sharing stories, playing games, and streaming movies.
Fifteen guests, five bedrooms
Price: $850 per night
Hart Haven A-frame on Lake Millicent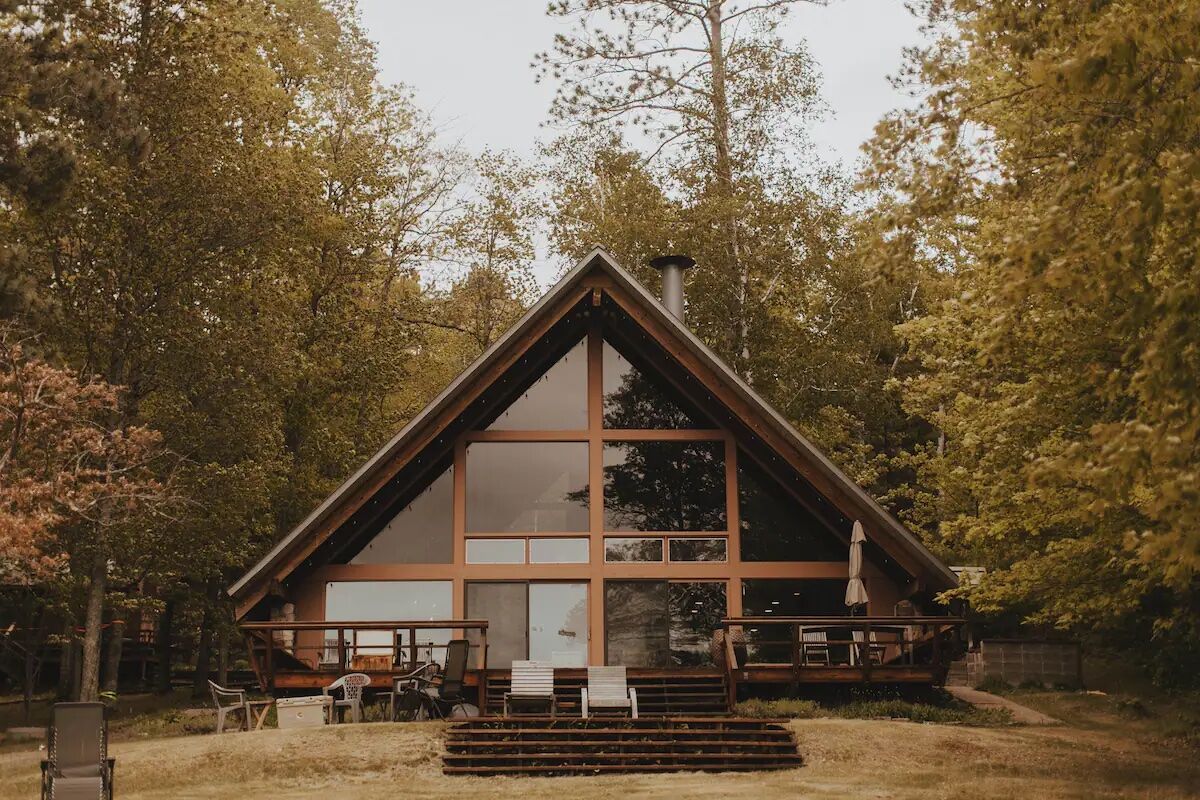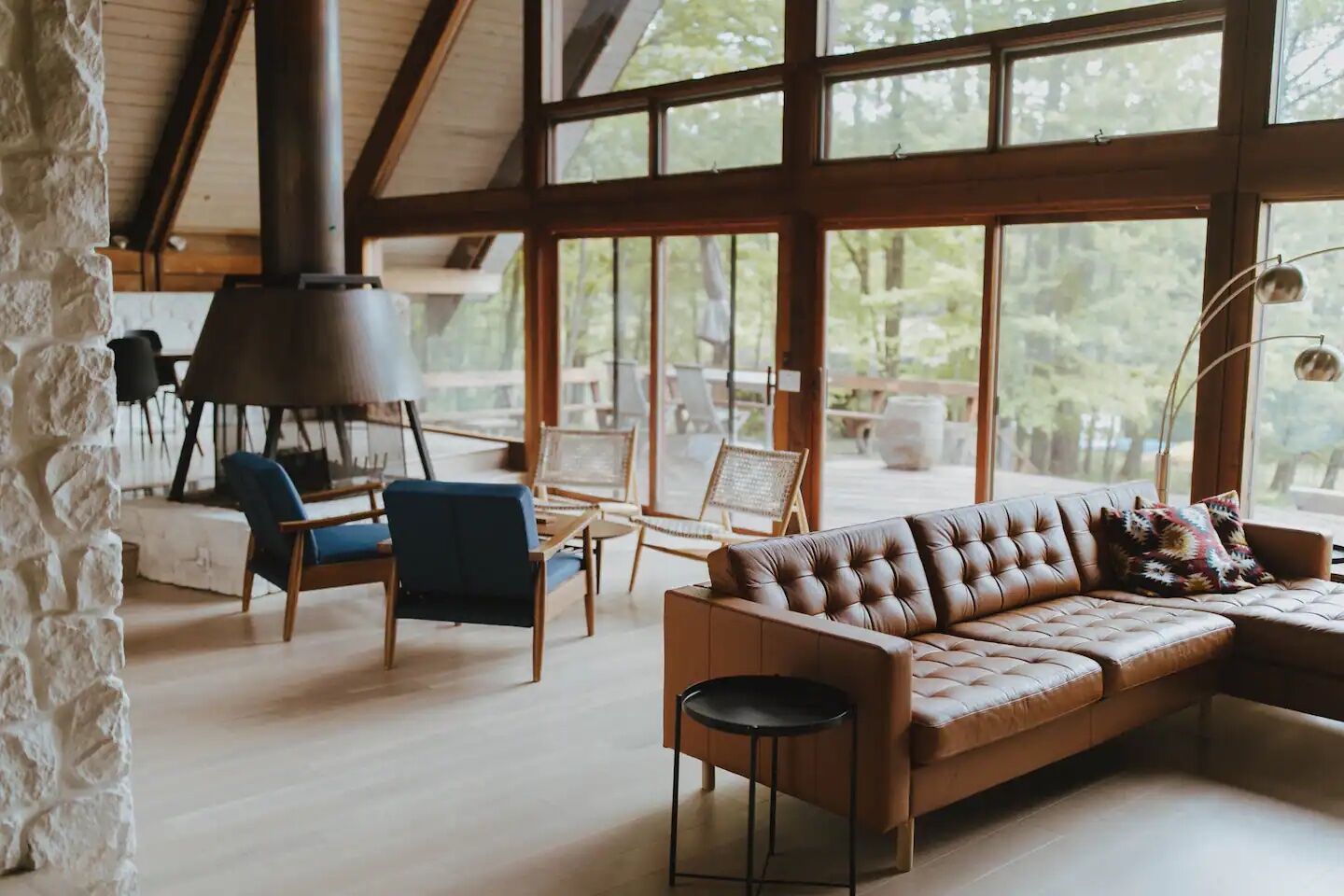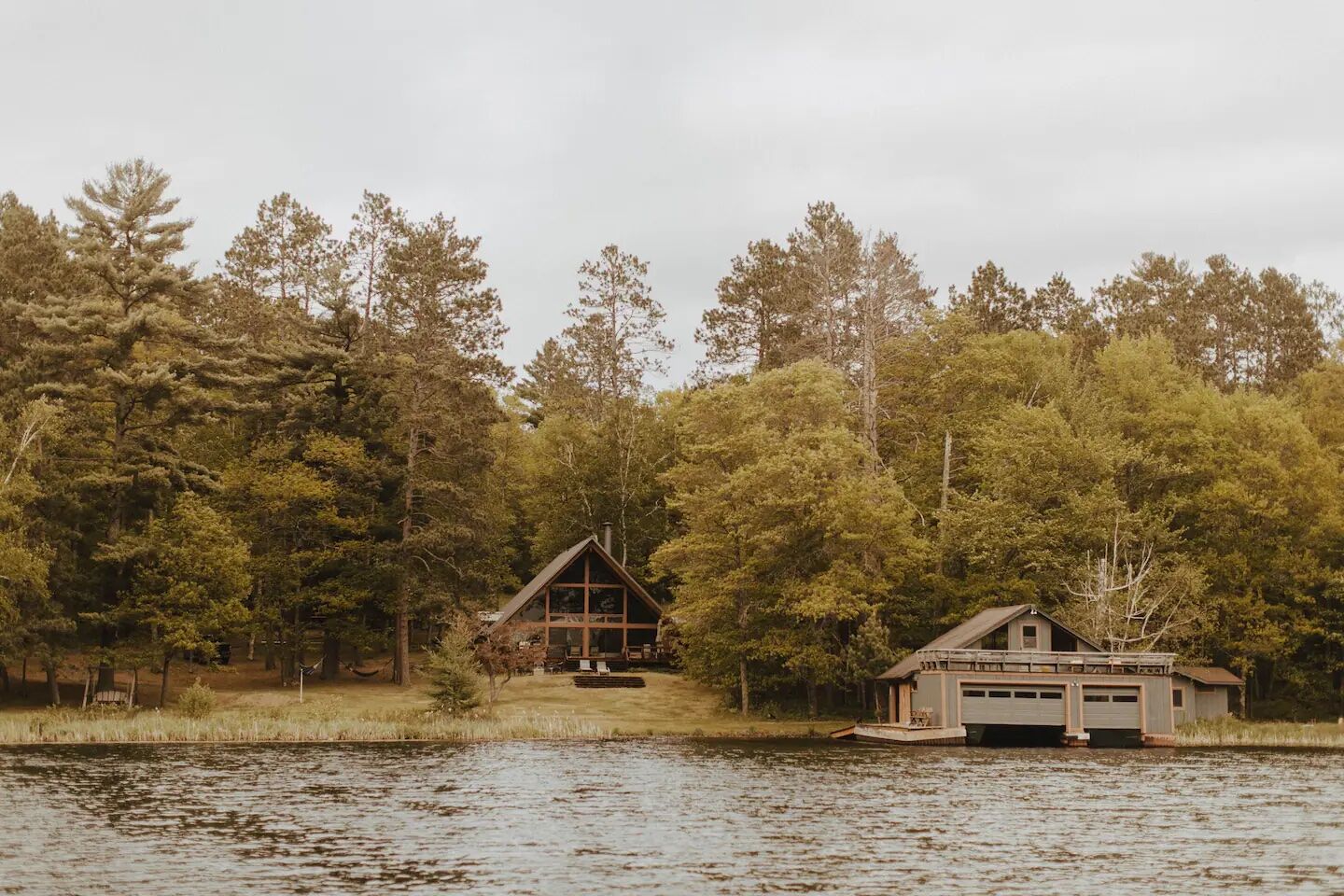 Built in 1960, this stylish A-frame chalet sits right on the edge of Lake Millicent and features minimalist interiors polished off with a vintage flair. Your backyard is strewn with hammocks and a wooden swing chair to capture those "wish you were here" moments. Kayaks are provided by the host and there's a ping pong table where you can rustle up your group for a light competition in the evening.
Four guests, two bedrooms
Price: $350 per night
Traveling in Wisconsin? Check out Matador's Wisconsin accommodations guides for the best places to stay.
The Luxe Chalet on Red Cedar River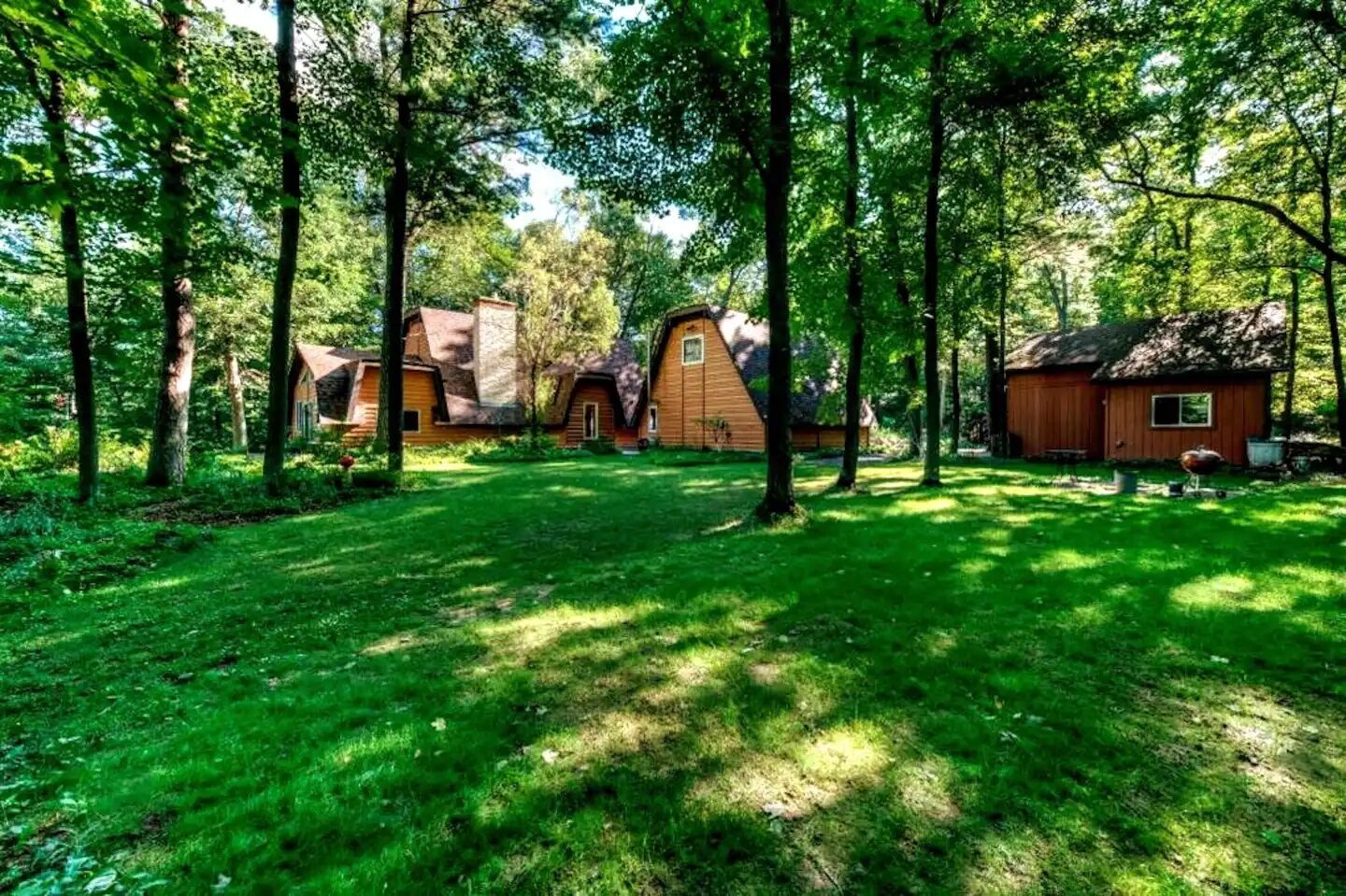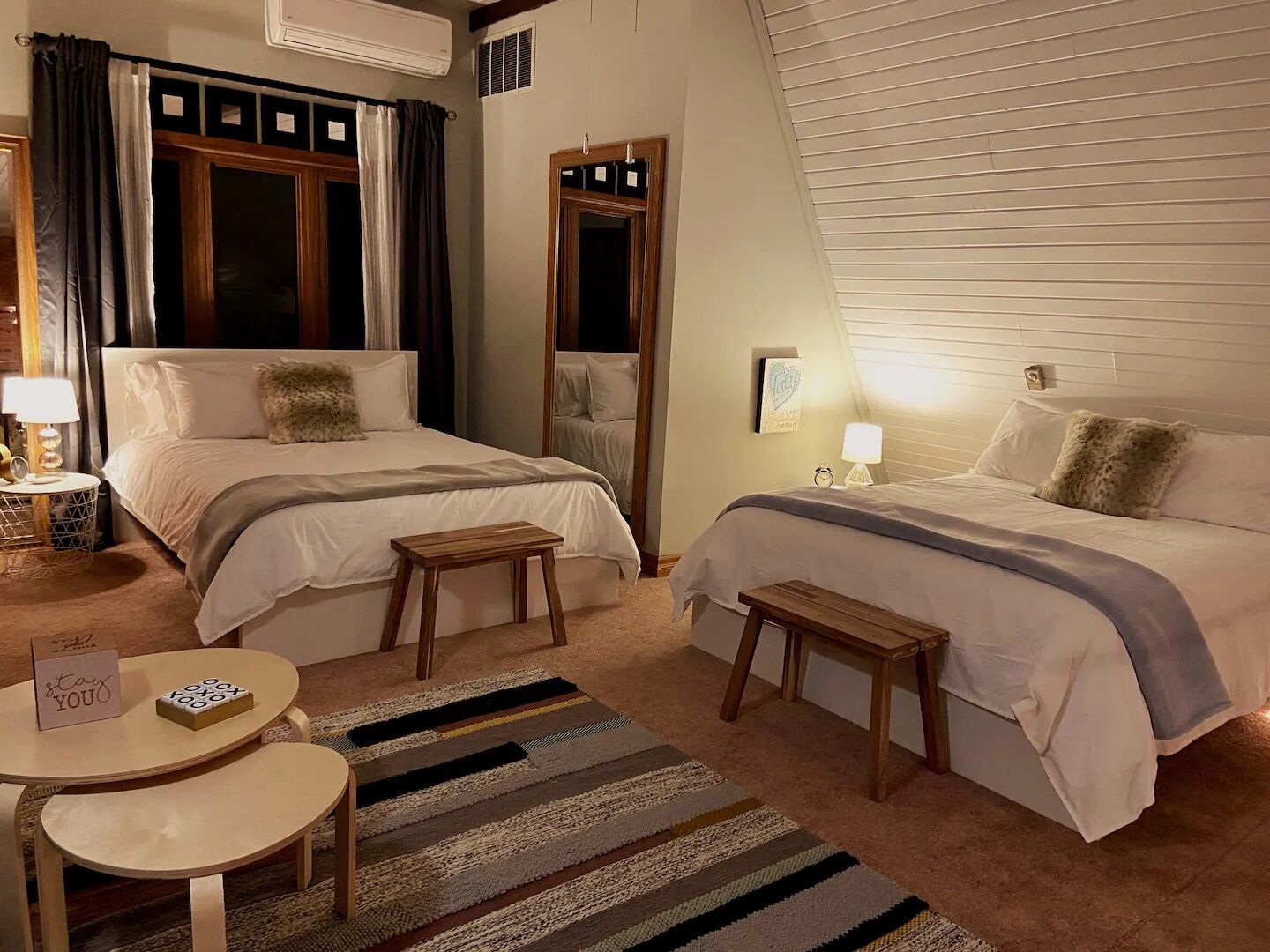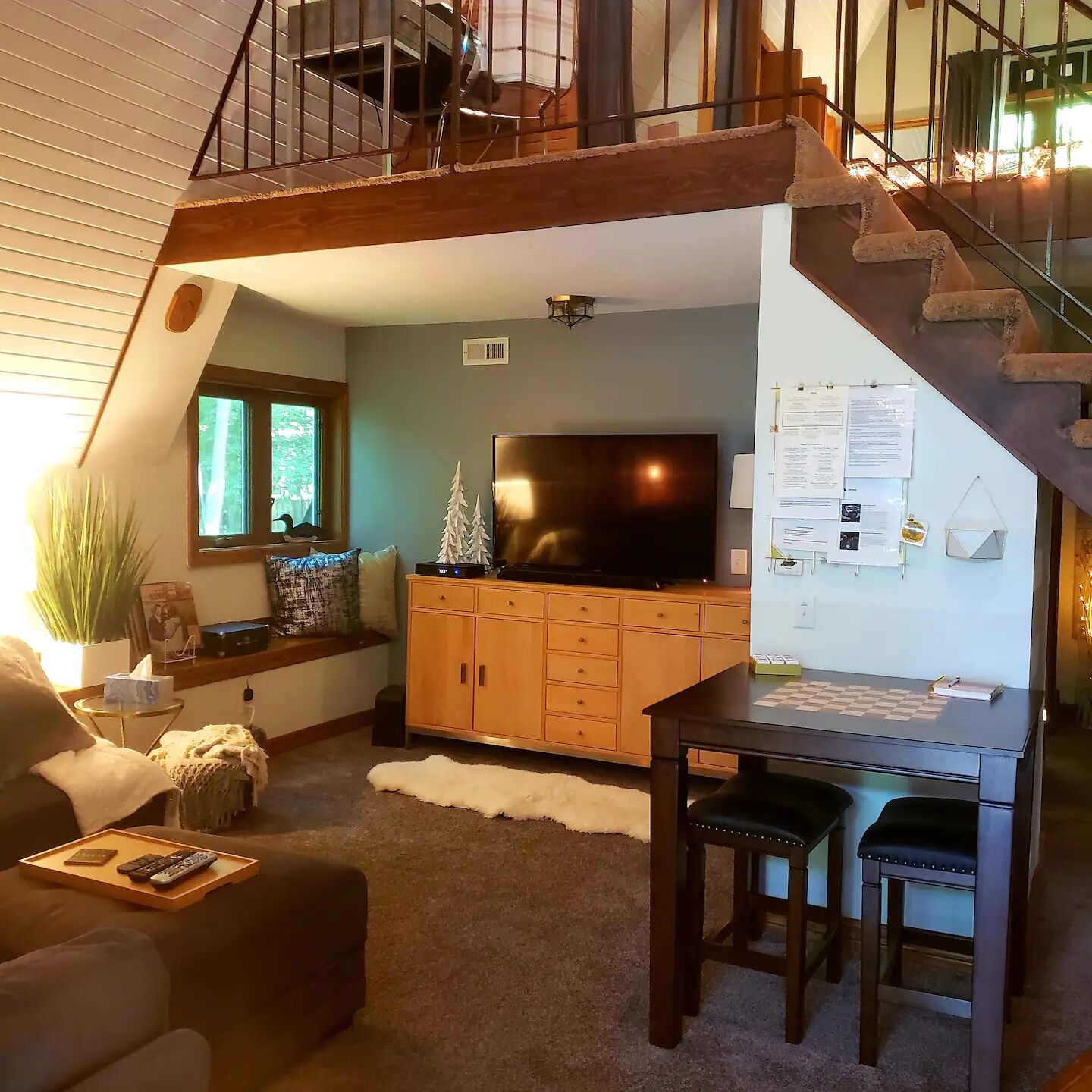 A touch north of Lake Menomin on the Red Cedar River, this secluded luxury chalet is right out of a storybook. Dogs are welcome at this pet-friendly Airbnb Wisconsin with 2,000 square feet of relaxation space and one acre of riverfront backyard. Home comforts include a blazing fireplace, a soaking Jacuzzi tub in the bathroom, and an open-air hot tub in the private garden.
Eight guests, three bedrooms
Price: $320 per night
Stony Crest Cabin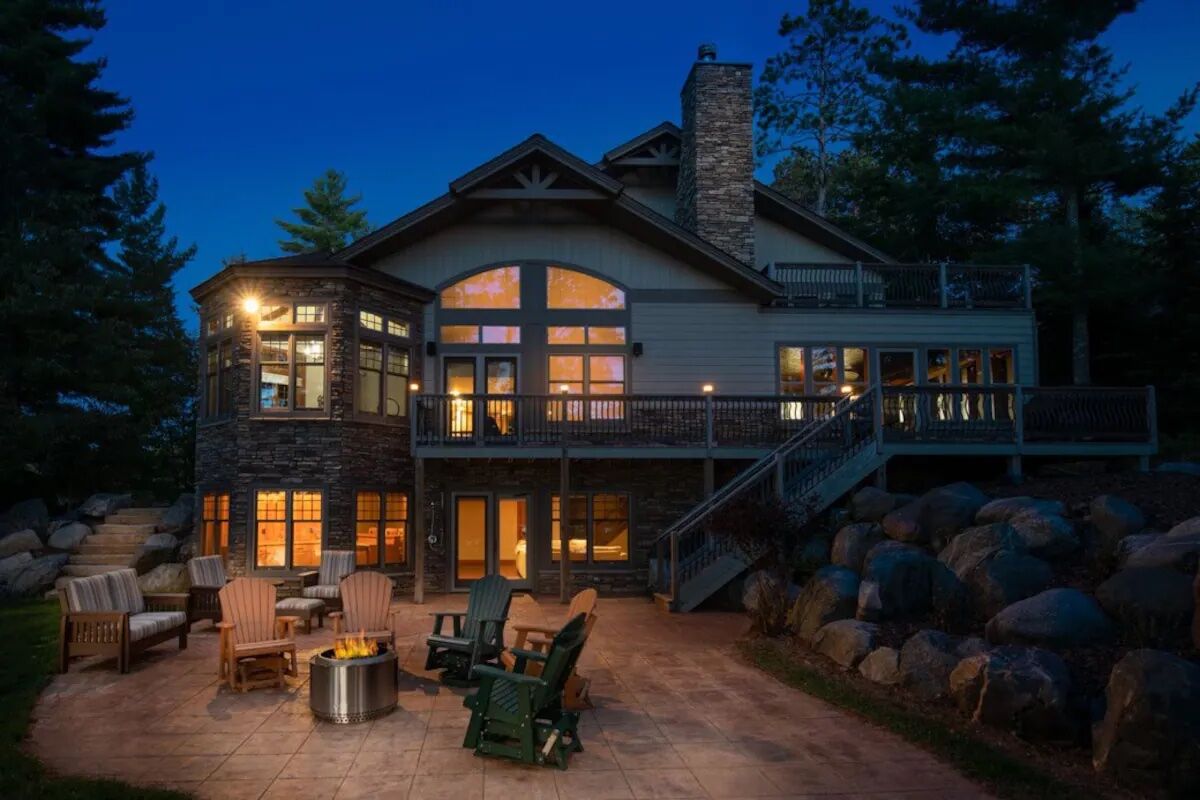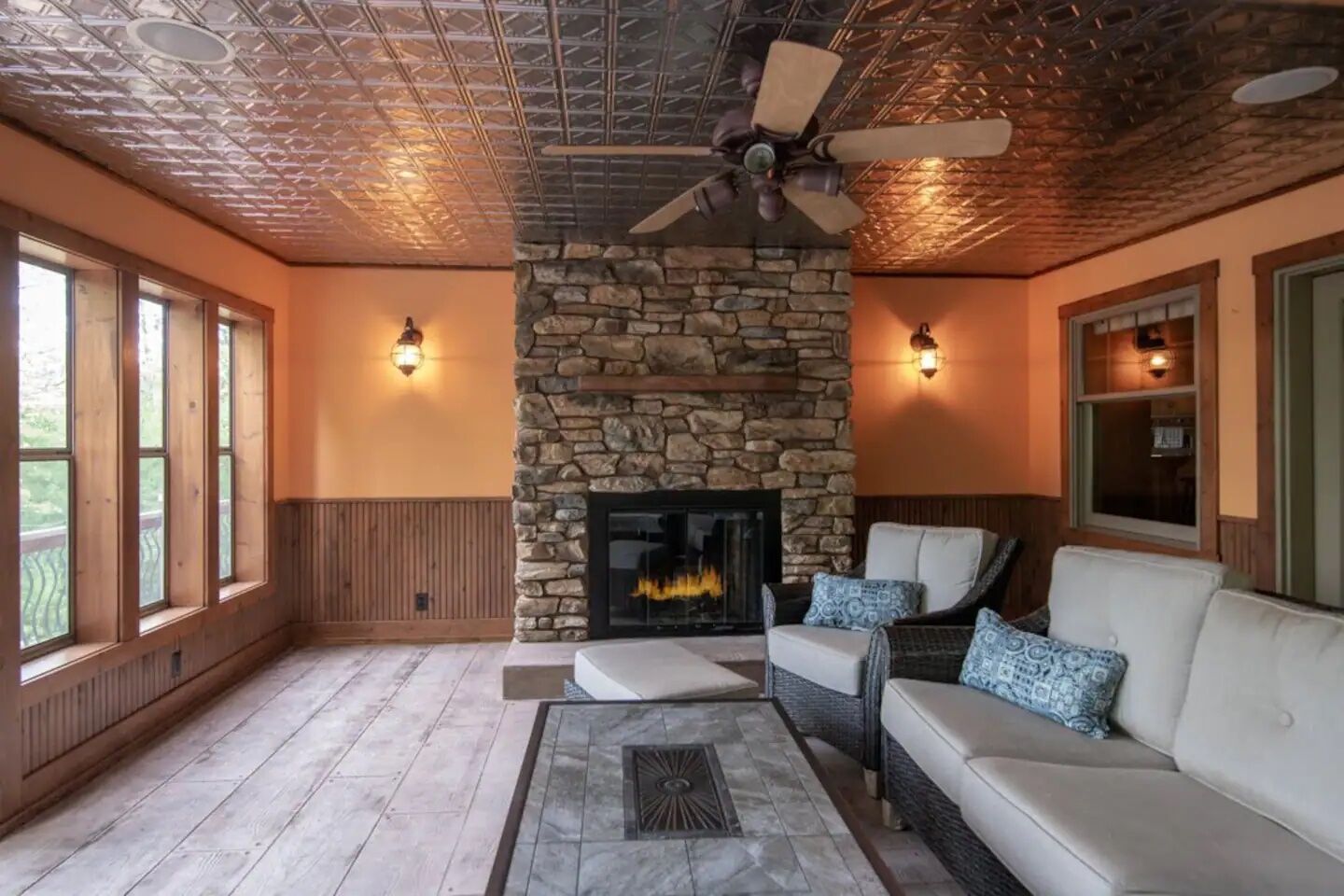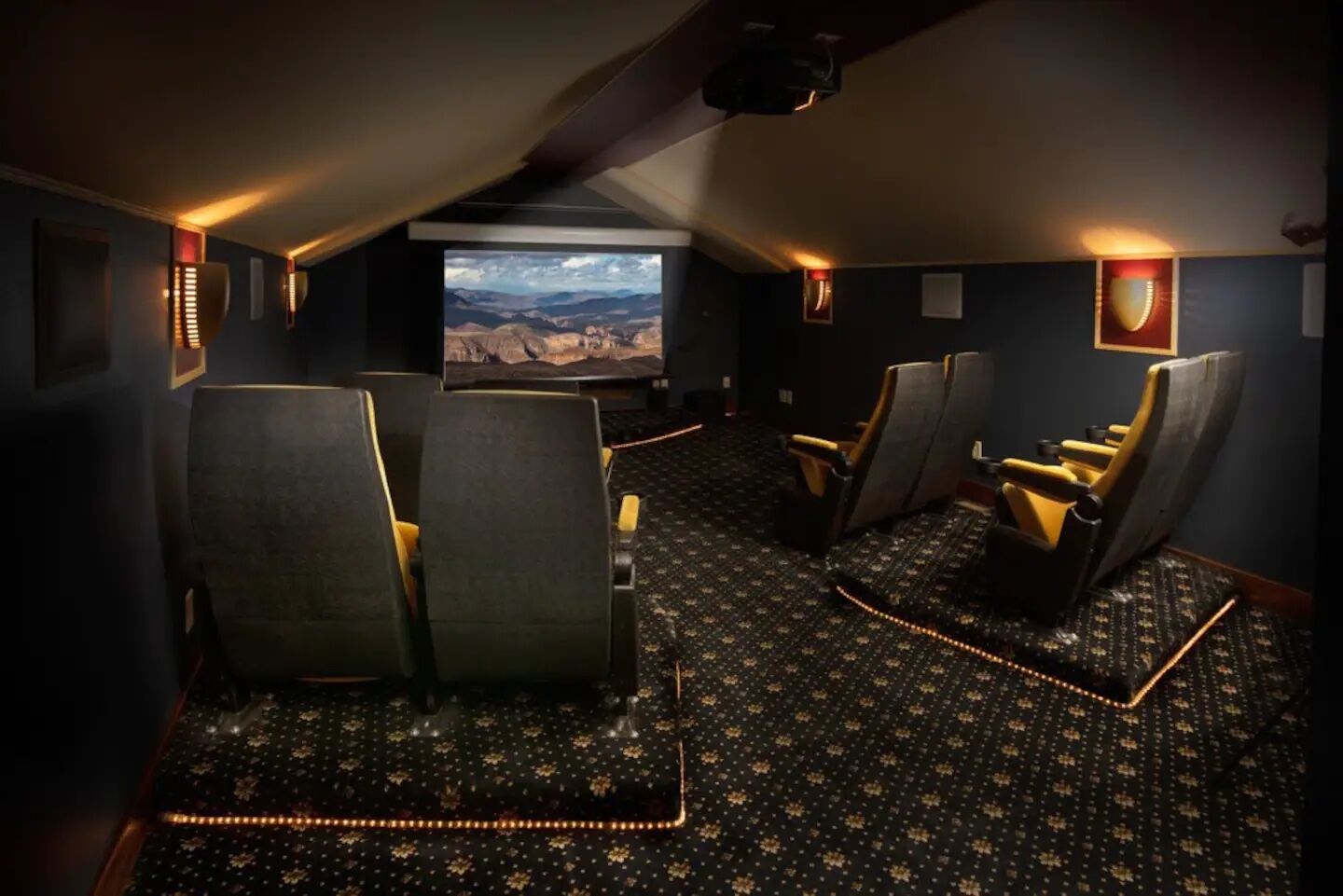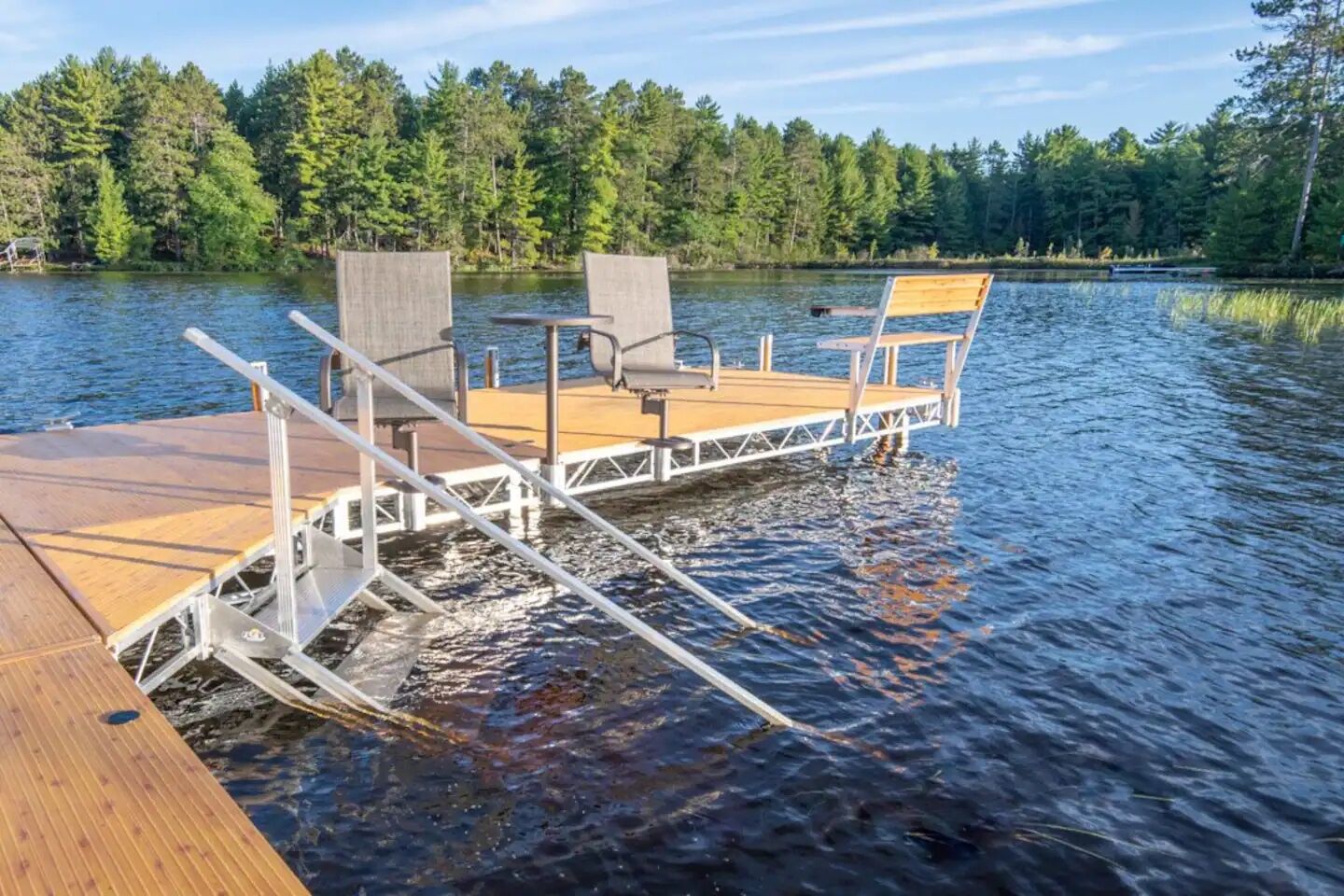 Live your best lake life at this shoreside vacation rental at Deer Lake – one of 28 lakes in the Three Lakes and Eagle River region for you to explore. Warm up around the fire pit after a spot of wild swimming off your private dock. Indoors, you'll find a yoga studio, plush movie lounge, and a collection of arcade games. Any chefs in your group will clap their hands with glee at the professional-level kitchen.
Eight guests, four bedrooms
Price: $340 per night
Modern lake house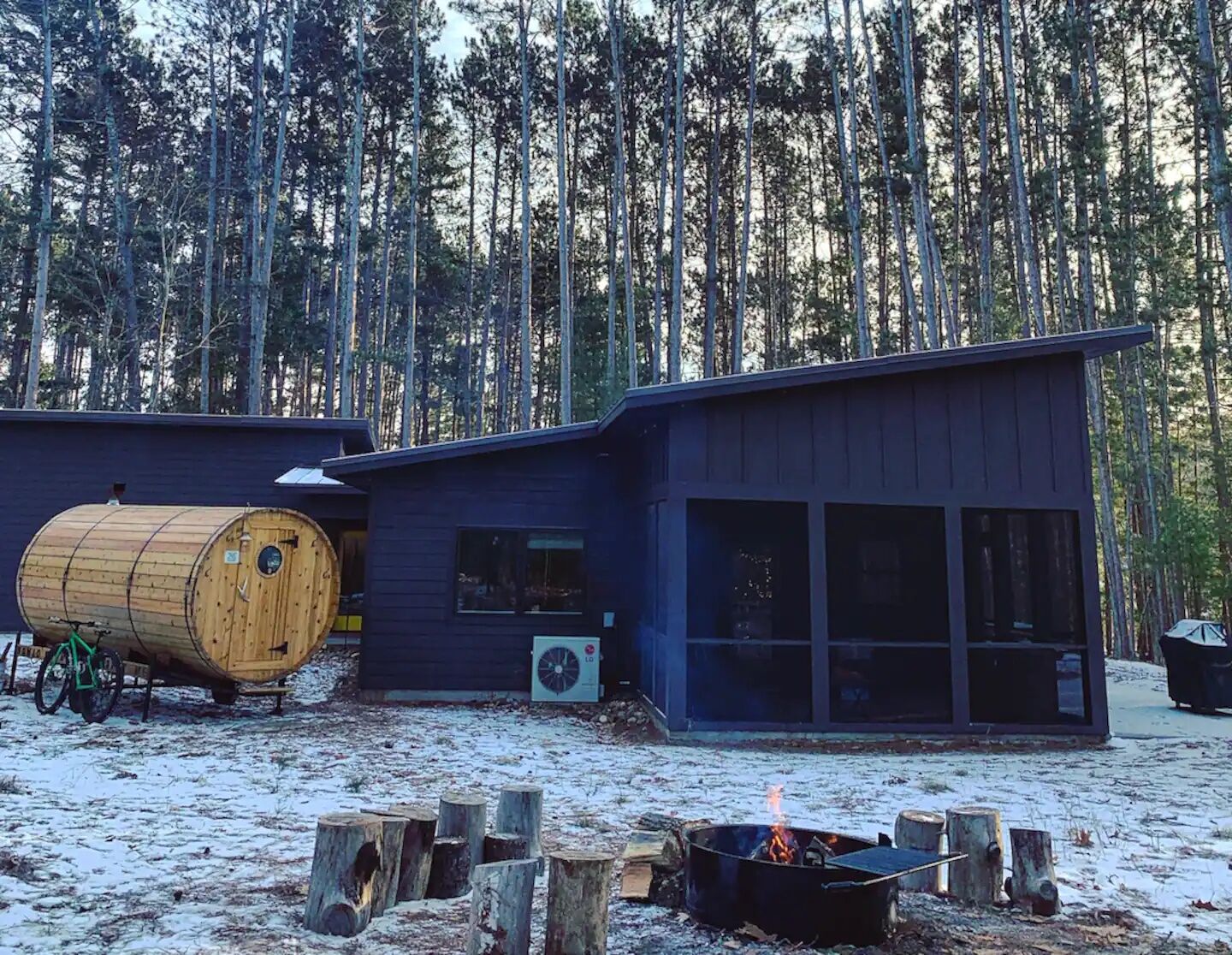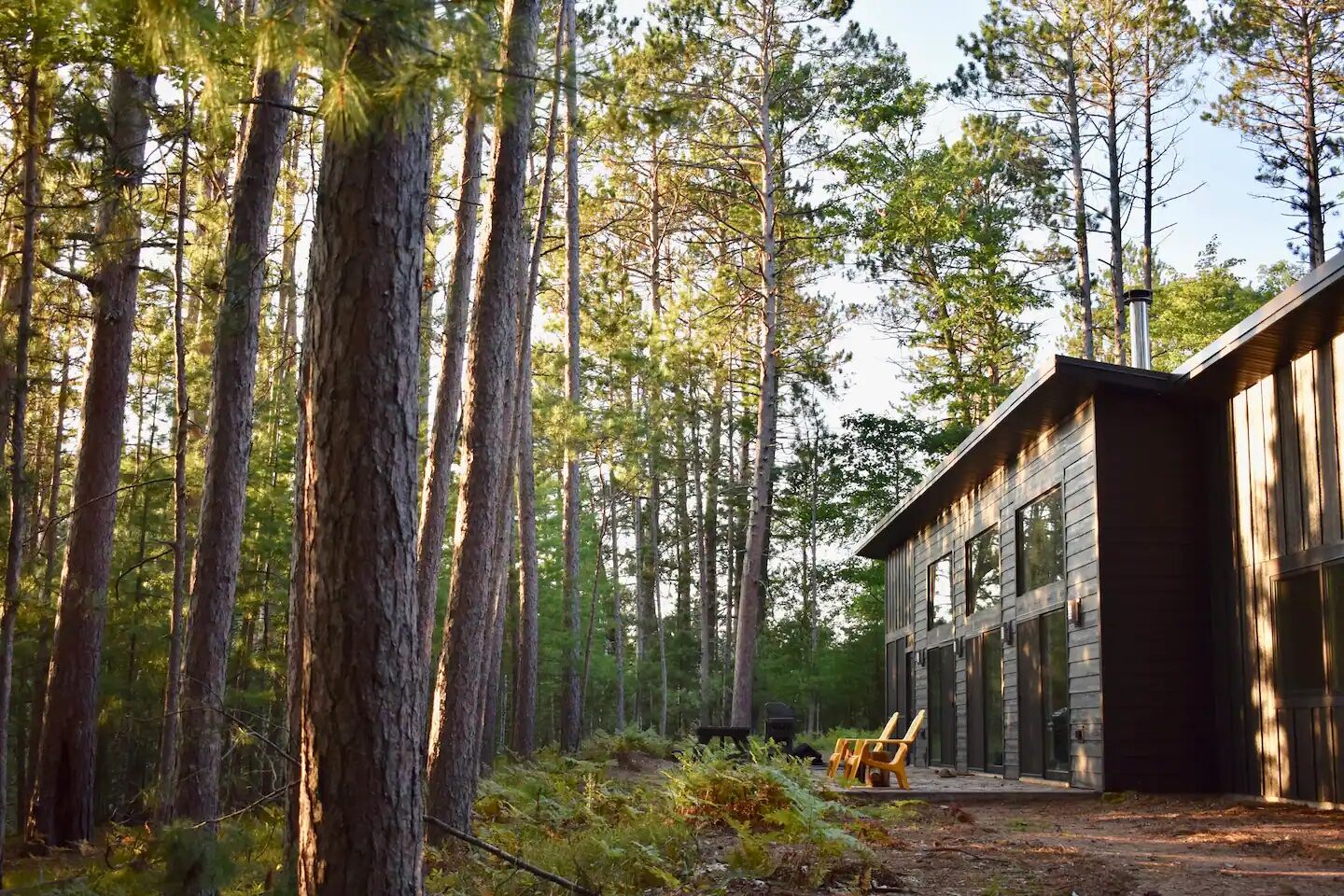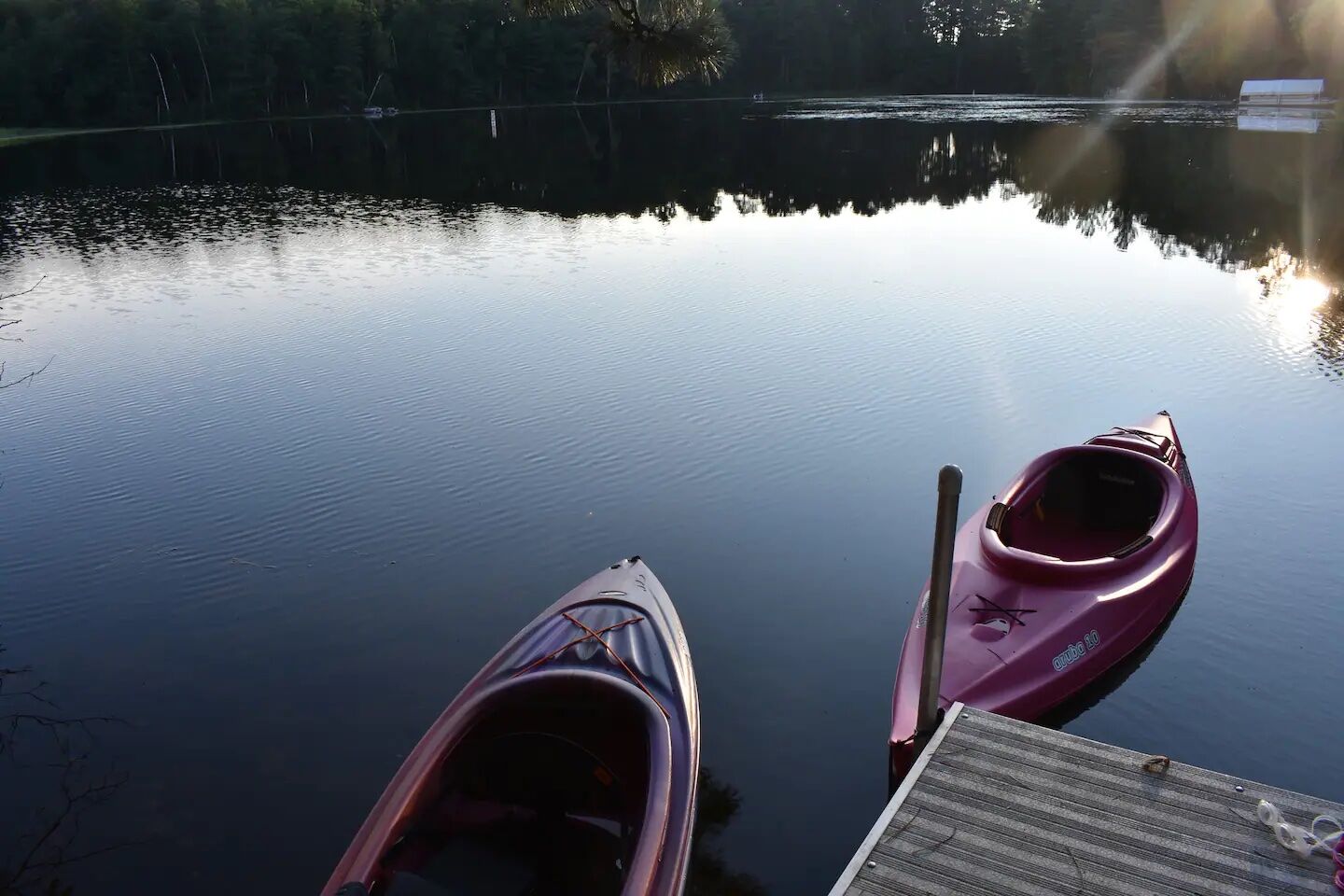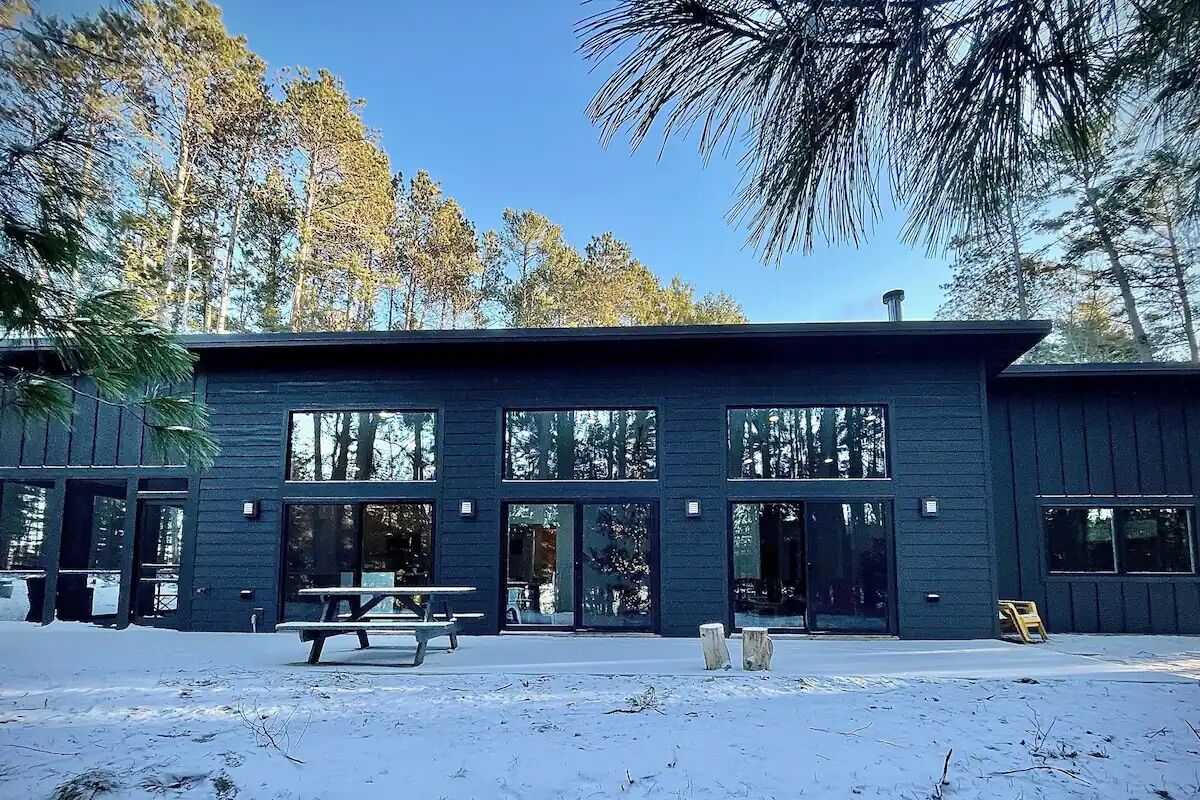 Get your hygge fill at this Scandi-style Wisconsin rental chalet nestled in the woods near the Eau Claire Lakes. Whether you're a skier, biker, or water baby – this cabin puts you right on track for your next adventure fix. The backyard is rigged with a fire pit for cozy après sessions with a hot chocolate and a round of s'mores. Inside, panoramic windows and sliding screen doors provide soothing views over the water.
Eight guests, three bedrooms
Price: $315 per night
Lake life with year-round hot tub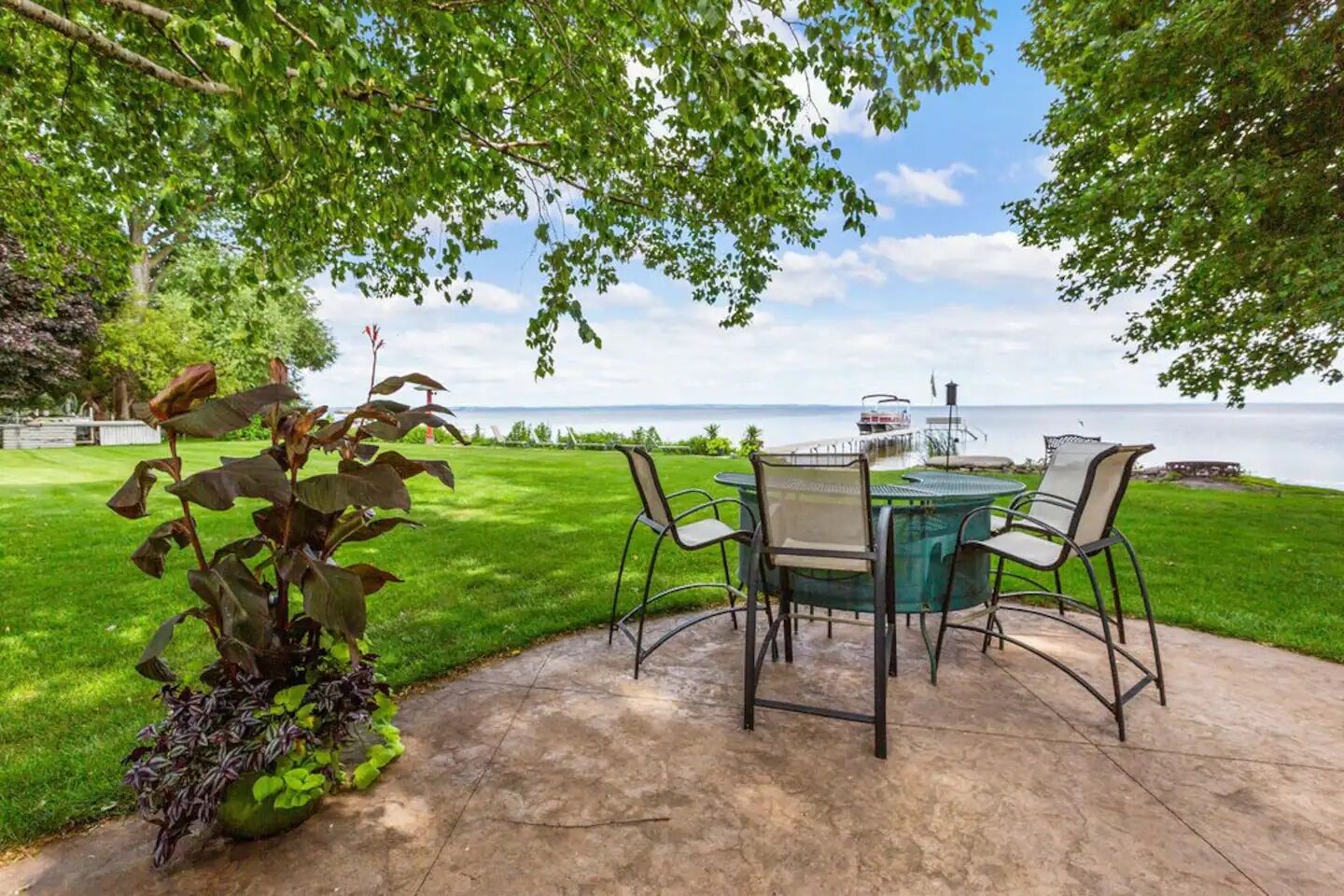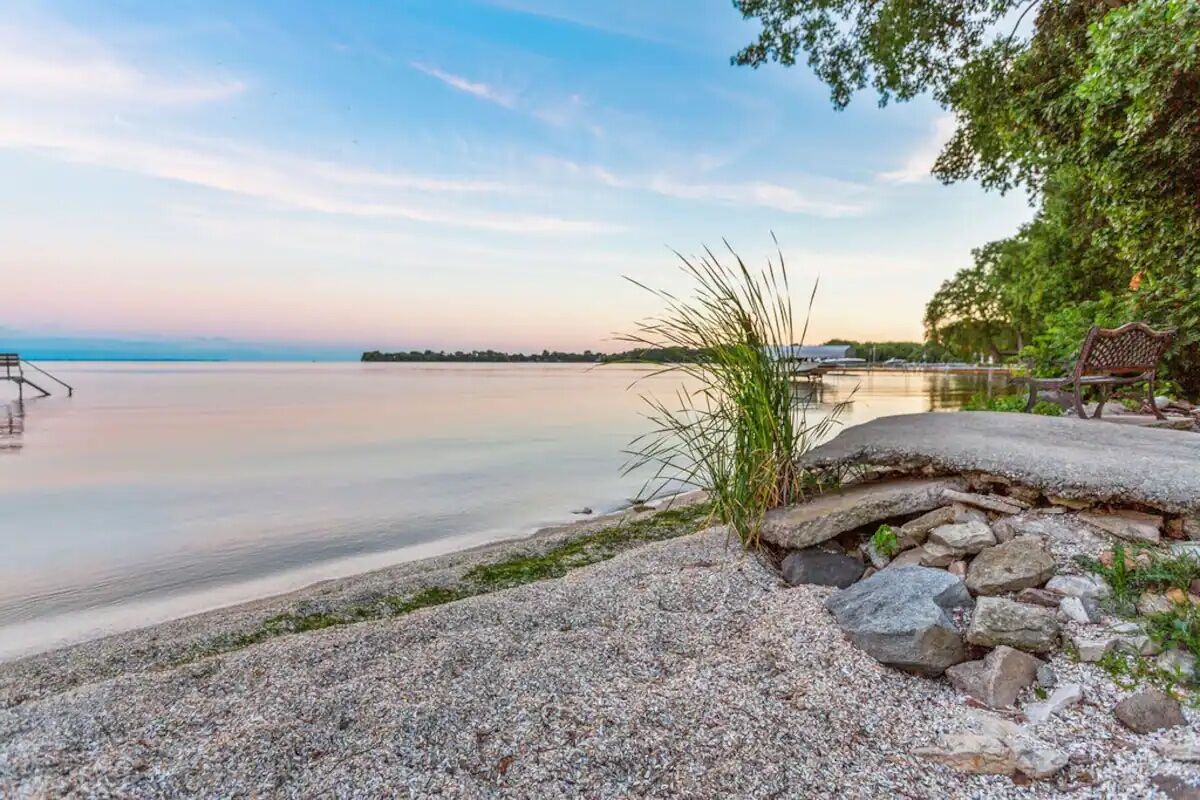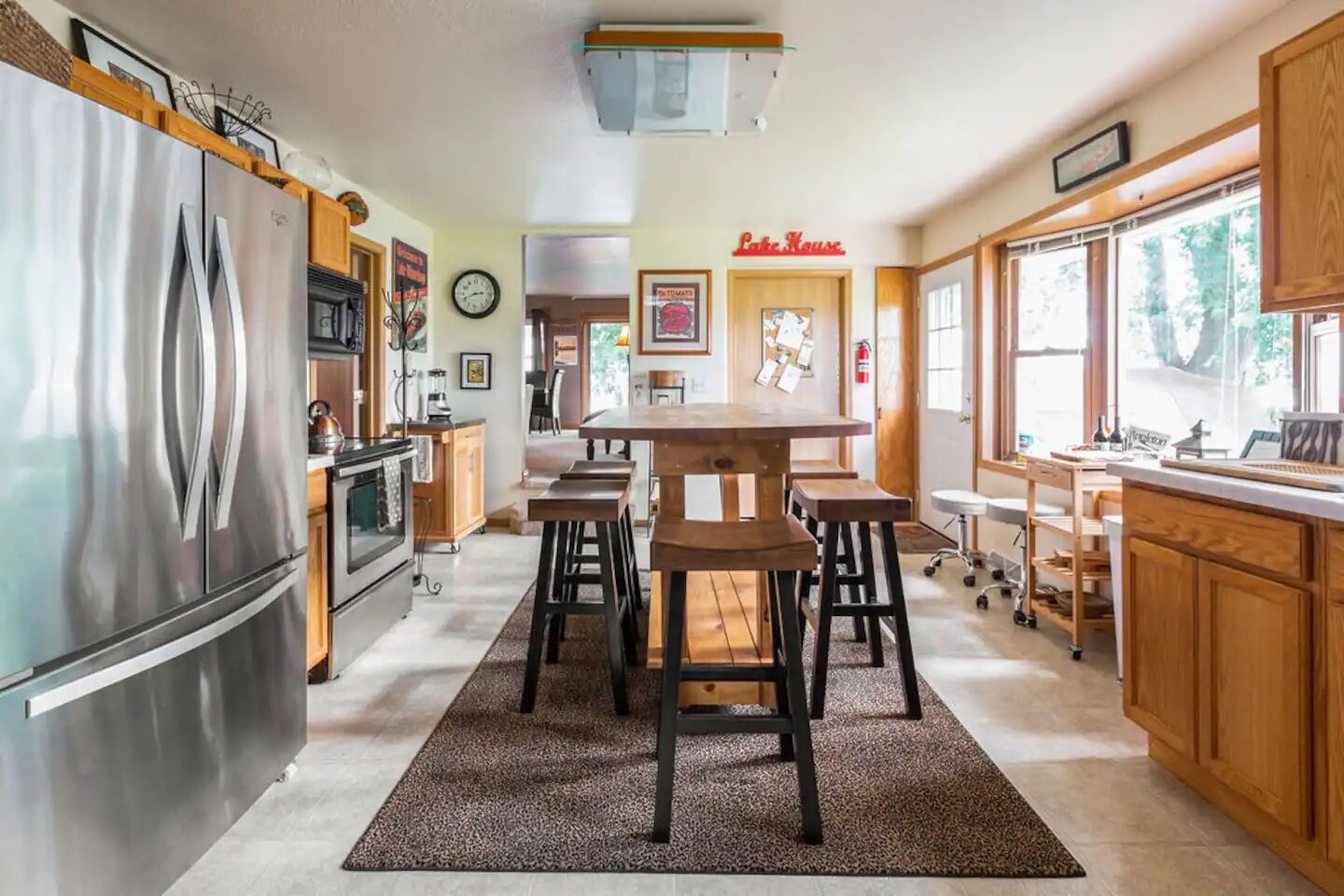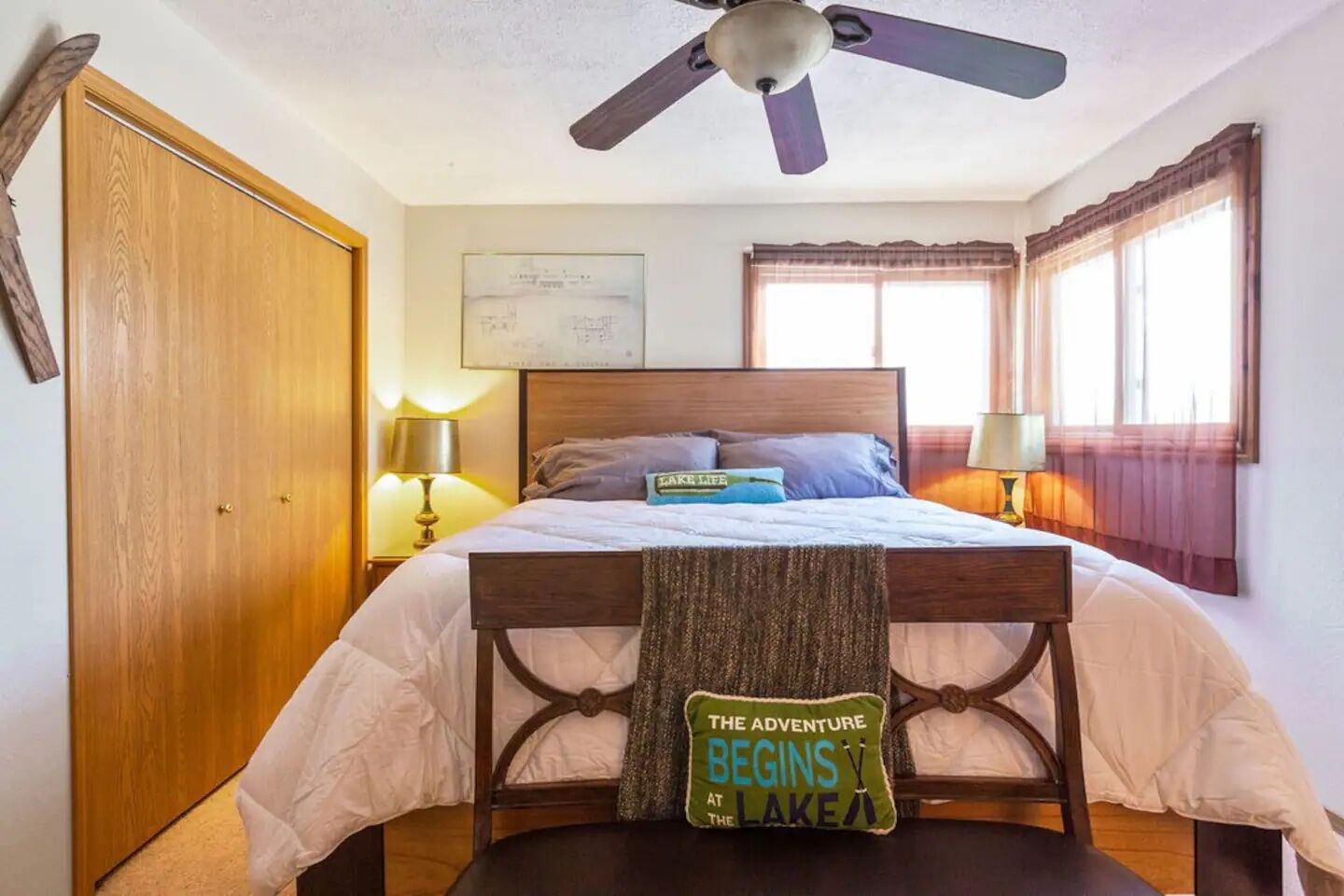 Located near Neenah on the shores of Lake Winnebago the perks of this Wisconsin Airbnb vacation cottage include a private dock, fire pit, tiki bar, and spacious patio with an outdoor hot tub and couch. Canoes and kayaks are provided while the host can advise regarding motorboat rental if required. The interiors are immaculately appointed with comfort in mind when you need to get your shut-eye.
Six guests, two bedrooms
Price: $325 per night
Airbnb Wisconsin for larger groups
Nostalgic highland farmhouse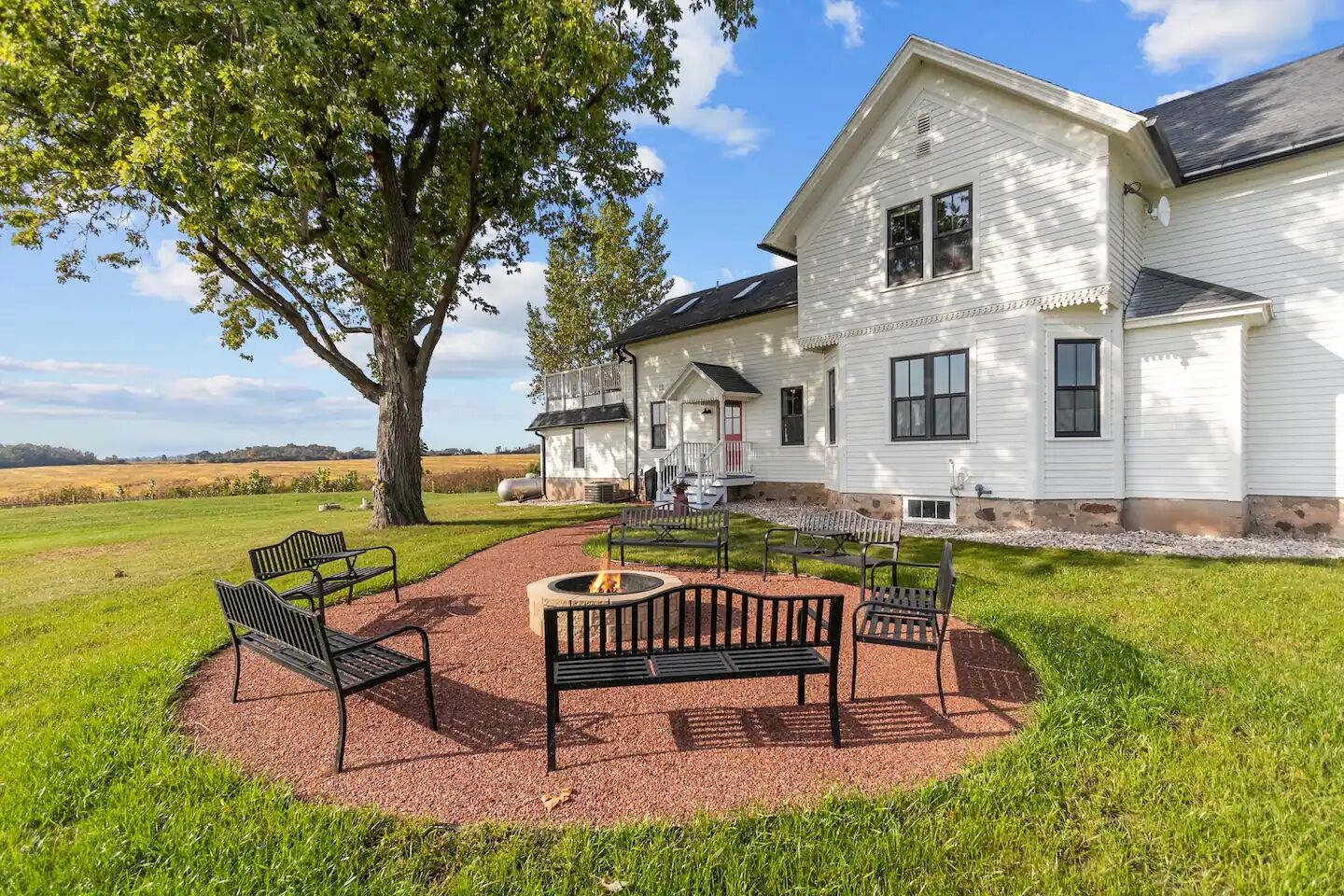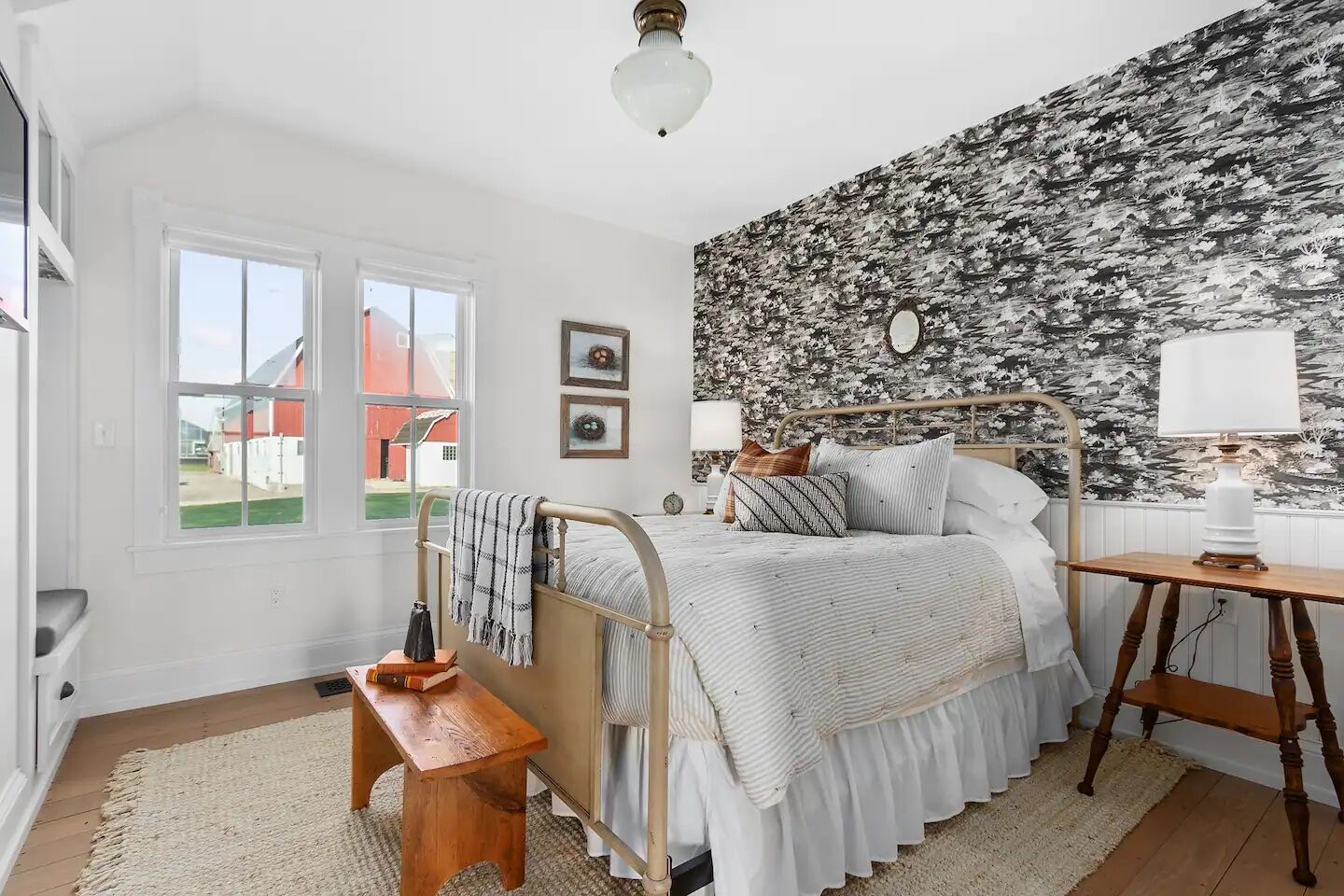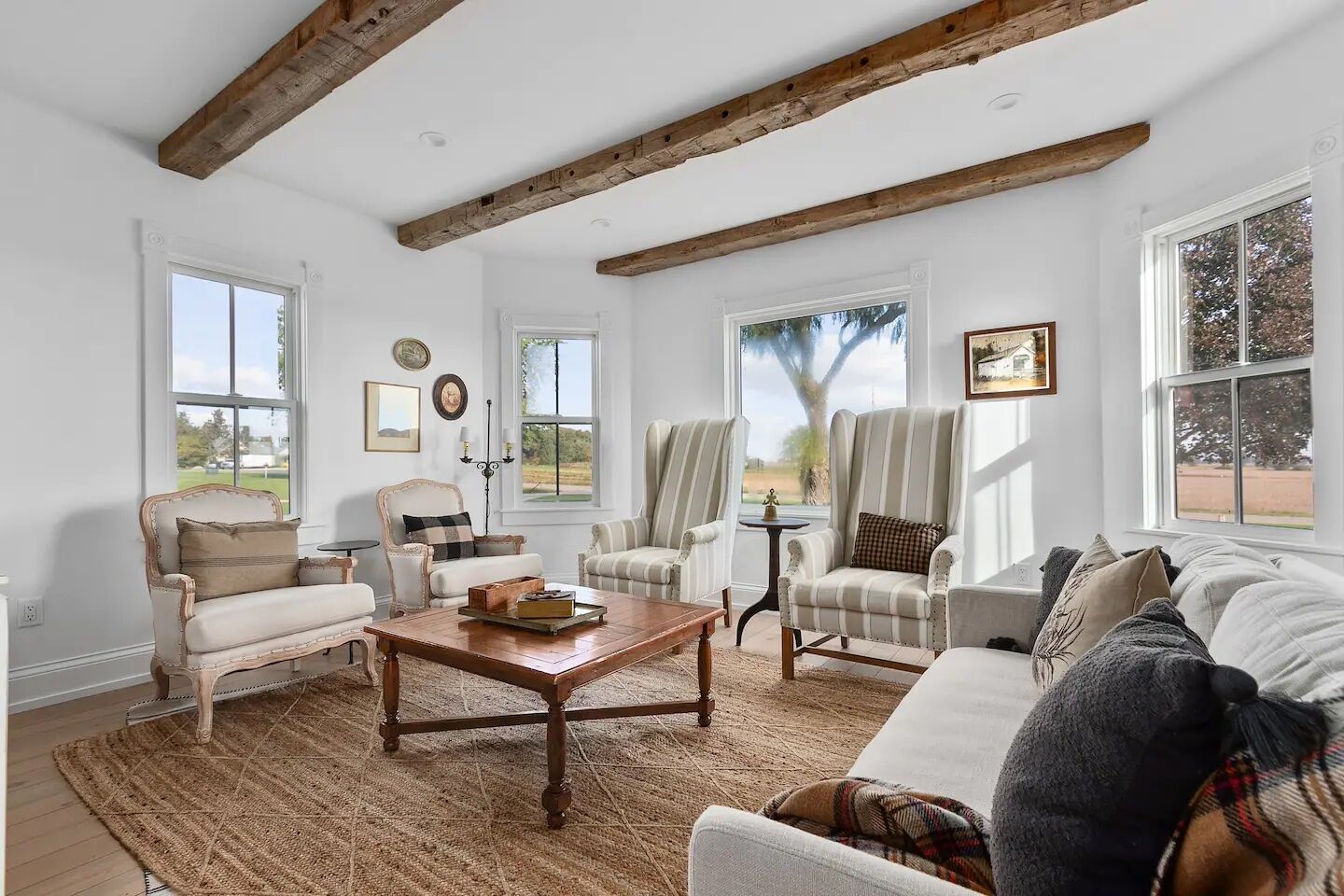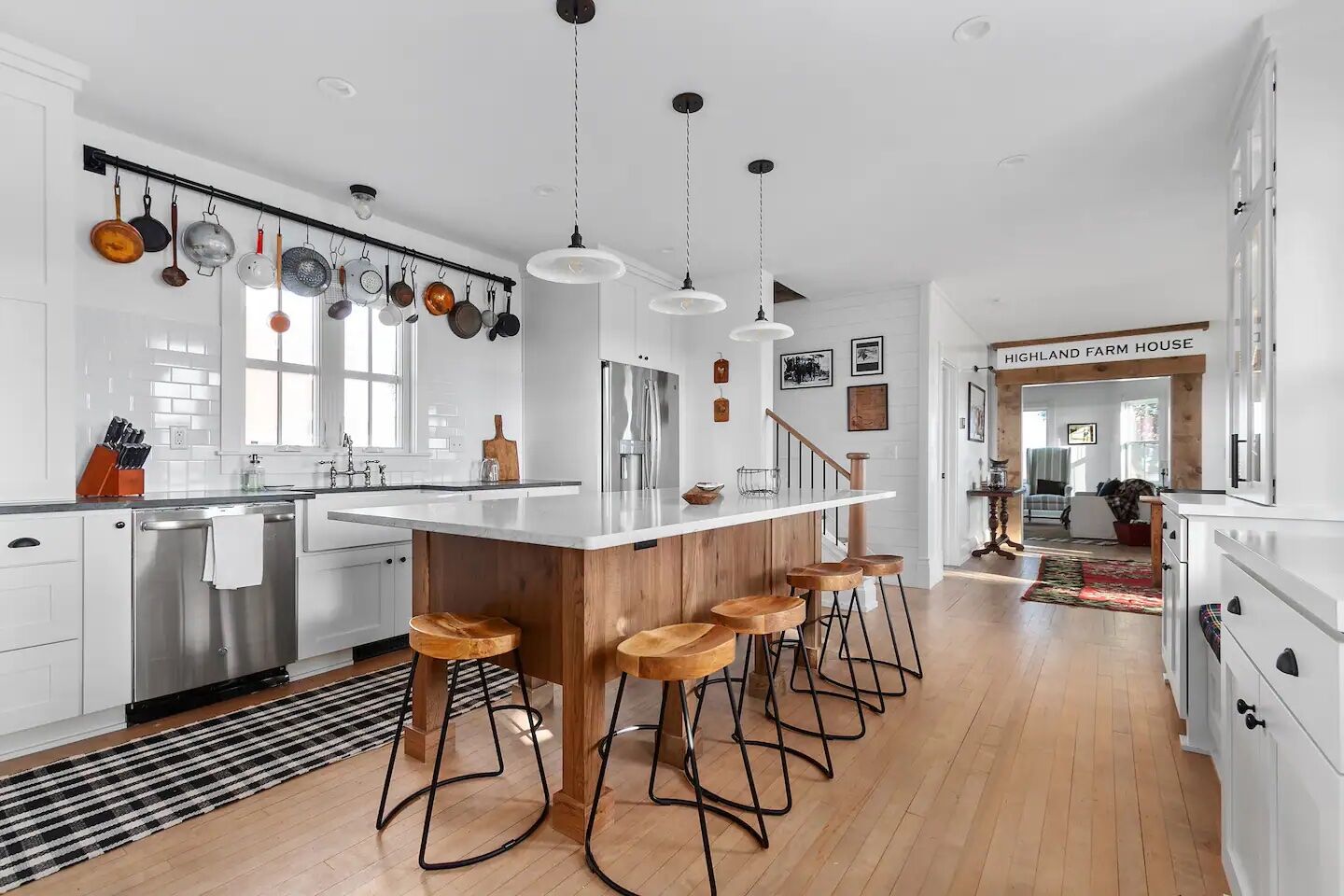 This remote countryside stay is a short drive from Van Dyne. The space has recently undergone a major facelift to introduce a designer feel and now benefits from a chic kitchen. Light and airy interiors with upscale furnishings work in tandem with the boutique exteriors. Relax on the walk-out balcony or huddle around the fire pit. Cattle, poultry, and a friendly mule roam the land at the "farmette" which only adds to the charm.
Sixteen guests, four bedrooms
Price: $910 per night
Farmstead with hot tub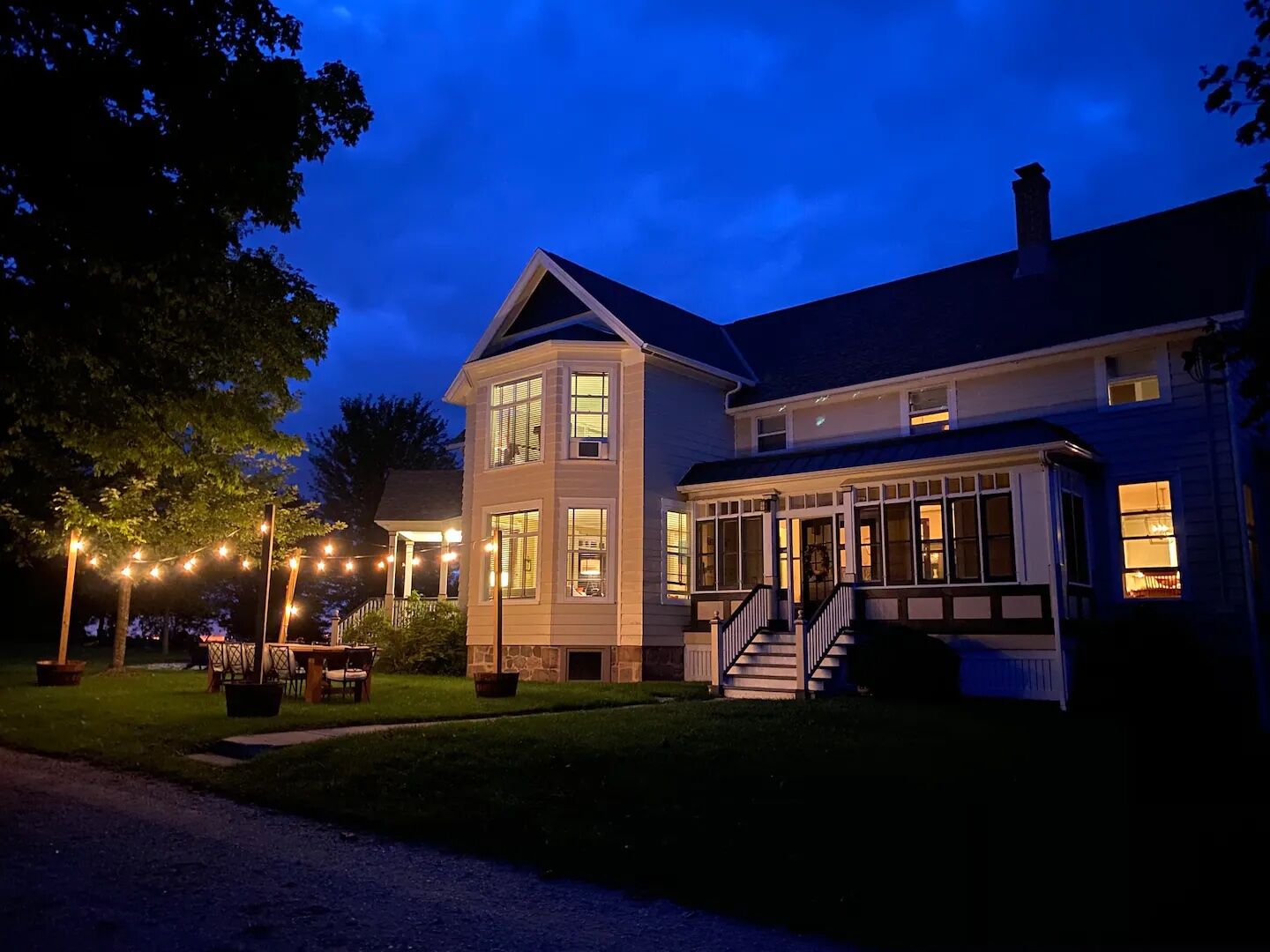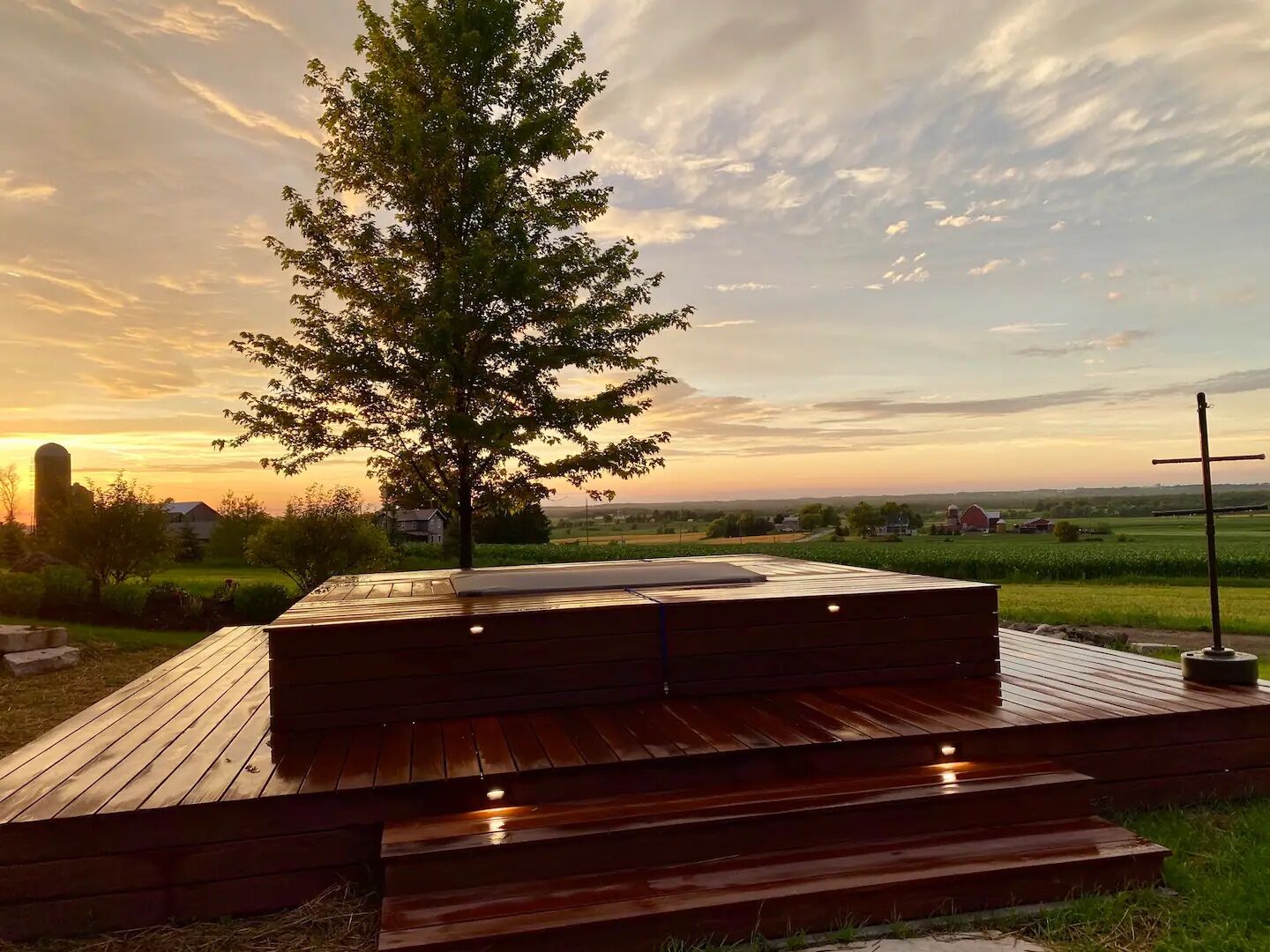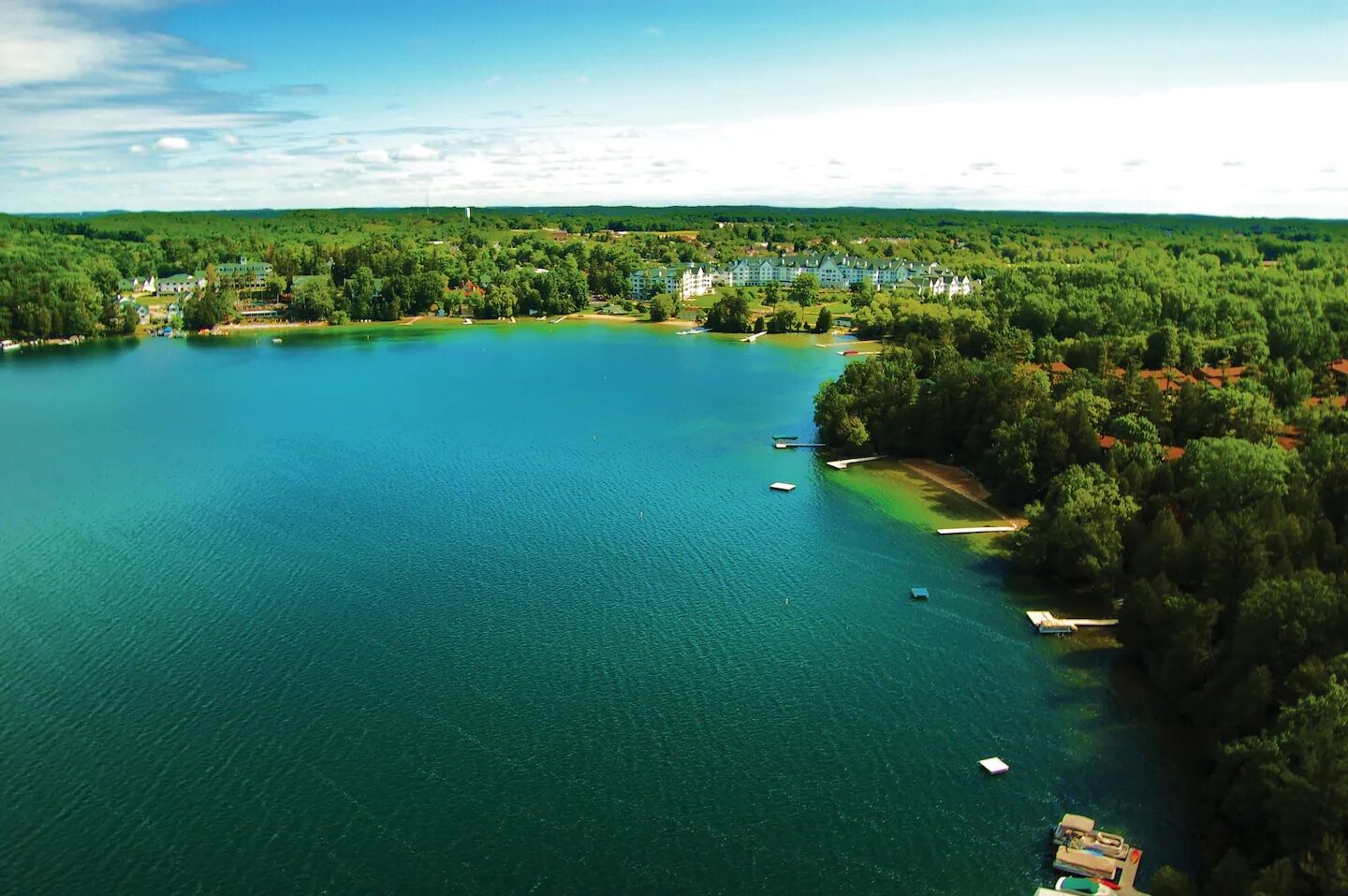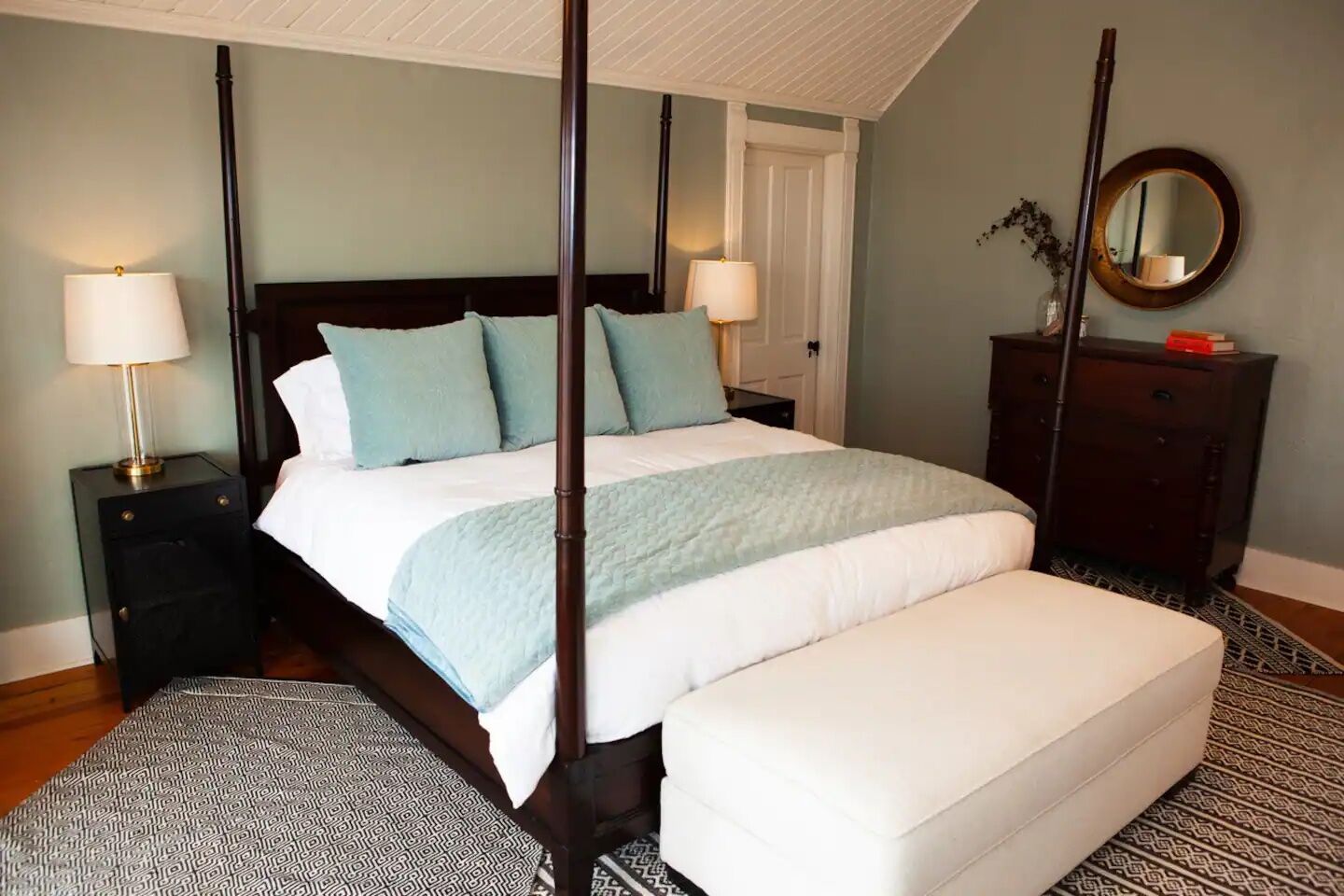 A flawless example of a Wisconsin Airbnb for large groups and families, this hilltop farmstead comes with a hot tub, pool table, dartboard, air hockey and foosball table. A glass-fronted porch, expansive windows, and even a bathtub with a view make it easy to survey the surroundings without stepping outdoors. Situated a stone's throw from ​​Elkhart Lake and town.
Fourteen guests, six bedrooms
Price: $1,020 per night
Cottage at Cave Point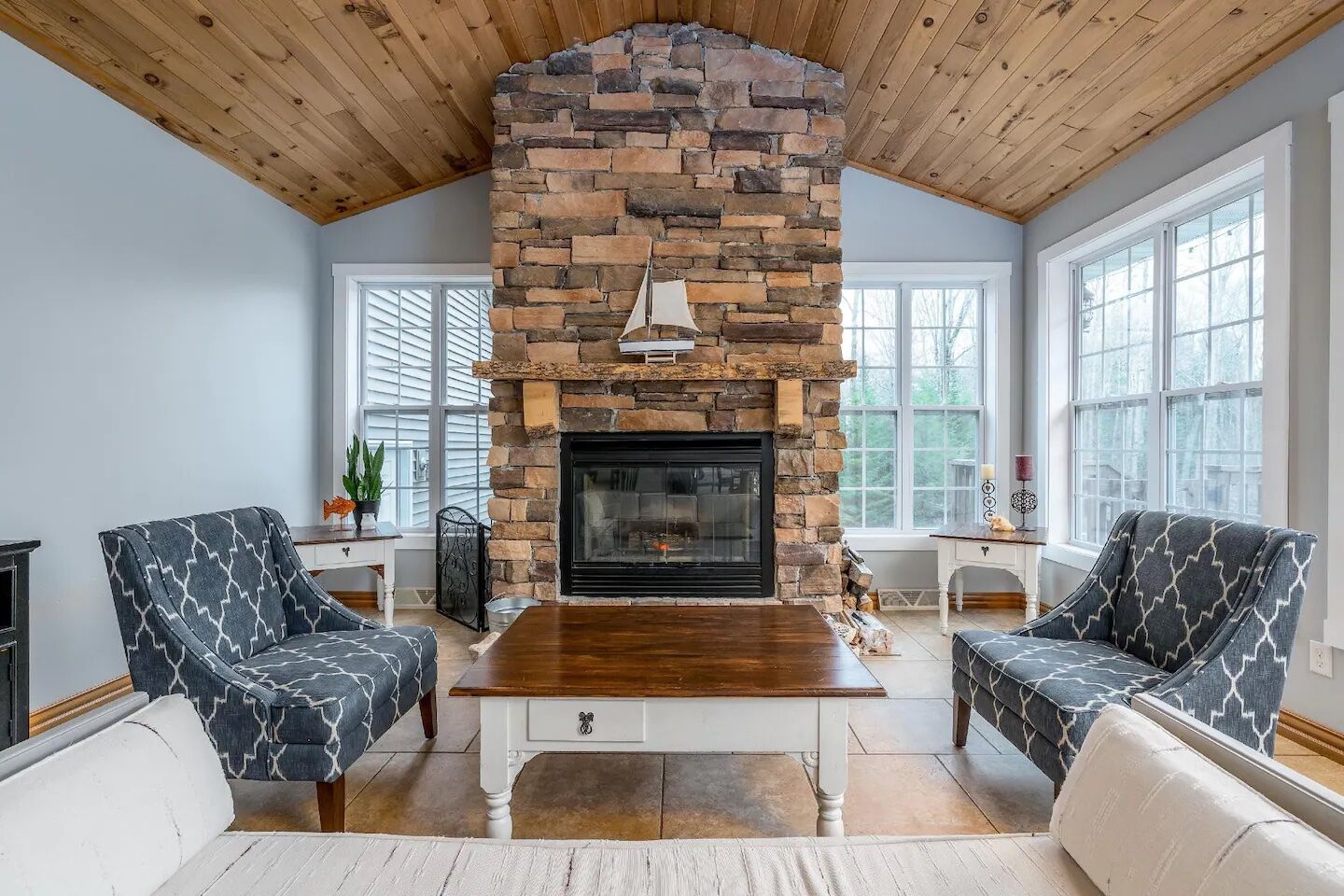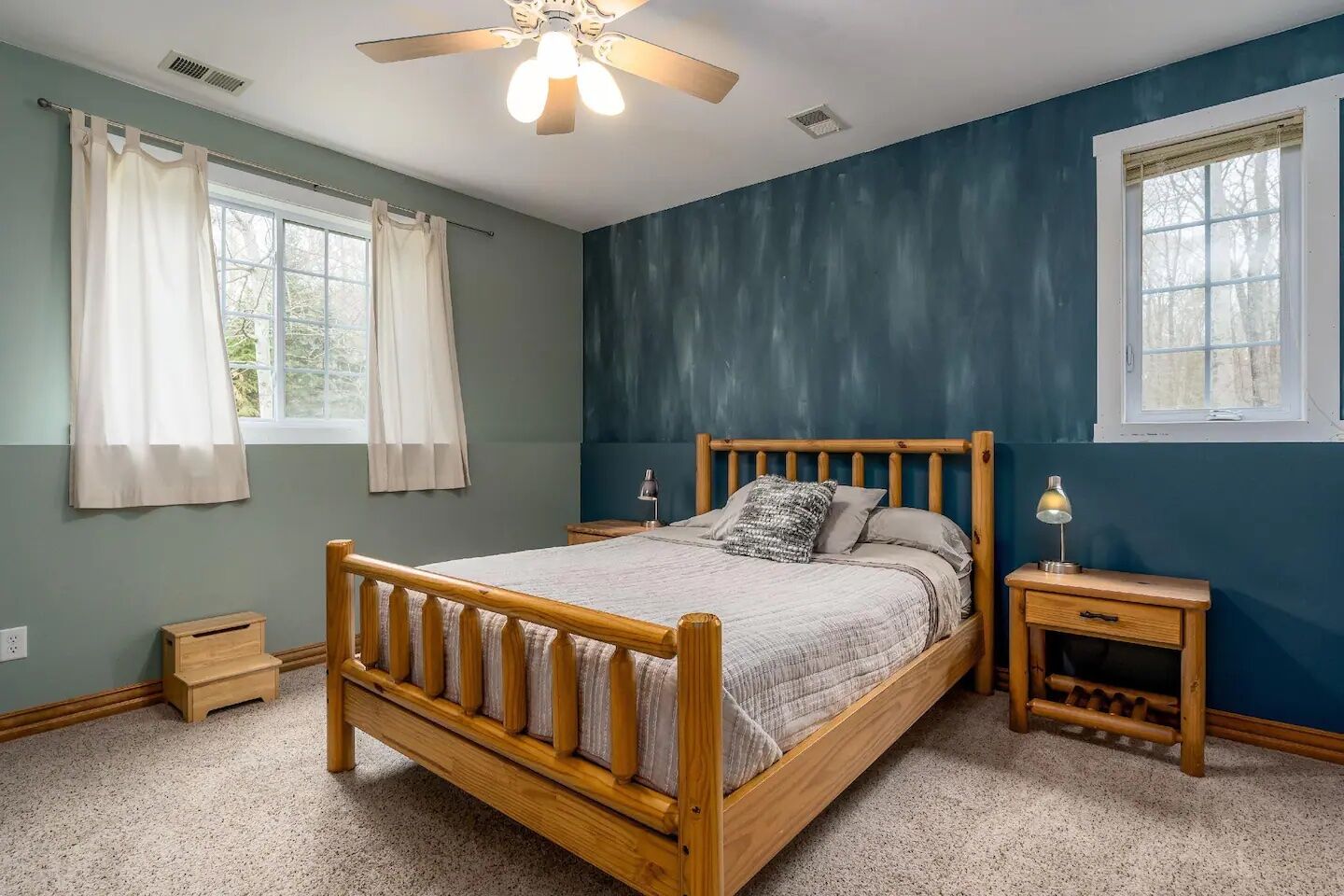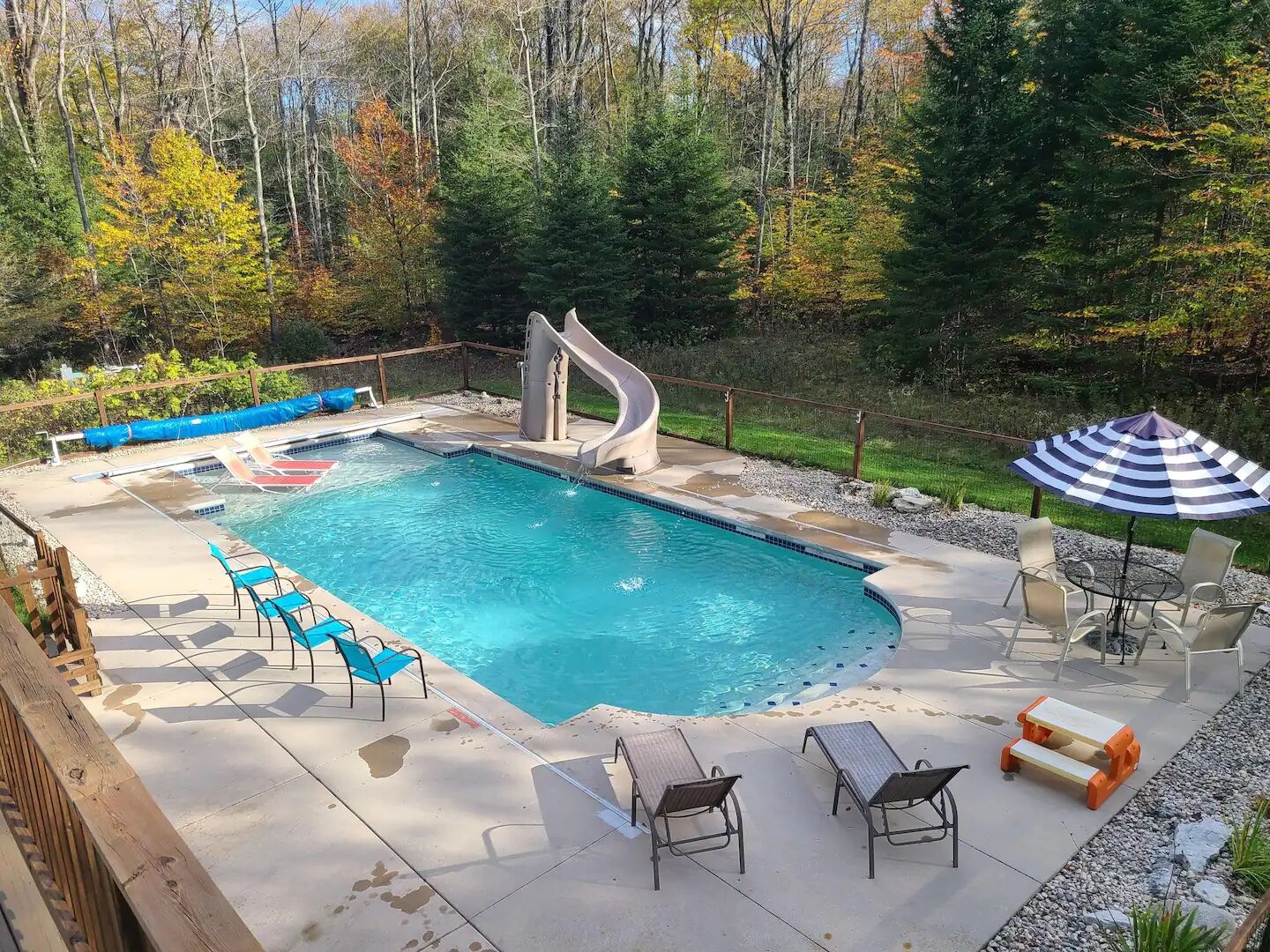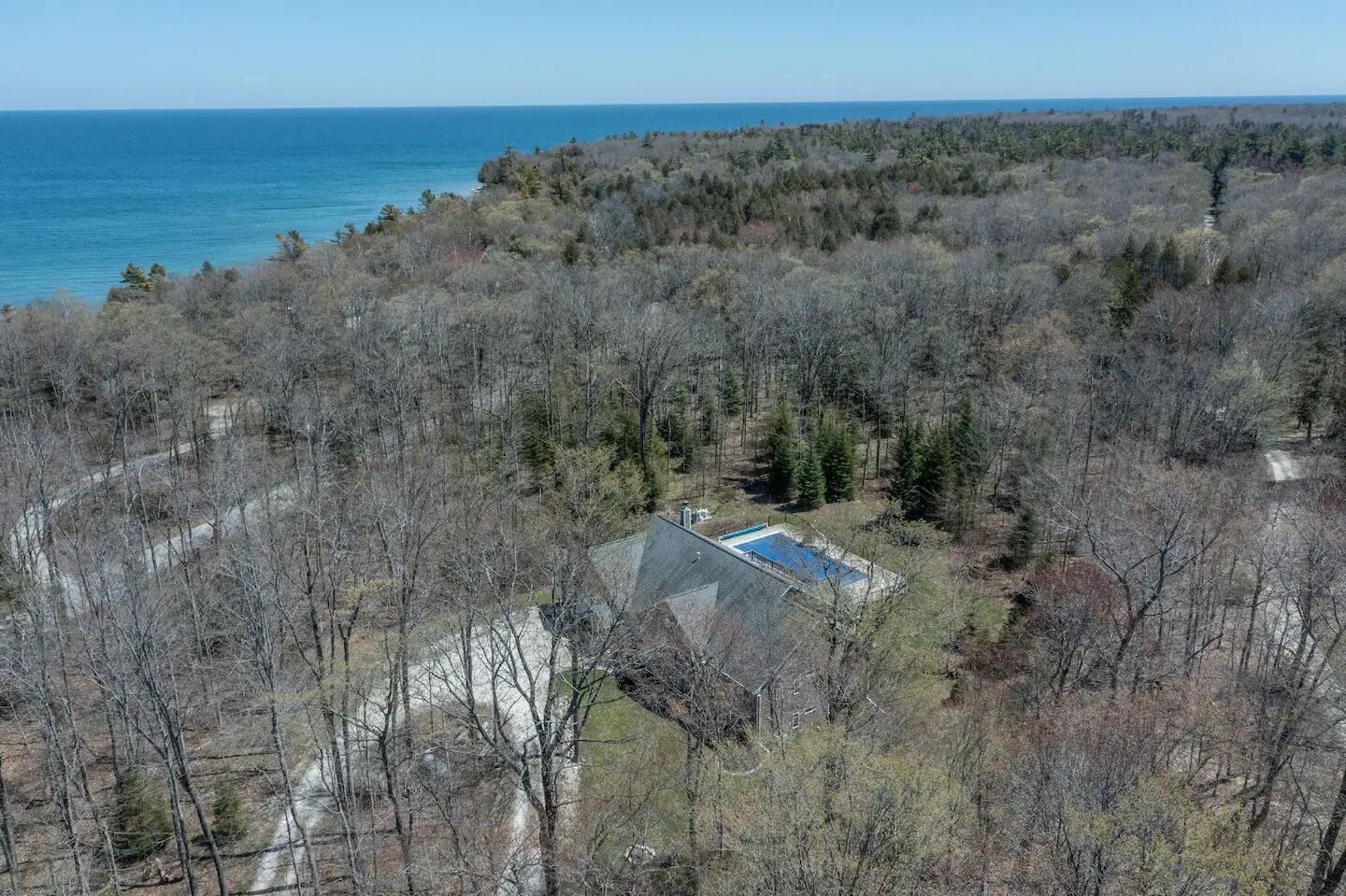 Located on Door County Peninsula, this incredible Airbnb Wisconsin rental for larger groups is a mile away from the best beach in the area. Engulfed by dense woodland, your outdoor swimming pool has the added perk of a slide for endless hours of fun. A walk-out terrace on the upper level is fitted out with plenty of seating to accommodate family dinners for a full house. Pets are welcome upon request.
Sixteen guests, six bedrooms
Price: $800 per night
Connors Lake chalet and bunkhouse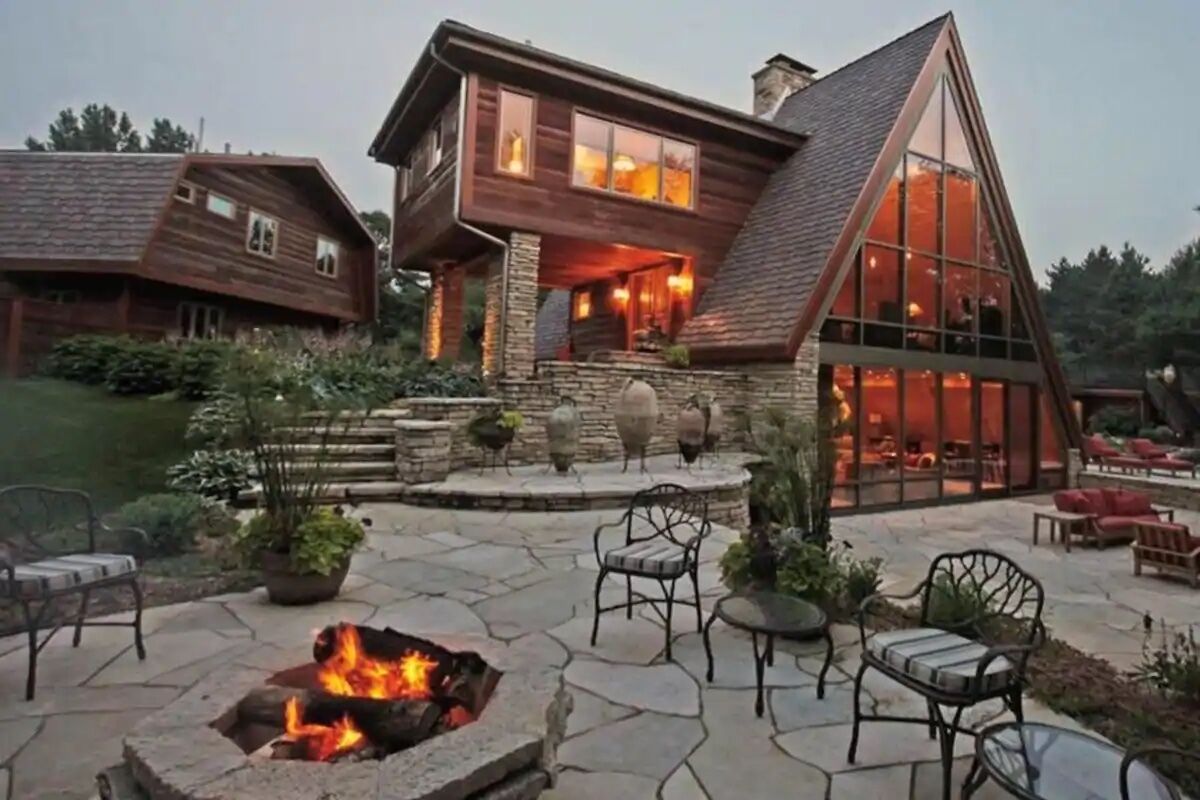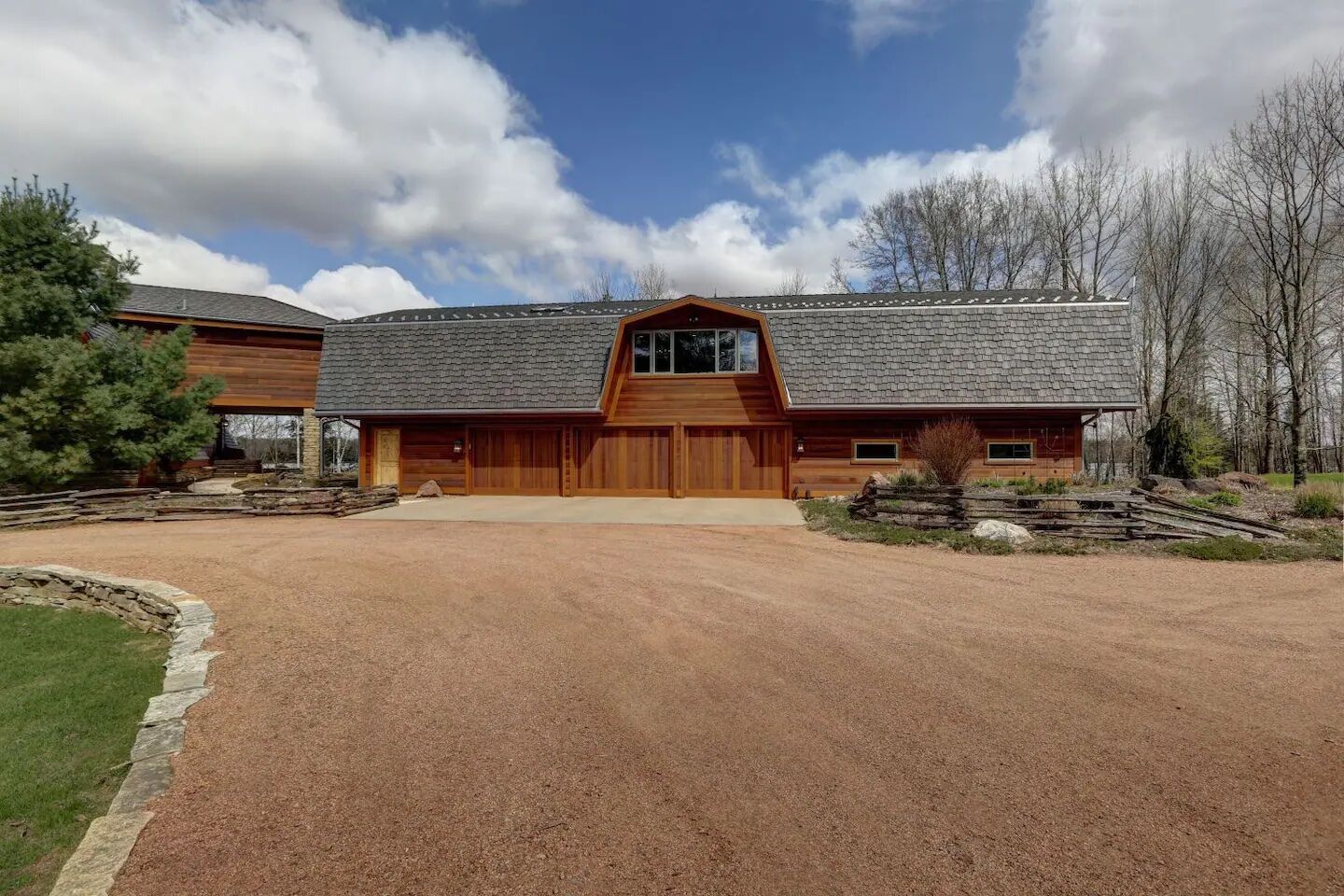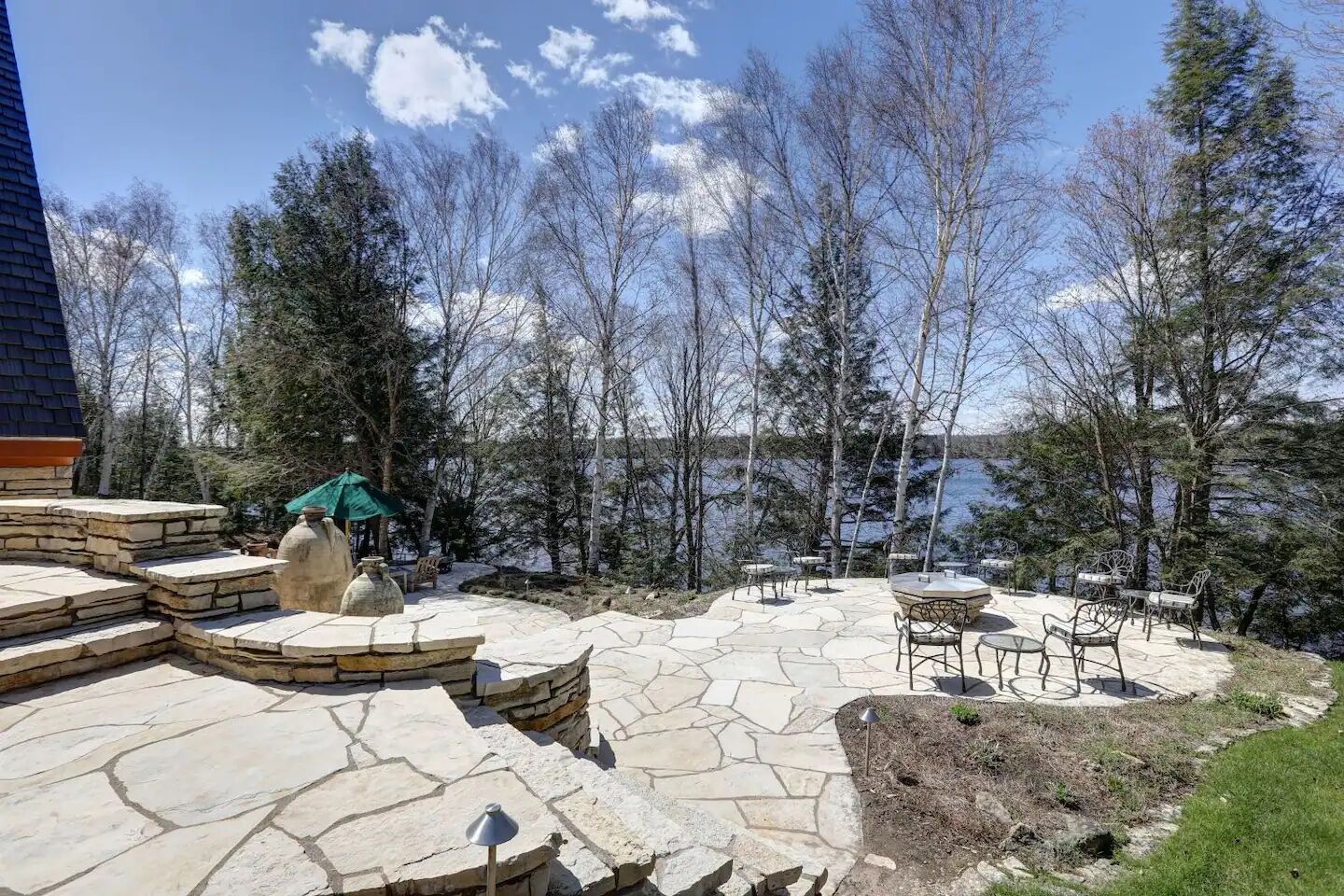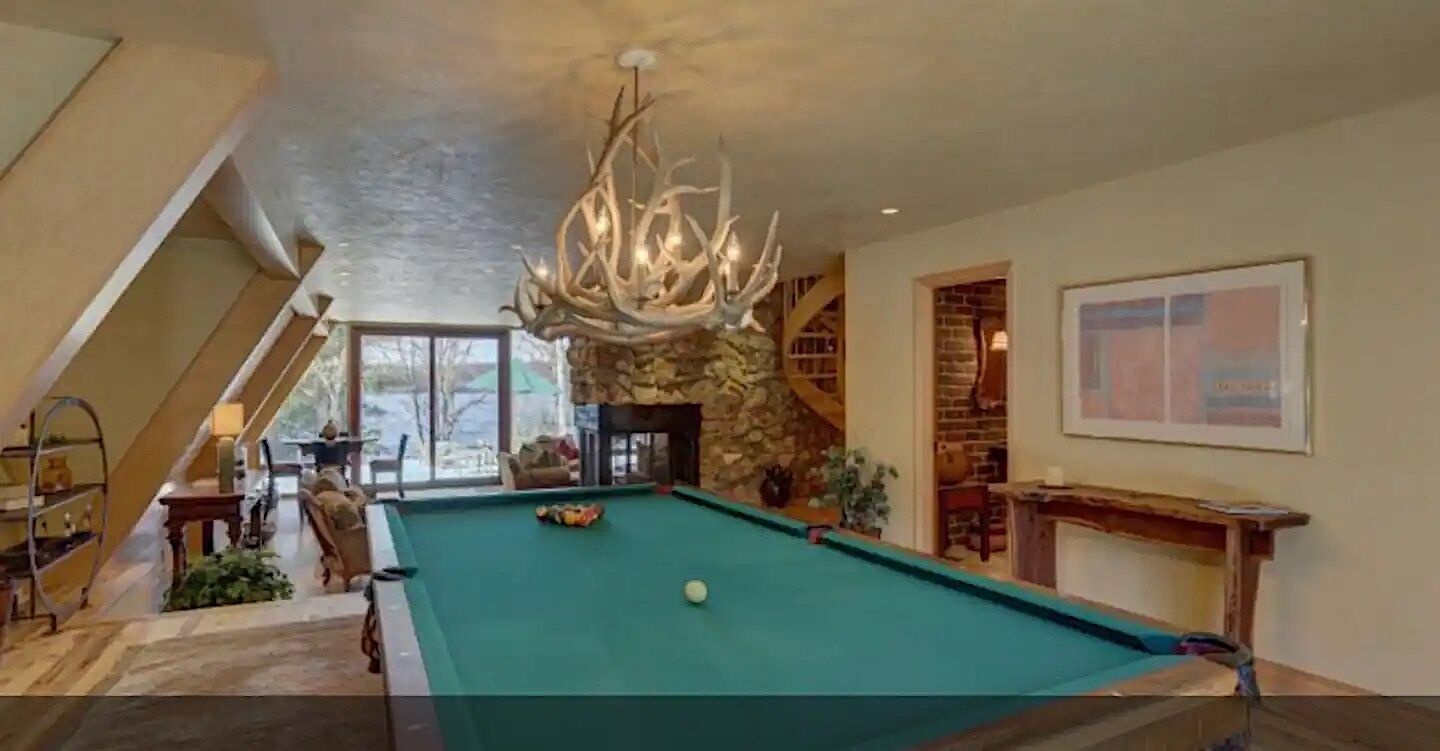 Not far from the banks of Connors Lake, this Winter vacation property blends chalet architecture with barn elements to produce a unique family-friendly vacation home. An already elegant living room is topped off with a piano for evening singalongs in front of the fireplace. You've got a Swedish sauna and a pool table to ensure everyone's needs are met. Ample outdoor space revolves around a fire pit that overlooks the water. Pure bliss.
Sixteen guests, eight bedrooms
Price: $690 per night
What did you think of this story?