7 Perfect Las Vegas Airbnbs for an Unforgettable Bachelorette Party
Take a shot every time you see a bride-to-be tiara on the Vegas Strip, and you won't remember seeing much of anything the next morning. Sin City is a classic choice for a bachelorette party—and for good reason. Whether you're looking for raunchy all-night revelry, a classier affair, or an active retreat in the Mojave Desert, there's much to do both on and off the Strip. Before you plan the perfect itinerary, you'll want to find a bachelorette party Airbnb with the right location and amenities to suit your dream trip. Here are seven of the wildest, grandest, and most scenic Las Vegas Airbnbs for the ultimate bachelorette party.
We hope you love the Las Vegas bachelorette party Airbnbs rentals we recommend! Just so you know, Matador may collect a small commission from the links on this page if you decide to book a stay. Listed prices are accurate as of the time of publication.
1. Luxe estate minutes from the Strip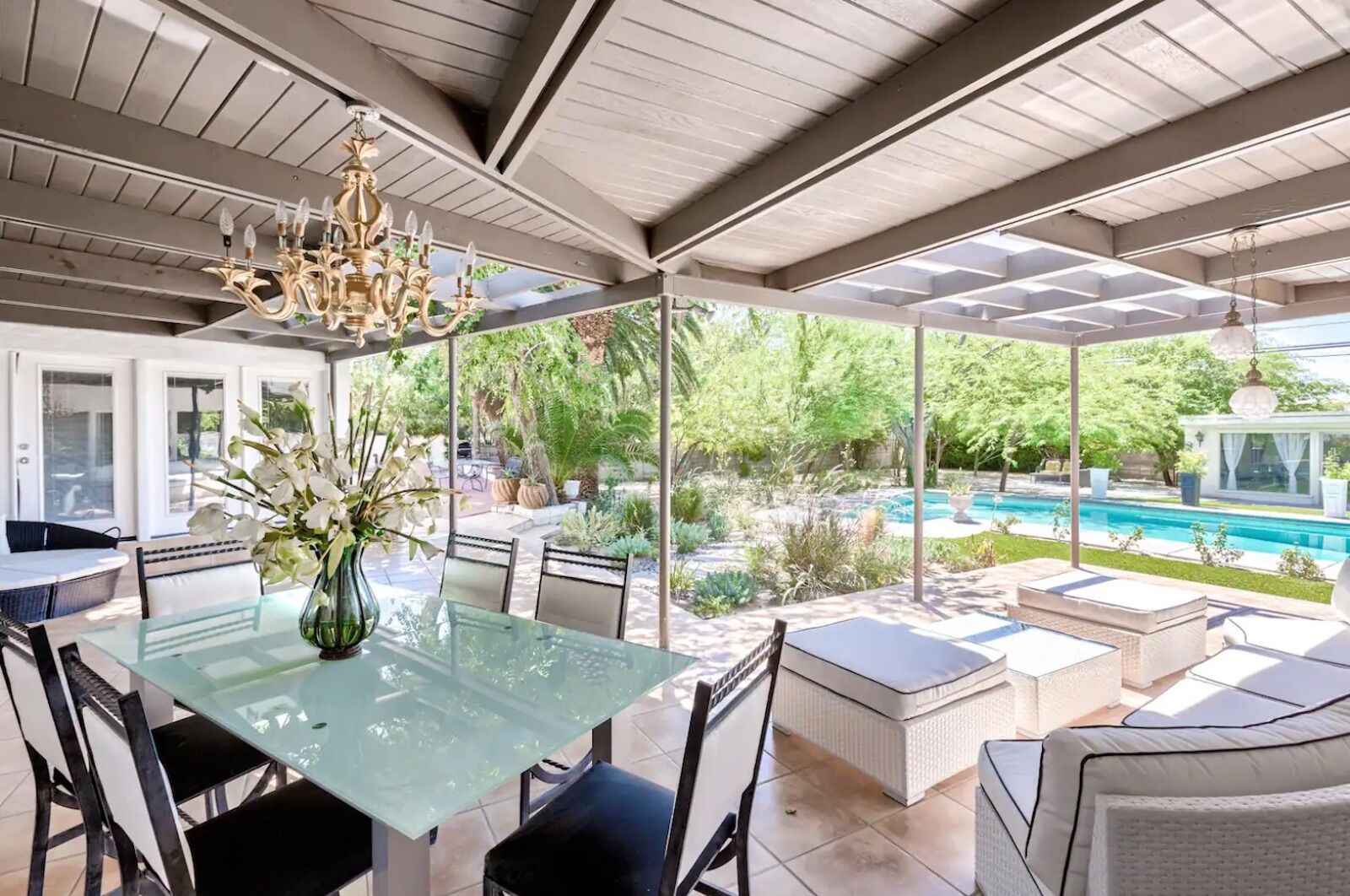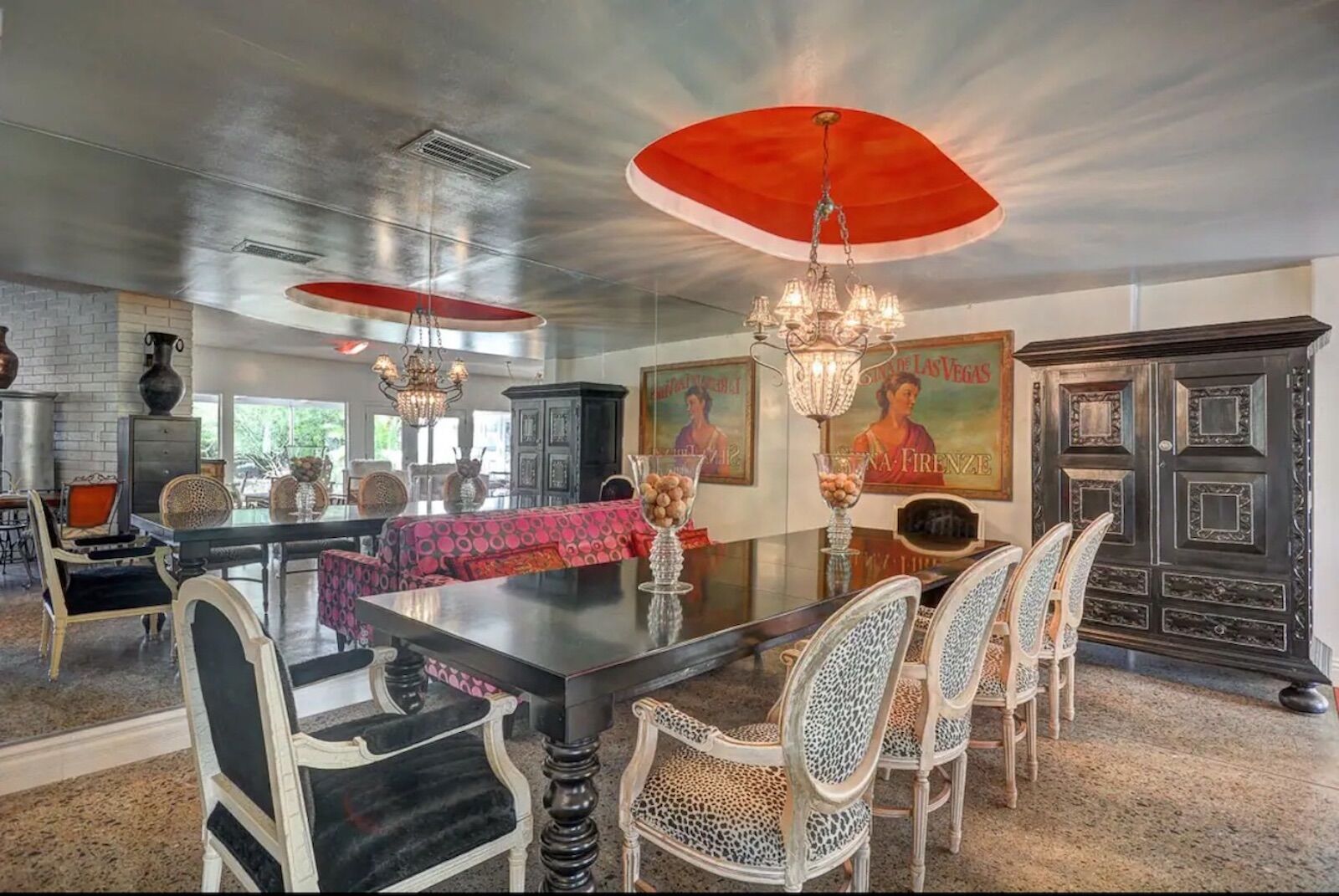 If the bride is the leading lady of the bachelorette party, and the bridesmaids are her supporting starlets, why not book an Airbnb fit for an A-list entourage? Once a residence of Nicholas Cage, this four-bedroom villa is full of five-star amenities: a swimming pool, gym, grand piano, fireplace, pool table, fully furnished patio, and room after room of sumptuous decor, to start. Despite promising the utmost privacy, the estate is also supremely well positioned between the Strip and downtown Vegas, both of which are within walking distance.
Six guests, four bedrooms
Price: $1,198 per night
2. Penthouse at Palms Place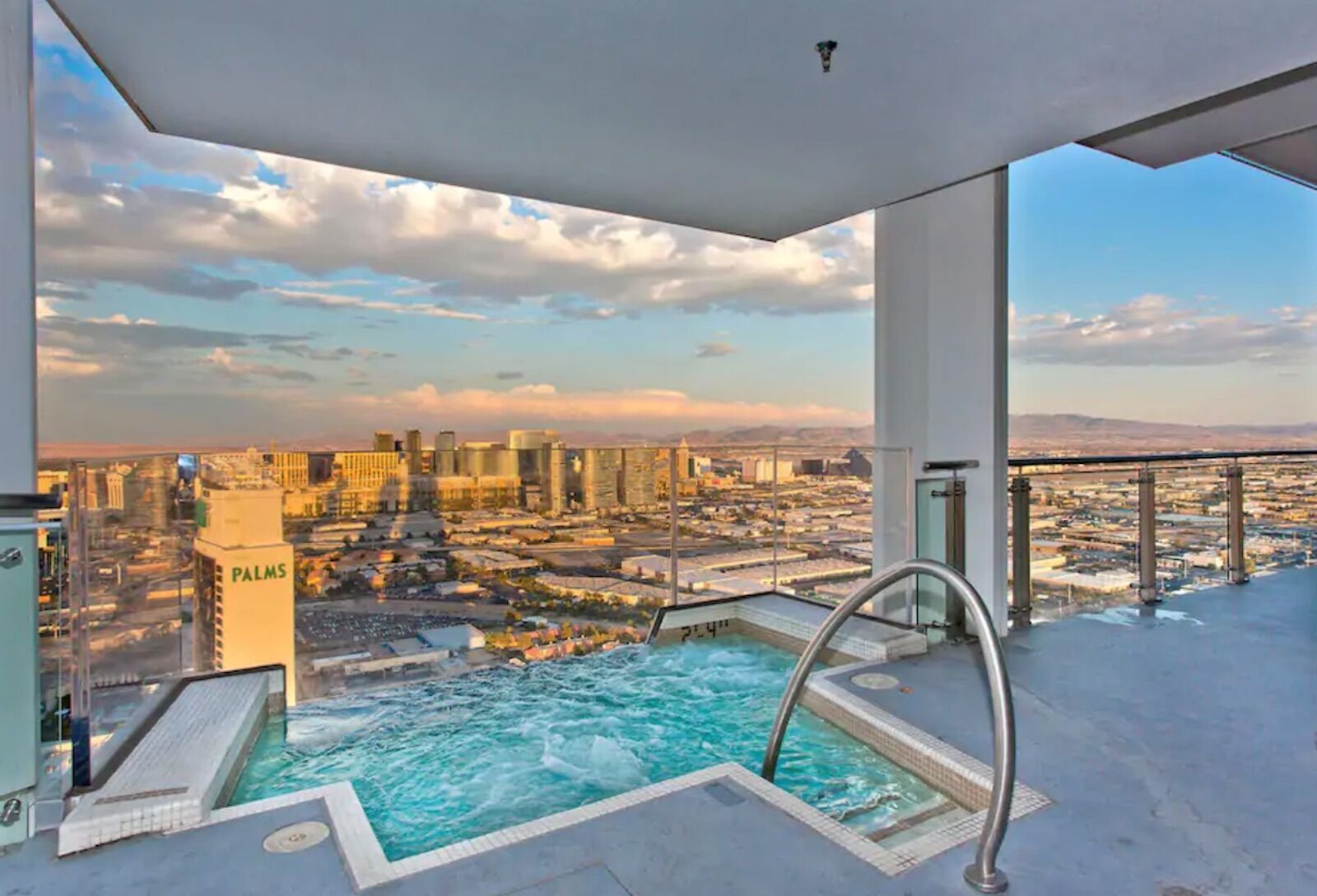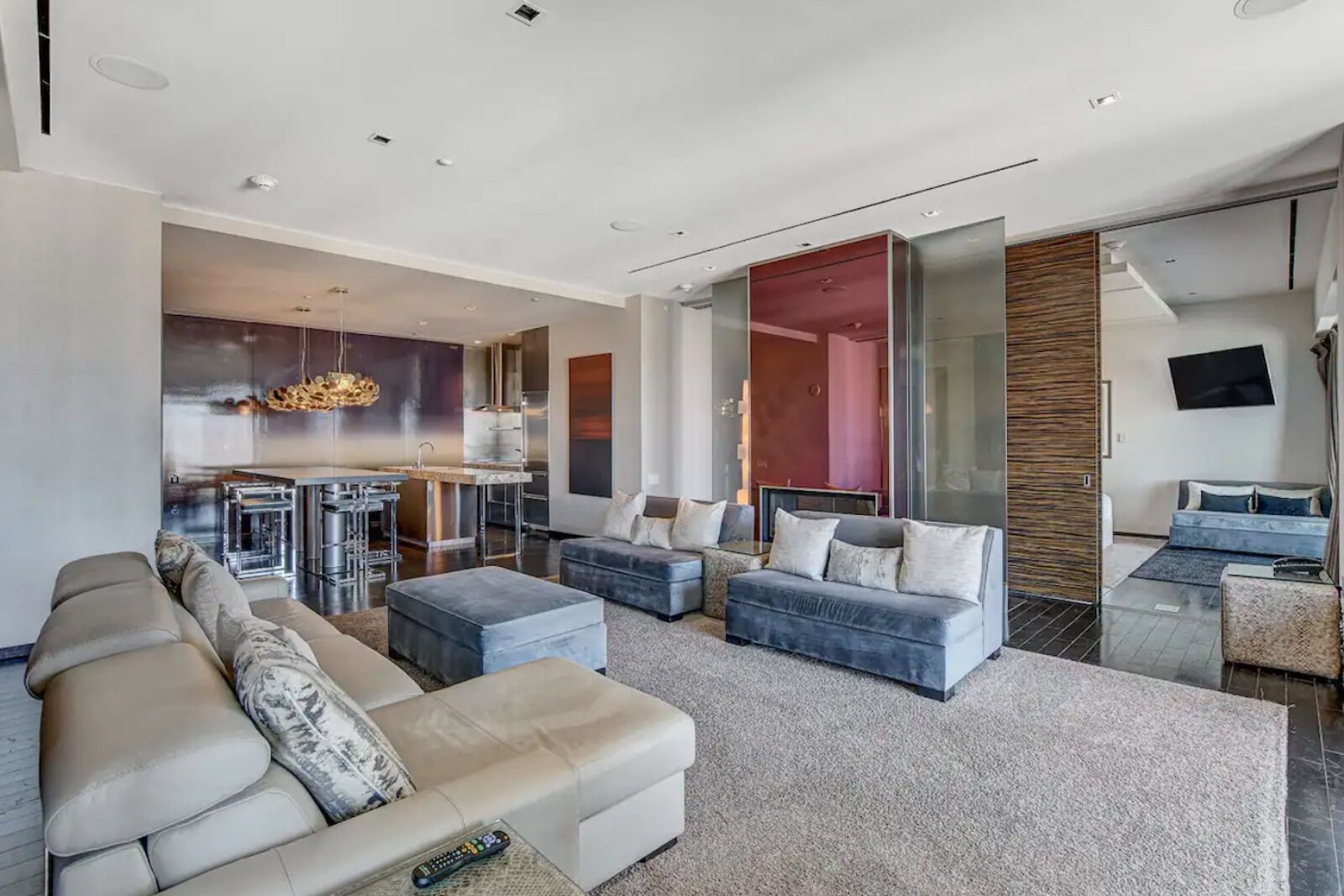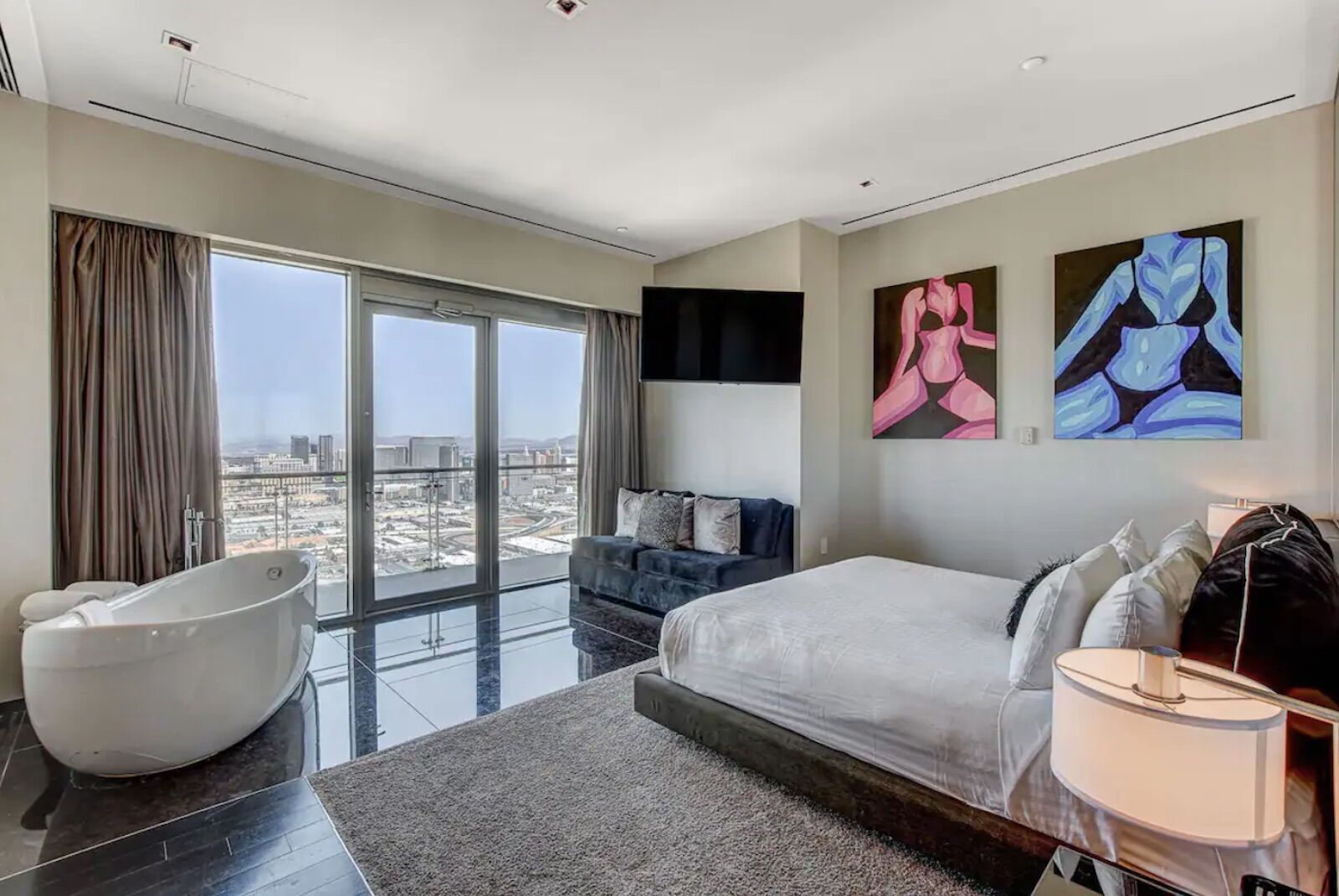 Nothing says doing it up Vegas-style like soaking in an infinity hot tub 500 feet above the Strip, sipping Champagne across from the tallest observation wheel in the world. That fantasy can become your reality at this penthouse suite, located on the 57th floor of the Palms Place hotel. Though there are only two master bedrooms here, both with king beds, there's more than enough space for a big group of bachelorettes, with a spare queen bed, pull-out futons, and tons of plush, sleeper-size couches to accommodate everyone.
10 guests, three bedrooms
Price: $910 per night
3. Modern luxury in the heart of Vegas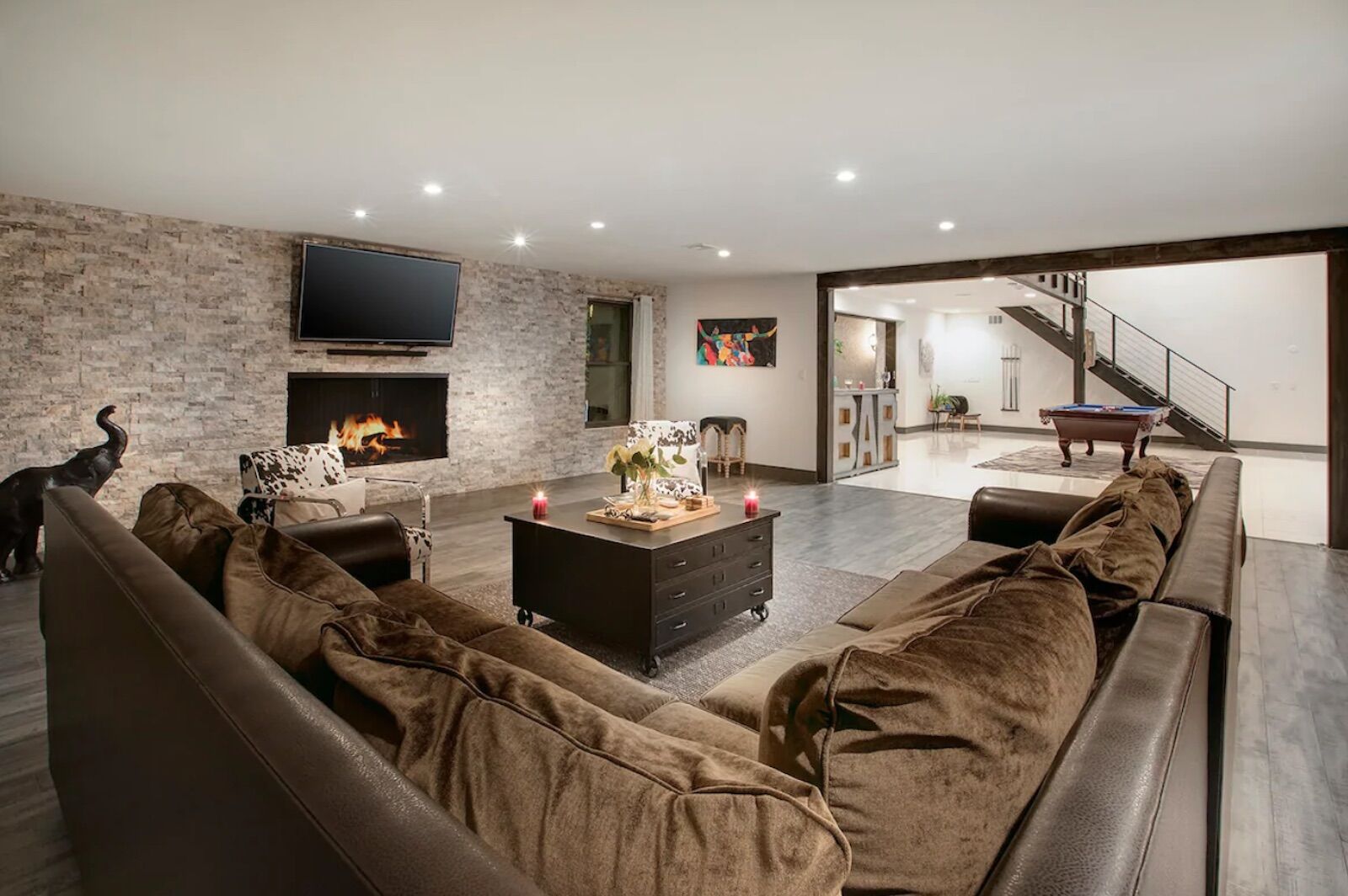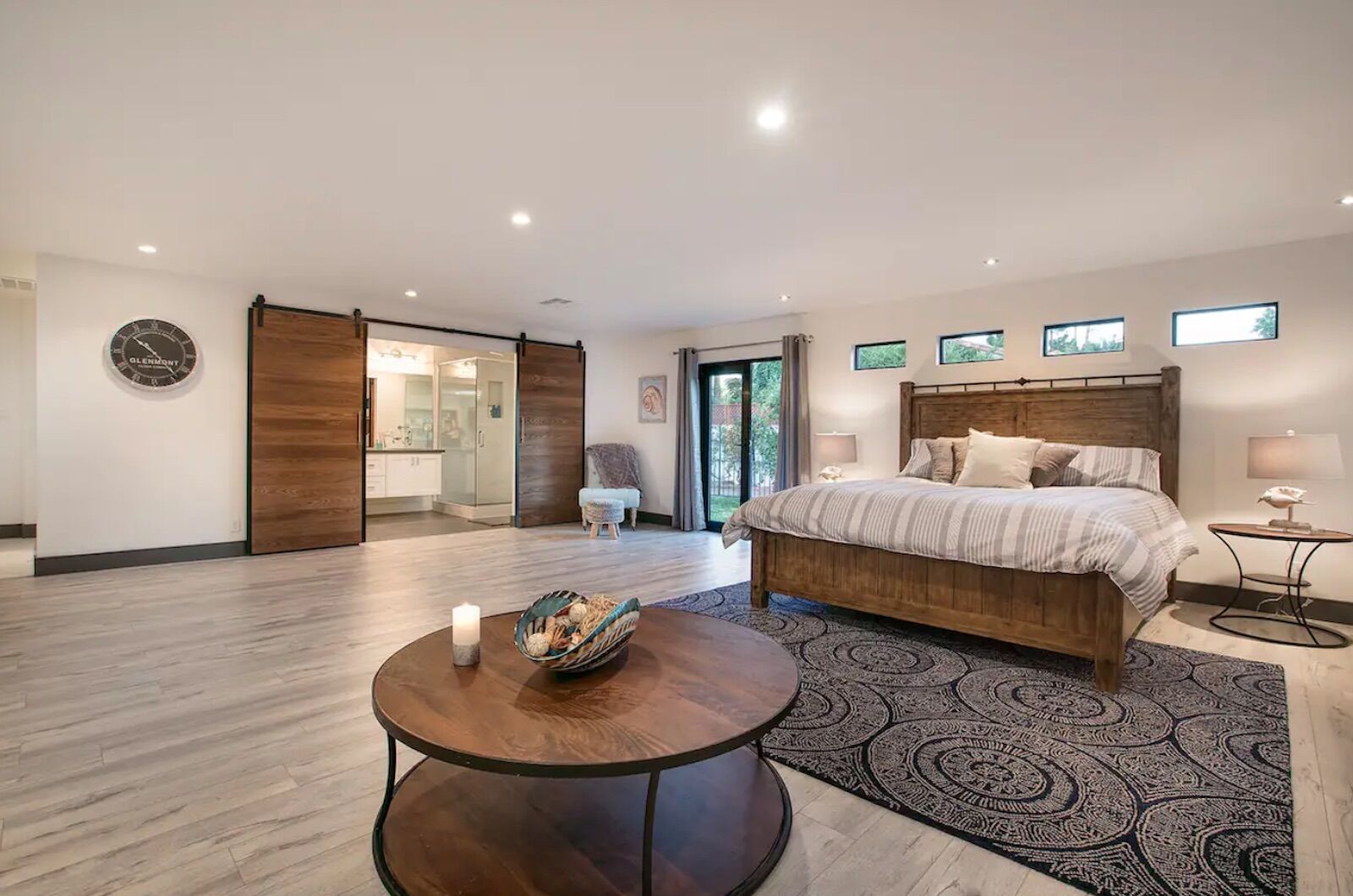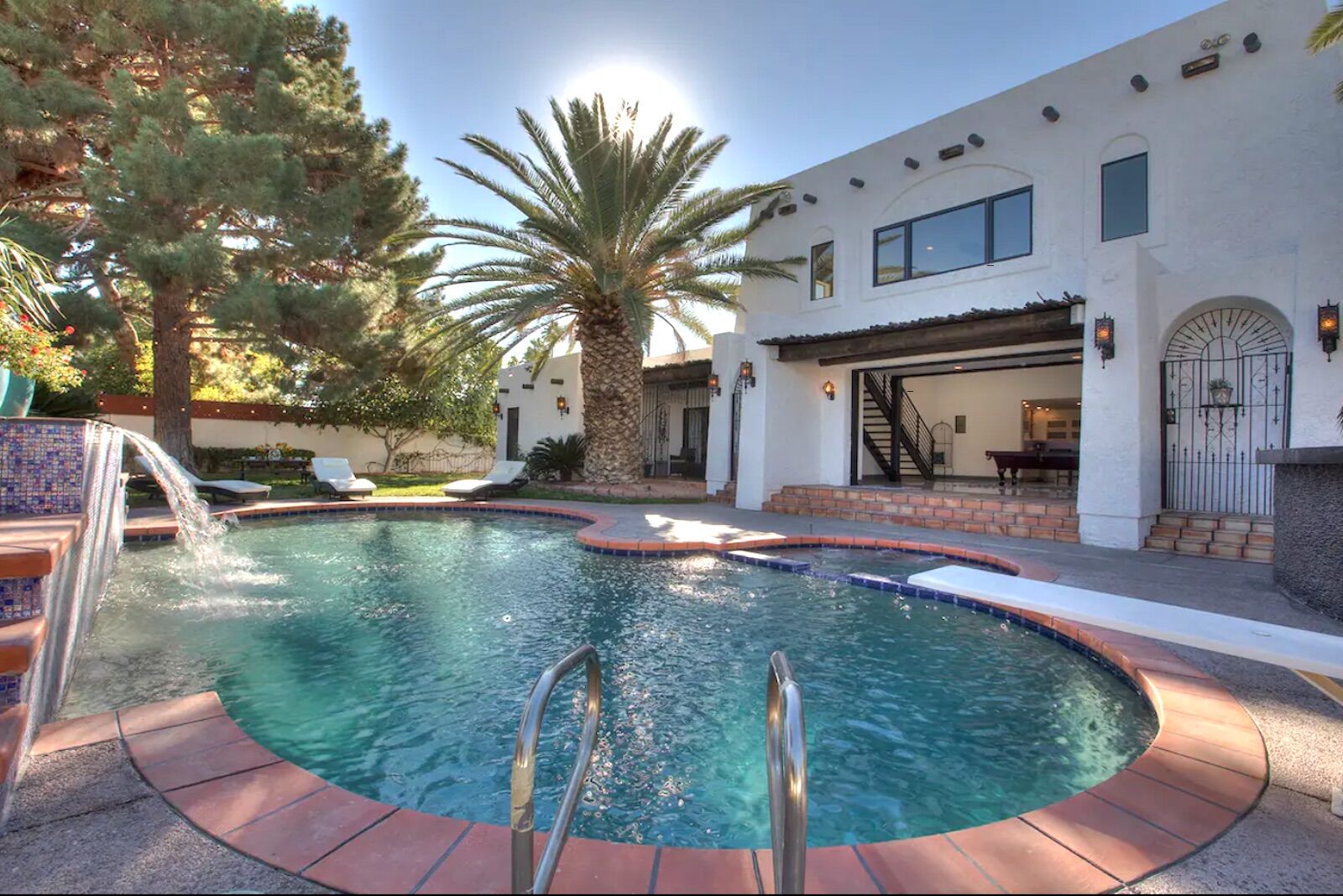 This four-bedroom Airbnb is the ultimate bachelorette pad. It's massive, offering 6,000 square feet of pure luxury inside and a half-acre property for your group to spread out, from the waterfall-fed pool, hot tub, and barbecue area to the indoor bar and lounge, chef-style kitchen, and king-sized ensuites to relax and refresh. The house is located in a quiet neighborhood a quick drive from the Strip and Fremont Street in downtown Vegas, with Red Rock Canyon just a little bit farther away if you'd rather trade flashing lights for Mojave views.
Eight guests, four bedrooms
Price: $1,500 per night
4. Vegas villa with top-tier entertainment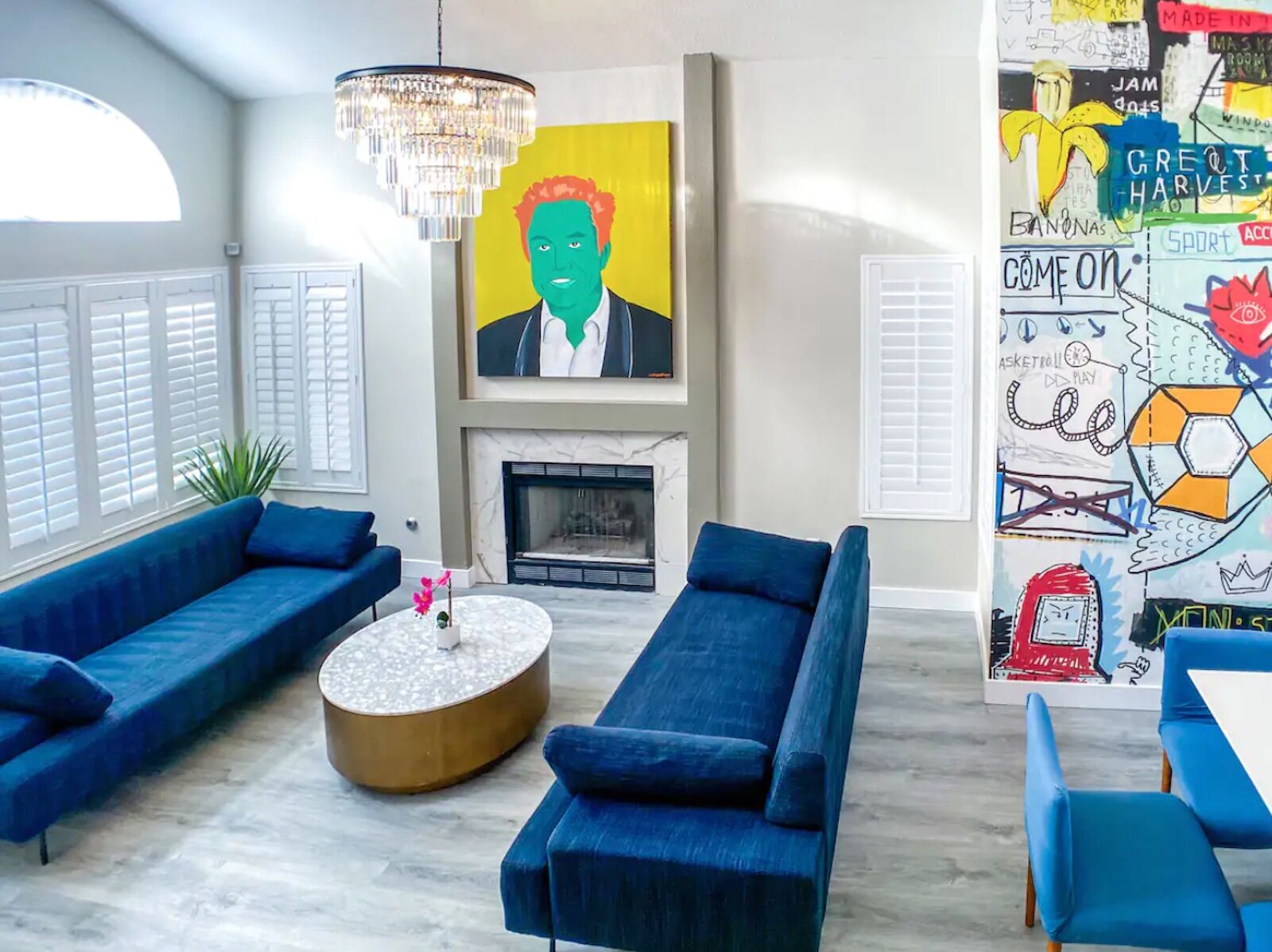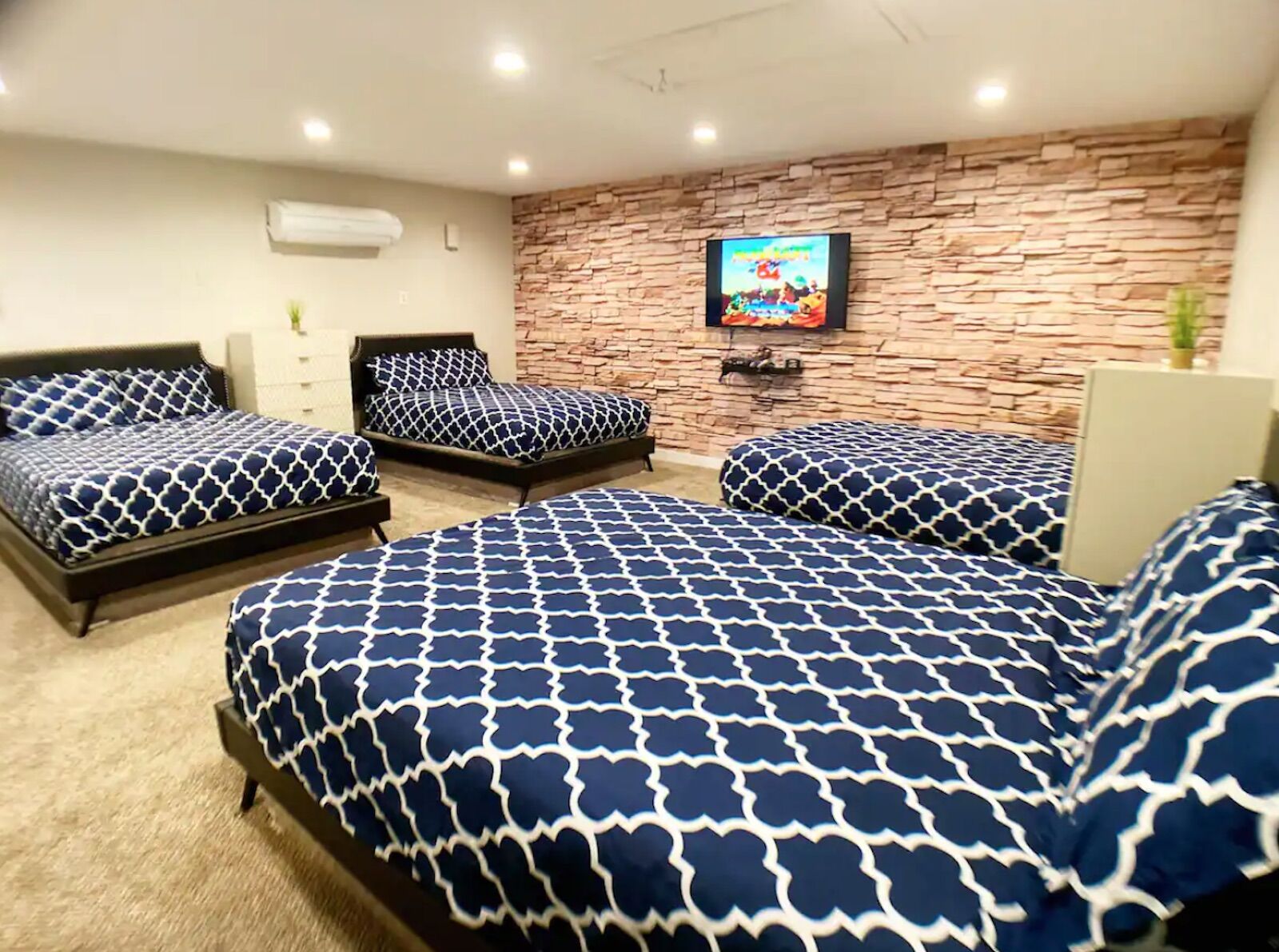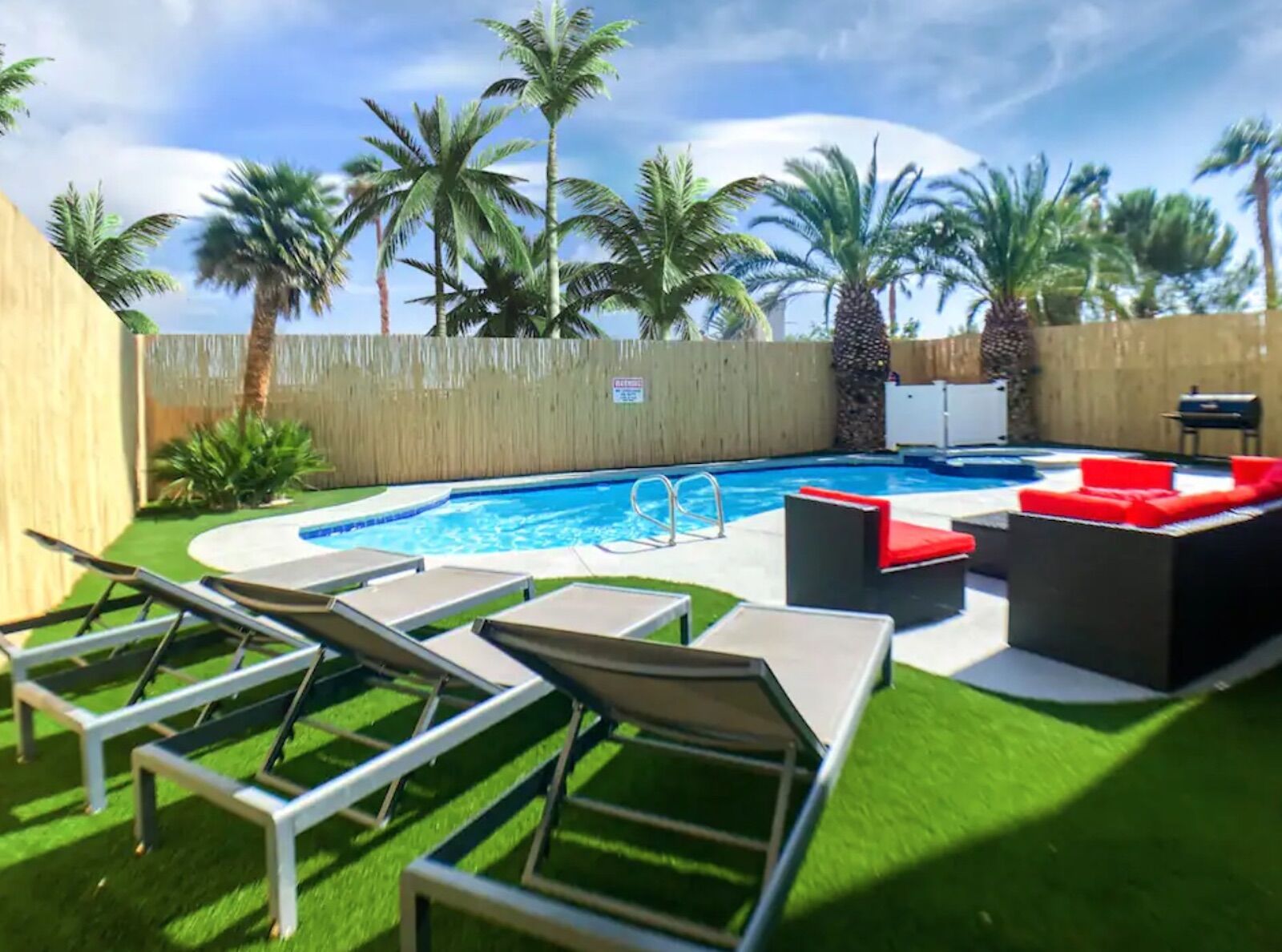 If you're wary of spending the entire trip at the casino but still want to embrace Vegas's gaming spirit, this is the spot for you. There's a mini putt-putt setup in the yard, an arcade machine and all the N64 classics in the house, and tons of board and card games if you feel like setting up a low-stakes poker table one night. Games aside, this pop-artsy two-story villa comes with a pool and jacuzzi, barbecue, large living room, wet bar, and fully equipped kitchen, plus enough space for 16 guests between the private and dorm-style bedrooms, all of which have queen beds.
16 guests, four bedrooms
Price: $177 per night
5. Deluxe suite amidst the Vegas skyline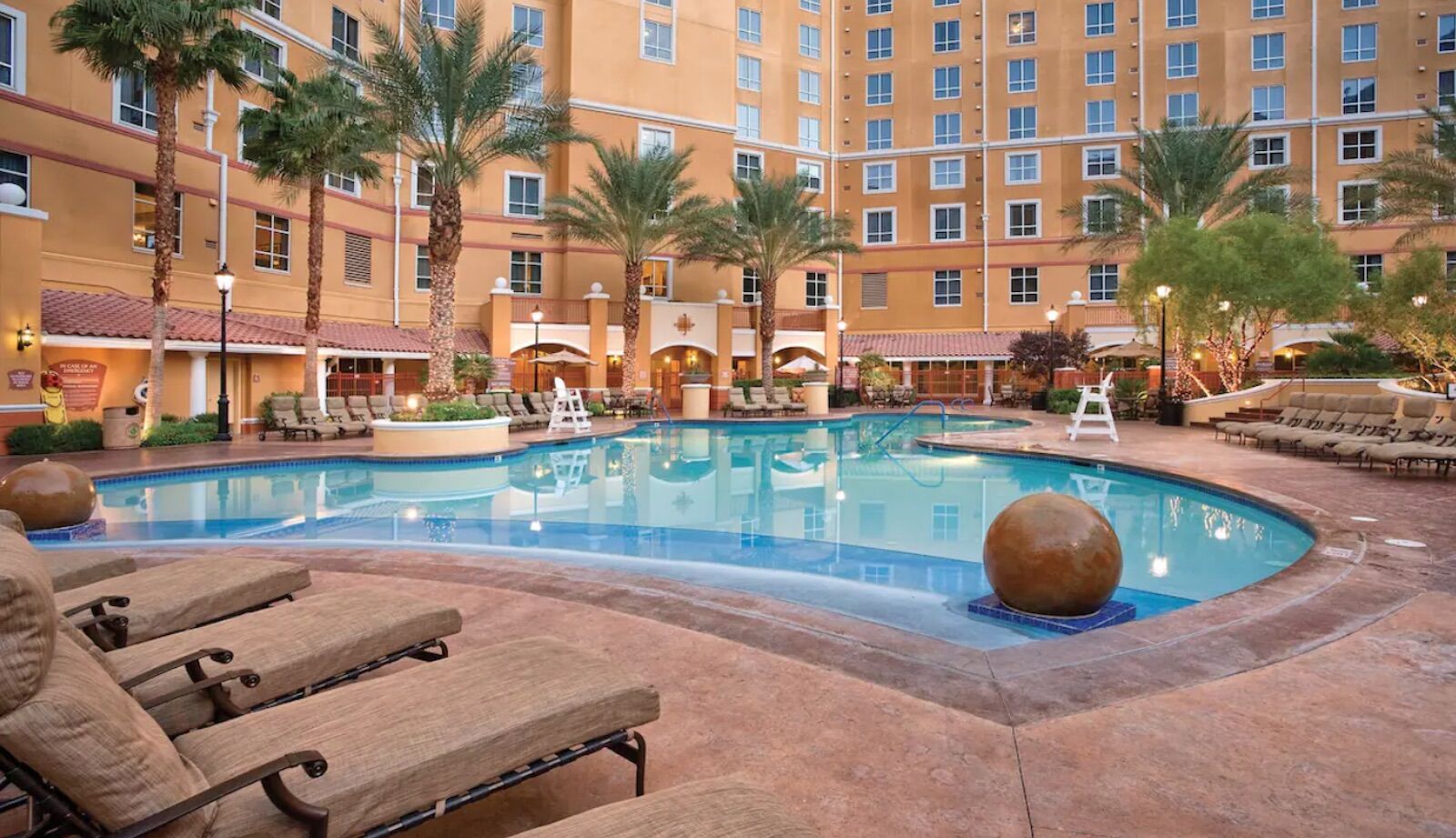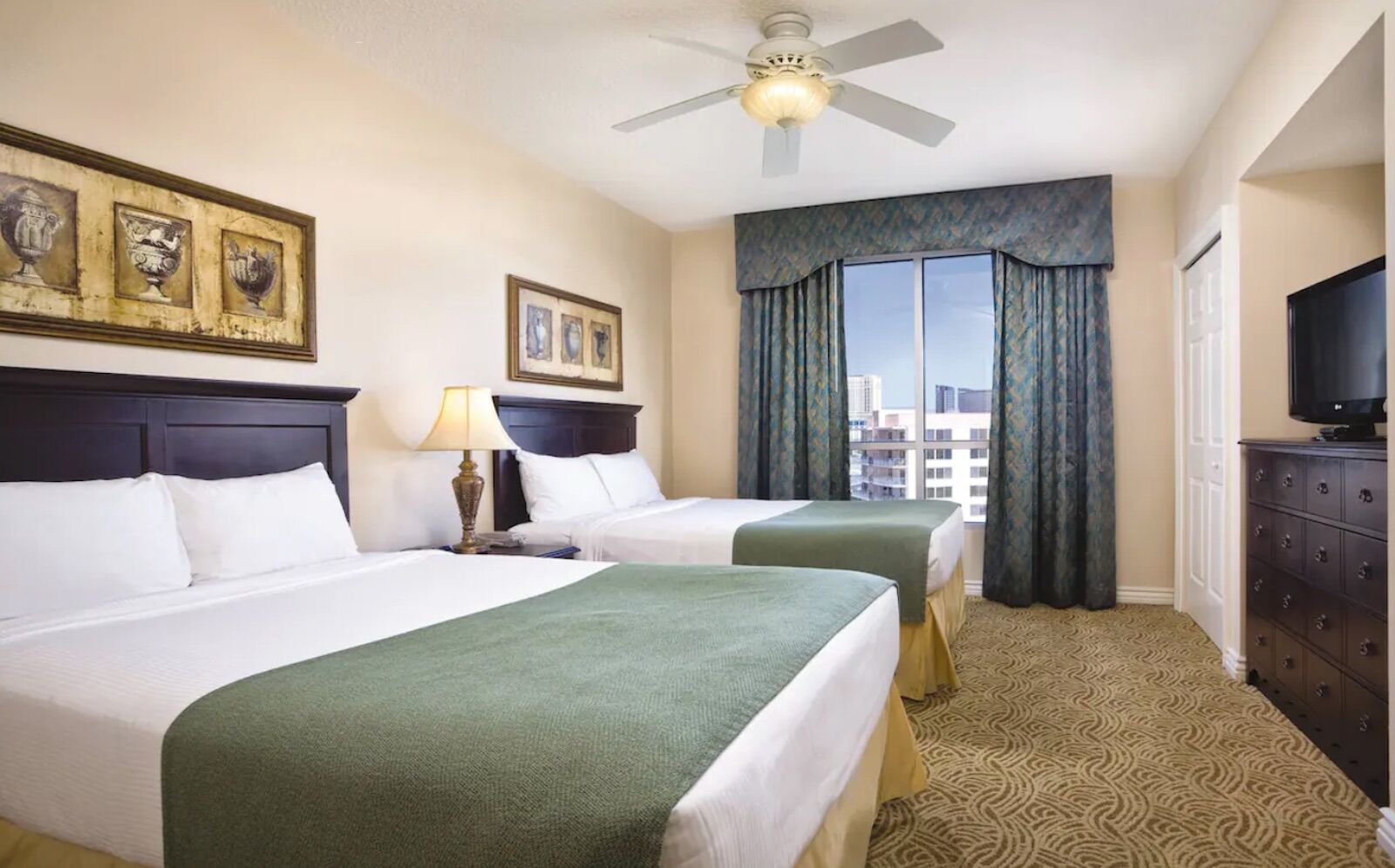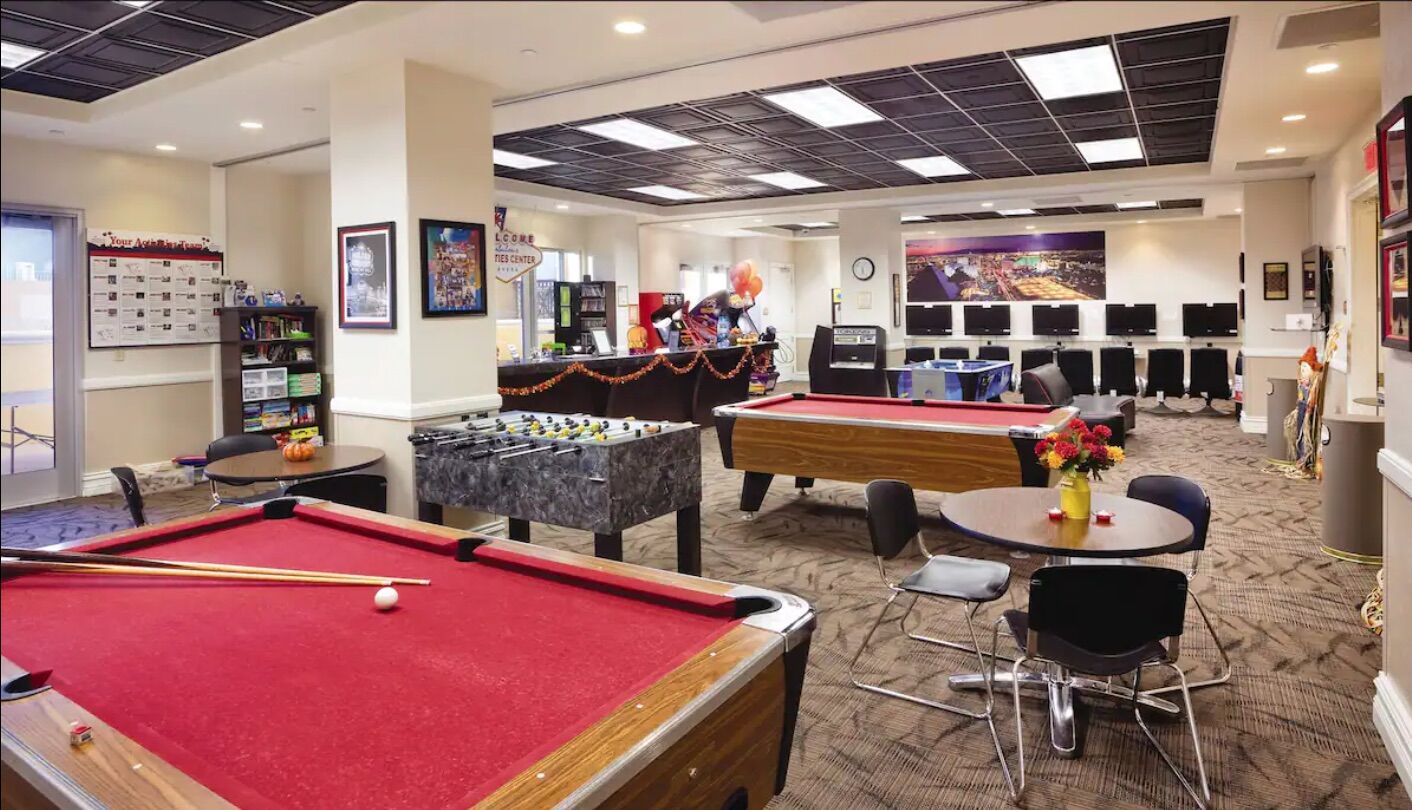 Snagging this two-bedroom suite at the Club Wyndham Grand Desert resort takes all the guesswork out of your stay. You know you're getting hotel amenities like a gym and spa, three swimming pools with waterside cabanas, four hot tubs, and 24-hour concierge service. This particular property also has tanning beds for rent, its very own 3D movie theater, a recreation center that hosts activities such as karaoke and billiards, and a social hour if the singles in your group are looking to mingle. Shuttles to the Strip run from 9 AM to 10 PM free of charge.
Eight guests, two bedrooms
Price: $93 per night
6. Relaxing villa with serene outdoors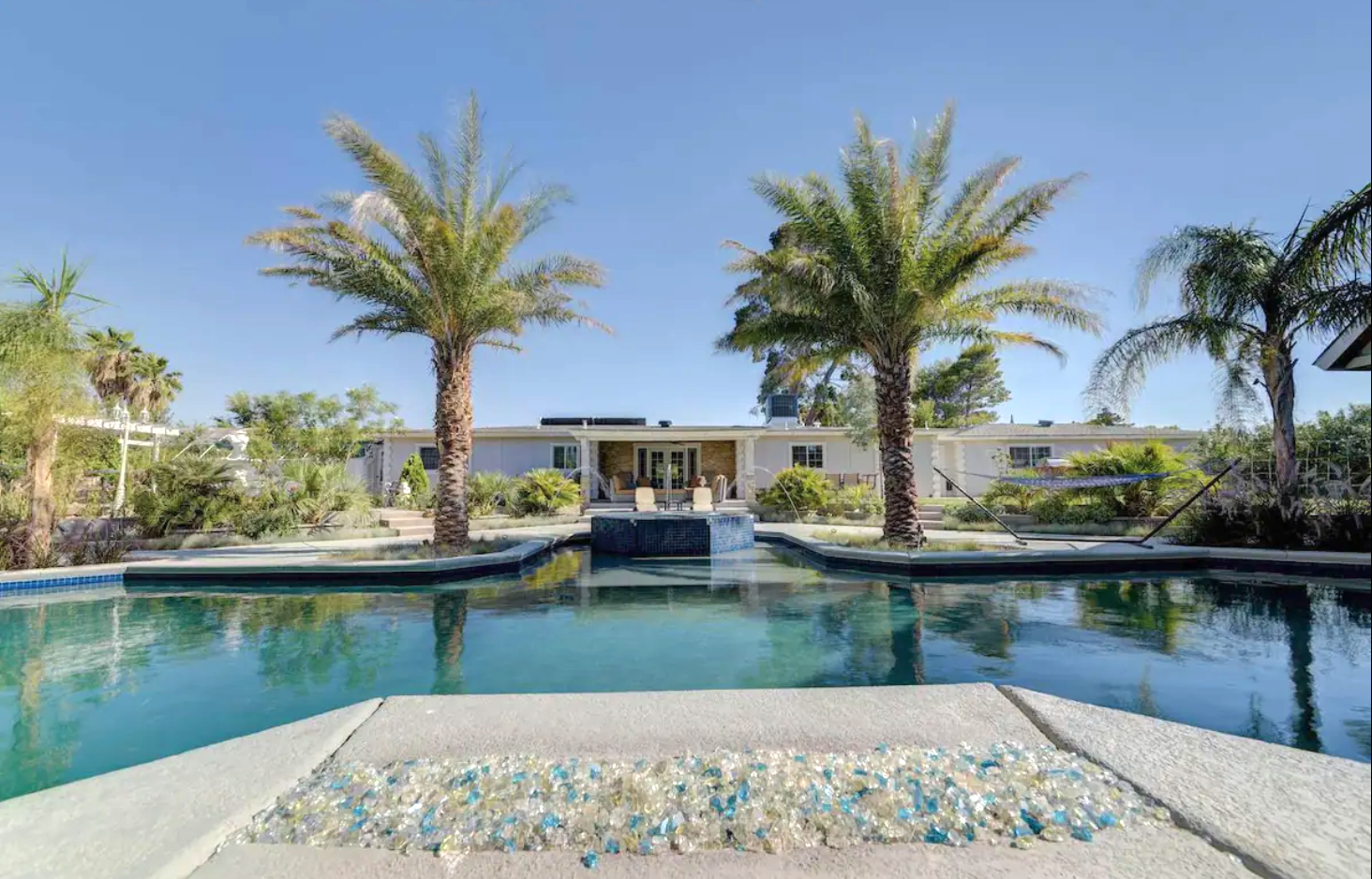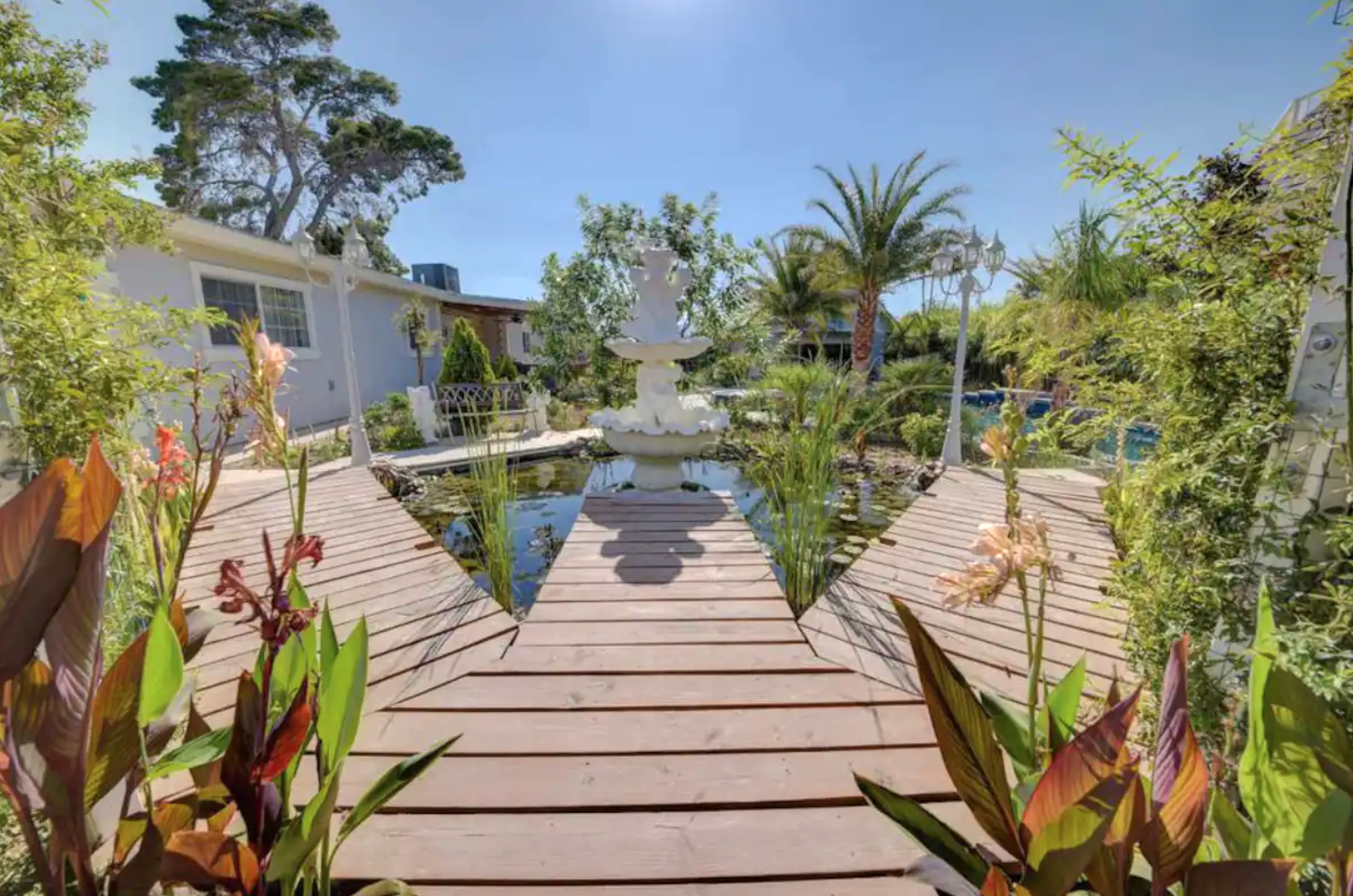 This four-bedroom villa is ideal for groups seeking the Strip's opulence but none of its crowds. Sure, you're only 15 minutes away when you want to get in on the action, but when the noise gets to be too much, you can come home to a quiet oasis that provides a more relaxing kind of fun. Think sunbathing in a hammock opposite a pool and jacuzzi, chatting by the koi pond, strolling through the botanic garden and greenhouse, or barbecuing up a feast, followed by nightcaps at the alfresco bar under the watchful gaze of the surrounding mountains.
12 guests, four bedrooms
Price: $557 per night
7. Bright and bubbly midcentury modern home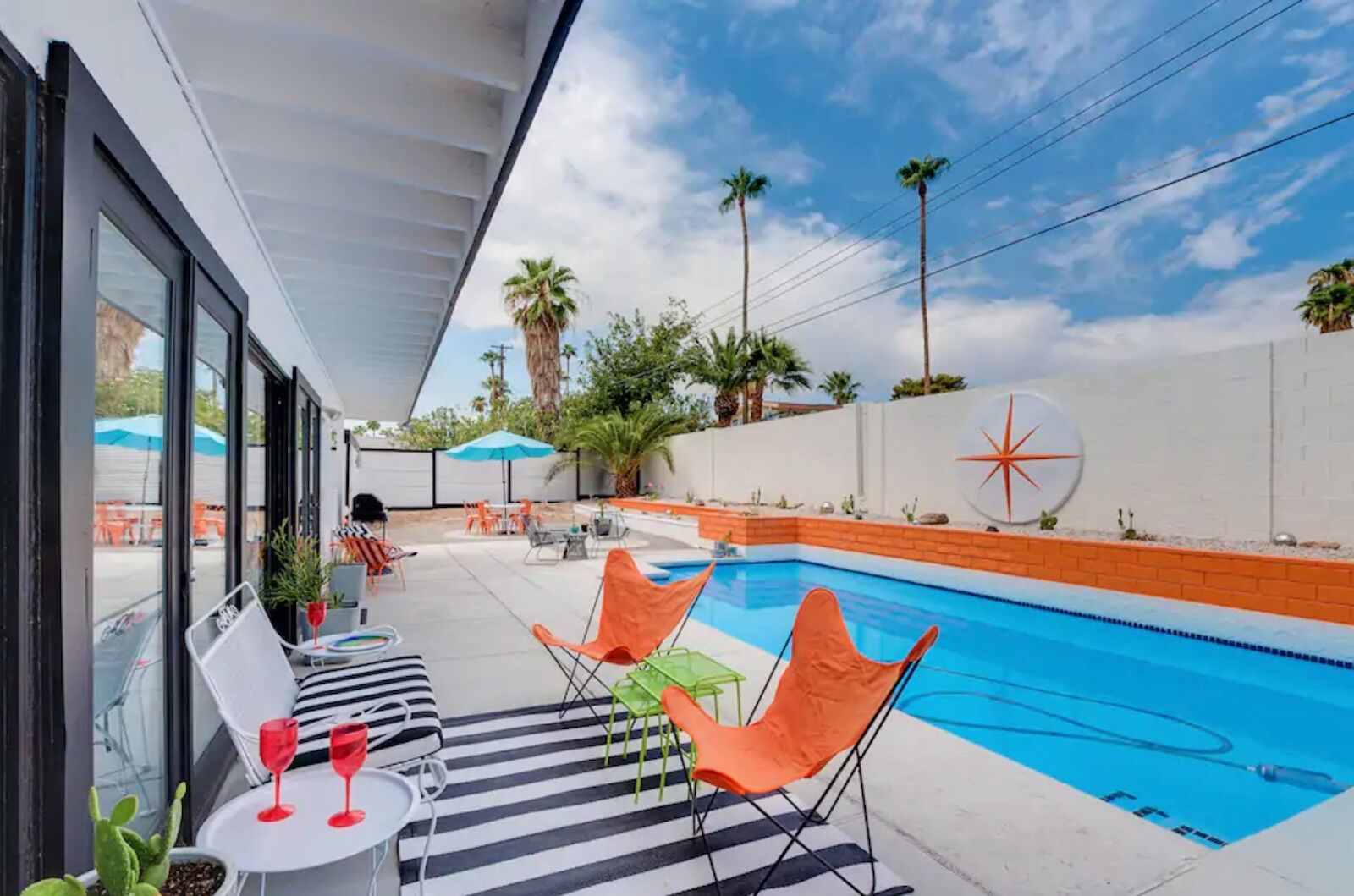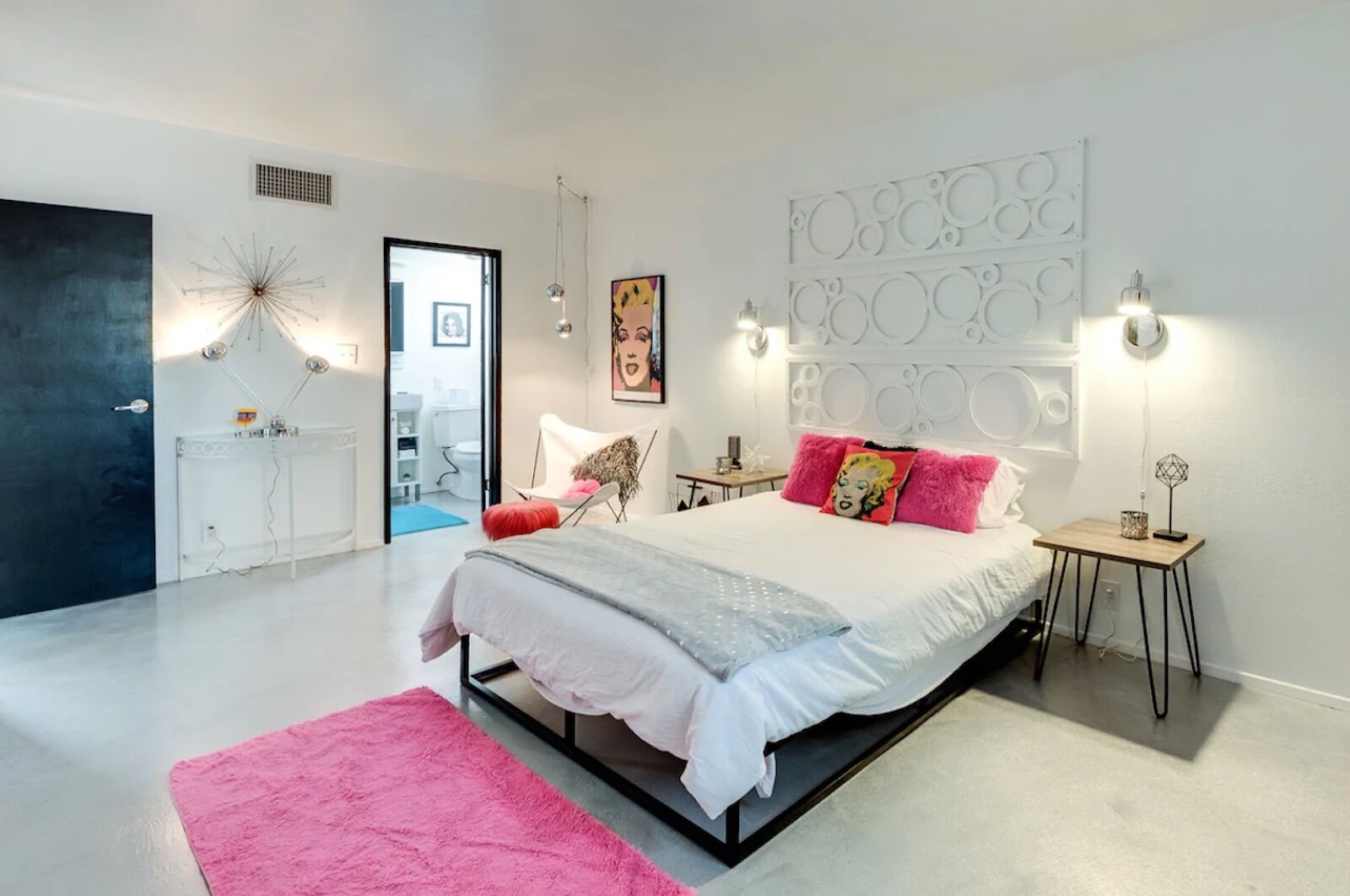 This retro three-bedroom Airbnb is colorful, sunny, and fun—just like Vegas. It's perfect for summertime bachelorette parties, with a saltwater pool that's not heated but is extra refreshing when the temperature soars. Between the resort-style outdoor area and the Golden Age of Hollywood-inspired decor inside, the Airbnb feels a little bit like a glitzy Palm Springs hideaway though it's just a five-minute drive to the Strip, giving guests the best of both worlds.
Six guests, three bedrooms
Price: $106 per night
What did you think of this story?