A Bicycling Guide To the Trails and Roads of Mississippi
in paid partnership with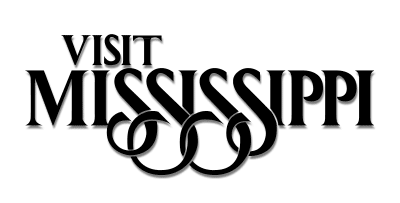 Here in Mississippi, a burgeoning network of cycling routes can take you through some of the the state's most pleasant landscapes — as well as some of America's greatest stories. When the weather is right, the best way to see the Magnolia State is on two wheels, warm breeze in your face as the trail leads you from the pages of William Faulkner to the ballads of Jimmy Buffett and B.B. King. Read on for nine Mississippi bicycling routes to seek out on your trip.
1. Tanglefoot Trail
This flagship rails-to-trails path runs for 43.6 miles from New Albany to Houston, surrounded by the faint foothills of the Appalachian Mountains. It's a ride through the eras as well — significant players in history like Meriwether Lewis and Civil War Union troops followed this very trail in their march through history. Start the day in New Albany before resting your bones at Trailhead Bike and Bed, a bicycle-friendly bed and breakfast, at the end of the line.
2. Bayou Point Mountain Bike Trail
Switchbacks and singletrack await at Bayou Point, where those pedaling the 5.6-mile loop toward the shores of Arkabutla Lake are rewarded with dusty thrills and maybe even some wildlife sightings. This rugged North Mississippi mountain bike park is located within reach of Oxford, Clarksdale, and Memphis — a perfect pairing for a day on the trails and a night on the town.
3. Mississippi River Trail
Ride alongside the Mississippi via the Great River Road — a designated national scenic byway where some sections are closed to cars — on the Mississippi River Trail. This 3,000-mile route runs from Minnesota to Louisiana; in the Magnolia State, it snakes from the Mississippi Delta to the Louisiana state line en route to the Gulf of Mexico. Overnight in Vicksburg to soak in the laid-back nightlife on cobblestone streets, and make a pitstop in historic Natchez for breathtaking views atop the river bluffs and a heartfelt look at the region's history.
4. Natchez Trace
Cycle beneath canopies of hardwood forests on one of the oldest transportation routes in North America — the Natchez Trace predates the Declaration of Independence. It spans some 444 miles and crosses into Tennessee, but one of the most popular legs is Rocky Springs to Port Gibson, not too far south of Vicksburg. Make time for the detours to see the haunting columns of Windsor Ruins and to explore the multi-use path around the Ross Barnett Reservoir. Consider basing in Ridgeland, where access to both the Trace and "the Rez" is at your fingertips (or toe clips).
5. Elvis Presley Trail
Take a 6-mile self-guided bike tour through charming Tupelo and step into the not-too-distant past. Every half mile or so, you'll come across a location relevant to the life of the King of Rock n' Roll. Stops on the Elvis Presley Trail include the King's former junior high school and his favorite swimming hole, plus 12 more.
6. Mt. Zion Bike Trails
The state's most popular singletrack loop, a fast-flowing ribbon of dirt geared to experienced riders, is at Mt. Zion Bike Trails, about an hour south of Jackson. You'll find 40+ wooden features including see-saws and bridges, testing your skills while offering serious thrills. Otherwise, expect to ride ample climbs, descents, and jumps for 9 miles. Shorter loops are options for younger or beginning riders.
7. Longleaf Trace
Cruise through the pine forests of southern Mississippi on the Longleaf Trace, which stretches for 44 paved miles from Hattiesburg to Prentiss. This stunning gateway to the area's music, breweries, and camping streaks under colorful tunnels and through tranquil farmland on a route once used to transport the area's abundant timber to the mills. Most of the Longleaf's facilities are located within 15 miles of Hattiesburg, where ample accommodations for cyclists are also available.
8. Pascagoula Historic Bike Trail
For those looking for some coastal scenery, the Pascagoula Historic Bike Trail is a leisurely 10-mile route through the storied streets of the eponymous Gulf Coast city. Cyclists can ride under the shade of lazy live oaks and past the Round Island Lighthouse to the childhood home of Jimmy Buffett. Celebrate the journey by dipping into a local eatery for a traditional feast of shrimp and grits.
9. Mississippi Coastal Heritage Trail
Explore the Mississippi Gulf Coast on 101 miles of bike pathways from Bay St. Louis to Pascagoula, taking in everything this region has to offer. The Mississippi Coastal Heritage Trail includes both dedicated bike lanes and shared road spaces that take cyclists to the Biloxi Lighthouse and an abundant array of fresh seafood restaurants, breweries, and places to hear live music. All you need are two wheels and the hankering for an adventure.
What did you think of this story?