in paid partnership with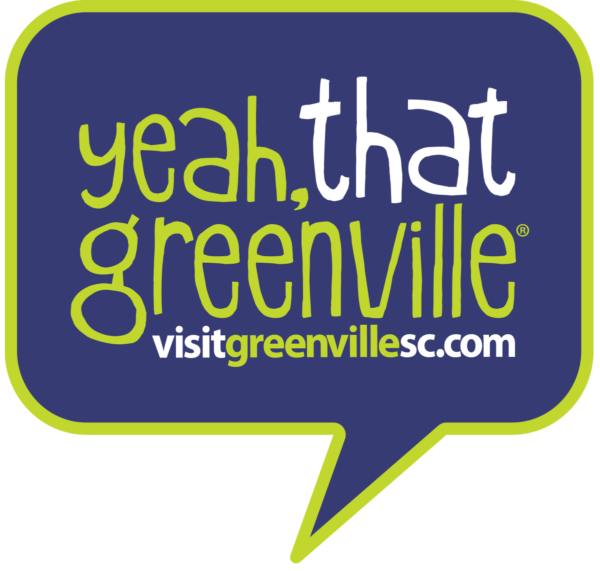 THINK YOU KNOW the South — BBQ, country music, pickup trucks? Nope. Put your assumptions on hold when you visit Greenville, South Carolina, because here you'll find far more fun, food, and straight-up personality than those typical Southern staples imply. Once you visit, you'll realize that, out of the dozens of "Greenvilles" around the country, this is the one you need to know about. Here's why.
1. There's more than moonshine — think stellar craft beer and coffee.
The Carolinas' craft brewing scene is in full swing, and so is Greenville's — we're not about to let Asheville or Charlotte hog the Carolina spotlight. In Greenville, you can experience top local contenders like Brewery 85 (try the IPA and Quittin' Time Helles Bock), Birds Fly South Ale Project (go for the saisons and sours), World Beer Cup-winning Quest Brewing Co., Swamp Rabbit Brewery, and Thomas Creek, the area's oldest brewery.
Once you've completed the circuit, it's time for food. Visit Trappe Door for Belgian ales and lamburger sliders in a dimly lit underground pub, or hit up The Community Tap, which somehow pulls off being both a relaxed neighborhood watering hole and food truck hotspot. Grateful Brew is good day and night, serving both beer and nationally recognized Counter Culture coffee. The friendly bartenders/baristas and hip decor are a bonus.
Speaking of java, Methodical Coffee serves the highest quality roasts in town. Check for their seasonal, won't-find-anywhere-else drinks like the Cold Brew Mojito or The Vermont (espresso, maple-nutmeg syrup, and black sea salt garnish). For a more relaxed (and equally Instagrammable) neighborhood coffeeshop, visit The Village Grind — their renovated industrial space provides plenty of room to catch up with friends — or do some reading at Due South Coffee Roasters.
And if you're still wondering about that moonshine, book it to Dark Corner Distillery. For $7, you'll get a sampling of six of their spirits (try the butterscotch whiskey) and learn about the bootlegging history of the area — it's called "Dark Corner" for a reason.
2. Free — and excellent — entertainment is the norm.
Enjoying nightlife doesn't drain the wallet in Greenville — this is one of those rare places with big-city options on a small-town budget. Here's what you'll find throughout the year:
On Wednesday nights (June – August), check out ScanSource Reedy River Concerts. Bring your picnic dinner to the outdoor amphitheatre and groove to rock, funk, jazz, and reggae.
Spread a blanket in downtown's Falls Park on the Reedy for Fidelity Moonlight Movies on Wednesdays in May and September (on-site food truck, of course). Showings are usually along the lines of Clue, Roman Holiday, and Jumanji.
Start the weekend early by claiming an outdoor table to hear live local musicians at NOMA Square during Downtown Alive, 5:30-8:30pm on Thursdays from March through August. Return the next night for more music (and inflatables for kids) at Greenville Heritage FCU Main Street Fridays.
First Fridays are a chance to see the work of artists in studios downtown and around Greenville — from watercolors to pottery, woodwork to photography. Then hit up the TD Saturday Market (May – October) on Main Street, where local farmers and vendors offer samples of breads, cheeses, spreads, juicy South Carolina peaches, and more.
3. Eating is big, but quality food is bigger.
There's no other region in America as attached to its food scene as the South. And eating in Greenville is such a big deal that the city has multiple annual food festivals: In September, it's upscale tastings, cooking demonstrations, and live music at Euphoria. Even bigger is Fall For Greenville in October, where the weekend crowds number in the thousands for 250+ menu items from over 40 restaurants — and to catch over 70 national and local entertainers across six different stages.
And the restaurants. Oh, the restaurants. Choose Bacon Bros. Public House for familiar Southern cuisine, like fine meat boards, upscale BBQ, and classic sides (South Carolina's famous pimento cheese, braised greens, and Carolina hash). Sidewall Pizza offers thin-crust pizza and fresh salads — try the Triple Pepper pizza with Summer Vegetable salad and lemon thyme vinaigrette. Just make sure to leave room for dessert, as the homemade-daily ice cream flavors are an important part of the package.
For brunch, head to Tandem Creperie and Coffeehouse, where you'll find an array of sweet and savory crepes and coffee served in bright yellow mugs. GB&D (Golden Brown & Delicious) features locally sourced ingredients on a small menu with big variety (berry and grilled peach salad, Tonkatsu ramen, and house-made cavatelli pasta with chicken confit, all on the same page). My personal favorite, though, is the chicken and waffle sandwich with sweet potato wedges.
Greenville's not-so-secret local dive is Pita House, a family-run Middle Eastern diner and grocery, with incredible hummus, falafel, and shawarma. For casual Latin American dining, stop by Asada for mission-style tacos — each includes fresh tortilla chips, house-made pico de gallo, and superbly spicy salsa. Ji-roz is more of an upscale joint and has mastered traditional Greek plates, including fried feta balls with pistachio dust and honey, dolmades, crispy spanakopita, and classic gyros with fries. Pair whatever you order with a nice, sharp Greek wine.
4. Art, music, and performance are in the city's DNA.
Every May, Artisphere — recognized as one of the top five art festivals in the country — brings nearly 100,000 local and traveling visitors, art collectors, and connoisseurs downtown for art demonstrations, live music, culinary experiences, dance, ballet, and theater. That's the level Greenville is on. But regardless of when you're here, there's definitely something going on. Here are a few ideas to pad your itinerary:
5. It might as well be called "Outdoorsville."
It's called Greenville for a reason — the outdoors are a big part of the city's identity. Greenville does urban too, of course, but it's not so big that it's lost touch with Mother Nature. The city's all about balance.
The most popular spot for locals to get in that fresh-air time is the downtown Falls Park on the Reedy River (named one of the top 10 parks in America by TripAdvisor). Enjoy the meticulously manicured green space and layered flowerbeds, and walk across the suspension bridge to view the waterfall from above. You can also run, walk, or bike the GHS Swamp Rabbit Trail, which spans 20 miles and cuts through the heart of the city.
Paris Mountain is minutes from downtown, with tons of hiking and mountain biking trails, along with plenty of picnic space to laze the day away under the trees. You can also hike along streams and waterfalls at Jones Gap State Park, or take in summit views at Caesars Head or Table Rock. On warm summer days, take a short drive out of town to cool off on Lake Jocassee at Devils Fork State Park, where you can canoe, kayak, stand-up paddleboard, and camp. Or make a day of it and drive farther north to the scenic Blue Ridge Parkway for endless Appalachian hills, hikes, and high-elevation camping. Suffice it to say, you've got options.
6. Fine wine and cocktails have their own scene here, too.
It's 2017, and everyone and their sister runs a brewery. The craft beer scene in Greenville is great, for sure, but some attention needs to be paid to the finer libations in life.
First, wine. Head to Victoria Valley Vineyards on the way to the mountains, or take a short drive south to City Scape Winery for some downtime in their tasting room or on their patio with views of row upon row of grapes. If you're staying in the city, check out the super-spacious rooftop at SIP Whiskey and Wine Bar, where you can choose from walls full of backlit wine racks.
Second, cocktails. Anchored in the pseudo-secrecy of Prohibition-era style, Vault & Vator takes speakeasy culture and adds familiar twists, with themes like Tiki Thursday and Whiskey Wednesday. And UP on the Roof is just that — their open-air lounge provides what's got to be the best views of the city. Pro-tip: Go for the full moon. Trust me.
7. The city's cultivating — and nailing — a unique vibe.
There's something to be said for the Greenville aesthetic — Southern charm meeting contemporary style. Red brick and white paint next to steel and glass form a city rooted in history and leaning into the future. Mature trees shade Main Street, and there's plenty of sidewalk space and European-style outdoor cafe seating, showing the city's communal nature. It's all earned Greenville spots on lists like "23 Best Small Town Main Streets in America" (Country Living) and "Top 10 Buzzy, Unpredictable Travel Destinations" (The Wall Street Journal).
Hundred-year-old cotton mills, once filled with hundreds of workers and thousands of spindles, are now loft apartments with 10-foot windows, exposed beams, and stainless steel appliances for chic city living (The Lofts of Greenville, West Village Lofts, etc.). New projects are cropping up all the time, and businesses are collaborating to form a local scene you can really sink your teeth into.
You'll find thriving local makers like Dapper Ink custom screen printers, Lily Pottery jewelry, and nationally acclaimed Billiam Jeans right here. Browse all things handcrafted at Indie Craft Parade every September, and hang out at Sippin' Safari — a night of wine tasting, live music, and hors d'oeuvres in the Greenville Zoo. The community knows itself, and it knows where it wants to go. The city's booming and word's gotten out, so your best bet is to start listening.