How To Have the Ultimate Wellness Weekend in Las Vegas
Not long ago, you'd be laughed out of the casino for suggesting that a weekend in Las Vegas could leave you feeling fresher than when you arrived. As the King himself sang, this is the bright light city that's supposed to set your soul on fire, not nourish it with rooftop yoga and banana leaf body wraps. But a growing wellness scene now provides a detoxifying alternative to Sin City's more hedonistic offerings, and I was invited to experience a Las Vegas spa weekend packed with indulgent massage therapies, fitness-boosting boot camps, and plant-based fine dining in the most unlikely of well-being hotspots. 
Take a fitness class at the Cosmopolitan of Las Vegas
First up was a trip to the Cosmopolitan of Las Vegas, not for a flutter on the roulette wheel or a shot at the slots, but for a 07:30 AM fitness class. Sidestepping the throngs of early morning (or late, late night?) punters with an air of self-congratulatory hubris, I was swiftly brought down to Earth by the high-intensity exercise circuit cooked up by personal trainer and resident fitness hunk, Palani Mak.
One of the best-rated boot camps on the strip, Palani's Sweat60 program is adapted to suit the needs and abilities of the guest, which meant that after I burpeed, bear-crawled, crunched, and kettle-belled my way through round one, my exercises were differentiated to keep me from crumpling to the floor until the full hour was up (and then crumple, I did).
For the more mindfully inclined, the Cosmopolitan of Las Vegas also offers sunrise yoga classes on its splendid rooftop Boulevard Pool deck. Here, the focus is less on bullying your figure into the perfect forward fold and more on lowering stress levels with gentler, longer-held stretches designed to augment the flow of energy. What is already a deeply meditative practice is accented by the warming desert air and the natural rhythm of the sunrise, creating an oasis of calm you might not have thought possible on the Las Vegas strip.  
Indulge in the best spas in Las Vegas
The afternoon was to be spent rewarding my endorphin-pumped body with a spa treatment. This being Vegas, there is no shortage of indulgent experiences on offer. The Sahra Spa & Hammam at the Cosmopolitan, with its sandstone corridors and Moroccan-inspired bathing rituals, channels the tranquil mysticism of the desert while at other the end of the climatic spectrum; the Qua Baths & Spa at Caesars Palace has an Arctic Room where the temperature is fifty-five degrees and faux-snow tumbles from the ceiling.
For an on-trend treatment with fewer frills, I checked into The Spa at the Four Seasons. It is one of the only Forbes-verified five-star spas in Las Vegas. Pitching itself as a "Non-Gaming Oasis", the Four Seasons' privileged location on the south end of the strip shelters it from the ceaseless Sin City action. It feels more like a secluded sanctuary than a typically boisterous Vegas hotel (although if temptation strikes, Four Seasons guests have access to the adjacent Mandalay Bay, casino et al.).
I was recommended the spa's signature massage therapy, the Warm Salt Stone Ritual, in which salt crystal stones are used to rejuvenate the body by replenishing it with essential minerals and relieve muscle pain by increasing blood flow to areas of tension. But as my therapist, Heather, floated the warm stones over my body, I hardly felt the nourishing effect of the eighty-four minerals and nutrients being absorbed into my skin; the setting was so serene, and Heather's hands so accomplished, that I was lulled into the most peaceful sleep.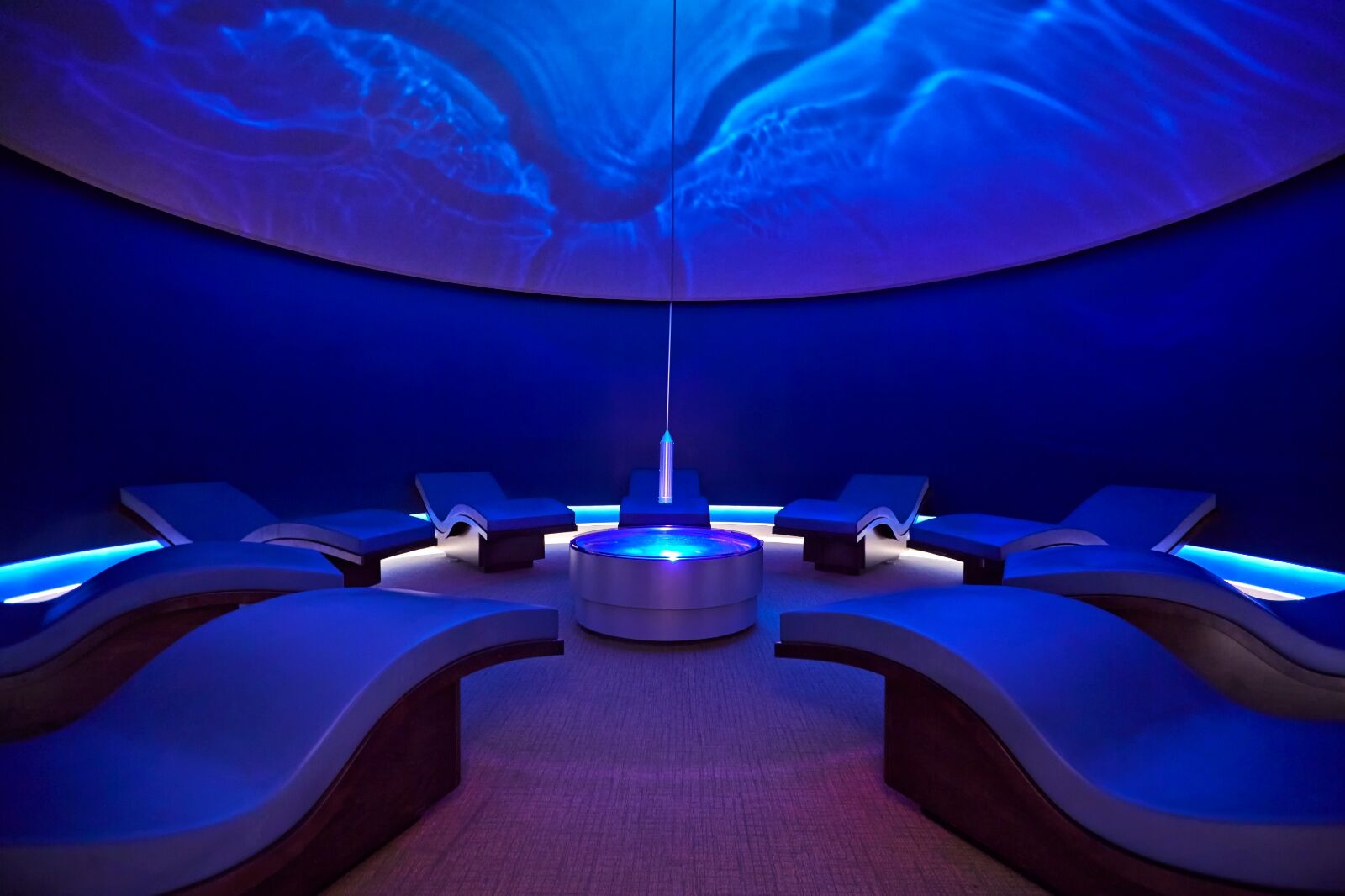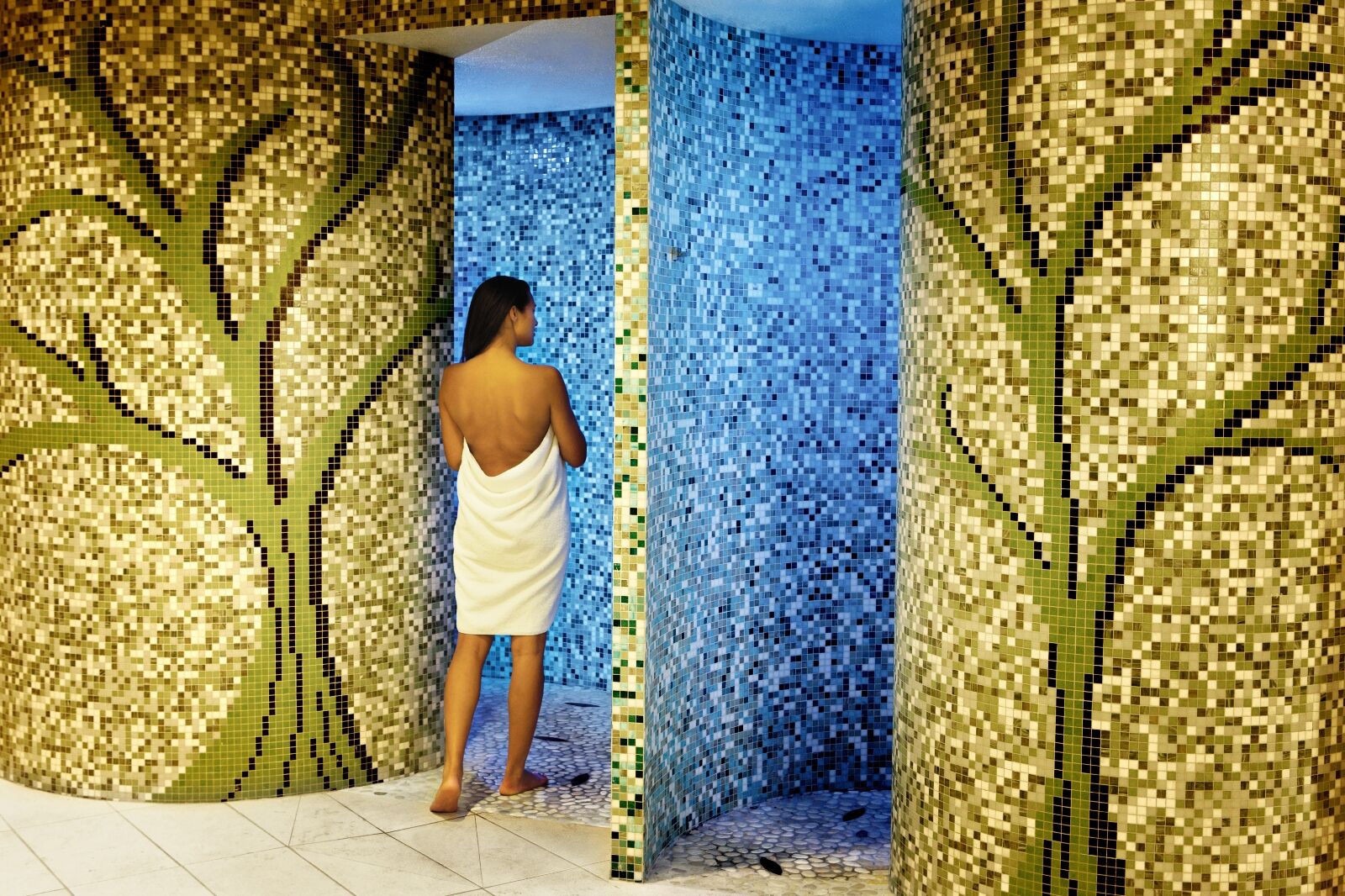 An altogether different therapy awaited the following day at Canyon Ranch, a sprawling one-stop-shop retreat at The Venetian that claims its self-care treatments have lasting effects. My FIT Massage began with an appointment with Susan, an exercise physiologist, who had me strike a series of poses while she scribbled down everything that was wrong with the way I move. By analyzing my movements using innovative Fusionetics, Susan was able to draw up a program of exercises to remedy my recurring neck stiffness and stretch out my tight hip flexors and knotted shoulders. She even had a plan to improve the range of motion in my right Achilles tendon, something that had plagued me for years after a soccer injury.
But before sending me on my way, Susan referred me to Marcina, a massage therapist. Like a general handing over secret battle instructions to her lieutenant, Susan passed Marcina the list of my physiological flaws, including my Achilles' heel (which was my Achilles heel). Armed with this information, Marcina set to work with a bespoke deep-tissue massage designed to caress me into working order. Unlike my therapeutic hot stone treatment, there was no possibility of falling asleep here. I granted Marcina full permission to rain hell upon every stubborn knot, which she achieved with expert precision. 
Eat at the Harvest at the Bellagio
Feeling thoroughly detangled, I skipped to Harvest at the Bellagio for a feel-good dinner. Vegas doesn't want for flashy fine-dining restaurants, but I'd been told that Harvest stands out for its sustainable farm-to-table concept and thoughtfully curated seasonal menu. It isn't a vegan restaurant — the roasted half chicken in local ale brine is one of Harvests' bestsellers — but while vegan diners have their own menu, those same vegan items also sit alongside the meat and fish offerings on the regular menu. 
The idea, Isiah Torres, the executive chef, tells me, is that guests won't necessarily know they're eating vegan unless they're told afterward. Torres has cunningly reimagined classic items with alternative plant-based ingredients. The creamy mashed potato is rendered with arbequina olive oil, rather than dairy, and the scandalously tasty strawberry shortcake is made with coconut milk and vegan brittle. This is self-care without the sense of sacrifice. 
Isiah's thinking behind the menu was partly born out of his experience of having tried a vegan diet himself.
"What I found when dieting out as a vegan was that it was difficult to have a well-thought-out enriching experience. So here we've tried to create something inclusive modeled on the idea of sharing a harvest with friends and family," Isiah shares.
It's a winning result, cooked up with care. I couldn't resist forsaking my self-imposed weekend sobriety and paired dinner with a cocktail. After all, one drink couldn't hurt, and certainly not the adorable-looking Yellow Bird, a blend of Bacardi, Galliano, and crème de banana with fruit juice that arrives in a canary-shaped glass.
Book the Stay Well room at the Bellagio
It would have been remiss to visit Vegas and not take in a show, so I followed dinner with Cirque du Soleil's mesmerizing water-themed "O" before I returned to my appropriately named Stay Well room at the Bellagio. Awash with quirky features designed to restore and rejuvenate, from vitamin C-infused showers to lighting engineered to regulate circadian rhythm for better sleep, the room struck me as a metaphor for Las Vegas's wellness scene more generally. Over-the-top? Perhaps. But the next morning, when I was pulled lovingly from my sleep by the Stay Well's dawn simulator, did I feel better for the experience? Absolutely. It's Viva Las Wellness for me.
What did you think of this story?