in paid partnership with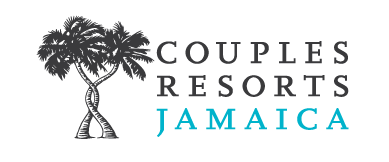 PIÑA COLADAS FOR DAYS. Endless sunshine, sugar-soft sand, and a constant supply of coconut water — this might be the picture of "all-inclusive" you have in your mind.
And that's nice. But if you're gonna go all out, go all out. This is your vacation of the decade. You should leave feeling like a celebrity. You should leave feeling like you just experienced a different world.
Which is why Couples Resorts in Jamaica saw fit to up the bar, despite already having top-of-the-line status. Their new Oasis Spa Villas completely upend what "all-inclusive" used to mean. Those who stay here get complimentary access to the long list of benefits Couples is known for, and then some. This is a level of luxury the Caribbean likely hasn't seen until now. Here's proof.
At Oasis Spa Villas, the spa experience never ends.
Couples Resorts has four oceanfront properties in Jamaica, their flagship being Couples Tower Isle. It's located near Ocho Rios, and it even has its own private island. There are 218 rooms — and those are great, too — but what we're talking about right now are the all-new Oasis Spa Villas.
Staying here, you'll get unlimited spa treatments. Unlimited. The spa concierge can even help you customize your own personalized "spa itinerary." You'll roll out of bed, into your robe, and walk a few steps to the spa, where you'll relax and rejuvenate as certified massage therapists balance and restore your body. Flip over, and it's time for a customized facial treatment. And if you and your better half want to share in the stillness of the island, nothing is better than a soak in the spa tub. Even better? You can order your treatments and enjoy them right in the privacy of your own villa.
You're VIP the moment you touch down.
Even before you arrive at the resort, you're covered. Couples has its own lounge at Montego Bay Sangster International Airport, so all you have to do to start your vacation is make your way off the plane and into the lounge. Grab a drink while you wait for your complimentary transport, and then hop aboard the vehicle for a ride along the coast to Ocho Rios. Everything — everything — will be taken care of.
The rooms are the definition of swank.
Couples Tower Isle has plentiful rooms and suites, half a dozen restaurants and bars, a handful of pools and Jacuzzis, private beaches, and a world-class spa — but let's talk about the Spa Villas for a second. At most resorts, your room is where you sleep, and that's about it. Not here.
Splurge for this brand-new experience and you'll get an outdoor terrace, plunge pool, outside shower, and the option of in-room dining. You'll have a private, over-sized bathroom, complete with double vanity, Jacuzzi bathtub, and separate shower. The Signature Oasis Spa Villas even come with their own living room. Needless to say, the privacy and service these suites are set up for is unparalleled.
There's a plush, king-size bed for getting lost in, too. You'll be soaking in your own private outdoor plunge pool or sunbathing on your garden terrace in no time — at least, whenever you feel like getting out bed.
Island excursions are included…
If you ever get to the point where you're saying, "Man, I'm just too relaxed," it's time to hit the island. The crystalline ocean off Jamaica's coast beckons, and while the spa itself can be an all-day experience, they also know that getting out on the water is a must-do activity while you're there.
Two scuba diving outings are offered each day. Not certified? There's a free course, too. Afterward, you can hop aboard a romantic catamaran cruise to boot…yes, there's rum punch, and yes, you can jump right off the hull for that photo opp you pretty much have to come home with.
If you prefer to stay closer to the surface, there's also kayaking, paddleboarding, sailing, tennis, golf, waterskiing, glass-bottom boat tours, a trip to Dunn's River Falls or to Margaritaville — the available inclusions from Couples Tower Isle go on and on.
…and most everything else is, too.
No need to get up from your lounge chair on the beach or out of your plunge pool — just ask your server to bring you a drink, and order lunch while you're at it. As for the drink list, it's as premium as you can get, and no, there are no hidden fees for the top-drawer stuff. Order a Red Stripe or a strawberry daiquiri…or order both! It's all good.
The food is unlimited, too. Meals can be outdoors, in the sand, at the bar, in a formal restaurant, or in the privacy of your own villa. The island specializes in fare like Jamaican jerk chicken and island-grown veggies, and any dietary need can be catered to. Let the team know in advance, and the onsite chef will work out a menu customized specifically for you. We said VIP, remember?
Meals are farm-to-table, but also under-the-stars.
The bars and restaurants at every Couples resort are top-drawer, but when you're feeling like being truly intimate, sometimes a formal dining setting isn't what you're going for. That's why they've crafted a unique dining-on-the-beach experience you and your partner can enjoy together.
You'll have your own secluded table in the sand, your own private-label wine, your own candlelight dinner right beside the waves with barely a soul in sight. A personal waiter is at your beck and call, and three courses (all Caribbean-inspired, naturally) should do the trick. This isn't included with your stay, but a little more indulging will take your vacation to a Bachelorette-worthy level. Totally worth it.
Live music and entertainment beats through the night.
Massages can only amuse one for so long. Couples Resorts fills a selection of their bars and restaurants — including piano bars — with entertainment every night of the week. When it comes to live music, the genres range from steel drums to soul, reggae to rock 'n' roll, and the acts are local, showcasing the best on-island talent.
The music is only made better by the fact that the entire top shelf is open for business. All complimentary, that is. And keep an eye out for events — the resorts consistently hold reggae dance classes, beach bonfires, and piano singalongs.
So, rum punches, sure. Kayaking and snorkeling off the coast, definitely. But all-inclusive now means private plunge pools, in-villa spa treatments, access to the best food and drink, hours of endless massages, and secluded views. Going "all out" now means staying at the Oasis Spa Villas at Couples Tower Isle — why splurge if you're not getting the best of the best? Your body and mind will thank you later.