in paid partnership with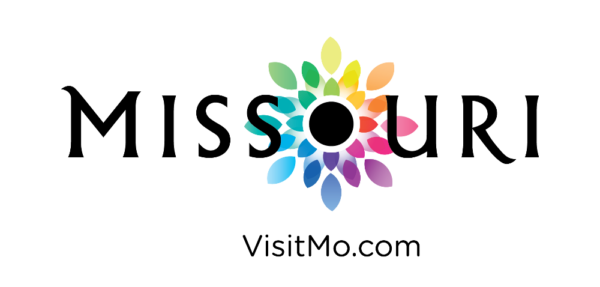 The magic ingredients for any great road trip come down to just two things: spectacular scenery and a destination that excites you. Missouri nails that combo. The state's lush hardwood forests filled with oaks, hickories, and maples put on quite a colorful show each fall, usually beginning in mid-October. These precious few weeks create an amazing backdrop for exploring the state's most charming destinations on a Missouri drive. Magic ingredients, check.
So when the leaves start turning, cue the music, roll down the window, and cruise to the Show-Me State's best small towns, wineries, historic sites, waterways, parks, and more. But first, meet Missouri (Mo, for short) below. She'll tell you where to hit the road, recommend locations based on your "travel M-O," and point out the Missouri magic you'll find along the way.
1. Hermann to St. Charles
This route is a classic Missouri drive. Hermann to St. Charles via Highway 94 roughly follows the Missouri River, winding past vineyard after vineyard, and is bookended by two vibrant, historic river towns. Start in the picturesque town of Hermann, set among the colorful bluffs overlooking the "Big Muddy." The unofficial Oktoberfest capital of the state, this adorable 19th-century village is rich with autumn color and German heritage. On your stroll through town, stop by Hermann Wurst Haus to try their award-winning bratwurst.
Back on the road, you'll traverse several cute tree-lined towns embedded in Missouri's wine country. Augusta is one must-stop, a hillside community that might bring to mind Bordeaux or Napa Valley, and was the country's very first designated AVA, or American Viticultural Area. A number of excellent wineries — with equally excellent views — can be found here.
Moving onward, keep your speed low as you roll along the brick-paved streets of St. Charles. (The city dates to 1769!) Definitely spend some time in one of the many cafes and restaurants in town, and be sure to visit the historic district, located next to a network of leafy trails along the Missouri River.
If you have time and calories to burn, you can also explore this route by bicycle on the Katy Trail. Trees on both sides of the path, which closely follows the course of the river, create a tunnel of reds, oranges, and yellows to pedal through.
Stop at Noboleis Vineyards for exquisite wines, panoramic views of rolling vineyards, and house-made pizza at their hilltop pavilion.
---
2. Lake of the Ozarks loop
There may not be a more spectacular way to take in Missouri's autumn show than seeing it doubled — i.e., reflected on the water. The Lake of the Ozarks and its whopping 1,100 miles of shoreline (more than the California coast!) experience a vibrant burst of color every year.
A hilly loop around a portion of the lake starts in Versailles (pronounced "ver-sails") and includes several bridge crossings with colorful views of forested hillsides and shores. To begin, head south on Highway 5 until you reach Camdenton, where a quick detour south on Highway 54 takes you to Ha Ha Tonka State Park, on the southern edge of the lake. Hop out of the car to explore a majestic landscape featuring sheer bluffs, springs, sinkholes, caves, rocky glades, and the ruins of an early 20th century "castle."
Travel north on Highway 54 to reach Lake of the Ozarks State Park, along with a few caverns worth touring, small towns, and plenty of waterfront restaurants. Finally, take Highway 52 back to the Versailles area, where you can visit some of the 100+ Mennonite merchant establishments — including quilt shops, seed stores, farmers markets, custom furniture stores, and restaurants.
Check out some of the local sites that have been featured on the Emmy-nominated TV series, Ozark! Fans will recognize Bagnell Dam and the beautiful lake views.
---
3. Kansas City to Weston
From Kansas City, Missouri, a 40-minute scenic drive will take you to the 1830s river town of Weston — a Hallmark-worthy spot and perennial fall favorite. Situated on the Missouri River, the entire town — listed as a historic district on the National Register of Historic Places — exudes American heritage. Picture historic sites and homes, a perfect 19th-century main street, and Lewis and Clark exhibits along the 6-mile riverfront Weston Bluffs Trail.
One of the prettiest places to view the area's autumn beauty is at Weston Bend State Park, just outside of town. Steps from your car, the accessible scenic overlook sits atop the park's magnificent bluffs.
Once you've taken in Weston's interesting history and leafy views — and maybe grabbed a bite to eat — follow your tracks back to Kansas City, where you can hunt down more fall color at Loose Park. Or, venture further out of the city to Powell Gardens, a beautiful 970-acre botanical garden.
Kansas City's City Market, the largest farmers market in the region, is a great place to pick up pumpkins — in addition to the other treasures you'll find at 140+ stalls of produce and local and exotic eats. Keep in mind that weekends are the best time to visit.
---
4. Ozark National Scenic Riverways
Take Highway 19 to the Ozark National Scenic Riverways, a natural 134-mile-long playground — and the first river system in the country protected by the National Park Service. Float down the crystal-clear, spring-fed Current and Jacks Fork rivers in a canoe, kayak, or raft and explore freshwater springs, caves, trails, waterfalls, and historic sites like Alley Mill on foot. The mild temperatures and dense, colorful forests lining these waterways make autumn a fantastic time to plan a trip. (Pack your water shoes and hiking boots for this one.)
To be clear, "springs" in Missouri, and especially here at ONSR, don't mean little freshwater puddles. Big Spring is one of the largest in the country, with an average daily flow of 286 million gallons of water. Other springs to explore include Welch Spring, Devil's Well, Round Spring, and Alley Spring. We're talking cliff-lined lagoons with bright-blue, Caribbean-esque water. If you didn't know, now you do.
Echo Bluff State Park, located near the Ozark National Scenic Riverways, is set in a valley surrounded by — you guessed it — towering bluffs. Cast a line and try your hand at smallmouth bass fishing, or immerse yourself in the colorful foliage by taking advantage of hiking and mountain biking trails. Keep your eyes peeled for the wild horses that roam the area.
Blue Spring is so deep, it could cover the Statue of Liberty. An easy 1-mile hike takes you to this unbelievable spot.
---
These are just a few of the routes that make Missouri drives in autumn so special. Whether you take in the colors via car, bike, or canoe, visit the Missouri Department of Conservation Fall Color webpage for weekly updates so you can time your adventure with the state's incredible fall views.