in paid partnership with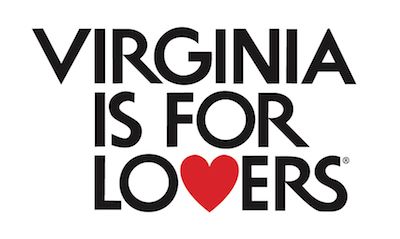 Soaring waterfalls. Million-acre forests. Coastal estuaries, cypress swamps, and rocky gorges. Hundreds of miles of shoreline and thousands of miles of mountain trails. With 3.7 million acres of public lands to explore, Virginia was practically made for RV adventures.
From the mountains to the coast, outlined below you'll find where to go, what to do, and where to stay — and where to find the state's famous LOVEworks — when you're traversing Virginia in the family Airstream. Divvy up the blankets and marshmallows, because it's high time to make a break for the great outdoors.
Before you go
If this is your first time RVing — rental, purchase, or otherwise — odds are some situations will pop up that you didn't expect. Though you should do plenty of your own research, here are a few basic tips on what to know before you go:
Be aware of where your water, electrical, and sewer hookups are (and how they work). They'll determine where you park the RV in most campgrounds.
Know the amperage requirements of your RV. Too much or too little can damage your appliances. You may want to travel with a converter and extension cord.
"Full hook-ups" means water, electrical, and sewer. "Partial hook-ups" means water and electrical; in this case, you'll use a dump station to empty your black and gray water tanks.
Bring blocks or stabilizing jacks with you — the ground at your campsite probably won't be perfectly flat.
Many campgrounds provide escort services for new campers. Just ask your camp host if you have questions or need assistance. RVers are also known to be a tight-knit community — if a neighbor has a similar model, they may be happy to help or provide pointers.
All of the campgrounds in this article are accessible to RVers. Most campgrounds — at least those on public lands — can be booked via reserveamerica.com.
In the mountains
With eight different ranges and five peaks over 5,000 feet, the mountains of Virginia are a wild playground of color, especially come autumn. A full quarter of the Appalachian Trail can be found here (the most in any state!), not to mention 21 national park sites and world-class scenic drives — be sure to take your time.
Where to go
There are some 2,200 miles of trails and 45 campgrounds within the 1.6 million-acre George Washington and Jefferson National Forests, which light up any map of Virginia in a blanket of green. Over twice the size of Yosemite (with a fraction of the traffic and crowds), Virginia's forests are the pinnacle of East Coast outdoors.
For something more geographically specific, state and local parks offer the same epic Virginia wilderness in more manageable packages. Douthat State Park, with 43 miles of hiking and mountain-biking trails and a 50-acre lake, makes for a great weekend dive into the Alleghenies. Breaks Interstate Park, one of only two interstate parks in the nation, is named for the "break" in Pine Mountain, a 1,000-foot gorge created by the Russell Fork of the Big Sandy River. Known as the "Grand Canyon of the South," it's one of the largest gorges east of the Mississippi.
If you're looking to check out Virginia's most scenic landscapes by water, get out on the Clinch River. You can kayak, canoe, and fish this waterway that flows through some of the Great Appalachian Valley's most beautiful gorges along its course to the Tennessee River. Fort Blackmore to Hill Station is a particularly scenic eight-mile trip.
Bonus recommendation: Doe Run Farm's sunflower maze is an excellent pitstop for some memorable photos of the kids.
Where to stay
Beyond the nine RV-accessible camping areas in the national forests (definitely put Sherando Lake on your list), Douthat State Park has four campgrounds that are all equipped for RVs. Nab a reservation early for a site with views of Douthat Lake.
Breaks Interstate Park has 138 campsites, most of which are wooded and fairly secluded. And just off the Blue Ridge Parkway, Explore Park in Roanoke — replete with a treetop aerial course, river access, even a tavern — has plenty of RV sites at Don's Cab-Inns Campground.
Where to find the LOVE
Breaks Interstate Park has a dedicated-to-adventure LOVEwork painted by Ellen Elmes; there's also a standout LOVEwork at Humpback Bridge, in the Allegheny Highlands.
Around the Shenandoah Valley
Where the Blue Ridge and Allegheny Mountains descend into the Piedmont — gently sloping hills that roll toward the Atlantic — lies the Shenandoah Valley, a place as peaceful as the soft sounds of its name suggest. But the "Big Valley" also hides big adventure.
Where to go
One of the best-known spots in Virginia, Shenandoah National Park protects a long and narrow swath of the Blue Ridge Mountains, with the incredibly scenic 105-mile Skyline Drive providing access across the winding ridge. Along with wetlands, forests, and waterfalls to explore, 101 miles of the Appalachian Trail traverses the park, too.
Speaking of waterfalls — any fan of cascades needs to see Crabtree Falls at least once, as it plummets away from mile marker 339.5 of the Blue Ridge Parkway. The 1,200-foot drop over five tiers makes Crabtree the highest vertical-drop waterfall east of the Mississippi.
Cumberland State Forest is much further off the beaten tourist path, despite being just an hour's drive west of Richmond (via US-60). The sun-dappled woodlands envelop just over 30 miles of trails, four lakes, and plenty of opportunities for birdwatching and wildlife spotting. Keep an eye out for old homesteads that dot the forest as well.
Bonus recommendation: Wandering the orchards, apple picking, stopping for apple cider — a visit to Showalter's Orchard will quickly feel like a family fall-road-trip tradition.
Where to stay
Big Meadows Campground in Shenandoah National Park is a local favorite (it's within walking distance of three waterfalls and several popular trails), though note that it has no electric hook-ups. Crabtree Falls Campground, on the Tye River and just off the Blue Ridge Parkway, is a secluded little spot that's "west of nowhere and south of heaven." And Shenandoah River State Park — incredibly beautiful in autumn — has RV spots right at the water's edge.
Where to find the LOVE
Strasburg's LOVEwork — near Shenandoah River State Park — is made from centuries-old material; the LOVEwork at Massanutten is 11 feet tall and 35 feet wide!
To the coast
Where saltwater and freshwater meet, biodiversity blooms. The coastal estuaries just off Virginia's Atlantic shore teem with life, outdoor adventure, and places to get away.
Where to go
Virginia's Great Dismal Swamp National Wildlife Refuge is a see-before-you-die kind of place. It's the largest intact remnant of a once million-acre maze of forested wetlands, marshes, and barely mapped waterways. Ancient bald cypress pop right out of the fog-lined water, some as old as 500 years. A .75-mile boardwalk extends deep into the forest from the Washington Ditch entrance, and a 4.5-mile hiking trail will take you all the way to Lake Drummond.
York River State Park, protecting a delicate environment on the banks of the York River before it feeds into Mobjack Bay, is also worth a stop. Here, Indigenous and colonial artifacts hide in the forests, 30 miles of hiking and bike trails snake along the water, and fresh and saltwater fishing spots keep even expert anglers guessing.
Bonus recommendation: Bay Country Kayaking can get you on just about all of the tidal rivers and navigable creeks in the area — which is saying something, as Gloucester County alone has 506 miles of shoreline.
Where to stay
Right along Virginia's Rappahannock River, Grey's Point Camp has water everywhere. The kids will beeline for the waterpark, while the adults might prefer hopping in a paddleboat or taking it easy on the beach. For a unique experience, book a private charter — this is some of Virginia's best fishing (and one of the state's best campgrounds).
Westmoreland State Park, set right on the Northern Neck of the Potomac River, has dozens of standard electric sites. The kids can hunt for shark fossils near the water and look for American bald eagles, ospreys, and great blue herons right from the campground.
Where to find the LOVE
Grab a pint and a LOVEwork selfie at Montross Brewery, near Westmoreland State Park; the LOVEwork at Waller Mill Park gives you an excuse for a round of disc golf, more hiking, or kayaking the 360-acre reservoir.
It should be clear by now: You'll find LOVE — and adventure — in every corner of the Commonwealth.