Sleep Like a Condor in Peru's Only Cliff-Hanging Capsule Hotel
When my friend Rachel asked me to fly to Peru to celebrate her 30th birthday, I immediately thought of a bucket list trek to Machu Picchu or an opportunity to scale the staggering Ollantaytambo ruins. Rather, with wide eyes and a smirk, she cautiously revealed her ambition to climb the very vertical Via Ferrata to reach what every Peruvian lamented as plain loco. After all, the Skylodge Adventure Suites welcomes only those daring enough to spend the night suspended 400 meters above Cusco's Sacred Valley.
The Skylodge first launched in 2013 as the first-ever hanging hotel in the world with its gravity-defying glass pods. These cliff-side capsules are the brainchild of an adventure company, Natura Vive, which wanted to make mountain and climbing excursions more accessible to those self-professed bold and daring travelers. It's true – the panoramic views are unmatched, but the only way to reach these capsules is to conquer the dizzying and arduous climb to the top.
The Skylodge's spectacularly steep location is also not by chance. Hanging above Peru's Sacred Valley provides views of a wealth of nearby historical wonders and riches. The jagged Urubamba mountains starkly contrast the lush agricultural fields that border the snaking Vilcanota River. Archeological sites are also abundant throughout this Andean valley, including the famed Machu Picchu. This entire area is a cultural gem not to be missed, and you will experience it in an entirely unique way if you add the Skylodge to your itinerary.
We hope you love the Skylodge Adventure Suites in Peru! Just so you know, Matador may collect a small commission from the links on this page if you decide to book a stay. Listed prices are accurate as of the time of publication.
What to expect and what to pack for the Skylodge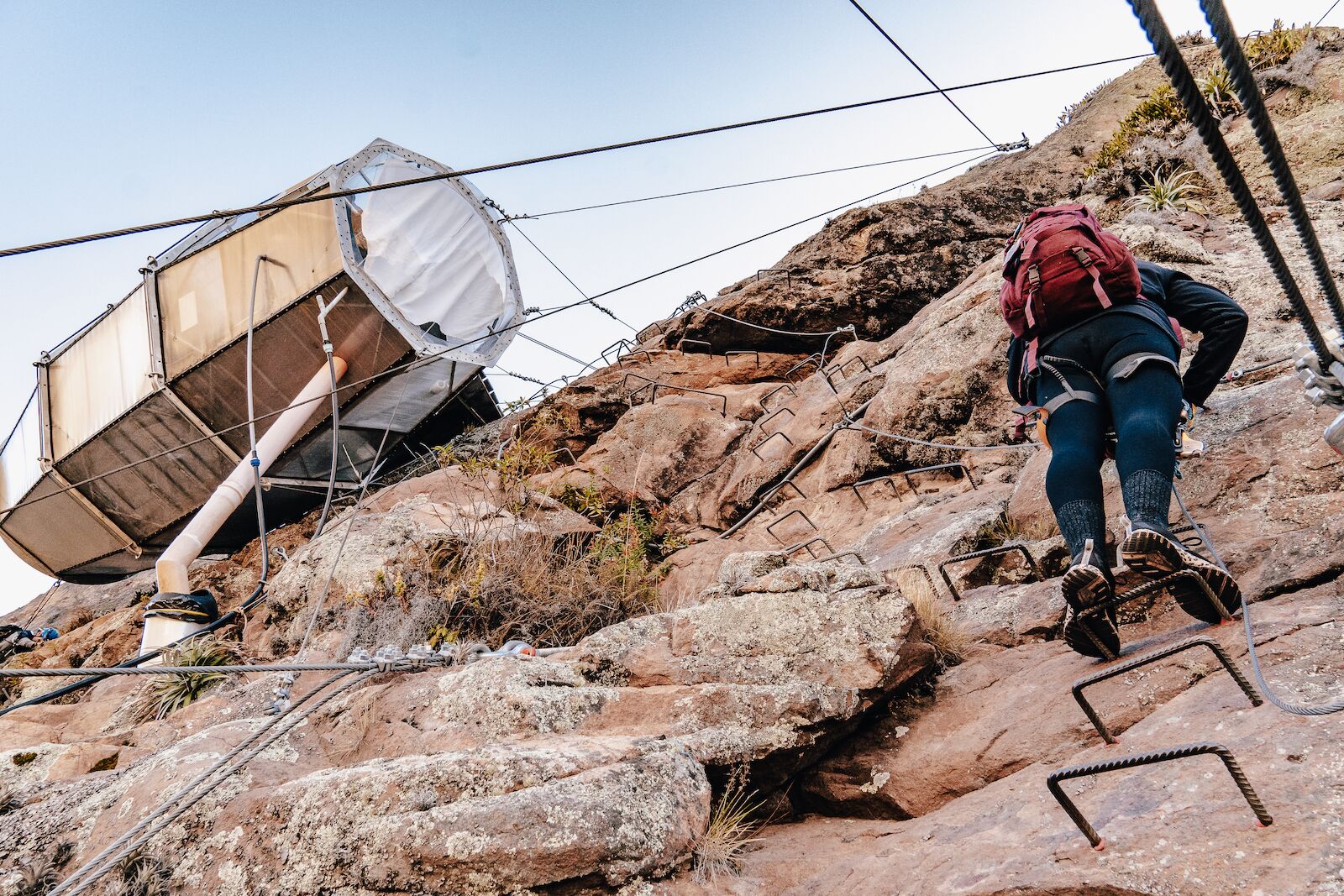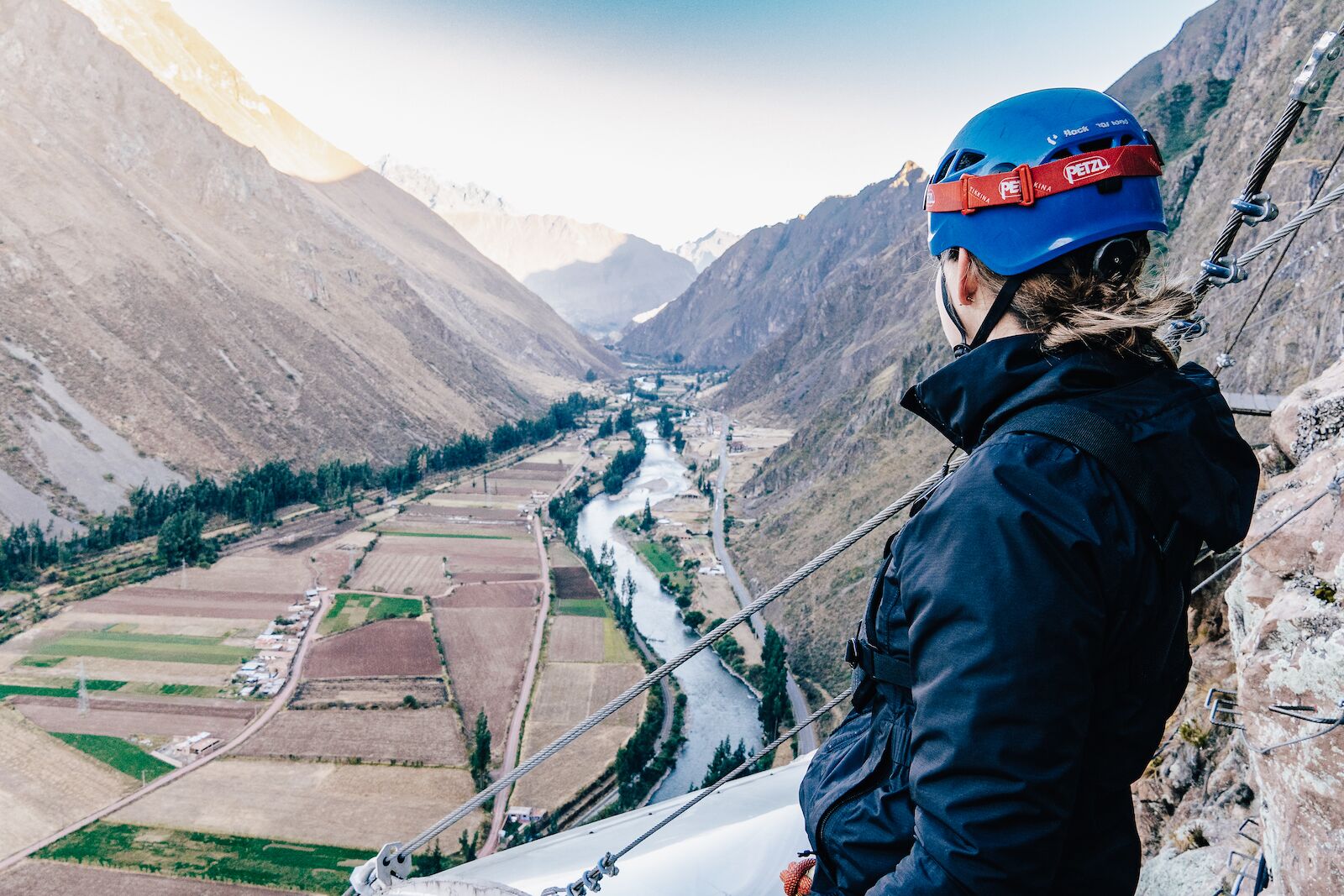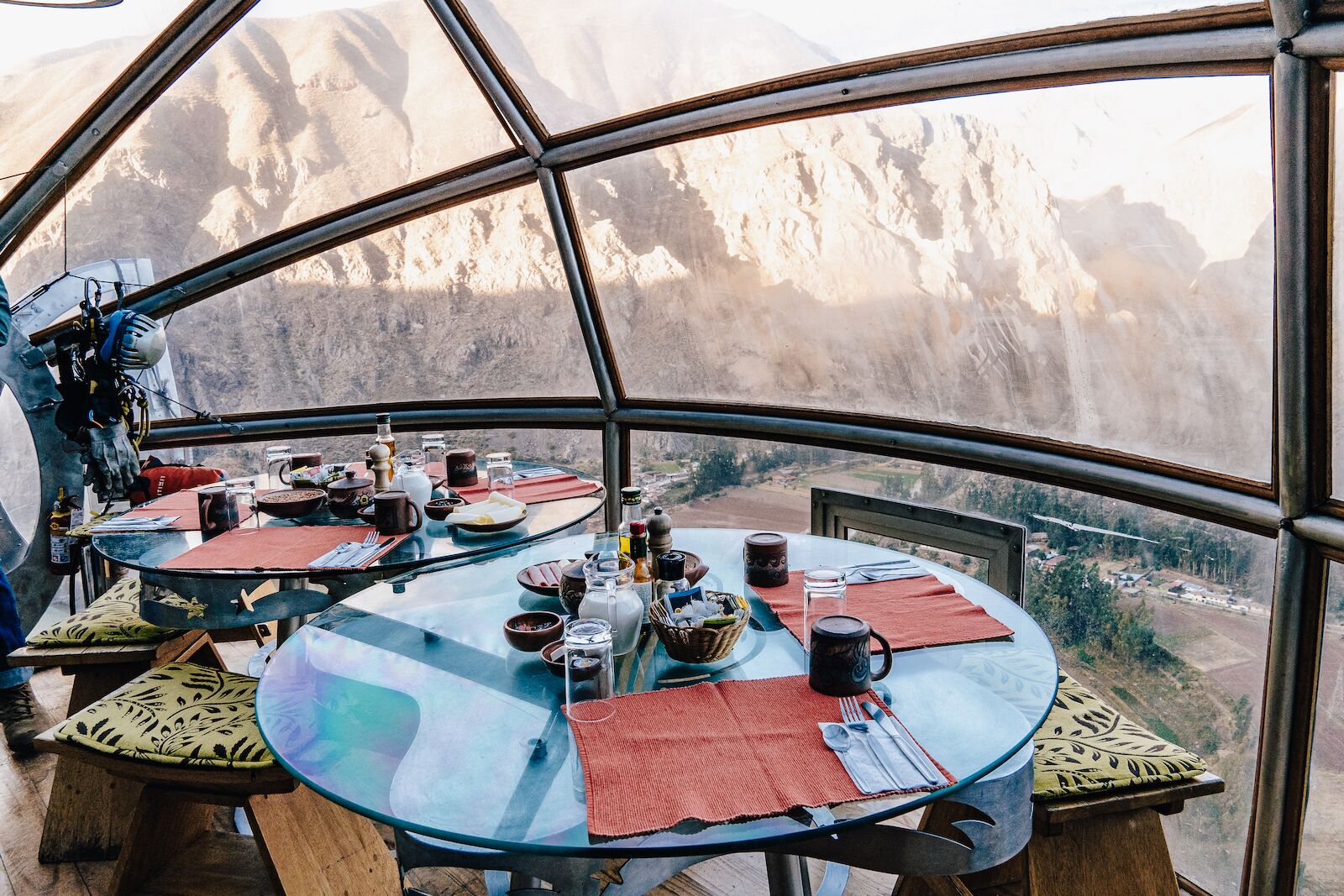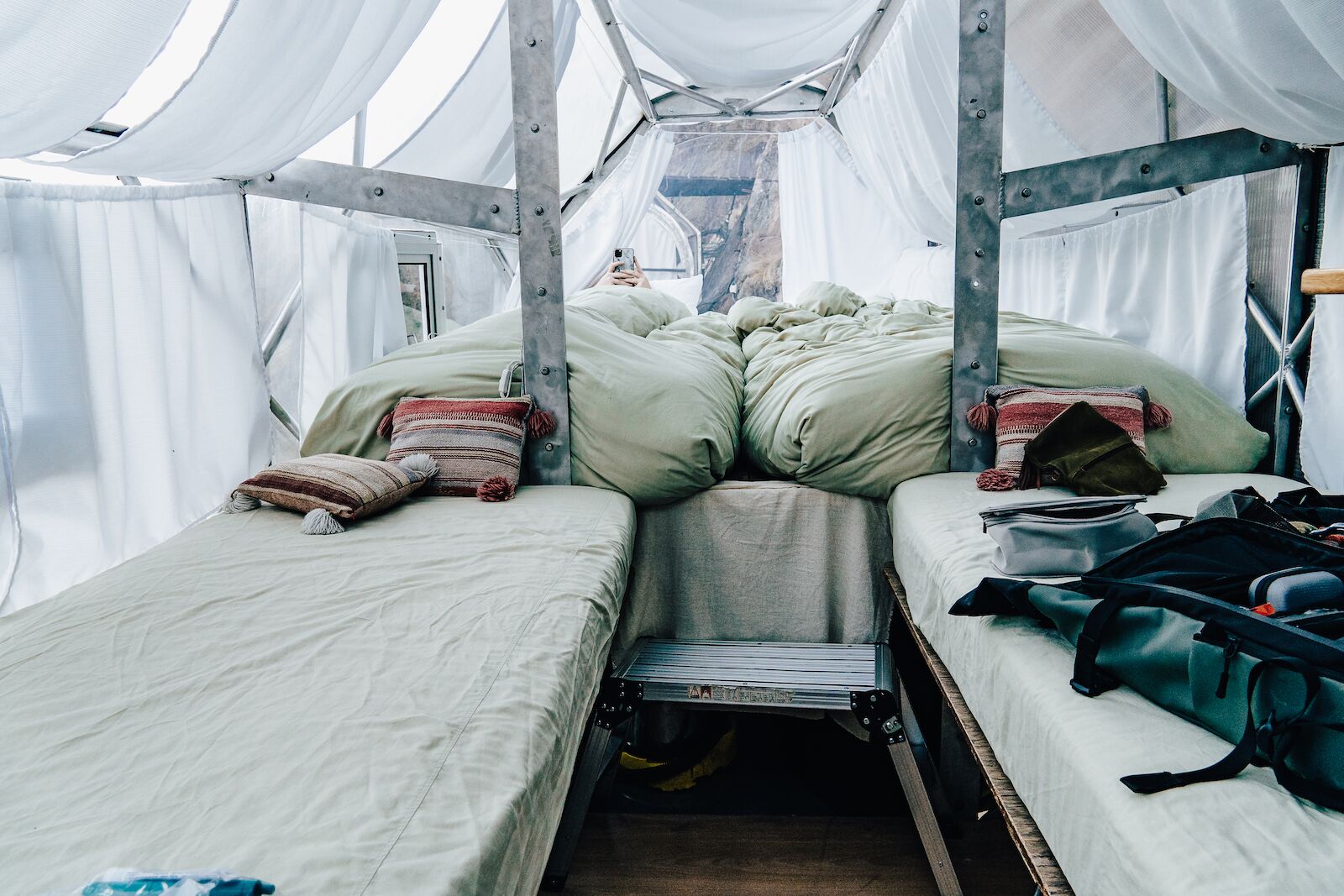 Many adventurers in Peru make nearby Cusco their home base. Local transport comes pre-arranged for the hour and forty-minute ride deep into the valley. You'll find three capsules clinging to the side of a sheer rockface with an intricate network of cables that attempt to reassure your confidence in their construction. Not to worry, though, because the pods are all crafted out of aerospace aluminum and weather-resistant polycarbonate to ensure you don't hear a single creak or feel a slight rattle even in the valley's super windy conditions.
Each pod measures 24 feet in length and eight feet in height and width, making it a comfortable space for a one-night stay. The pod itself is technically one massive window, but you'll still find a handful of ventilation ducts and curtains that can be pulled closed or kept open to stargaze at night.
Each capsule is also equipped with a private bathroom that includes a dry ecological toilet and sink, a modest (but limited) supply of fresh drinking water, and a lighting system powered by solar panels. Down comforters on plush mattresses also make for a cozy sleep as it will get quite cold inside the capsule. We were there in June – the middle of the Peruvian winter – and nighttime temps dropped to around 35 degrees Fahrenheit. You won't be roughing it too much, though, as both dinner after the ascent and breakfast the following morning are provided in the designated dining pod.
No matter the time of year, you'll want to wear layers and comfortable, athletic clothing and shoes to ensure you can maneuver freely while climbing. You'll also be carrying up your own backpack, and that was enough incentive for me to pack pretty lightly. There's no shower at the Skylodge, so just a change of clothes, your toothbrush, and a water bottle should suffice.
The climb to Skylodge Adventure Suites
Of course, travelers rave about the photos they see online. Witnessing sunrise over the Sacred Valley from your glass pod is the ultimate Instagram-worthy shot, but you have to get up there first. Though Natura Vive advertises this as no climbing experience needed, remember that you'll be battling high altitude, windy conditions, and (likely) some fear. Imagine it's like stomping up a stair master machine at the gym for two hours straight.
So despite our complete lack of climbing experience and general aversion to extreme heights, we found ourselves standing at the base of the Skylodge about to conquer the most exhilarating and hardest physical challenge of our travels.
Before the climb even begins, you'll get a safety briefing on how to manage your carabiners and the harness itself. Our guide, Ramone, swiftly tossed his harness onto the ground, shimmied into it in a matter of seconds, and provided some instructions for us to don them ourselves.
I took one look at the tangled mess of harness straps, cables, and clips on the ground in front of me and did my best to step through the correct loops and search for the right straps to fasten. After a few minutes of struggling, Ramone approached me with a big smile, "You'll not want it on backward or upside down like it is now."
Great.
I watched Rachel take the first step onto the hanging metal ladder that initiated our ascent, and we were officially at the point of no return. The higher we climbed, the more the wind whipped at our backs, and I soon realized that my legs were no longer shaking from adrenaline, but from exhaustion.
I think I feared most that my foot would slip off of the narrow iron rungs, or that my hand's grasp would fail from fatigue – that was until we were faced with the suspension bridge. At this point, cars were just a grain of rice passing on the road below. I found myself hyper-focused on my left shoelace to block out the fact that I was shimmying across a literal tightrope with nothing behind or below to support me except my trusted cable.
We continued for another hour with a mix of iron rungs and natural rock to pull ourselves further to the top. The sun began to set over the valley, and if I were to do this again, I think I could appreciate the stunning view more the second time around. We switched on our headlamps as the darkness grew, and I could see the dining pod lit up in the distance. We were almost there.
Dinner was spent enjoying the company of the other climbers while we all marveled at the faint car lights passing far below. Our panoramic view was obscured by the darkness, but I think this is to ensure that your first glimpse of the valley from above is at sunrise – and it did not disappoint.
Ziplining down the following morning was a breeze compared to the day before, and many of their lines were so expansive that you couldn't see the end. We snaked our way back down the mountain, one zip line after another, until my feet finally touched the ground for the first time in almost 24 hours.
Conquering the Skylodge was an adventure that I didn't even know I had wanted to do before embarking on this trip. If you find yourself traveling through Peru, whether or not you're an experienced climber or an avid adventure seeker, don't miss the opportunity to experience one of the most thrilling challenges with the reward of staying in one of the most unique accommodations in the world.
What did you think of this story?