in paid partnership with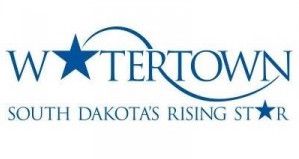 Sometimes you gotta get the heck outta Dodge. To somewhere you've never been, somewhere that surprises you, somewhere that takes you completely out of your routine and whacks you in the face with, "How did I not know about this?"
That somewhere should be Watertown, South Dakota (look for the under-90-minute nonstop flights out of Denver). And trust me: You won't know what hit you, because outdoor adventures, legitimately secret speakeasies, baby sloths, and ultra-local craft spirits await.
Friday night
Welcome. You're in cowboy country now, so it's safe to have at least one sky-high expectation: good steak. That's at 2nd Street Station, where you go to indulge — think prime rib, seafood, pasta, and $10 sundaes larger than your head (my personal favorite). Though the clock shouldn't dictate when you go, you have to check out their amazing happy hour deals (4-6:30pm). $1 brisket sliders! $2 beers! $3 apps! BOGO burgers! One of everything, please.
After you've feasted like you live in President Snow's Capitol, finish your first night with cocktails at Dempsey's. If you've disregarded the "weekend" theme of this itinerary and are here on a Wednesday, you might be lucky enough to catch their summer cocktail series, which showcases the area's best bartenders making one-night-only cocktails. Otherwise, grab a drink from the bar and chill on the patio.
If you've got any time to spare, take your initial wander around downtown looking for Watertown's public art. There's a dozen or so sculptures — by emerging national artists — lining the streets, and they rotate out every few months. And note: If the mood takes you, they're all for sale.
Saturday morning
Roll out of bed and straight into downtown's Gather. It's a super-cute coffee/gift shop housed in an old Woolworth's, and this thing goes on for ages. The merch is local, the lattes are smooth — none of that burnt Starbucks business — and the baked goods are literally baked in ovens right in front of you. I can still taste my last jumbo "Fat Elvis" muffin (peanut butter and banana, and now I know why the King was obsessed). Sit a spell on one of the couches in front of their giant windows until you're ready to head back into the real world.
Saturday afternoon
Lake time! Drive over to Lake Kampeska, pick a spot along its 13 miles of shoreline, and start contemplating the wonders of Earth's Milankovitch cycles. Or skip that part (you can always ponder ice ages later), and get to actually being on this glacial lake. Rent a paddleboard, pedal boat, canoe, kayak — whatever suits your fancy. You'll find those over at Angie's Paddle and Pedal at Stokes-Thomas City Park, one of the many parks that frame this giant watery oasis.
A couple miles southwest along Lake Drive, stop in at The Prop. If you're famished by now, The Prop will save the day with their divey menu and endearingly deconstructed space. Dollar bills and doodads hang from the ceiling, fancy vases and lamps line the windows, coffee and Styrofoam cups sit over by the pool table — don't try to explain it. Just order a garlic burger and some cheese curds and enjoy.
Saturday evening
Start this evening off the Watertown way — that is, experiencing something totally incredible inside an otherwise unremarkable package. (It's better that way…keeps you on your toes.)
This'll make complete sense as soon as you roll up to Glacial Lakes Distillery. It'll feel like you're walking into a storage facility and someone is about to yell at you, until you see that little savior of a sign pointing you inside. Your private or semi-private tour awaits, where Phil or Cindee will take you around, showing you the equipment, opening barrels of vodka the size of small oceans, and then — the pièce de résistance — mixing you the smoothest cosmo of your life. Well, maybe not necessarily yours, but definitely mine. They juuust released their new Stony Point Gin (it's named after a point on Lake Kampeska, which you totally know all about now), and it's just as good.
Note: Definitely call in advance, as the distillery isn't exactly "public" per se, and it's totally outgrowing its small setup (they'll go mainstream here soon enough). If you can't make it out to GLD, know that pretty much every bar and restaurant in town carries their stuff.
Next, it's off to Harry's Haircuts & Hot Towels. You can get a haircut if you like, sure, but I tend to go for the chislic and a South Dakota Martini — a frosty cold one that's probably Busch Light with a bunch of olives and a splash of olive juice (and tomato juice, should you prefer). Fun fact: Recently uncovered historical documents indicate North and South Dakota may actually be one state…so maybe it's just a Dakota Martini?
But whether you're in Dakota or South Dakota, you'll need to amble out of Harry's eventually. When you do, look around the old brick buildings for a green light — totally Great Gatsby style — about eight or nine feet up the side of a wall. If it's on, it's speakeasy time through the door below. And yes, that's your only clue.
Sunday morning
Start your Sunday at Page's Place, aspot so homey that they don't even have a website. But what they do have is that classic diner feel with classic diner breakfast food (and the occasional twist, like breakfast quesadillas). This is the kind of place where you sit over an ivory ceramic mug of hot coffee and ask the server about pie specials, regardless of what time of day it is. It may feel like 1962, but be sure to tip more than a quarter.
Once your maple syrup quota has been met, make a break for the Bramble Park Zoo. I know, I know — zoos are a little pre-Obama, but hear me out. This one is AZA-accredited, meaning it meets the constantly rising standards of the Association of Zoos & Aquariums. It re-ups every five years, and that's no easy feat. But for all their hard work? They get trusted with rare critters you would never, ever find otherwise in a 22,000-person-town zoo — like Linus, a baby sloth.
Feedings are on the schedule regularly, and you can get way more up-close-and-personal than you could at larger, more theme-park-esque zoos. Once you're done cooing over Linus, check out the 800-some other animals — like the otters and kangaroos! — that call Bramble Park home.
Sunday afternoon
After coffee-ing and Linus-ing, you've got a decision to make on the course of your afternoon. Here are three solid options:
Joy Ranch – Call in advance, as the retreat center isn't always open (they're often running camps for kids with special needs or hosting a large event). If they can take you, schedule a wagon ride through the prairie, chill at the saloon, or dink around the Old West-themed "town." Bonus points if you can nab one of their 16 themed rooms.
The Redlin Art Center – Terry Redlin, the famous wildlife painter, is a Watertown native, and the state-of-the-art $17-million facility, set high on a hill with grounds to explore, houses hundreds of his works. Some even depict bits of the town!
(Disc) Golfing – Watertown has two disc golf and two (regular) golf courses, each with views of Lake Kampeska or the Big Sioux River. Sometimes the water will be just in your periphery; sometimes it'll be right in front of you. Don't sink your frisbee!
And then? Maybe after one more wander 'round downtown, it's back on that 90-minute flight to Denver — or wherever you're going — like your whirlwind weekend away almost never happened. But it did. It definitely did. Or did you dream it?