in paid partnership with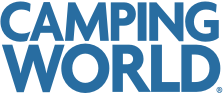 There are a lot of ways to see the world, but RV camping has always been the coolest. Combine the classic road trip with the allure of the great outdoors, add an RV to take you there with the comfort of a home away from home, and you've got a recipe for some serious adventure.
According to recent consumer research, nearly 50 million Americans plan to travel by RV this year. Here are some very compelling reasons why you should be one of them:
It's a safe way to travel.
The pandemic interrupted all of our travel plans in a major way, and now that the world is beginning to open back up, many travelers still want to be cautious. Camping with an RV lets you stay in your comfort zone, with everything you need right there in your rig.
The U.S. Travel Association reports that the average American is nearly four times more likely to say they feel safe traveling in a personal vehicle than getting on a domestic flight. On the Association's list of "safe" activities, visiting a park or campground ranks higher than rental homes and hotels. In fact, it's second only to taking a road trip.
It's a lot cheaper than a hotel.
Frequent — or even occasional — travelers know how quickly hotel and other lodging costs can add up, especially if you're traveling with the whole family. There's perhaps no form of travel more undeniably cost-efficient than RVing: You can snag a towable RV that sleeps five people for payments that work out to under $5 a day.
Across the country, campground prices generally start at around $20 a night and rarely exceed $75. The average RV spot, with power and water hookups, will run about $30, according to J.D. Power. Any way you slice it, that's a significant savings over the typical vacation.
It gets you off the beaten path.
Traveling in a home on wheels can take you places most people never see. Many of America's most breathtaking spots are far from towns with amenities and lodging. But the trek is always worth it, especially if you have an RV to carry you there.
Drive out into the desert and experience the brilliant International Dark Sky Parks of the American Southwest. Or tow your RV into Maine's 100 Mile Wilderness, so named for good reason. Maybe find a quiet site on the beach in Northern California and watch the sun set over the Pacific. No need to worry about hotel rooms or rental cars — when you travel by RV, home truly is where you park it.
It doesn't come with baggage fees.
Ok, so you can't pack everything — even the biggest mobile homes still have weight limits — but you can get pretty close. Unlike travel on planes and trains, which limit your luggage or charge an arm and a leg to stow it, RV travel means you don't have to worry so much about packing light.
If you've got the storage, you can bring along everything you need to be comfortable for as long as you're on the road. Maybe that's mountain bikes for crushing the world-renowned trails around Moab, or perhaps an easel and canvas to sit and paint a moss-draped live oak in Savannah. There are as many styles of RV travel as there are passions to pursue — what will you pack for yours?
It lets you slow down.
A more "traditional" vacation is often planned down to the minute. We've all experienced the stress of rushing to catch a flight, check into a hotel, or make it to a dinner reservation. The real magic of RV travel is that it can free you up to do things at your own pace. Spend a whole day exploring a park or museum; take a drive and stop whenever you see something worth stopping for. In fact, you can stop anywhere you want, anytime you want.
When you're not concerned about getting back to the hotel every night, you're able to just go with the flow. The ultimate flexibility RV travel offers means your trip is constantly open to spontaneity, and that usually makes things a whole lot more fun.
It's pet-friendly.
This point speaks for itself: You don't have to leave your furry loved ones at home or fret over placing them in uncomfortable travel carriers on a flight. Welcome aboard, copilot!
It brings you together.
Though some RVs have more living space than you could possibly imagine, even the biggest isn't exactly palatial. And that's a good thing. Close quarters mean lots of bonding time for you and your travel companions — and isn't that the part of a vacation that creates the most rewarding memories?
It's a true home away from home.
An RV can be like a dream hotel suite you get to stay in anytime (and anywhere) you like. The amenities, luxuries, and upgrades are endless, and an RV designed to your exact specifications will quickly become your happy place.
It can have all the domestic trappings, too. Appliances, furniture, fixtures — it's all customizable, which means you can add everything you need to keep you and your family feeling totally comfortable and at home, even while you roam far from it.
It gives you an instant community.
There's no camaraderie quite like the kind you find at the campground. At a hotel, you might never meet your neighbor, but in RV parks, people from all over seem to uncover common ground. It's not unusual to find yourself swapping travel tales over the campfire with a new friend. In a world where we've all become a bit wary each other, the campground is still a place where no one stays a stranger for long.
In fact, RVing may be a huge community — more than 10 million strong in America alone — but it's still a small world. And with more than 2,000 Good Sam RV parks and campgrounds across the country, you're never far from a kindred spirit. No matter where you wander, you'll find folks who understand the unique joys of RV travel. Ready to join them?