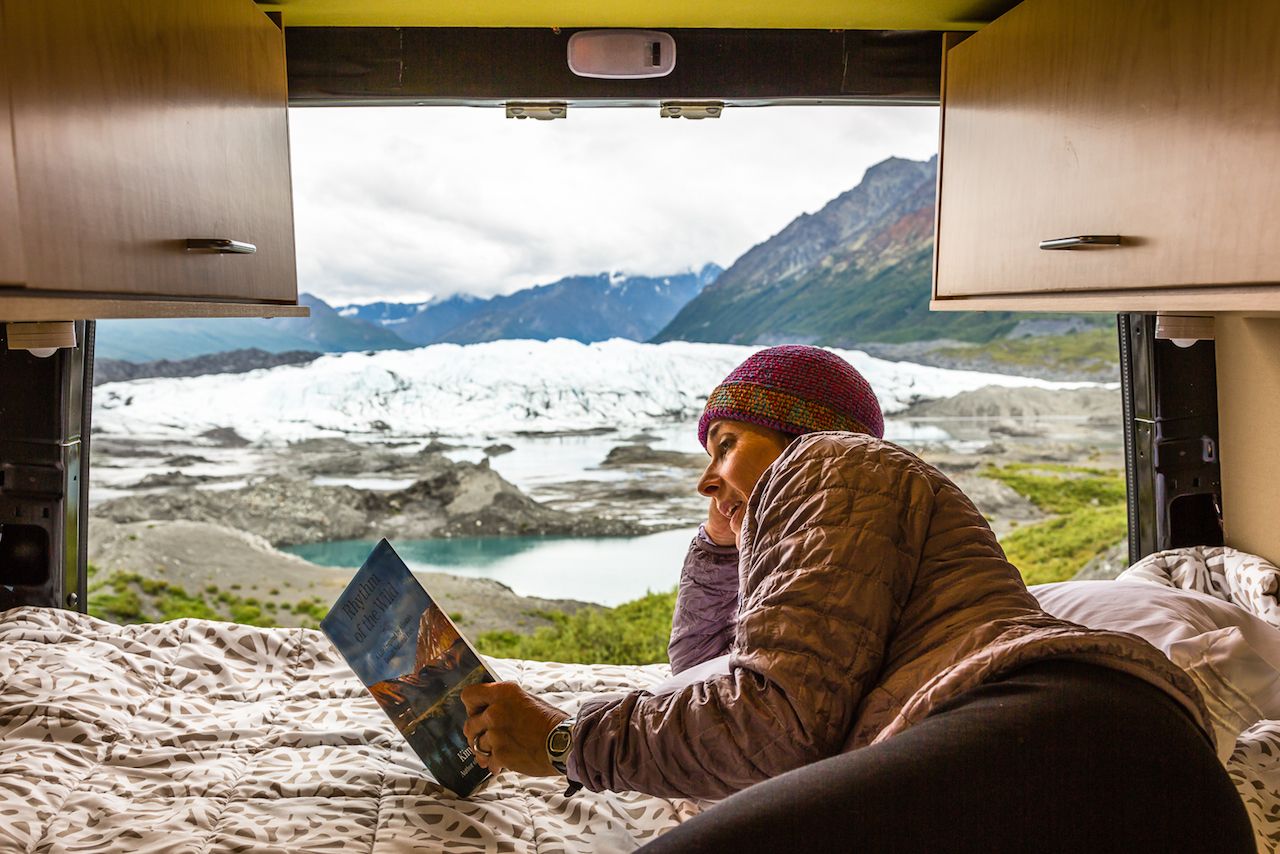 A three-week summer road trip through the mountainous interior of the largest — but mostly road-less — US state beckoned. We picked up our privately rented Black 2015 VN Body Mercedes 2WD Sprinter 2500 in Anchorage. It's a sleek, sexy looking ride, no doubt about it. The contemporary interior with swiveling front seats speaks of modernity. This first experience of vanlife did not provide photos nostalgic of journeys from a different era, our choice of vehicle saw to that.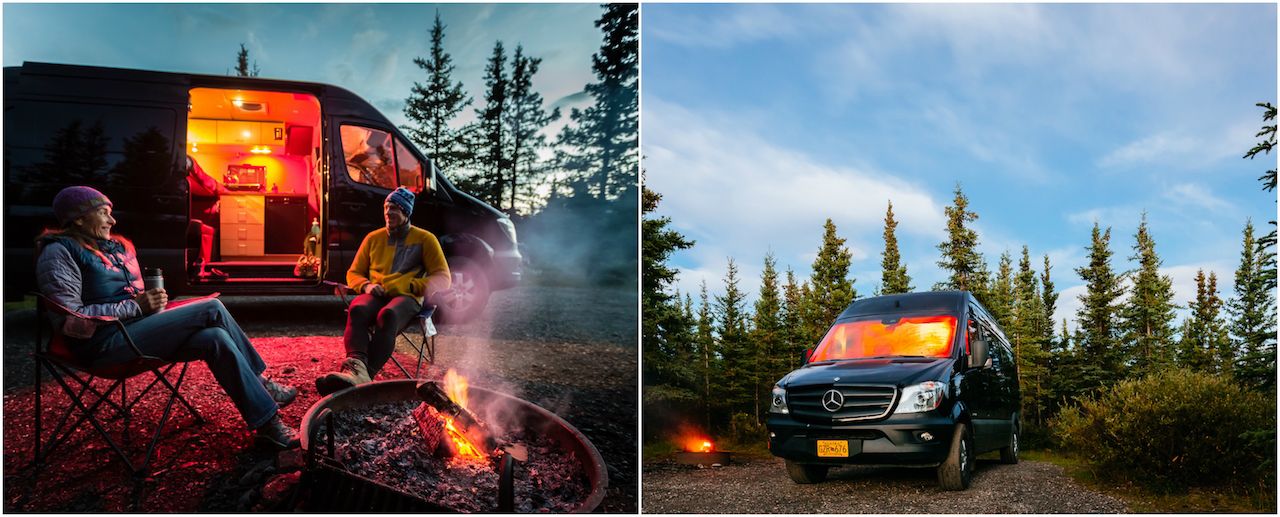 Sabina and I have travelled and pursued outdoor activities through much of the western US where a trusty old Ford Explorer Sport and simple camping set-up gets us by. In Australia, I work as an ER doctor but I fund our yearly US travels with income from photography. While Alaska has always stood out as our 'must do, next place' to explore, we weren't keen to drive the Ford way up north and we knew the weather would be variable, if not downright unfriendly. Being able to retreat to the comfort of a van felt luxurious. We lived the high life on the road.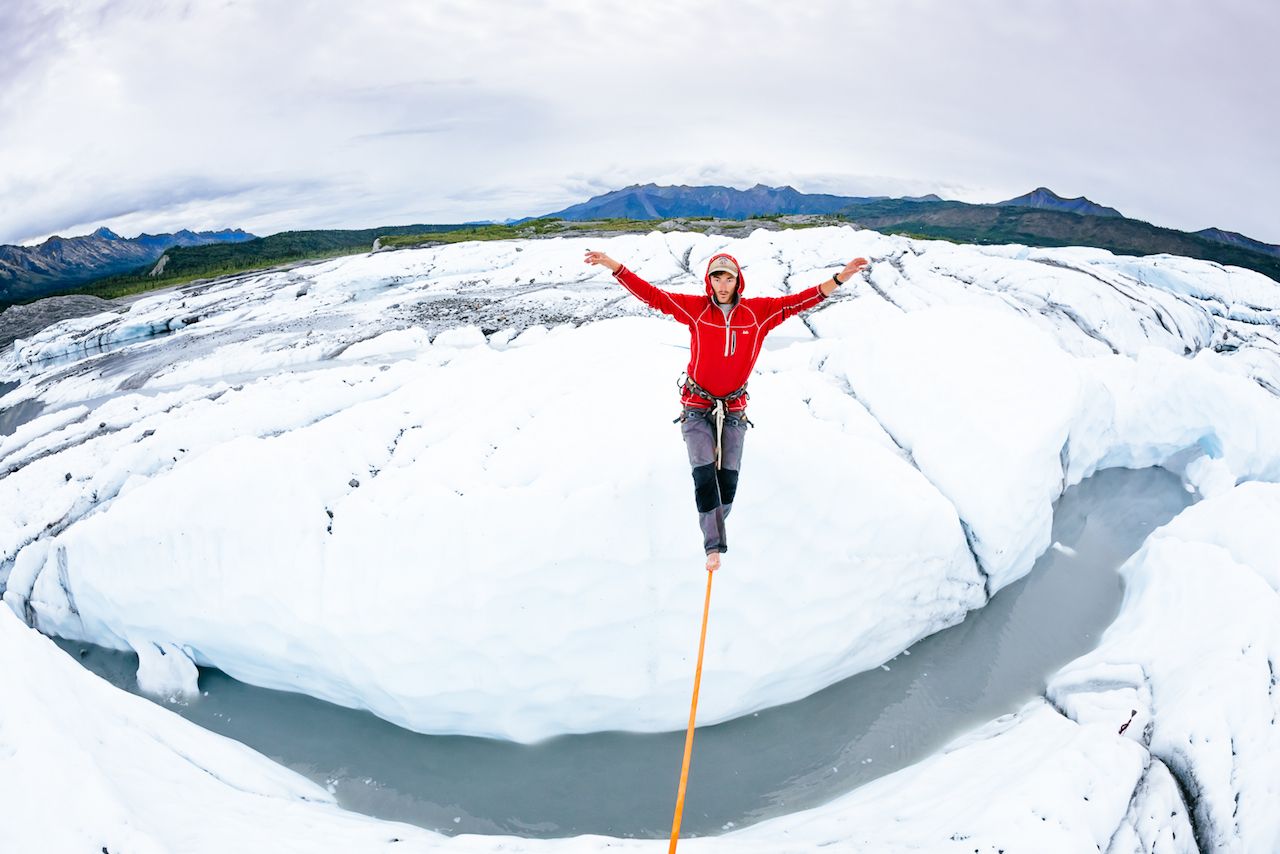 Day 2
We enjoy the taste of juicy, ripe, yummy raspberries this morning. We collected them from the bush around the van at our first overnight stop in the tiny and secluded Caribou Creek Recreation Area. The Alaskan landscape is a generous provider of berry-based nutrition, for humans…and for Ursus arctos, the brown bear.
Photographing the landscape and wildlife of interior Alaska is my aim and luckily my friend, Alaskan landscape photographer Carl Battreall, was up to the task of sending us on our way with a list of places to explore. At the impressive terminal face of the Matanuska Glacier, I photograph two crazy dudes — off duty Glacier guides — slacklining above a freezing pond of melt water. Fun stuff if you have nerves of steel.

Day 5
I surface gasping from a dive into cool Long Lake, along the rutted, potholed, dusty McCarthy Road. This is as good as it gets for a refreshing 'cleanse' as far as I am concerned.
On the drive back from visiting the old mining area at the end of the road, the van suspension handled the dodgy surface with aplomb although even at a sedate and safe 25 miles per hour the overhead cupboards rattle open, dropping clothes all over the place. We continue onward to reach bitumen again and stop for the night in a pull-out with a view of Mount Blackburn, the highest peak in the Wrangell Mountains.
One of the best aspects of vanlife in Alaska is that pulling over to spend the night is possible (and legal) at any roadside clearing or rest area. There is a myriad of unofficial, and often scenic, camping spots to be found along small tracks leading off the highways.
We barely scratched the surface of the enormous Wrangell St. Elias National Park and Preserve on our little jaunt out east from the Richardson Highway. The immensity of the Alaskan wilderness is truly hard to comprehend.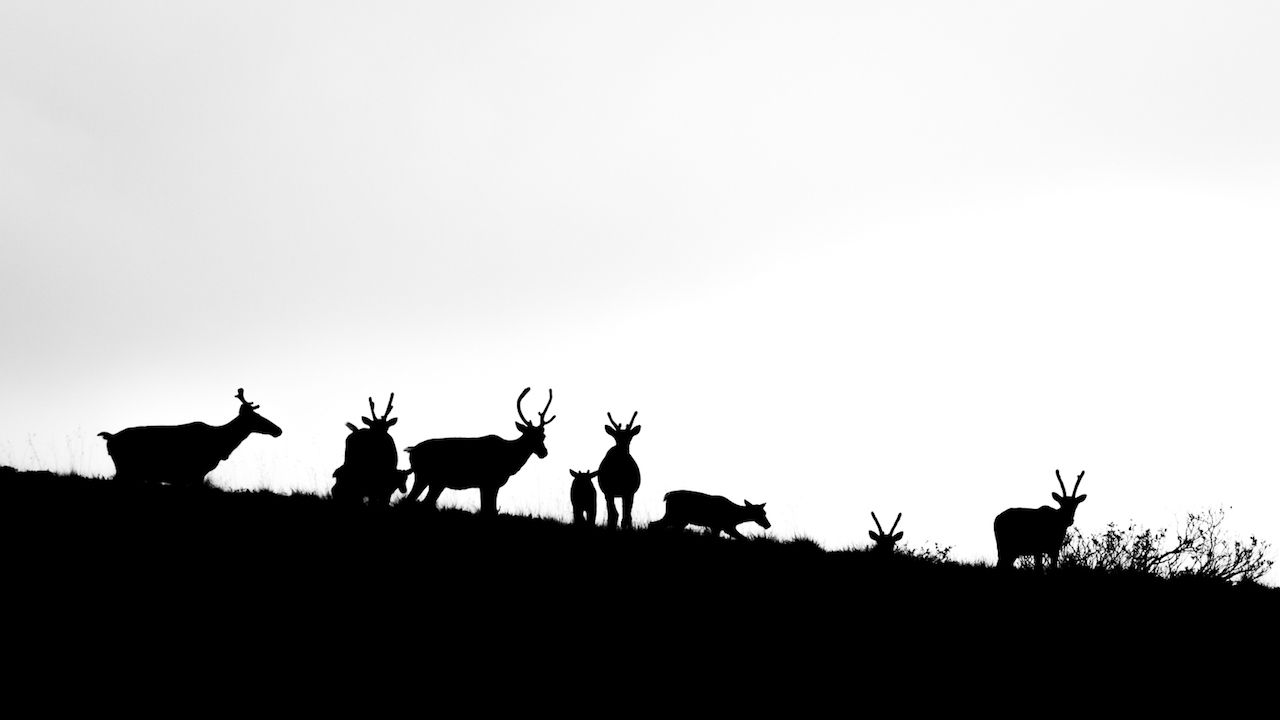 Day 9
The fire I lit outside when it was clear but overcast ten minutes ago is fizzling. Now, fog swirls around. The Delta Mountains are visible for a few seconds and gone again. Inside the van, dark-tinted windows are misting over and the heater is purring away. It's cozy and warm while I tap away on the computer and Sabina makes another cup of tea. We are well cocooned from the harsh Alaskan weather.
Last night we camped out in a small valley a few hours' hike away from where we have parked along the gravel access road to the Gulkana Glacier. It was exciting to see Caribou for the first time. I hadn't expected them to be so shy and skittish. Hunting season opens in a few days; perhaps the animals know the date!

Day 13
No change in the weather. We slowly drove west along the length of the unpaved Denali Highway these past few days and didn't get a glimpse of any big peaks because of cloud and fog.
Today, we headed up the George Parks Highway nursing a slowly leaking tire that will get fixed in Fairbanks tomorrow. We are stopped now with friends of friends for the night. A hot shower and freshly-caught salmon are on the menu for tonight as Ian is just back from getting his yearly quota dip-netting in Chitina. He has a VW van fetish and we feel like intruders parking a Sprinter into his driveway but he is drooling over our sleek van.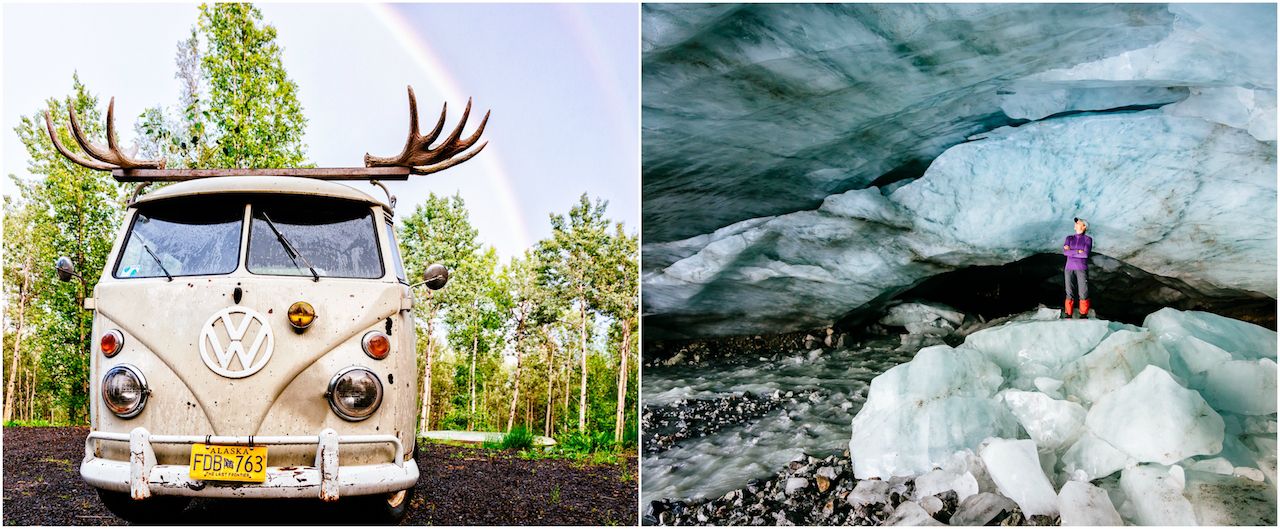 Day 18
Denali National Park is one of the jewels in the crown of the US National Park Service and, in this centennial year, it would have been remiss of us not to visit.
We got lucky grabbing a 3-night spot at Teklanika Campground at late notice. This is the furthest into the park one can drive to camp but only with a booking. Beyond, to the end of the park road some 60 miles further, travel is only possible on one of the many park service buses that ply the road stopping frequently to view wildlife. We got our fill of that frustrating gig in our first two days, so today we set off on foot from the campground to explore locally.
From the bus we had seen a couple of brown bears (grizzlies) and today we saw evidence of their presence with plenty of berry-containing scat along the river banks — but no bears in view.
The sunset to send us heading in the direction of Anchorage tomorrow is simply off the charts for color and beauty. A digital camera sensor cannot do justice to our view by the river.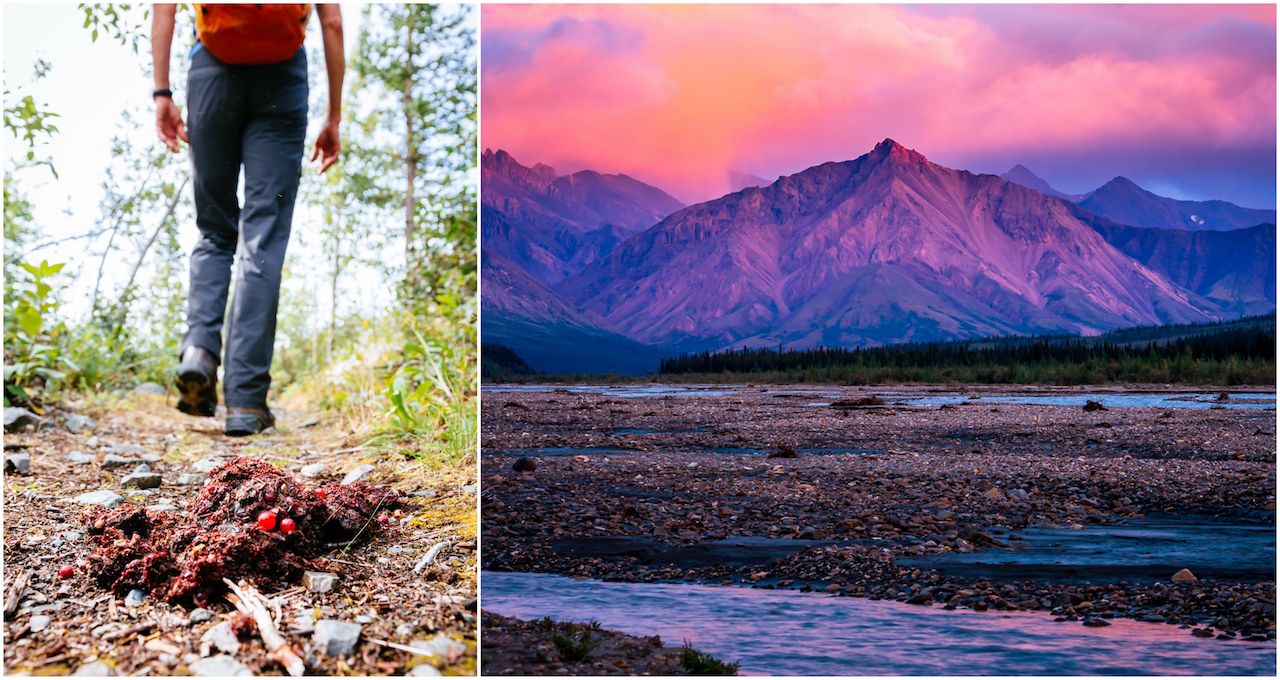 Day 20
The high (van) life has made us soft. Setting out late yesterday to spend the night camped on Kesugi Ridge in Denali State Park, we anticipated some rain showers but not the deluge, lightning, and muddy slippery track that greeted us near the top of the ascent. If we had been returning to a car and tent set up at the trail head, I know we would have continued hiking up to find a camp spot but with this comfy van waiting for us we took the easy option and turned back. Soft…as I said!

The van is a superb way to explore interior Alaska. We drove around 1500 miles in total. It is well insulated and equipped with a large raised bed base and mattress, a power inverter, a fridge and a freezer, down-lights, tons of storage space and, best of all for a 6-foot-2-inch guy with a dodgy back, it is high enough that I can stand fully upright with room to spare in the main cabin. The owners are generous people and put a lot of thought into including extras. The list is long: a large water container, binoculars, bear spray, firewood, table and chairs, blackout shades for all windows (it doesn't get dark at night during summer in Alaska), propane for the two-burner Coleman stove, ground coffee for the French press, bedding and towels, Bluetooth portable speaker, a cold six-pack of Alaskan beer, an Alaska topographic atlas and a copy of 'The Milepost' (an indispensable mile-by-mile detailed description of the roads in Alaska).