in paid partnership with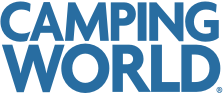 A record number of travelers are taking to the road these days, exploring America's highways and byways and camping in RVs. But you don't have to spend months or even weeks away from home to experience the RV life. It's a unique form of travel that's accessible to every kind of adventurer — even if you only have a weekend.
For working couples, busy families, or anyone on a budget, a shorter trip can offer all the benefits of a longer getaway without using up all your vacation days or breaking the bank. In fact, shorter trips can have some serious advantages over an extended stint on the road: They're easier to plan and cheaper to execute, so you can afford to take them more often. Not only that, but when you're gone for less time you won't be coming back to piles of work and the stress that accompanies it.
When a weekend's all you've got, you have to make the most of every minute. Traveling via airplane, for example, can mean wasting a big chunk of your vacation sitting in airport lounges and uncomfortable airline seats. In an RV, there's none of that — when the clock strikes 5 on Friday, the adventure begins. Here's how to make the most out of a weekend RV trip.
How to make a quick trip feel like a proper vacation
Comprehensive planning and preparation will let you spend less of your precious trip time on logistics and more on the fun of the adventure. For instance, choose a destination within a few hours of home to minimize your driving time. It's also a good idea to practice setting up camp before you leave — especially if you're new to RVing — so when you reach your site there's ample opportunity to relax.
Having the right accessories can ensure a weekend trip is exciting and rejuvenating, even if you're staying in familiar territory. Turn your outdoor space into an oasis with comfortable furniture, lighting, perhaps even an outdoor fireplace. It's amazing how simple it can be to make a basic campsite feel like a resort.
Plan your meals and do your shopping before the trip, and invest in a grill or decked-out kitchen setup. You'll have everything you need on hand and won't have to take time out of your trip to run to the store or look for a place to eat — unless you want to, that is.
An RV is the perfect basecamp for adventure, whether you're planning to hike, kayak, ski, fish, or climb. Have your gear of choice ready to go, so the fun can start as soon as your camp is set up.
How to have a true adventure without venturing far from home
Maybe your "dream vacation" destinations are all in far-off places. But so often we overlook undiscovered gems a lot closer to home. See your home region with fresh eyes by looking for attractions in your neck of the woods. Visit your state tourism board's website, and cruise Instagram hashtags and geotags to find nearby secret spots.
You don't need a bunch of tourist attractions for a great trip, either. How about making your own fun?
Take an RV "staycation" in your backyard – Set up camp, get the fire pit going, and make s'mores, all without leaving home. Don't want to or can't maneuver your RV into the yard? There's nothing wrong with a driveway campout!
Design a campground scavenger hunt – Keep the kids busy for an hour or all day long by giving them a list of common campground items to collect.
Join a trail crew – Head out with other locals to collect trash and clear fallen trees and brush. It's a great way to get to know your local parks, and you'll be surprised how fun picking up litter can be when you're intentional about it.
Schedule a screening – With a pop-up or inflatable screen and a projector, your RV can become the site of a classic drive-in movie screening.
Have a field day – Organize a full day of family games, starting with classics like cornhole and ladder ball, and maybe throwing in some new favorites like Murbles. After the sun goes down, there's nothing better than campground flashlight tag. And if the weather won't cooperate, bring things into the RV with cards and board games.
Finding wilderness closer than you think
Getting to rugged, untamed places — the kind of places that call out for RV travel — could be as easy as spending a few hours on the road. If you live in or near one of America's major population centers, there's a good chance wilderness is waiting just outside the city limits. Check out these spots if they're near where you call home:
Mount Rainier National Park – Experience an iconic glacier-laden peak, alpine meadows, dense forests, and endless adventure, roughly three hours from Seattle.
Chippewa National Forest – Home to more lakes and wetlands than any other national forest, this paradise for paddlers and anglers is about three hours from Minneapolis.
Rocky Mountain National Park – Drive winding mountain roads to alpine vistas and incredible wildlife viewing, two hours outside Denver.
Great Smoky Mountains National Park – America's most visited national park, with its waterfalls, old-growth forests, and preserved mountain history, is just four hours from Nashville, Atlanta, or Charlotte.
Bear Mountain State Park – In the rugged cliffs on the west bank of the Hudson River, Bear Mountain offers hiking, biking, fishing, swimming, and even cross-country skiing — less than an hour outside New York City.
Sequoia National Forest – You haven't seen trees until you've seen this forest's namesake — the biggest trees on Earth, which only grow on the western slopes of the Sierra Nevada, just two hours from Los Angeles or four from San Francisco.
Chattahoochee National Forest – This wilderness is crisscrossed by clear rivers and streams and nearly 900 miles of trails and dozens of campgrounds, less than two hours north of Atlanta.
Shenandoah National Park – The soaring peaks and misty hollows of the Blue Ridge Mountains are under two hours from both Washington, DC and Baltimore.
Everglades and Biscayne National Parks – South Florida's national parks offer a glimpse into some of the wildest ecosystems in America, less than an hour from downtown Miami.
Becoming a weekend warrior
The best way to learn about life on the road is to jump in and experience it, even if you only have a couple of days. Test out an RV by renting, and once you fall in love, start shopping new and used RVs to find your new weekend home away from home.