in paid partnership with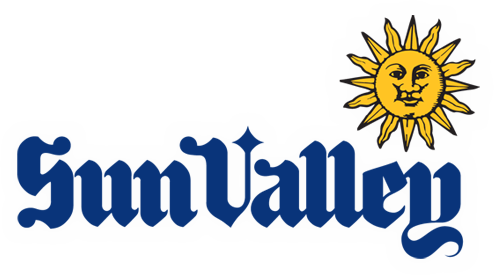 1. The Adventure All-Star
Sun Valley is home base for some of the most hard-core adventurers on the planet. From National Geographic cinematographers to mountain climbers, kayakers, endurance athletes, expedition guides, documentary filmmakers, conservationists, and conflict photographers, the list of Adventure All-Stars is a long one. These people are the true Sun Valley celebrities, and their occasional slideshows or film presentations — usually produced pro bono to benefit one charitable organization or another — routinely fill local theaters. At times animated storytellers, at others quiet with a far-off look in their eyes, the Adventure All-Stars travel all over the world but come home to Sun Valley because of the community here, and the support that community offers.
2. The White Buffalo
Ski legends never die, and there are quite a few legends still skiing Sun Valley. If you're lucky enough to spot one of these ski heroes, you'll know it from the flowing long white hair that never sees a hat or helmet no matter how cold it is. An old pair of glacier glasses, long poles, and some narrow skis they designed themselves will help you identify them in the lift line. On the slopes, all you'll see is a shadow of white stampeding down the bumps under the lift, a huge smile on their face. These are the guys who made Sun Valley cool; make sure you give them a hoot from the chair.
3. The Wall Street Refugee
Burned out by the rat race, the Wall Street Refugee often arrives toting a young family, chasing the dream of small-town mountain life. Their chic city outfits of mostly black stick out amidst the sea of plaid, as do their substandard abilities and enthusiastic attitudes on skis and boards (and road bikes, in season). Always in danger of applying their big-city standards and type-A personalities to their new small-town life, the upside is they keep the local galleries and theaters well supported.
4. The Skittle Thugs
Easily spotted in their bright orange, pink, and yellow helmets, these pint-size rippers descend on the mountain and terrain park every weekend. Skiing in packs at breakneck speeds, hopped up on pizza and candy, the Skittle Thugs aren't to be trifled with. Keep your eye out for them flying through the air around snow guns and huddled around Irving's hot dog stand at the base of Warm Springs.
5. The 55-year-old who's way fitter than you
They start their day with a casual hike up Bald Mountain's 3,400 vertical feet to watch the sunrise, followed by a dozen or so laps in Sun Valley's quad-torching bowls, another dozen on Warm Springs, a quick trip to the gym for a two-hour workout, and then swimming a couple miles in the pool. If they can squeeze in 20 or so kilometers of cross-country before dark, they'll consider it a good day. It can be difficult to get a good look at the 55-and-fitter-than-you crowd, but trust me — here in Sun Valley, 60 is the new 30.
6. The Local Olympian
Like the Adventure All-Stars, these are the real Sun Valley celebrities. There are 56 Olympians that call Bald Mountain home, and while some are higher profile than others, their impact on Sun Valley is a substantial one. This is currently the official Olympic Training Site for Nordic skiing, after all, and international teams from countries like Norway and Sweden come here to train. It's not uncommon to see US Ski Team gear on the slopes and trails of Sun Valley.
7. The Celebrity A-lister at the table next to you
An old Bald Mountain standby, the A-lister has always been attracted to Sun Valley. Movie stars, politicians, and celebrities of all types have been coming here since Averell Harriman first started offering free trips to Hollywood stars in the '30s. If you see an A-lister in the Warm Springs Lodge or at the Pioneer Saloon, do them and the rest of us a favor and keep your cellphones and selfie-sticks in your pockets. There's a long-standing Sun Valley ethos of ignoring or, if you must, politely acknowledging these A-listers. They're here for the same reason we all are, to play in the mountains; playing paparazzi is probably the least cool thing you can do.
8. The Blue-Collar Ripper
Their gloves are covered in duct tape. Their camo jackets are the same ones they use in hunting season. Their pants are covered with dirt and grime from their construction gigs. Their goggles are years old, along with their skis and boots. But when you see these guys on the hill, they're absolutely ripping. No frills or fancy tricks, just high-speed, non-stop shredding in any type of snow conditions.
9. The Powder-Stache
This devoted local character can be fairly elusive and difficult to follow. Relying on their intimate knowledge of every nook and cranny on the mountain, they're somehow able to find powder turns even if it hasn't snowed for weeks. The only real telltale sign of the Powder-Stache are the bushy caterpillars they keep above their upper lips, forever caked in snow.
10. Employees of the proverbial Playtex Corporation
A bit of an enigma, employees of the Playtex Corporation flutter in and out of Sun Valley constantly. Intentionally vague about what they actually "do," they always seem to be going someplace exotic or just getting back into town. You'll find these masters of the leisure lifestyle at the Zenergy Spa, having lunch at upscale restaurants like Cristina's, sipping lattes at Velocio, or working out and hardly breaking a sweat with their personal trainers.
11. The Baldy Blur
Sun Valley's Bald Mountain is built for speed, and you'll find no shortage of fast skiers tearing down runs like Warm Springs, Canyon, and Mid-River on any given day. Truth is, you never really get a good look at the Baldy Blur. The side-by-side train-track trenches their skis leave in the snow is the main evidence of their existence, along with a flash of their mirrored goggle lenses and the back of their helmet.
12. The Perma-Grin Local
This group represents the majority of people you'll meet in Sun Valley. They come from all walks of life, each with their own story of how they ended up here and what they do in order to stay. They're the chefs, bartenders and waitresses, lift operators, ski and yoga instructors, and everyone else who works to live here and preferably keeps their days free so they can ski or ride as much of their waking lives as possible. You'll recognize them by their wide smiles, goggle tans, and that sparkle in their eyes. They're living the dream; their life is your vacation.