in paid partnership with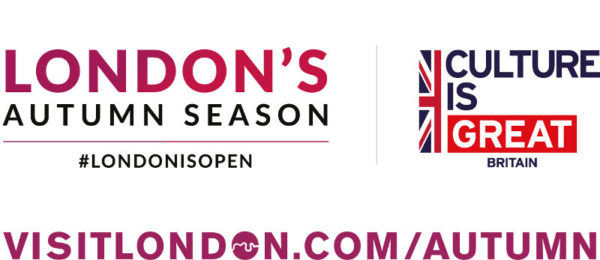 LONDON IS PRETTY MUCH full of awesome things to do. And a lot of them you've probably heard all about — seeing the Crown Jewels at the Tower of London, getting a bird's-eye view from the London Eye, touring Buckingham Palace. But this list, we're guessing, does not fall into that category. Some of the items below are outright outrageous, and some are taking place this fall only. Time to plan that trip.
1. Rave yourself awake.
Some days, coffee just isn't enough. Finally, someone created a way for us to ring in the morning the way we should — by raving. Morning Gloryville is a pop-up, sober, morning dance party with a side of yoga, massage, motivational classes, DJs, organic smoothies, and, of course, coffee — all rolled into one. It happens on scheduled mornings throughout the year in different spots, though the headquarters — aka the "mothership" — is Oval Space in East London.
Get your tickets in advance, because everyone is looking for a way to party away the midweek burnout — and we all want to free-base good vibes.
2. Go the way of the dodo.
The Viktor Wynd Museum of Curiosities is what happens when you cross Kickstarter and an artist with #nofilter. Five hundred people managed to create what is now the first museum to open in London since 1901, and the aim is "to present an incoherent vision of the world displayed through wonder." To add to the curiousness, nothing is categorized, labeled, or organized in any fashion — literally everything they have to offer is on display.
Head over to this eyebrow-raising wunderkammer and you'll find objects ranging from the sophisticated to the scatological: prison inmates' doodles, tribal art from New Guinea, dodo bones, and even a casket containing some of the original darkness Moses called down upon Earth (cue eyebrow raise). The museum is open Wednesdays through Sundays, and there's a café, cocktail, and tapas bar on the ground floor to help return you to normalcy when you're ready.
3. Find the other London underground.
Sticking your nose into London's holes is generally ill-advised, but in this case you'll be rewarded with a peek into the London of old. Beneath a sewer grate on the traffic island between Old Compton Street and Charing Cross Road are the remains of Little Compton Street. Some say it's just the marker of an old tunnel (and the street was never buried in the first place), but we prefer the theory that in 1896, the street level was raised to build Charing Cross, and Little Compton was no more. Guess you'll have to take a look to figure it out for yourself…fancy a little urban exploration?
4. Dance next to a priceless painting.
If you've ever wanted to party with J.M.W Turner or dance with David Hockney, it's time you go to one of Tate Britain's Late at Tate events. It's the first Friday of most months and is an after-hours party — grab a drink, explore the galleries, join in the discussion, and dance the night away. Well, at least until 10pm. Entry is free, and each Late has a different theme curated by young people in the community.
Beyond the Tate, there's a long list of other late-night openings other nights of the week. Why not just spend every night at a museum?
5. Be the star of a show.
Singalongs aren't just for kids. The Prince Charles Cinema in Leicester Square is where The X Factor meets cosplay — they hold regular singalong screenings of films like Grease, Frozen, and The Rocky Horror Picture Show. The cinema — the only independent theatre in the West End — also does "quote-along" events to cult classics like Mean Girls, Elf, and Top Gun. Your dream of yelling, "She doesn't even go here!" in front of a crowd of people is about to come true.
6. Watch London burn.
In 1666, a fire tore through the heart of London, causing incredible amounts of damage and displacing an estimated 100,000 people (a huge number considering the year). 2016 marks the 350th anniversary of the infamous Great Fire, and London is commemorating it with a variety of events and exhibitions around the city this fall, aptly titled Great Fire 350. There are talks, movies, artists' exhibitions, concerts, tours, performances, even dinners and fireworks — and, yes, a new fire-based opera at the Inner Temple Hall, where the last of the flames were stamped out all those centuries ago.
7. Be enlightened by a talking goat.
Contemporary art is no longer a red dot on an otherwise empty canvas — it's now things like singing running shoes, talking goats, and depressed hypnotists. Welsh artist Bedwyr Williams is putting on The Gulch at the Barbican's The Curve gallery until January 8, and it's easier experienced than explained. The artist's subversive internal dialogue will come alive as you wander through The Curve's space, and by the end you may be putting on your own performance. At the very least, your conception of "contemporary art" will be completely turned on its head.
8. Catch up to a nomadic restaurant.
If London's 60+ Michelin-starred restaurants just aren't doing it for you, book a table at Gingerline, a restaurant with no fixed address. You make a reservation online, head to an Overground station on the "Ginger line" at the designated time, and wait for the details of where you need to be for your four-course foodie feast. Each one has a different theme and it's far more outrageous than just the surprise factor — think terror-filled jungles made up of canapé canopies, Siberian circuses, and submarine mess halls. The folks at Gingerline clearly think big, so come hungry.
9. Climb into Björk's mouth.
When they say the "possibilities are endless," they're talking about London's creative scene. Case in point: It's only here that you can get up close and personal with Björk, the Icelandic singer, and her kisser at Somerset House's virtual reality exhibition, Björk Digital. Seriously — "Björk's mouth" isn't a play on words. You'll get transported to Iceland's Black Lake for panoramic views and a private performance of "Stonemilker" in 360-degree VR, followed by a good long look into her gob while she sings.
The exhibition is on until October 23 and tickets cost £15. The immersive film experience will present never-before-seen work by the swan-wearing singer, and, quite frankly, never-before-thought-up exhibits.
10. Worship at a neon temple.
God's Own Junkyard is a shrine to neon signage, housed in a warehouse estate in Walthamstow. The colorful collection was started by the late Chris Bracey, a talented artist who made custom signs for sex shops in Soho until other artists (and Hollywood filmmakers) started hiring him for bespoke pieces — some to be featured in films like Charlie and the Chocolate Factory and Batman. Most of the neon is on sale, but vintage and custom pieces certainly don't come cheap — it's totally okay if you just go for the photo opps.
11. Stare down a golden rhinoceros.
The British Museum's new exhibit exploring 100,000 years of South African art has a special guest: the 800-year-old gold-foil rhinoceros of Mapungubwe, referred to as the country's "crown jewels." While the rhino can fit into the palm of your hand, it's an object of great significance — it was concealed by Apartheid governments for political reasons, and this is the first time the piece has left the continent. The other works in the exhibit reveal South Africa from the times of the earliest peoples to now, wrapping up with contemporary art by emerging artists.
Bonus: Even without the golden rhino, the British Museum is one of the best in the world — and the permanent displays are free and open to the public. Really, that's probably the most outrageous thing on this list.
12. Dine in disrepair.
Only in London can you fully immerse yourself in the wonderful world of Roald Dahl's beloved book The Twits. If you're up for the gastronomic challenge, join Mr. and Mrs. Twit in their dirty, windowless house for a truly despicable dinner party, complete with prickly cocktails and gruesome hors d'oeuvres. Tickets for this immersive theatre experience are roughly £80 – £110 and include a cocktail, wine, hors d'oeuvres, and 90 minutes of entertainment from your horrendous hosts at The Vaults at Waterloo Station.
This occasion marks Roald Dahl's 100th birthday. The show was designed by the interactive theatre company Les Enfants Terrible and the entertainment pros at EBP, and is the first time one of Roald Dahl's titles has been interpreted just for adults. The only guarantee? You've never experienced anything like this before.
13. See in the dark.
Head to the Sam Wanamaker Playhouse for Shakespeare's Globe indoor winter season, Wonder Noir. This season explores the complexities of love, morality, gender, and sexuality through pieces like John Milton's Comus, William Shakespeare's Othello, and John Webster's The White Devil.
The theatre has been built to look as authentically Shakespearean as possible — right down to the (lack of) electricity, meaning it's only lit by candlelight. As far as theatres go, it doesn't get much more intimate and romantic than right here.
14. Party at a pickle factory.
Brits love a good music festival, so the folks at Hackney Wonderland have upped the game and taken the beloved tradition indoors. Hackney Wonderland 2016 will be held at five hot venues around East London all within walking distance of each other, including a former pickle factory and an ex-industrial laundry basement.
Tickets are £27.50 and the event features psych and indie stars like Lucy Rose, We Are Scientists, Mystery Jets, and Swim Deep. You've partied outside in less outrageous places…now it's time to party from within.