in paid partnership with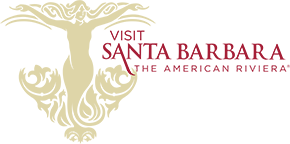 1. Strolling down State Street
Santa Barbara's main downtown street has charm and buzz in equal measure. Besides being well-designed down to the details — picture big potted succulents, palm trees, twinkle lights, and clusters of ivy and bougainvillea growing on walls and restaurant facades — the street is jam-packed with fun bars, boutique shops, and fantastic places to eat.
It's the perfect place to wander for a morning coffee run, afternoon shopping spree, or evening out. The one way to make it even better? Stop by McConnell's — a homemade ice cream chain started in Santa Barbara nearly 70 years ago — for a cone of chocolate almond brittle or golden state vanilla to eat as you go.
2. Camping at El Capitan State Beach
Even if it's just for one night, camping at El Capitan State Beach will be one of your more memorable evenings in Santa Barbara. Twenty miles north of town, there's a wide, flat beach and rows of gorgeous sycamore and oak trees along El Capitan Creek. In addition to the usual camping traditions — roasting marshmallows, singing along with an acoustic guitar to Sublime, and playing cards until someone loses a bet to skinny-dip in the dark — you can take full advantage of the area's natural beauty.
Explore the rocky tide pools for bright orange sea stars and clumps of giant bull kelp, walk along the shore at sunset, surf at dawn, or attempt to fish your own dinner before admitting defeat and eating the sausages and salad you packed.
3. Hitting the local favorites for your Mexican fix
Santa Barbara is full of delicious options for authentic Mexican food. Sure, there are plenty of upscale, date-worthy Mexican restaurants with appropriately upscale options to choose from — like Sandbar or Los Agaves — but the best spots are the ones that only locals know about.
La Super-Rica Taqueria has amazing homemade corn tortillas, tamales, and its house special: poblanos, pork, and melted cheese mixed together (it's also known for being Julia Child's favorite, and that woman knew her food). Lilly's Taqueria is another special spot that prides itself on having tacos "as authentic as a taco gets." They've got your standard chicken fajita and carne asada tacos, but they also do veggie tacos, tripe tacos, and tacos featuring meat from basically every single part of a cow's head. Beef tongue or cheek, anyone?
4. Hitting up Backyard Bowls on a Saturday morning
If Sunday mornings are reserved for brunch at Jeannine's, Saturdays are prime time for a trip to Backyard Bowls. This healthy cafe has a couple locations — including one in Goleta and one downtown — and specializes in smoothies, acai bowls, and hot cereals like steel cut oats, muesli, and PB&J quinoa. If you like tropical flavors, try the Island Bowl or Tropical Ginger smoothie. For a richer taste, get the Cocoa Almond Bowl or Peanut Butter Smoothie with hemp milk and blueberries.
5. Paddling out at Leadbetter Beach to see whales and dolphins
Heading out past the breakwater at Leadbetter Beach with a paddleboard is one of the best activities for a calm, still afternoon. There's no guarantee you'll see whales or dolphins, but you have a decent chance of spotting some type of marine life out there, whether it's a dolphin frolicking in the waves, a seal gliding through the water, or a sea lion bobbing among the kelp beds.
6. Getting late-night sushi at Edomasa
Edomasa stays open until midnight on weeknights and 1am on weekends, making it the spot to hit up after a few drinks downtown in the Funk Zone or a wild night dancing at EOS Lounge. In addition to the variety of fresh, unique rolls like the Santa Barbara Roll (made with tempura shrimp, asparagus, avocado, and scallop with a spicy sauce), you can also get classic Japanese dishes like ginger beef, udon noodles, seaweed salad, and enoki mushrooms.
7. Riding around town on the Land Shark
The Land Shark — a big blue and white tour bus that morphs into a boat — is a popular activity when visiting Santa Barbara. For the first half of the 90-minute tour, you'll cruise around downtown Santa Barbara. But the second half is when it gets really exciting — the bus puts away its wheels and glides straight into the Santa Barbara Harbor for a tour of the coastline and the chance to see dolphins and whales. If you want to get a big group together, the Land Shark does private tours that include food and drinks.
8. Eating brunch at the Boathouse
Rolling up to the Boathouse on a Saturday morning (or afternoon) is the best way to kick off your weekend. Chilaquiles on your plate, a blood orange margarita in your hand, and an ocean view — it's hard to top. Plus, it's right in front of the dog beach, so you can bring your pets and let them run around, or just watch everyone else's pups frolic on the sand. Adorable and free entertainment.
9. Watching the surfers at Campus Point during dawn patrol
If you surf, waking up before sunrise to catch the waves at Campus Point will be the highlight of your day. But even if you don't, trekking down to the beach at dawn to watch the experienced locals and college students is still an epic way to spend a morning. Add in a breakfast burrito and you're golden.
10. Buying ingredients at the farmers market for Taco Tuesday
When you agree to be the bringer of guac (arguably the most important role) for your friends' Taco Tuesday celebration, the cheapest, freshest place to get your ingredients is the local farmers market. While you're strolling around cradling avocados, you'll inevitably accept a handful of fresh blackberries from a generous vendor or be persuaded to try the orange blossom honey at the San Marcos Farms stand. And you'll probably grab a chicken tamale or slice of pie to tide you over while you peruse the vegetable aisles for fresh tomatoes, onions, and cilantro.
11. Picnicking at the beach with sandwiches from South Coast Deli
The best things in life are simple — like a toasted turkey and provolone sandwich from South Coast Deli, with red onions, red peppers, and basil mayonnaise, eaten on the sand on a sunny day. Total bliss.
12. Cruising the boardwalk
In Santa Barbara, there are few activities that make you feel as connected to the community as cruising along the beach boardwalk using your preferred method of transportation: roller blades, a bike, a skateboard, a surrey (one of those weird bike/cabana hybrid things), or your own two feet. No matter the time of day or the weather, you'll see locals and visitors doing the same. The boardwalk stretches for several miles along the coast and passes gorgeous hilltop viewpoints, grassy parks, and palm-lined stretches of road.
13. Dining on the harbor at Brophy Bros.
Located in the harbor, with views of the water and the Santa Ynez Mountains, this restaurant and bar is the ideal blend of hip and casual, lively and relaxed. When you're not in the mood for grilled swordfish with guacamole or Cajun-spiced sea bass, opt for an appetizer of crab cakes, oysters, garlic-baked clams, or ceviche. If you'd rather just post up near the windows and survey the scene with a drink in hand, order one of their signature Bloody Mary cocktails.
14. Spending an entire Saturday hanging out at Waterline.
The Waterline, located in the Funk Zone, is a one-stop shop for enjoying Santa Barbara's local merchants and artisans. Start your afternoon at Topa Topa Brewing or Lama Dog for some of Santa Barbara's best craft beers, then head to Nook for a late lunch or dinner — try their rockfish soft tacos, seafood burgers, or purple potato waffles with fried chicken. You can walk off your meal by checking out the talent at The Guilded Table, an artist collective with tons of private studios and a large common space where artists, craftspeople, photographers, jewelers, and designers come together to collaborate and share their work with the public.
The best part? The team at the Waterline works together to make their various tasting and dining menus cohesive and complementary, so going from spicy jidori chicken wings to a strong IPA makes perfect sense.
15. Watching classic movies at the courthouse
After an afternoon spent at the beach or moseying around State Street, there's nothing better in Santa Barbara than ending the day watching the sunset at the county courthouse. Let Mother Nature be your entertainment, or stick around for the movie series put on by UCSB Arts & Lectures on Fridays during the summer. Out on the lawn (bring a picnic!), they play classics you wouldn't otherwise get to experience on the big screen, like Casablanca, The Maltese Falcon, and The Big Sleep.
You might be in the middle of a black-and-white movie, sprawled on the grass with your friends; sitting alone meditating under a tree; or standing at the top of the observation deck watching the sun color the downtown streets a soft orange. Wherever you are and whoever you're with, you'll be thinking one thing: Life is good.
16. Hiking the trails at More Mesa
If you're looking for 180-degree views of the Pacific and soft dirt trails along grassy coastal bluffs, More Mesa is where you need to be. This nature preserve and network of hiking and walking trails has a super tranquil atmosphere. The ~3-mile loop trail will accommodate whatever mood you're in: a mellow walk with your dog, a sunset stroll, a breezy jog, a quick bike ride, or a lazy afternoon spent bird-watching. It's all doable right here.