in paid partnership with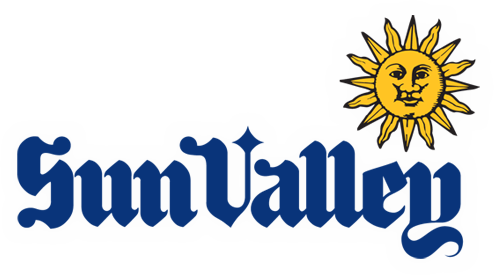 1. "There's nowhere to ski fast on this mountain."
The Sun Valley Ski Team routinely trains some of the fastest skiers in the country on Baldy's slopes, and athletes easily break 70mph on their morning speed laps down Warm Springs. If speed on snow is your game, there's no better place to be in the world.
2. "I can't find a good place to eat."
For a small town in the middle of Idaho, the number of high-quality restaurants in Sun Valley is unreal. There are too many to name them all, but my picks include Michel's Christiania for French food, Konditorei for spätzle, La Cabanita for legit Mexican, and Rickshaw for Asian fusion. Then there's my all-time favorite sushi bar in the mountains — Sushi on Second. Admittedly this is a biased choice, as I used to roll sushi here, but even after all those years working in the kitchen it's still my favorite place to eat in town. And no visit to Sun Valley is complete without stopping in at the iconic Pioneer Saloon.
3. "There's nowhere to party around here."
Said absolutely no one ever in Sun Valley. From its rowdy mining days in the early 20th century right through to the post-millennial madness of today, the valley has always known how to throw a damn good party.
4. "Groomed runs are boring."
Groomed runs are often decried as being too easy, or they're simply used as a way to get around the mountain to better skiing. Not in Sun Valley. Thanks to the nightly efforts of a stellar cat crew driving the very best in high-tech machinery, the groomed run has been elevated to high art, and on many days it's the star of the show. There's something truly special about riding Warm Springs (a top-to-bottom run that drops over 3,000 vertical feet in under 3 miles of sustained pitch) at 9am on a crystal clear morning over perfect corduroy.
5. "Isn't Idaho all potato fields?"
Idaho does indeed grow some of the finest taters in the world, but it's also home to the largest roadless area in the Lower 48 (Frank-Church River of No Return Wilderness) and — count 'em — 114 mountain ranges.
6. "This place has no culture."
Sun Valley has always punched way above its weight in terms of culture — world-class symphonies, jazz festivals, film festivals, art galleries, theater companies, car shows, and concerts are just a small portion of the cultural happenings in town throughout the year.
7. "This mountain is really flat."
With a vertical drop of 3,400 feet and hardly any flat spots from summit to town, Bald Mountain's consistent pitch is one of its most prized features. Point your skis or board in any direction off the summit, and gravity will do the rest.
8. "There isn't much variety on this mountain."
Along with the consistent pitch, the variety of terrain is nothing short of classic. From expansive groomers to steep technical tree shots, wide bowls, and famous mogul runs like Exhibition and Holiday, all of which can be hit on a single run down, Sun Valley is super diverse.
9. "These views are…all right."
The panoramic views of the Wood River Valley and surrounding mountain ranges from the top of Baldy are ridiculous. On a clear day, it's the kind of scenery that forces even the most jaded modern technophile's jaw to drop. 20+ years in town and the views still make me shake my head.
10. "It's really hard to get around without a car."
No car? No problem. During the season, there's a free bus system that runs every 15 minutes and goes pretty much everywhere you need to go — from your hotel to the mountain, into town, to the grocery store, the restaurants, bars — they're all steps from a bus stop.
11. "I spent all day waiting in lift lines."
There's nothing worse than forking over your hard-earned money on a lift ticket, only to spend the better part of the day waiting in long, chaotic lines. But the combination of Sun Valley's fleet of high-speed lifts and fewer people on the mountain than at many other resorts equates to an experience that'll test your leg strength, not your patience.
12. "There's nothing for our kids to do here."
Sun Valley is a perfect mountain for families, and the options for kids reads like fantasy. World-class SPT (Snow Park Technologies) park and pipe, tubing and sledding on Dollar Mountain, ice skating rinks, sleigh rides, art classes, movie theaters, a bowling alley, giant hot pools, a top-shelf ski school that specializes in showing kids how to have fun on the mountain…the list goes on. The only problem is getting them to leave.
13. "There's no good live music here."
Once again we find the small community of Sun Valley punching above its weight — this time when it comes to live music. From local bands like Old Death Whisper and the Sheep Bridge Jumpers who play rocking local bars and house parties, to large acts like Willie Nelson, the reggae festival Marley in the Mountains, and EDM festival MASSV, and a consistent stream of visiting performers lighting up the stage and dance floor at Whiskey Jacques, there's live music for all tastes.
14. "These bars aren't any fun."
There's always something cool about a bunch of bars being close together, and it makes cruising from spot to spot on foot the preferred method in Sun Valley, even in the middle of winter. Sample local craft beers at the Sawtooth Brewery, catch the end of the ball game at Lefty's Bar & Grill, share a schooner with the local crew at Grumpy's, sip fine wine in front of the fire at the SV Wine Company, play shuffle puck at the Cellar Irish Pub, drink a craft cocktail at Cornerstone, play darts with the ghost of Papa Hemingway in the Sawtooth Club, tear up the dance floor at Whiskey Jacques, or just plain rage at the Casino Club. Pick your poison.
15. "Manmade snow isn't any good."
It's called Sun Valley for a reason, and the high desert climate that creates those endless blue-sky days isn't always conducive to large amounts of snow. Not to worry — the sprawling state-of-the-art snowmaking system that covers 31% of the valley's 2,054 skiable acres produces something way more awesome than the bulletproof ice of yesteryear's manmade snow. Through continuous measurement of temperature and humidity, and a computer system that adjusts to current conditions, the term 'gunpowder' is often used to describe the smooth and silky result that keeps the skiing good even during the most brutal dry spells.
16. "There's nothing to do besides ski."
Sun Valley ain't no one-trick winter pony, so when your legs are screaming at you to take a break from the mountain, the options are many. Put those lungs to work on the 100+ miles of Nordic ski trails that crisscross the valley, indulge in a massage and spa treatment, strap on a pair of snowshoes and explore silent winter forests, head over Galena Summit and rent a snowmobile, post up by a giant fireplace with a good book, catch a movie or show…and did I mention this place likes to party?
17. "Where's the mountain?"
Visible from nearly everywhere, Bald Mountain is the centerpiece that Sun Valley Resort and the town of Ketchum are built around. Getting to the lifts is as easy as jumping on the next bus for a five-minute ride, and getting lost is nearly impossible.
18. "I'm sick of shoveling snow."
With an average snowfall of 220 inches, every inch is a precious commodity and treated as such. During a good storm cycle, shoveling out the car or front door is met with glee because you know blue-sky days will be back soon enough.
19. "I'm never coming back."
One of my favorite statistics about Sun Valley is the amount of return visitors. According to the numbers I was able to dig up, 95% of people who visit Sun Valley plan to return, and many make the trip every year. This kind of loyalty speaks volumes about the quality of experience Sun Valley provides — kinda like you've been let in on a secret during your first visit.
20. "What are the Winter Olympics?"
Sun Valley claims a long line of local Winter Olympians, including 1948 Gold medalist Gretchen Fraser, 1984 Silver medalist Christin Cooper, and 1998 Gold medalist Picabo Street. Just last year Sun Valley girl Kaitlyn Farrington brought the Olympic Gold home from Sochi in the Women's Snowboard Halfpipe, giving the town the perfect excuse to throw a weeklong party.
21. "It takes forever to get from town to the mountain."
No long shuttle ride or drive up a sketchy mountain pass here. Five minutes on a free bus and you're at the lifts.
22. "Tuning your skis / board is a waste of time."
The consistent pitch of Bald Mountain creates a haven for speed, and nothing is worse than trying to harness that speed on dull edges or a sticky base. Some of the finest ski technicians in the world call Sun Valley home, and getting a proper tune on your equipment is essential (and easy).
23. "Nobody interesting lives here."
From the days of Hemingway furiously banging out the final draft of For Whom the Bell Tolls in room 206 of the Sun Valley Lodge, to the legendary exploits of Steve McQueen, Sun Valley has always attracted interesting people. And given the host of industry magnates, politicians, celebrities, and world-class athletes who spend time in the valley today, you never know who the person sitting next to you on the chairlift might be.
24. "Why did someone pick this place to build a ski resort?"
In the winter of 1935, the Union Pacific Railroad chairman W. Averell Harriman employed Austrian count Felix Schaffgotsch to travel across the Western US in search of the perfect site for a winter resort. The count toured everywhere from Mount Rainier to Yosemite to Jackson Hole, and was about to give up when he by chance decided to check out the area around Ketchum in central Idaho. At Bald Mountain, Schaffgotsch found snowfall, tons of sunshine, no wind, and moderate elevation — in short — the perfect site for a killer ski resort. Seven months later, the original Sun Valley Lodge was born.
25. "There isn't any good shopping here."
Galleries, boutiques, hip stores…the variety of places to shop in Ketchum and Sun Valley is insane.
26. "I know exactly what this storm will be like."
Winter storms are strange beasts. Even with today's advanced forecasting techniques, predicting their behavior is a difficult game. The storm watching usually begins when an area of low pressure forms in the Northern Pacific and begins its eastern march. Jet streams are analyzed and predictions made, but what happens as that storm makes its way inland from the Pacific is often unpredictable — a storm that was expected to drop 6-12 inches may leave only a dusting, while another one that was supposed to drop just 1-3 inches leaves two feet of fresh snow in its wake.
27. "The locals are so unfriendly."
Living in a place surrounded by so much natural beauty must rub off on local residents — you'd be hard pressed to find a friendlier group of people than those who call Sun Valley home. Whether they're born and bred or just arrived for their first winter, everyone's here because they love it.
28. "This place feels overdeveloped."
Many years ago, some very wise men and women on the Ketchum / Sun Valley city council created a "hillside ordinance" that prohibited the building of any structure on the hillsides and ridgelines throughout the Wood River Valley. While the often-debated ordinance has made real estate scarce, it's kept unfettered views aplenty. If you've ever seen rampant development gobbling up hillsides and ridgelines in mountain towns, Sun Valley is an incredibly refreshing change.
29. "There's a freeway running through town."
The Sawtooth Scenic Byway (part of Idaho State Highway 75) does run through town, but it's a far cry from I-70. Winding its way underneath the Whitecloud and Sawtooth mountain ranges, the 75 follows the Salmon River to its headwaters before climbing over Galena Summit and dropping alongside the Big Wood River, eventually reaching the prairie land of southern Idaho. Just driving the highway is a sweet activity that's way more likely to provide wildlife sightings and gorgeous views than road rage or traffic jams.
30. "What's après-ski?"
Nothing in the world beats sharing drinks and stories with friends after a beautiful day on the mountain, and the après-ski tradition in Sun Valley runs generations deep. To see true après in all its glory, head to Warm Springs, or my all-time favorite spot: Apple's Bar and Grill. It doesn't really matter how or where you après in Sun Valley, so long as you get in amongst it.
31. "There's no backcountry around here."
The secret has been out for quite a while now — central Idaho holds some of the best backcountry ski and snowboard terrain in the world, with five distinct ranges and seemingly endless peaks within striking distance of the resort. Make sure to check in with Sawtooth Avalanche Center for snow conditions, and if you really want to score the best snow possible, hire one of the guides from Sawtooth Mountain Guides to get you out into the goods and home safely and smoothly.
32. "Can you heliski here?"
Sun Valley Heli Ski pioneered American heliskiing in 1966, and has set the standard for the 58 years since. They operate within the largest permit area in the US, covering three mountain ranges and over 750,000 skiable acres for all abilities. They can even pick you and your group up on top of the resort, which makes for what might be the best powder day ever. Just imagine a morning skiing Baldy's glades and bowls, then the whirlybird swoops you up and into an afternoon of untracked glory runs.
33. "The weather here's terrible."
There's a reason for the name Sun Valley. With around 250 days of sunshine a year, the high desert climate also has an uncanny ability for producing storms that hit at night and are gone by the morning, meaning that the average snowfall of over 220 inches doesn't interfere much with those 250 clear days. Don't forget your sunscreen!