in paid partnership with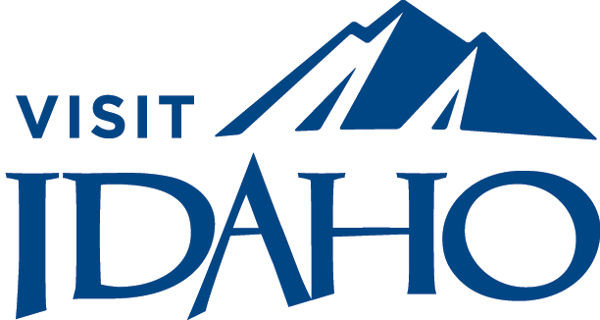 THERE'S A DANISH WORD, hygge, that roughly translates as coziness, creating a warm atmosphere, and sharing simple joys with good people. Home-cooked, candlelit meals enjoyed with loved ones — that's hygge. Throw in a few nights in a yurt with friends, leaving the days wide open for skiing and snowshoeing in the silent backcountry, and you've got Danish coziness — Idaho style.
There are 300 miles of Nordic trails in Idaho ready for cross-country skiers and winter adventurers. Those who stay in the yurts get the best access to the most pristine routes available. But these base camps aren't just good for skiers. So many experiences are possible out here. There are huts by frozen lakes and yurts with wood-fired saunas and hot tubs, yurts that require hard-core skiing or snowshoeing to get to, and a yurt known for its gourmet four-course dinners. They're all hygge. They're all magical. Here's proof, in photographic form.
Banner Ridge Backcountry Yurt, near Idaho City
Set near the top of a high ridge in a sheltered north‐facing bowl, Banner Ridge Backcountry Yurt has views that look out to the South Fork of the Payette River, Bear Valley, and Scott Mountain. Popular with Telemarkers, snowshoers, and Nordic skiers, the yurt gives front-door access to thousands of feet of untracked powder, 20+ miles of groomed trails, and 50 miles of marked ski trails.
To get to the Banner Ridge Yurt, which is run by Idaho Parks and Recreation, strap on your skis or snowshoes and follow the Elkhorn Loop Trail (Highway 21, Boise National Forest), climbing a steep 750 feet over two miles (one way). The structure itself is a Mongolian-style domed tent, about 20 feet in diameter, and sleeps 5-6. There are skylights, plywood floors, and canvas and hardwood sidewalls, meaning you'll stay super comfortable even when it's chilly outside.
Elkhorn Backcountry Yurt, near Idaho City
Elkhorn Backcountry Yurt has 270 degree views to the east, south, and west — meaning you can catch epic sunsets and sunrises if you stay here. The most remote of all the Idaho City yurts administered by Idaho Parks and Recreation, Elkhorn gives Nordic skiers and snowshoers direct access to dozens of miles of trails. An added bonus to a stay at this yurt, just half a mile away there's a prime intermediate/advanced Telemark area with 500-foot slopes facing all directions.
Mores Creek Cabins, near Idaho City
Mores Creek Cabins offers off-the-grid adventures in the Boise National Forest, yet are easily accessible just off Highway 21. The lower cabin is walk-in, while the upper two require snowshoes or a snowmobile to get to. Practically everything is provided at Mores Creek, including board games! Just pack in your sleeping bags, food, and batteries for the LED lights.
Stargaze Backcountry Yurt, near Idaho City
The newest Idaho Parks and Recreation yurt option in the Boise National Forest (there are six total), Stargaze Backcountry Yurt, gives you access to that same incredible trail system, ideal for Nordic and Telemark skiing. The kicker? It's set on a high point overlooking the eastern horizon, which means exceptional views of the night sky, providing the yurt's namesake. This is one where you'll be torn between staying inside and keeping toasty warm, or standing out on the deck and looking up at all those stars.
Fishhook Yurt, Sawtooths
Idaho has more soakable hot springs than any other state, and some of Idaho's yurts — including those run by Sun Valley Trekking — have their own personal hot tubs or saunas. These toasty additions are typically wood fired and pretty magical after a day skiing the Idaho backcountry. The shot above was taken at Fishhook Yurt in the Sawtooths.
Williams Peak Hut, Sawtooths
In the remote Sawtooths, Williams Peak Hut actually consists of two yurts and a wood-fired sauna. Sitting at 8,000 feet elevation, it requires some effort to get to (a 5-mile ski with a vertical gain of 1,600 feet) in terrain that's recognized as some of the best in the country. If no one in your group has been to the hut before, a guide is required to help you find the route and get you acquainted with the yurt.
Once you're done skiing the powder glades and couloirs, you'll get your wine and dinner (and breakfast in the morning) hauled into the hut and cooked for you. The sleeping bags are stocked for you, too, which means you can pack extra light.
Tornak Hut, Smoky Mountains
The image above was taken at Tornak Hut. Run by Sun Valley Trekking, the cabin sits at 8,400 feet in the Smoky Mountains of Central Idaho. Popular with intermediate and advanced skiers, the powder slopes directly behind the hut mean night shredding is absolutely a possibility here. Around Tornak are numerous downhill runs and complex, high touring terrain. And yes, there's a wood-fired sauna at this hut too.
Blue Moon Yurt, near McCall
Two miles from downtown McCall on the shores of Payette Lake, Blue Moon Yurt sits under a canopy of old-growth ponderosas. Joining the dining experience here means skiing or snowshoeing a mile-long forest trail lit by the glow of tiki torches. The hosts at Blue Moon Yurt will greet you with a hot brew upon arrival, and then it's time for a gourmet meal that might be Thai, Cajun, Caribbean-style, or any cuisine in between. Up to 26 people can join the dinners.
Blue Moon's season runs from early December to the end of March, and it's bring your own beer, wine, or spirits. Salmon River and Broken Horn craft breweries are both based in nearby McCall, so you can pick up some local drinks in town and then ski or snowshoe them over to the yurt.
Lick Creek Yurt, near McCall
In the West Central Mountains near McCall, Payette Powder Guides operates two yurts at 6,930 feet elevation at Lick Creek Summit. When you stay here you get access to 30,000 acres of untracked powder, along with a wood-fired sauna. The trip into the yurts is by snowmobile or snowcat.
The second image above perfectly captures the essence of a stay in one of Idaho's backcountry yurts. After a big day out in the mountains, there really is something magical about cooking dinner with friends, sitting around the woodstove, playing cards or board games, and enjoying good company while the snow falls outside.