About The Author
Elisa Fusi
Elisa is an Italian molecular biologist and a writer, studying medical plants and working for many years in international co-operation projects throughout Asia, Africa and Latin America, and now a founder of a non-profit organization operating worldwide. During her recent experience with the locals and indigenous people of the rainforest in Panamá, she started an ongoing research on consciousness, ethnobiology and human brain evolution, specifically focused on herbal plants and shamanism as a natural ring connection. The educational project aims to build a powerful network of individuals and ideas, firmly refusing the 'business-as-usual' egocentric society and encouraging a positive global vision of a new chapter in the human evolution, by rethinking our state of health, our community living space and our role in the ecosystem.
Posts by: Elisa Fusi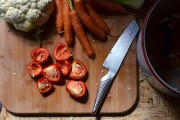 The rustic kitchen of a remote organic farm in Panama became my personal laboratory.
Continue Reading

→