in paid partnership with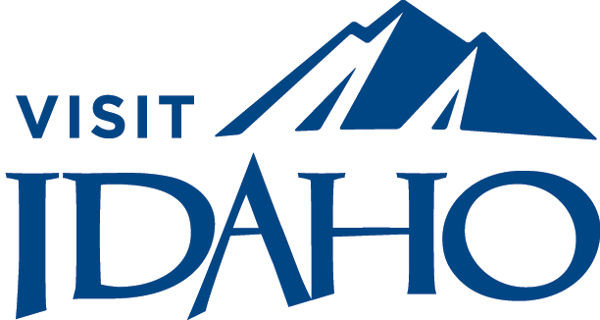 IF YOU'D RATHER test your quads and lungs in the white-washed Wild West than sunbathe in an ocean-side lounger, it's time to put Idaho on your map. With over 4.5 million acres of protected wilderness and 19,000 miles of skiing, fat biking, snowboarding, and snowshoeing trails, Idaho comes alive in winter. Here are six ways to get your heart pounding.
1. Cat skiing the rarely crowded, ridiculously snowy Selkirk Mountains
Travel up the Idaho Panhandle to the lakeside city of Sandpoint and rent a snowcat from Selkirk Powder Company to hit the west-facing bowls off the backside of Schweitzer Mountain Ski Resort. The two operations work in tandem, and their experienced guides will fill your day with up to 12 euphoric descents through waist-deep white stuff, including some of the best tree-skiing in the Rocky Mountains. You can come back nine more times before having to repeat any terrain — the cat gives you access to 92 named runs.
Rates are $425/person, and you'll get the goods — the Selkirks are prone to storms from multiple directions, resulting in consistent snowfall throughout the season. What they're not prone to is hordes of other skiers (Selkirk Powder only takes out 20 people max per day).
2. Snowmobiling the mountains and valleys of Island Park
Idaho's Island Park is considered by many sled-heads to be the greatest snowmobiling destination in the United States. Located in the southeastern part of the state, the town and surrounding area is the ultimate base camp for long-trackers thanks to its immediate access to over 900 miles of groomed trails through woodlands, valleys, mountains, and meadows. With over nine feet of fresh snow a year, you can float your machine wide open through untracked expanses and eat face shots every day for lunch, while a plethora of steeps will test your sled and your ambitions.
High Mountain Adventures rents 2-UPs for around $180/day, and its headquarters is within 30 minutes of the West Entrance of Yellowstone National Park. And while this region may be the epicenter of snowmobiling, remember: We're in Idaho, where "crowded" is a relative term.
3. Ice climbing desert cliffs, waterfalls, or Idaho's tallest peak
The Snake River Canyon, which winds across the southern chunk of Idaho before bending north to mark the Oregon border, contains endless ice climbing opportunities as creeks spill over the rim of the canyon to feed the river below. At other points, seeps from cracks in the canyon walls form steep sheets to climb in the midst of an otherwise arid setting.
The city of Twin Falls is a good starting point for your first Idaho climb, but if you're looking for a more mountainous backdrop, head to the town of Stanley and get trained with Sawtooth Mountain Guides. Winter courses run from $100 to $600 per person, depending on how challenging your objective is. Six miles off I-84 beyond Stanley Lake is the popular Bridal Veil Falls, though there are many other multi-pitched routes in dramatic settings nearby.
Some climbs require you to break your own trail on snowshoes or touring skis — head to the Lost River Range from the ranch town of Mackay and work your way to the summit of Idaho's tallest peak, Mount Borah (12,668 feet). With an early start and full use of your ice axe and crampons in the technical sections near the summit, you can make the 5,262-foot ascent and descent in one full day. Highway 93 runs west of the range and offers easy access; to climb the east side of the range, you'll need extra time and a high-clearance vehicle.
4. Paragliding from the top of Sun Valley to the bottom
To get some serious elevation, head up to the Ketchum / Sun Valley area in Central Idaho and take a tandem paragliding flight with Fly Sun Valley. Launching from the top of Bald Mountain — the home of Sun Valley Resort — you'll float on updrafts high above the valley floor, gaining unreal views of the Smoky, Boulder, and Pioneer Mountains.
Getting (and staying) up in the air depends on weather conditions and the flyer's schedule, but flights usually range from around 15 minutes to over an hour. Experienced pilots are also welcome to fly their own wings through the relatively smooth and consistent air and sunshine of this vast and rugged region.
5. Dropping from a helicopter to experience the rush of heli-skiing
Sun Valley also happens to be the birthplace of heli-skiing in the United States. Consistent sunshine affords favorable flight conditions, so heli-skiers are rarely grounded by fog or precipitation here. Sun Valley Heli Ski offers packages ranging from day trips to week-long endeavors, all of which will provide you the fastest, most exciting ascents to world-class steeps.
In a split second, you'll step out below the rotors and watch the helicopter disappear before turning your focus to your seasoned guide, who'll lead you through your raging descent. You'll rip through the Sawtooths, the Smokies, and the Pioneers, inhaling untouched, dry Idaho powder. Fly back to Ketchum for the night, or stay at the world-class Idaho Smoky Mountain Lodge — private and fully staffed, it's the only fly-in heli-ski lodge in the Lower 48.
6. Skiing or splitboarding to your backcountry yurt
Slap skins on your skis or splitboard and head into the endless Idaho backcountry. Six yurt locations cover the Sawtooth National Recreation Area, and each is a secluded overnight hideout complete with firewood, propane stoves for cooking, solar power, and wood-fired hot tubs. During the week, groups of up to five can stay for $175/night; for the weekend, the minimum cost is $350/night for up to 10 people.
To access the yurts, Sawtooth Mountain Guides lead guided yurt trips where you'll skin or snowmobile to your chosen structure and then begin your adventure out the front door, skiing clean lines in close proximity to warmth and relative comfort. If you're looking to advance your own avalanche safety skills, hands-on courses are available.
Those seeking greater luxury upon return from their day of destroying powder can stay at the Wintertux Chalet, a "cabin" just outside the historic ghost town of Sawtooth City. The three-story, 1200-square-foot lodging sits alone at 8,000 feet above sea level, can sleep 15+ individuals, and offers everything from cooking spices to firewood to a surround-sound stereo system to ensure your time off the hills is just as memorable. The Chalet goes for $350/night, and reservations are required with a two-night minimum.