in paid partnership with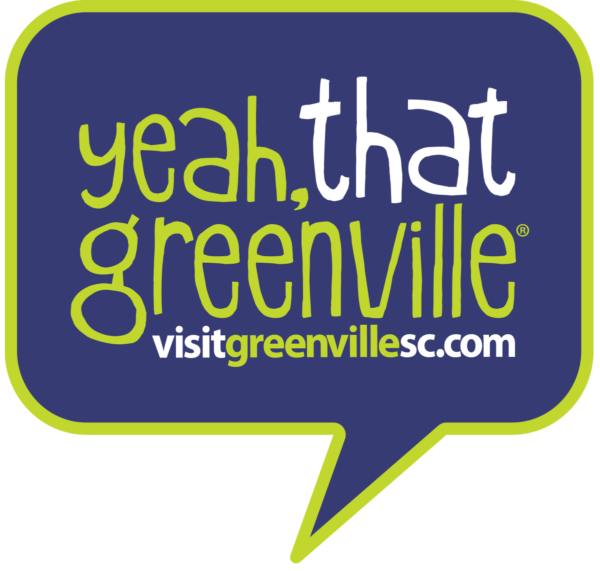 Greenville is a city of fewer than 70,000 people, and yet you'll often find it at the top of "best-of" lists. It's getting frequent recognition for, well, having no shortage of anything — cuisine, arts, green spaces, downtown festivals, you name it.
It's pretty obvious when you explore the area around Main Street and Falls Park on the Reedy that Greenville is experiencing a boom, but let's be real — the city's appeal goes far beyond the main drag. Here's what's really pushing Greenville to the next level…
1. The cheap eats from around the world
A city like #yeahTHATgreenville is literally bursting at the seams with trendy new spots and high-end Southern cuisine, and you'll find a ton of those options by the river. But to save your dollars for other adventures, get into the locals' Greenville. For a small-town price, you can take a culinary trip around the world without leaving the city. Here's a few of the places — with well-deserved cult followings — that have been around and stuck it out:
Swad – A vegetarian Indian restaurant and store that's family owned, where everything is made to order and super fresh. If you like variety, order "the special" — you'll be presented with a large plate of spicy goodness.
The Pita House – Middle Eastern at its finest, they serve up the absolute best falafel and baked nutty pastries. It's also a store — you can leave with an armload of spices and ingredients for just a fraction of the price you'd expect from a grocery store.
Mekong – The freshest pho in the tri-state area (probably), and you can prove it by poking around the back to check out their herb garden.
2. The nationally renowned coffee scene in the morning…
In the middle of downtown you'll find Methodical Coffee, and if you're a coffee drinker at all, you need to schedule a stop here. They're a coffee roaster that specializes in single-origin, pour-over, siphon, and cold-brew coffee — and if you don't know exactly what some of these terms mean, that's fine. You will soon. They're nationally recognized and you'll be in awe of their minimalist-chic cafe, too.
You definitely don't want to skip Underground Coffee (and their 70-seat theatre) or Grateful Brew (an innovative joint on Pleasantburg Drive next to the aforementioned Pita House), either. During the day the latter specializes in artisan coffee with syrups made in-house. At night, they morph into a craft beer haven with rotating food trucks. There's a wide variety of local brews, and they sell them in growlers to boot.
3. …and the exploding brewery scene at night
Speaking of beer — Greenville has zeroed in on the innovation you usually only find in bigger cities when it comes to this particular delight. Breweries are popping up just about everywhere in these parts — check back in six months, and the list is bound to be longer. But for right now, two of the most notable include Quest Brewing and Birds Fly South Ale Project. Quest has a tasty range of beers from their 25-barrel brewhouse, and Birds Fly South specializes in saisons and sours made by way of "progressively old school urban farmhouse brewing."
And if those don't do it for you, you'll find tons of various local and limited brews over at the Greenville Beer Exchange, along with an abundance of classic German and Belgian ales. If you're into the idea of trying it out yourself, Upstate Craft Beer Co. has a huge homebrew shop with a staggering variety of malts, hops, and yeasts to get you started.
4. The food on wheels
Food trucks in Greenville aren't relegated to an annual event or your childhood ice cream vendor — there's a legit scene here. And when you happen to stumble on one, you can pretty much guarantee that something cool is happening nearby and it's parked there for a reason.
Local mainstays include Automatic Taco's Korean (Tex-Mex fusion), organic shaved ice at Nomadik Few, Thoroughfare's hot tots and sandwiches, and The Groovy Dawg's hot dogs. Some trucks, like ASADA's Latin American taco truck, get so popular they spawn actual brick-and-mortar locations. The real list is much longer. You'll just have to visit to find out the rest.
5. The blossoming music scene
There's something about small cities that's more exciting when it comes to live music. The scene isn't already saturated or overdone, there are still voids to fill, and people in smaller communities are the ones who know you don't need to live in New York or LA to be creative. The music scene in Greenville fits that bill, and it's filled with singer-songwriters, rock bands, and electronic artists bringing the vibe to the next level.
Venues like The Radio Room make this abundantly clear. They just moved to a new location and are constantly presenting quality live music from indie artists in the area. The Spinning Jenny, while technically just outside the city, is in an old Opry House and roller skating rink — they bring in bigger acts like Jacob Johnson and Town Mountain. Then there's Horizon Records, a place that will occasionally leave you scratching your head as to how a small record store manages to get huge celebrities to play such intimate in-store shows. There's even a niche vinyl shop that specializes in rare and experimental music — Cabin Floor Records — that puts on regular live performances, too.
6. The (not so) Secret Cirkus
The Secret Cirkus is everywhere. Big events, small events, state-sponsored, or underground, you're sure to run into someone from their group spinning fire, walking on stilts, and just plain reminding you that life is beautiful. They're a Greenville-based troupe that's been lighting up the area for years now, though "troupe" isn't totally accurate — it's more like a group of badasses publicly honing their strange skills.
Their smiles and positivity (part of their project) are contagious, and for those who want a bit more, you don't have to run away to join them. TimTV and company have their very own venue, The Ninjaplex, keeping the weird in Greenville. There's plenty of regularly scheduled circus-related classes (you've always wanted to spin poi, right?), martial arts, and Rocky Horror Picture Show performances. And if you ask them what they do, they'll say, "We train superheroes."
7. The festivals
There are tons of music and arts festivals in Greenville — Fall for Greenville, Artisphere, Downtown Alive, and Euphoria are all safe bets for a double dose of culture and family-friendly entertainment. At Fall for Greenville alone, you're going to run into 200 dishes from over 40 restaurants and seven stages of live music — for days. It's the most popular outdoor festival across the entire Southeast for a reason.
If you're looking for something edgier, there are many fests providing some fresh alternatives: Albino Skunk Music Festival (mid-April), Flipside Alternative Arts Festival (mid-May), VILLive Summer Concert Series (mid-May), and Vulcanalia (mid-November) are a few to get you started. These events often feature more underground artists, local art booths, local brews and bites, and out-of-the-box performance artists, too.
8. The extraordinary music and drama
When it comes to traditional arts, Greenville keeps up with and surpasses many of its neighbors. This is probably most evident during one of the world-class performances from the Greenville Symphony Orchestra. They play on Main Street at the Peace Center, an acoustically and architecturally forward theater (and amphitheater!) across from Falls Park on the Reedy.
And they're certainly not alone. Down the street past the park, you'll find the Warehouse Theatre, a local venue not afraid to put on intimate and challenging productions. Organizations like the Metropolitan Arts Council (MAC) help support the arts in the city, giving grants and support to local artists and keeping places like the Warehouse thriving.
Bonus: Every first Friday of the month from 6 to 9pm, downtown Greenville ignites with open doors and crazy foot traffic. Artists' studios and galleries are open late, musicians line the streets, and it's all free.
9. The adrenaline rushes
The Greenville area is a maze of rivers, waterfalls, and lakes, a lucky swath of land at the southern edge of the Blue Ridge Mountains. Get high in the peaks or down in the water, and you'll feel lucky, too. (At the very least, the adrenaline high will feel like luck.)
Case in point: In the morning, hit the granite at Caesars Head State Park or trek across the dramatic Blue Ridge Escarpment on the four-mile-round-trip Raven Cliff Falls Trail (it's one of the most breathtaking trails around, leading to a 420-foot waterfall). Break to go ziplining on the Gorge Zipline Canopy Tour to see it all from above (for a glorious 3.5 hours!). As the sun starts to sink, hunt for more waterfalls at Devils Fork State Park, or, if you'd rather be on the water, hit up Green River Adventures for front row seats in the splash zone. And there will still be time for local brews after, too.
10. The natural escapes
No Greenville list would be complete without mentioning just how incredibly beautiful the area is. Take Falls Park on the Reedy, for one. Flowing through downtown, the Reedy River is the city's main artery, and the suspended bridge that crosses it — the Liberty Bridge — has become an iconic site known for its awesome views. Downtown doesn't have to mean being in a concrete jungle, at least in Greenville.
Outside the city, you'll find Paris Mountain State Park, which features the 13-acre Lake Placid (and areas for fishing and boating), plenty of trails, picnic areas, paddleboat rentals, and tons of greenery to explore (they also hold the summer Music in the Woods event). Oh, and the best part? There's over 220 days of sunlight, and temperatures almost never fall below freezing in Greenville. The outdoor season is a lot longer here than in most places.
But to experience one of the top local highlights, grab your bike. The GHS Swamp Rabbit Trail is a 21-mile greenway with sights and restaurants along the way (follow the carrots if you're hungry), built on top of a historic rail bed. Remember how we said Greenville has a little bit of everything?