in paid partnership with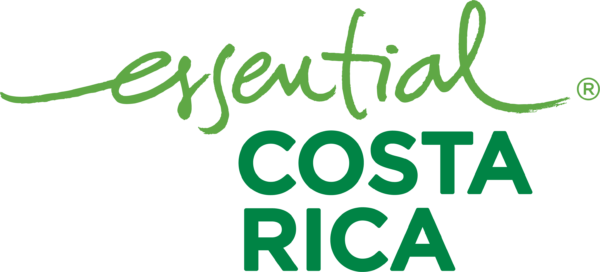 Costa Rica is full-on mesmerizing in its diversity — wet, leafy rainforests with howling monkeys and cascading vines; hot, sun-baked beaches with sea turtles and crackling sand; rivers, mountains, volcanoes, waterfalls…Costa Rica is basically six countries in one.
But what makes the country even more amazing is the proximity of these widely varying ecosystems to one another. You can wake up on top of a volcano and go to bed in a beachside hammock. The whole country is about the size of West Virginia and takes less than eight hours to drive across. Within those boundaries, you're all but guaranteed an adventure. Here's what you'll experience.
1. Hiking through a cloud forest in Monteverde
To get to Monteverde, you'll spend a decent amount of time winding up Route 606, an often mud-soaked road that rapidly snakes back and forth like something out of Mr. Toad's Wild Ride. Once up top, you'll find a strange but fantastic blend of hippies, Quakers, expats, and Spanish-language students wandering around artsy cafes, bookstores, galleries, a frog museum, a restaurant with a fig tree growing through the roof — this town is nothing if not quirky.
It's easy to get pulled into the flutter of activity, but don't forget why you came: the Monteverde Cloud Forest Reserve. Skip the ziplines and other tourist attractions and just do this: Walk into the forest, close your eyes, and listen. Breathe. You'll be amazed at the sheer volume of sounds and smells. You'll catch whiffs of moss and ferns mixed with tree bark and bromeliads. You'll see mushrooms and fungi. Tens of thousands of insects. Red-eyed stream frogs, stripe-tailed hummingbirds, white-faced monkeys, white-nosed coatis, two-toed sloths. Stop for a second and stare at one small space. The longer you look, the more you'll see.
2. Surfing a world-class break
Costa Rica is absolutely overflowing with world-class surf breaks. There are big swells and point breaks at Playa Santa Teresa, laid-back big-wave surfing at Playa Avellanas, and powerful beach breaks at Playa Dominical. Salsa Brava on the Caribbean side features fierce, experts-only reef breaks, and, if you have the time, you can find the longest wave in the country at the secluded Playa Pavones, seven hours south of San José.
If you're a beginner, you're still in luck — Costa Rica is crawling with surf schools, instructors, and multi-day camps. Playa Tamarindo and Playa Jacó are both excellent beginner spot…the only drawback being your fellow beginners. You might want to stay away during Semana Santa (Holy Week) when the whole country goes on vacation and flocks to these beaches — though the crowds themselves can be an attraction.
3. Listening to monkeys outside your window
Mostly capuchins and howlers, the latter of which will make their presence extra well known. Howler monkeys, as their name suggests, emit loud, groaning noises that almost sound like a lion. The monkeys talk back and forth to one another and often to themselves — or so it will seem, since you probably won't be able to tell where the others are.
4. Exploring the biodiverse Osa Península
The Osa Península is tough to get to and requires a rather fit, adventurous traveler; however, if you're that person, Corcovado National Park should top your list. It's home to roughly 3% of the world's biodiversity, and you're more likely to see a steady flow of wildlife — including many large mammals and some of the shier and more endangered creatures — here than anywhere else in the country.
Picture paddling up a clear jungle river full of crocodiles, bull shark, and snooks. Getting almost uncomfortably close to a tapir wading in the water. All this and there will still be monkeys in the trees, macaws flying around, and agoutis walking on the beach. Turn off your headlamp, and suddenly you'll see fireflies and phosphorescent mushrooms in the dark. It's nothing short of surreal.
Note: All travelers must be accompanied by a certified professional guide, so be sure to plan in advance.
5. Eating street meat at a town fiesta
A trip to Costa Rica isn't complete without experiencing one of the town fiestas — these are the cultural fabric of the country. Similar to North American rodeos, fiesta cívicas involve lots of food (usually in the form of barbecue carts, aka "street meat"), drinking, entertainment, raffles, carousels, karaoke, and all-night dance parties.
During fiesta season — typically November to May — a different town hosts one each week. People drive in from all over the region for days of celebrations including the Fiesta Queen's coronation and El Tope, a colorful horse parade through town.
6. Rafting the Río Sarapiquí
Costa Rica is known worldwide for its whitewater on rivers that flow throughout the country. These include the Pacuare, Tenorio, and Naranjo, as well as the calmer rivers like the Balsa and Savegre that make for mellower aqua-safaris. One of the most thrilling trips is on the Río Sarapiquí — it's here you'll have a revolving door of gorgeous jungle backdrops in addition to fast and furious rapids.
Trips on the Sarapiquí give you the chance to increase your heart rate and view wildlife all in one day. Class III-IV whitewater is broken up by flat, easy stretches where you can see monkeys, iguanas, toucans, hummingbirds, sloths, and river turtles (along with lush jungle vegetation). At the end of the day, you'll roll into the takeout soaking wet, exhausted, and full of joy.
7. Climbing a volcano
Throw a dart at a map of Costa Rica, particularly around the Central Highlands, and you're bound to hit a volcano — Arenal, Poás, Rincón de la Vieja, Tenorio, Barva, Irazu, Turrialba — they're everywhere. Arenal is without a doubt the most famous, largely because until recently it was still spitting sulfur, lava, and hot gas into the air. Its activity settled down in 2010, and volcanologists say the cone-shaped behemoth is currently "sleeping."
Sometimes still known to locals as Pan de Azúcar (sugar loaf), Arenal is close to the town of La Fortuna and lies within the nearly 30,000-acre Arenal Volcano National Park. In addition to hiking, you can find horseback riding, hot-spring soaking, and water activities like windsurfing, fishing, and boating courtesy of nearby Lake Arenal. From there, you can be back in San José or down to the beach within three hours in either direction.
8. Swimming in bioluminescence
Bioluminescence is a soft blue glow created by phytoplankton in ocean water and can sometimes be seen on very dark nights, particularly after a red tide. It's the same sort of biological phenomenon that gives fireflies their spark, and if you're lucky enough to catch it, it'll be one of the most enchanting experiences of your life.
Many of the beaches along Costa Rica's Pacific Coast witness bioluminescence. If you find yourself near the ocean on a clear night with no moon or a dark cloud cover, head down to the water to see if you can spot the colored light. If you're in a place where it's safe to swim, jump in. The water is warm and the plankton will glow more when roused, meaning that every stroke you take will create a fairy dust trail of glittering blue light.
9. Diving with manta rays
The Santa Catalina Islands (aka "The Cats") are just one of many places in Costa Rica to find stellar diving, but they're by far the best to spot Pacific giant manta rays. These magnificent sea creatures — they can weigh up to 3,000 pounds and dominate the water with 20-foot wingspans — swarm around the 20-island archipelago off the coast of Guanacaste. Not to be confused with stingrays, manta rays are gentle creatures that pose almost no threat to humans.
The Cats can be accessed via numerous spots along the northern coast of Guanacaste, including Playa Ocotal, Playa Flamingo, Papagayo, Reserva Conchal, Playa del Coco, and Tamarindo. You can find more great diving around the Islas Murciélagos, where bull sharks abound, as well as Tortuga Island, Cabo Blanco Nature Reserve, Cocos Island, and along the Osa Península.
10. Greeting people with "pura vida"
No list of Costa Rican experiences would be complete without a mention of pura vida. This ubiquitous phrase is printed on practically every t-shirt, shot glass, and drink coaster in the country. But the thing to remember about pura vida (literally translated as "pure life") isn't the phrase itself but how the country's people reflect the sentiment. It's used to mean a slew of things: "Hello," "Goodbye," "How's it going?" "I'm great," etc. — and the tone perfectly exemplifies the values and lifestyle of Costa Rican culture.
Although pura vida has in many ways become a bit of a tourist cliche, the characteristics it represents are still más tico que el gallo pinto ("more tico than gallo pinto"). You'll get it once you get here.