in paid partnership with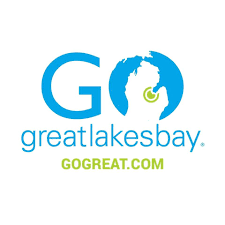 After a long, cold winter, nature runs riot in the Great Lakes Bay Region. It seems like everything — everything — is green and vibrantly alive. The days are long and not too hot, the nights pleasantly cool and lit by campfires and fireflies, and the water seems more vividly blue against all the shades of green.
Found on the east coast of the Lower Peninsula, this region is just west of Michigan's "thumb" and includes the towns of Bay City, Birch Run, Chesaning, Frankenmuth, Midland, and Saginaw. The list of awesome things to do in the area runs long, but here are 12 to get you started.
1. Paddling the Chippewa
I discovered my love of kayaking — way too late in life, unfortunately — on the Chippewa River in Midland, about two hours north of Detroit. It runs around 90 miles through the Lower Peninsula, usually placid enough (unless it's the winter thaw!) for beginners like me to feel in control. Starting upriver, you feel hugged by overhanging trees, and you can go slow enough that the wildlife isn't too blurry. (I see turtles all the time, and occasionally I'll spot a bird of prey or heron, a bald eagle, or some scurrying muskrats.)
You can put in at Manitou Park, heading toward the Chippewa Nature Center — they run occasional paddling tours — and take out at The Tridge, Midland's three-pronged pedestrian bridge. That's a quick one, though, so just consider it an intro course.
To navigate fewer logistics yourself (and to make a whole day of it), check out Ike's Mobile Kayak Rentals. You can plan your own route with Ike's team, choose from their recommendations, and they'll drop you at your selected put-in and pick you up when you're done.
2. Breaking out your pearls for a night at the Temple Theatre
Saginaw's Temple Theatre is "the showpiece of northwestern Michigan," and it's one of the most beautiful theatres I've ever been in. The marquee is just as shiny as it was in 1926, the opera boxes are just as velvety, the red curtains just as heavy as the days when they witnessed vaudeville, big bands, silent movies, and B.B. King on the regular.
I saw my first musical here (Rent), and if this stock-photo-perfect experience doesn't convert you, nothing will. Between comedy, concerts, and plays, you'll find something that speaks to you. If nothing else, I highly recommend taking a tour of the building (only $2 on Tuesdays!).
3. Touring in the shadows of Frank Lloyd Wright
Back in high school, I didn't have much knowledge of architecture, but I adored art. A tour of the Alden B. Dow Home and Studio (and gardens!) opened my eyes to the fact that architecture can be art, and it ignited a lifelong passion for architecture. It's "frozen music," after all.
Dow studied under Frank Lloyd Wright, and you can definitely see the influence throughout the house, which was named one of the 25 best historic homes in America by Traditional Home magazine. It's probably unlike any home you've ever seen, and if you're familiar with Wright's work, it's fascinating to spot the ways in which Dow both adopted and departed from his teacher's techniques.
4. Checking out a Bavarian town…from a zipline
Trust me, Frankenmuth isn't one of those towns that "went Bavarian" for an excuse to entice visitors with beer and giant soft pretzels. It actually has a deep-rooted German heritage, and you might even hear German or see a handful of not-just-decorative German signs as you wander around town.
But know that you can also wander above town. The Frankenmuth Aerial Park has six courses of varying difficulties made up of cable, wood, rope, and ziplines, all connecting a series of tree platforms, requiring you to swing, step, and fly through the park. At night it's lit up, and events like Glow Night — where they give you LED attire — will make you wonder how Tarzan ever managed this in the dark.
Pro tip: Spend the morning flying, and then get the famous chicken dinner at nearby Zehnder's Restaurant.
5. Adding a passport to your collection
No one should ever travel the Great Lakes Bay Region without having a passport or two. They're completely free, and they hit you with mad discounts. The Drink Your Way Passport gets you over $100 off between all the stops (including Frankenmuth Brewery, see #7 below), and it's a great deal for anyone who, you know, needs to eat or drink while they're here.
The Summer Passport, meanwhile, gives hefty discounts at museums, the Saginaw Zoo, and the Temple Theatre, and that's just the mainstream stops. They both are my constant summer companions, and let me do so much more for way less. This is already a pretty affordable area, so it's a win-win.
6. Taking yourself out to the ball game
Forget about the complexities of the world for a second, and just revel in the fact that it's summer. Grab a slice of watermelon and a lemonade (or, you know, a hot dog and a frosty tall boy), and hit Dow Diamond. The Great Lakes Loons play ball here right in downtown Midland — they're a Single-A Minor League affiliate of the Los Angeles Dodgers, and an absolute blast.
Pro tip: Area hotels offer sweet packages on game days, all including meet-and-greets with the team and a private tour of the ballpark.
7. Tasting an original American microbrew
Frankenmuth is the Galileo of Michigan microbreweries. The Beatles of brewing in the Wolverine State. The George Washington Carver of sudsy, hoppy, ocassionally peanut-buttery deliciousness. That is, Michigan's first and oldest microbrewery is the Frankenmuth Brewery — with a starting date in the 1860s, it's one of the country's oldest, too — and it's set in an absolutely gorgeous spot on the Cass River.
Grab one of their 36 rotating special release and seasonal beers on tap, and come hungry. Their menu extends beyond beer, and it's all a celebration of Michigan-grown produce. Definitely try their Michigan Cherry Salad, which I've been obsessed with ever since it first graced my palate. So good.
8. Finding peace in a bowl of tea
The Japanese Cultural Center and Tea House is the only authentic tea house in the Midwest, and it's my personal favorite place in the entire city of Saginaw, if not all of Michigan. I've taken every one of the courses they've ever offered — from origami to bonsai — and have thrown myself hard through this window into Japanese culture.
You don't have to go as hog wild as I have. Simply stroll through the gardens, or attend one of the tea ceremonies, held on the second Saturday of each month. For just a taste, I cannot recommend the Tea & Tour enough — and at only $5 a person, it's the deal of the century.
9. Hunting for Madonna's antiques
Bay City — on the waterfront — has one of those classic turn-of-the-century downtowns. Gorgeous brick buildings and warehouses once dedicated to lumbering and shipbuilding still stand as some of the last bastions of the city's industrial history. They may not churn out boats anymore, but the buildings are still here — one of them is the 60,000-square-foot Bay City Antiques Center, and it is wonderful.
Within the center are 400+ booths, and the level of obscurity is off the charts — I once found an antique beer sign from a brewery in London that my dad worked at in his youth. Walk in with the most harebrained idea you can think of, and see if they have it. The traditional Antiques Center challenge.
And since Madonna lived here as a kid…who knows? Maybe that trinket box was hers — your friends don't have to know.
10. Letting the kids splash themselves silly at a giant indoor waterpark
In Frankenmuth, you'll see the name Zehnder on more than just an awesome chicken restaurant (seriously though, you need to try that chicken dinner). You'll also spot it at Zehnder's Splash Village Hotel & Waterpark, one of the best indoor waterparks in the country. Technically, it's two of the best — there are two distinct parks, one with a retractable roof. Between them, they have a six-story family raft ride, a zero-entry pool with freakin' geysers, a lazy river, an "action river," and water basketball.
And in case it wasn't clear, the six-story rides go on for ages. You'll almost need to block off an afternoon just for the time it takes to finally come out the other end.
11. Spotting butterflies in Dow Gardens
Midland has many attractions named after the Dow family — they founded Dow Chemical here way back in 1897. I first went to Dow Gardens as a kid, and I remember every second of navigating through the butterfly house with my Girl Scout troop. It was love.
The 110-acre property is designed to introduce you to entirely different vistas and ecosystems as you tour the property — that is, no two sections are alike. One minute you'll be walking through a wintry area, all evergreens and silver birches, and then you'll turn the corner to a babbling brook surrounded by trees flowering in the wake of springtime. And a new bonus? It'll soon be the home of the country's longest canopy walk, opening in October 2018.
12. Prosting, "Whining," and dining
First spot: Prost! Wine Bar & Charcuterie in Frankenmuth. Prost is German for "cheers," and you'll have plenty of opportunity to get the pronunciation just right at this wine bar. There's an upscale wine list, including half a dozen on tap, which protects them from oxidation and any pesky recorking. A local favorite is the Liberty School Cabernet Sauvignon, though good luck not ordering "Sex," "Grace," or "Rosso" from the local L. Mawby line. And don't overlook the charcuterie — we're talking top-class Italian prosciutto, Spanish cheese, fig-and-almond cake…there's 30+ items you can choose from, all told.
Over in Midland, you also need to check out Whine. It's a surprisingly not-stuffy wine bar that also rocks a good burger, small plates, charcuterie, and rounds out their chalkboard menu with beer and cocktails. (I highly recommend the scallop cakes paired with a Chardonnay.) The emphasis is on high-quality, local ingredients, and servers seem to possess Rain Man-like wine knowledge — which is perfect for people (like myself) who know very little about the drink, but love it all the same.
The wine flights are a great way to try something new and something local — don't forget that Michigan has its very own headline-making wine country. As the name suggests, whining is allowed, but you won't be doing much of it…not on this trip.