in paid partnership with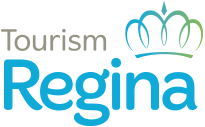 THERE'S A CITY on the plains of Canada that's home to one of the best pro snowboarders on the planet, the oldest symphony orchestra in the country, and 322 beautifully sunny days a year. Yep, we're talking about Regina. Pretty lakes, buzzing bars and restaurants, and some extremely passionate sports fans…read on for 12 facts you probably didn't know about the capital of Saskatchewan.
1. Every Royal Canadian Mounted Police Officer in Canada has undergone police training at Depot Division in Regina.
When people think of Canada, one of the first images associated with the country is the scarlet serge of the Royal Canadian Mounted Police. It's so distinct that the RCMP has trademarked the uniform. And for 132 years, Regina has been the location of Depot Division, the training facility where every single RCMP cadet comes to learn how to be a "Mountie." The onsite RCMP Heritage Centre opened in 2007 to help celebrate and commemorate one of Canada's most important institutions by sharing the history and stories of the Mounties. It's hard to get more iconically Canadian than this.
There's a constant rotation of exhibits at the centre, and they're not like those traditional museum displays you might be picturing. Think instead of getting behind the wheel of a cop car (okay, so it's a driving simulator), navigating pressing scenarios, and testing your reaction time. There's also an augmented reality hololens, where you have to keep your Cadet dorm room up to the snuff of the Sergeant Major. It's designed to be a glimpse inside Cadet life.
2. One of the best pro snowboarders in the world lives here.
There aren't many ski mountains in Saskatchewan, but that doesn't stop us from taking snow sports seriously. To make up for the absence of snowy peaks, we head to Mission Ridge Winter Park near Regina in the Qu'Appelle Valley. With three chair lifts, 14 runs, and a vertical drop of 320 feet, this ski hill was integral to the development of one of the greatest pro snowboarders: Mark McMorris. He's only 23 but has already claimed 14 X Games medals, an Olympic bronze, and he was the first person to ever land a backside triple cork 1440. Not bad for a flatlander from Regina.
3. The Regina Farmers' Market has been farmer-driven from its inception.
The Regina Farmers' Market was around way before locally sourced food was hip. Since 1975, local farmers have been selling their goods in town through harvest season. Today, the market operates 10 months out of the year, and more than 125 vendors are carefully selected to participate after completing a rigorous application process.
From Armenian pastries by Sisters' Cake, to freshly ground Jamaican jerk seasoning and cajun blends by Clark's Spices, to saskatoon berry caramel popcorn by POP!ed Paradise and Rusty's organic wild rice pancake mix (yes, the rice is harvested in Saskatchewan!) — foodies do well here in Regina. For live music to go with your eats, look out for the summertime-only Market Under the Stars.
4. There's a record-breaking green space in town.
At 2,300 acres, Regina's Wascana Centre park is bigger than Vancouver's Stanley Park and Central Park in New York City combined. Plus, it's home to the world's largest Western Painted Turtle. Her name is Olga, and in 2015 her hard shell was measured to be a record-setting 10.47 inches long. And then there's the Albert Street Memorial Bridge, on the western edge of the lake, said to be the longest bridge over the shortest span of water in the world. So there you go!
5. Canada's oldest symphony orchestra is not your typical orchestra.
The Regina Symphony Orchestra is Canada's longest continuously operating orchestra, and it's constantly reinventing itself. They've been known to take on anything from performing alongside Indigenous drum groups to film scores from Fifty Years of Bond. Then there's the annual Symphony Under the Sky event. This August, the symphony will perform classical music under the prairie sky at Motherwell Homestead, a beautiful national historic site east of Regina.
6. Government House is haunted by a ghost named Howie.
Originally a residence for the Lieutenant-Governor of the Northwest Territories, Regina's 126-year-old Government House has a lengthy history of mischievous happenings. There are multiple reports of people hearing voices and noises when no one else is around, a mannequin moving from place to place, and pool balls rolling around in the billiard room. Eeriest of all, it's said that if you glance just right into a mirror on the upper floor, the reflection ripples and moves.
Now fully restored to the period of Lieutenant Governor Amédée Forget, this museum gives you a glimpse of life at Government House at the turn of the 20th century (it's also the home to the Lieutenant Governor's working office). And whether it's home to a ghost or not — Howie apparently was the cook of Lieutenant-Governor Archibald McNab — Government House is a great place for an afternoon picnic in the gardens, and for a visit to the museum exhibitions inside.
7. Canada's only medieval-style castle is right downtown.
You can live out all your Game of Thrones dreams here for a cool $1,495 CAD per night…or, if that's a bit out of your budget, just take the awesome $25 CAD tour.
Complete with trap doors, secret tunnels, and indoor fountains, the 10,000-square-foot Stone Hall Castle is the ultimate representation of taking a "no expense spared" approach to life. When real estate magnate Francis Nicholson Darke had the mansion built in the 1920s, millennium-old limestone was imported from Greece and 18th-century paintings were shipped over to create this fantastical ode to all things medieval.
8. An Emmy-winning actor got her start at the local Globe Theatre.
Yep, we're pretty proud that Regina-born-and-raised Tatiana Maslany won an Emmy for best lead actress in a drama at the 2016 awards. That was for her role in Orphan Black, but Maslany got her start at Globe Theatre in Regina, performing in plays like The Secret Garden, George Dandin, and A Christmas Carol. Globe is also notable for being the home of the first professional theatre company in the province and is the only theatre in the round in Western Canada.
9. Regina is a hotbed of curling talent.
Curling was named Saskatchewan's official sport in 2001. And Regina in particular has nurtured some of the greatest curlers of all time, including the Richardson brothers (they won four Canadian and World men's championships in the late 1950s and early 1960s) and the iconic Sandra Schmirler. Her team won three Canadian and three world women's championships in the 1990s, along with the first ever gold medal in curling at the Olympics in 1998.
10. The city became Saskatchewan's capital thanks to its sunny disposition…
…okay, so the fact that Regina receives 2,365 hours of sunshine a year isn't exactly why it was chosen as the province's capital (railroads had far more to do with it). But it is in the heart of rich agricultural land, which requires lots of sun, so it was a natural choice when selecting between Regina and other Saskatchewan locales for the distinction of being named the capital city.
11. Rider Nation might just be the most hardcore football fans you've never heard of.
The new Mosaic Stadium — completed in 2017 and now twice its original size — is home field for the Saskatchewan Roughriders CFL (Canadian Football League) team, and its fans are zealous. Expect to see supporters of the "Green Bay Packers of Canada" trussed up in watermelon helmets (yes, real watermelon rinds carved into makeshift helmets) and pilsner beer capes, cheering loudly at the stadium, in every city bar, or at the neighbor's backyard barbecue.
Although not every season can match the excitement of 2013's Grey Cup win at home in Regina, Rider fans are limitless in their passion for the team. There's a saying that the people of Saskatchewan "bleed green" — during the recession of the 1980s, the franchise allowed fans to pay for tickets with wheat, to ensure people could attend the games.
12. The most popular ice cream parlor in town is coming into its 61st season.
Since 1956, Milky Way has been making the most amazing ice cream flavors, milkshakes, and donuts. From custard and blueberry to pistachio and coconut, there's always a new "Flavour of the Day." The milkshakes — hello, peanut butter and jam flavor — are unreal, and the ice cream cakes are completely amazing. See you in line!