in paid partnership with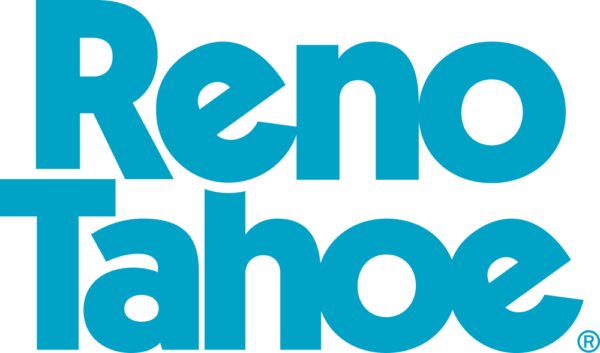 Glowing beneath the Sierra Nevada, less than an hour from Lake Tahoe and minutes from Tahoe National Forest, Reno can't be rightfully compared to anywhere else in the Mountain West — especially come winter. It's the first stop on the Burner Byway; the gateway to both the Black Rock Desert and the country's largest alpine lake; and the jumping off point for the highest concentration of ski resorts in all of North America. In short, Reno in winter makes for a heck of a getaway.
Whether you're here for a night, a weekend, or an extended work-cation, Reno's snowy side includes everything from neon-lit and family-friendly to high, steep, and adrenaline-fueled. Here are five winter adventures you could have once you're here — all close enough to town that you can look forward to laying your head on a fluffy hotel pillow at the end of each epic day.
1. Practice your pirouettes — under the stars and neon lights
Maybe you're the type that can twirl around the ice like an Olympic hopeful. Or perhaps you're of the less-graceful variety, grasping the wall as you make your way around the rink. No matter how you approach the ice, you'll have a better time doing it at The Ice Rink at Grand Sierra Resort. Expect both views of the surrounding snow-covered mountains and all the cozy winter amenities a skater could dream of: fire pits, 'smores kits, warm cocktails, and a heated pool.
If the weather outside is frightful, head across town to Reno Ice and enjoy the fun (and comfort) of skating indoors. To add a little boogie to your ice-skating experience, the ice rink at The Village at Northstar — less than an hour from downtown Reno — hosts live music on Saturdays, and skating is free if you bring your own skates. (Rentals are available, too.)
2. Snowshoe through the woods to desert and mountain views
For those who love hiking, snowshoeing is a great way to explore when your favorite trails are buried in the white stuff. About 20 minutes from downtown Reno, the trails at Galena Creek Regional Park accommodate all skills levels — as well as all timeslots on the itinerary. Squeeze in a half-mile loop or go for a nine-mile all-day adventure to soak in views of the surrounding mountains. Trail maps are available at the Galena Creek Visitor Center, and dogs are welcome to join, on-leash.
To keep your feet moving, continue up Mount Rose Highway to Tahoe Meadows. There's plenty of space to roam here, but the highlight is the short ascent to the top of Chickadee Ridge. Your reward for the climb is phenomenal views of Lake Tahoe — plus you're sure to be greeted by the winged locals for whom the ridge is named. Though they'll try to convince you otherwise, don't feed the chickadees! They'll likely land on your hand if you simply stretch out your arm.
Note: If you prefer letting an expert show you the way, several resorts in the Reno Tahoe area offer guided snowshoe tours, including Northstar California, Palisades Tahoe, and Homewood Mountain Resort.
3. Carve some Reno Tahoe turns
There are so many ski resorts close to Reno that your arrival in town always holds the possibility of same-day slope crushing. The closest resort, Mount Rose Ski Tahoe, is just a 30-minute drive from downtown.
First-timers might want to check out Diamond Peak in Incline Village and Northstar California in Truckee, both offering excellent lesson programs with plenty of beginner and intermediate terrain to practice new skills. More advanced skiers and riders can head to the steeps of Palisades Tahoe or Sugar Bowl Resort.
To adventure beyond resort boundaries, expert skiers and riders with avalanche training can book a guide with an outfit like Alpenglow Expeditions or North American Ski Training Center to access some of the most prized powder stashes in the area. If you're looking to maximize the amount of vert skied, hit up the folks at Homewood Snowcat Adventures.
Lastly, trade that after-dinner apéritif for a ski or ride under the stars at Boreal. Open until 8pm daily, they offer night-skiing and the region's only all-mountain terrain park, no sunscreen required.
4. Score some throttle therapy
You can explore miles — and miles and miles — of mountain ridges, powder-filled valleys, and pine forests, all while taking in the beauty of Lake Tahoe, on a snowmobile. If you want to cover some serious ground in one of the most scenic regions in the country, this is how to do it.
Lake Tahoe Snowmobile Tours will customize a trip to match your desires — and your schedule — whether it's your first time on a sled or you're looking for an adventure a little more off the beaten path. Clothing and gear rentals are offered, so you'll have everything you need for a comfortable day even if you packed light.
For experienced riders looking for a self-guided adventure, Adrenaline Connection in nearby Truckee offers snowmobile rentals (and delivery service). Enjoy a few hours or a whole day discovering what these mountains have to offer while getting your adrenaline fix, all within a short drive of the comforts of Reno.
5. Head for the hills
It doesn't take anything more than a few inches of snow, a small hill, and a sled to have a full day of winter fun in and around Reno. Sledding often serves as a person's maiden voyage into winter adventure, but the joy it brings is just as bright the 100th time as it is the first — doubly so when you get to watch the kids having a blast.
For a self-guided sled day, Tahoe Meadows offers a variety of hills ranging from mild to wild, as do the Sno-Park areas on Donner Summit. If you'd prefer to sled somewhere with access to hot cocoa, head to one of the nearby resorts: Homewood Mountain Resort and Boreal each offer sledding or tubing and snow play.
For a real treat and the beats to match, Disco Tubing at Palisades Tahoe is the place to go — just like how Reno Tahoe in winter is the place to be.
More like this