in paid partnership with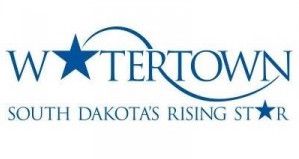 There's something perplexing about South Dakota, and something even more confounding about Watertown, its fifth-largest city. Its reputation as a plains state is an uninformed Midwestern generalization, its history more Wild Bill Hickok than Farmer Brown. This is country for cowboys, motorcyclists, rock climbers, road trippers — for adventurists, really. The quiet, stoic kind that don't brag about it, of course.
And Watertown, 90 minutes north of Sioux Falls, is that under-the-radar spot in this under-the-radar state, making the adventures you find here a gratifying two-fer. It's one of my favorite places to visit, and each time I'm here, I meet the most eclectic types: female race-car drivers. Ex-stunt doubles. Famous chefs. Everyone here knows just what they've stumbled on, and you'll feel it too. Here are eight adventures two degrees from the mainstream that prove it.
1. Floating on a glacial lake…
Glaciers rammed through and receded from South Dakota more than 10,000 years ago, leaving behind glittering marbles like Lake Kampeska (and the smaller Pelican Lake). When winter comes, it makes for some of the best ice fishing in the US — tournaments are routinely held here — but in summer, it's open season at any speed: tubing, kayaking, paddleboating, jet-skiing, you name it. And the sunsets? As pink as they get.
Four state, city, and county parks hug Kampeska's edges, though it's easiest to rent equipment at Stokes-Thomas City Park. In moments like these, you'll relish the big-time adventure in the small-town package. Find Angie's Paddle and Pedal in the white trailer near the water's edge, scope out whatever you'd like to rent, let Angie (or another family member) know, and they'll set you up in about three seconds. At noon, you'll be in the car; at 12:01, you're zipping along a 12,000-year-old story.
2. …or navigating its miles of shoreline
If you drive around Lake Kampeska, it'll feel like ages. The shoreline measures 13.5 miles, and you'll find little to no traffic…but really, this is a route that should be biked or walked. The trails are wide and well maintained, and viewing them from a car window is a special kind of rude. Especially when you could be on a bicycle built for two…or three (Angie's has everything).
There are six docks for stops and photo ops, and Sandy Shore Recreational Area and Memorial Park are great for camping, disc golf, picnicking, the works. And since no lake experience would be complete without a divey hole-in-the-wall bar, enter The Prop. It's probably been around since before sliced bread, and locals still frequent the place. Get the garlic burger, a cold pint, and leave a dollar bill on the ceiling.
3. Locking eyes with a kangaroo
Bramble Park Zoo sees twice as many visitors than Watertown has residents. It's AZA-accredited, and Zoo Director Dan Miller has Jane Goodall on speed dial (okay, maybe just in his contact list, but still). So when Olive — the young kangaroo pictured above — needed a home, she came right to Watertown.
The zoo regularly hosts wildlife encounters, and there are sunset "zoofaris" for adults. (A glass of rosé with a family of lemurs? Officially crossed off my 30-before-30 list.) Eight hundred other animals will vie for your attention, and that includes a baby sloth named Linus. ("Eeeee!" is the appropriate reaction here.)
4. Hitting up Dempsey's summer cocktail series on Wednesdays…
Let me tell you about the coolest cat on the planet. His name is Sean Dempsey, and he's a certified pizzaiolo, which is a word I can't even spell. His Oktoberfest Pizza won first in the "Non-Traditional Pizza category" at the International Pizza Expo in Vegas (the biggest competition of its kind in the US), and he competes in Italy. (Last time he was there, he had to use vending machine mozzarella — and he still pulled off decent ratings.)
But the outdoor adventure here is Dempsey's summer cocktail series, held every other Wednesday. Grab a token, head to the patio, and scope out the bar. It'll be staffed by one of the best bartenders in South Dakota (not kidding) mixing different drinks each week. The series kicked off with Phil Klein from Glacial Lakes Distillery behind the bar, slinging Prohibition-era cocktails with their local, Watertown-made spirits. Dining al fresco on the best pizza in the country, paired with local drinks made by the masters? What kind of small town is this?
5. …followed by Thursday Night Live
On Thursdays during the summer, part of downtown Watertown shuts down to cars, and the pavement becomes a maze of families, lawn chairs, and koozies. The air has that classic summer barbecue feel…if your childhood summer barbecues included a giant bandstand and awesome live music. Essentially, the entire town gets together to eat, drink, dance, and be merry. That's Thursday Night Live, and it runs through August 30.
The first Thursday Night Live of the season kicks off with the annual Wine Walk, where your ticket allows you to wander into dozens of businesses and sample sangria, beer, wine, and cocktails. But regardless of which Thursday you attend, make sure not to sit your butt in your lawn chair until you've grabbed an order of chislic to-go from Harry's Haircuts & Hot Towels. It's tradition.
6. Picnicking inside a painting
If you know the name Terry Redlin, Riverside Park might look familiar to you. The über-famous wildlife painter was from Watertown, and he used Riverside as inspiration for a few of his backdrops — namely the stone bridge that crosses the Big Sioux River. There are tons of trails here (going all the way to the zoo), and of course you can do things like volleyball and fish, but it's pretty cool just grabbing a blanket and taking in the picture-worthy landscape.
Afterward, you can head over to the Redlin Art Center — a shiny, $17-million gallery on the hill entering town — and scope out where you just were. The art center is surrounded by walking trails, gazebos, and Redlin's resident geese, too.
7. Horseback riding for a cause
The English language has failed Joy Ranch. It's called a retreat center, but let's cover the details, and then you tell me if you agree.
For starters, its 120 acres — that you can hike and explore — are barrier free. There's an Old West theme, but its 16 rooms are totally modern. You can ride in horse-drawn wagons, drink the ranch's fresh-roasted coffee, sit in a private fireside dining room, hit the lake, stay in the campground, tour the historic country church, grab something sweet at the saloon, and just take it easy out on the prairie. It's a weekend getaway that's secluded, quiet, unpretentious, and serene.
But Joy Ranch is mostly about the kids. All summer long they're running camps for kids with disabilities, turning what's a place for reunions and weddings to most of us into a place of hope for a handful of very special visitors. Every staff member knows the kids' names, and every inch of the ranch is handicap-accessible. So, sure, let's call it a retreat center until English comes up with something better.
8. Going on a scavenger hunt for public art
While you're wandering downtown during Thursday Night Live, hitting the shops, or just looking for a place to grab a "South Dakota martini," turn the streets into a scavenger hunt. Thirteen sculptures dot these blocks (two more are on the outskirts of town), and they're constantly rotating. Mermaids and saxophonists one day — the sculptures sell, by the way — will be ballerinas and pirates the next.
So let's recap: What 22,000-person town do you know that lays claim to famous pizza and famous artists, puts such emphasis on community and art, and still manages to keep under the radar? Yeah, Watertown is out of the ordinary — but in a way that makes you realize anything anywhere is possible. The underdog isn't just the one you root for. It's also the one that's full of surprises.