in paid partnership with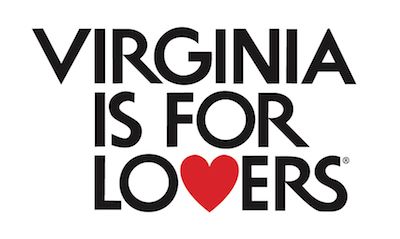 IN VIRGINIA, there's nearly endless possibility for outdoor adventure. With a hugely diverse geography, 544 miles of the Appalachian Trail, 37 state parks, and nearly three dozen National Park Service-operated parks, historical trails, battlefields, shorelines, and other sites — Virginia is where it's at when it comes to playing outside. And it's high time we all took notice. Here are some under-the-radar ideas to get you started.
1. Summitting with the sun at Old Rag
Better than coffee? That might be a stretch, but watching the sunrise from the top of Old Rag is sure to make for a more thrilling start to your day. This hike isn't for the amateur stroller — Old Rag is a nine-mile circuit in Shenandoah National Park that will likely take you six to eight hours to complete. To catch the sunrise, you'll want to start around two or three in the morning.
Necessities include plenty of water, hiking boots with ankle support, reliable upper-arm strength for the rock scramble, a headlamp for the pre-sunlight portion of the hike…and maybe some stealthily packed champagne to pop as the sun rises (in a plastic container, of course). The most popular route to the summit is the blue-blazed Ridge Trail, followed by a descent via Saddle Trail. On the way down, you'll pass two shelters and an outdoor privy.
Plan this hike for summer or early fall, because spring rain can make the trail too slick in the early morning. Despite its technical difficulties, this is one of Virginia's most popular hikes — even if you don't opt for the sunrise experience, you'll want to arrive by 7 a.m. to avoid the crowds (or go on a weekday). And don't forget, you need an entrance permit to the national park to access the trail.
2. Paddling the Eastern Shore
Virginia's mountains and battlefields get a lot of attention, but much of the state's richest history can only be experienced along its coastline. The Virginia Seaside Water Trail, developed by the Virginia Coastal Zone Management Program, links 100 miles of "trails" into 37 different routes along Virginia's Eastern Shore, a 70-mile-long peninsula separating the Chesapeake Bay from the Atlantic Ocean. These routes provide for all different skill levels — explore the site carefully to find your best fit, and keep in mind that some docks charge launch fees.
Tour companies like Southeast Expeditions and Burnham Guides can facilitate sunset, winery, clam-focused, and overnight B&B trips. Be sure to save some time for the world-famous seafood of the area (check out The Shanty in Cape Charles), and to learn more about how Eastern Shore residents have been making a living off the sea for centuries.
3. Camping on pony-inhabited islands
The small island of Chincoteague is the Virginia gateway to Assateague Island, home of the world-renowned Chincoteague ponies. History tells us the ponies originally arrived on the island via a 17th-century Spanish shipwreck, and they've since adapted to thrive off the grasses of the salty Assateague marshlands.
Chincoteague Island has plenty else to keep you occupied — boat and bike tours are offered by numerous companies throughout high season — and multiple campgrounds allow you to stay in the thick of the action. Historic Chincoteague has plenty of retro charm (and hand-made ice cream at Island Creamery), and there's no shortage of trails winding through nearby Chincoteague National Wildlife Refuge. Rocket takeoffs from NASA's Mid-Atlantic Regional Spaceport on Wallops Island can be viewed across the area with some advance planning as well.
4. Exploring the Great Dismal Swamp
Just south of Norfolk and stretching to Virginia's southeastern border is one of the most evocatively named wildlife refuges in the state, the Great Dismal Swamp. The 111,000+ acres of swampland centered around Lake Drummond means countless hiking, fishing, and boating opportunities, but the real appeal is the swamp's incredible biodiversity — there's more than 200 types of birds, 10 different turtle species, and 52 species of butterfly, plus black bears, bobcats, whitetail deer, and otters.
Canoes, kayaks, and small boat craft are permitted on Lake Drummond, so you can silently paddle through ancient cypress trees, spy on wildlife, and explore the foggy hidden pathways of the flooded forest. To ensure the protection of the swamp's delicate ecosystem and to preserve its long history, be sure to closely follow park guidelines — no camping outside of designated areas, swimming, fires, or collecting plants (or animals!). You can pitch a tent at the Lake Drummond Reservation — it's canoe-in only, but there's running water and restrooms.
5. Staying in the awesomest treehouses you'll ever see
Treehouse getaways are certainly en vogue right now, and it's hard to fault the Instagram-worthy trend — who doesn't look at a treehouse and immediately become an 8-year-old again? For a weekend trip your third-grade self would approve of (skinned-knees and pigtails optional), check out one of the many unique treehouse sites in Virginia.
Perched 20 feet above the Shenandoah River in George Washington National Forest, Sanctuary Tree House comes with a canoe and two inner tubes. For those with deeper pockets, Primland Tree Houses in quiet Meadows of Dan offers a nearby spa, while White Lotus TreeHouse and SkyWalk lets you design your own eco yoga retreat.
6. Hiking Virginia's highest peak via Grayson Highlands State Park
Close to the southern border of Virginia and directly off the Appalachian Trail, Grayson Highlands State Park is awash with grassy alpine balds, premier bouldering opportunities, and 10 miles of the Blue Ridge Highlands Fishing Trail. But the park is perhaps best known for sitting next door to Virginia's highest peak, the 5,729-foot Mount Rogers. The quickest route to the summit is the 8.5-mile out-and-back Rhododendron Trail — this is one of those cases where the journey is more important than the destination, as the peak of Mount Rogers is completely cloaked by tree cover.
Grayson Highlands is another place famed for some unique residents: 100+ wild ponies. The origin of the ponies is somewhat mysterious, and the herd thrives with little human interaction aside from the annual fall roundup and medical check. The roundup coincides with the annual Grayson Highlands Fall Festival, where you'll find classic Virginian fall fare such as apple butter and molasses-making demonstrations, hobo pies, bluegrass bands, and a pony auction. The nearby Mt. Rogers National Recreation Area is also home to the 68-mile Virginia Highlands Horse Trail.
7. Going yurt camping at Sandy Bottom Nature Park
For old-school camping that's both kid- and budget-friendly, hit up Sandy Bottom Nature Park in Hampton. At 456 acres, the park isn't gigantic, but it packs a lot into a small space: two lakes, an observation tower, an educational center and amphitheater, wetlands, a playground, 12 miles of hiking trails, picnic areas, and cabin, yurt, and boat rentals.
Yurts sleeping six are only $42 a night (reserve early), while campsites range from $10.50 to $31.50 depending on group size. Water is the primary draw for this park, making it a great destination to beat the summer heat. Kayaks, canoes, and jon boats can be rented by the hour or for a full day for only $15. Note that anyone over the age of 16 must have a Virginia freshwater fishing license, but these can be purchased from many nearby stores as well as online.
8. Playing in the Devil's Marbleyard
To experience one of the oddest geographical features in Virginia, start on the Belfast Trail in the James River Face Wilderness Area, a bit south of Glasgow. Follow the blue blazes of the 4.5-mile out-and-back trail across Elk Creek and through an abandoned Boy Scout Camp, and after a steady mile-long uphill section, you'll reach the marbleyard — an expanse of small caves and huge boulders, some the size of a car. The field is thought to have formed more than 500 million years ago following a change in sea level. If you look closely, you may spot fossils and burrow-holes of prehistoric sea critters.
Though not the most technically difficult hike, the steady elevation gain will leave you sweating. Budget plenty of time to explore the boulders once you get up there (and use common sense — some of the rocks are loose, and others are separated by 20- to 30-foot crevasses). If you're still hungry for more, you can make the trek more challenging by returning via Gunter Ridge Trail. But whichever route you choose, you'll definitely be going on an adventure.