in paid partnership with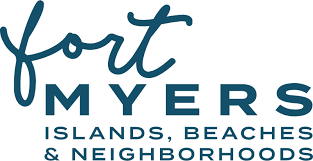 The Beaches of Fort Myers & Sanibel can be summed up in three Ws: warm Gulf waters, white-sand beaches, and wildlife. All three are accessible and family friendly — with bike lanes, beach trams, and boardwalks to boot — and a million and one activities will get you experiencing each.
Kayak through nature preserves, explore the history of the barrier islands, spot dolphins while parasailing over Estero Bay, and take your seashell game to the next level. If you need more reasons, we got 'em below.
1. You'll get to practice your "Sanibel Stoop."
Sanibel Island is often called the "Seashell Capital of the World." Although there's no official governing body on this particular matter, it's safe to say the seashell hunting, or shelling, here is pretty awesome — and people are duly obsessed. There's a National Seashell Day, the world's only seashell museum, and the sight of hunched-over tourists scouring for shells is so common it has a name: the Sanibel Stoop.
Two of the best places to go shelling are Blind Pass Beach and Bowman's Beach on Sanibel Island. A few thousand years ago, Captiva and Sanibel Islands were conjoined, and Blind Pass is the point where they separated. The swift currents and slightly deeper waters here carry in some prize specimens. Nearby Bowman's Beach, an undeveloped public beach with miles of open sand, has a shallow sea floor that stretches way out into the Gulf, allowing the shells to roll in gently with the tide.
Stay: The colorful, old-school-Florida Castaways Beach and Bay Cottages, part of the Beach Cottages of Sanibel, are just a short walk down a sandy path from Blind Pass Beach. Bowman's Beach is a mile or so farther down the coast.
2. You'll try out new water sports.
If you've got an adrenaline junkie in the family — or if the kids get tired of lying on the beach — there are a ton of non-horizontal water activities on The Beaches of Fort Myers & Sanibel. The shallow waters and gentle waves, especially at low tide, are great for paddleboarding and kayaking in the Gulf and exploring the backbay estuaries. Or up the ante and go parasailing and see the Gulf of Mexico from 1,200 feet in the air.
For the adrenaline novice, Revolution Cable Park in North Fort Myers lets kids and adults learn how to wakeboard and kneeboard on a cable system in flat pond waters. We all start somewhere.
Stay: At Pink Shell Beach Resort & Marina on Fort Myers Beach, there are kayak and paddleboard rentals available for guests. They also have guided eco-tours via kayak to Bird Island in upper Estero Bay and through the mangrove ecosystem at Bunche Beach Preserve.
3. You'll go out of range at Lovers Key State Park.
Lovers Key State Park is a 712-acre network of tiny islands, white-sand beaches, estuaries, hiking trails, and bike paths with many places to fish and view wildlife. Up until the 1960s, this group of barrier islands was only accessible by boat, and the lack of commercial development in the area helped it become an important habitat for native species. Kayak through two miles of estuary trails and see if you can spot some of the bald eagles and West Indian manatees that make their homes here.
Stay: Pointe Estero Beach Resort is a five-minute drive from Lovers Key State Park. The resort complex has its own stretch of beach, a swimming pool, waterfalls, and bikes available for guests so you can explore in style.
4. You'll find joy in the Bubble Room.
Even if it weren't a fantastic restaurant and bar in a beautiful location, the Bubble Room on Captiva Island would probably still attract a crowd. Inside, it's always Christmas. In the 1930s. And that only covers a fraction of the wacky decorations you'll run into here. See antique Santa Clauses and life-sized motorized elves spinning and singing, toy trains that run along a track through every room, and Christmas lights, aquariums, and old photos everywhere. It's dizzying and it's awesome — expect the kids to be impressed!
Stay: The Bubble Room is a five-minute walk from South Seas Island Resort, which has everything you need for a perfect Captiva Island Vacation. That includes a nine-hole golf course (rated one of the best short courses in the world), 11 tennis courts, and the Blackwood Tennis Academy, ideal for older kids looking to pick up some new skills.
5. You'll explore dozens of barrier islands.
There are dozens of barrier islands within striking distance of The Beaches of Fort Myers & Sanibel, and modernity has yet to reach them all.
At pristine Cayo Costa State Park, accessible only by water, you'll run into fewer visitors than at most other state parks, all but ensuring first dibs on those famous seashells.
Useppa Island has an interesting history, from Native Americans to princess-kidnapping pirates to CIA agents.
The inn and restaurant on Cabbage Key is a Southwest Florida icon. Visitors have been hanging signed dollar bills on the walls and ceilings here for decades — fun for the kids to count!
Stay: Park your boat — or rent one — when you stay at Sanibel Moorings Resort, a six-acre complex with a marina and dock as well as a botanical garden, weekly shelling lectures, and guided beach walks.
6. You'll put your two wheels to good use.
The League of American Bicyclists designated Sanibel Island a Bicycle Friendly Community for its 25+ miles of bike paths — an impressive number, considering the size of the island. Strap on your helmets and you and the family can breeze through marshes, hammocks, wildlife preserves, and wetlands. Caloosahatchee Regional Park, Cape Coral (another Bicycle Friendly Community), and the J.N. "Ding" Darling National Wildlife Refuge are other spots cyclists might want to add to their list.
Stay: Sanibel Captiva Island Vacation Rentals will set you up with a home away from home, someplace where you can get settled for a week, hop onto and off the bike paths, get cozy with a book on a screened-in porch, and pause dinner prep for five minutes to run out onto the sand and catch the "green flash" as the sun goes down.
7. You'll find a gateway to the past.
Take the family to learn about the history of Sanibel Island — from the days of the Calusa Indians to the Spanish era to the late-19th-century settlers — at the Sanibel Historical Museum and Village. The museum is a collection of preserved buildings from the early 1900s, along with interactive displays that are far more new-age. You can learn about what life was like on Sanibel Island through the perspective of former residents, too.
Stay: West Wind Inn of Sanibel is just a few miles from the museum. It faces the Gulf and has guest rooms as well as studios with fully-equipped kitchens for that home-away-from-home feel, perfect for creating your own version of Sanibel Island history.
8. You'll lose track of your animal encounters.
There's a ridiculous amount of wildlife on Sanibel Island. You'll see dolphins feeding on the horizon as the sun sets, manatees bobbing in the water near Lighthouse Beach Park, and, if you're up with the sun during sea turtle nesting season, you'll likely encounter volunteers checking nests for hatched eggs and sea turtle tracks.
It's pretty hard to miss J.N. "Ding" Darling National Wildlife Refuge, as it covers nearly one-third of Sanibel Island and is an essential part of the local culture. Located on the bay side, it's home to a mangrove ecosystem supporting some 270 species of birds and many other creatures. If you want to get up close and personal with some flying dinos, visit CROW (Clinic for the Rehabilitation of Wildlife), an animal rehabilitation and wildlife information center where you can hang out with Mina, the great horned owl, and Lola, the American kestrel.
Stay: The Inns of Sanibel has four different properties on Sanibel Island — Sanibel Inn, Sunset Beach, Seaside Inn, and Song of the Sea — three of which are located near the eastern end of the island, a short bike ride away from "Ding" Darling, CROW, and Sanibel Sea School, where kids can take a day course to learn about marine conservation and all the little critters that inhabit the beaches and seas of Southwest Florida.