in paid partnership with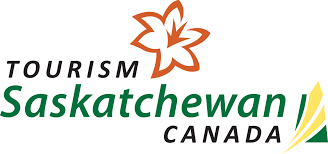 SASKATCHEWAN IS HOME to shifting sand dunes and massive dark sky preserves, little prairie towns where you can eat crispy Oaxaca grasshoppers and buzzing cities where chefs are doing amazing things to classic Canadian dishes, slow-moving fields and adrenaline-infused cliffs, and neighbors ready and waiting to welcome you in. Basically, it's one province most definitely worth getting off the Trans-Canada for. Here are eight surprising reasons why.
1. The landscape is as varied as it gets.
Saskatchewan is known for its fields of wheat stretching as far as the eye can see. As you go north, though, the land begins to rise and fall and the fields become interspersed with aspen, birch, and spruce like patches on a quilt. If you go even farther north, it's the fields that become the patches — until they disappear altogether, swallowed by the huge swathe of boreal forest that sweeps across the northern part of the province.
But Saskatchewan is so much more than fields and forests. It's also sand dunes and the rocky Canadian Shield, babbling brooks and blossoming meadows. It's a kaleidoscope of colors and contours — beautiful blue lakes and big brown buttes, white sandstone cliffs and rich green woodlands.
2. There's serious adventure up north.
One of the oldest geological formations on Earth, with portions north of Athabasca dating back more than 4 billion years, the Canadian Shield is a ruggedly attractive landscape rich in minerals. Much of this ancient bedrock is covered in a thin layer of soil perfect for the growth of evergreens like spruce, fir, and pine trees. These boreal forests teem with wildlife — muskrats and moose, beavers and bears, weasels and wolves. Birds ranging from big bald eagles to much smaller gray jays nest overhead, while the calm stillness of the forest is occasionally broken by the rat-a-tat-tat of a woodpecker or the haunting call of a loon from a nearby lake.
And there are so many adventures to be had up in Saskatchewan's north. Fish the many glacial lakes dotting the region, catching northern pike, lake trout, walleye, or perch, and then cooking it over a campfire. Canoe the rivers, mastering raging rapids, seeking out prehistoric pictographs, and portaging around magnificent waterfalls. Hike, bike, boat — do it all.
3. The wide-open spaces of the south can redefine your sense of time.
Part of North America's Interior Plains that stretch from Texas to Tuktoyaktuk in the Northwest Territories, much of Saskatchewan's prairies are covered in great fields of grain. It's a feature that makes the province the breadbasket of Canada, but those virtually endless horizons have a subtler effect as well: Time seems to slow down and open up with the landscape.
Take a cue from the laid-back pace and create some space for exploration. You'll find more than amber waves of wheat and lentils — there are sand dunes, cliffs, and buttes in Great Sandhills in the southwest, and Grasslands National Park, in the far south, will eventually cover about 350 square miles of the country's last remaining natural prairie. Whether in the shifting of the dunes or the shimmer of the prairie grasses, everything is moving and alive, but at Mother Nature's chosen speed.
4. Millions of years ago, the province was covered by an ancient sea.
During the Cretaceous period some 65 million years ago, the Western Interior Seaway split the North American continent into two giant chunks of land. Stretching from the Gulf of Mexico to the Arctic Circle, its waters were especially deep in the area where Saskatchewan is located, and this massive ocean was ruled by giant marine reptiles. The creatures roaming on land definitely weren't small fries either.
Head to the Royal Saskatchewan Museum in Regina to learn all about the Age of Dinosaurs. And definitely visit the town of Eastend. In 1991, a local high school teacher joined a paleontological expedition nearby…and promptly found the beginnings of the largest T-rex fossil skeleton ever to be discovered in Canada. You can visit 65-million-year-old "Scotty" at the town's awesome T.rex Discovery Centre.
5. The night skies are alive.
Saskatchewan is famous for its sprawling sunrises and sunsets, but the night skies — scattered with sparkling stars, lit by the Northern Lights — are equally spectacular. A lack of air pollution, few urban centers, wide open spaces, and plenty of sunshine all contribute to such a vibrant sky. In fact, the province is home to two of the country's finest Dark Sky Preserves: Cypress Hills Interprovincial Park and Grasslands National Park.
6. You're already considered a member of the family.
Prairie culture was born in the farms and small towns of Western Canada. There's no denying our rural roots. Early settlers and Indigenous peoples sought comfort, friendship, and support in areas where there were few neighbors and your food and possessions came largely from the land. You could probably say this is why Saskatchewanians are willing to share and help others — it's that good ol' camaraderie between visitors and neighbors together out on the vast prairies.
And we celebrate it: Back to Batoche Days, held adjacent to Batoche National Historic Site every July, is the biggest Métis Festival in North America. The Métis are one of three recognized aboriginal groups in Canada, the descendants of members of First Nations peoples and Scottish and French explorers. Their heritage, vibrant music scene, and Saskatchewan spirit runs strong throughout the province.
You can walk right into our community in other ways, too. The Windscape Kite Festival is an annual celebration resulting in the most colorful skies you've ever seen, held in tandem (because one festival at a time isn't enough) with the Long Day's Night Music Festival, both in late June. But you don't have to be around for a festival to experience how welcoming this place is. Our farmers markets and public events — like Chess in the Park and Salsa on the Plaza — make immediate neighbors out of everyone, visitors included.
7. The food scene is legit, especially in the tiniest towns…
Vibank is a town of fewer than 400, but it's home to the amazing Grotto Coffeehouse and Eatery. Run by Kevin and Cecilia Zimmerman, on weekends the café transforms into one of Canada's best restaurants. It's consistently listed in Anne Hardy's Where to Eat in Canada, and reservations are made well in advance for Friday night's three-course Mexican dinners featuring dishes from Cecilia's native Oaxaca. On Saturdays, Kevin brings out the barbecue for some top-notch country cuisine.
In Stenen, where the population is under 100, you'll find Rawhides — customers come from all over the east and central parts of the province for big juicy steaks and burgers as well as pizza, pasta, noodle bowls, and seafood. Decorated with reclaimed barn wood and barbwire, saddles and shotguns, being here feels like being in the true West.
If you plan to visit Grasslands National Park or Cypress Hills Interprovincial Park in the south, hit up Harvest Eatery in Shaunavon (population 1,756) for some of Chef Garrett 'Rusty' Thienes' seasonal, gourmet comfort food. Hello, duck confit poutine!
8. …and dining options in the cities are equally amazing.
Among the many great restaurants in Saskatoon, there's one that really stands out from the rest: Ayden Kitchen & Bar, listed in Canada's "100 Best Restaurants 2017," is owned and operated by Dale MacKay (winner of Season One of Top Chef Canada) together with his co-chef Nathan Guggenheimer and mixologist Christopher Cho.
Here, you'll find your favorite foods made unbelievably more scrumptious. Take perogies, a fave food of mine and my Polish family (and many other Saskatchewanians). MacKay and Guggenheimer stuff theirs with a blend of four cheeses, potato, chives, hen of the wood mushrooms, leeks, and pearl onions for a taste that's the epitome of comfort food. Top it off with a cocktail hand-crafted by Cho with local ingredients and flavors like saskatoon berries, sea buckthorn berries, or sour cherries, and you've got something seriously good to write home about.
In Regina, check out The Willow on Wascana for carefully crafted seasonal dishes. Using only Saskatchewan ingredients, the chefs prepare culinary creations that are a tribute to the province and its people in dishes like wild boar, potato and leek broth, and bone marrow agnolotti. Plus, you get to dine with a view of Wascana Lake, right in the middle of town.