in paid partnership with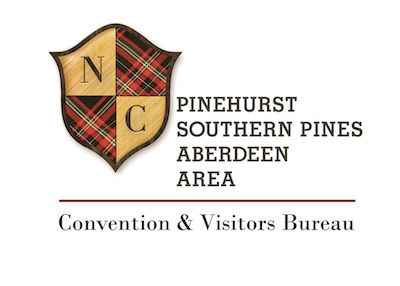 Sure, in the "Home of American Golf" you can't swing a 9 iron without hitting yet another manicured fairway, but this isn't a list of golf courses — there's far more to this part of North Carolina than golf. You'll find tons of other outdoor activities throughout the Pinehurst, Southern Pines, Aberdeen Area — otherwise known as the Sandhills Region — and they'll make your trip worthwhile even if you're not the country club type.
Leave your assumptions at the door, and let the golfers go do their thing. No, you can't caddy for them this time — you're busy exploring, and here are all the excuses you'll need.
1. You need some "me time" in the gardens.
You'll never stumble on the Sandhills Horticultural Gardens if you're not looking for them — unless you're a student, that is. The gardens are on the grounds of Sandhills Community College, but the public is welcome and encouraged to visit. This isn't Bio 101's plant project, either.
For starters, the gardens are deceptively spacious. What at first appears to be a small but well-tended, walled English garden (with the obligatory gently tinkling fountain as soundtrack) soon gives way to a forest of pines dotted with Japanese structures and twisting boardwalks winding their way through marshy wetlands. It's easy enough to spend some quiet time wandering and snapping photos without ever encountering another person. On a warm and breezy day, you'll want to bring a book, find a bench, and make yourself comfortable.
2. You need a hike through old, old forest.
The gently rolling sandy ridges of Weymouth Woods Sandhills Nature Preserve are the perfect spot for a hike. No strenuous climbs here, just miles of easy walks through the longleaf pines — with boardwalks over the swampier bits.
As you stroll along, good luck not marveling at the towering pines that once kept the early settlers busy building masts for ships for the Royal Navy. This is some of the oldest, best-preserved longleaf pine in the nation — a type of forest that used to blanket the South prior to industrialization. What you're looking at when you're here is more than just a nice piece of nature…it's a small clue as to what once was.
3. You're running low on Victorian sophistication.
Gorgeous homes are par for the course in the region, so you may be tempted to just give the stunning James Boyd House a glance and keep on driving — but take the time to pull over and explore.
Straight out of a coffee-table book of posh English manor homes, the real treat here is the sprawling expanse of perfectly manicured gardens behind the house. In spring and summer they're full of color, but even outside the blooming season, the air is rich and earthy and sweet. It's the perfect setting for genteel strolling and pretending you're part of the local equestrian aristocracy. If you're looking for an extra-classy way to spend an afternoon, time your visit to catch one of the regular outdoor chamber music concerts at the Weymouth Center.
4. You've never seen a Scottish farm before.
Malcolm Blue Farm, a seven-acre farmstead, once belonged to one of the area's many early Scottish settlers. These days, it's a living history museum, in addition to a popular place for local craft festivals and events. The property — one of the oldest buildings still standing in Moore County — seems designed for crowds gathering under the oaks to soak up the bucolic ambiance (and maybe some live music).
But keep in mind this is still a working farm, as the chickens who run out to greet you will attest. If you can swing it, the best time to visit is during the annual Farm Day Festival, where costumed re-enactors pay tribute to Moore County's Scottish and agricultural history with food, music, and lively demonstrations.
5. You're craving a picnic (and garlic sauce).
Pick up a Barcelona Burger with extra garlic sauce at the nearby Bakehouse (and a few fresh European pastries while you're at it), and head to Aberdeen Lake Park for a picnic in the lakefront gazebo. Mornings on the lake are especially tranquil, as the fountain in the center of the lake sends thousands of lily pads rippling toward shore.
Best of all, you may have the entire park to yourself — not counting the local wildlife, that is. Birdwatchers should bring their binoculars, and anglers will love the old wooden bridge spanning the secluded far end of the lake.
6. You'd just rather be on a splash pad…
Rassie Wicker Park & Arboretum, a hundred-acre greenspace in the middle of Pinehurst, has dozens of its own reasons to get outside: miles of walking trails, athletic fields, a fabulous arboretum full of stately magnolias, and a splash pad for hot summer days. A huge variety of events are scheduled throughout the park daily — on any given afternoon, you could participate in hatha yoga, landscape painting, tai chi, or adult inline hockey. Your always-meant-to-try-this list disappears right here.
And once you've worked up an appetite, hop over to Wedgies for the best sandwiches in the county. Get a Pinky with a side of killer potato salad — and thank me later.
7. …or a Civil War battlefield.
In the Bethesda churchyard, you might notice names like Campbell and Alexander and MacDonald… It was Scottish settlers who crafted this quiet spot out of mossy rocks and stacked stone to remind them of the Highlands they left behind. See if you can pick out the bullet holes in the church from the Civil War battle that raged through as Union troops occupied the sanctuary back in the 19th century.
Itinerary tip: This site is an easy walk or bike ride from the aforementioned Malcolm Blue Farm — so keep the history lesson going.
8. You want to top it all off with a pint.
Who needs friends when you can stroll downtown with a guide in period costume? Especially when that tour guide is as endlessly knowledgeable about the history and architecture of her hometown as Carley Sutton, Southern Pines native and legendary storyteller. The entire downtown area is on the National Register of Historic Places, and by the end of Carley's tour, you'll easily understand why. The shady streets full of Queen Anne and Colonial Revival architecture are brimming with stories, from the uneasy past of Duncraig Manor to the Powell Furniture and Undertaking Building (an interesting combination, if ever there were one).
When the tour is over, head to Southern Pines Brewing Company just outside of downtown for a pint of the local favorite, Moore IPA, and drink a toast to all of the awesome adventures you've had. No need to retire inside just yet, though — the brewery has an awesome lineup of local food trucks outside the taproom almost every night.
9. Your preferred method of travel is horse-drawn carriage.
The jury's still out on whether or not the whole Village of Pinehurst is a figment of Charles Dickens' imagination. As you (and your carriage) meander past old colonnaded homes, brick walkways, and stately oaks, you're bound to feel the same dilemma.
Tours (offered by Carriage Tours of Pinehurst Village) depart from the Carolina Hotel or the Magnolia Inn and will take you through winding streets designed by Frederick Law Olmsted — the same Olmsted who planned New York City's Central Park. The ride is especially Dickensian during the Christmas season, when all of the elegant old streetlamps are bedecked with pine boughs and red velvet bows. Yep, it pays to get outdoors around here, no matter the time of year.