in paid partnership with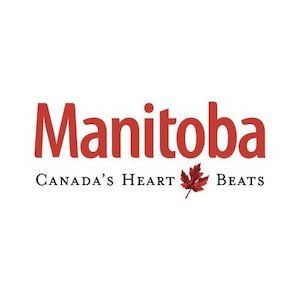 Travelers on a nature pilgrimage to the northern Manitoba outpost of Churchill, intent on seeing polar bears and the spectacular northern lights, or to kayak with beluga whales, have to use Winnipeg as their launchpad. But Manitoba's capital and largest city is worthy of a few days' exploration if you're looking to develop a full appreciation of Canada's middle province.
This low-key prairie city features a not-so-low-key food scene, vibrant art and design communities, and a complex sense of history and community woven into its neighborhoods and attractions. So whether you're ultimately after the polar bears or not, here are nine awesome things you should definitely check out in Winnipeg.
1. Get oriented at The Forks
For a quick overview of Winnipeg's art, food, and history, head to The Forks. The confluence of the Red and Assiniboine Rivers has served as a trading center and gathering place for Indigenous Peoples for more than 6,000 years — it's now a national historic site, and it still buzzes with energy as people meet to eat, drink, shop, and explore the grounds, Riverwalk, and nearby trails.
In warm weather, the rivers teem with canoes, kayaks, and riverboat tours, while the water bus shuttles passengers between the city docks. Within the park grounds, expect to find live music, dancing, and patio dining in the summer and skating, skiing, and sledding in winter. Inside The Forks Market, artisans show off their Canadian gifts, crafts, and art all year long. Snag a spot at a communal table in The Common food hall to people watch, enjoy local eats — look for wild rice bannock from Tall Grass Prairie Bread Co. or fresh-from-Lake-Winnipeg fish and chips — and get your first taste of a local craft beer.
2. Chill with the polar bears at Assiniboine Park Zoo
To get in some bonus polar bear time and a preview of your upcoming adventure, head to the Journey to Churchill exhibit at the Assiniboine Park Zoo. Lucky visitors can witness swimming polar bears via the "Sea Ice Passage," an underwater viewing tunnel where the bears appear as graceful as dancers above and around you. The exhibit includes other northern species, such as Arctic fox, muskox, and seals, and works to both educate visitors and help preserve this incredible region.
Don't ignore the rest of Assiniboine Park, either — the Leo Mol sculpture garden and English gardens are definitely worth a visit. And for families with kids, make sure to check out Nature's Playground, the nearby steam train, and the Winnie-the-Pooh exhibit at the Pavilion Gallery — ever wonder what "Winnie" stands for?
3. Reflect at the Canadian Museum for Human Rights
Winnipeg is where you'll find the only museum on the planet dedicated solely to human rights (hard to believe, right?). One of the museum's goals is to illustrate how our seemingly insignificant personal choices have the power to change society. Exhibits recount the courage of schoolchildren who took a stand against bullies with the same dignity as they describe Nobel Peace Prize winners and activists, victims of genocide, and the evolution of mass social movements. The result is solemn, thought provoking, and hopeful.
The building itself is a wonder. Architect Antoine Predock's curvaceous structure, completed in 2014, has already become a beloved part of the Winnipeg skyline. A series of lustrous, alabaster interior walkways usher visitors from the shadows and into the light, a journey that ends with sweeping views from a perch high above the city.
4. Chill out at Thermëa
Is it even winter in Winnipeg if you're not sitting in a hot tub with snowflakes in your hair? This fabulous Nordic spa in the middle of an urban forest offers an impressive array of ways to unwind, winter or not. Think über-refreshing orange-and-Eucalyptus-scented steam saunas, Nordic dry saunas, massages and body treatments, and healthy meals at the onsite Restö. But the thermal cycle — heat, cold, relax, repeat — is the biggest draw.
Think like a local and make a day of it. Don your bathing suit (the spa is co-ed), grab a robe, sweat out your toxins, and then get an endorphin rush with a quick cold plunge. After stretching out in the sun, cocooning yourself in a heated hammock for a quick nap, or curling up by a crackling fire, you'll be ready to repeat the cycle.
5. Explore the Exchange
The Exchange District is the heart of the city's design community and one of the best preserved historic districts in Canada. The rock-cut and terracotta buildings, 20th-century warehouses, and cobblestone paths comprise another of Winnipeg's national historic sites, so even a quick walk between boutiques, restaurants, and galleries makes for one of the most scenic strolls around. (But you should opt for the historic themed walking tour put on by the Exchange District Biz if you can.)
Old Market Square, now surrounded by many of the Winnipeg's most popular restaurants, has anchored the neighborhood since 1889. Annual events like the Winnipeg Fringe Theatre Festival and Jazz Winnipeg keep the Exchange hopping all summer long.
6. Eat your heart out
Winnipeg's culinary scene is playful, laid back, and fusion focused. Start bright and early, and sample dishes from the city's most creative restaurants all day long. Brunch at Clementine is practically a rite of passage — locals line up for waffles topped with rhubarb and strawberries, Turkish eggs and hummus, and hearty porridge with tropical fruit. Miss Browns serves up brisket hash and seriously addictive breakfast sandwiches stuffed with its signature smoked meats, while Stella's Café and Bakery tempts with artisan breads and house-made jam — not to mention the savory smoked salmon benedict.
Later, head to Segovia for traditional Spanish tapas with a twist — think croquettes, Iberian ham, tortilla Española, and shrimp and chorizo paella. The small plates at deer + almond are constantly changing and always fusion-based — e.g., pork belly with fried rice, pickerel with bacon and dashi grits, and Waygu tartare with quail egg. Show-stopping dishes at Passero include tagliatelle with 24-hour short rib ragout, ricotta gnocchi, and octopus with crème fraîche.
Hungry yet?
7. Uncover the secrets of the Manitoba Legislative Building
The Manitoba Legislative Building has plenty of photogenic spots for travelers and architecture buffs to explore, including the rotunda dome, grand staircase, and the Golden Boy sculpture gleaming on the roof. Take a self-guided tour or join one of the free guided tours, which run hourly in July and August (tours at other times of year are available by reservation).
But don't stop there. For a truly unique (and gleefully geeky) experience, you need to check out the Hermetic Code Tour. Led by Dr. Frank Albo, this 90-minute peek behind the curtain will show you how to spot the hieroglyphics, numerical codes, and symbols of Freemasonry hidden in plain sight throughout the building.
8. Cheer on the Jets
Hockey is a religion in Canada, so you can't leave Winnipeg without going to a game. Cheer for the hometown Winnipeg Jets at Bell MTS Place, one of the loudest arenas in the NHL. If you're lucky enough to be in town when the Jets are making a Stanley Cup playoff run, throw on something white and head downtown to join the crowd. Winnipeg's Whiteout street parties are legendary.
9. Experience an outdoor ballet
Now celebrating its 80th season, the Royal Winnipeg Ballet is the oldest and most prestigious ballet company in Canada. It offers a variety of performances, from traditional ballets to edgy original works, as well as the family holiday classic The Nutcracker, which RWB puts on every year.
The company's Ballet in the Park event is a summer tradition. Hundreds of locals flock to the Lyric stage at Assiniboine Park for free, open-air performances every July. Not a bad prelude to your epic northern adventure, eh?