in paid partnership with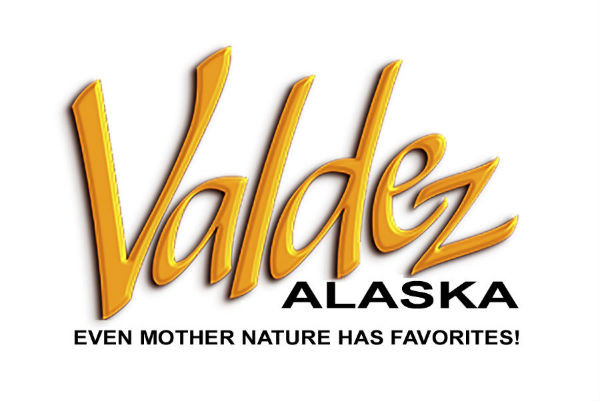 IF YOU LOVE snow, the tiny, 4,000-person town of Valdez, Alaska, is the place to be this winter. Valdez itself gets "only" 300 inches of snow in an average year, but it's the perfect base camp for nearby Thompson Pass — the snowiest place in the country — which sees anywhere from 600 to 900 inches of annual snowfall. For anyone keeping track, that's up to 75 feet a year.
So if you're a powder hound — or if you just love cozying up and watching huge snowflakes drift down — check out these nine winter adventures you can have on your next visit to Valdez.
1. Heli-skiing (and boarding) the Chugach Mountains
A constant inundation of snow makes Valdez one of the best spots for heli-skiing in the country. You'll score anywhere from 20,000 to 35,000 feet of vertical descent per day in the nearby Chugach Mountains. And if you haven't been heli-skiing yet, here's a fun fact: The helicopter ride up is just as spectacular as your descent.
Valdez is full of professional guide services like Alaska Rendezvous Guides, Alaska Snowboard Guides, Black Ops Valdez, and Valdez Heli Ski Guides. With so many options to choose from, you should match your guide service to your riding style, terrain choices, ability level, and your preference of alternative activities on the rare days a helicopter can't fly. Snow-cat skiing is a popular choice, as are cross-country skiing and ice climbing. No matter what, you won't be bored.
See more heli-skiing
2. Ice climbing up frozen waterfalls
If Thompson Pass is the land of snow, then Keystone Canyon — a waterfall-filled corridor that links Thompson Pass to Valdez — is the kingdom of ice climbing. When winter falls, those summer waterfalls situated just off the roadway turn into giant icicles begging to be scaled.
Skilled ice climbers can pull up with their equipment and go straight to town, but beginners should definitely book a guide. Apart from the challenge itself, constantly having your arms above your head in a cold climate is just plain hard on the body, and having a pro around will keep everyone playing it safe. If you're itching to up your game, time your visit for the workshops, demonstrations, and competitions of the Valdez Ice Climbing Festival in February.
3. Cross-country skiing the trails around Mineral Creek
Valdez may be known for its sky-high mountain backdrop, but there's still plenty of reasonably flat space for a good cross-country ski. One of the best trail complexes, maintained by the nonprofit Valdez Nordic Ski Club, is at beautiful Mineral Creek, a popular hiking spot in summer. And if you're the competitive type, every January the ski club puts on a two-day cross-country ski race, the Qaniq Challenge, with prizes totaling $10,000.
Thompson Pass is also good to go for cross-country skiing, but you should always check with the Valdez Avalanche Center before heading into potentially unstable snow.
4. Hopping on a snowmobile
There are so many ways to get out and play in beautiful Thompson Pass, and a snowmobile tour from a guide company like Black Ops Valdez should be high on your list. Bonus: You can also use the snowmobile ("snowmachine" to locals) for fast, inexpensive access to great downhill terrain for skiing or riding.
If you'd rather watch others hot-dogging it on sleds, turn out in March for the 200-mile Mayor's Cup snowmobile race. Afterwards, snag some great Chinese and Thai food at the super laid-back Fu Kung restaurant, or warm up with pizza and a beer at Mike's Palace, down by the small boat harbor.
5. Snowkiting the flats
Heli-skiing gives you great access to the steeps, but for this one you'll be heading back to those beautiful flat lands around Valdez for a hybrid sport known as snowkiting. Using a parachute-shaped kite like a sail, you can catch the wind as you ski or snowboard across the ground. With just a little practice, you'll learn to finesse the kite for fun jumps and crazy hang time.
Learn the ropes from a guiding service like Alaska Kite Adventures, or hang out in April to see athletes from around the world compete in the Thompson Pass Snowkite Festival. But if you can, give it a try here — there are few places where you'll get this kind of opportunity.
6. Experiencing a one-of-a-kind winter carnival
It wouldn't be Valdez without a party, so if you're here in February, don't miss the Frosty Fever Winter Carnival. It's an entire week full of fun, family-friendly events — like survival suit races, snowshoe softball, and polar bear plunges. Just because you're here for the adventure doesn't mean the family won't have things to do, too.
On top of the events, there's live music, instant prizes, and plenty of discounts on winter adventures from local businesses and vendors. Go ahead and binge on the festival food, or stop by the Fat Mermaid for an absolutely divine (and super local) smoked salmon pizza.
7. Fat biking through the snow
All that open land is great for fat biking, too. If you've never been on a fat bike before, you'll probably recognize them by their defining characteristic — the extra-wide "fat" tires that make it easy to pedal through sandy or snowy terrain that would bog down an ordinary bike. Fat bikes are popular all over the state and at all times of year, but they really come into their own during the winter.
Just pedaling around is fun, but if you want an extra dose of adrenaline, time your visit for the Chugach Fat Bike Bash in March. This epic fat bike rodeo includes almost every competition you can imagine, including a chance to "ski" your bikes in the downhill division.
8. Heli-skiing from the water
Heli-skiing never, ever gets old. But if you want to really push the limits of how you access steep ski and snowboard terrain, Black Ops Valdez can take you out on a boat-based excursion to the best coastal mountains around Prince William Sound. Pick a mountain, call in the helicopter, and you're there. You can stay close to home, go out deep to isolated runs, or ride out to some fresh scenery — it's up to you.
And if you're ready to truly splurge, you can even take a heli-skiing trip from your own private yacht, with a fine chef in the galley and a hot tub under the helipad (and, yes, you can spend all day in the hot tub, too). No one ever said 75 feet of snow meant you had to rough it, after all.
9. Recharging with a winter retreat
Adrenaline isn't the only way to enjoy the winter landscapes around Valdez — some snowy days just beg for you to cozy up beside the fire with a hot drink. Hey, your adrenal glands will need a breather at some point.
Two of the best places to get some R&R in Valdez are the log-clad Robe Lake Lodge & Cabins and the contemporary-styled Tsaina Lodge. Both partner with heli-ski companies — Robe Lake with Black Ops Valdez and Tsaina with Valdez Heli Ski Guides — so they're also great places to spend a rest day chilling in the hot tub and sauna or enjoying some of the finest dining in the state. Alaska's high-end wilderness lodges are famous for their great food, and these two are no exception. This way, you get the best of both worlds.
---
---