These Berlin Airbnbs Showcase the German Capital's Artsy Side
Standing out as one of the hippest cities in Europe, Berlin's fusion of grunge and glamour is a siren's call for travelers. Whether you're flying in to tick-off museums or for the legendary nightlife, top on your agenda is deciding where to stay in Berlin. Perfect for first-timers, Mitte is the historic heart of the city. Meanwhile, outlying neighborhoods such as Kreuzberg and Friedrichshain give you a flavor of what it's like to call the German capital home. Run your eyes over our pick of the coolest lofts and trendiest Airbnb Berlin, Germany, vacation rentals.
We hope you love the Airbnb vacation rentals we recommend! Just so you know, Matador may collect a small commission from the links on this page if you decide to book a stay. Listed prices are accurate as of the time of publication.
Quirkiest Airbnb in Berlin, Germany
Cozy houseboat with hot tub/bathtub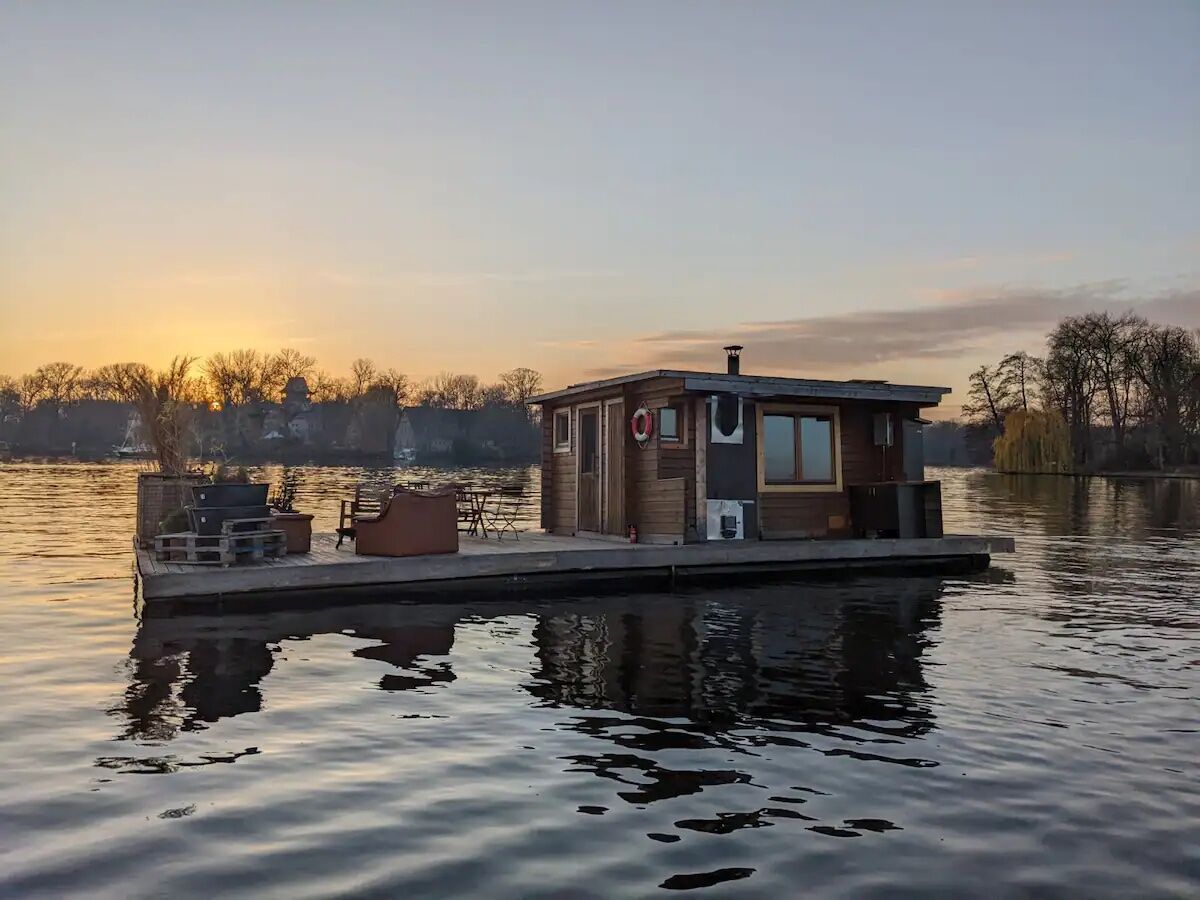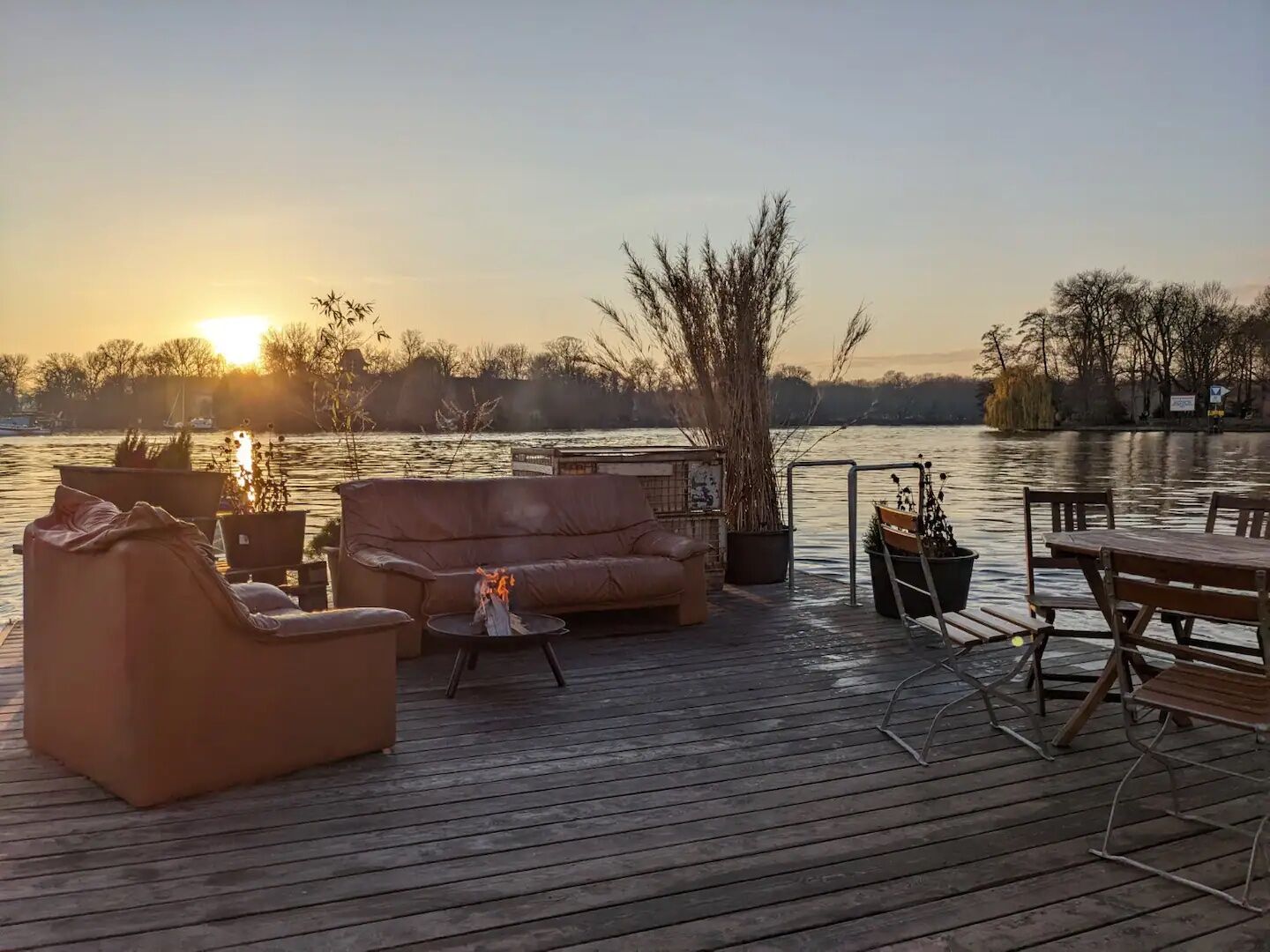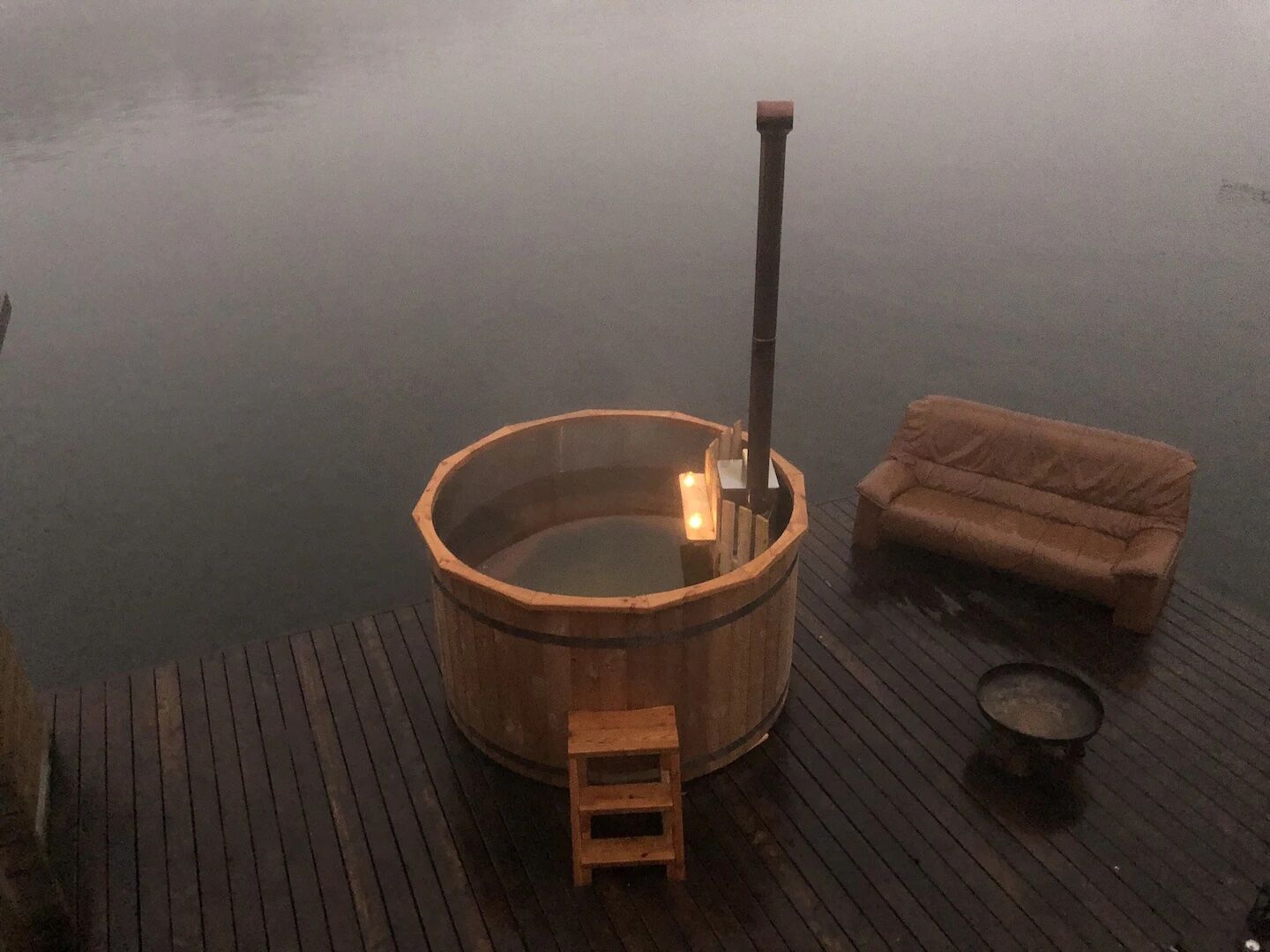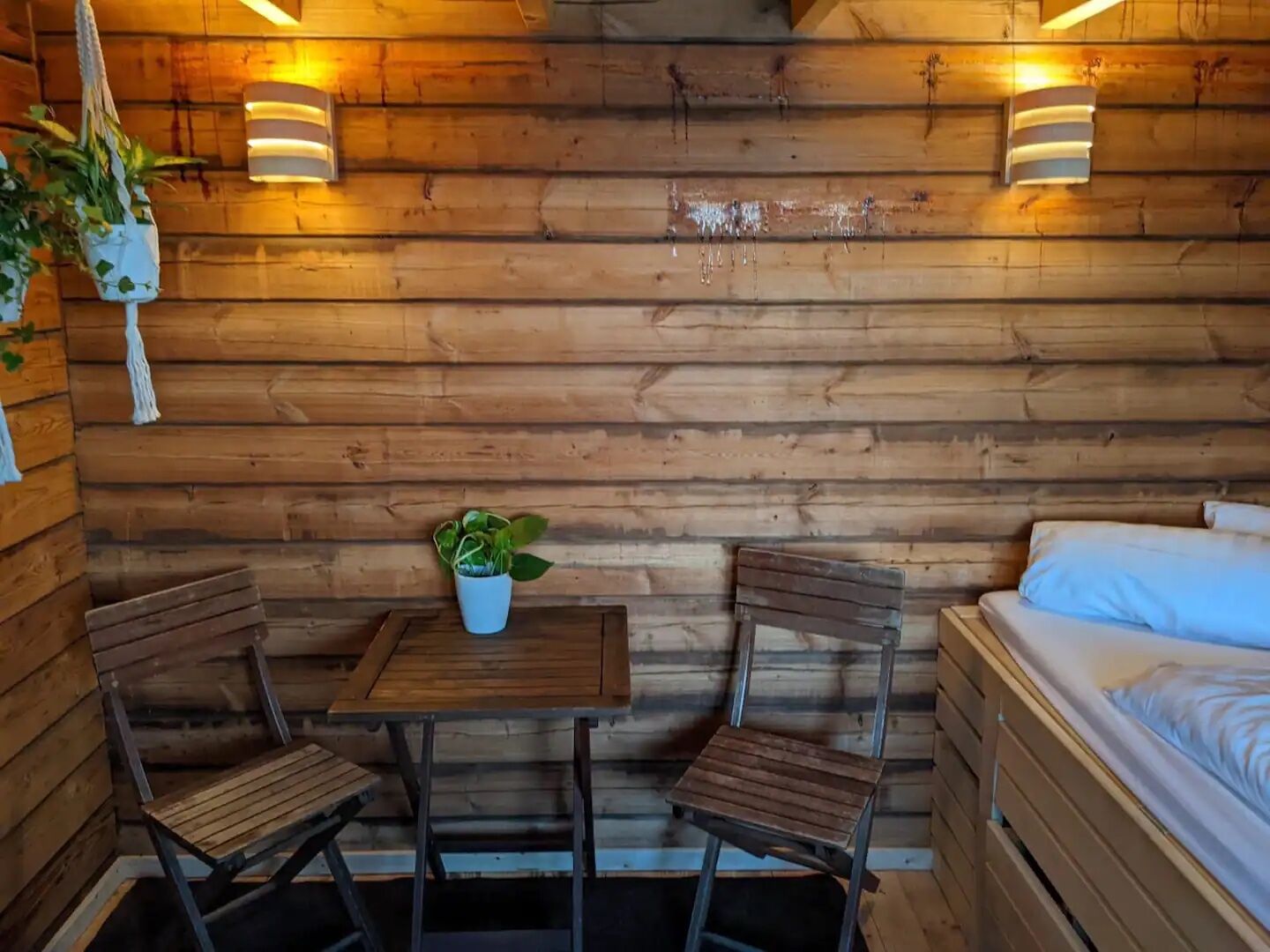 A wild card for anyone seeking a night out of the city limits, this pet-friendly Berlin Airbnb houseboat is moored on a small islet on the River Spree. The structure consists of a studio with a basic kitchenette and bathroom. Out on the floating deck, comfy couches alongside a fire pit and a private hot tub mark the lounge. The host provides a pedal boat to ferry you to and from the riverbank and paddle boards are available on request.
Two guests, one bedroom
Price: $205 per night
Best Berlin Airbnbs near Mitte
Mitte is the bustling center of Berlin, with a vibrant mix of old and new architecture. It's known for its historic sites, including Unter den Linden boulevard and Museum Island, as well as modern shopping streets like Friedrichstrasse. Airbnb rentals in Mitte are plentiful, ranging from classic apartments to luxurious penthouses.
Two downtown apartments side by side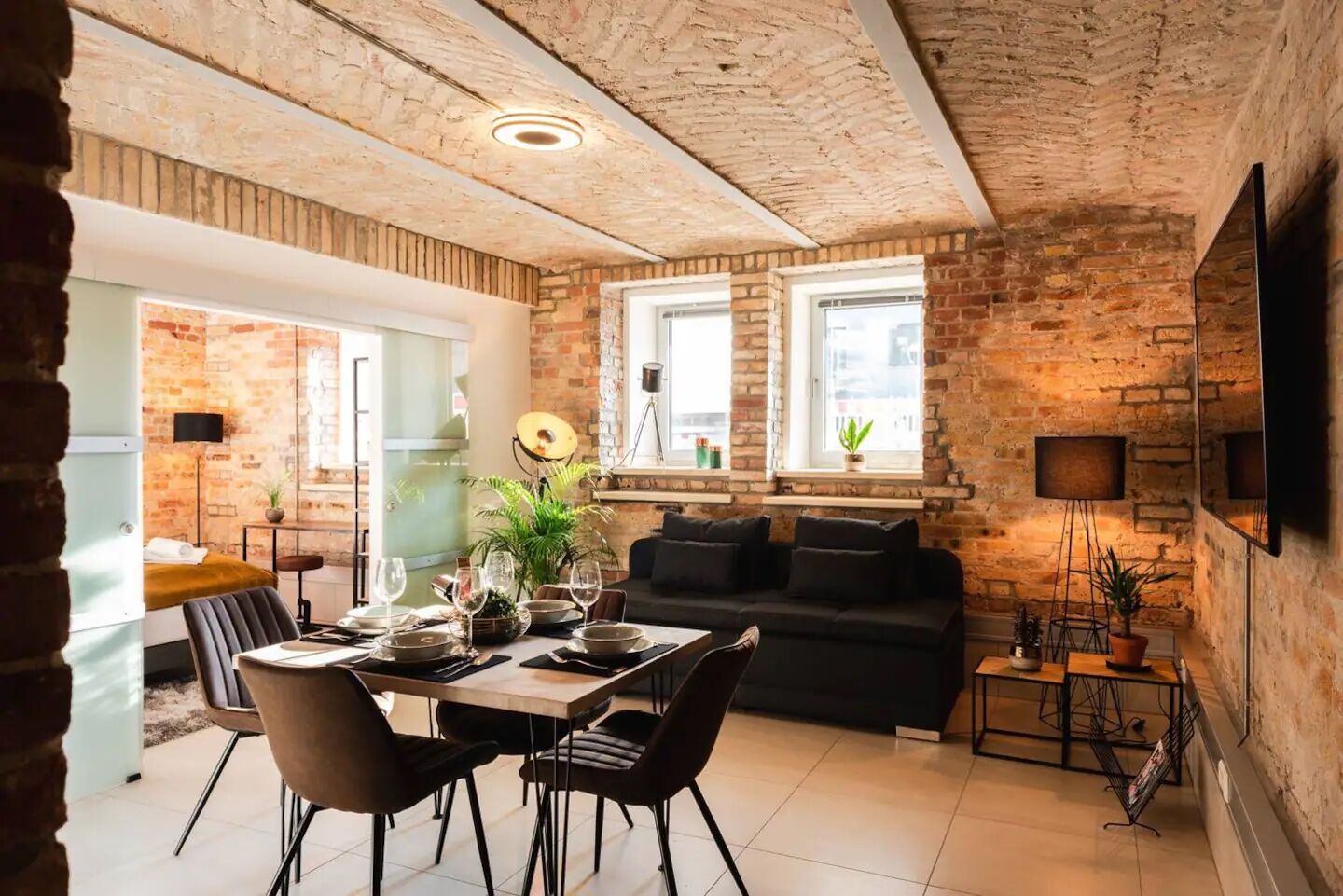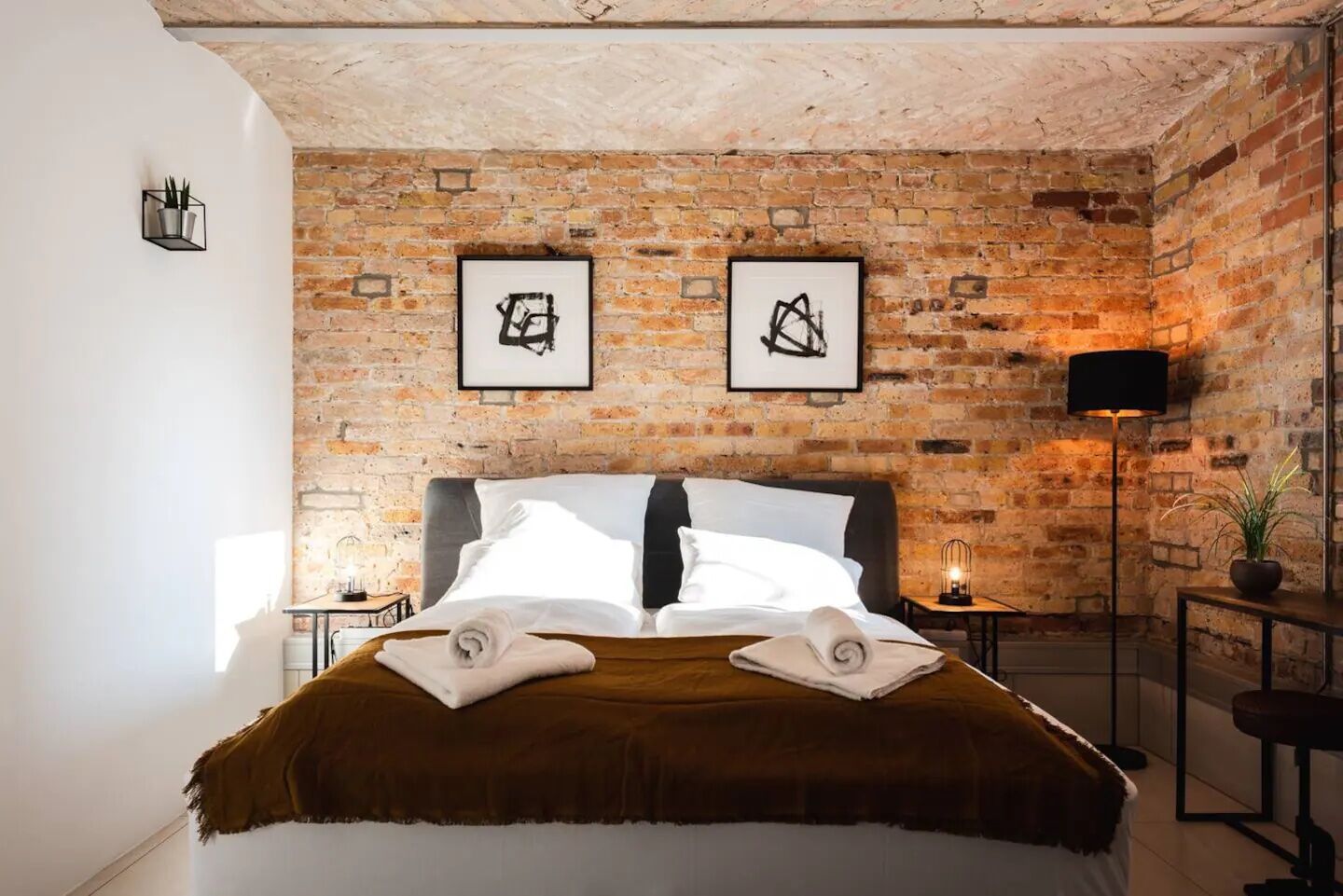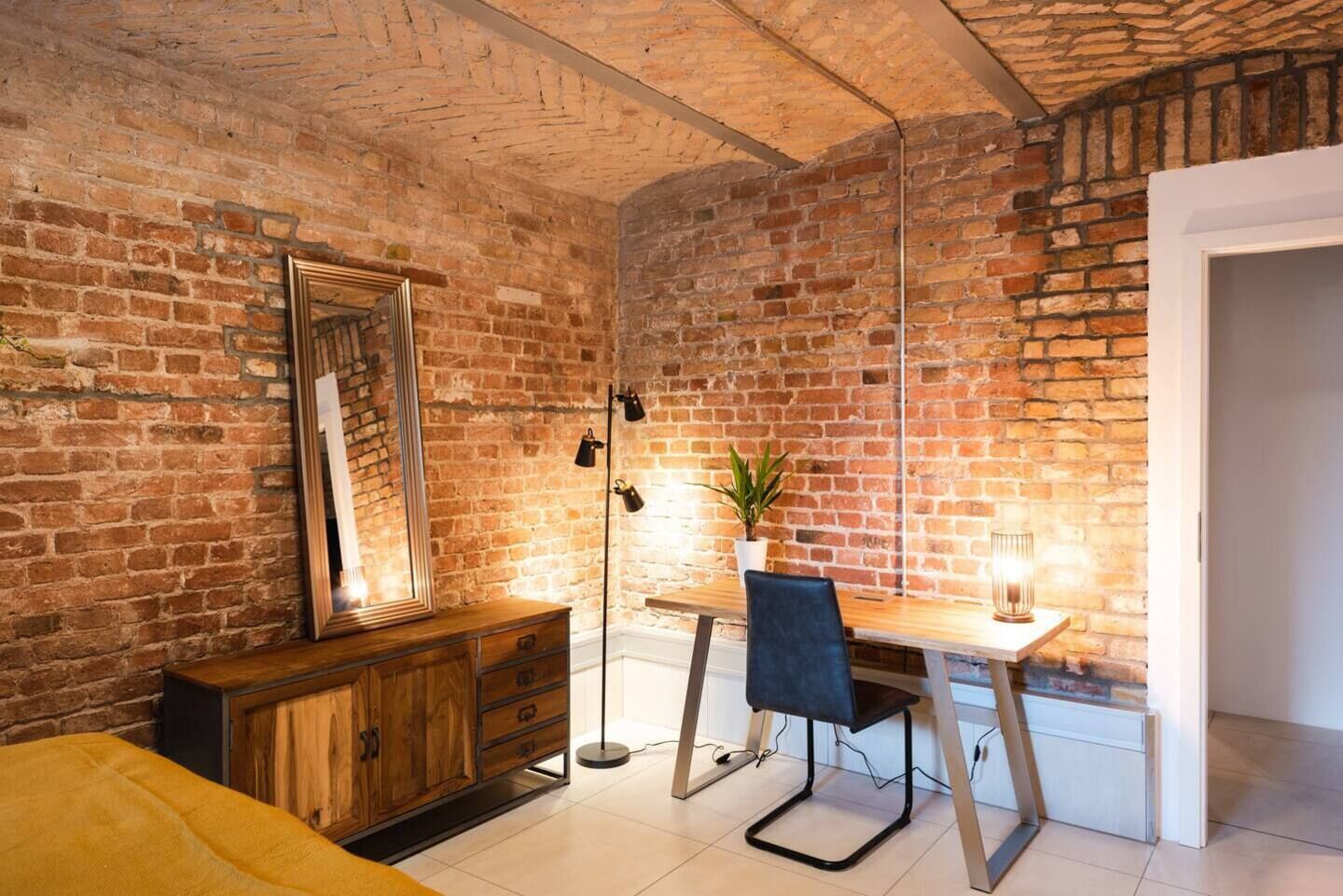 One of the best Airbnb rentals in Berlin for larger groups, this listing applies to two sister apartments each with its own kitchen and lounge. Both are New Yorker-styled with exposed brickwork, piping, and custom-made design elements. The hosts are poised to arrange such services as tours, groceries, and arrival champagne. A fantastic option for two families or couples traveling together.
Ten guests, four bedrooms
Price: $575 per night
Sunlit loft in Berlin Mitte with terrace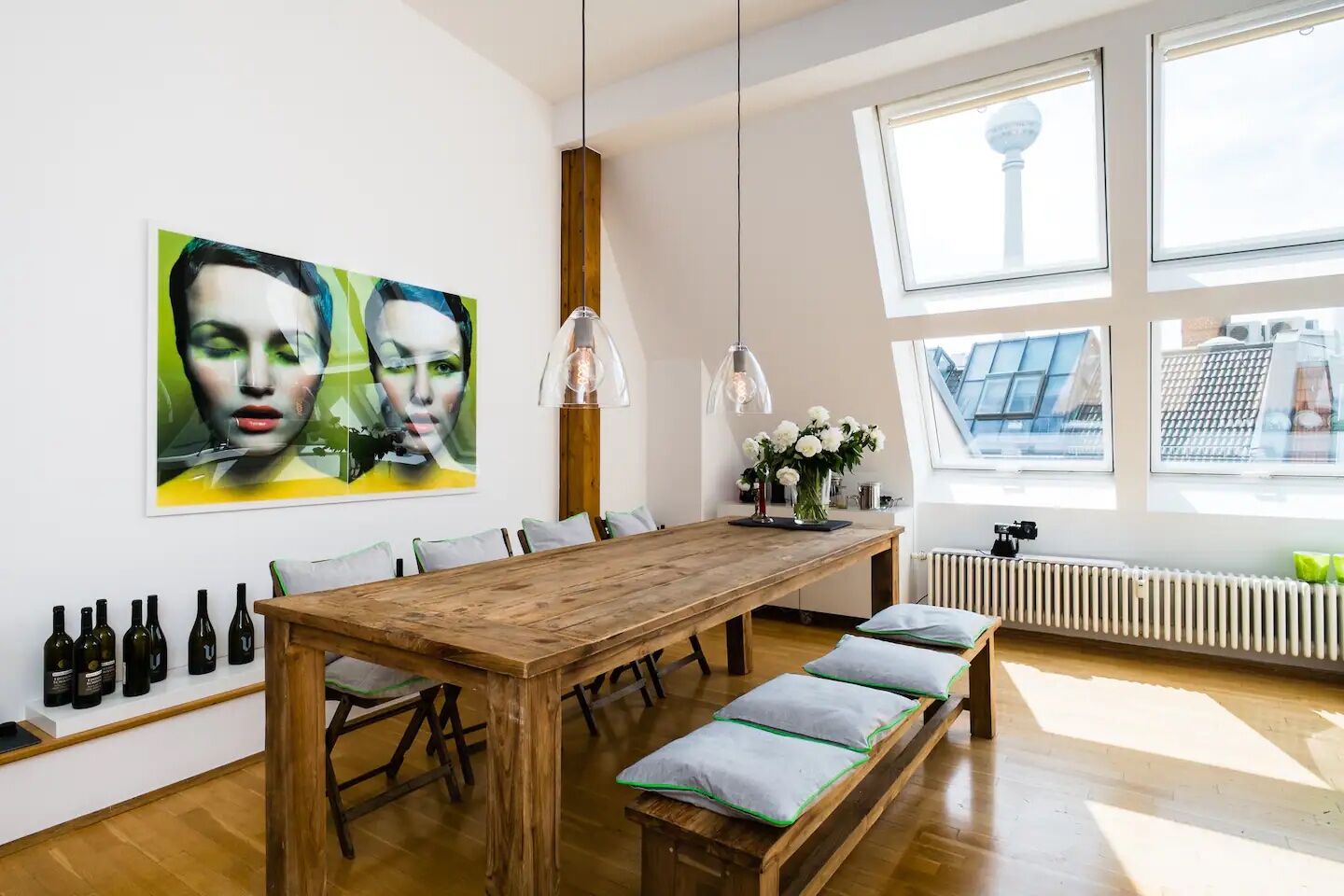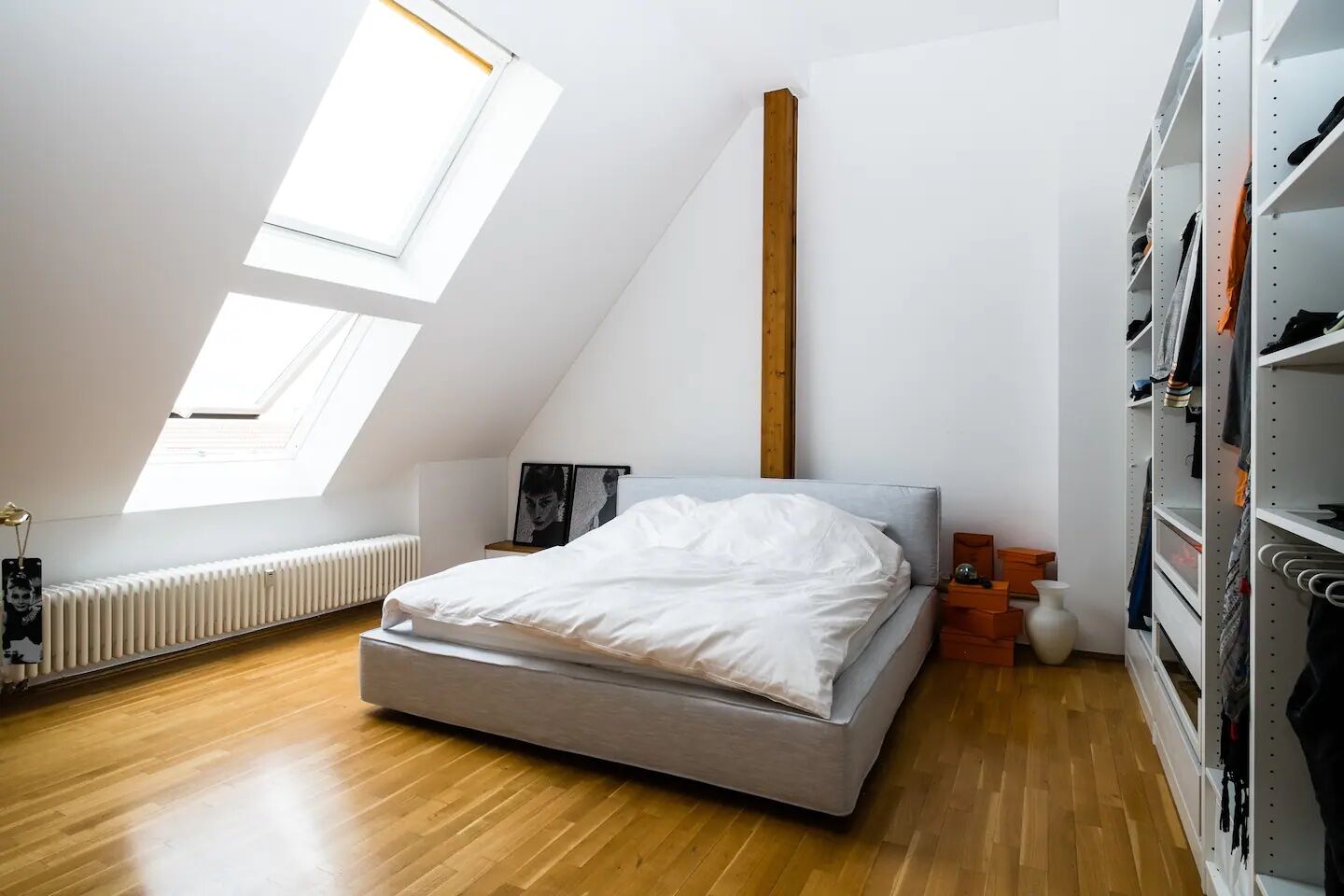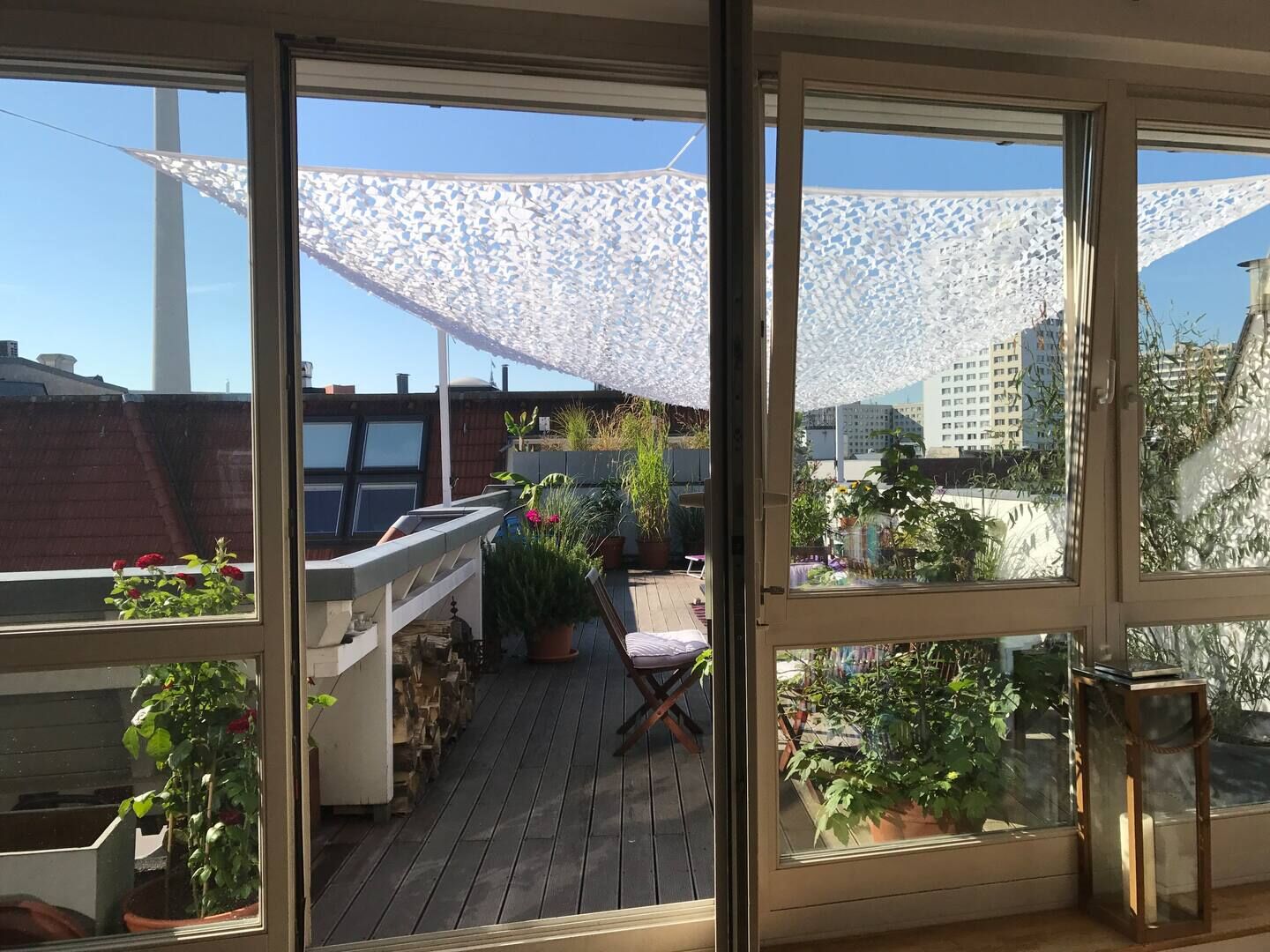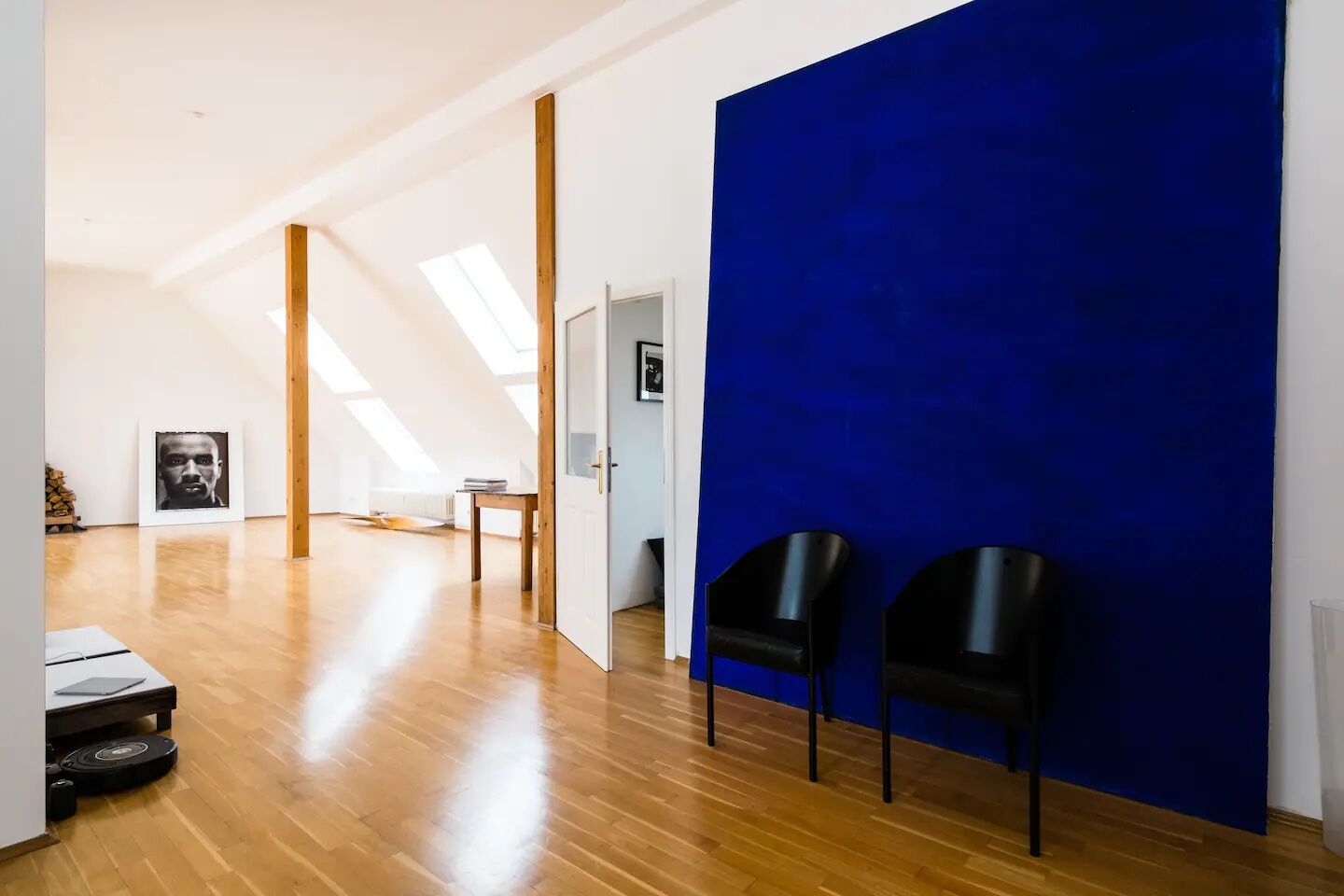 This light-filled Berlin Airbnb loft is a five-minute walk to Alexanderplatz and Museum Island. The contemporary home is appointed with chic upholstery, funky portrait art, and a fully-equipped kitchen. But, best of all is the private roof terrace. This verdant patio is teeming with greenery and capitalizes on the view over central Berlin.
Four guests, two bedrooms
Price: $360 per night
Luxury penthouse with sauna and rooftop terrace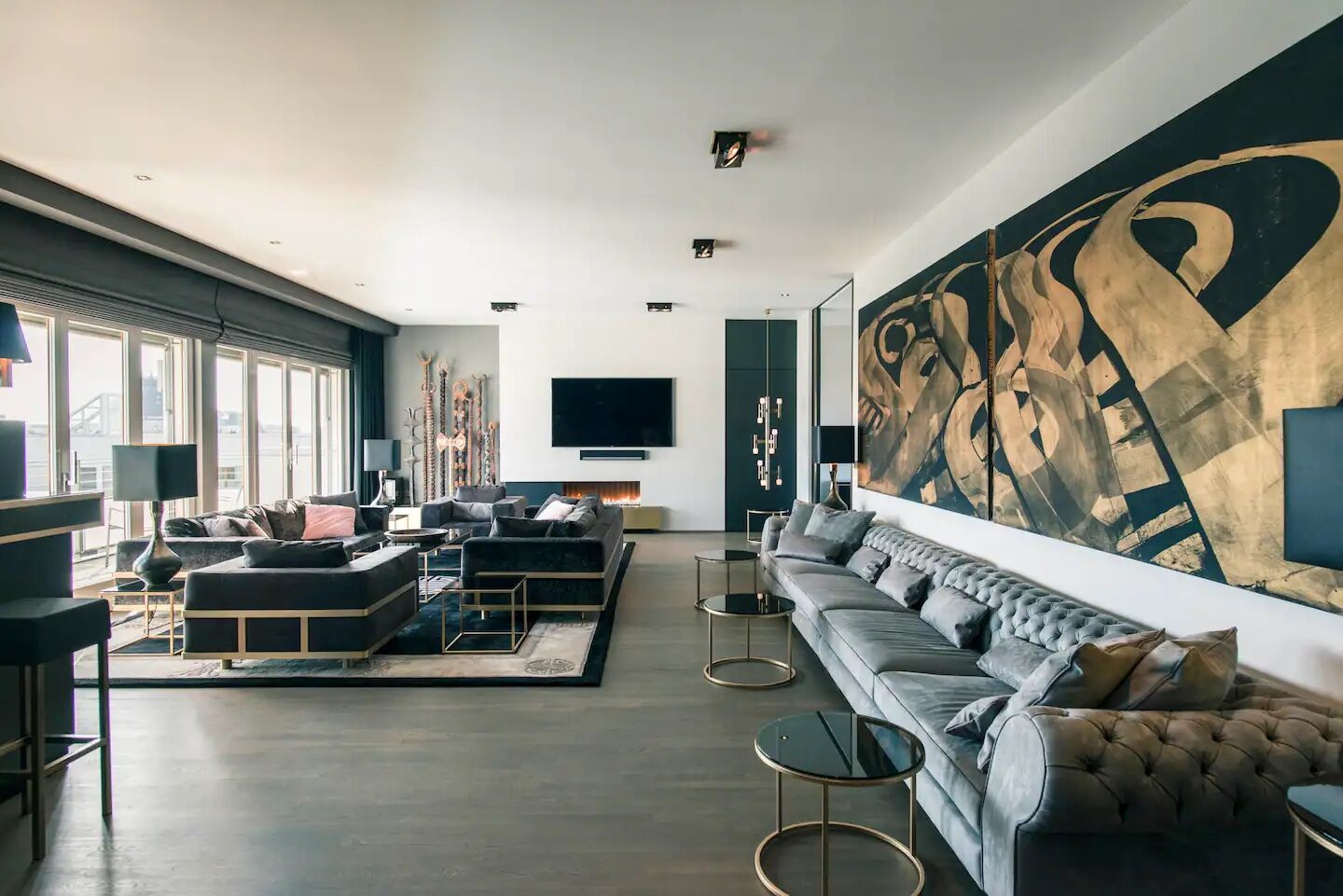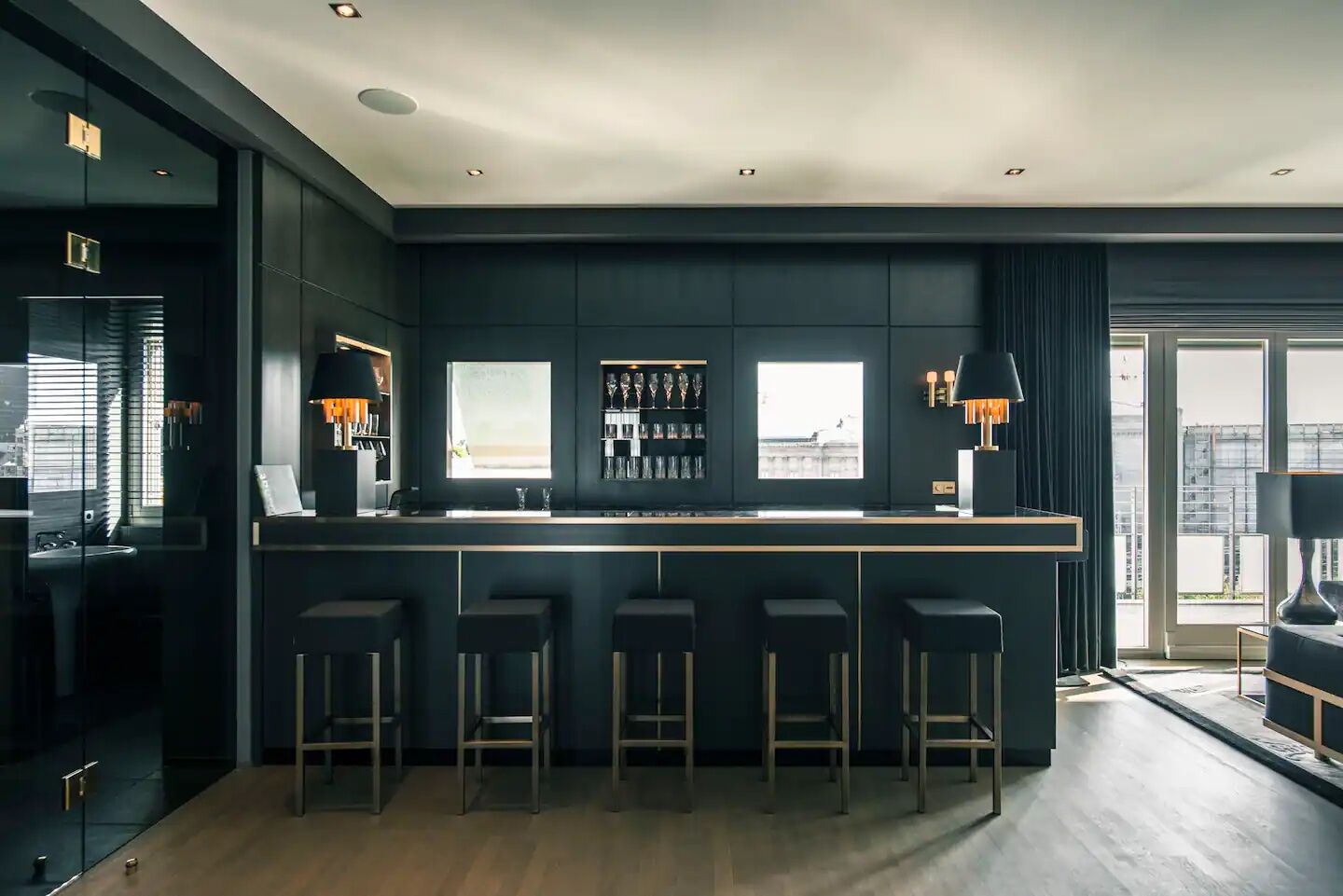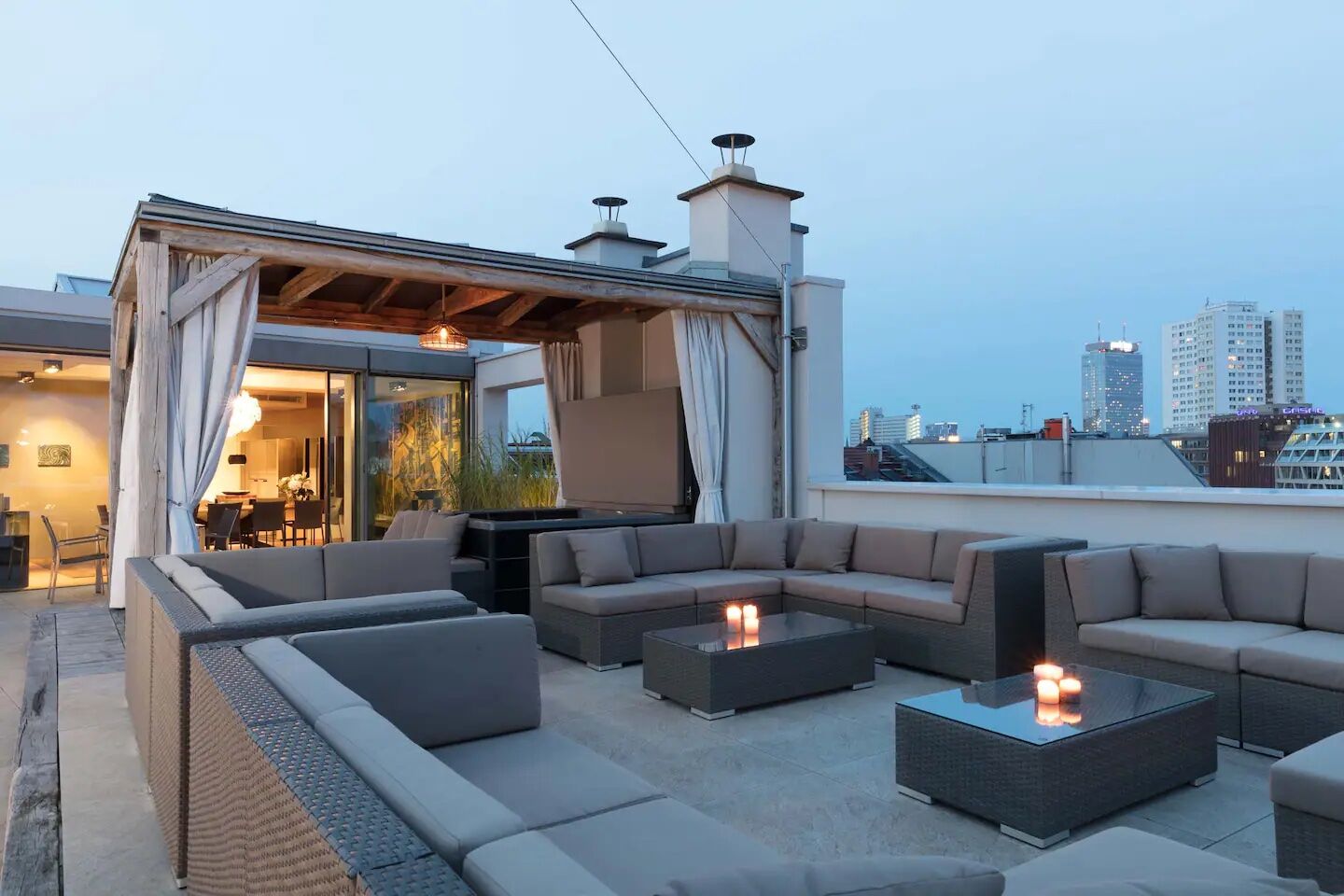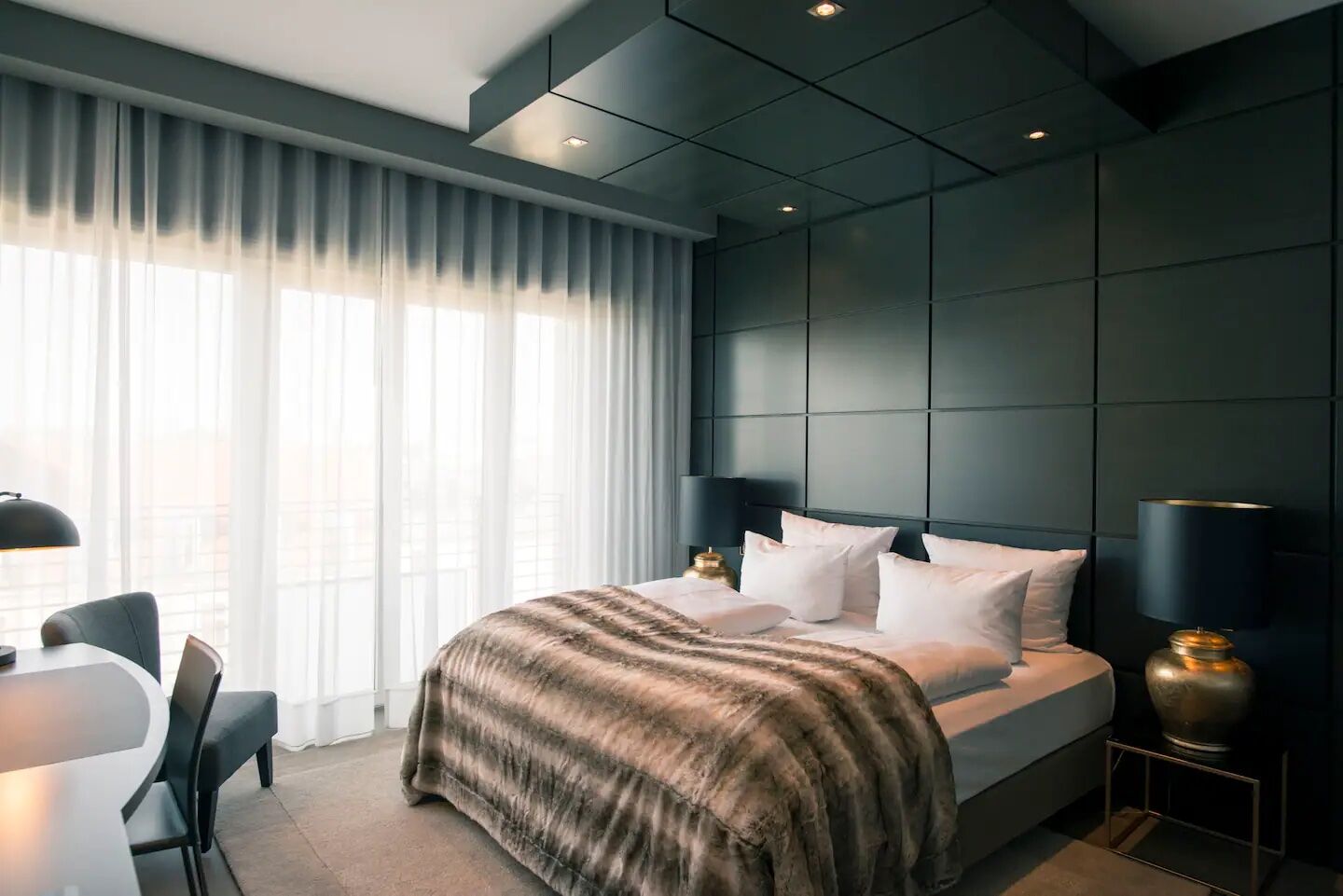 Centrally located and impeccably decorated, this 5-star Airbnb Berlin penthouse with a sauna gives you a taste of luxury living. Each of the swanky three bedrooms comes with its own deluxe bathroom complete with a soaking tub. Internal living quarters consist of an open-complex kitchen, lounge, bar, and dining area. An expansive roof terrace overlooking Museum Island, Berlin Cathedral, and City Palace adds further sparkle.
Six guests, three bedrooms
Price: $2,240 per night
Beautiful Kreuzberg Airbnbs in Berlin, Germany
Kreuzberg is a vibrant and eclectic district in Berlin, full of unique and authentic Airbnb rentals. It's known for its nightlife and its diverse population which reflects its history. A popular destination for tourists, Kreuzberg is also home to many students and a thriving art scene.
Stylish three-room apartment in the best location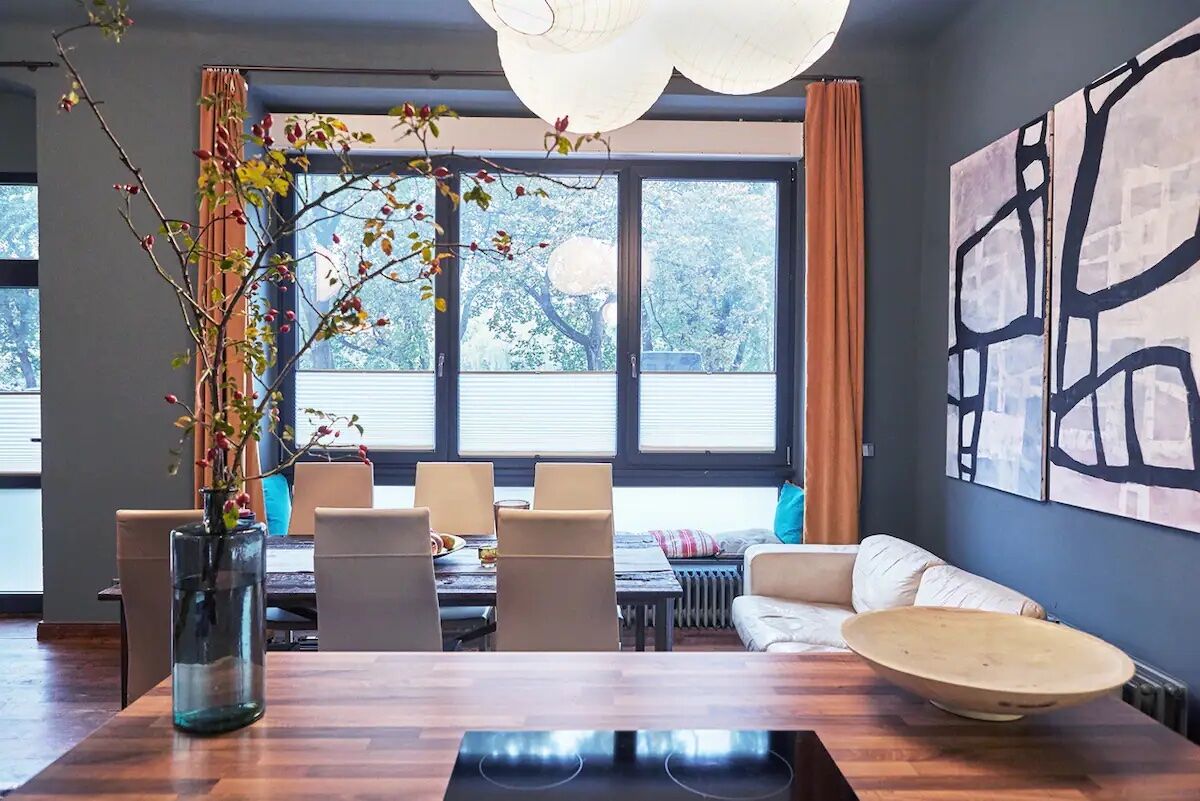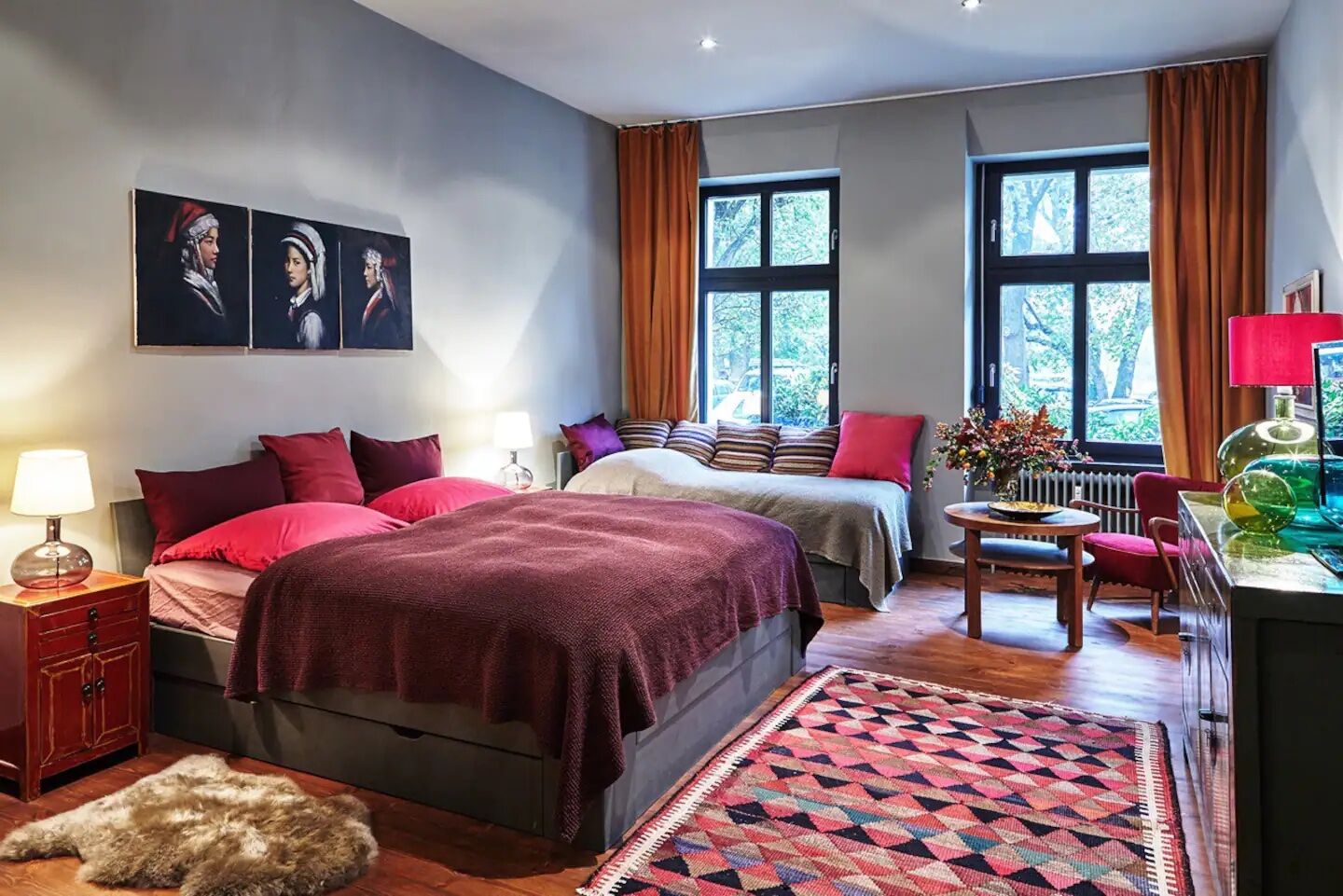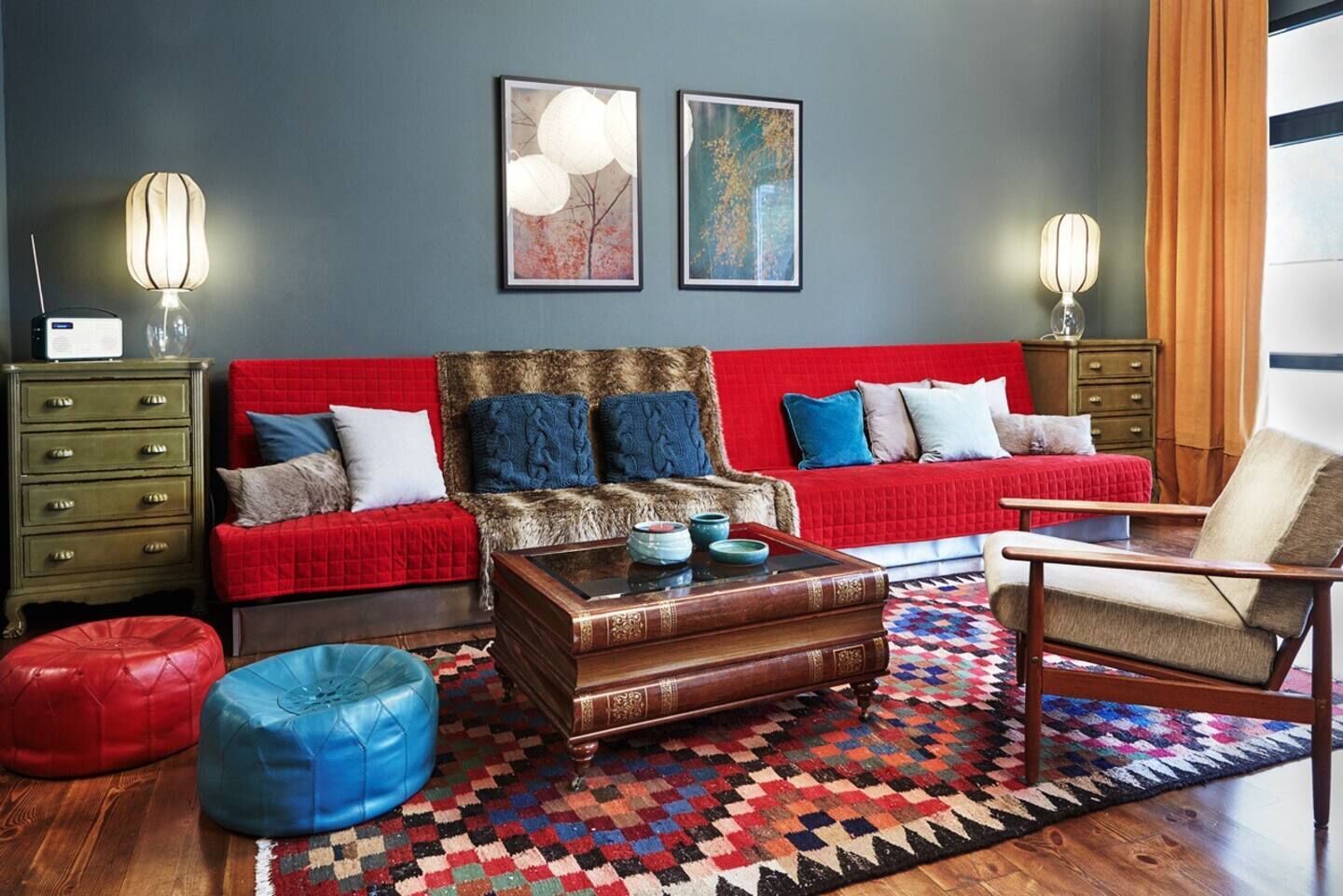 You'll feel right at home in this colorful Kreuzberg Airbnb overlooking the Spree Canal. The property is spread over two bedrooms with the lounge providing additional sleeping space. One bathroom is fitted with a tub while the second comes with a power shower. Lively works of art and snug fabrics accent the house and make it the ideal base for long evenings setting the world to rights.
Eight guests, two bedrooms
Price: $225per night
Artist loft 113 – film/photo available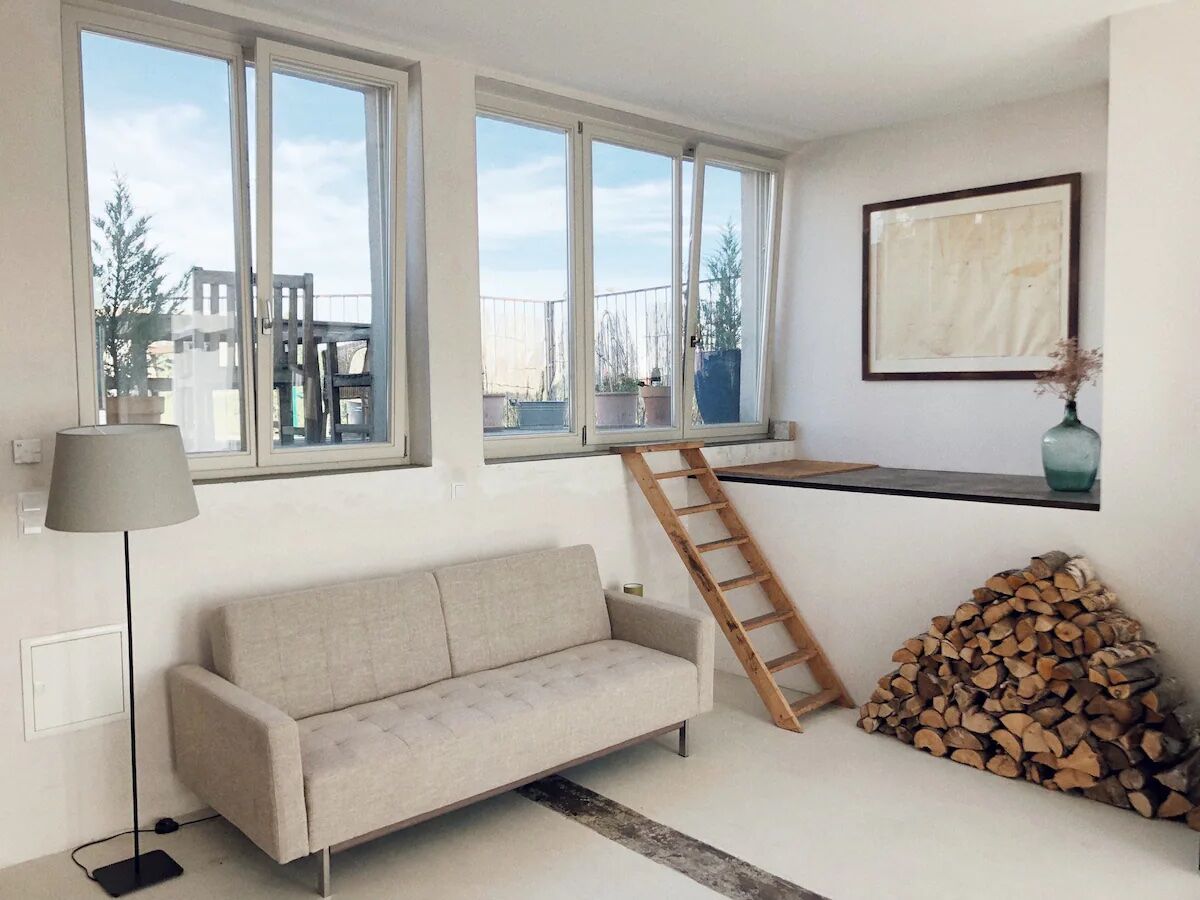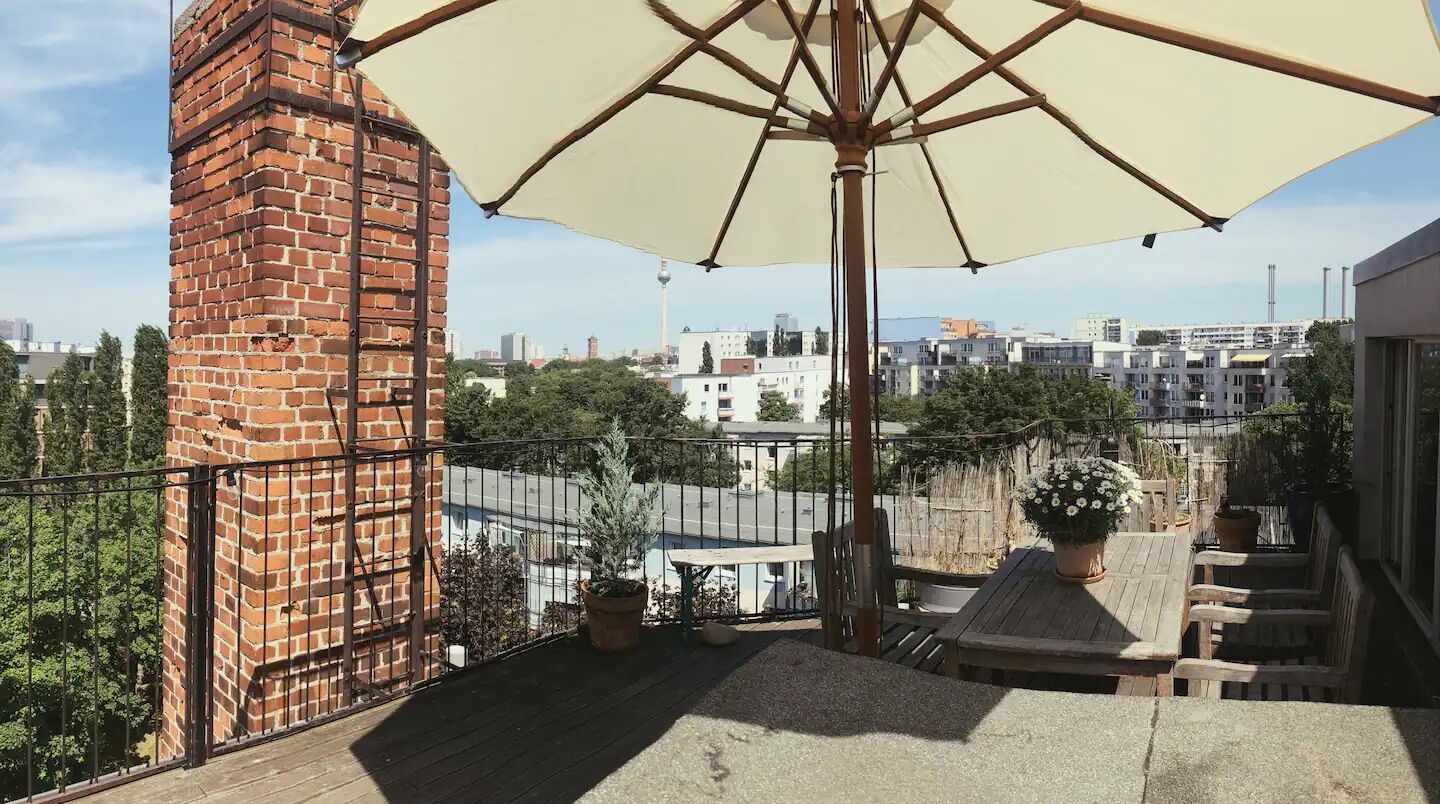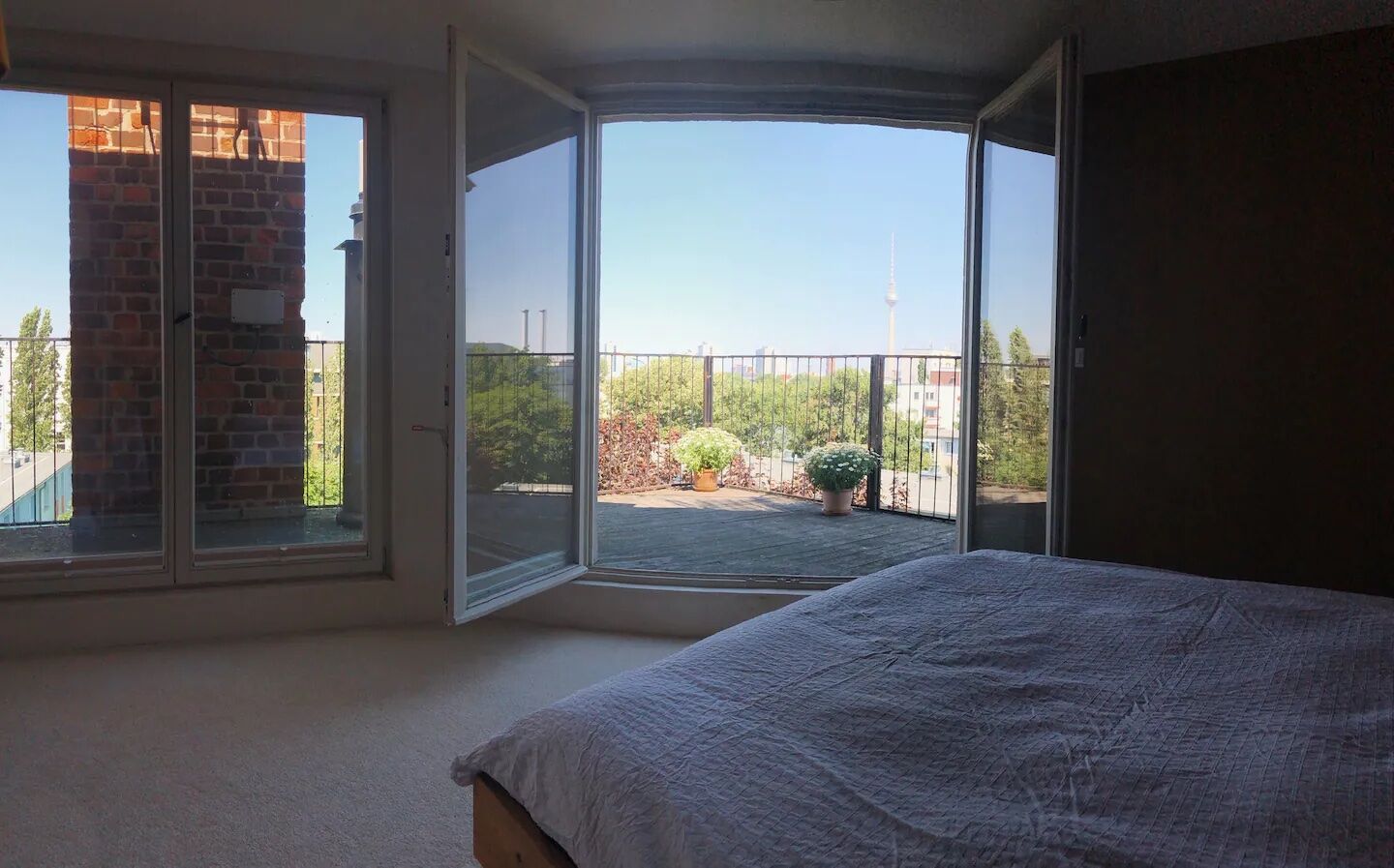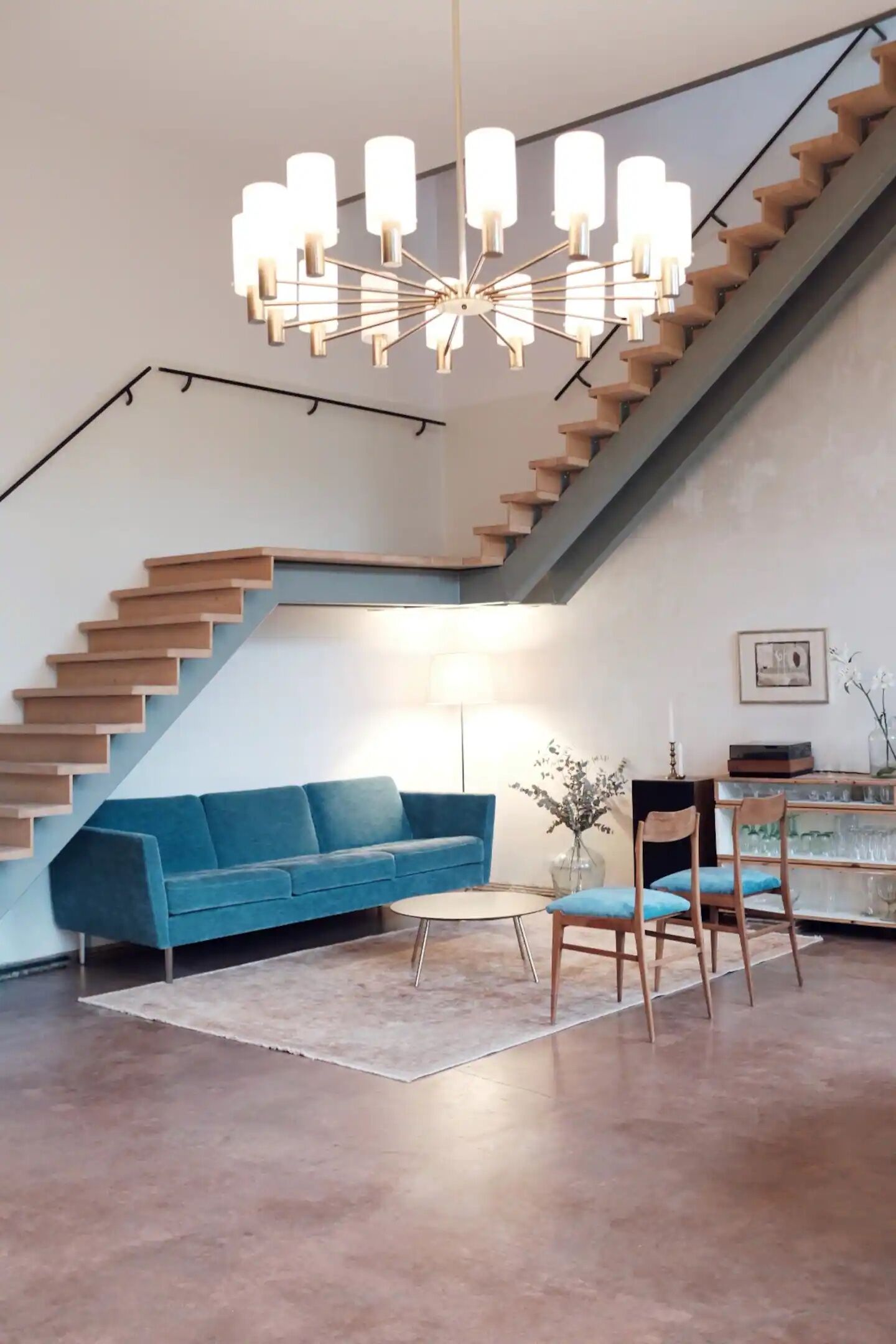 This dreamy Kreuzberg loft is one of the most Instagrammable Berlin Airbnbs. The apartment has been lovingly curated as a modern oasis without sacrificing its heritage charms. Luxury touches include the wood burner in the lounge and the clawfoot bath on the roof terrace, which in turn grants epic views across Berlin Mitte. Perfect for a romantic getaway or a photo shoot.
Four guests, two bedrooms
Price: $700 per night
Kreuzberg Airbnb ideal for small groups, convenient location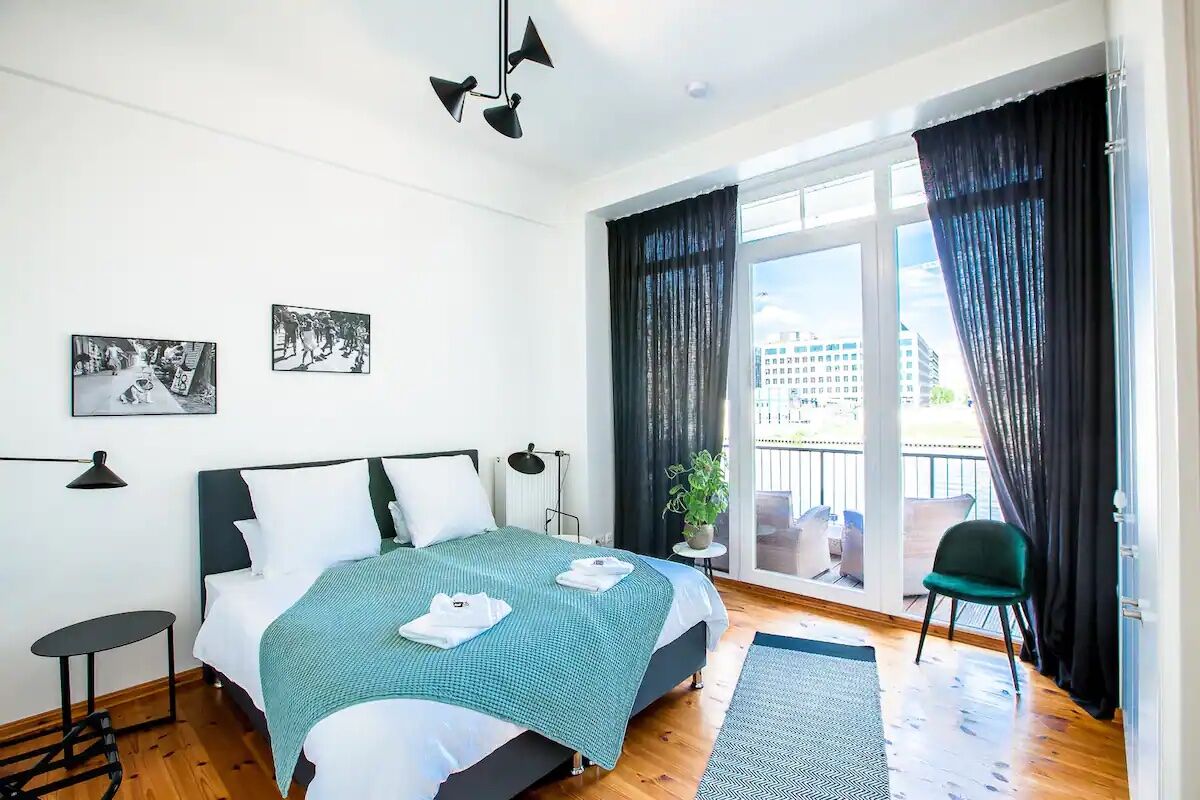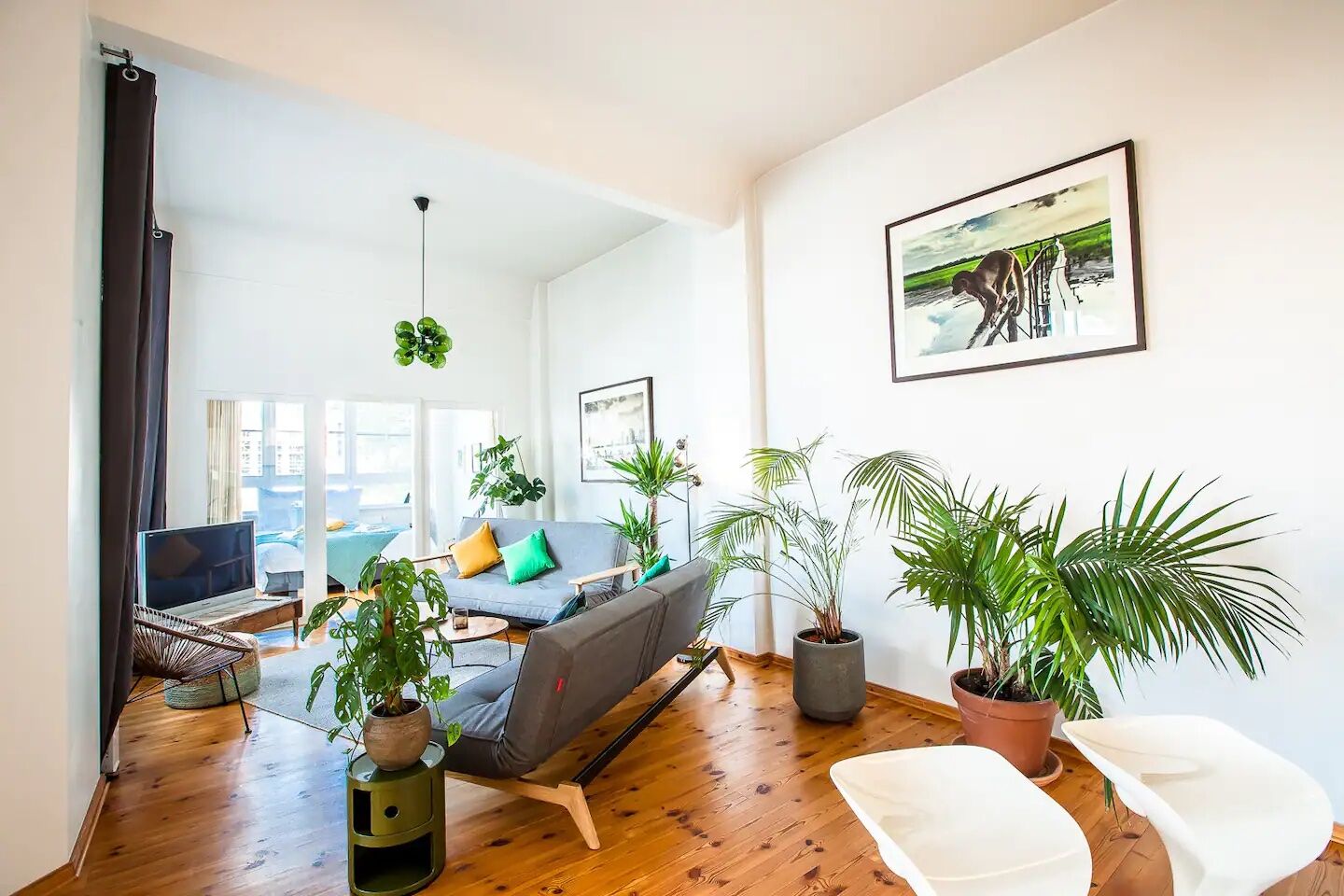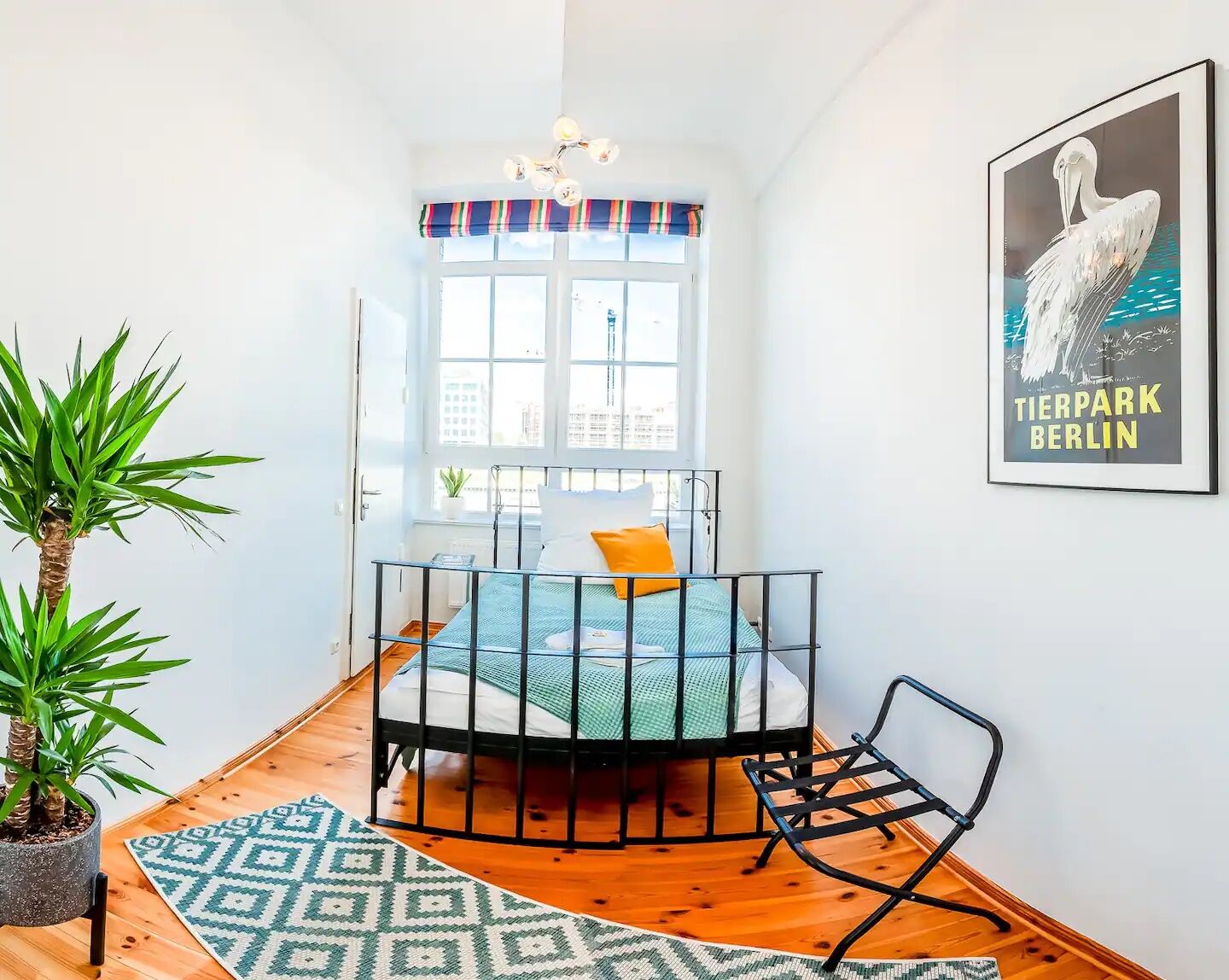 This Airbnb is located in the trendy neighborhood of Kreuzberg, an ideal location for first-time visitors to Berlin. The Airbnb itself is a modern three-bedroom apartment with all necessary amenities and plenty of natural light coming through its large windows. It's within walking distance of the water as well as plenty of restaurants and shops. Nightlife is vibrant here — this is Berlin, after all — so be excited about the vibrancy of the neighborhood surrounding this unit. Plus, it's great for groups.
Six guests, three bedrooms
Price: $274 per night
Neukölln Airbnbs in Berlin, Germany
Neukölln is a district in Berlin that has quickly become popular for its unique mix of cultures, restaurants, and nightlife. It is sometimes referred to as Berlin's Brooklyn or the "hippest district" of the city. Airbnb properties are widely available in Neukölln, giving visitors access to some of the city's most interesting neighborhoods. Airbnb hosts in Neukölln are friendly and knowledgeable about the local area, making sure visitors have an enjoyable stay in this vibrant part of the city.
Spacious and elegant three-bedroom in hip Neukölln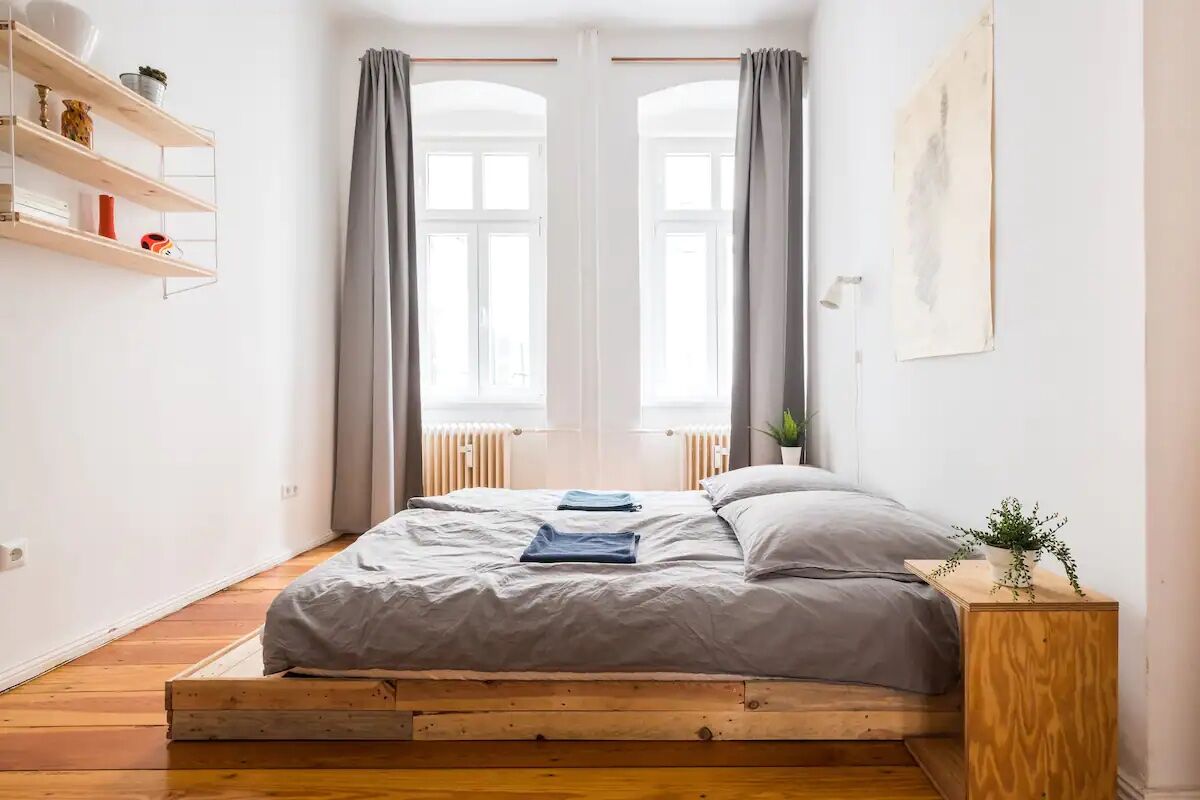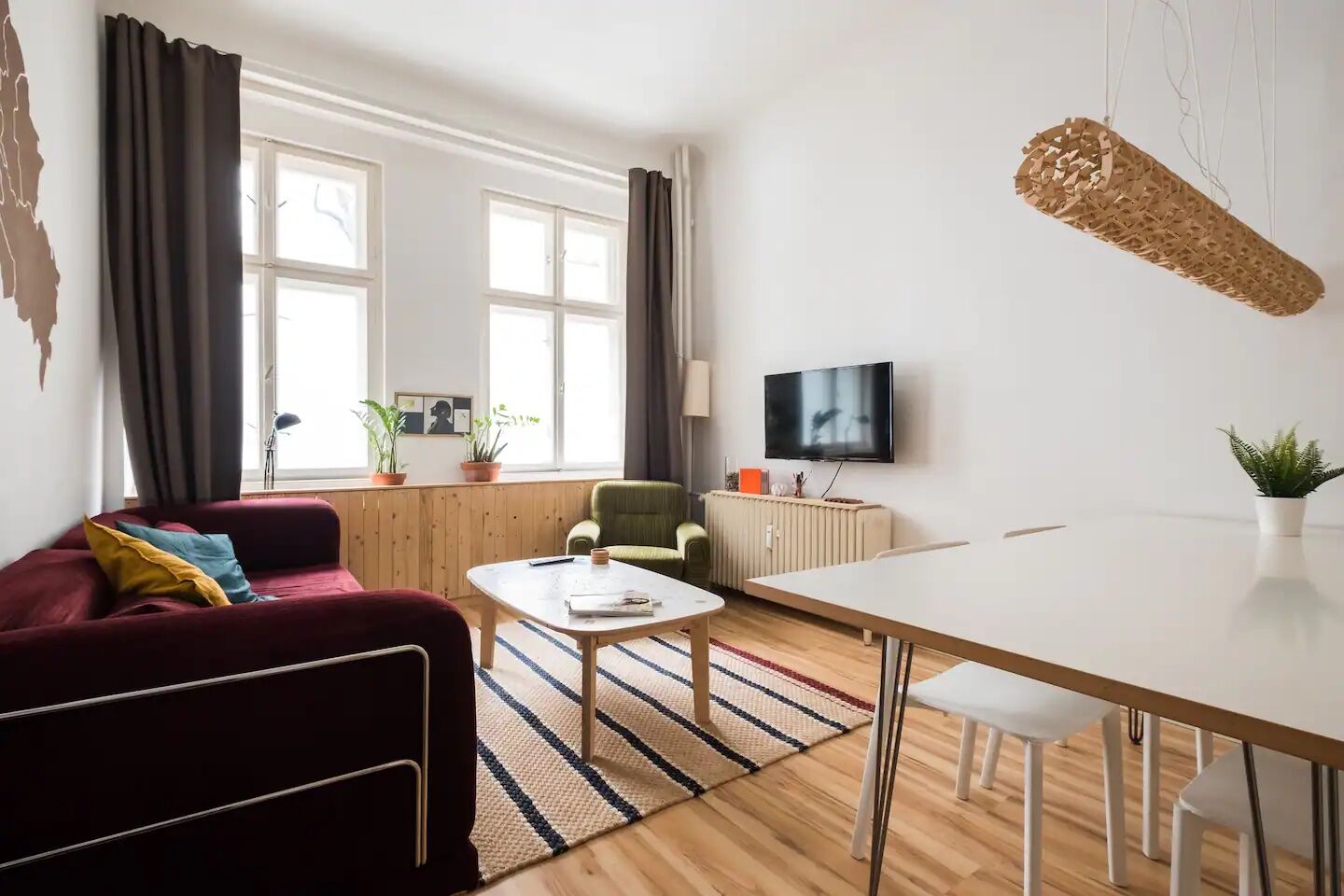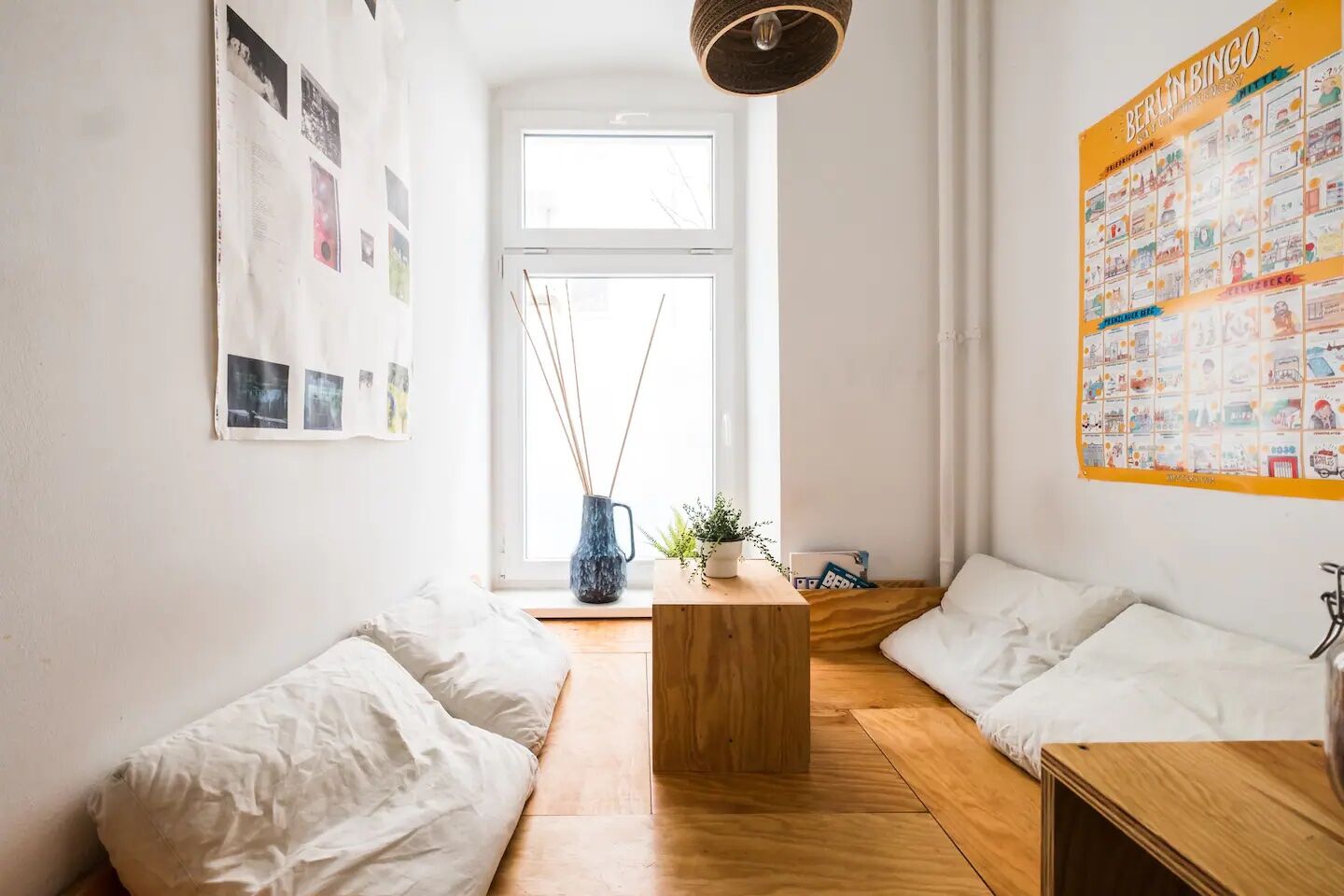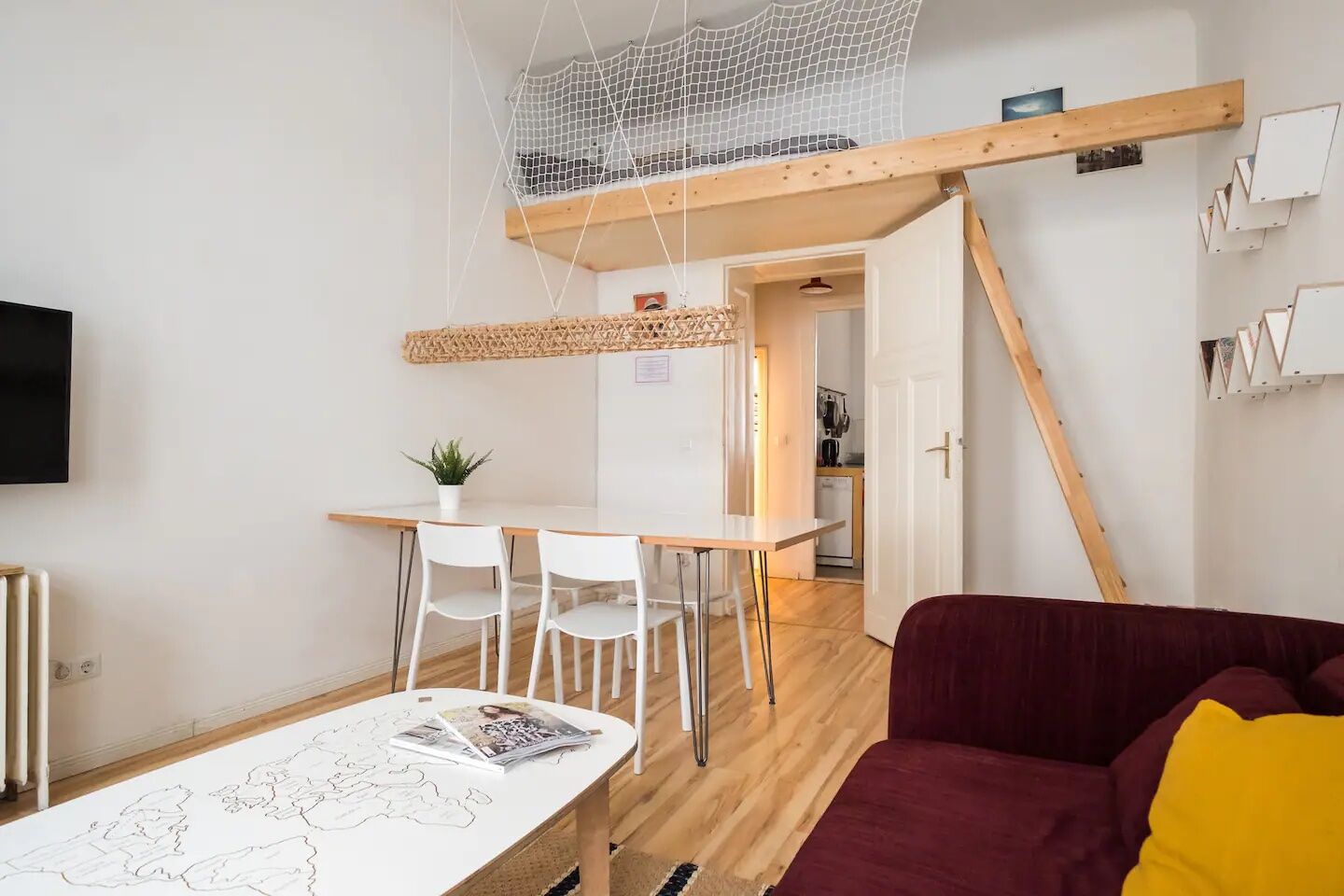 Convenient for the vintage bars and buzzing bars of Berlin's up-and-coming Neukölln neighborhood, this airy rental property is well-suited to a couple or small group. Occupying an 1890s building, the renovated apartment enjoys high ceilings and natural light. Sleeping arrangements span a king room with a mezzanine and a pull-out in the lounge while a raised dining and relaxing platform in the custom-made kitchen is ideal for sociable evenings.
Eight guests, three bedrooms
Price: $275 per night
Neukölln Airbnb perfect for large groups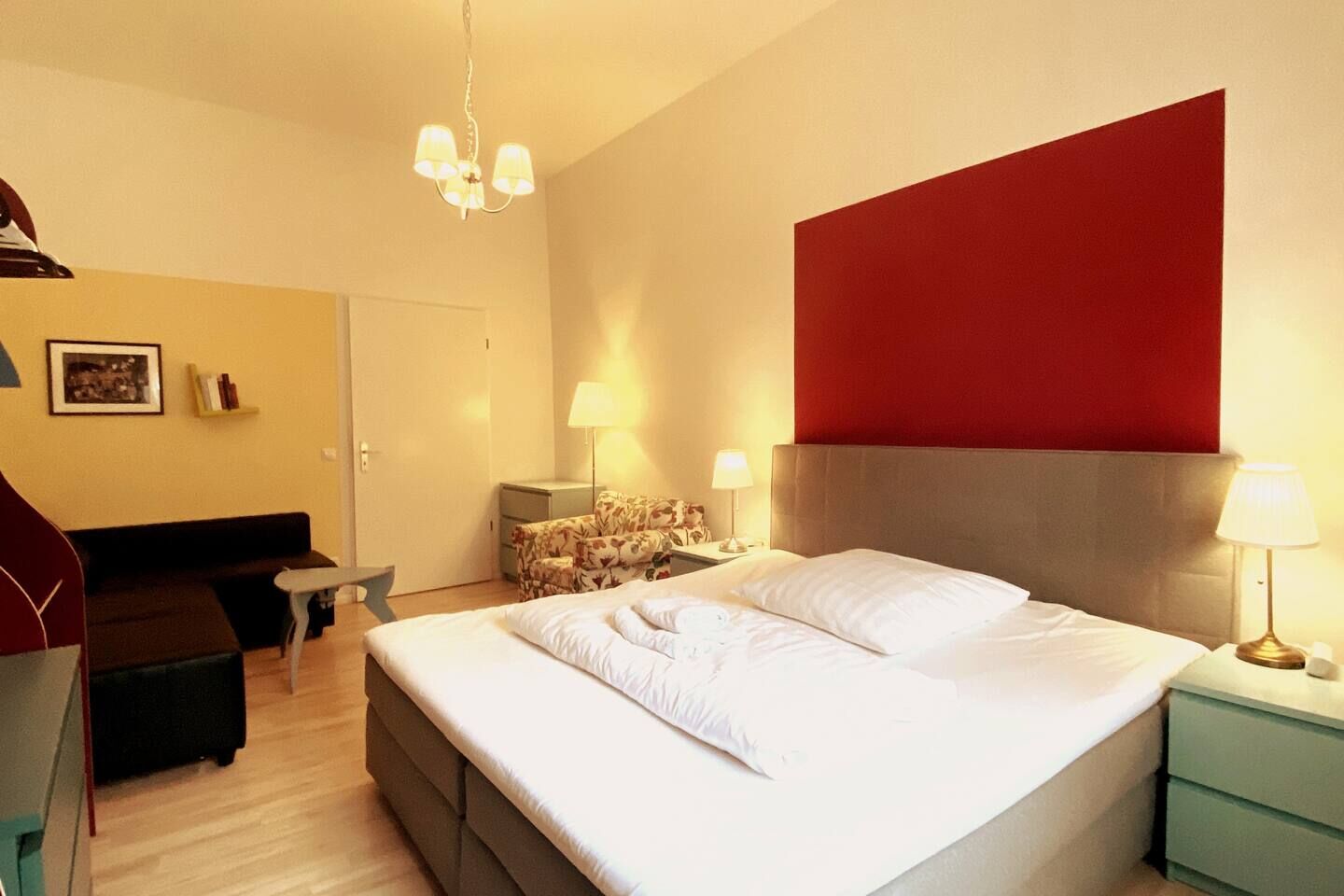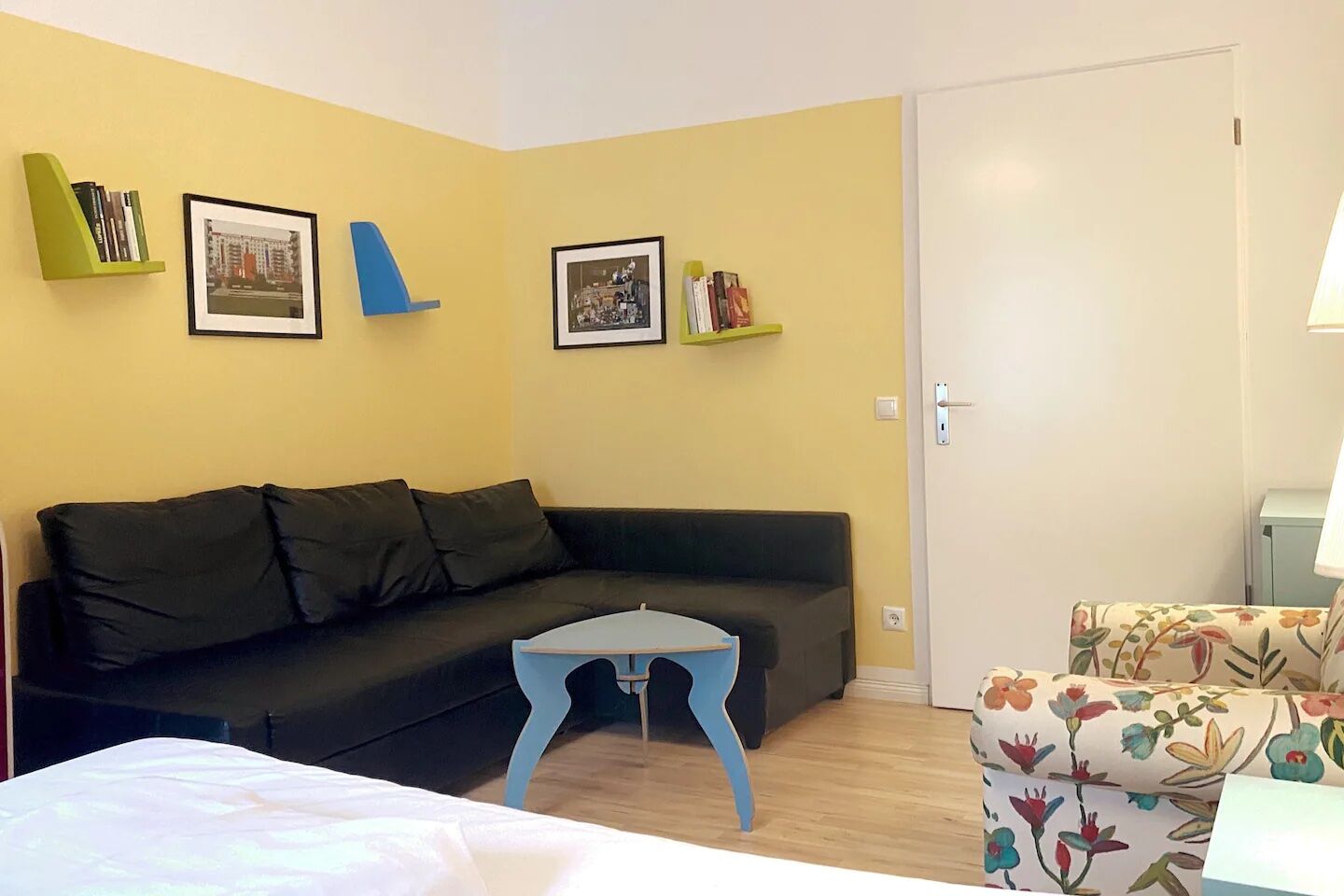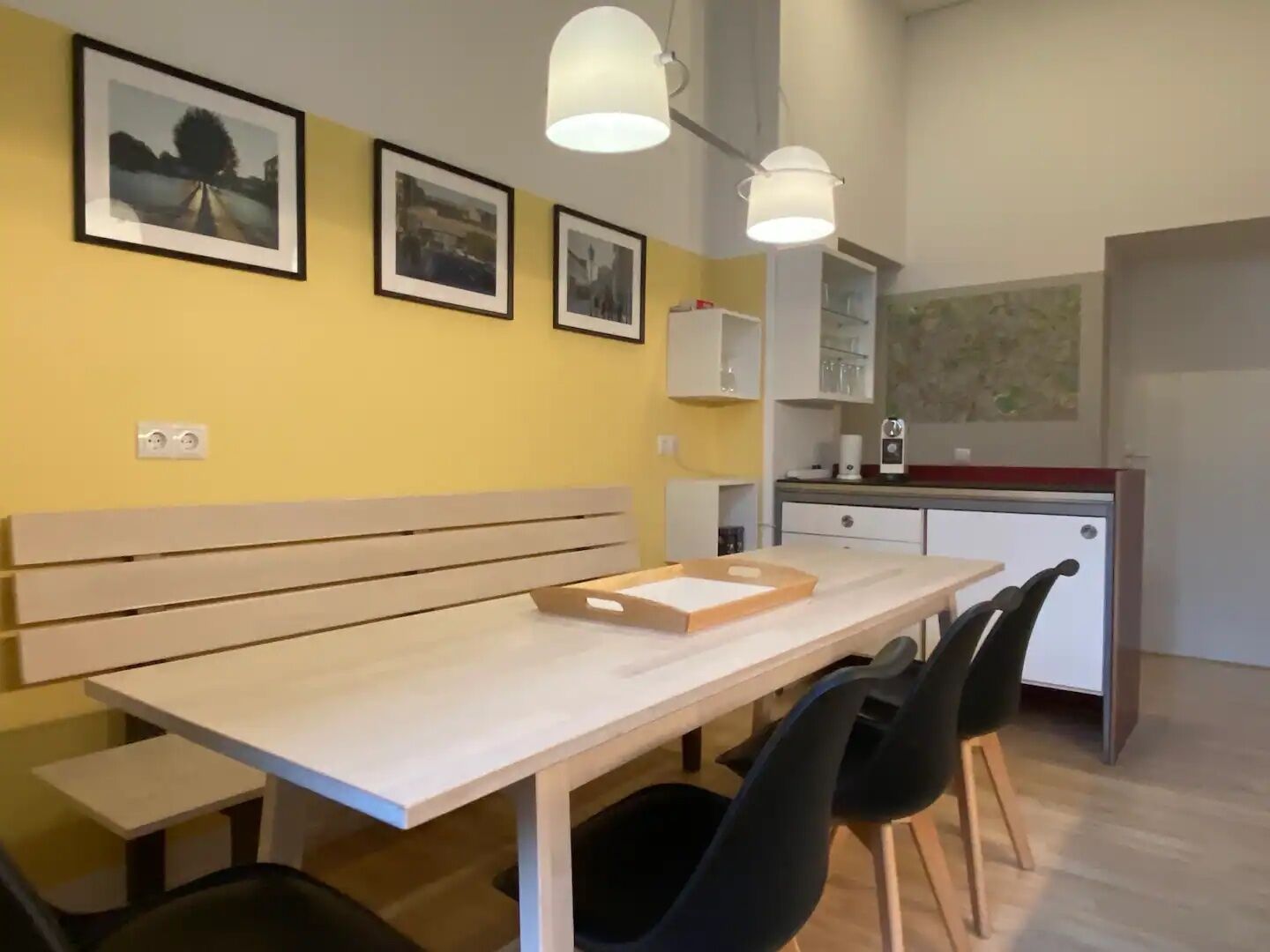 This Airbnb is located in the lively neighborhood of Neukölln, where you can explore the diversity of Berlin culture. The unit is a spacious apartment with three bedrooms, two bathrooms, and a balcony. It's perfect for larger groups of up to 10 (hello, reunion!) All necessary amenities are included so that you can make yourself at home. Plus, there's plenty of outdoor seating to enjoy.
Ten guests, three bedrooms
Price: $222 per night
Berlin Airbnbs in Friedrichshain
Write a paragraph about Friedrichshain, BerlinFriedrichshain is a thriving district in Berlin that offers an abundance of Airbnb options. Located east of the city center, it has become home to many young creatives and start-ups.
Cozy living in Friedrichshain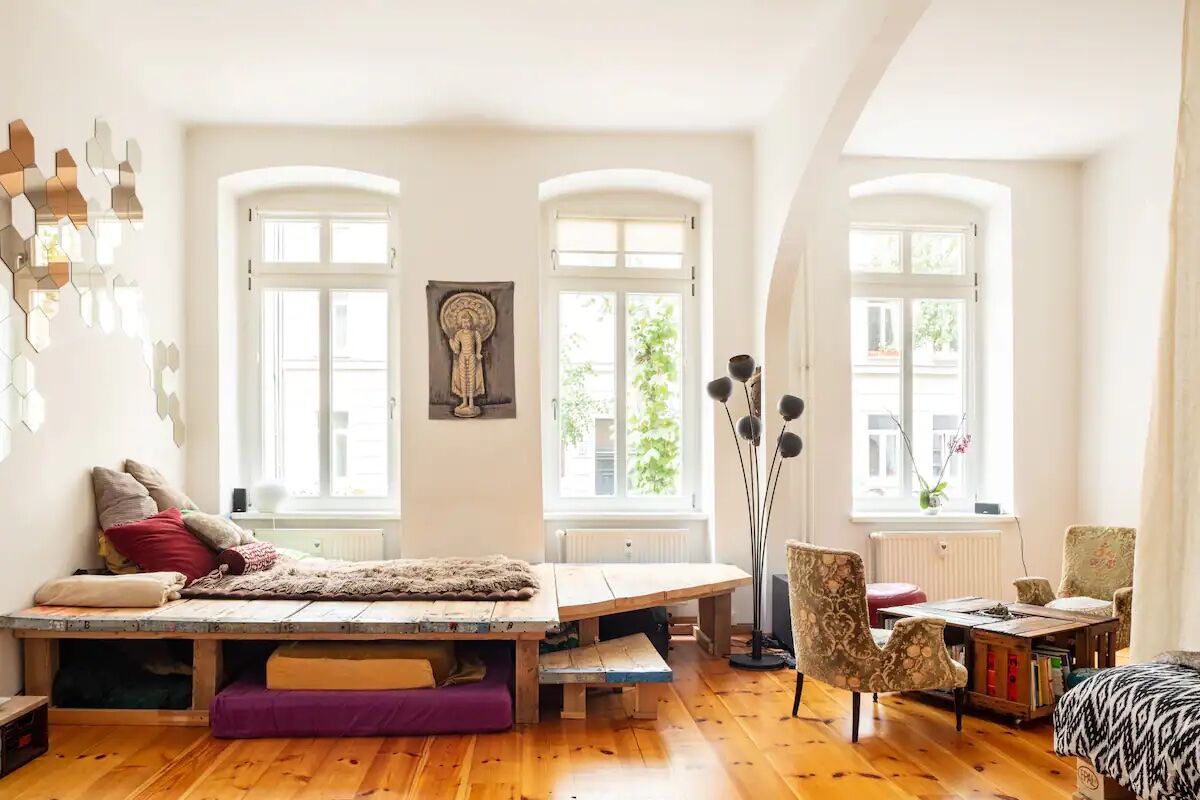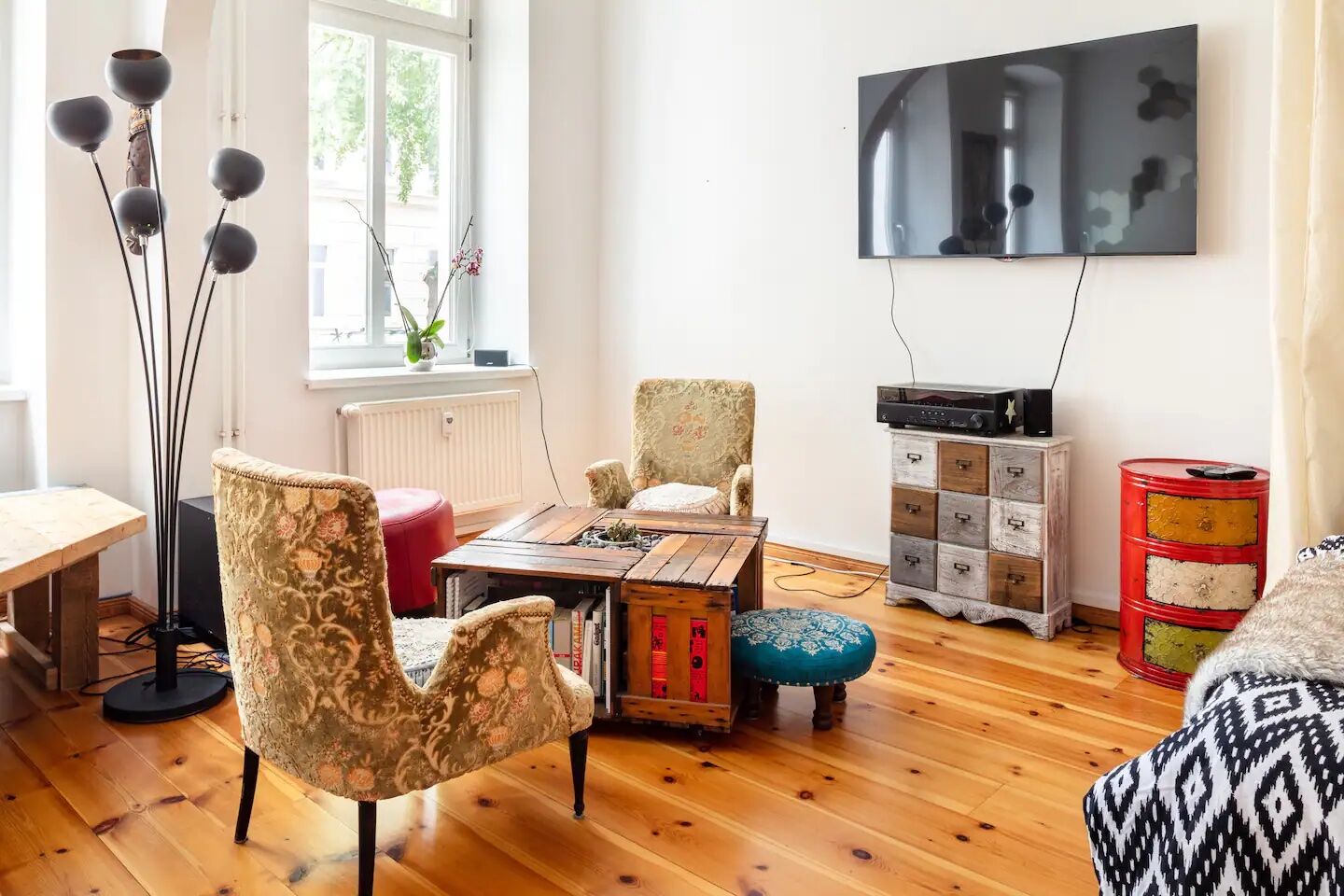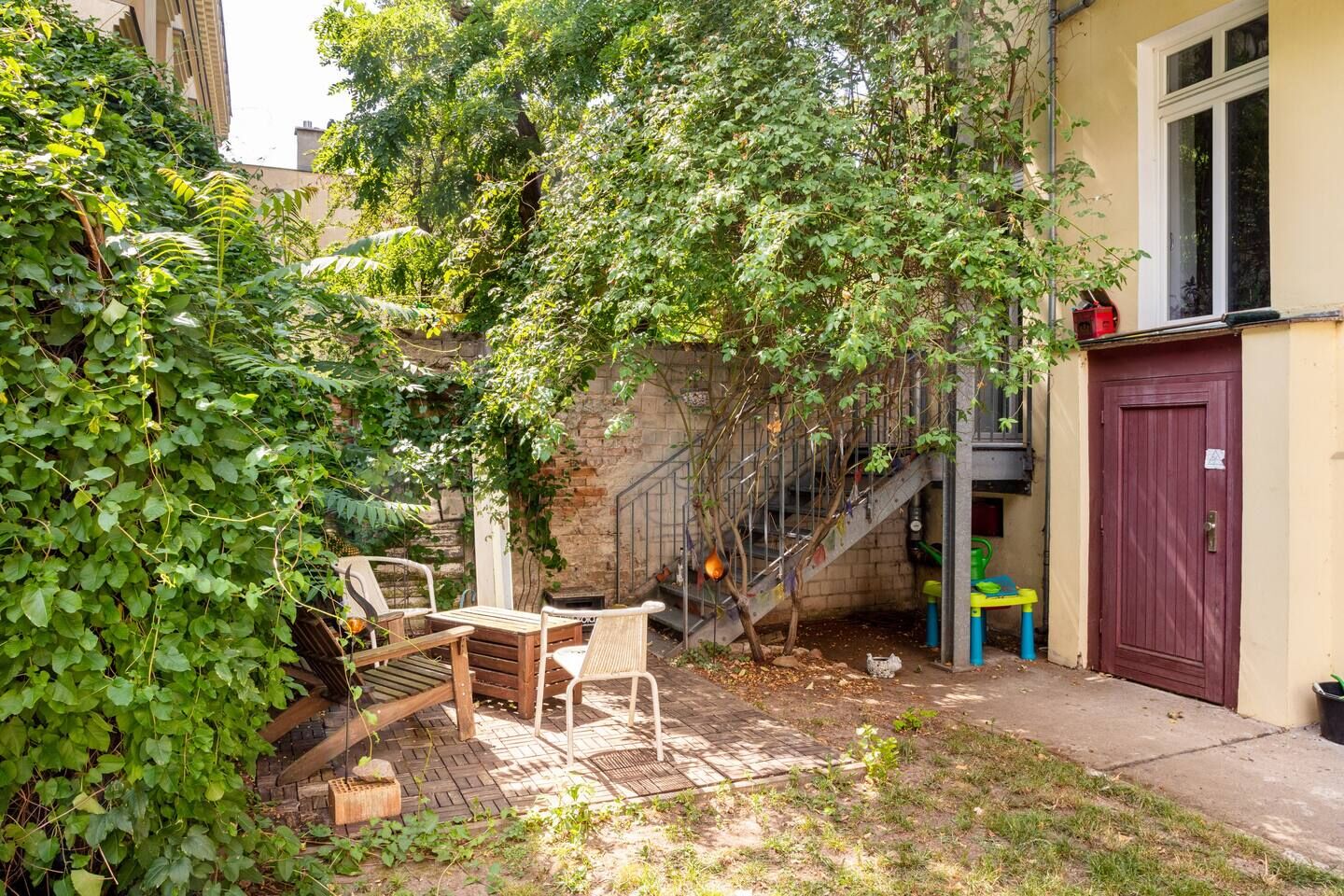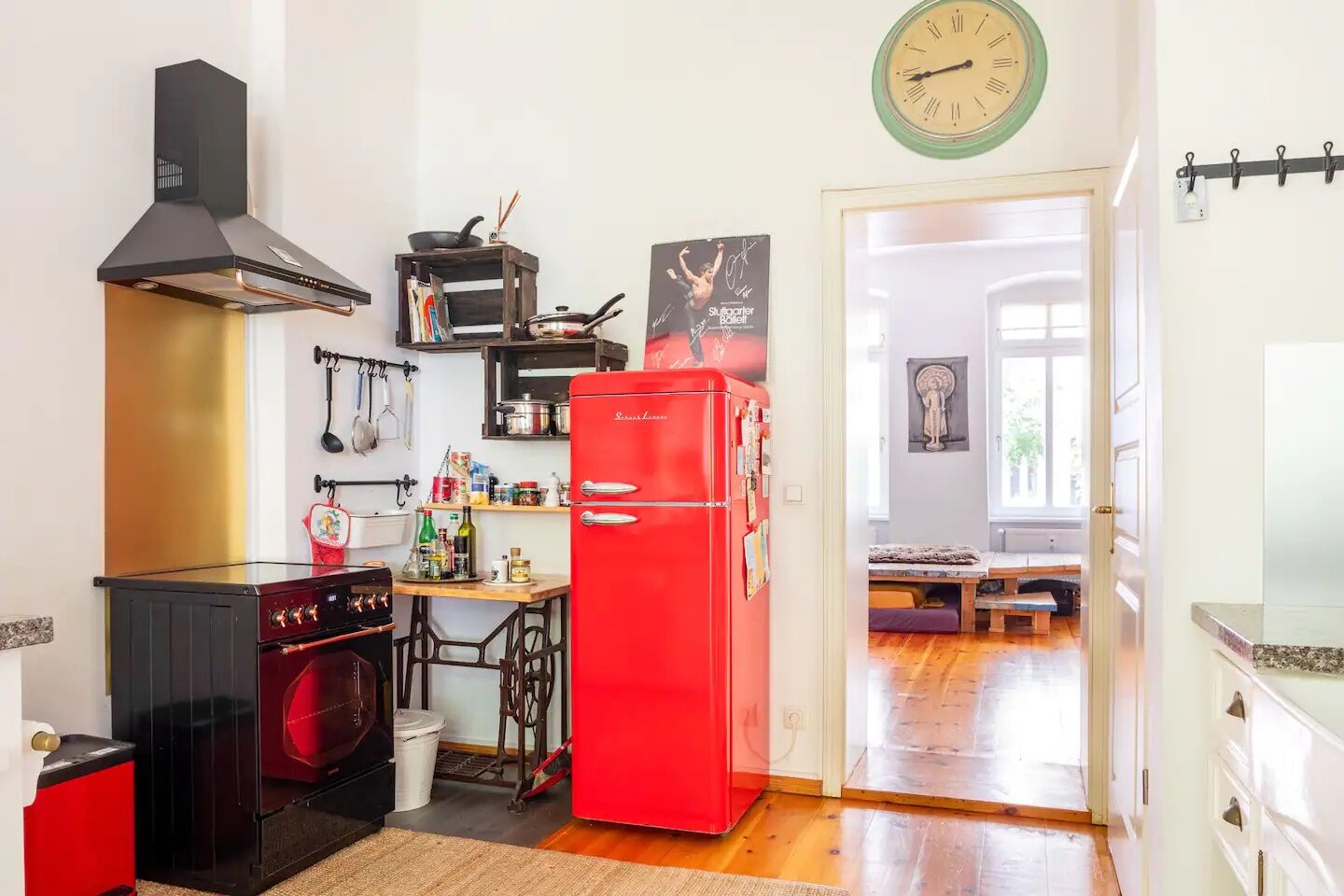 Whimsical and homely, this serene F'Hain studio home features a bespoke siesta nook where you can nap, read, or kick back with a glass of wine and a movie. The bed is cordoned off to create a sense of space while preparing morning coffee in the scarlet kitchen will put a spring in your step. Book this Friedrichshain apartment during the summer months to benefit from the terrace.
Two guests, one bedroom (studio)
Price: $205 per night
Four-bedroom loft with big kitchen, library, and swing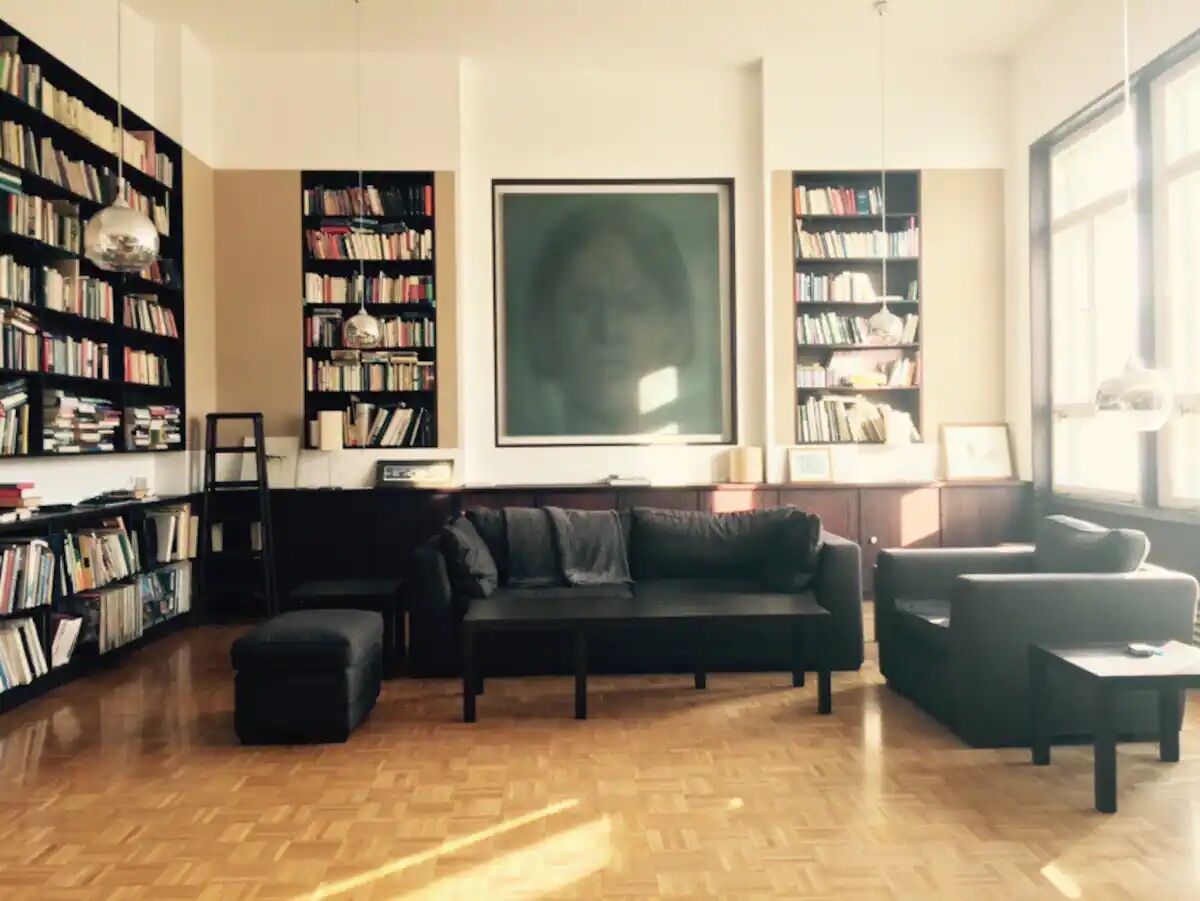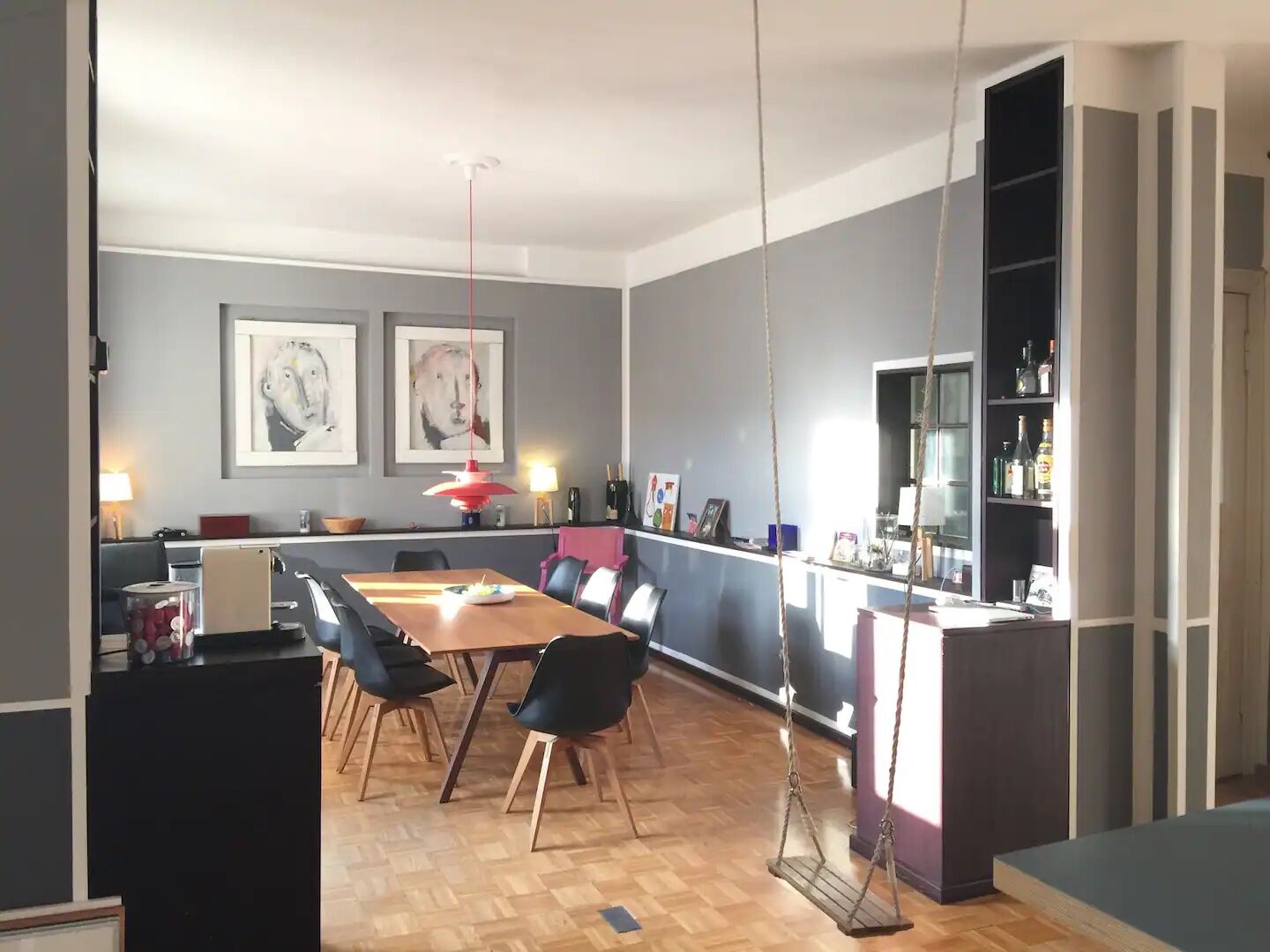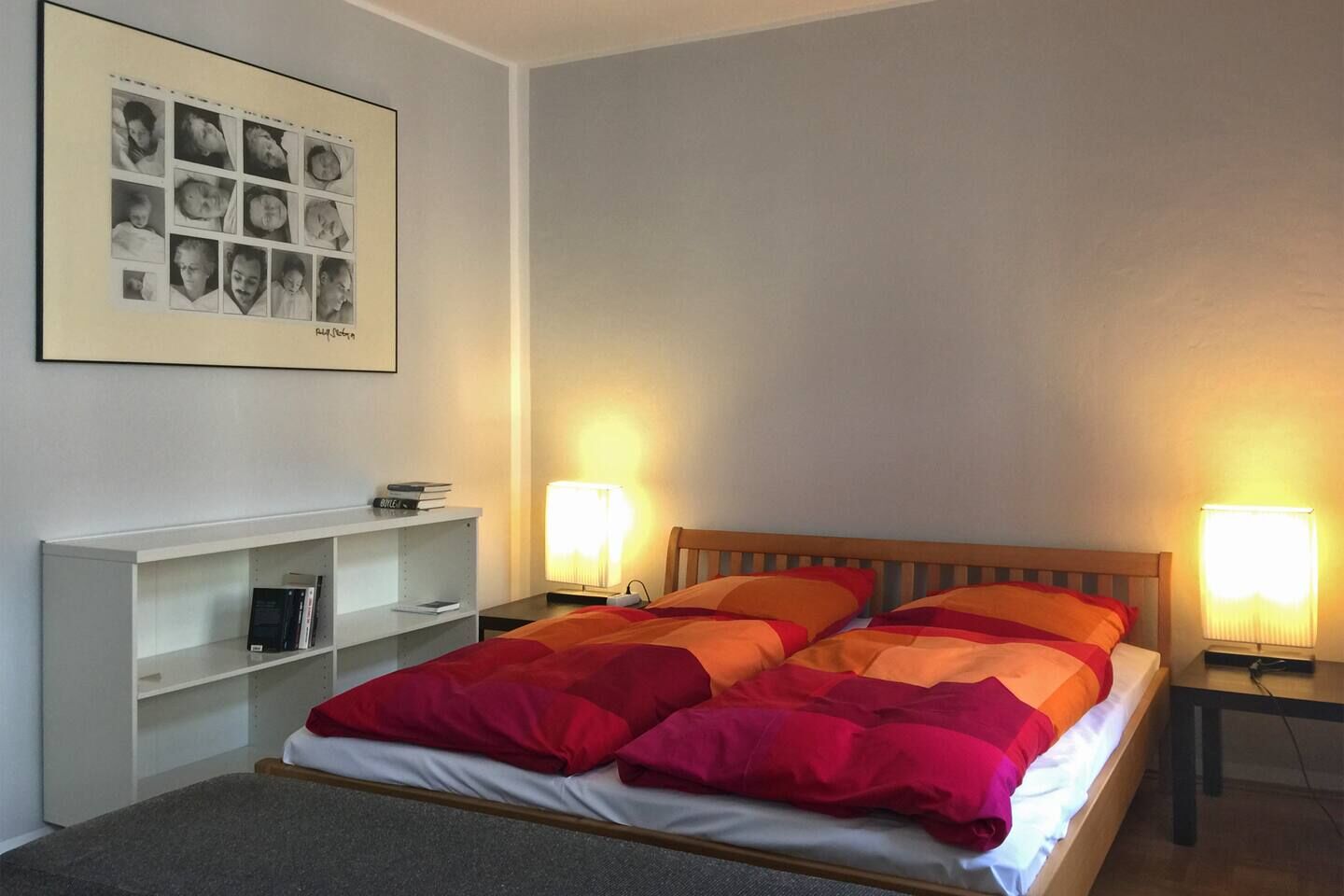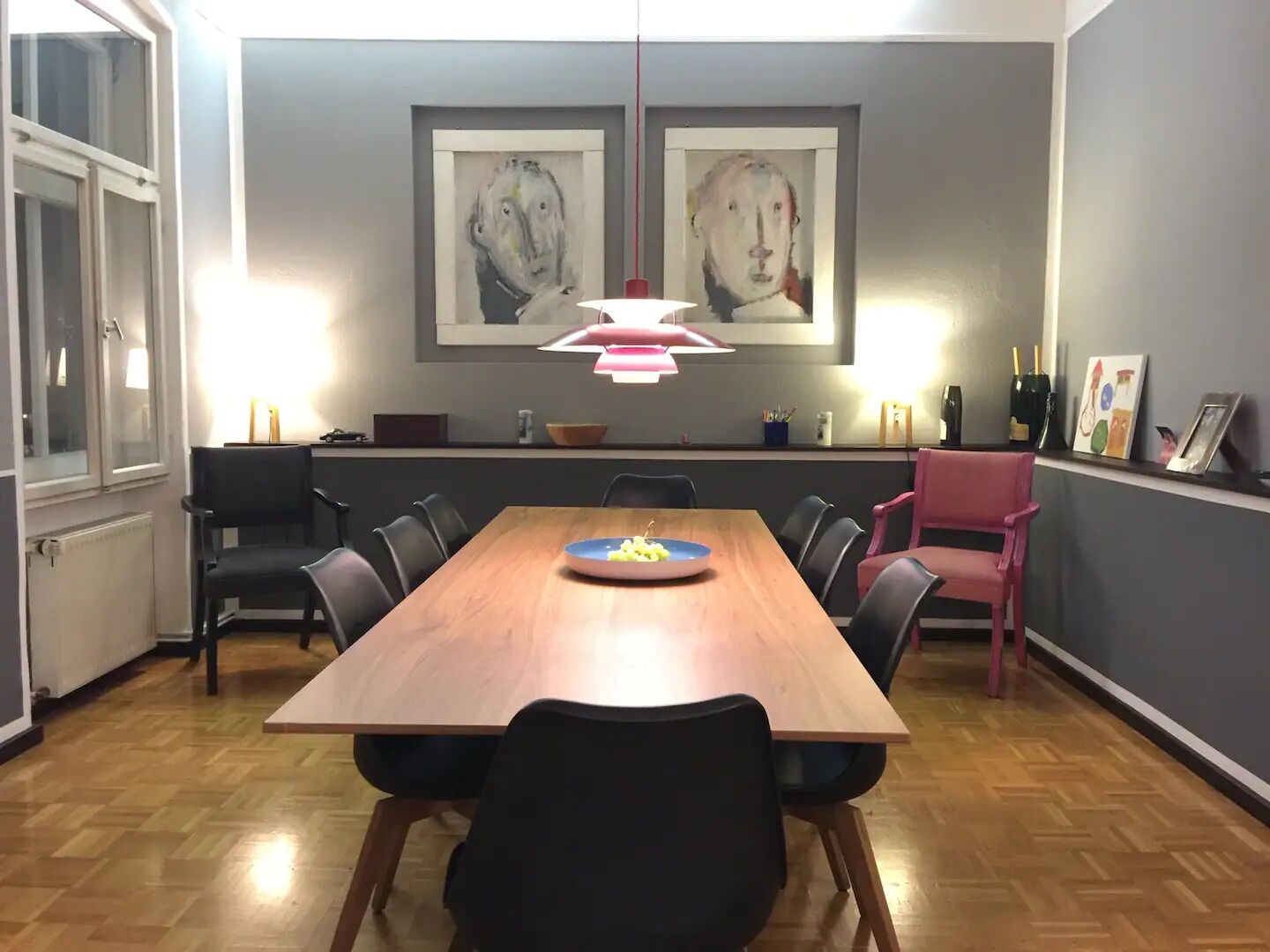 This pet-friendly Airbnb in Berlin is an awesome pick for families – under 16s stay for free! Even better, the swing in the lounge will provide endless hours of entertainment for all ages. The kitchen is meticulously stocked and will delight traveling chefs while bibliophiles will be in their element in the book-filled lounge.
Six guests, four bedrooms
Price: $540 per night
Enchanting 142m² loft/flat in Friedrichshain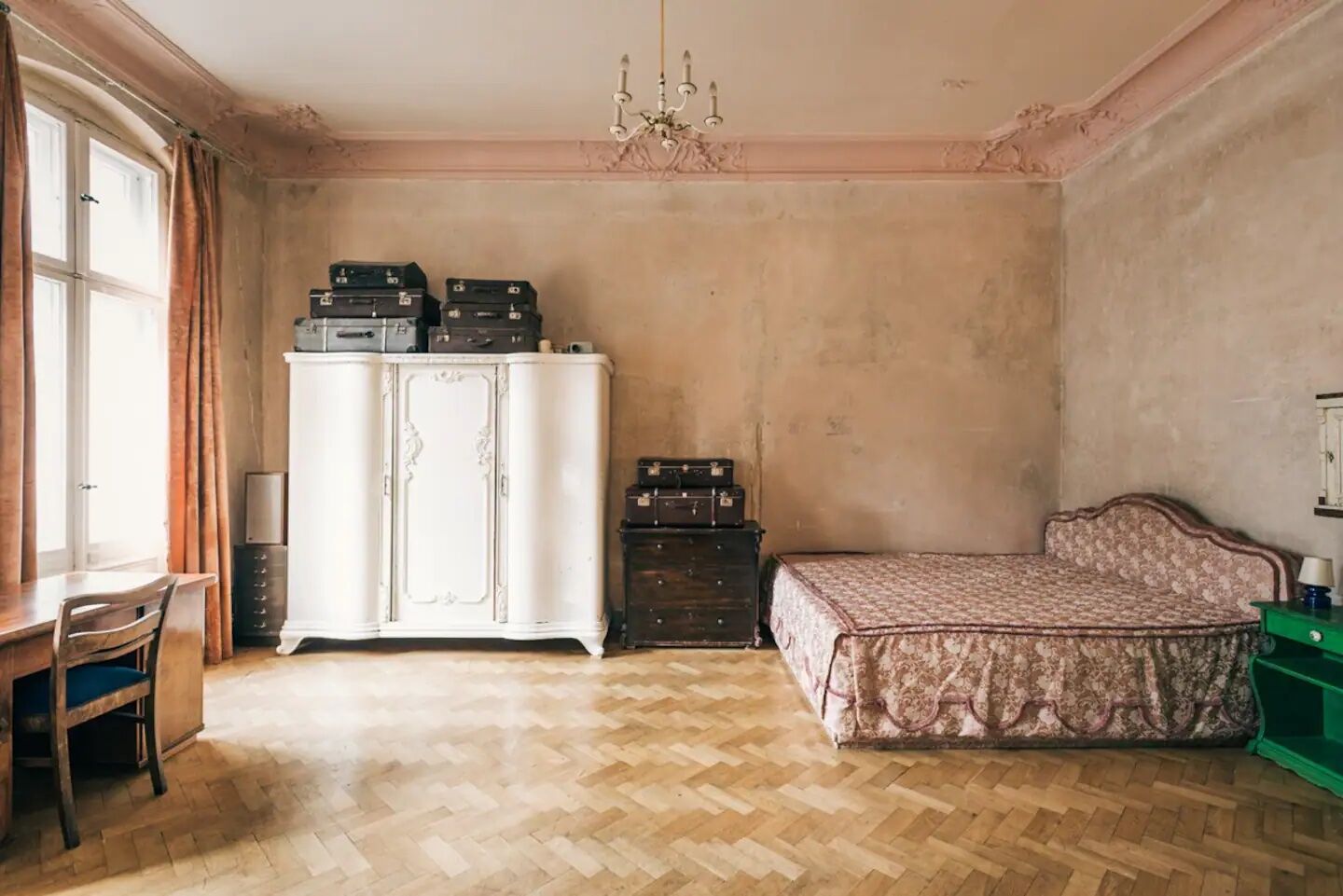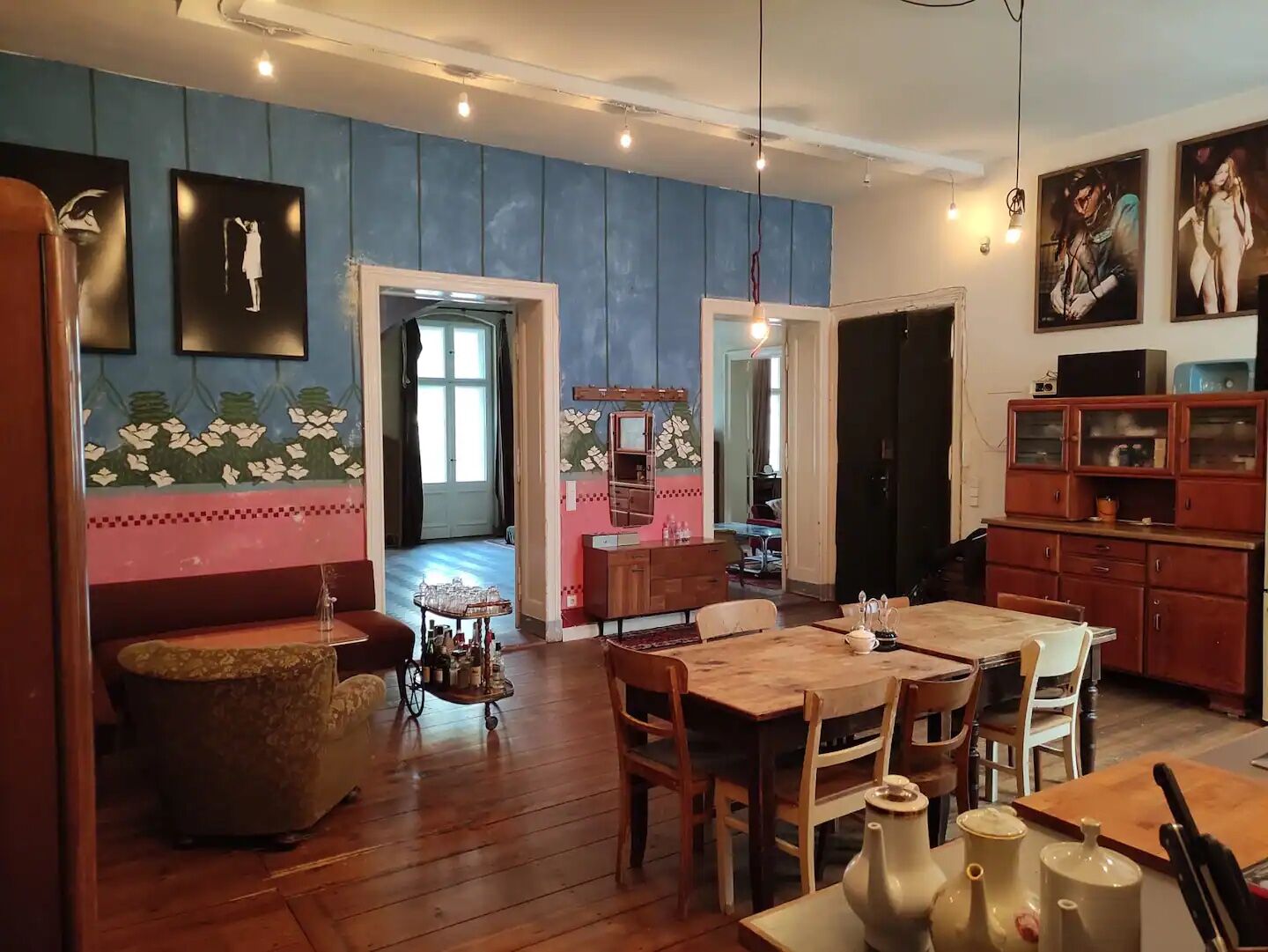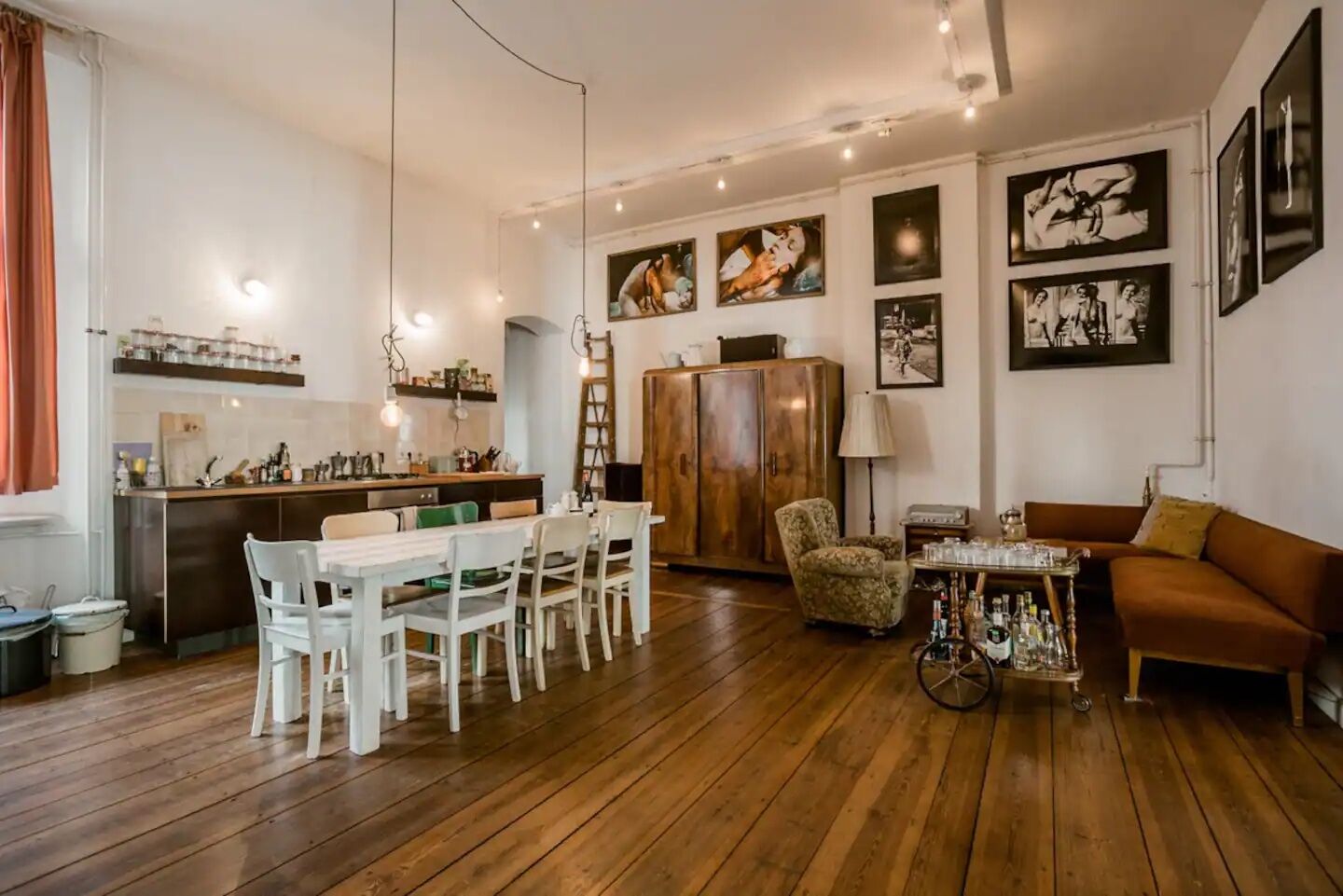 Styled with timeless sophistication, this historic loft enjoys high ceilings, oak floors, and French double doors. Vintage furnishings and original artworks adorn the property and add nostalgic glamour. A gigantic salon marks the heart of the apartment and comes with a piano and room to lay down a yoga mat or shake your hips around to a retro playlist. The bathroom is fitted with a luxurious free-standing tub.
Nine guests, three bedrooms
Price: $485 per night
New home – downtown four-bedroom urban design retreat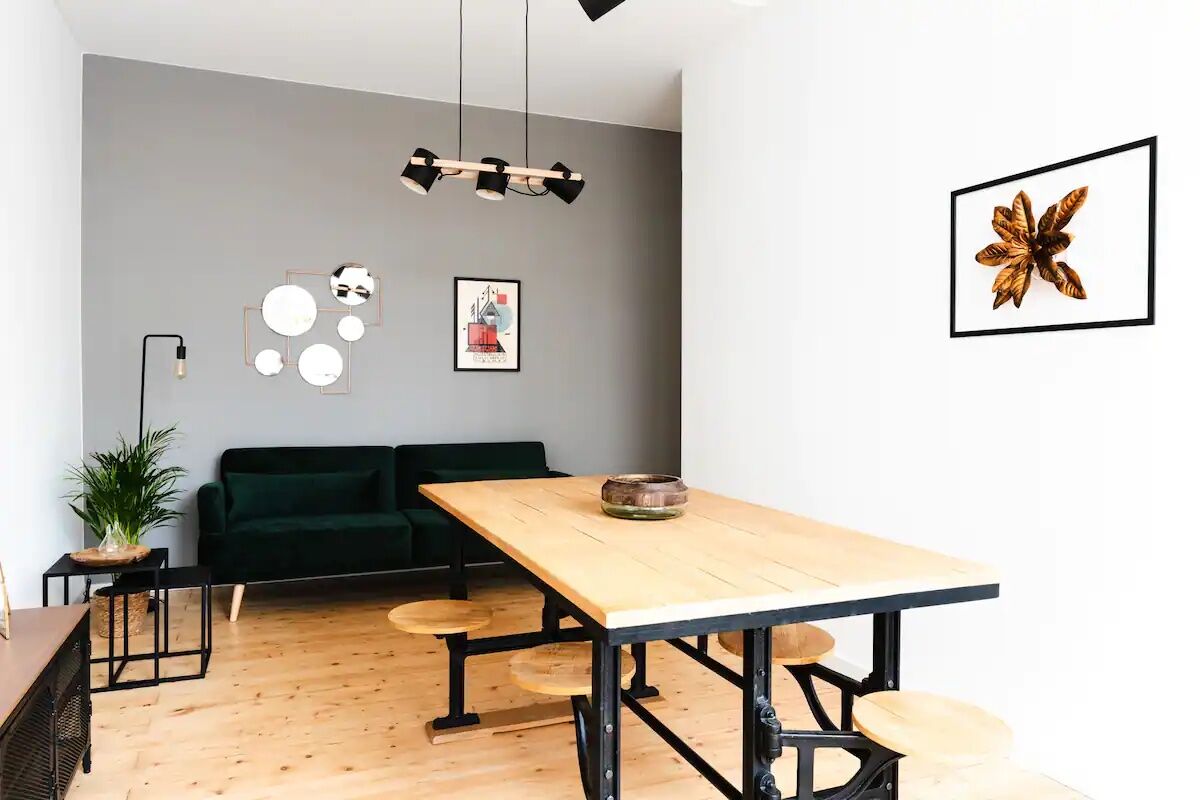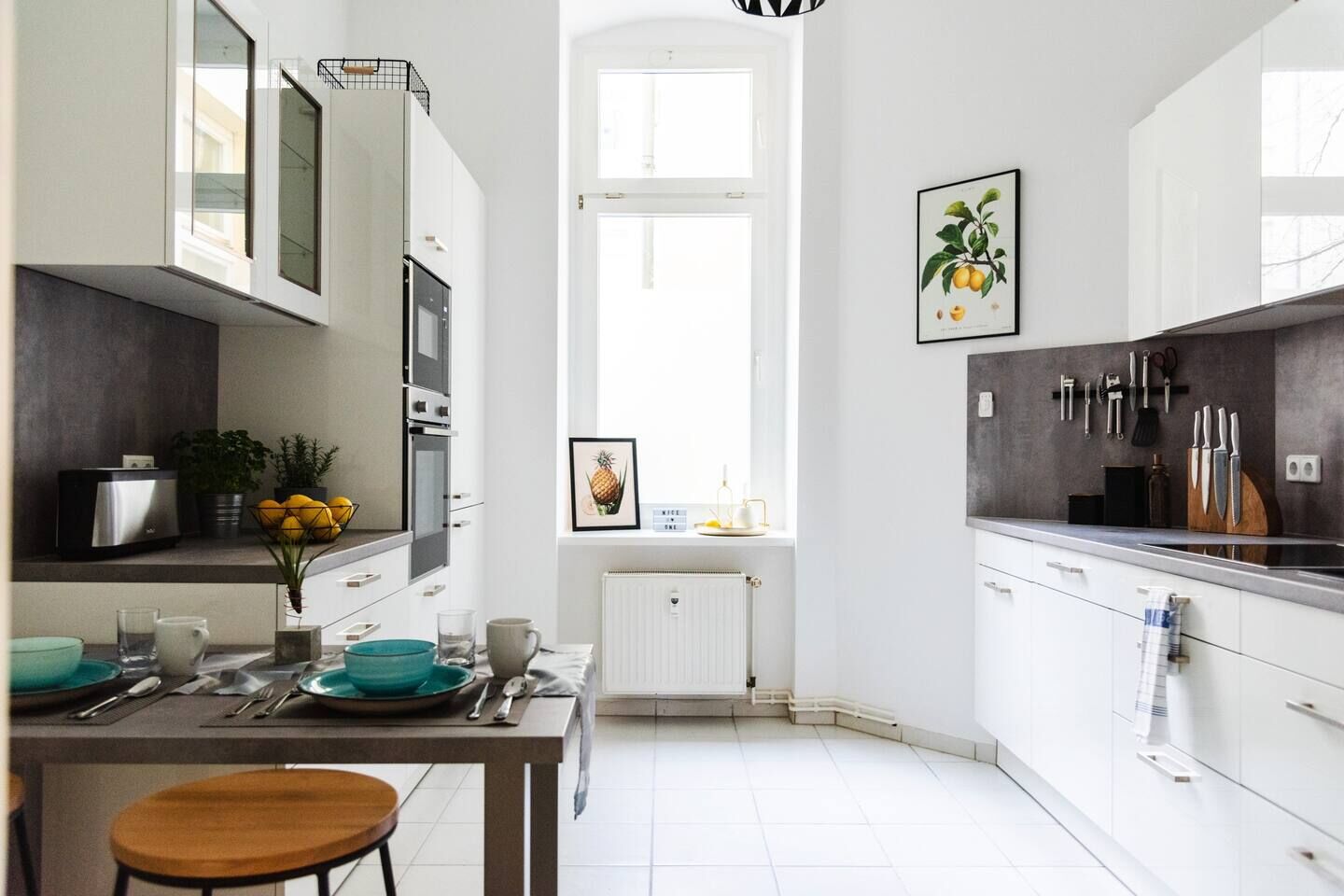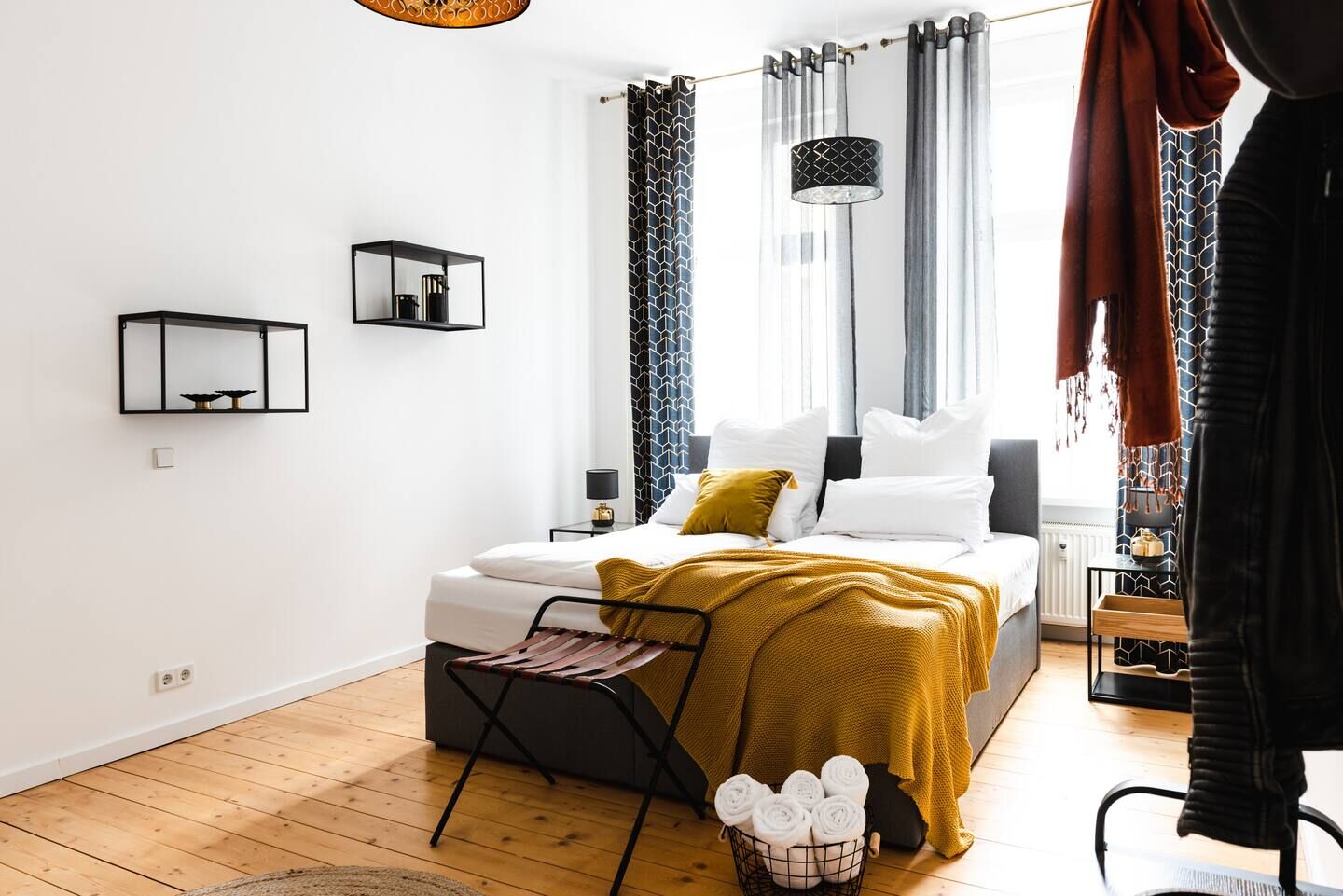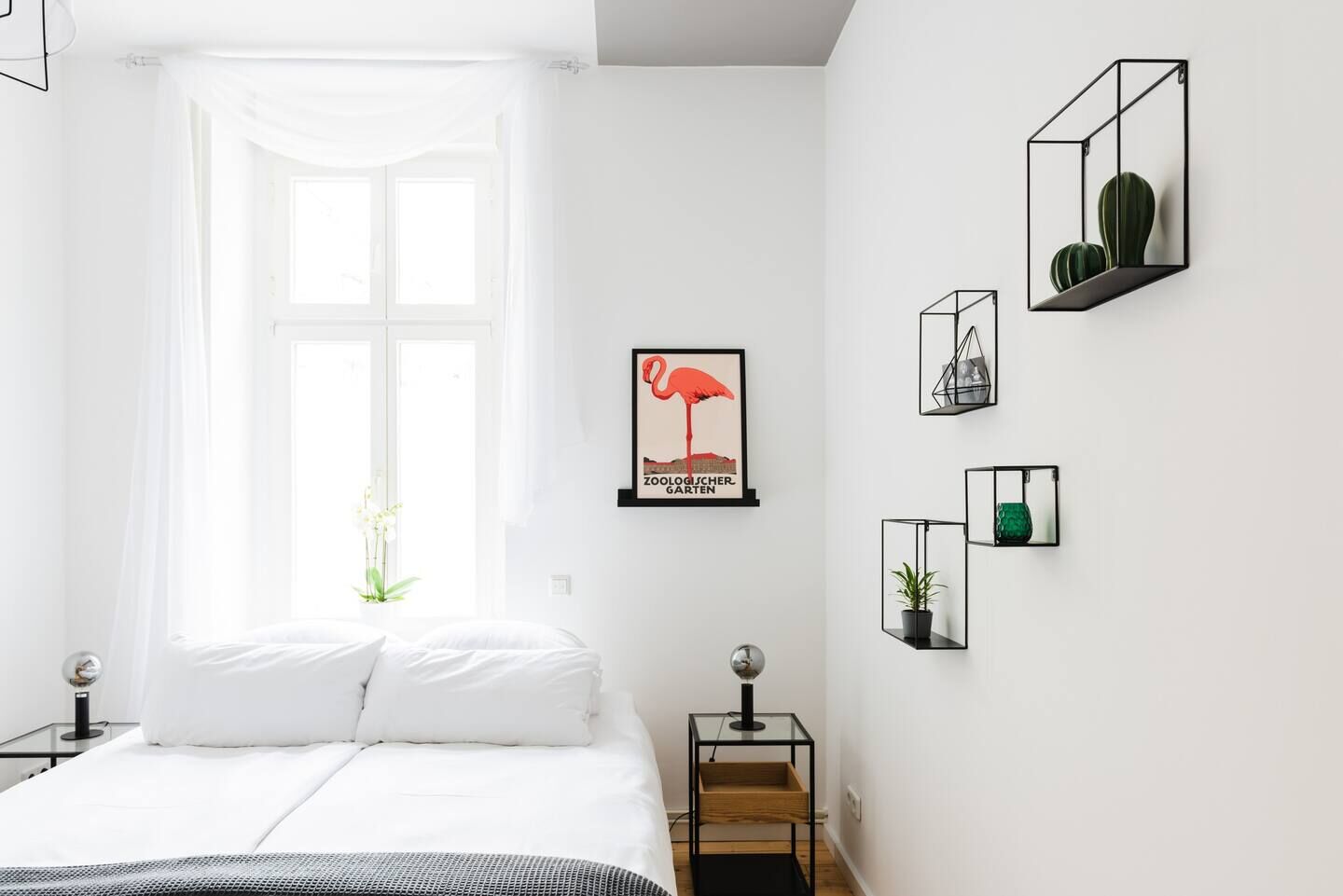 Tucked away down a peaceful bicycle-only street, this F'Hain Airbnb is steps away from the neighborhood's best restaurants and bars. High-quality designer furniture includes box spring beds and wooden moveables while artwork by local artists adorns the walls. With lightning-speed Wi-Fi and designated workspaces, this contemporary apartment is curated with remote workers and digital nomads in mind.
Seven guests, three bedrooms
Price: $405 per night
What did you think of this story?