11 Fayetteville, Arkansas, Airbnbs for the Most Convenient Stay in the City
Fayetteville, Arkansas, is a city of live music, mountain biking, and a laid-back lifestyle. Visit downtown and Dickson Street, the center of the fun, and dive into the outdoors by walking, hiking, and hitting the bike trails. These Airbnb Fayetteville properties are minutes away from Dickson Street, putting you close to all the action.
We hope you love the Airbnb Fayetteville, Arkansas, vacation rentals we recommend! Just so you know, Matador may collect a small commission from the links on this page if you decide to book a stay. Listed prices are accurate as of the time of publication.
---
Fayetteville Airbnbs near Downtown and Dickson Street
Dickson Street is the heart of Fayetteville, home to pubs, restaurants, shops, and more jam sessions than you'd expect to find this side of music city. If culture is your goal, these Airbnbs put you close to it.
East Fayetteville Retreat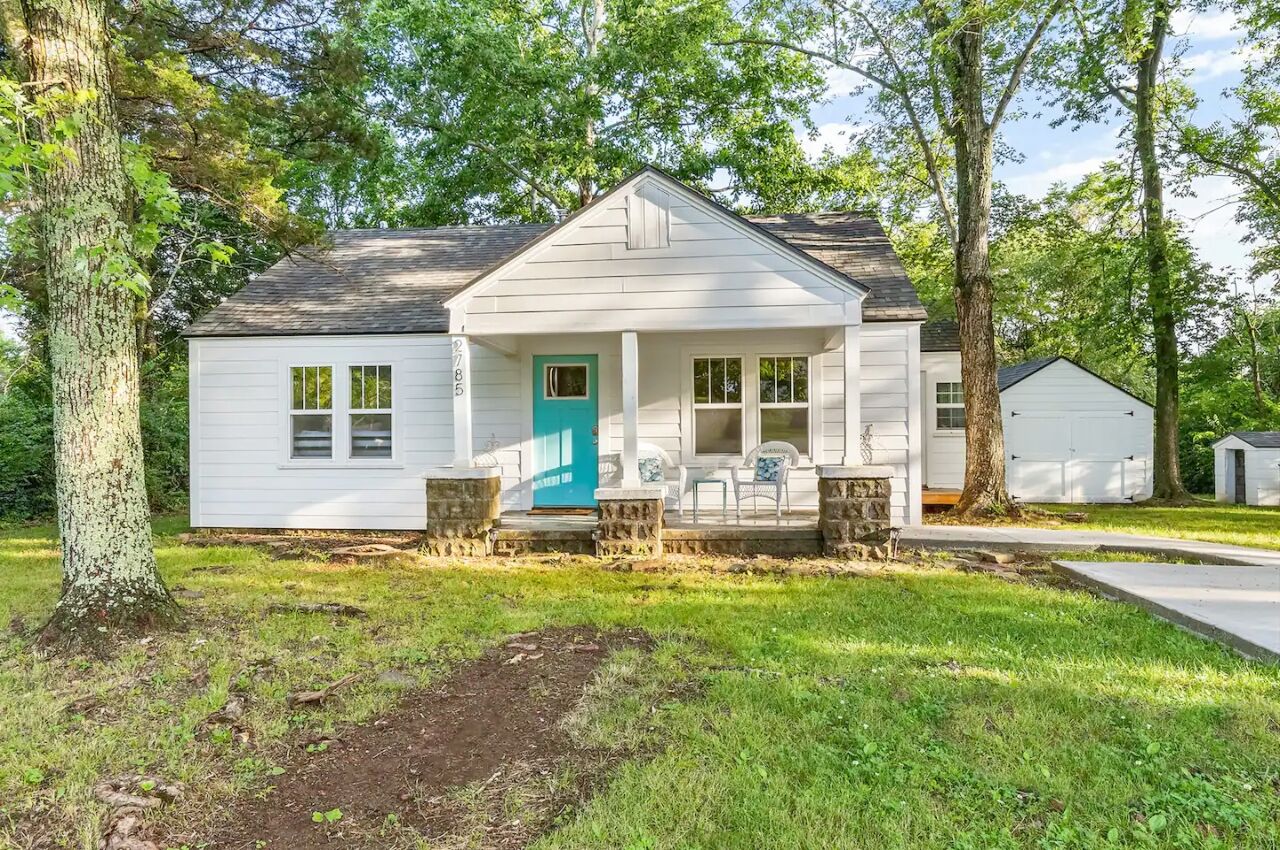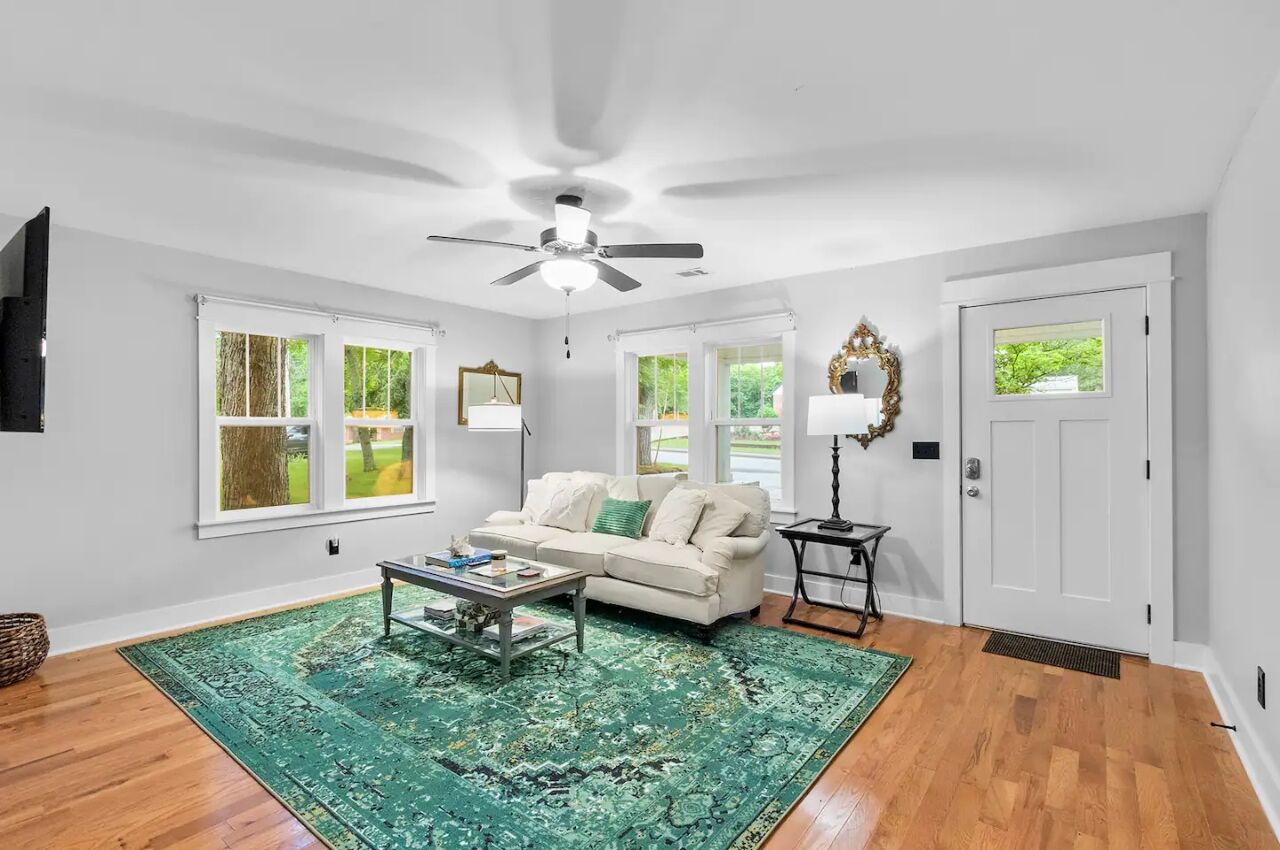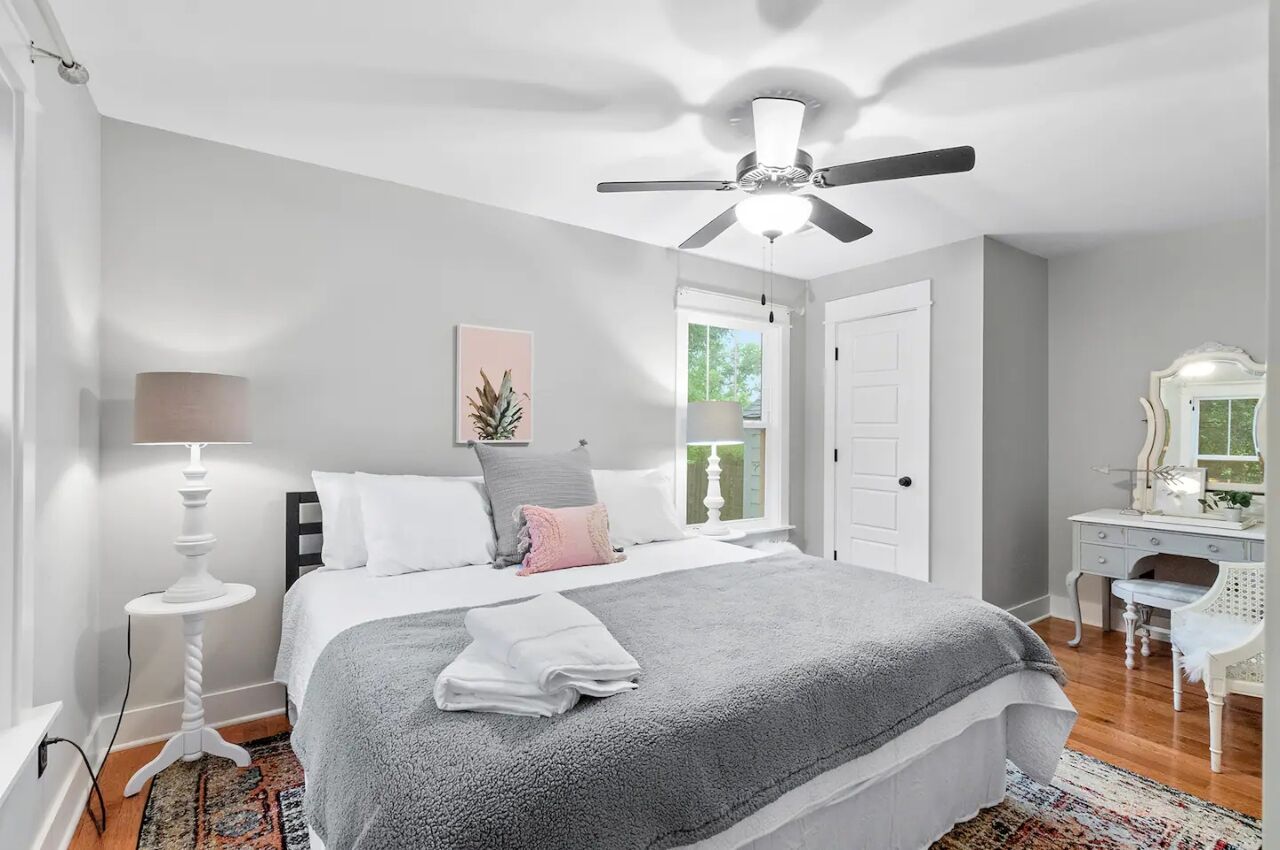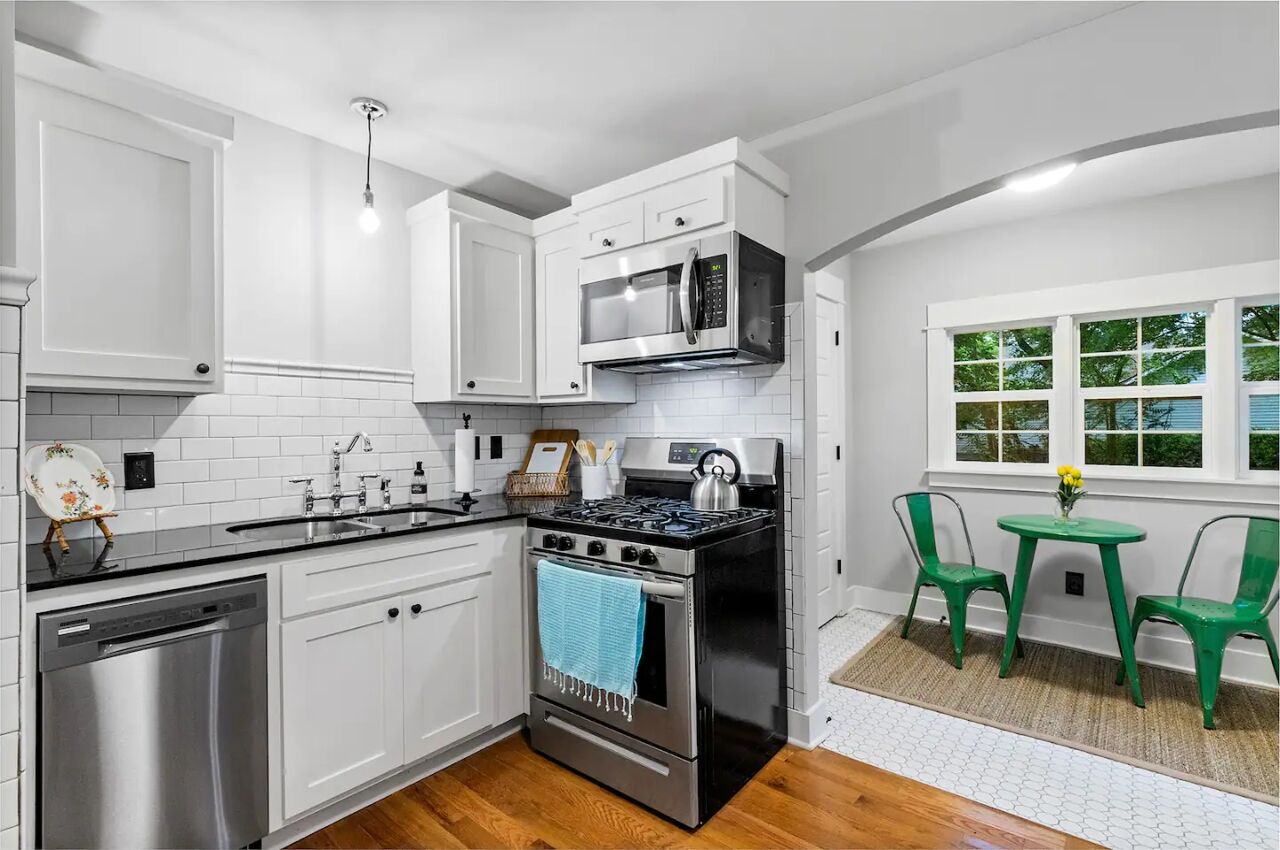 This remodeled Airbnb in Fayetteville is in the quiet East Fayetteville district. The home features a spacious living room, a fully equipped kitchen with a breakfast nook, and three bedrooms. The house is near many restaurants, entertainment, and the city's best music venues, making it ideal for guests who want to experience the city and have a comfortable place to crash afterward.
Six guests, three bedrooms
Price: $86 per night
The District in the heart of downtown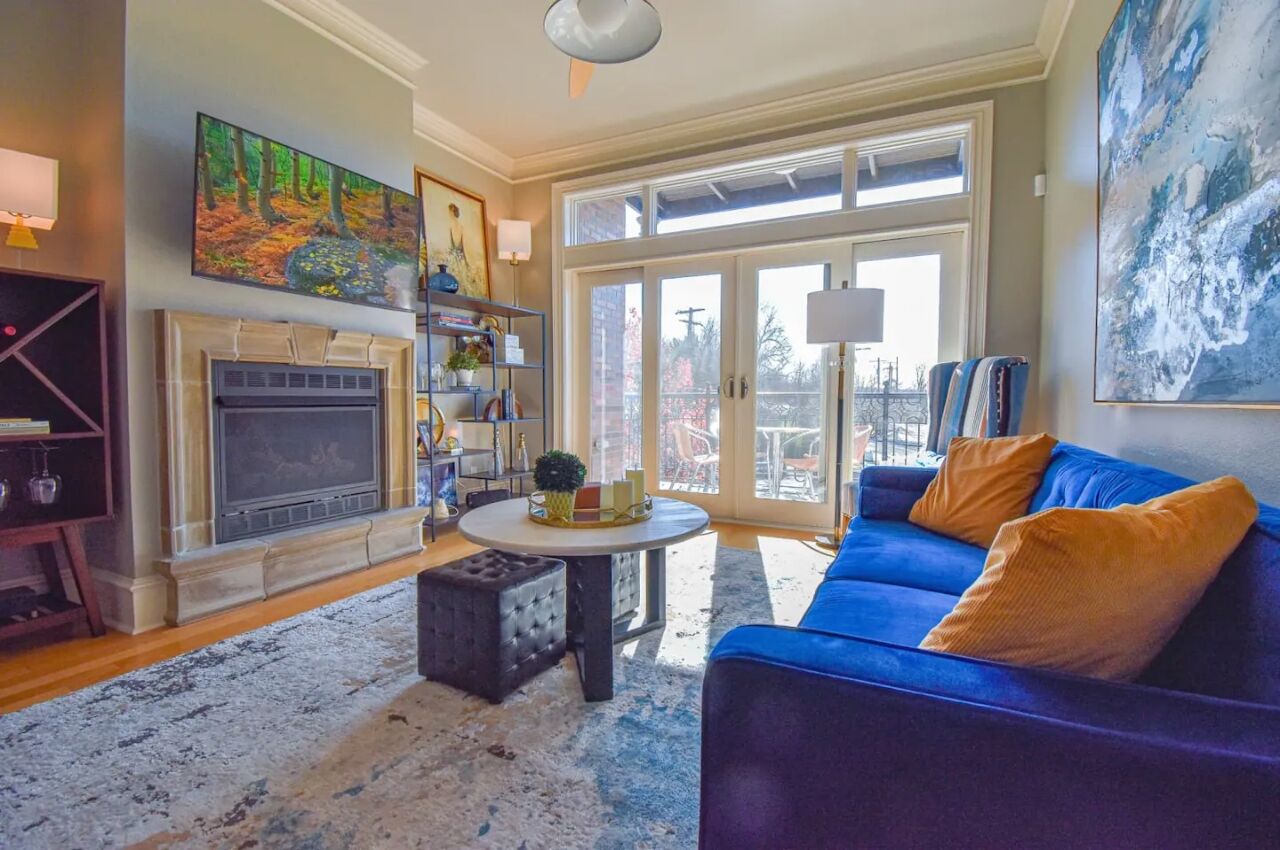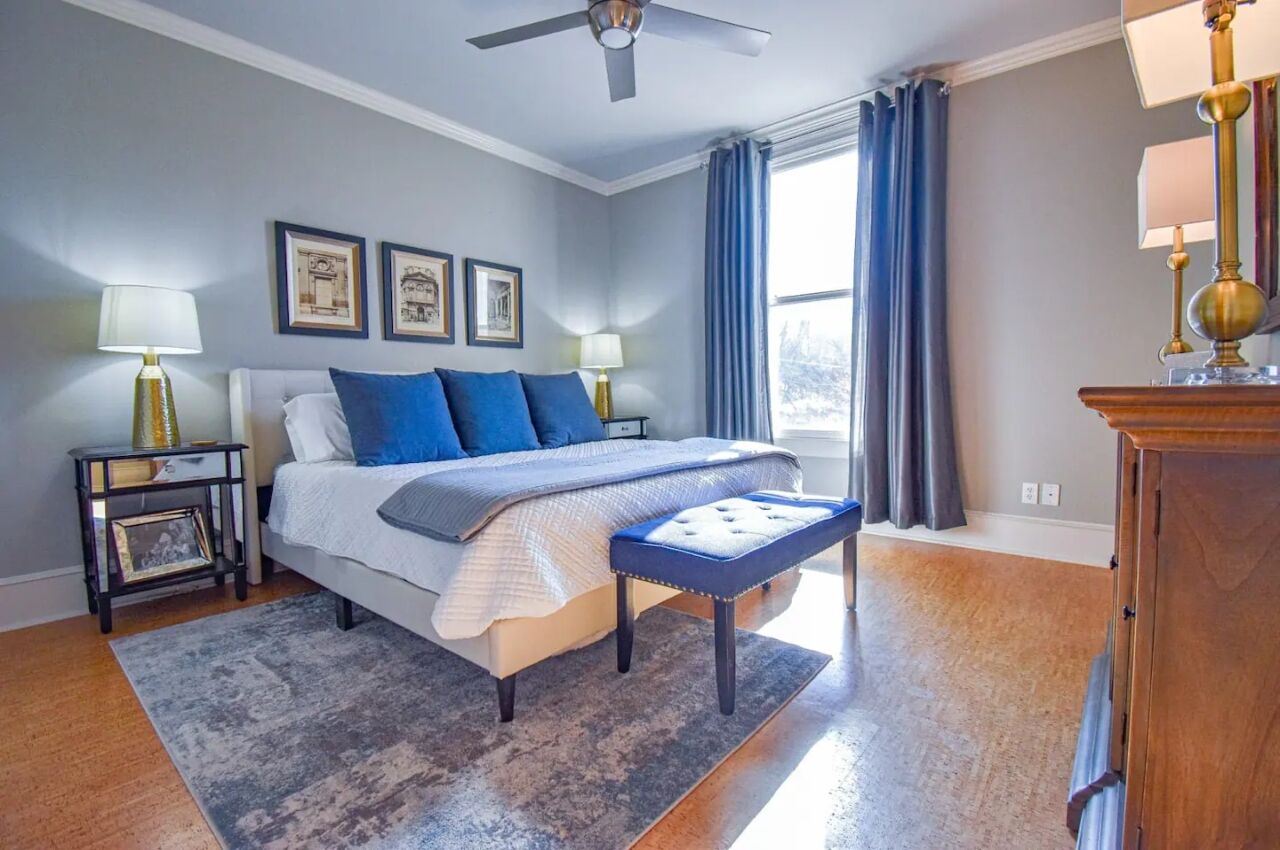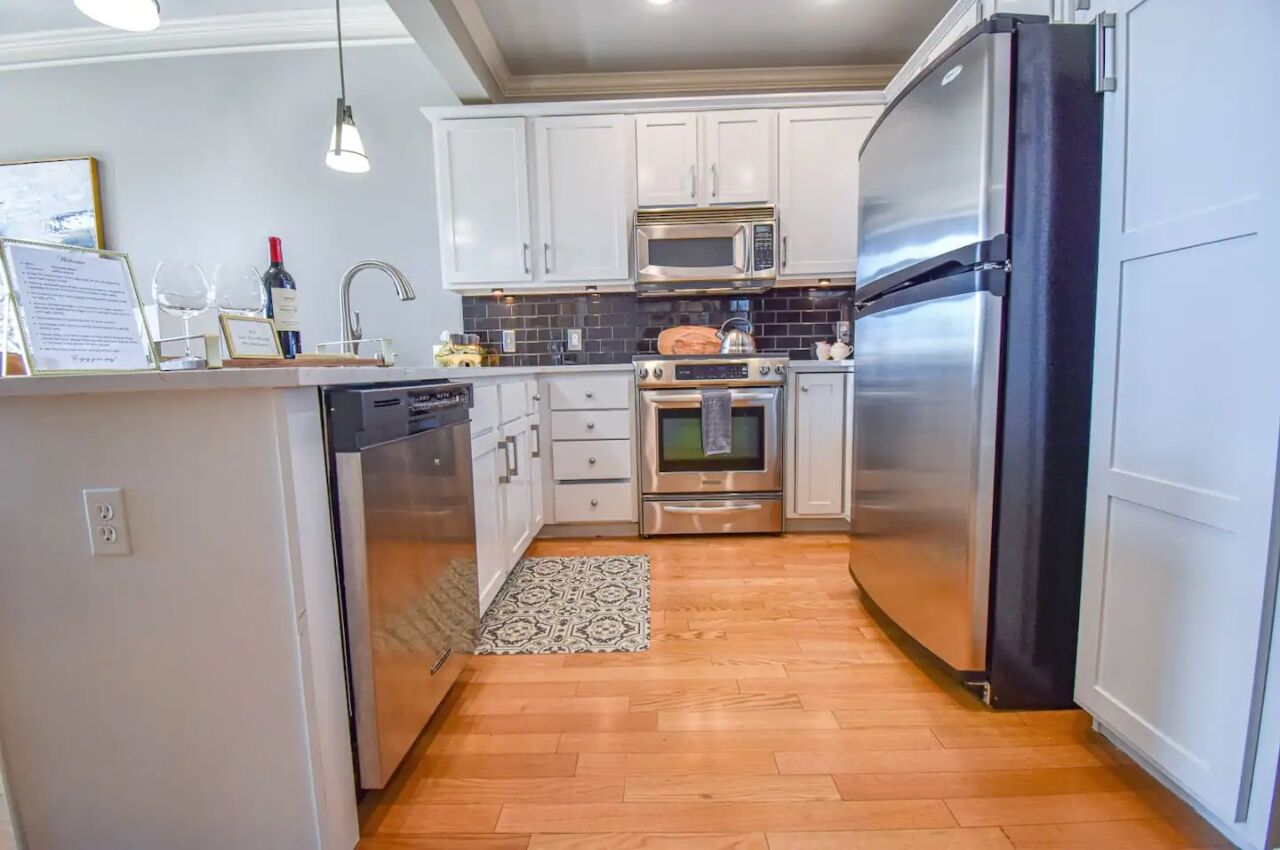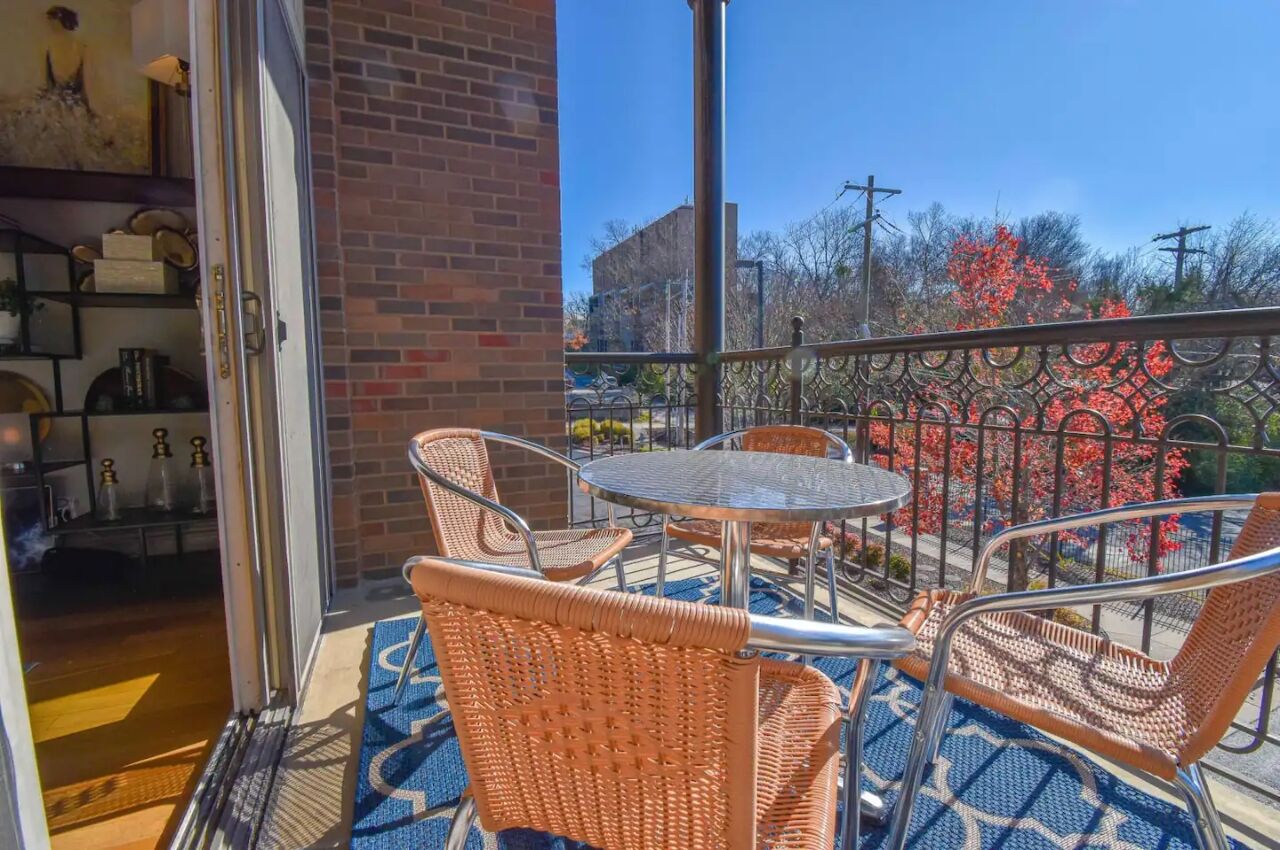 Check out this downtown joint that is right in the heart of everything. This Airbnb on Dickson Street is the perfect hub to explore the city and its vibrant nightlife. It has a fully stocked kitchen, living room, outdoor patio, and a shared courtyard. This condo is a short walk to Fayetteville Square, restaurants, craft breweries, and food trucks.
Four guests, two bedrooms
Price: $182 per night
The Elm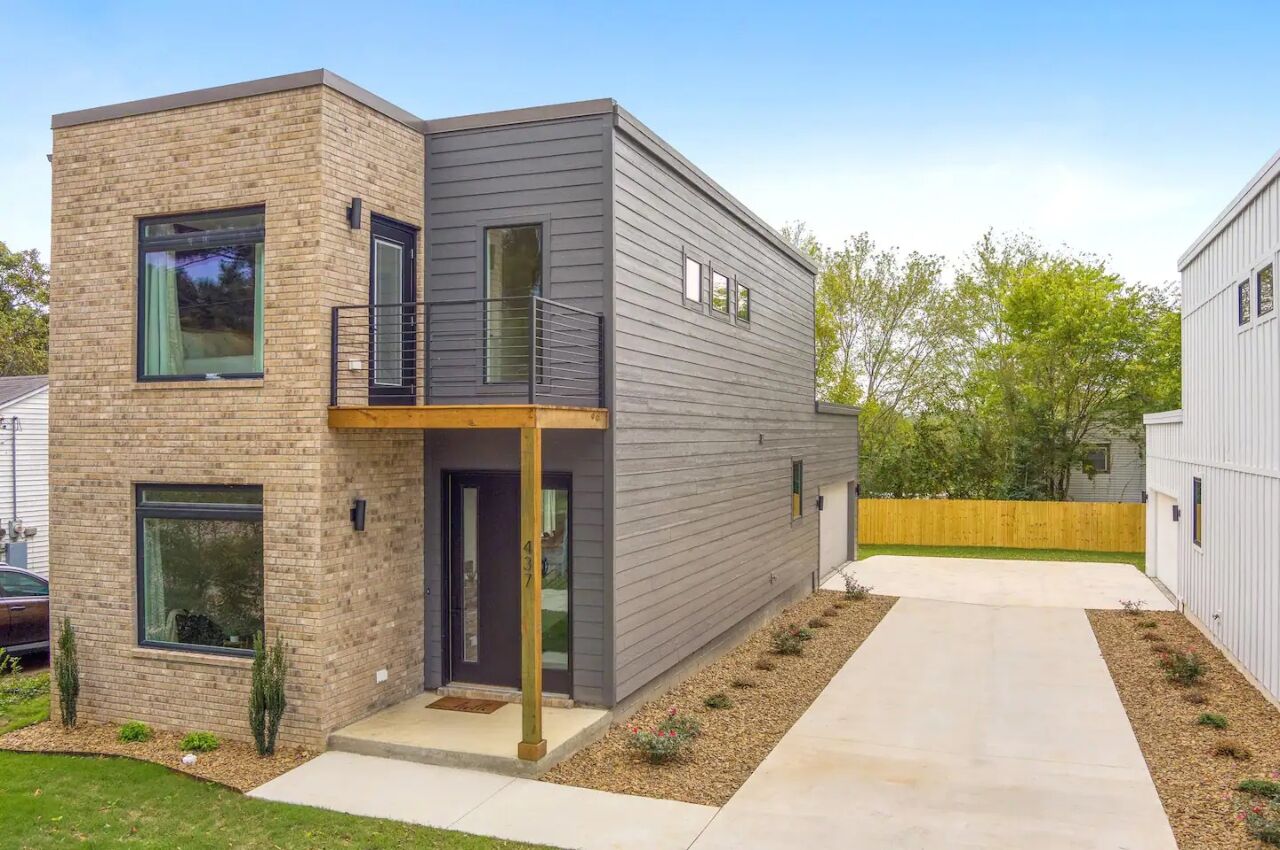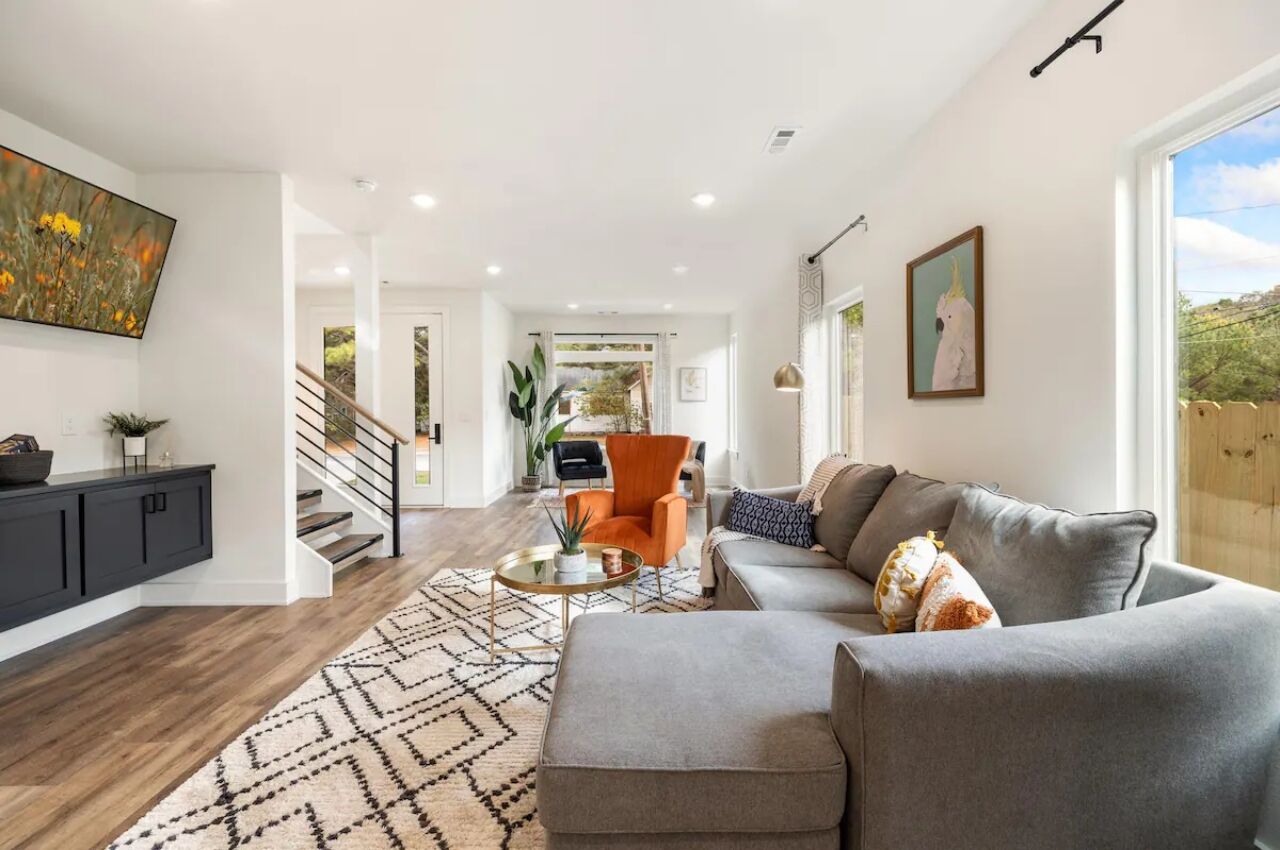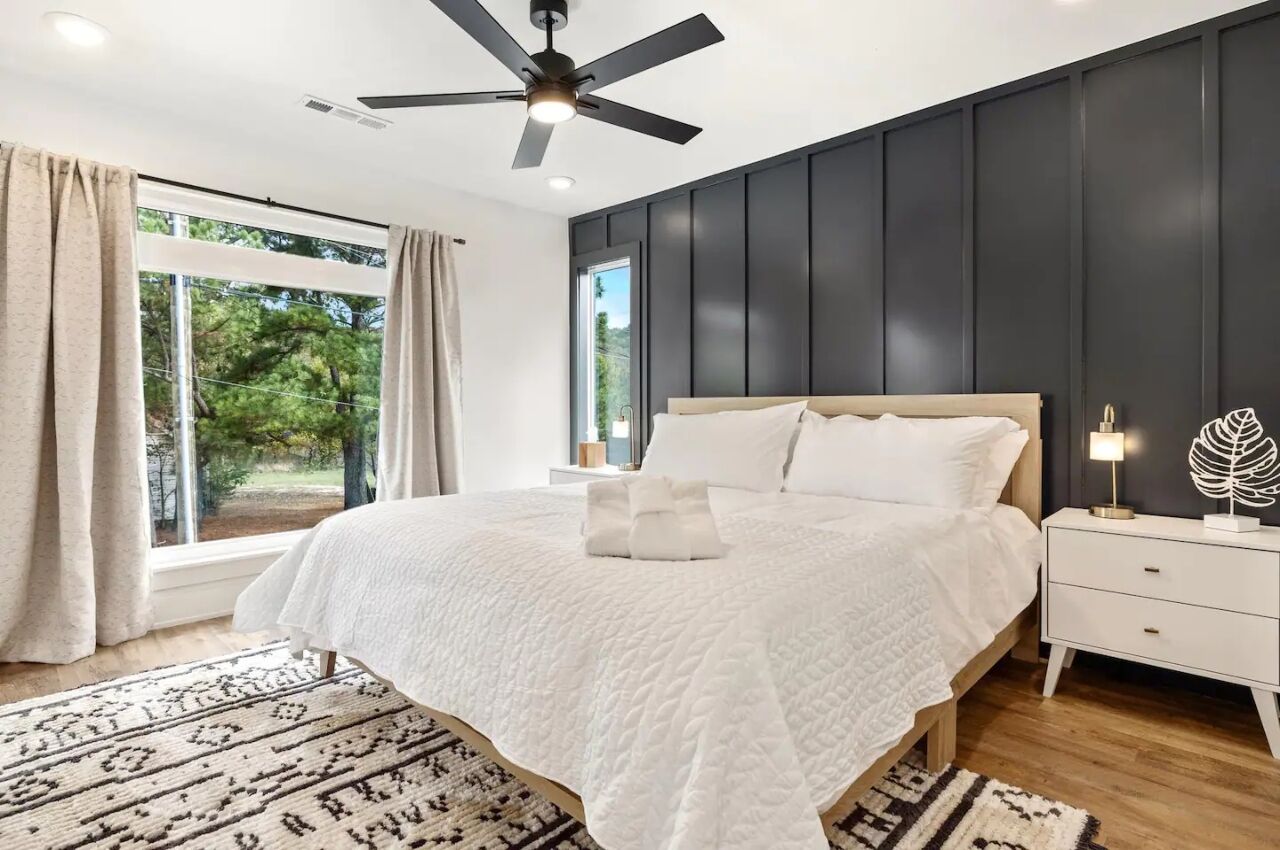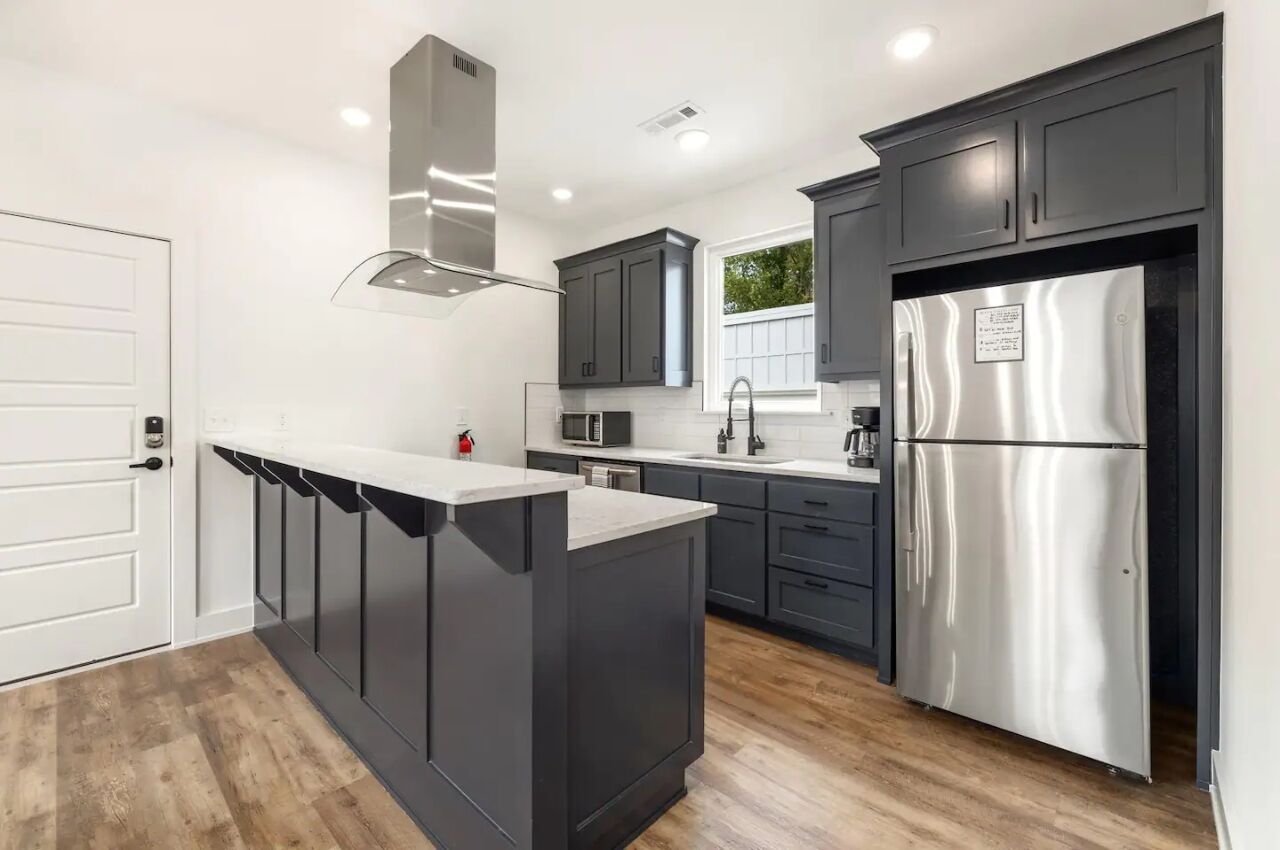 Here in this modern urban space is everything you need for your Fayetteville trip. The home features a spacious living room with privacy curtains and a fully equipped kitchen with a dining area for six, along with three upstairs bedrooms. There is a balcony off the main bedroom and a fence for backyard privacy. The home is less than a mile from downtown and 1.5 miles from U of A.
Six guests, three bedrooms
Price: $180 per night
Small and cozy home near the Fayetteville Square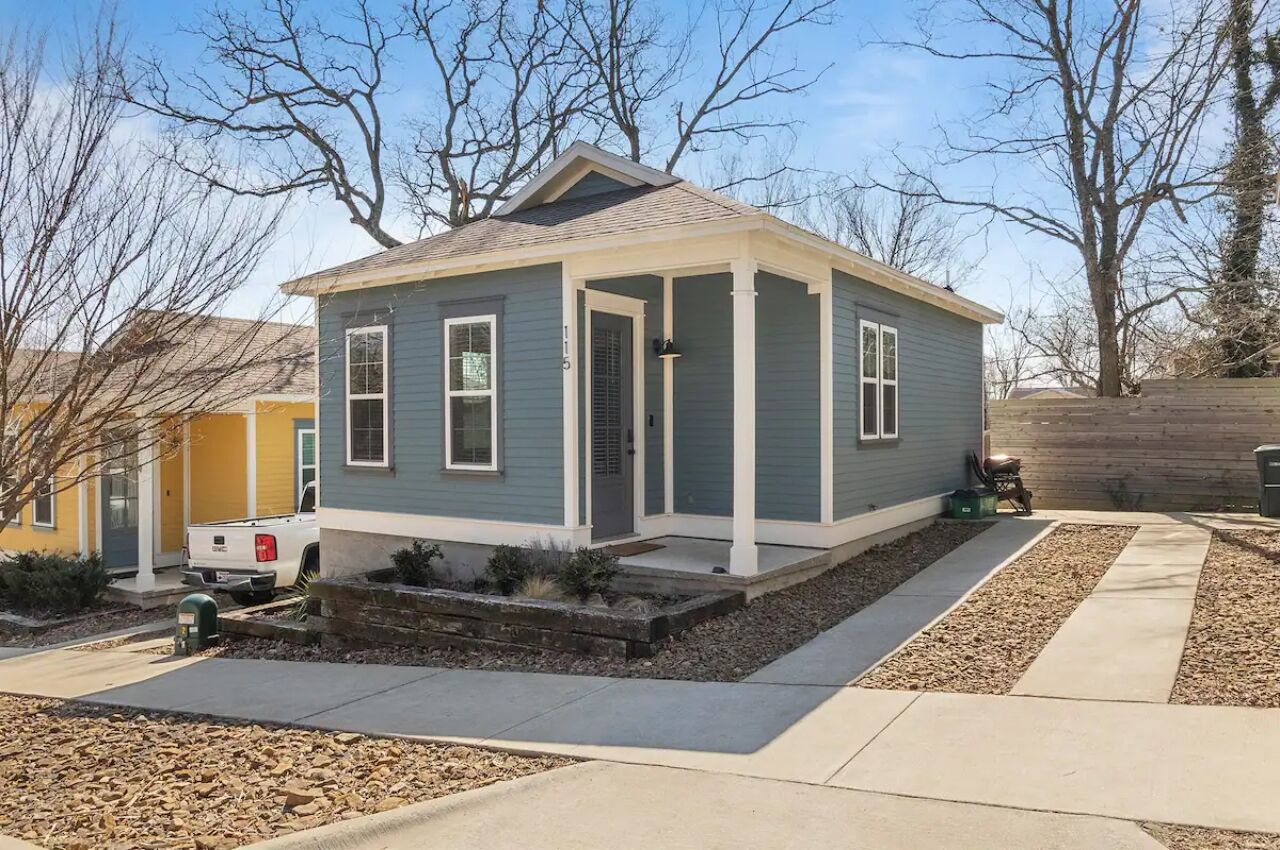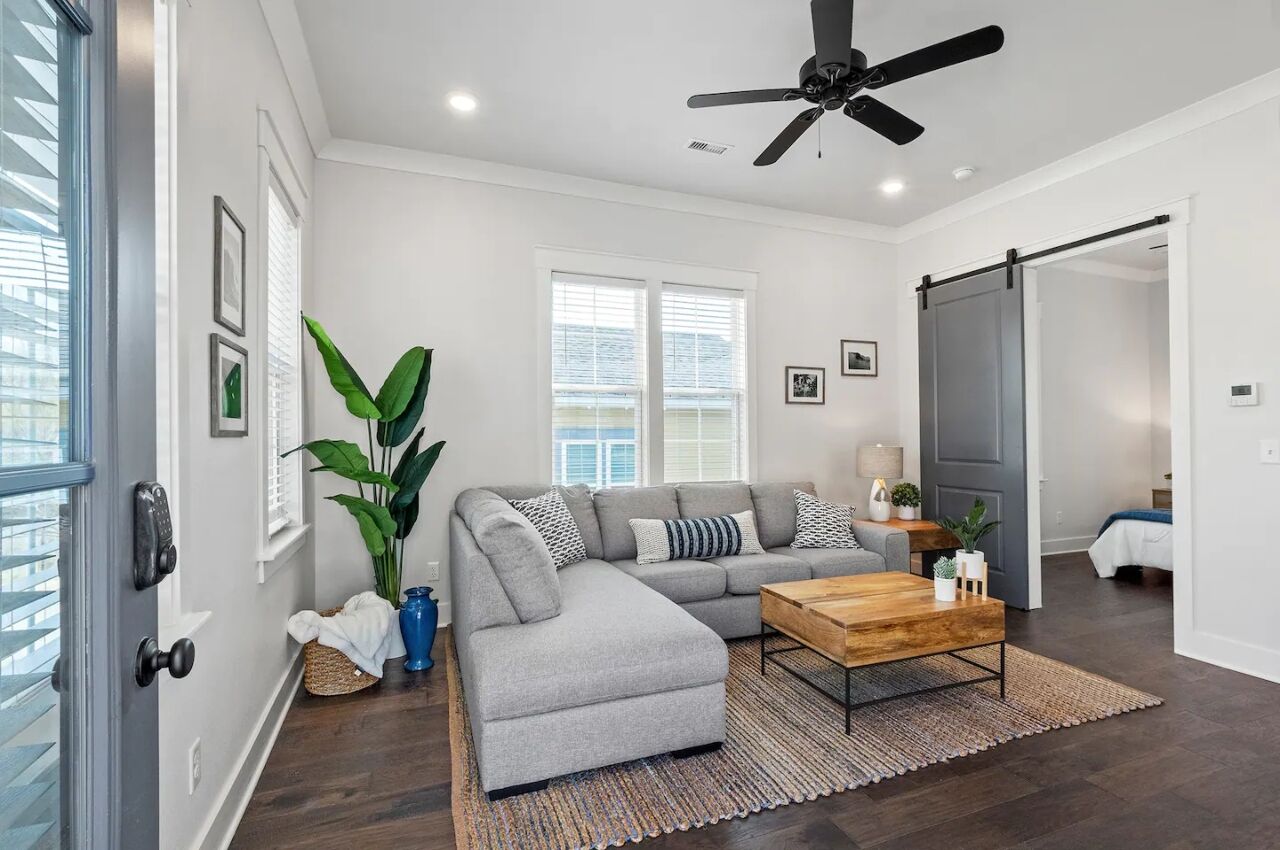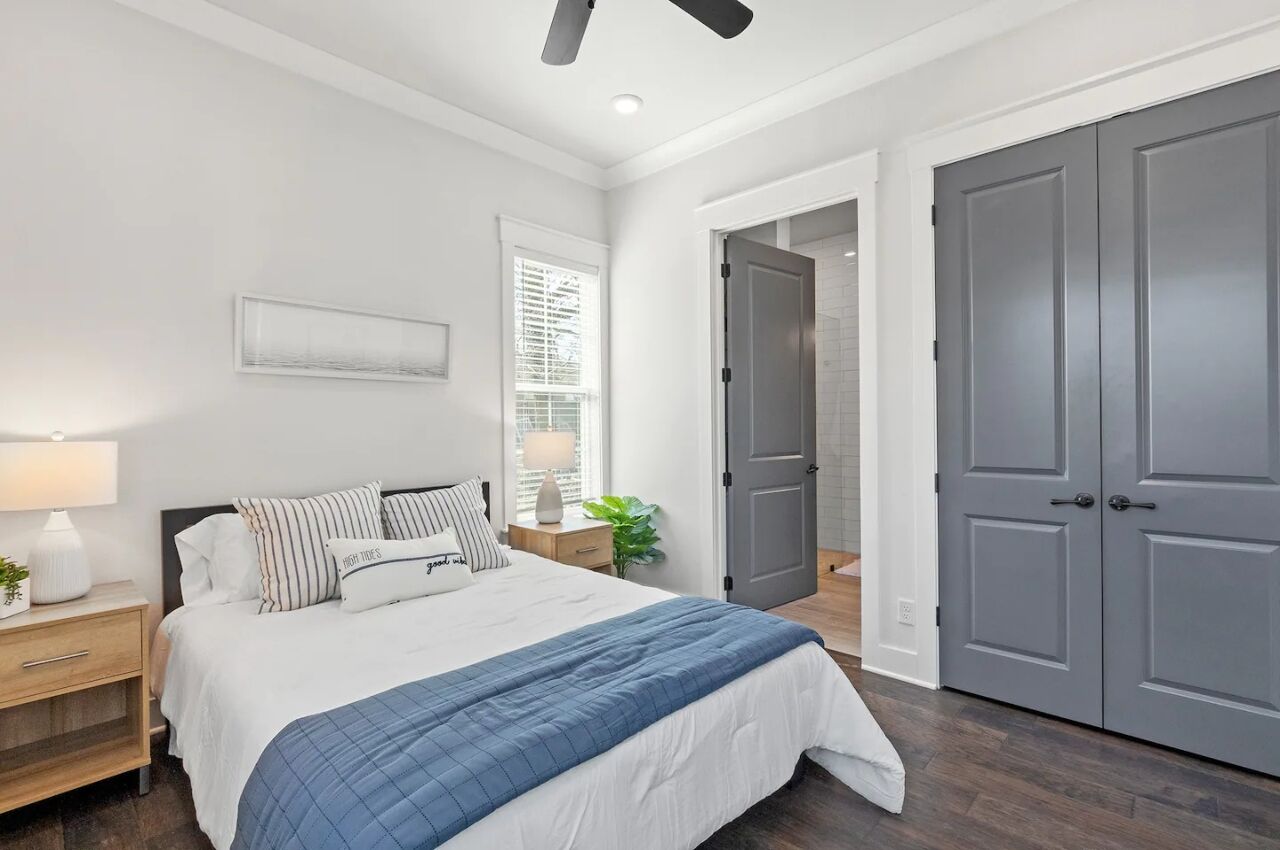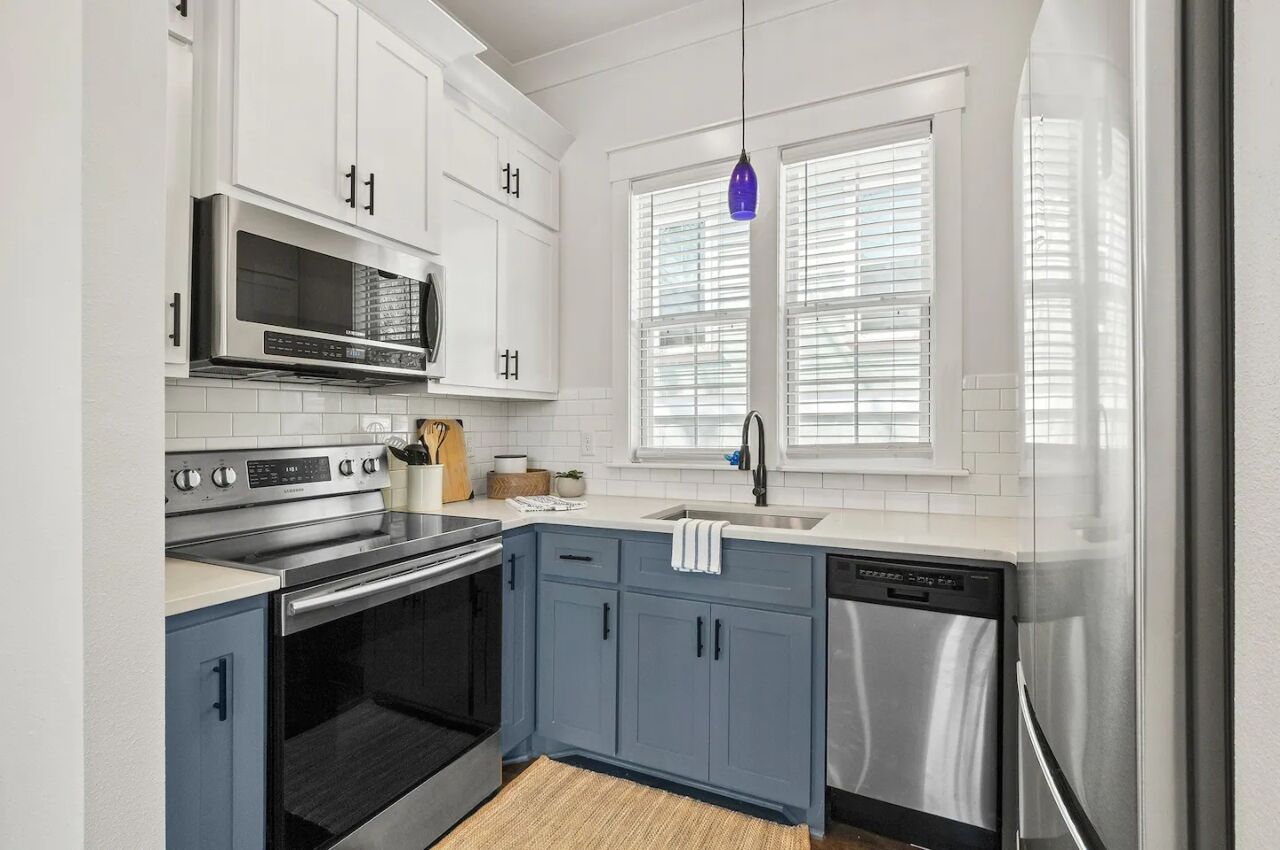 Located less than a mile from Fayetteville Square and Dickson Street is this cute little bungalow. This tiny home has an open floor plan with a kitchen, spacious living room, and one bedroom. The house is within walking distance of parks, trails, restaurants, and more. If you're looking for a night out on the town, this home is the perfect base for exploring attractions nearby.
Four guests, one bedroom
Price: $127 per night
Fayetteville Airbnbs near biking trails
Fayetteville, Arkansas, is famous for its mountain bike trails. These Airbnbs are literally adjacent to them, giving you easy access to first tracks.
Centennial Cottage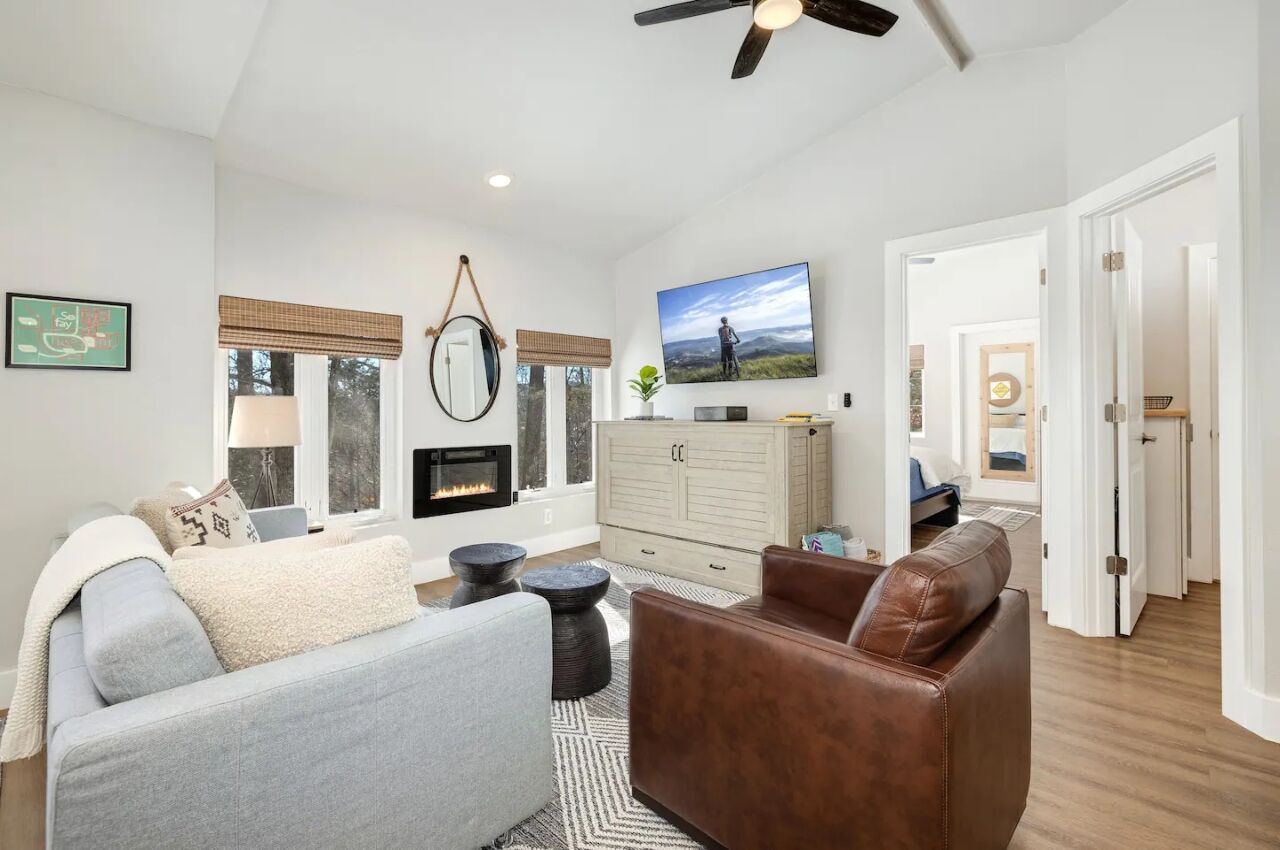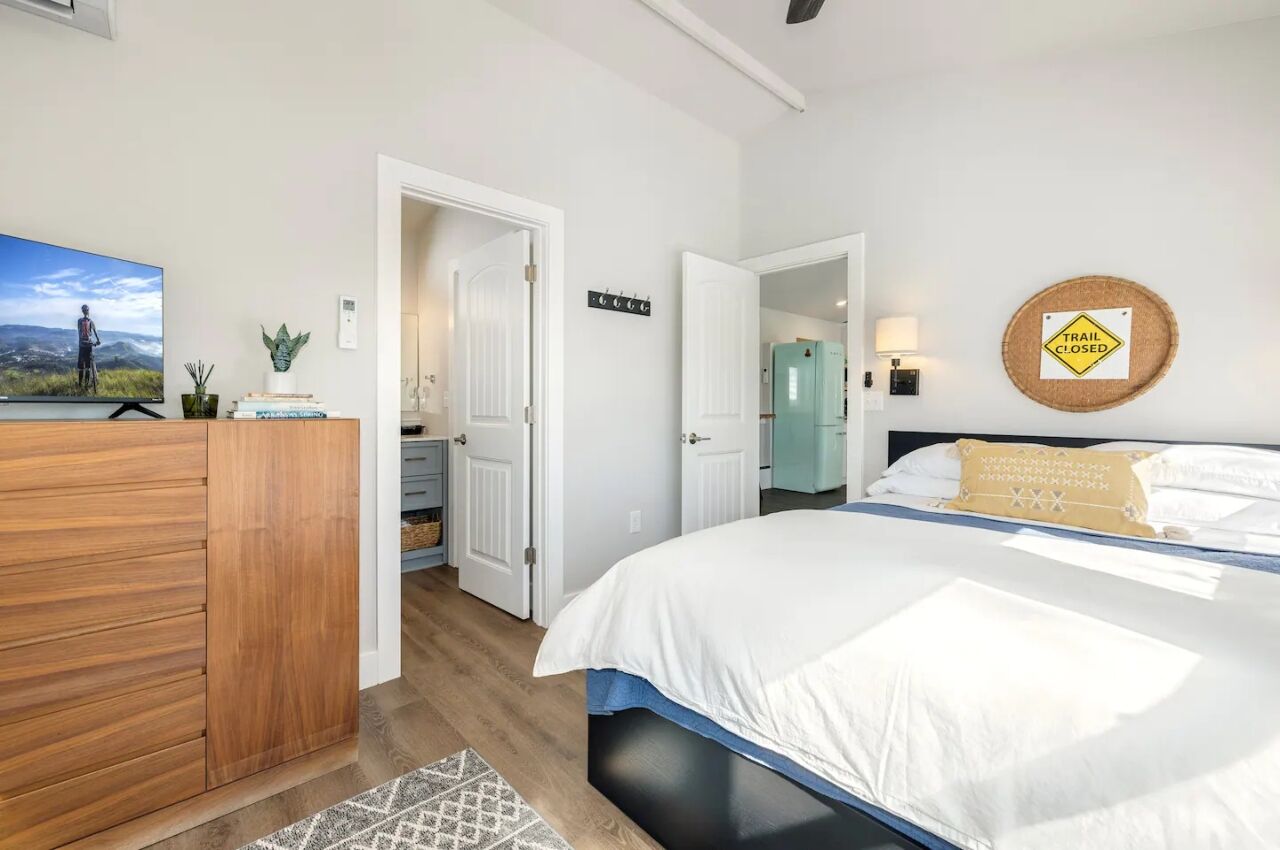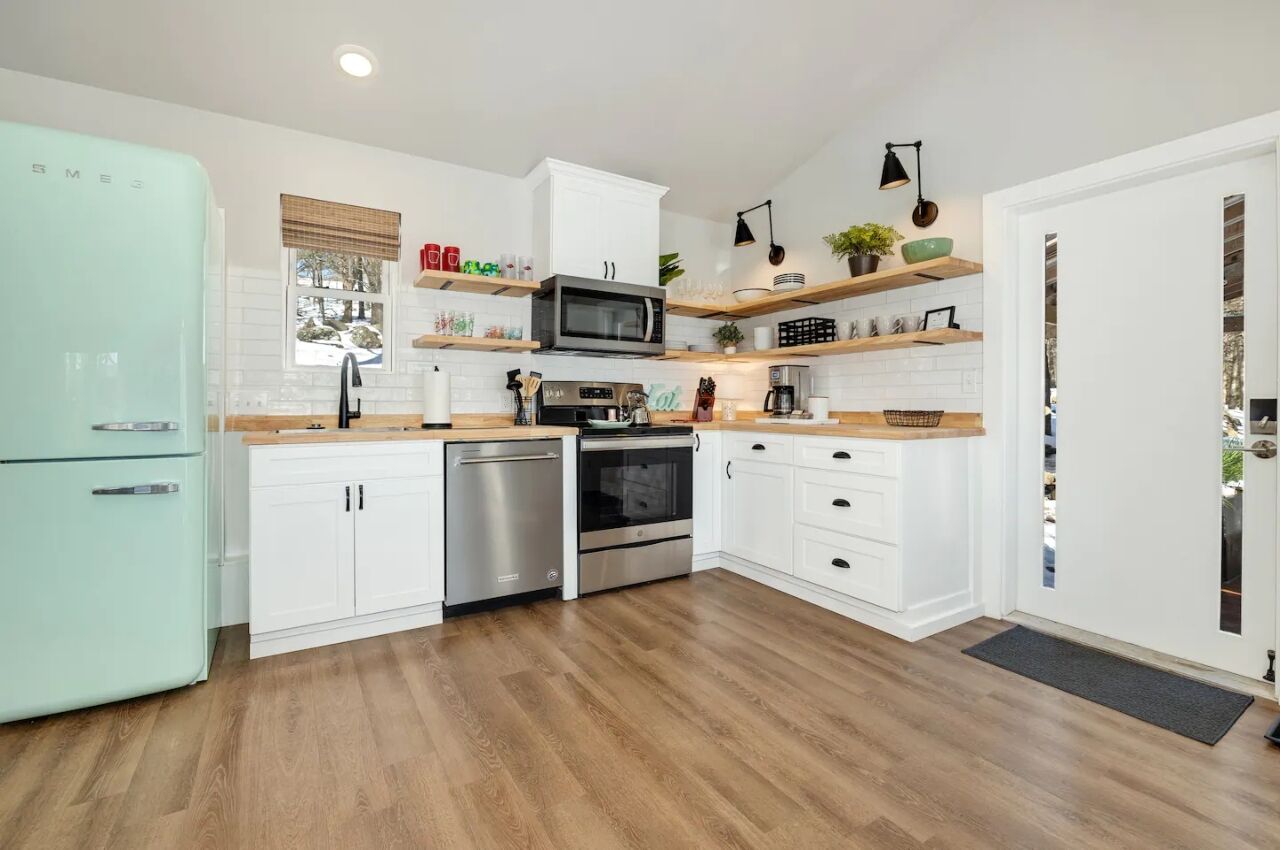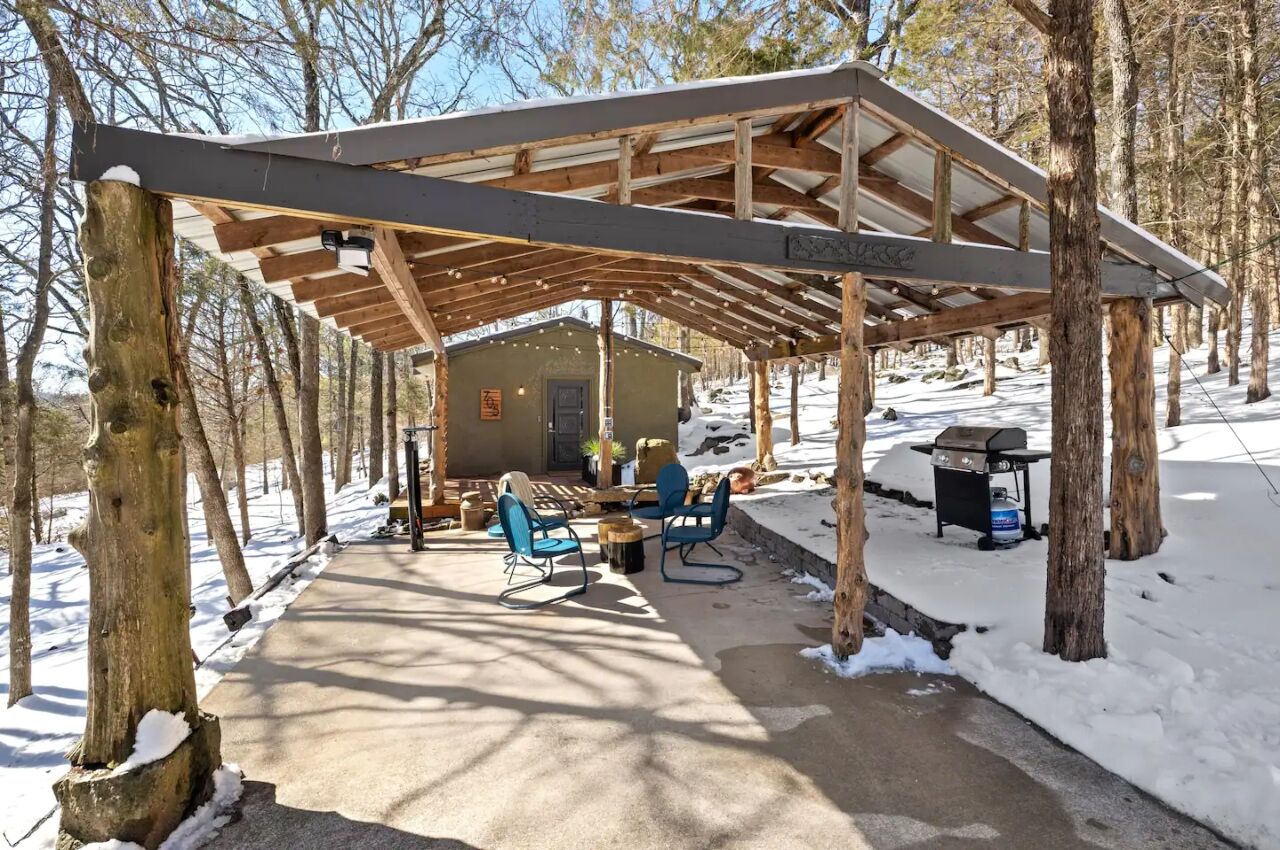 Enjoy this cottage Airbnb in Fayetteville as your base to explore the many city's popular trail systems. This home is perfect for you if you want an authentic bike experience. This home is located on the world-class mountain bike trails at Centennial Park. Settled in a comfy off-grid setting, you'll have amenities like a fire pit and covered patio, and for bikers, the home provides a bike rack, locked bike storage, bike maintenance tools, and access to an outdoor water hose to clean your bike.
Four guests, one bedroom
Price: $160 per night
Charming Carriage House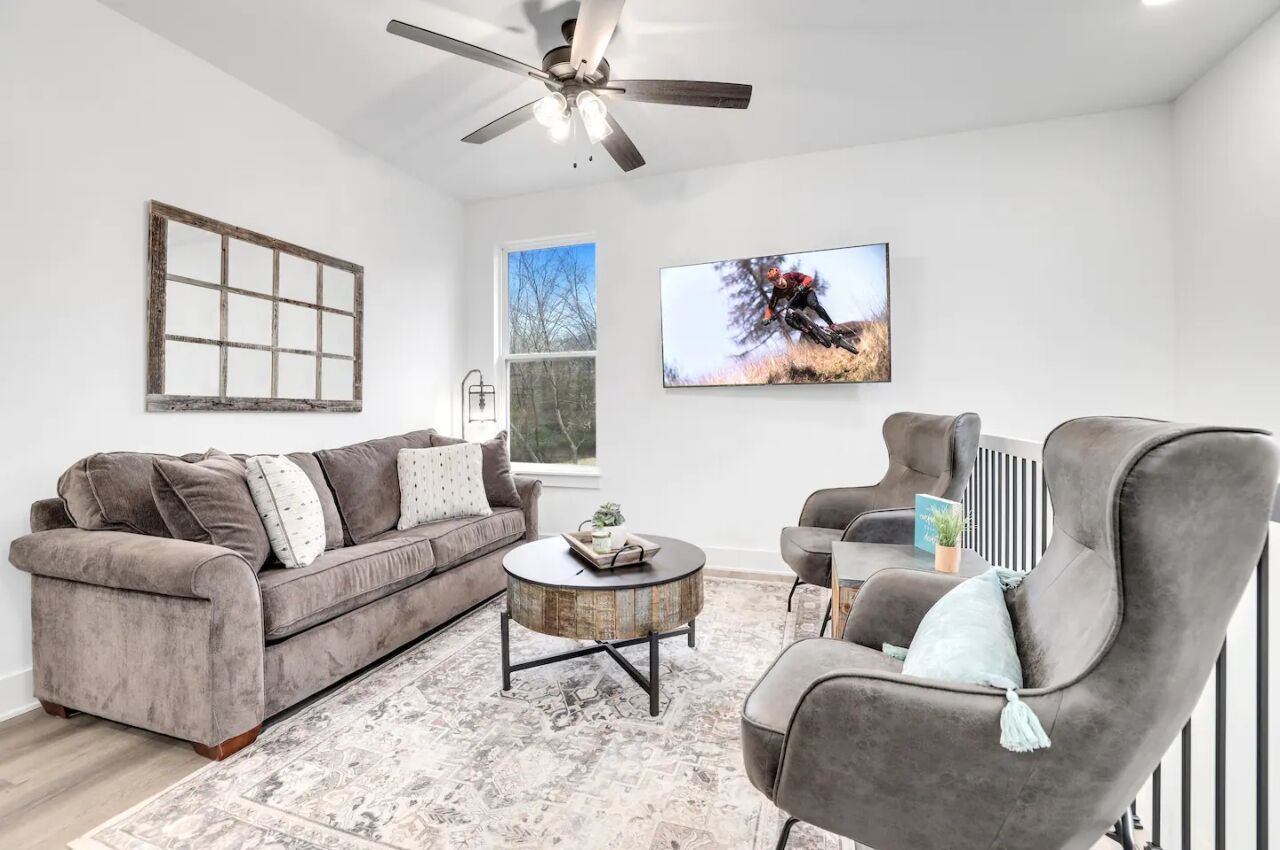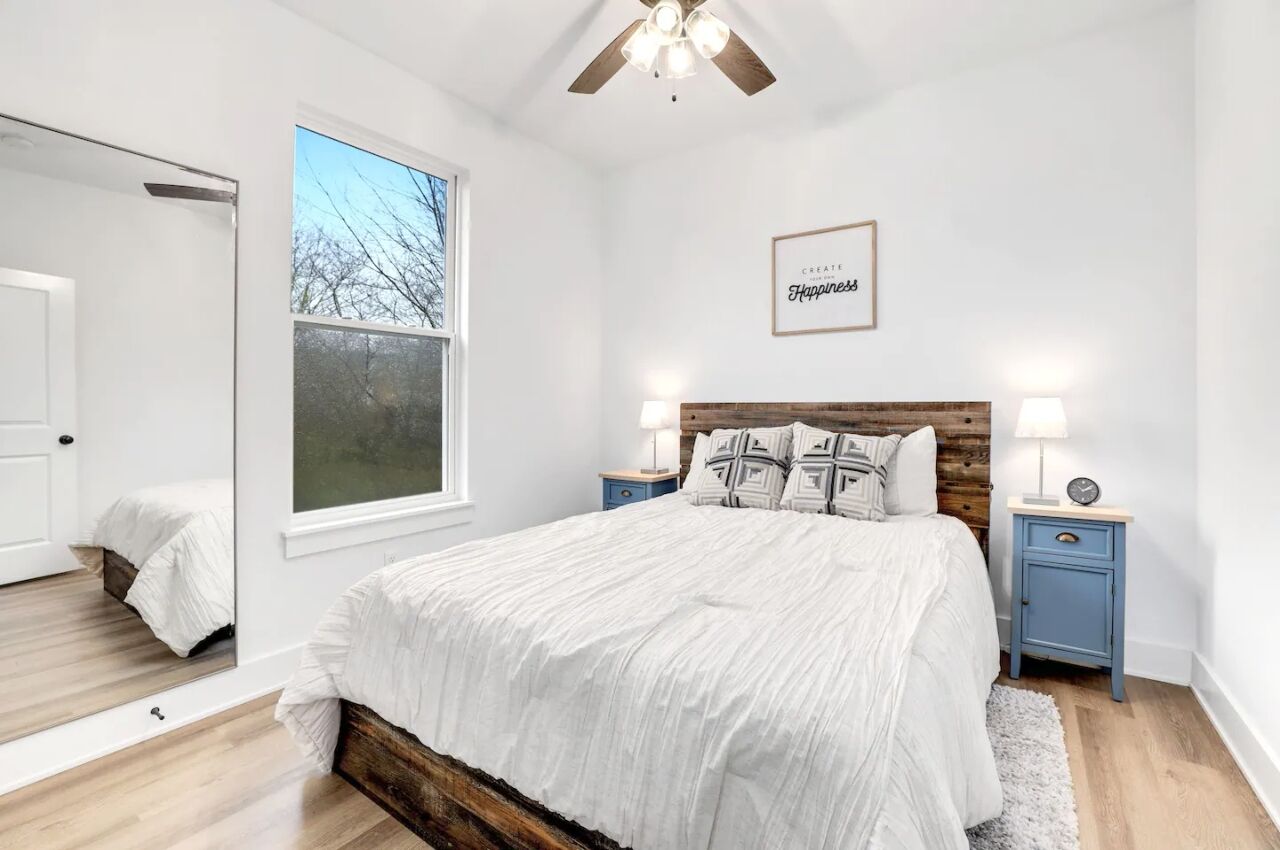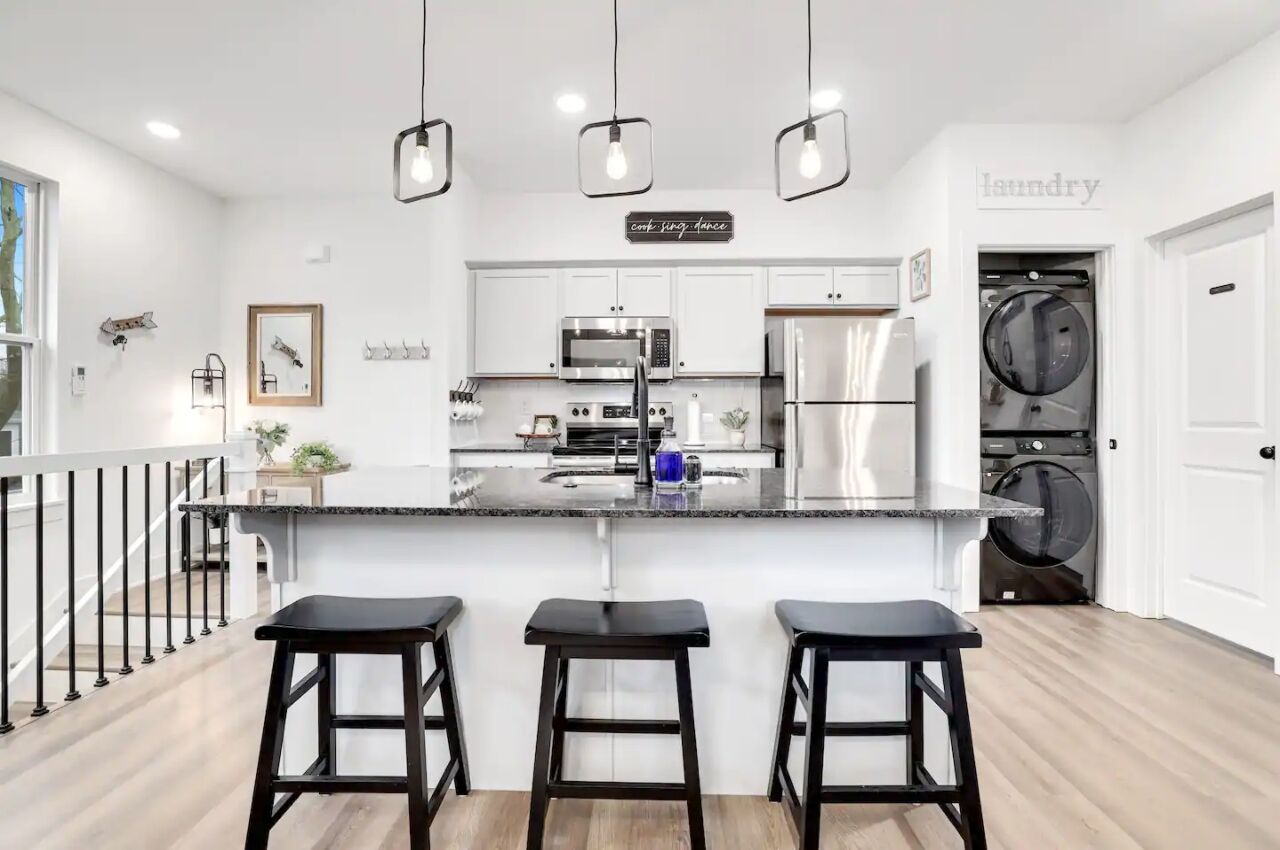 This updated home is in the heart of Fayetteville and adjacent to the cycling-activated Centennial Park at Millsap Mountain. Before you go out on the trails, enjoy the spacious living room, fully equipped kitchen, and cozy bedroom. The home is less than ten minutes from U of A and downtown.
Four guests, one bedroom
Price: $96 per night
Fayetteville Airbnbs that are pet-friendly
Pet-friendly Airbnbs in Fayetteville are not only common, they are stacked. These properties offer all the comforts for your full crew.
The Bowie House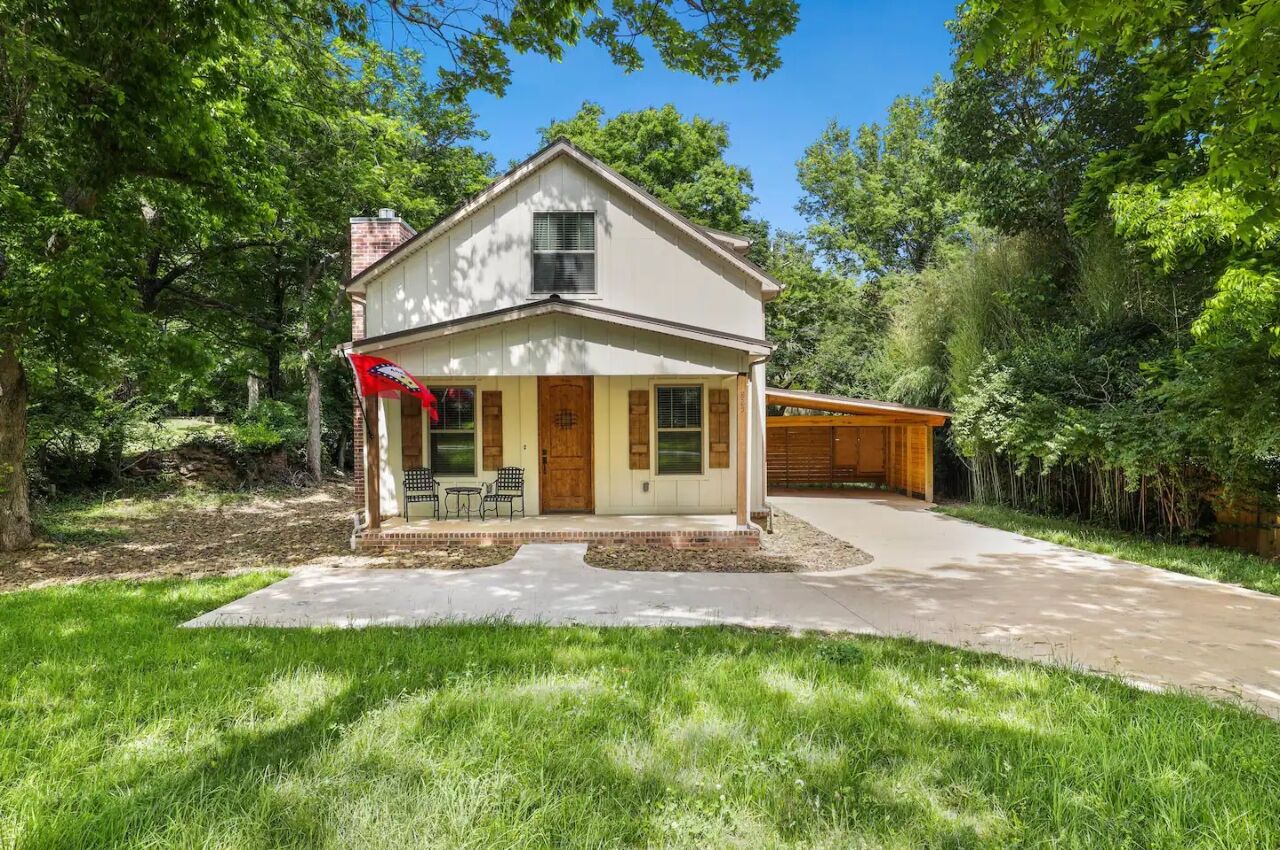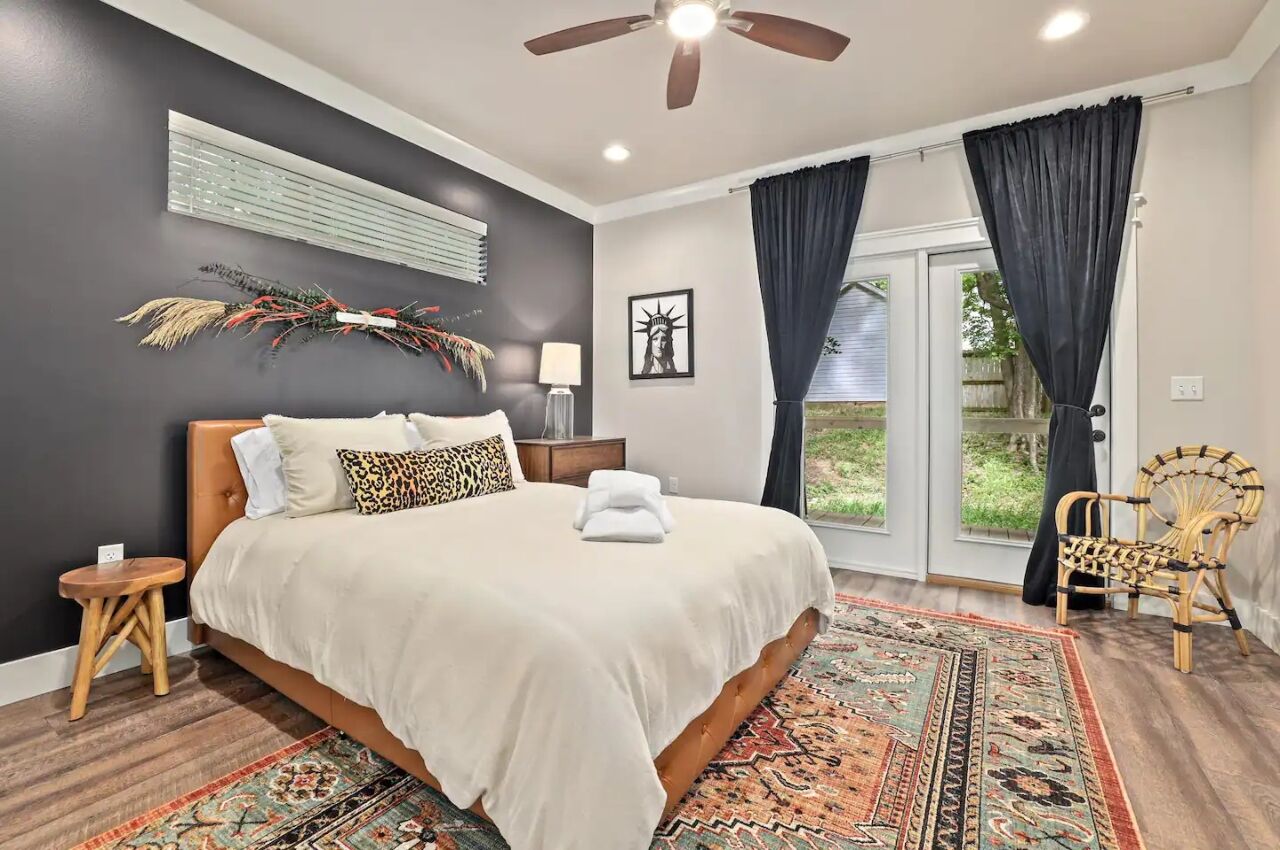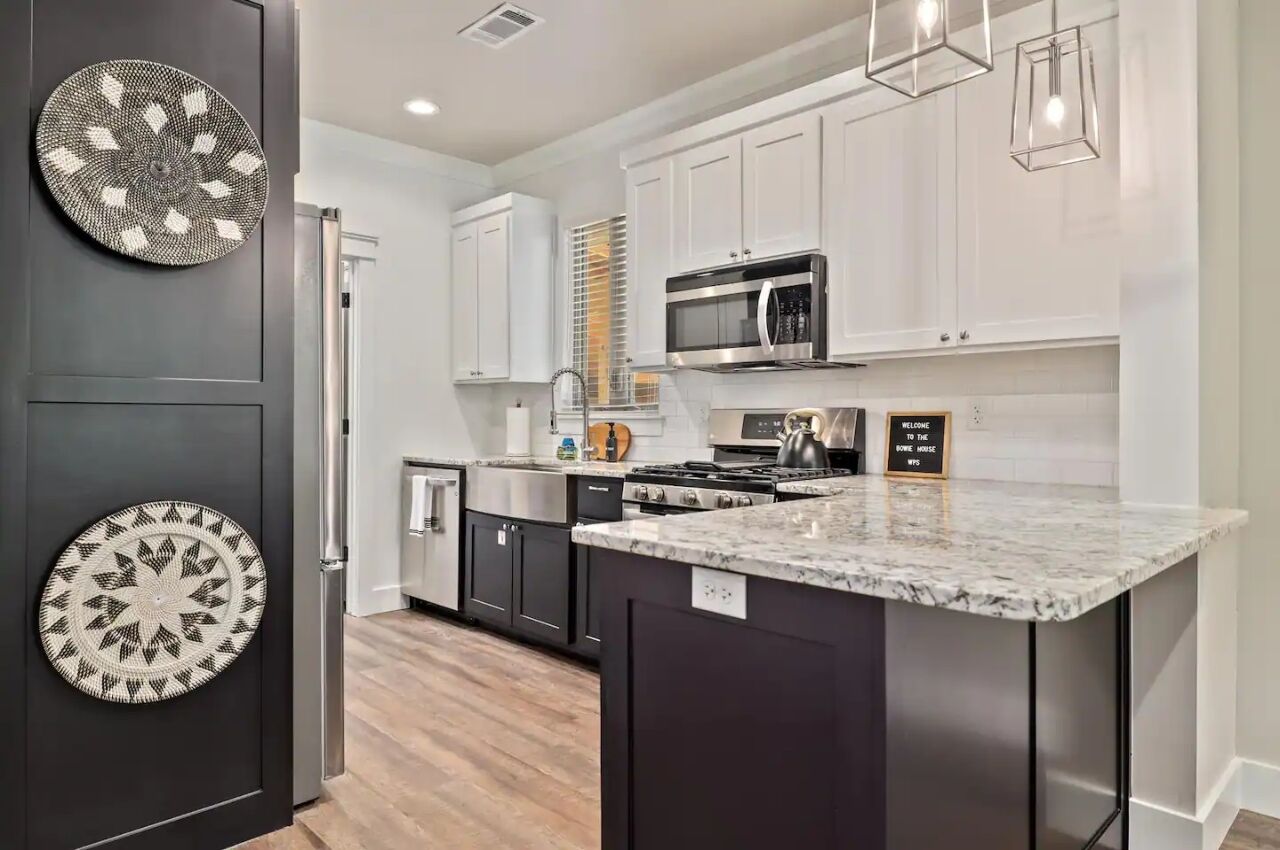 Are you looking to bring your four-legged friends along with you? Well, here is a cozy Airbnb Fayetteville AR pet-friendly home near all of Fayetteville's favorites. This newly renovated home has open concept living, dining, and kitchen areas with three luxury bedrooms. The house is minutes from downtown, U of A, Walton Arts, and more local attractions.
Six guests, three bedrooms
Price: $194 per night
Modern home with outdoor patio and spacious backyard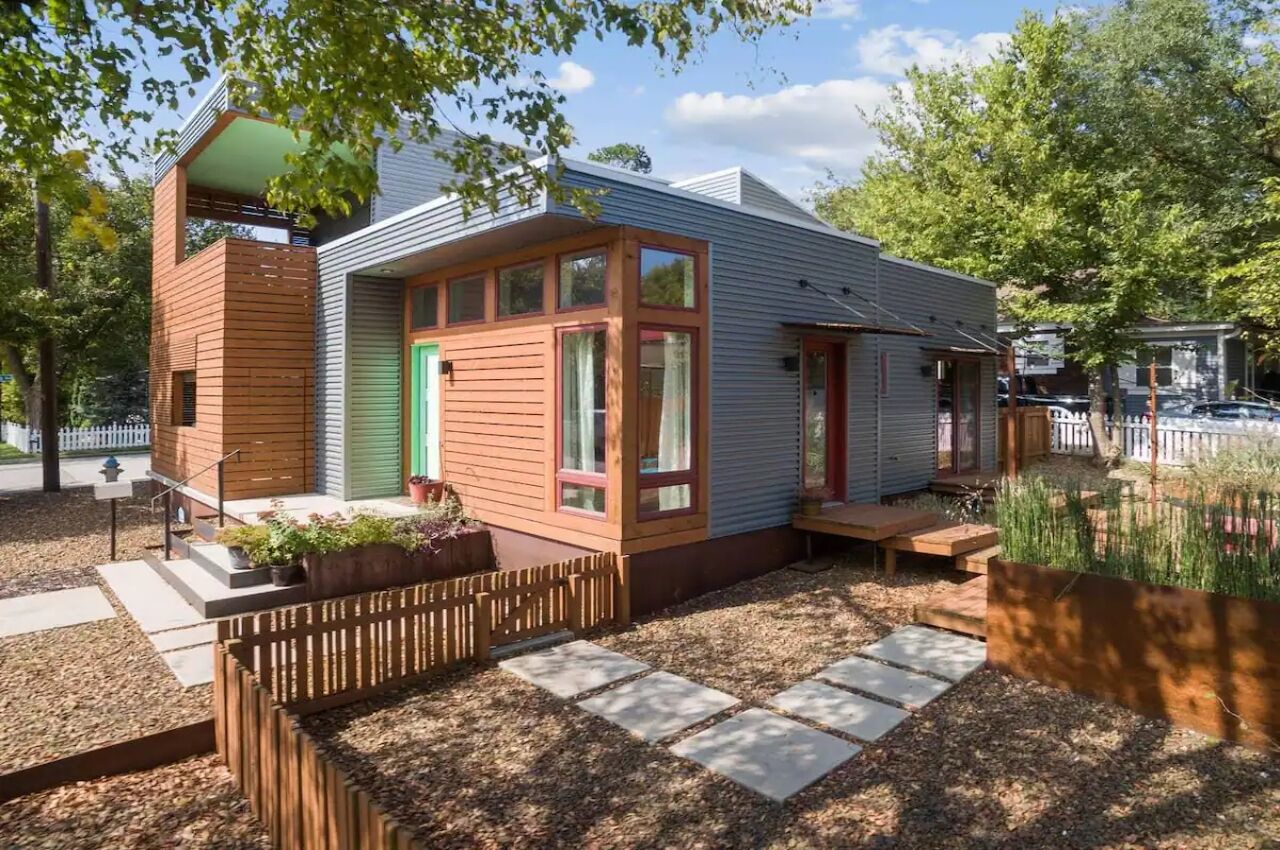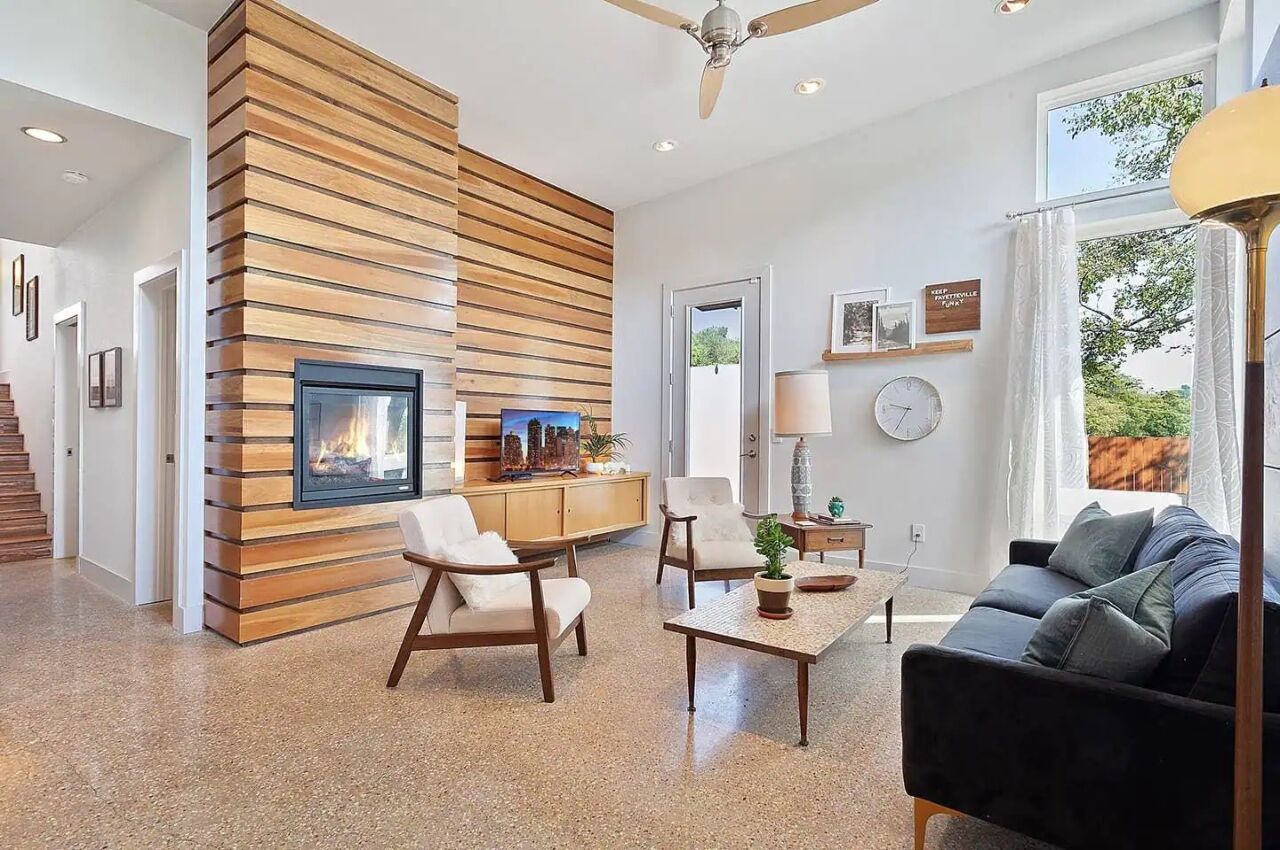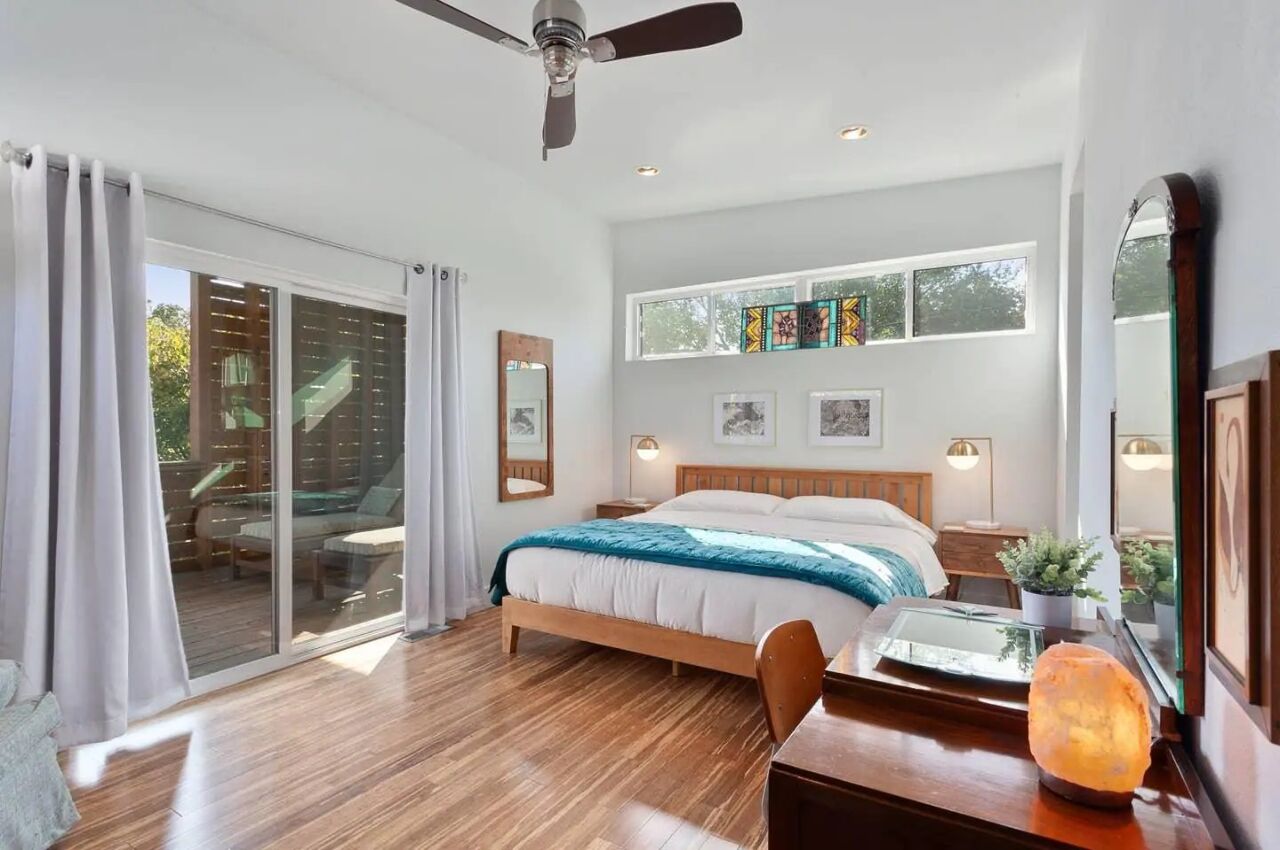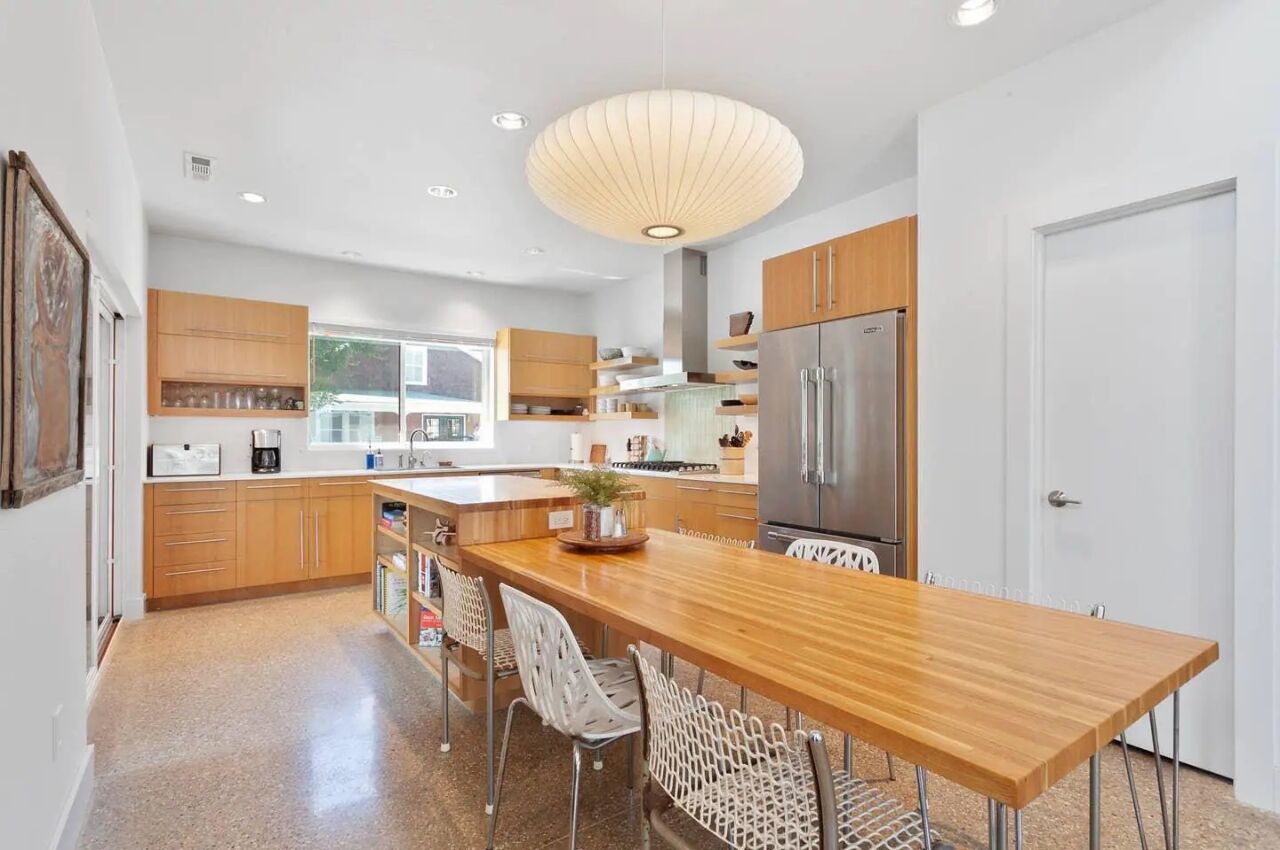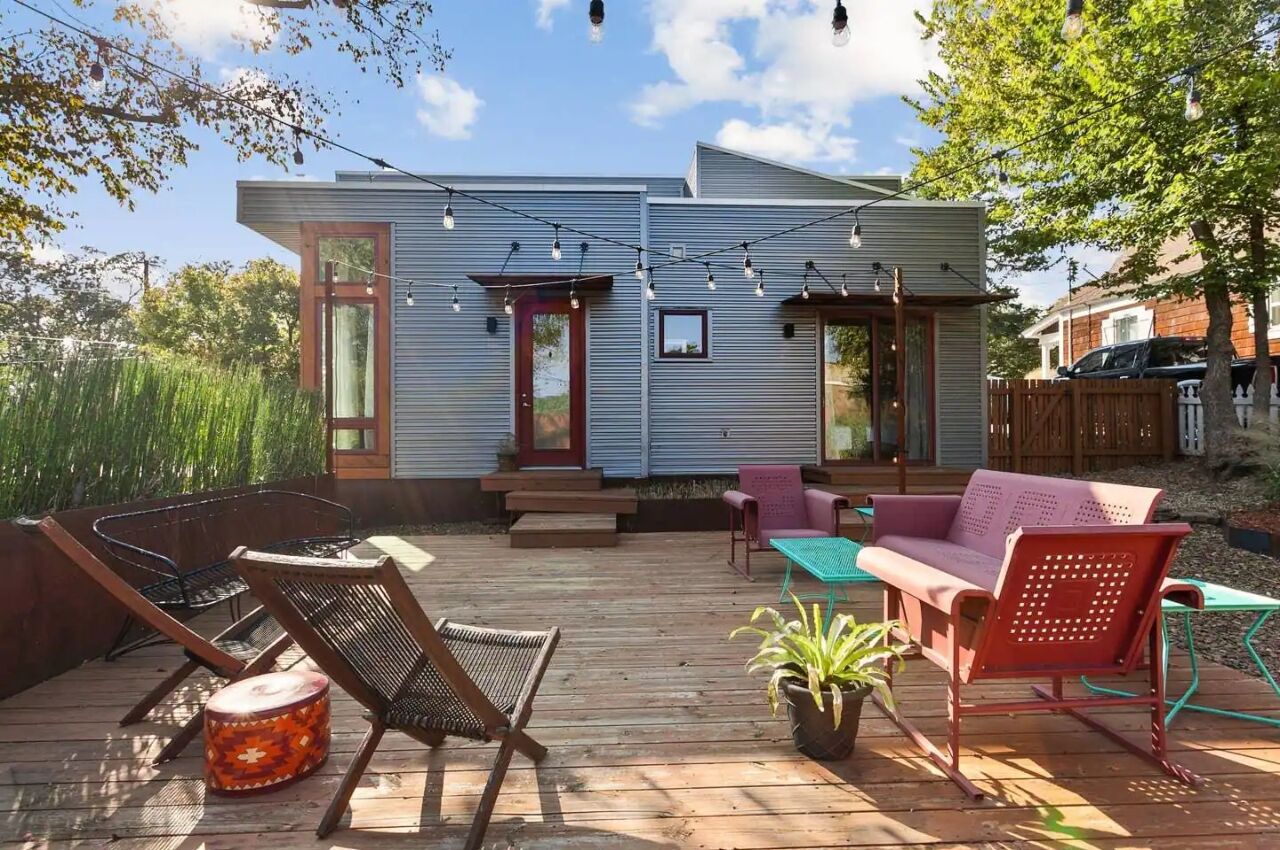 Experience Fayetteville like a true local in this unique and modern home. The pad has a cozy living room area, a fully stocked kitchen area, and three bedrooms. Two bedrooms open up to an outdoor patio, and the master opens to a private balcony on the second floor. There is a spacious backyard with a raised wood patio with seating and a side-covered patio with a dining table.
Six guests, three bedrooms
Price: $278 per night
Fayetteville Airbnbs with a pool or hot tub
Cool off after your bike ride, hike, or day on the town with a splash in your own private pool at these Fayetteville Airbnbs.
Modern luxury home with fun amenities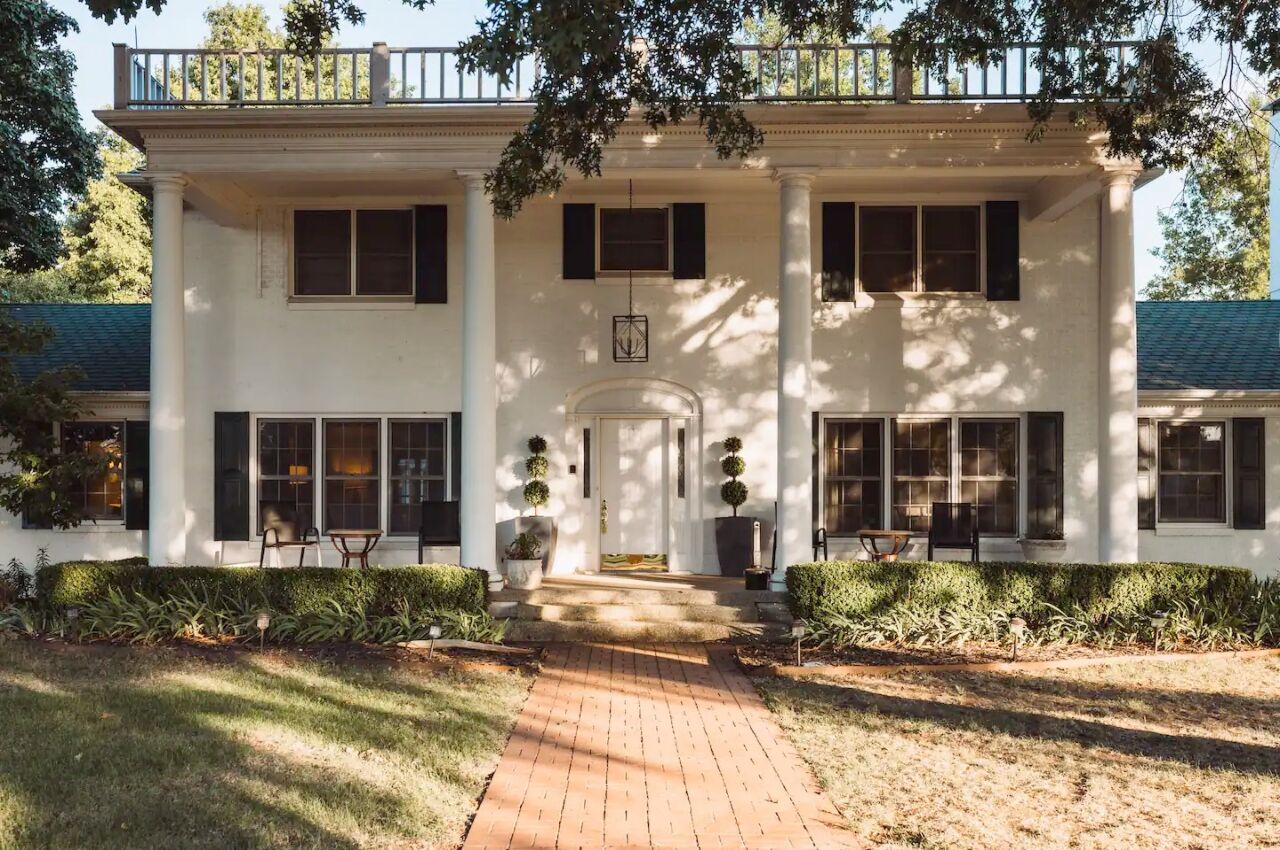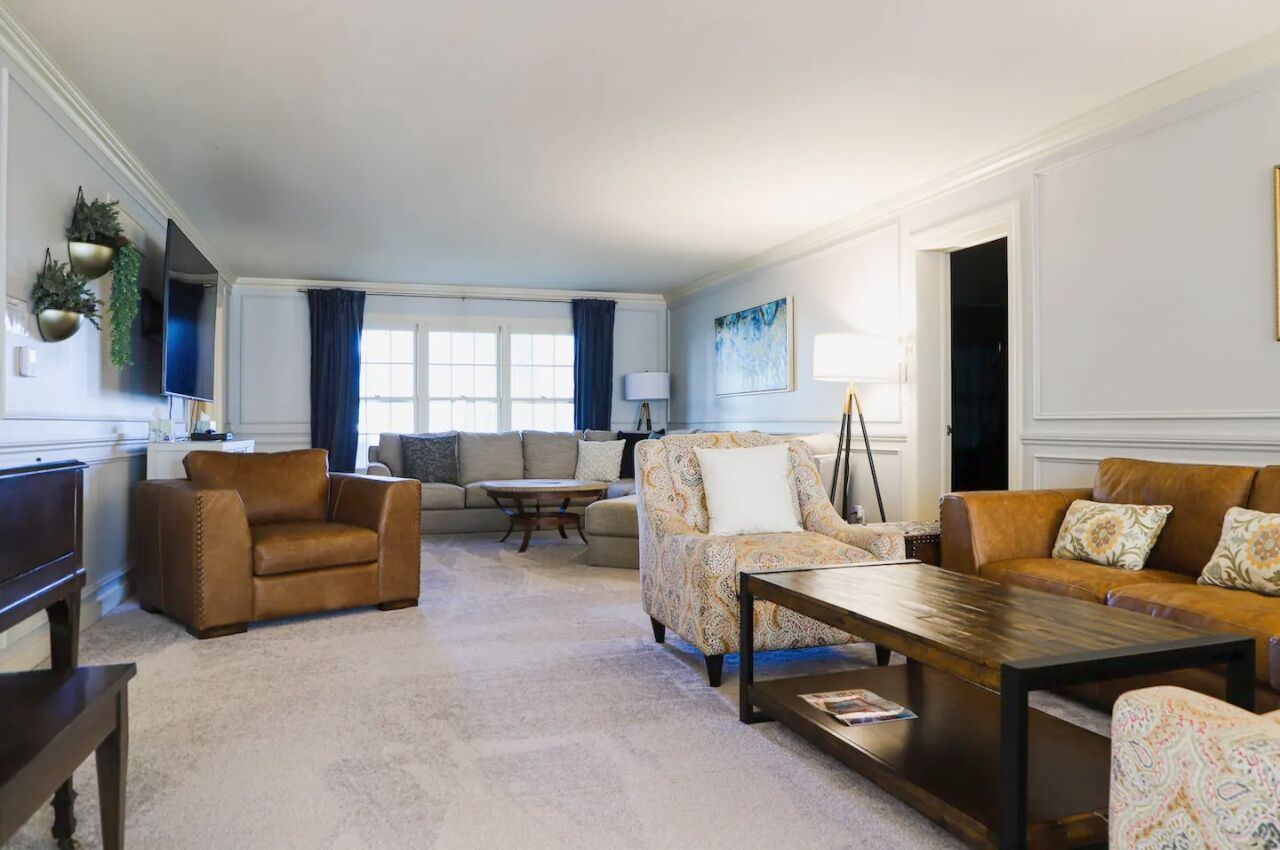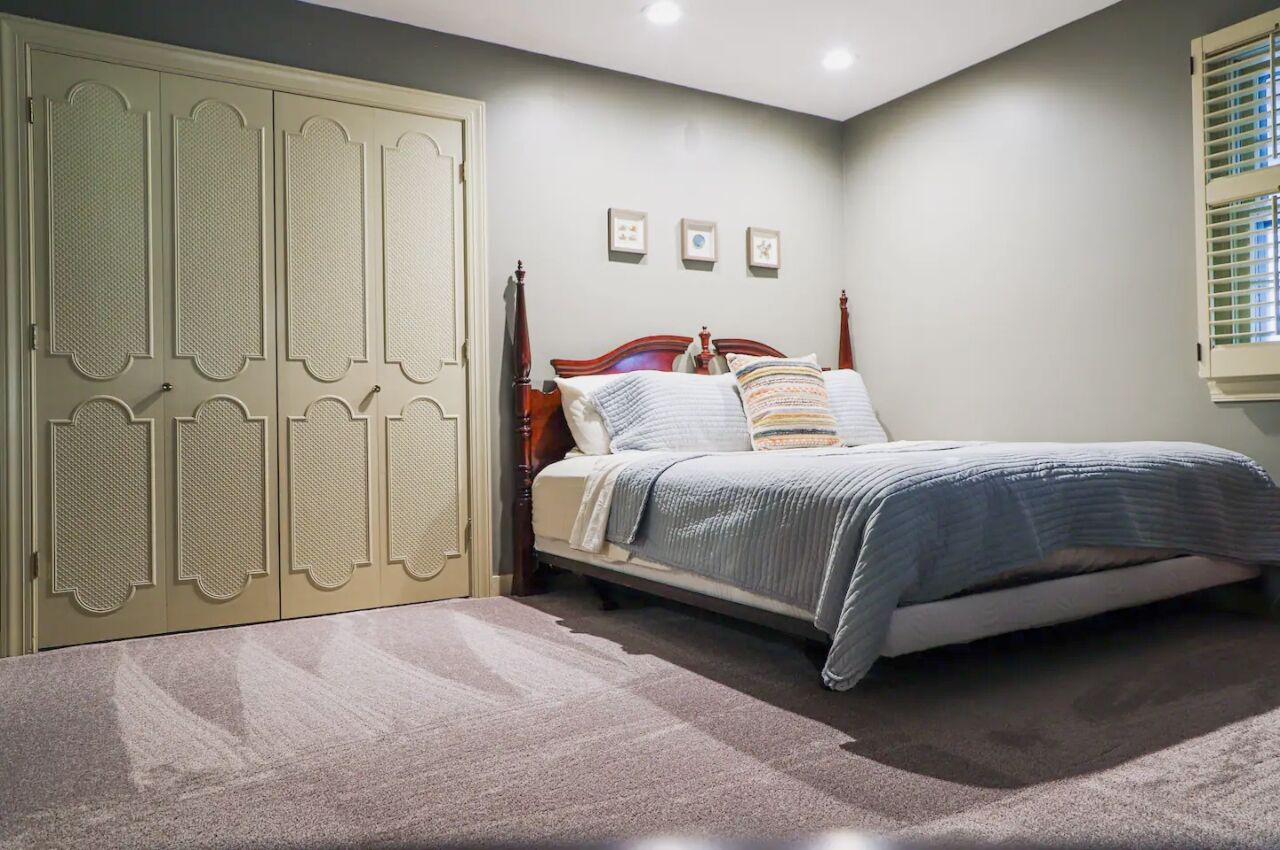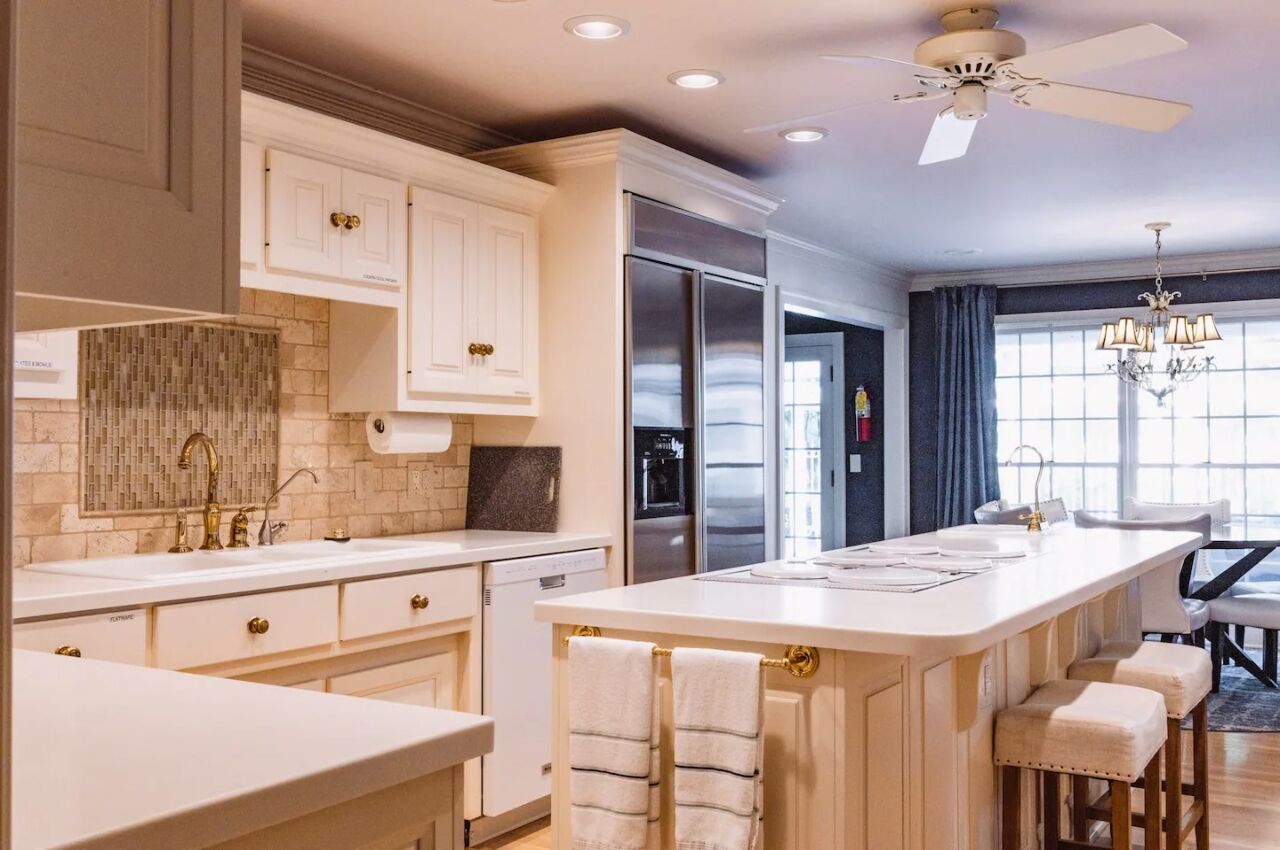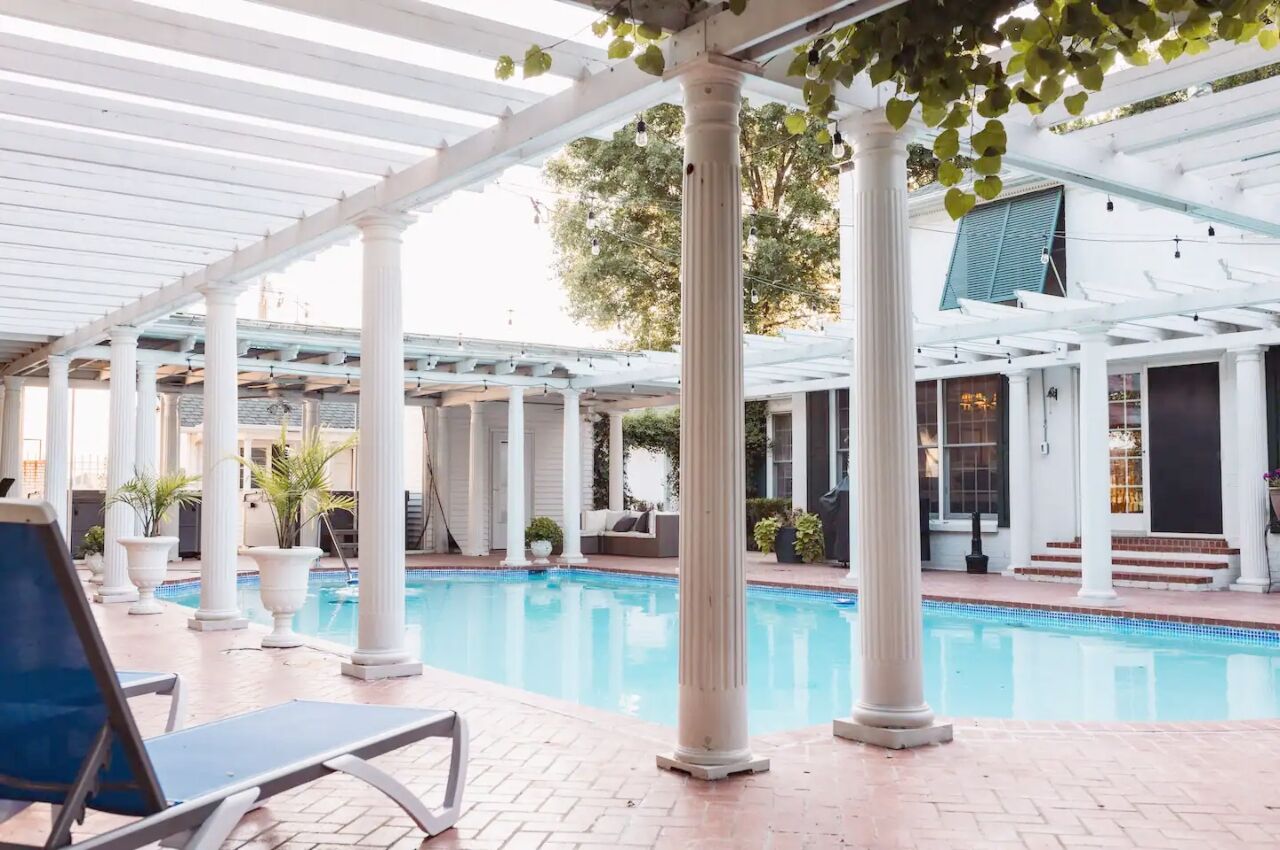 Here is a perfect home for the next group getaway or family vacation, located on seven acres near all Fayetteville attractions. The house has two living areas, a large kitchen area for a feast, and six bedrooms. The fun doesn't stop there, though. It has a huge pool, two hot tubs, a basketball court, an outdoor grill, a pool bar, shuffleboard, and more fun activities. The home is only seven minutes from U of A and Dickson street.
Sixteen guests, six bedrooms
Price: $475 per night
Newly built contemporary home with private backyard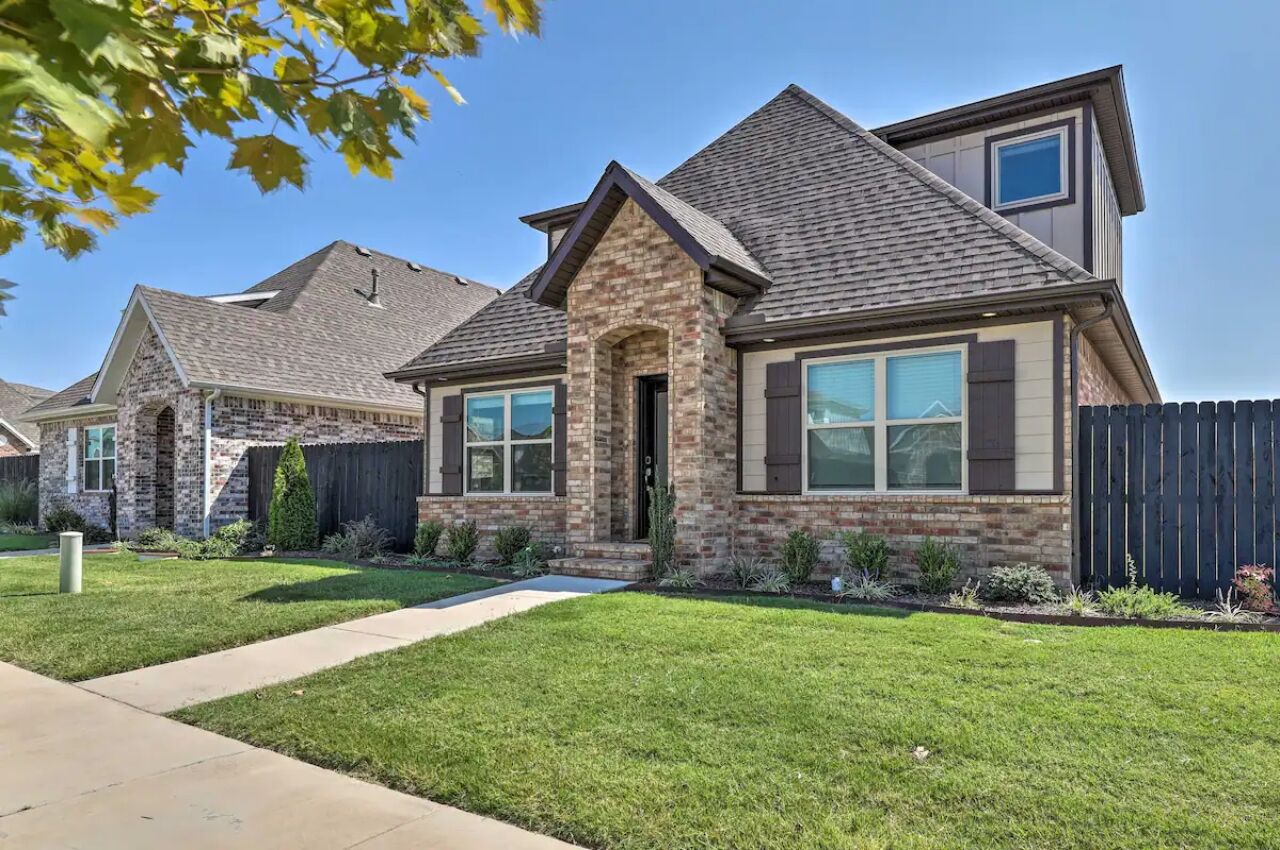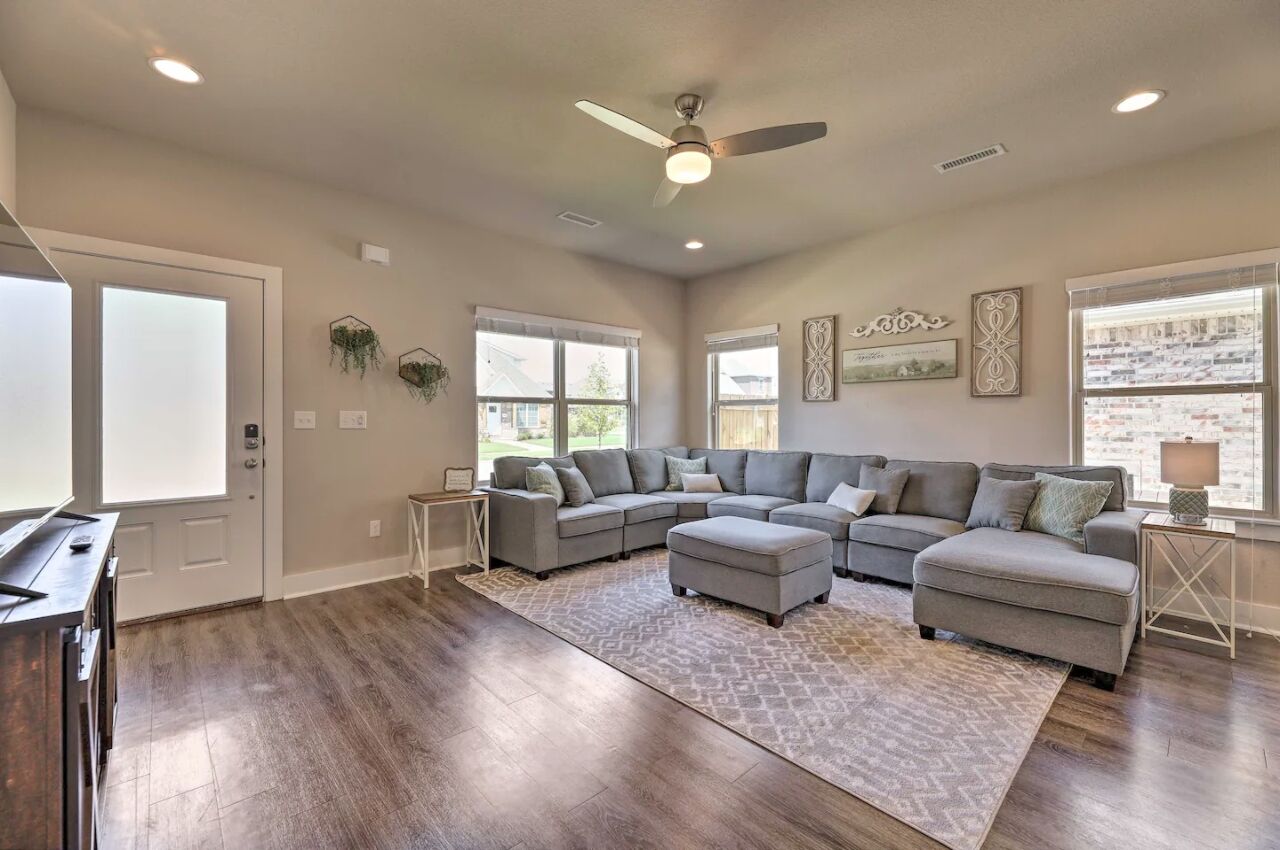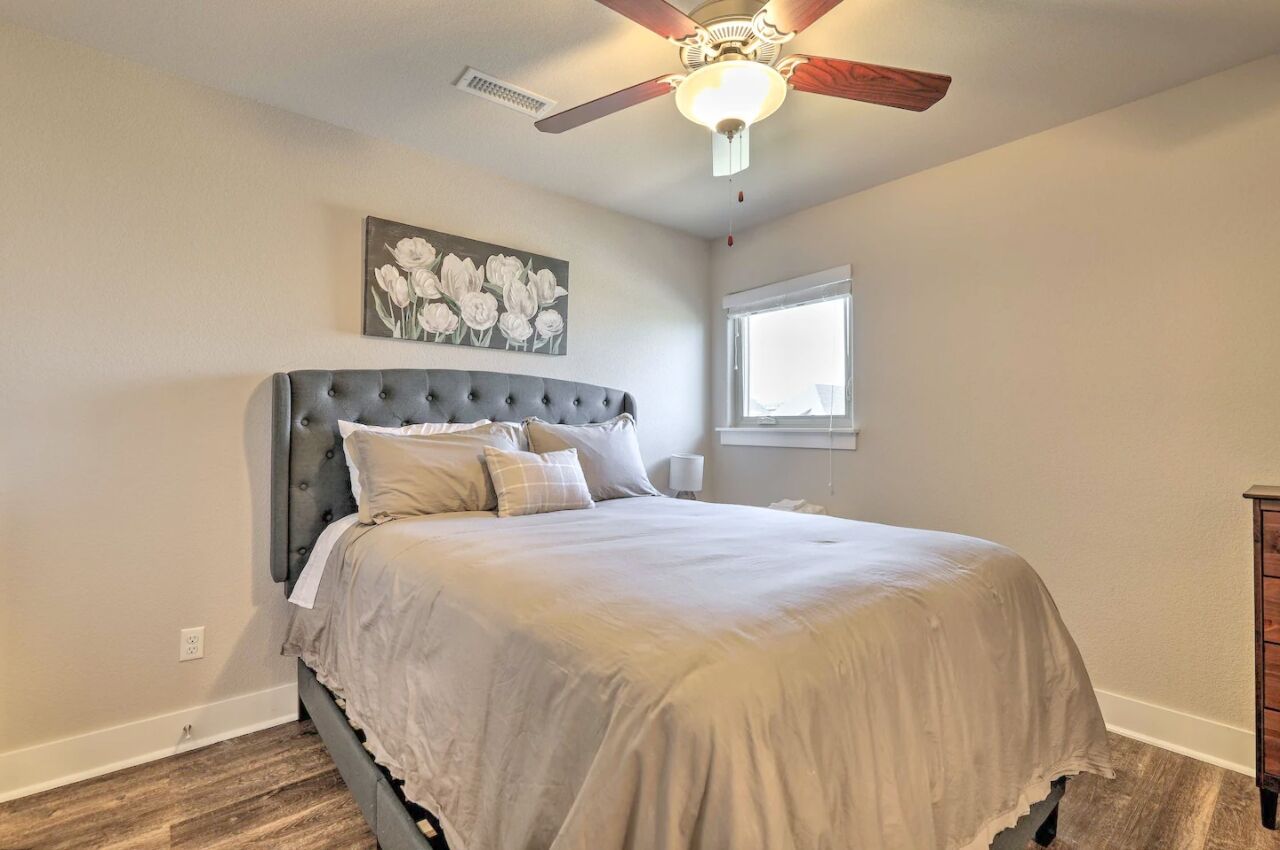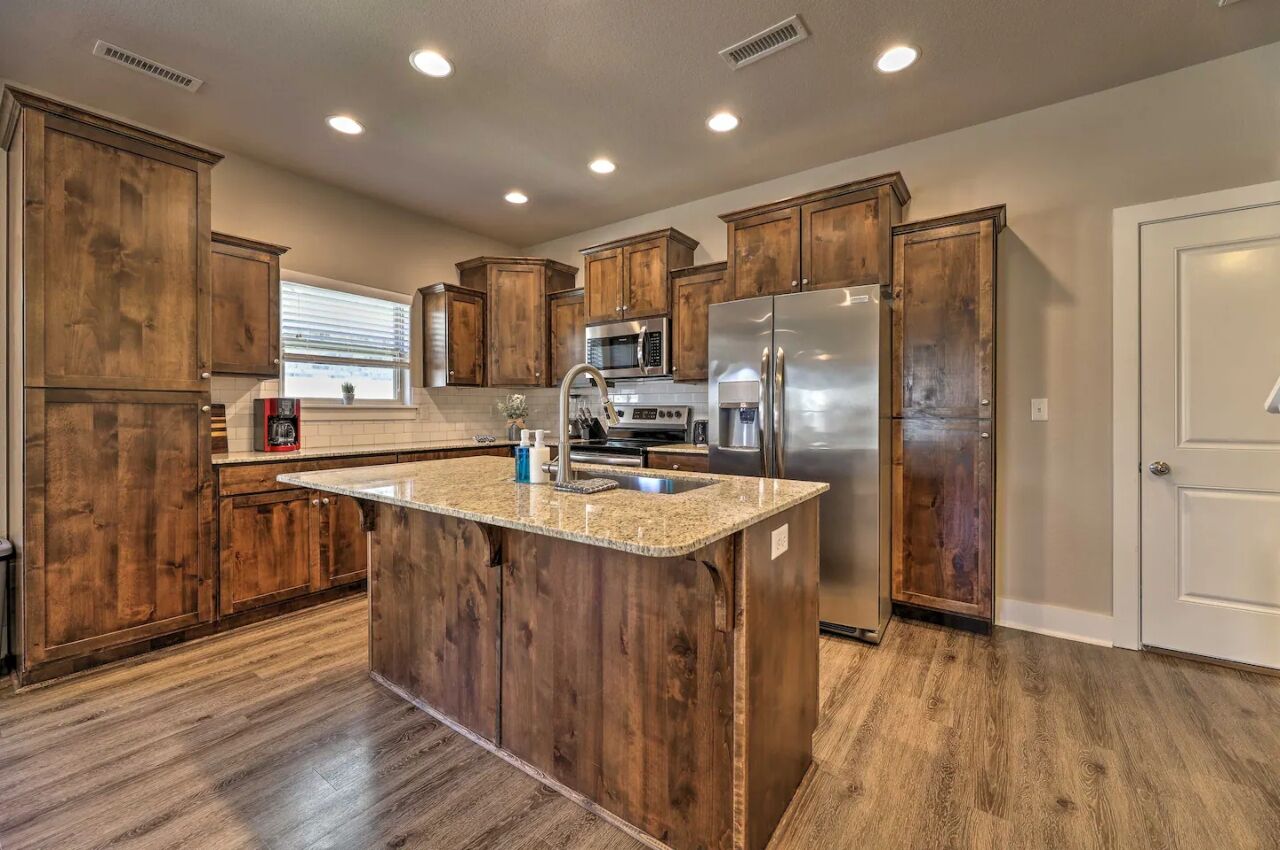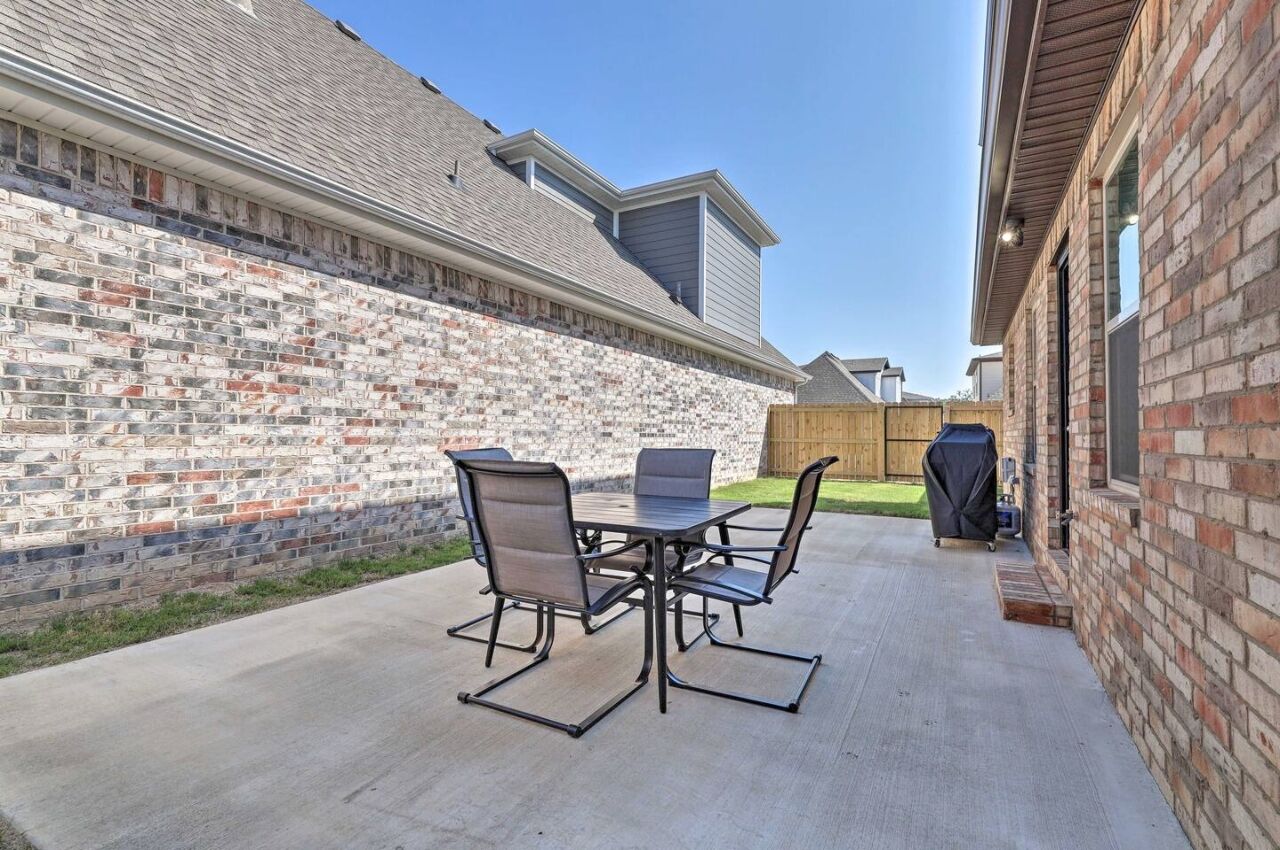 Indulge in this cozy modern Fayetteville pad that will be your home away from home with the family. This house has a spacious living room with two smart TVs, a couch, a ping pong table, and a kitchen that is fully equipped with all appliances. The home also has a spacious backyard area with seating, and there is a community pool just around the corner from home.
Nine guests, four bedrooms
Price: $147 per night
What did you think of this story?