8 Unique Airbnbs by Grand Canyon National Park
Grand Canyon National Park is one of the most-visited parks in the national park system, but don't let that stop you from visiting — it's absolutely stunning and there's plenty of room for everyone. It's also a great park for both active visitors and more laid-back travelers, as you can do a 20-plus-mile hike all the way through the canyon or just stay on the top, strolling between viewpoints and checking out the various visitors centers.
There's no major town near the park, which means some of the best Airbnbs by Grand Canyon National Park are a little more, well, remote. You can choose from furnished bell tents, geodesic stargazing domes, vintage A-frames and camping trailers, or cute cabins. Of course, if you don't mind staying about 40 minutes away, you can find Airbnbs by Grand Canyon that are a little more traditional, choosing from rental homes within walking distance of restaurants and shopping in towns like Williams, AZ.
Check out Matador's guides to other destinations near Grand Canyon
Most people start at the South Rim, though the North Rim is also an option from May to October. After visiting the Grand Canyon Village, you can also catch a free shuttle bus to various viewpoints along the rim so you don't need to worry about driving. Other popular activities include hiking into the canyon, taking helicopter tours, rafting down the Colorado River, or joining one of many ranger activities.
Outside the park, be sure to find time to stop at other beautiful natural sights like Horseshoe Bend and Antelope Canyon.
The Airbnbs by Grand Canyon National Park below are listed in order of least to most expensive starting rate per night, so scroll to the end if you're looking for something on the more luxurious (or larger) side.
We hope you love the spaces and stays we recommend! Just so you know, Matador may collect a small commission from the links on this page if you decide to book a stay. Listed prices are accurate as of the time of publication.
Grand Canyon Tent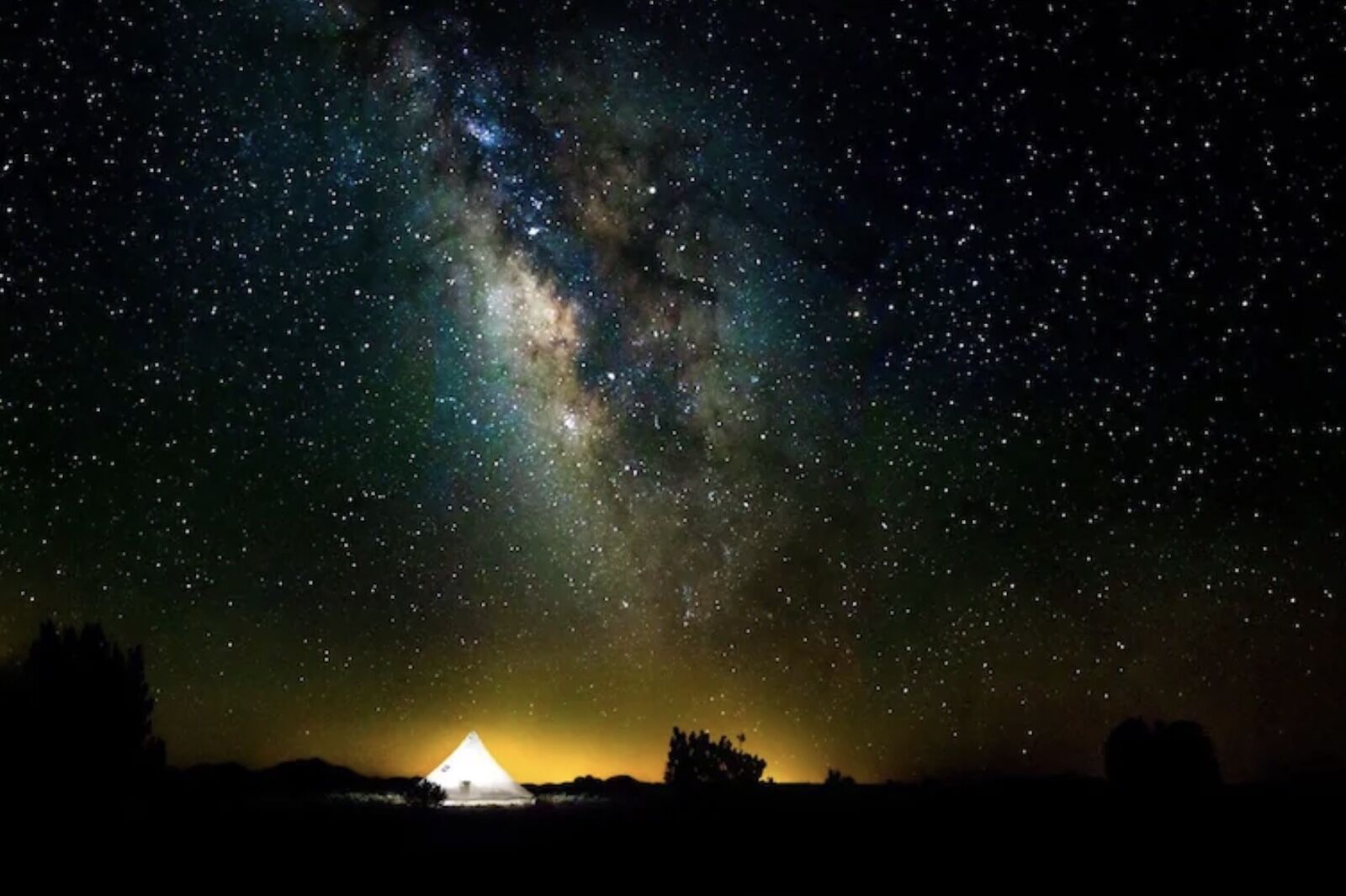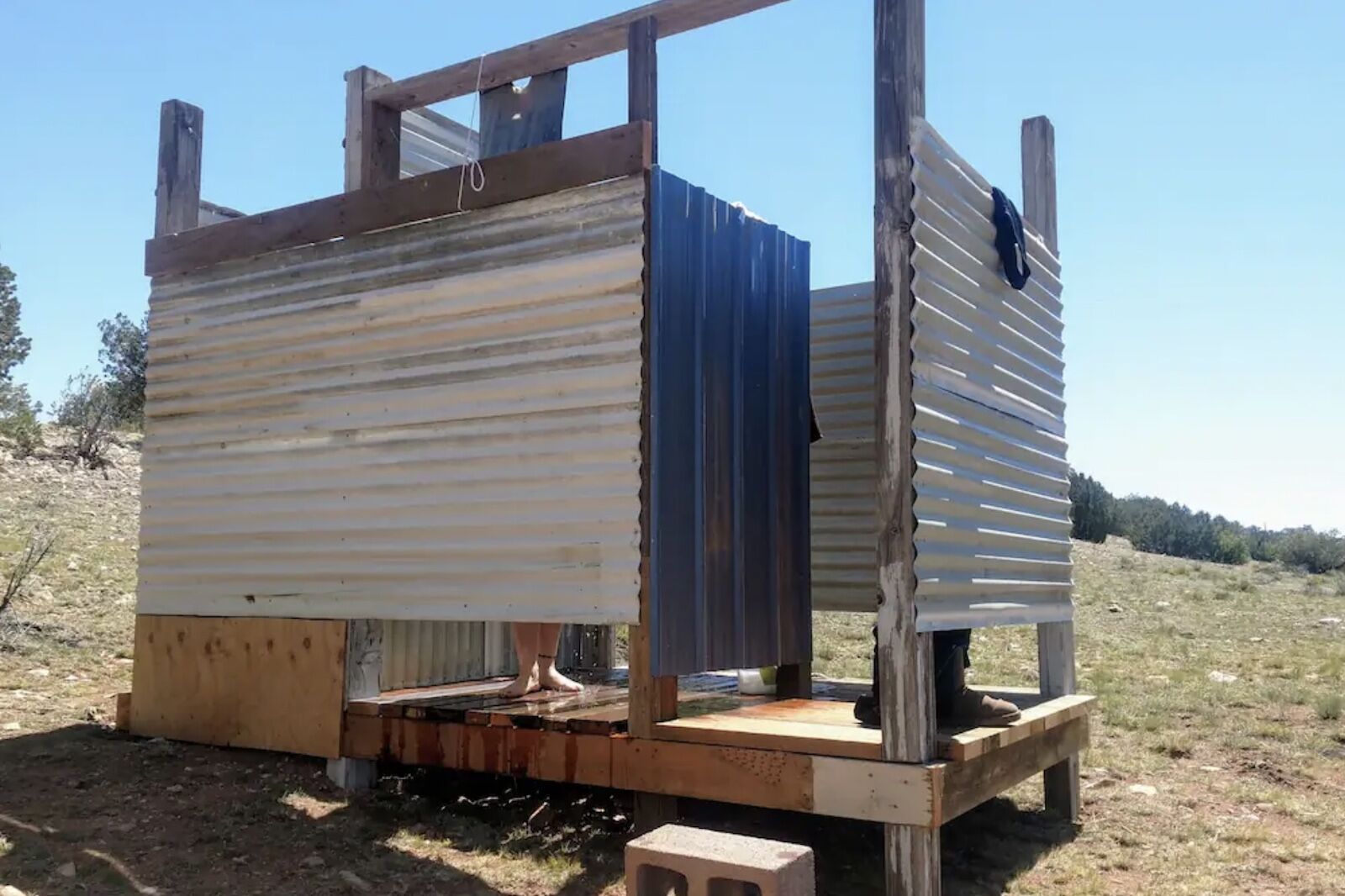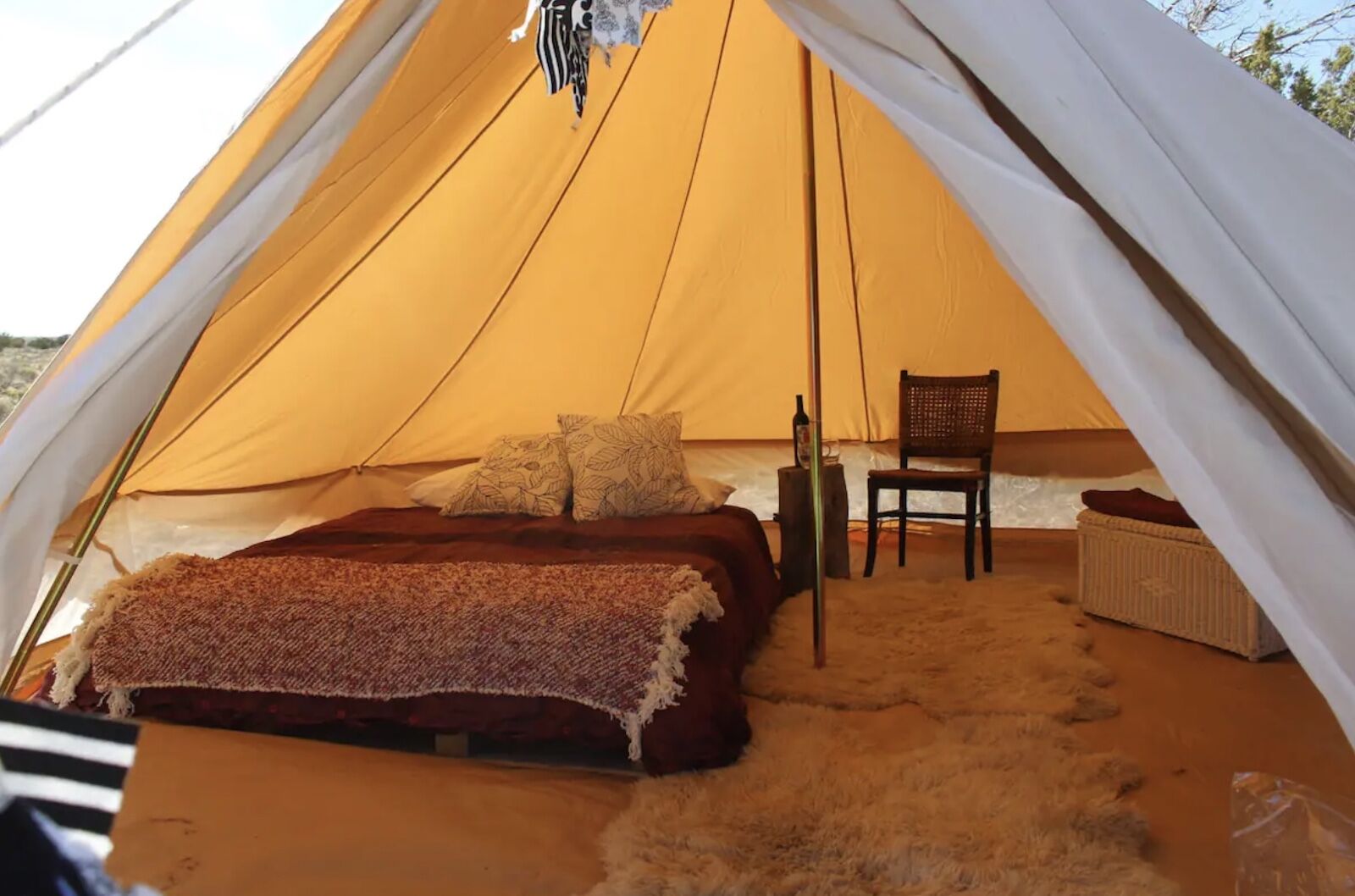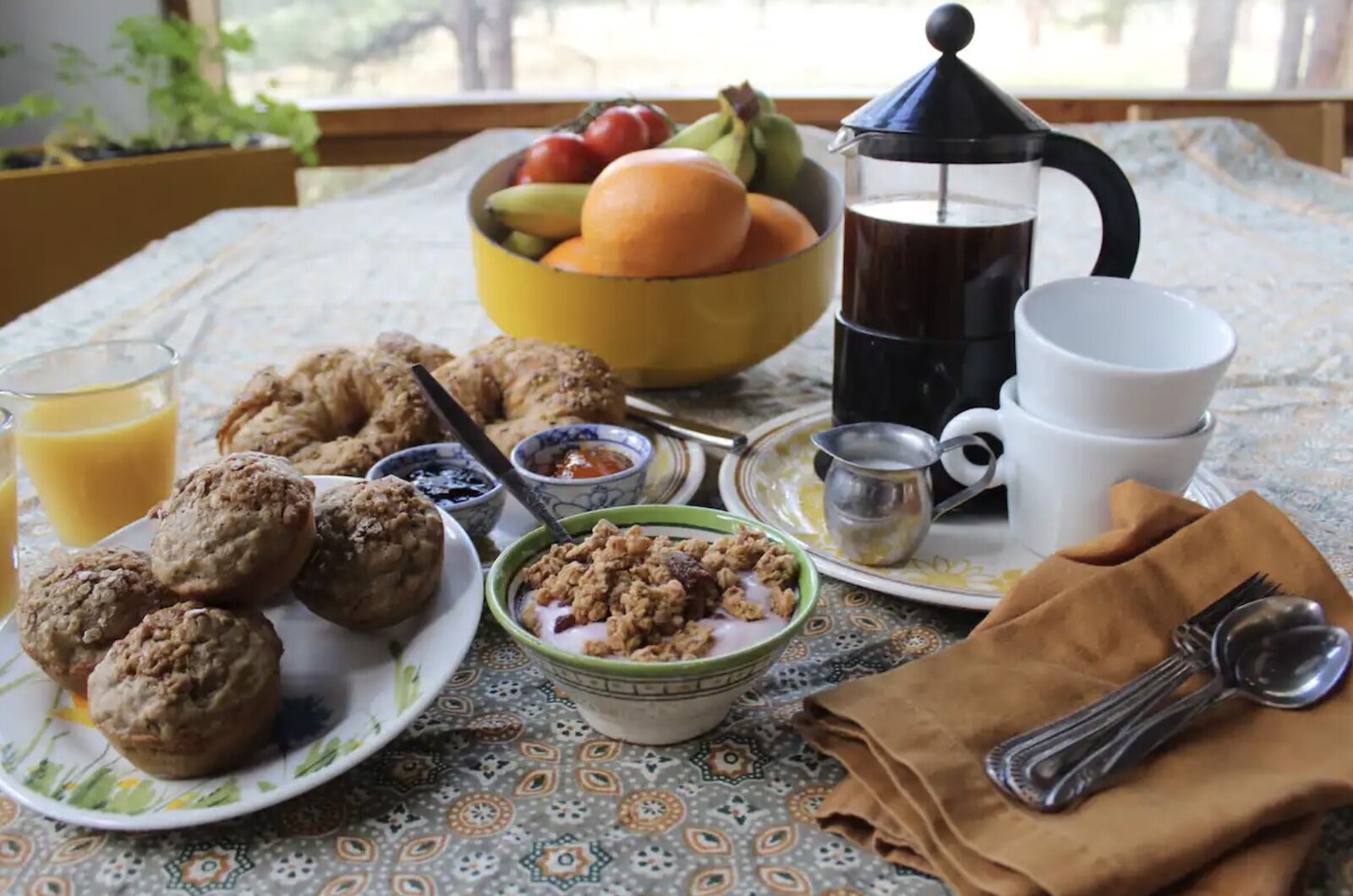 Bedrooms: studio
Sleeps: 2
Rates from: $135/night
This Airbnb by Grand Canyon National Park is a little different from your average rental: it's a bell tent in the desert about 30 minutes from the park entrance. There are actually six tents on the property, so you can rent several if you're traveling with a group. It doesn't have heat, so it's only available to rent during the summer through early fall.
The tents each have a queen bed and basic furnishings, plus a private solar shower and camp bathroom. Stays come with a light breakfast, and you can also arrange camp dinners to be prepared back at your tent in the evenings. Note that the tented camp is solar-powered, so don't expect Wifi, power in the tents, or tons of lighting. Fortunately, that lack of light pollution makes the stargazing truly amazing.
Grand Wash Cliffs Home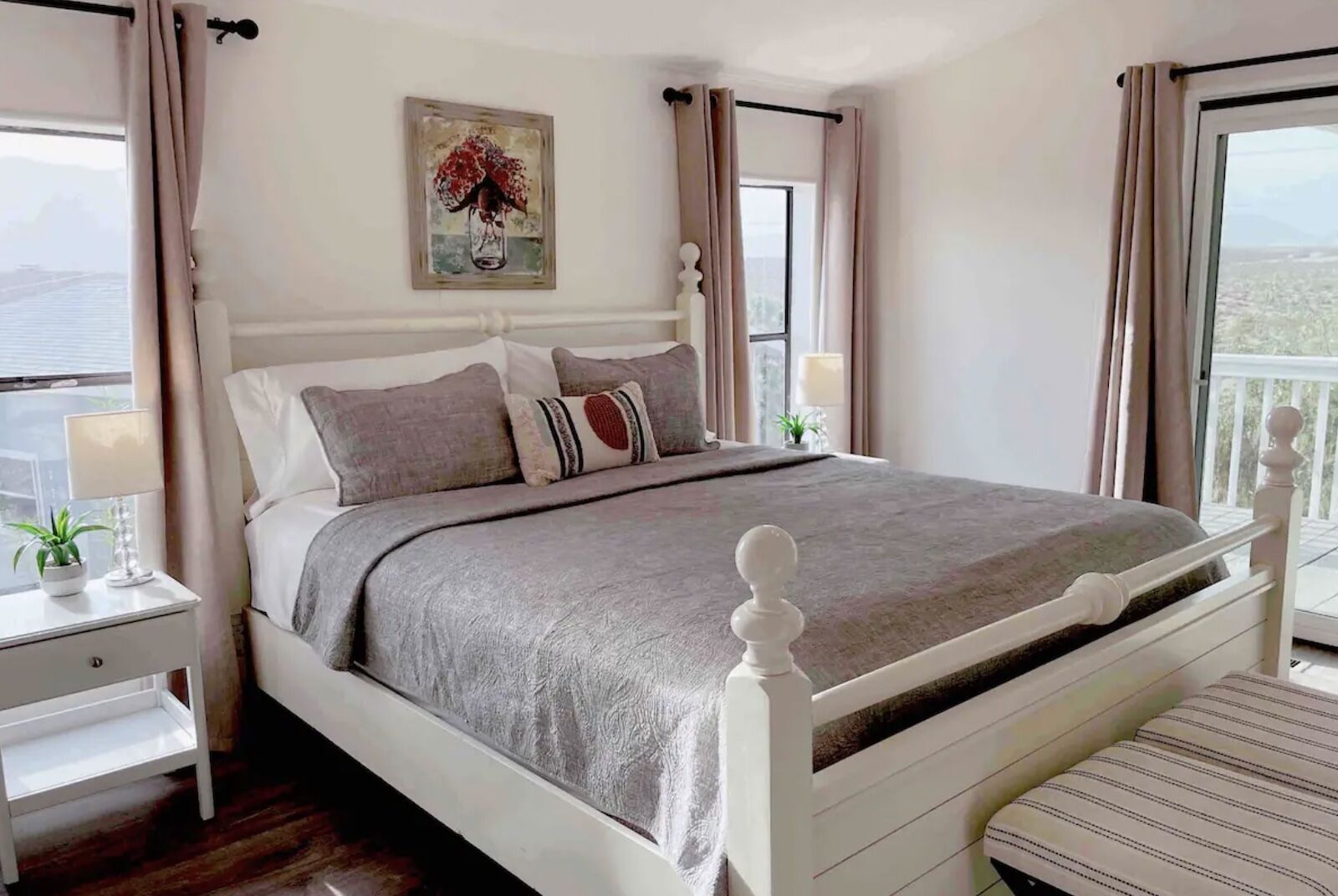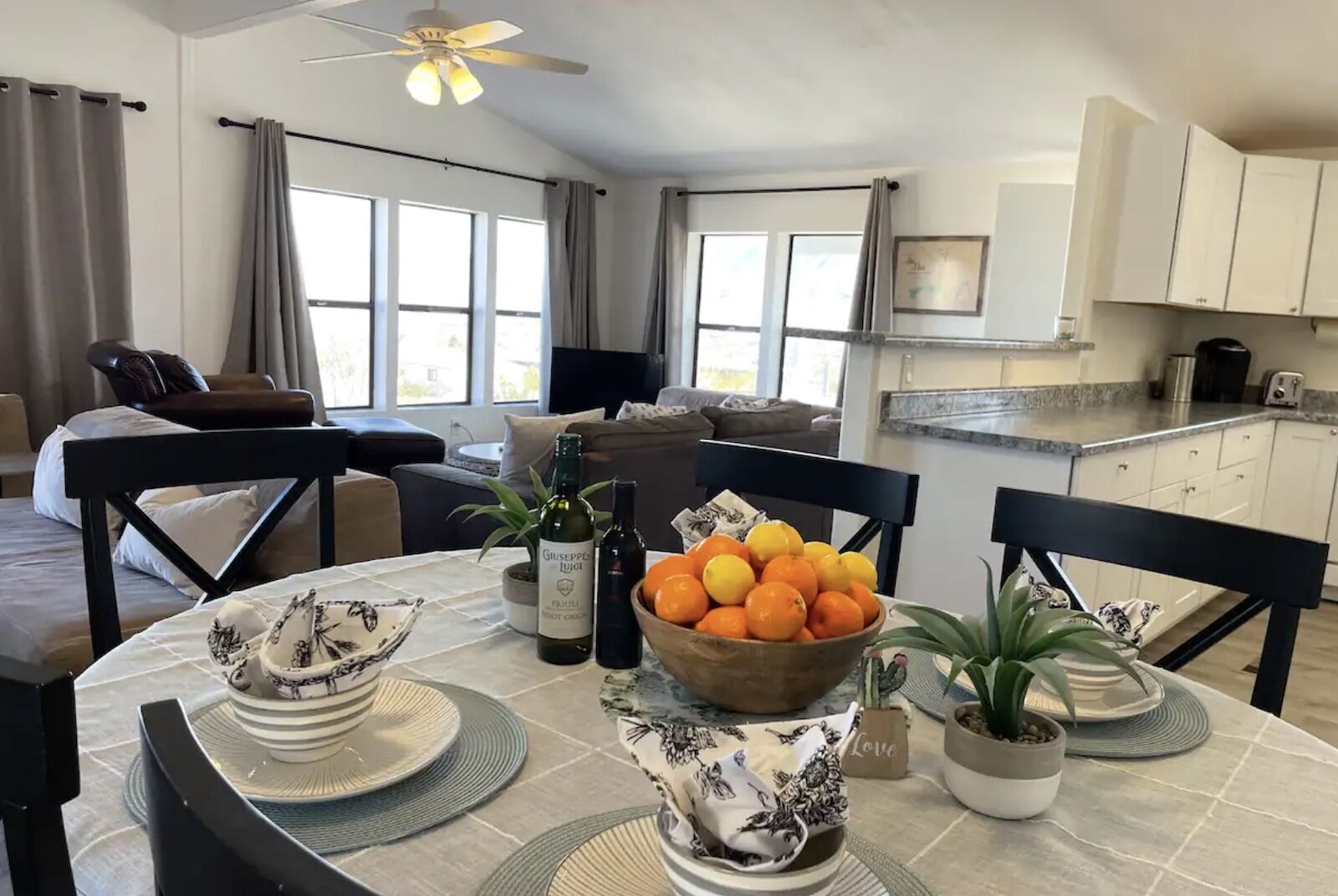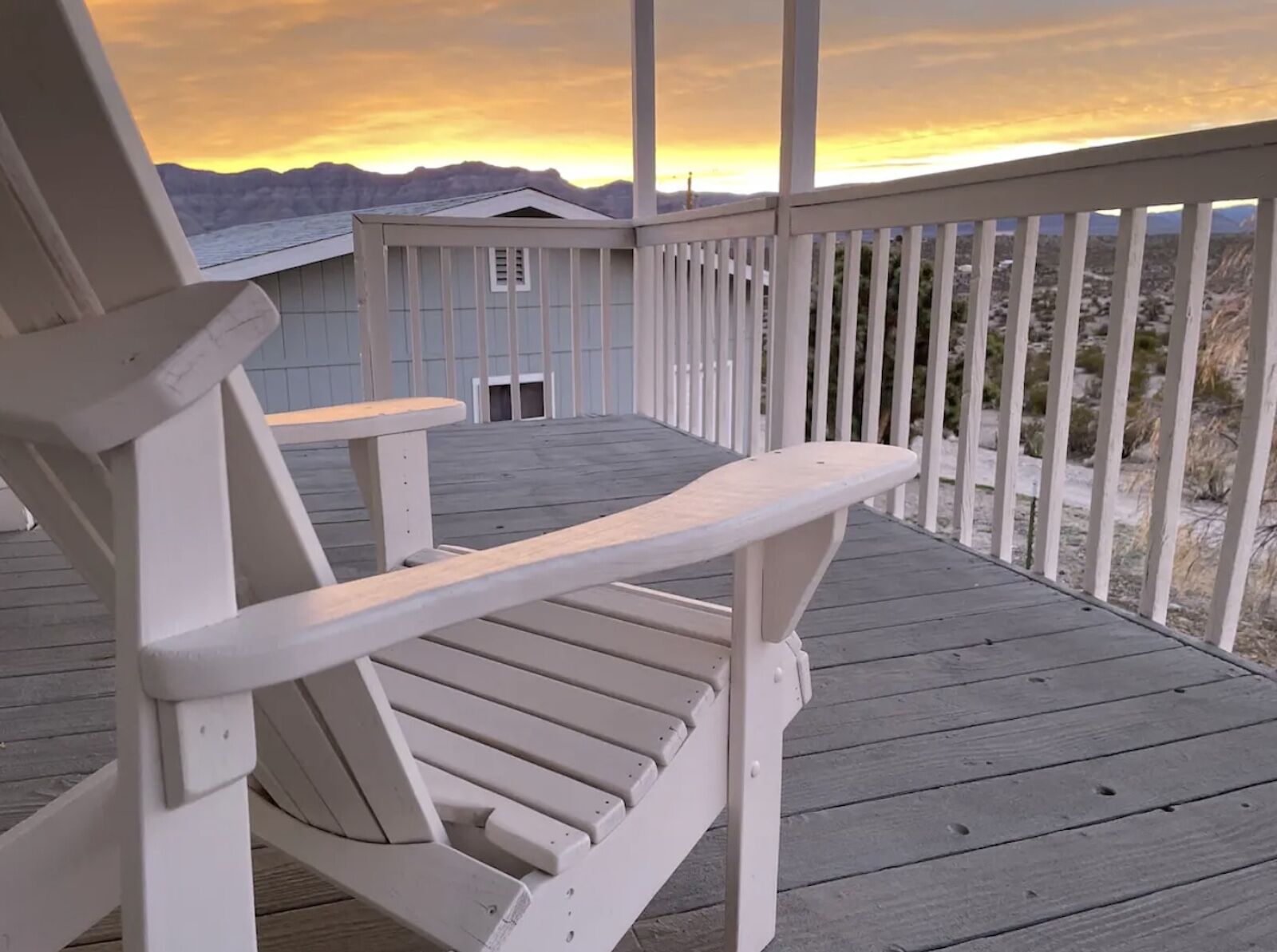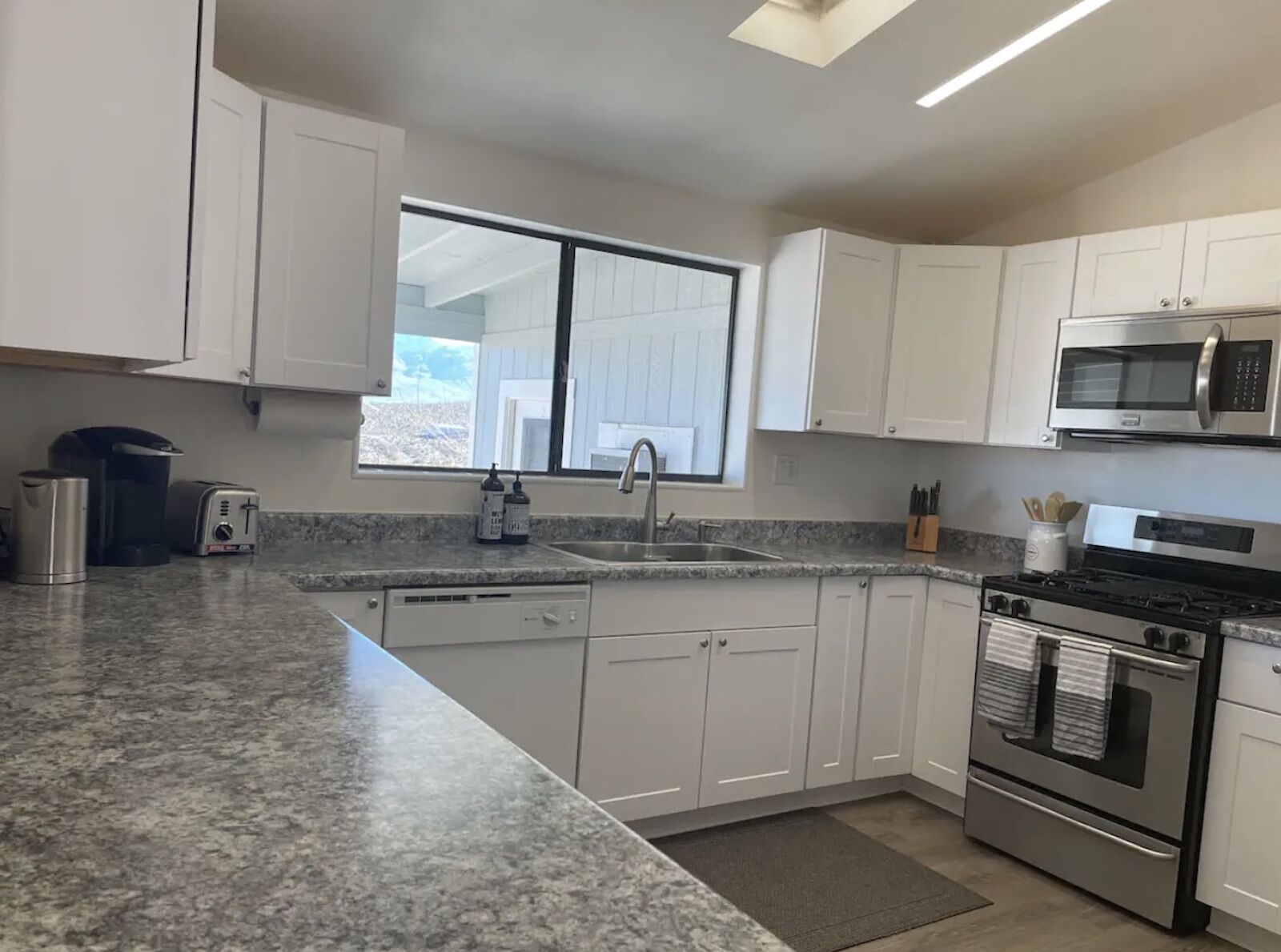 Bedrooms: 3
Sleeps: 6
Rates from: $145/night
This cute home is an Airbnb near Grand Canyon West. Grand Canyon West is where you'll find the Hualapai Reservation, which runs the Grand Canyon Skywalk — the elevated glass platform that extends beyond the rim. This home is only about 40 minutes away, with desert and cliff views. It'a also only about two hours from Las Vegas, so its a good pick if you're coming from Sin City and don't want to drive the full 4.5 hours to get to the North or South Rim.
Renters get fast WiFi, a very modern interior with multiple bedrooms, a large kitchen, and a washer and dryer. It's one of the most affordable Airbnb near Grand Canyon West and should be a no-brainer if you're planning a quick overnight from Vegas.
Glamping Stargazing Airstream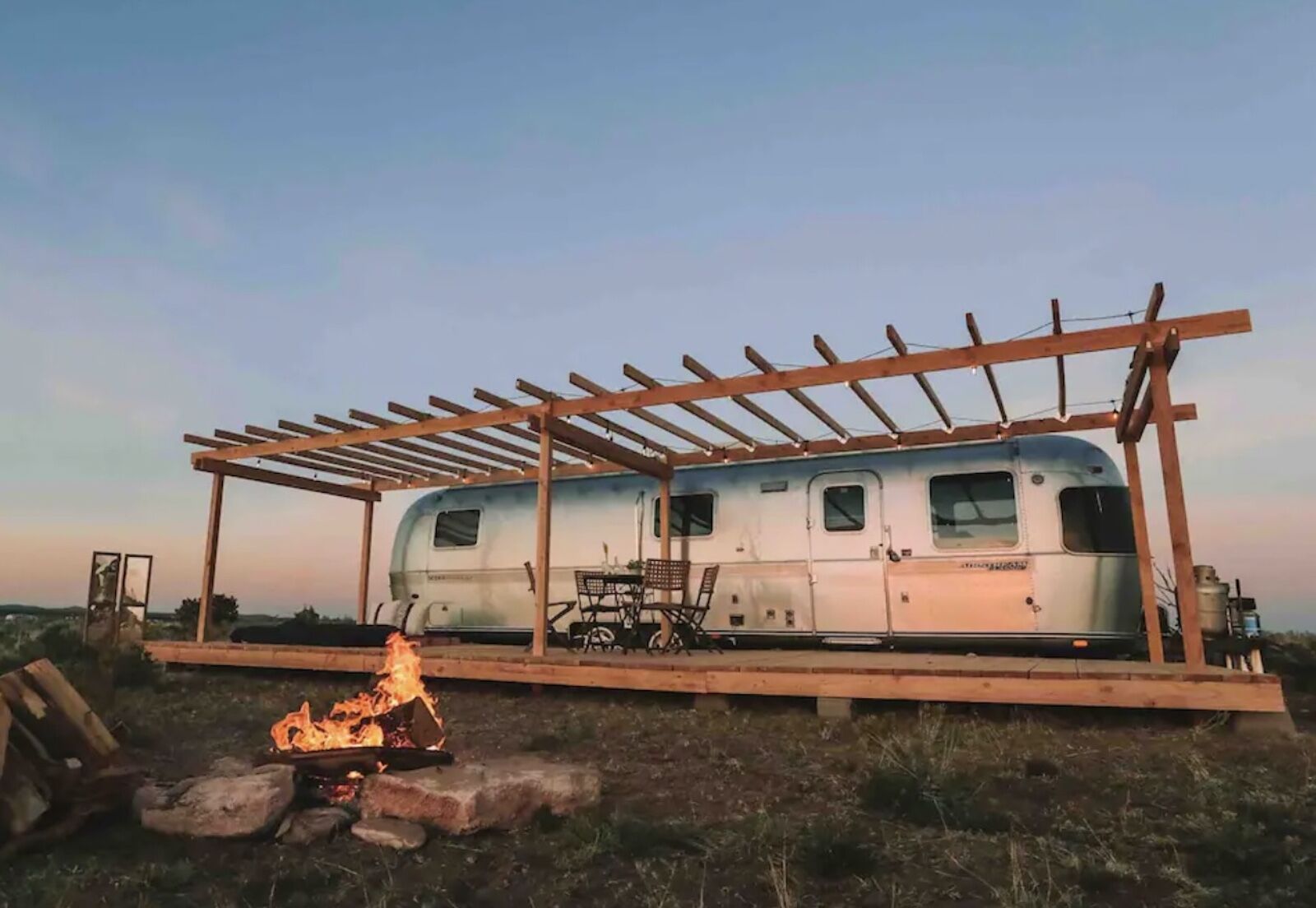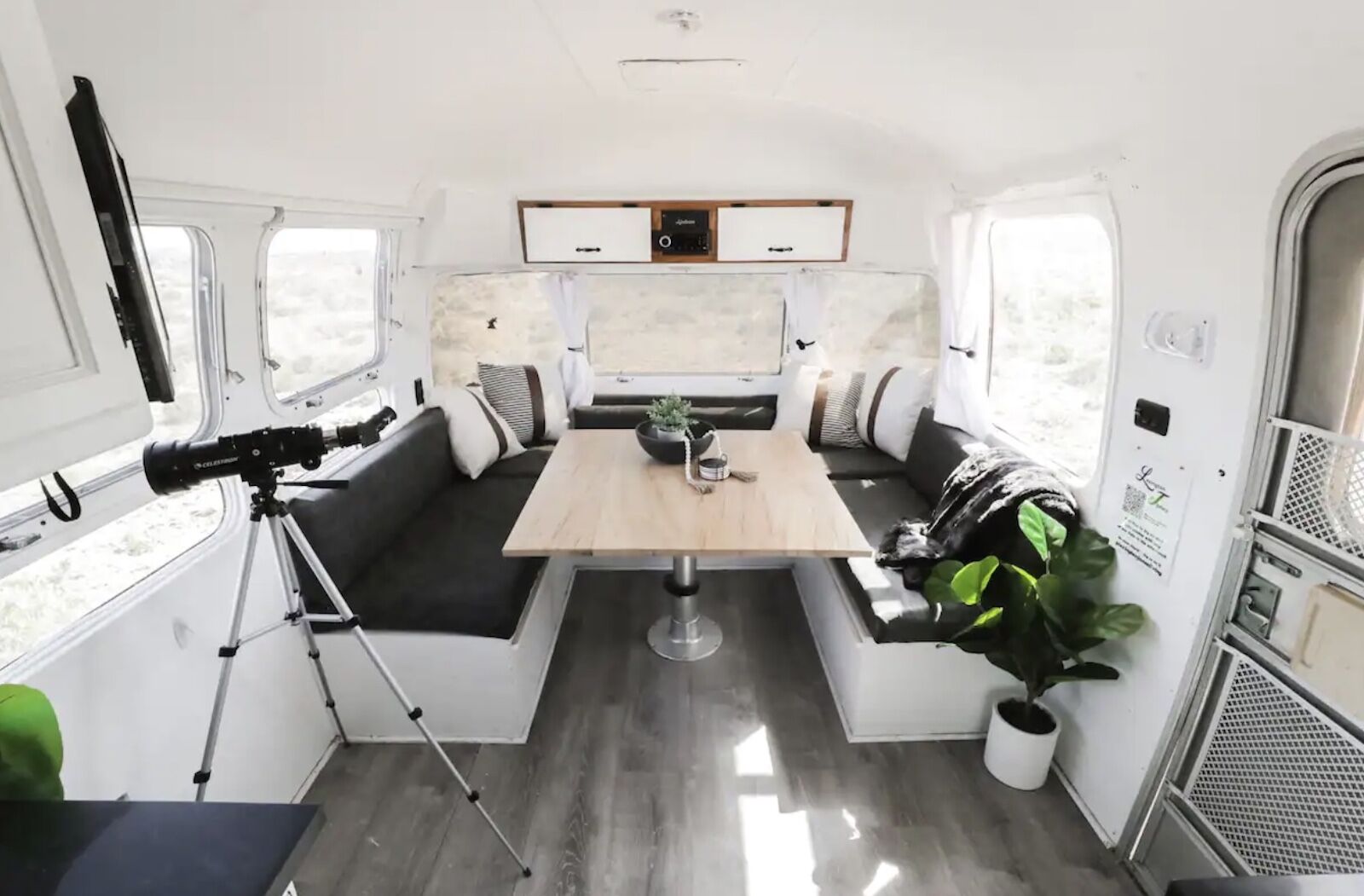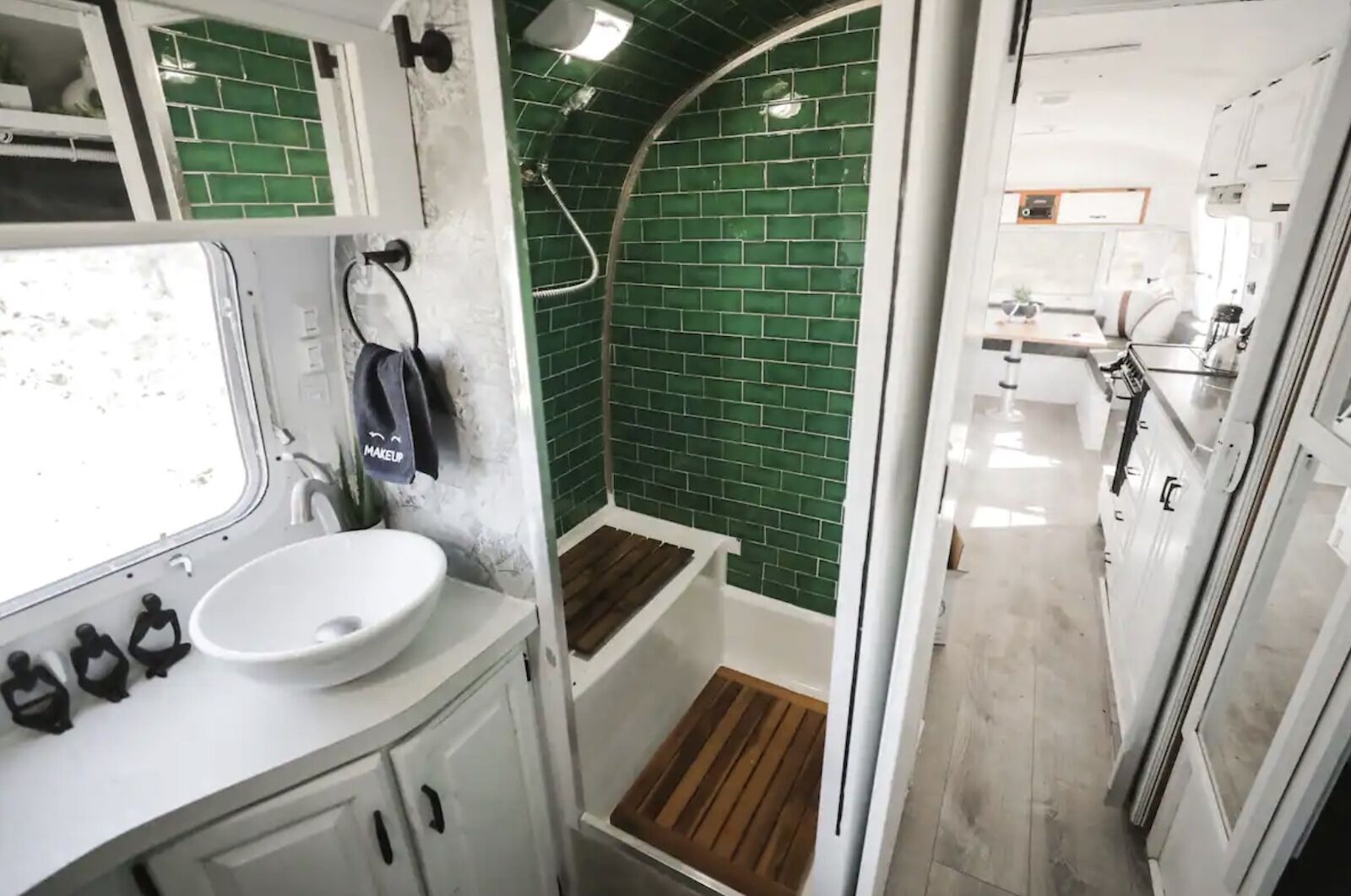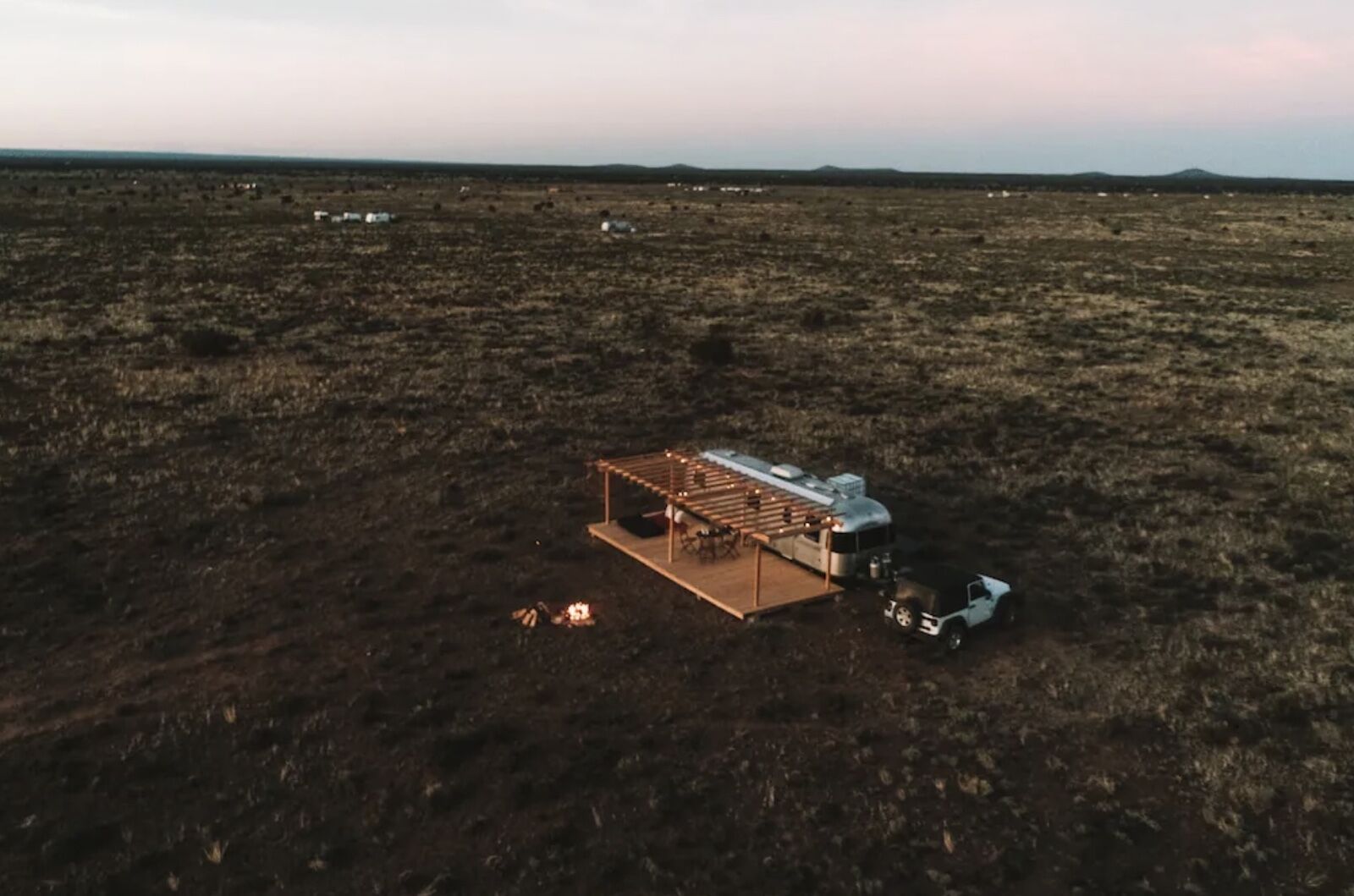 Bedrooms: 2
Sleeps: 5
Rates from: $164/night
For an Airbnb by Grand Canyon National Park that has vintage desert vibes on the outside but modern amenities inside, this Airstream trailer is a great pick. It's parked smack in the middle of the desert about 30 minutes from the park and has a small kitchenette plus a king bed and room to set up a second bed if needed.
This Airbnb is lovely, but it may not be for everyone. It doesn't have WiFi, and there's no running water outside of the summer season (since the water will freeze in the pipes). It's also solar powered, so on cloudy days, it may be hard to charge your devices. And you'll need a 4WD vehicle to make it to the site if it's snowy or raining. But if all that just sounds like even more reason to book it, you'll likely find the remote nature of the rental (plus the miles-long desert views and great stargazing) well-worth the lack of conveniences.
The Historic Yellow House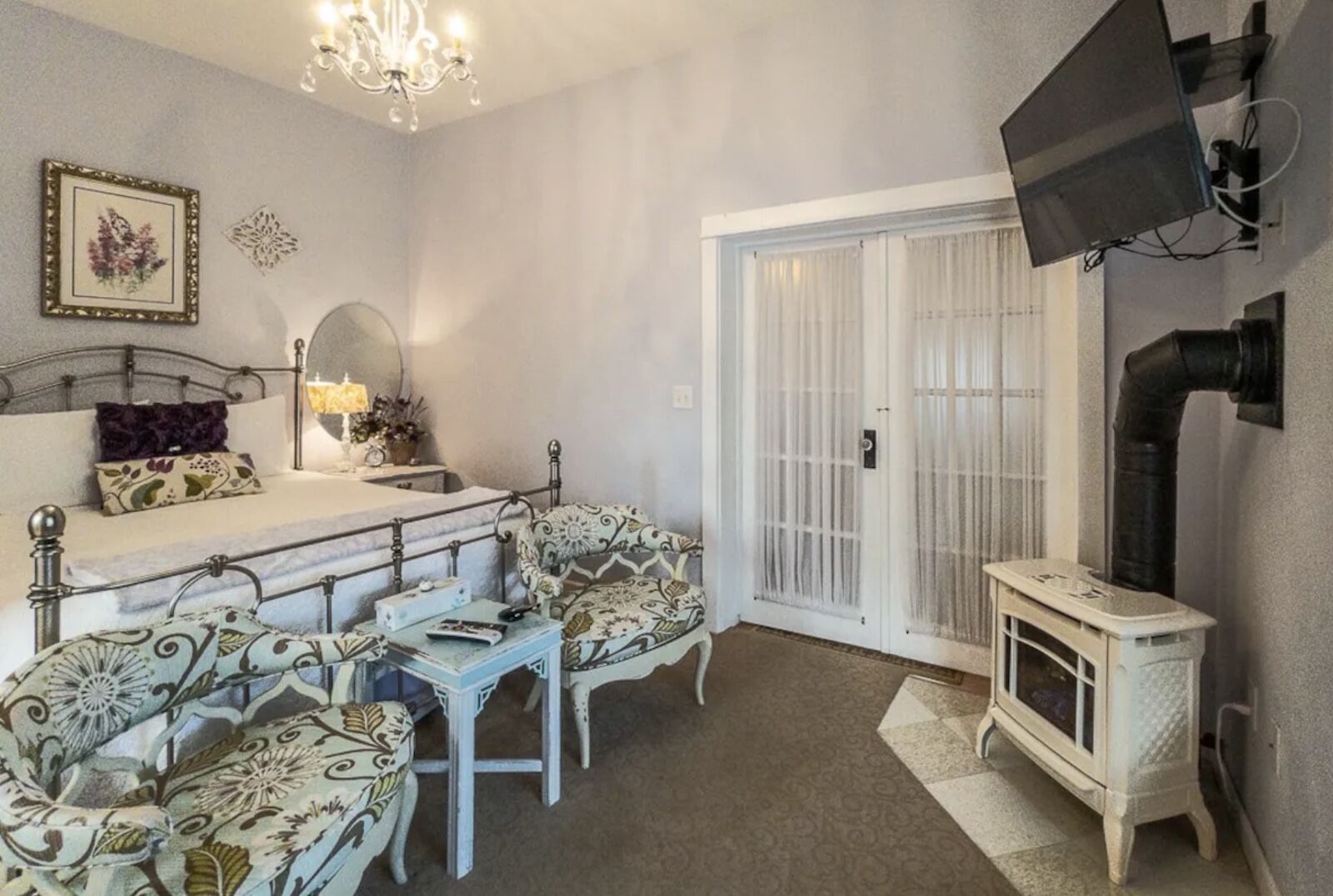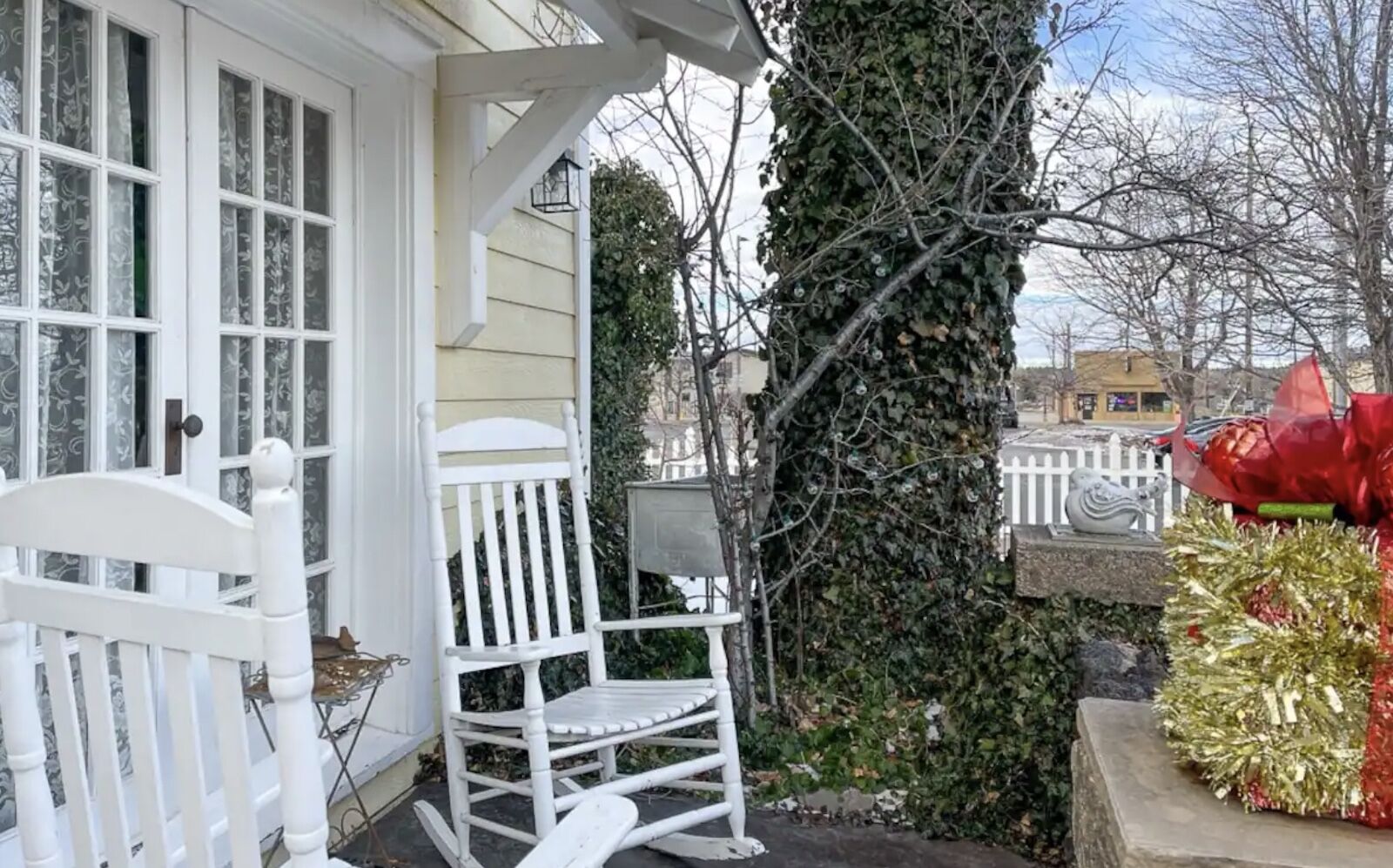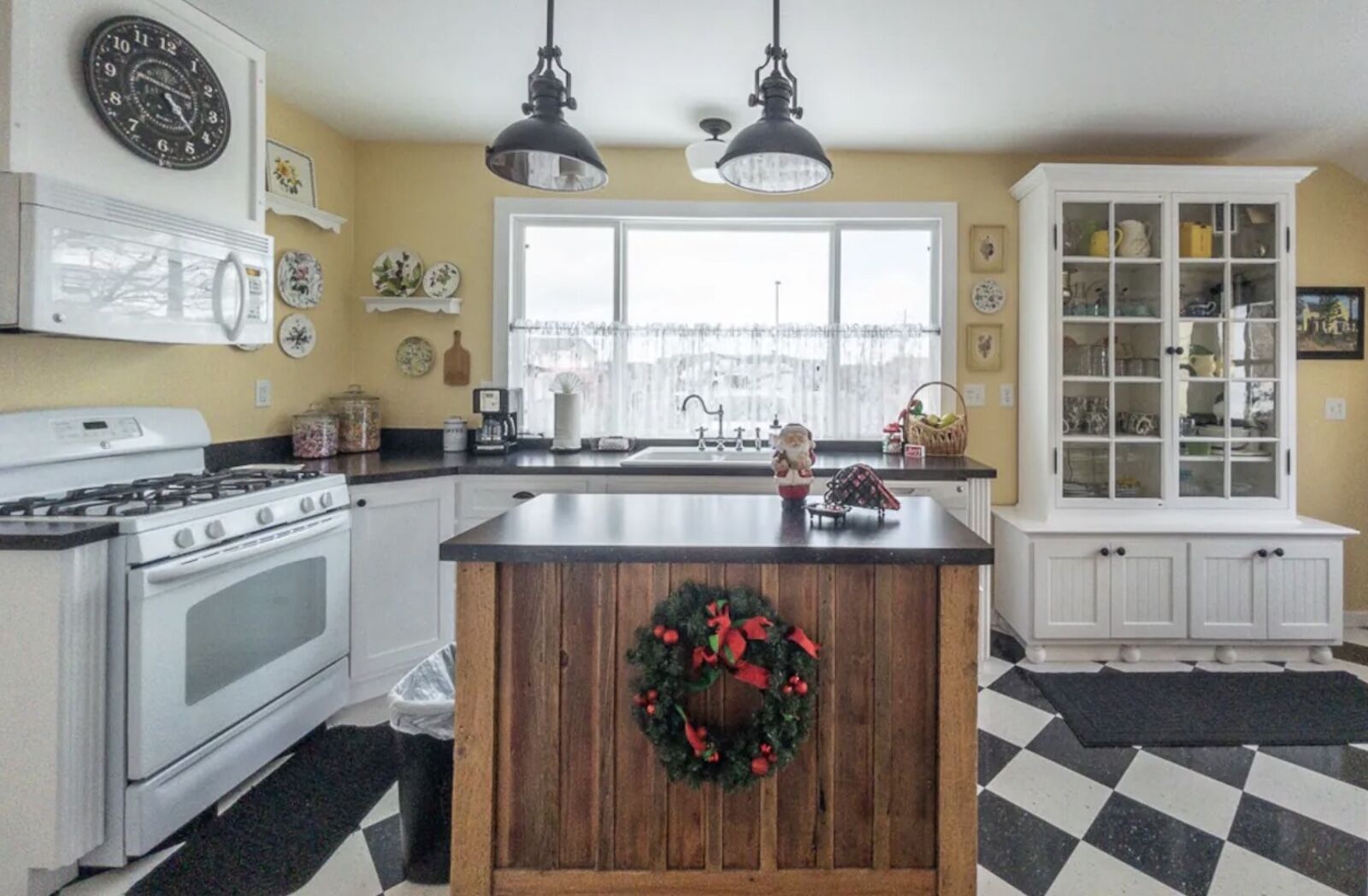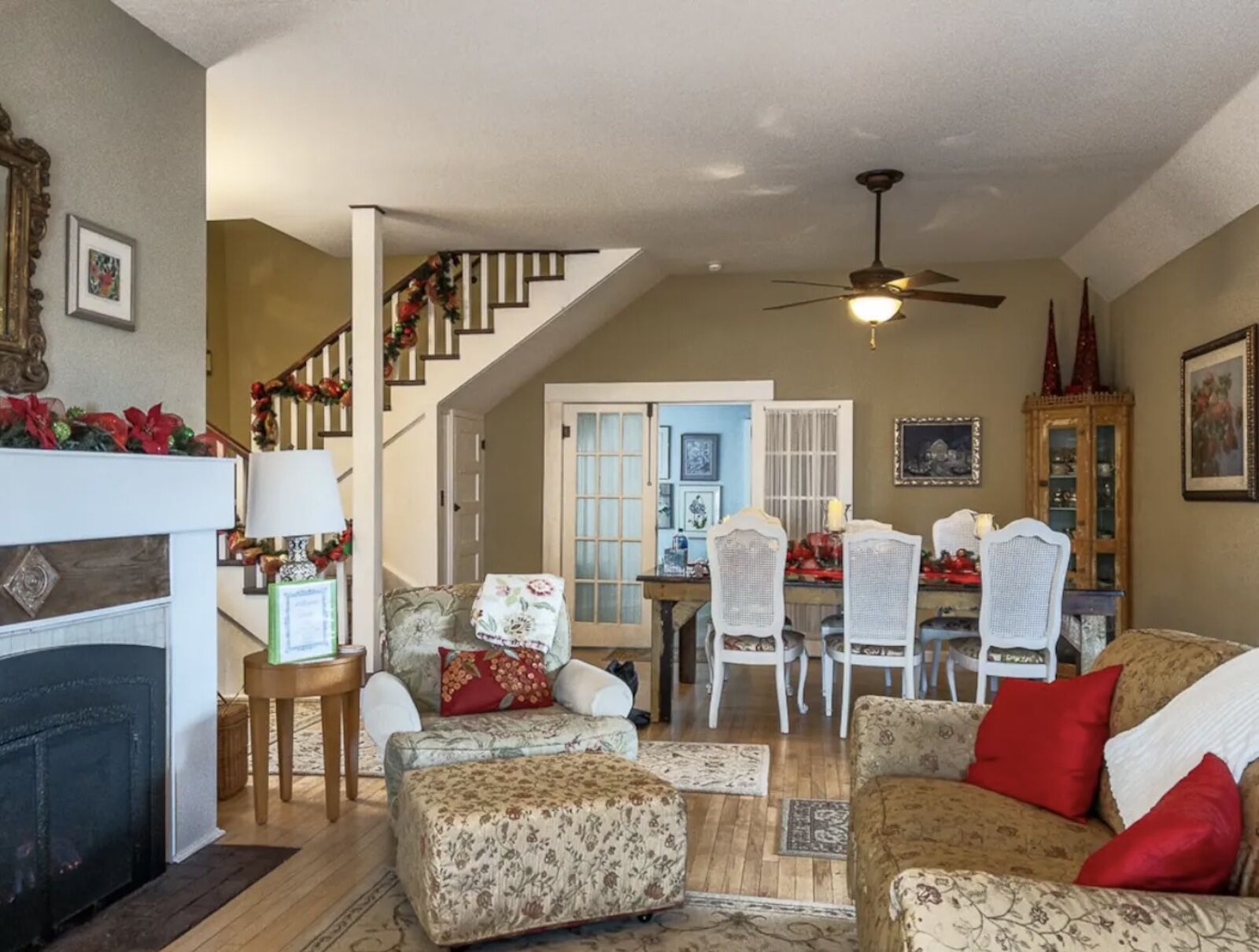 Bedrooms: 4
Sleeps: 8
Rates from: $175/night
If you want to stay in Williams, the Historic Yellow House could be a great fit. It was built in 1883 (but has been restored, of course) and is within walking distance of Williams shops and restaurants. While it has the charm of a B&B, it's a full private rental, with four bedrooms and a big kitchen. Three of the bedrooms have queen beds, but one has two very separated singles, making it good for kids or single travelers.
Williams is just under an hour from the Grand Canyon, and if you don't want to drive, you can take the Grand Canyon Railroad. It's a 90-minute ride into the park on a vintage train, complete with a few songs from cowboys along the way. Buy your tickets in advance.
Grand A-Frame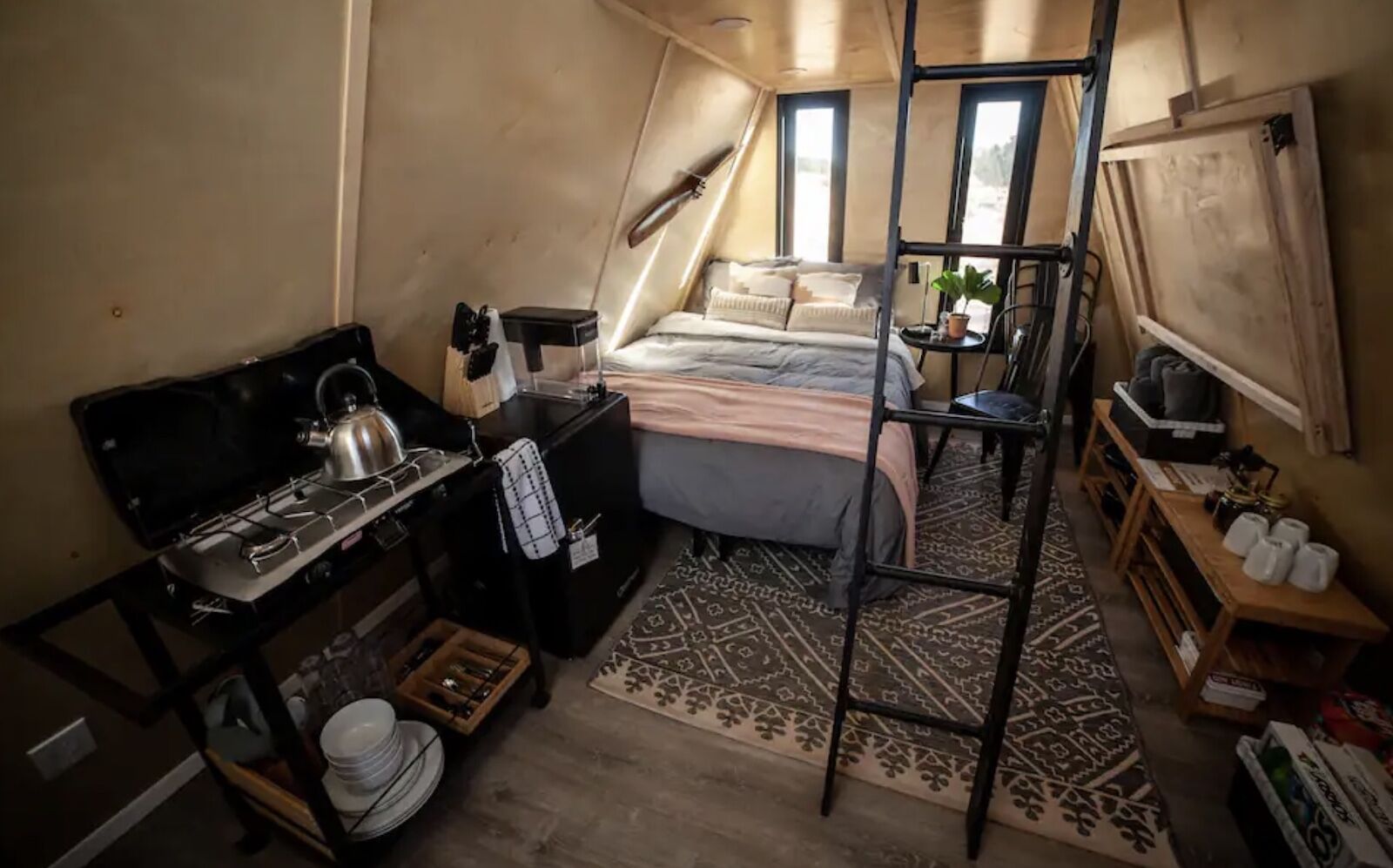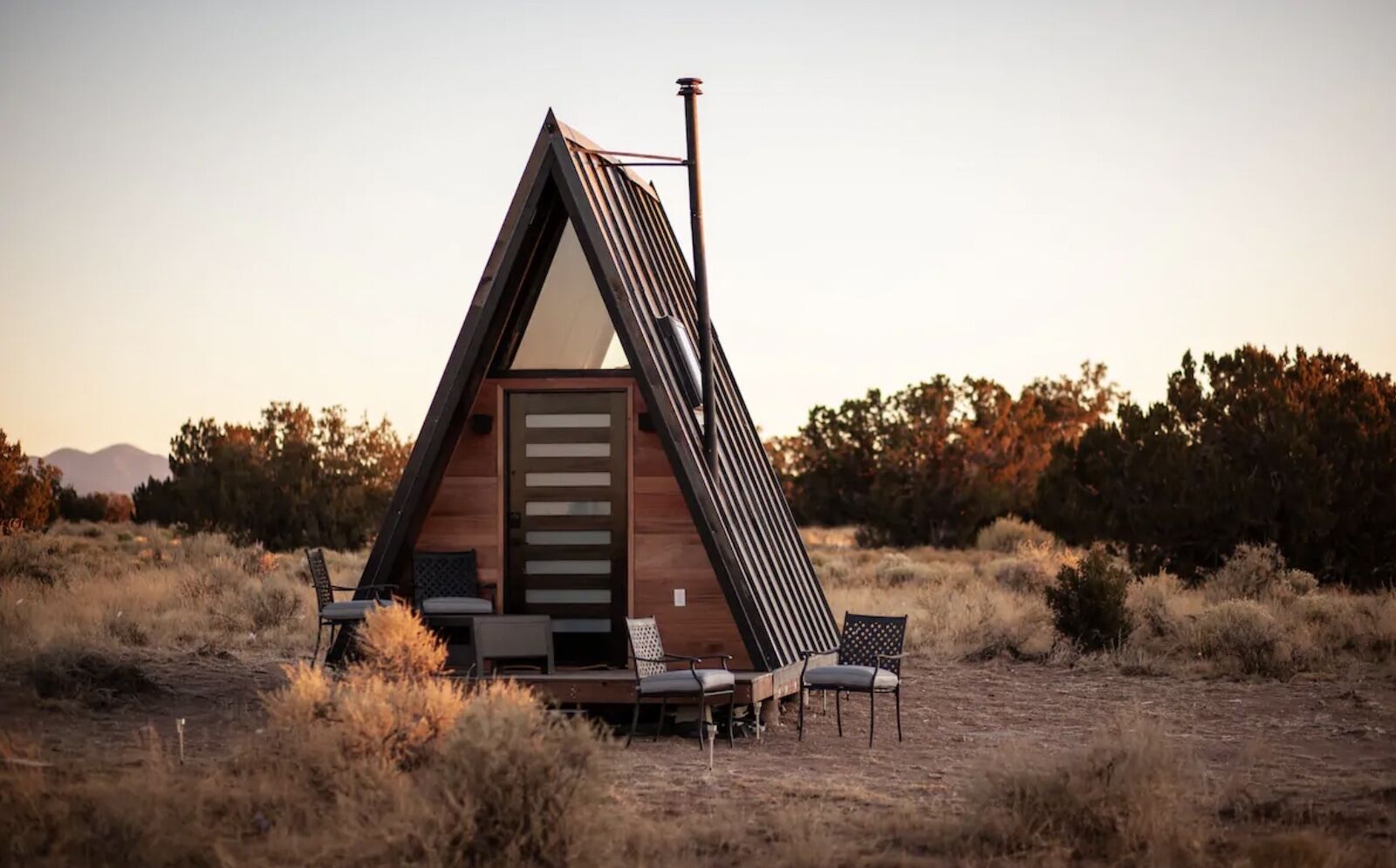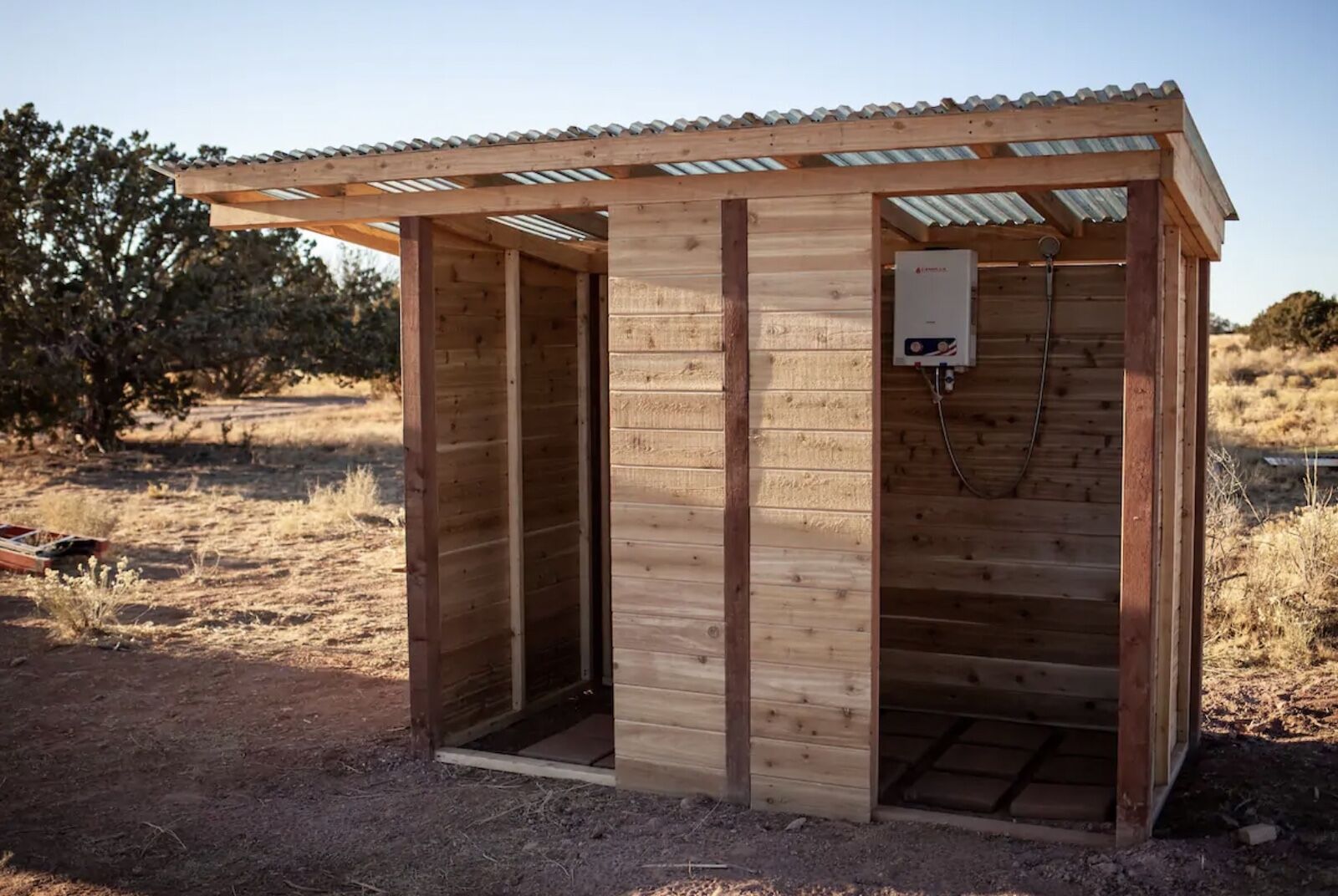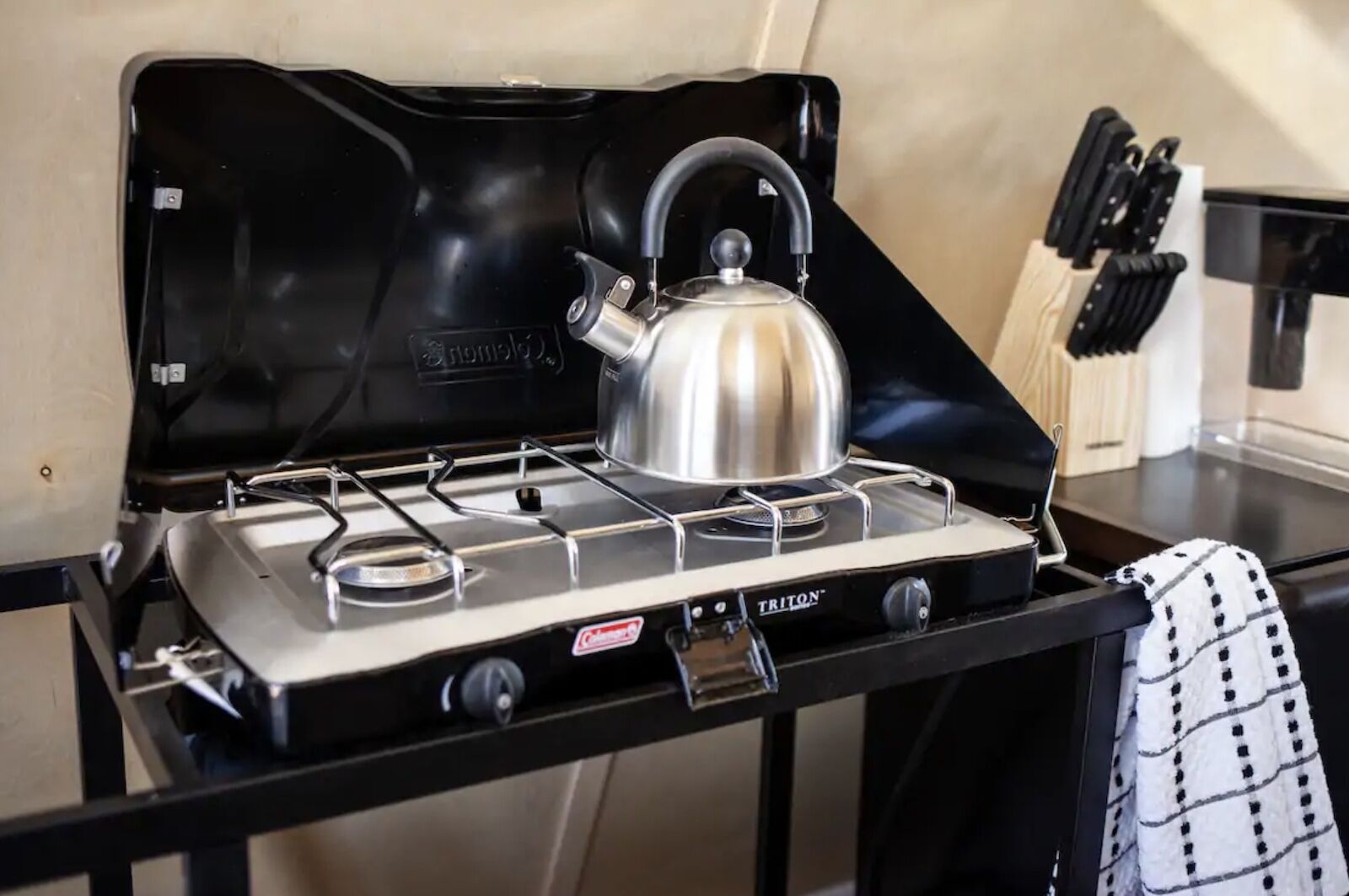 Bedrooms: studio
Sleeps: 4
Rates from: $199/night
This Grand Canyon Airbnb is tiny, but packs a lot into a small space. It's in a town Called Valle, in Arizona, and is about a 35-minute drive to the South Rim of the Grand Canyon. Like some other rentals on this list, there's no WiFi and only solar power, and there's no running water in the winter — it's off-the-grid and very out there.
But what it does have is fantastic stargazing, a cute interior with Bohemian vibes, a small cooking area with a stovetop, a box full of board games, and a wood-burning stove to keep the small space warm in winter. It also has a lofted sleeping area in case you have more than two guests.
Note that there's a full bathroom, but it's a composting toilet and solar shower, rather than an on-the-grid plumbing system.
Geodesic Glamping Dome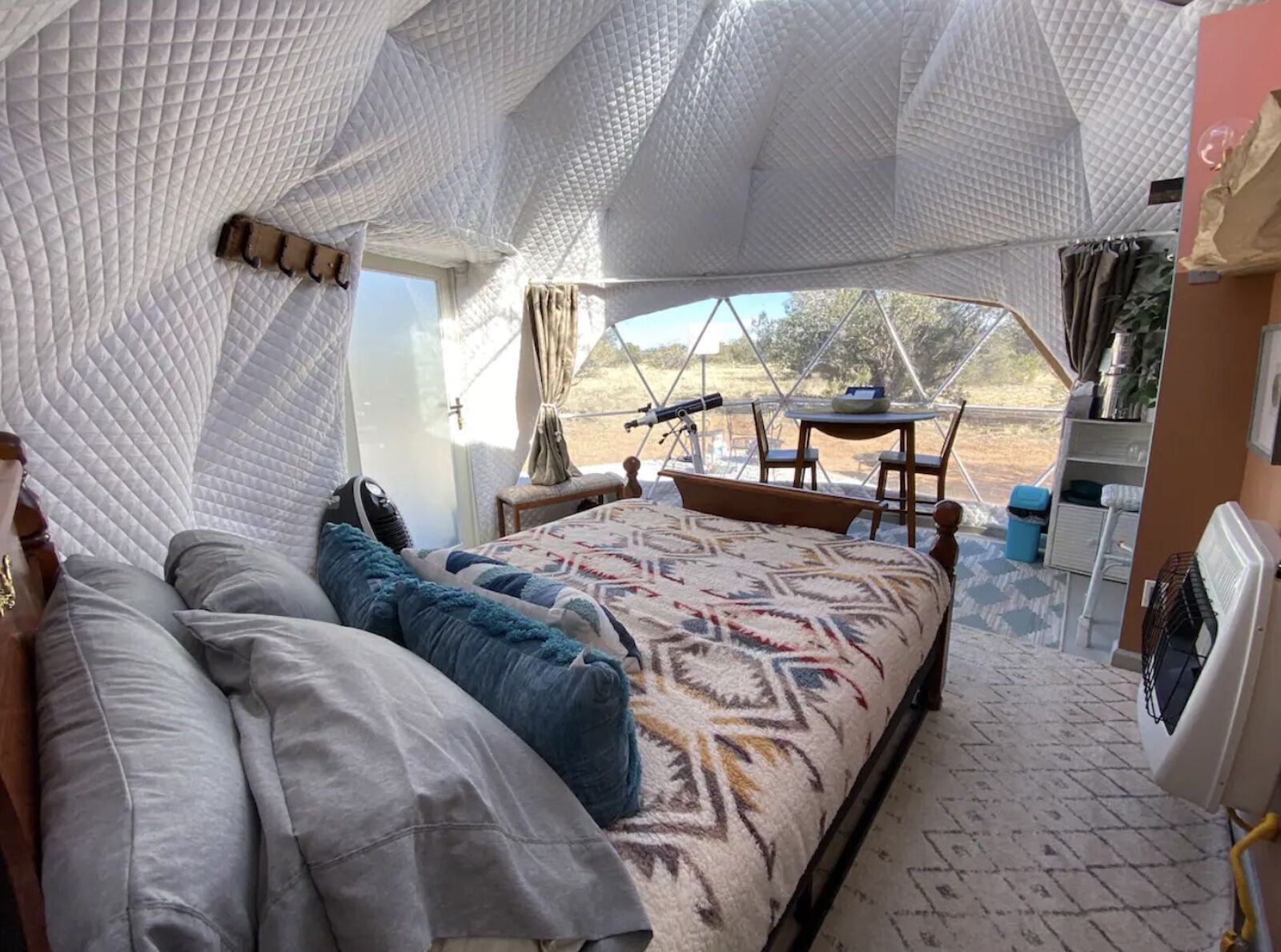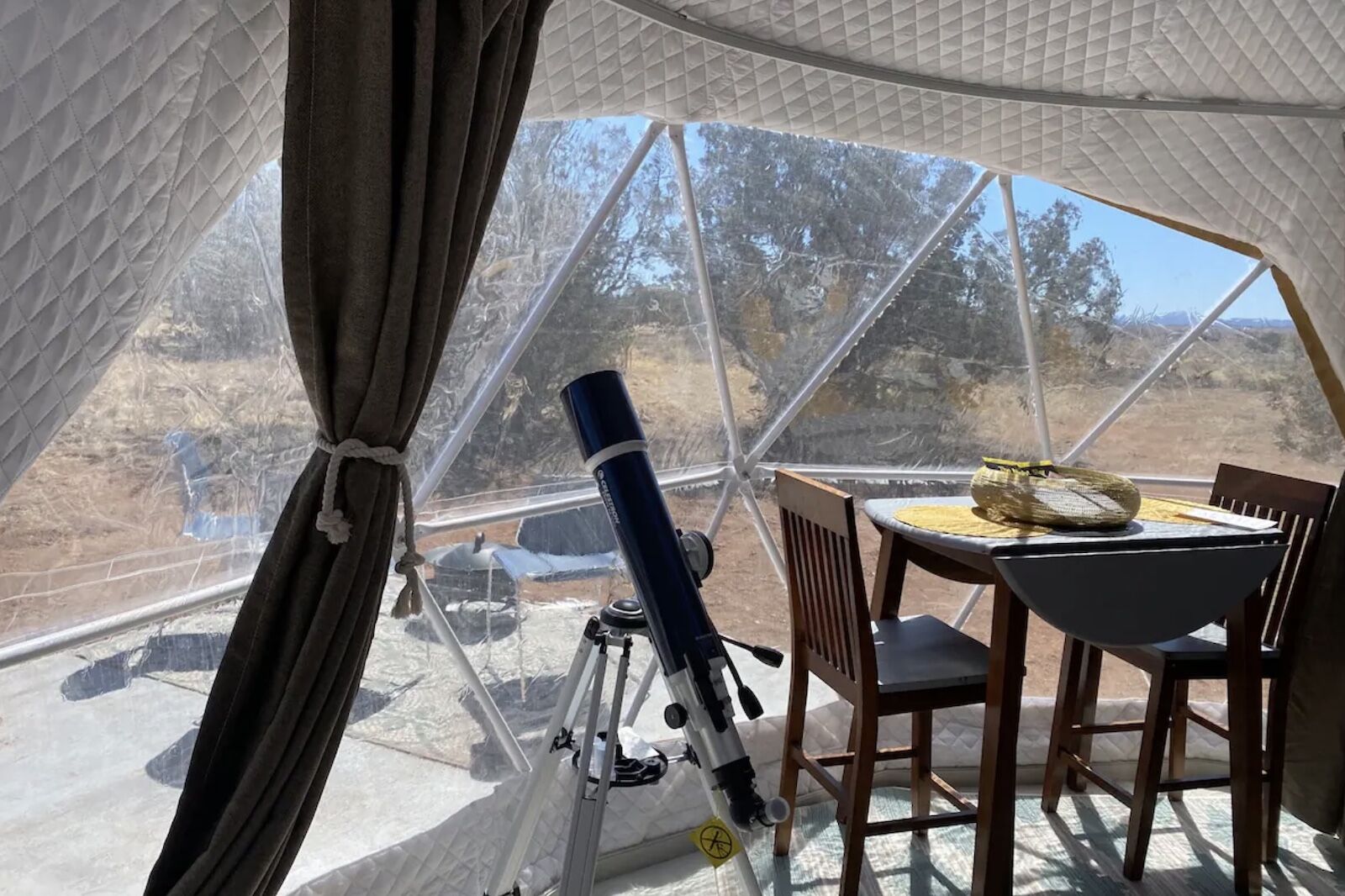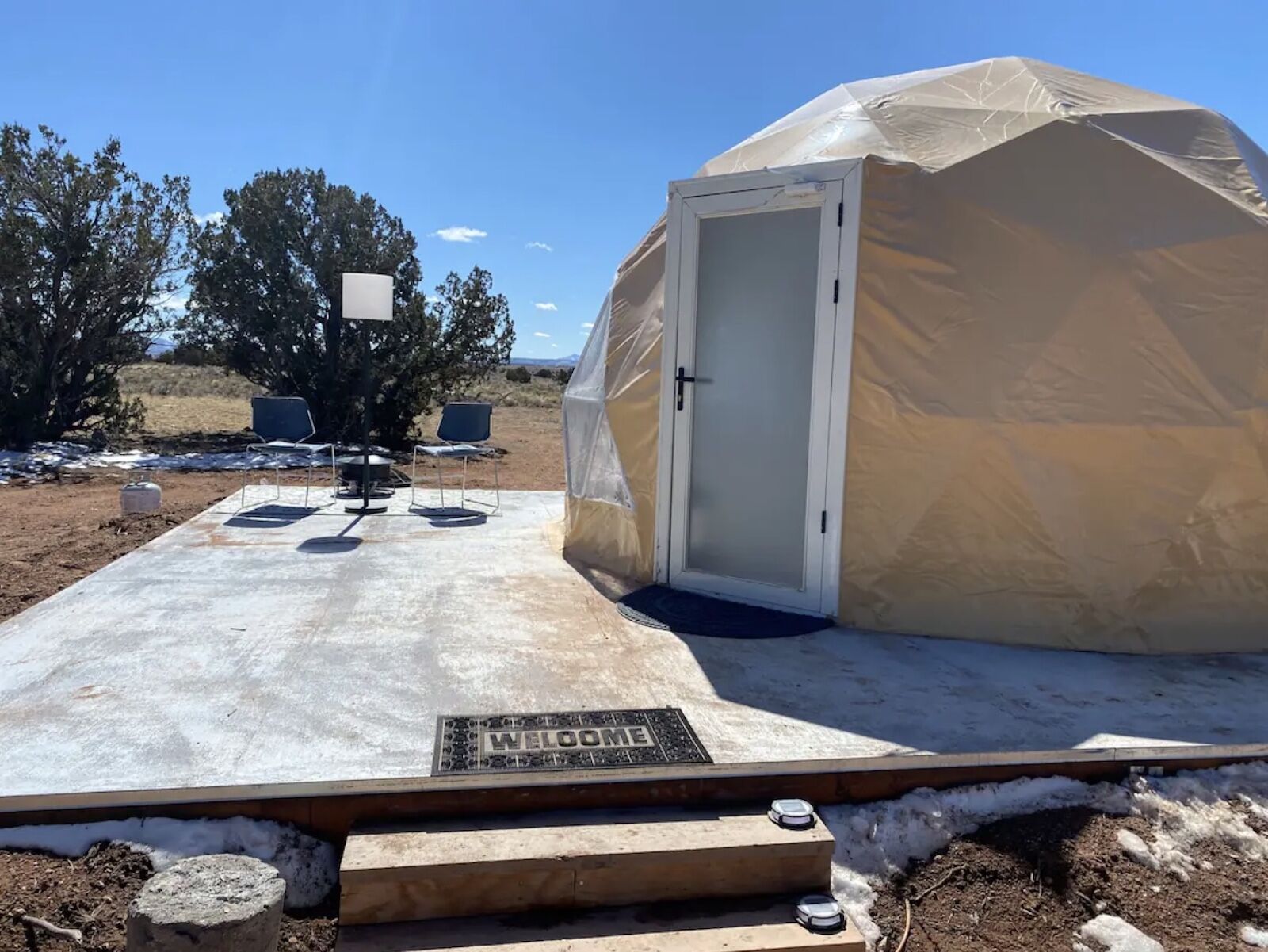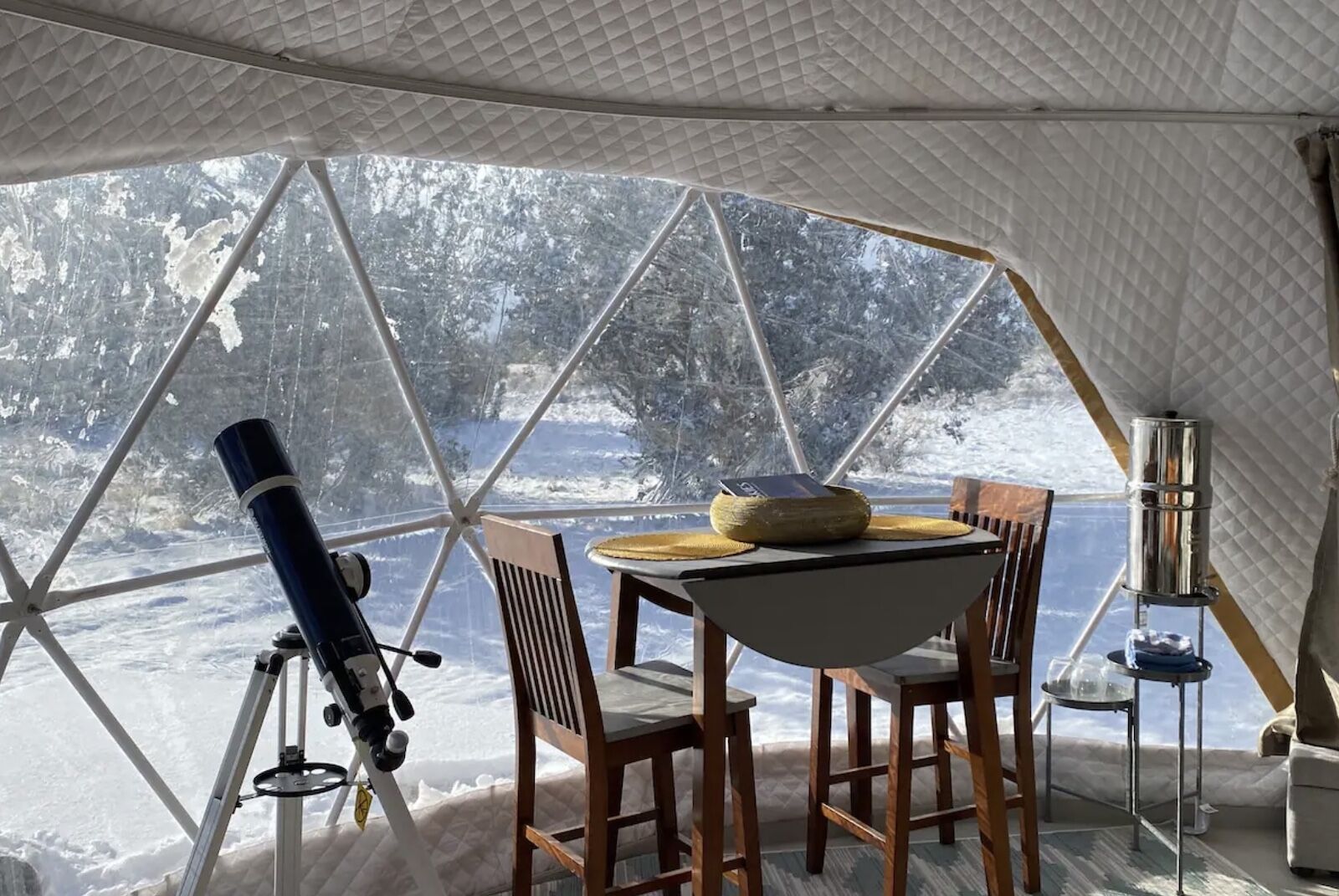 Bedrooms: studio
Sleeps: 2
Rates from: $250/night
If you're very into the idea of camping in the desert but don't feel like bringing your own tent — and also want something a bit more comfortable — check out this bubble tent in the town of Grand Canyon Junction. The large dome runs on solar power but has both heat and air conditioning, as well as plugs for charging small devices like phones. Inside, there's a cozy bed and seating near the clear dome wall, which means you'll have beautiful desert views during the day and great stargazing at night.
Renters get an indoor bathroom, an outdoor living area, and amenities like a high-powered telescope and a clear skylight directly over the bed. This is a year-round Grand Canyon Airbnb, but note that it can get a bit cold in the winter — it's the high desert, after all.
Grand Canyon West Glamping Tent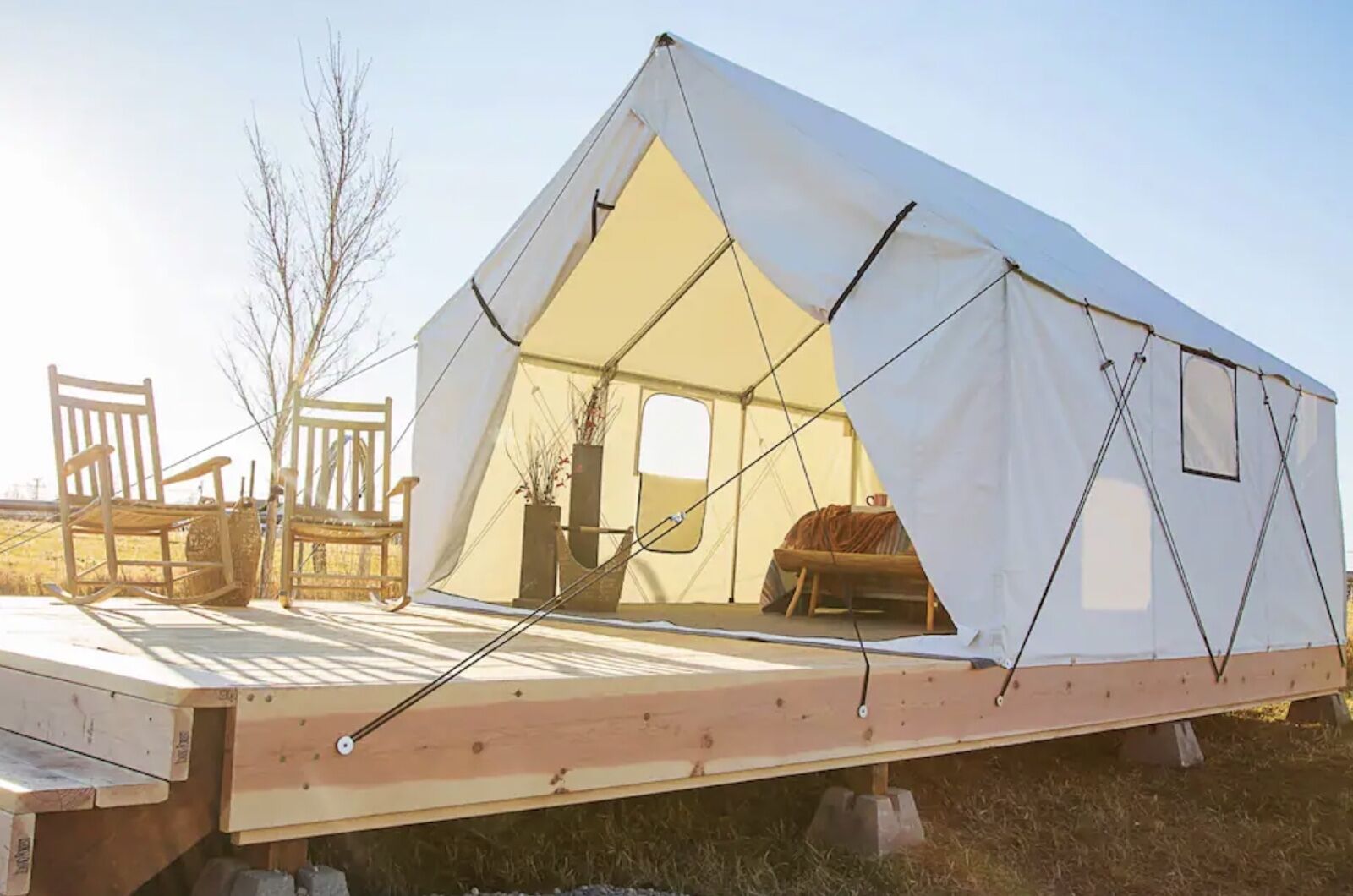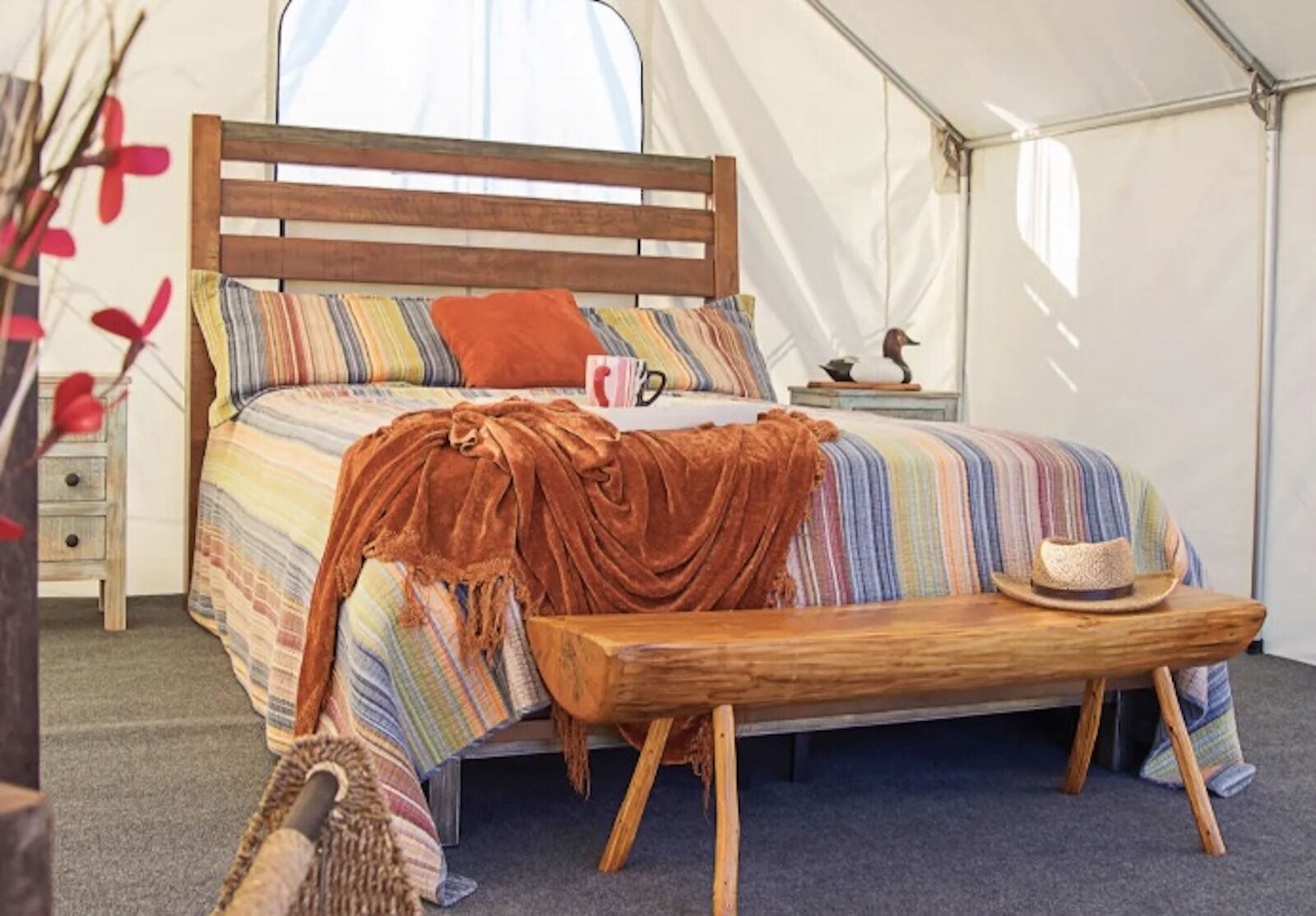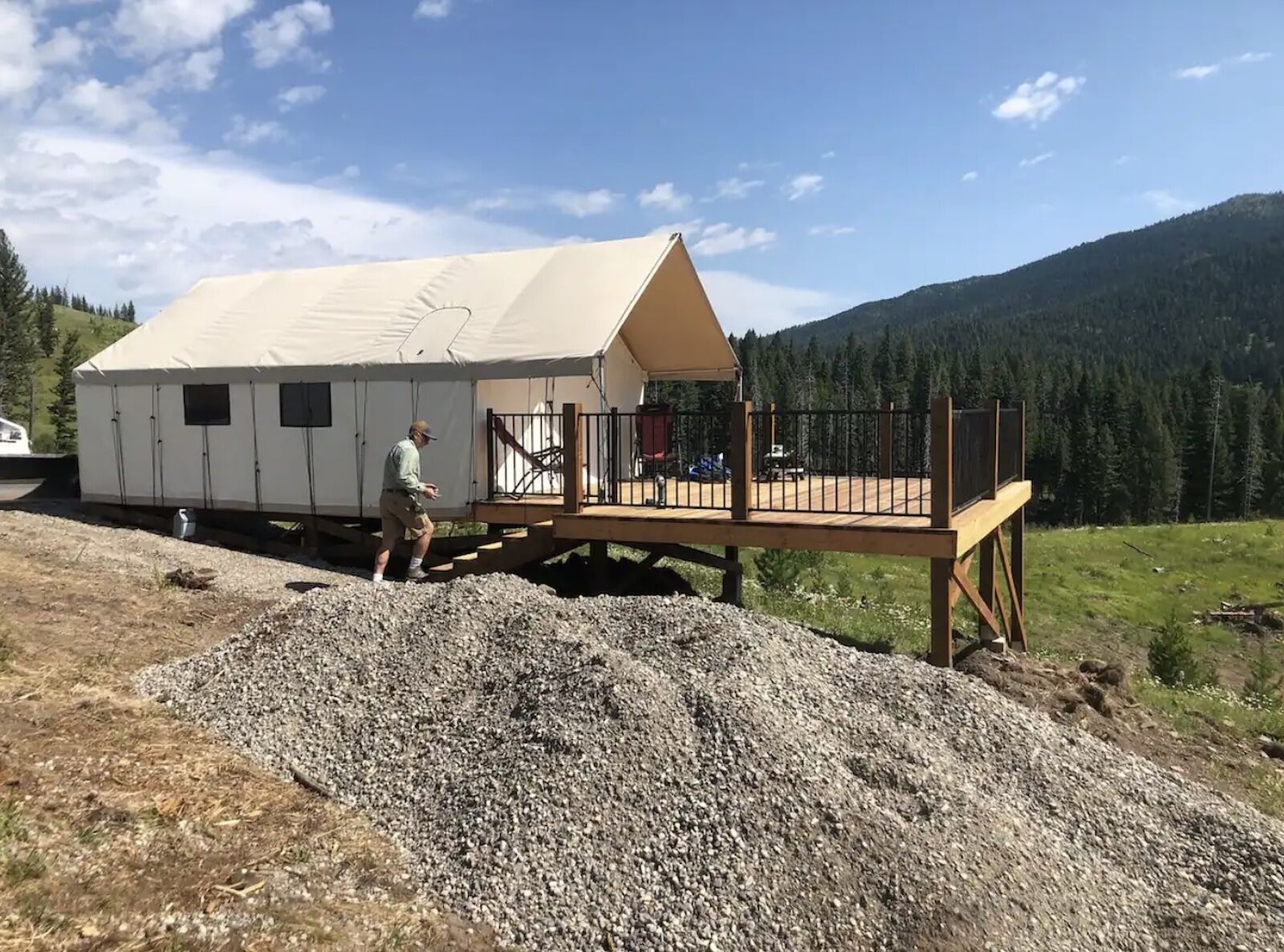 Bedrooms: studio
Sleeps: 2
Rates from: $250/night
Travelers headed to Grand Canyon West looking for a unique stay may want to consider this cute glamping tent near the SkyWalk. It's on a raised platform with a cozy bed and tents have air conditioning, heating, and WiFi. Beds can be kept together for couples or separated for single travelers, and there are showers and a shared bathroom close to each cabin.
This is a newly constructed rental, so don't be alarmed by the lack of reviews.
Grand Canyon Bungalow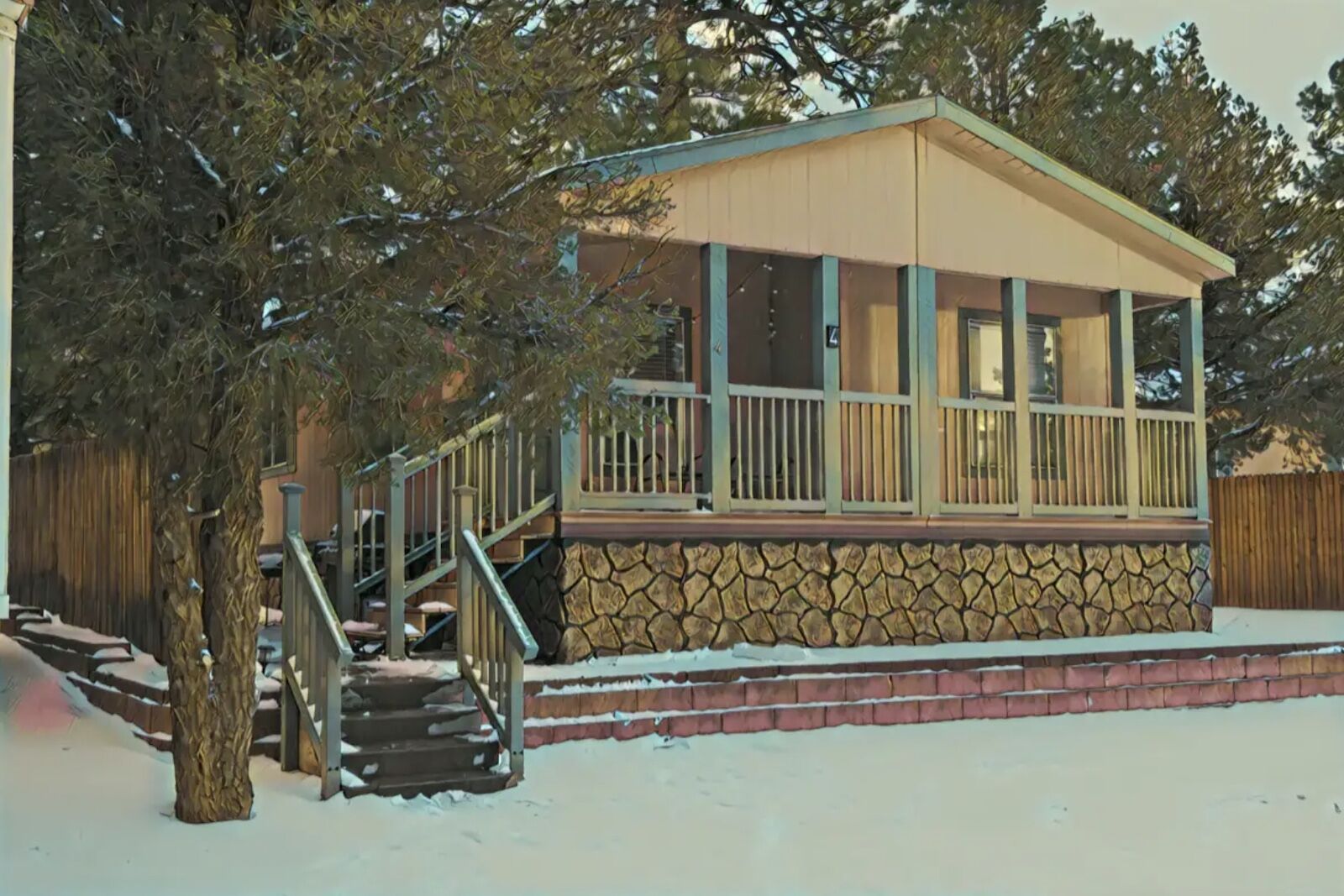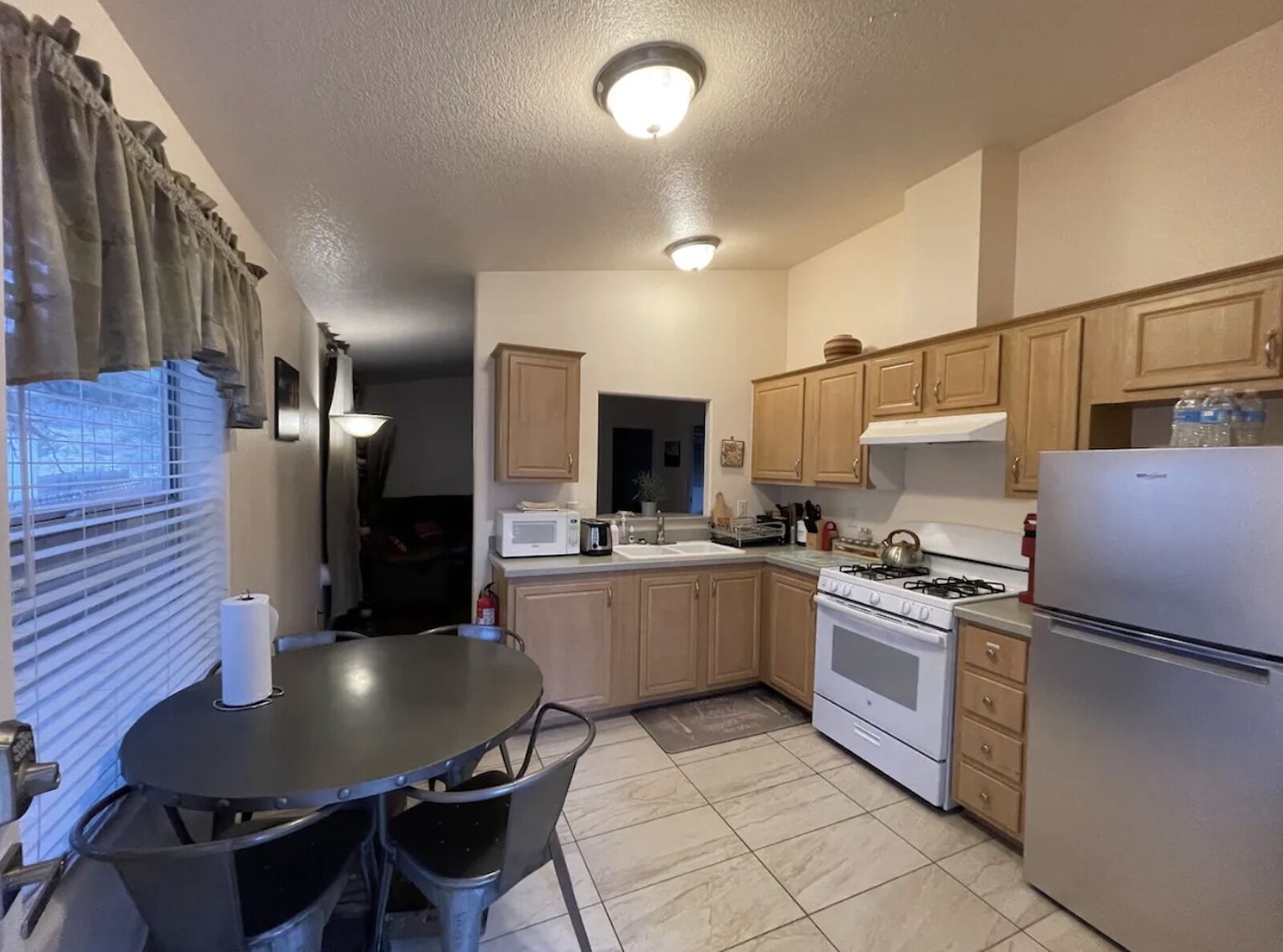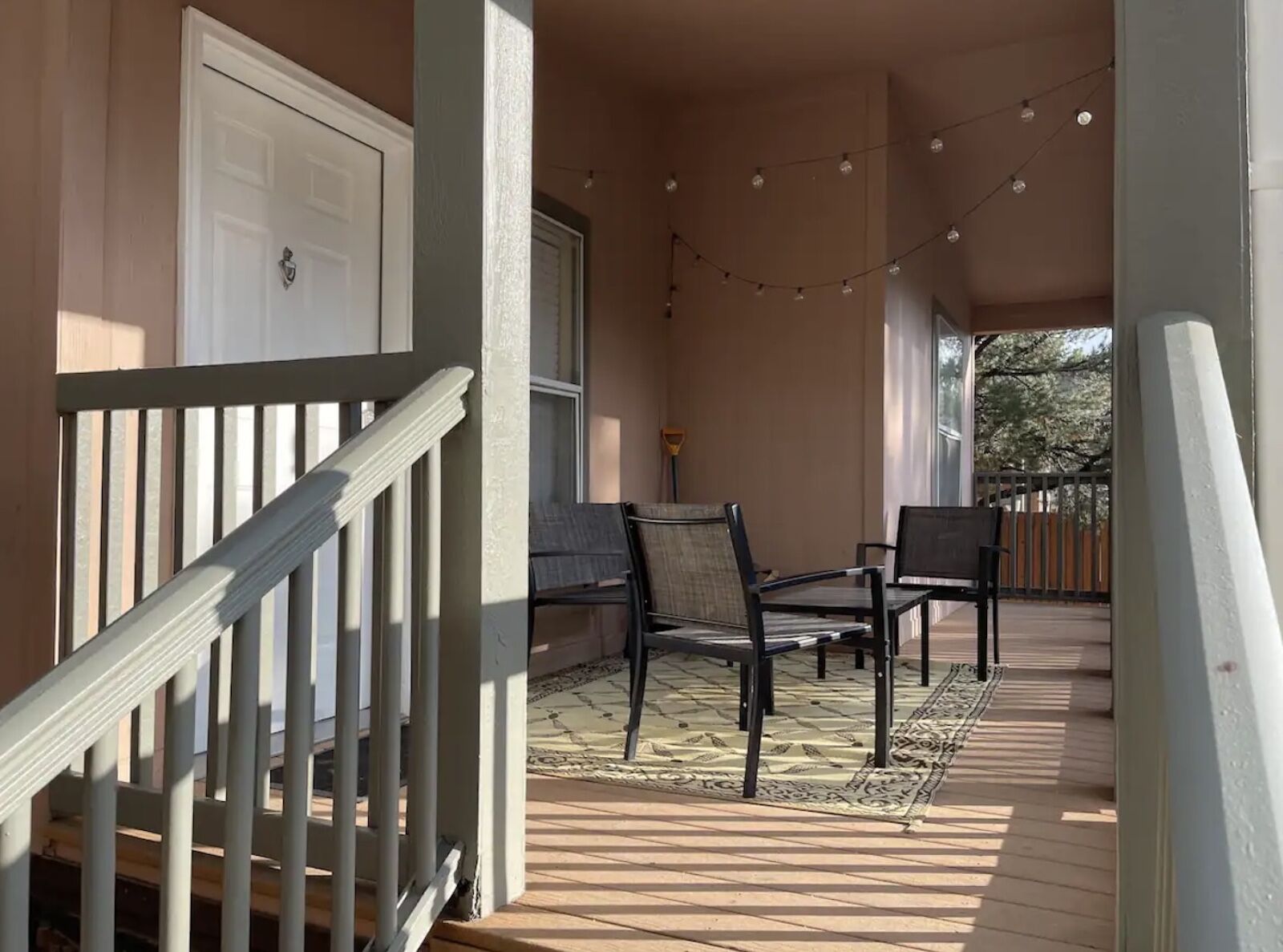 Bedrooms: 3
Sleeps: 6
Rates from: $270/night
This may be the closest Airbnb to Grand Canyon National Park at just 1.25 miles to the South Rim. It's a cabin in the middle of Kaibab National Forest, so it's an ideal pick for visitors who plan to go hiking both inside and outside the park during their stays.
The owners are upfront with pointing out that this is an older cabin, but it has the basics most people will need, even if it's not a stylish "Airbnb Plus" property. There's a full kitchen, three bedrooms (one with twin beds), and two full bathrooms, plus a small porch area. The owners have a few bungalows nearby, so large groups could rent two and accommodate the whole gang. The home has all the amenities you'd want, though it's worth noting that the WiFi and satellite TV may go out during strong storms.
How big is the Grand Canyon?
The Grand Canyon covers an area of 1,217,262 acres with a volume of approximately 5.45 trillion cubic yards. The Canyon's deepest point is 7,000 feet below the rim, and it's 18 miles wide by 277 miles long. It was carved by the Colorado River and is believed to be around six million years old. It's hard to describe how big the Grand Canyon is, but if you tried to fill it one Olympic-sized swimming pool at a time, you would need 1,668,000,000 pools.
How far is Las Vegas from the Grand Canyon?
The distance between Las Vegas and the Grand Canyon varies depending on which rim of the canyon you're headed to. The West Rim, which is home to the popular tourist attraction of the Skywalk, is the closest to Las Vegas 128 miles, or 2.5 hours. The South Rim, which is the most popular and visited side of the canyon, is about 277 miles from Las Vegas, and takes about 4.5 hours. If you're headed to the North Rim, which is only open from mid-May to mid-October, the drive will also take around 4.5 hours, but of course, you'll be taking a different route.
What city is the Grand Canyon in?
The Grand Canyon is in northern Arizona, and since it's part of Grand Canyon National Park (duh), it's not really in a city. But the park is about 60 miles north of Flagstaff. While there are a few small towns surrounding the park, the closest major airport to the Grand Canyon is Las Vegas. Lots of visitors also stay in Williams, AZ, and take the Grand Canyon Railroad into the park.
What did you think of this story?