11 Jackson Hole Airbnb Vacation Rentals Perfect for Your Next Trip
Mountains, mountains, mountains: whether you're looking to ski, hike, or simply swoon at snow-capped peaks, Jackson Hole WY is the place to go. Staying downtown hands you the opportunity to hit up museums and galleries while Grand Teton National Park is a short drive north. Choose an Airbnb Jackson Hole for your base to experience home comforts with a luxury finish.
We hope you love the Airbnb Jackson Hole stays we recommend! Just so you know, Matador may collect a small commission from the links on this page if you decide to book a stay. Listed prices are accurate as of the time of publication.
Airbnb Jackson Hole downtown
Pearl at Jackson 302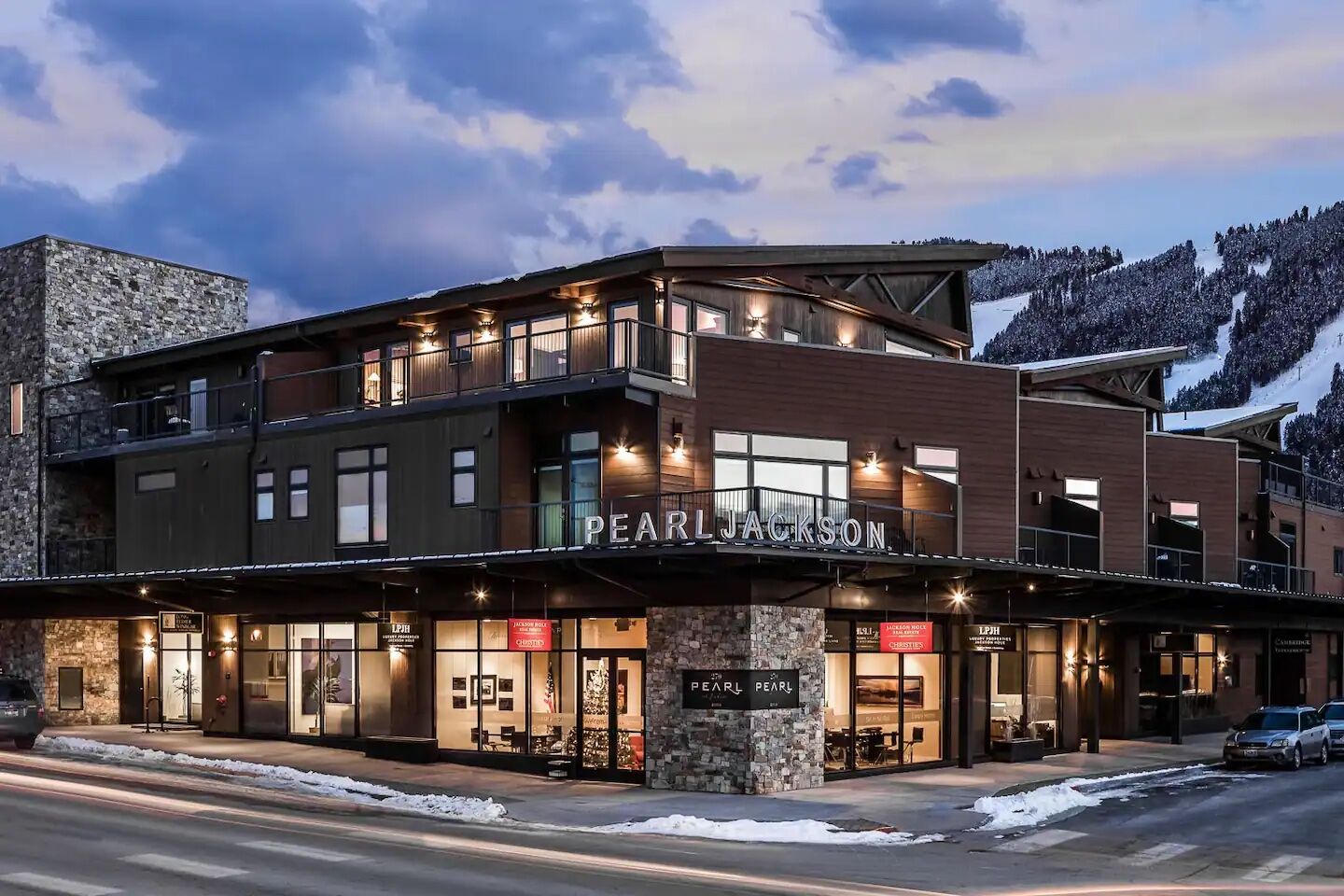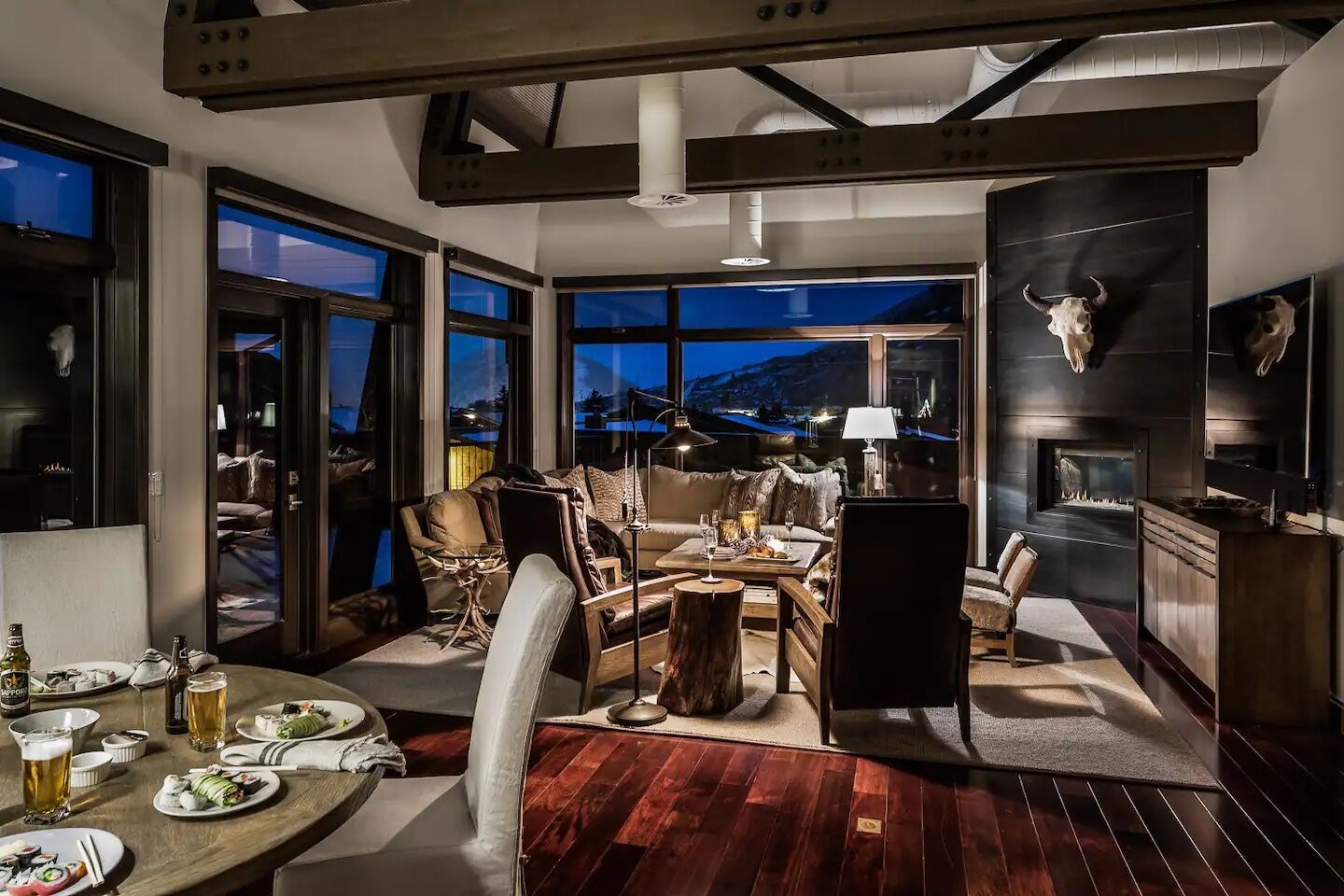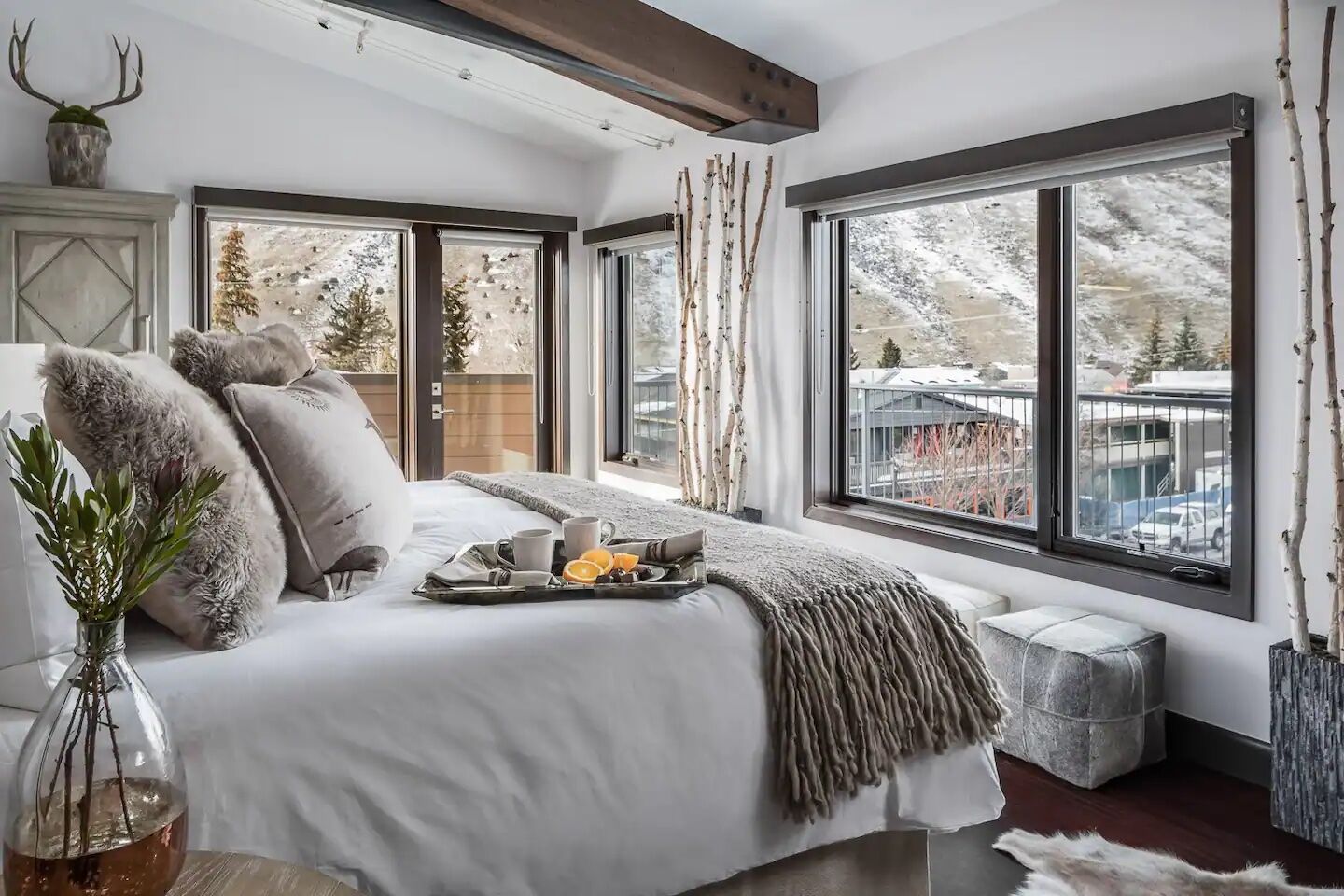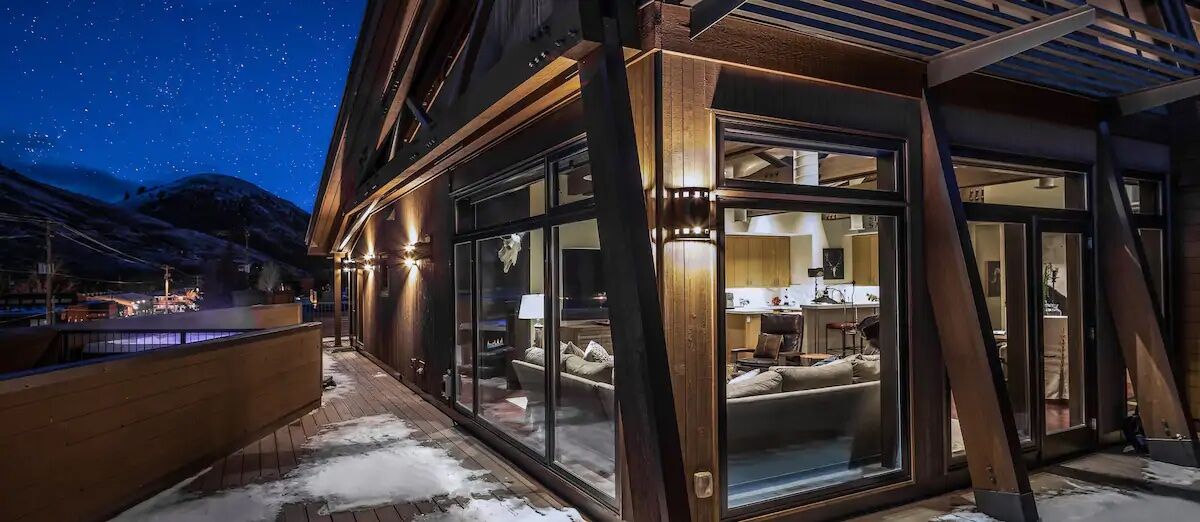 This loft-inspired Downtown Jackson Hole Airbnb with a hot tub is a dream for skiers, hikers, golfers, and those looking for a detox. Expansive windows and a private deck make it easy to lap up the mountain scenery. Luxurious bathrooms give you the feeling of having your own at-home spa with marble-clad tubs and roomy showers. All this, a mere 10 minutes from the heart of town.
Four guests, two bedrooms
Price: $1,220 per night
Penthouse on Pearl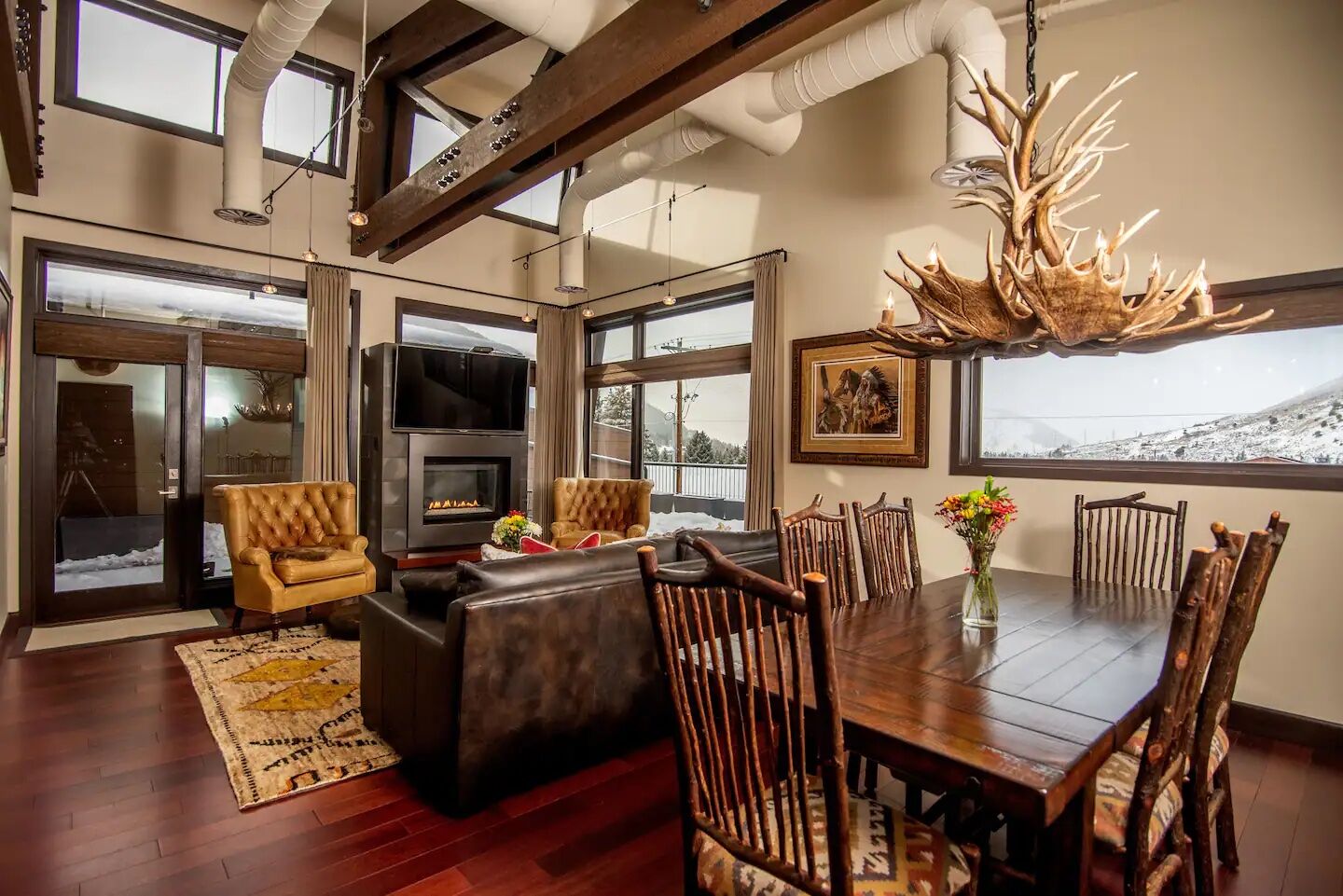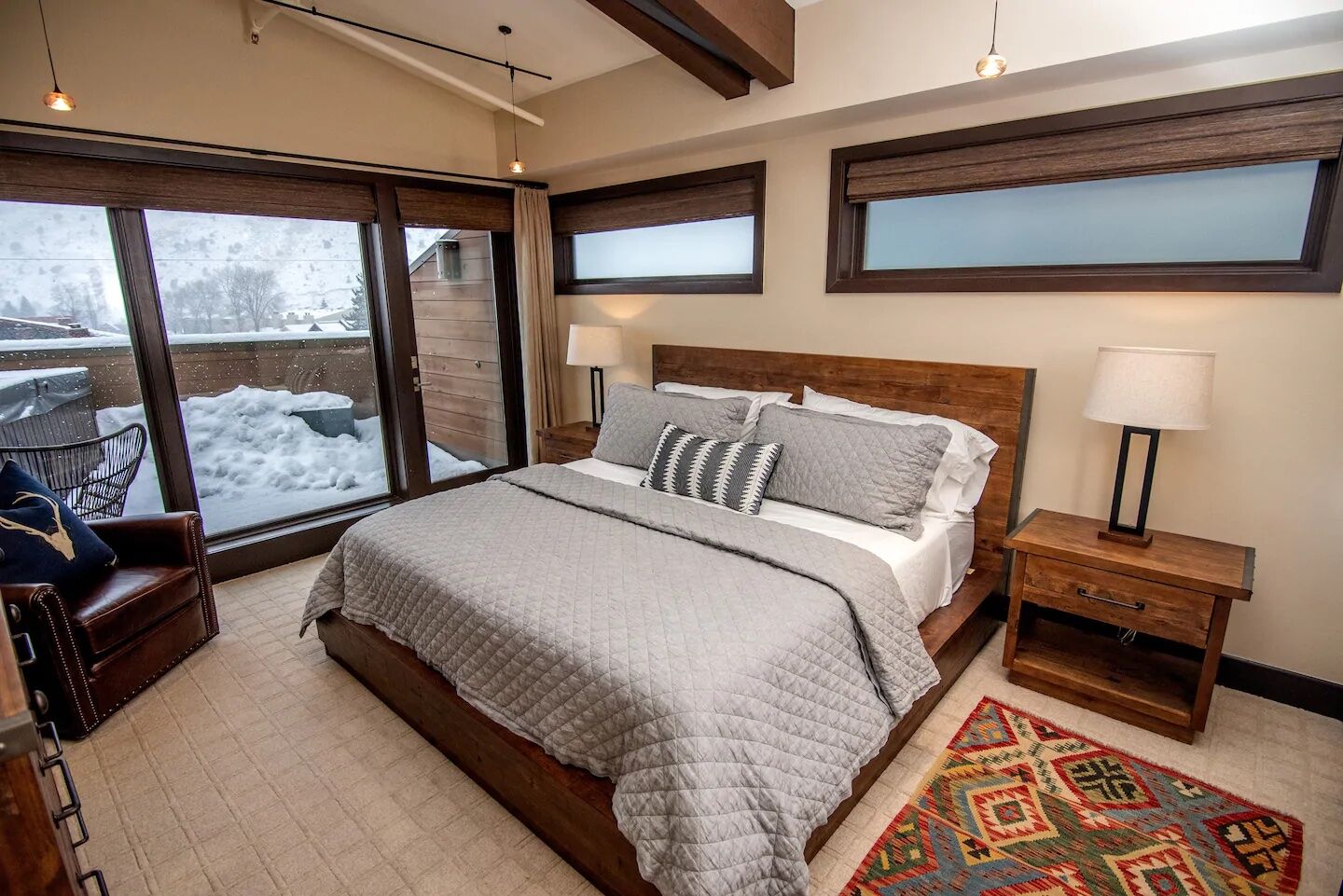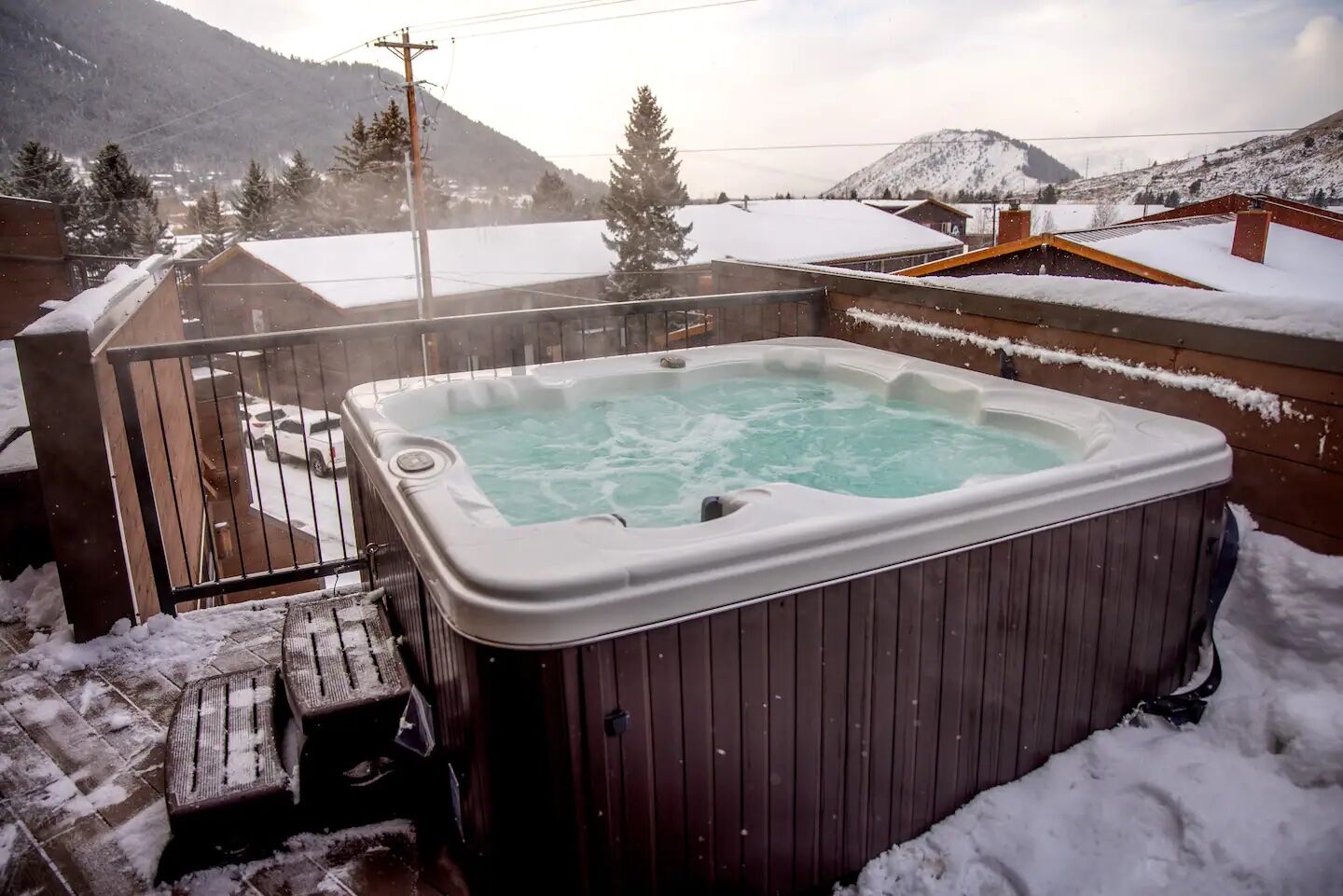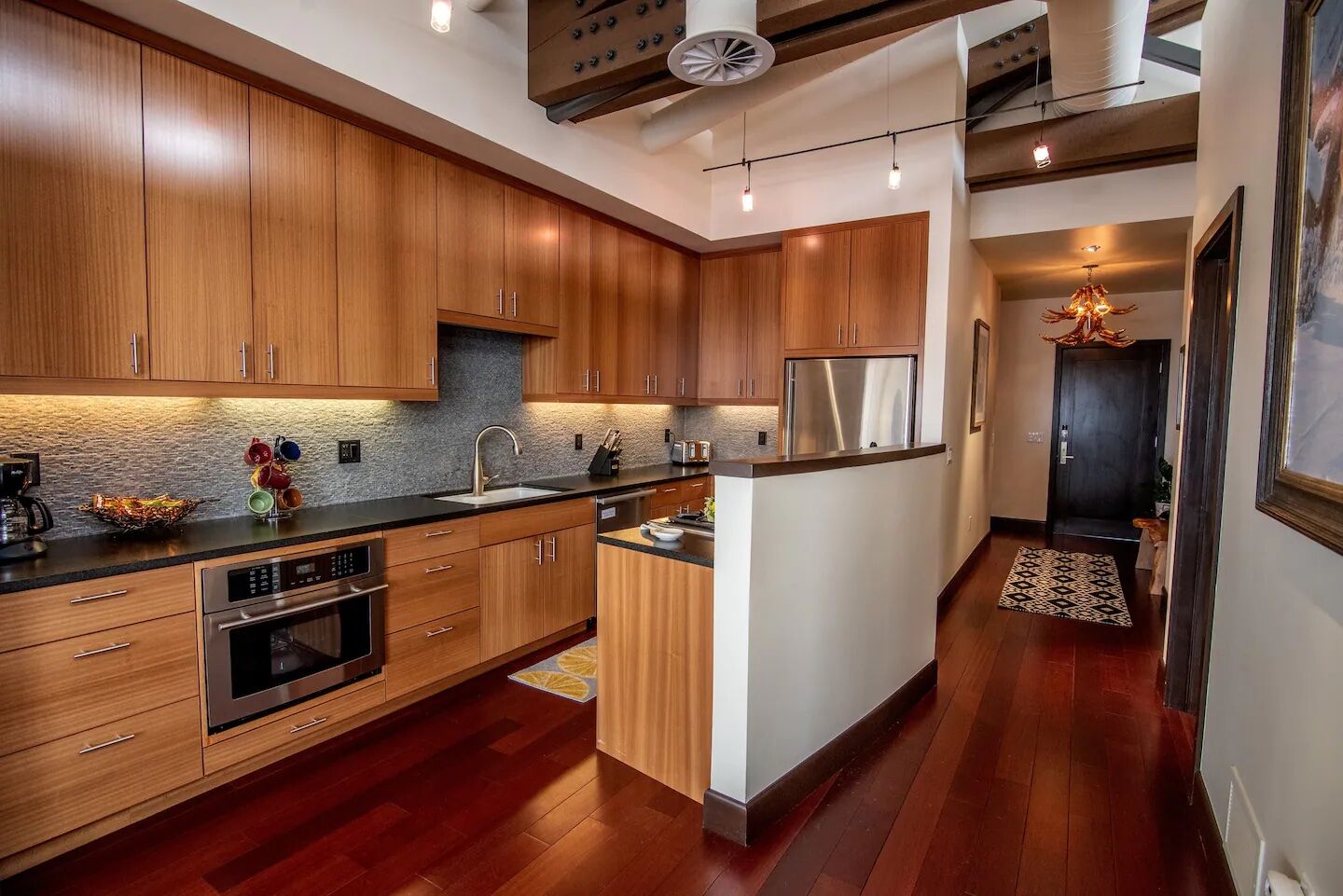 This lush three-bedroom downtown Jackson Hole vacation penthouse is perfect for families. Handsome interiors are composed of hardwood flooring, en suite bedrooms, and a gourmet kitchen. The private hot tub offers an eyeful of the mountains while the best restaurants and attractions are within walking distance. To top it all off, the driveway is heated.
Seven guests, three bedrooms
Price: $1,170 per night
One Town Hill 201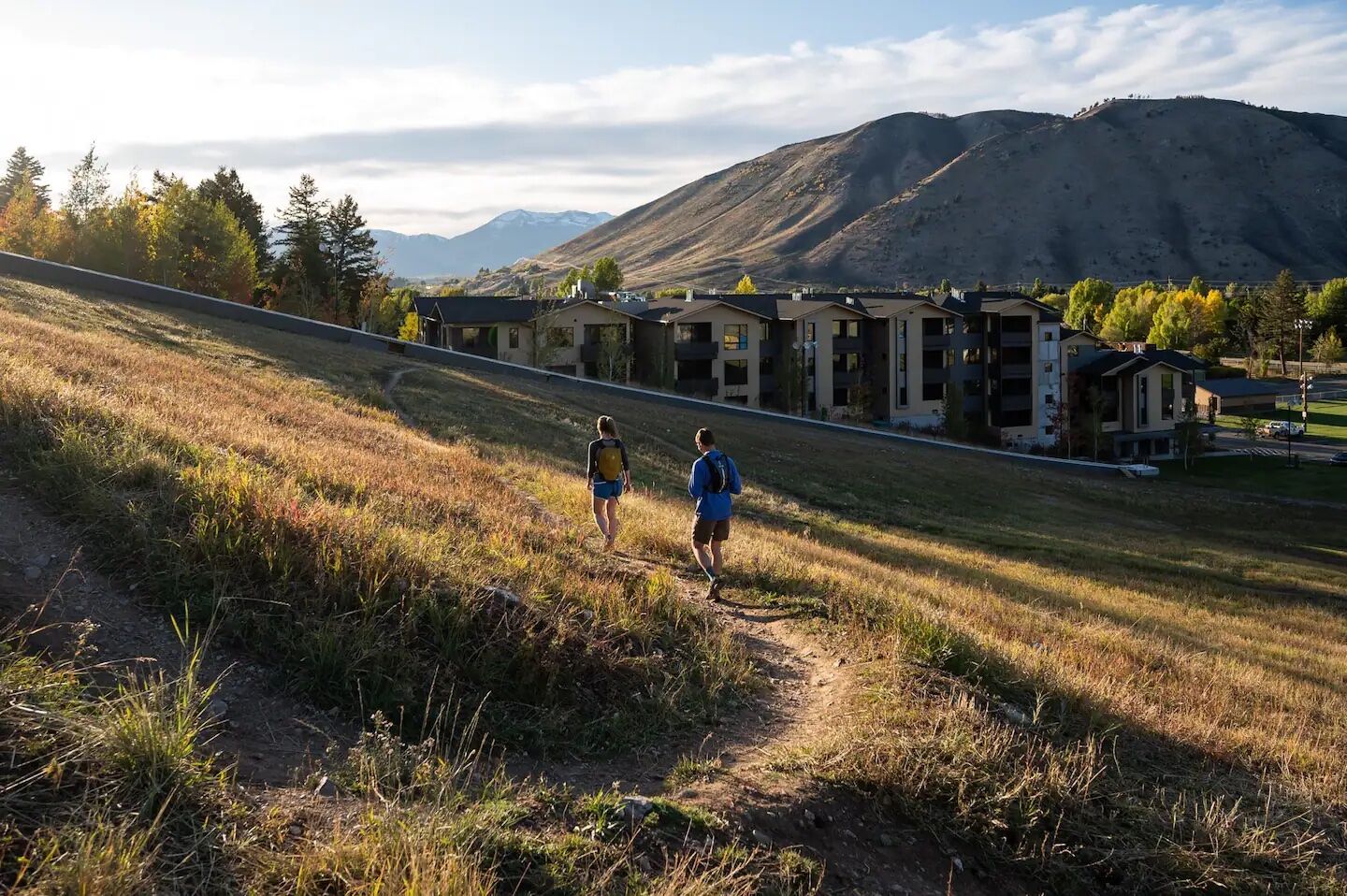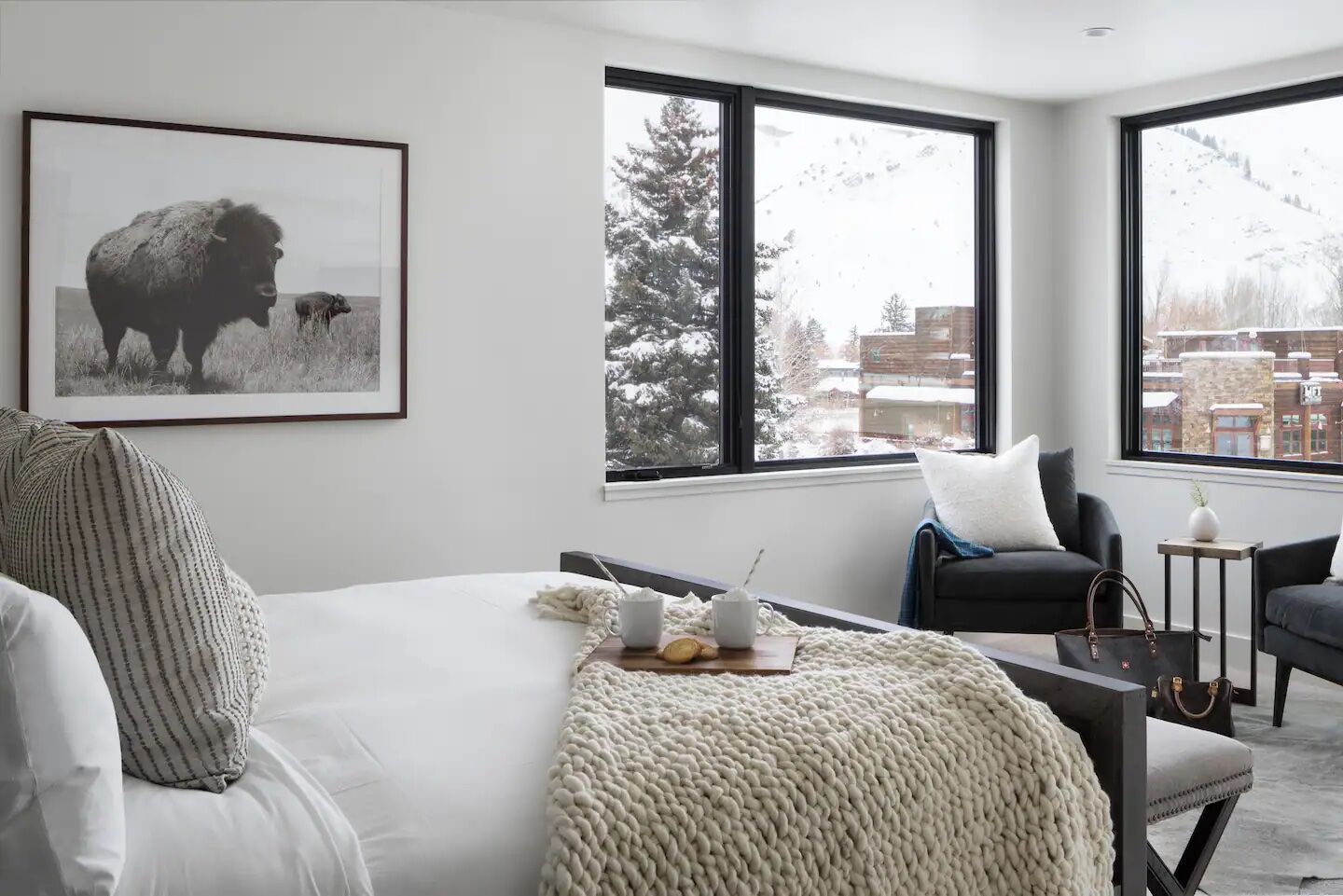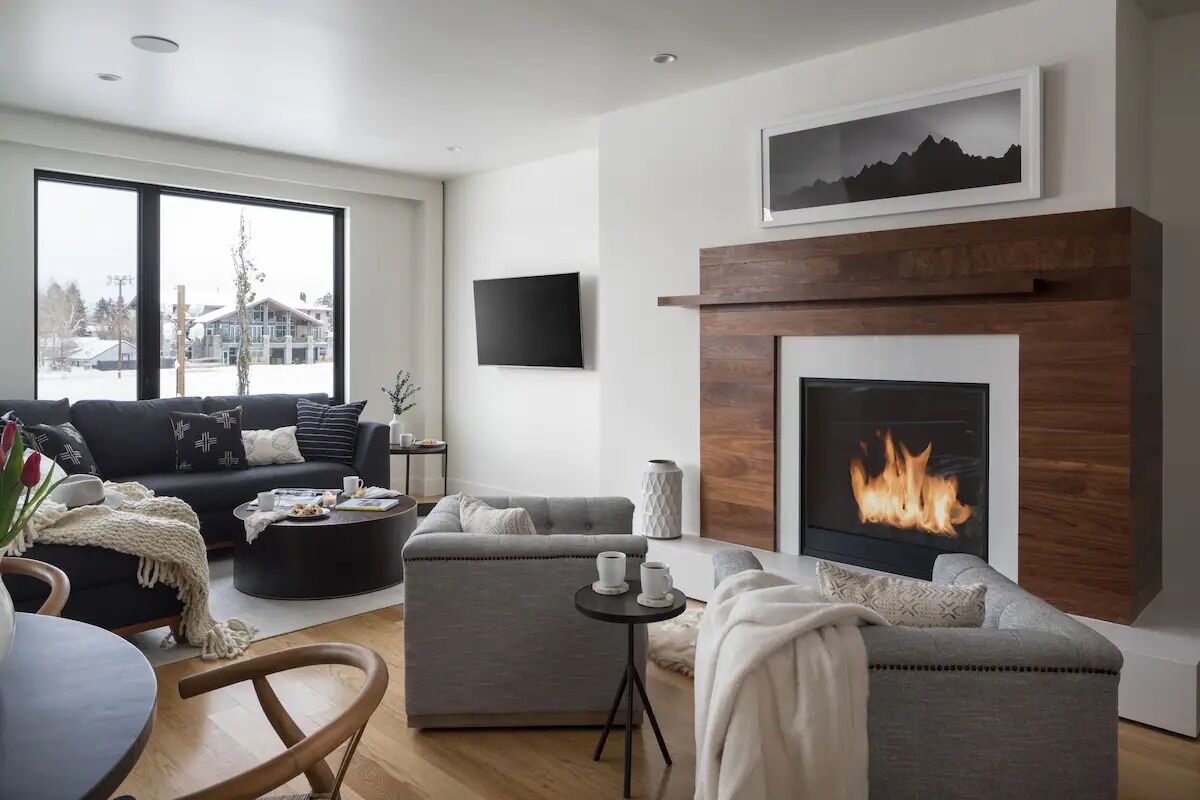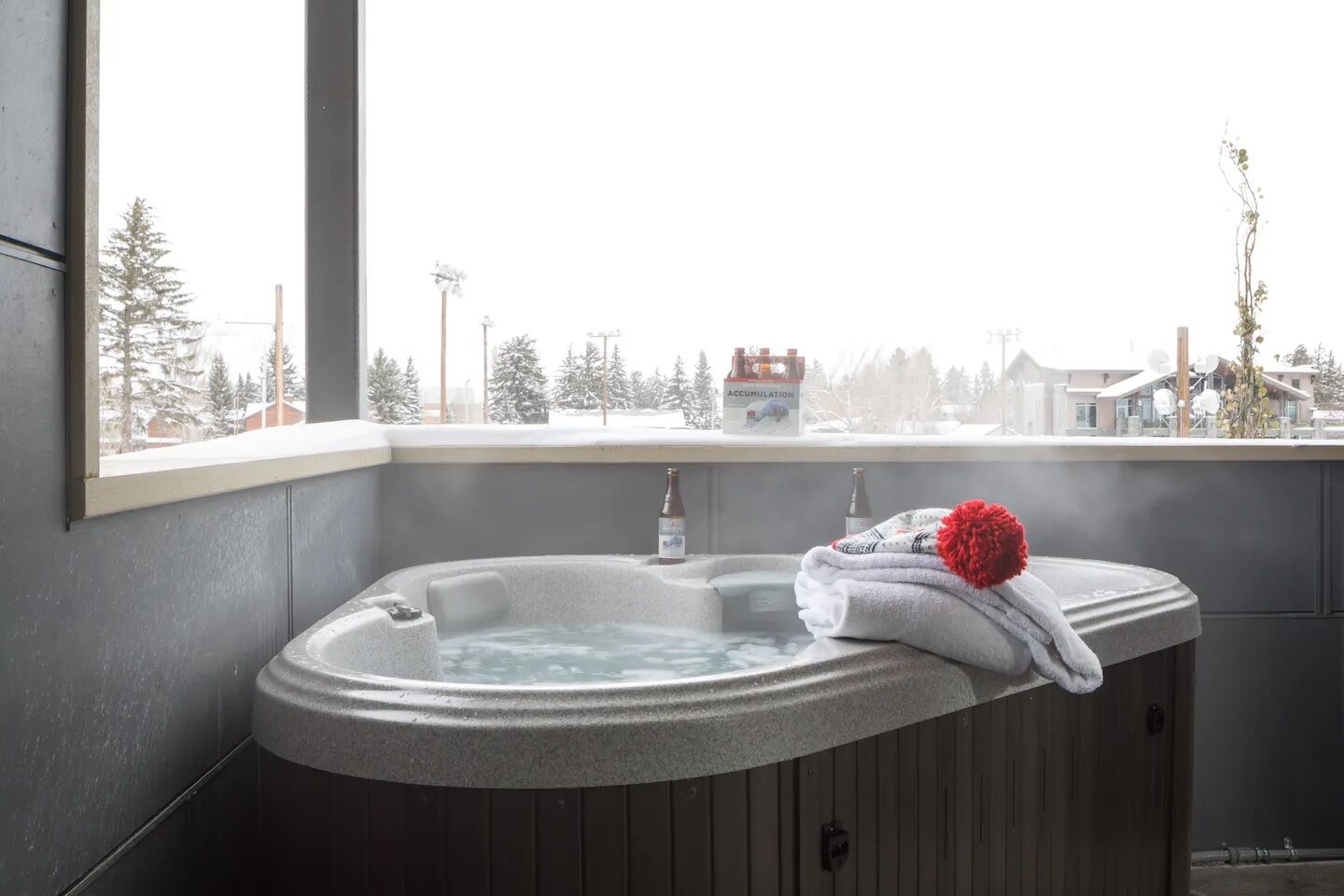 A ski-in/ski-out Jackson Hole Airbnb with a hot tub, ideal for winter visits but equally suitable for summer vacations. This contemporary condo comprises two en suite bedrooms and comes with a hot tub on the deck. A central location gives you the chance to effortlessly explore the local city sights in between mountain adventures.
Six guests, two bedrooms
Price: $1,100 per night
Building your outdoor gear setup? Check out Matador's guides to everything you need to thrive outside:
Jackson Hole Airbnb Cabins
Luxe penthouse with mountain views & private hot tub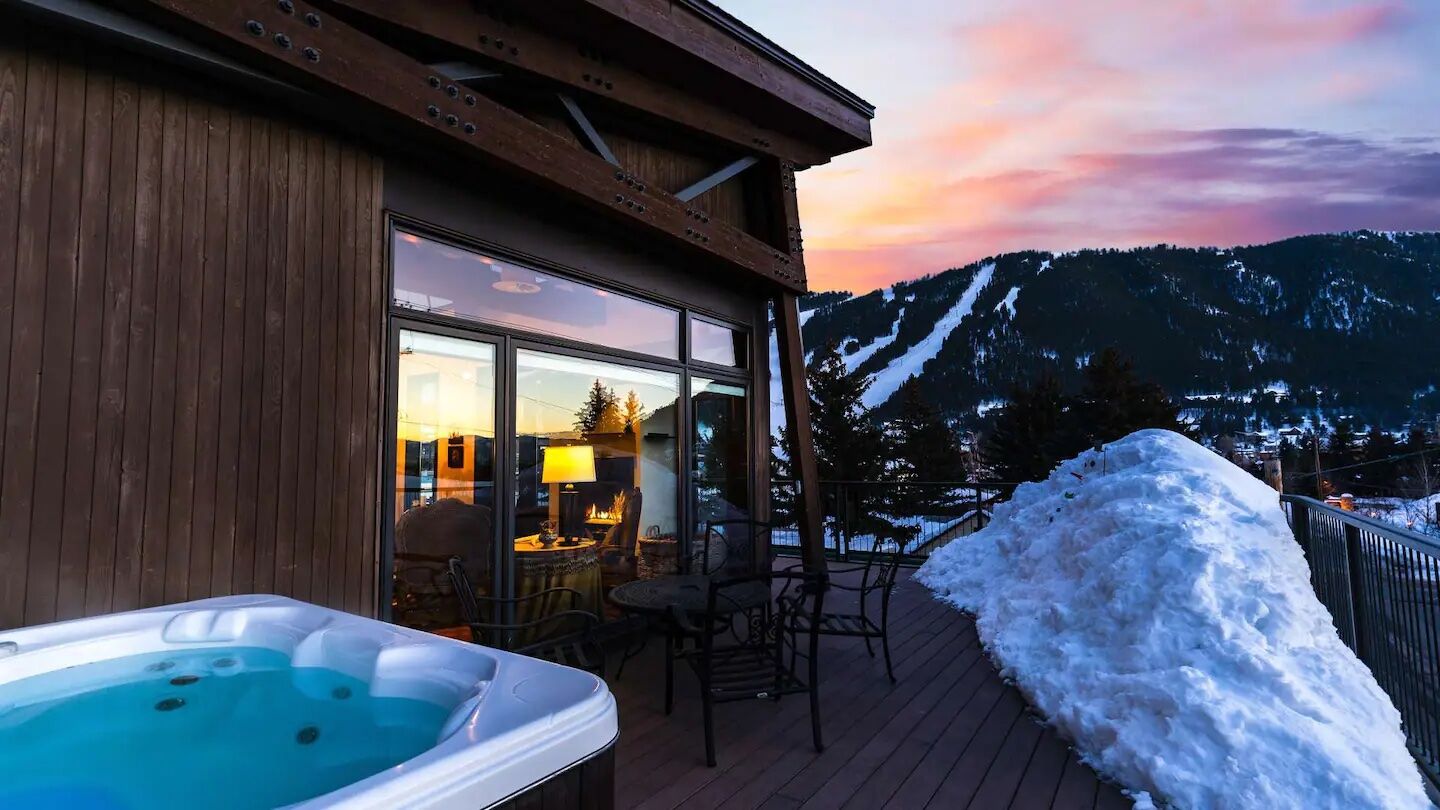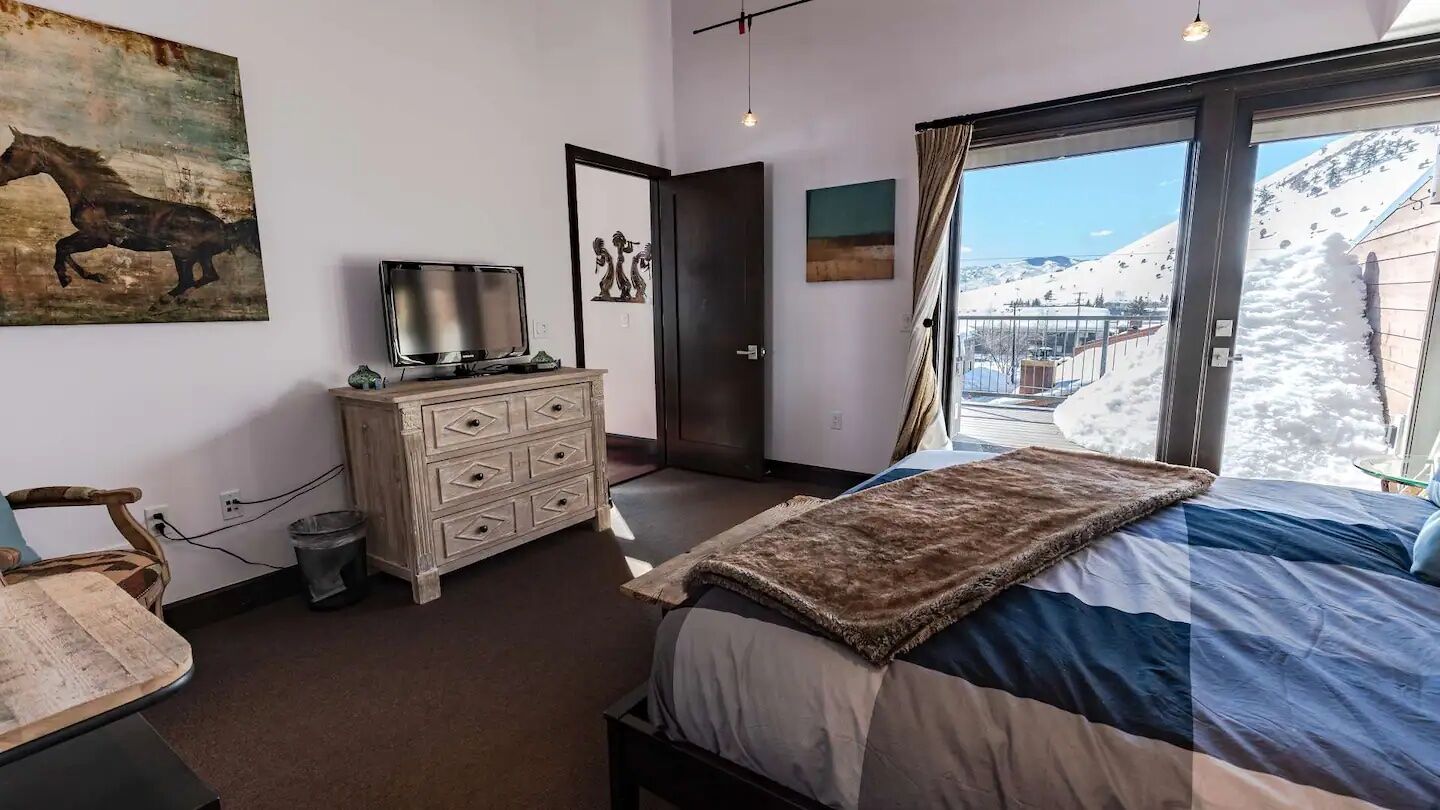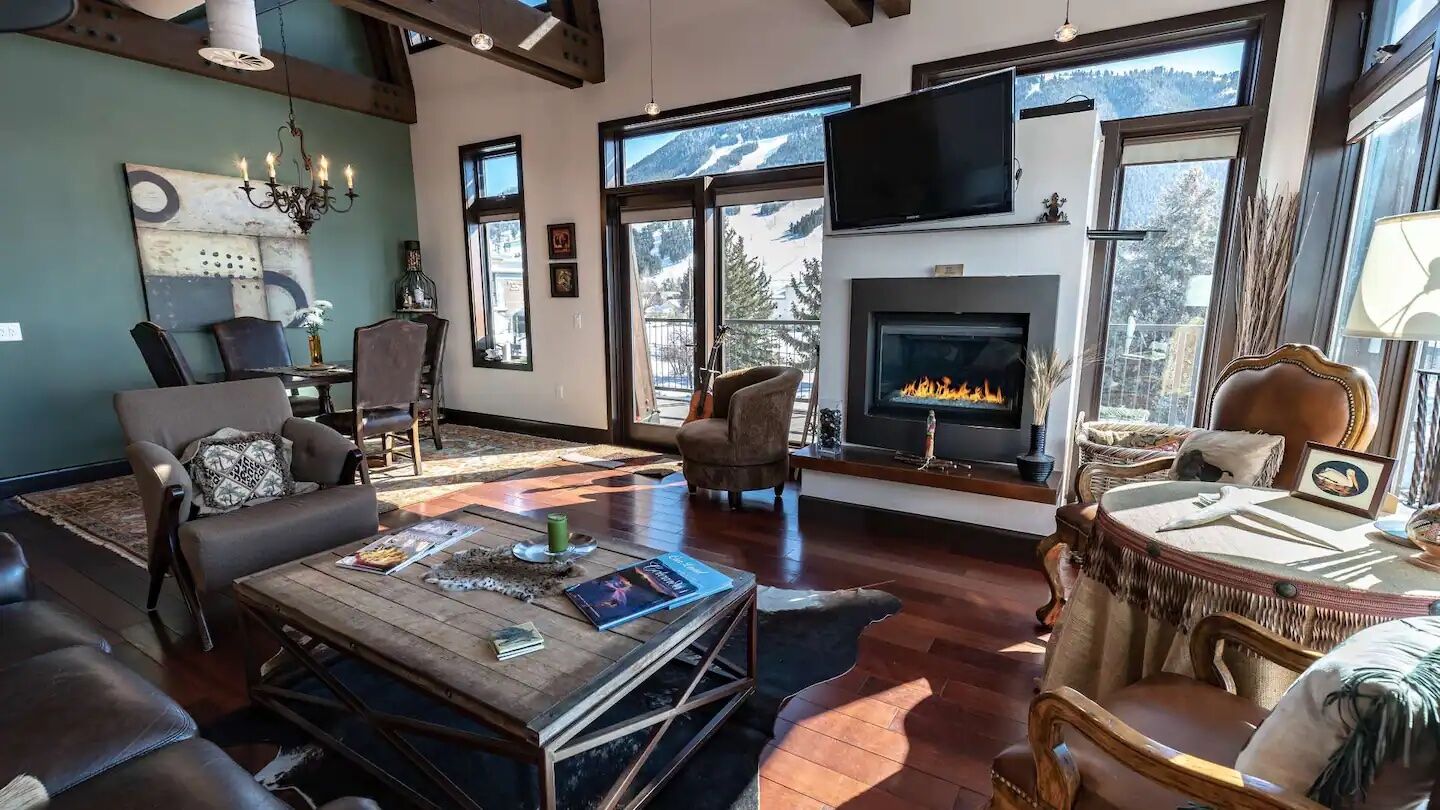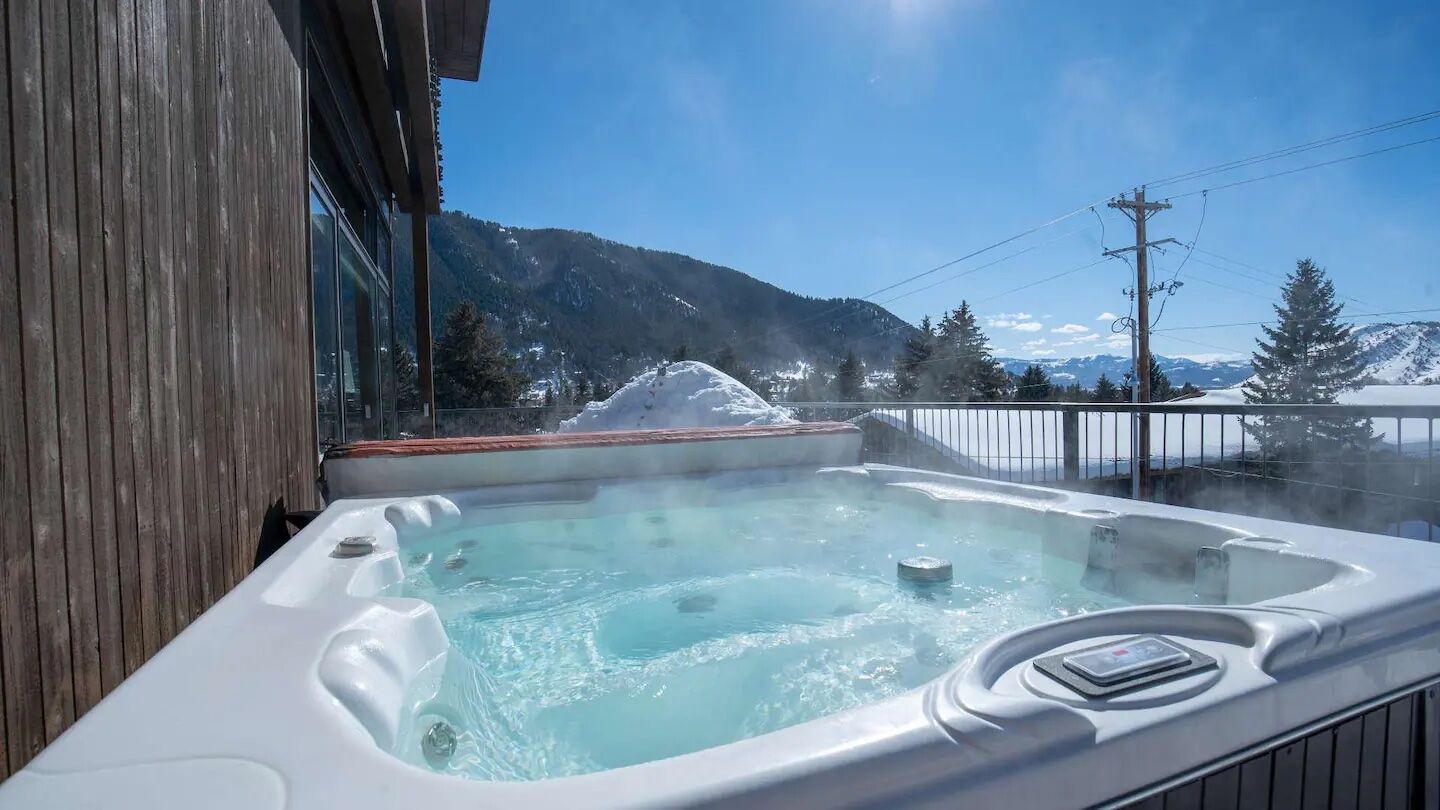 This light-filled penthouse condo benefits from picture windows and a deck with a private hot tub overlooking the mountains. Interiors are fashionably dressed with art, rugs, and scatter cushions for a homely vibe. As a guest of the penthouse, you'll have full access to the hotel amenities down the street. The best of Jackson's nightlife, galleries, and boutiques are a couple of blocks away.
Four guests, two bedrooms
Price: $645 per night
Baitshop Cabin – Downtown Jackson bungalow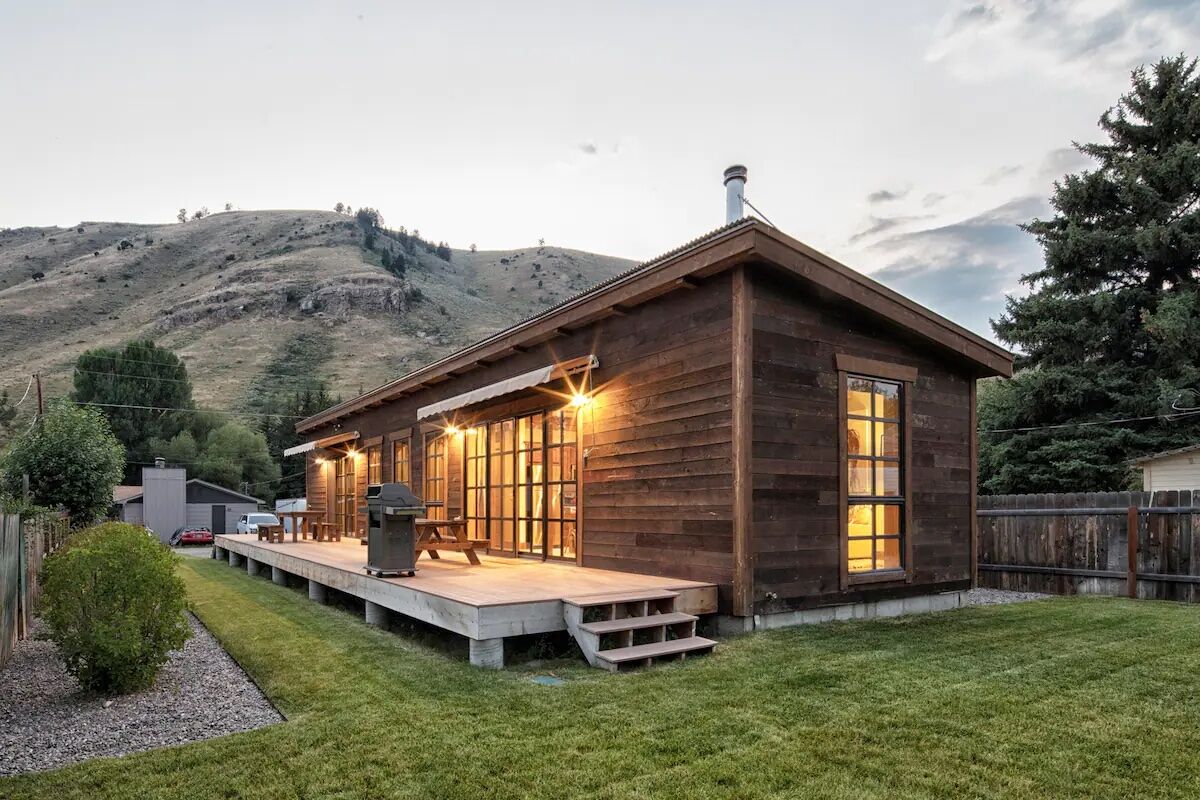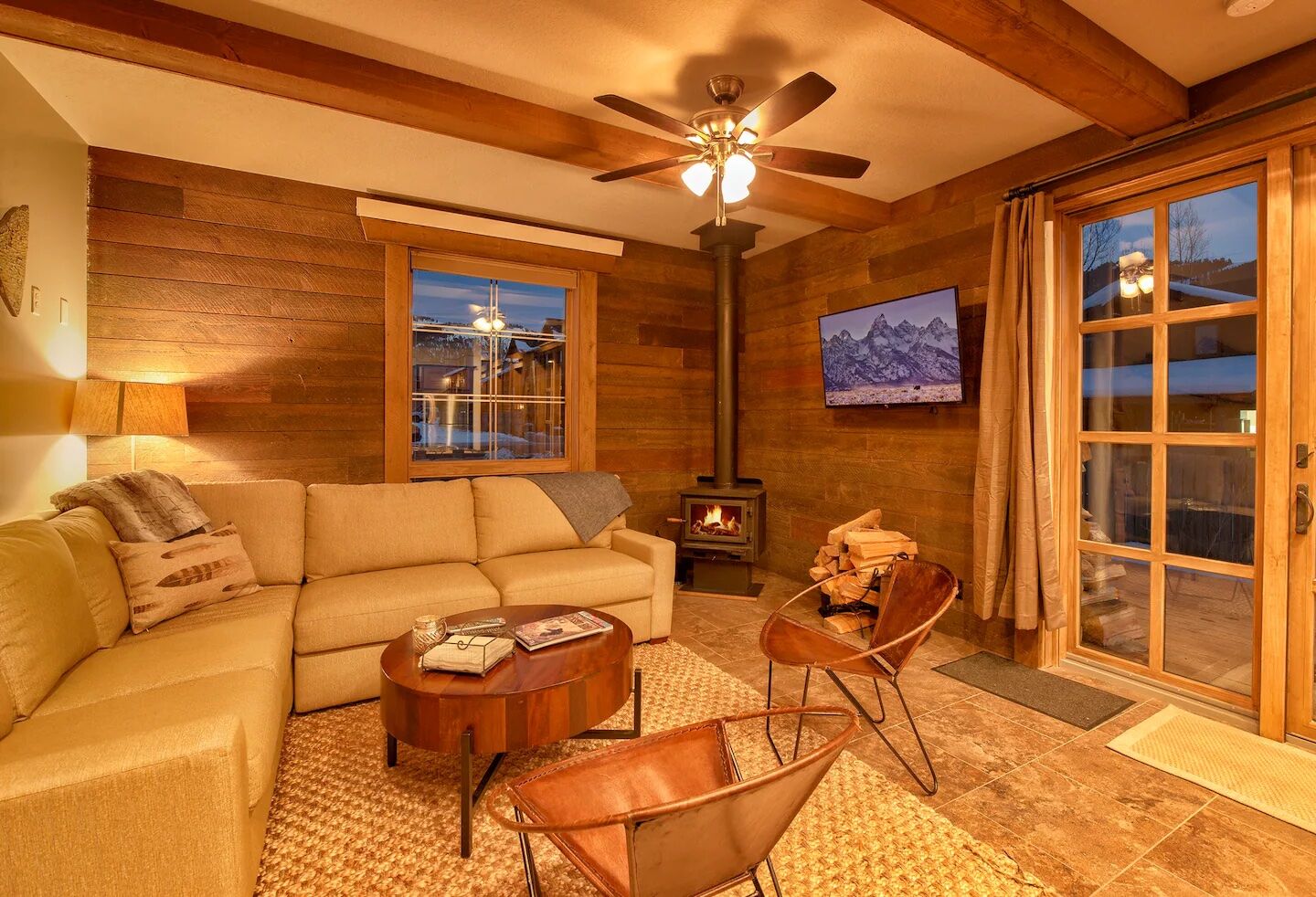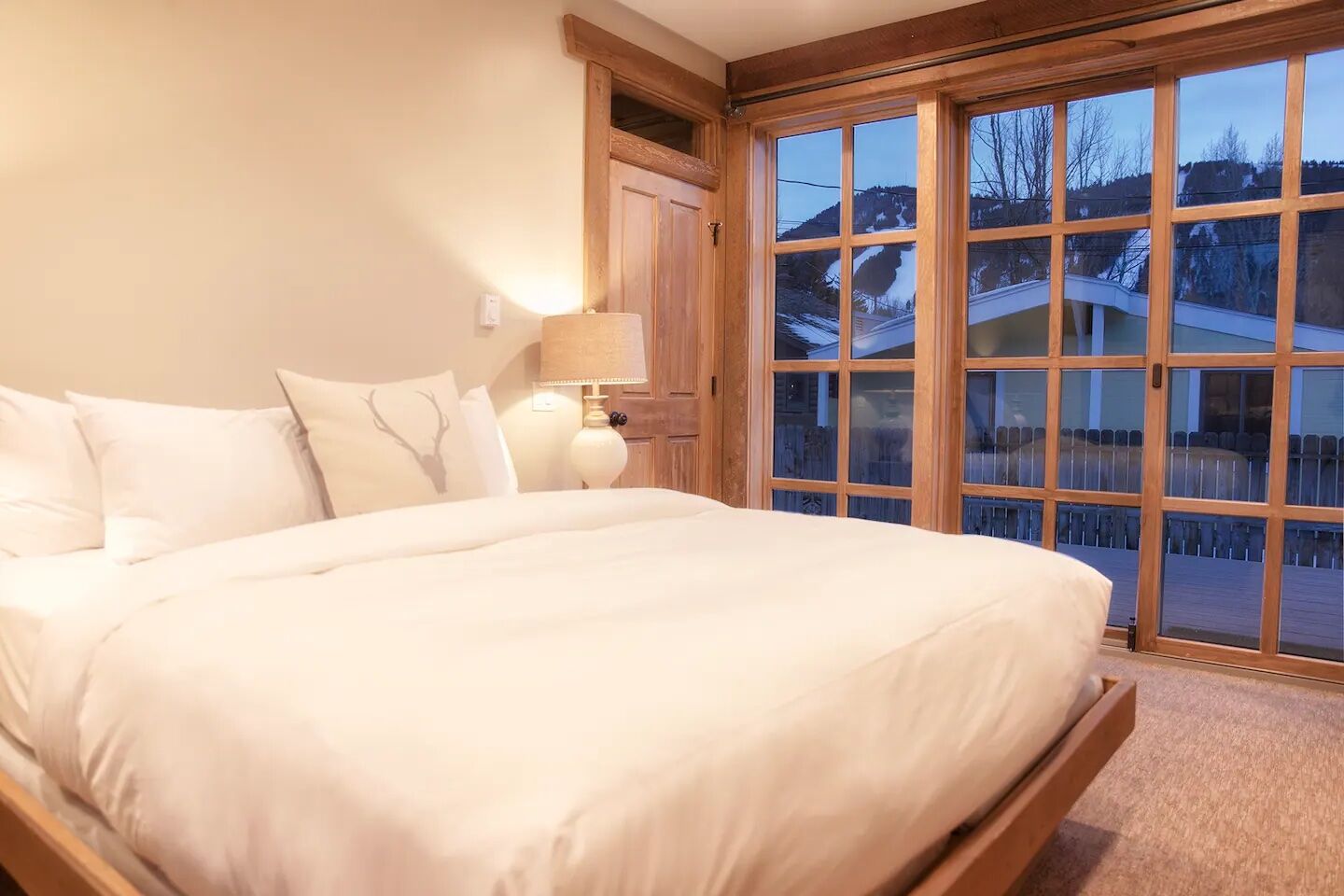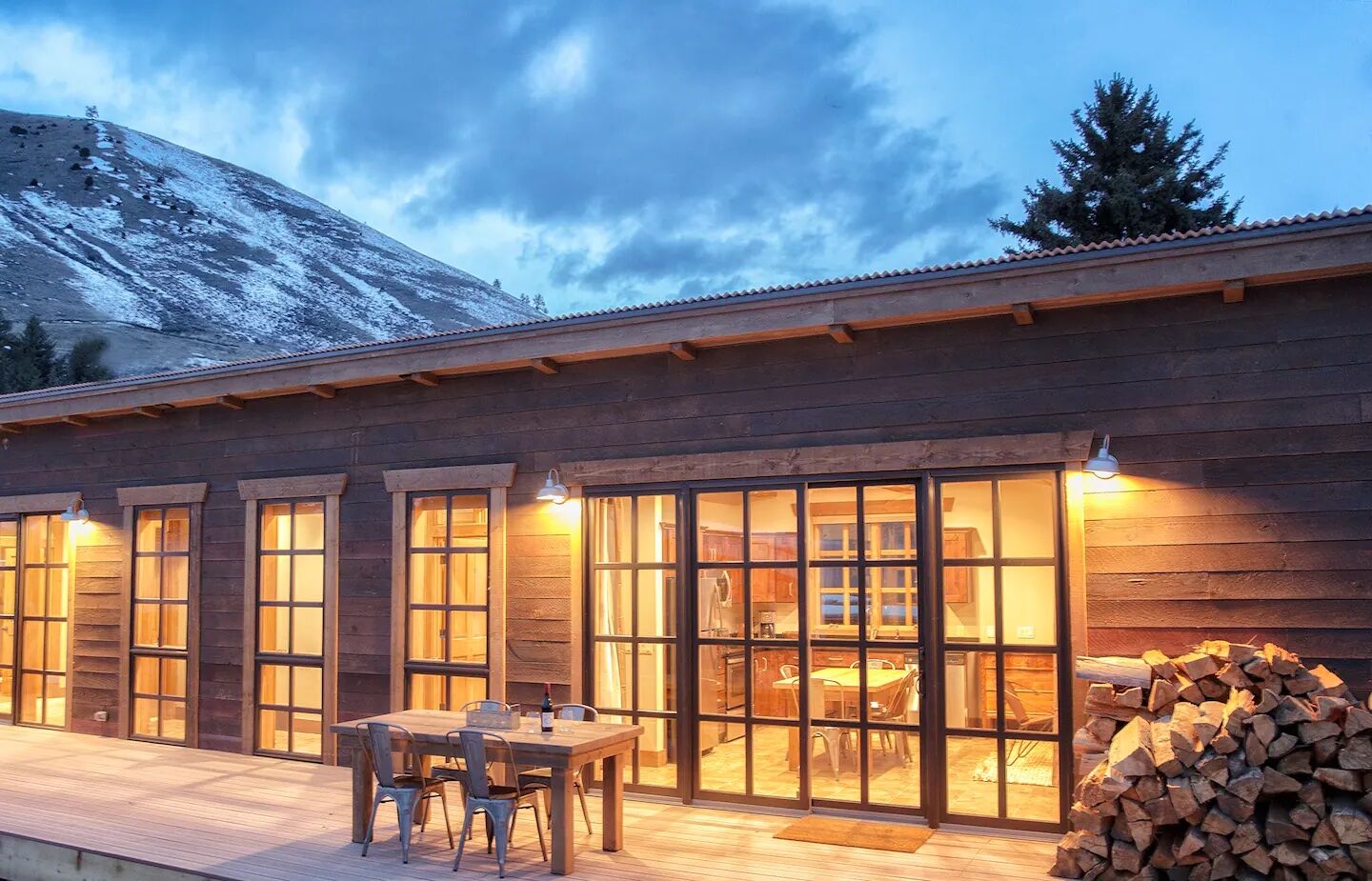 This super stylish Jackson Hole Airbnb cabin offers creature comforts a stone's throw from the happening Jackson Town Square. Savor views from the deck then snuggle up with games or movies around the wood-burning stove. In addition to the two bedrooms, the pull-out couch provides additional sleeping space. This contemporary cabin features a comprehensive kitchen and two bathrooms.
Six guests, two bedrooms
Price: $860 per night
Rustic Jackson Hole abode with Snow King views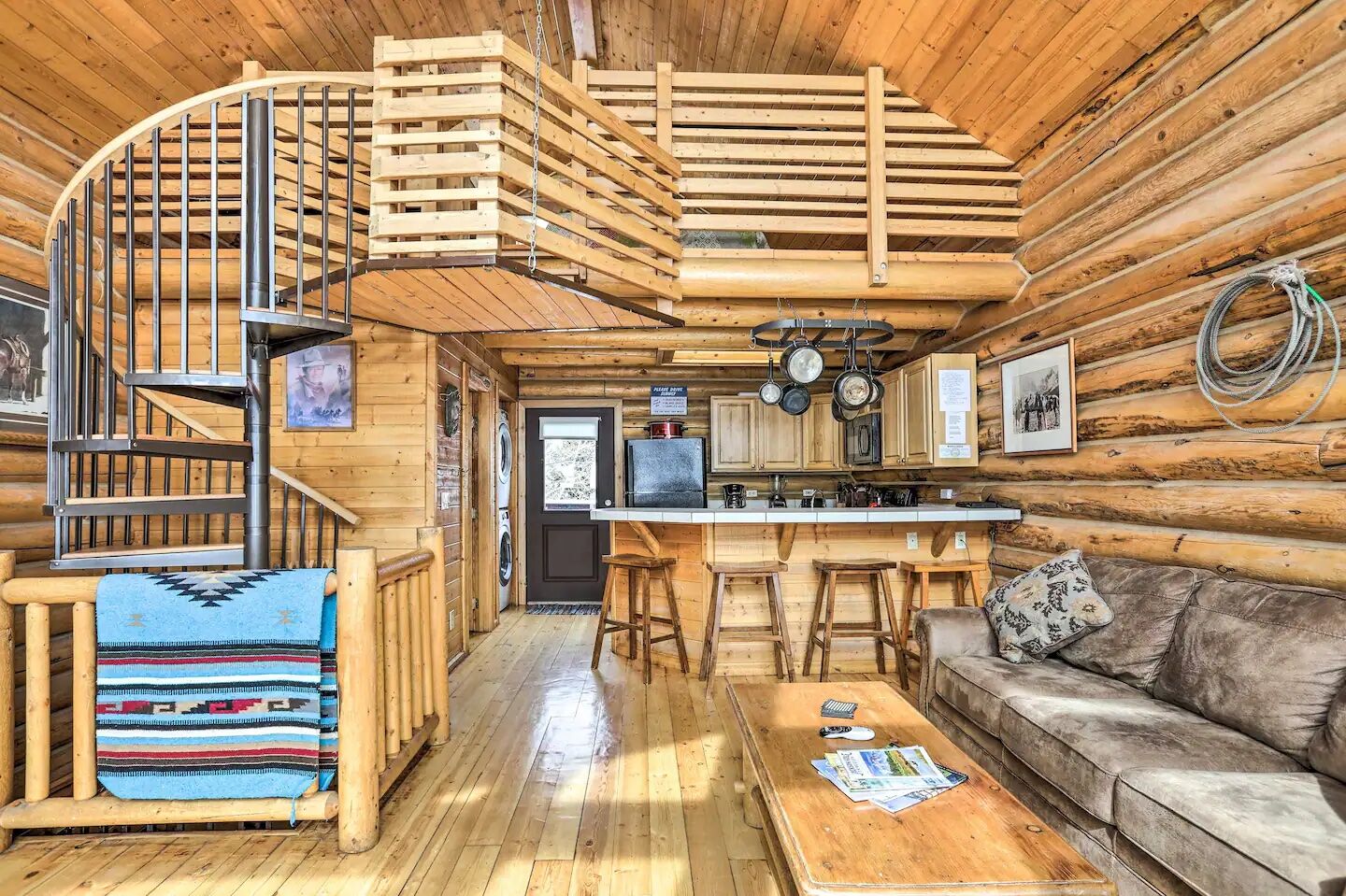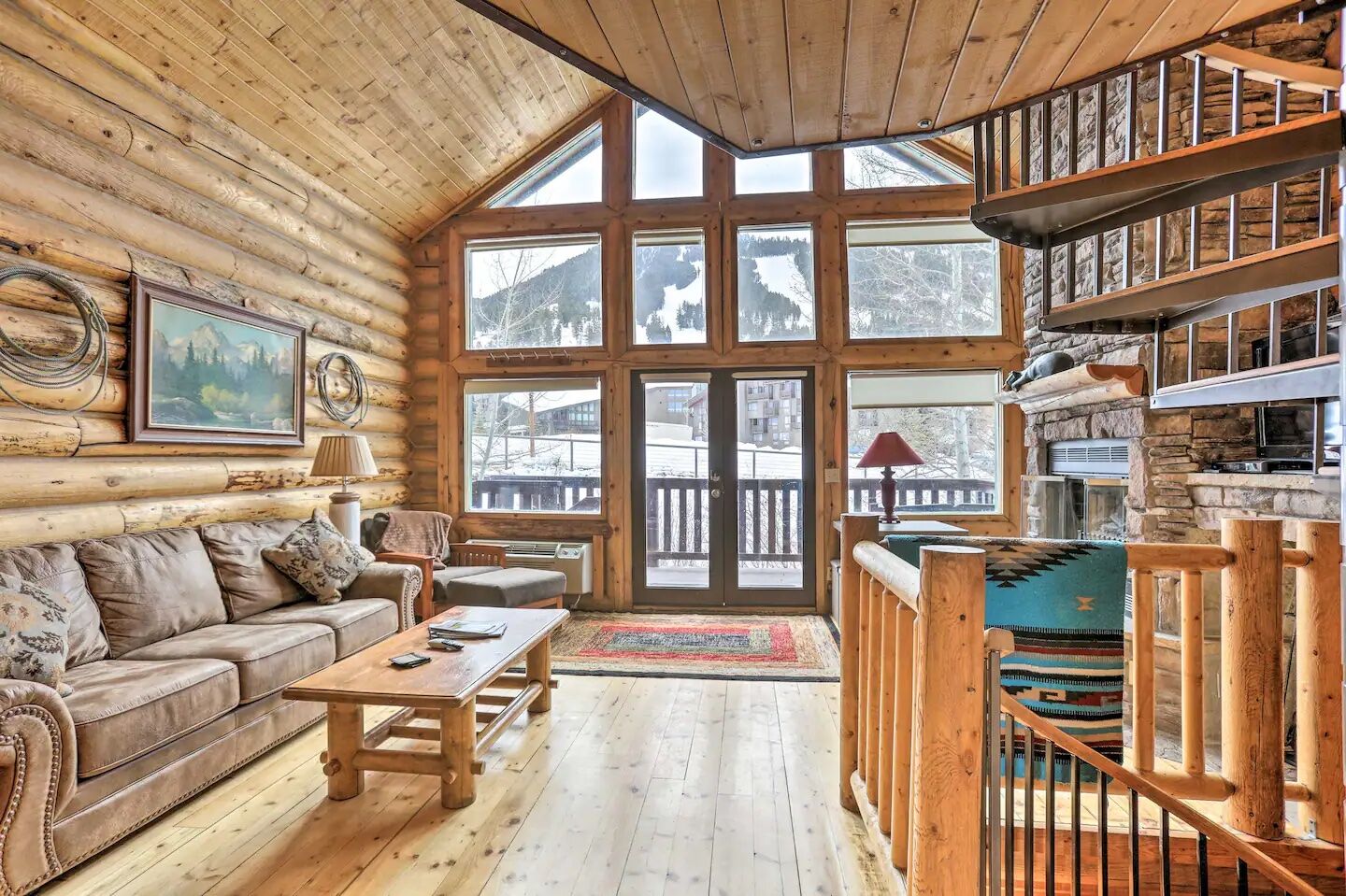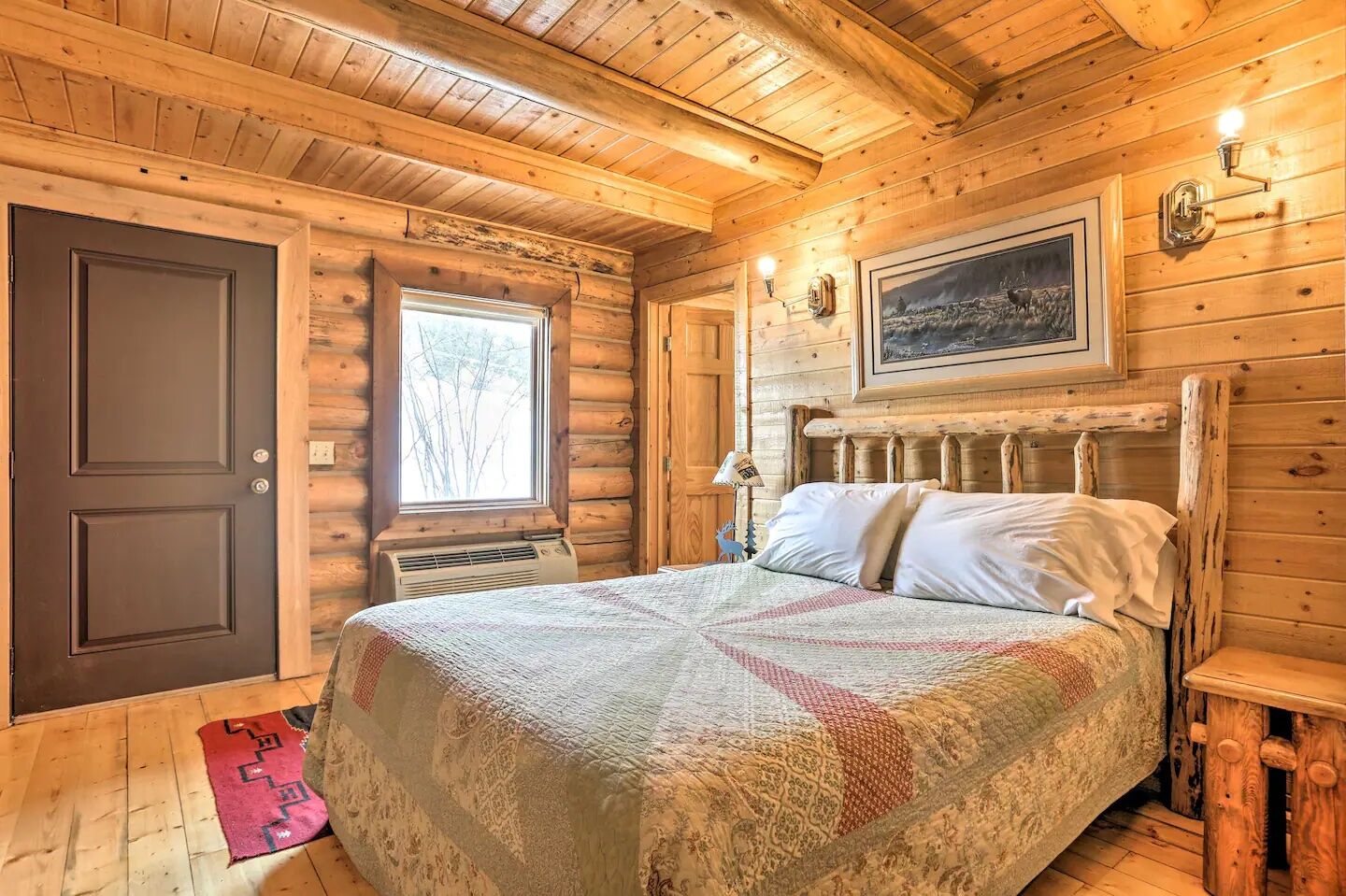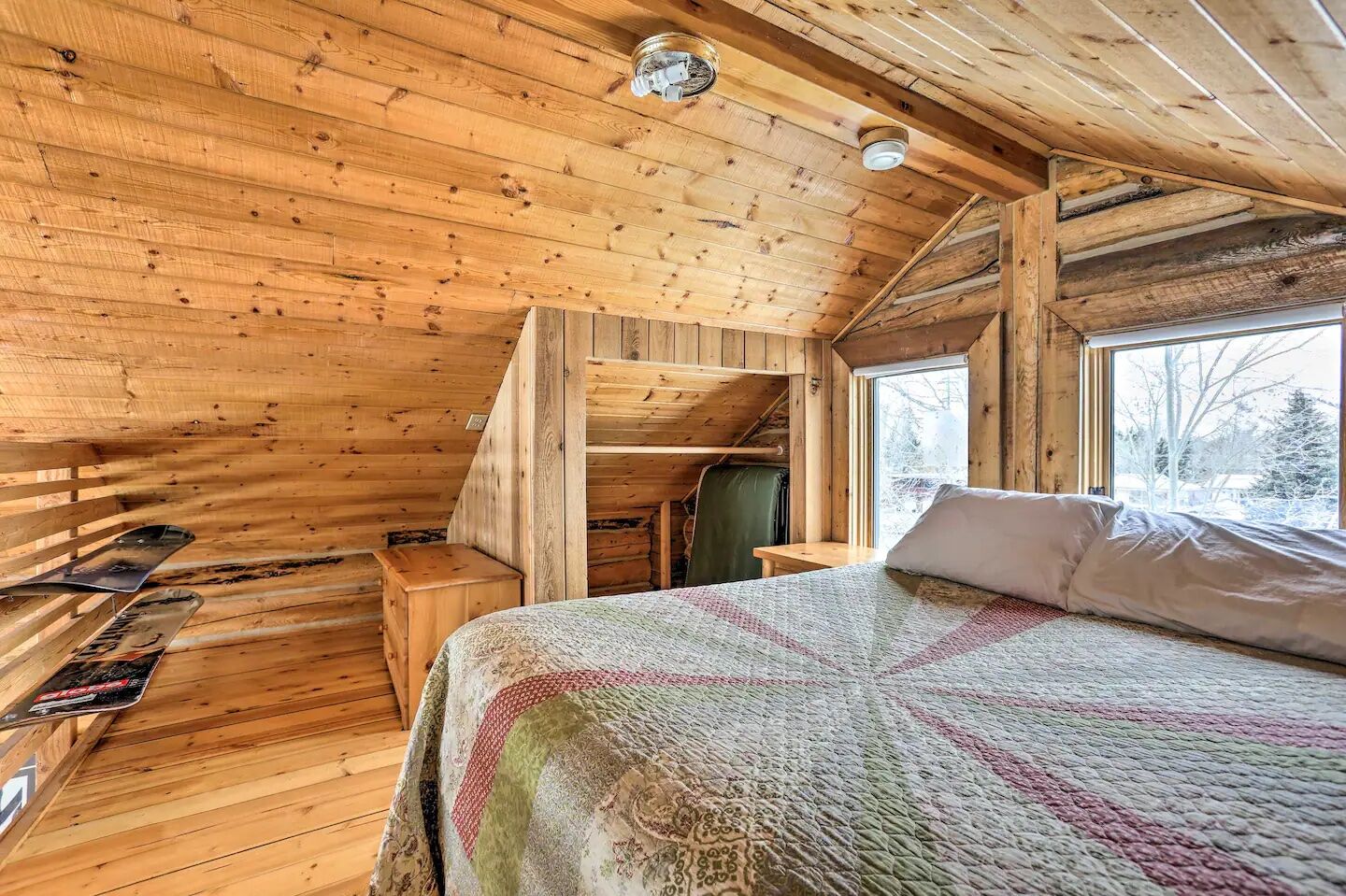 This Airbnb Jackson Hole Teton Mountain log cabin is a vision of wood, hygge, and mountain chic. Warmed by a roaring fireplace, the living quarters lend themselves to lively debates or quiet time with a pile of books. Your retreat is convenient for hitting the slopes at Jackson Hole Mountain Resort, checking out the hiking trails, and exploring downtown.
Seven guests, two bedrooms
Price: $940 per night
Mountain top lodge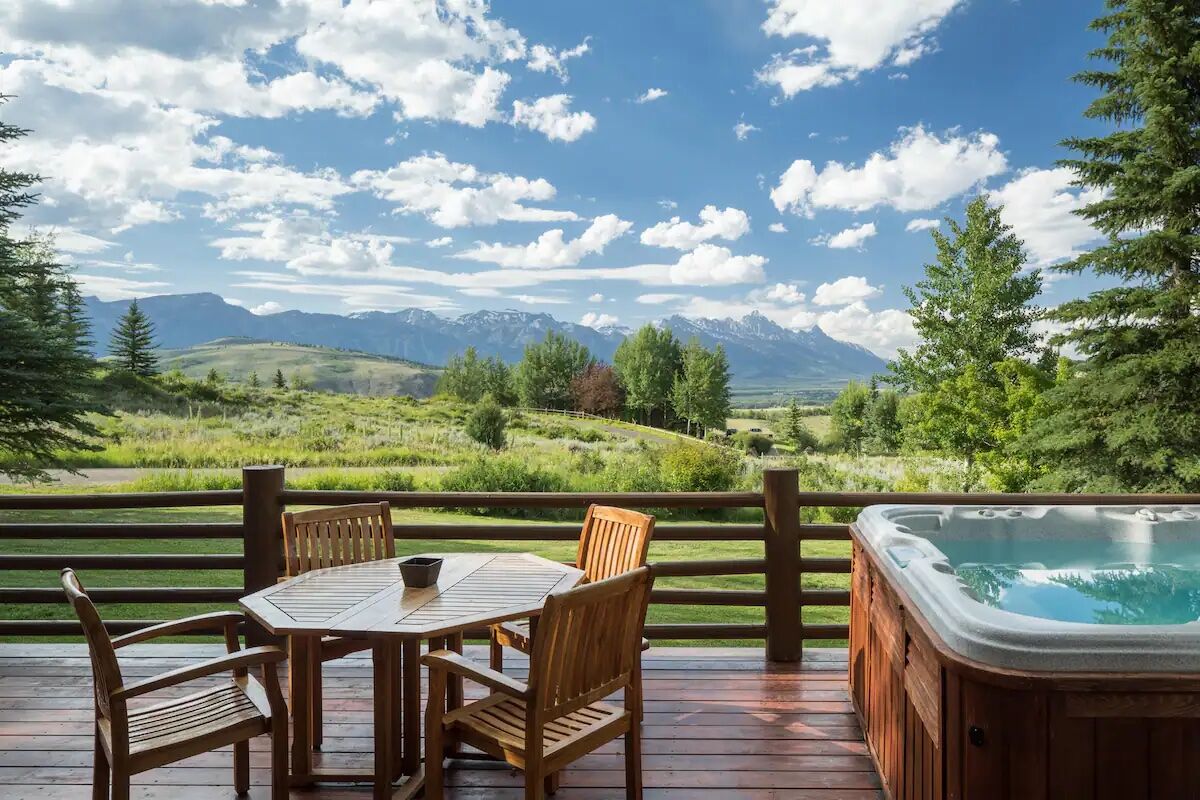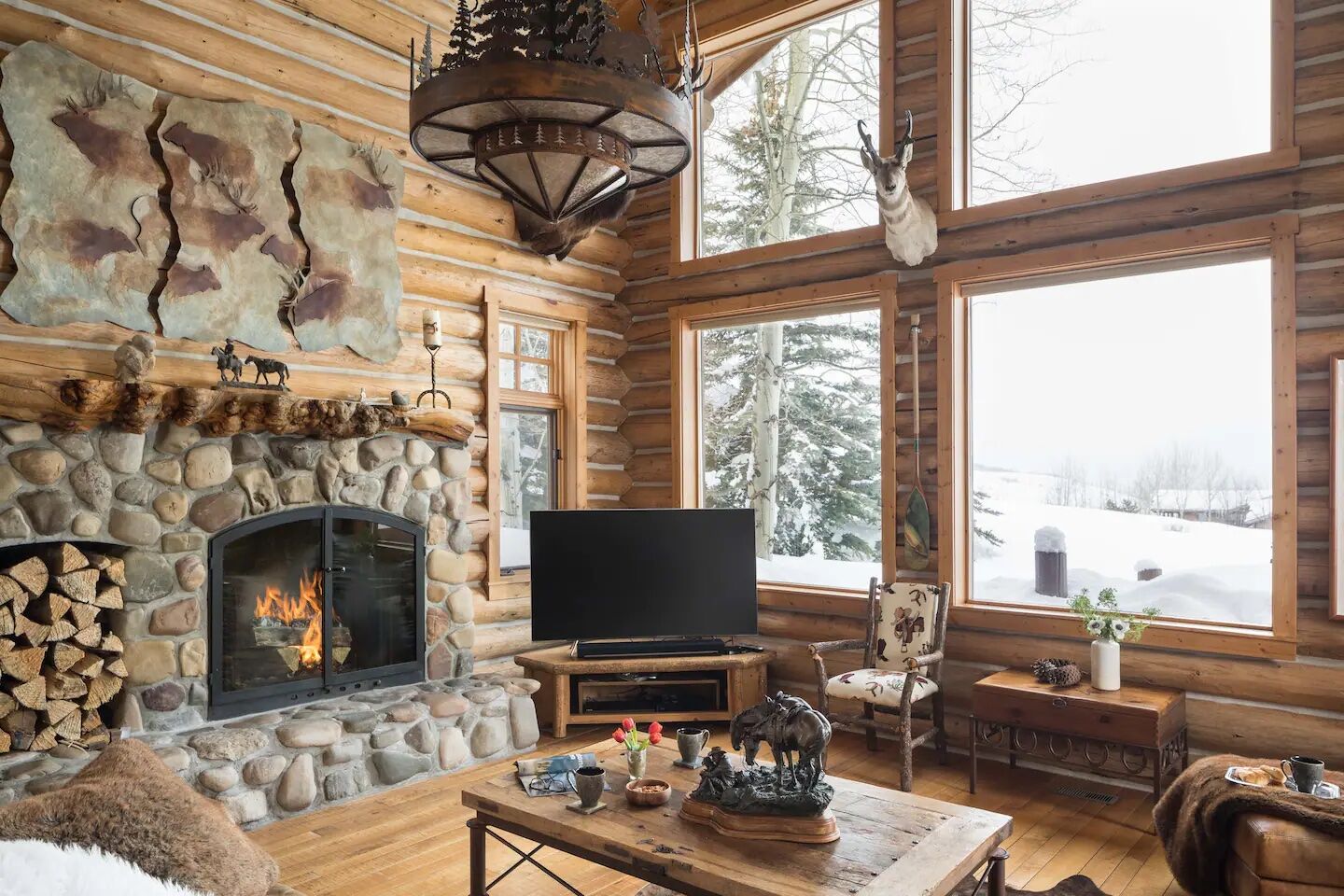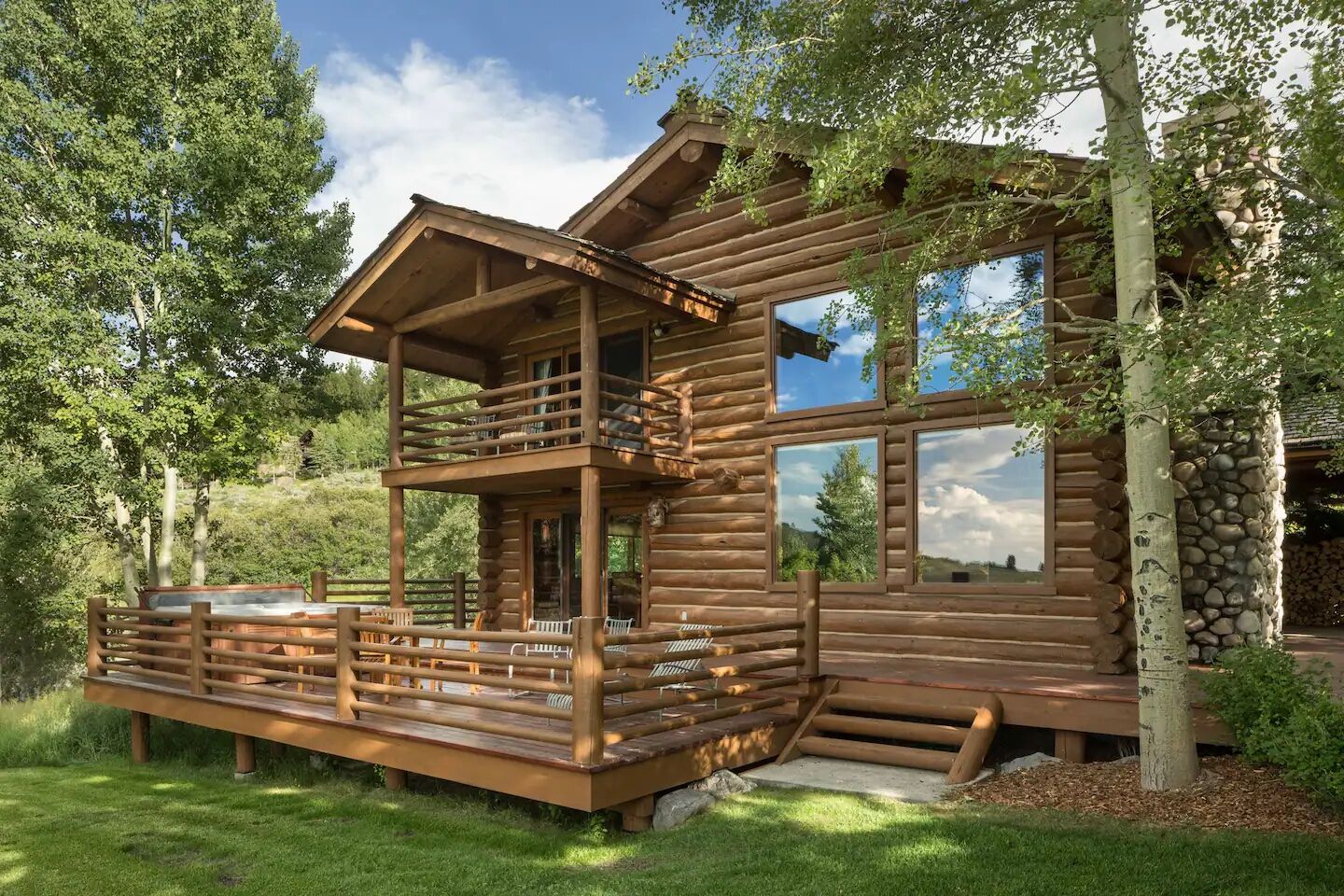 This custom log cabin feels isolated yet is a 15-minute drive to the downtown delights. Rustic interiors and a vintage clawfoot tub will inspire you to spend a night in. The rear deck is equipped with a hot tub where you can let the mountain views wash over you. Book this family-friendly Airbnb Jackson Hole vacation cabin in summer for access to clubhouse facilities including a pool and tennis courts.
Ten guests, four bedrooms
Price: $2,400 per night
Remote Airbnbs in Jackson Hole with mountain views
Viens a la Maison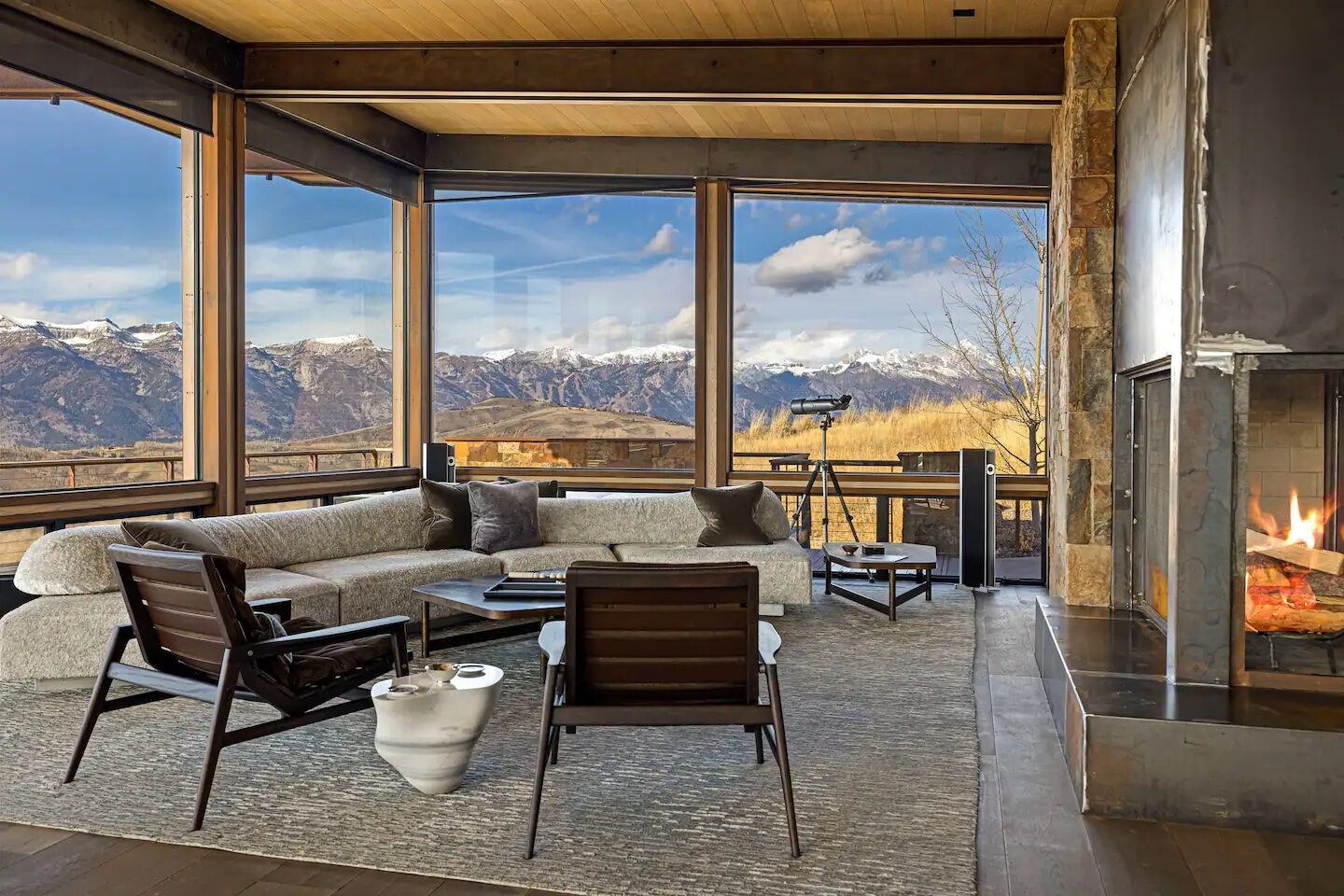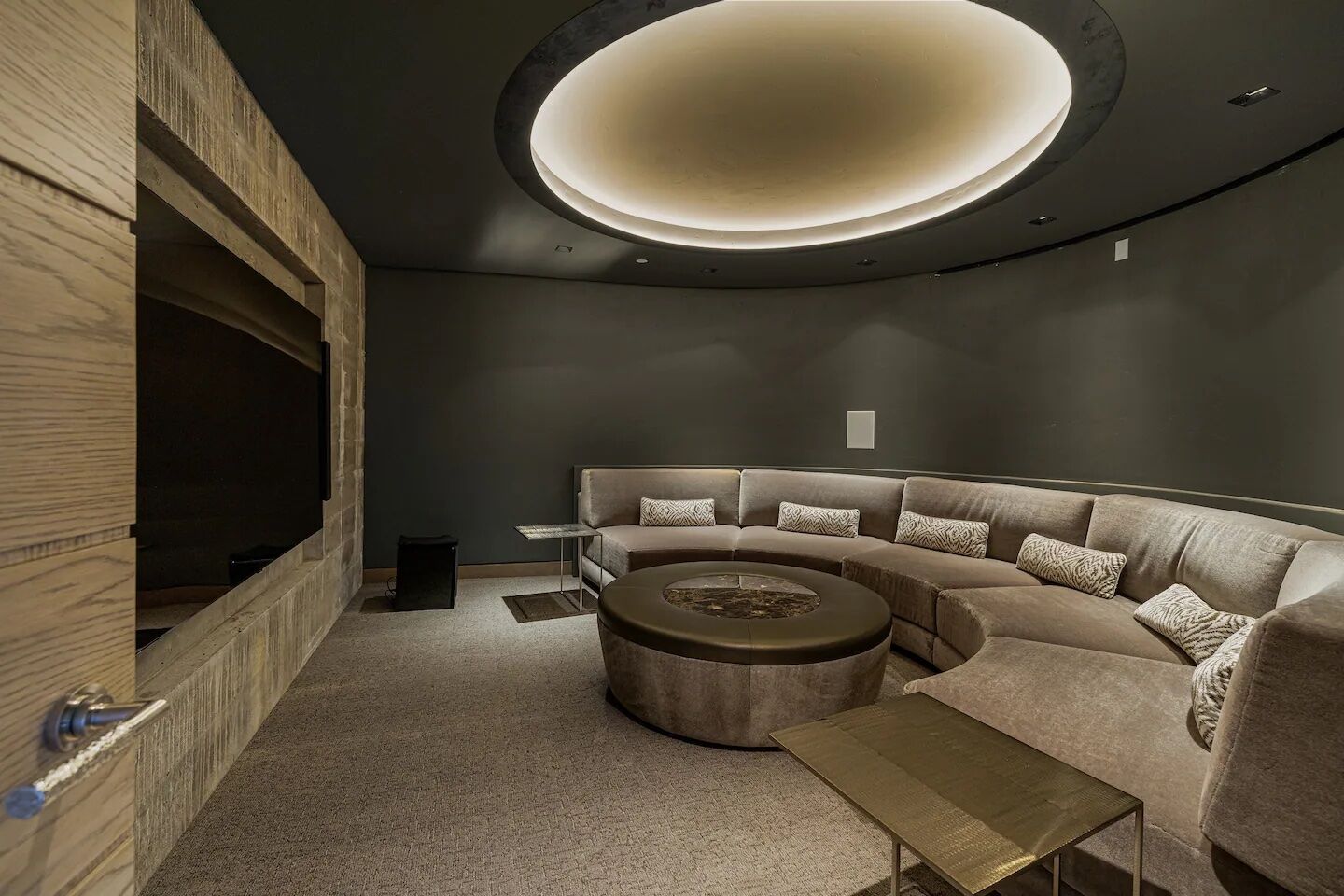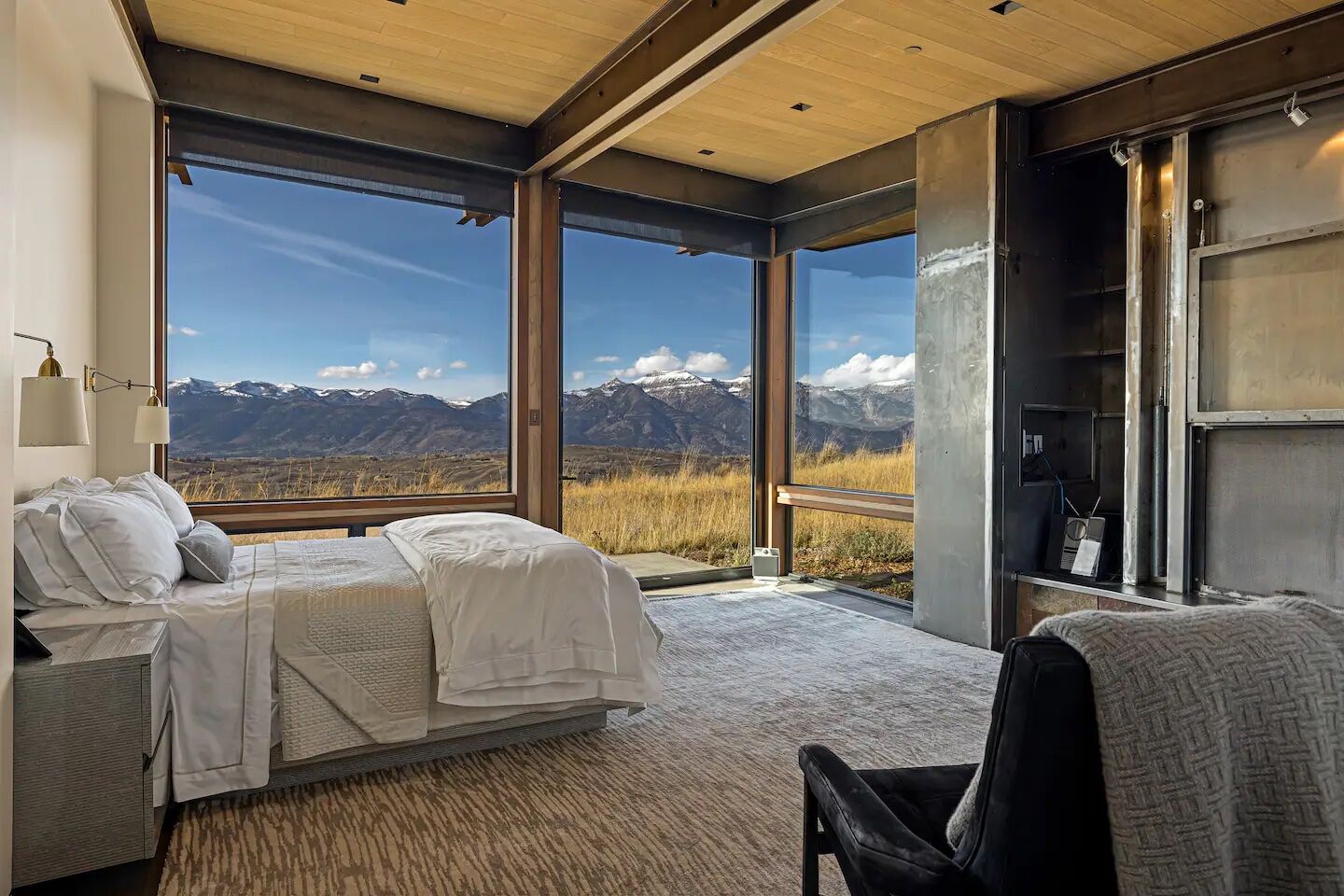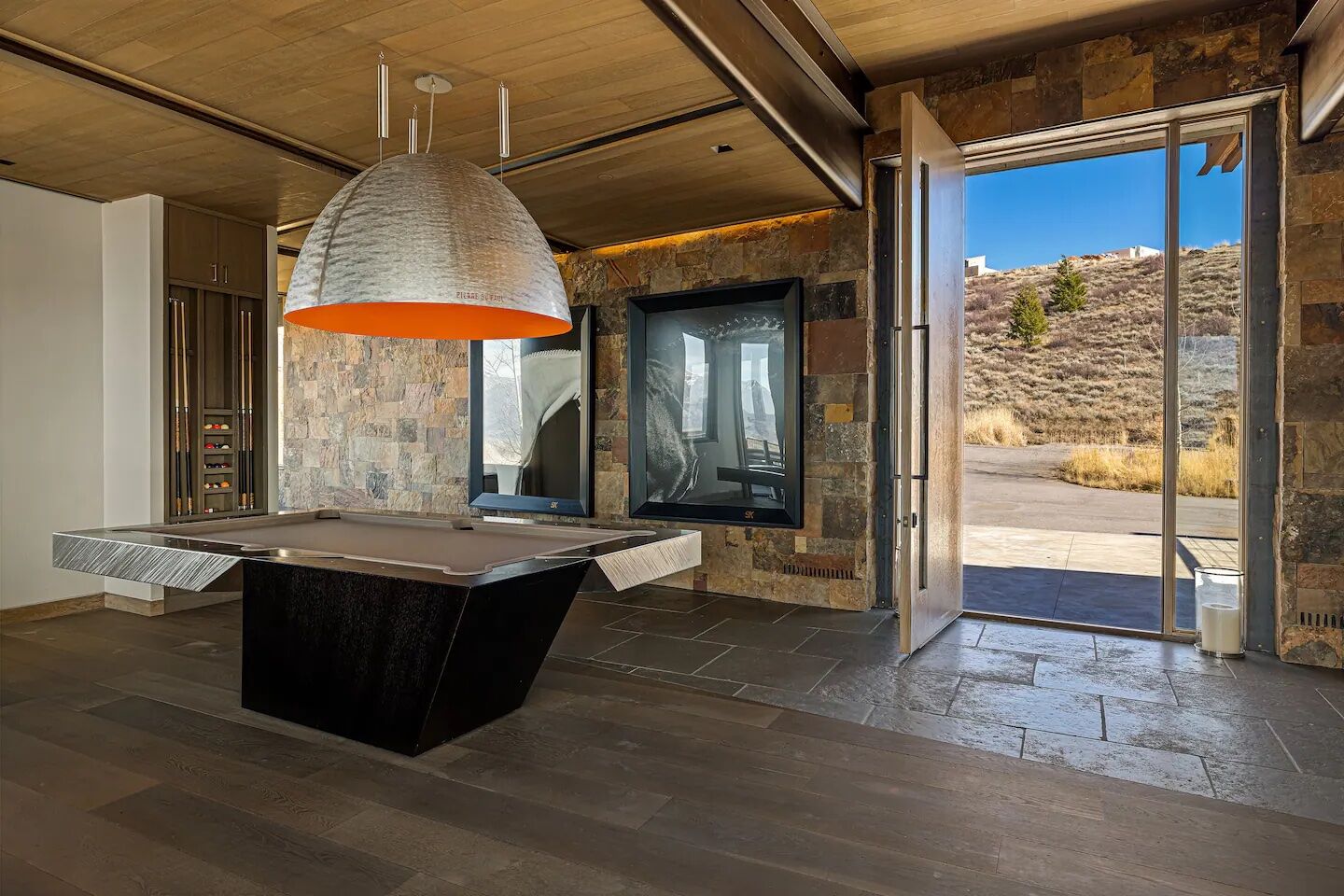 Occupying a prime spot in the lofty Wyoming ranges, this deluxe Jackson Hole Airbnb mountain rental provides unparalleled views. The family room is heated by a fireplace but if that's not enough the private sauna will warm you to the bone. Other amenities include a hot tub, gym, billiards table, and a home theater. The property is camouflaged against the landscape and is a quick 15-minute drive downtown.
Ten guests, five bedrooms
Price: $9,500 per night
Spirit Dance 3110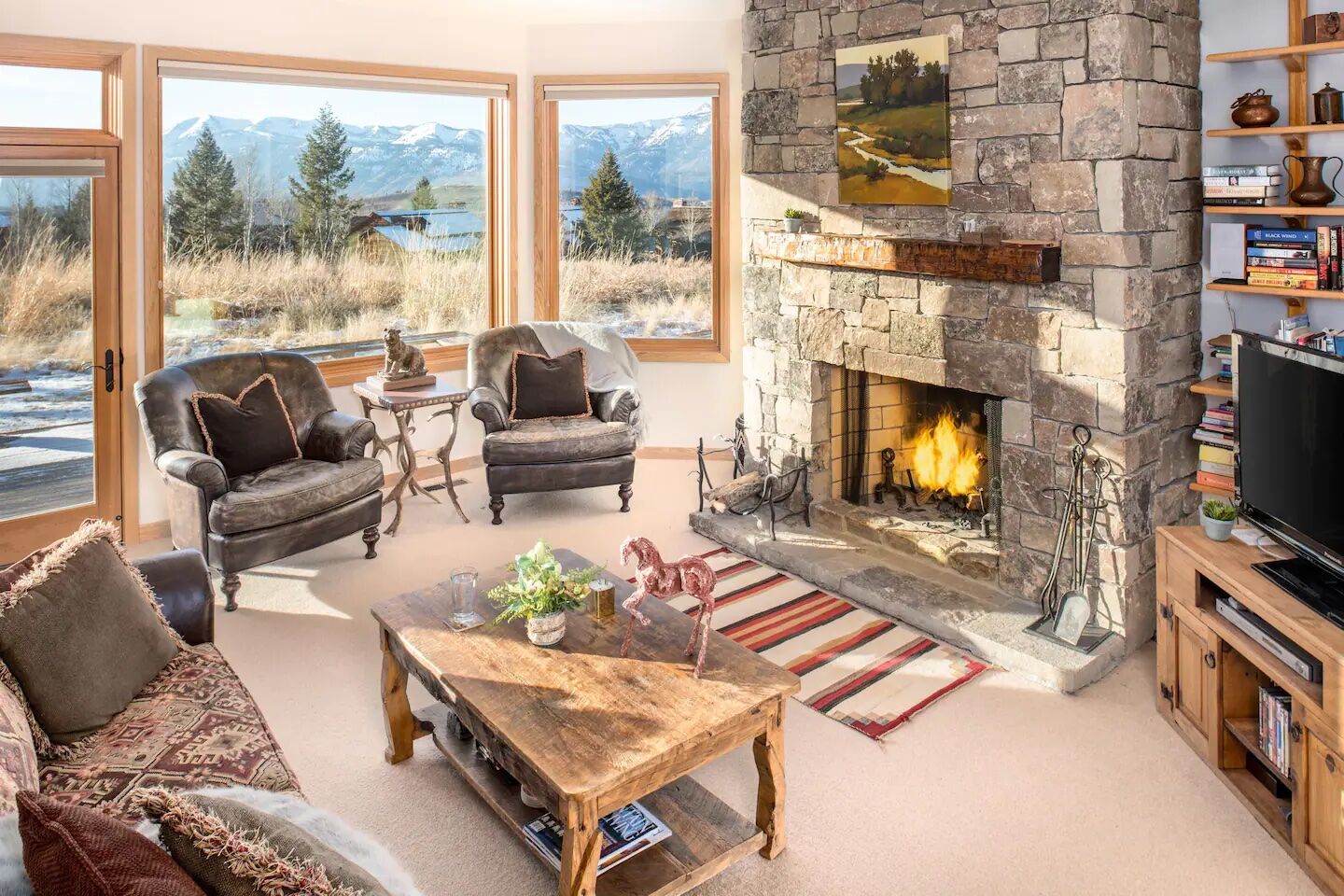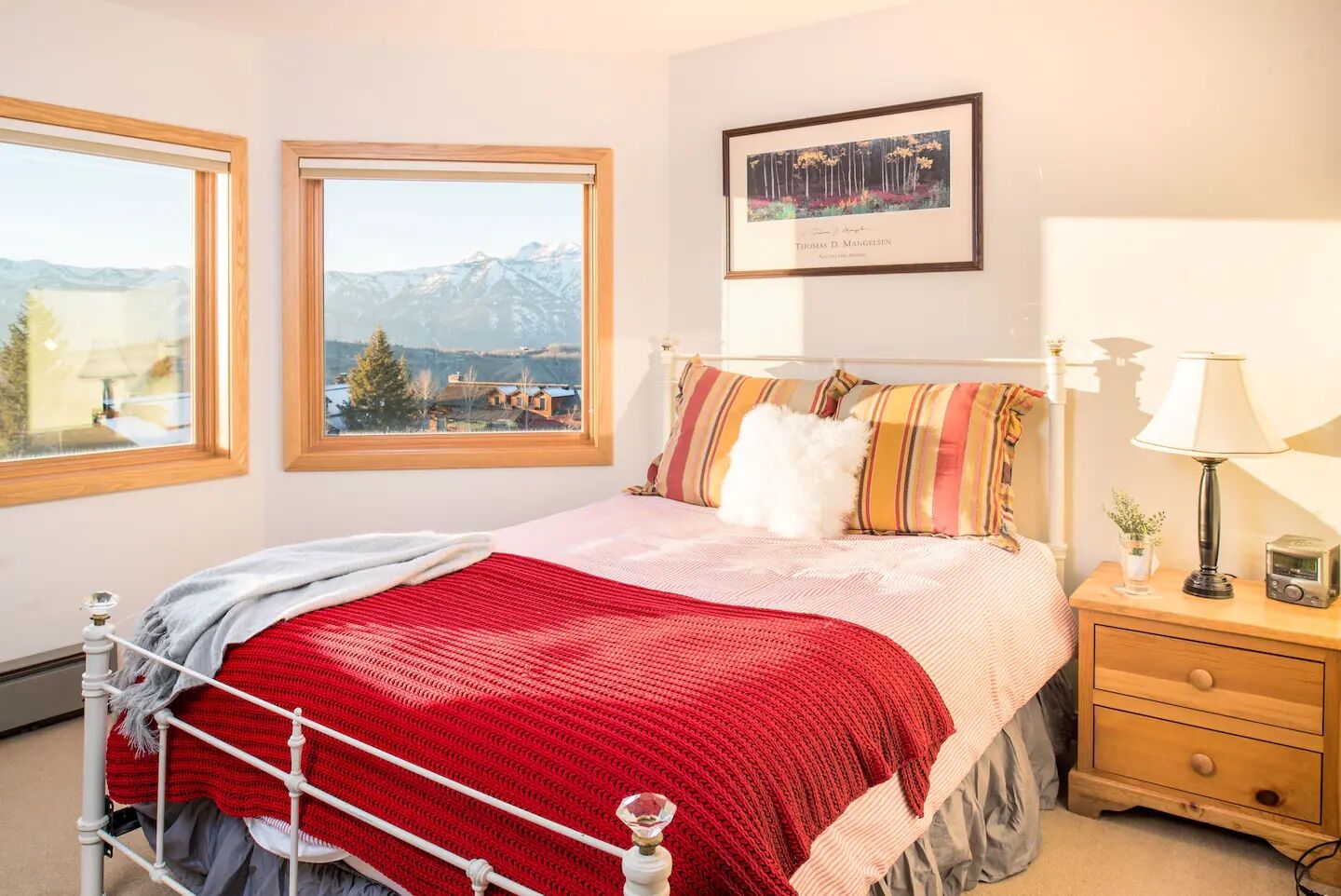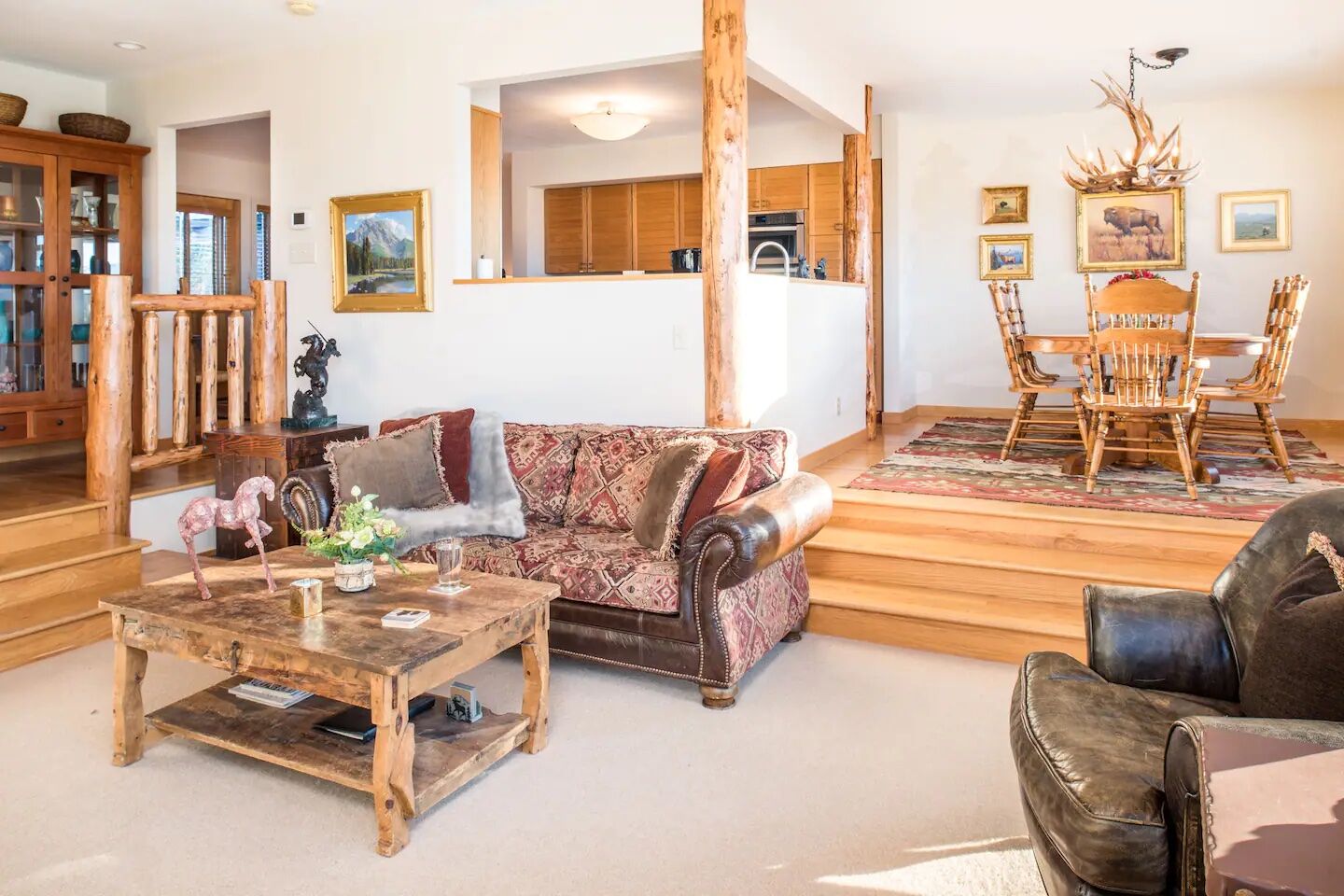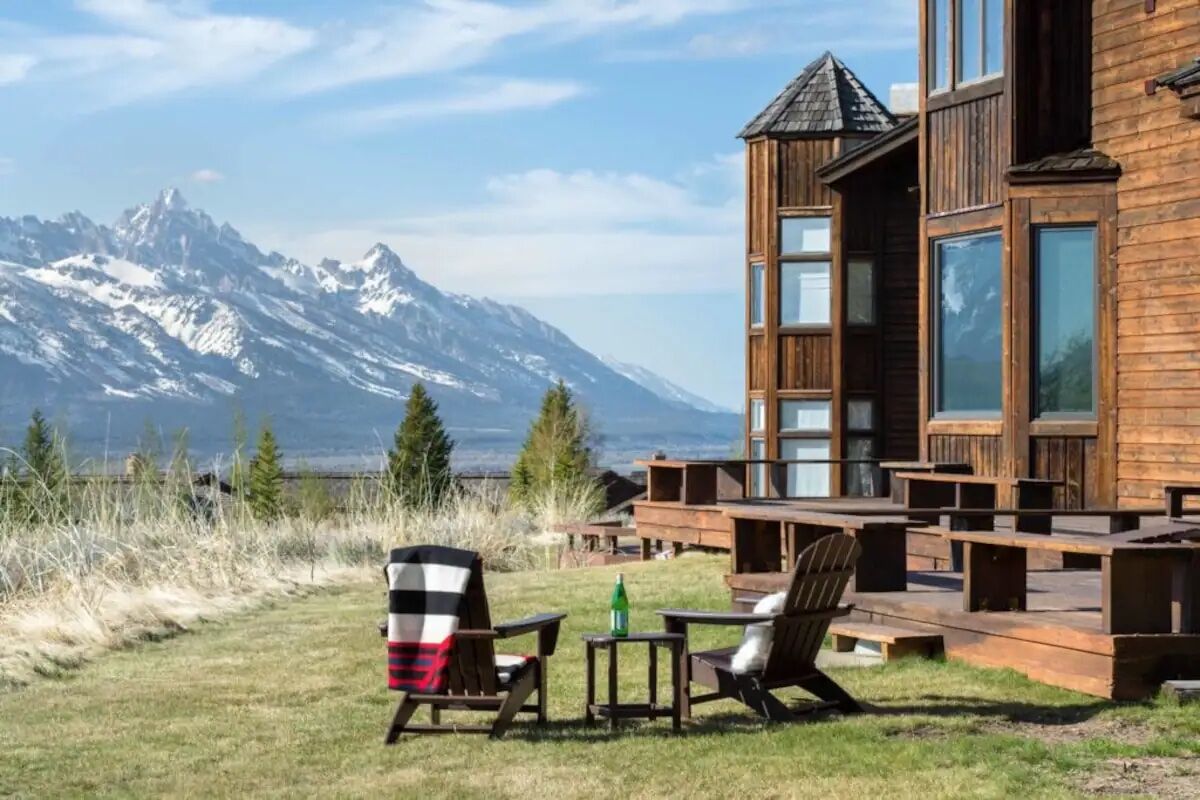 This elegant two-bedroom Airbnb Jackson Hole condo with Teton views features panoramic windows and a private deck. A snug living room comes with a log fire and sumptuous couches which you'll appreciate after a session on the slopes or trails. You'll receive access to the shared amenities at the complex including an open-air swimming pool.
Eight guests, two bedrooms
Price: $450 per night
160 Calliope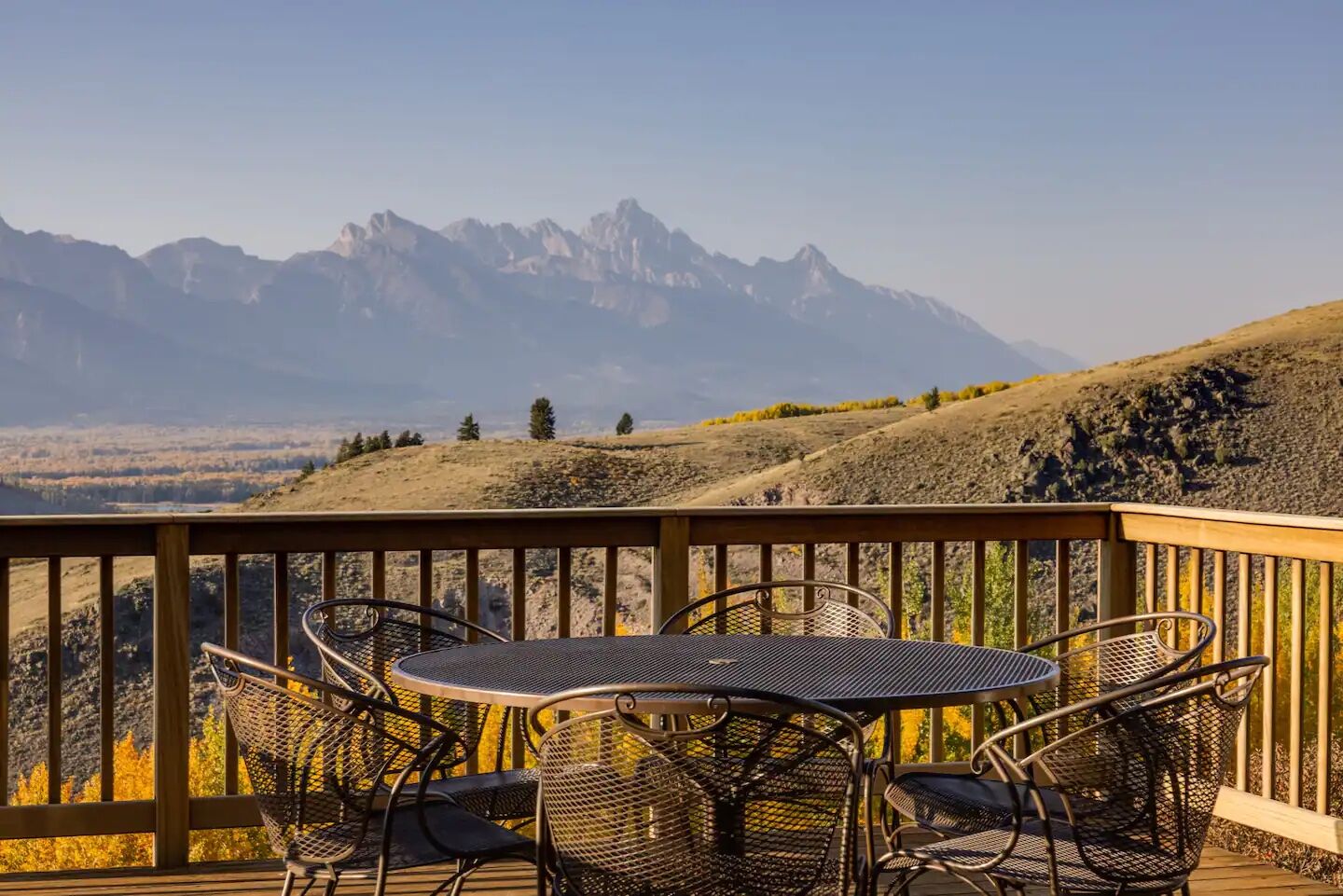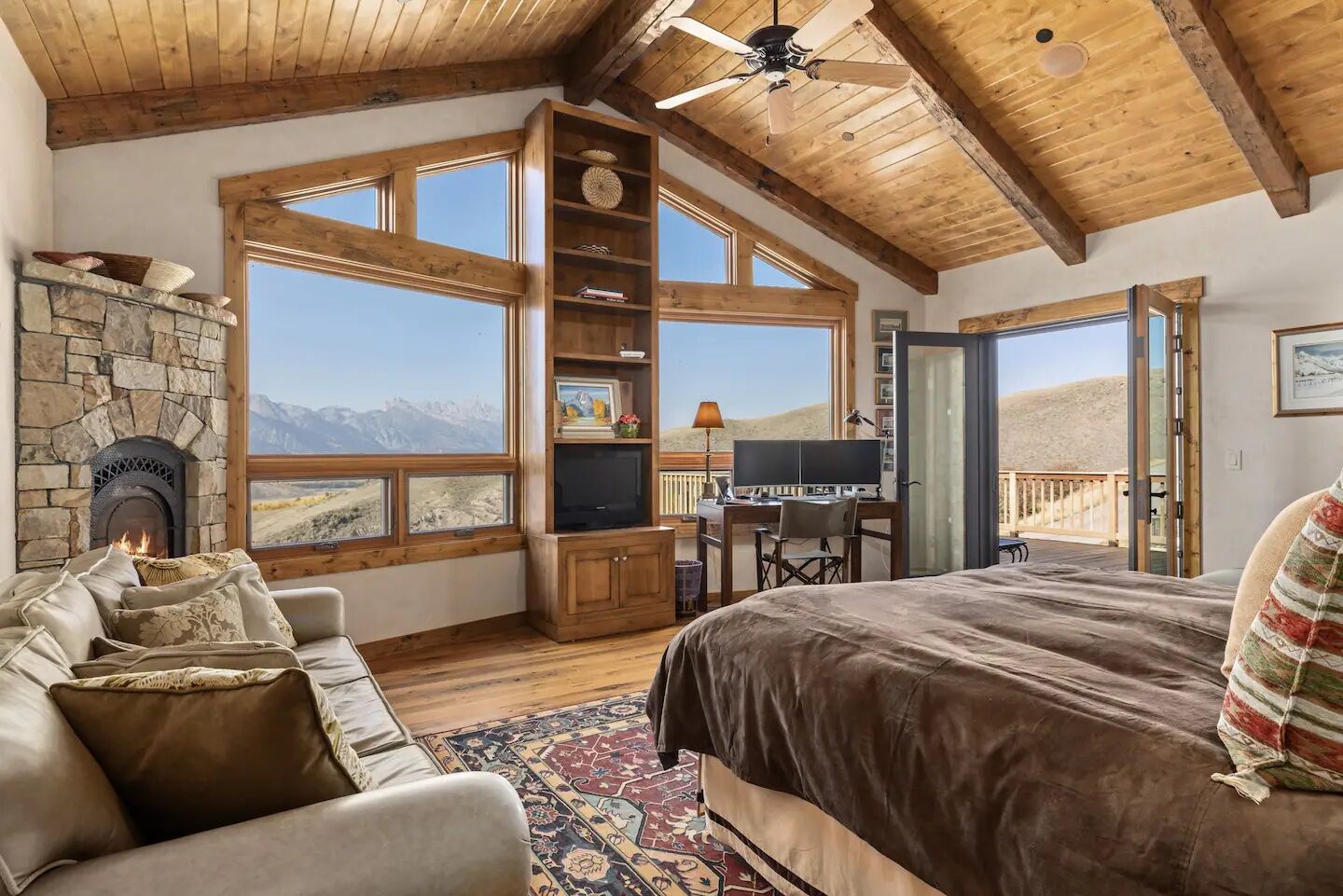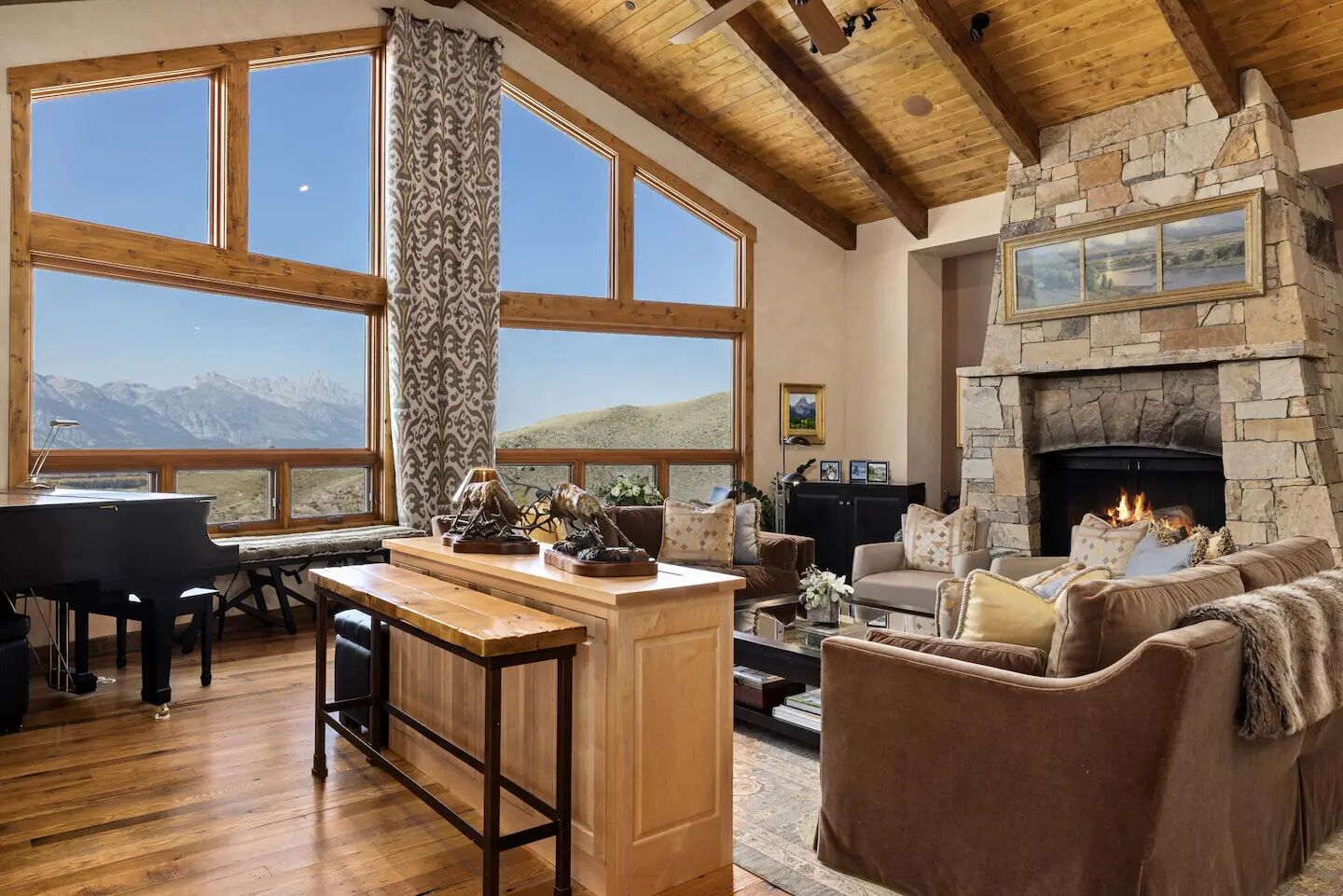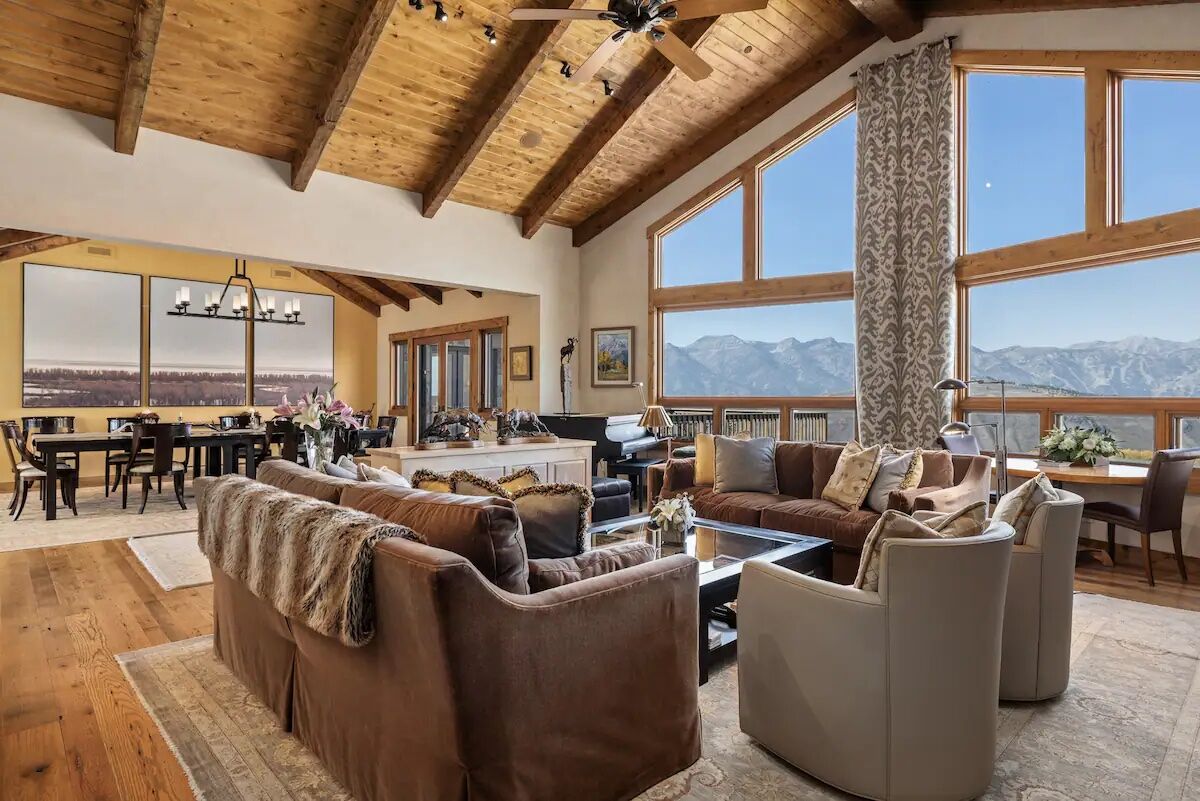 This remote four-bedroom property offers mesmerizing mountain views from inside and out. The primary bathroom is the star of the show with its whirlpool bathtub overlooking the peaks. Meanwhile, the deck is fitted with a hot tub, grill, fire pit, and fireplace. Interiors are styled in a pleasant fusion of contemporary and retro with a huge chef-quality kitchen at the heart. Summer rental includes access to a communal season pool and tennis court.
Ten guests, four bedrooms
Price: $2,500 per night
Endless Summer Retreat at Sleeping Indian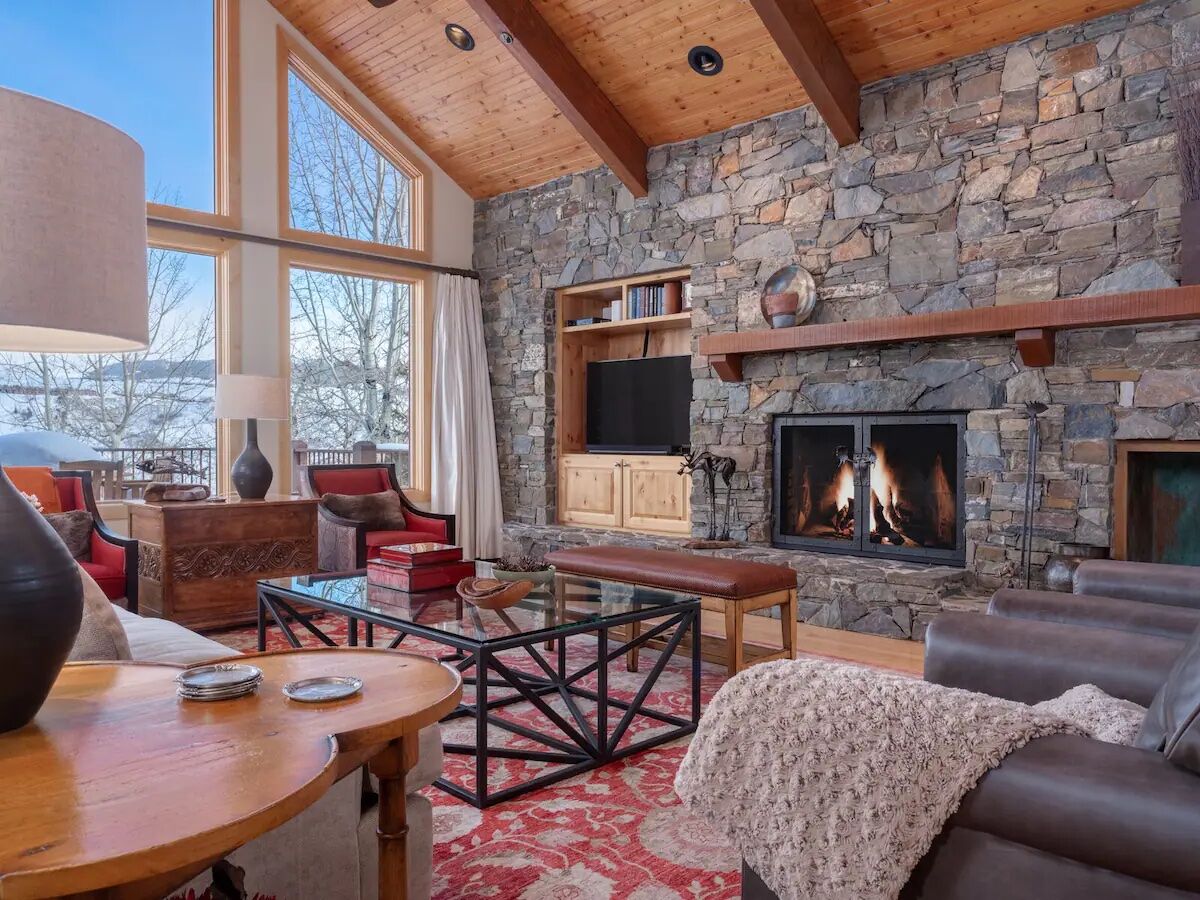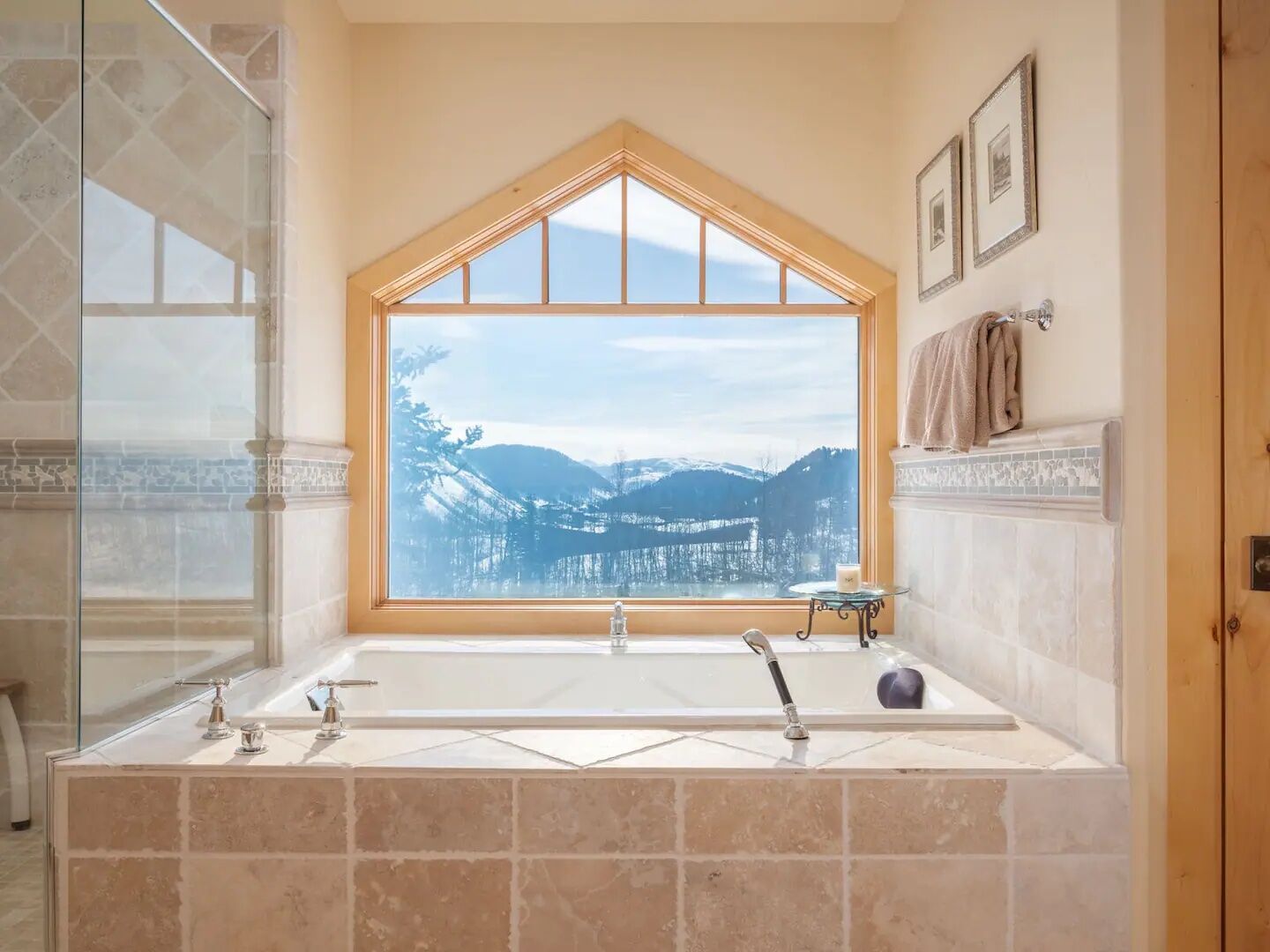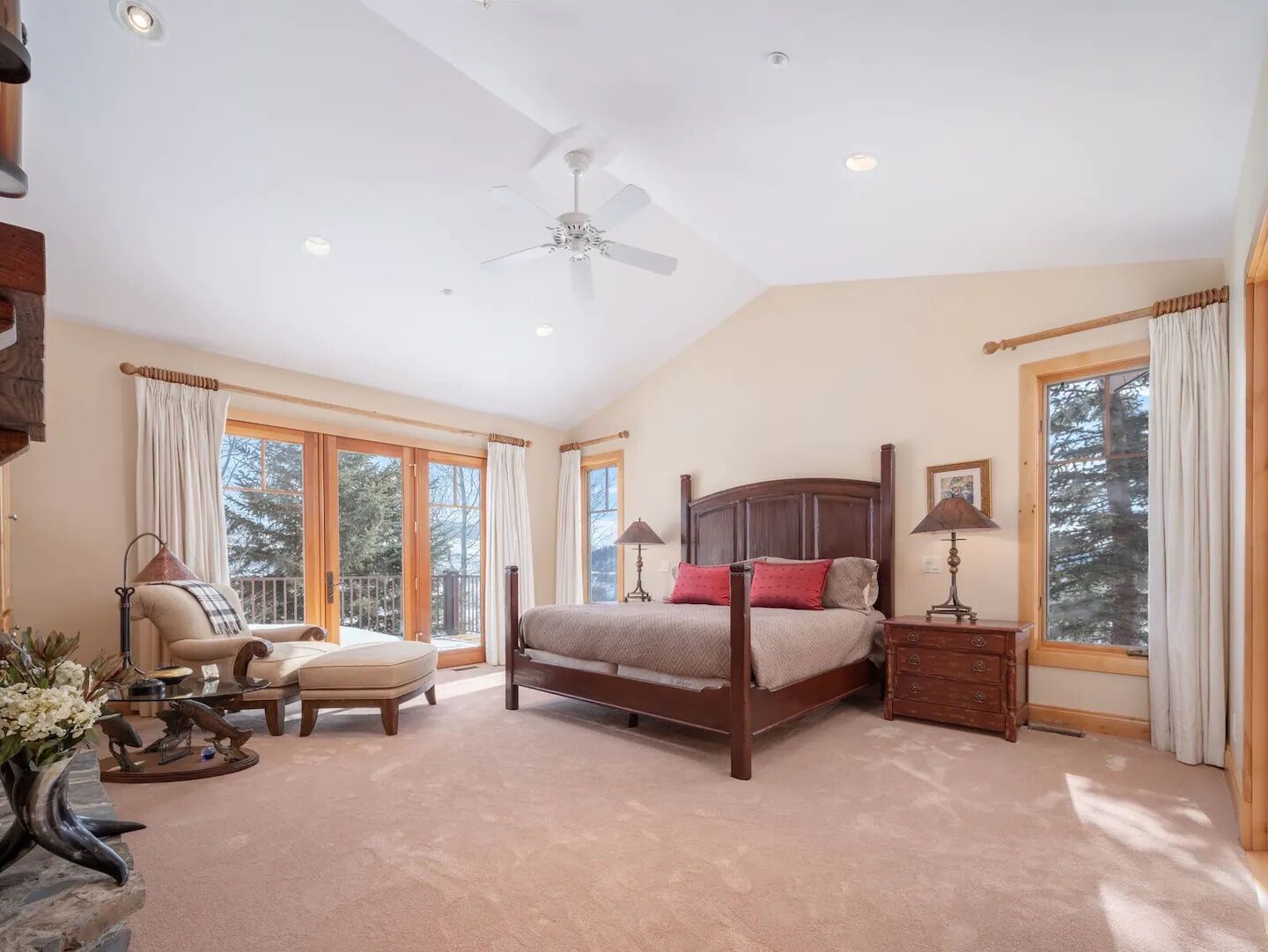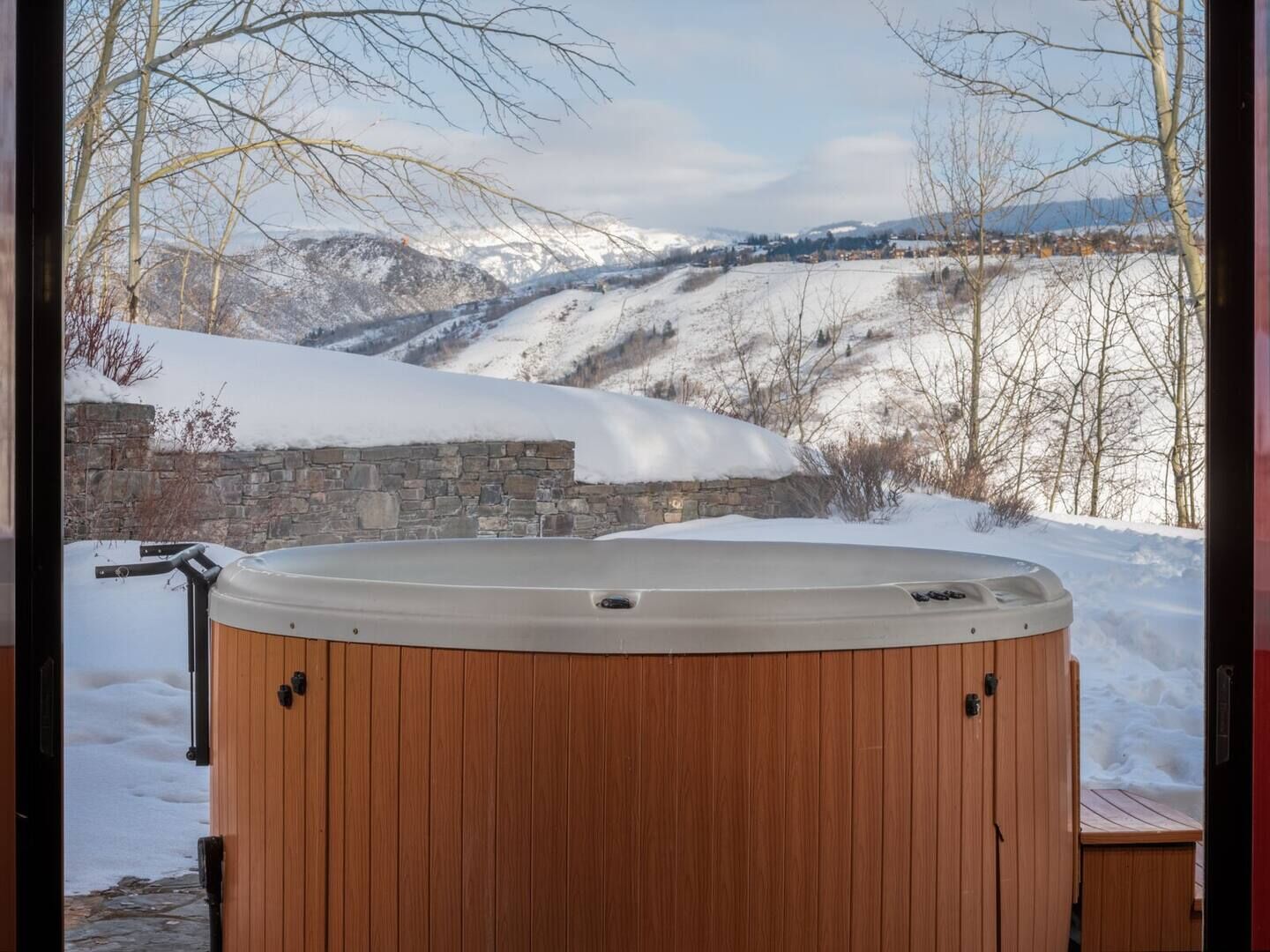 This beautifully furnished Sleeping Indian Airbnb Jackson Hole vacation rental is set upon 12 acres of private land. The living quarters are vast with cathedral ceilings, large communal areas, and spacious guest rooms. One bathtub is poised with immense views of the mountains while the outdoor spa tub inches you even closer to the remarkable surroundings.
Ten guests, four bedrooms
Price: $1,500 per night
What did you think of this story?