These Airbnbs in Portland, Maine, Showcase the Best of New England's Coolest City
You might be surprised by how much there is to do in the compact seaside town of Portland, ME. Since developing into a booming fishing port in the 19th century, modern-day Portland is swimming in art galleries, seafood diners, and oceanside parks. Six of Maine's 200 lighthouses are located on the periphery of this prominent port city. In terms of where to stay in Portland, you can choose between renovated heritage properties right in the heart of downtown or seaside digs. Here's our guide to the top-rated Airbnb Portland, Maine vacation rentals.
Traveling to New England? Check out Matador's New England accommodations guides:
We hope you love the Airbnb Portland, Maine, vacation rentals we recommend! Just so you know, Matador may collect a small commission from the links on this page if you decide to book a stay. Listed prices are accurate as of the time of publication.
Most Unique Airbnb in Portland, Maine
Sixteen-acre private island venue, seven luxury campsites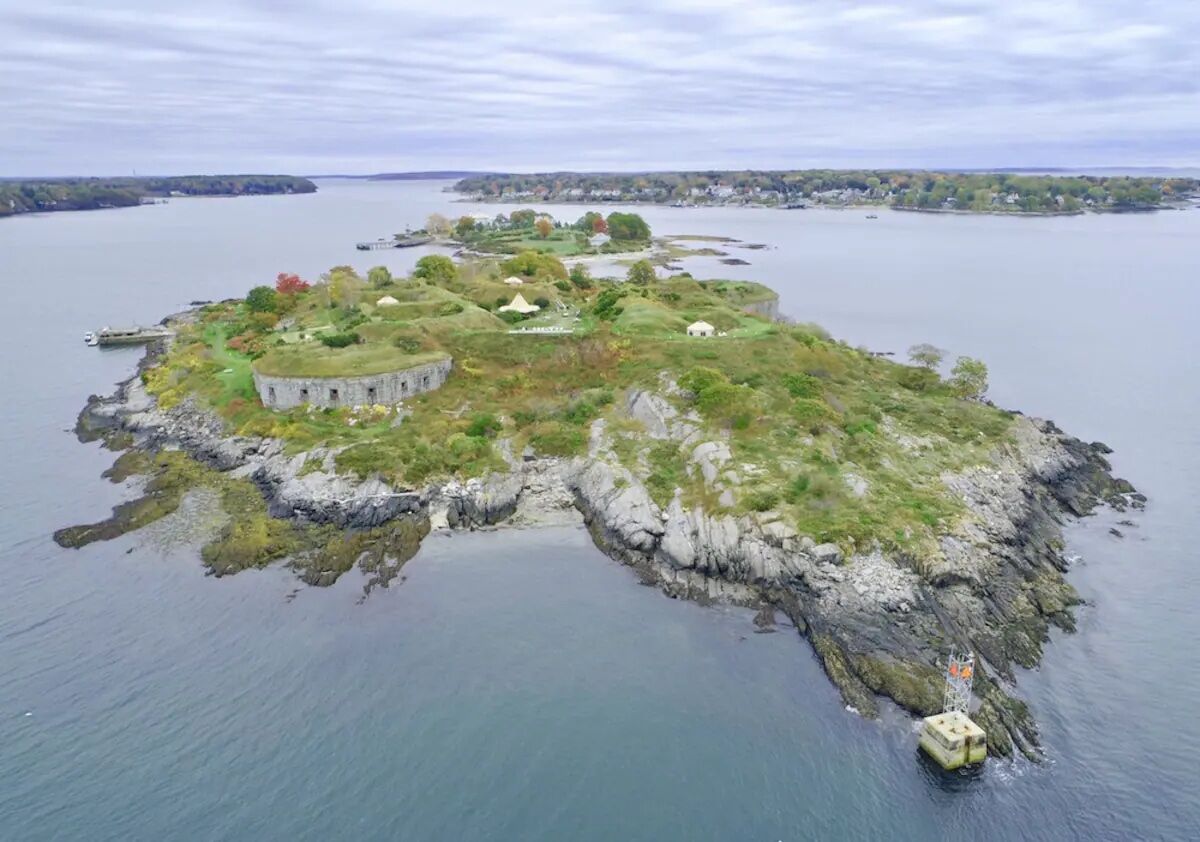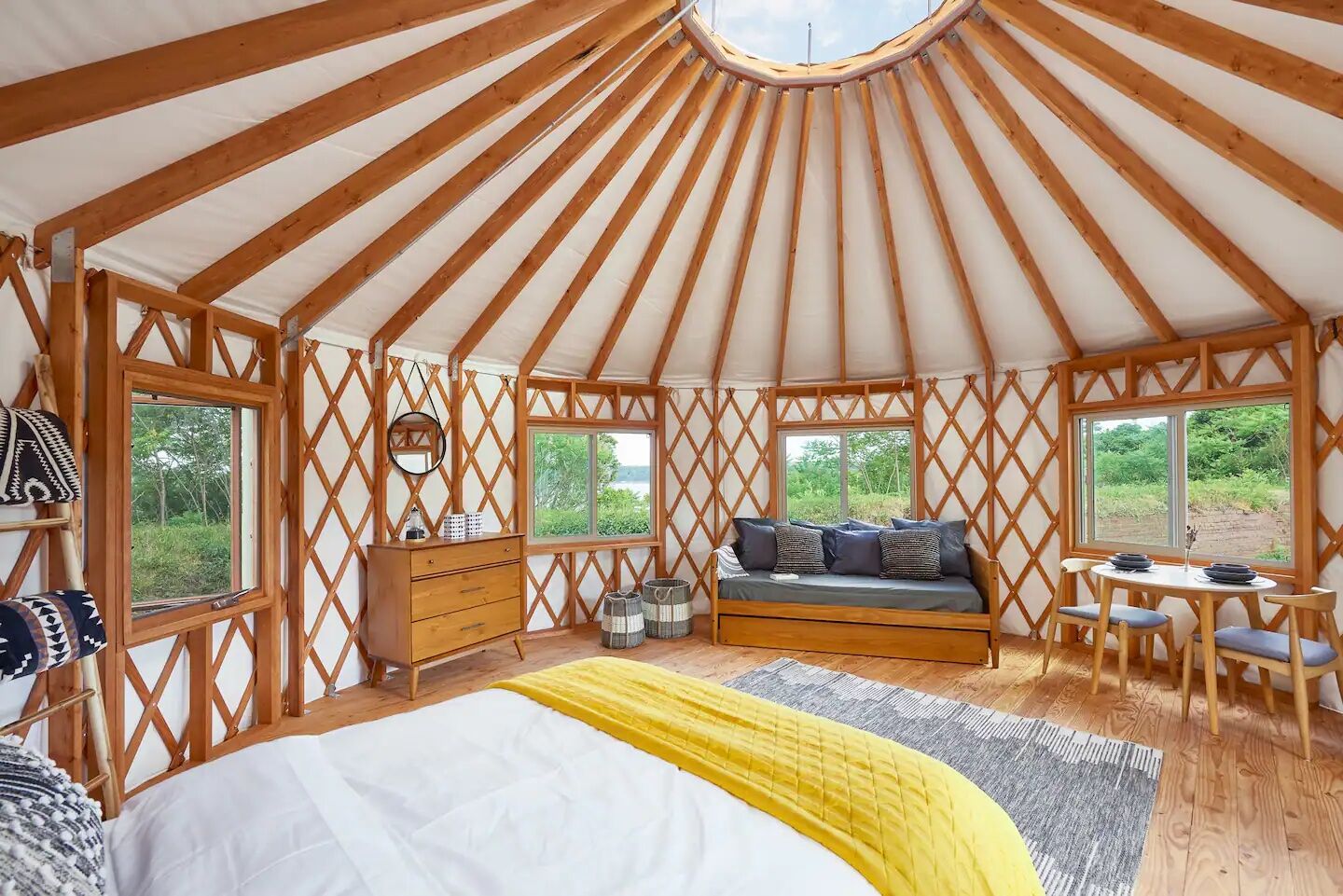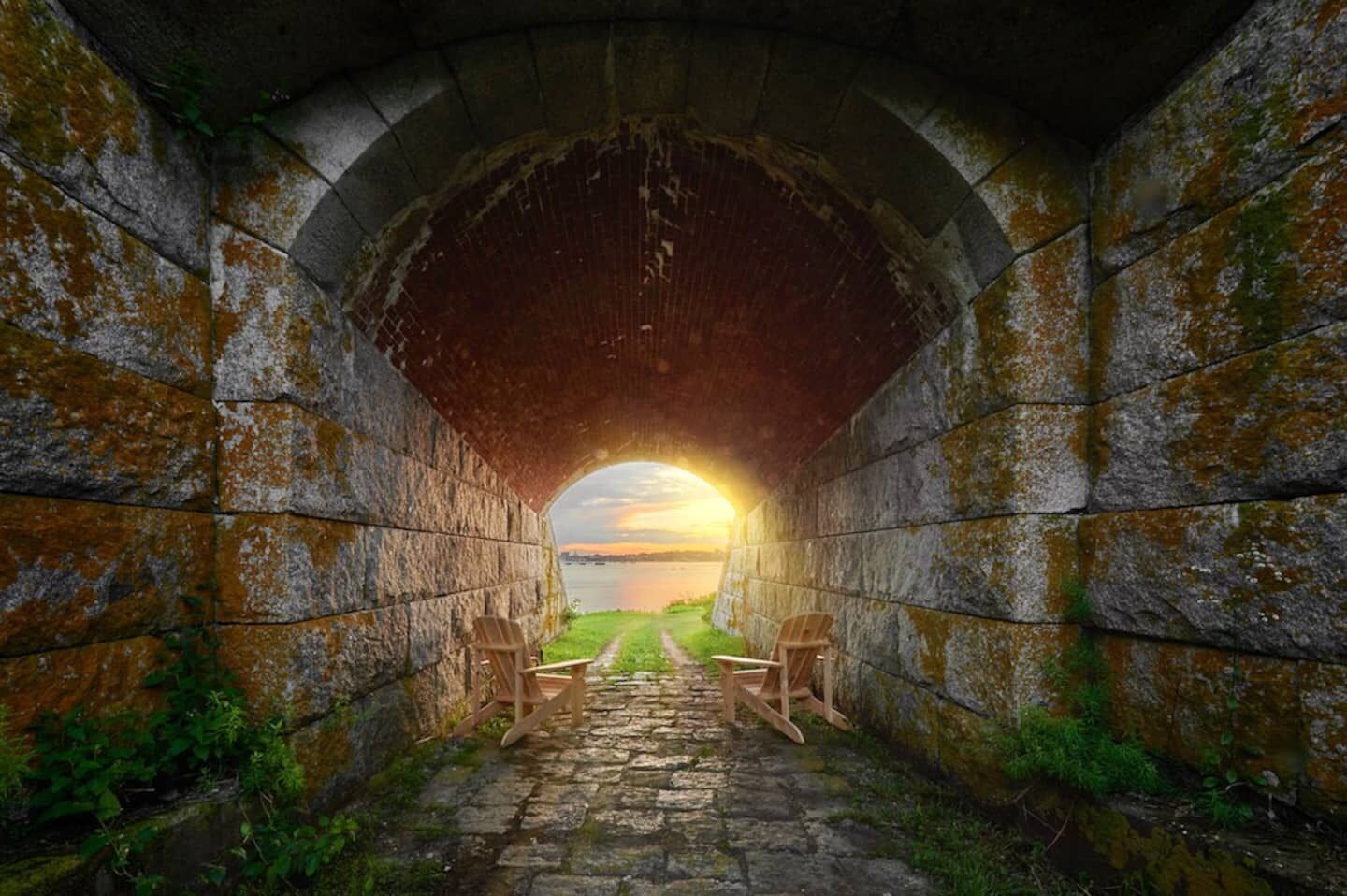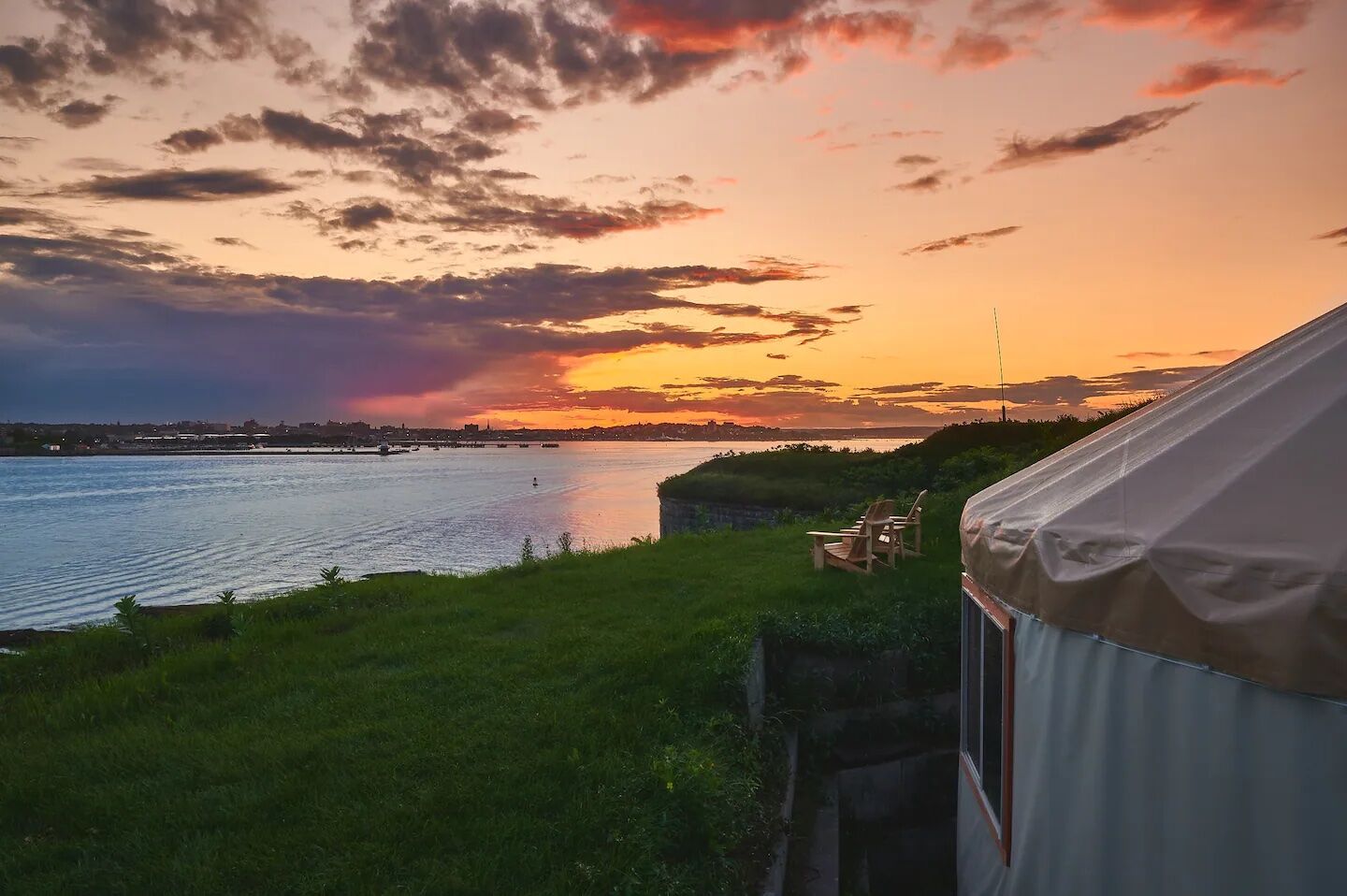 Retreat offshore to this private island Airbnb Portland, Maine. The complex is spread across the grounds of civil war-era Fort Scammel and you'll have free reign of the bastion and tunnels. All seven yurts are kitted out with double beds with select units having an additional pull-out trundle. Larger groups are permitted to pitch up to ten further tents on the island. Terraces and firepits are set up so you can kick back with a skyline view come dusk.
Sixteen guests, seven bedrooms
Price: $5,000 per night
Airbnbs in Portland, Maine – Old Port with terraces
"Henry" penthouse waterfront suite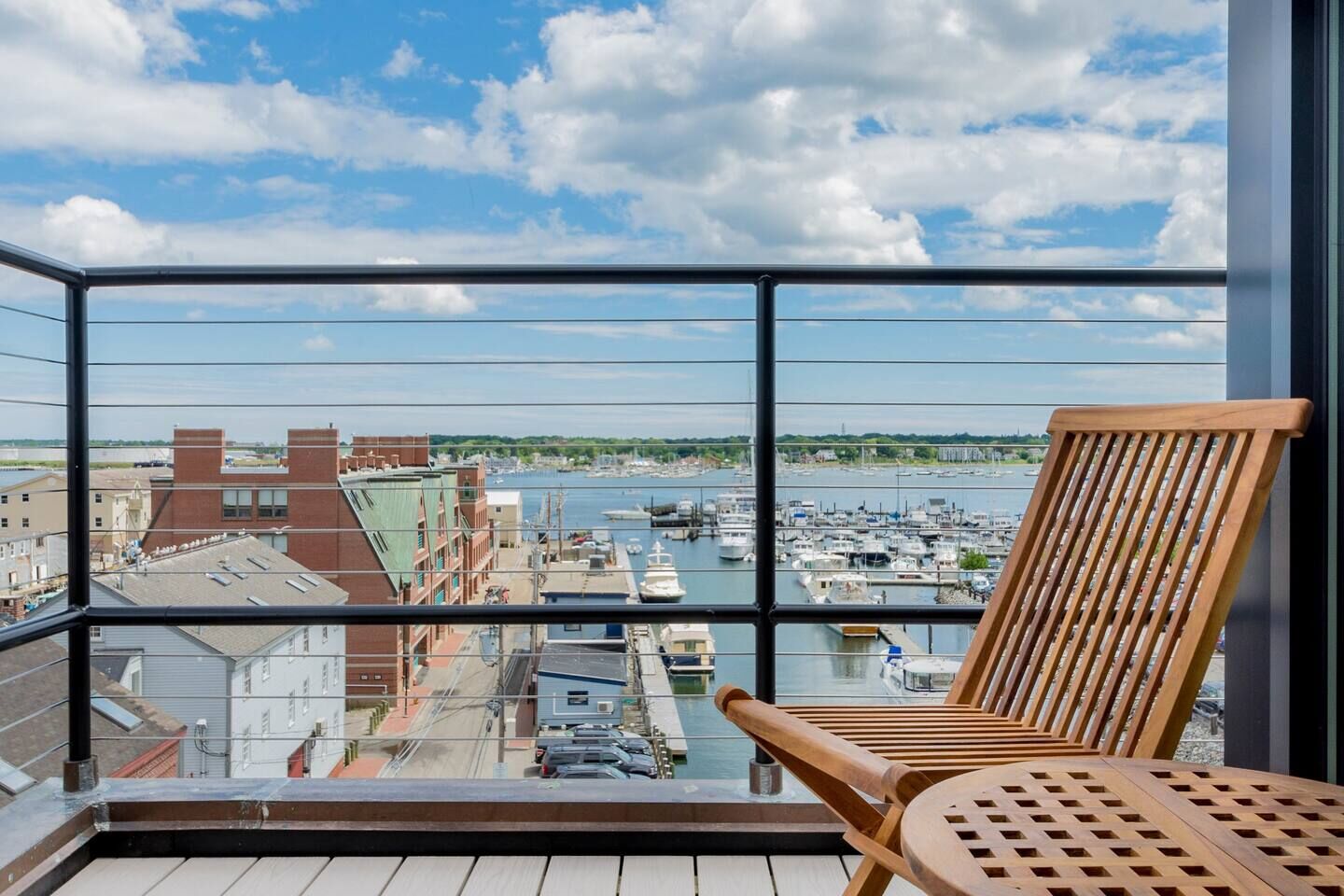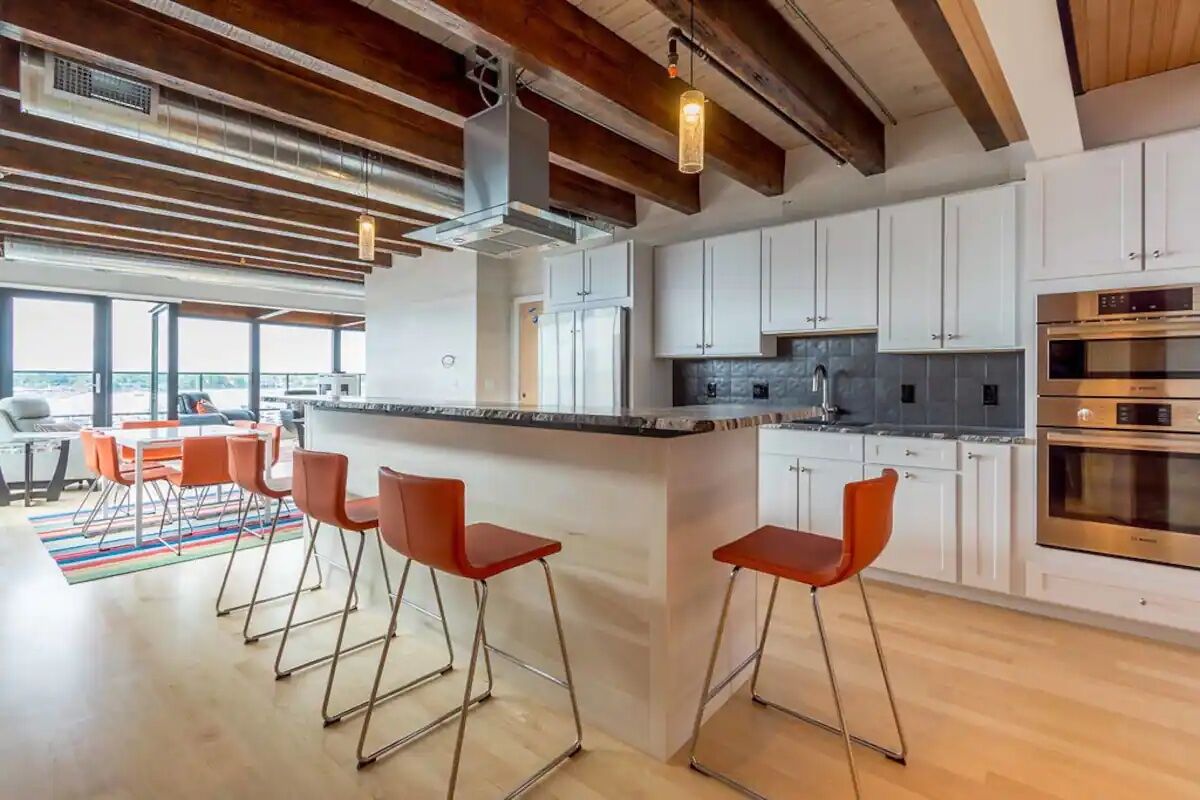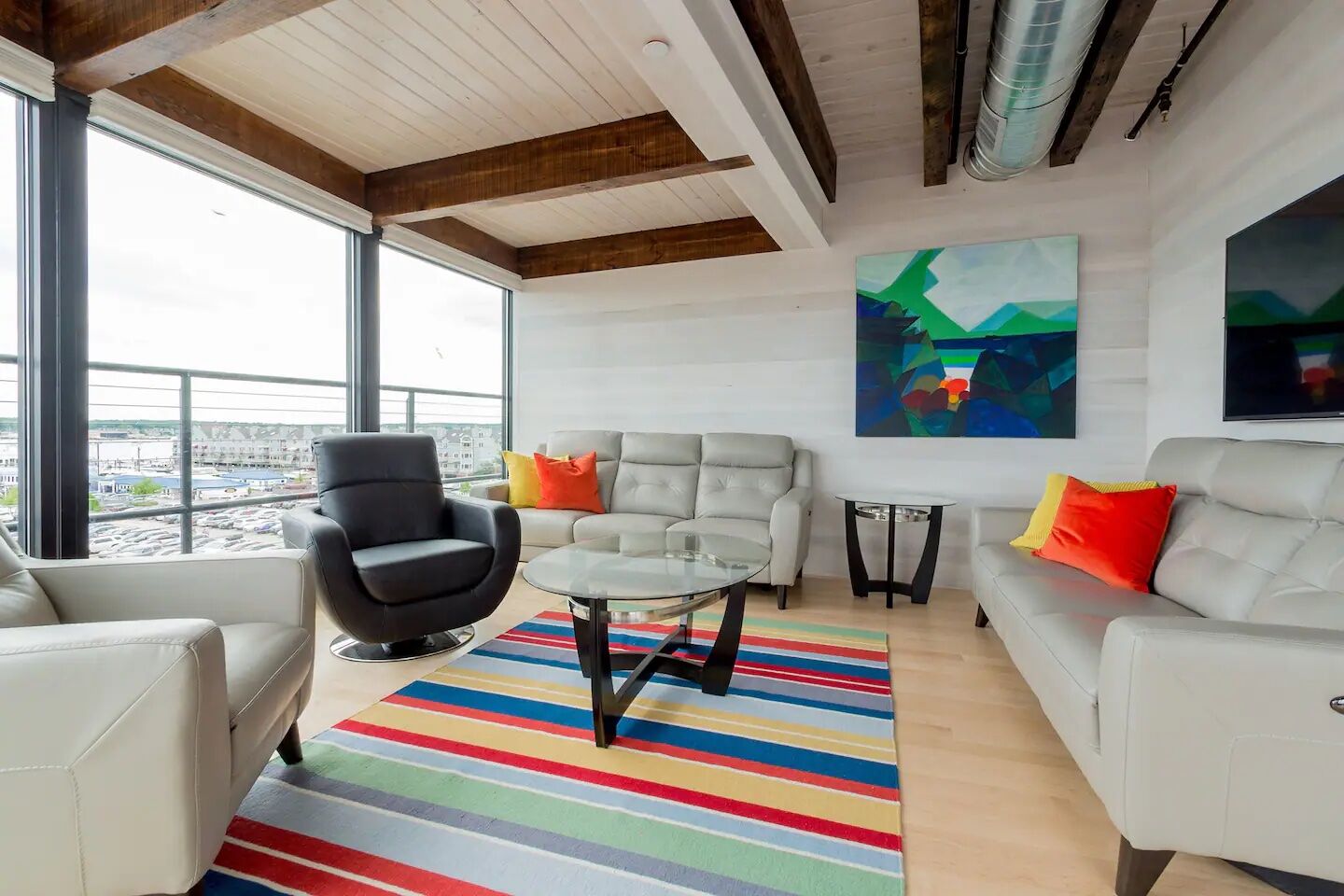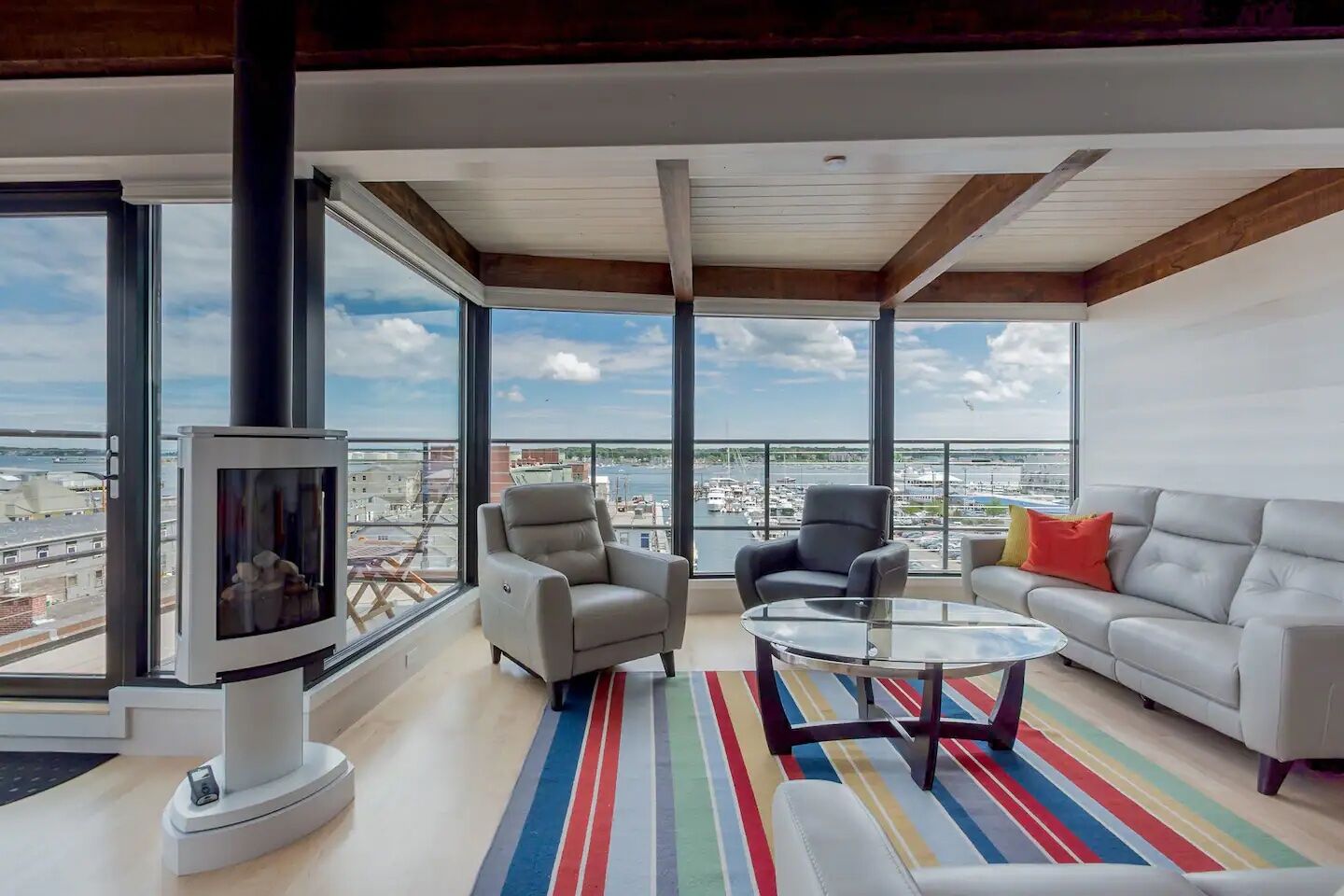 This sophisticated Portland penthouse tops an old 1850s warehouse in the Old Port with views over Dimillo's Marina. Step out onto the private deck and watch the yachts come and go with your nearest and dearest and huddle in front of the gas stove in cooler months. Interiors are stylishly presented with exposed beams and brickwork, vaulted ceilings, and skylights in the bedrooms. Feel inspired to cook up a storm in the state-of-the-art kitchen or switch off with a long soak in the luxurious bathtub.
Four guests, two bedrooms
Price: $550 per night
Extraordinary architectural masterpiece downtown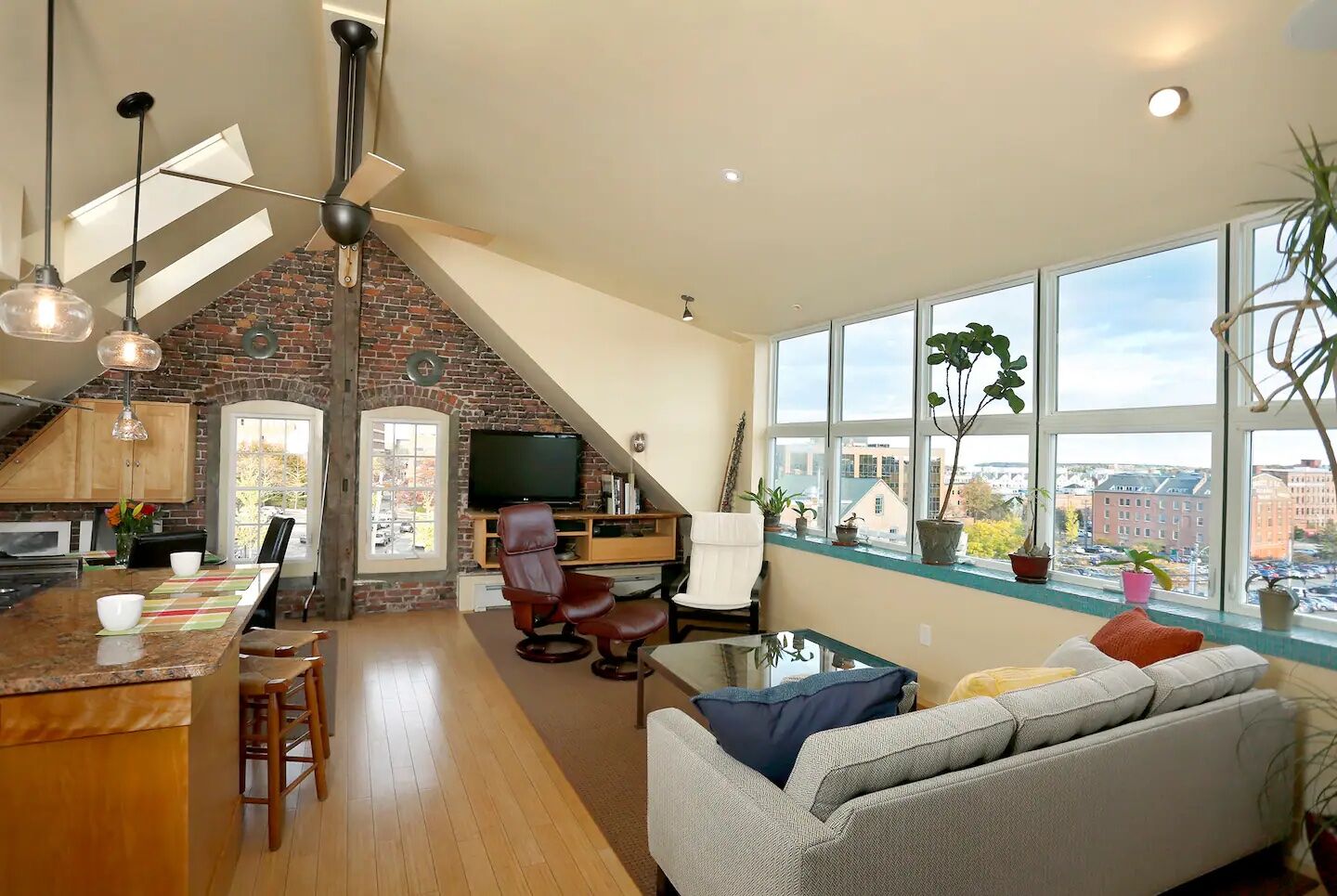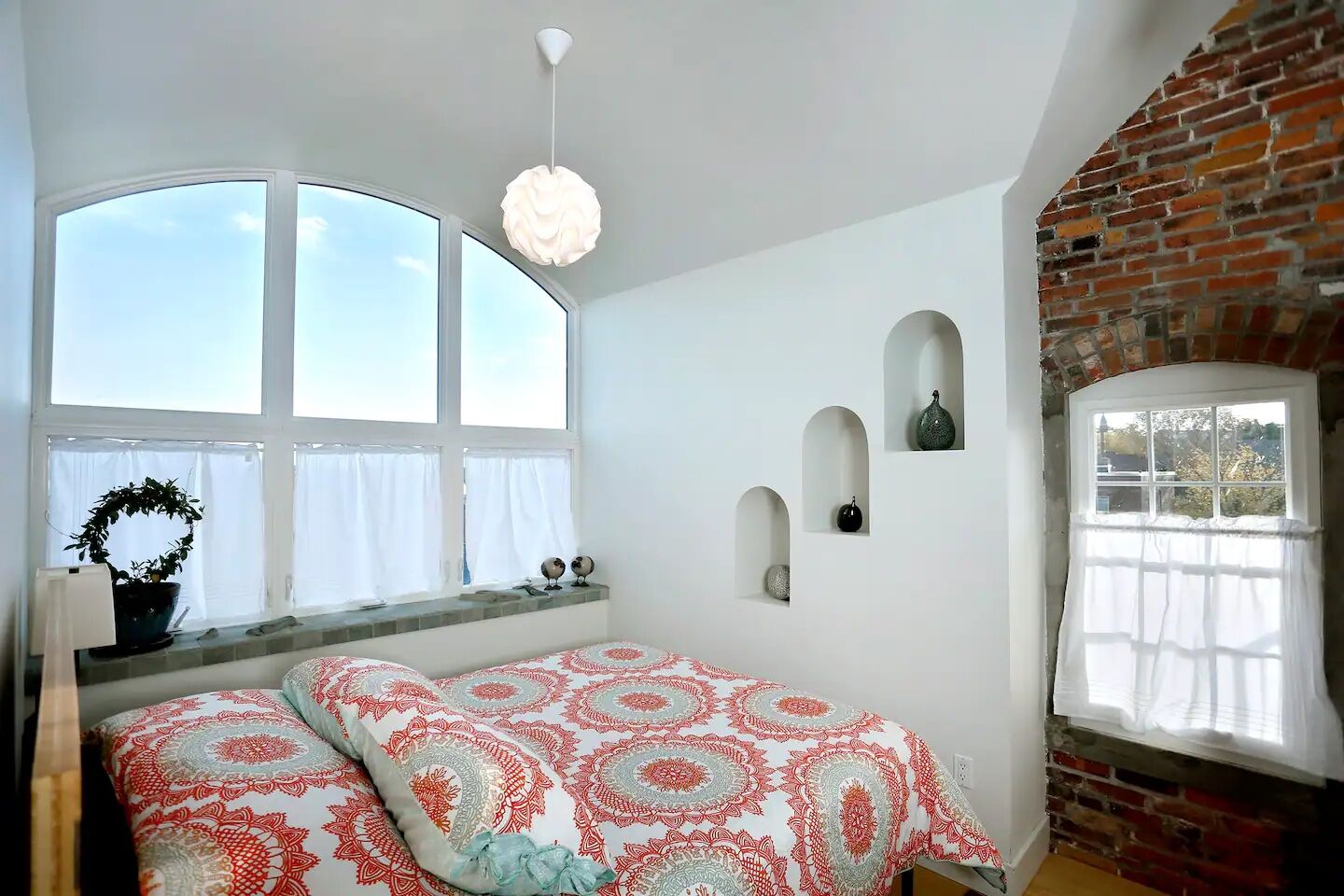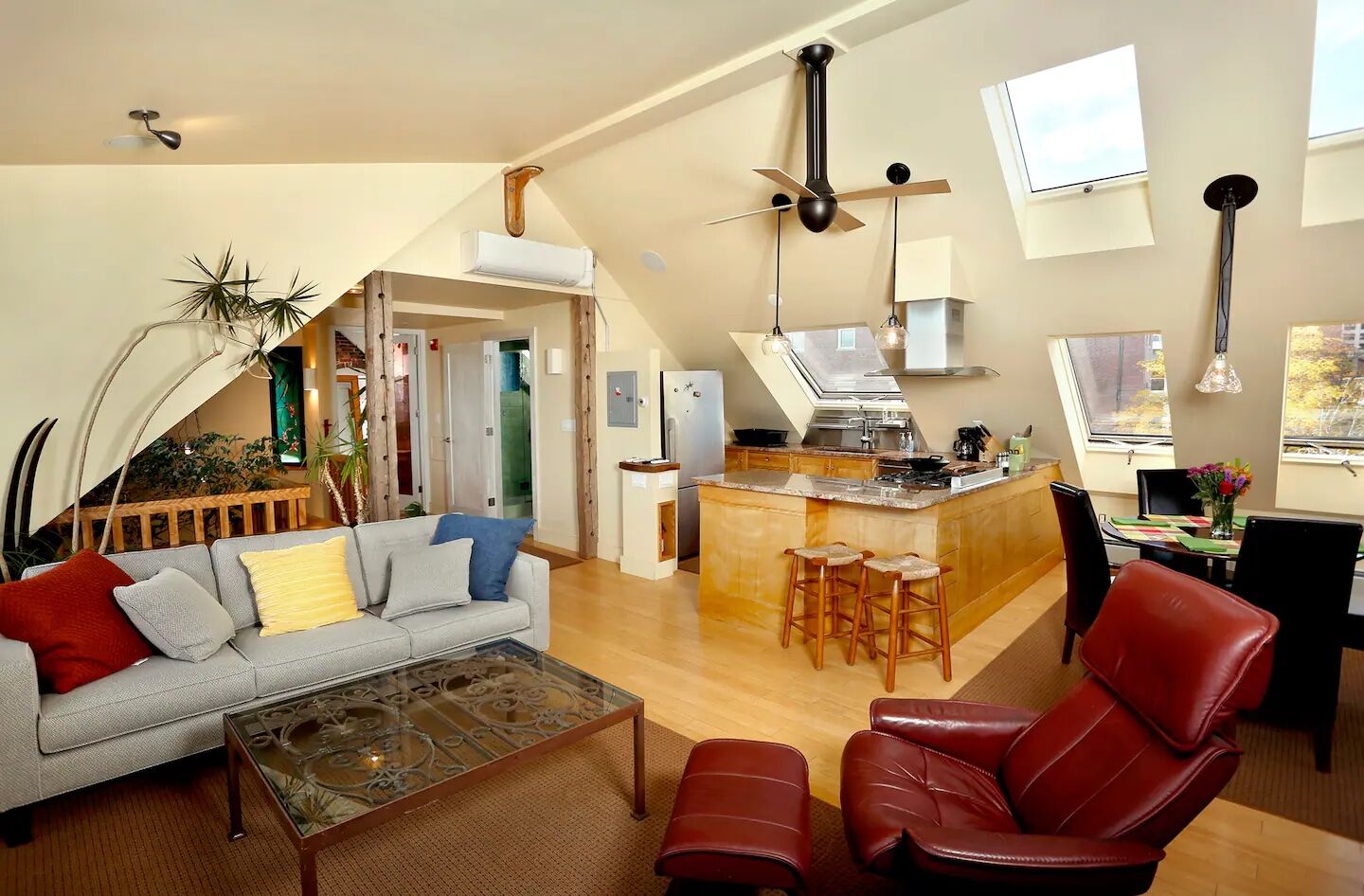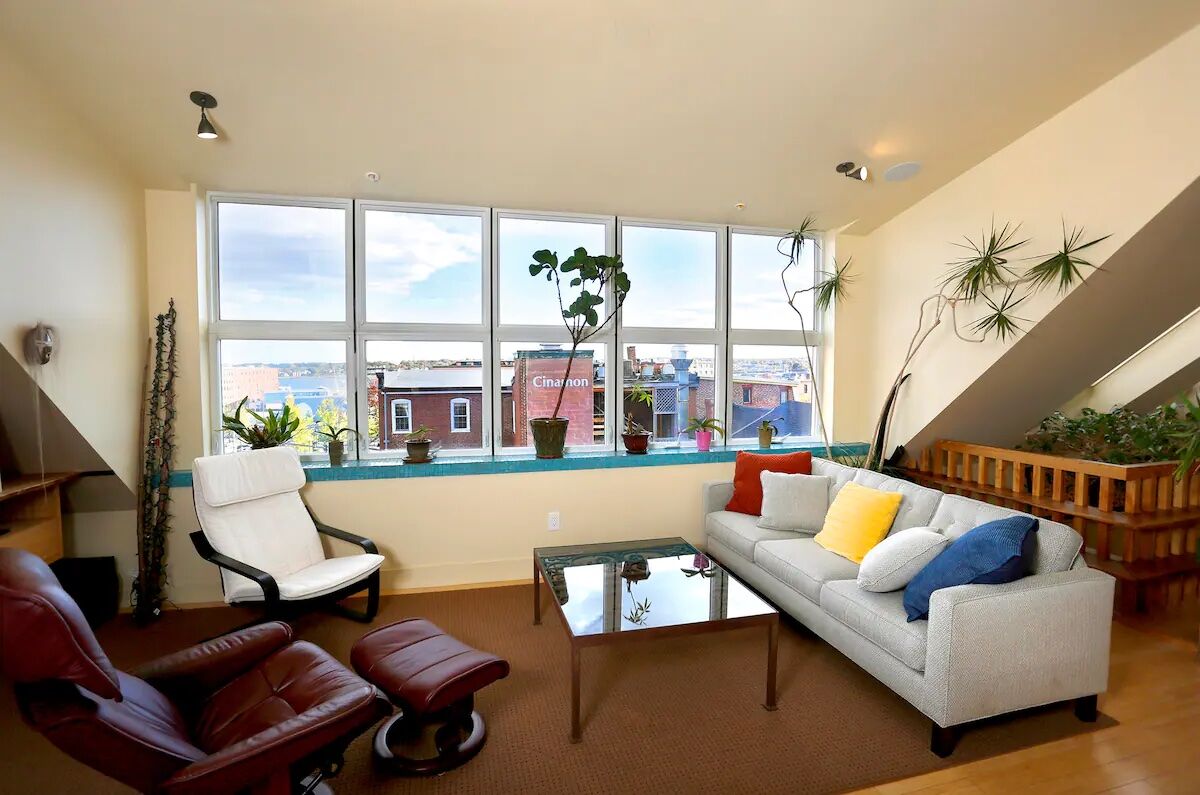 Rising above the waterfront, this Portland, Maine, Old Port Airbnb loft grants terrific panoramic views while natural light pours in from the skylights. The space is equipped for short and long stays with a complete kitchen, comfy bed, and ample seating. Best of all, the apartment has a deck where you can top up your tan over a morning brew.
Two guests, one bedroom
Price: $340 per night
Walk anywhere from these Airbnbs in downtown Portland, Maine
Beautiful West End townhouse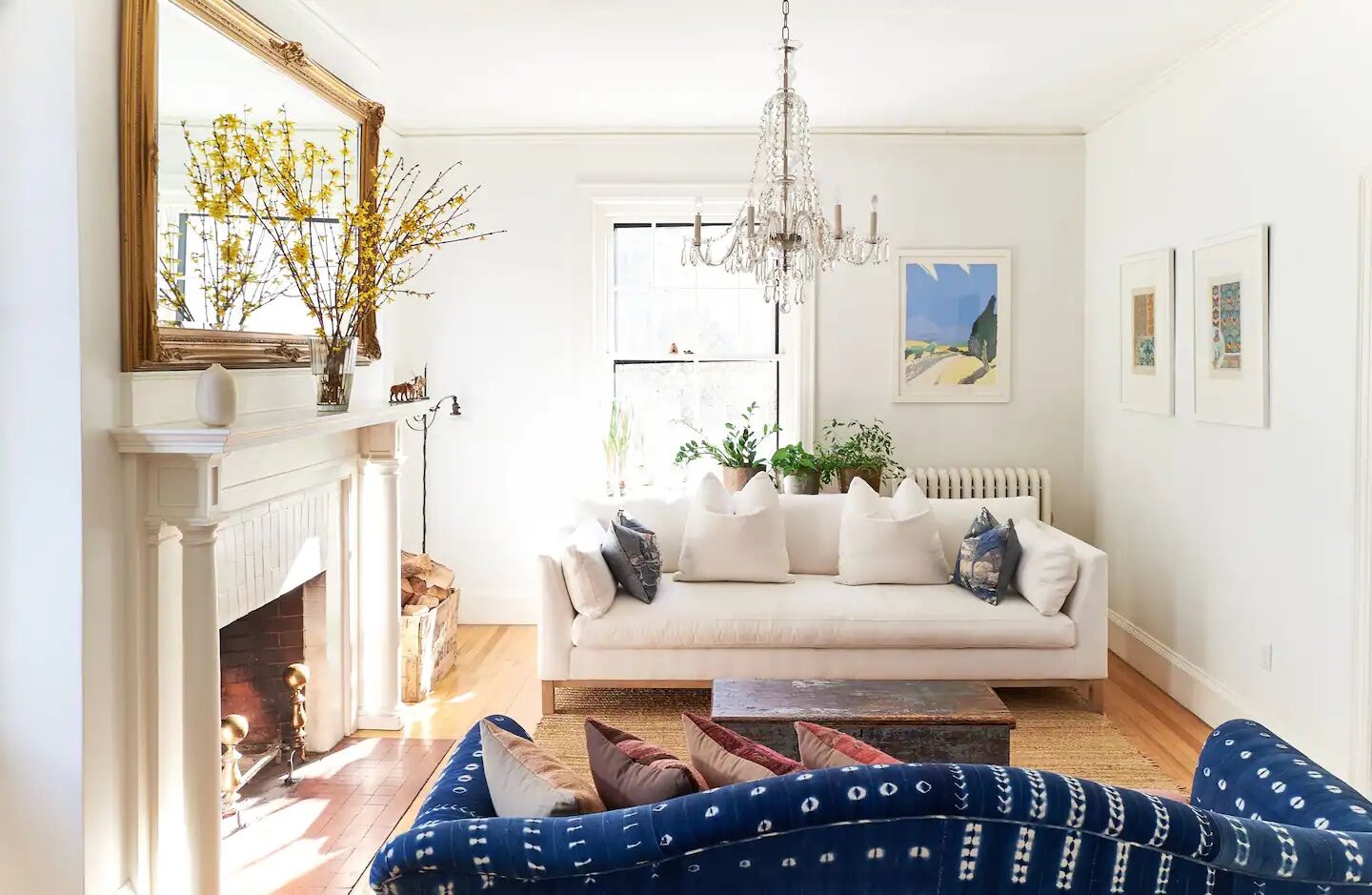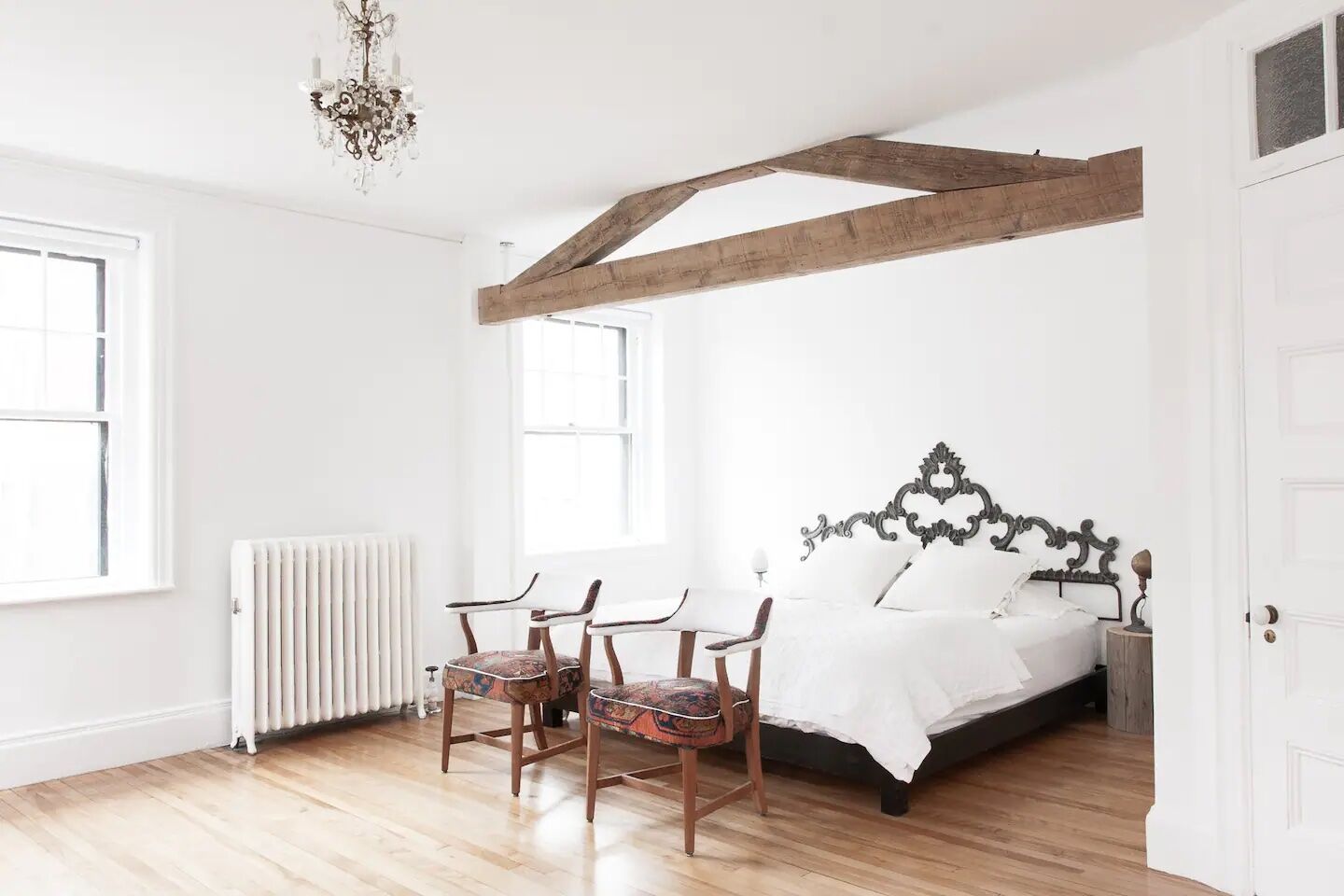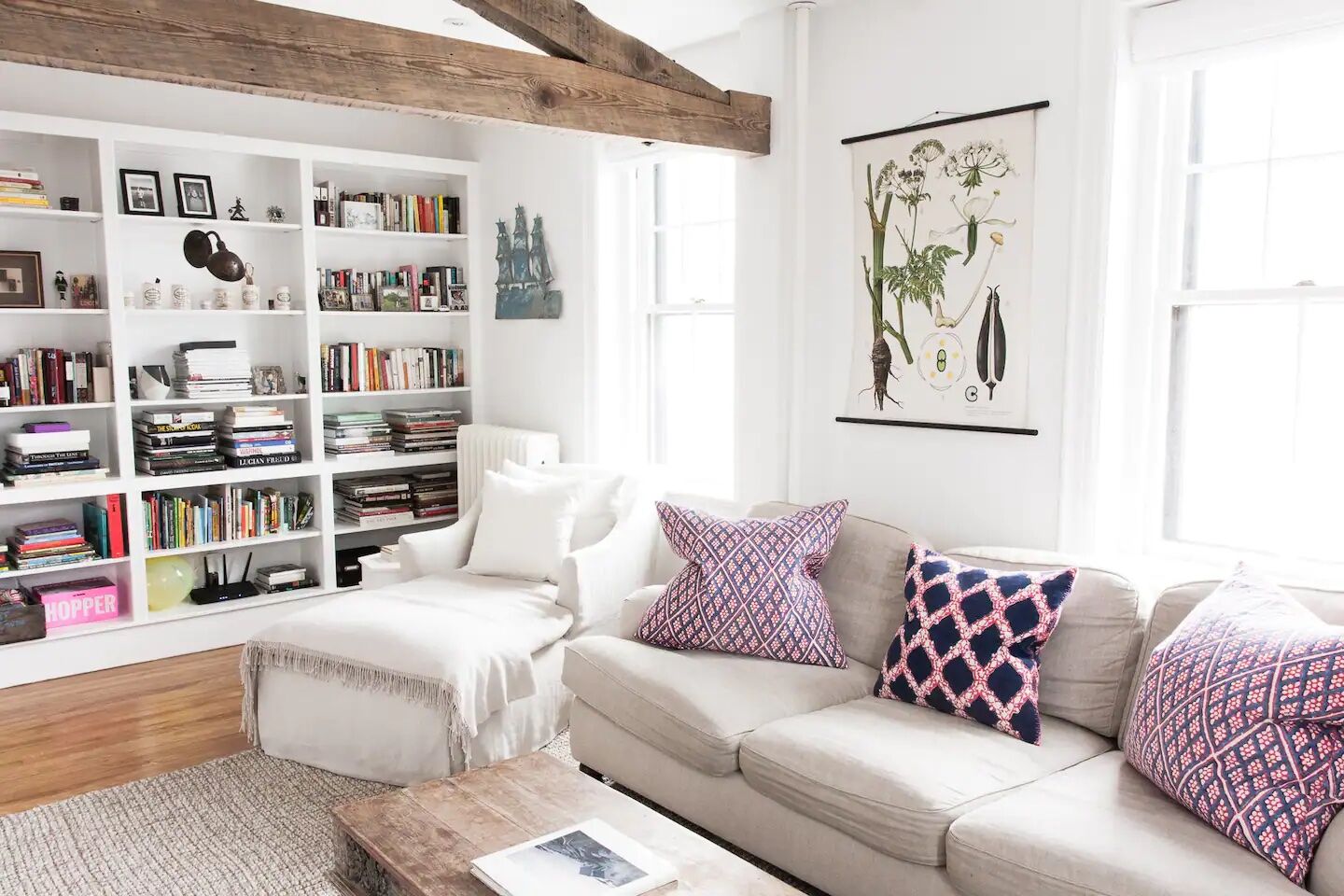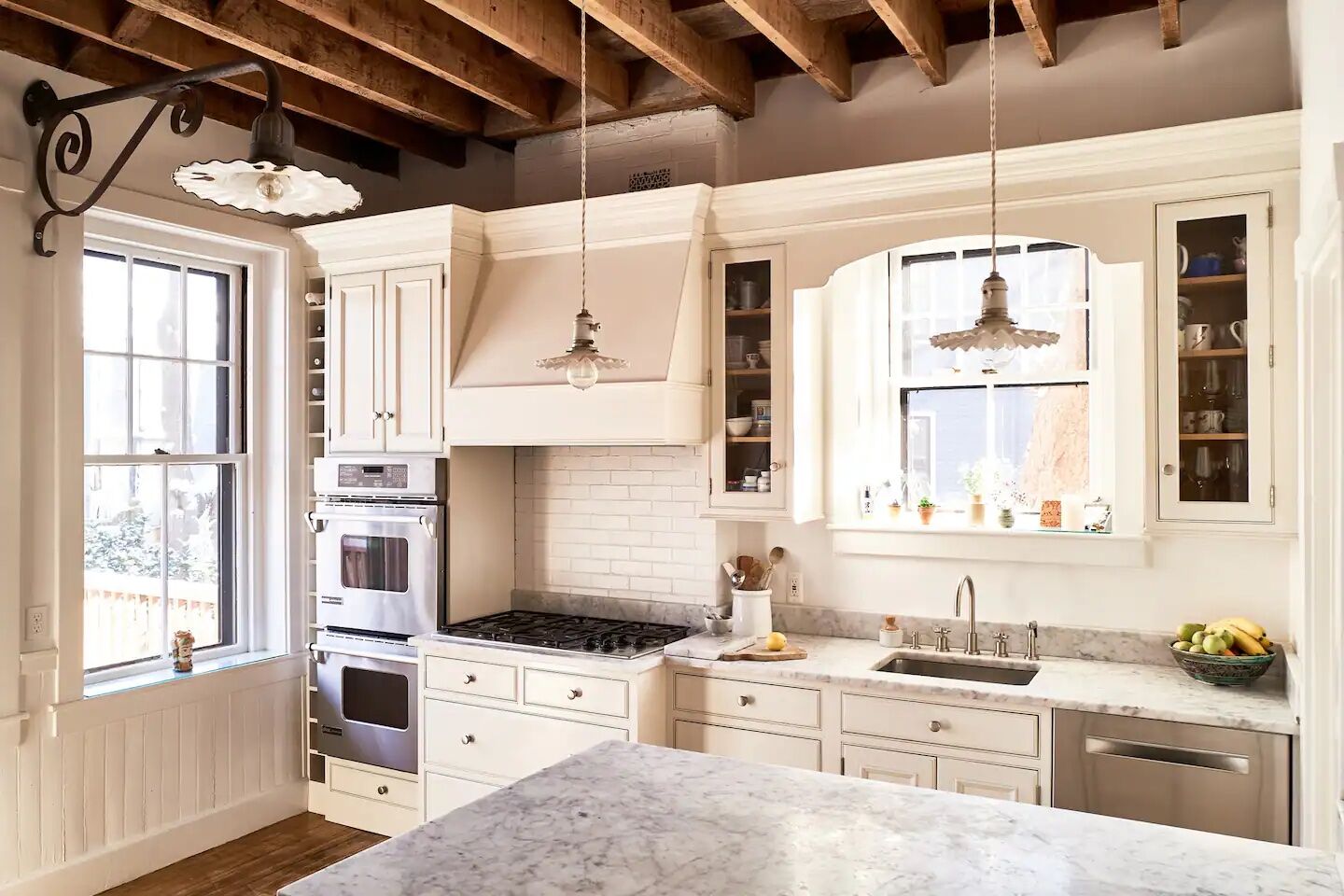 Renovated to satisfy modern travelers without sacrificing its original charms, this 19th-century Georgian Revival townhouse will delight old souls. Neat touches include a rainfall shower in one bathroom, a vintage tub in another, and a fully fenced garden with a barbecue. Two of the bedrooms are designed for kids with various toys to keep them entertained. Chuck a couple of logs on the wood burner when night draws in and unwind in this restful family dwelling.
Seven guests, five bedrooms
Price: $1,050 per night
Designer-decorated in an amazing central location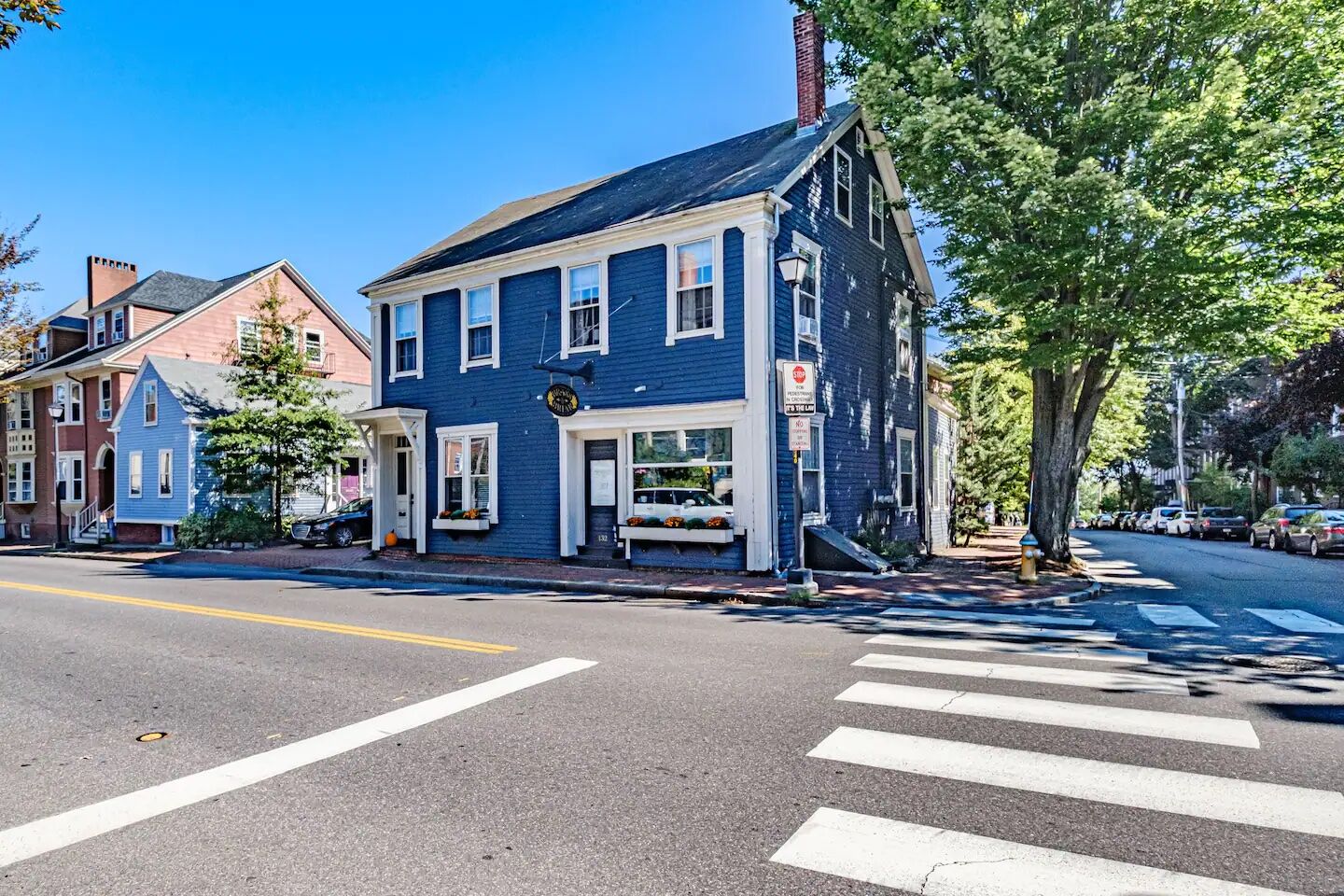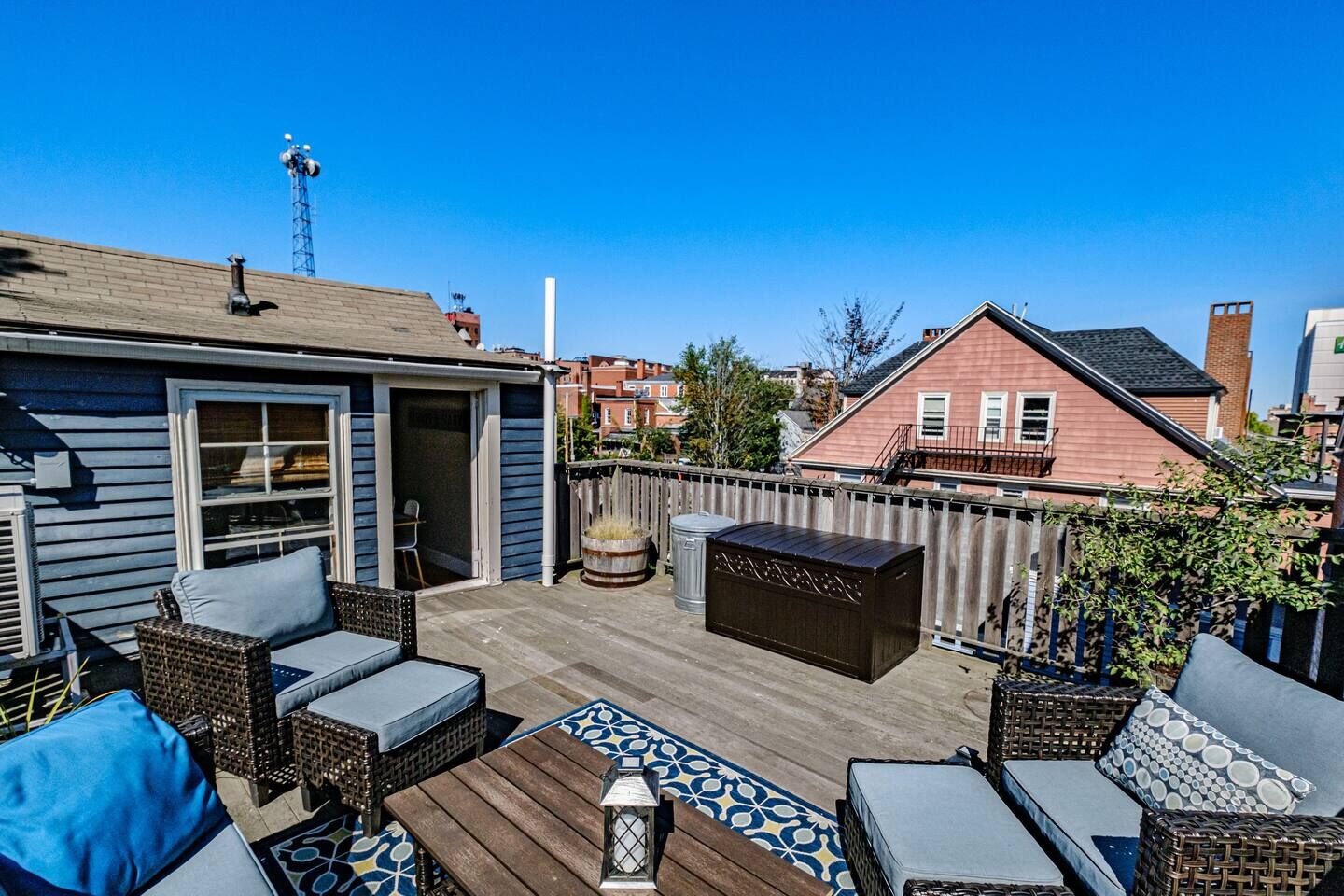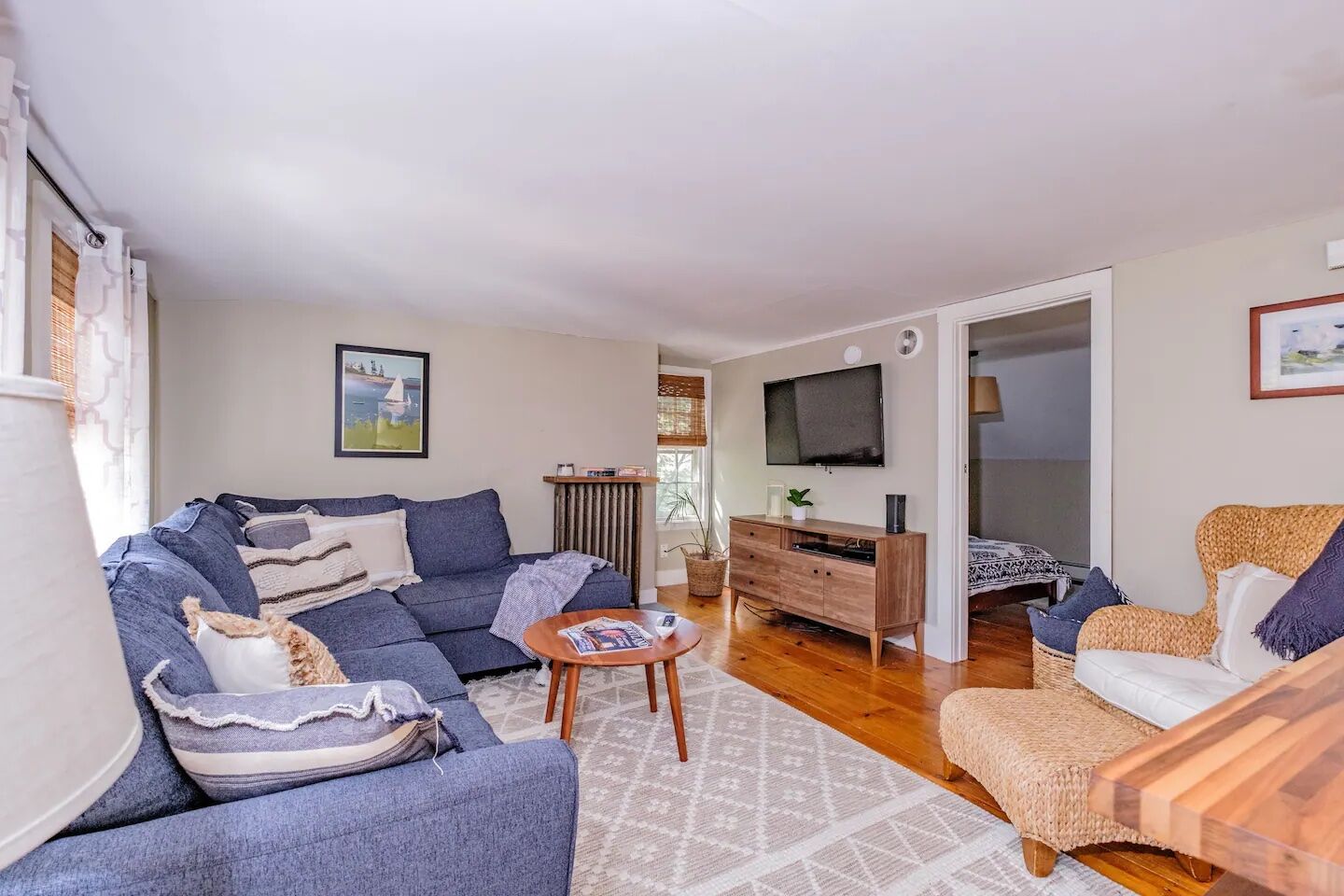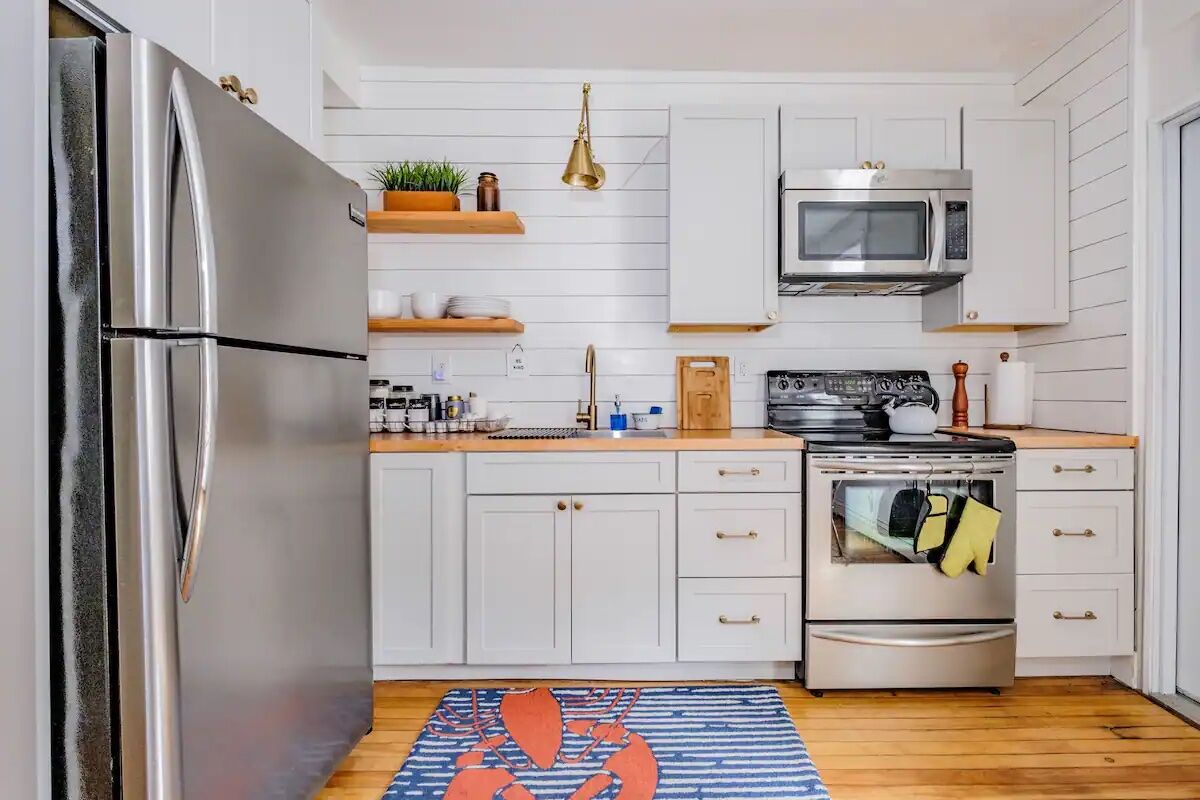 You'll have the best of the city at your fingertips while staying at this downtown Portland, Maine, Airbnb. Painted a fetching cerulean blue, the property is within walking distance of the waterfront, museums, and galleries. Spread over two floors and with the added bonus of a rooftop sun terrace, there's sufficient space to avoid feeling on top of each other. Presented like a proper home, this rental is perfect for families.
Twelve guests, five bedrooms
Price: $2,200 per night
Two-bedroom/two-floor condo city center, balcony, and fireplace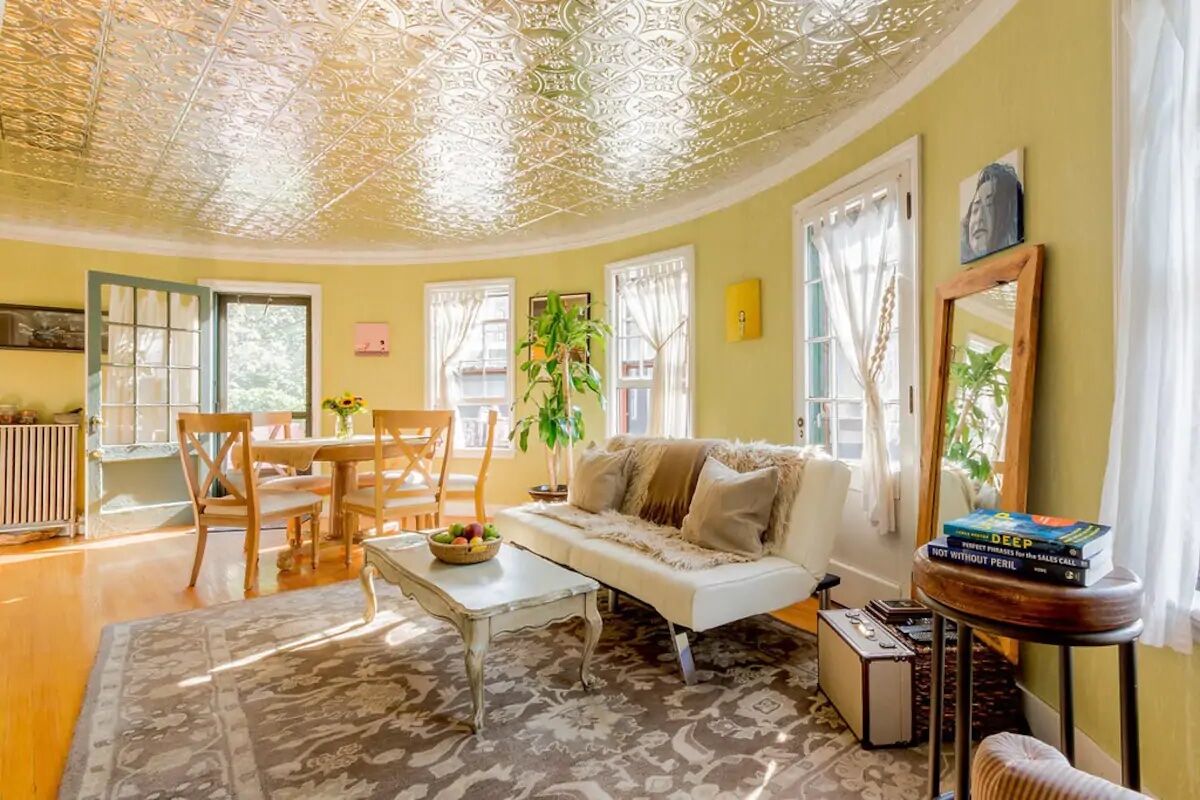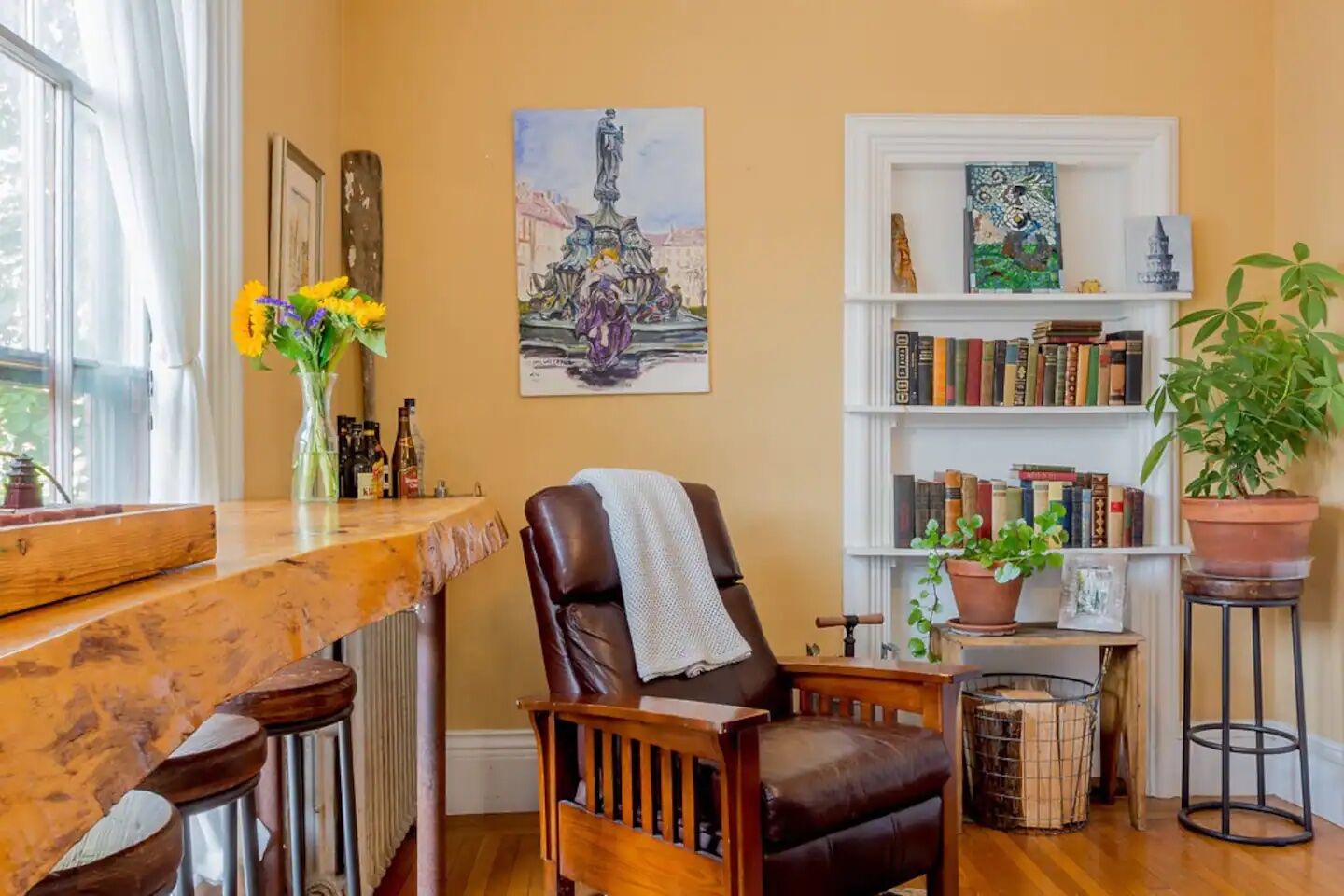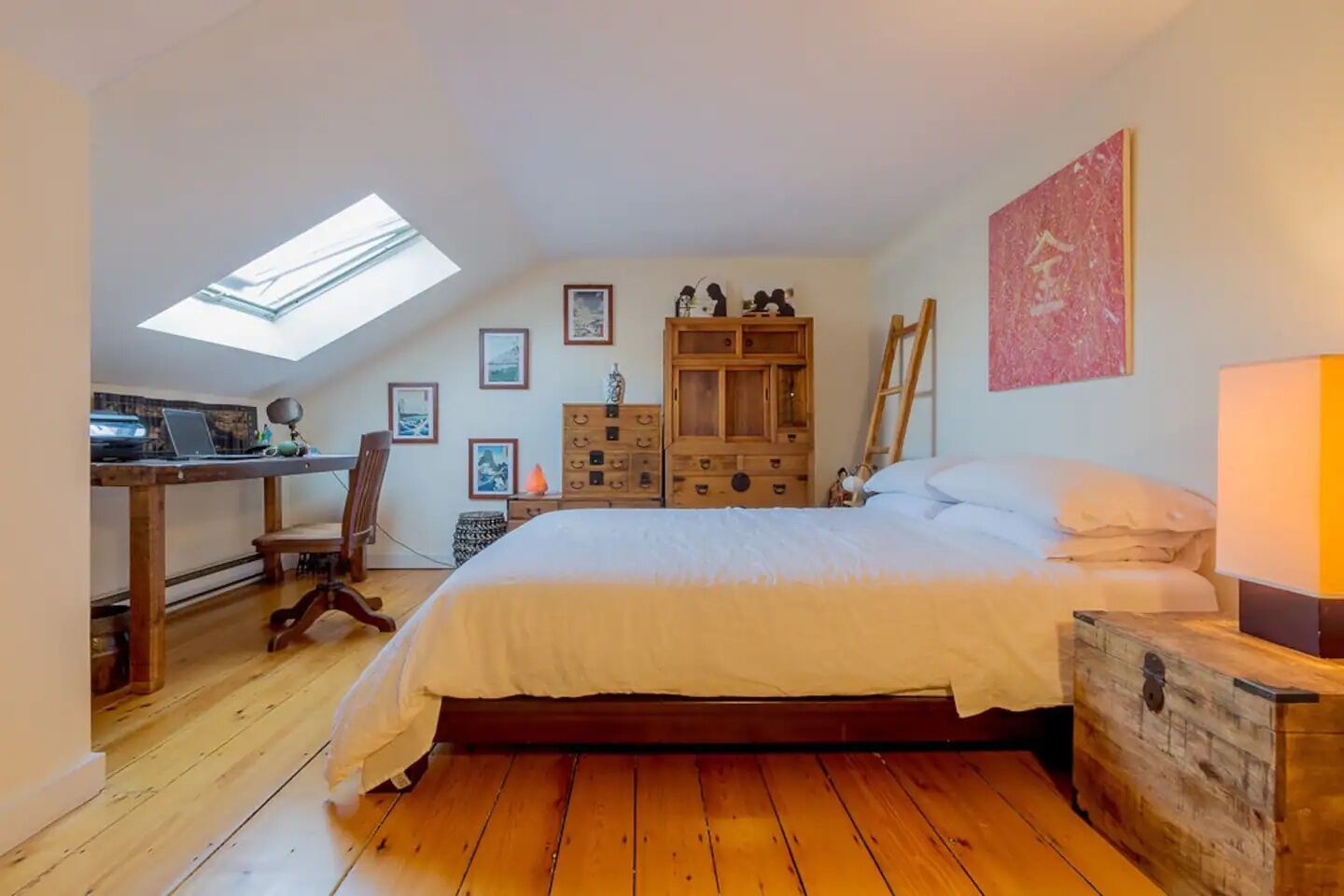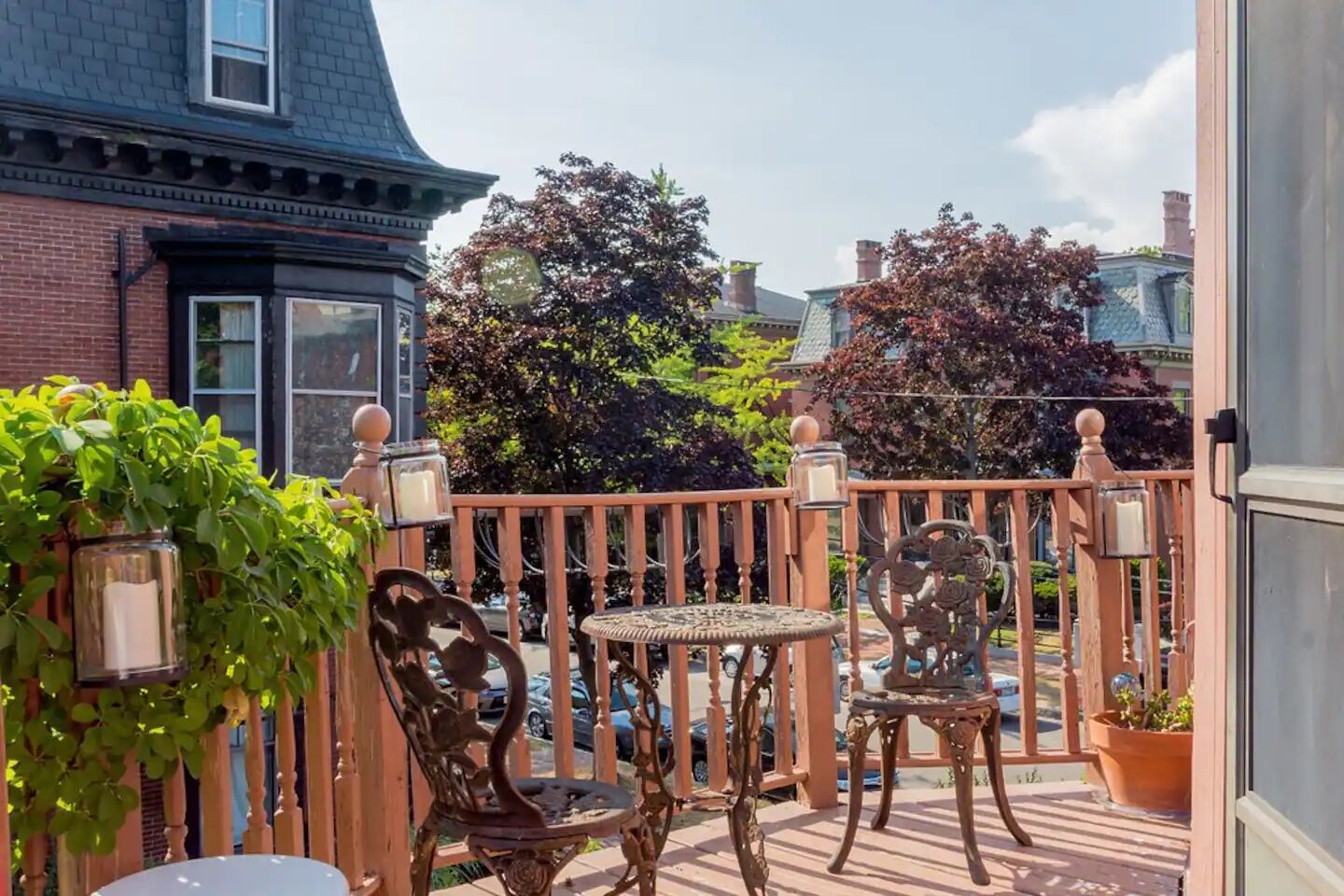 Conveniently located in the Arts District, this charming two-bedroom condo sets out to impress with its sun-kissed curved lounge. A statement fireplace is poised to keep winter travelers feeling toasty while hardwood floors are draped with cozy rugs. With excellent kitchen facilities and thoughtful workspaces, this is one of the best Portland, Maine, Airbnbs for remote workers. Exterior space includes a patio and backyard shrouded with greenery.
Four guests, two bedrooms
Price: $1,000 per night
Beautiful West End studio, hot tub, free parking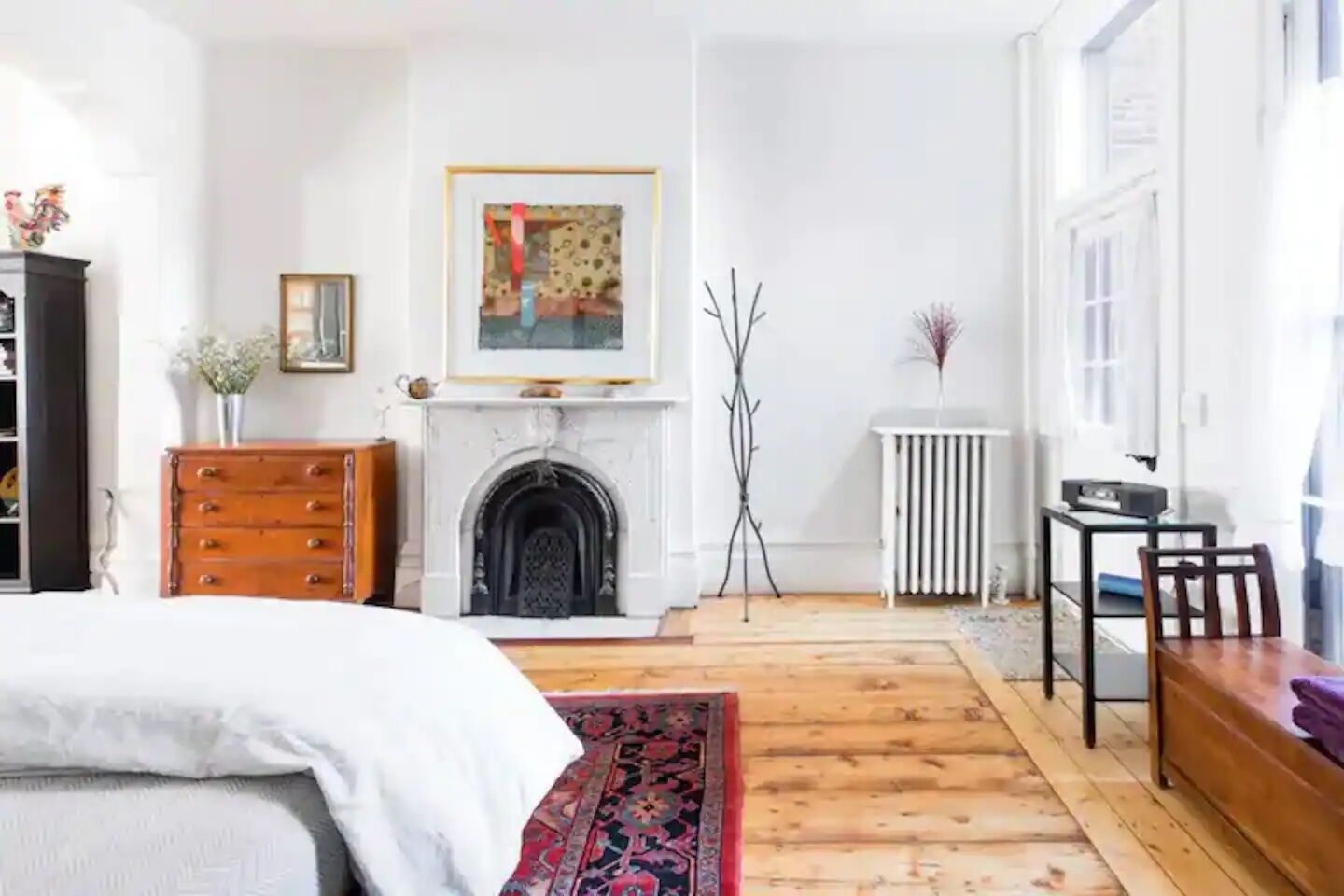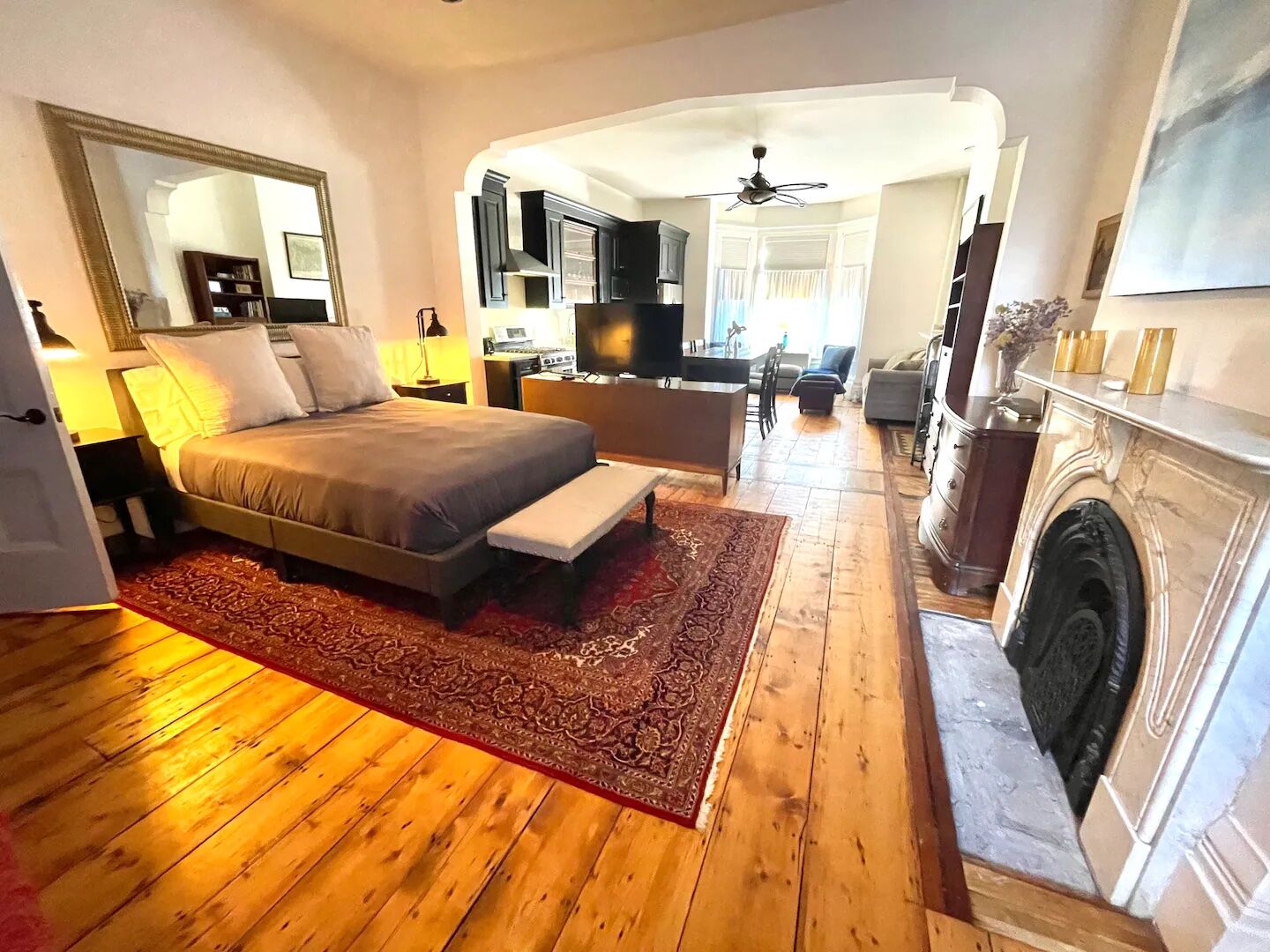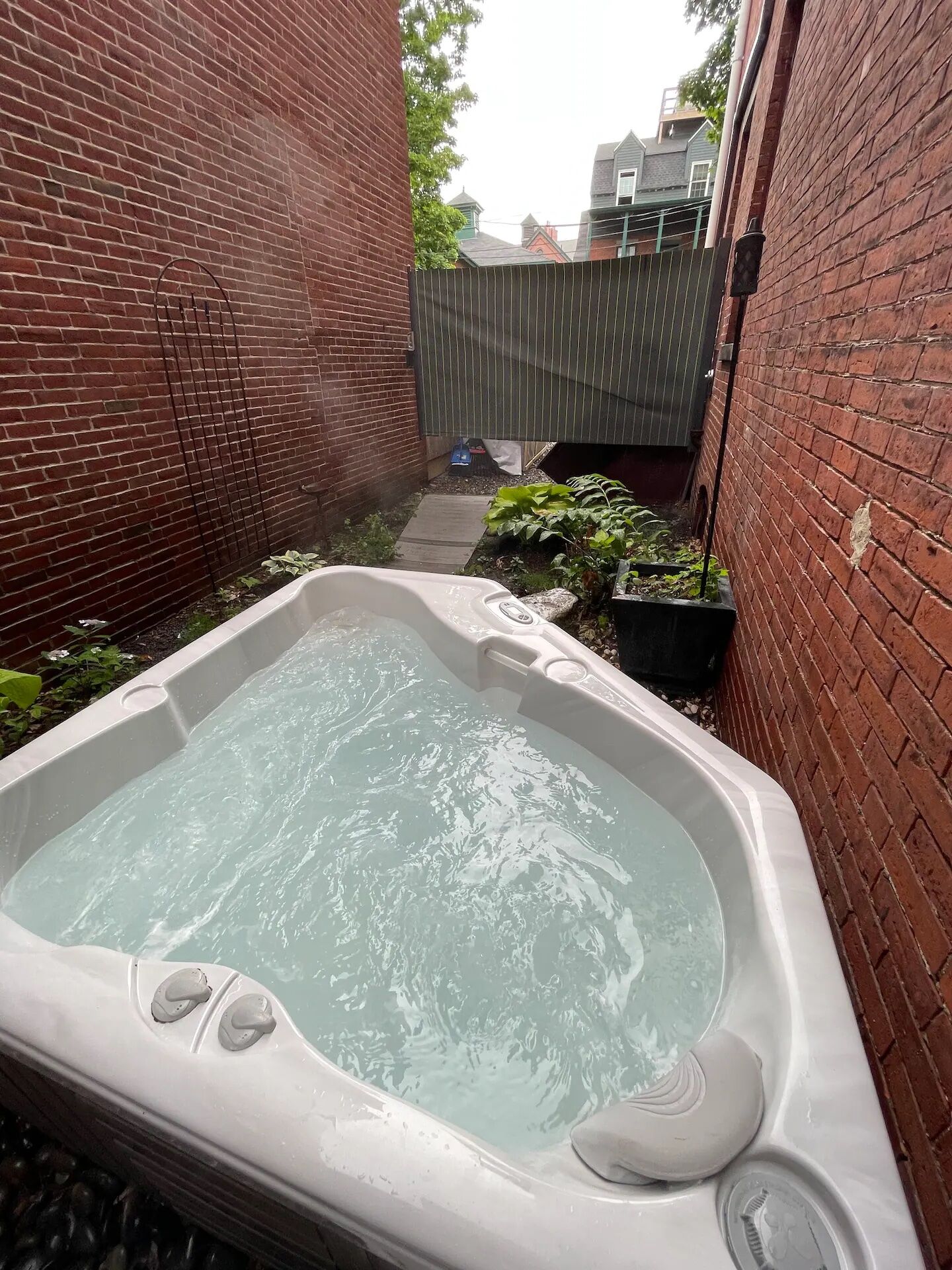 Steps away from the attractions, renting this downtown Portland, Maine, Airbnb comes with the exclusive use of your own outdoor hot tub. The studio space is roomy enough to accommodate a couple with a light-filled seating zone and a fully-equipped kitchen providing home comforts. You'll note that the host, a seasoned traveler, is an avid art collector. Pieces are rotated frequently to revitalize the space.
Two guests, one bedroom (studio)
Price: $340 per night
Best Munjoy Hill Airbnbs, Portland, Maine
Visit local galleries from a cozy house filled with art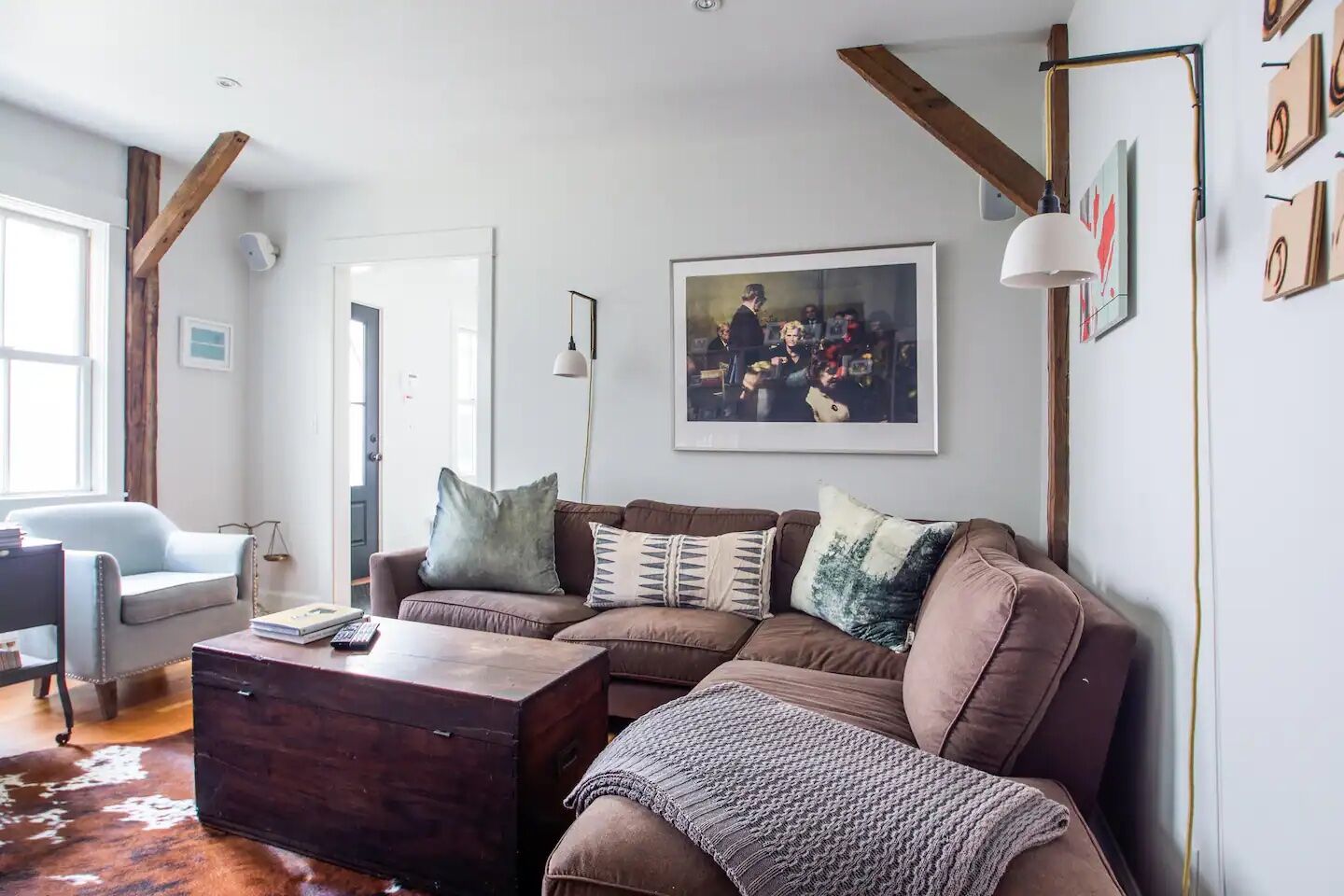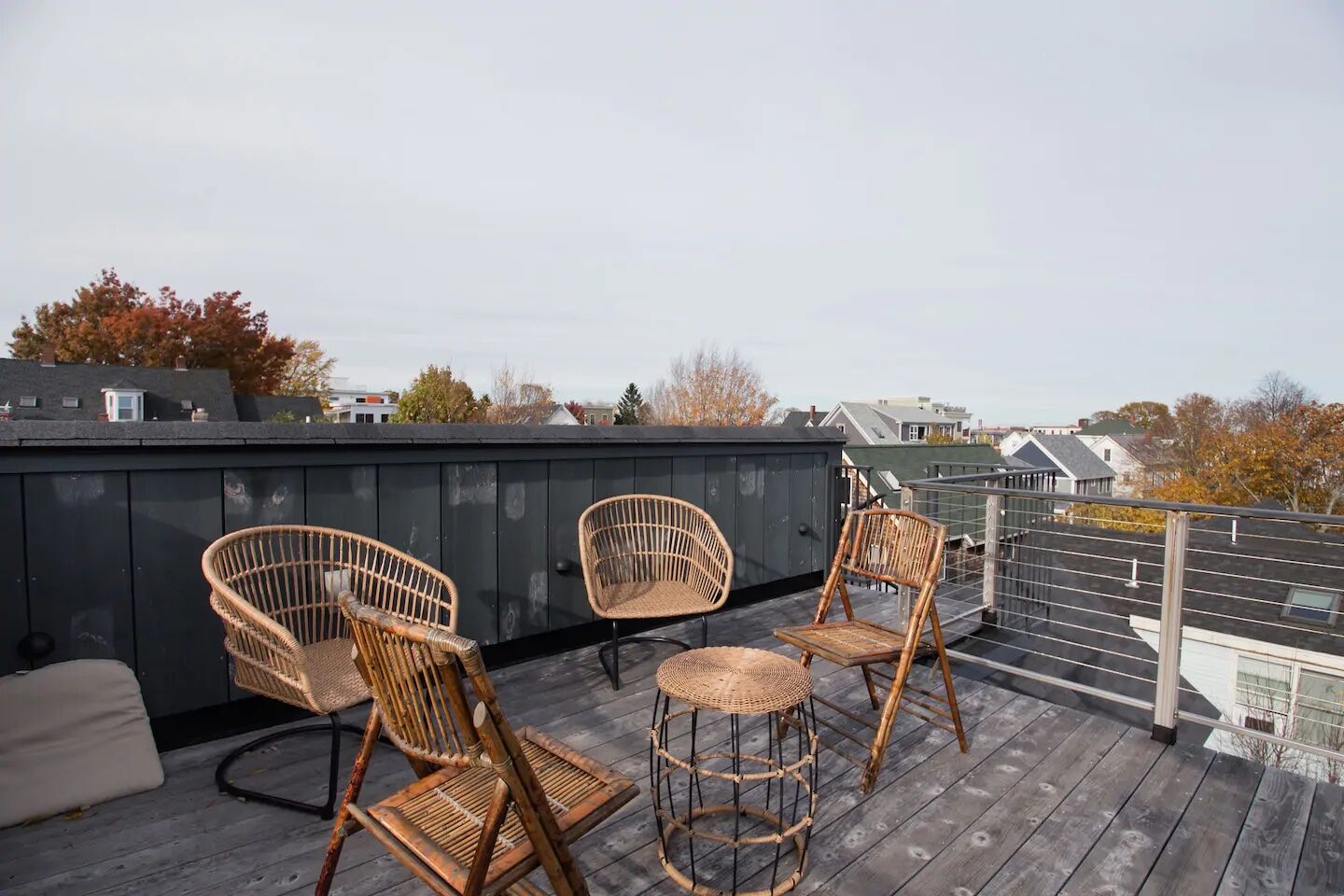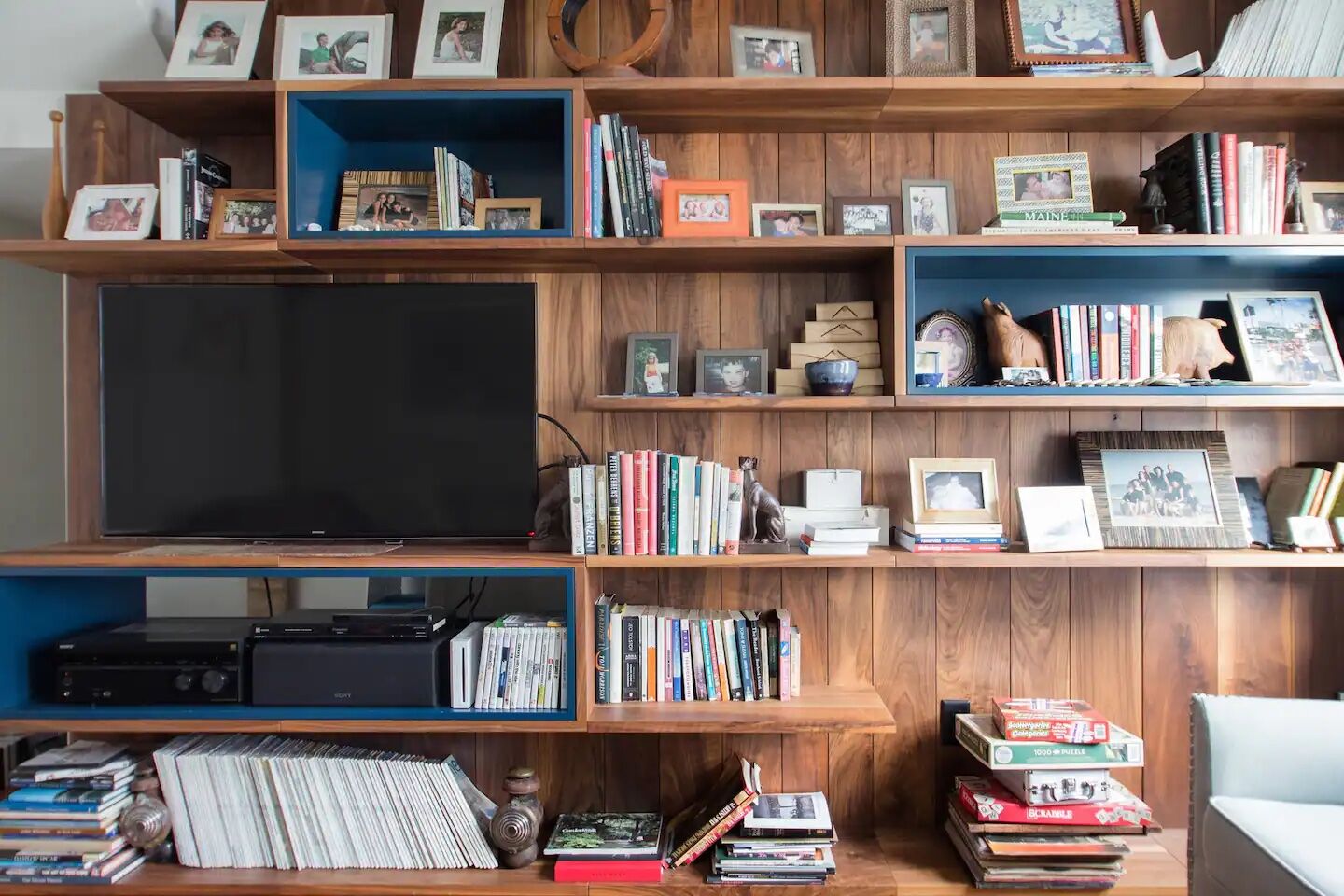 Artfully constructed and decorated, this boutique townhouse is spread over three levels with original wooden flooring, exposed beams, and fine furnishings. Trinkets, books, and board games add a personal layer to the vacation rental, and, yes, you are more than welcome to borrow anything you spot on the shelves. Gather the clan in time for sunset and savor sundowners on the roof patio with postcard views over Munjoy Hill and Casco Bay.
Six guests, three bedrooms
Price: $1,240 per night
Historic Munjoy Hill Retreat-Rooftop Water Views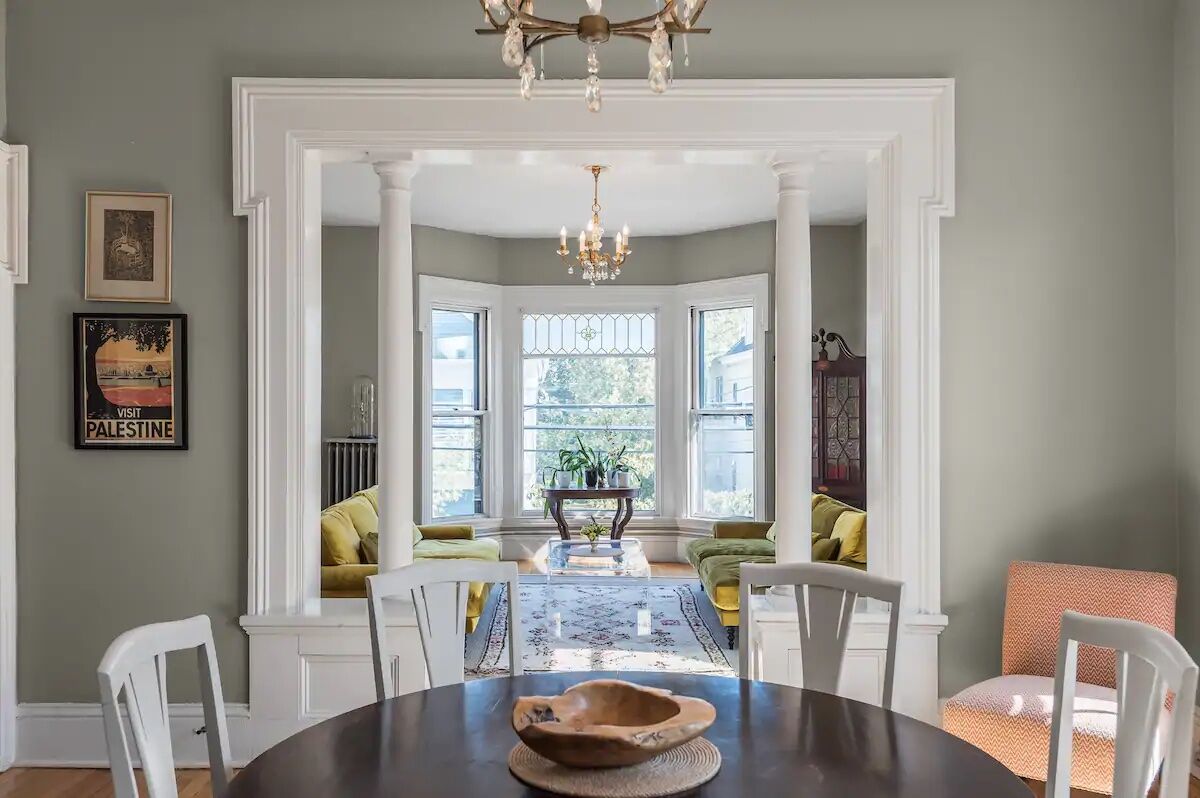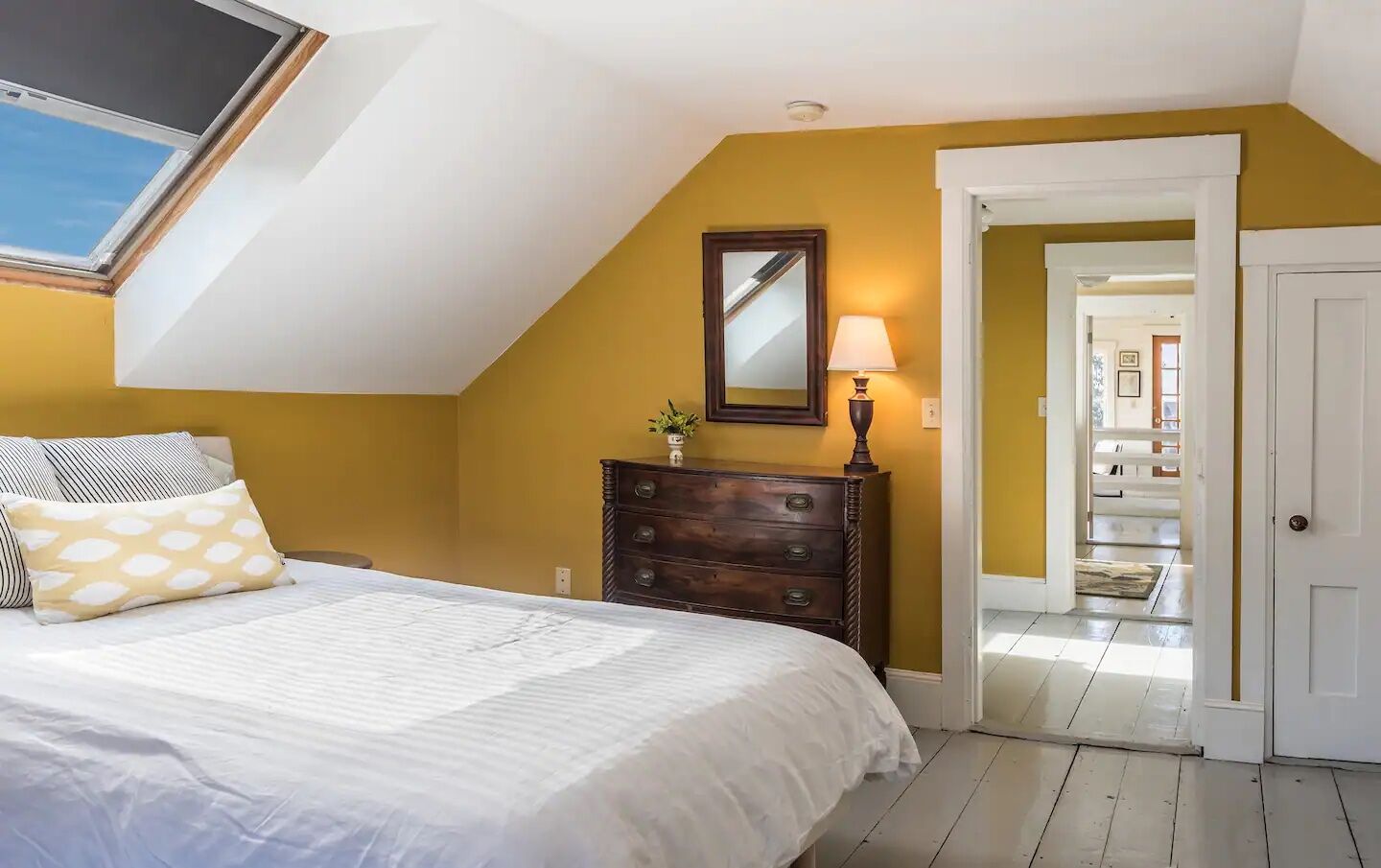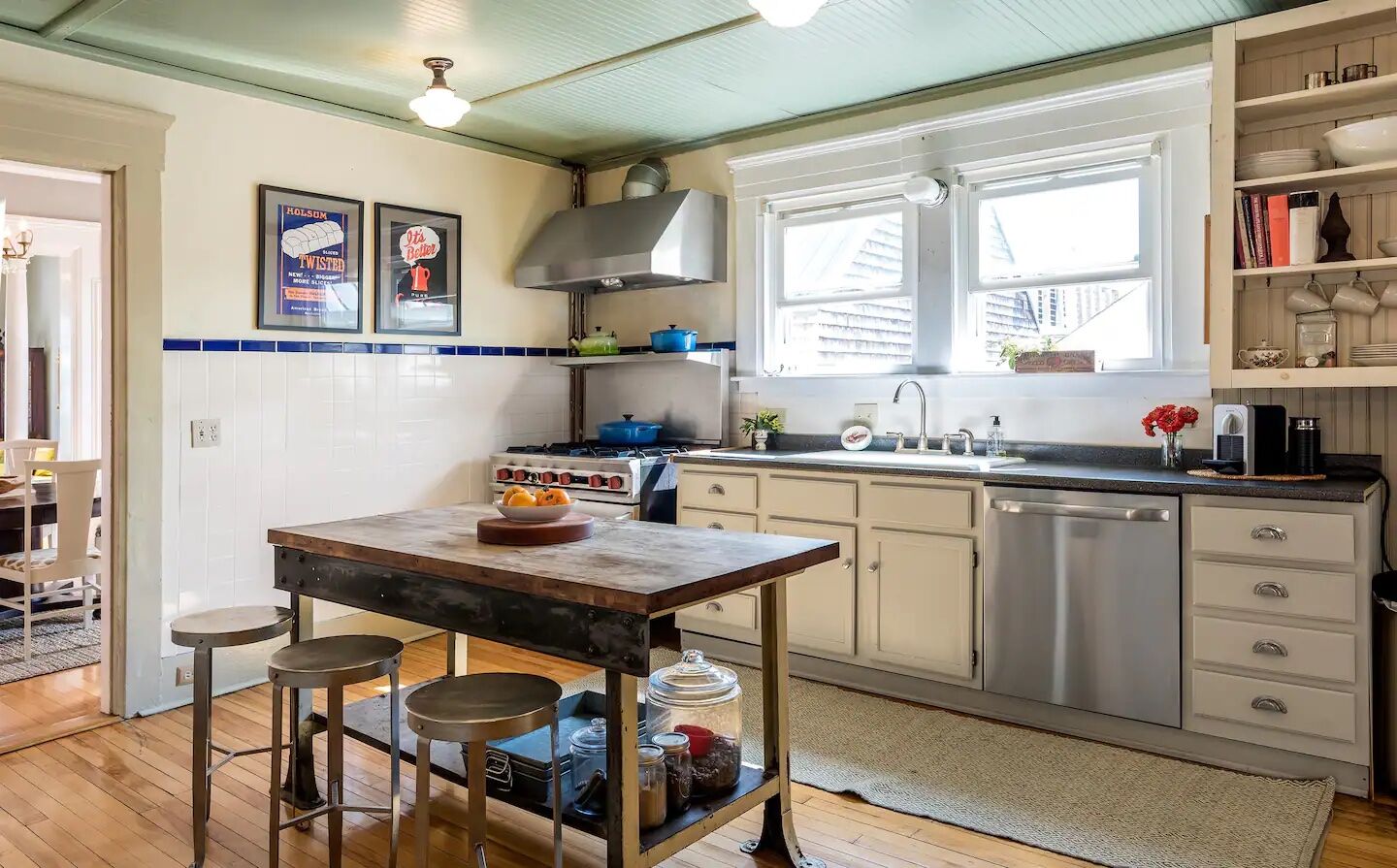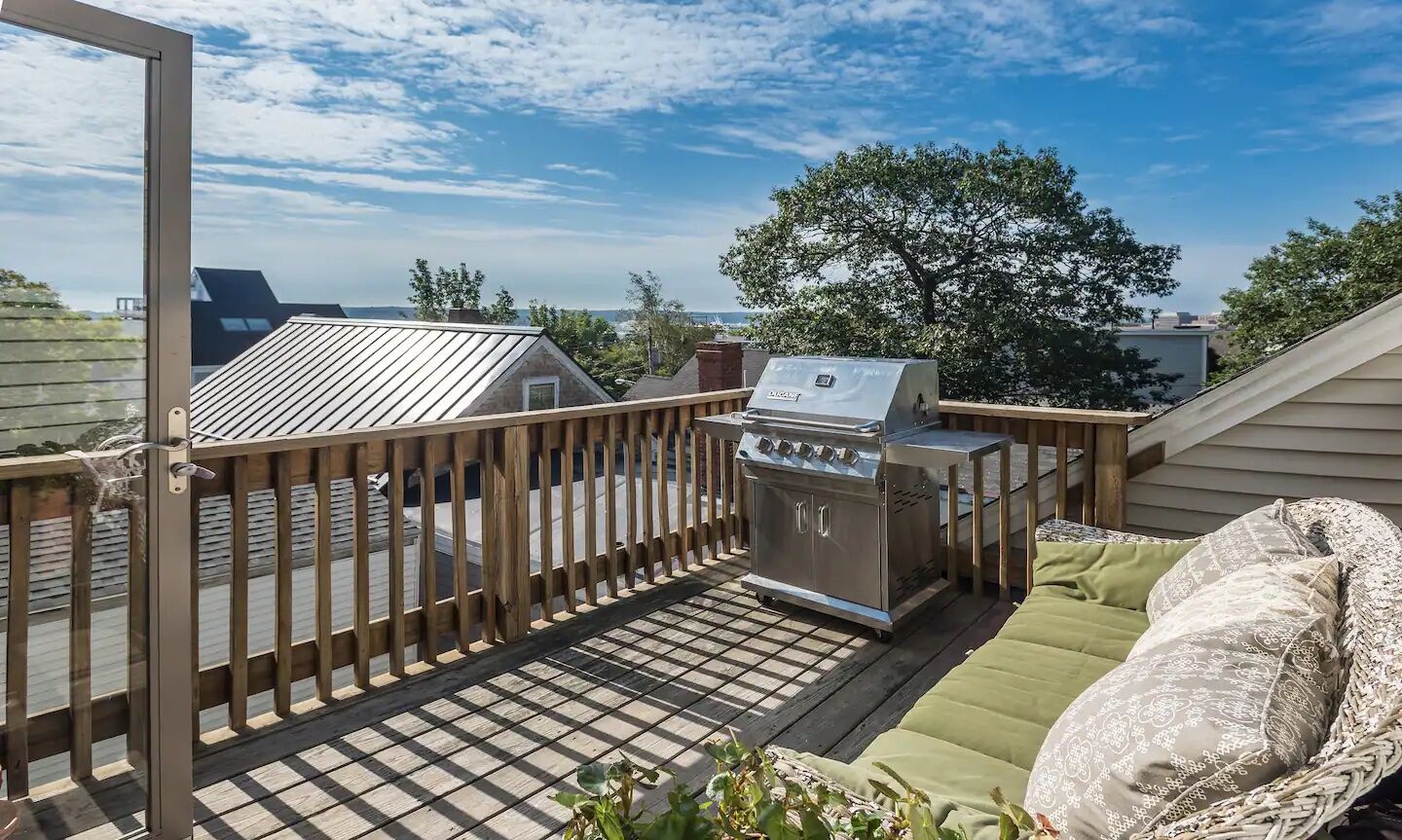 Set within a 100-year-old building, this lavish Munjoy Hill Portland, Maine, Airbnb has ocean views that you can enjoy from not one but two terraces. The upper level is accessible via a dainty spiral staircase. Interiors are tastefully appointed with elegant columns, chandeliers, and a snug book nook. When you can bear to leave, the East End is home to dozens of breweries, distilleries, and casual coffee shops.
Four guests, two bedrooms
Price: $555 per night
Airbnbs in South Portland, Maine near the oceanfront
Ocean views – 150 yards to beach with hot tub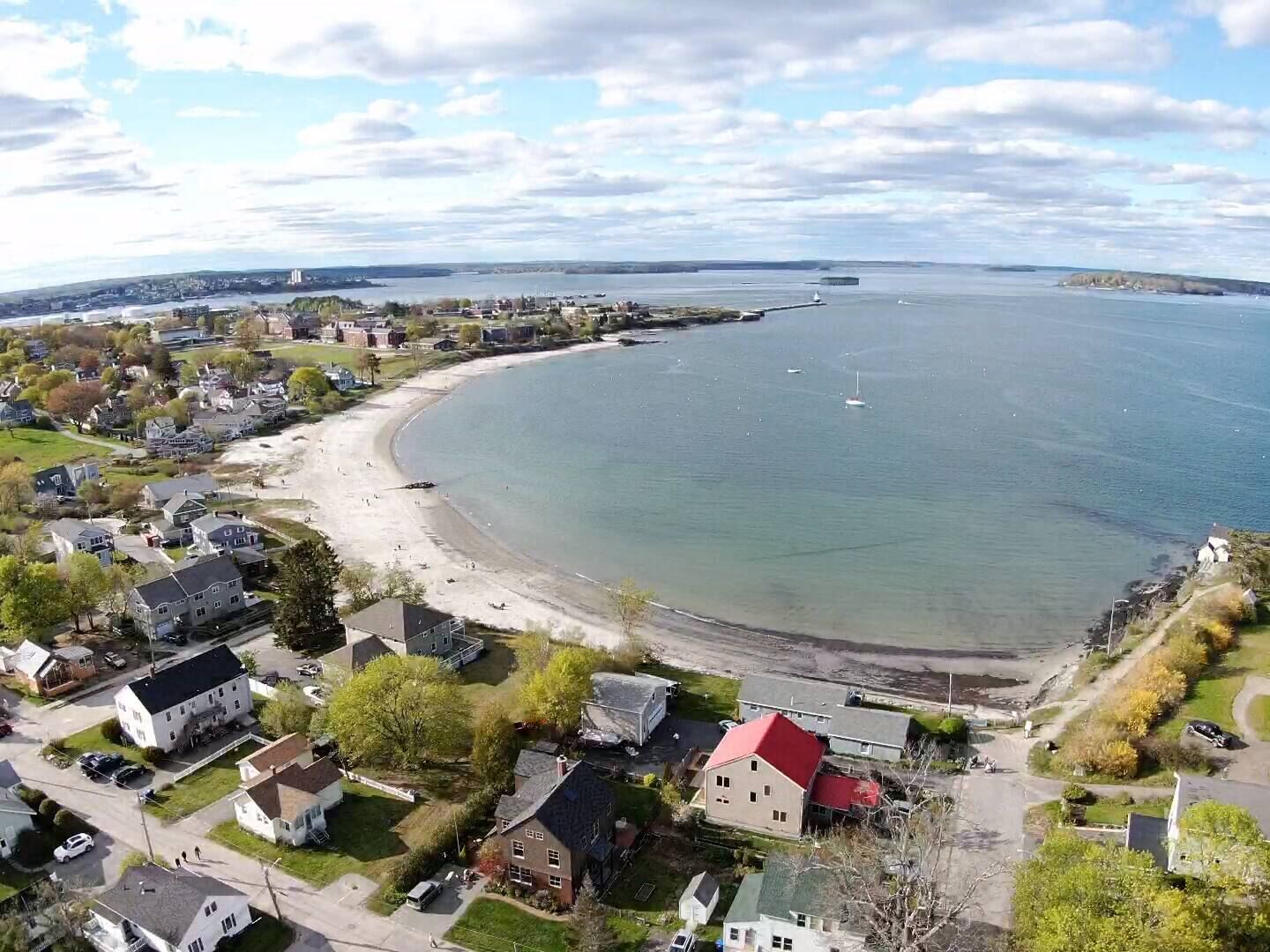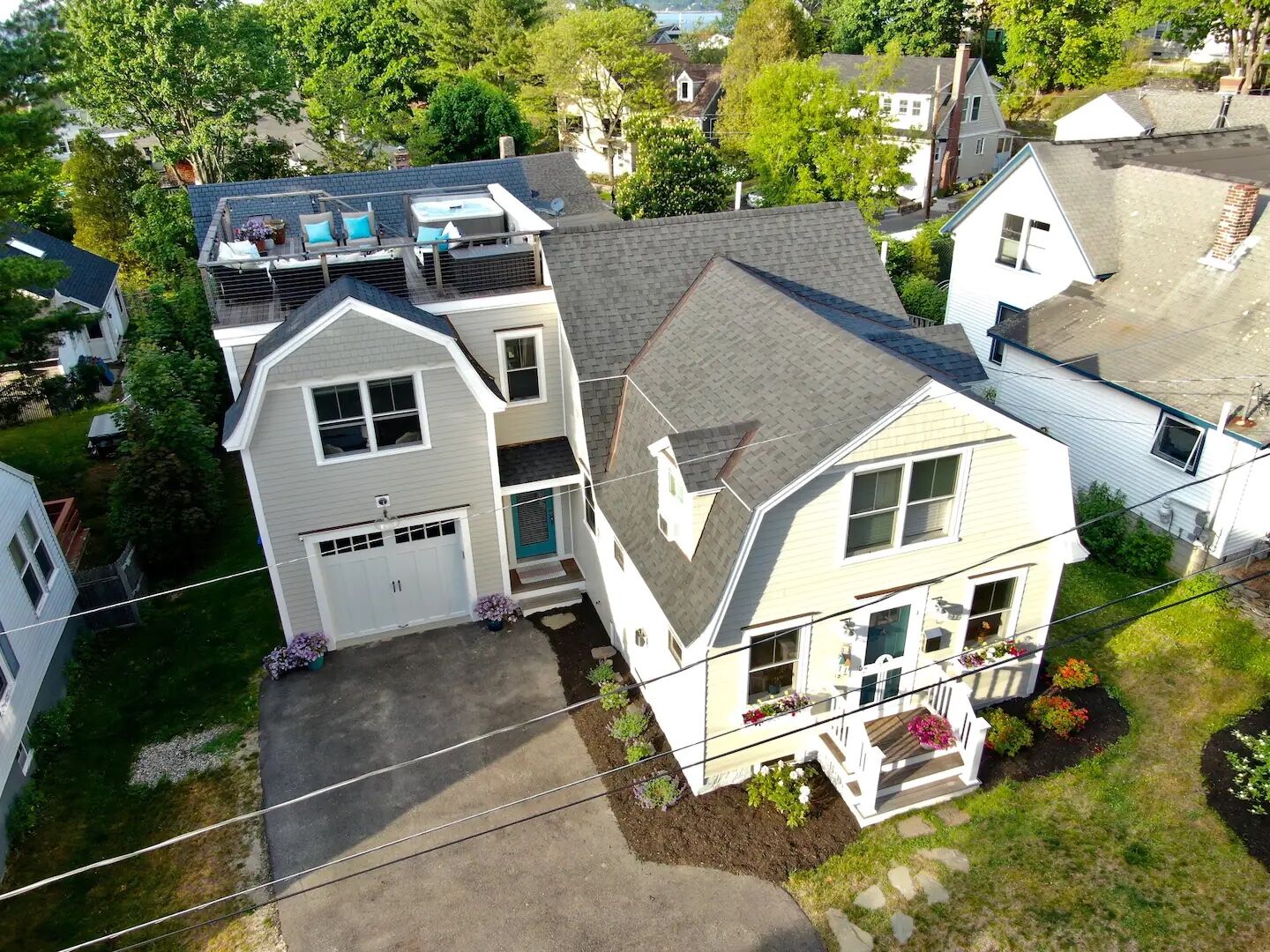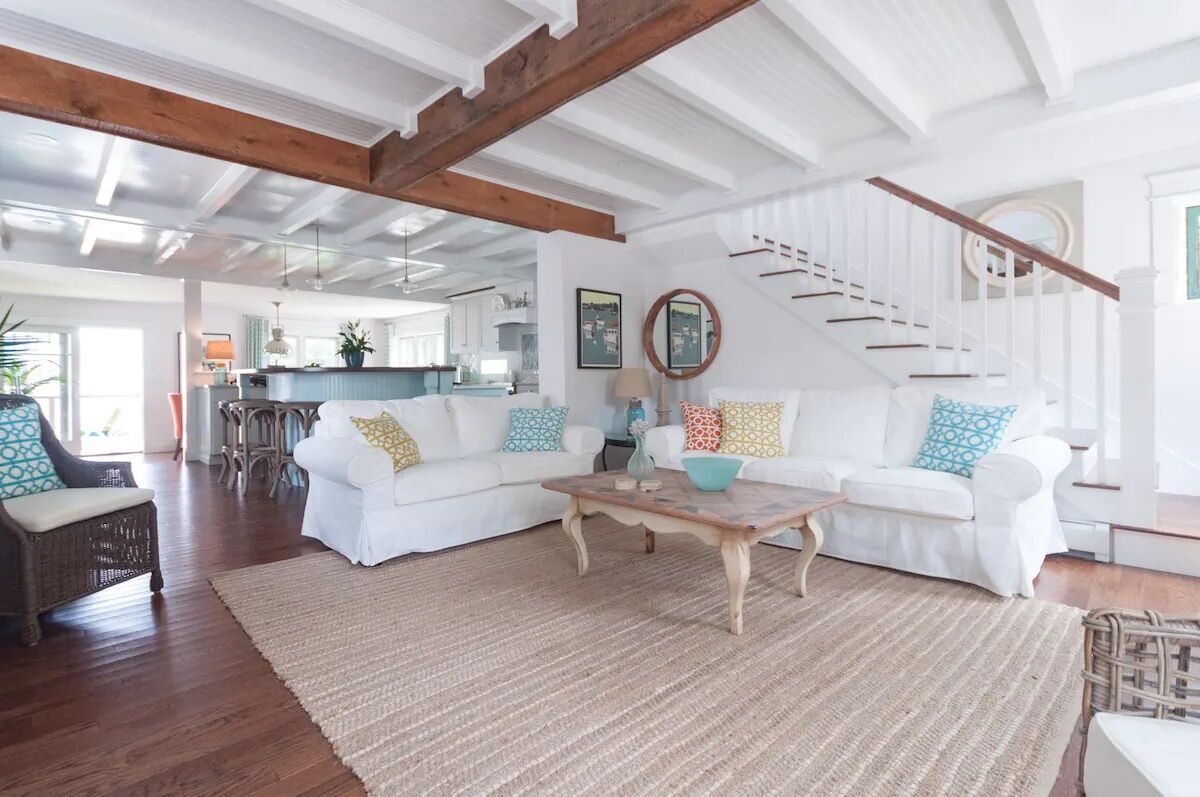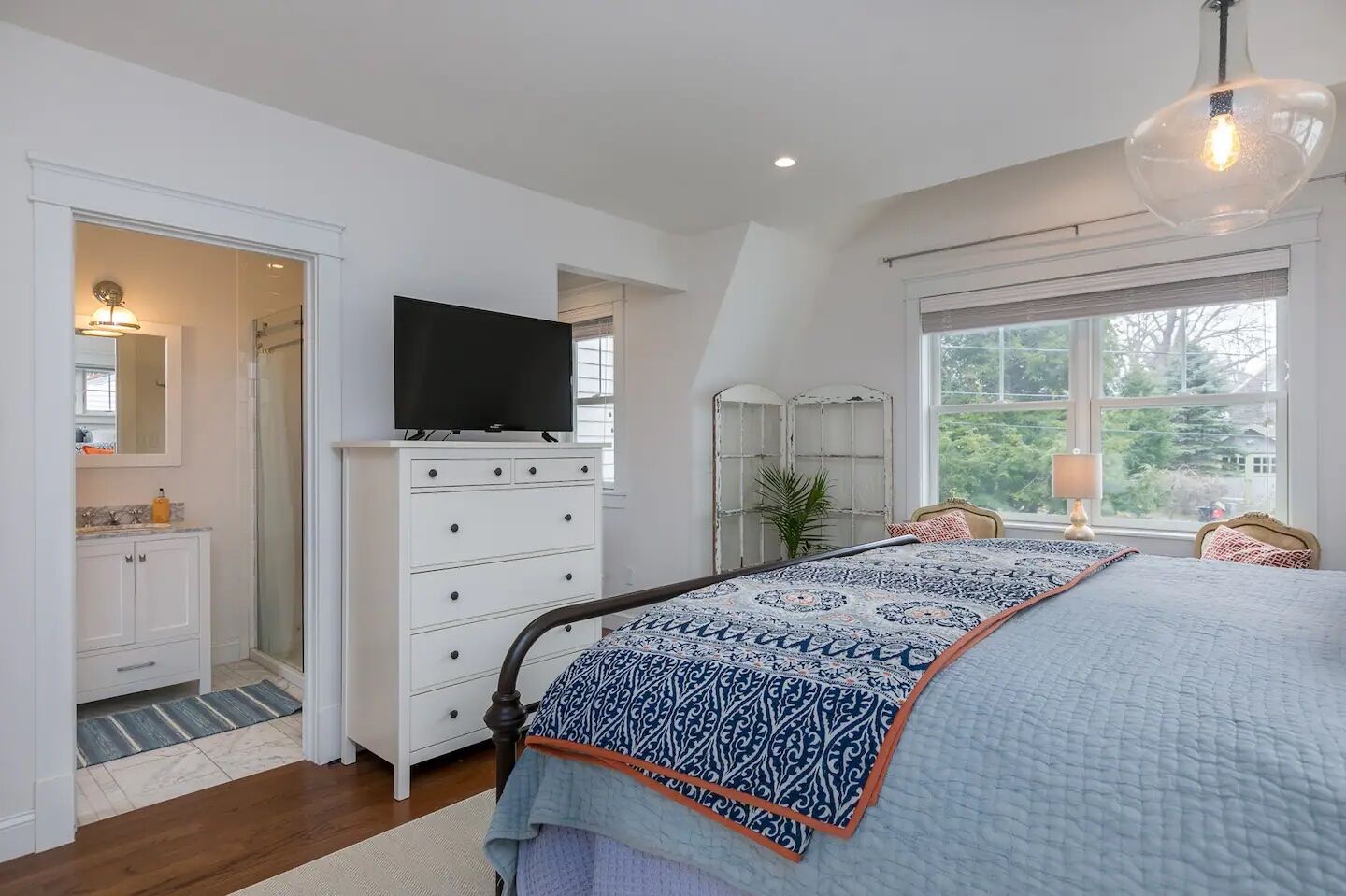 This oceanfront Airbnb Portland, Maine, is suitable for larger groups seeking a mellow base while in town. Interior spaces are a fusion of country-chic and beach house decor. A gourmet kitchen marks the heart of the house while spacious communal areas and guest suites are fitted with cushy sofas and high-quality linens. Head up to the rooftop deck for a view of the ocean while you decompress in the therapeutic massage hot tub.
Eleven guests, four bedrooms
Price: $1,195 per night
Great views, dog-friendly, steps from the beach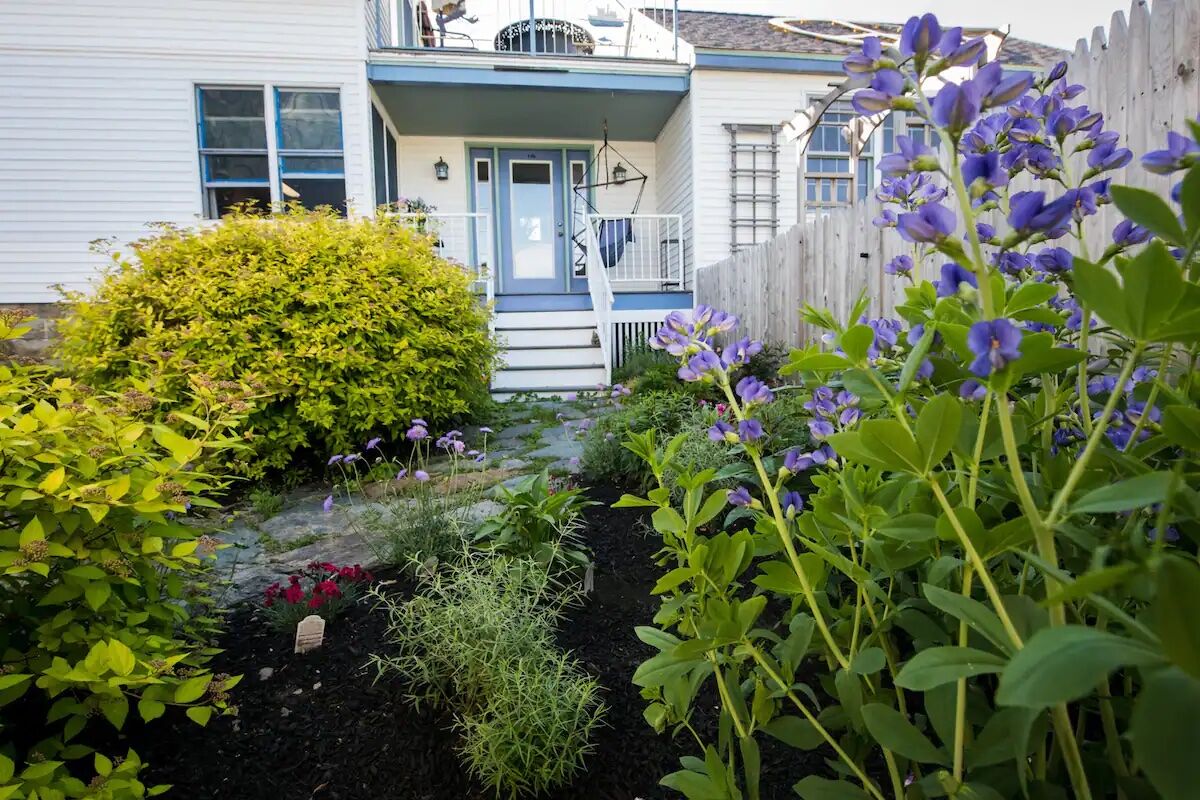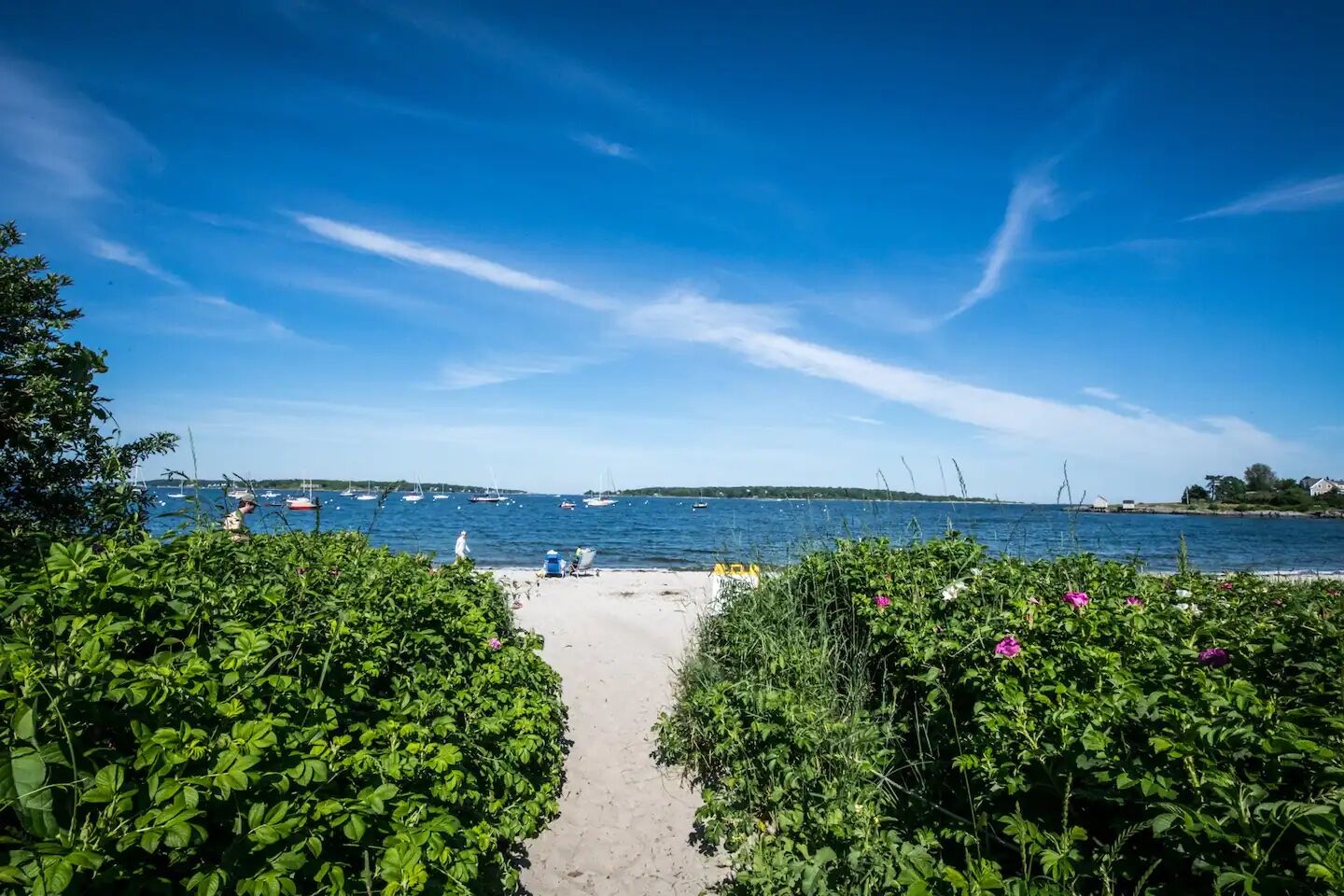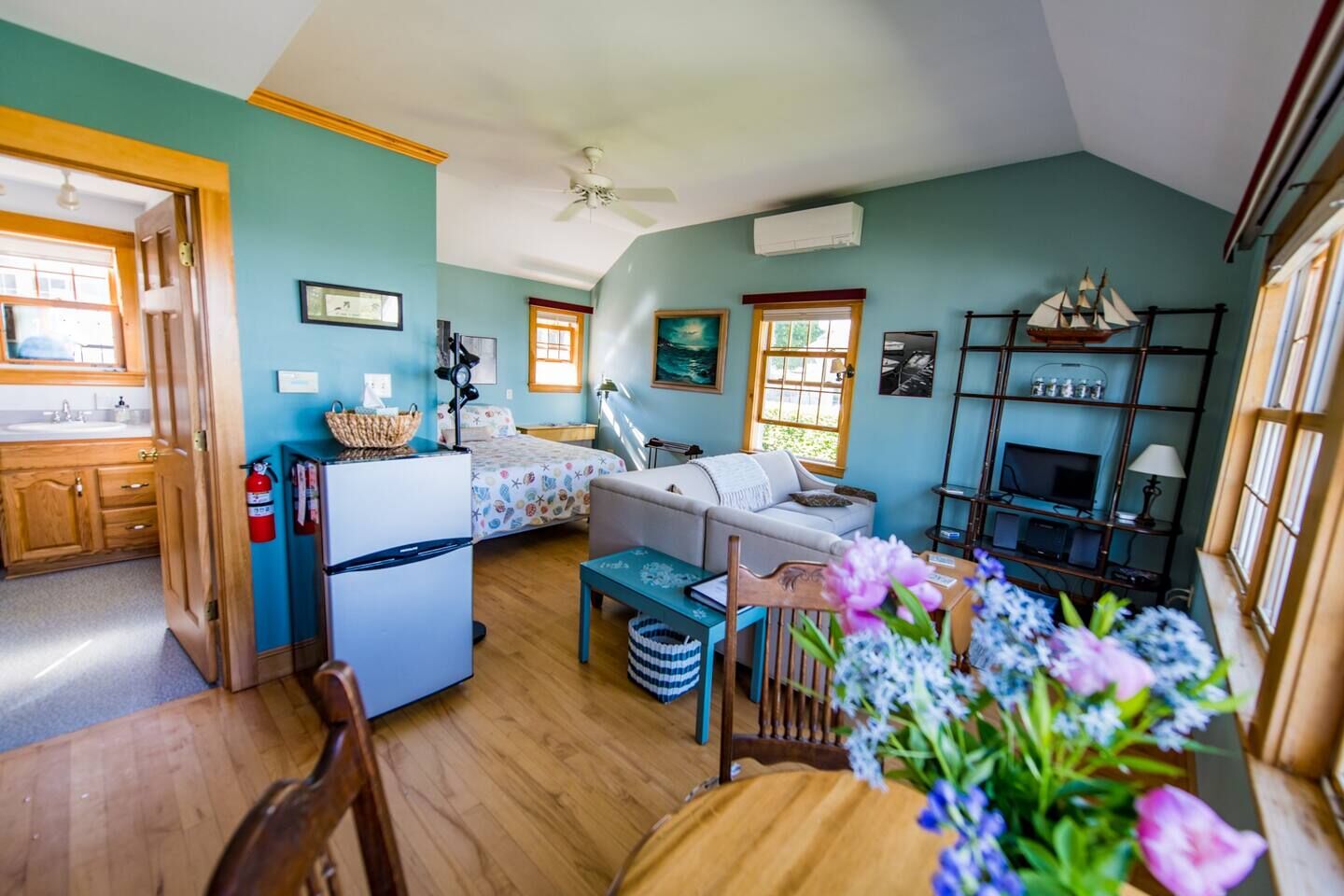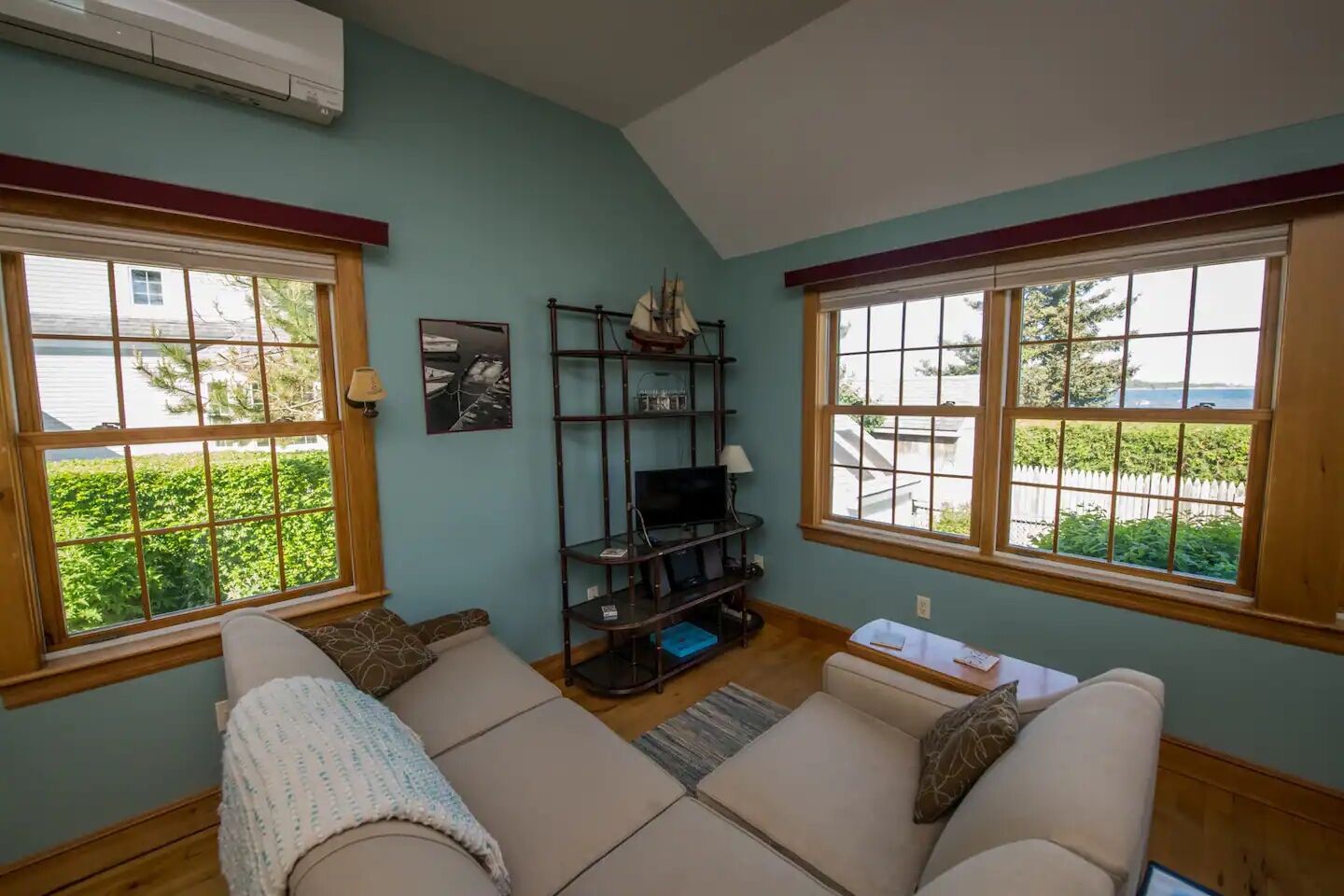 Fido will receive a warm welcome at this dog-friendly South Portland, Maine, Airbnb. Perfect for a couple, the studio overlooks Casco Bay and is mere moments from Willard Beach, Fort Preble, and Spring Point Ledge Lighthouse. After a hike or dip, you can laze on the sky chair – or in the fenced garden – while listening to the crash of waves.
Three guests, one bedroom (studio)
Price: $300 per night
What did you think of this story?