10 Airbnbs in Richmond, Virginia, To Experience the Best of the City
A s one of America's oldest cities, Richmond Virginia is a place of its own that is filled with many adventures and activities for everyone. Explore Richmond's outdoor setting with its hiking and biking trails, running events, and rock climbing excursions or its art scene with its many cultural museums and you can't forget about the food scene as the city is ranked one of the top ten places to travel food. Explore the beautiful city and while doing so you can make one of these Airbnb Richmond VA properties your home base as you get to know the city.
We hope you love the Airbnb Richmond, Virginia, vacation rentals we recommend! Just so you know, Matador may collect a small commission from the links on this page if you decide to book a stay. Listed prices are accurate as of the time of publication.
Richmond, Virginia, Airbnbs near The Fan District
The Fan is Richmond's hippest neighborhood. Here, experience modern Richmond with trendy dining, walkable streets, and a unique Virginia vibe that combines the area's deep history with a contemporary flare.
Stylish Galleria-inspired home in Southside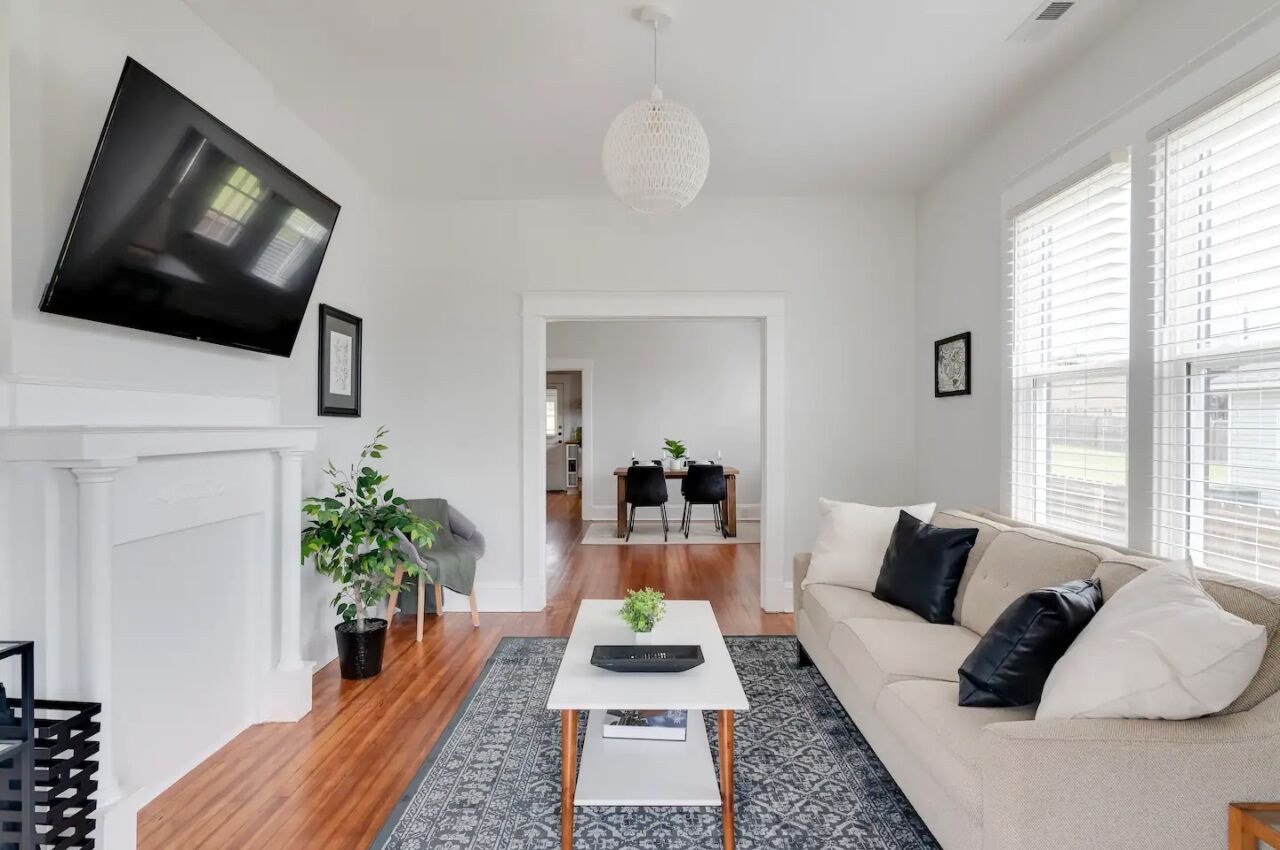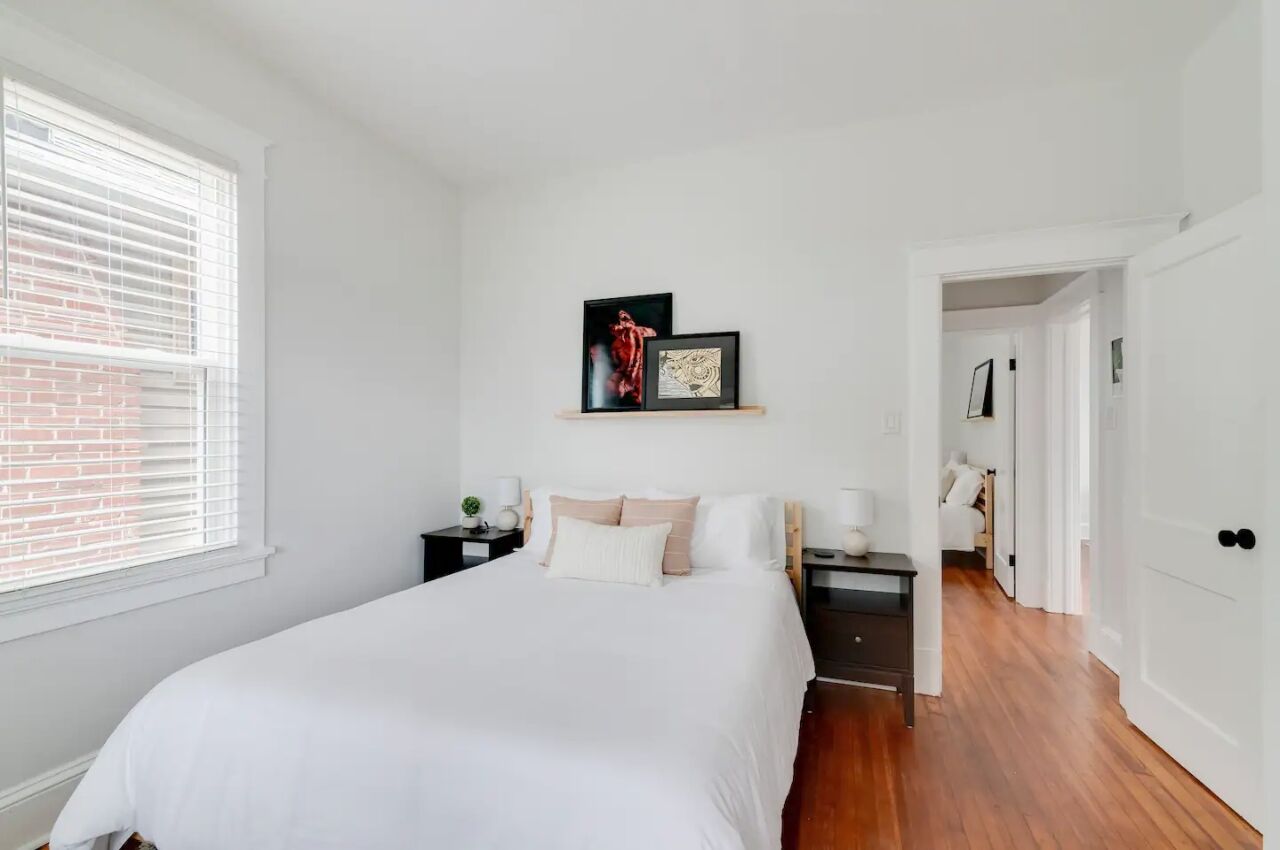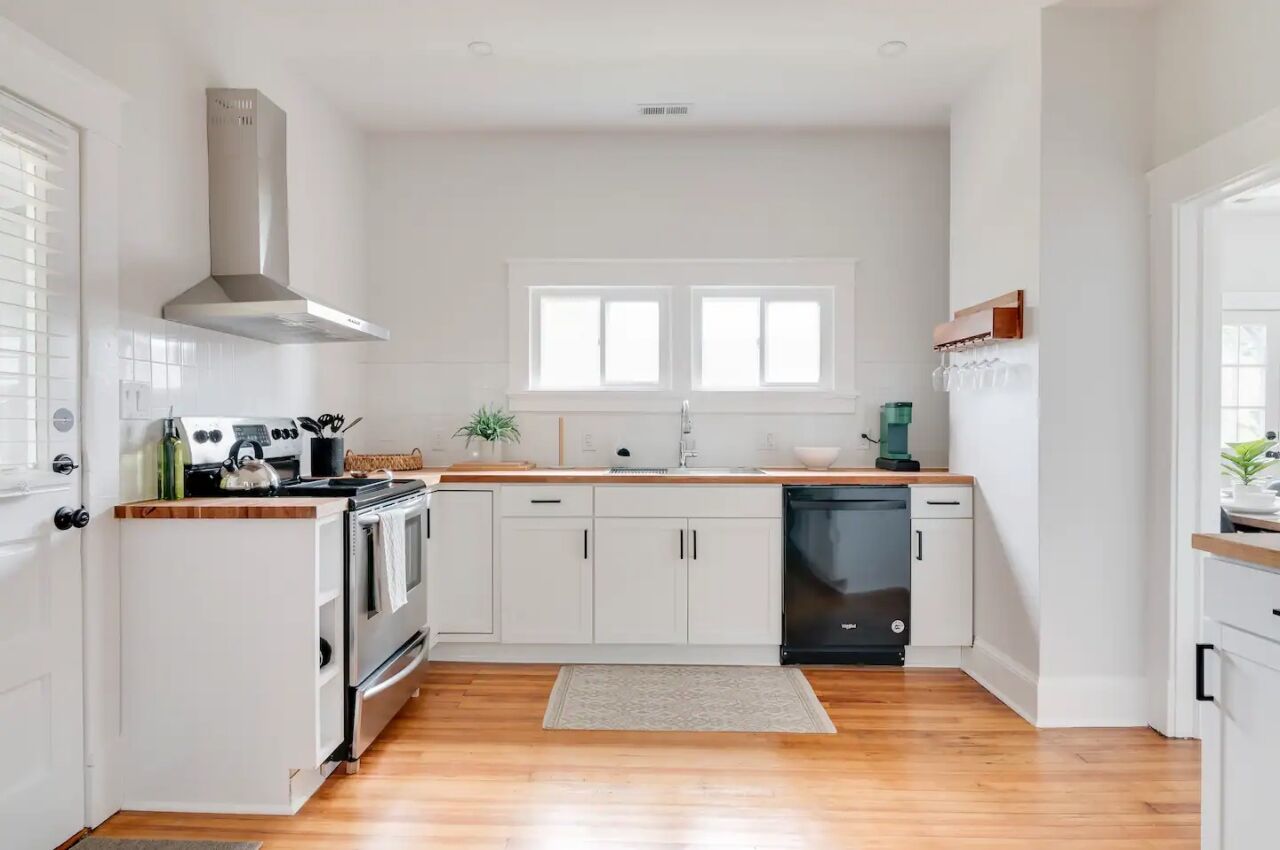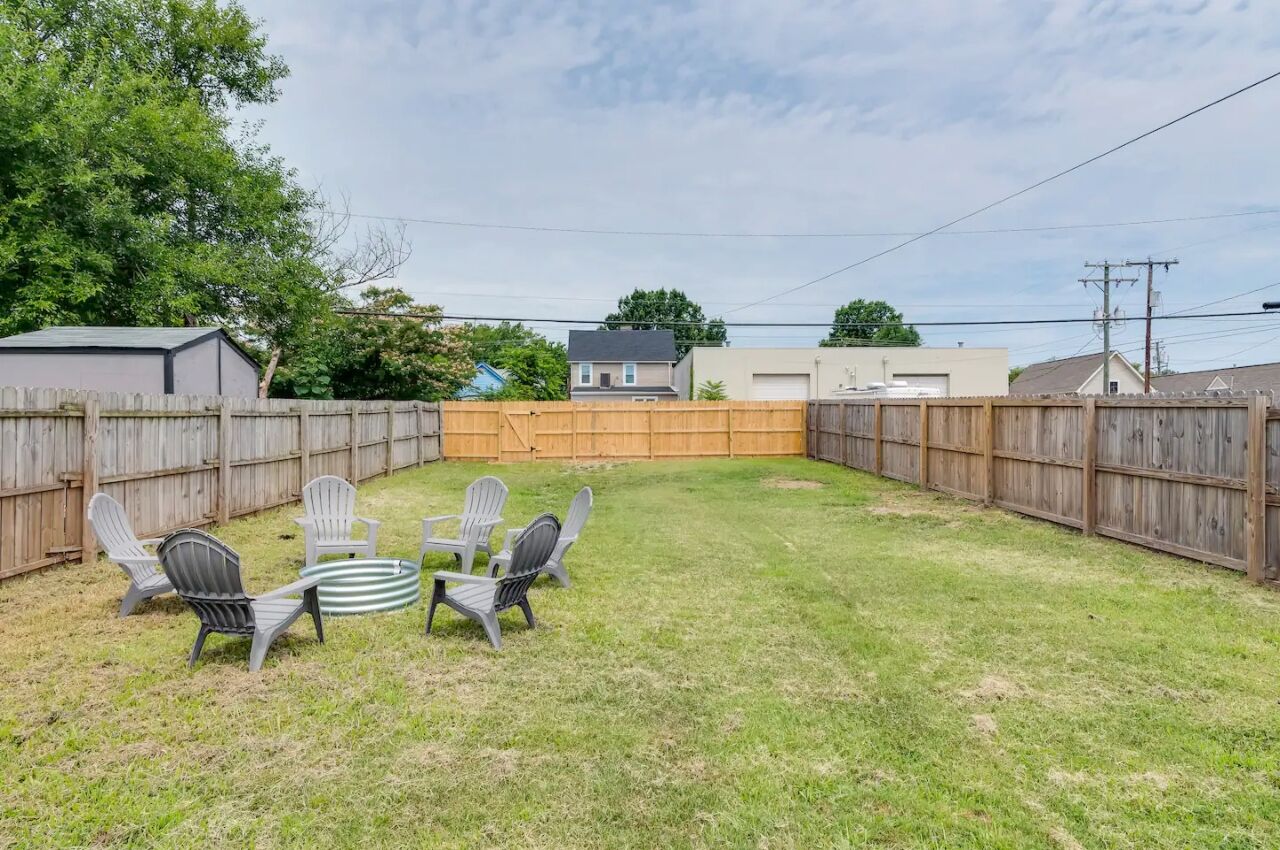 This Airbnb in Richmond is located on the South Side of the city. The stylish home features spacious living quarters with a pull-out sofa and fun games for entertaining — even if you're only entertaining the crew you brought with you. The house has a fully equipped kitchen and a large dining area perfect for homemade sit-down dinners. The home is centrally located, five minutes from James River and Forest Hill and about 10 minutes from Church Hill, downtown, Carytown, The Fan, and the Museum District.
Six guests, two bedrooms
Price: $110 per night
Bright three-bedroom home in the heart of the Fan District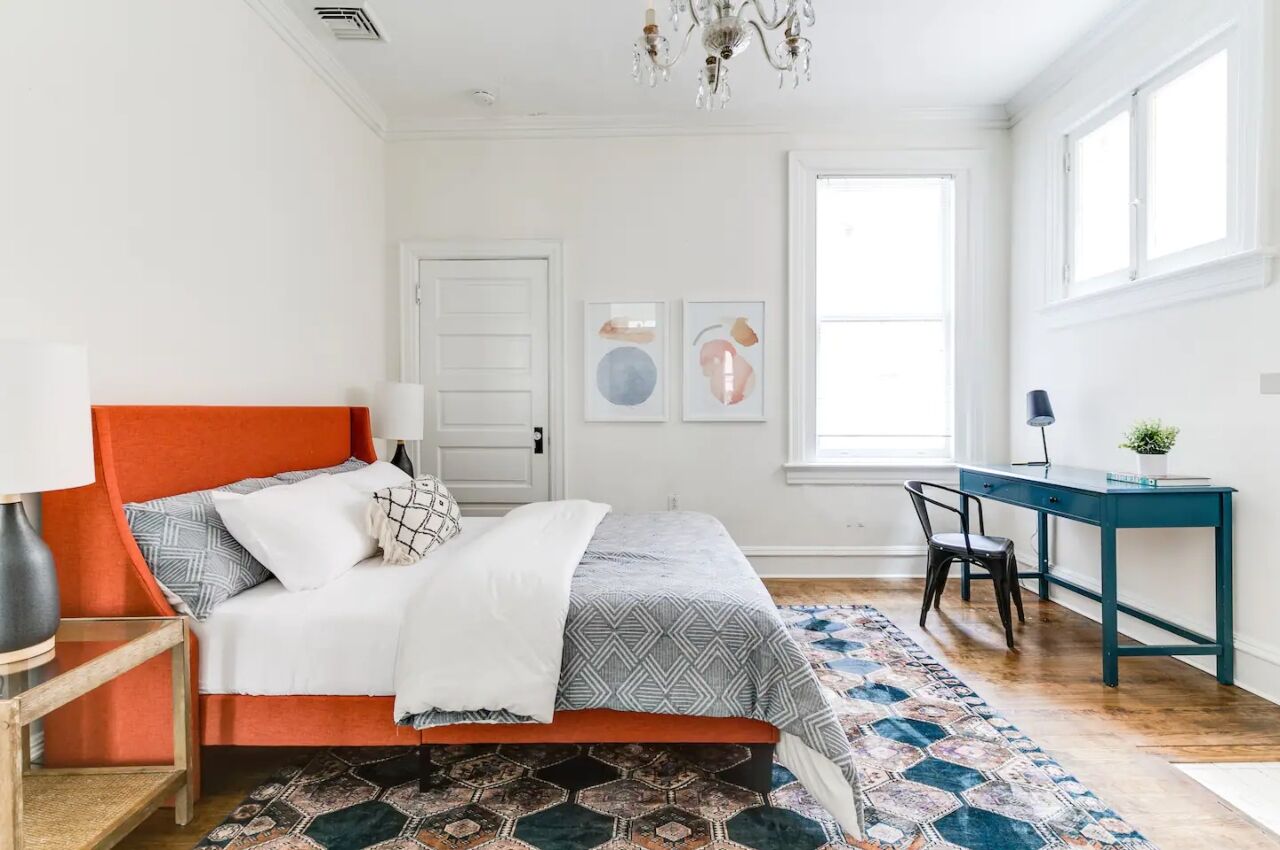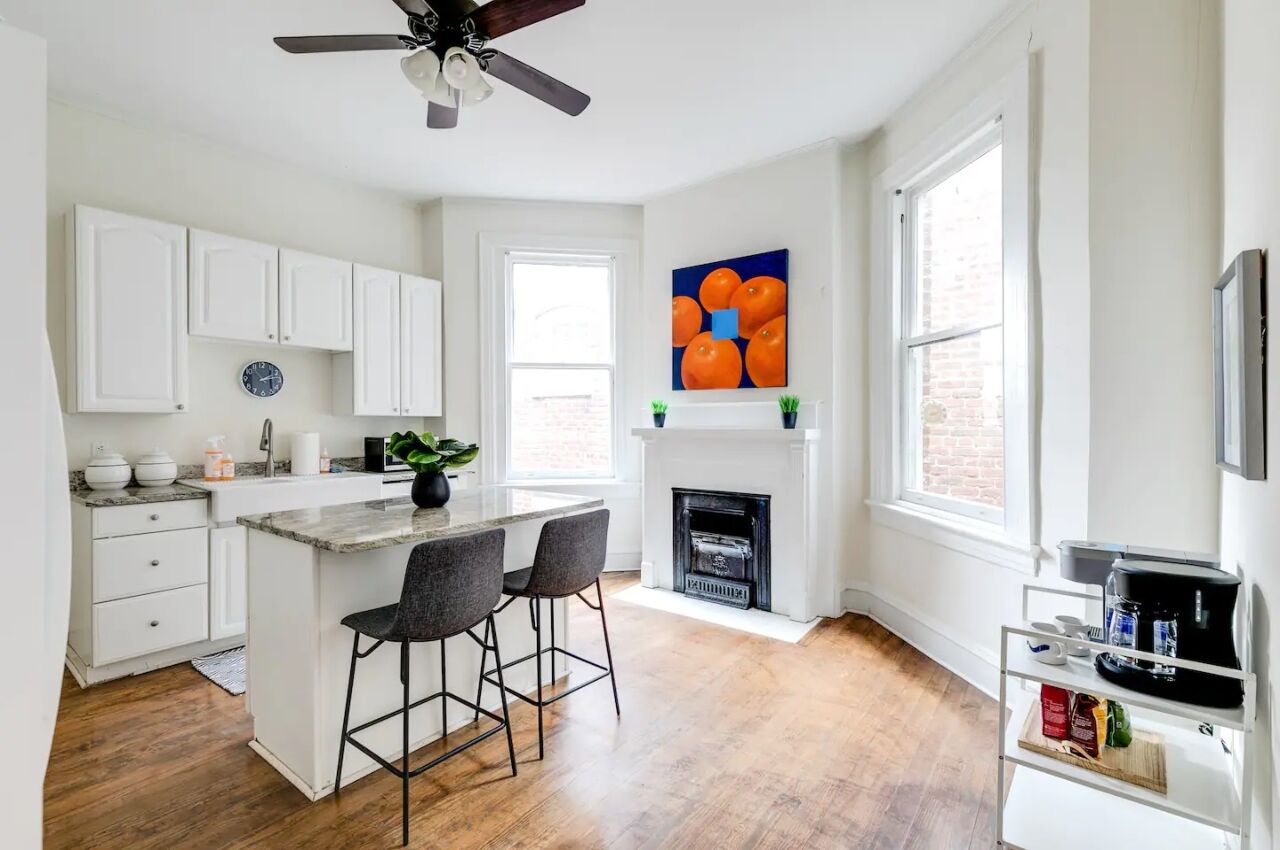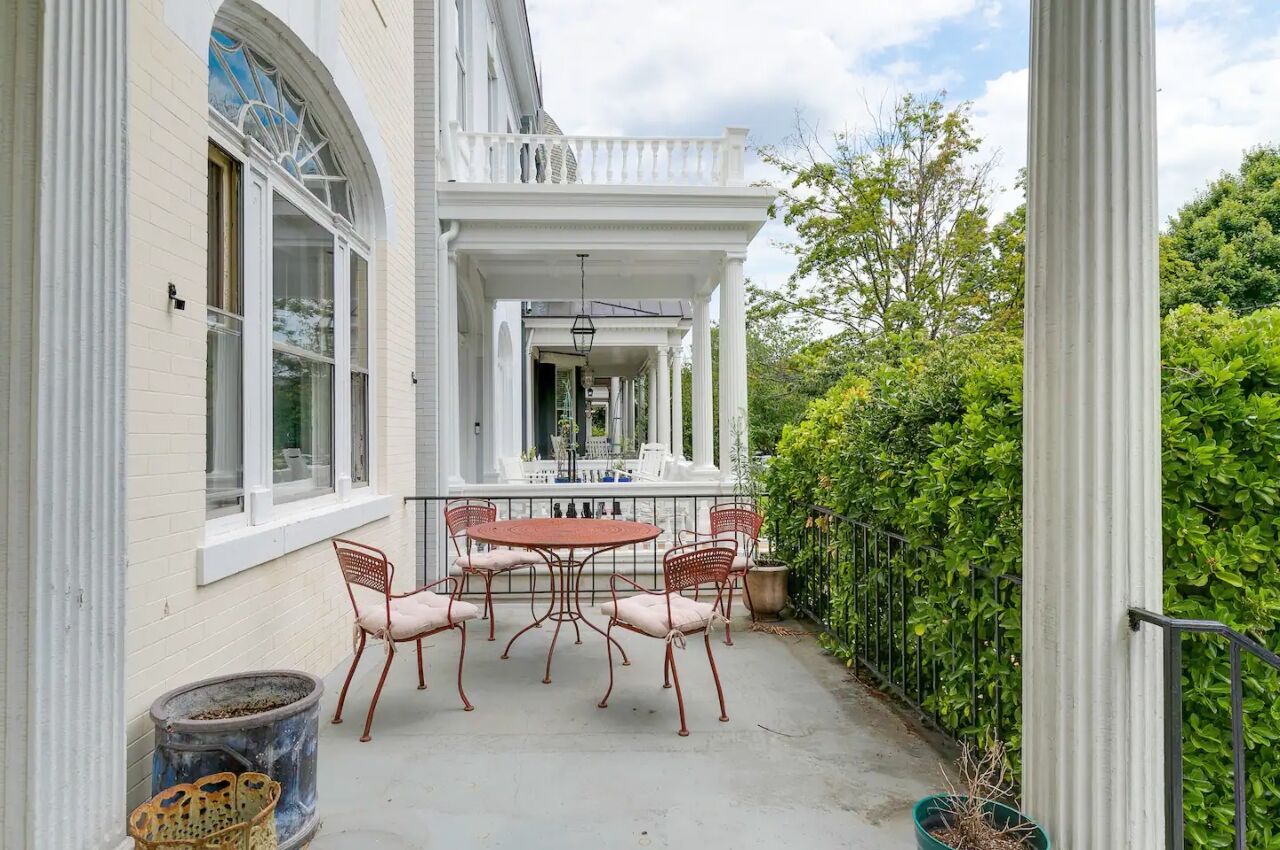 For the perfect Richmond Airbnb in the ideal location, you want to stay in what locals call "The Fan." This home is located right in the middle of the historic Fan District, a bright and open home with an open living and dining area, a fully equipped kitchen, and a seating area on the front deck. The house is within walking distance to bars, restaurants, and museums, and a two-block walk to Main Street.
Ten guests, three bedrooms
Price: $239 per night
Southside Richmond, Virginia, Airbnbs near Forest Hill and James River Park
Forest HIll and James River Park are two of Richmond's signature urban attractions. The river park is a great place to enjoy a sunny day strolling along the river bank, and Forest Hill is a historic neighborhood that maintains a unique urban vibe but is removed from the bustle of downtown.
Forest Hill Guesthouse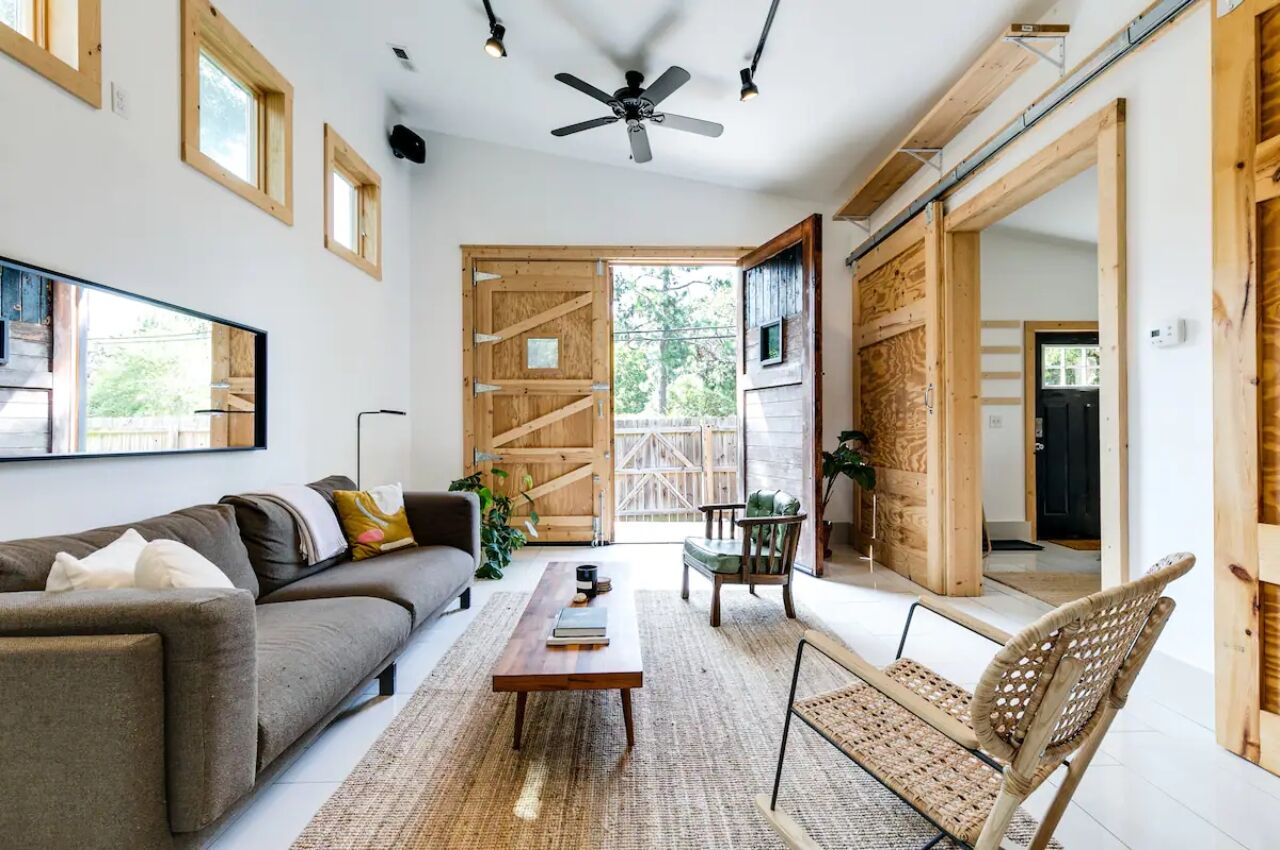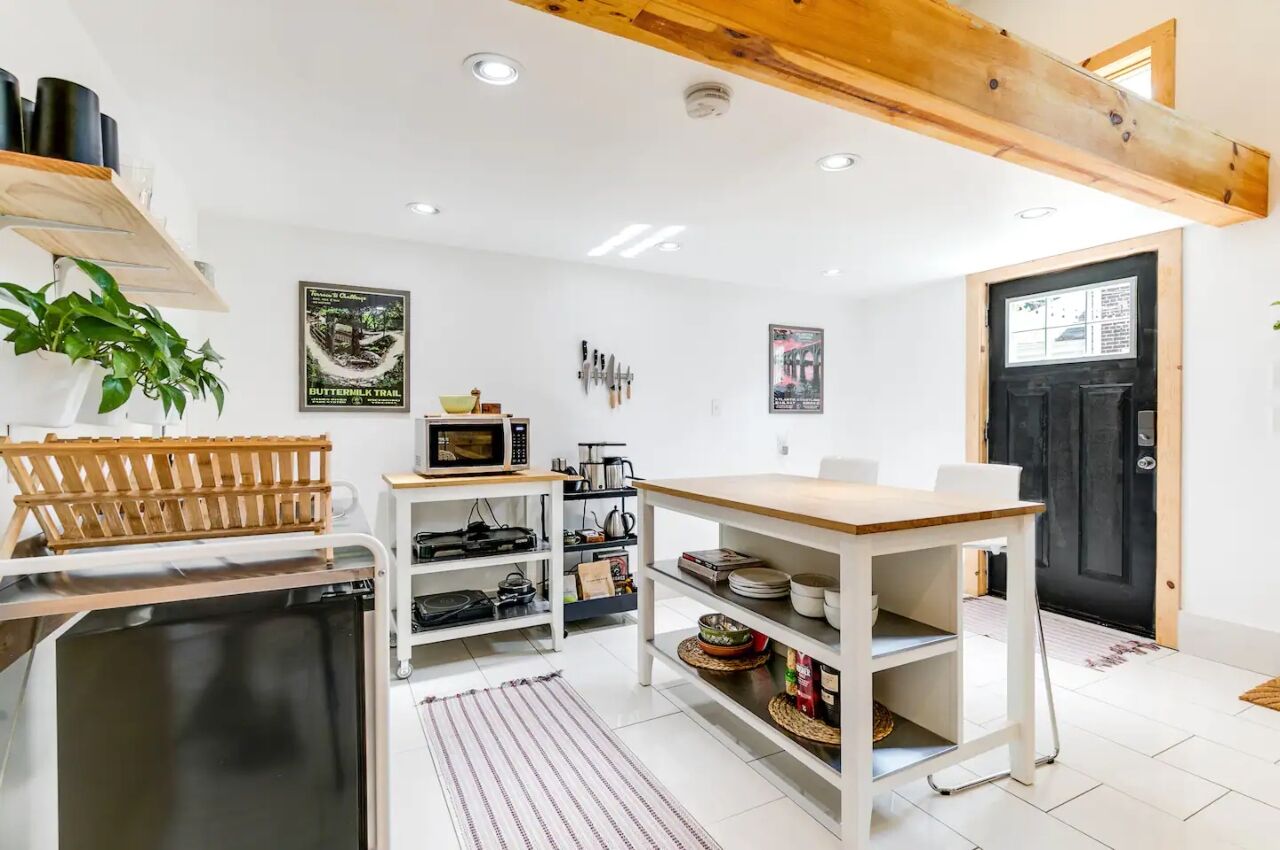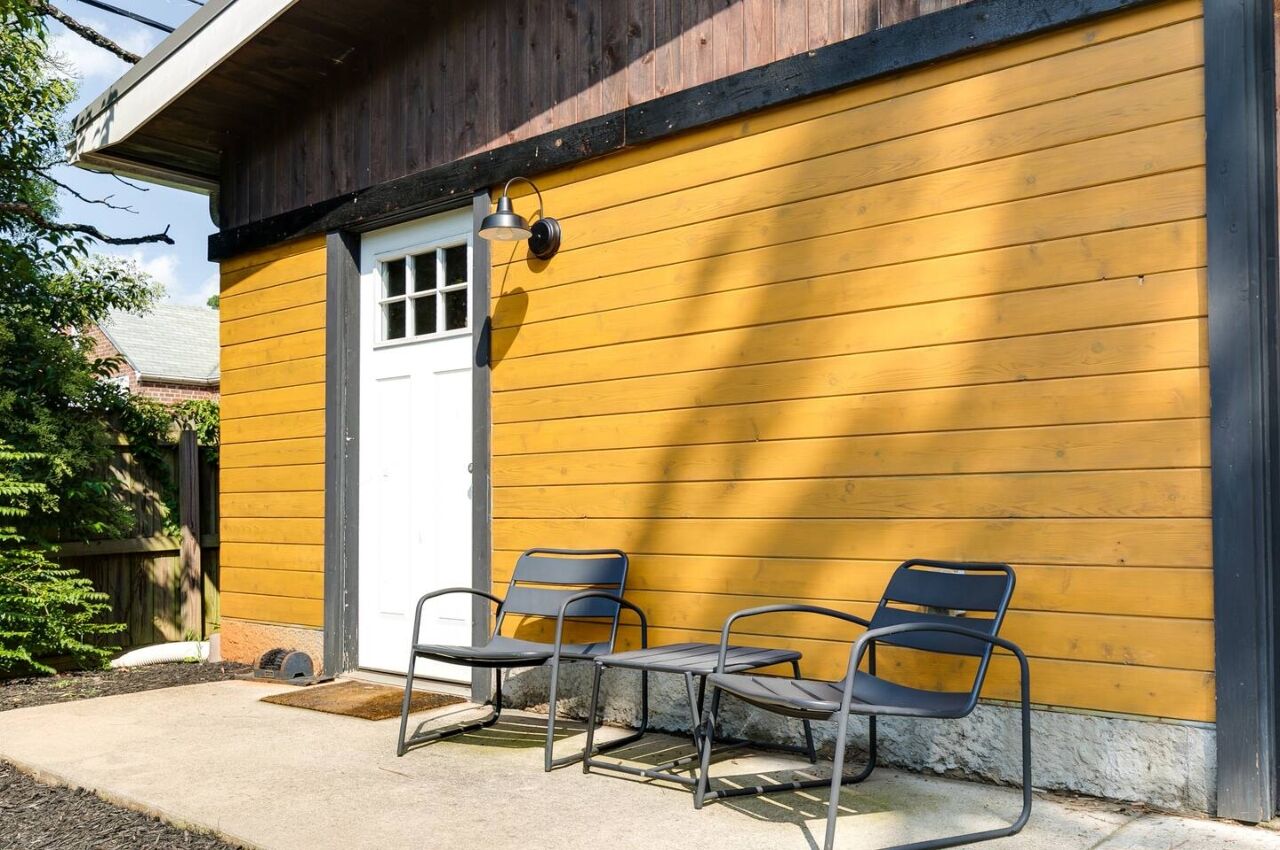 This Airbnb in Richmond, Virginia, is a guest house ideal for couples or solo travelers. The cozy home is located in the charming Forest Hills neighborhood, just blocks away from James River Park. This guesthouse is a studio with a queen-sized bed, a relaxing living area, and a kitchenette. The home is an excellent base for exploring the city as it's close to restaurants, breweries, parks, and trails.
Three guests, one bedroom
Price: $189 per night
Urban Retreat with fireplace and private backyard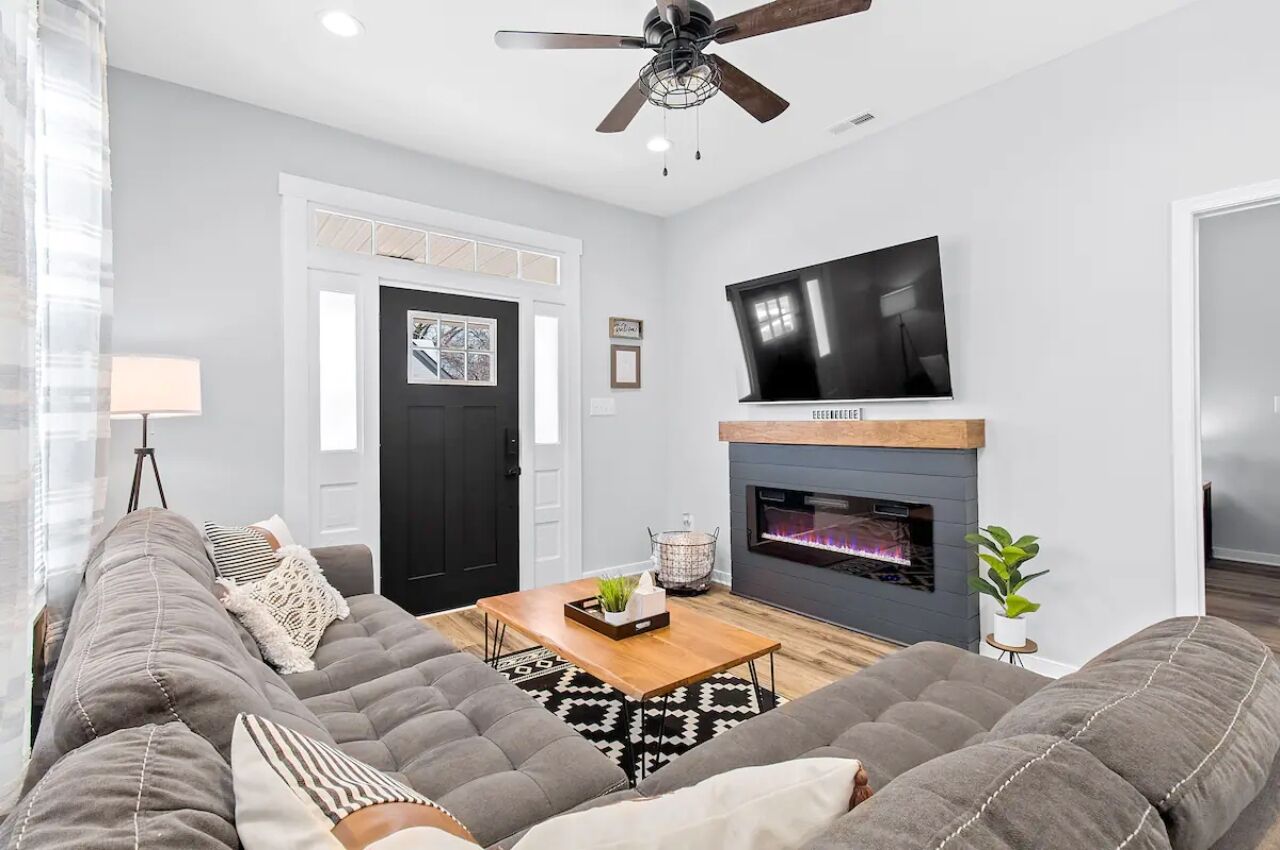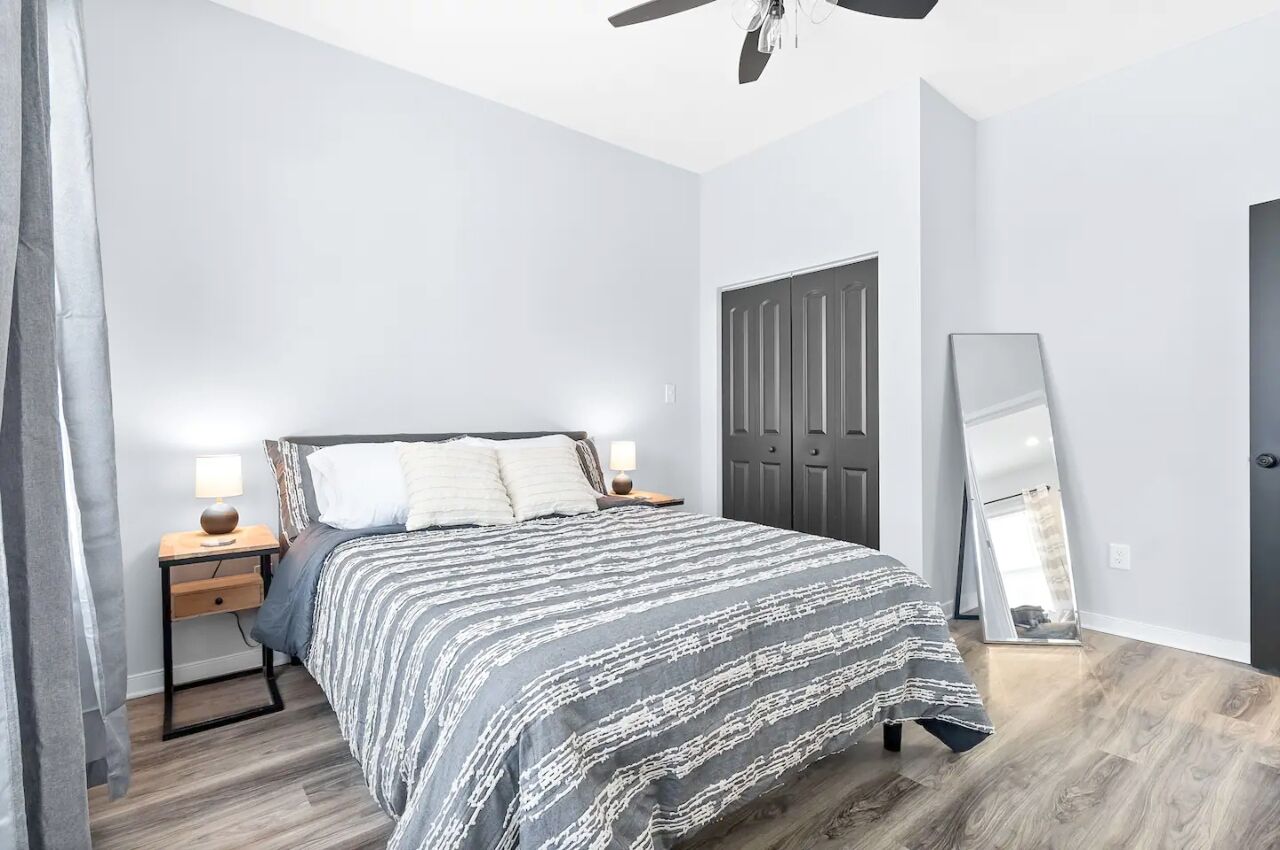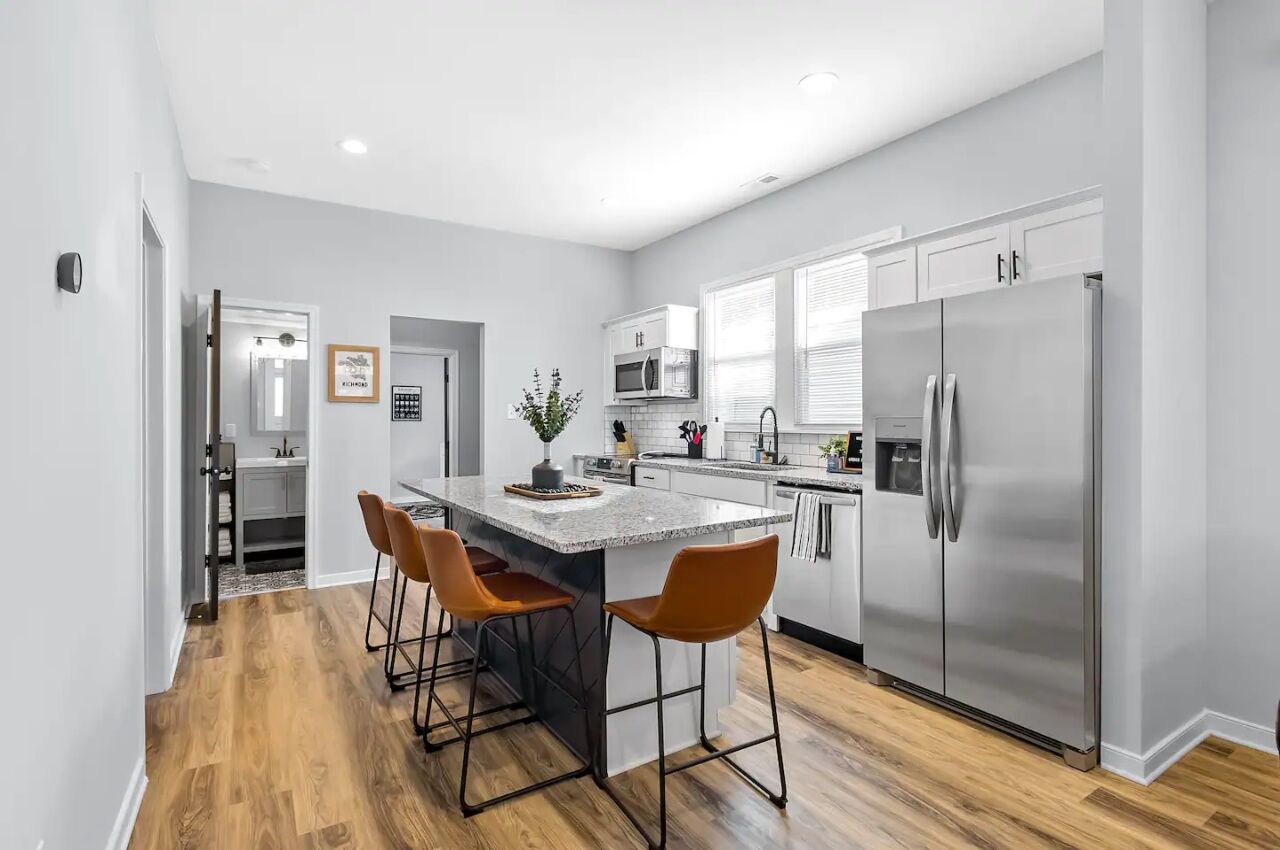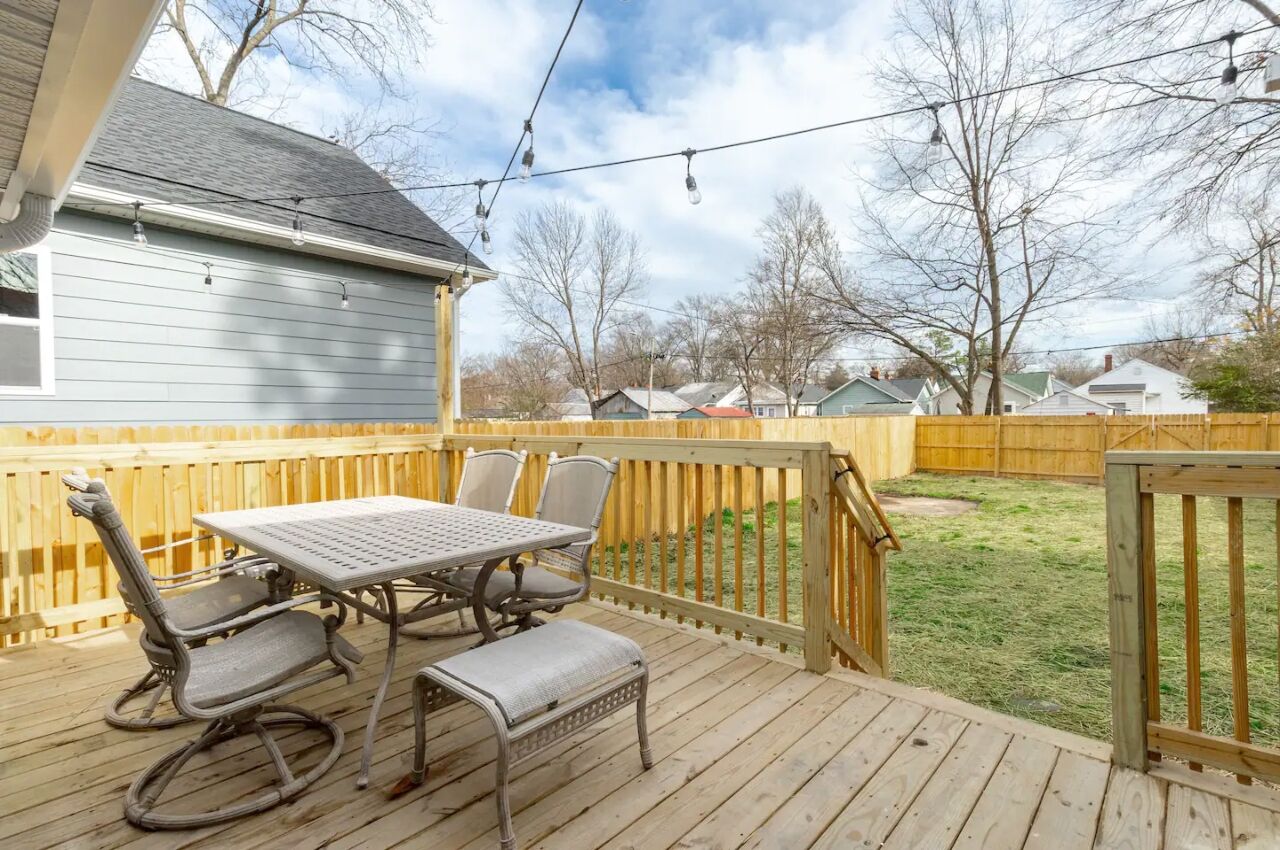 Check out this other Richmond, Virginia Airbnb located in Southside. This modern urban retreat has a comfortable living area with an electric fireplace, a fully equipped kitchen and dining area fit for four, and a relaxing outdoor space perfect for outside activities and dining. The home is near all three downtown bridges, downtown, Carytown, and more Richmond activities.
Four guests, two bedrooms
Price: $220 per night
Downtown Richmond, Virginia, Airbnbs
Downtown Richmond is the heart of the action, with ample dining, shopping, and entertainment. Historic Shockoe Bottom combines the best of downtown with a hip riverside location, but no matter where you stay in downtown, you'll have easy access to the best of the city.
Modern-styled apartment in historic Shockoe Bottom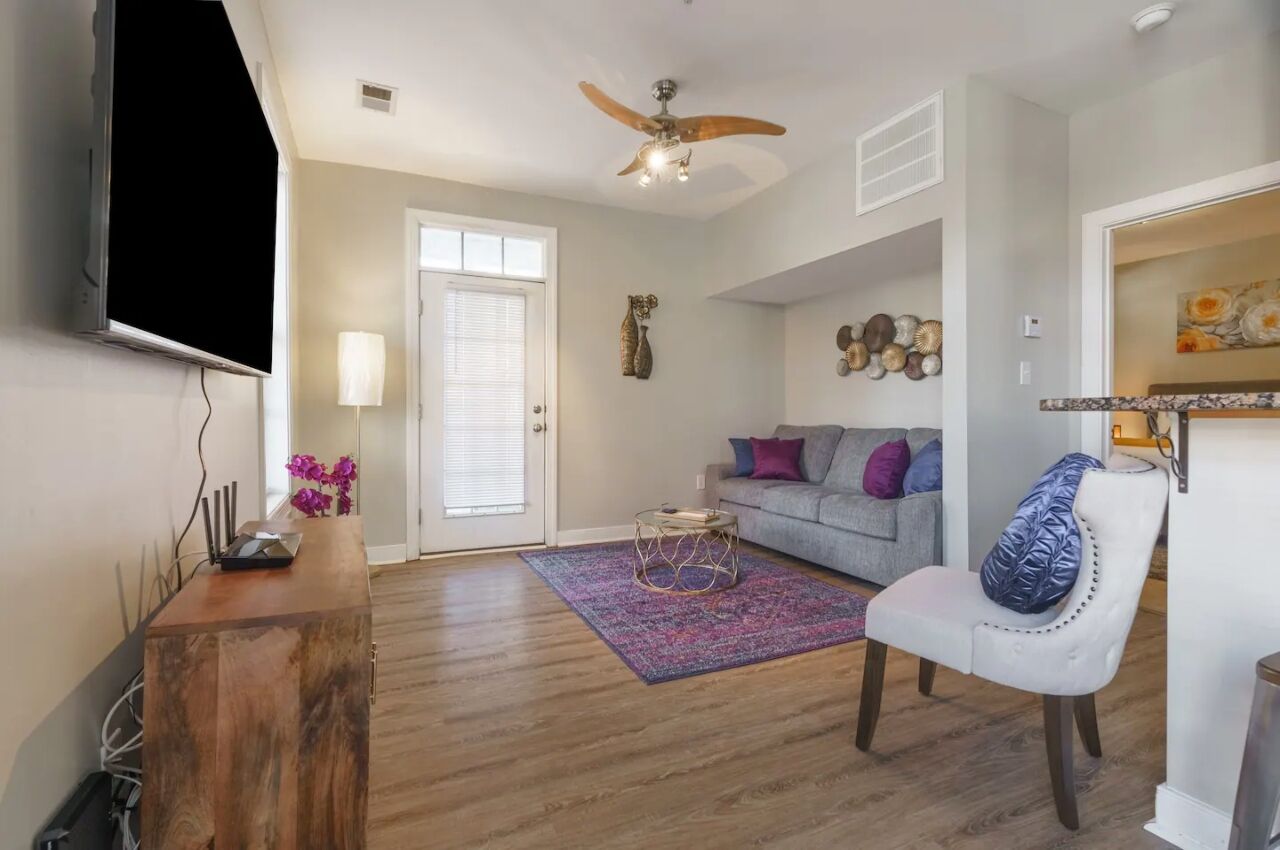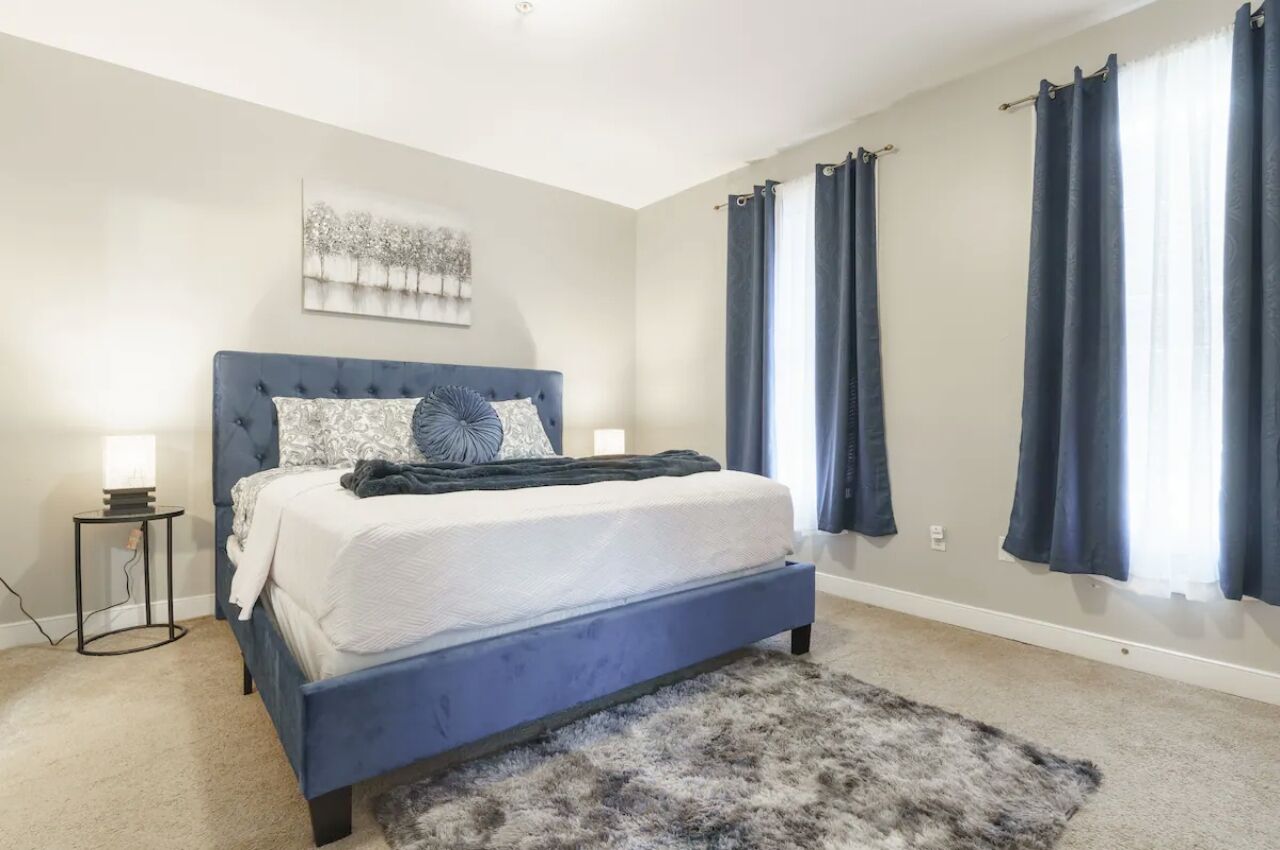 Indulge in this modern two-bedroom Airbnb. The apartment features a living area, a kitchen area, and two cozy bedrooms. The home is conveniently located near the restaurant sector of downtown, and you can experience stunning views walking along the Canal Walk.
Six guests, two bedroom
Price: $135 per night
Chic apartment in the heart of Downtown Richmond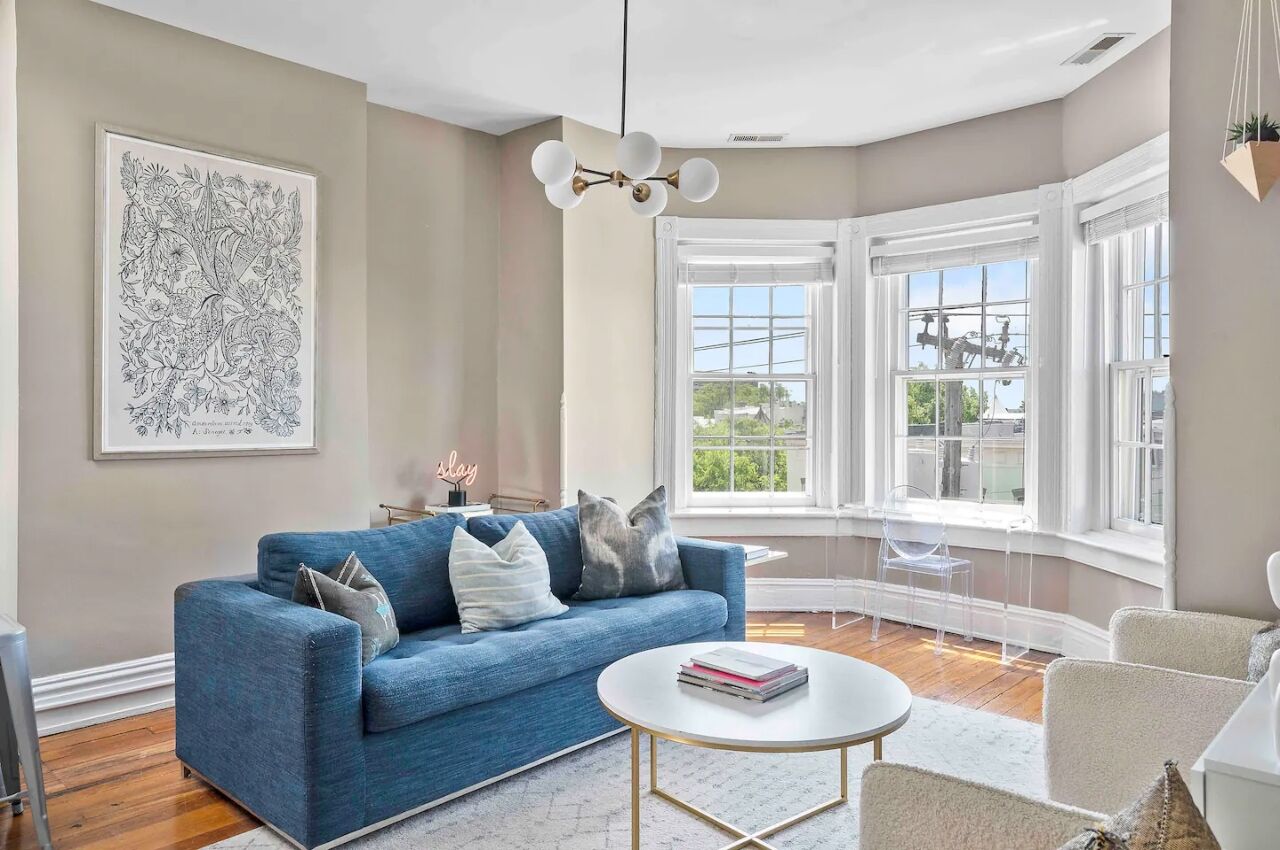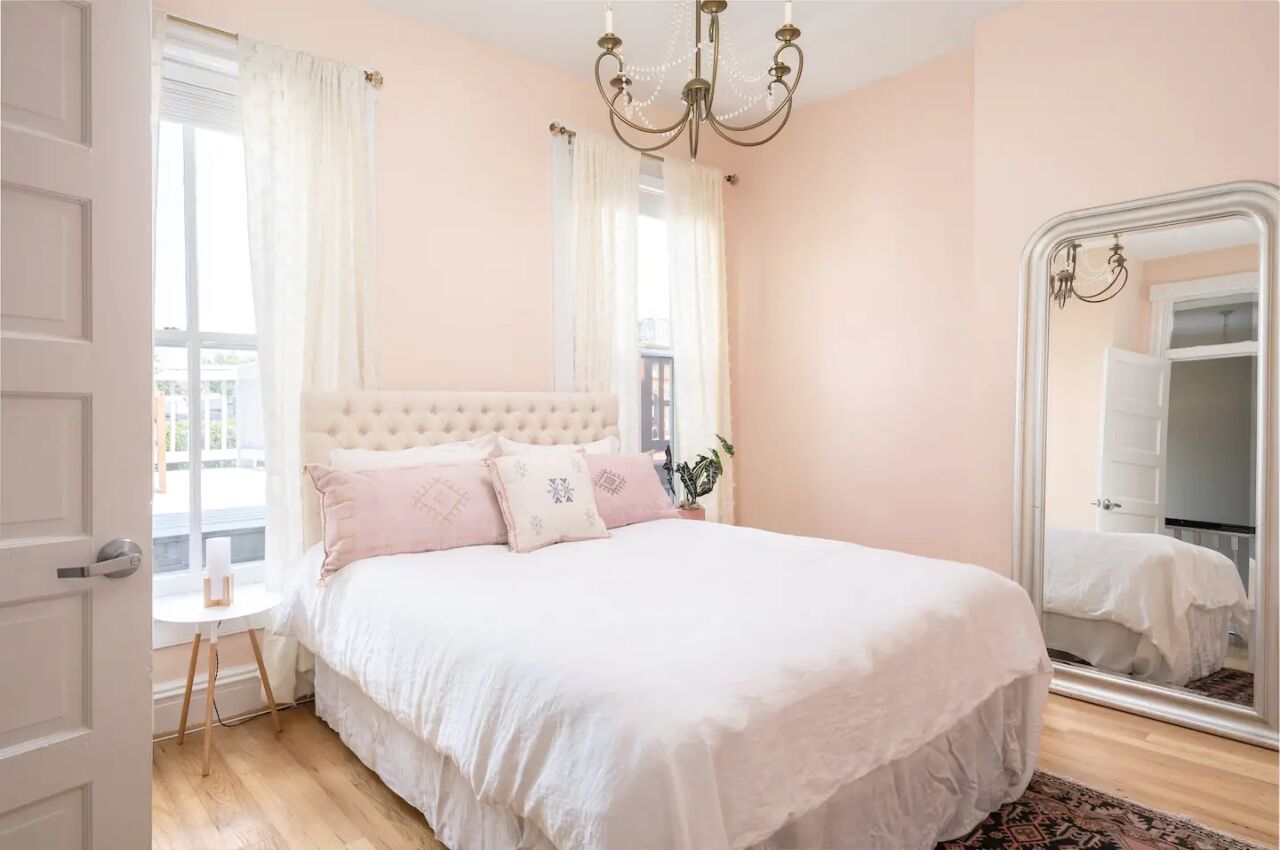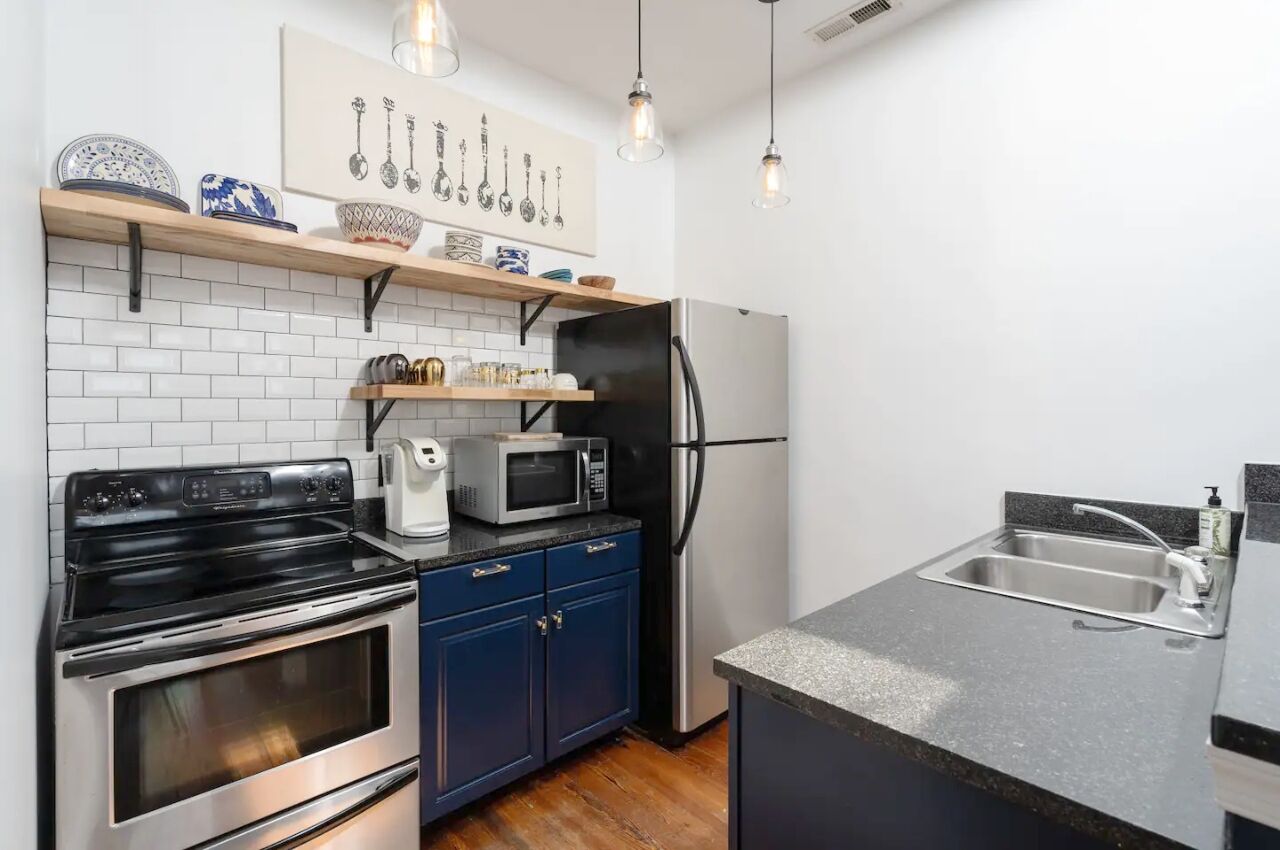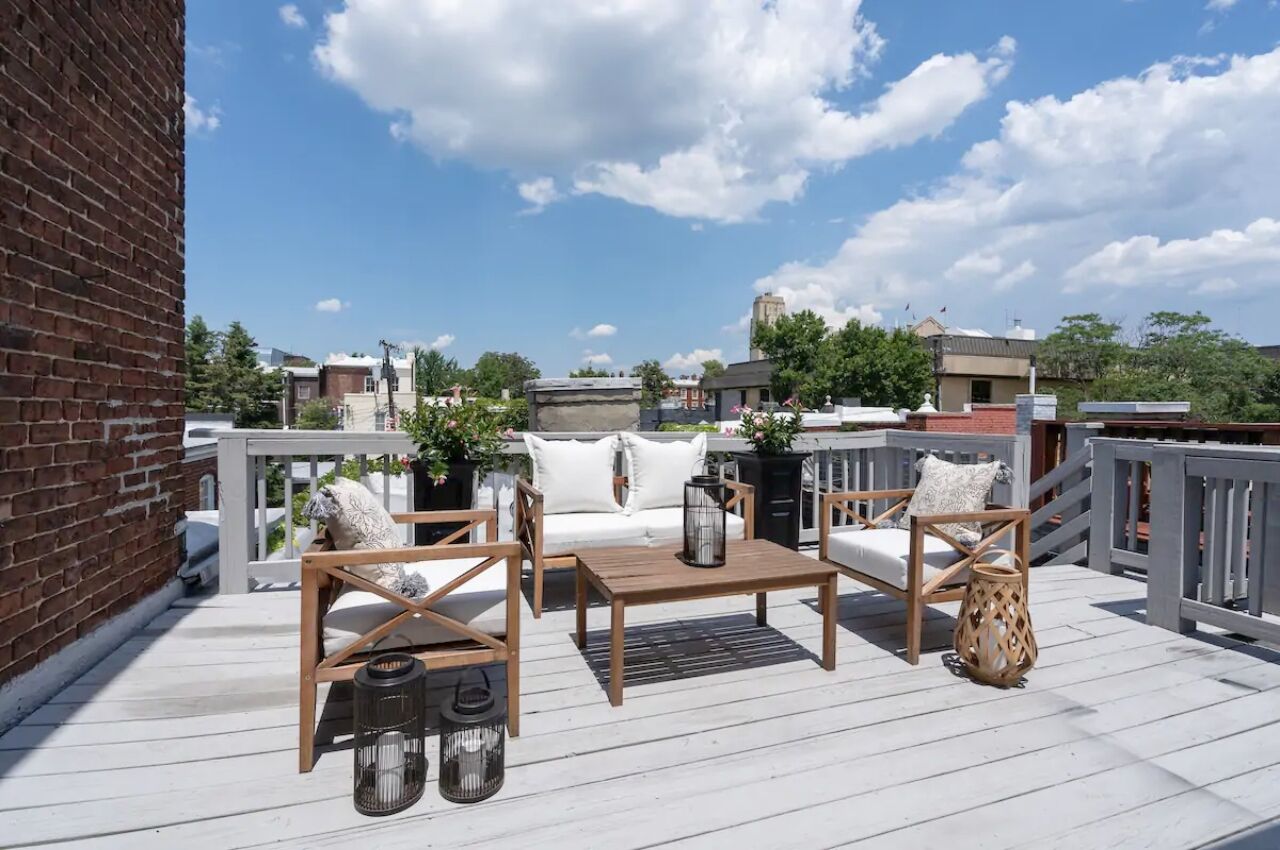 In the heart of downtown is this chic, renovated Airbnb apartment. The stylish flat has an open floor plan kitchen and living room area, a cozy one bedroom sleeping quarters, and a rooftop deck. This apartment is in the heart of Richmond's Arts District, where to can walk to Altria Theater, Belle Isle VCU, and more.
Three guests, one bedroom
Price: $125 per night
Downtown loft near Main Street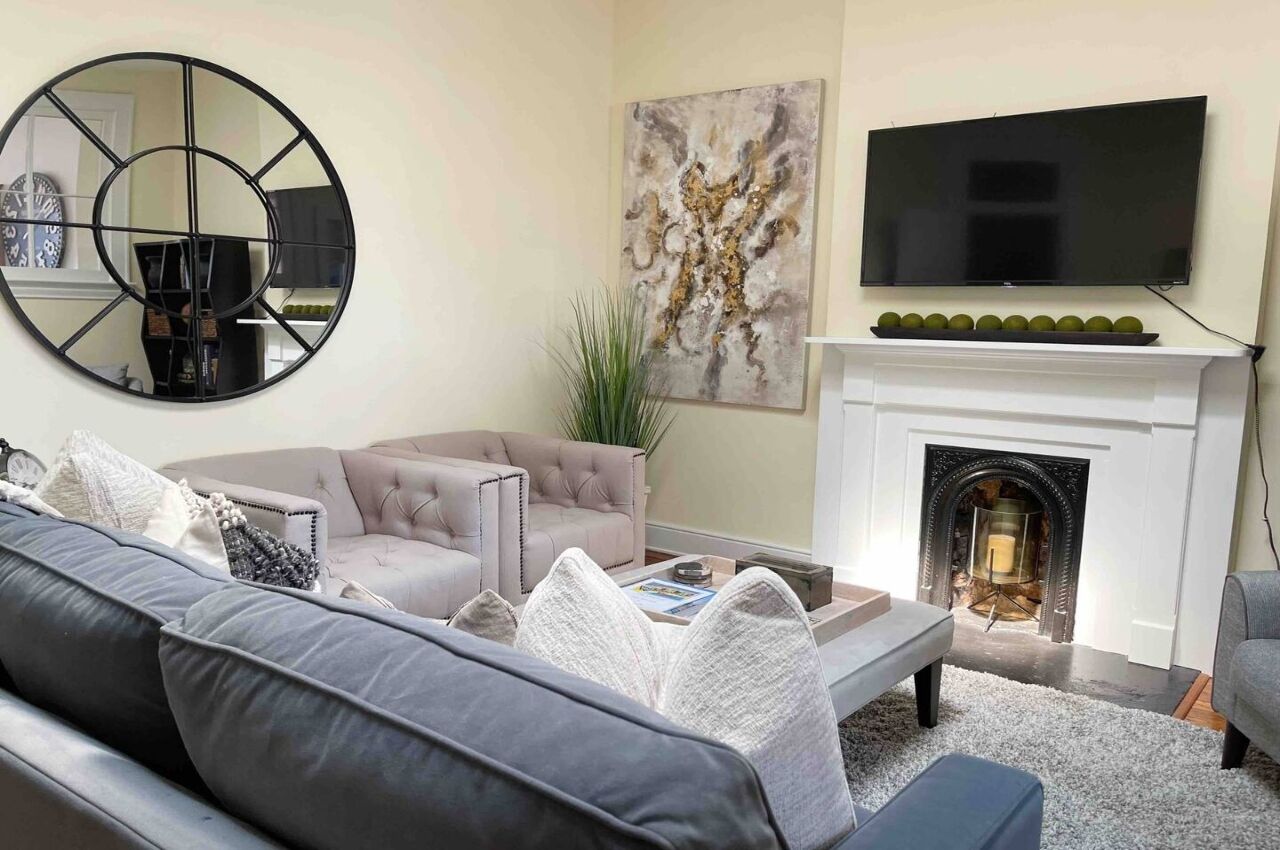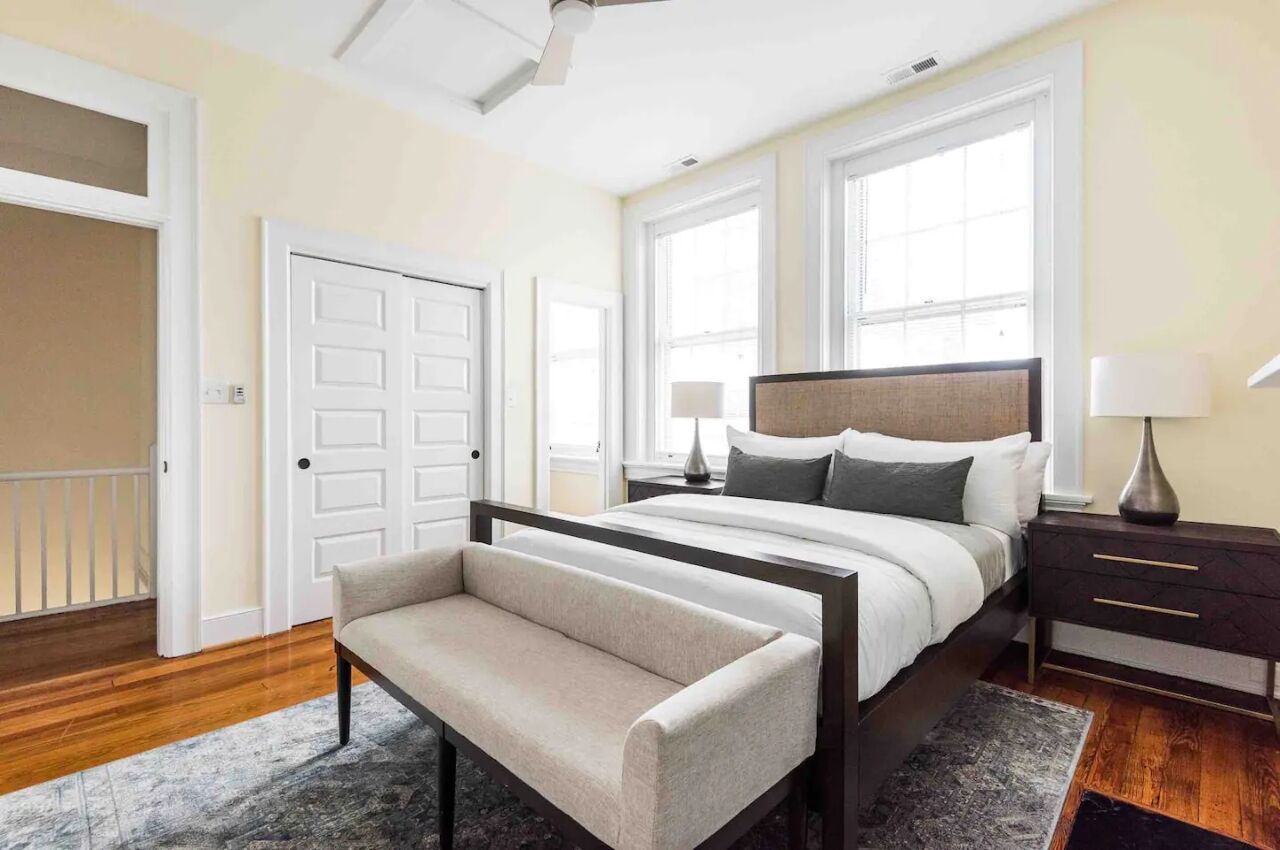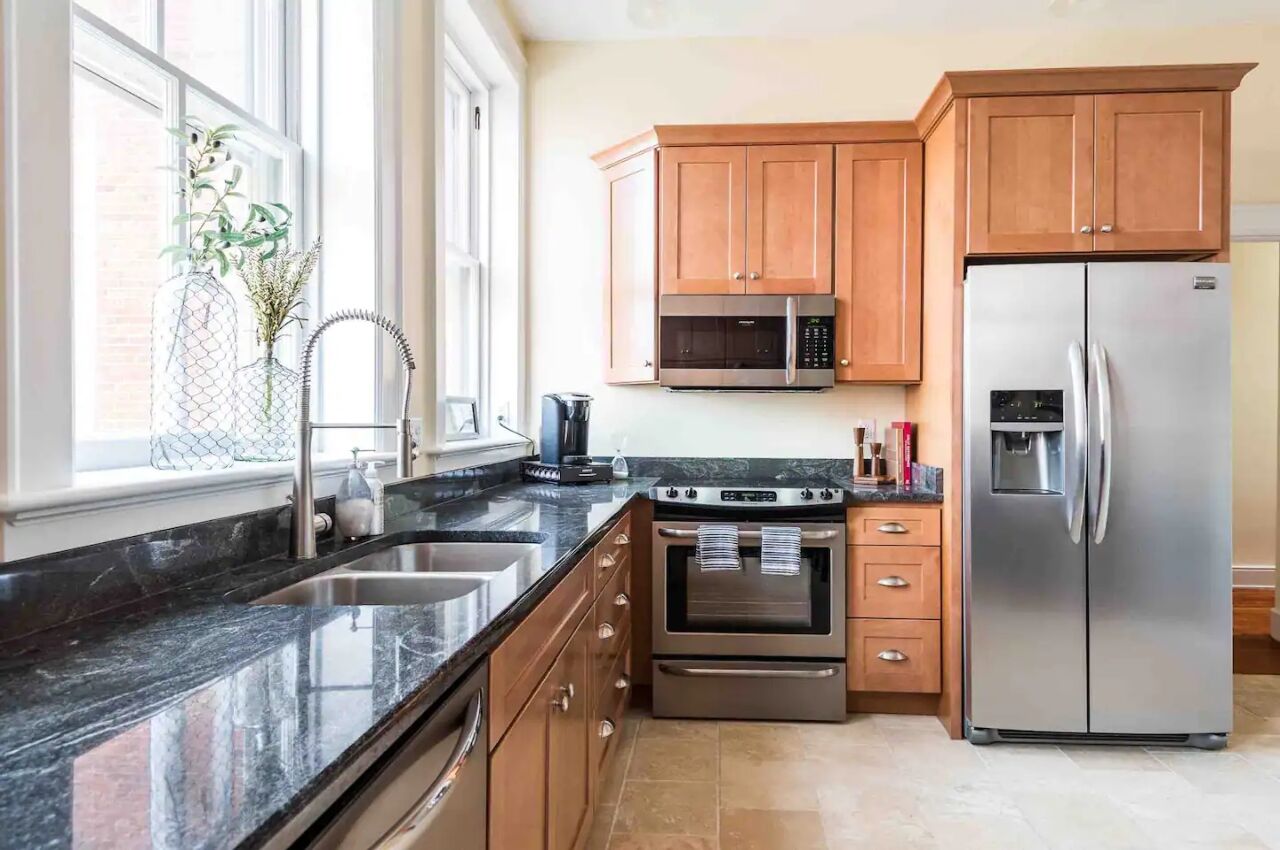 Start your Richmond, Virginia, getaway off right with this contemporary flat that's located in the historic Shockoe Bottom. This spacious loft has a living area with a desk and work area, a fully stocked kitchen, and comfortable two bedrooms. The loft is within walking distance of Main Street Station, museums, bars, and restaurants.
Four guests, two bedrooms
Price: $153 per night
Northside Airbnbs in Richmond, Virginia
Richmond's Northside area encompasses the part of the city north of downtown. It's a great place to base yourself for day trips outside the city, and is ideal for families and those wanting a quiet, peaceful stay.
Cozy private home in Northside Richmond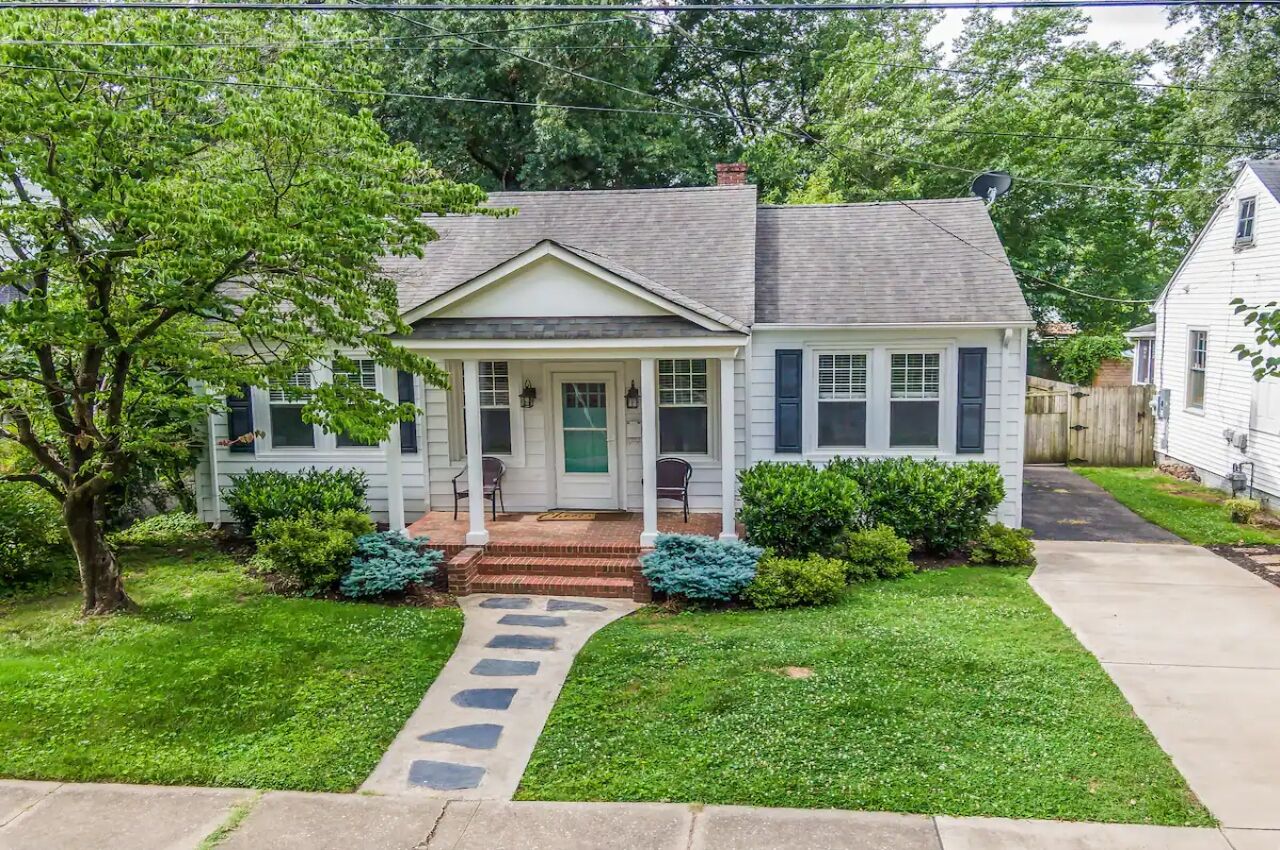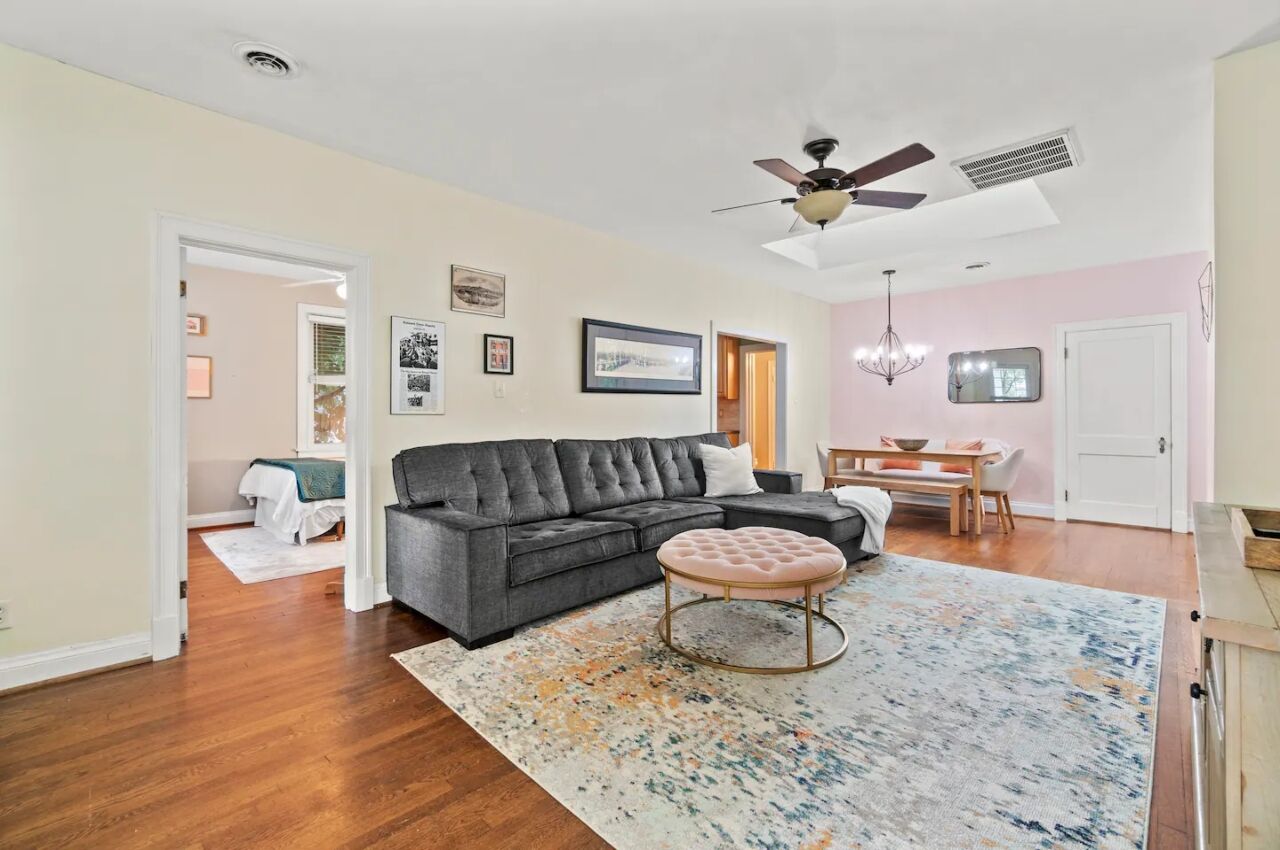 Relax and get comfortable in this quaint Airbnb in Richmond, Virginia. This private home is located on the Northside of Richmond and has an open floor plan with a spacious living room and kitchen area with skylights. There is a fenced-in backyard with a multi-tiered deck perfect for hanging out with friends and family.
Six guests, three bedrooms
Price: $158 per night
Newly renovated peaceful home with a fenced-in yard and fire pit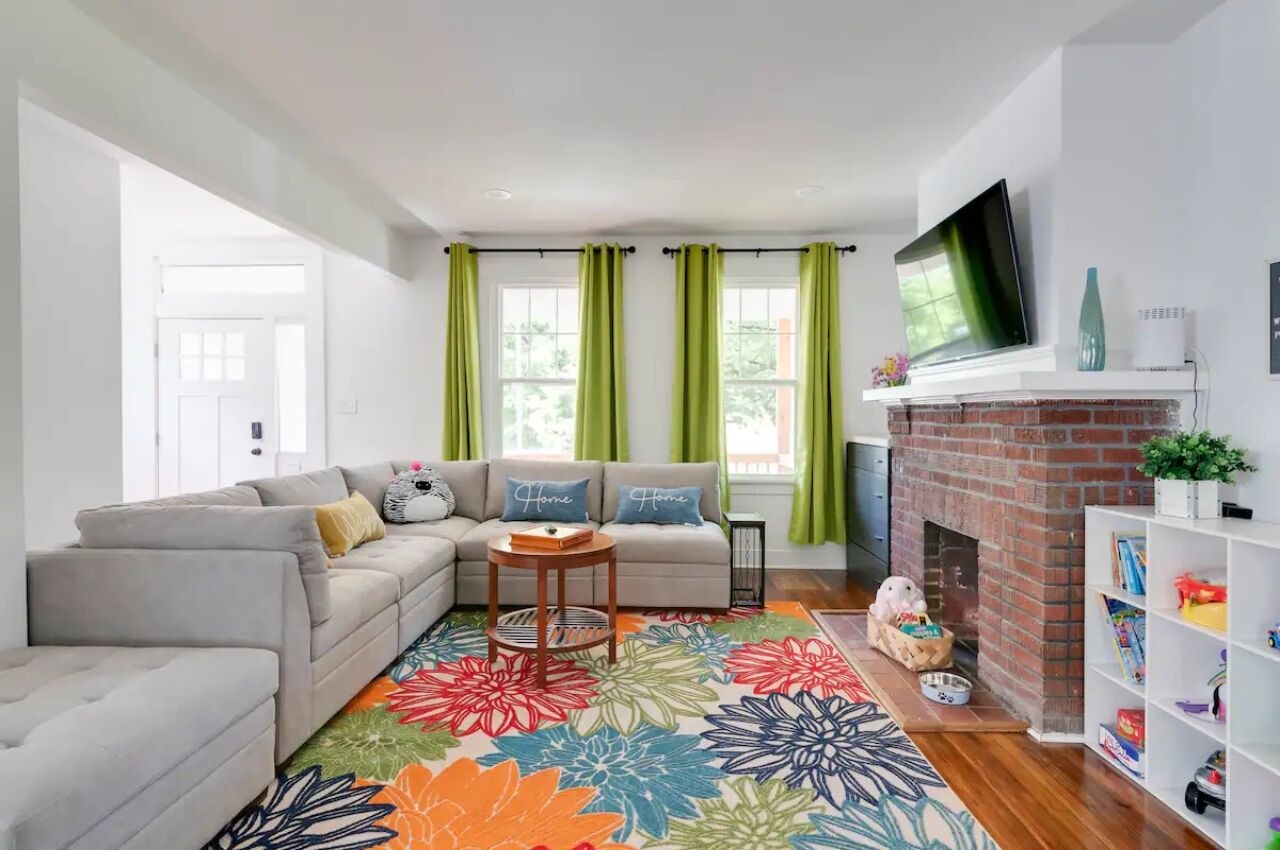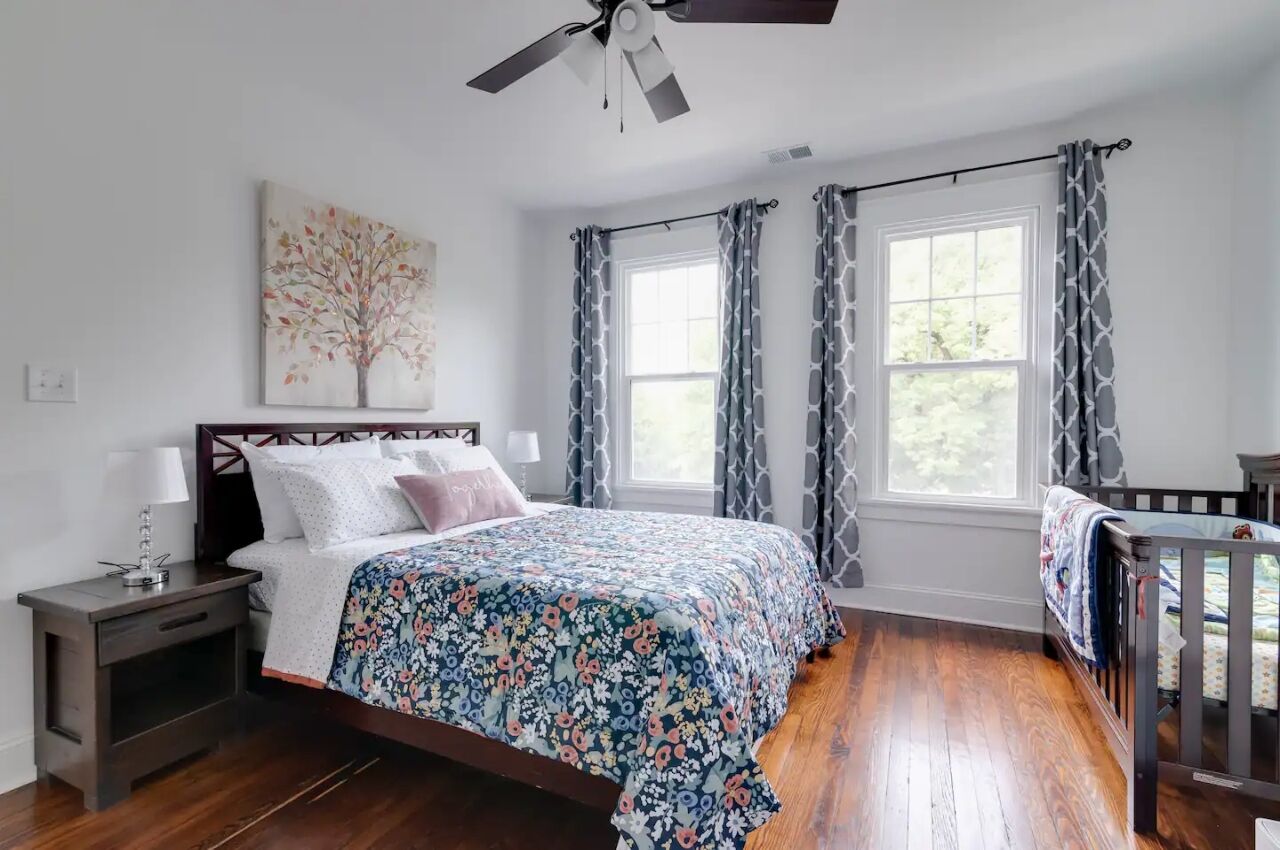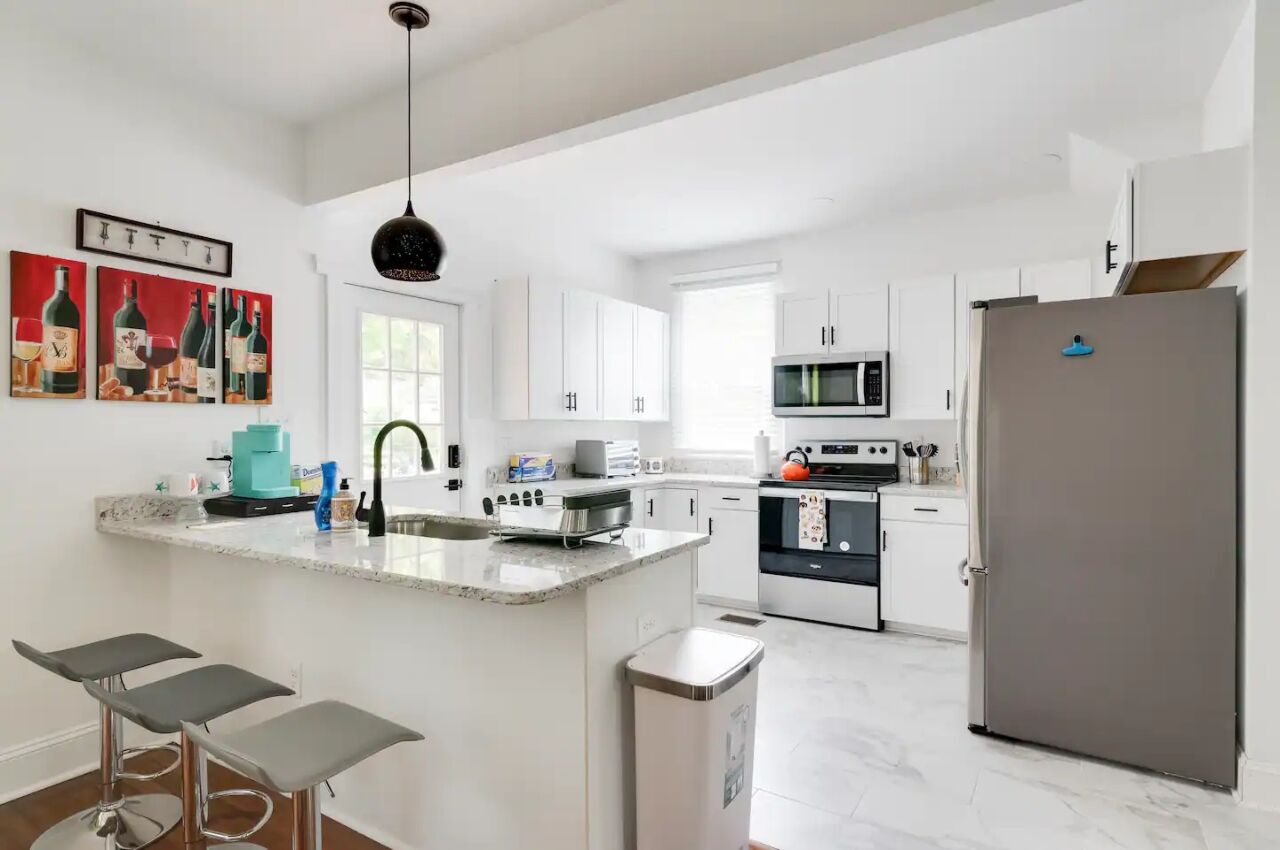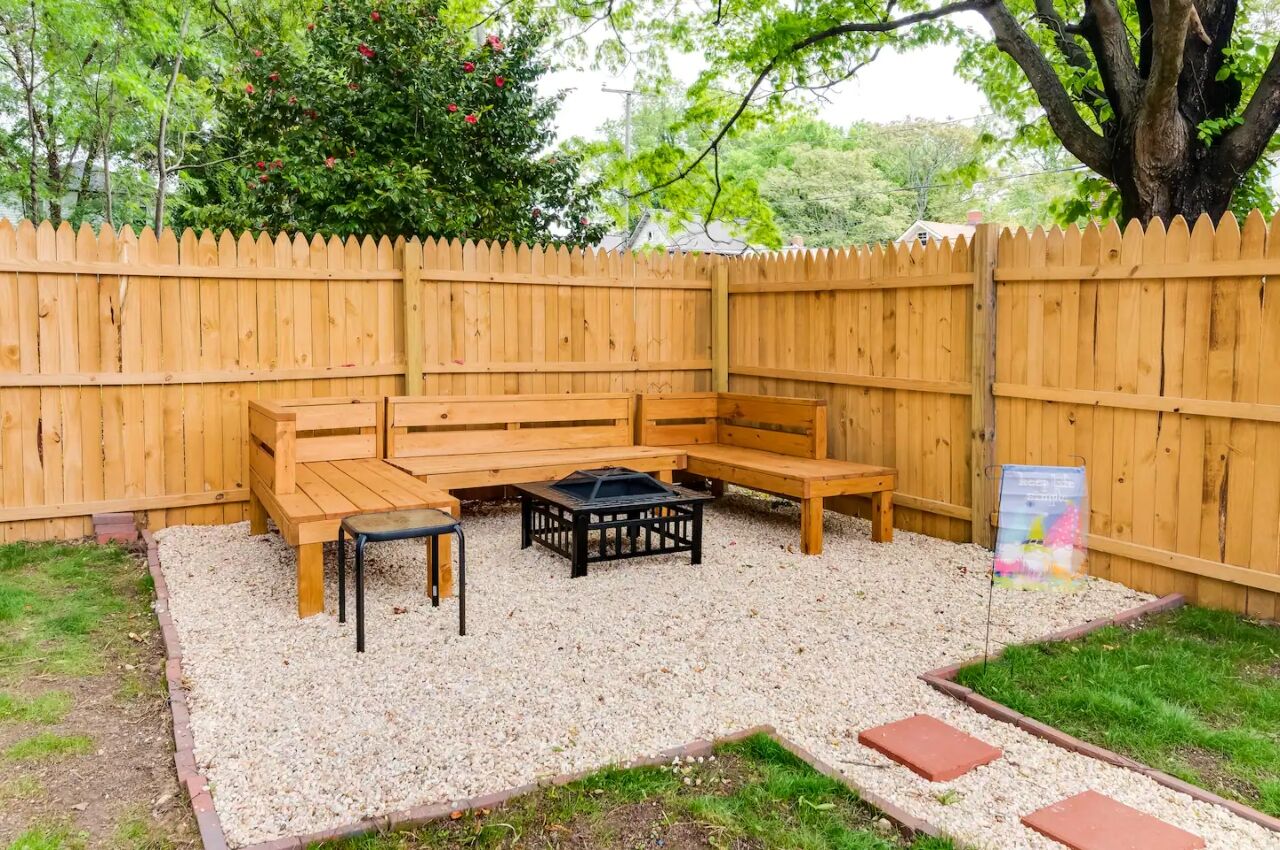 Welcome to this colorful, newly renovated Richmond, Virginia, Airbnb. This peaceful home makes a great base for any type of traveler as you'll enjoy a quiet night's sleep and a walkable neighborhood. Families love this spot. There is a spacious living room with a couch that converts into a queen-sized bed with toys and books for the kids, a dining area for six, a bar for three plus a kids high chair, and a fully equipped kitchen. Enjoy the fenced-in backyard and relax on the patio with a fire going in the fire pit.
Eight guests, three bedrooms
Price: $158 per night
Nocturnal Gardens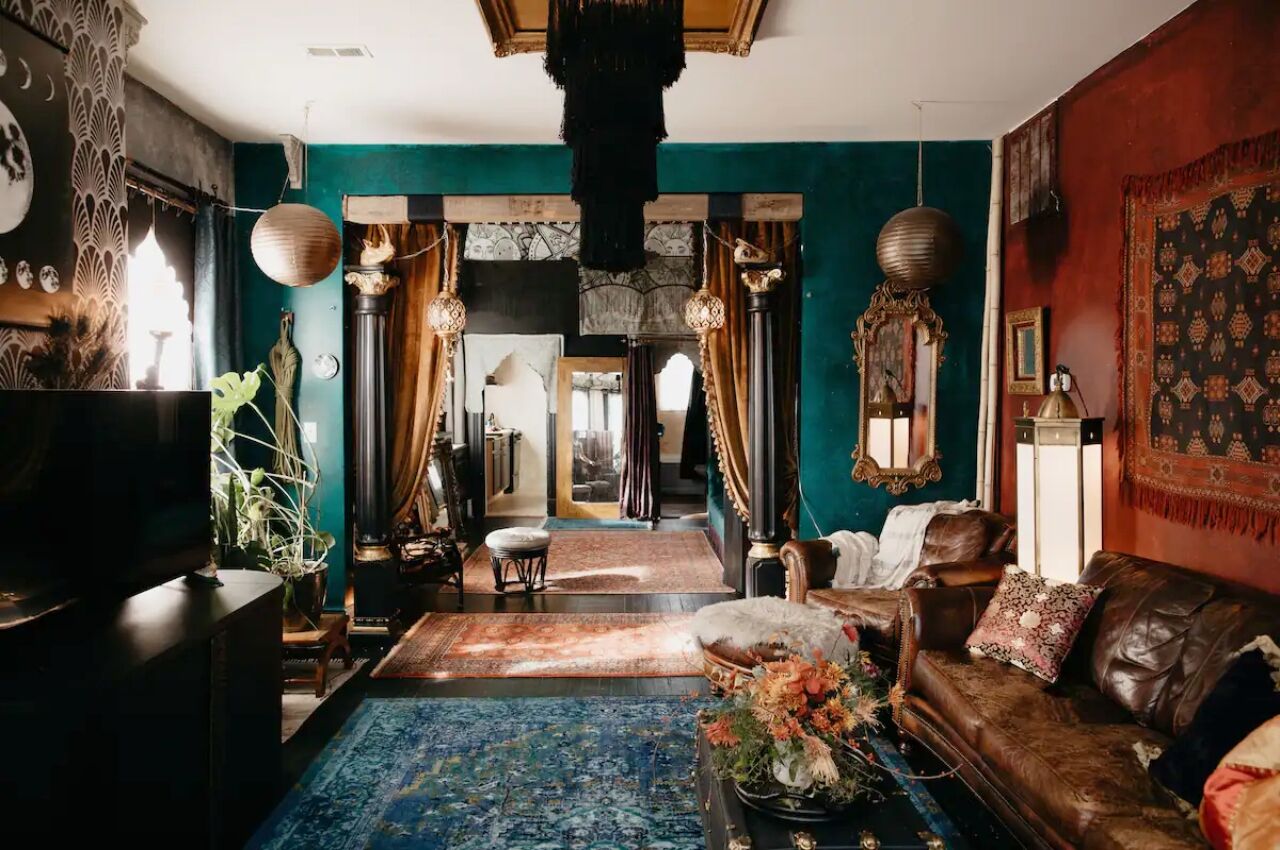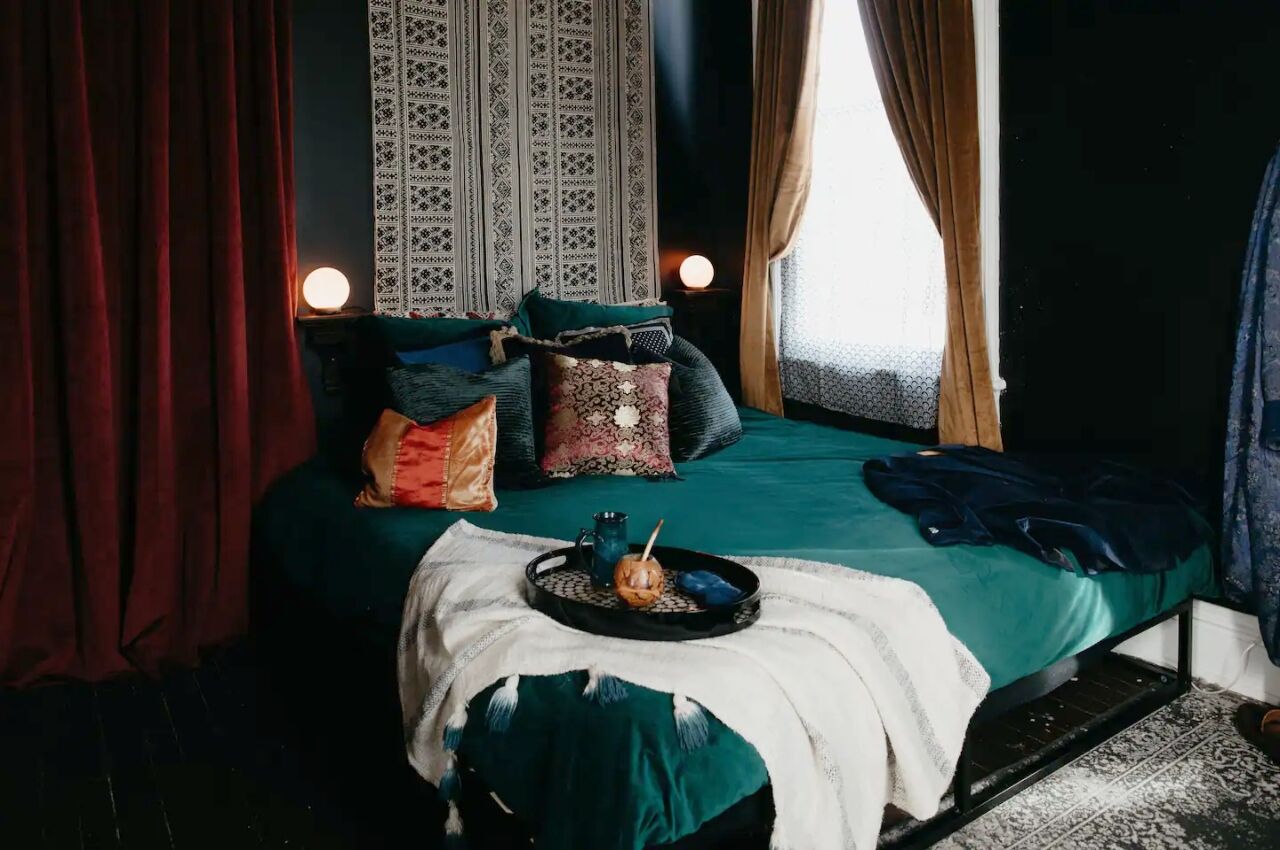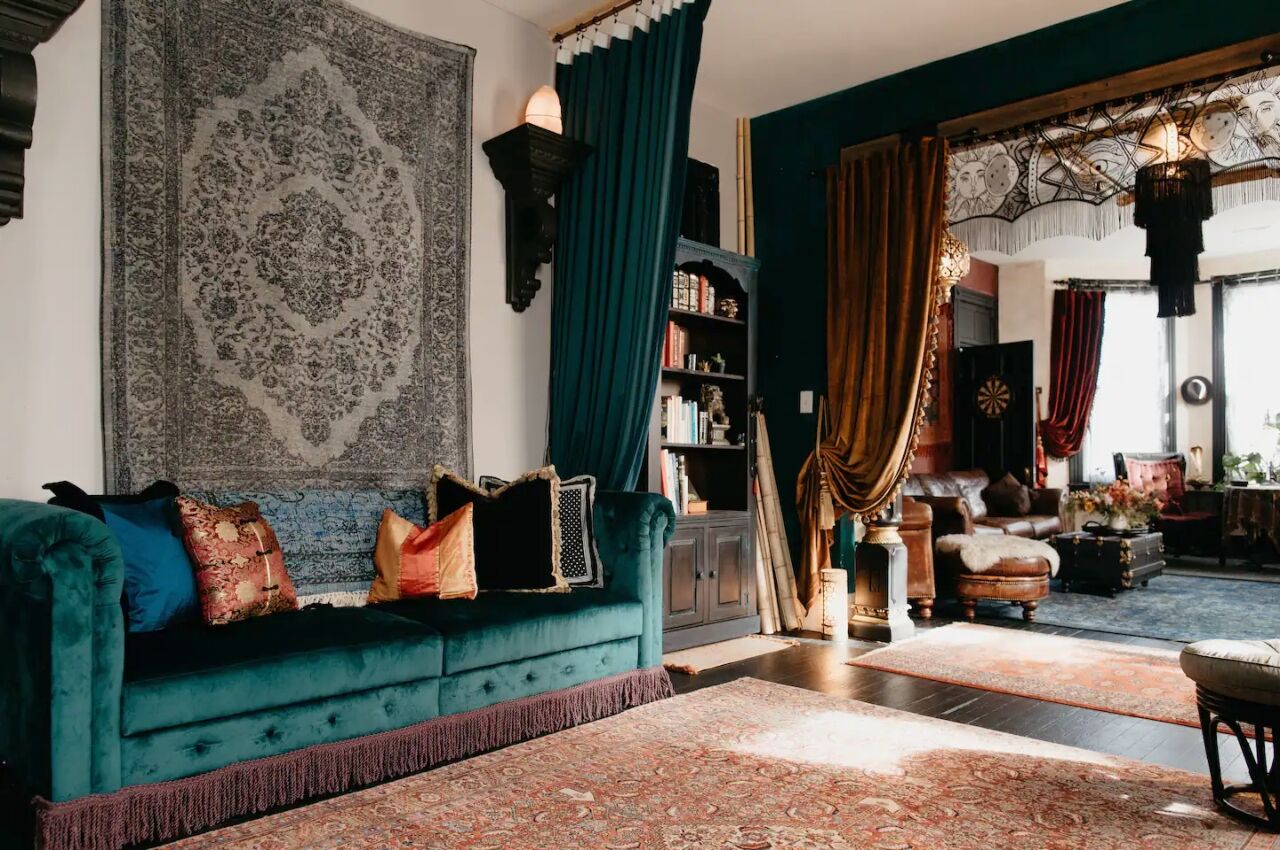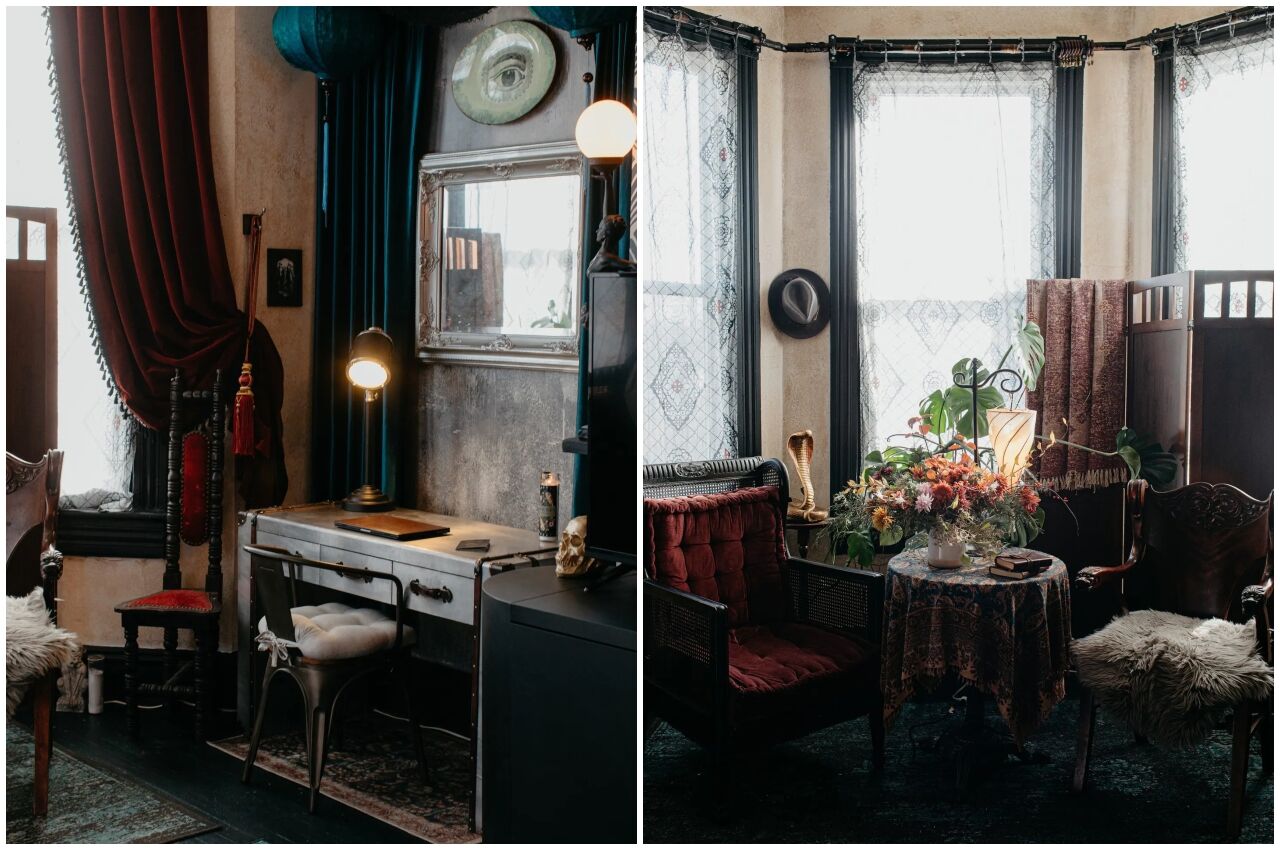 Experience this unique Airbnb in Richmond, Virginia, just north of the downtown area. It's among the city's most unique vacation rentals — allowing you to step into another world while staying in a New Orleans Goth glam-themed apartment. This one-of-kind apartment has everything you need for your stay, with two spacious living rooms, a kitchen, and plenty of seating and games. This unique home is a ten-minute drive to downtown shops and restaurants.
Four guests, one bedroom
Price: $91 per night
What did you think of this story?