The 11 Best Scottsdale Airbnbs With Pools for Groups and Golf Escapes
The desert city of Scottsdale entices families with its mountain vistas, hiking trails, golf courses, and endless sunshine. Equally so, Scottsdale is carving a name for itself as a leading destination for luxury resorts and spa retreats. This is our selection of the best Airbnb Scottsdale homes for small groups, large groups, and families seeking rest and relaxation.
We hope you love the Airbnb Scottsdale rentals we recommend! Just so you know, Matador may collect a small commission from the links on this page if you decide to book a stay. Listed prices are accurate as of the time of publication.
Best Airbnb Scottsdale rentals for smaller groups
Fine, flavorful home with fun backyard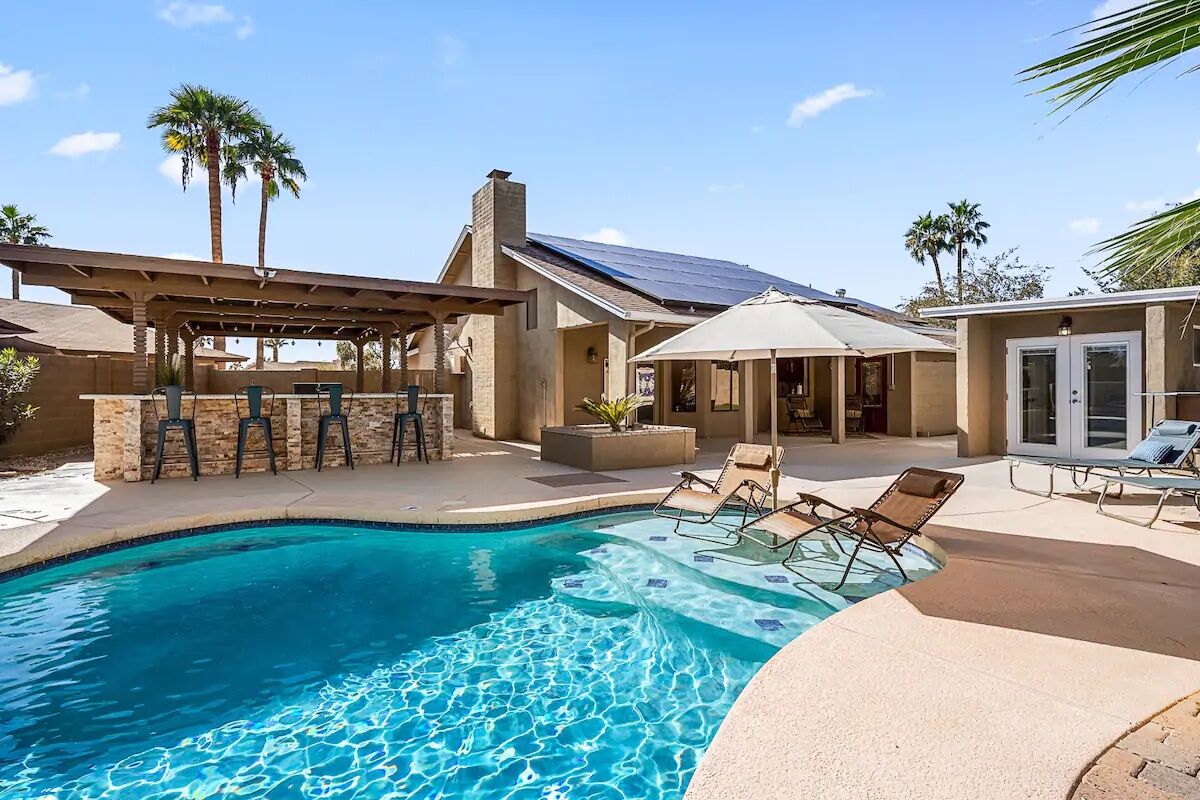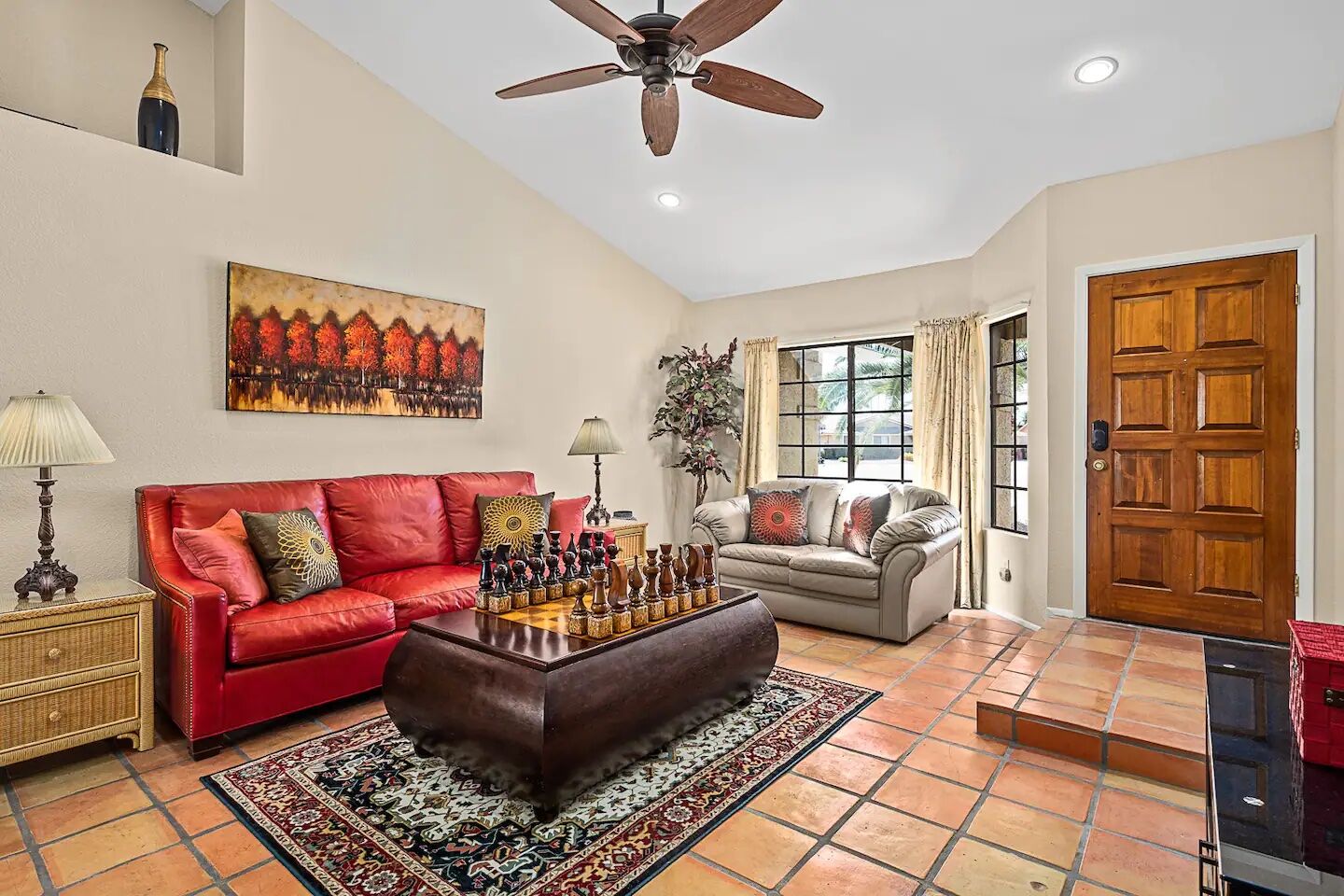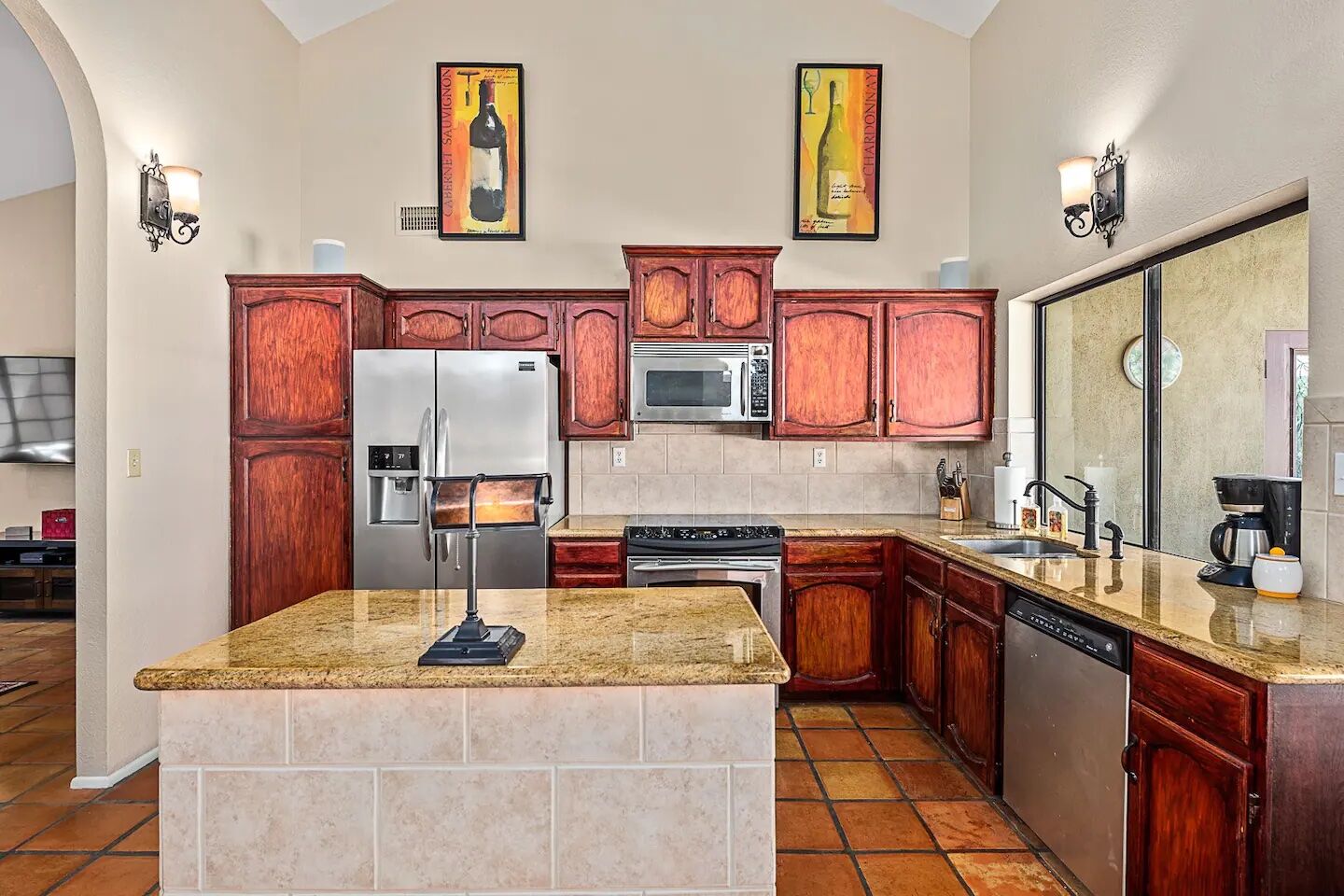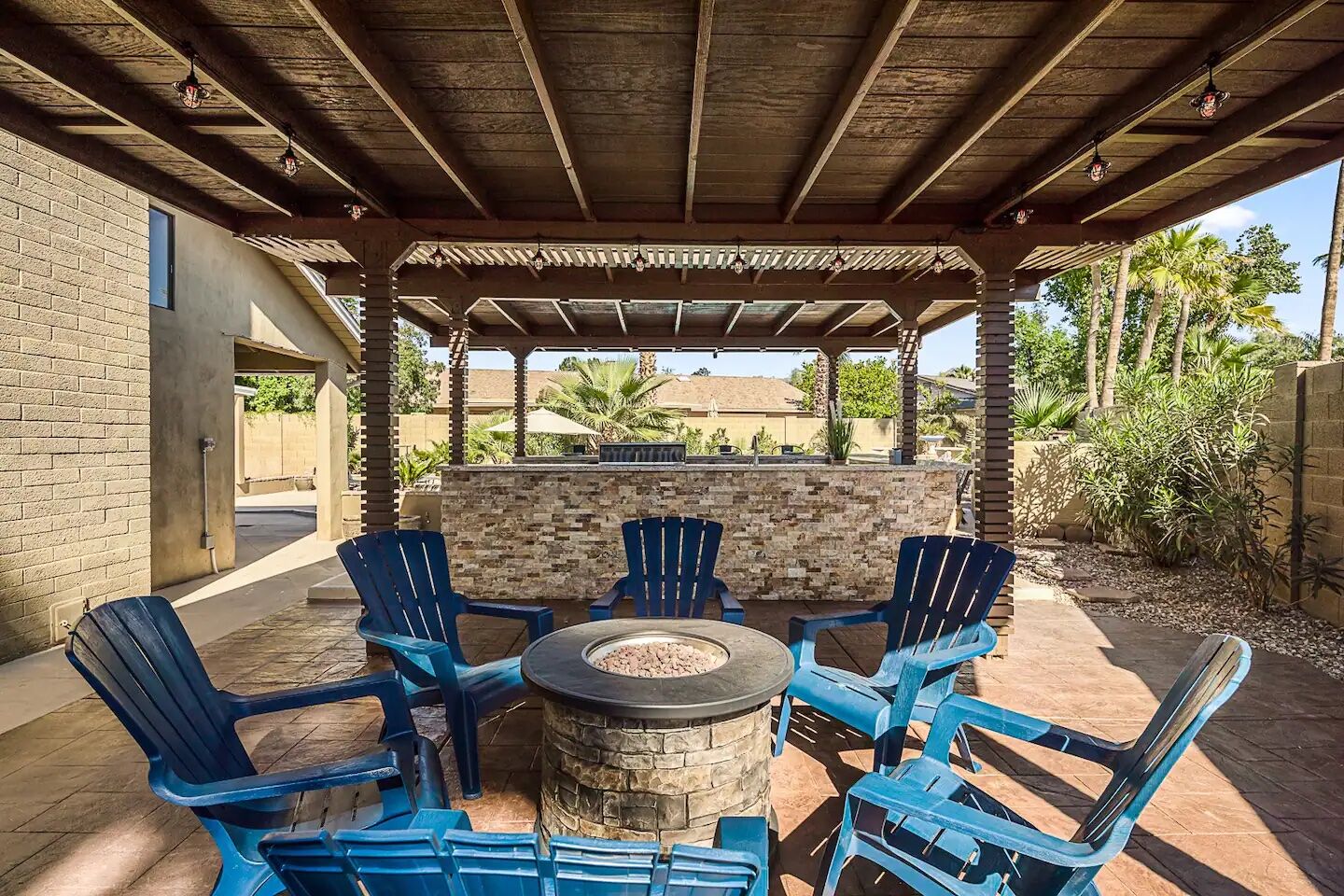 Located in North Scottsdale, this funky family home is beautifully appointed with rustic furnishings and artistic decor. The front room is kitted out with a giant chess board for family game nights while multiple TVs are on hand when a Netflix binge is in order. Comprising one king room, a queen room, and a twin, the space is appropriate for families and friendship groups. Best of all, the outdoor area features a swimming pool and barbecue area with ample space to stretch out.
Six guests, three bedrooms
Price: $430 per night
Luxe living in PHX/Scottsdale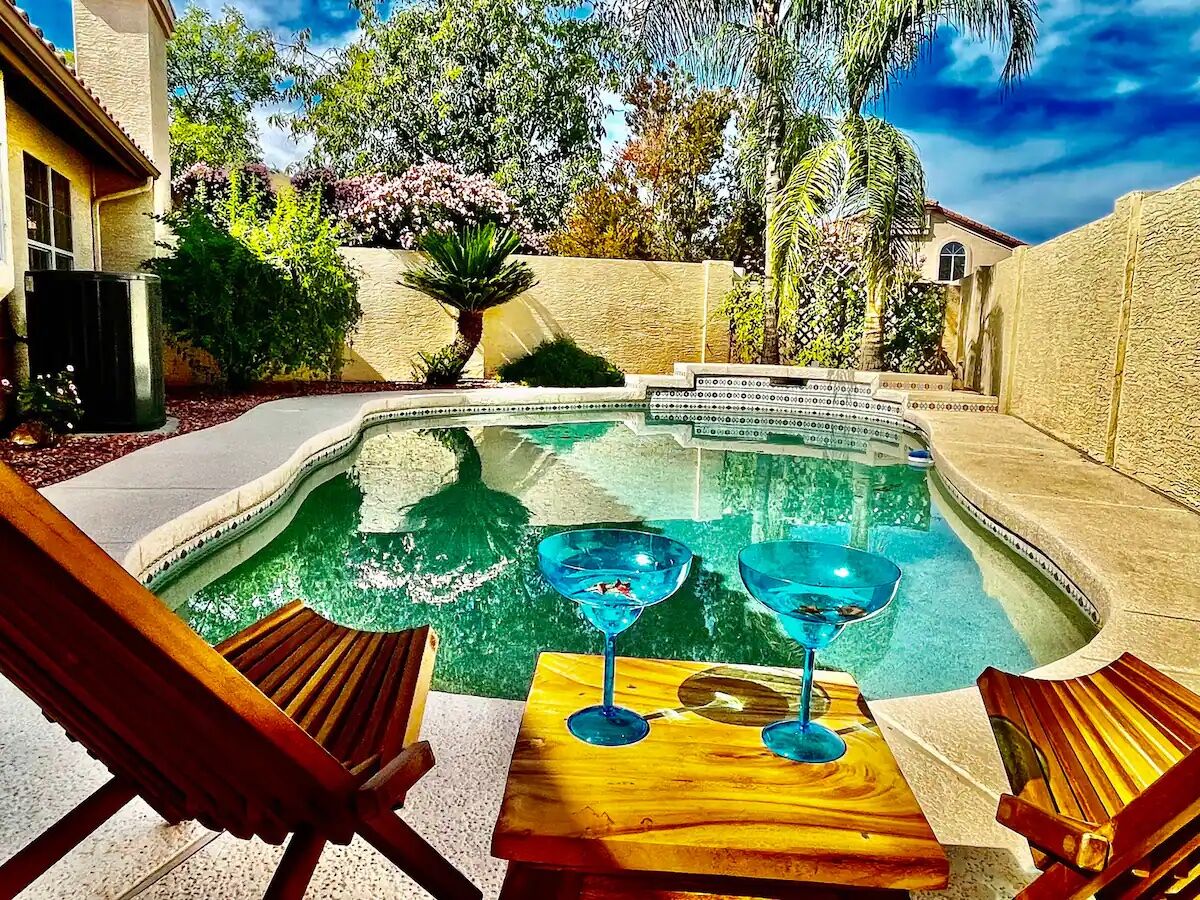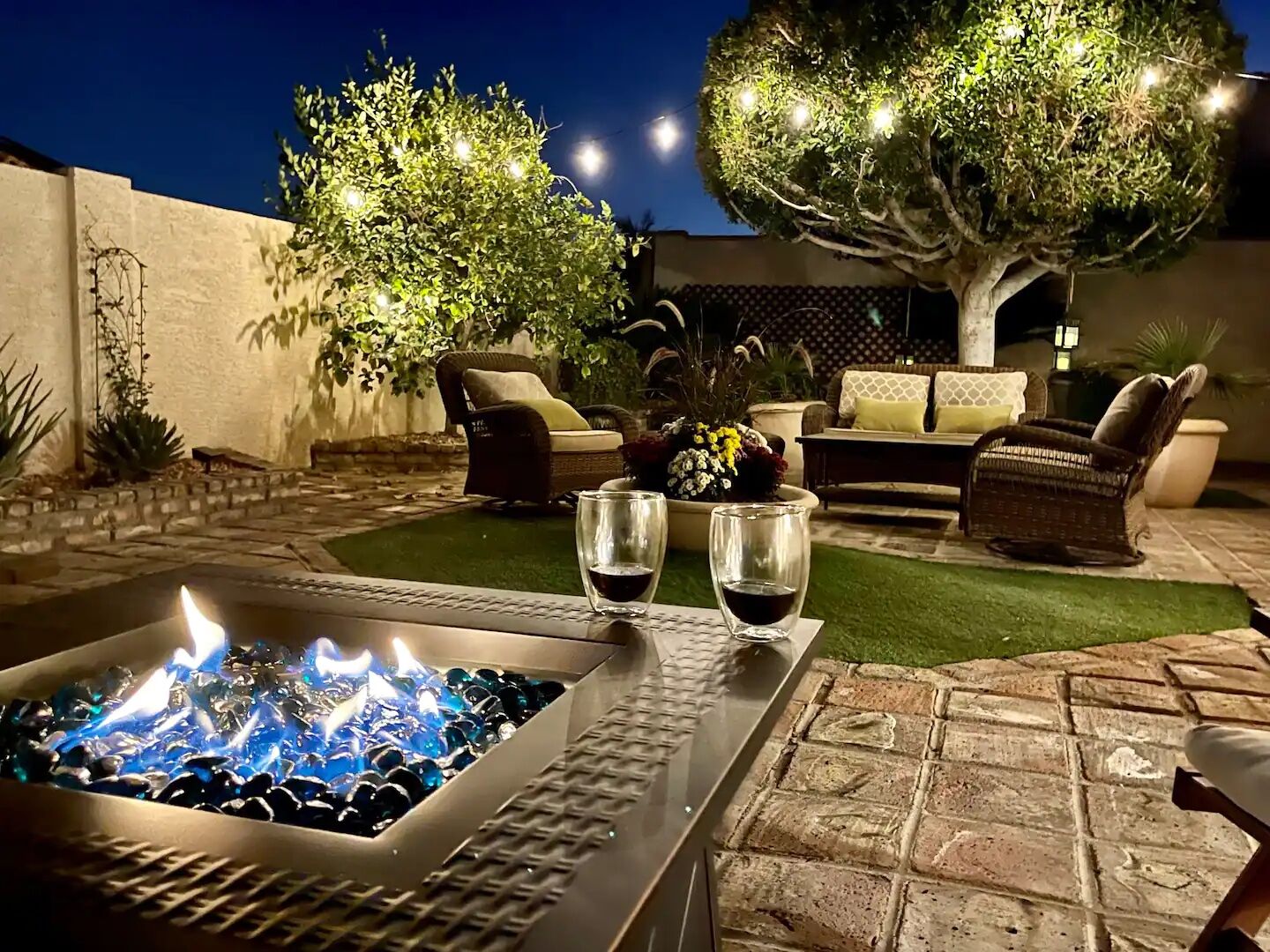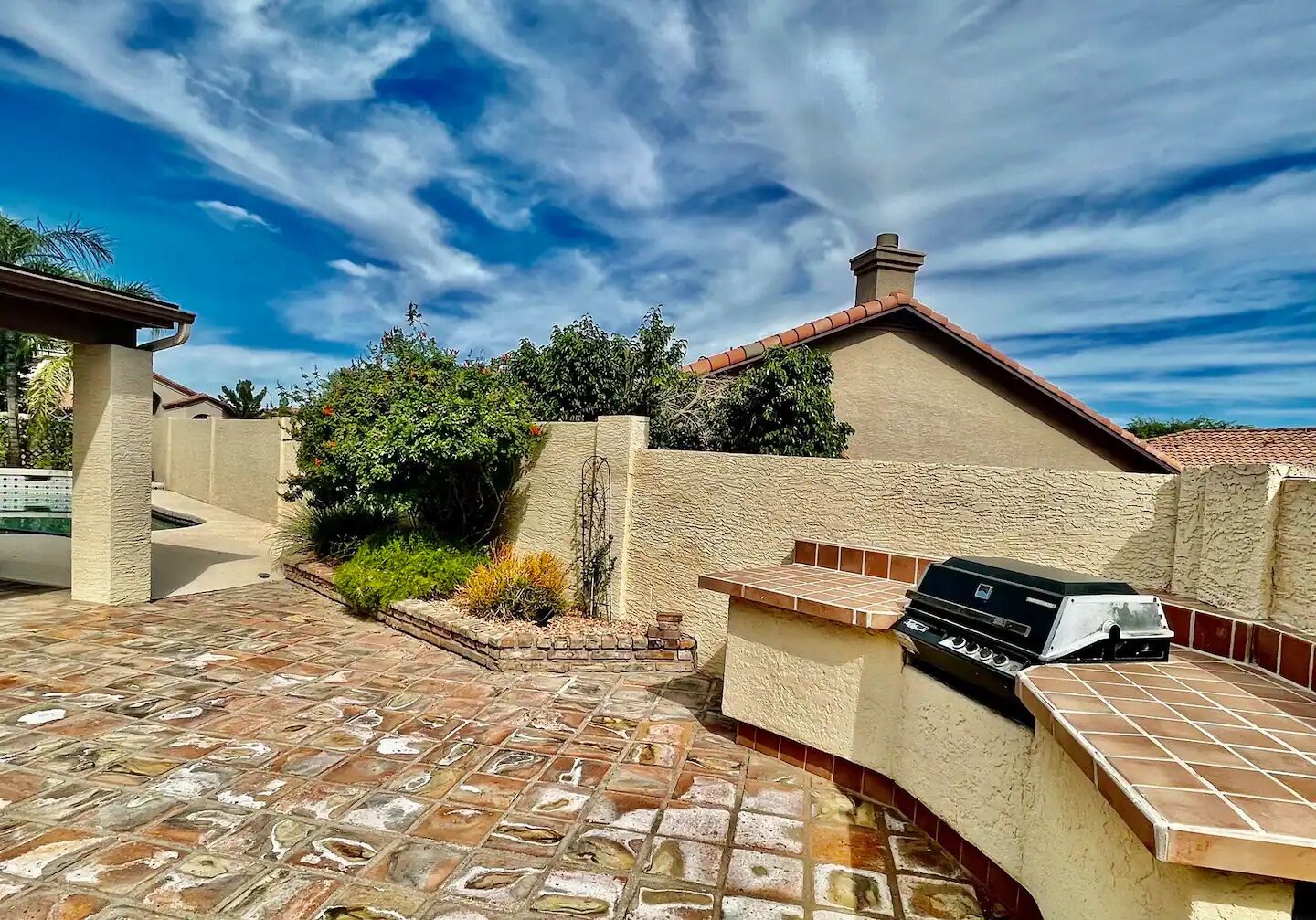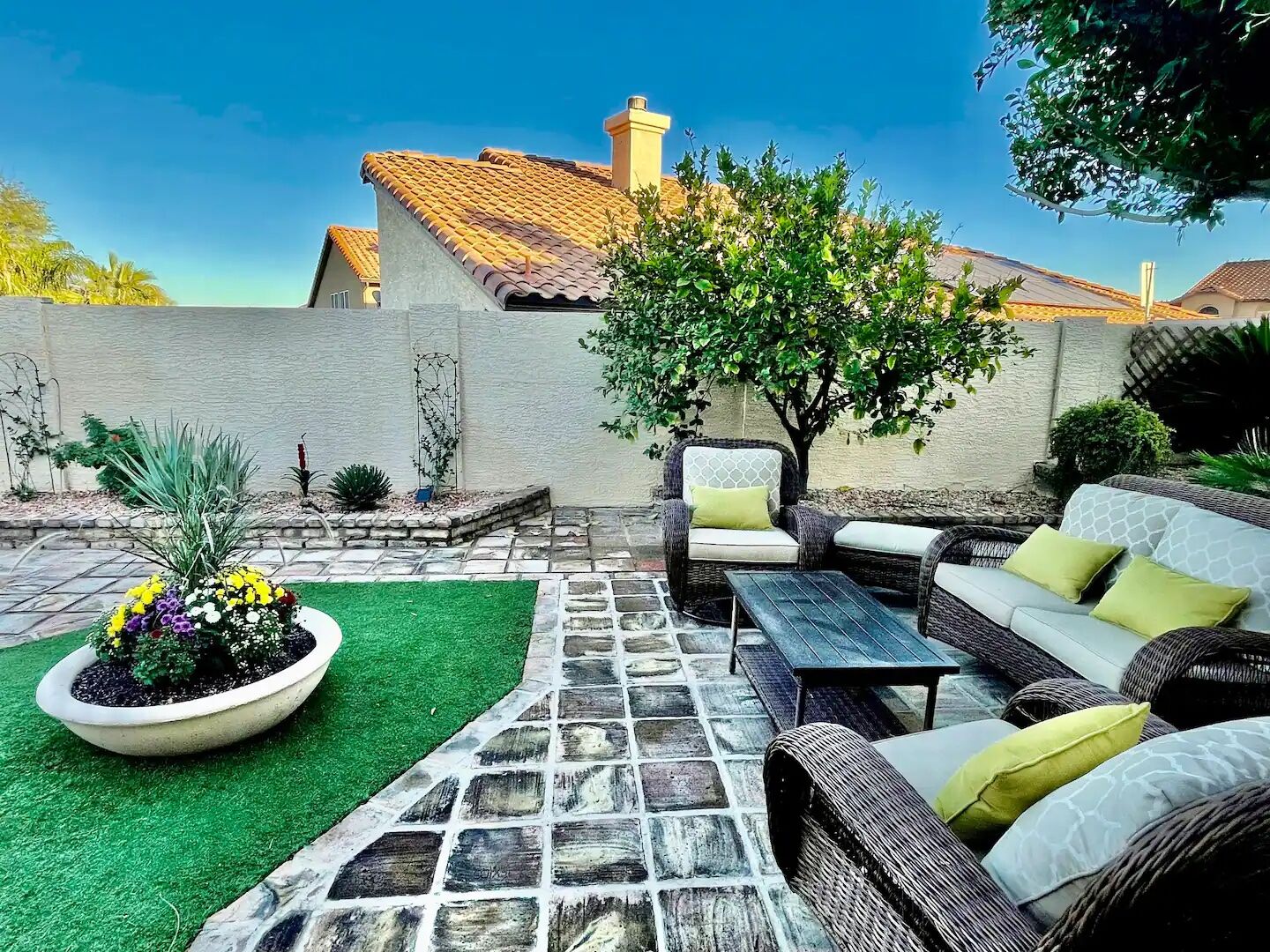 This stylish vacation letting sits near the foot of Shadow Mountain in the peaceful North Scottsdale. A spacious open-plan kitchen, diner, and lounge is perfect for sociable groups who want to natter late into the night. The interiors are lovingly appointed with classic wooden floors, granite countertops, faux-fur throws, and fashionable linens. Your outdoor sanctuary features a swimming pool, firepit, barbecue, and foosball table.
Six guests, three bedrooms
Price: $260 per night
Cowboy Bunkhouse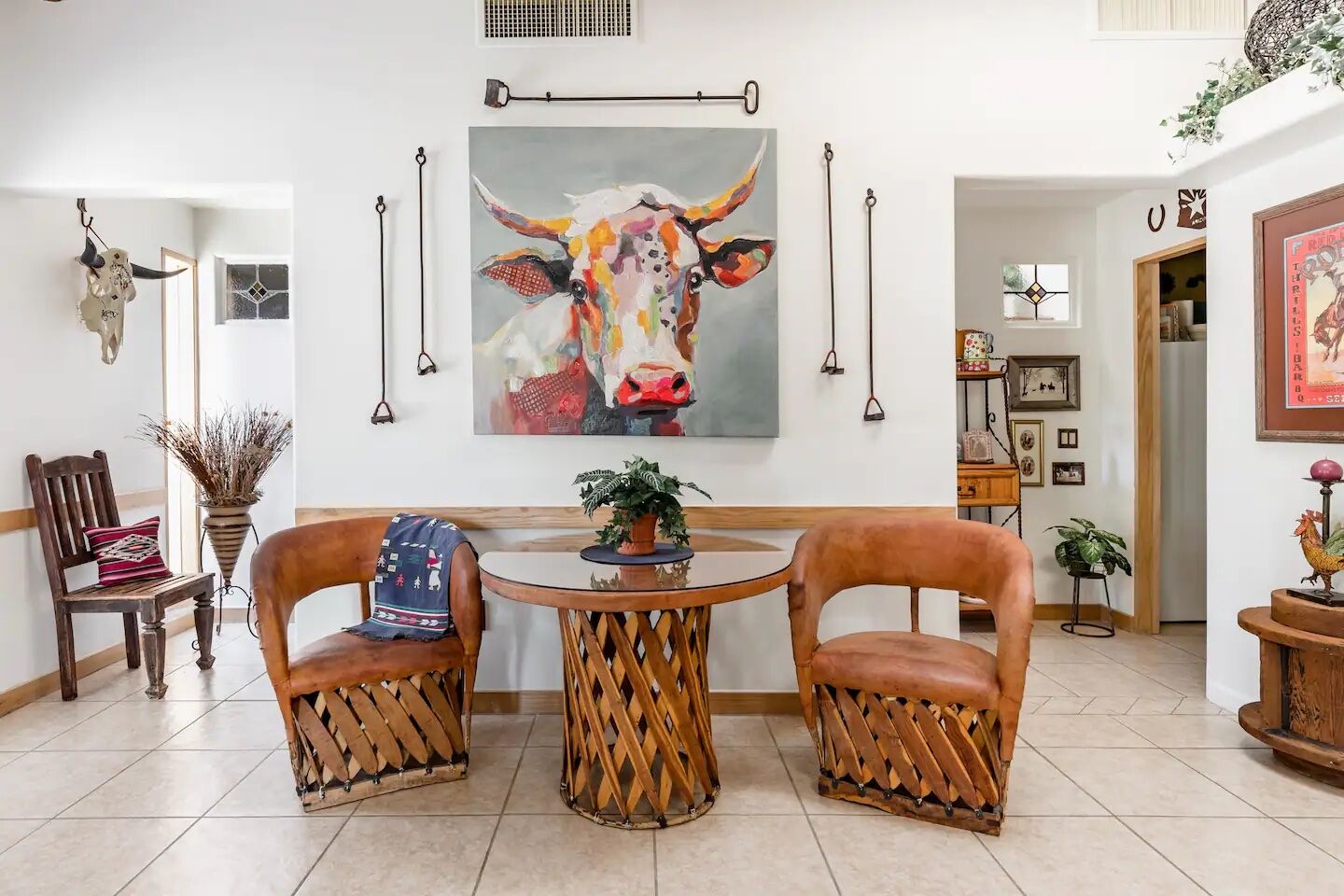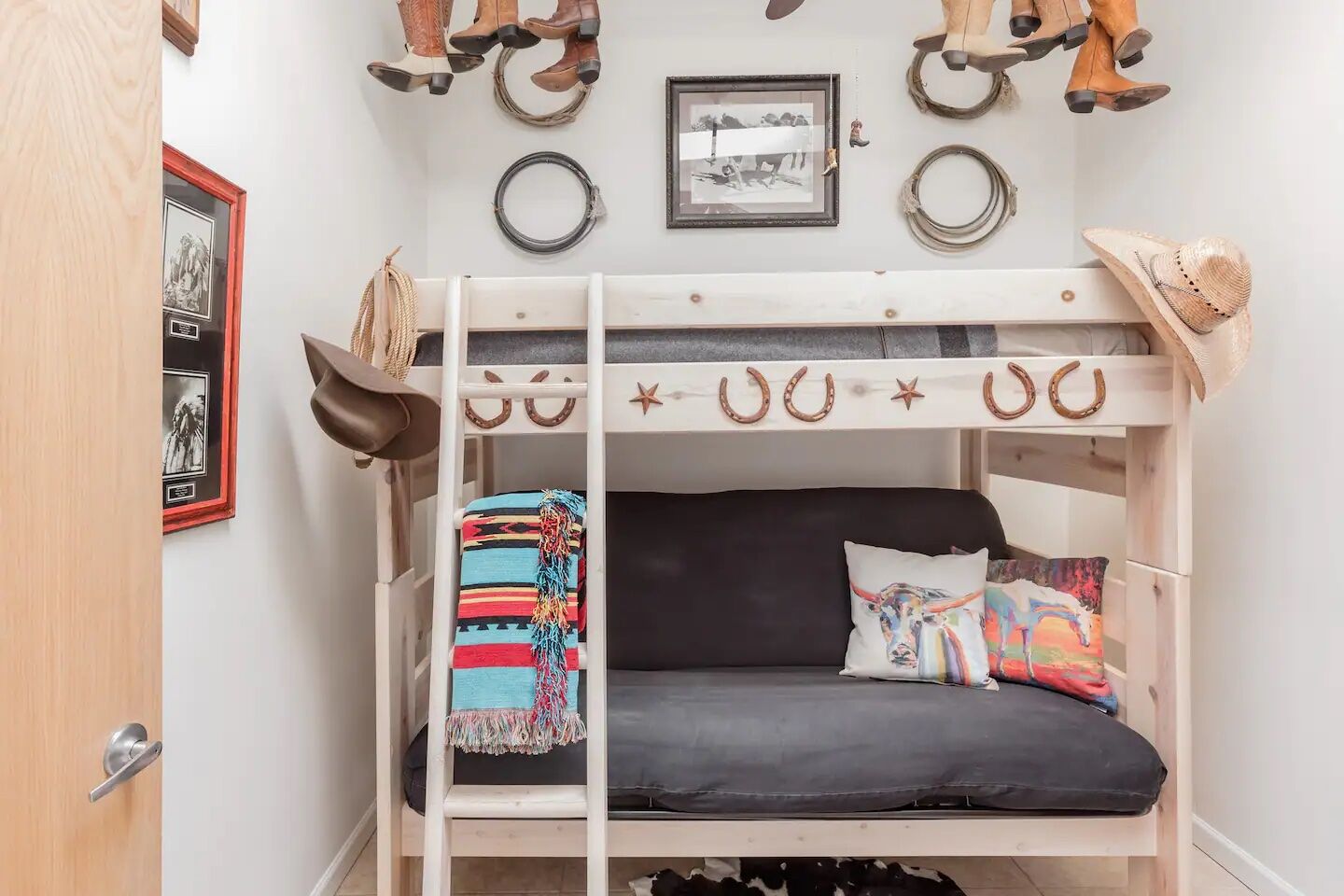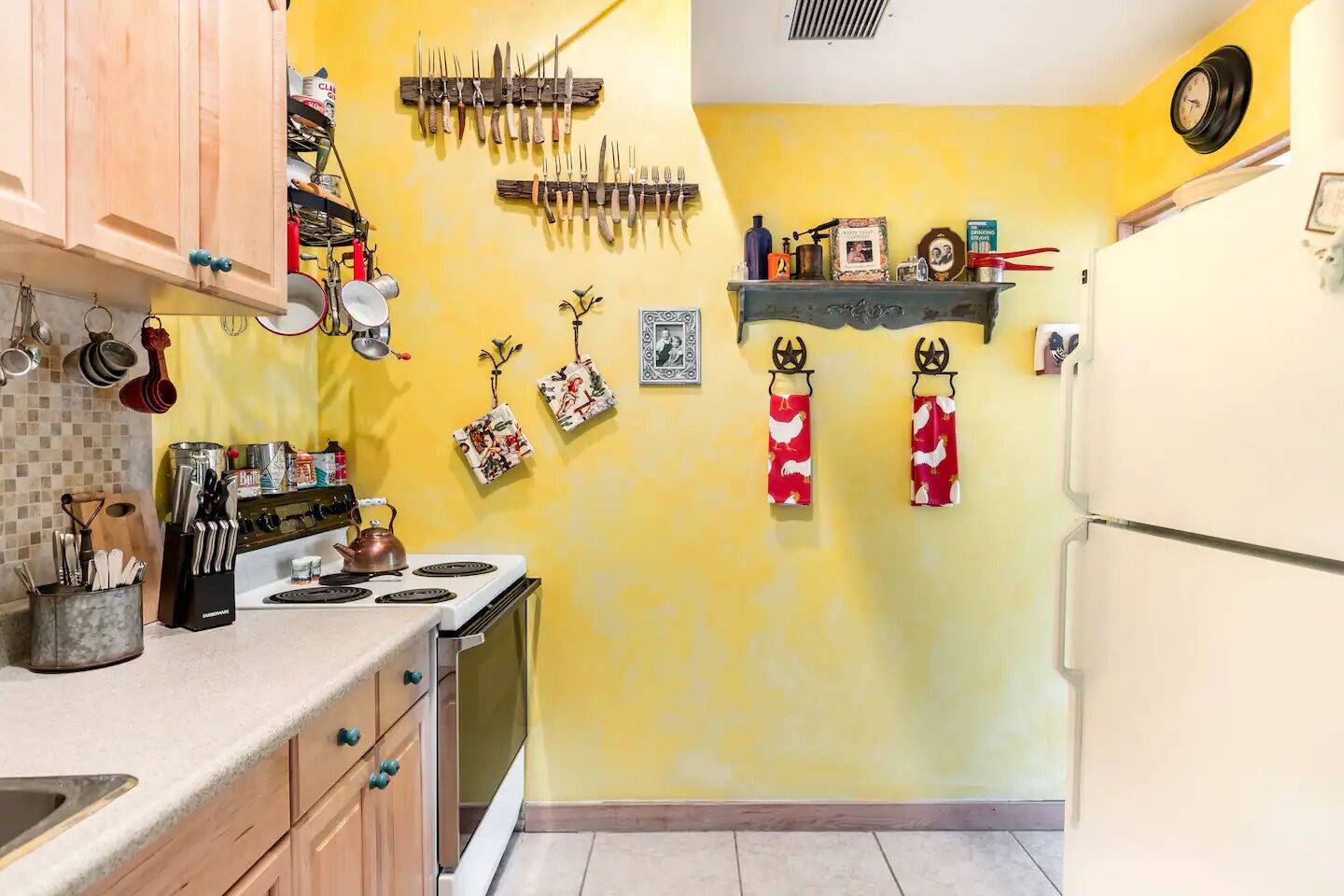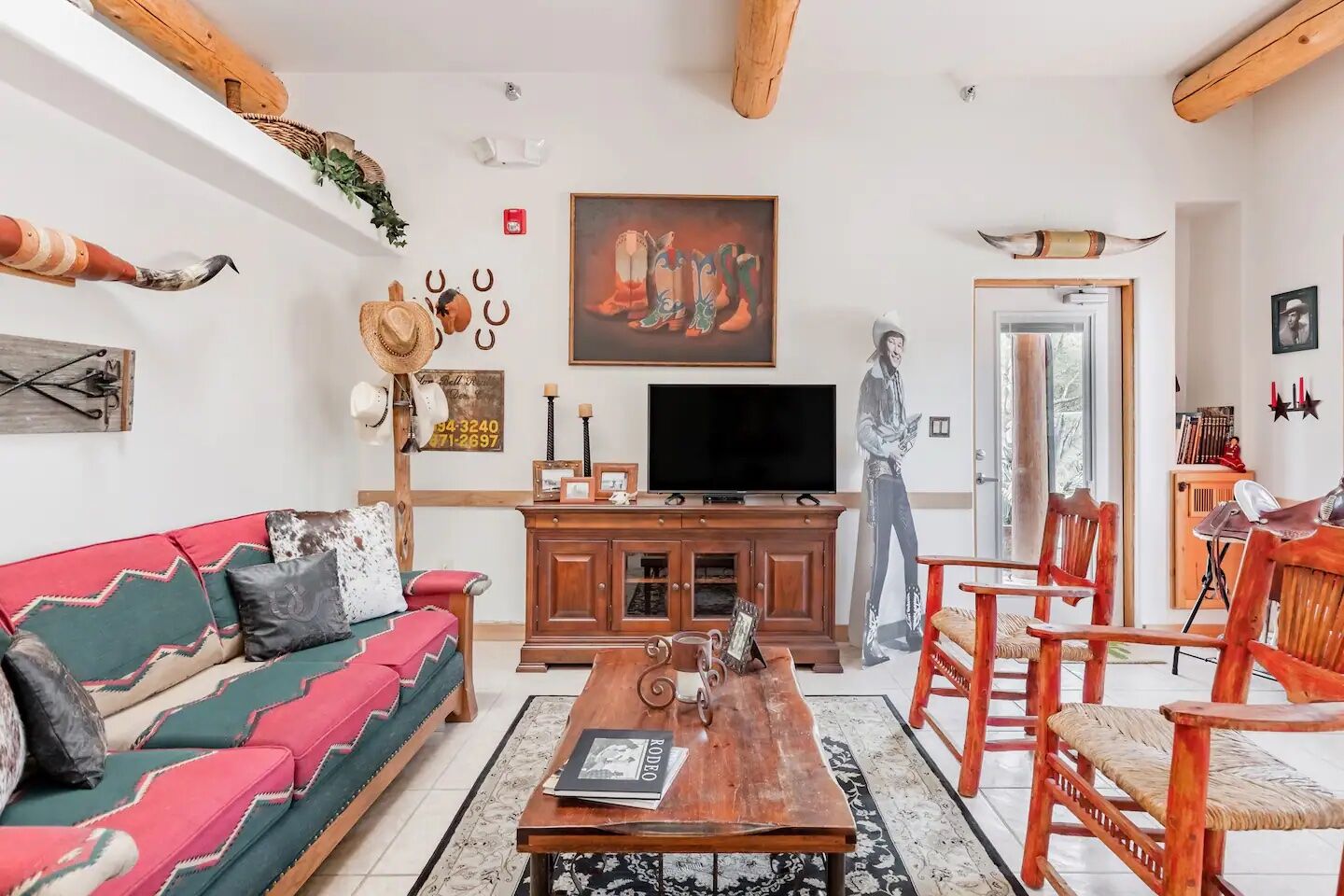 Yee haw, this Mexican-inspired hacienda with a Wild West-themed bunkhouse is one of the most unique holiday homes in the Southwest. Interiors are modeled on a traditional ranch with vintage cowboy furniture and wooden ceiling beams. In addition to the master bedroom, the family rental has a bunk bed that can accommodate three. Kids will actually look forward to bedtime once they see the cowboy-inspired get-up. The property is set across two acres in North Scottsdale and provides three patios each fitted with a beautiful fireplace.
Five guests, two bedrooms
Price: $145 per night
High-end amenities and modern design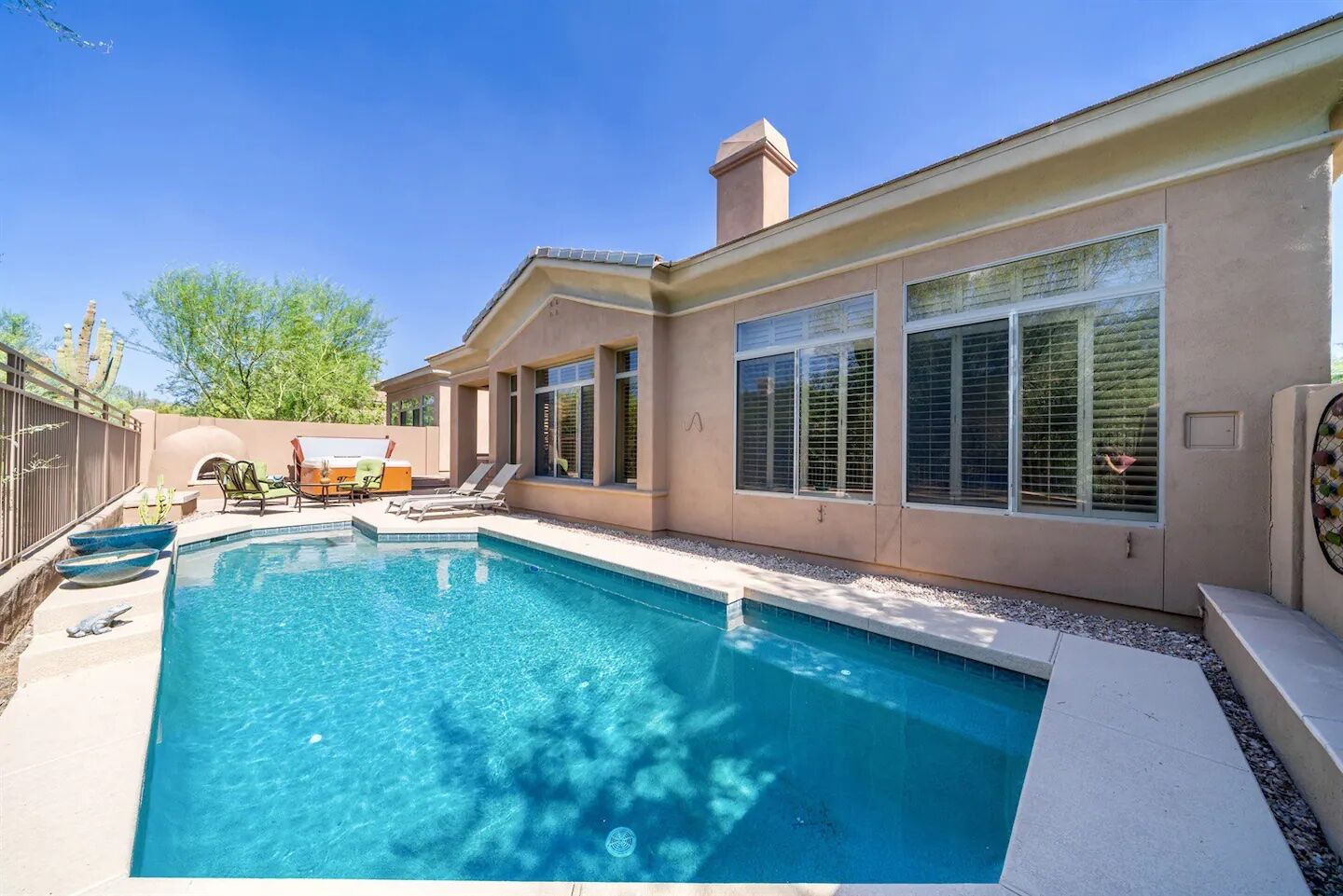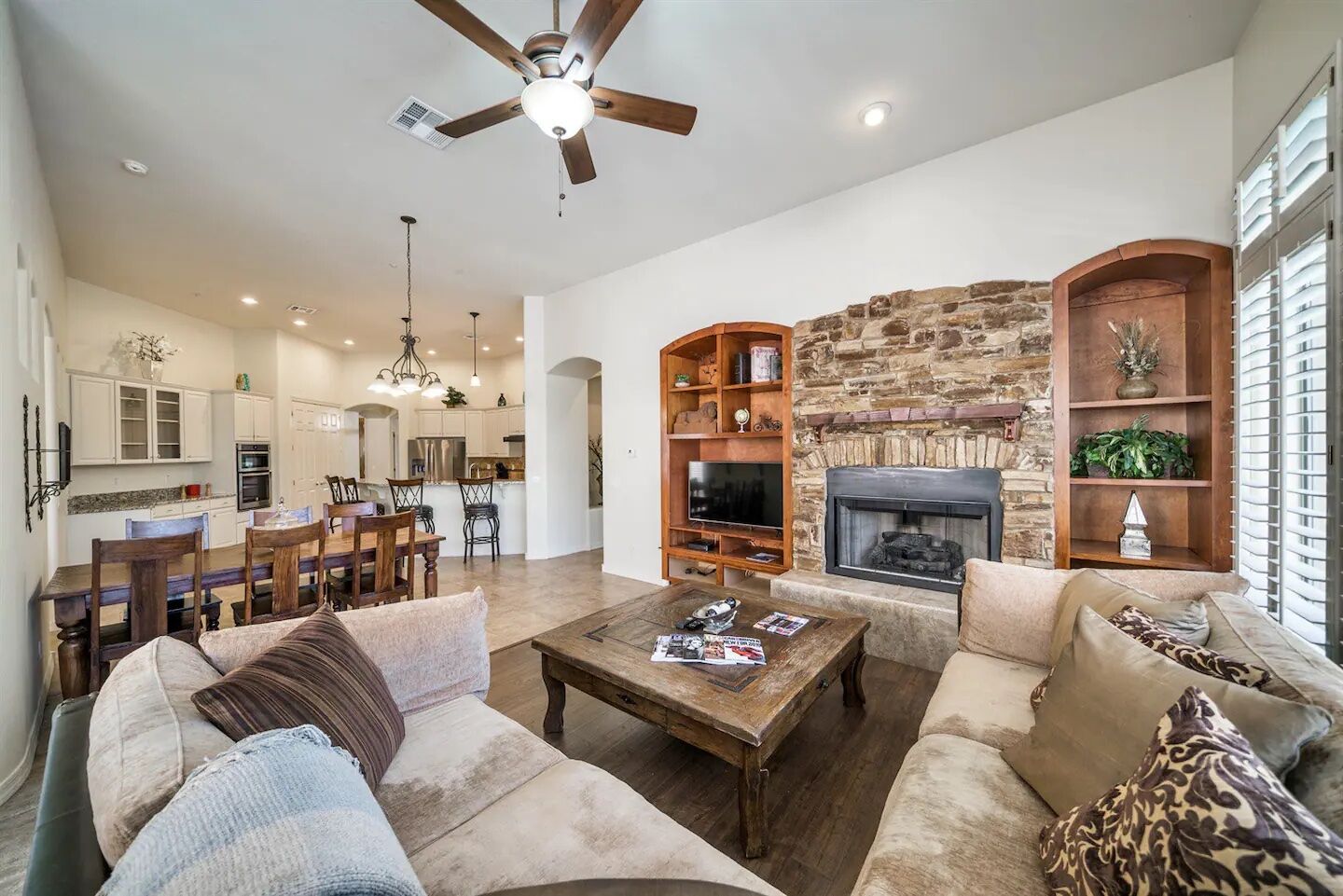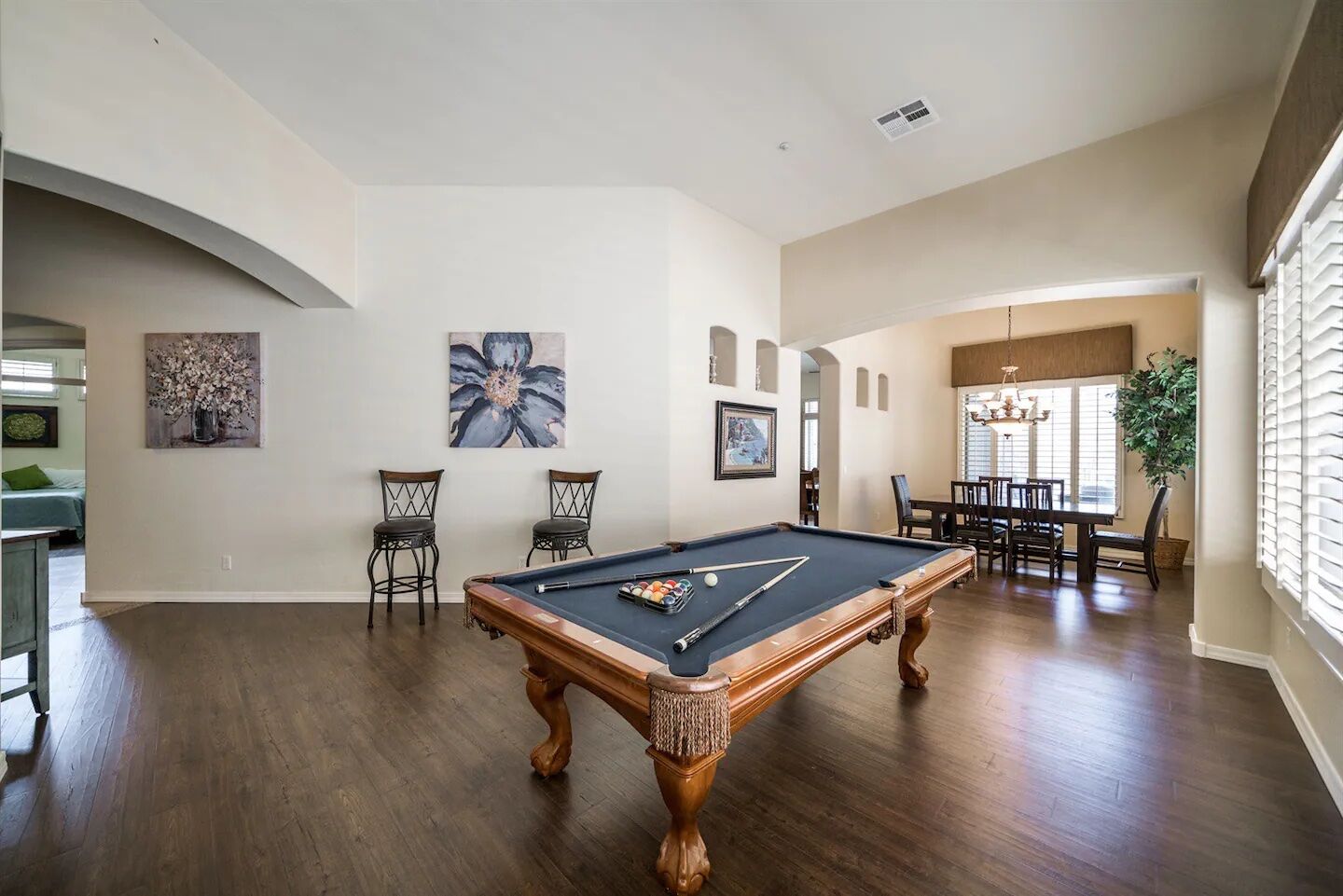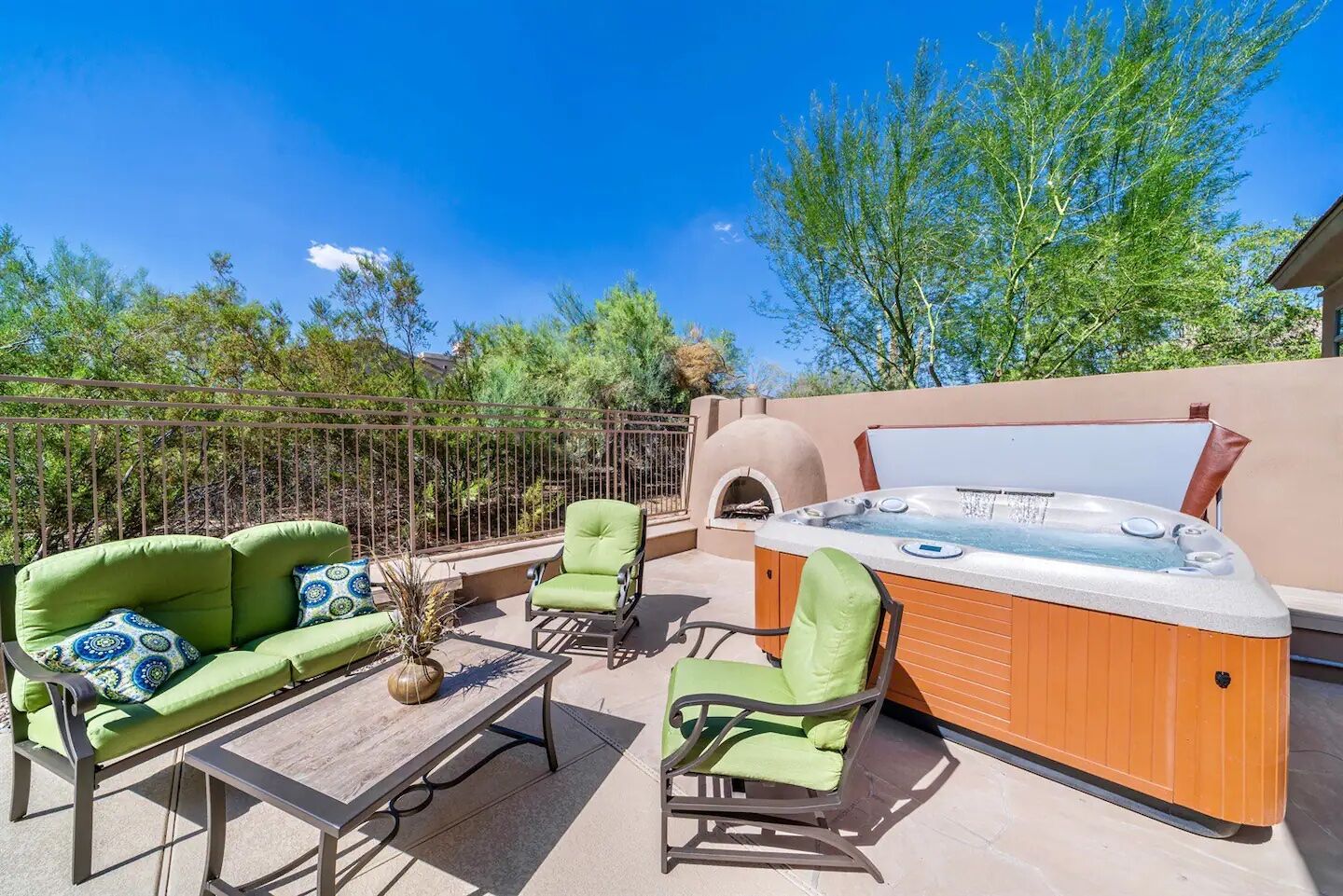 Tucked away in an upscale gated community in Grayhawk, this sleek four-bedroom residence marries practicality with beauty. The open plan living quarters manage to achieve a cozy vibe thanks to chunky leather sofas, exposed brick walls, and a roaring fireplace. The master bath delights with a spa bath while the yard is fitted with both a Jacuzzi and swimming pool. Handily located for local hiking trails, you can look forward to a day of exploration followed by a barbecue session or game of pool with your own billiards table — the perfect Airbnb Scottsdale signature.
Eight guests, four bedrooms
Price: $540 per night
Best Scottsdale Airbnbs for 8+ people
Outdoor Oasis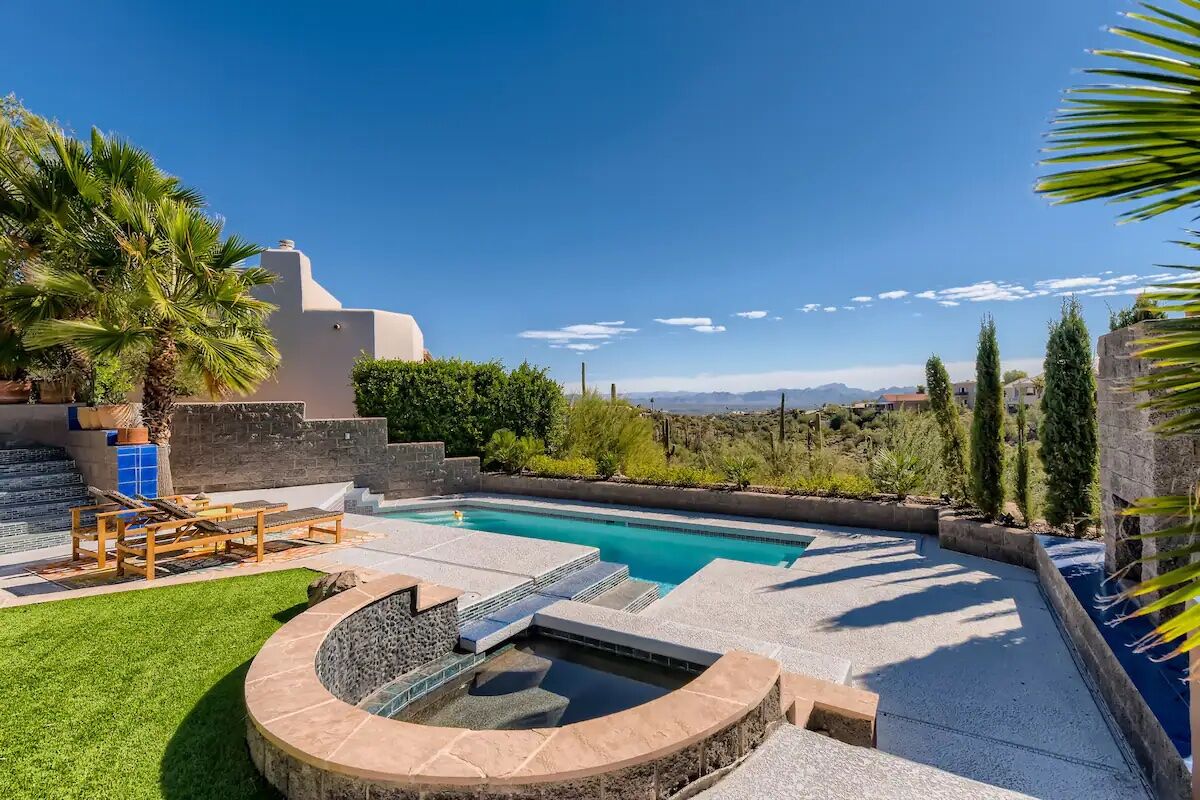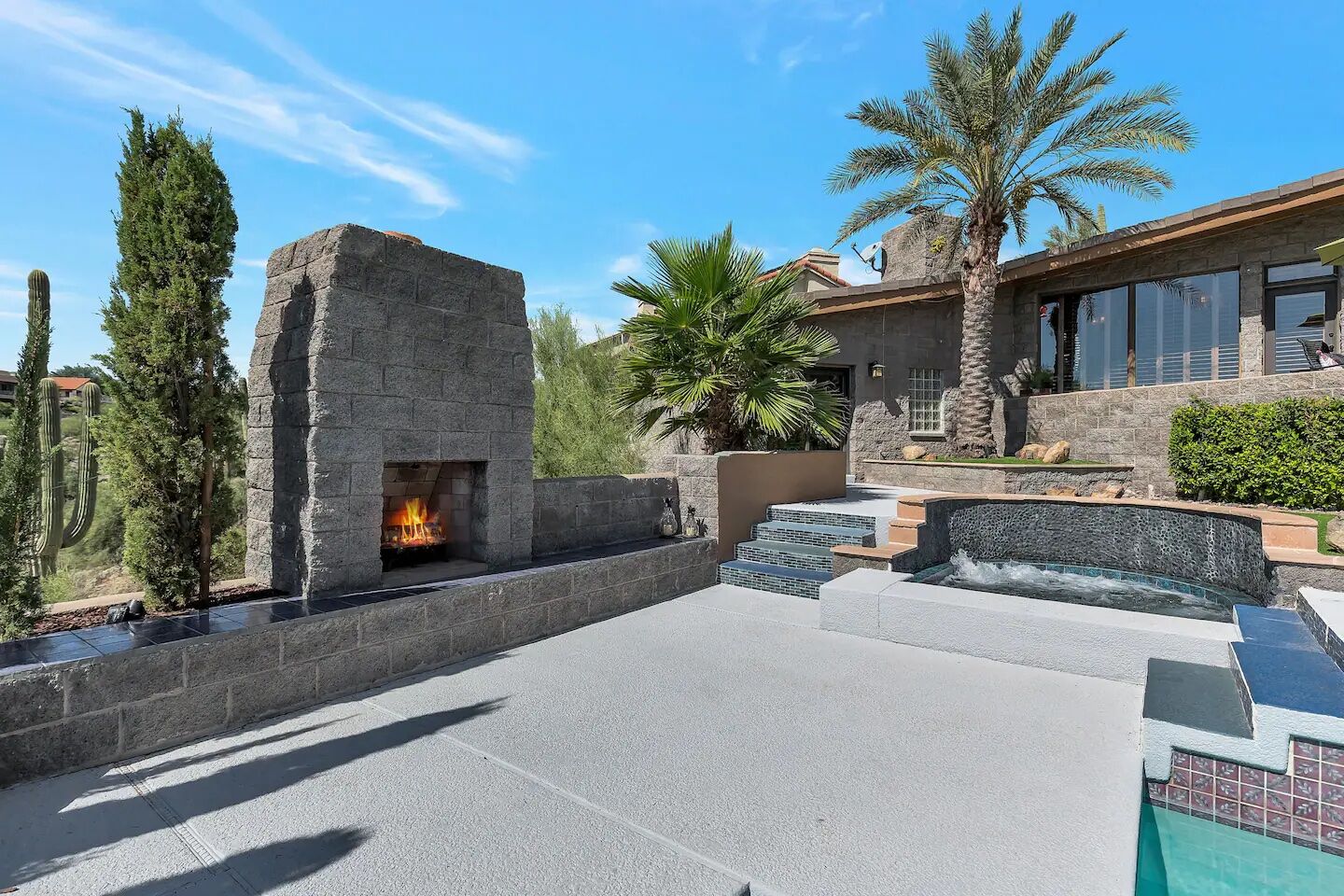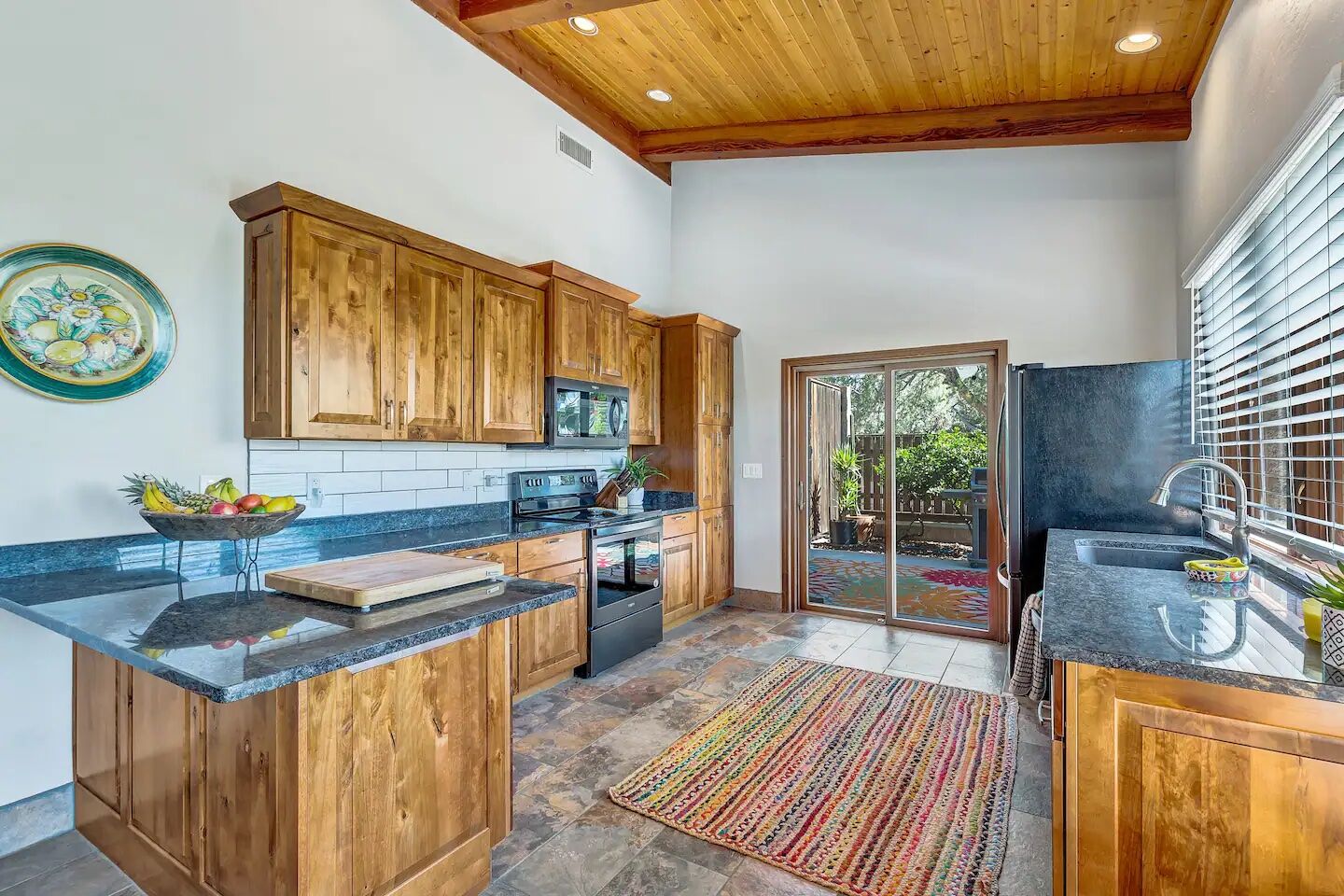 Occupying a prime spot in Fountain Hills, this family-friendly holiday pad spoils you with views of the Superstition Mountains. The place features two king bedrooms appointed with sturdy wooden furniture and timber ceilings. Bedroom three contains a twin bunk bed plus a sofa bed and can comfortably sleep four kids.
An ample desert-themed lounge spills into a fabulous kitchen with masses of amenities and appliances. The backyard of this outdoor oasis invites you to relax with a swimming pool, hot tub, outdoor fireplace, and barbecue station.
Eight guests, three bedrooms
Price: $400 per night
Cave Creek Paradise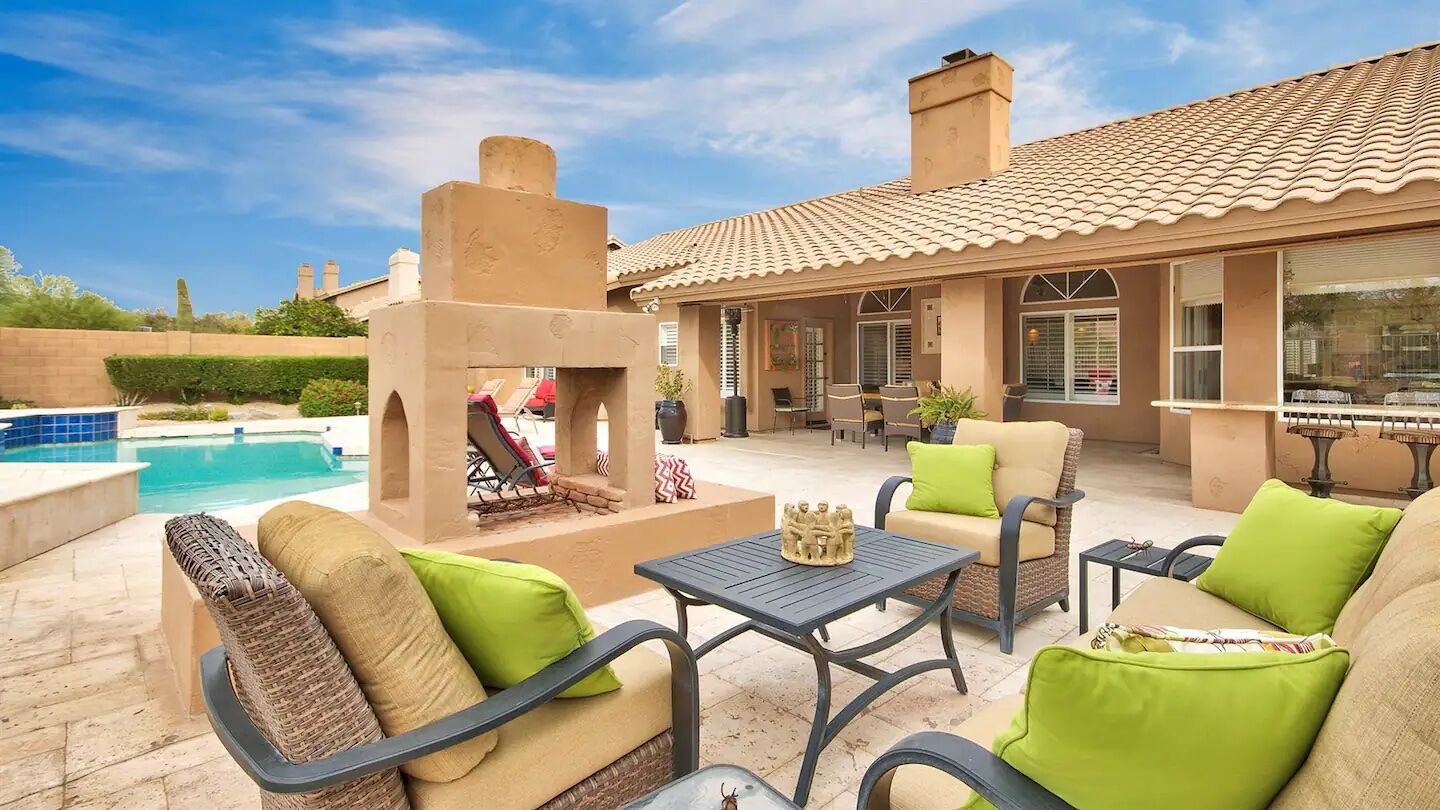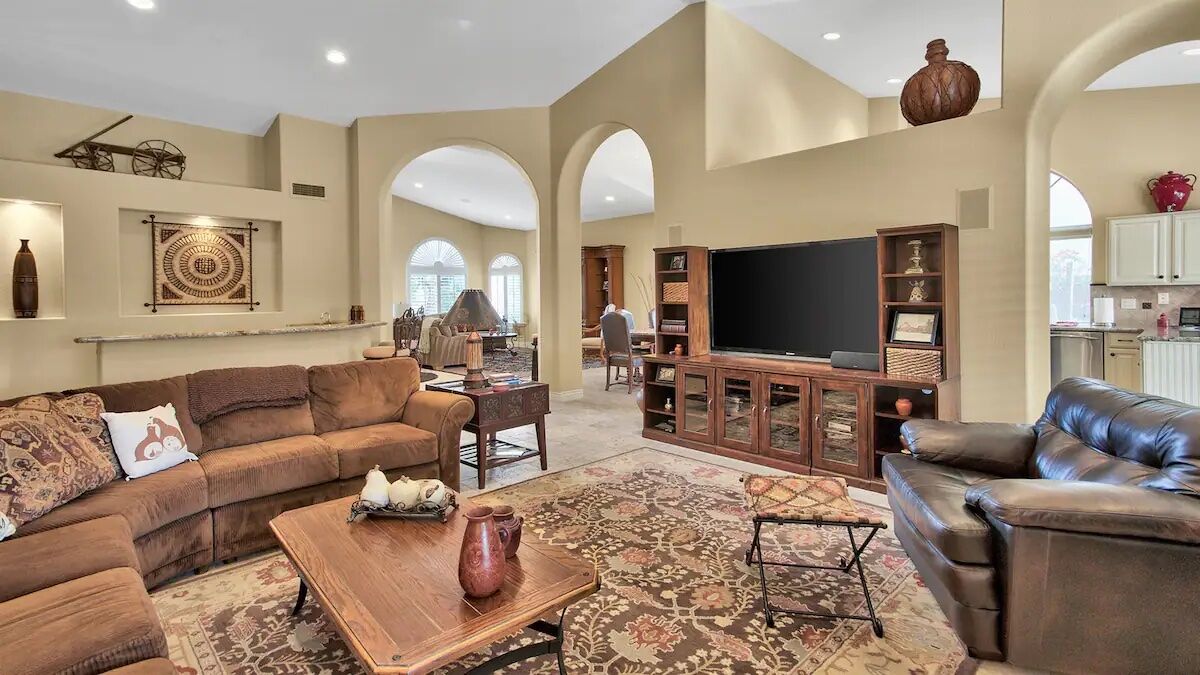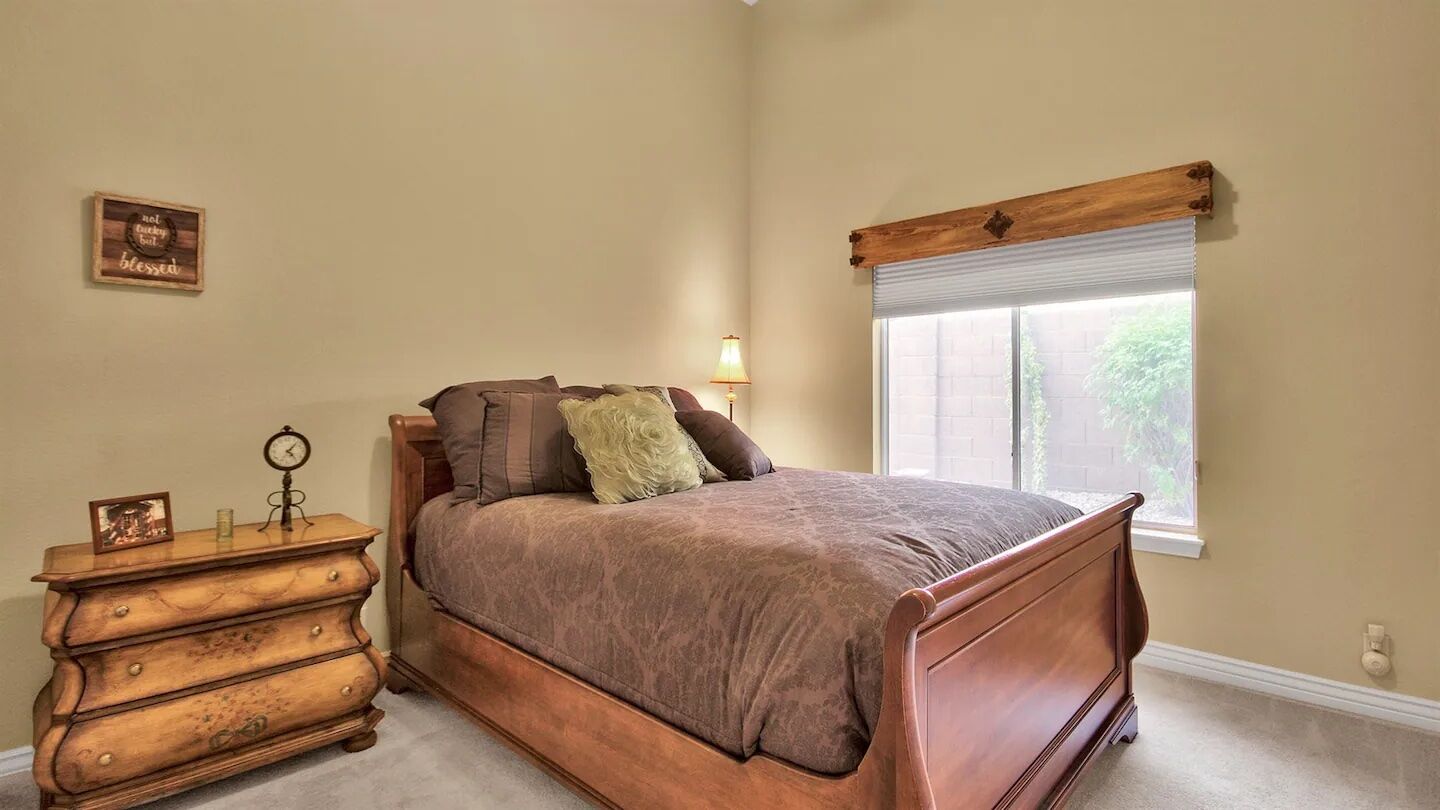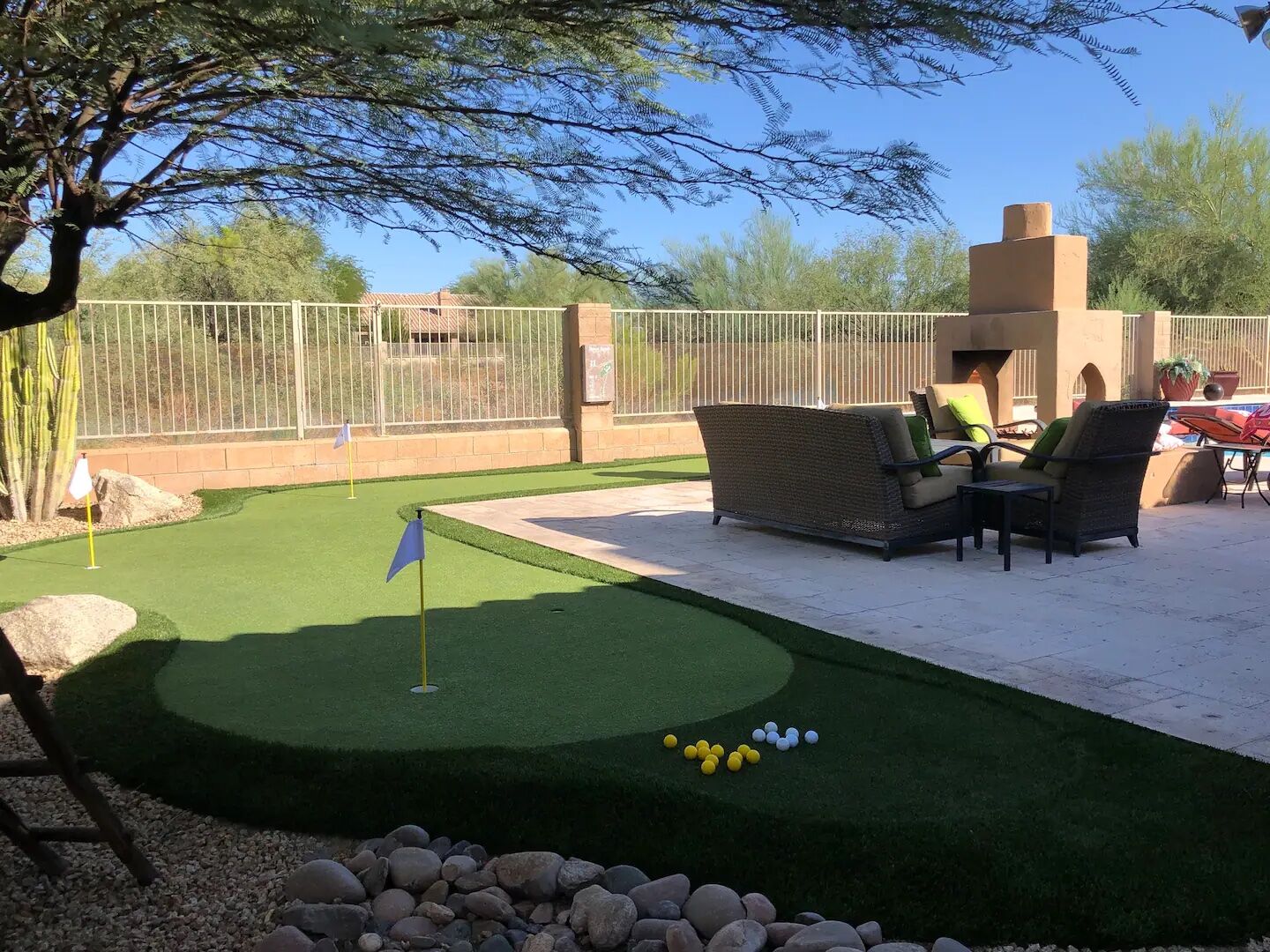 With two roomy lounges, three generous double rooms, and bags of outdoor space, there's no excuse for bickering at this elegant rental in Cave Creek, Scottsdale. Step outside and you can jump into the pool, start a singalong in front of the firepit, and savor epic sunsets. Scottsdale is renowned for its golf courses but this holiday bungalow brings the game to your own tee-riffic backyard. A private putting green means that by the time check-out rolls around, your entire party will be pros.
Eight guests, four bedrooms
Price: $300 per night
True entertainer's paradise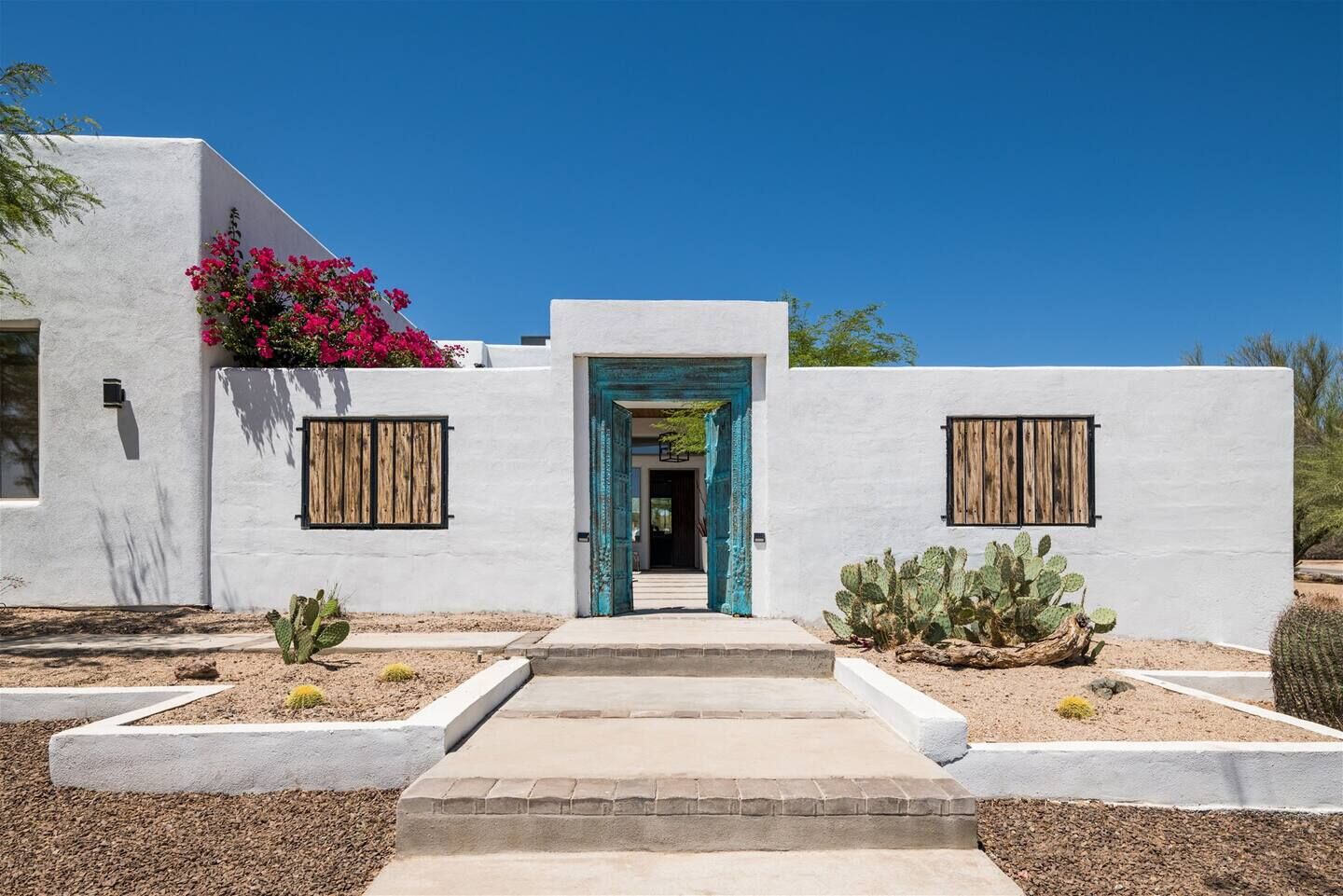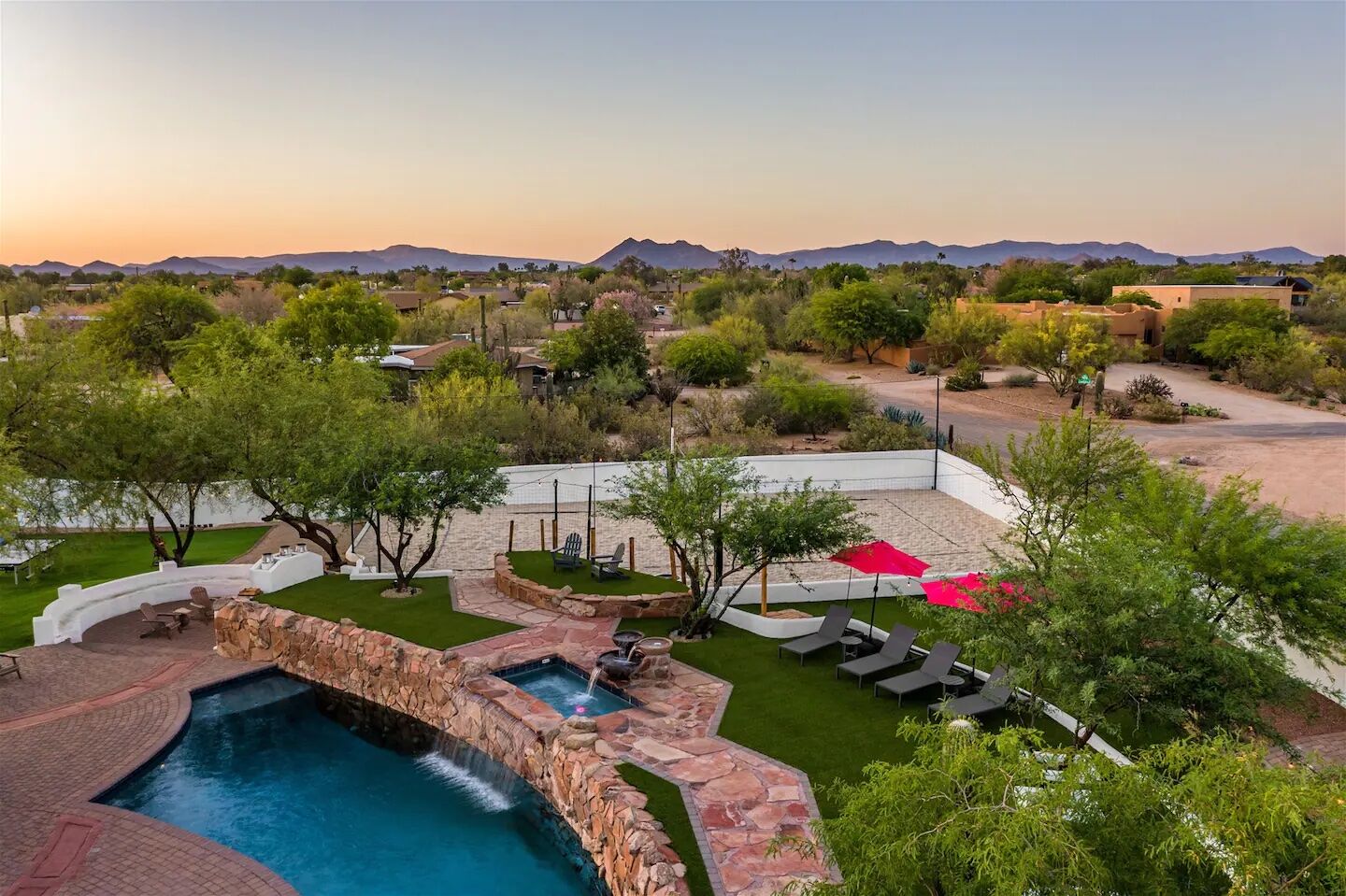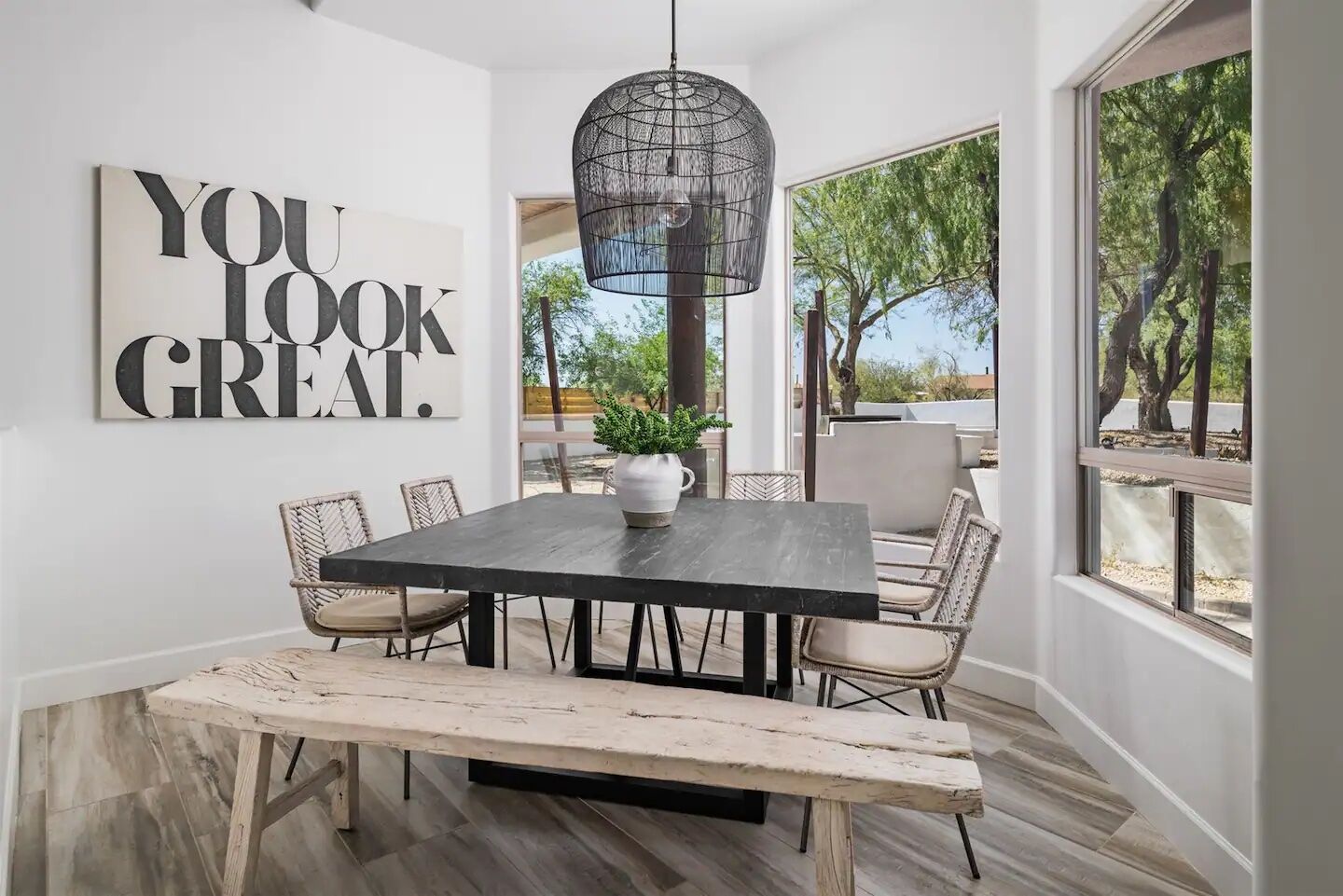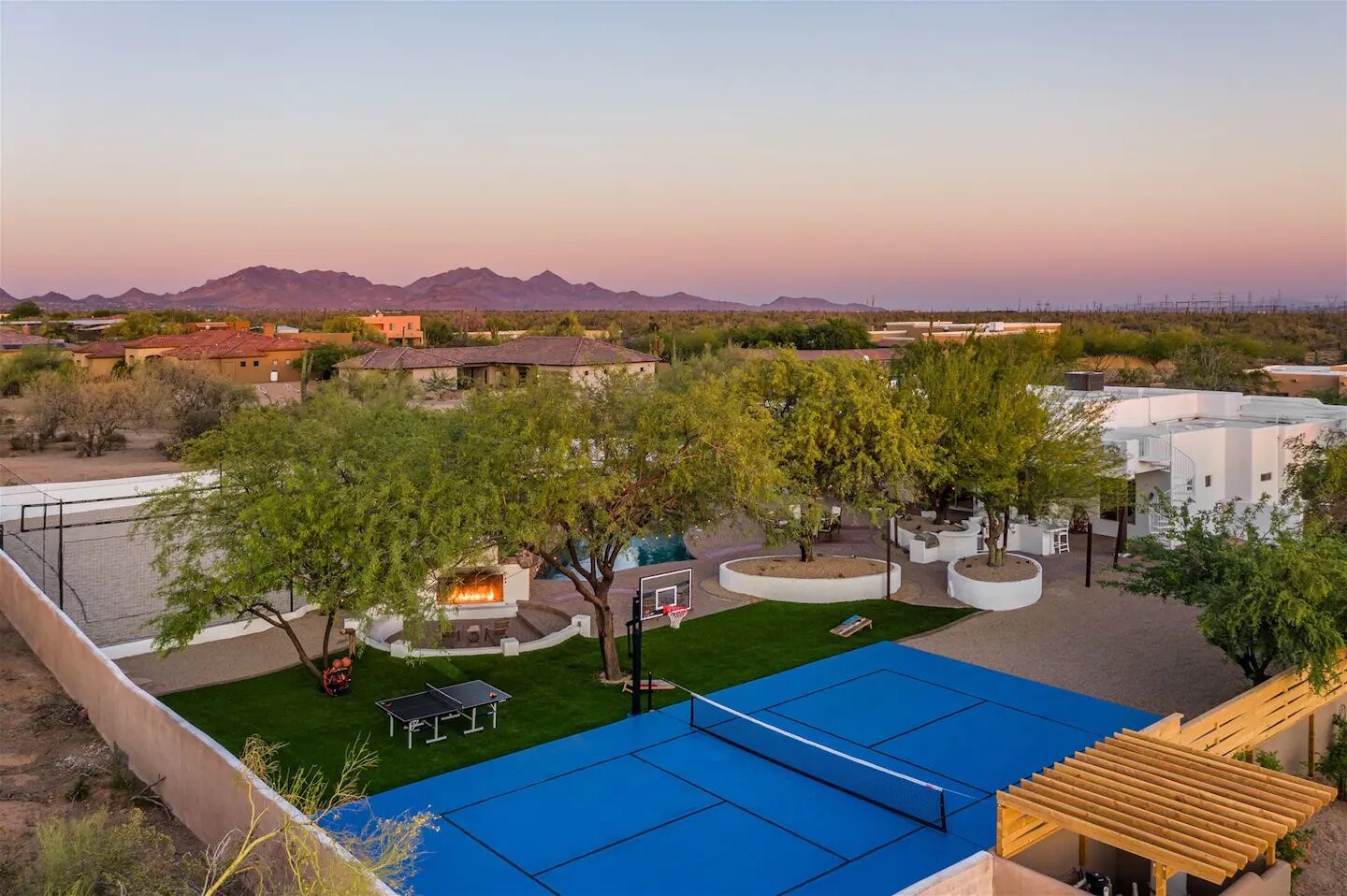 This four-bedroom resort in North Scottsdale is packed with entertainment and leisure facilities. A private volleyball court brings the beach to the desert while the basketball court, ping pong table, and two-tiered swimming pool make it easy to keep on top of your cardio regime. The party continues indoors with a multi-purpose games table. A state-of-the-art kitchen is the answer after a day of playing – and relaxing – hard in this awesome family home.
Ten guests, four bedrooms
Price: $810 per night
Best Airbnb Scottsdale rentals for larger groups and families
Unforgettable Family Estate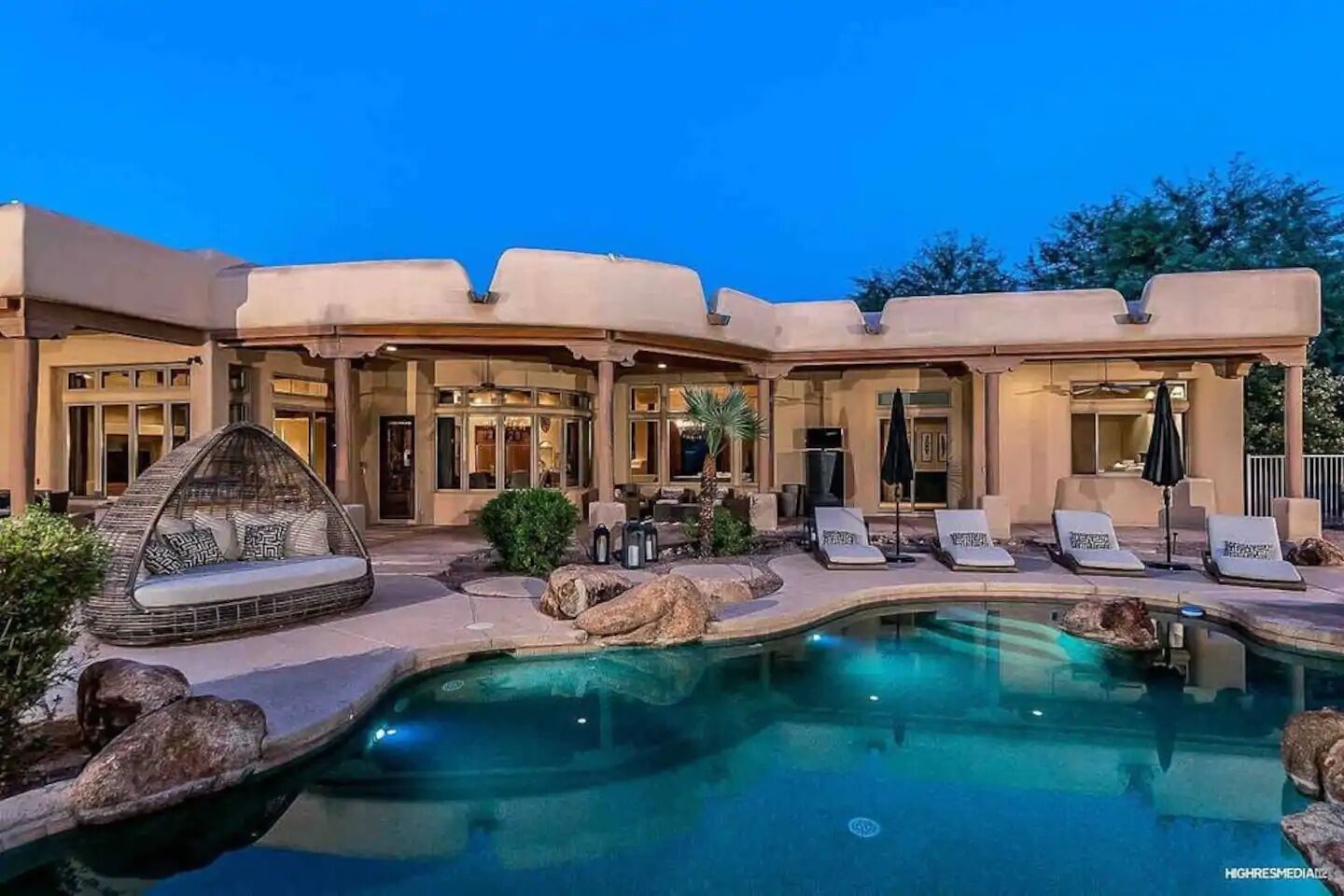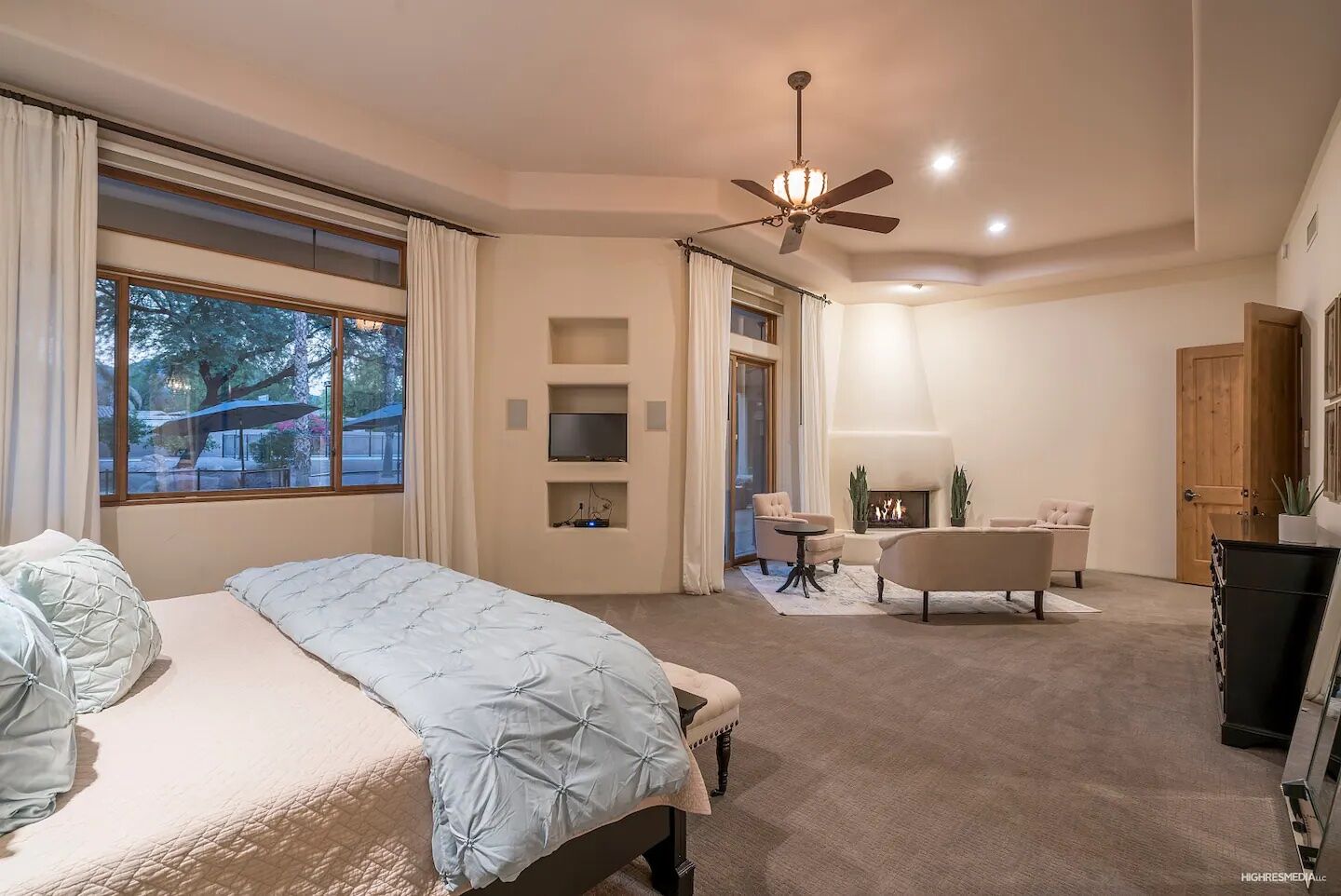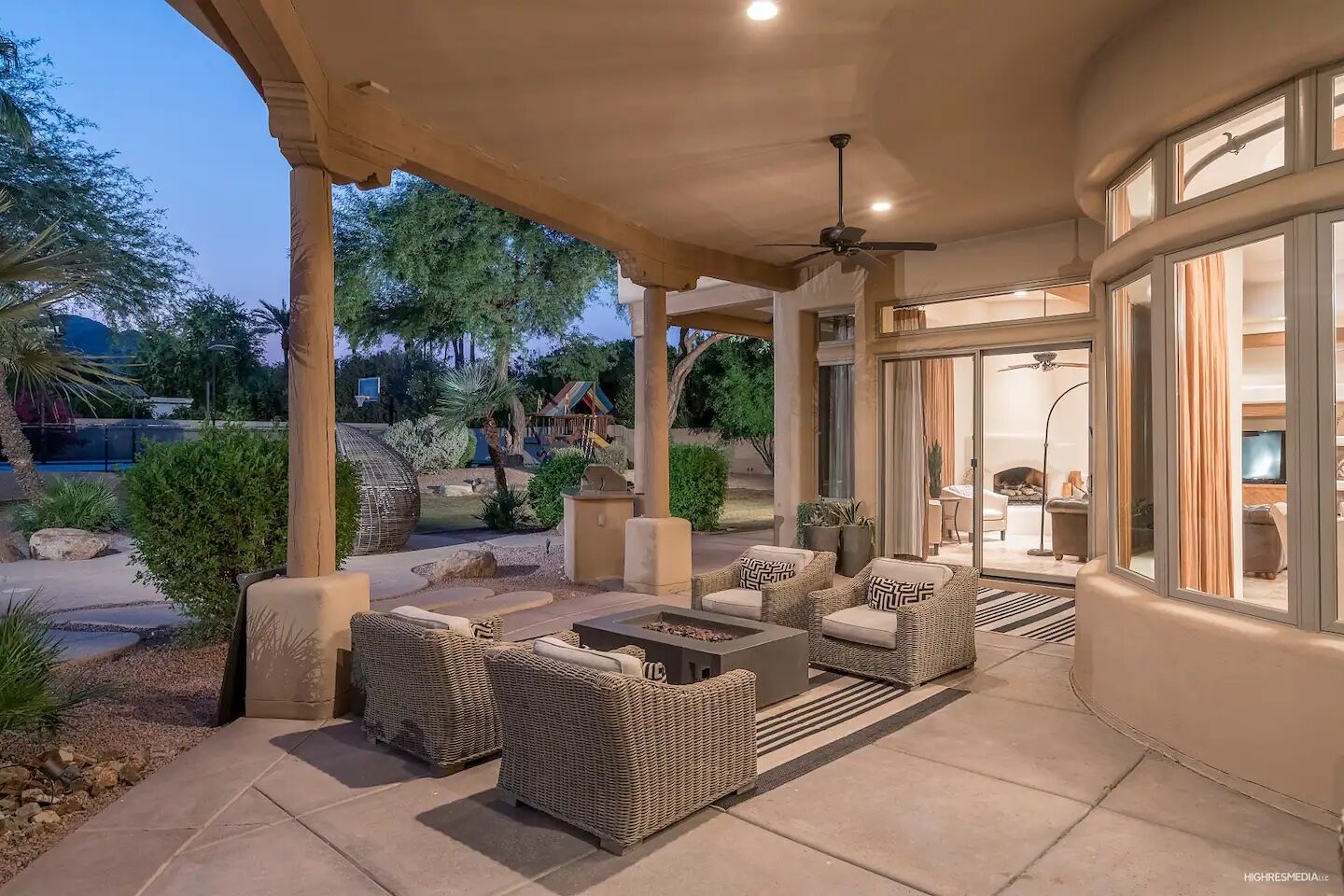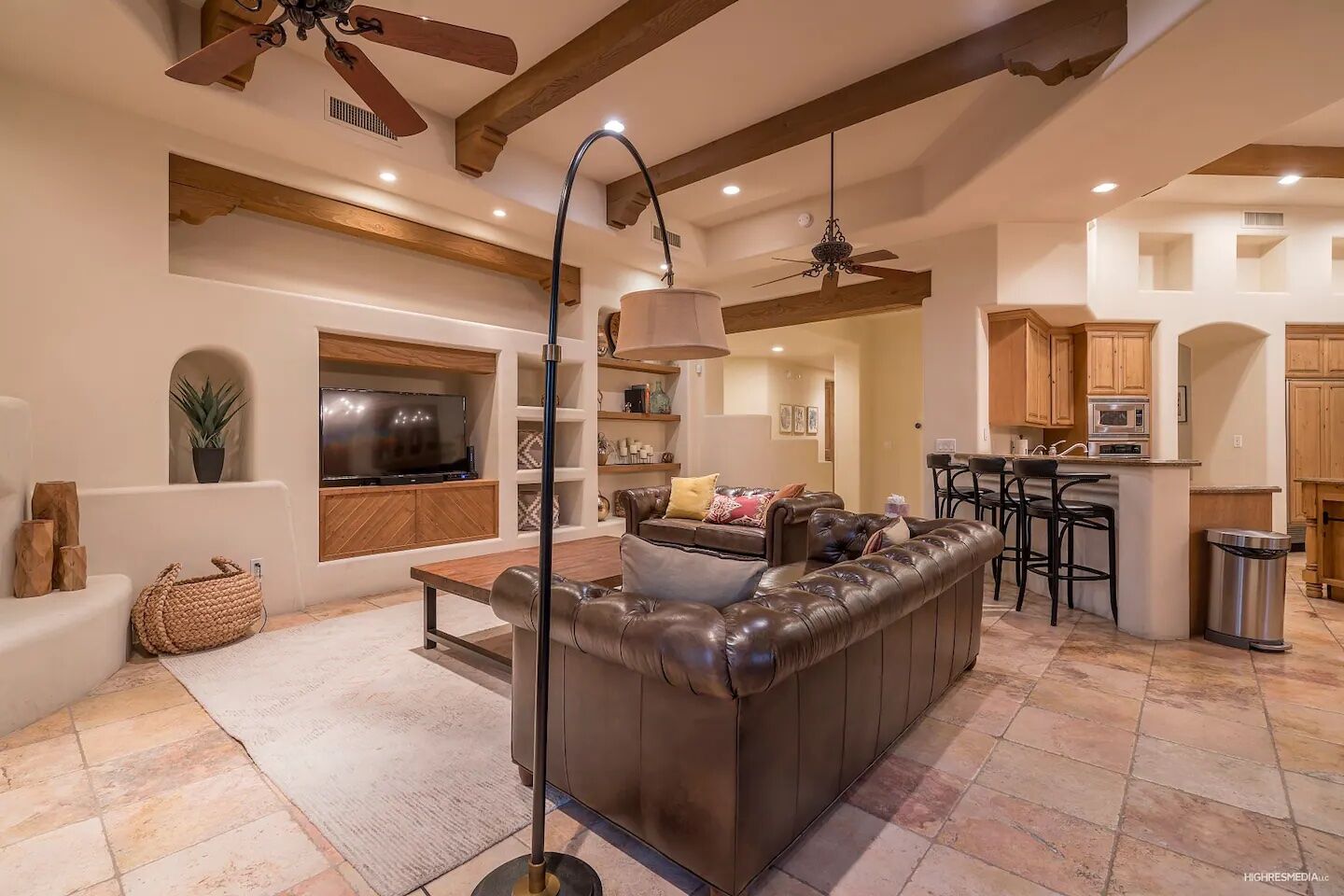 Awash with soothing hues and classy design features this five-bedroom villa is the ultimate place to unplug. The master bedroom is affixed to its own wellness deck with a ginormous shower, jetted spa bath, and relaxation zone. Your backyard features a landscaped pool, children's playground, spa bath, basketball court, and a fitness suite. Situated in Paradise Valley at the base of Camelback Mountain, this family estate in Scottsdale is handy for nipping downtown and into the ranges.
Twelve guests, five bedrooms
Price: $1,050 per night
The Pool House with lazy river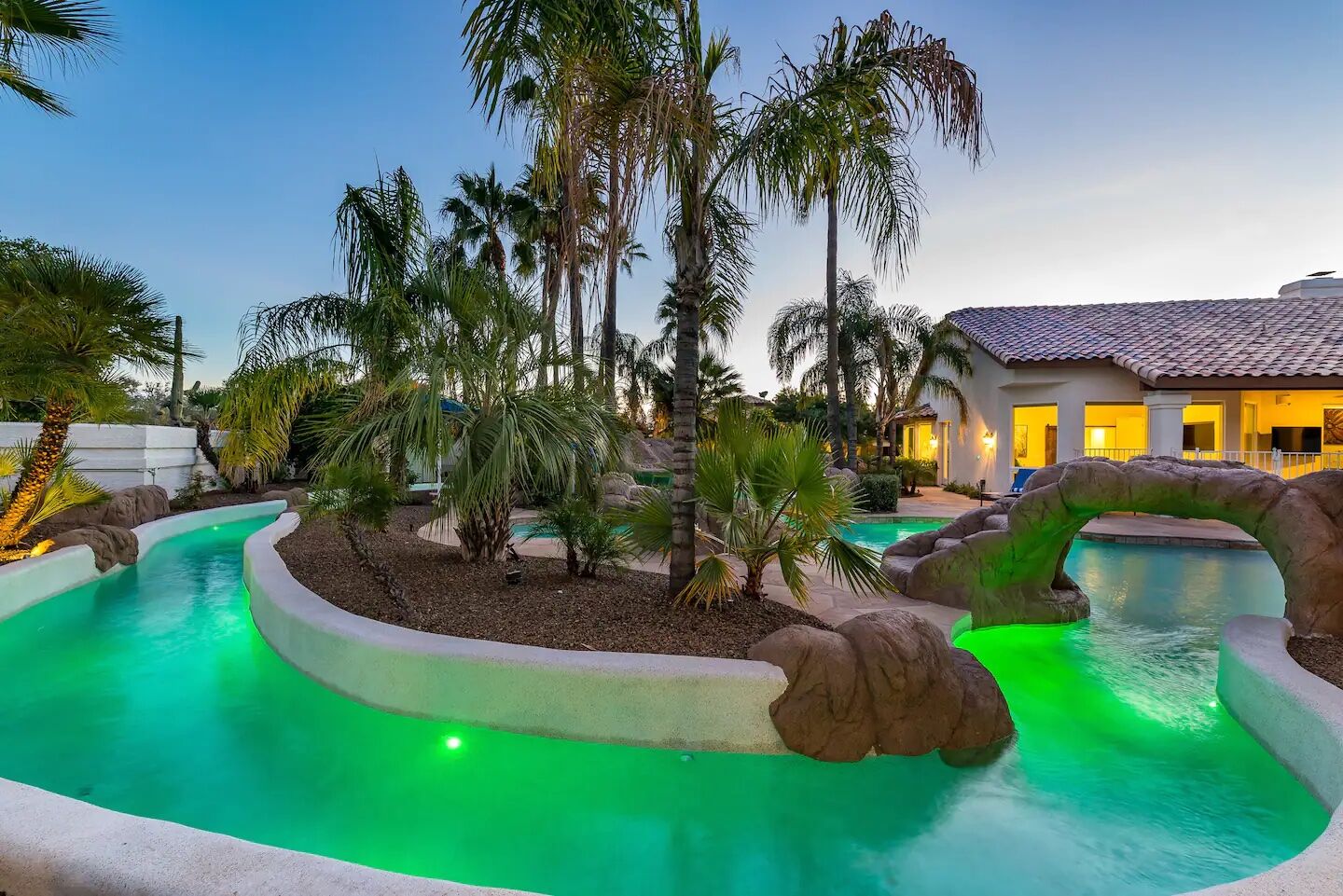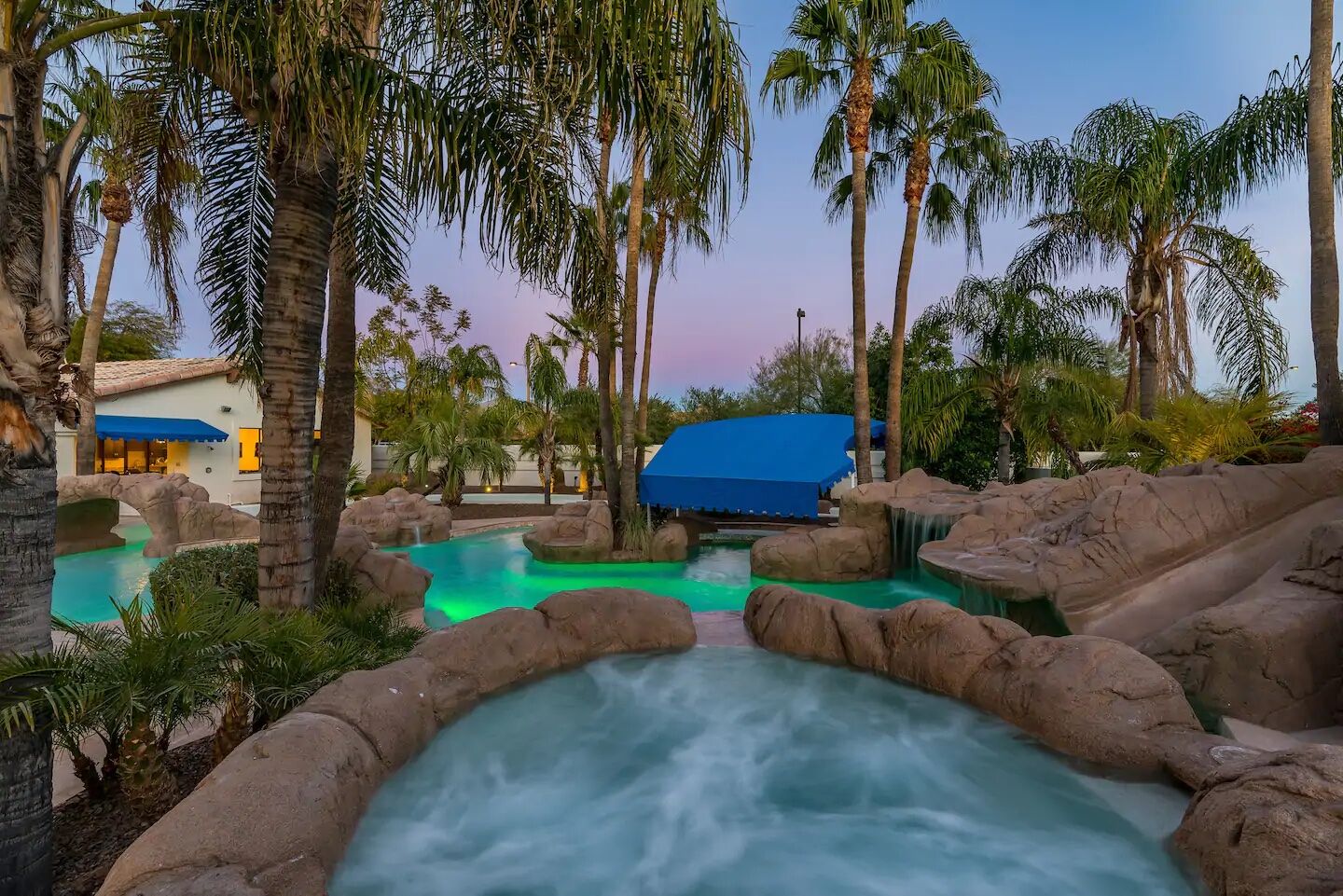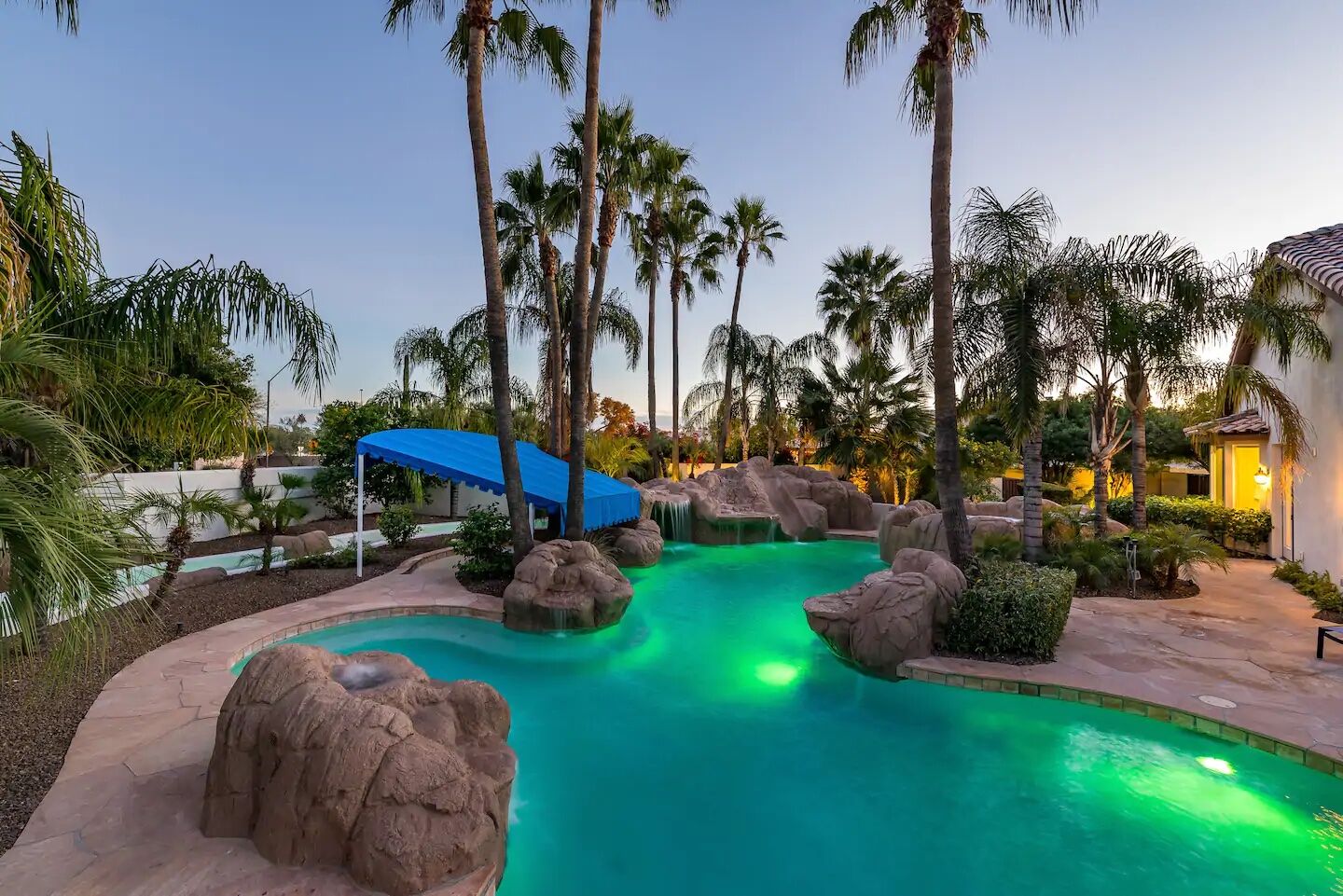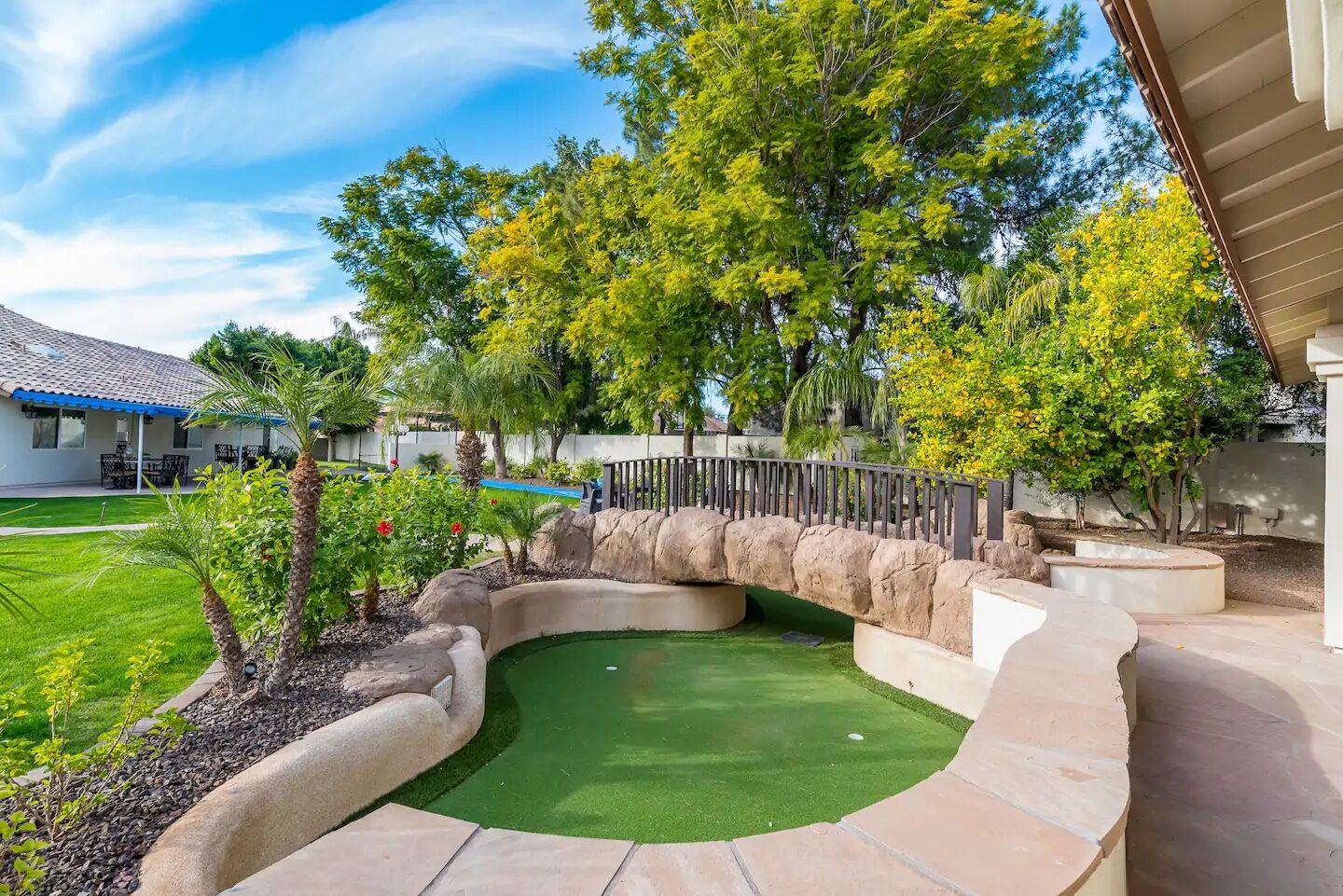 You don't need to be a celebrity to travel like one, as this pristine villa makes clear. "The Pool House" flaunts one of the largest residential swim spaces in the state – complete with its own lazy river that snakes its way around the tropical palms. Landlubbers and sporty types will appreciate the property's basketball court, driving range, indoor games room, and cinema zone. The hosts are on hand to arrange anything you need during your stay, such as in-house chefs, massage therapists, and yoga classes. Why would you even consider going downtown?
Sixteen guests, seven bedrooms
Price: $2,760 per night
Airbnb Scottsdale resort with amazing pool and theater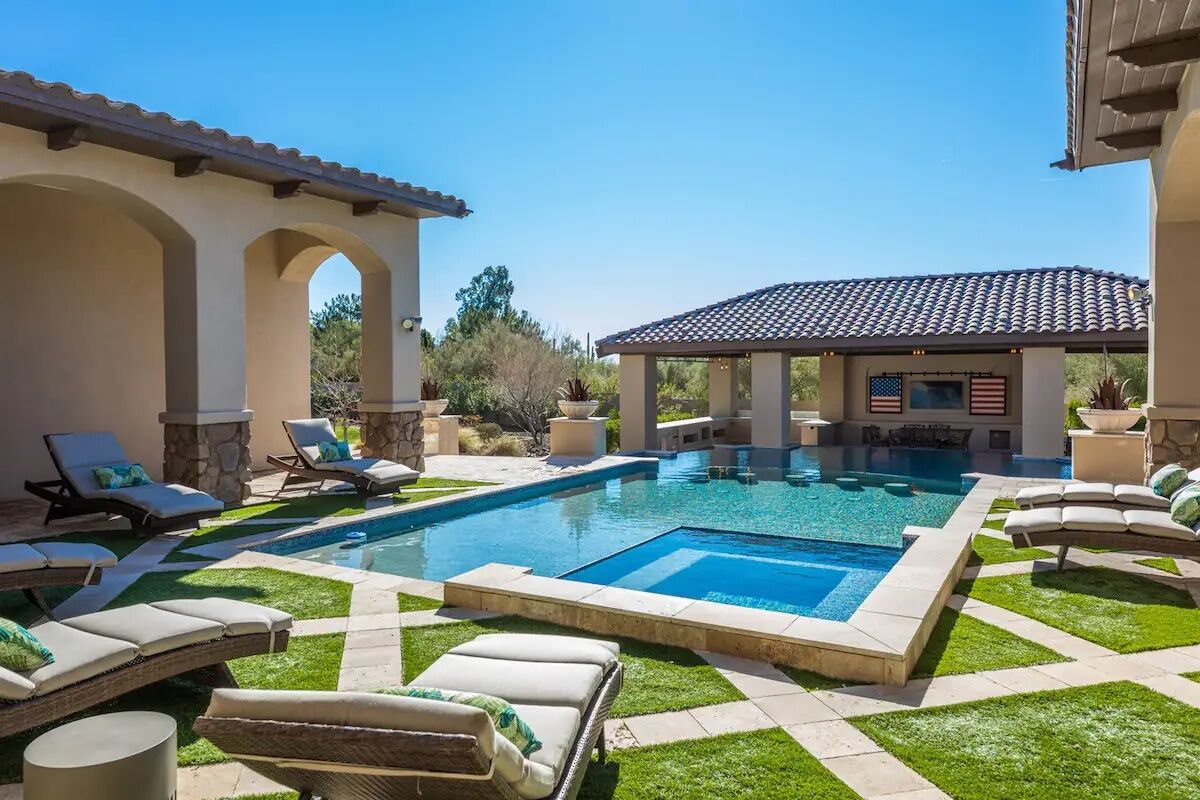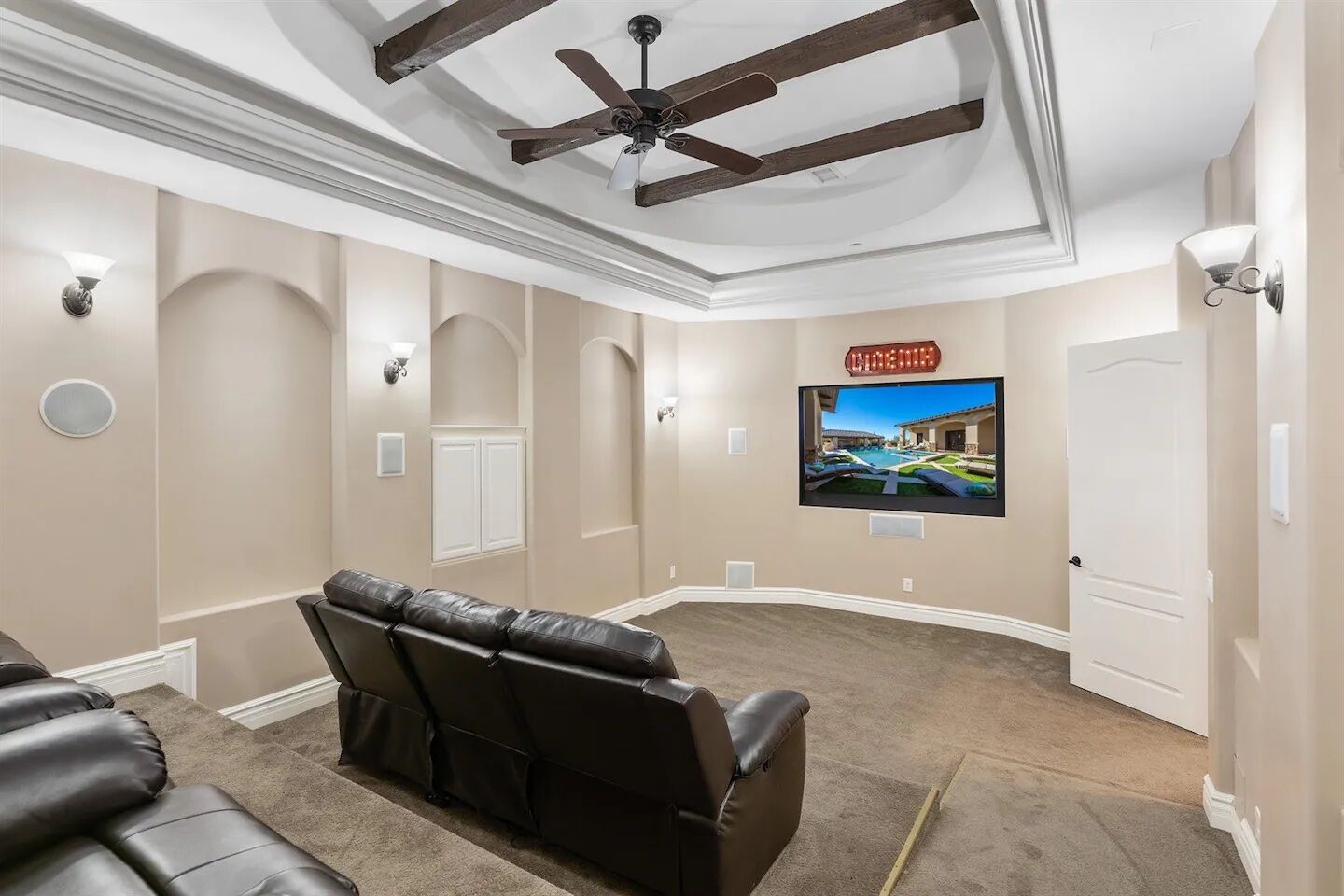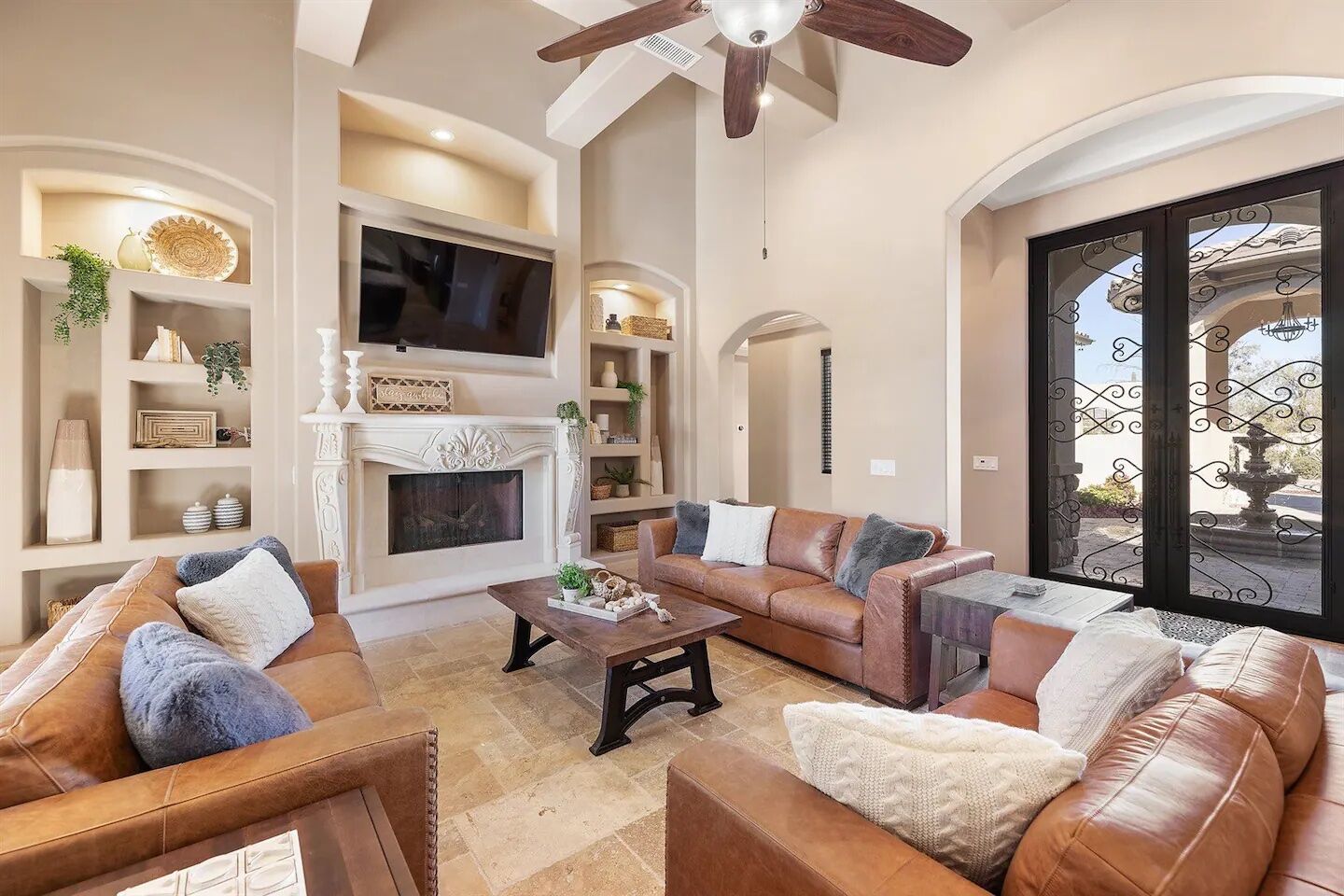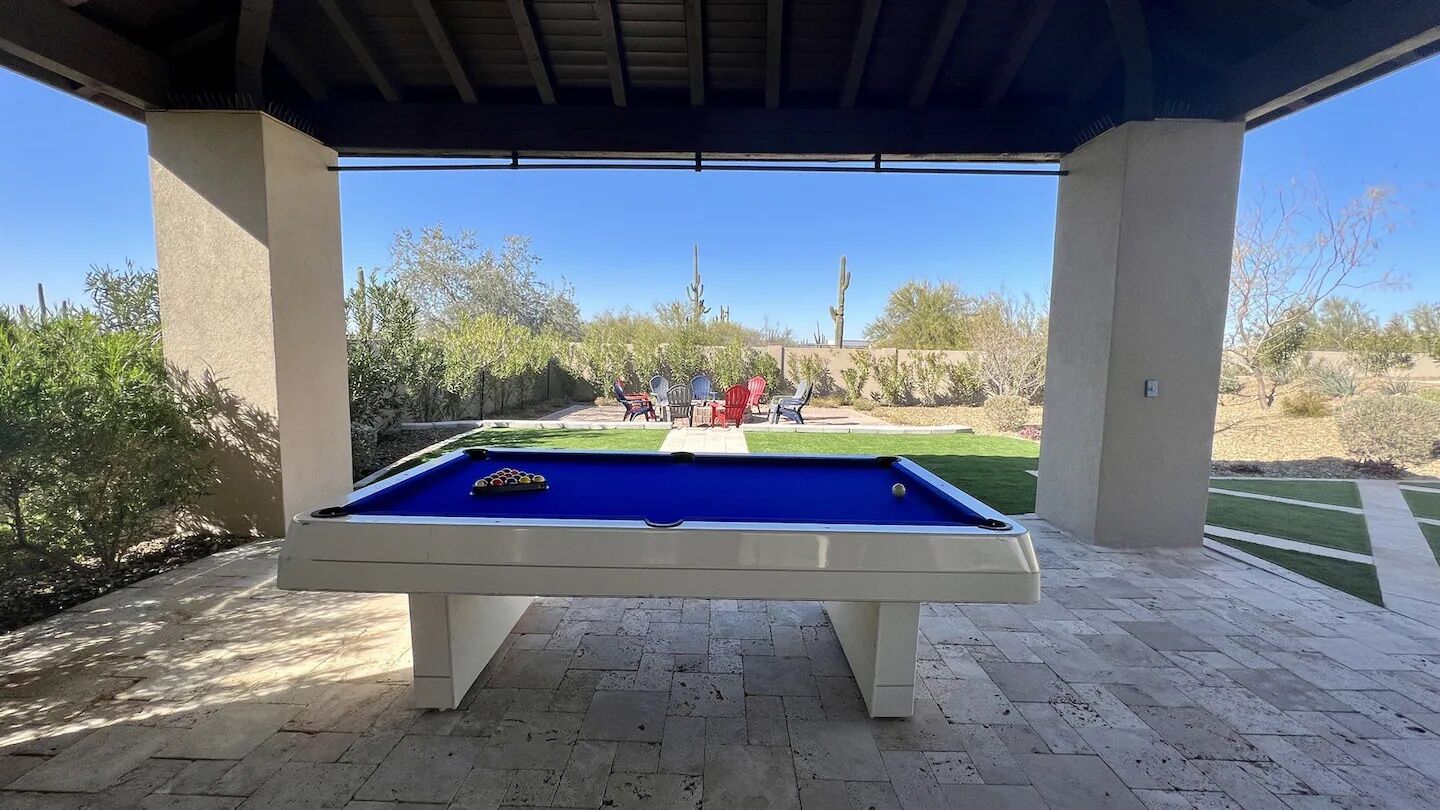 This 2.5-acre private resort in North Scottsdale revolves around a three-tiered swimming pool with a hot tub. At-home entertainment includes a ping pong table, pool table, and firepit that begs for an evening of s'mores. A vast kitchen is fitted with two islands where you can whip up meals to enjoy al fresco before flopping down in the tiered movie theater. The master bedroom – boudoir feels more appropriate – is attached to a deluxe bathing suite where you recharge in style.
Twelve guests, six bedrooms
Price: $1,580 per night
Multi-million dollar resort in Scottsdale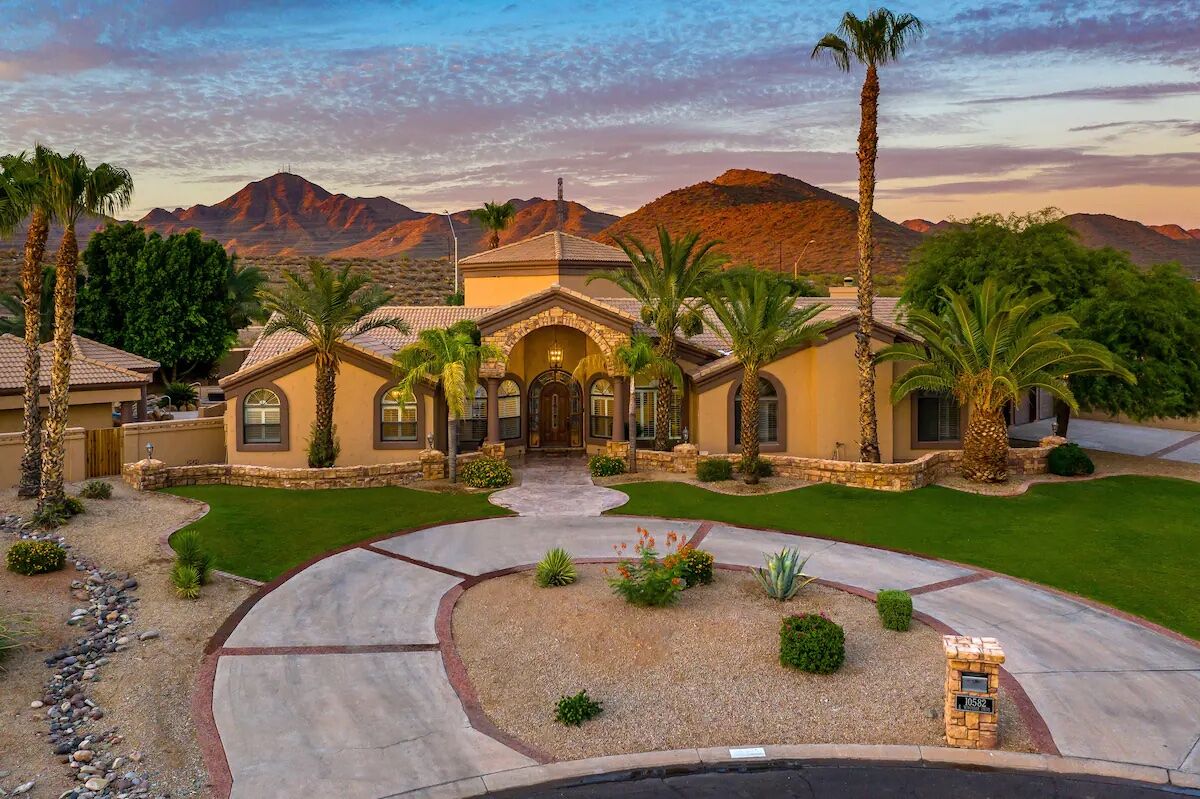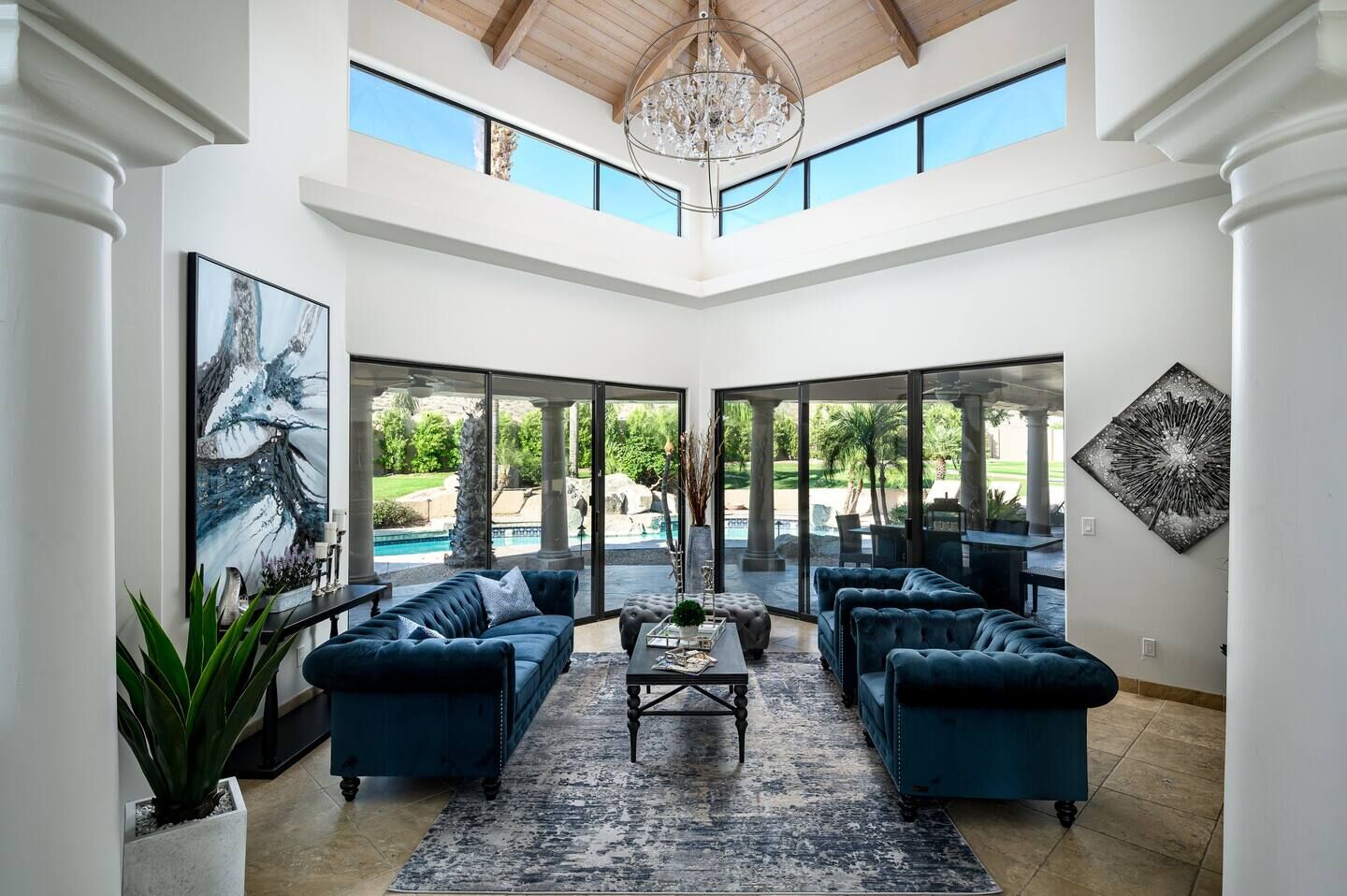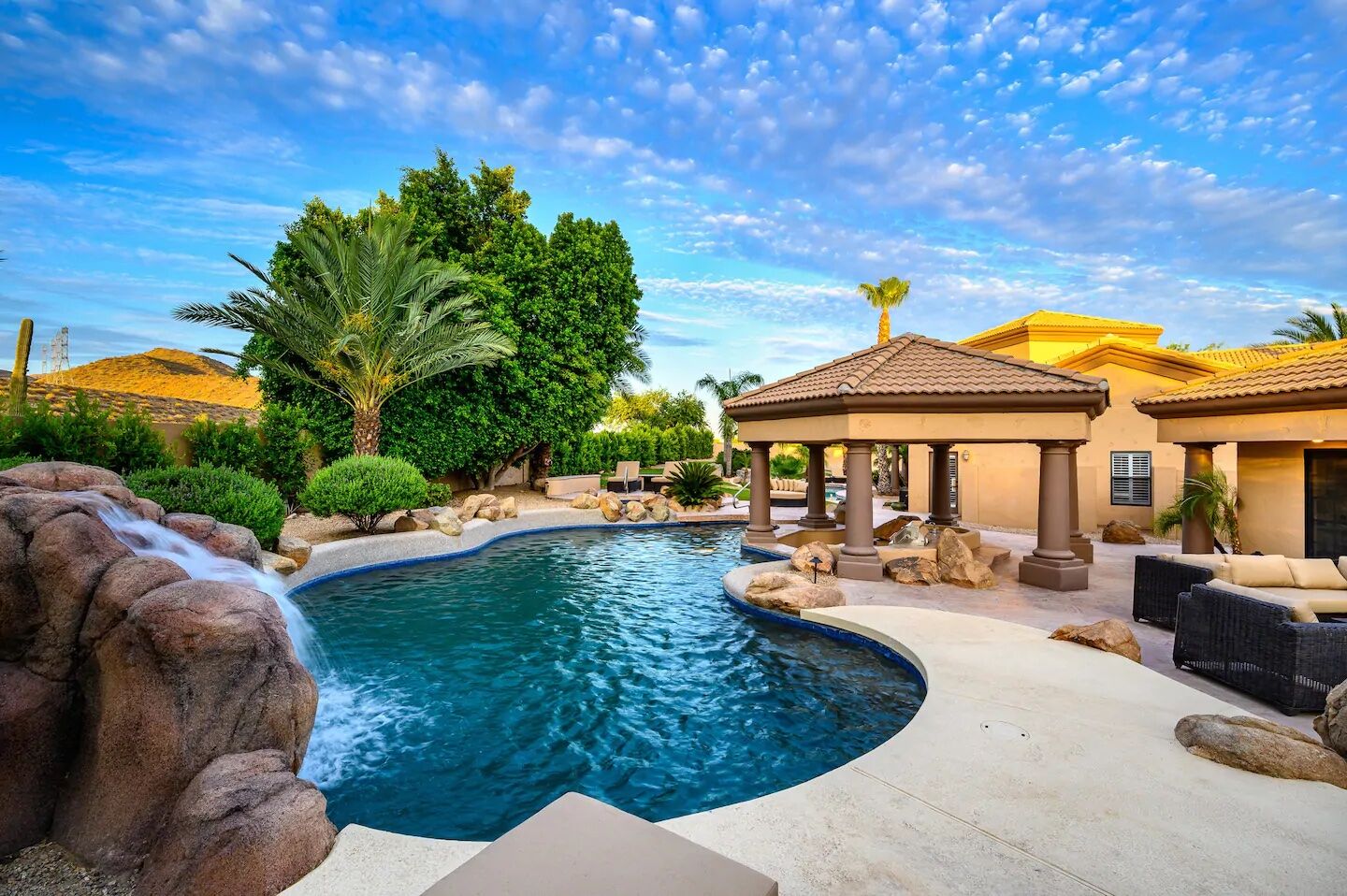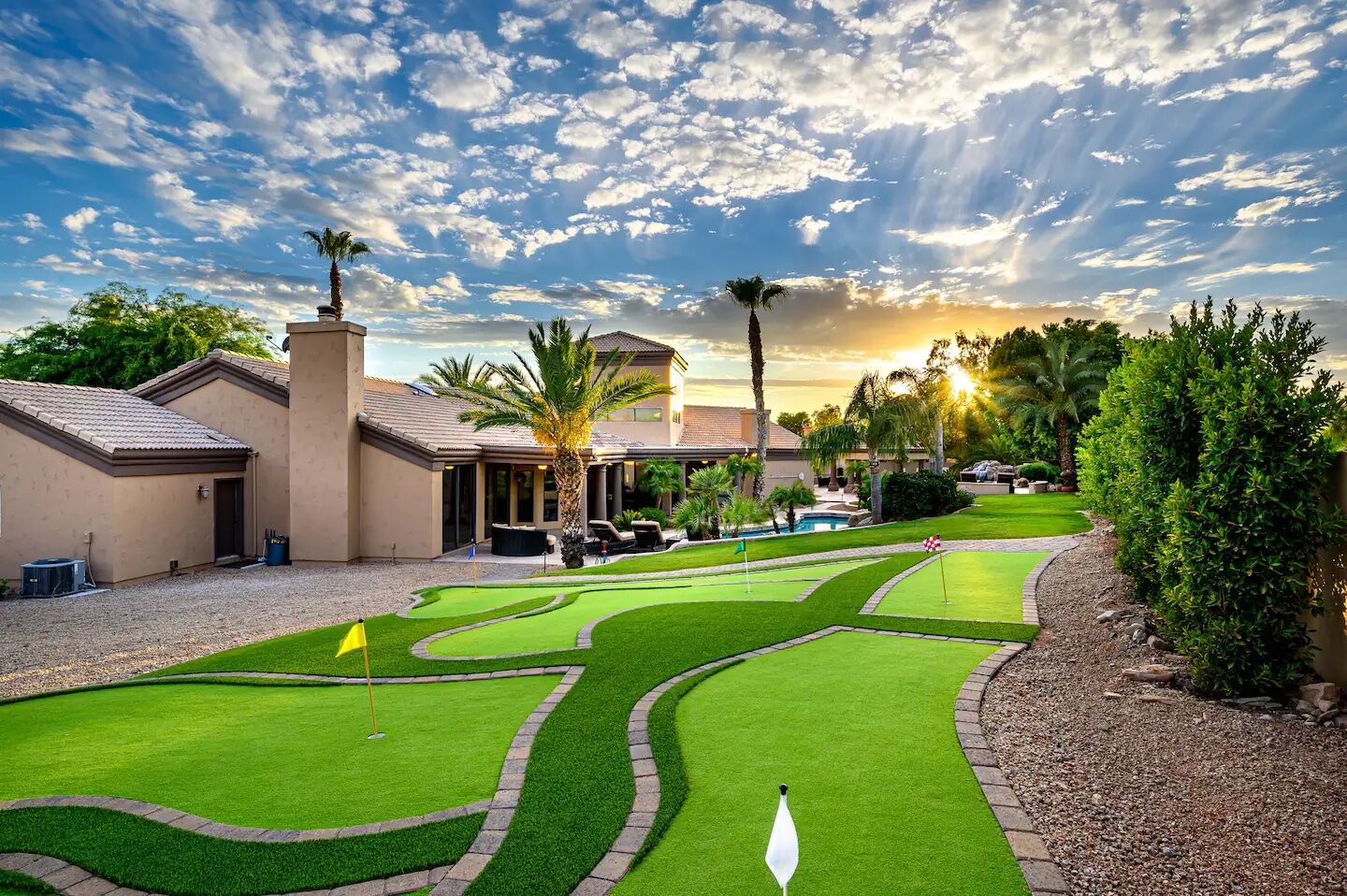 This blissful vacation compound provides all the trimmings to make you feel like a star. Lap up the mountain scenery from one of the two saltwater pools or kick back with a glass of bubbles in the hot tub. Golf fanatics can improve their technique on the backyard course while inspiring culinarians can whip up any cuisine under the sun in the top-of-the-range kitchen. Or, do as the A-listers would and dial in a local chef for the night.
Sixteen guests, six bedrooms
Price: $1,330 per night
What did you think of this story?