11 Taos Airbnbs Perfect for a Southwestern Mountain Getaway
Art, history, and the great outdoors collide in perfect harmony in Taos, New Mexico. As of the country's prominent bona fide Art Colonies you can fill your days mooching around the downtown galleries and museums. Seasonal activities include skiing, rafting, and hiking. Before setting out the explore the UNESCO-listed Taos Pueblo and the Ski Valley, check into a unique Airbnb Taos vacation rental with traditional Kiva fireplaces and Navajo touches.
We hope you love the Airbnb Taos vacation rentals we recommend! Just so you know, Matador may collect a small commission from the links on this page if you decide to book a stay. Listed prices are accurate as of the time of publication.
Downtown Taos Airbnbs
La Posada de Taos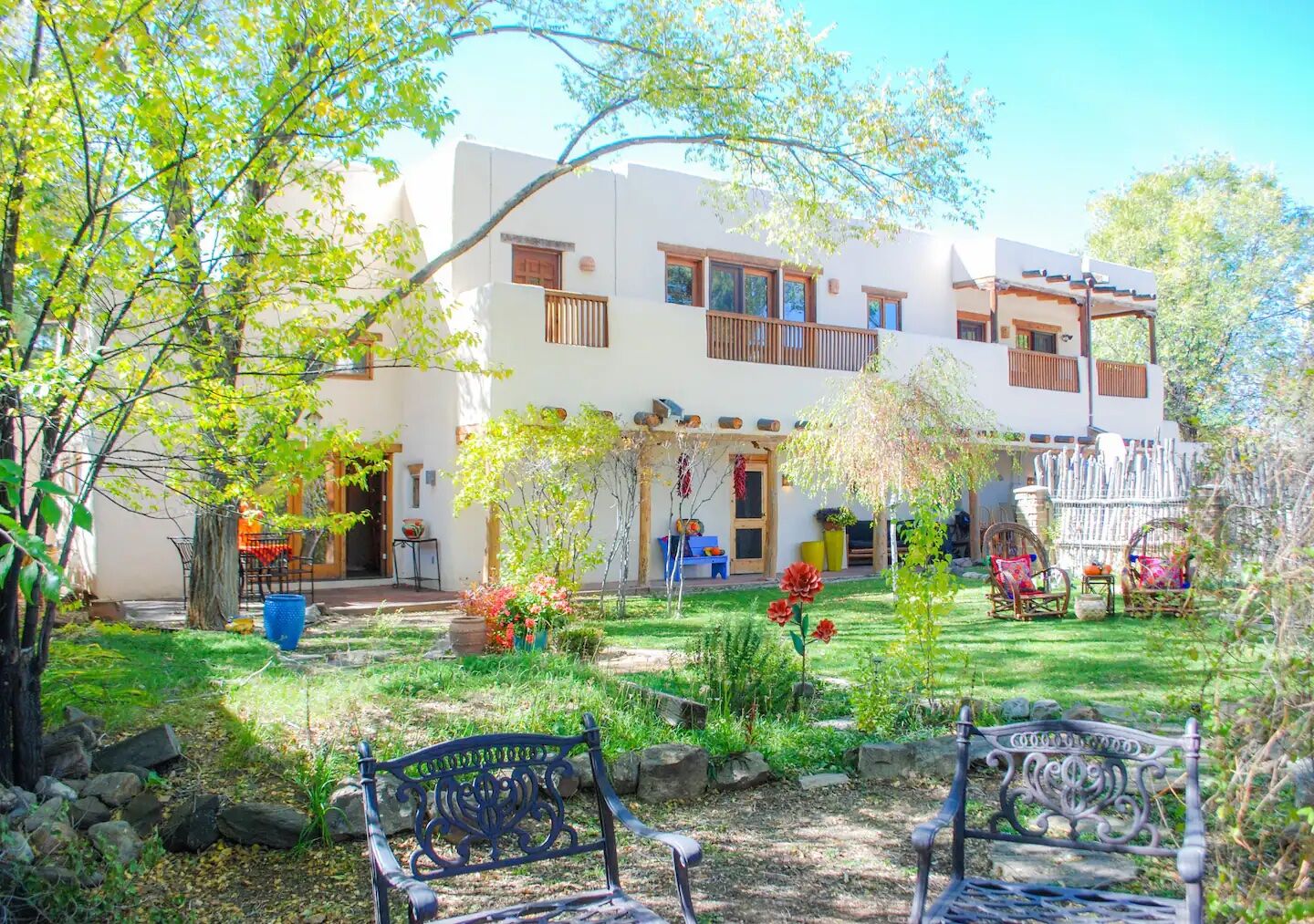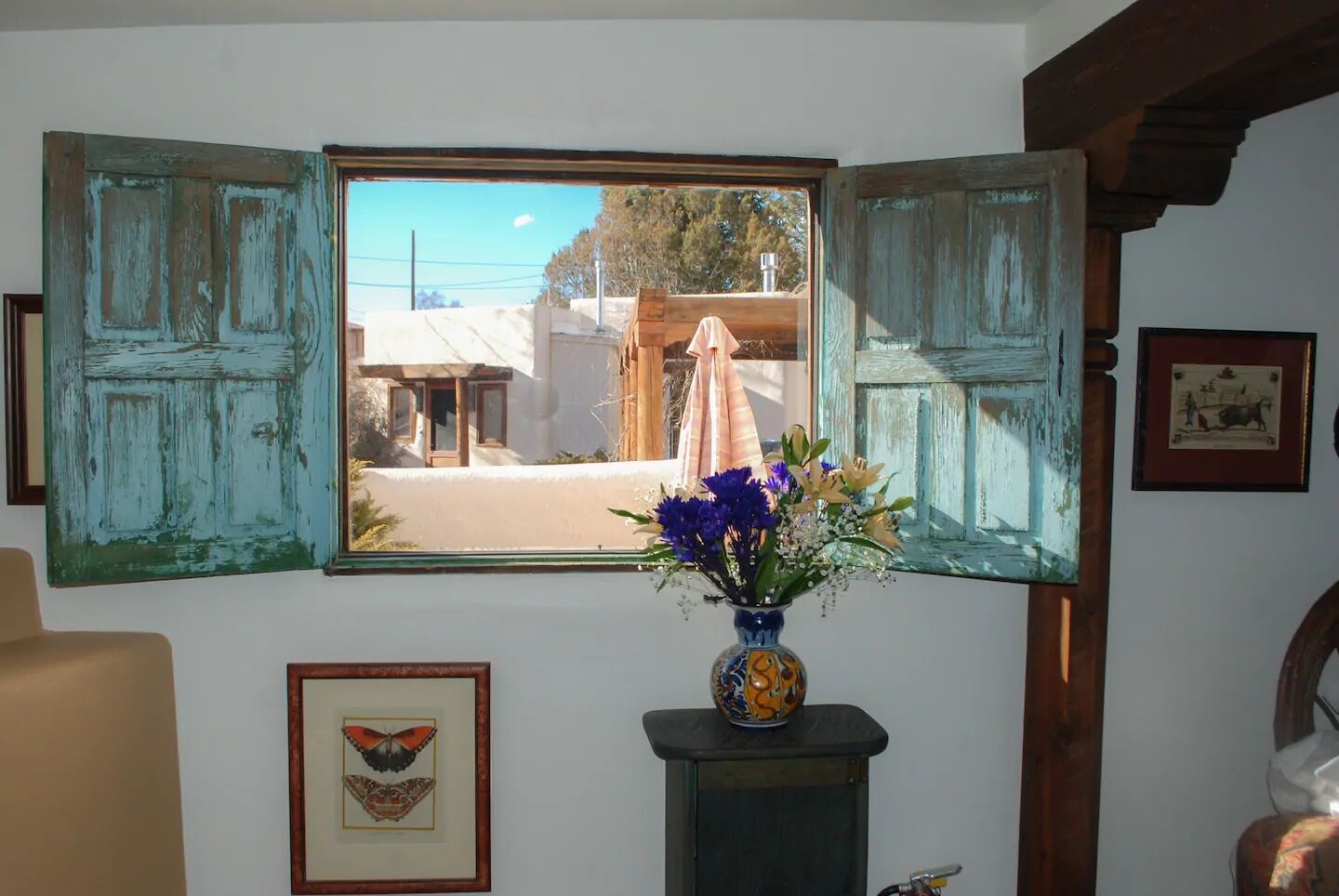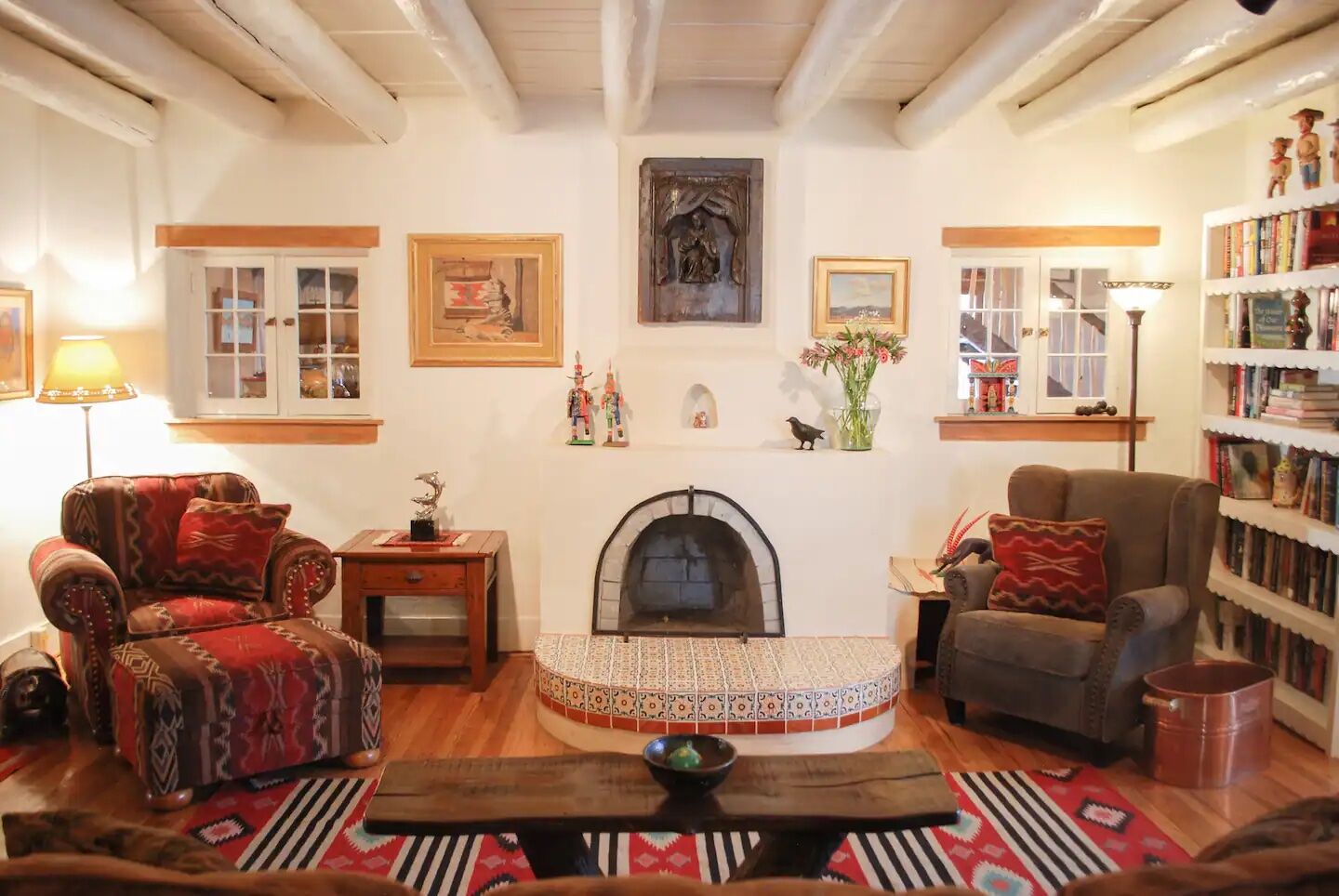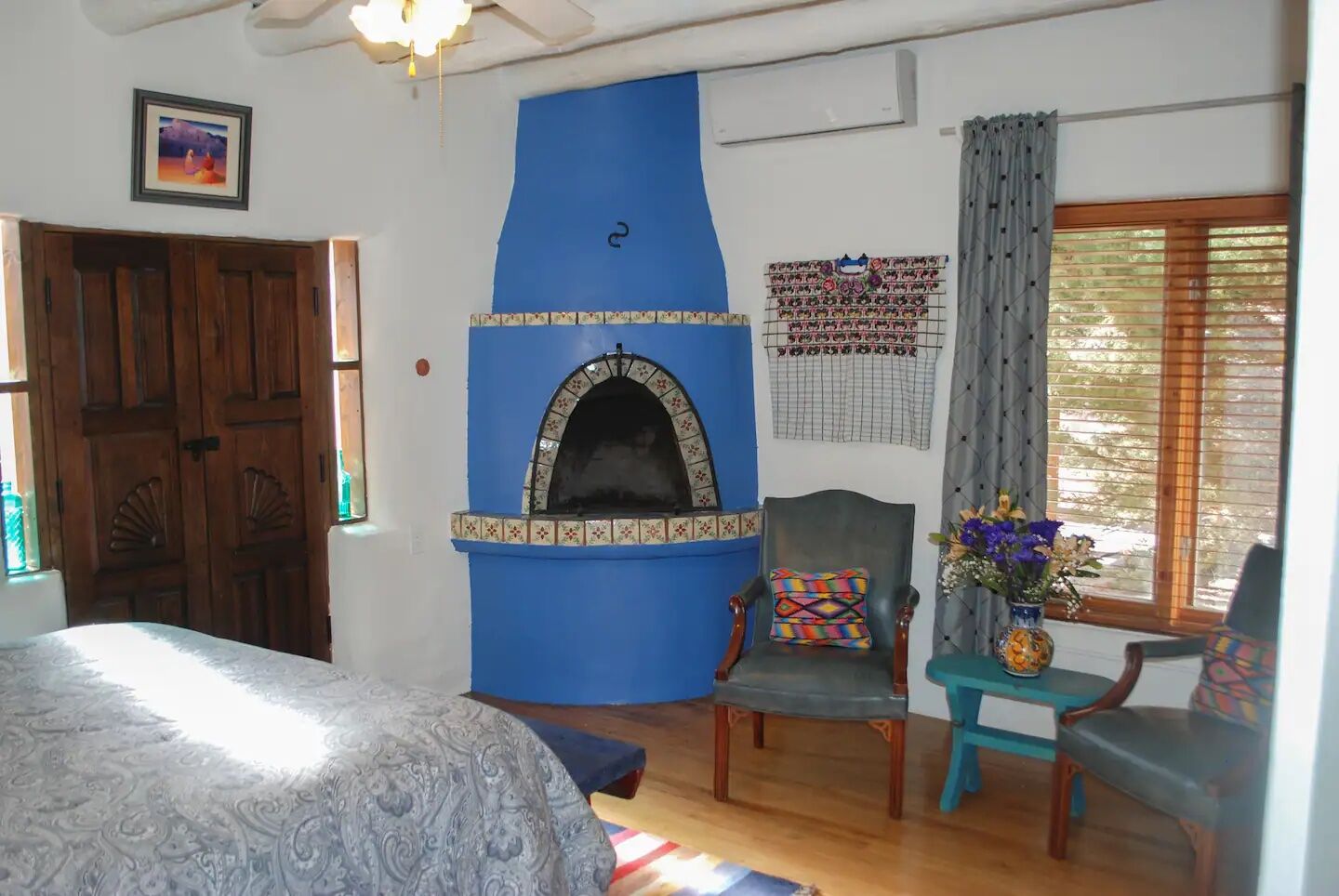 This elegant three-bedroom Historic District Airbnb Taos is within walking distance of the Plaza. Constructed in the 1920s using adobe bricks sourced from the earth where the home sits, the casa retains traditional styling with Navajo rugs, Spanish tiling, and a Kiva fireplace. Interiors are comfortably appointed with countless knick-knacks, books, and art adding a homely finish. Besides your private sun terrace, you can share an expansive outdoor courtyard with other guests.
Six guests, three bedrooms
Price: $505 per night
Casa Tewa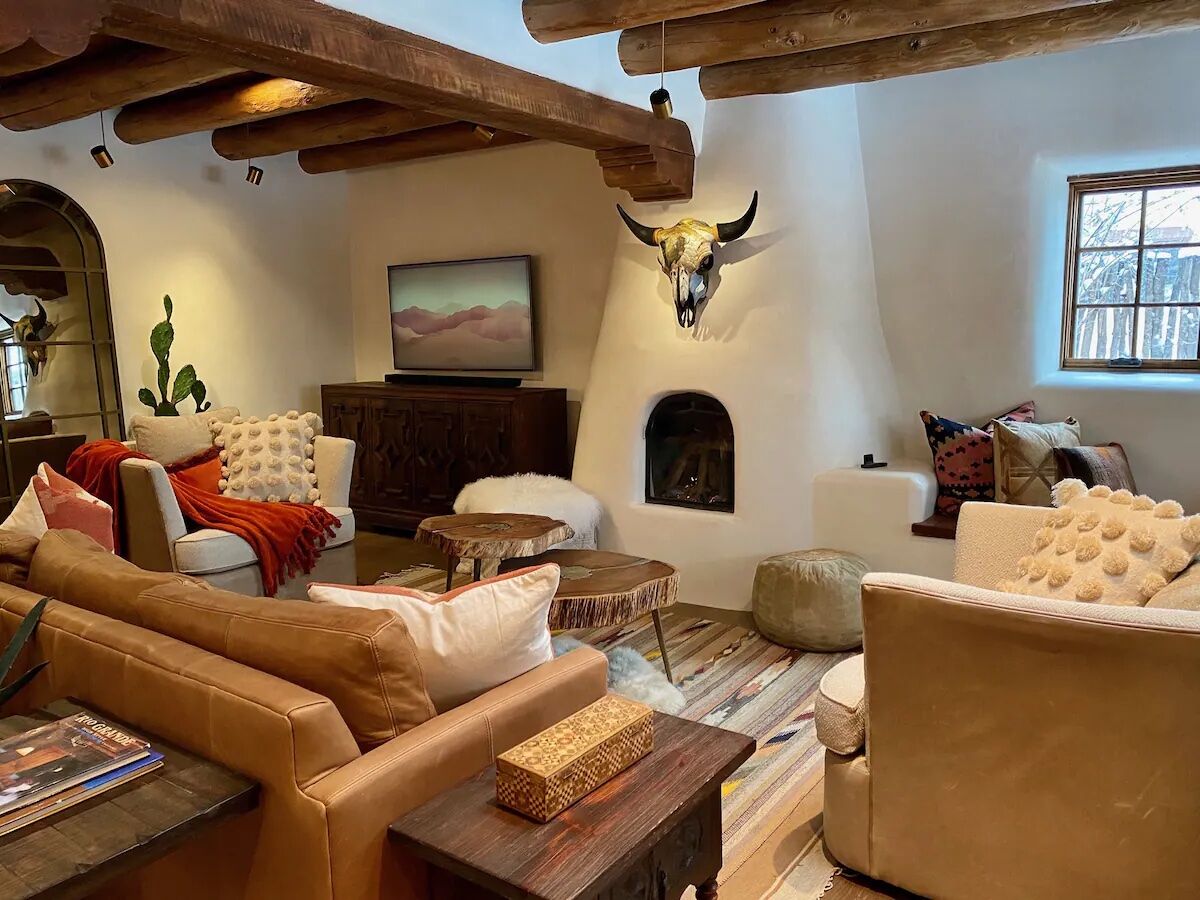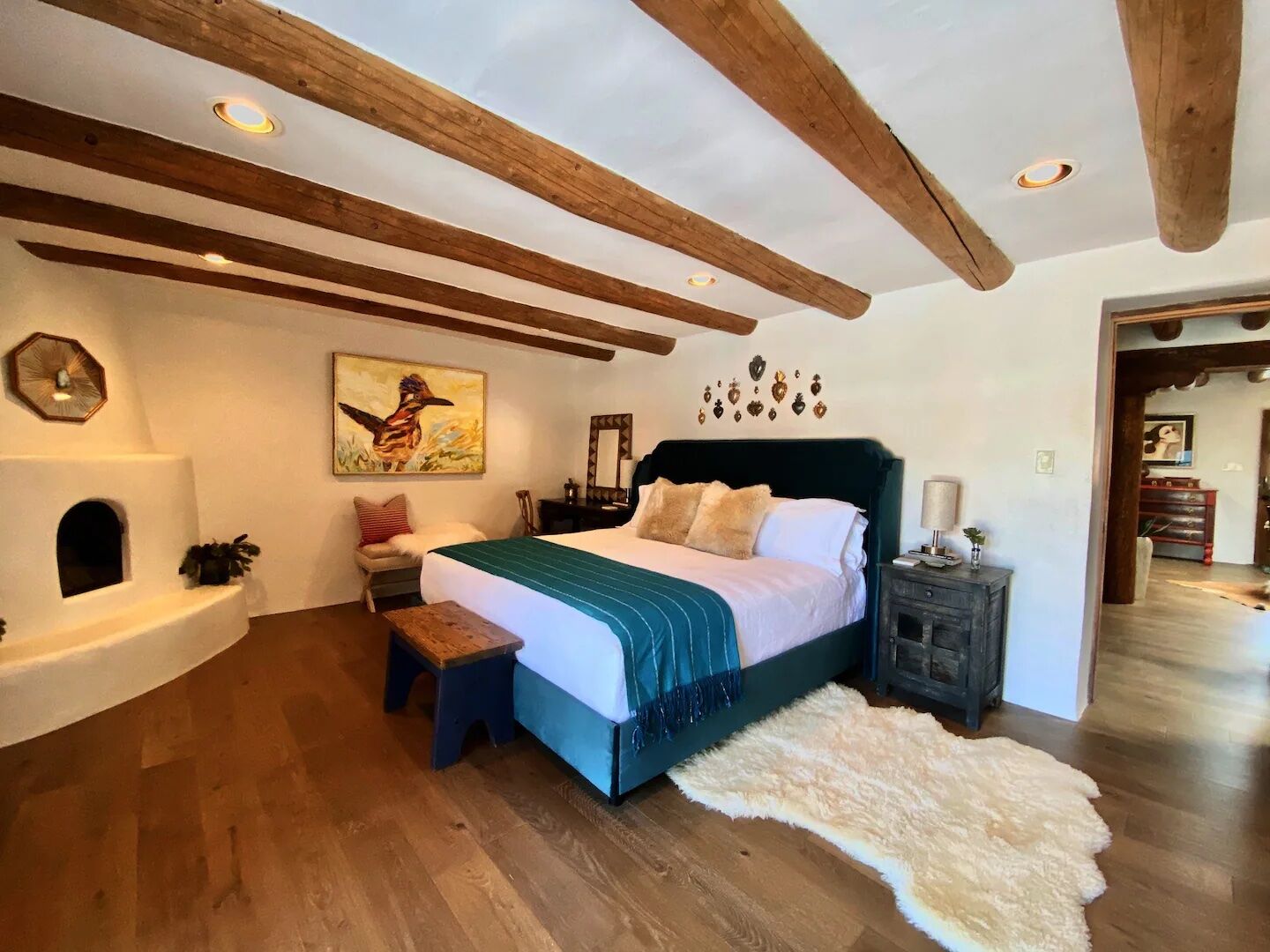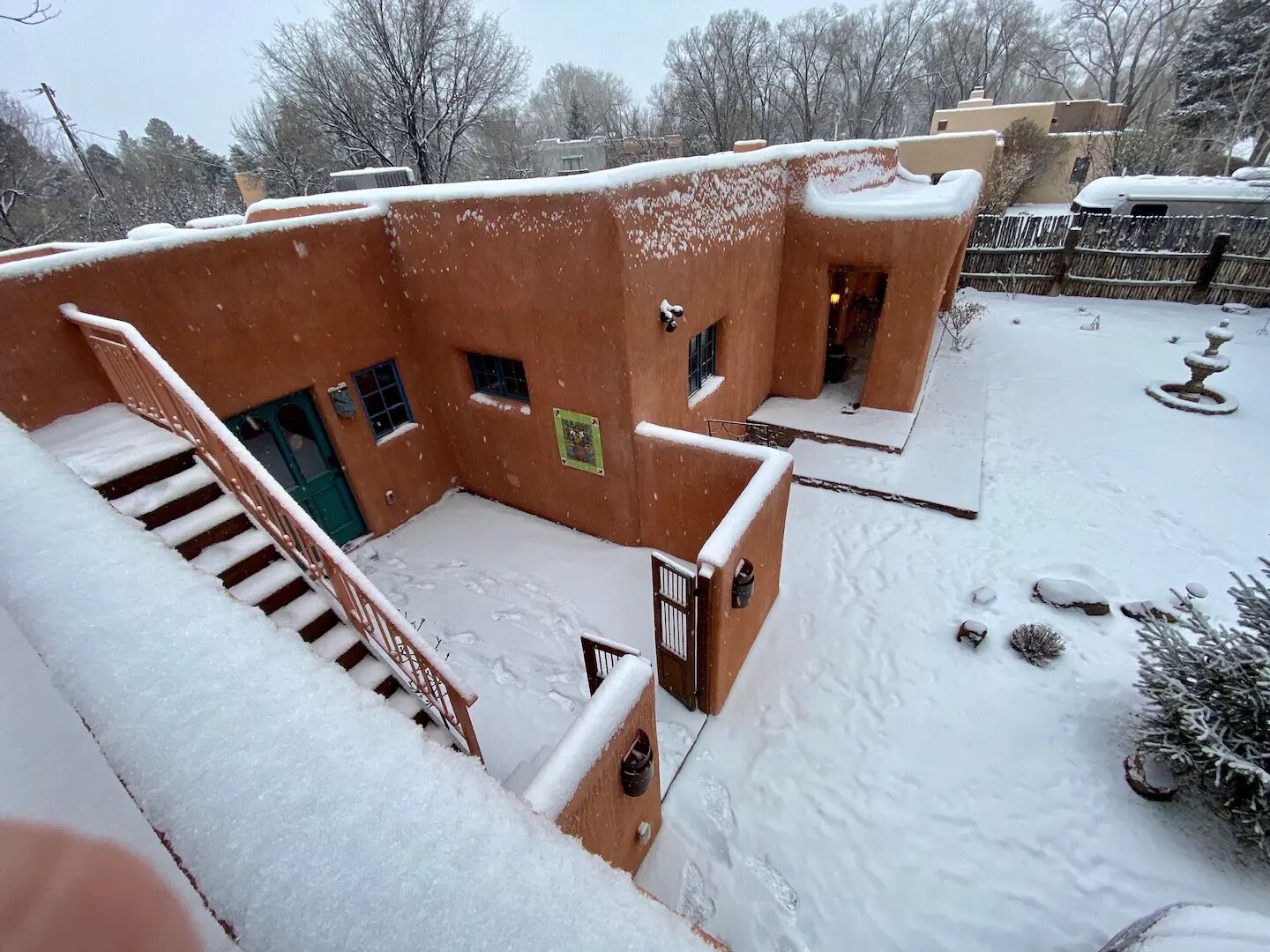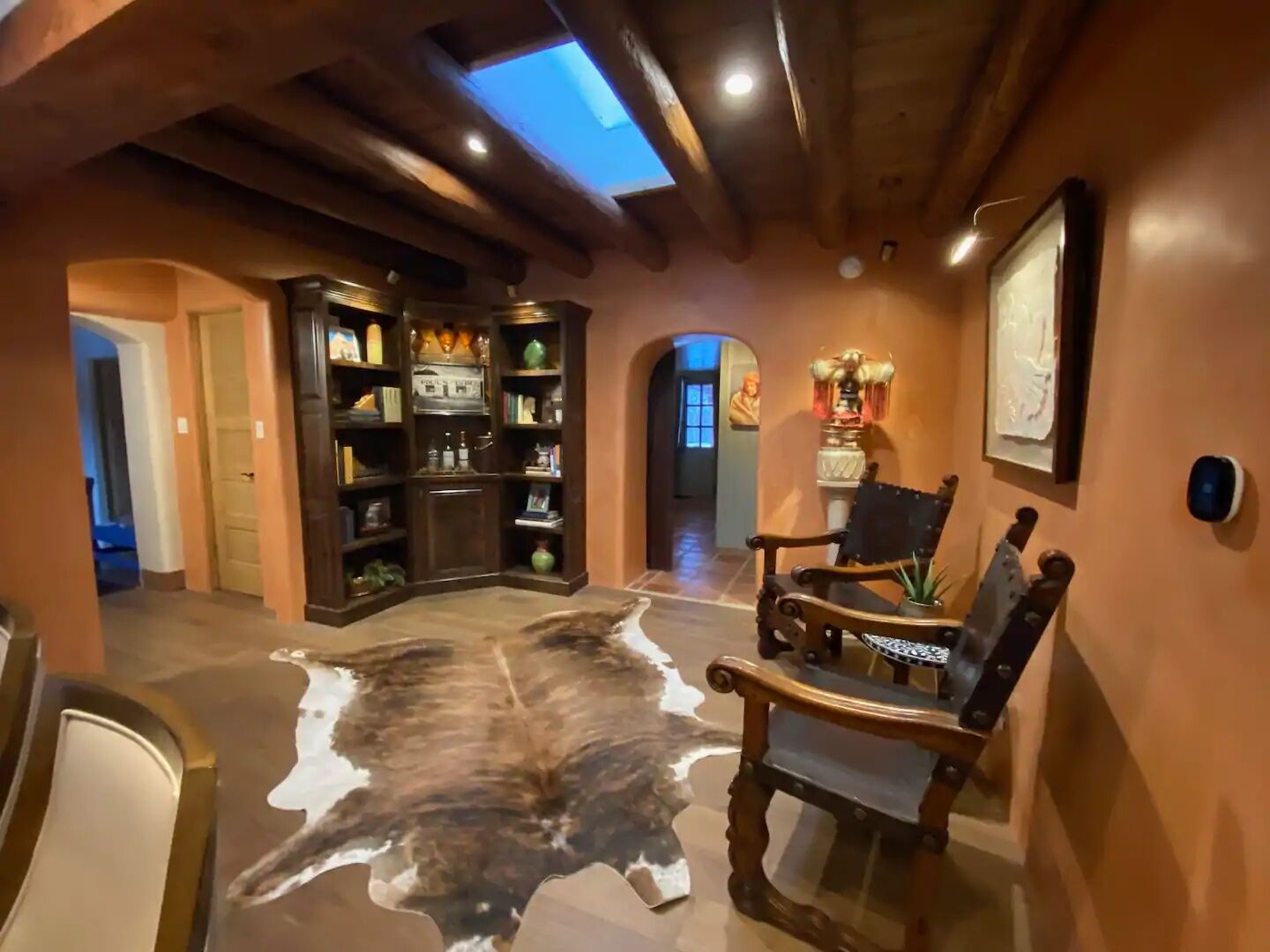 This Spanish Pueblo Revival vacation home in Taos' historic center celebrates the Native American Tewa culture through its traditional wood, viga ceilings, Kiva fireplace, and ornamentation. One bathroom features a steam shower, another an ornately tiled suite, while the third comes with a freestanding tub. Outdoors, your single-story casita spills into two private gardens with a hot tub.
Six guests, three bedrooms
Price: $380 per night
Charming home of Taos artist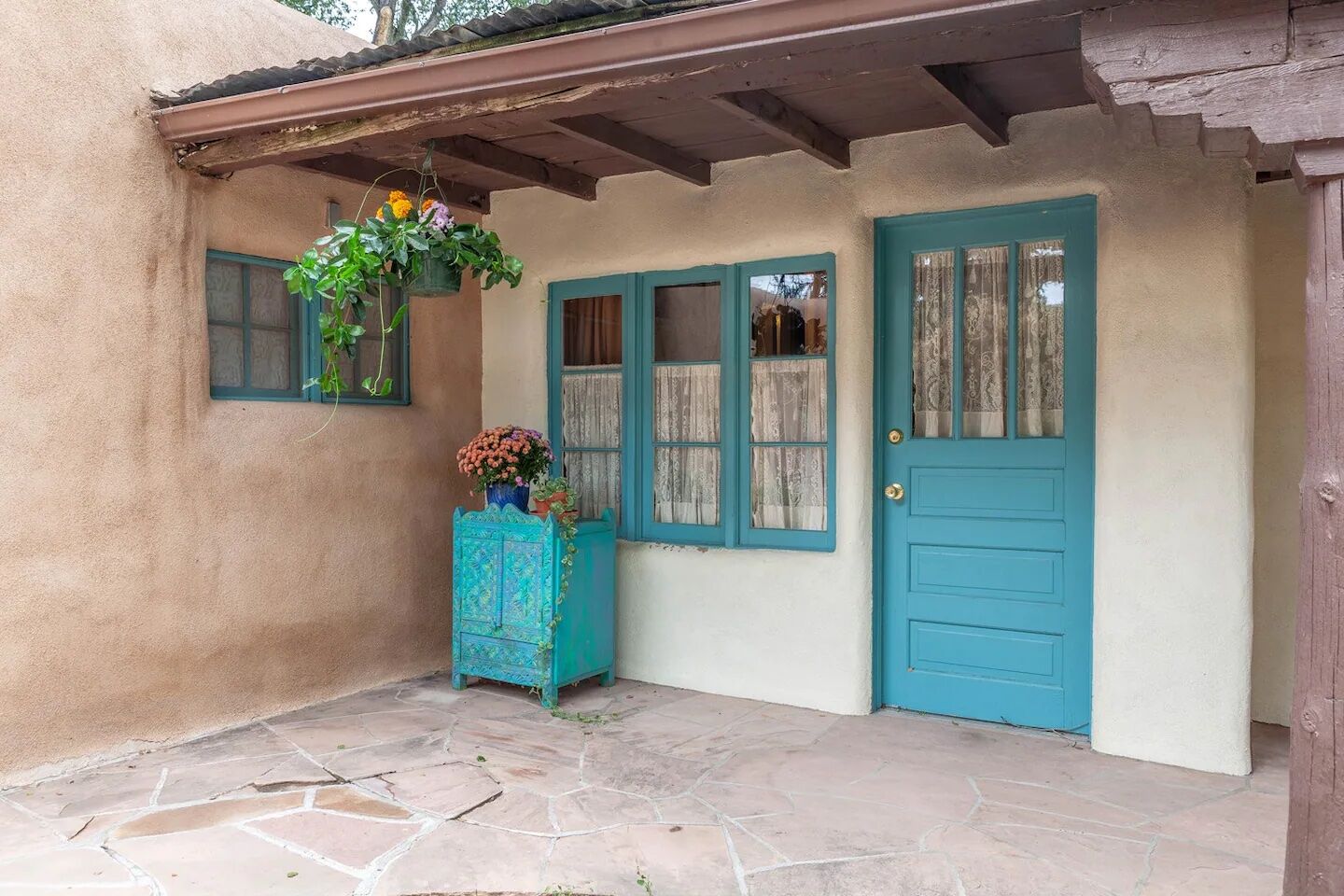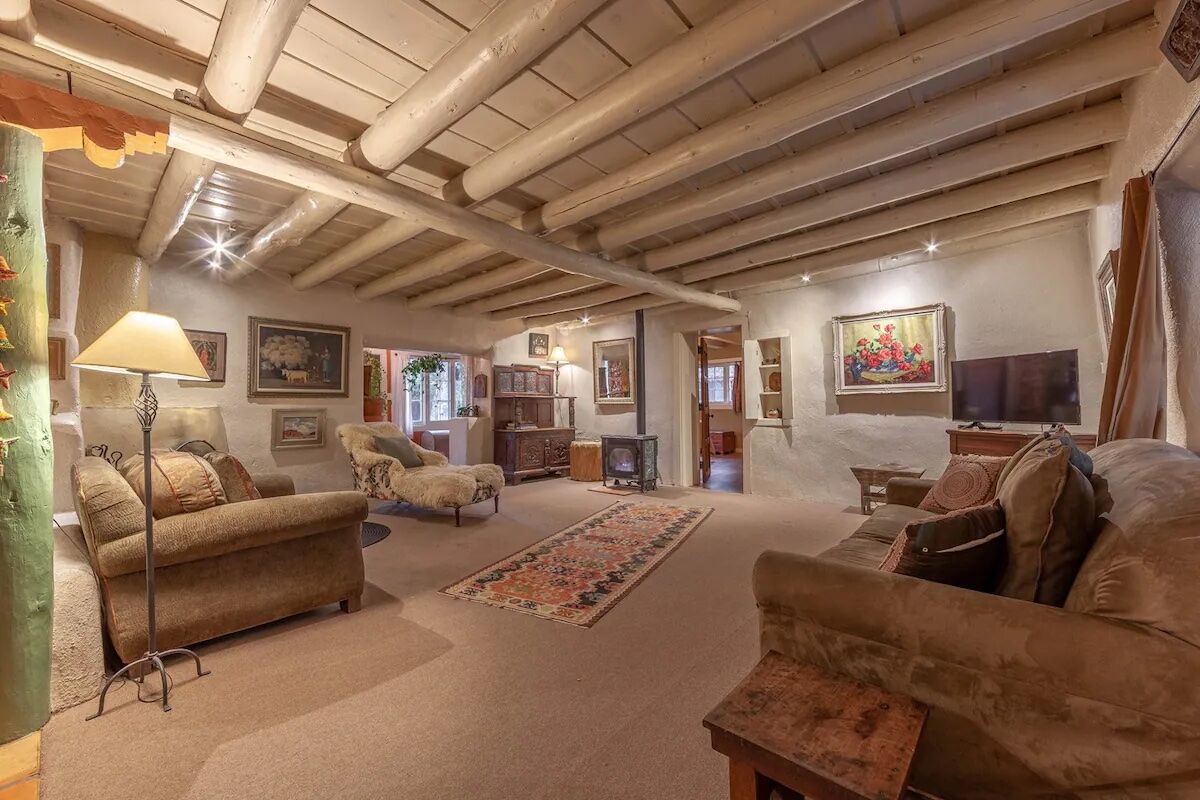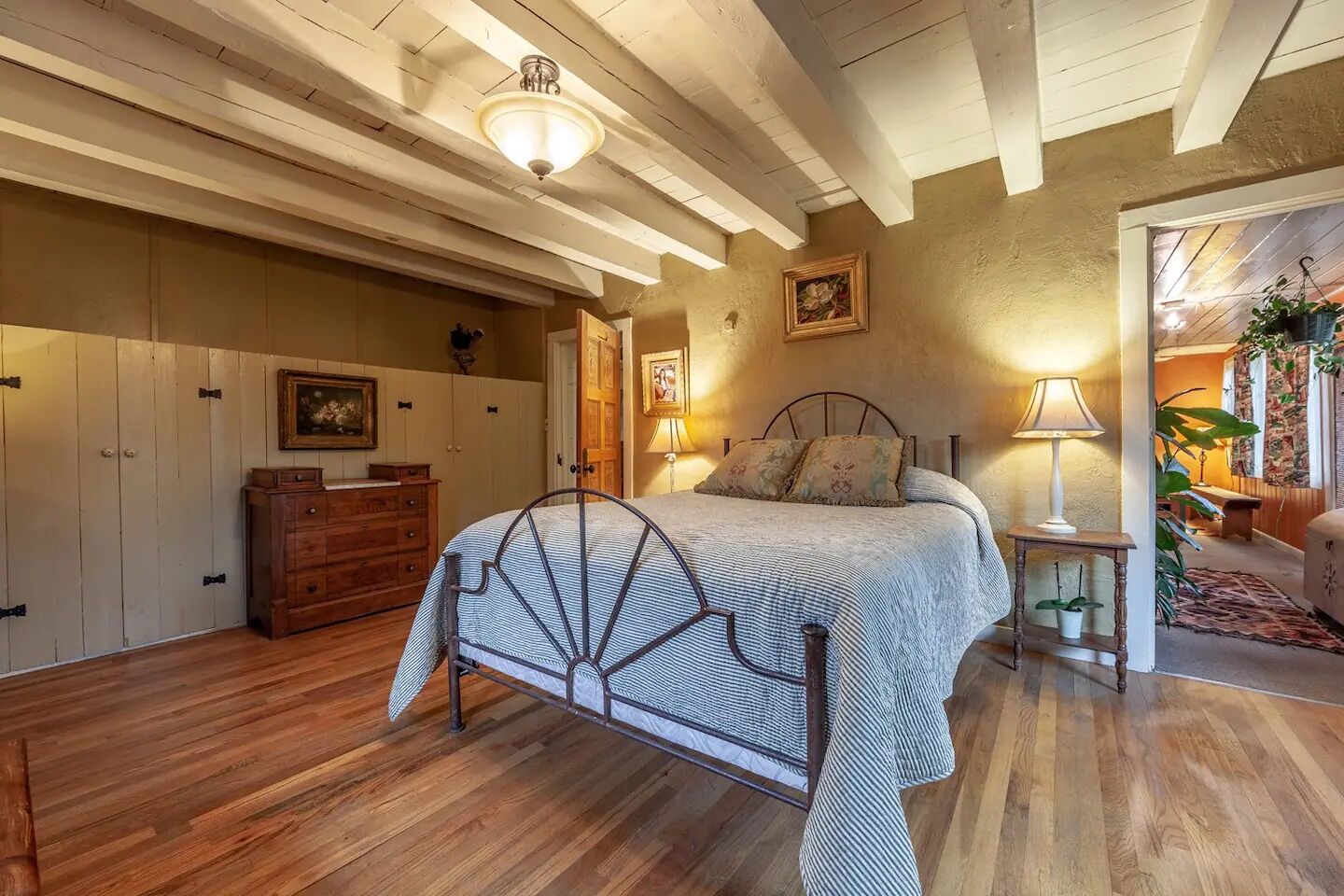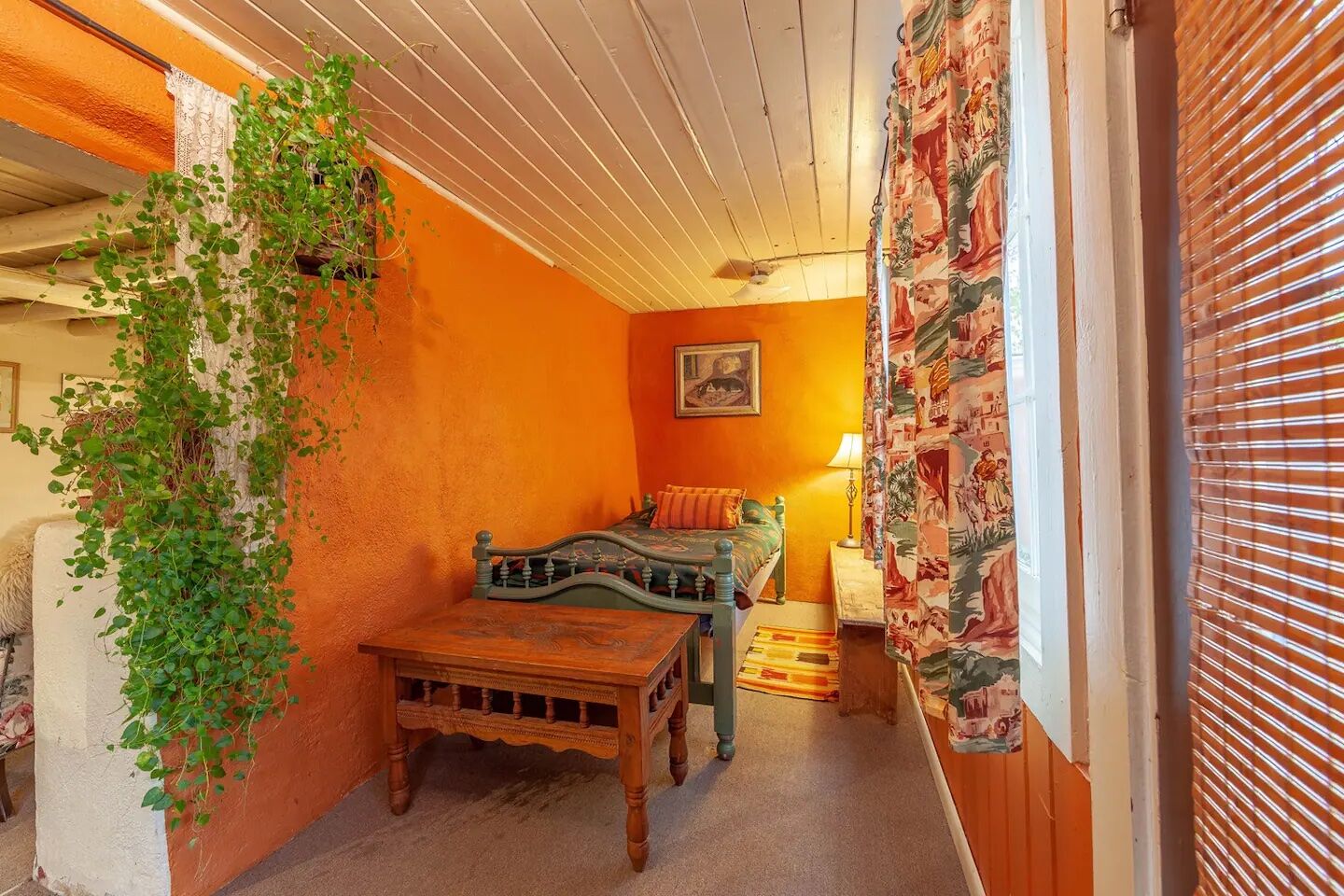 Constructed in the 1940s for Charles H. Reynolds and his wife, this Downtown Taos Airbnb is furnished with the artist's original paintings and collection of antiques. The casita benefits from thick adobe walls, a beautifully tiled bathroom, an office, and a sun room with an additional bed. Two patios catch the New Mexico rays and provide the ideal spot to wind down after exploring the area.
Four guests, one bedroom
Price: $190 per night
Pet-friendly Airbnb Taos vacation rentals
Dog-friendly home with fireplace and hot tub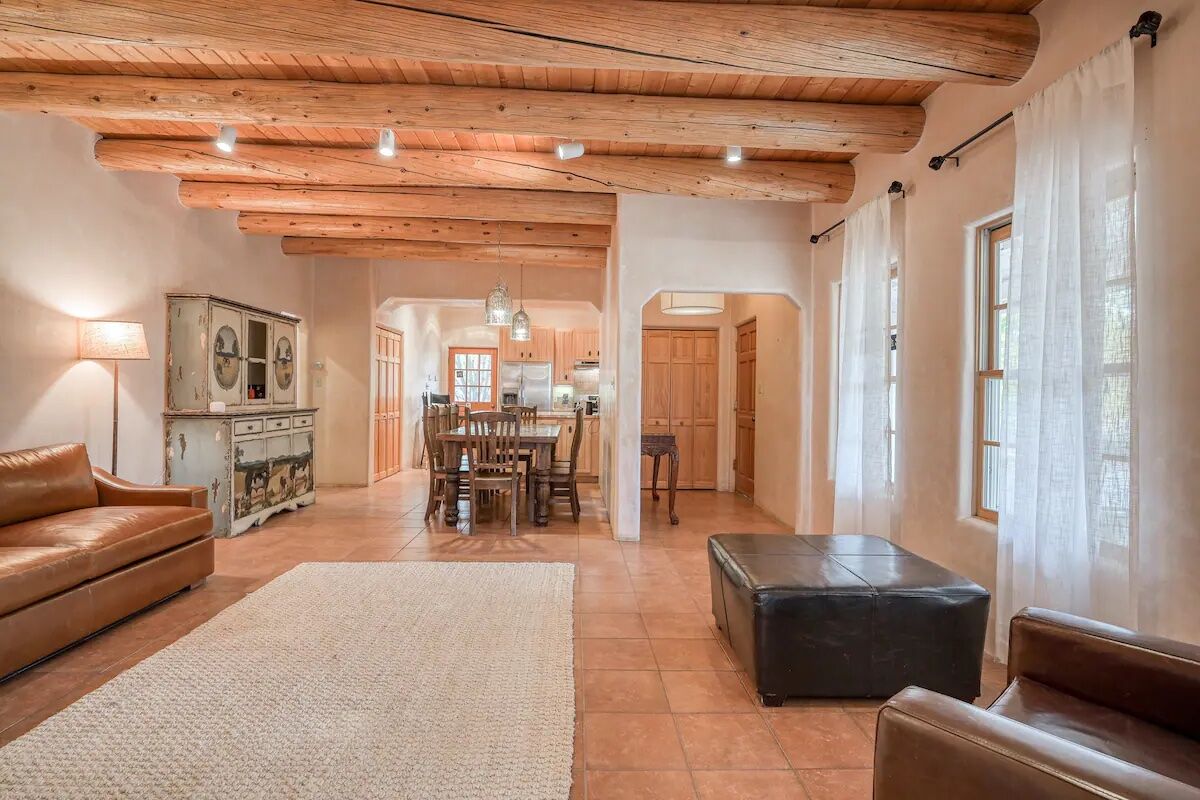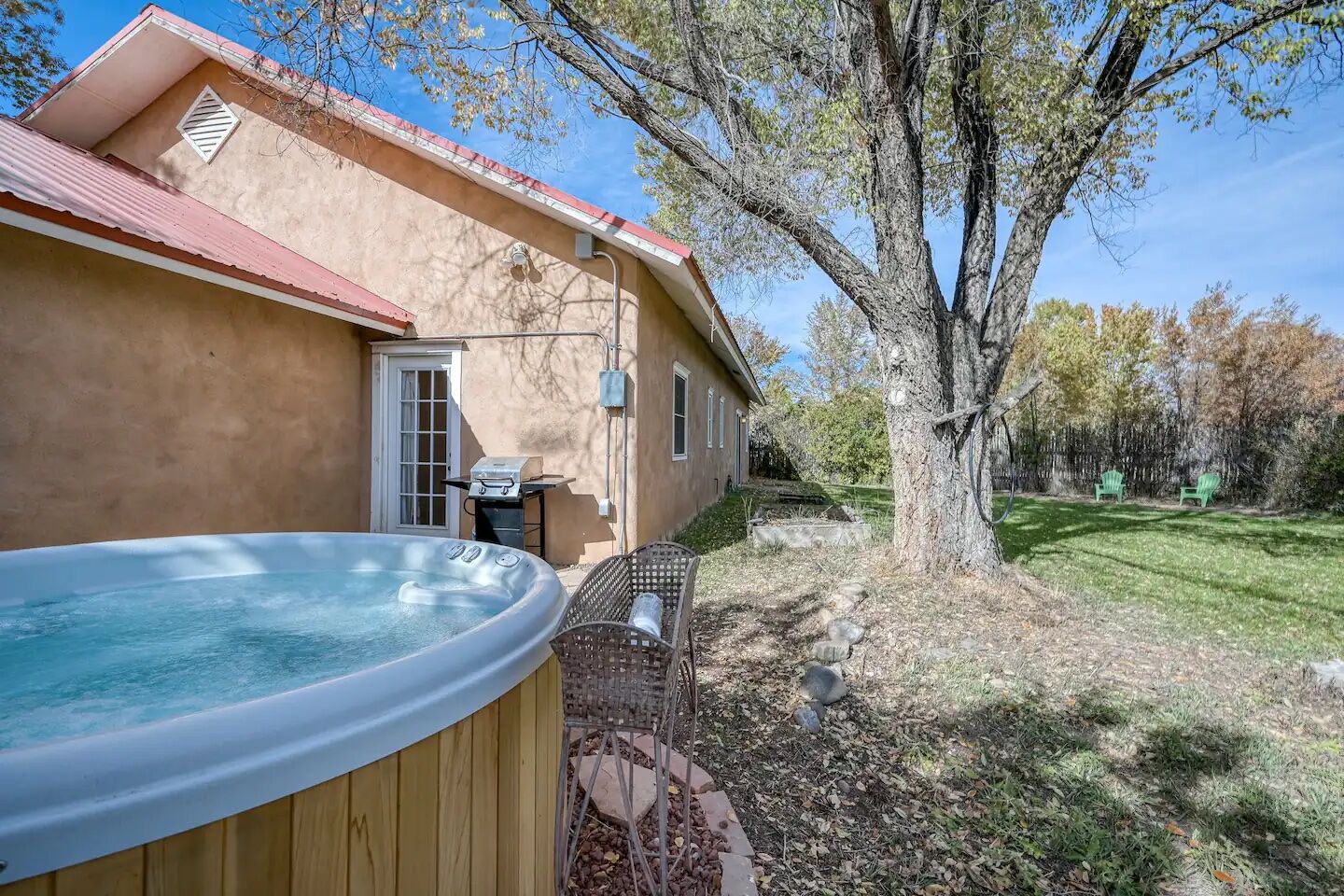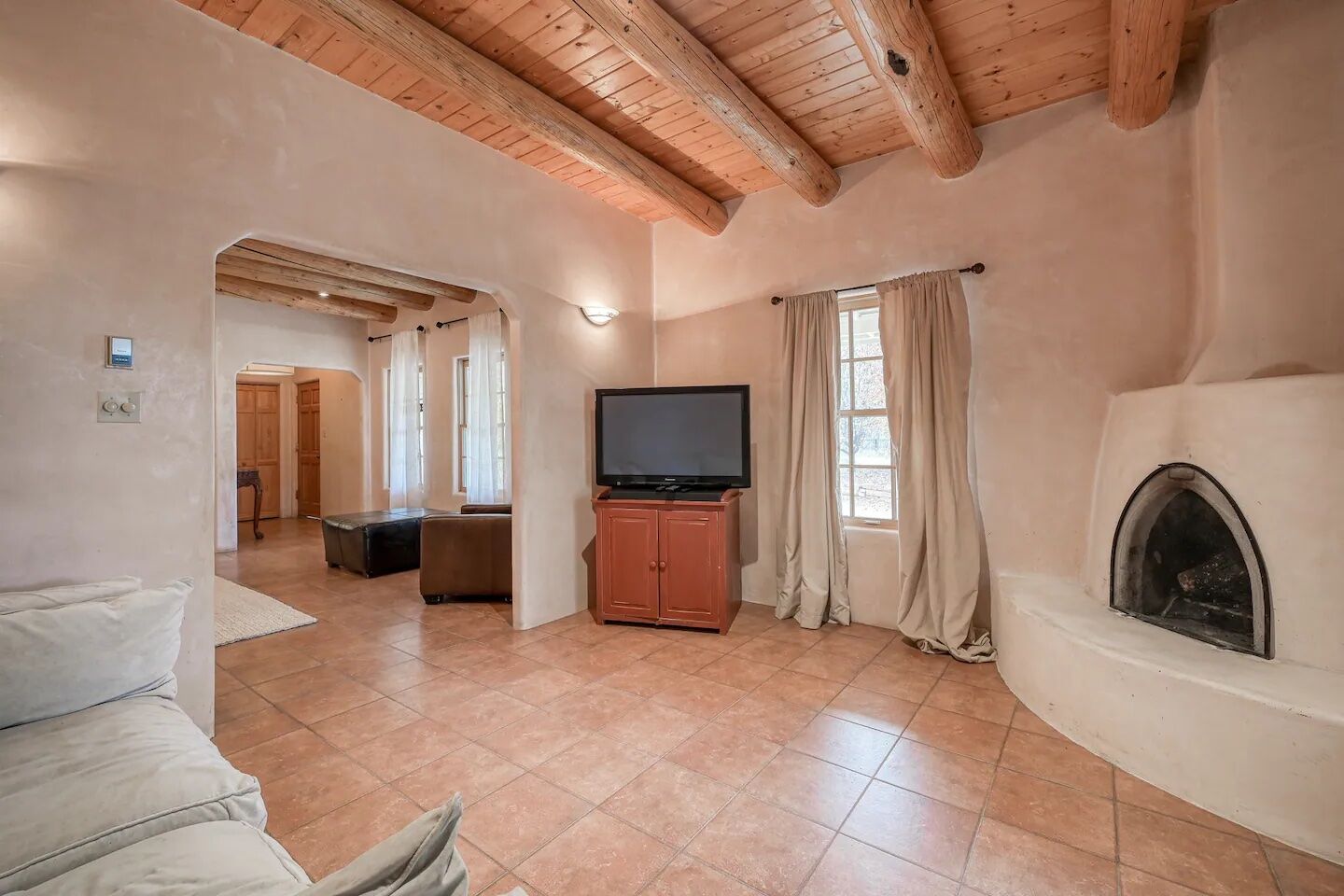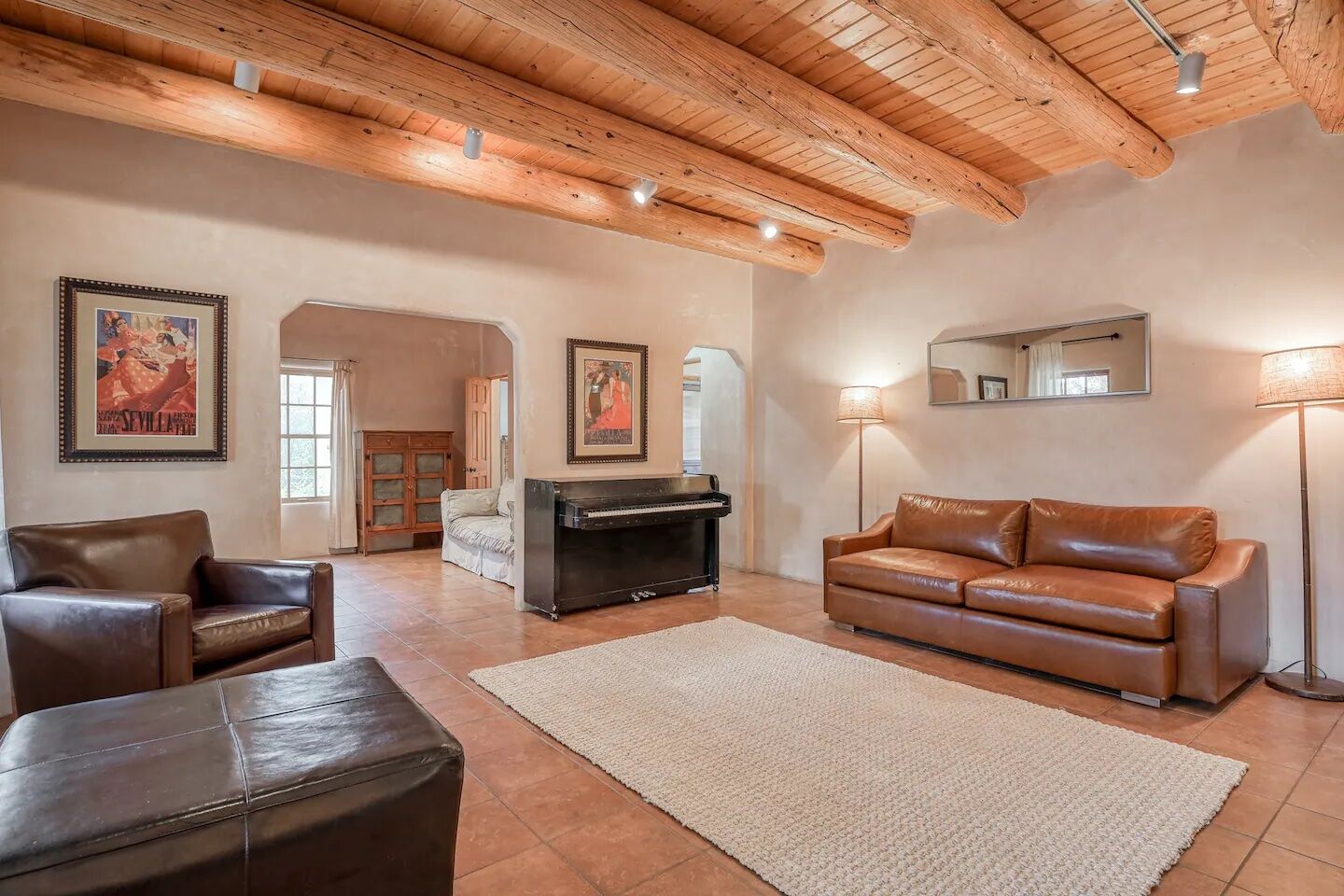 Situated in a tranquil plot with access to hiking trails, this dog-friendly Taos Airbnb combines the charm of historic New Mexican architecture with the convenience of state-of-the-art amenities. Spend leisurely afternoons on the deck equipped with a grill, hot tub, and vast patch of lawn where dogs and children can burn off their energy. Perfectly sited for exploring downtown and getting out to the ski resorts.
Six guests, three bedrooms
Price: $355 per night
Gem Hacienda – Taos luxury estate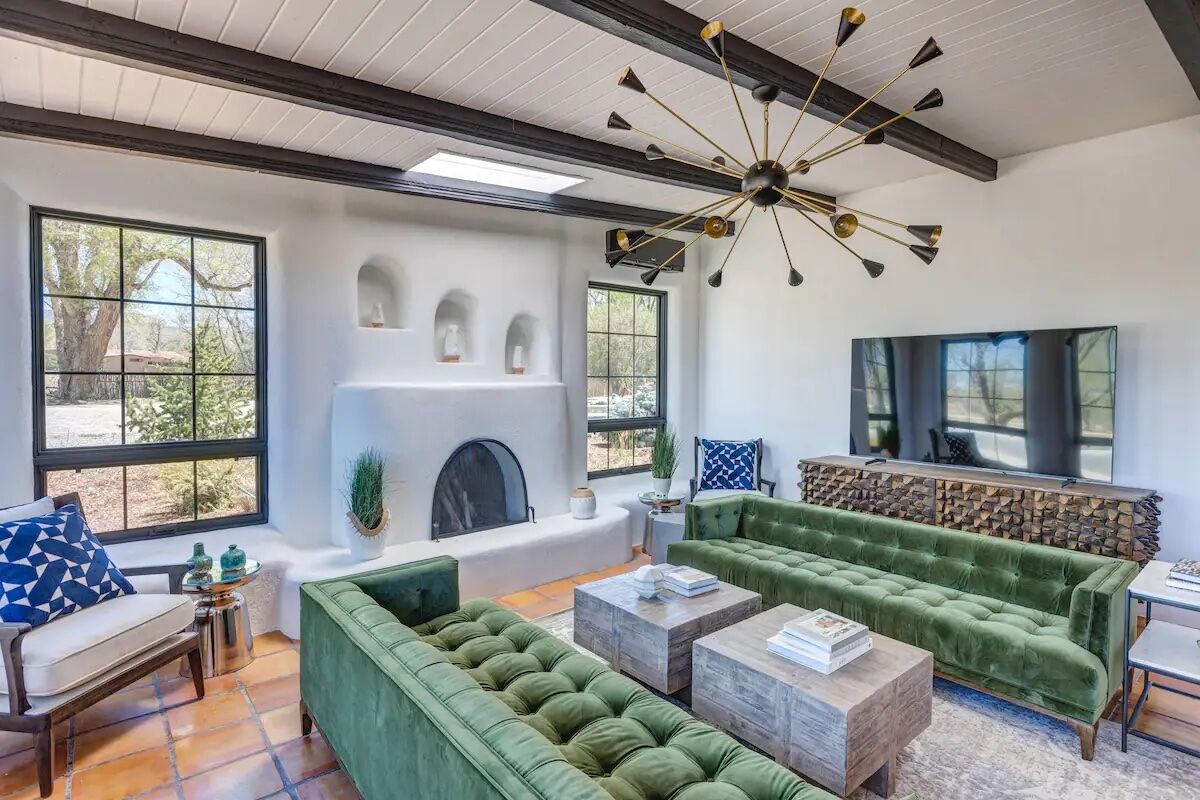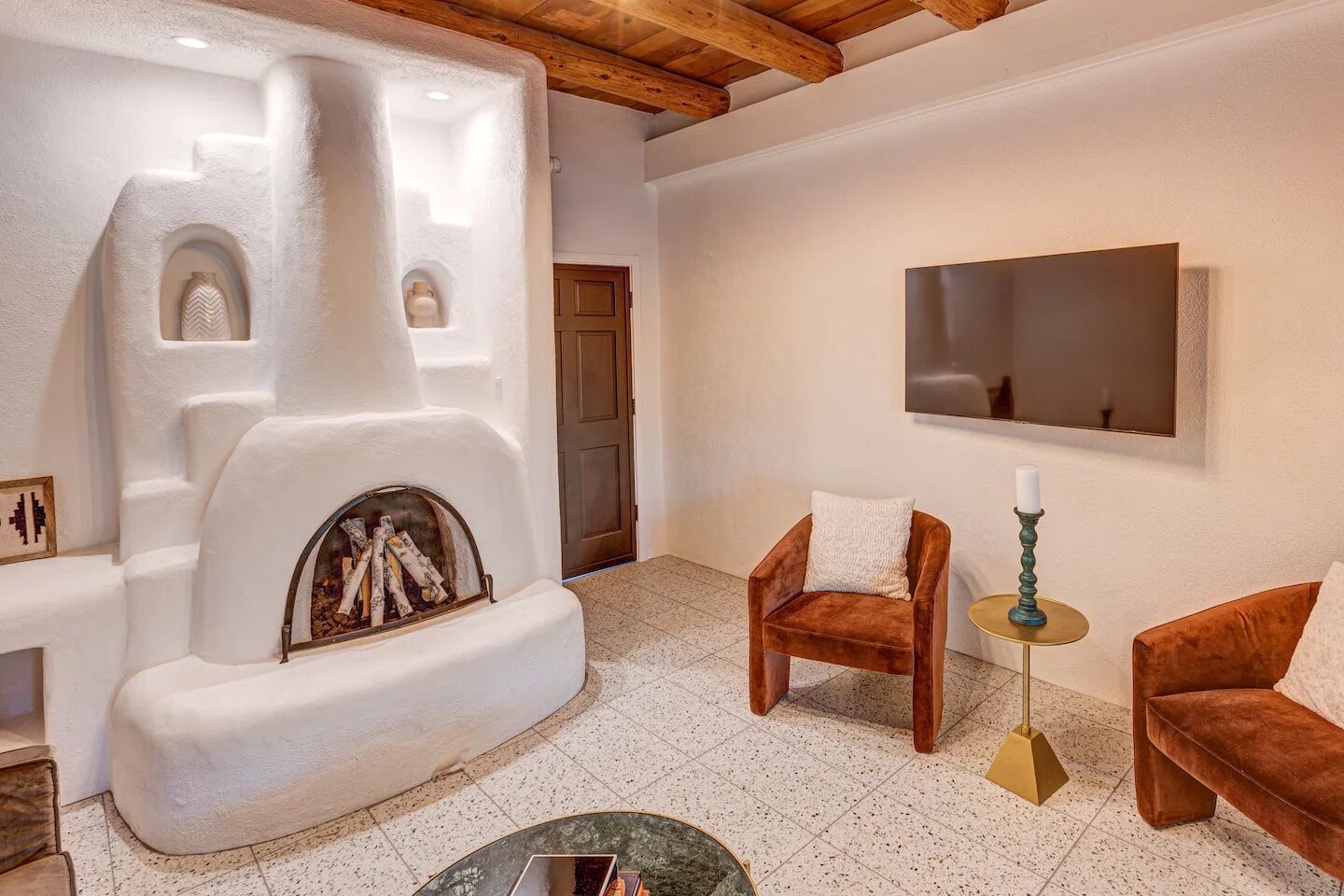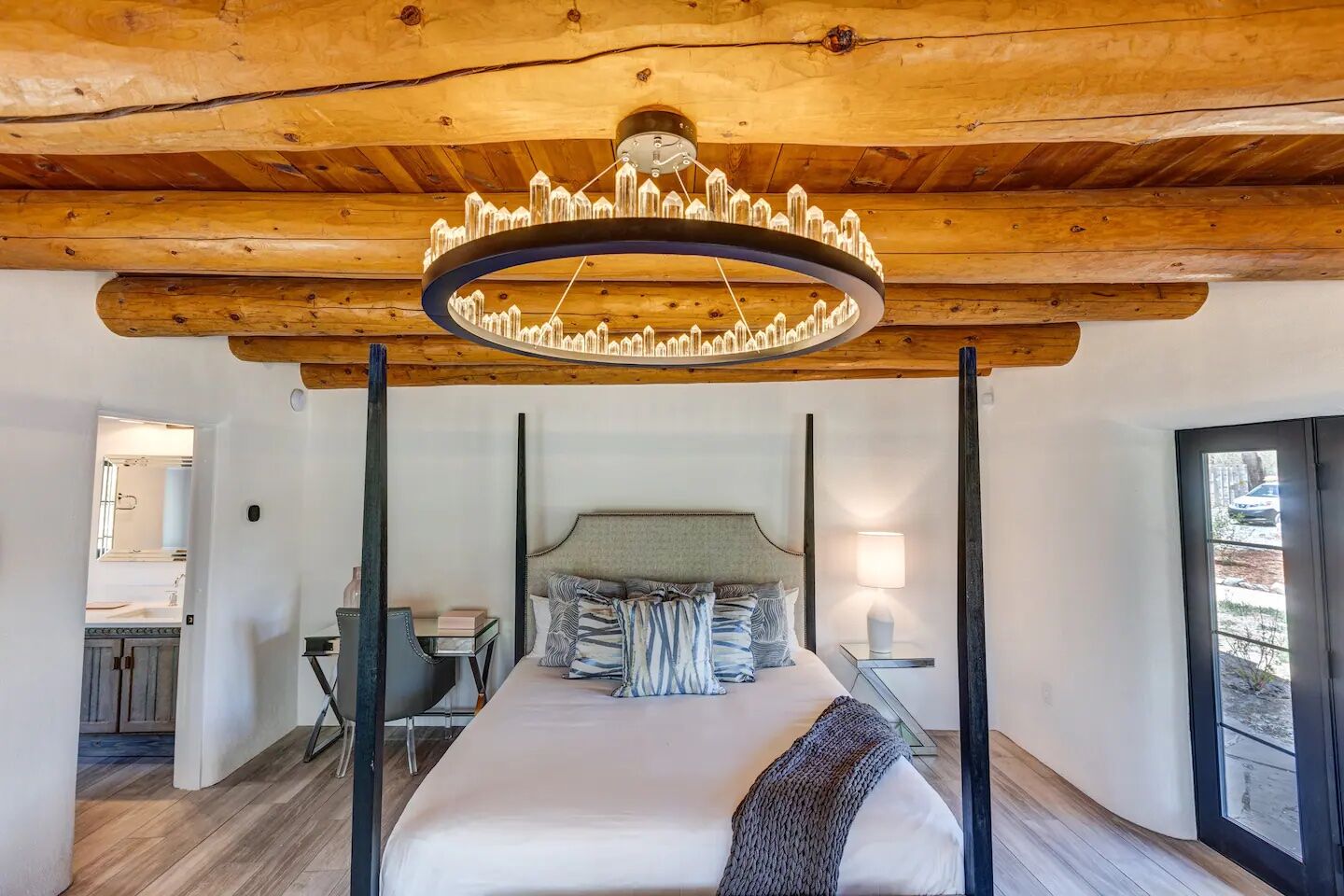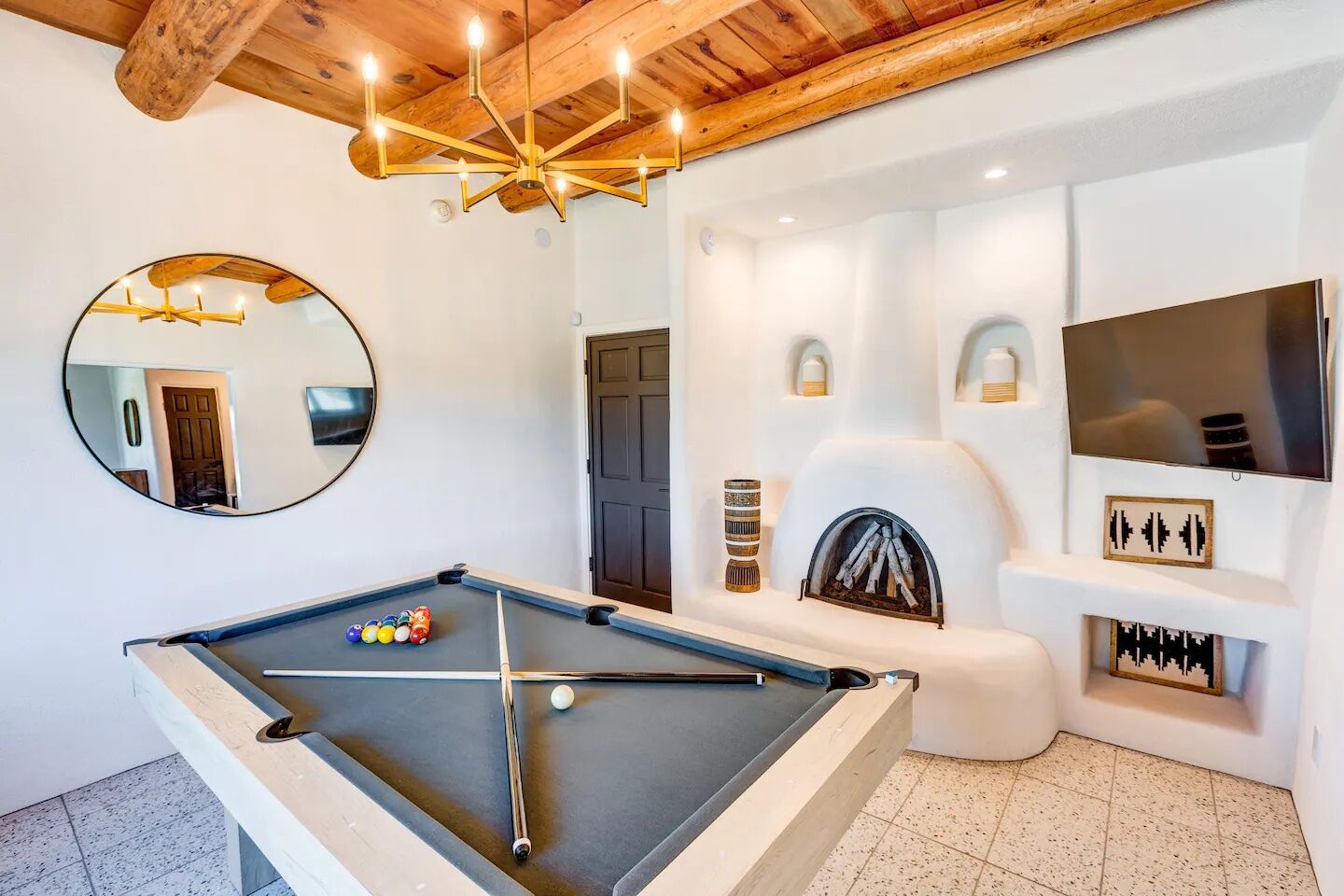 Gem Hacienda is a new vacation rental designed for large groups, located on the banks of the Rio Lucero. The artisanal nine-bedroom adobe home features fireplaces, wooden beams, and local artwork. Highlights include the billiards table, hot tub, and spacious backyard that offers mountain views. There's more than enough space to spread out and unite with the group for family meals. Pets are welcome at this luxurious estate.
Sixteen guests, nine bedrooms
Price: $5,070 per night
Stylish Adobe Home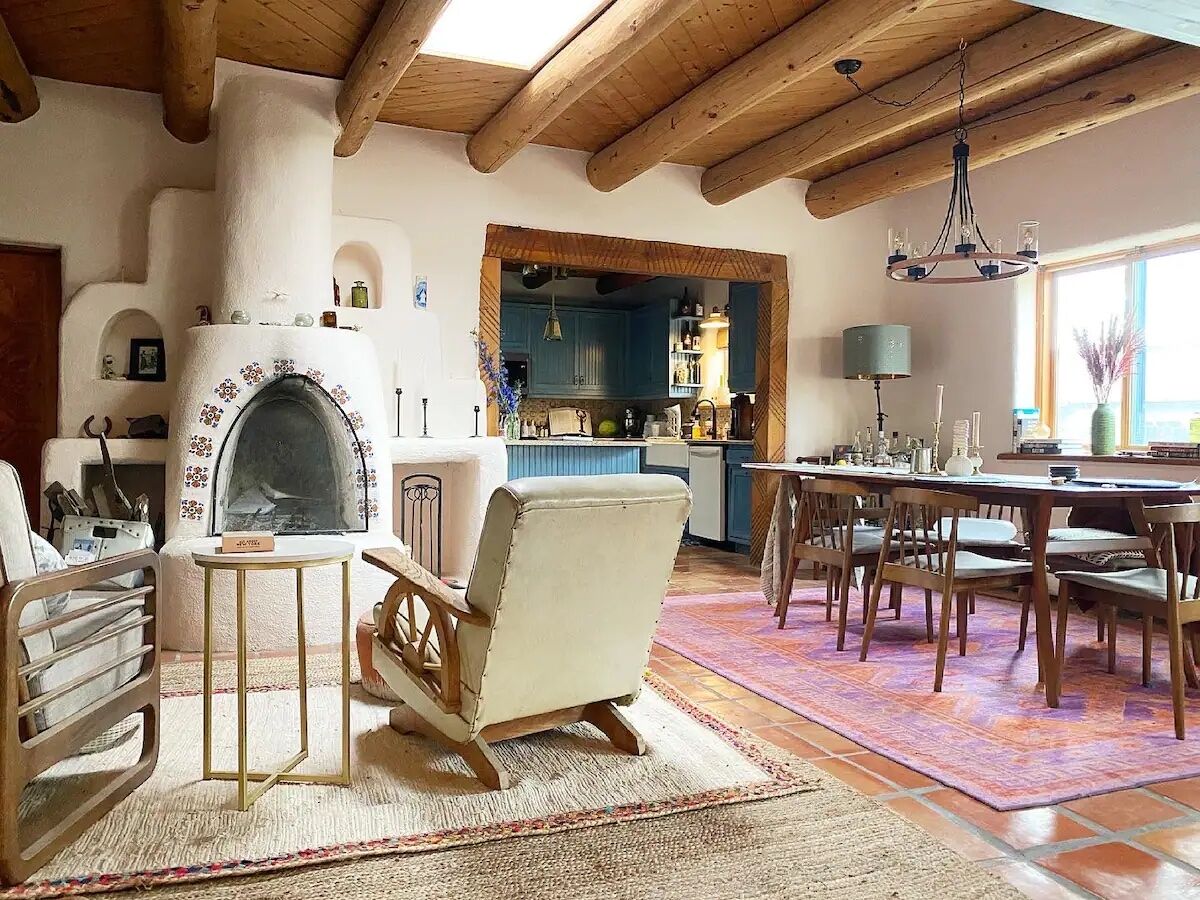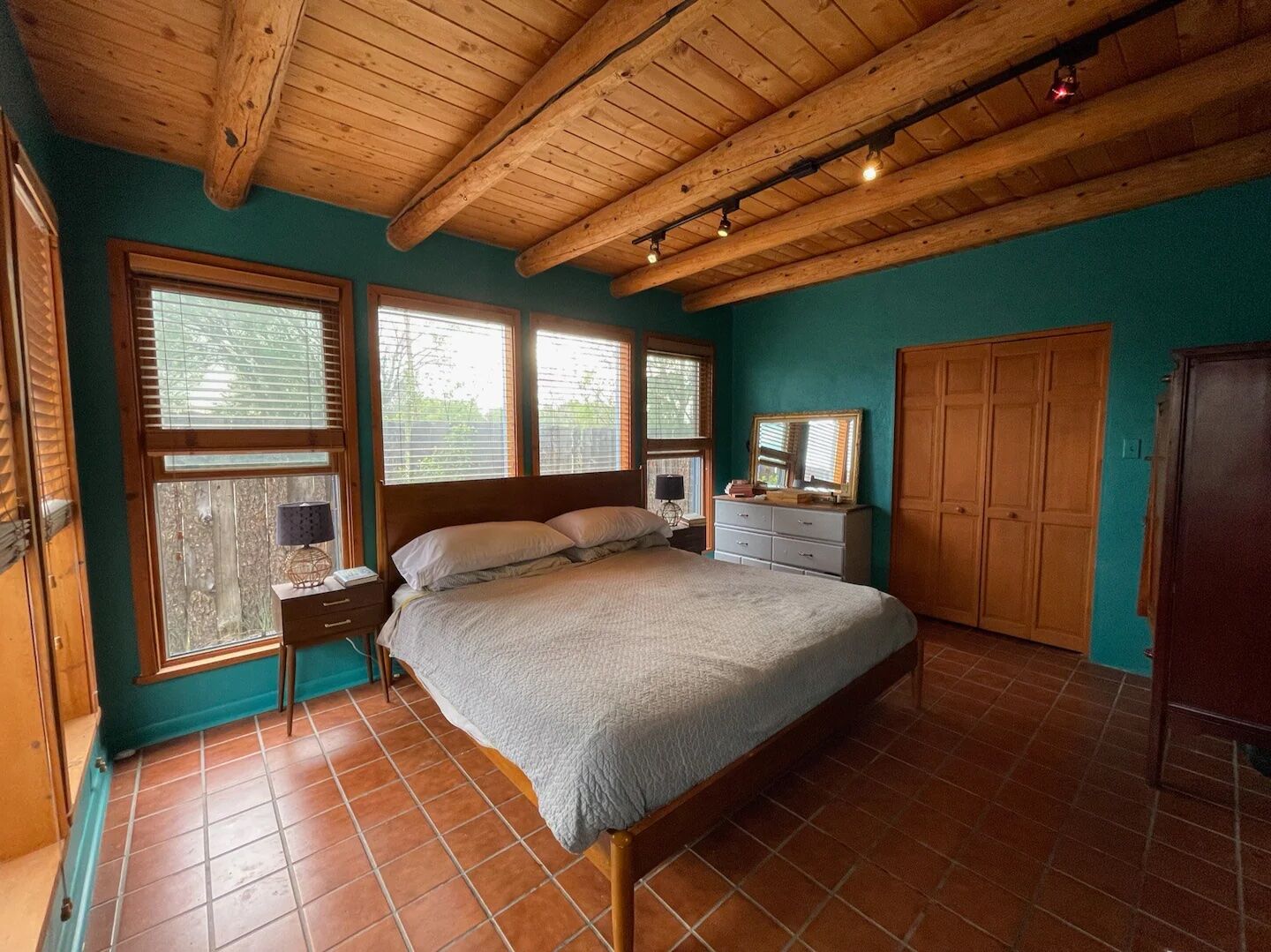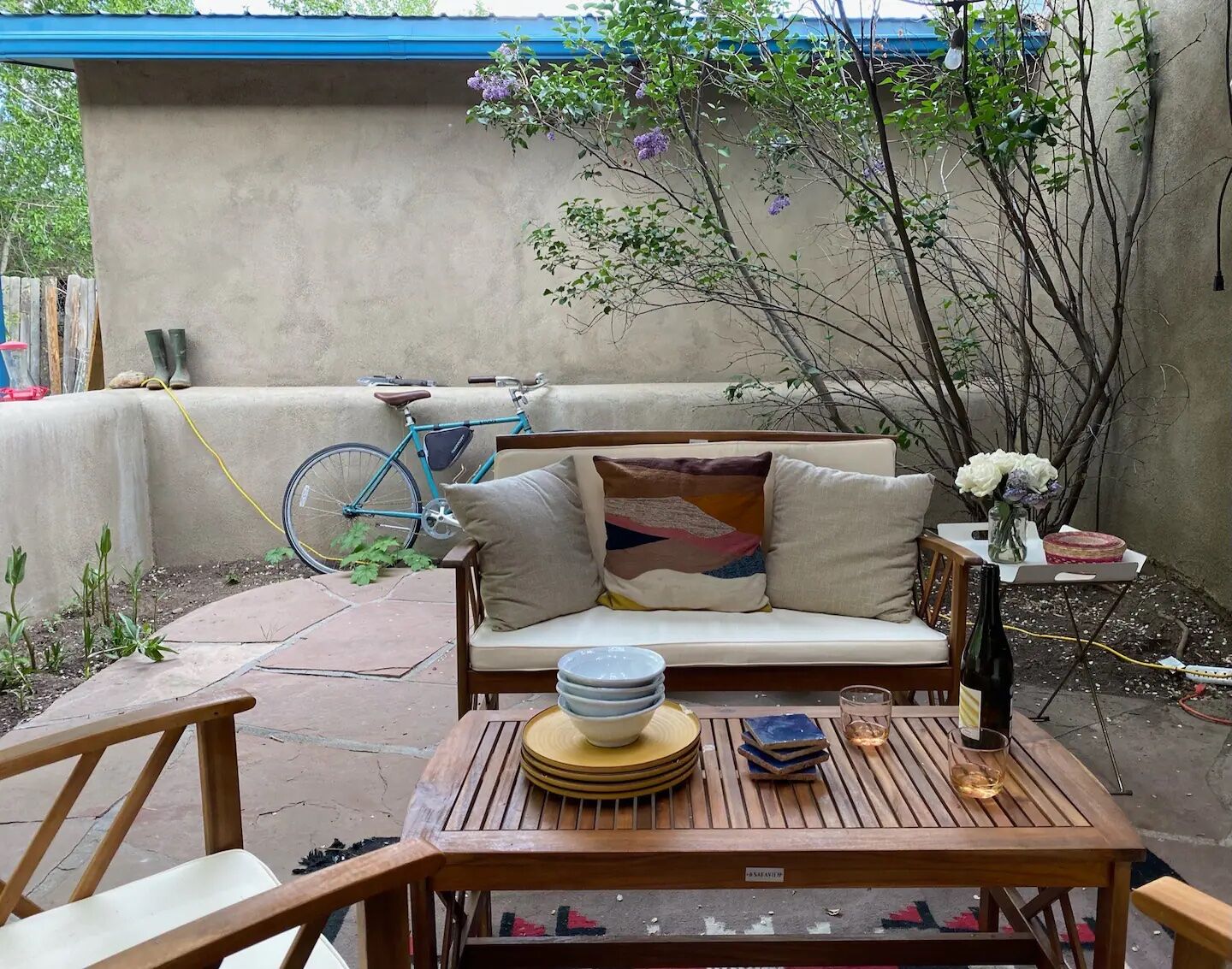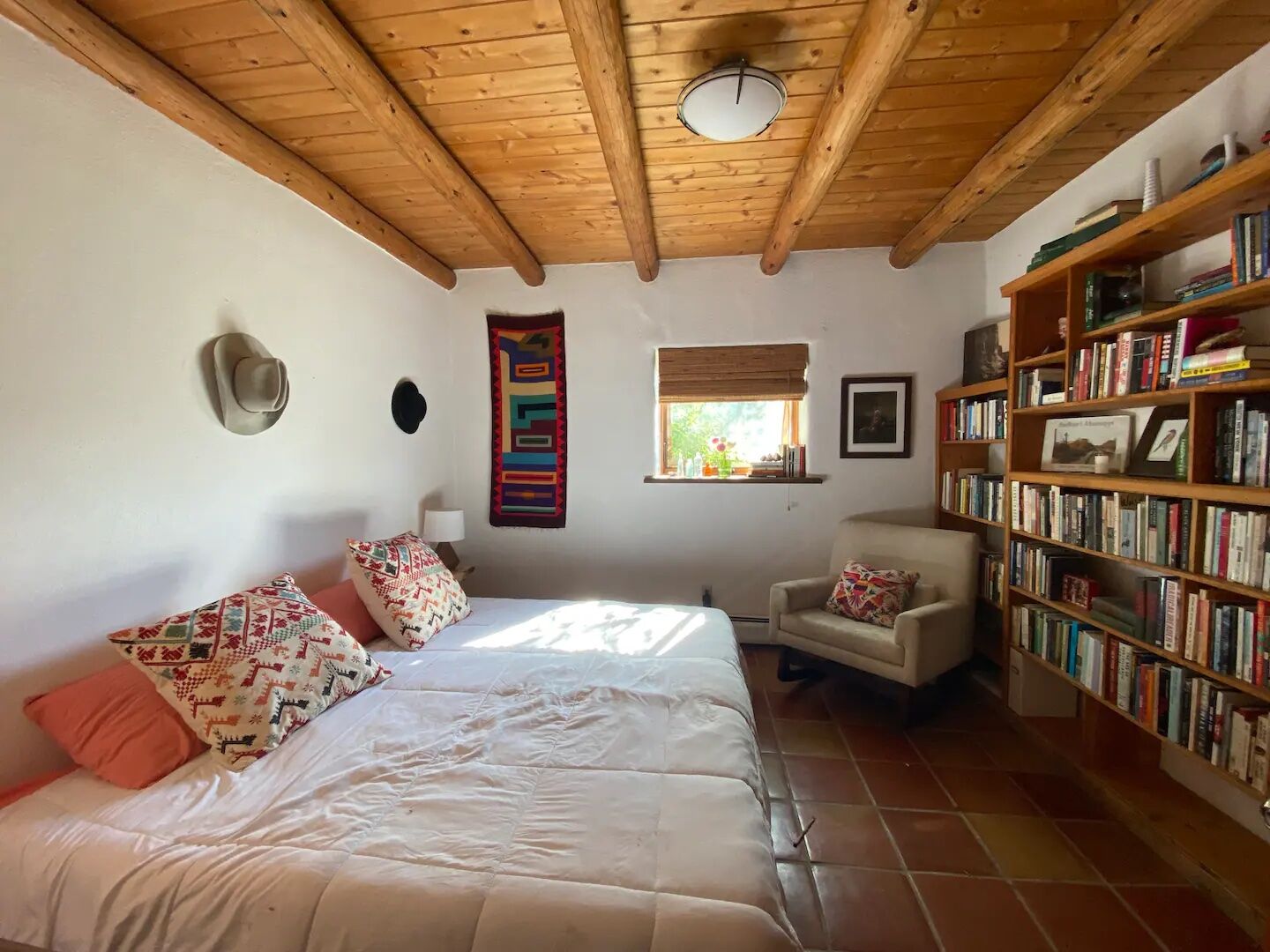 Bird and the Hands Ranch is a historic adobe set on an acre of land in sight of the Sangre de Cristo Mountains. The property features a Jacuzzi tub, an indoor Kiva fireplace as well as an outdoor fire, and a deluxe soaking tub. A third guest room works as either an office or an additional bedroom. This dog-friendly Airbnb Taos has an outdoor patio that'll summon the whole group to share fireside meals.
Six guests, three bedrooms
Price: $230 per night
Unique Airbnb Taos vacation rentals
The Treehouse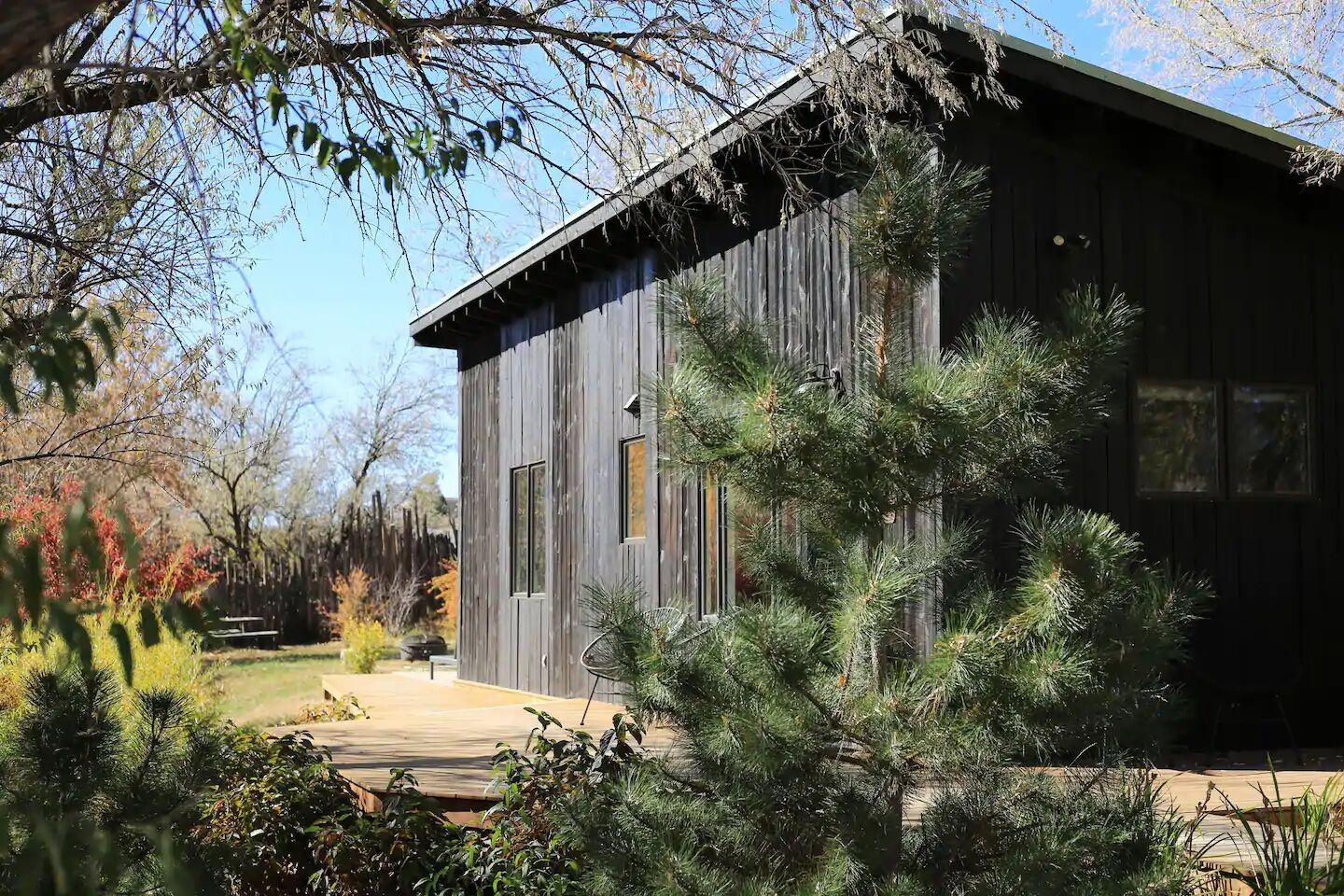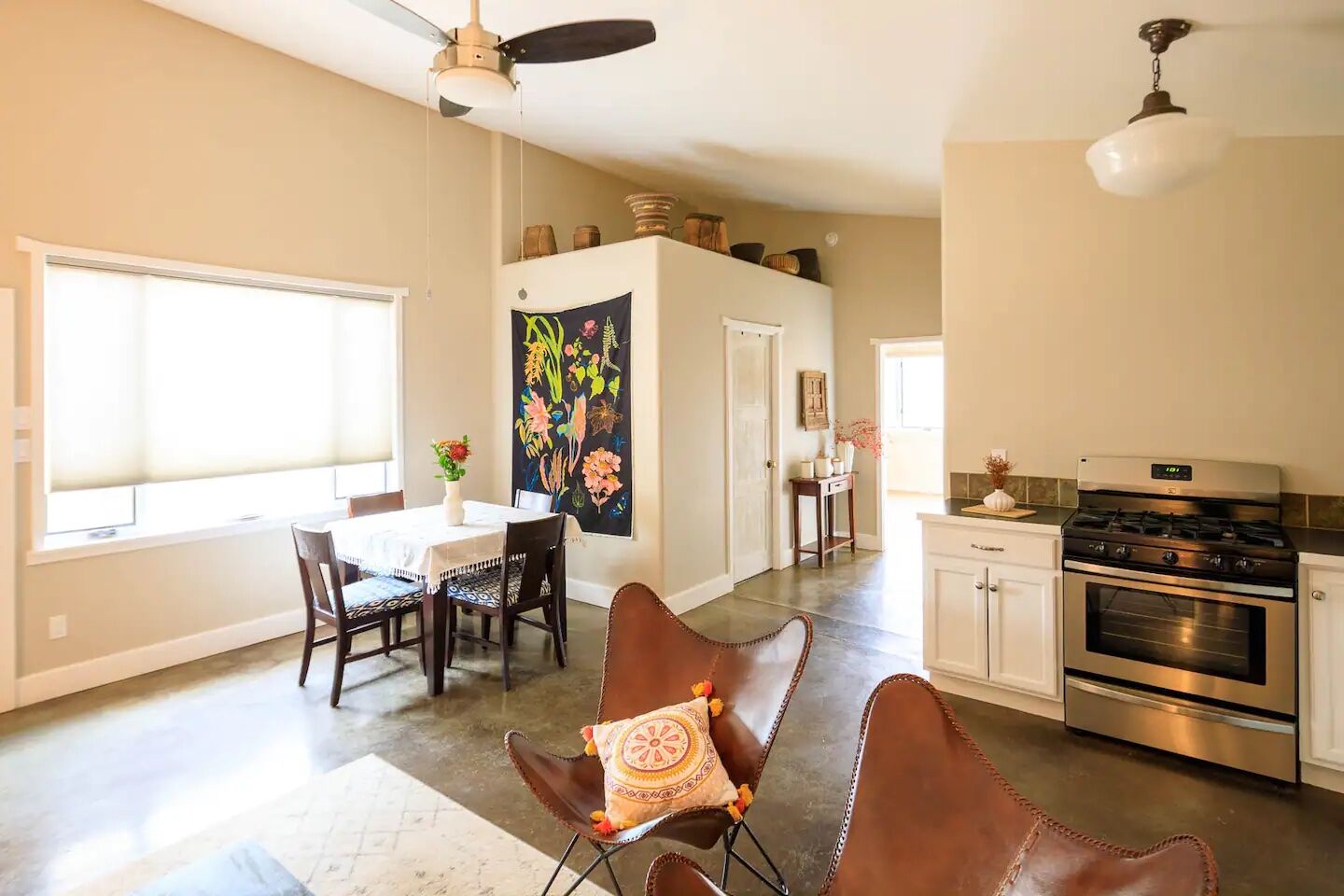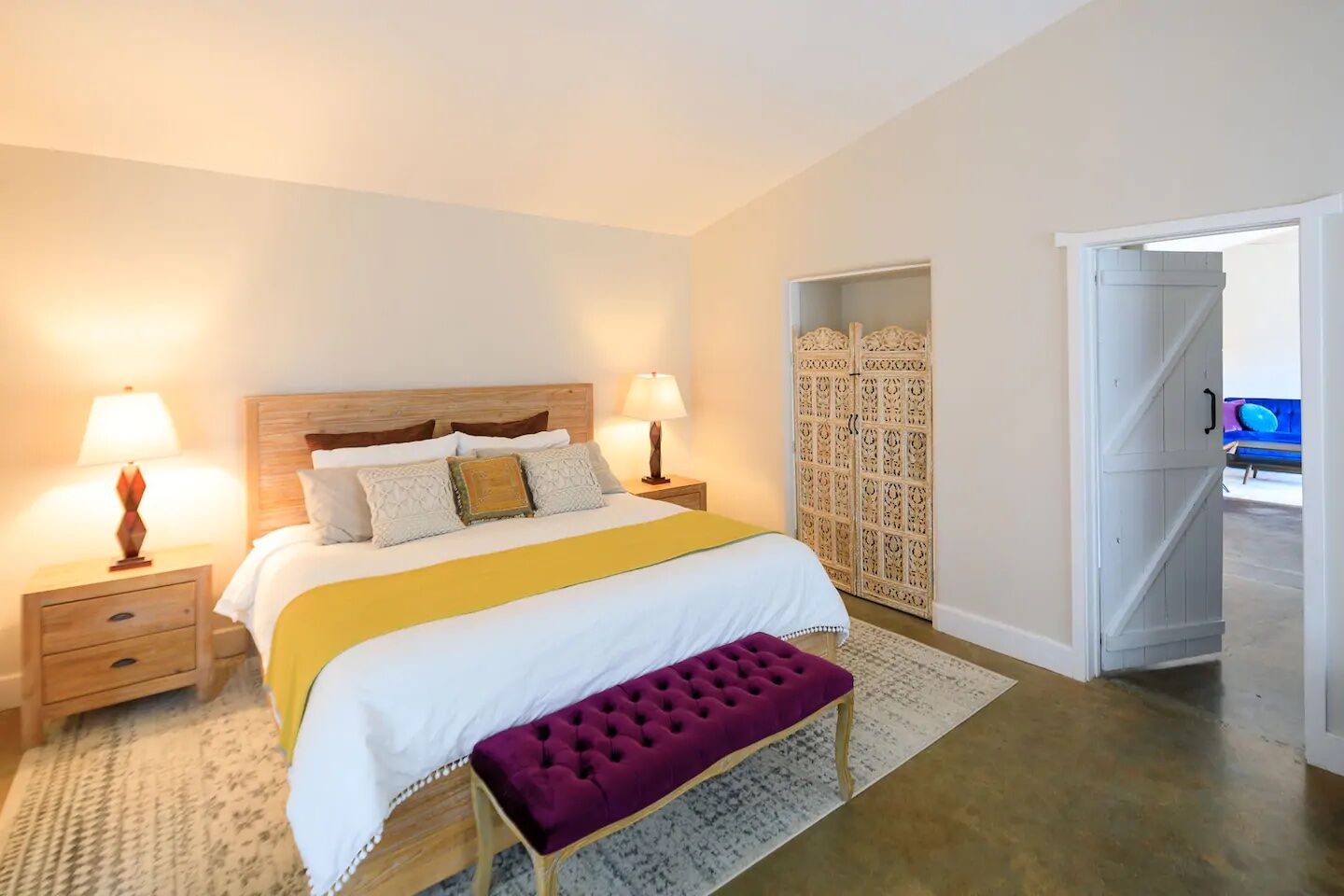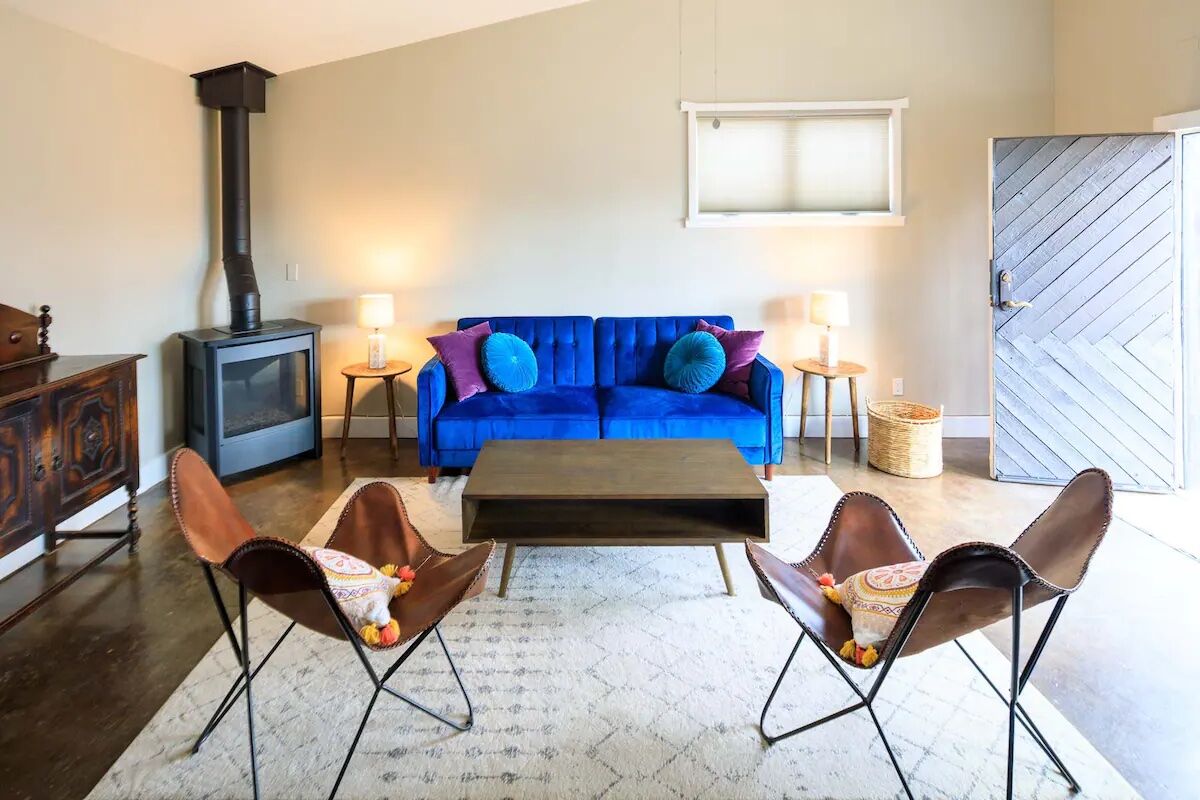 Close to the Rio Pueblo, this unique Airbnb Taos casita is enclosed by foliage and gives the impression of a treehouse without sacrificing creature comforts. Contemporary interiors include a fully-equipped kitchen and an immaculate bathroom. The wraparound deck has a fire pit for nights of s'mores and story-swapping. Book this sanctuary for a remote getaway that's still only mere moments by car to Downtown Taos.
Three guests, one bedroom
Price: $175 per night
Romantic adobe with outdoor tubs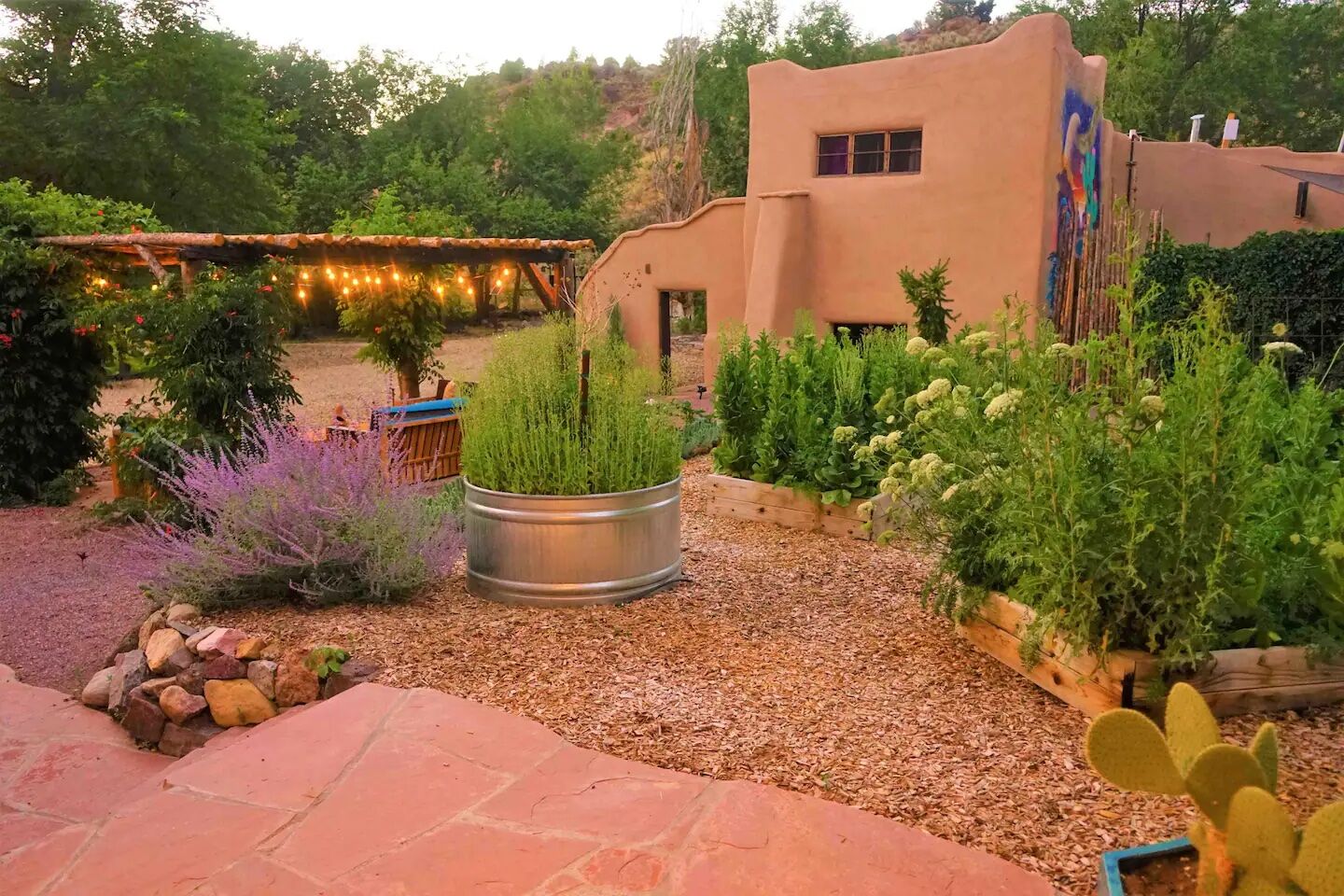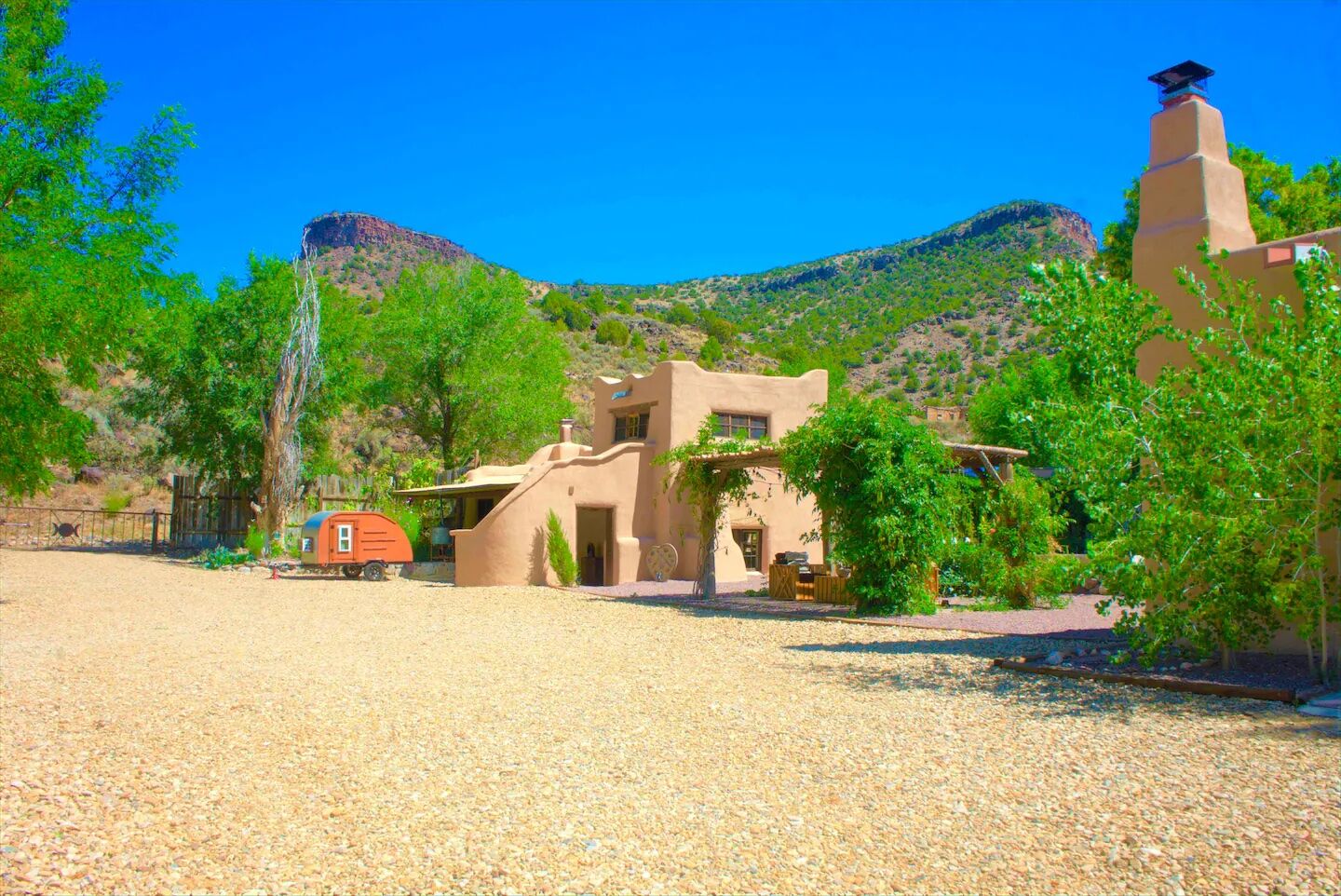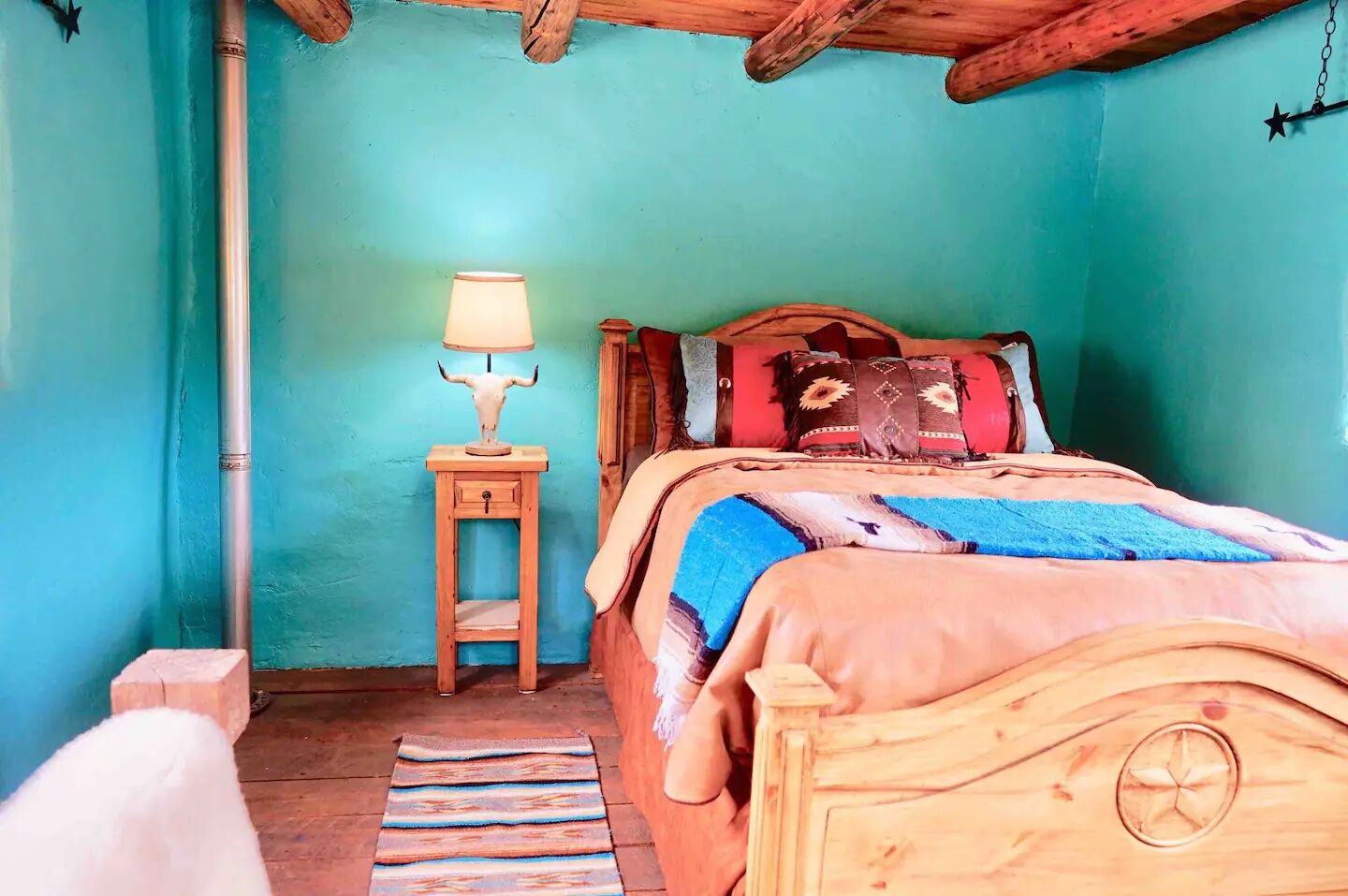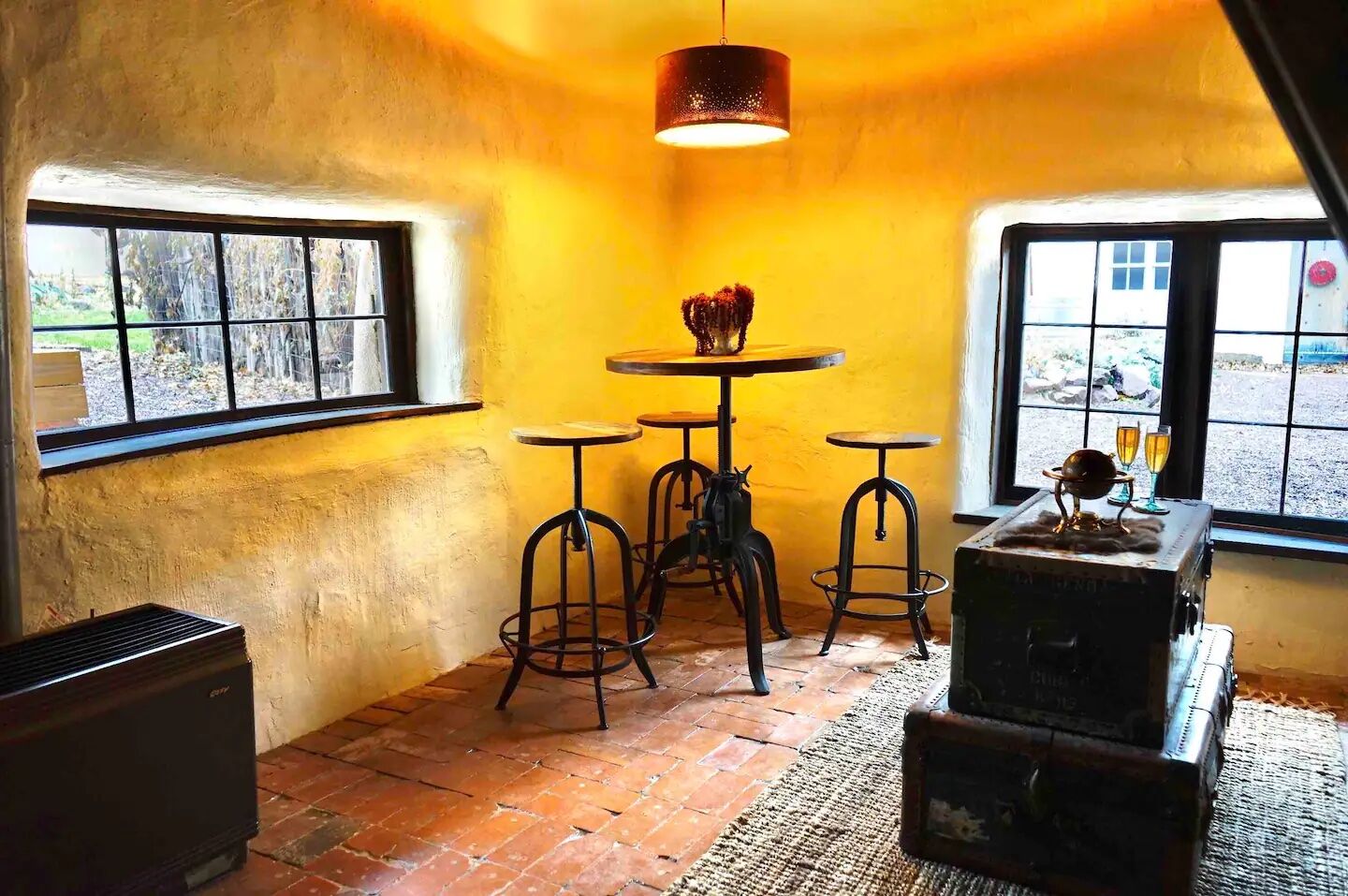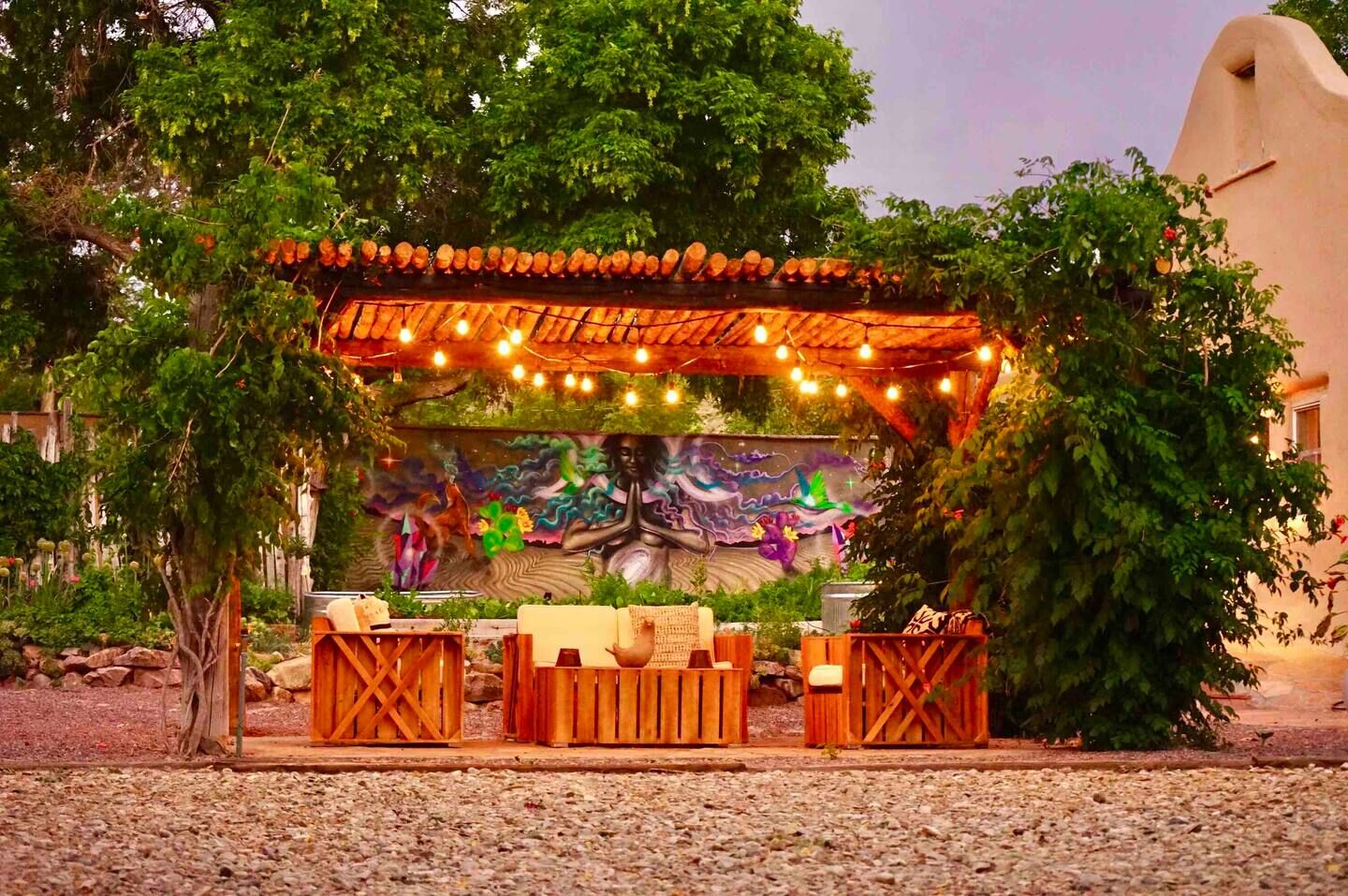 This thoughtfully appointed and utterly romantic adobe is curated for honeymooners and special occasions. Interior spaces are colorful and restful with a well-stocked kitchen. The sun deck is fitted with a duo of clawfoot bathtubs where you can soak beneath the stars after a day of hiking. As well as views of Horseshoe Canyon, the property offers direct access to the river where you can take a refreshing dip. Remember your swimsuit!
Three guests, one bedroom
Price: $315 per night
Taos Rio Eco Retreat, hot tub, & meditation hut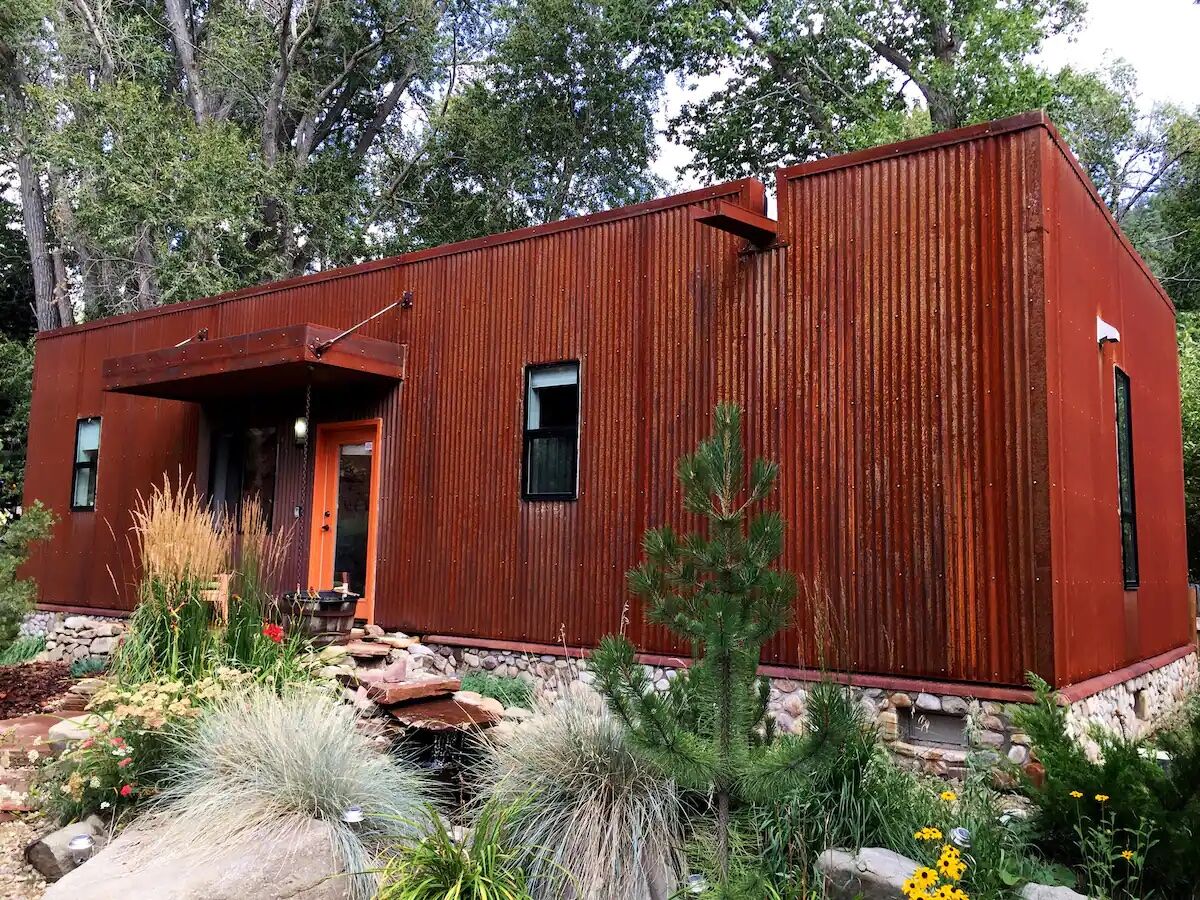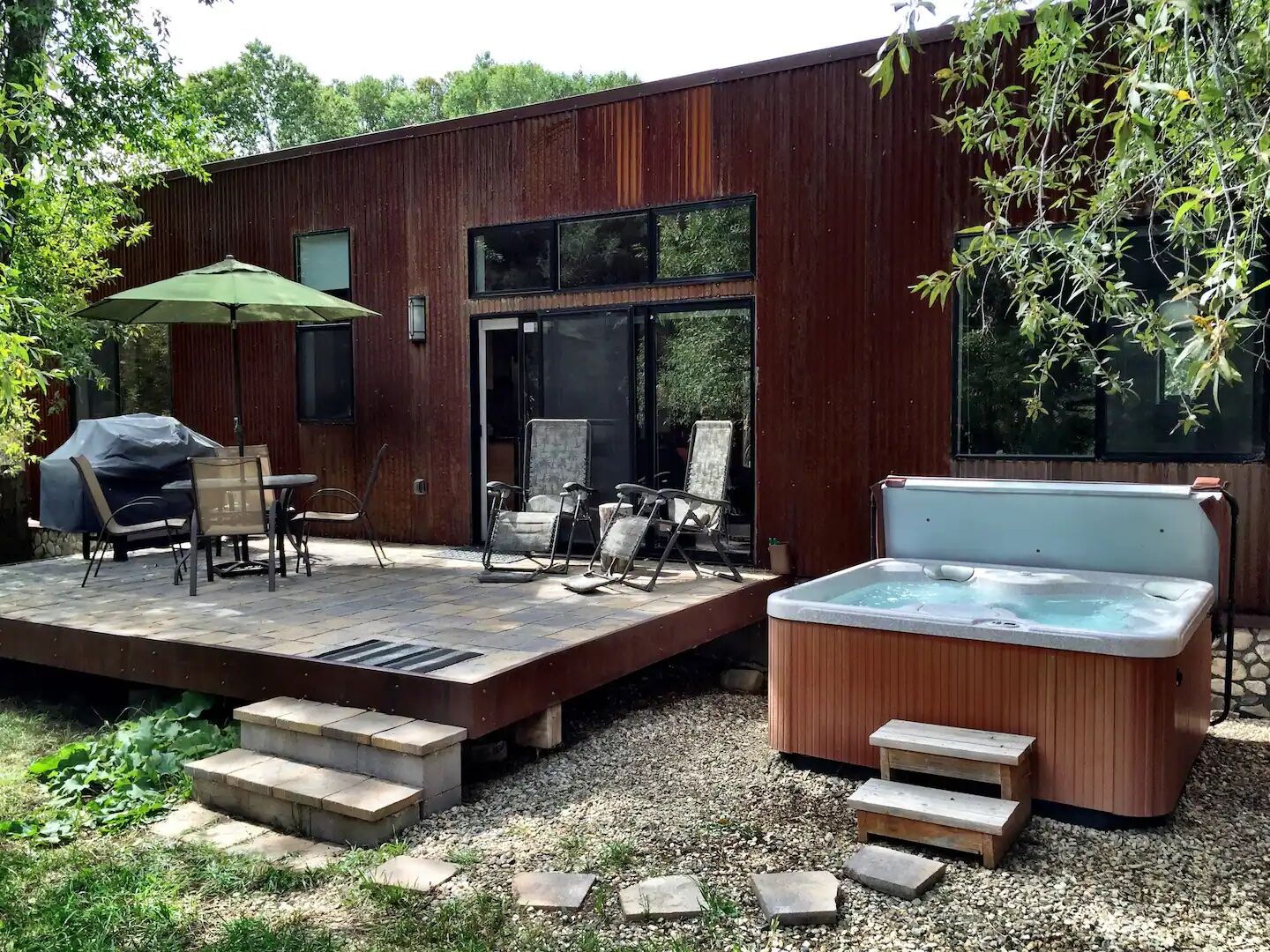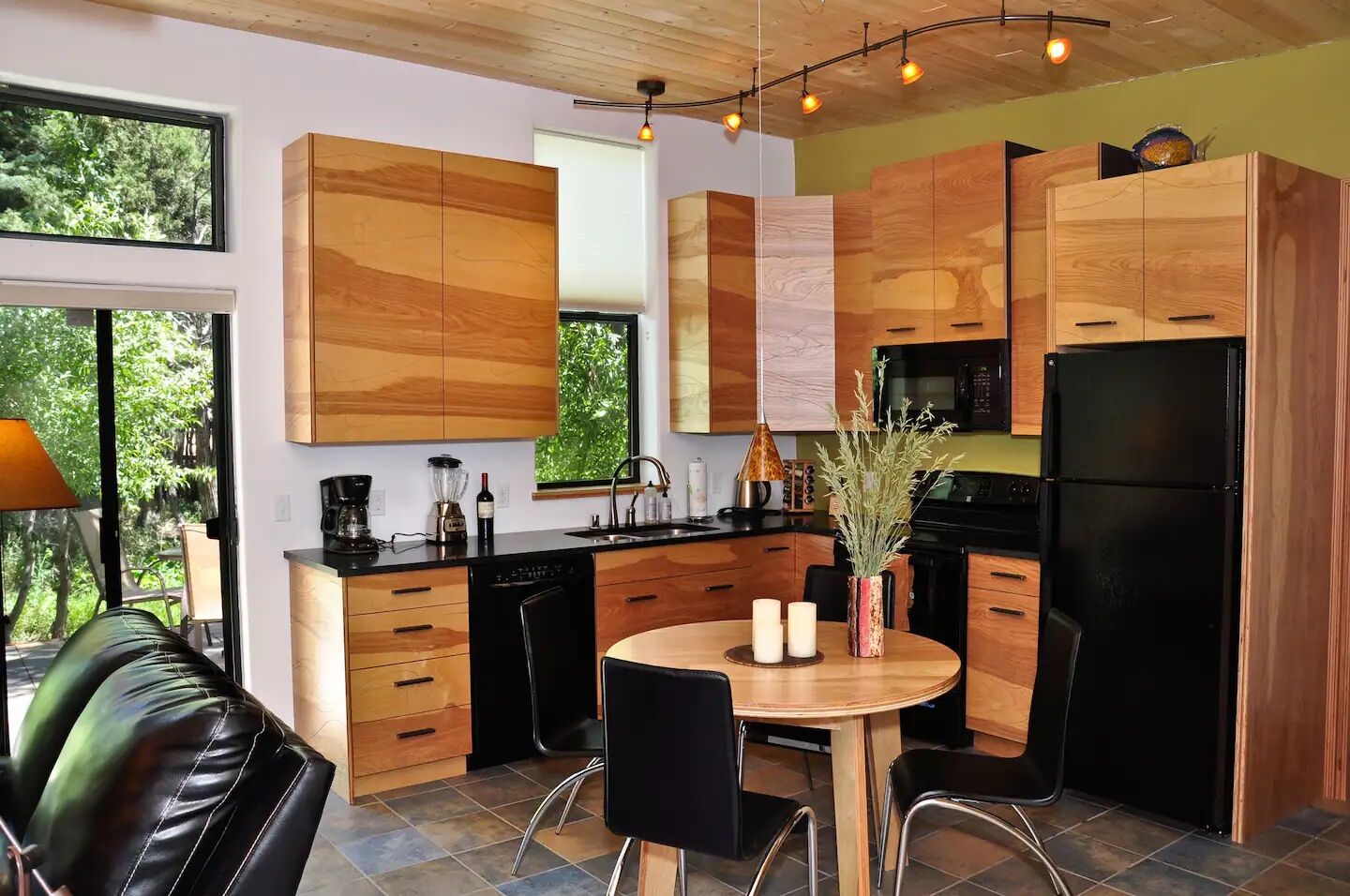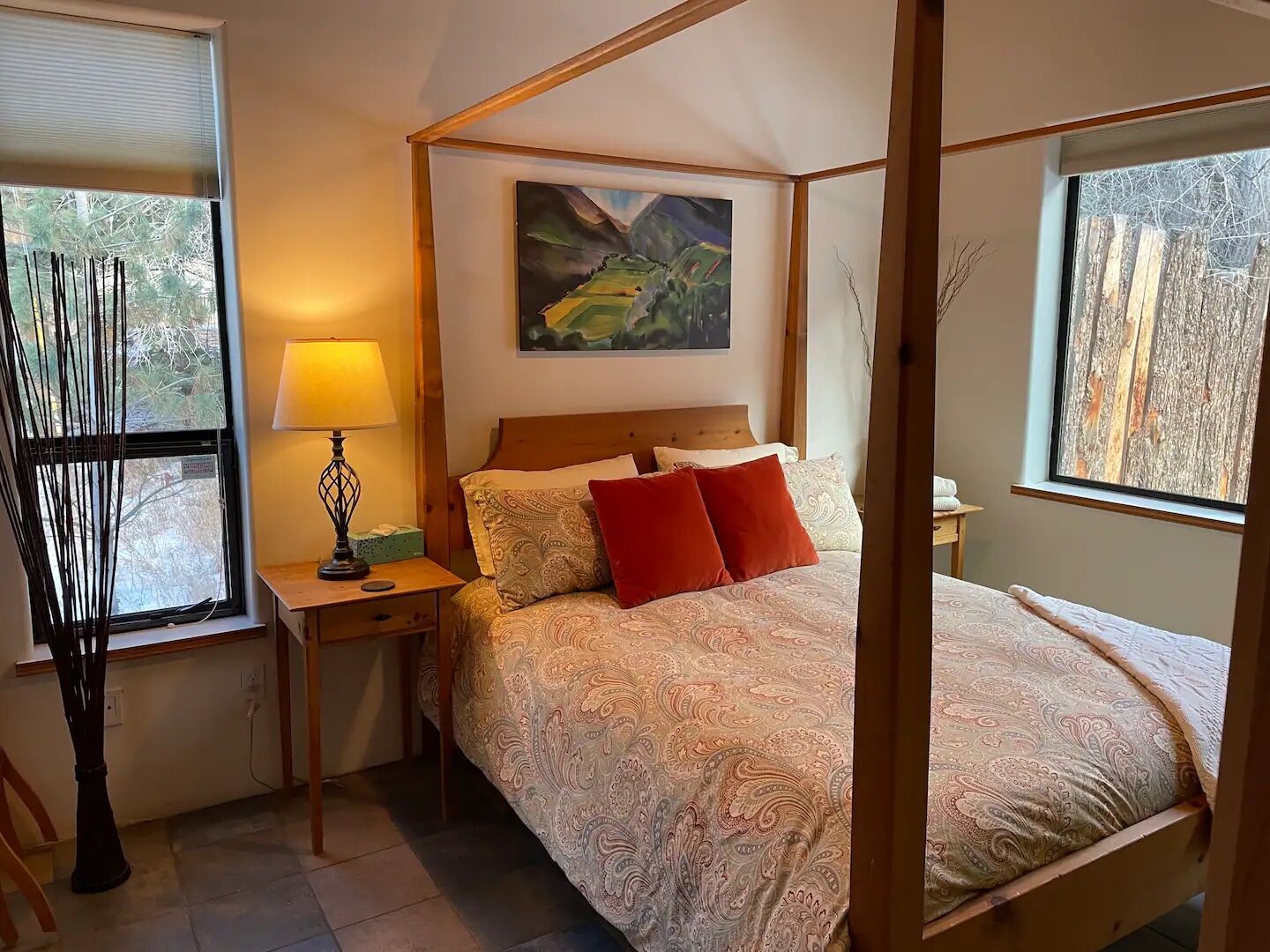 Buried in a wooded grove three miles from Taos and a 30-minute drive from Taos Ski Valley or Angelfire Ski Area, this eco-friendly Airbnb Taos has an abundance of hiking trails. The cabin overlooks the river and features a pond, a hot tub, and a detached meditation den with a yoga deck. Modern interiors include a full kitchen, two bedrooms, and two bathrooms. Dogs are welcome.
Four guests, two bedrooms
Price: $185 per night
Airbnb Taos near El Prado
Sugar Vista – "The sweet views"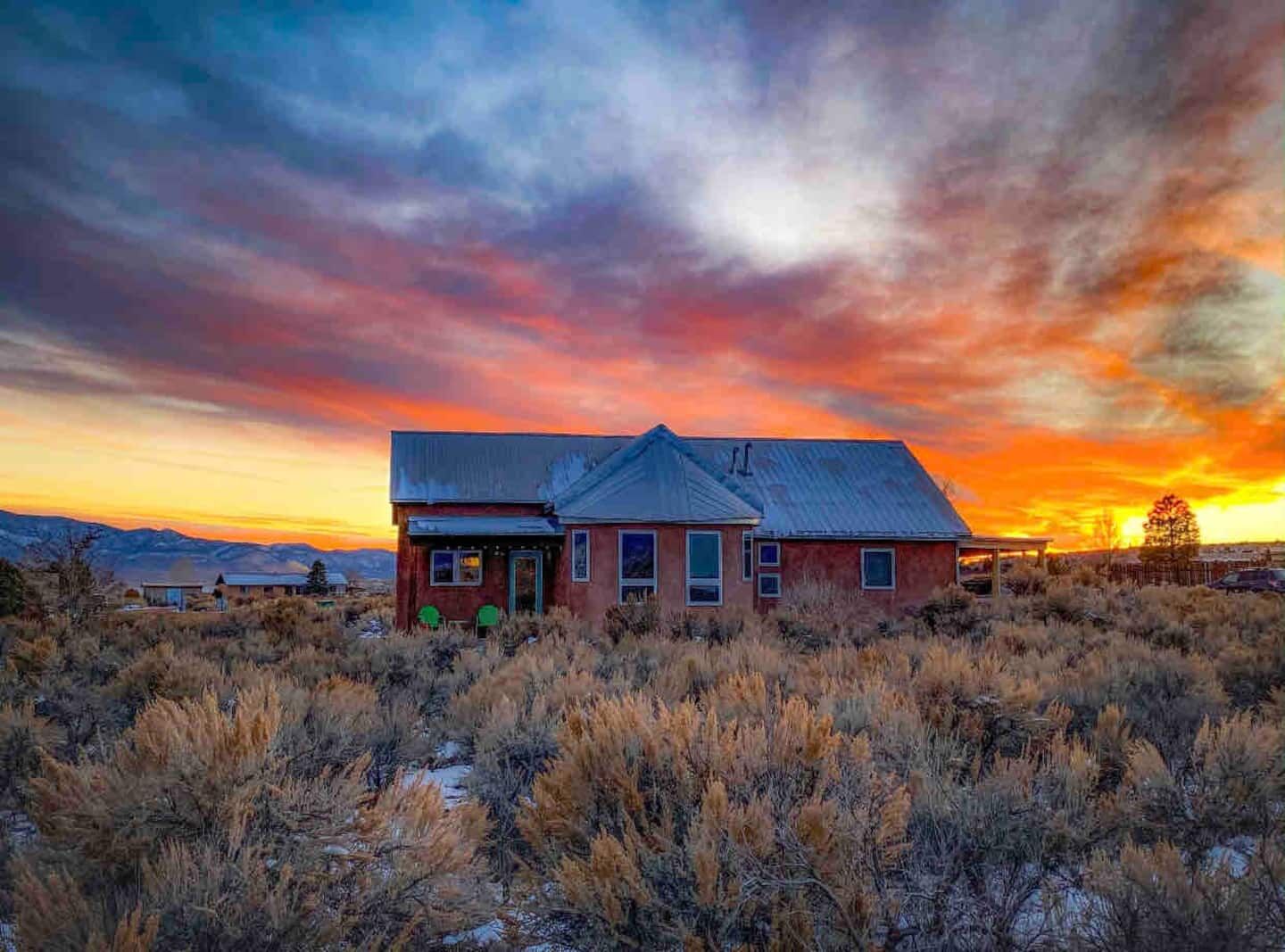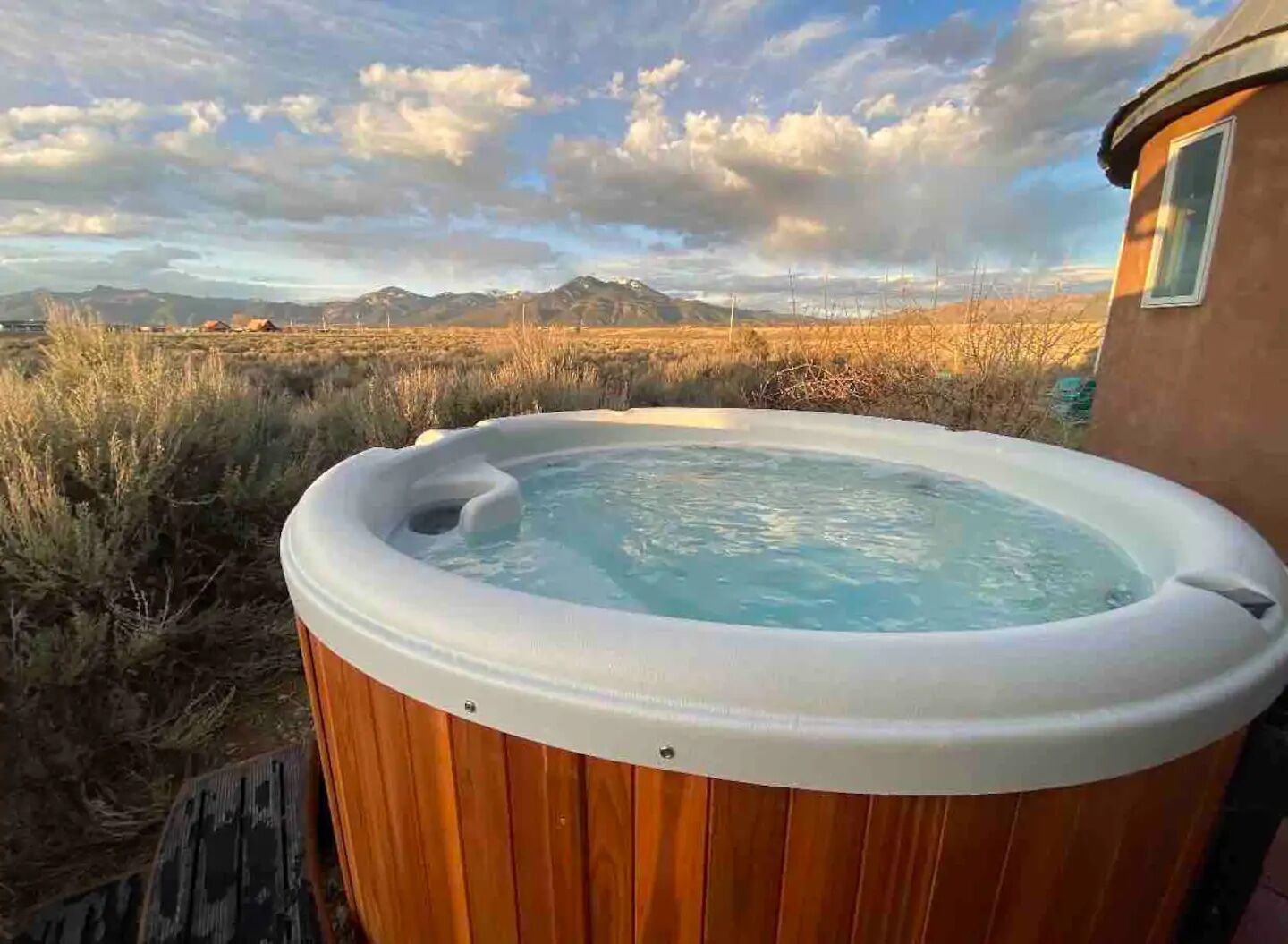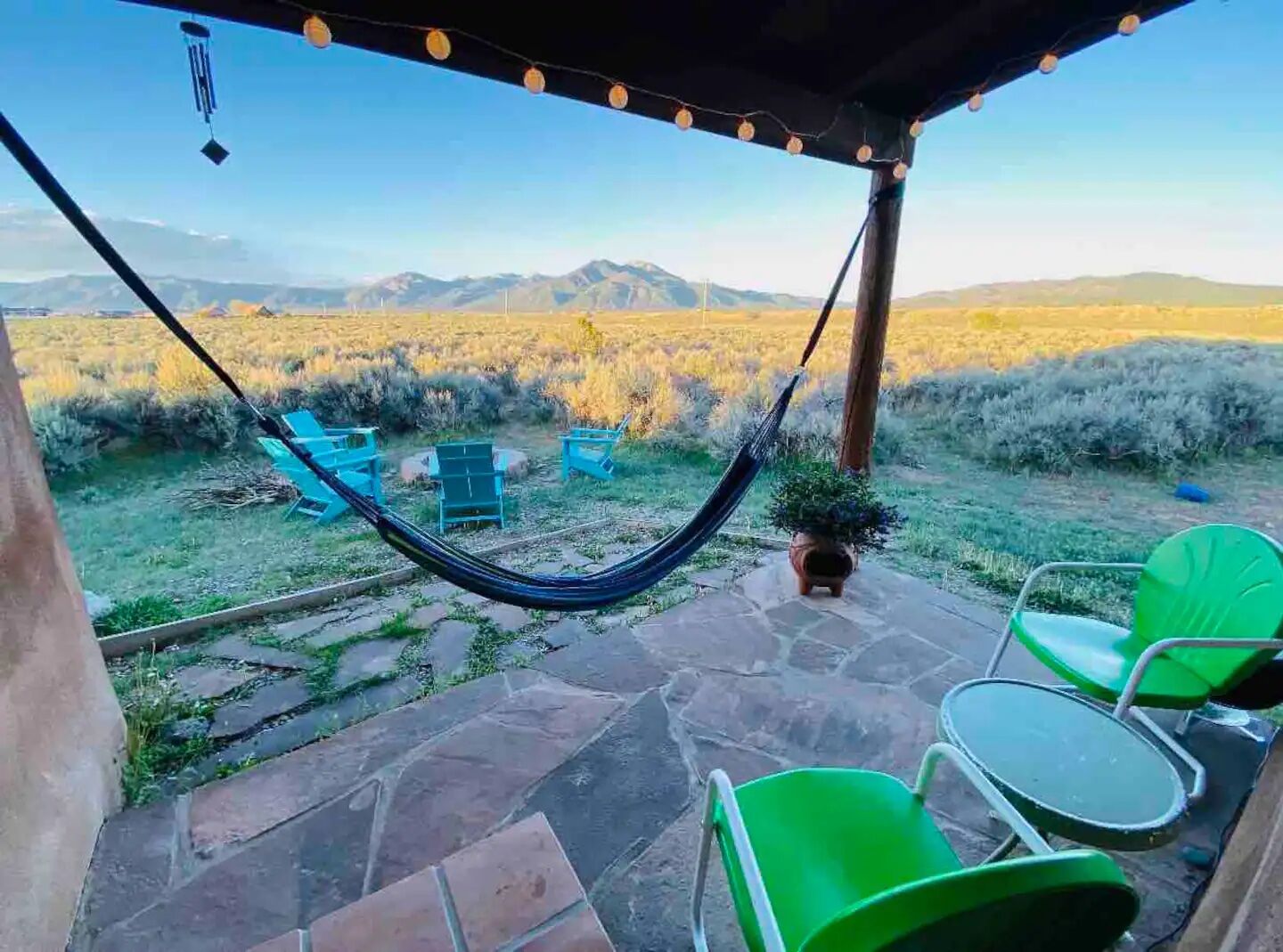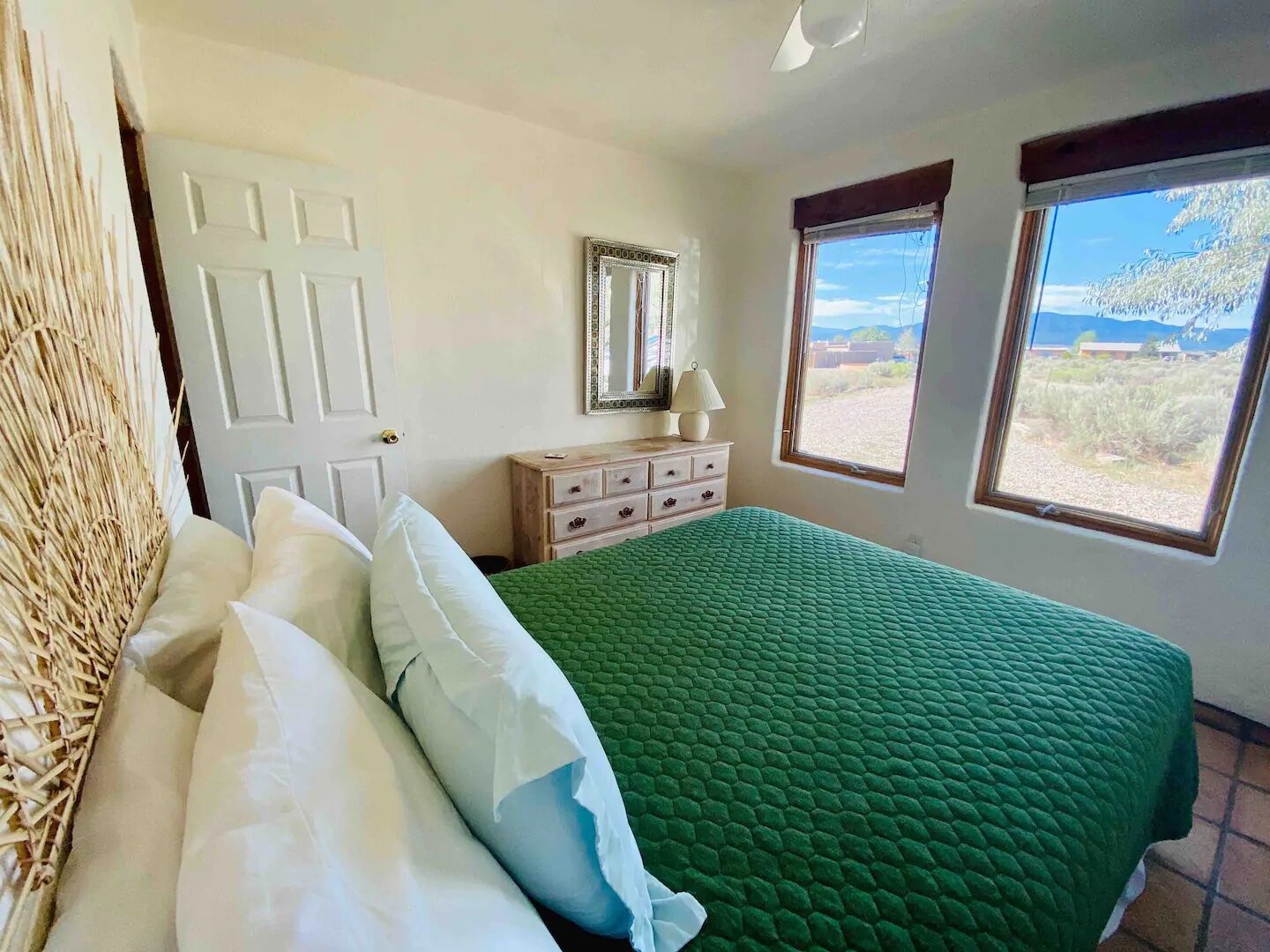 Conveniently situated between the Taos ski valley (25 minutes) and Downtown Taos (12 minutes), this sunlit Taos Airbnb offers an eyeful of the New Mexico landscape. Windows are strategically placed to enhance mountain views while the backyard is fitted with a hot tub, fire pit, and hammock. Kids in particular will be enthralled by the loft bedroom with a spacious play area.
Six guests, three bedrooms
Price: $255 per night
The Red Earth Palace Retreat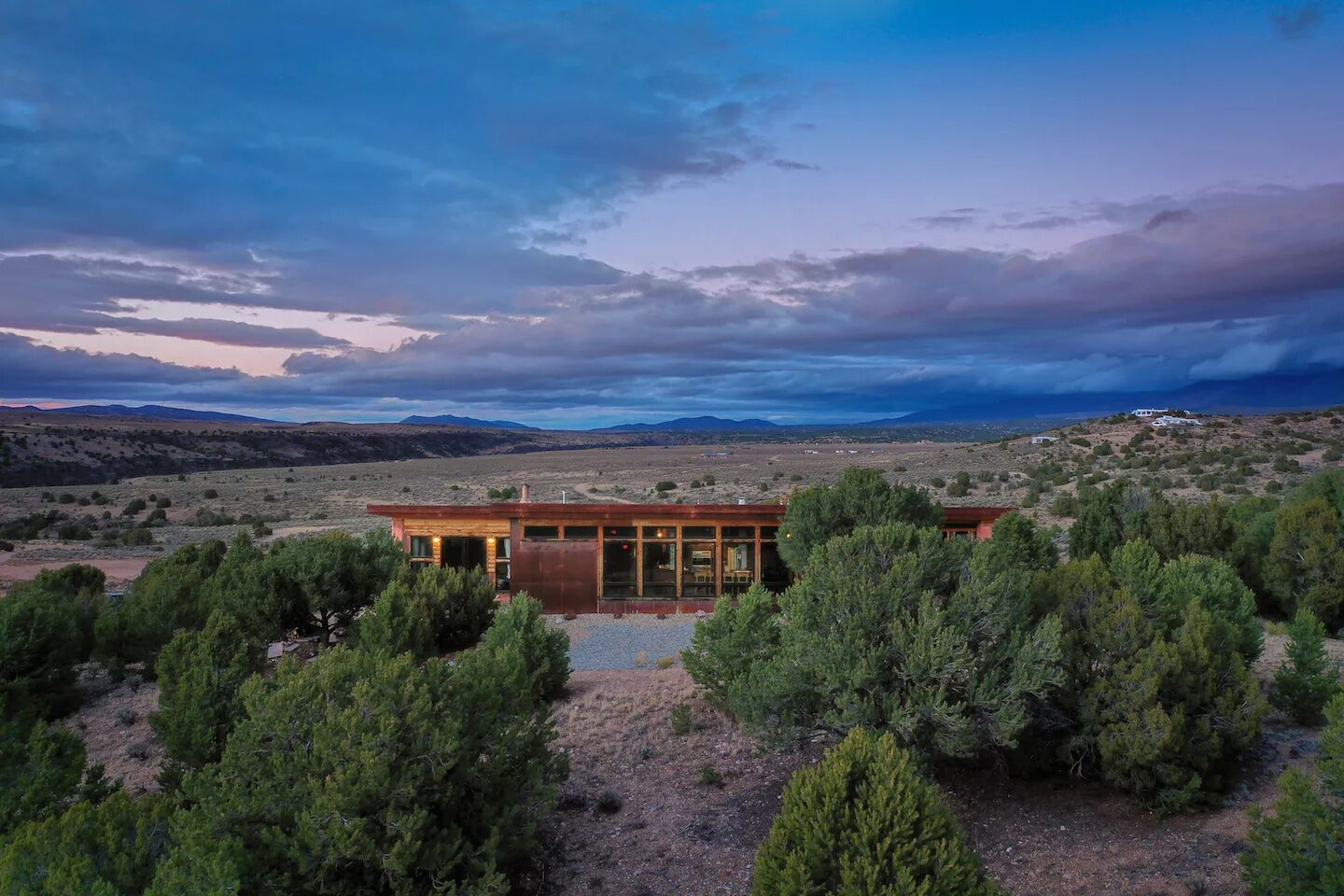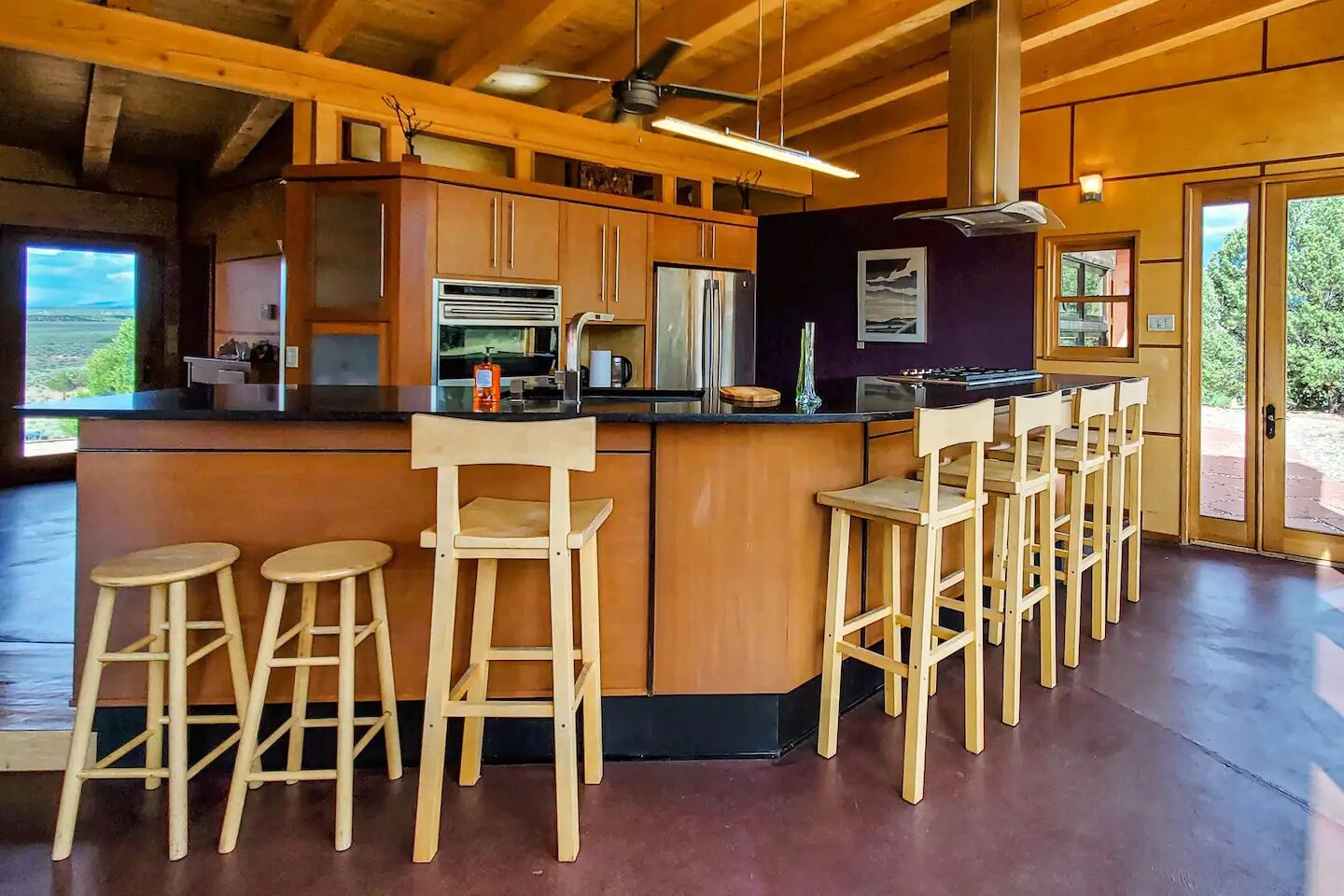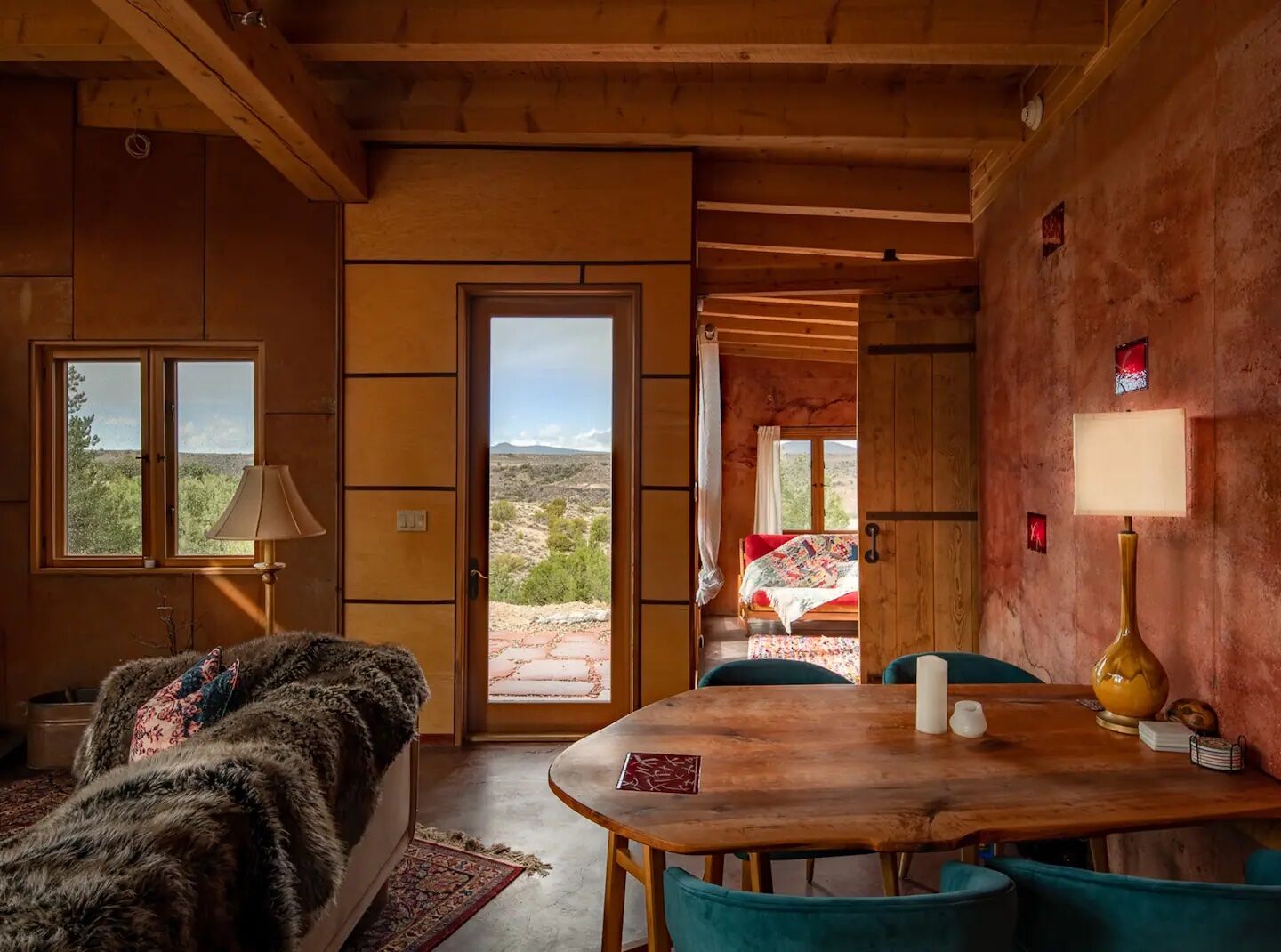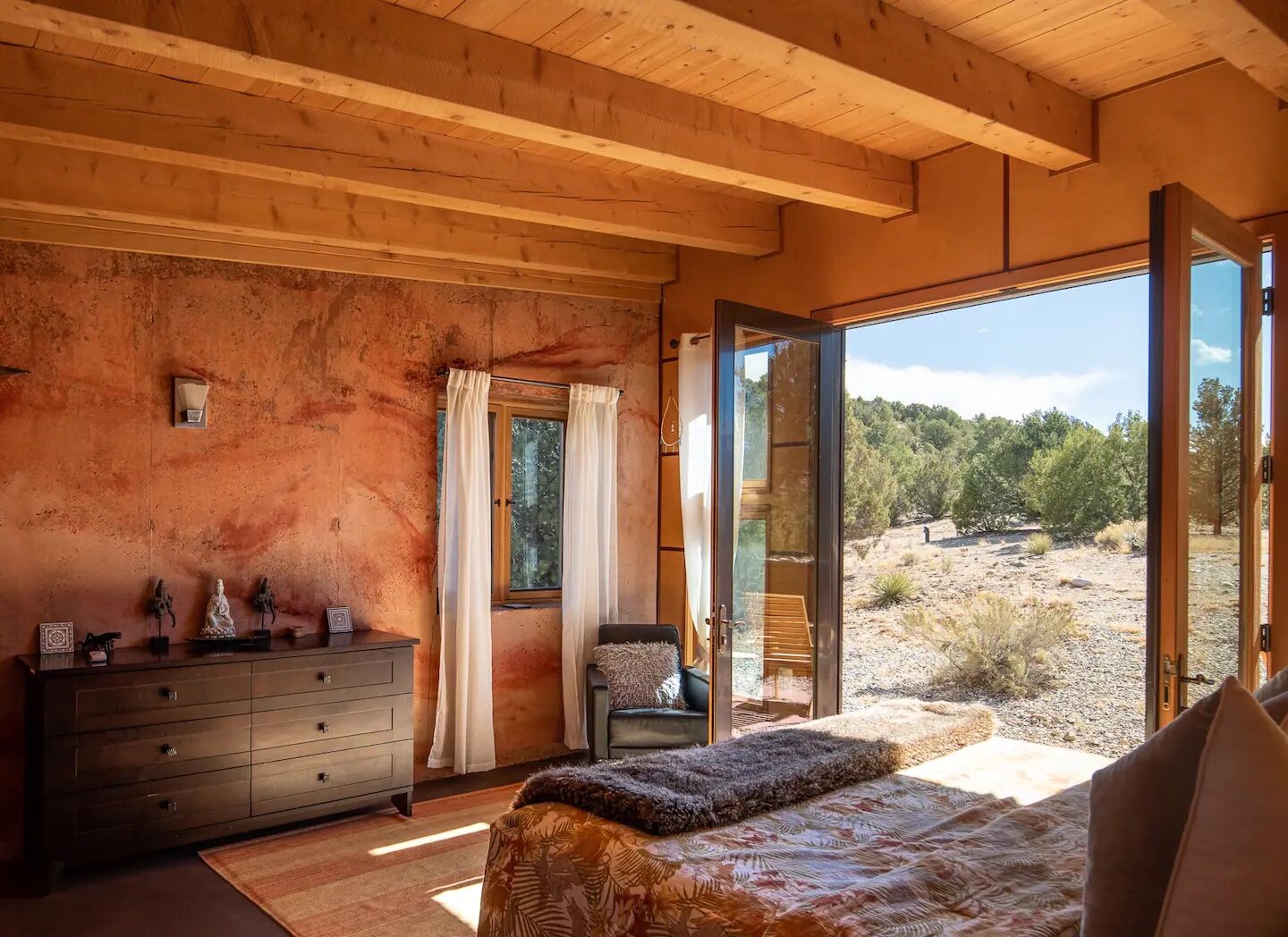 This architectural gem sits on fifteen private acres of high-desert mesa on the border of the Rio Grande Gorge State Park. The property was built sustainably with cast earth walls, a corrugated metal roof, and mahogany woodwork. A cozy lounge is dressed with faux-fur throws, Navajo rugs, plush beanbags, and a wood burner. Meanwhile, the master bathroom suite comes with a sumptuous Japanese-style tub.
Four guests, two bedrooms
Price: $350 per night
What did you think of this story?