The Asbury Ocean Club Brings Luxury To the Jersey Shore
The moment I stepped out of the elevator into the Asbury Ocean Club and walked out onto the pool deck, I was transported to an island oasis. At 11:00 AM, when I arrived at the hotel with my partner and nine month old daughter, the pool was still subdued (though it would get only slightly more crowded later) and staff wandered amongst the lounge chairs waiting to take orders. We settled into an empty sofa under an umbrella and ordered drinks, absorbing the relaxed atmosphere as our daughter peacefully played between us on the cushions. It was exactly what we needed to transition into vacation mode.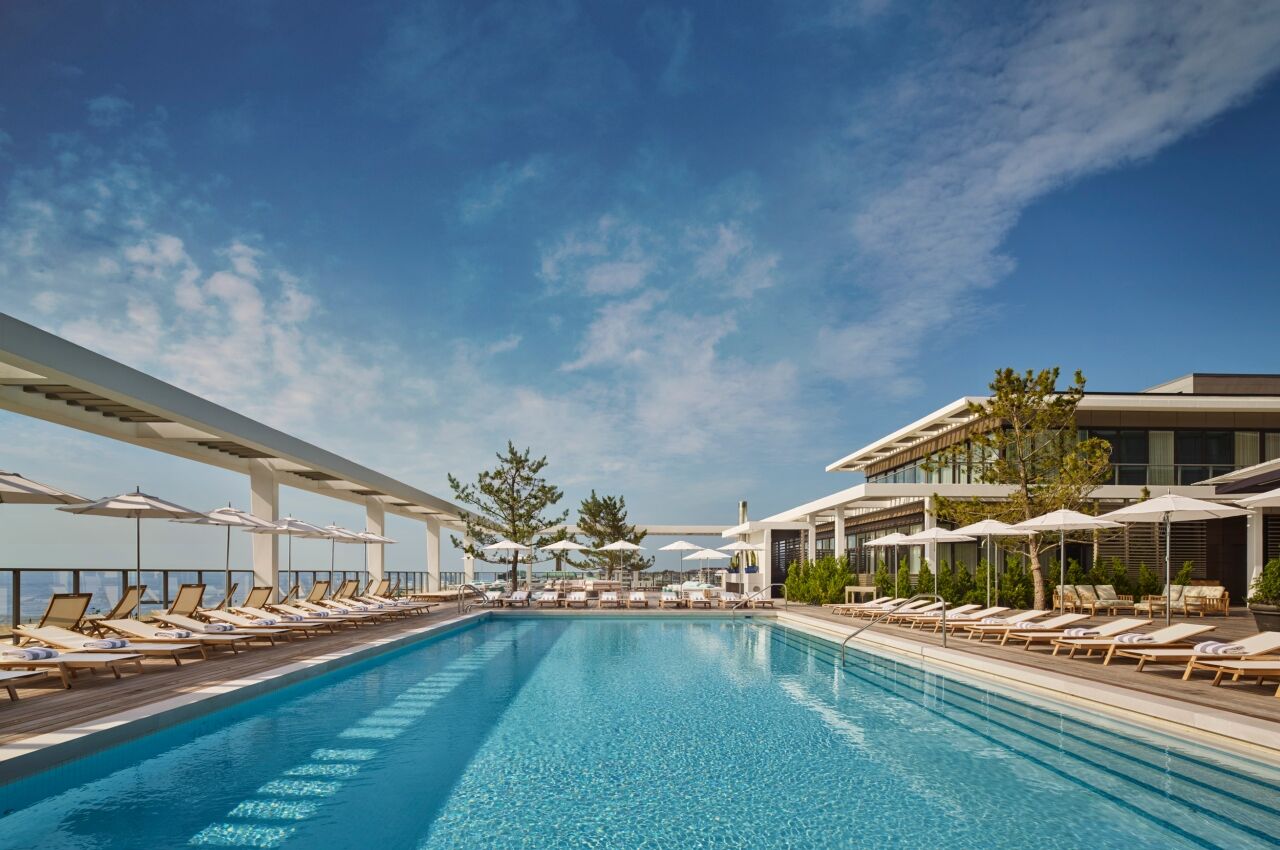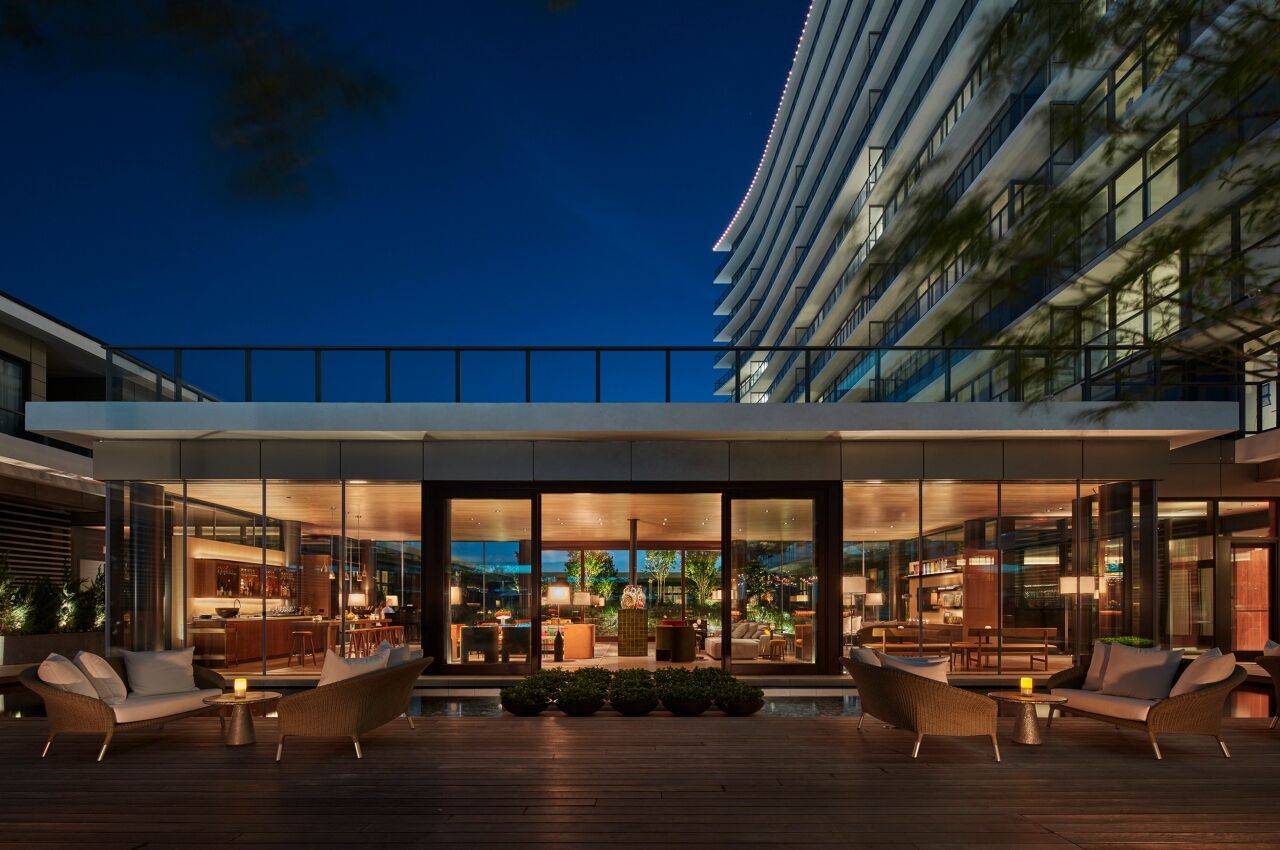 The Asbury Ocean Club is a chic upscale hotel steps from the boardwalk in Asbury Park, and while it offers views of the beach and the pedestrians below, it's removed from the typical noise and chaos of the Shore. You can watch the energy of the boardwalk unfold from a safe distance, a refreshing dose of tranquility in an environment that tends toward pandemonium.
One of the most iconic towns on the Jersey Shore, Asbury Park, is best known for its music — the Stone Pony is a legendary music venue where Bruce Springsteen and Bon Jovi have played shows — and restaurant scenes. Spots like R BAR, which pays tribute to New Orleans cuisine and cocktails; Wonder Bar, another music and site of Yappy Hour, when dogs are welcome guests; and Asbury Park Oyster Bar, all make this Jersey Shore town a youthful, fashionable destination. Even the boardwalk, where you'll find just one low-key arcade and a spot for Korean tacos, and another for lobster rolls, feels more refined than most places on the shore.
The Asbury Ocean Club, which falls squarely into the boutique hotel category, fits right in with this scene. The first thing you'll probably notice is the decor. Chic and minimalist, the design defines sophistication.
You'll find a calming sage green color scheme in the dining room — called the Gallery. From here, floor-to-ceiling windows look out onto the pool deck, so diners get a view of the outdoors, too. This small space, where tiny potted succulents adorn marbled tables, is where guests can enjoy breakfast, lunch, or dinner in tranquility — there are around six tables that seat two people each. I took advantage of this by enjoying a couple glasses of champagne while my daughter took a nap — it was the most peace I had had in months. The burger is also exceptional, perfect lunch fare after spending the afternoon out in the sun.
Guests can indulge in a first-class meal, from a menu by chef Kate Gagliardi. If you're looking for an upscale restaurant experience, opt for the seven-course tasting menu, which offers dishes like a fresh, summery tomato salad, whipped bone marrow, and charred leeks.
In the adjoining Drawing Room, the deep, rosy-orange and emerald green velvet chairs have rounded backs, and simple light fixtures above sofas stacked with plush cream-colored pillows, complete a space that can be a refuge or gathering space for a more upbeat experience. When the DJ shows up, the Drawing Room pulses with music — a perfect vibe for groups of guests who want to enjoy a few drinks before going for a swim. But when the DJ isn't working, the Drawing Room is a comfortable lounge that you could spend all day relaxing in.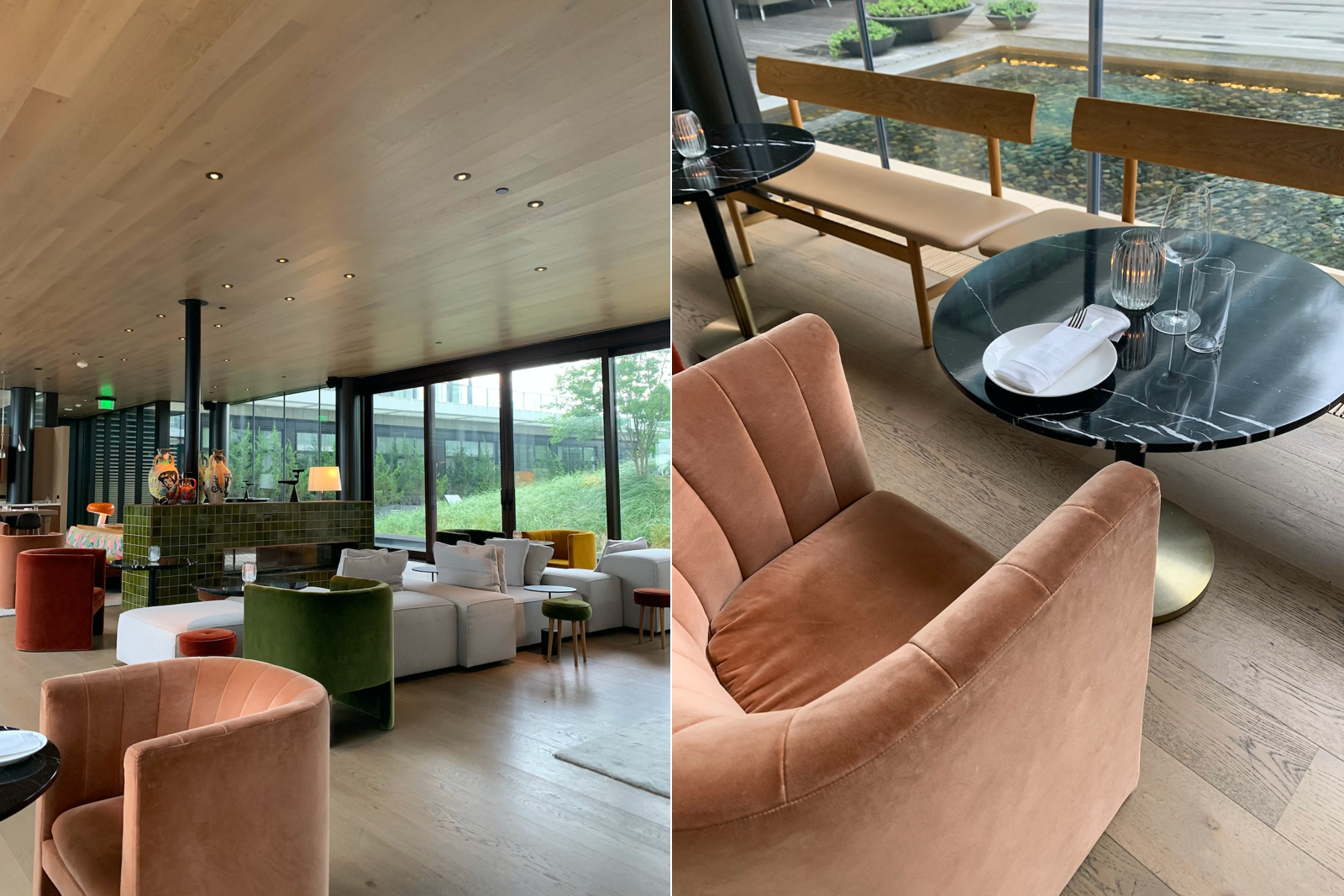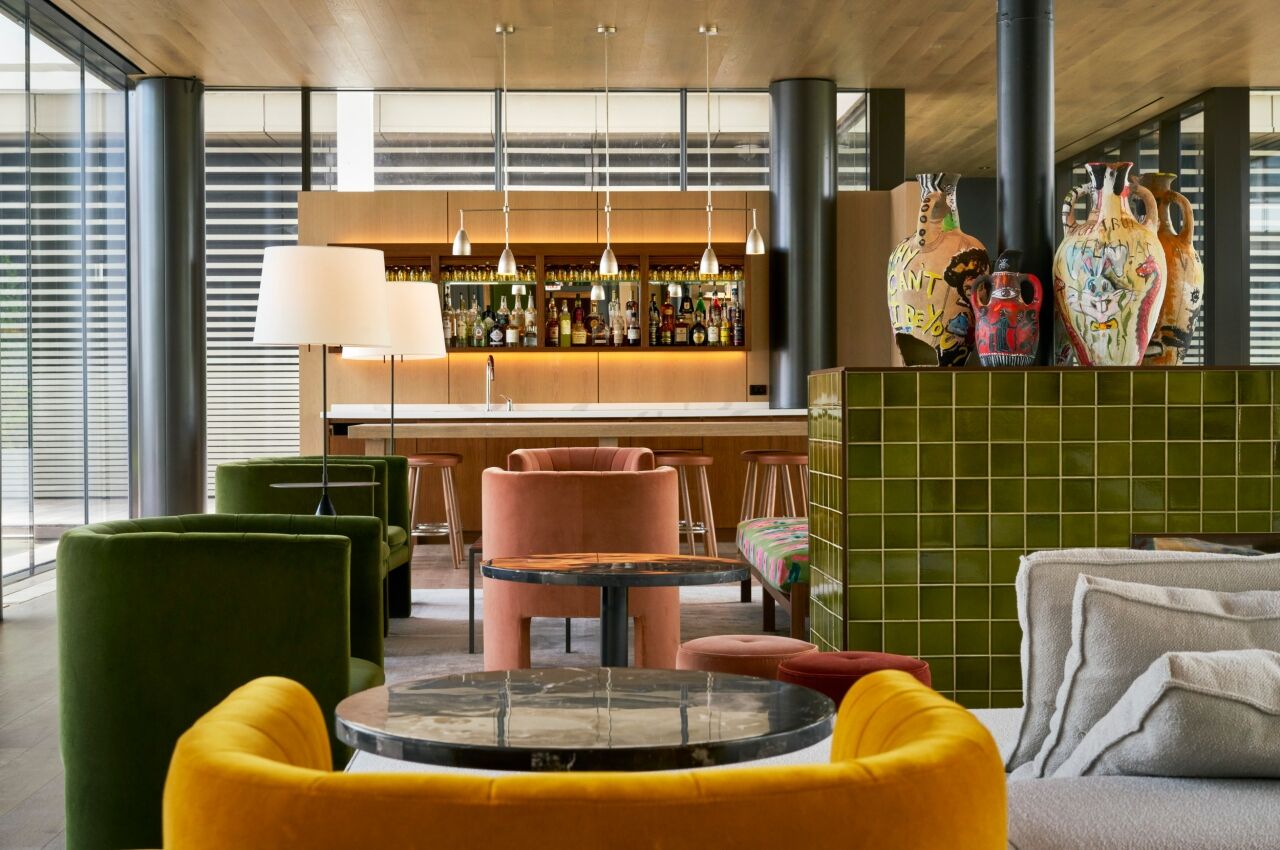 It might surprise you to learn that although the Asbury Ocean Club has a decidedly upscale atmosphere, where everything around you feels perfectly appointed and in a carefully considered place, it's exceptionally accommodating to kids.
When my family stayed there, there were kids happily splashing in the pool, kids reading quietly in the Drawing Room, and even a couple of kids running around the dining room. There was never a hint that these children were causing an inconvenience or were unwelcome or a nuisance. In such an elegant hotel, that attitude felt like such a relief — we didn't have to worry that wandering around the hotel with our daughter — who at nine months is still prone to meltdowns and outbursts — would be an imposition on the staff or disturb the other guests.
I would recommend the Asbury Ocean Club for how accommodating it is to parents alone — other families will empathize that any environment that welcomes kids rather than scowling judgmentally (metaphorically at least) the moment they make a sound is welcome. But there are some issues with the hotel that are hard to overlook.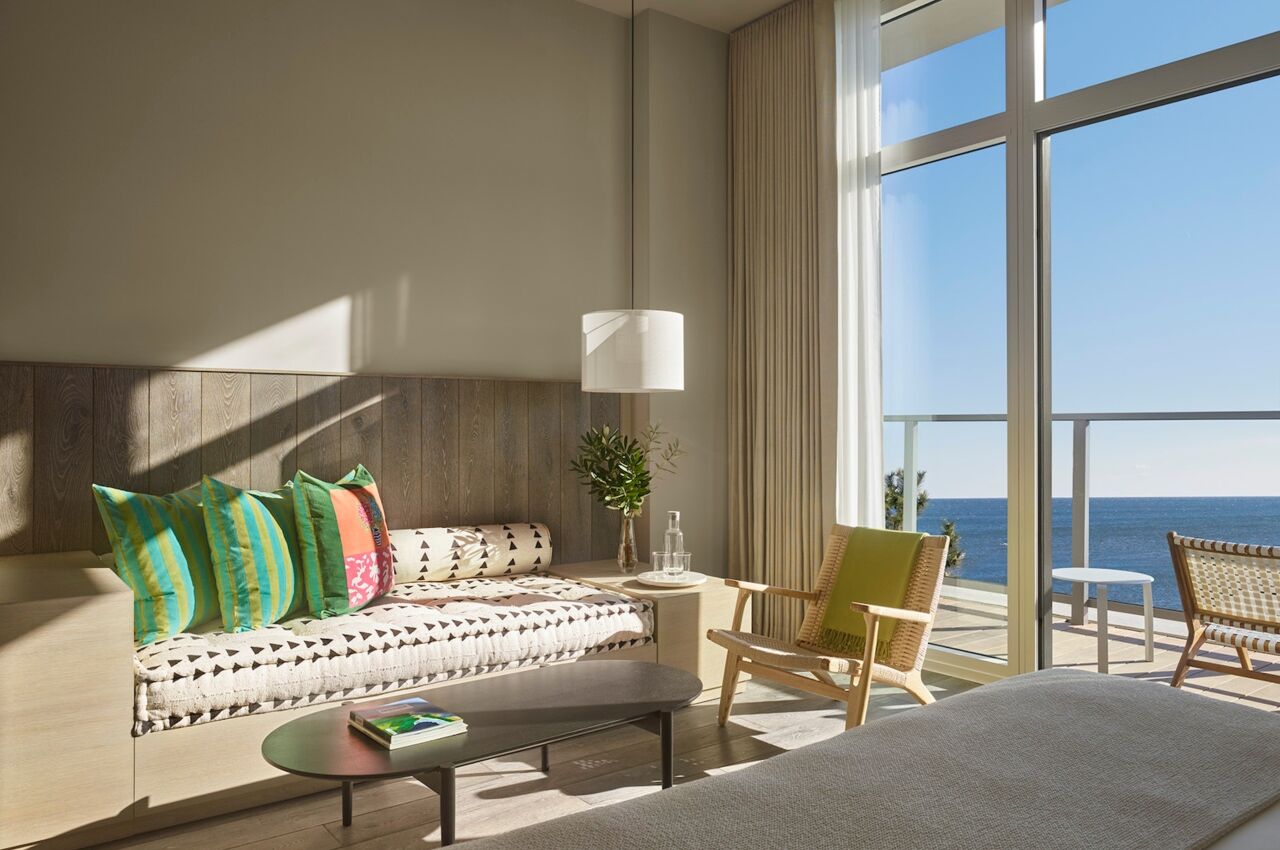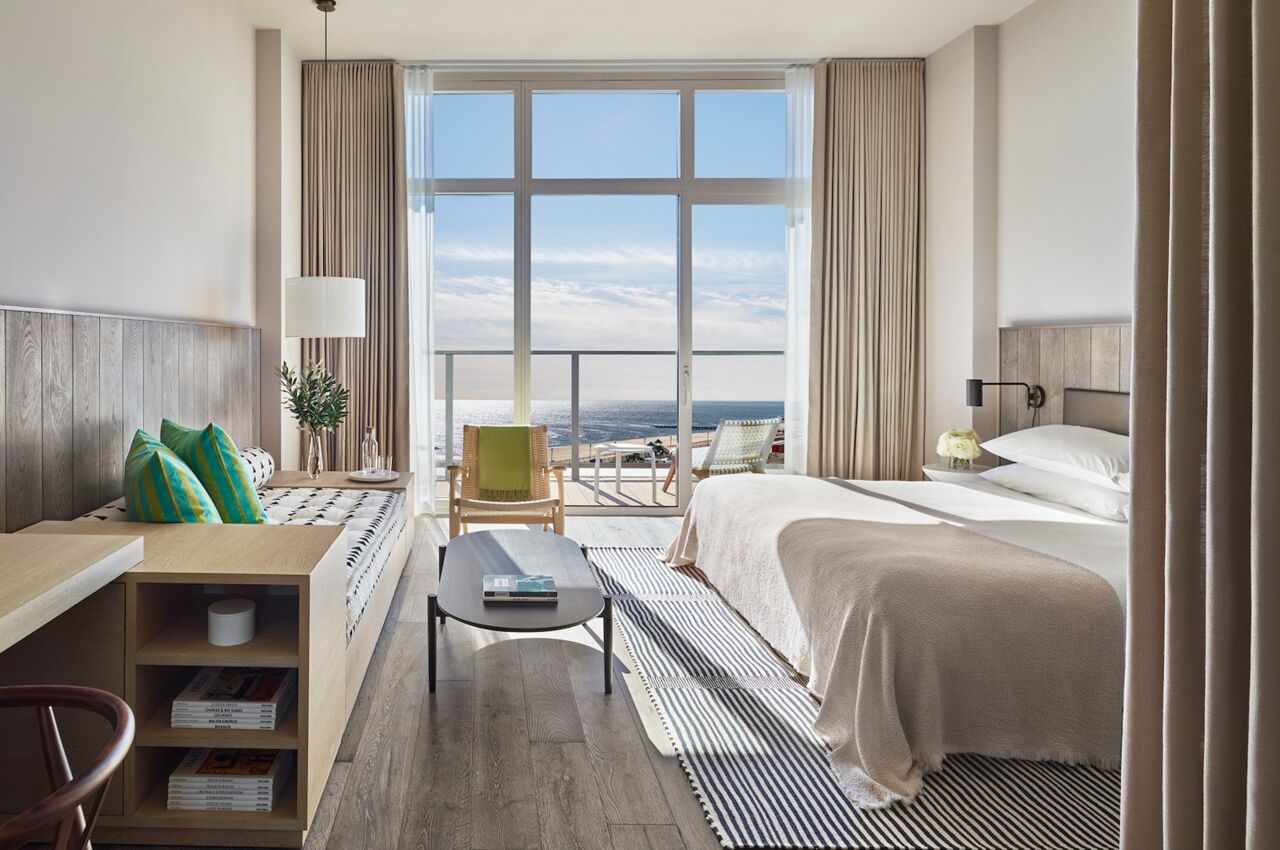 A suite with an ocean view will run guests upwards of $700 per night, so guests — whether they are accustomed to that level of luxury or saved up for a family vacation — should expect VIP treatment. Yet, it felt as though the attentiveness of the staff wasn't evenly distributed.
Here's what I mean: When we arrived at the hotel they warned us that our room wouldn't be ready — totally fair, we got there well before check in and wanted to lounge by the pool with a drink before we got settled anyway.
After an hour went by, I flagged down a passing staff member and asked if he could check on the status of the room. My daughter was happily playing, but it was getting hotter and we wanted to move her inside soon. The staff member told us he would check and then we watched as he walked over to a couple of women sitting near us and launched into a lengthy conversation with them about restaurants. We eventually had to flag down someone else because he had clearly blown us off. I passed by him in the hallway later. He asked if we ever got our room. When I replied we had, he kept walking by without answering or even looking my way.
There is a slight air of chaos to the hotel. Although staff are plentiful, wandering around each room of the hotel eager to take orders or to check on the comfort of the guests, you should be prepared to wait a while for whatever it is you ordered. It felt like they were still getting used to the layout and operations of the place, although it opened in 2019.
I'm not so entitled that I need my alcoholic beverage lickity split, but when it came time to order breakfast, I did find the slow service a bit unnerving. As we were waiting, I knew we were inching closer and closer to a random meltdown from my daughter. But I would be remiss if I didn't mention the whole staff is exceptionally friendly, and helpful. They gushed over my baby (she is extremely cute, to be fair) and it seemed genuine, and clearly, they wanted to show us a good time.
And we did a good time. Although there's only one floor of the hotel, which includes the bar, The Gallery, and the Drawing Room, along with the hotel rooms (the upper levels of the property are dedicated to residences), you really could spend your whole weekend lounging around, going for a swim, sipping on cocktails, and then retiring to your room to drink a cup of tea or coffee on your terrace before putting your kids to sleep, then maybe ordering a bit of room service before heading to bed yourself. There isn't much to do at the Asbury Ocean Club besides drink and relax, but honestly, that's kind of the appeal. You're on vacation. You don't need to do anything.
If you do want to get out and explore, though, the beach and boardwalk are just a quick three-minute walk from the hotel's front door. But I'm betting you'll find yourself wanting to hurry back.
What did you think of this story?