in paid partnership with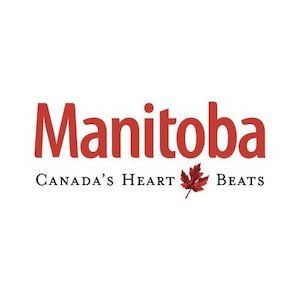 The lyrics "take a walk on the wild side" suddenly have new meaning as you step onto the spongy tundra at the mouth of the Seal River, in Manitoba's far north along the western shore of Hudson Bay. But your eyes are not on your feet — they're on the horizon, scanning with equal parts anticipation and trepidation, hoping to catch sight of the world's largest land carnivore. There he is, rising ever so slowly from the waving grasses, sniffing the salty air, white coat set against the bright pink fireweed in the distance.
Polar bears are just the beginning — here's your guide to spotting them, along with other sub-Arctic wonders like beluga whales and the Northern Lights, on your next trip up to Churchill, Manitoba.
Beluga whales — July and August
Once you've done the appropriate wetsuit wiggle (or drysuit dance?), you'll slip onto a sturdy foam mat floating on the chilly waters at the mouth of the Churchill River, awaiting an up-close-and-personal encounter with a beluga whale. And there she is: creamy white, sleek, floating gently toward you, head tilted. She squeaks out a few chirps — think of a canary — in greeting, an authentic Manitoba hello. Your heart rate soars to unimaginable levels of glee.
Summer brings the friendly white whales to Churchill. A few thousand gather in the Churchill and Seal River estuaries during this season to feed and breed, affording a prime opportunity to see these curious mammals in the wild. The best time to catch a glimpse is July and August, but how you see them is up to you:
If you find yourself on a tour with Hudson Bay Helicopters or Custom Helicopters, spotting belugas is easy. They glow a milky white just below the surface of the sub-Arctic waters, often lined up side by side in family pods. A bird's-eye view helps you see just how many whales congregate in the area.
A tour on an inflatable boat will bring you close to belugas as they surface and splash, chirping their songs. Have your camera ready and your heart open for an up-close encounter. Sea North Tours also offers kayak and paddleboard tours to put you even more level with the whales.
Is AquaGliding more your speed? The folks at Lazy Bear Expeditions will send you out on a floating mat tethered to a boat and let the whales come to you. Don't forget to breathe.
Bonus: Fireweed and arctic wildflowers are in full bloom in the summer. It's also a great time to add rare birds to your life list. And a quick trip to the coastline may provide a glimpse of a polar bear, migrating caribou, wolves, or moose.
Polar bears — July to November
Polar bear viewing kicks off in July, and your chances of seeing multiple bears tick up as the months progress. During summer viewing, visitors may catch a glimpse of a lone bear around town, but traveling up the Hudson Bay coastline will yield much better results. Lazy Bear Lodge offers a boat tour up the coast to Hubbard Point, a frequent congregation spot for the bears. For an exclusive experience, head to one of the fly-in wilderness lodges run by Churchill Wild, where guide-accompanied guests can walk where the bears walk.
A premium winter wonderland experience can be had in October or November. This is when the area's estimated 1,000 polar bears gather near the shoreline, awaiting freeze-up and seal-hunting opportunities. Most of Churchill's tour operators — including Frontiers North Adventures and Great White Bear Tours — offer full-day excursions that let you ride in style in massive vehicles equipped to traverse the tundra. You'll see mothers with twins in tow, young males practicing their sparring techniques, and full-grown bears ambling up to the vehicles to have a look at you.
Northern Lights — February and March
It's cold out here in late winter, so cold that any intake of breath may cause you to gasp. But physical discomforts barely register as your eyes catch that first green smudge against the indigo sky. And then there's a broad green stroke of light, followed by more. They track across the night sky with imperceptible slowness — and lightning speed — weaving a fleeting image, up and down, side to side. Gone. But only for a second! Then returning with an unearthly brilliance that makes that frosty breath catch in your throat all over again.
Its location directly under the aurora oval makes Churchill one of the best places in the world to see the spectacular Aurora Borealis. While the lights might come out to play any night of the year, the depths of winter offer the clearest skies for viewing them. But fear not the cold — visitors can stay toasty indoors at the Churchill Northern Studies Centre and see the spectacle through the aurora dome. Or take a reclining seat in the plush Aurora Pod, operated by Natural Habitat Adventures.
For a culinary twist, Frontiers North Adventures invites visitors to Dan's Diner, a pop-up dining hall under the Northern Lights, where guests enjoy a world-class meal featuring regional and local fare. Dinner seatings start in March.
Getting to Churchill
The community of Churchill rests on the western shore of Hudson Bay, some 600+ miles north of Winnipeg, Manitoba. There are no roads into the town, so visitors arrive by air or train. Calm Air International makes the two-hour flight from Winnipeg to Churchill year-round, while the VIA Rail Canada train departs Winnipeg twice a week and takes roughly 48 hours to reach Churchill.
However you get there, bring your sense of adventure — and a camera. This is serious bucket-list territory.