in paid partnership with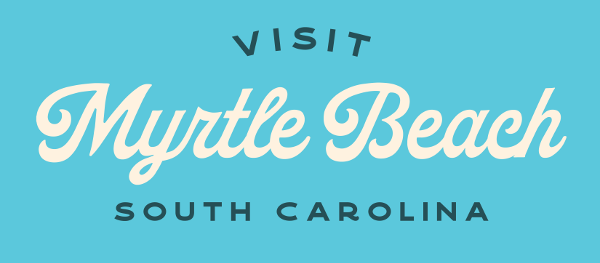 The Grand Strand of Myrtle Beach comes by its name for a reason: 60 miles of uninterrupted beaches unfurl along avenues of incredible seafood restaurants, live music venues, strollable boardwalks, boutique shops, and artsy hotspots.
But for many of the area's 20 million annual visitors, the beach is enough. Some come to relax and unwind on the sand, while others look to ramp up their daily adventure quotient with a different kind of vacation. One that takes place almost entirely on the water.
Or above it. Through it. In it. From the speed of a sunrise stroll to making your own 45mph waves, if you've got that appetite for adventure, here's how to spend your days on — and off — Myrtle Beach.
1. Strolling for shells and surfing the waves
It's easier to be an early riser in a place like Myrtle Beach. Set the coffee-maker, get a jump on the crowds — and that crowd-free sunrise — and you'll win first dibs on the high-tide deposits of seashells lining the shore.
You can stoop and sift just about anywhere on the Strand, but Huntington Beach State Park and Myrtle Beach State Park both reliably pile up the lettered olives, heart cockles, and coquina clams. If you're really lucky, perhaps you'll find a large fossilized shark tooth from the long-extinct megalodon.
By the time you're finished, the surf has probably rolled across your feet once or a dozen times — notice how warm it is, courtesy of the Gulf Stream. Grab a skim or bodyboard and enjoy the waves as they methodically break approaching the beach. Or just cool off with a quick dip before returning to your chosen spot of lounging, anywhere on this sandy, 60-mile stretch.
2. Flying hundreds of feet above the water
Imagine seeing drone footage play out before your eyes — that's what it feels like to parasail. Tethered to a boat that traces the shores of Myrtle Beach, you'll zoom through the air above the water, taking in the horizon and whatever wildlife's popping up through the waves (watch for large manta rays, sea turtles, and dolphins in particular).
And unlike skydiving, parasailing (not to be confused with paragliding) doesn't require any training, special preparation, or skillful maneuvering. Once you're out to sea and safely harnessed in, your pilot boat will speed off, and you and your canopy will gently lift hundreds of feet above the water, gliding with the wind. You have little control over the parasail — just hang back and enjoy the ride. Eventually, you'll get reeled back to two-legged reality.
3. Jetting across the open ocean
The Atlantic's Intracoastal Waterway — 3,000 miles long, made up of creeks, rivers, and canals — wasn't purpose-built for jet skiing…but it might as well have been. At least when it comes to the length that runs along the Grand Strand. Here, where warm waters roll, rentals are widely available for both short-term thrill rides and all-day, 45mph adventures up and down the coast. Bring a hair tie.
There are two ways you can't go wrong: Scream across the open ocean as envious onlookers watch from the beach, or take to the quieter rivers and waterways. For those looking for guided instruction, consider booking an inland tour, where you'll likely be joined by some of the area's native wildlife.
Note: You must be at least 18 to fly solo, and all drivers need a valid government ID.
4. Paddling along marshes and tidal creeks
Kayaks and standup paddleboards can get you to areas often inaccessible to other watercraft. Salt marshes and tidal creeks often hide eye-catching bird species, too, like oyster catchers, egrets, and herons. Here are a couple places worth gliding through:
The Waccamaw River, over 140 miles long, makes its final push through the Grand Strand. Its mellow flow is great for beginners or those just looking to slow things down a bit. Along its lower portion, watch for old rice fields and historic plantation homes. And as you float past the centuries-old cypress trees, keep your eyes peeled for shy black bears and frisky river otters.
You'll catch loads of the world's favorite feathered aviators at Huntington Beach State Park, slicing silently throughout the salt marshes in a kayak or atop a SUP. This quiet, human-powered mode of transportation makes it more likely to spot kingfishers, egrets, herons, eagles, and osprey — perhaps before they spot you.
5. Practicing your angling skills
Does it need to be said that fishing reigns supreme here in the "Seafood Capital of South Carolina"? Probably not. And while no catch is ever guaranteed, local captains know the area and what's bound to be biting — and where — in this angler's playground. All you have to do is ask around.
…Or just cast a line off one of the ten fishing piers that run from Cherry Grove to Garden City. Some have been attracting anglers for nearly 70 years — and some even boast world-record catches. In addition to providing effortless access to the water, the piers offer a place to acquire gear, bait, and licenses. (And pro tips, if you'd like 'em.)
For true professional guidance, consider chartering a local guide. They can cater your trip to your experience level and often up your odds of reeling in the "big one." Local charters up and down the Grand Strand can take you angling for Spanish and king mackerel, trout, flounder, cobia, wahoo, and tuna, just to name a few.
Note: Kayaks give you the ability to troll the inshore waterways in search of a bountiful harvest. Rental options abound, as do kayak-fishing guides who can set you up for a successful outing.
6. Finding your pod — of dolphins
Move over, SeaWorld. In Myrtle Beach, local guides take you where dolphins are likely to be feeding and frolicking in their natural habitat. No pools or zoos here, just you and a symphony of whistles, clicks, and splashes.
Atlantic bottlenose dolphins, in general, aren't shy or easily intimidated. Jet ski tours provide the quickest route to possible sightings, while kayak tours get you the most up-close and personal experience — imagine gliding along with them at water level. Tour boats provide an accessible-for-all experience, you and your crew leaning over the edge to peer into the blue world below you. Just one of the many Myrtle Beach water activities waiting to be experienced this summer.