This All-Inclusive Luxury Resort in Los Cabos, Mexico, Feels Like the Pinnacle of Paradise
Taking a trip to the luxurious, all-inclusive Grand Velas Los Cabos resort, between Cabo San Lucas and San José del Cabo, feels like stepping into a fairy tale fantasy. Here, where stunning ocean sights are seen from every angle, guests are met with warm enthusiasm and friendliness, halfway between the two resort towns on the southern coast of Baja Del Sur, Mexico. The oceanfront hotel is the fifth property of the Velas Resorts group, 35 minutes from Los Cabos International Airport.
Upon entering the outdoor lobby, which encompasses an open-air grand entrance on the fifth floor (300 feet above sea level and overlooking the water), visitors are enveloped in a state of bliss. The resort's goal is to prevent guests from lifting a finger throughout the duration of their stay, a task accomplished with a staff-to-guest ratio is three to one. Each group gets its own 24-hour personalized butler concierge service. It's the chance to feel like royalty and enjoy some stunningly over-the-top amenities like round-the-clock personal concierge offerings, daily turndown services, and a daily stocked in-room mini-bar with an abundance of snacks and drinks — all included in the price of the stay.
This resort was designed to feel like a mix of "contemporary Mexican, with touches inspired by traditional Mexican architecture" and in its design, balances the rugged geography of Baja California Sur and its majestic mountains with the down-to-earth beaches, boulders, desert landscapes, and ocean waves. The hotel's exterior matches the tones of the rocks and sand of Cabo, and the shade of white was purposefully selected to soften the glare of the strong desert sun while blending in with the colors of the natural environment. The curved, half-moon design of the hotel is also not an accident but assures maximum sun exposure to soak up from dusk to dawn (but don't worry about bringing sunblock as that's offered as part of the all-inclusive package).
We hope you love the Grand Velas Los Cabos! Just so you know, Matador may collect a small commission from the links on this page if you decide to book a stay. Listed prices are accurate as of the time of publication.
Rooms at Grand Velas Los Cabos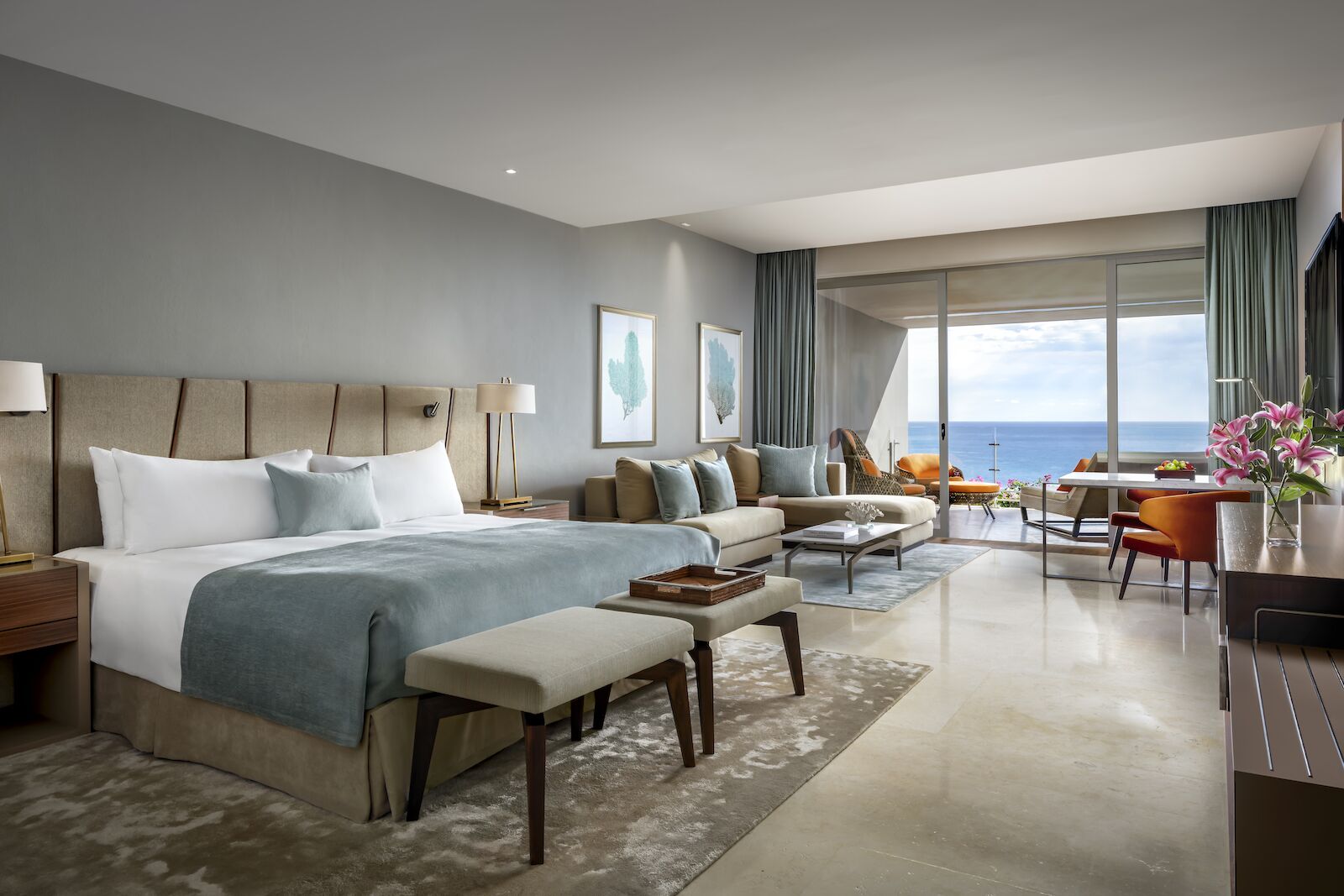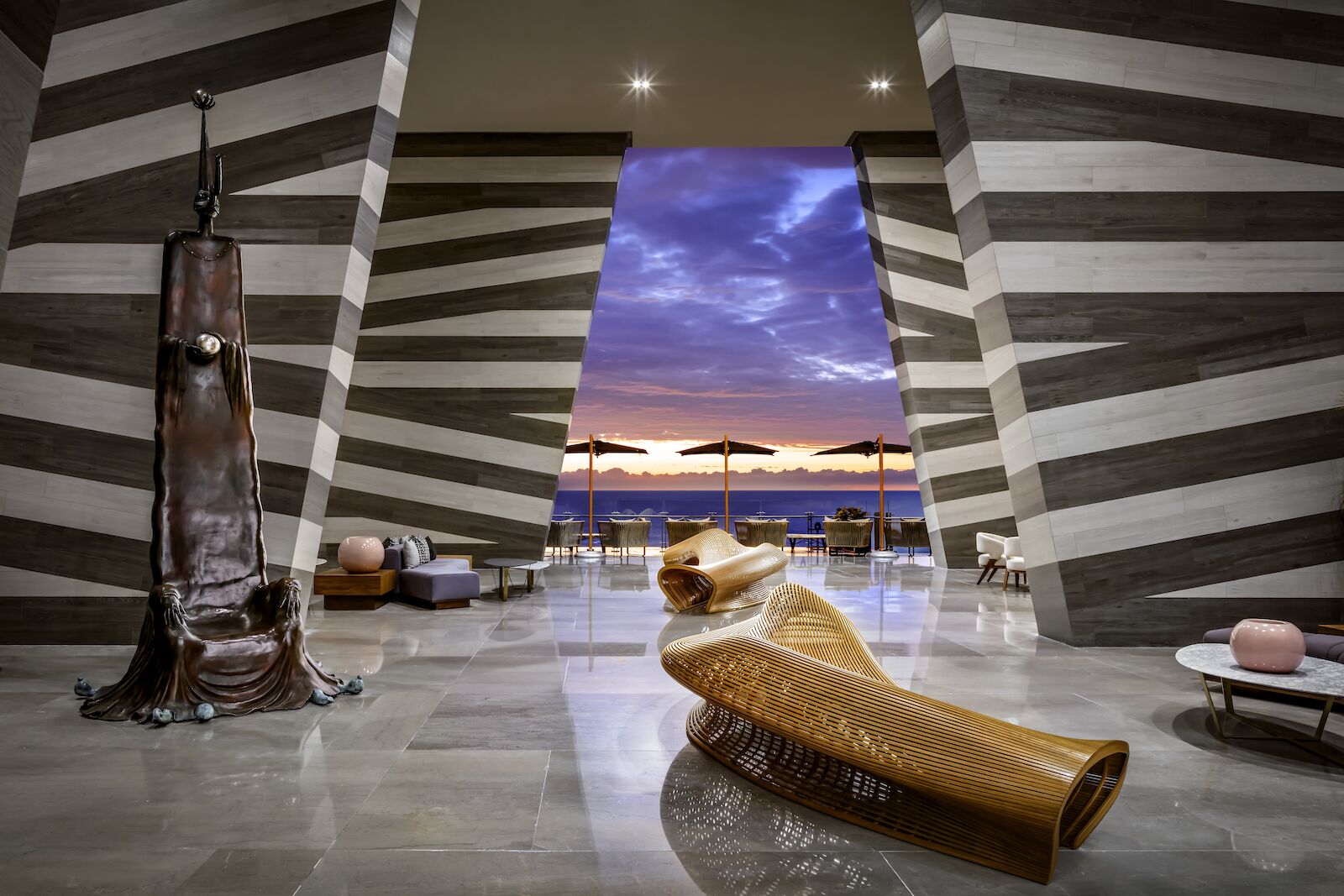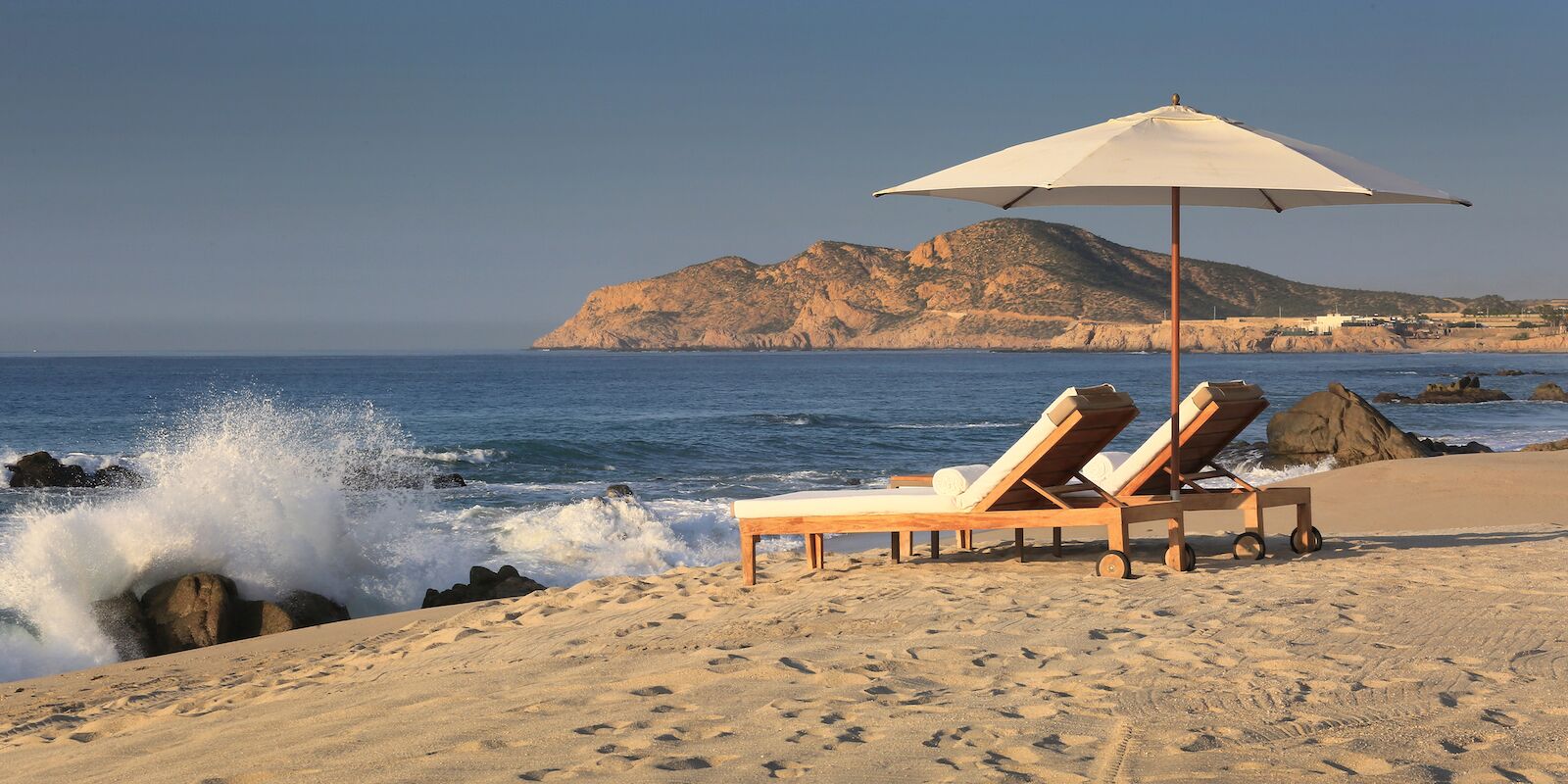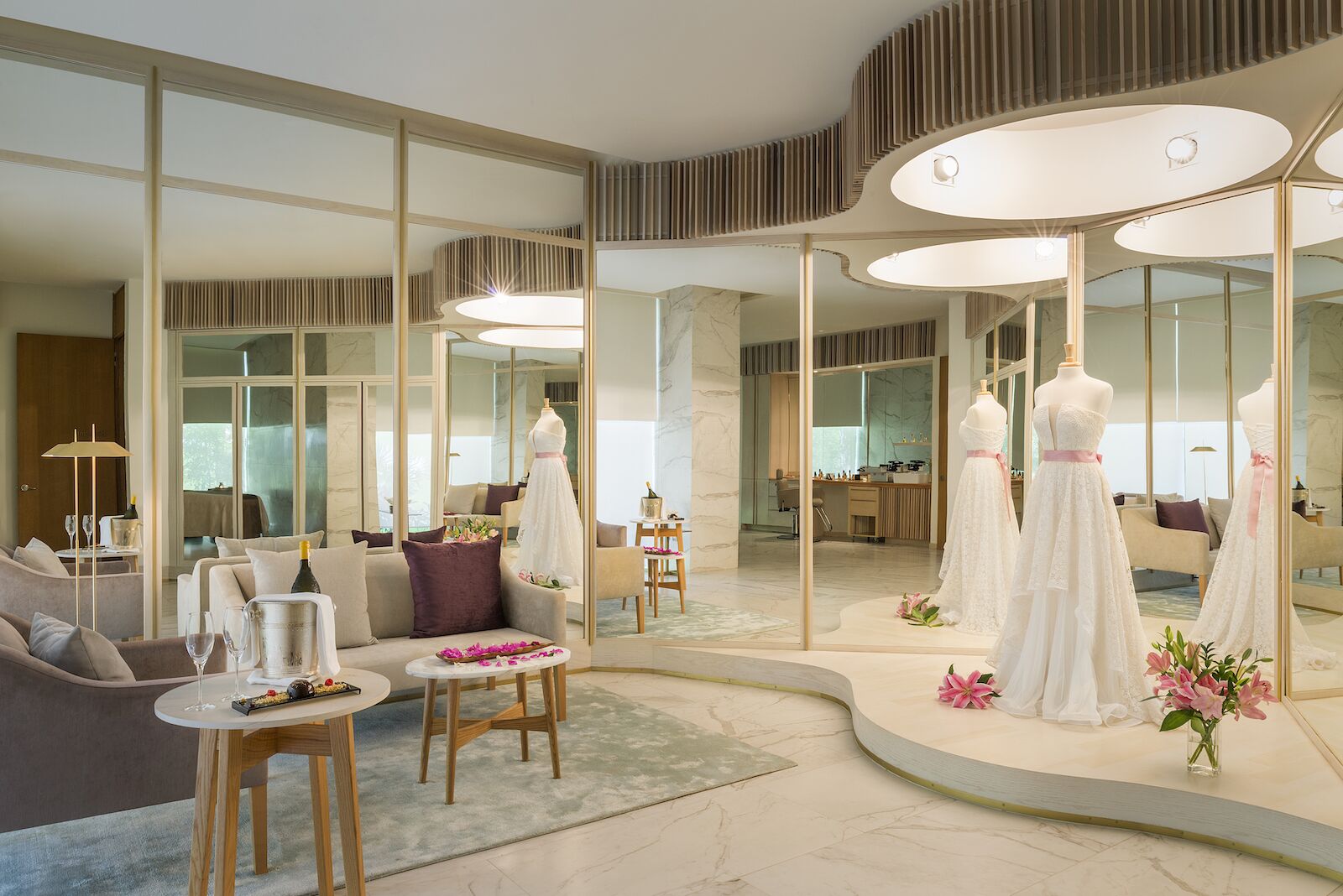 This property boasts 307 ocean-view suites, ranging from 1,180 square feet to 6,081 square feet of space. There are 267 Ambassador Suites, 21 oceanfront Grand Class Suites, one multi-bedroom Presidential room, one Royal Suite, 10 Governor Suites, and one Imperial Suite. The six two-level Wellness Suites are double-height with lofted ceilings and feature an abundance of fitness and wellness offerings including, among other services, in-room exercise equipment, a spa concierge, and in-suite massage offerings. The second level of these health-infused suites is dedicated to fitness amenities, and all of the Wellness Suites face the spa, making for maximum tranquility.
Guests can enjoy spending time on their private terrace, which features a relaxed outdoor sitting area, or in the separate living area, which features a cozy sofa. Rooms also offer king or two queen beds, a desk, and a large, high-tech bathroom with a Jacuzzi and a built-in shower. Additional in-room amenities include a Nespresso Coffee Maker, an electric teapot, a high-definition flat screen with digital cable TV, upscale L'Occitane bath amenities, and luxurious linens. And there's no shortage of comfort for every pillow preference as the dedicated in-suite "pillow menu" satisfies every desire for firmness or softness.
Restaurants at Grand Velas Los Cabos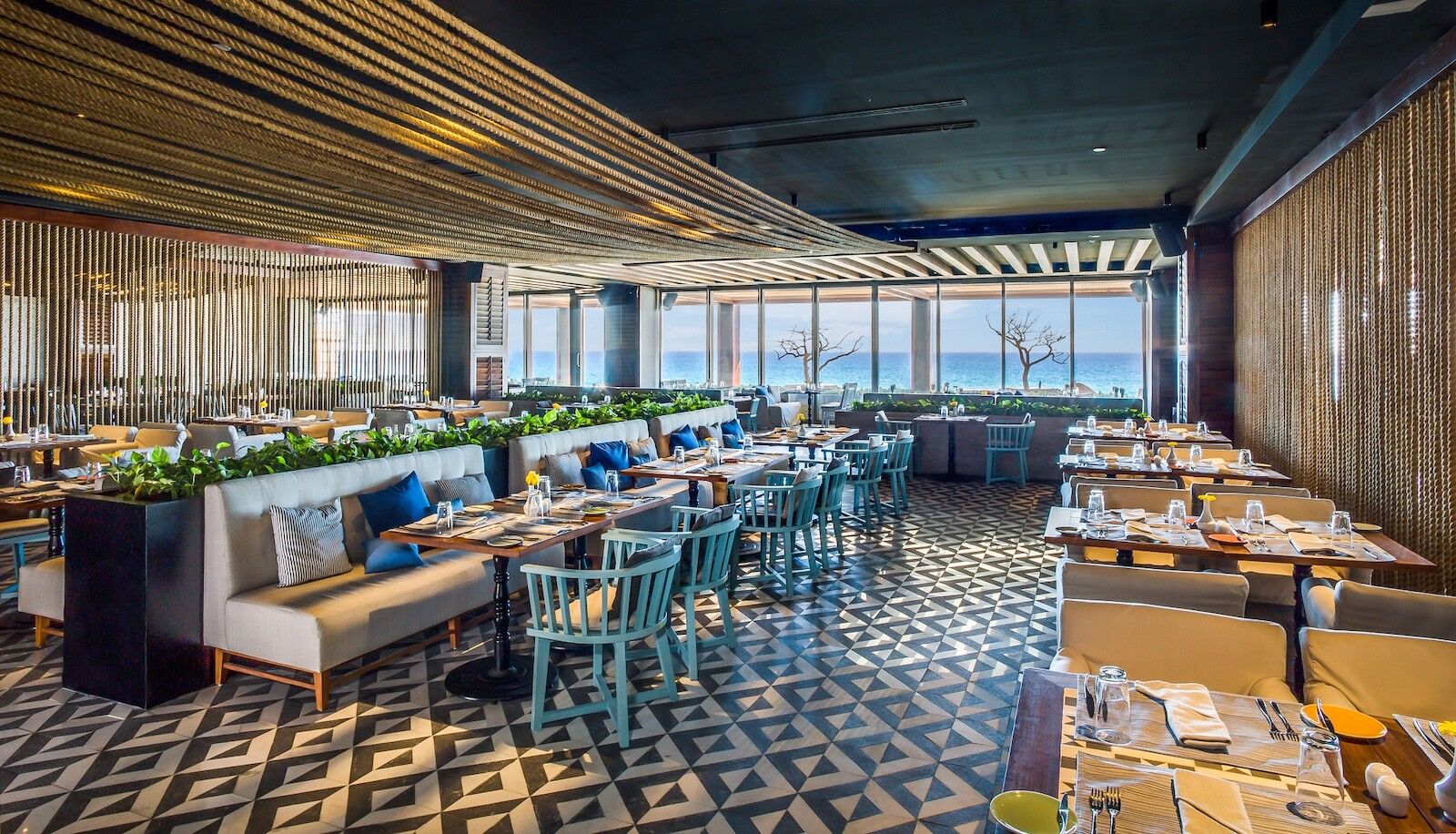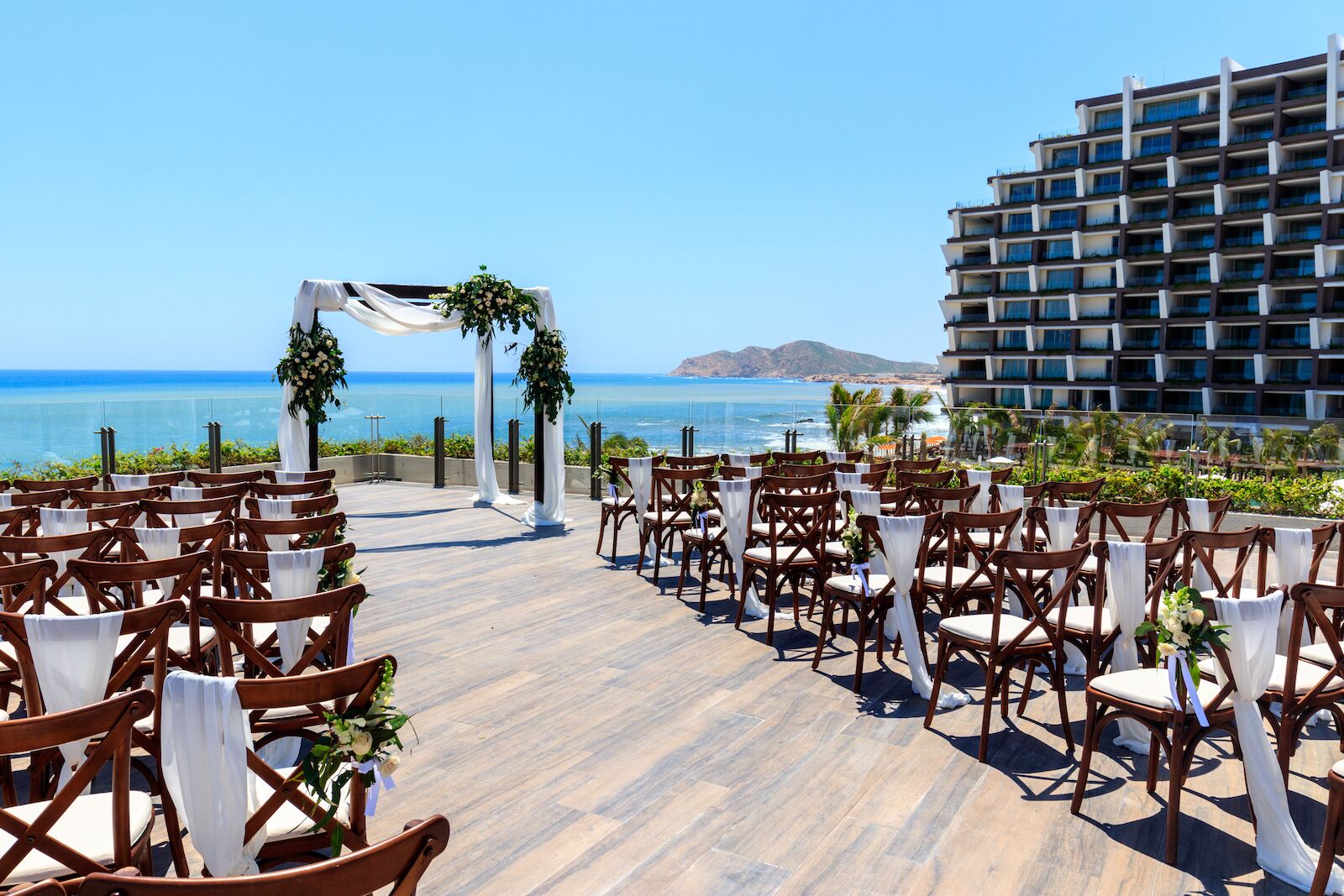 Every restaurant on-site boasts awesome views of the ocean and offers both indoor and open-air seating. For an upscale dining experience, guests can choose between five on-site gourmet restaurants — each of which boasts an extensive food and beverage list.
The "adults-only" Cocina de Autor is helmed by two-star Michelin chef Sidney Schutte and serves a coursed-out creative cuisine. At Piaf, which is also adults-only, dive into authentic French dishes. Lucca serves Italian and Mediterranean cuisine, and Frida serves Mexican cuisine. And at Velas 10, enjoy a range of seafood and steak specialties. For a more casual dining experience, there is also a range of all-day restaurants. Azul serves International cuisine, Cabrilla is a dedicated ceviche bar and seafood spot close to the pool. At Amat Café, a Nespresso coffee bar serving an assortment of daily pastries and light snack options, guests can grab a fresh salad, sandwich, or latte on the go. There are also four unique bars — each of which offers its own fun and flare — Sky Bar, Miramar Bar, the bar at Cocina de Autor, and Koi.
And there's certainly no shortage of fun activities on-site — starting with the three-tiered pool with a dedicated children's pool and splash area — which means no single pool will ever feel too crowded. There are also designated pool and beach concierges catering to every need — whether food and beverage cravings or a need for more towels and sunscreen. Visitors can even get a workout in at the large Technogym Fitness Center, which has a range of upscale fitness equipment, in addition to dedicated personal trainers and group exercise programs like yoga, Pilates, and meditation.
Adults can enjoy time to themselves while their children are occupied making friends in the separate teens' and kids' club facilities. The Teens' Club at Grand Velas Los Cabos is made for kids 13-18 years old, offering nearly 3,000 square feet of space featuring an impressive game room outfitted with individual cubbies hosting game consoles like Xboxes and Playstations. There's also a pool table, air hockey, ping pong, and much more dedicated to entertaining teenagers.
At the Kids' Club, designed for children ages 4-12, children can explore a safe environment for supervised activities, crafts, and theater spaces in addition to outdoor excursions like soccer and treasure hunts. And with the designated baby concierge — which includes state-of-the-art cribs, toys, clothes, and organic foods and beverages on request and nanny service available with advance notice — parents can enjoy time away knowing their infant is safe and taken care of.
When it's time to wind down, adults can relax at the immaculate two-story, 35,000-square-foot Se Spa, which boasts 16 treatment rooms and a unique seven-step hydrotherapy facility. This rejuvenating space blends state-of-the-art treatments using the latest technology with traditional practices of Mexican culture. With any treatment of 50 minutes or more, spa guests can immerse themselves in the sacred seven-step water journey, which features a eucalyptus-scented steam room with chromotherapy, a polar pool, an aromatherapy sensory shower, a sauna, a Jacuzzi, and a multi-sensory pool with elements like bubble beds. Guests can choose to embark on this journey as a self-guided venture, or be guided by a "spa valet" who offers personalized instructions to ensure spa-goers can get the most out of this sacred experience.
And for those who aren't interested in an intimate, upscale family vacation but instead want to hold a larger meeting or event — there's a 16,370-square-foot convention center with the capability to split into 20 breakout rooms. It's perfect for hosting conferences, weddings, and corporate retreats.
Rates at Grand Velas Los Cabos start at $826 per person per night in double occupancy, which includes all-inclusive suite accommodations, a la carte gourmet meal, beverages, 24-hour in-suite service, a well-serviced fitness center, entertainment, and practically anything else one could desire on an unforgettable, all-inclusive luxury Cabo vacation getaway.
What did you think of this story?